In today's world, where businesses are embracing paperless processes, it becomes even more critical to replace traditional document signing methods with digital sign-offs. Revv, an electronic document management system, provides three document sign-off features to accommodate users' intent and context of sharing documents:
eSign: It legally binds a document between parties (within and outside the organization).
Send for acceptance: This feature can be used in documents that don't require an electronic signature but only need recipients' consent for closure. This feature sometimes also works as an alternative to an esign.
Send for approval: Some documents demand a review and approval from internal teams before sharing with third parties. The send for approval feature expedites such end-to-end approval workflow and makes the process more efficient.
This blog explains how to create and automate electronic signatures in documents and how to eSign a document through Revv. It also highlights the features and relevance of a cloud-based document management system.
What is an electronic signature?
An eSignature or electronic signature is a legal way to approve electronic documents and is a superior alternative to hand-written signatures.  
It is defined by the US Federal ESIGN Act of 2000 as "an electronic sound, symbol, or process, attached to or logically associated with a contract or other record and executed or adopted by a person with the intent to sign the record."
In present times, where businesses are connected across the world and functioning remotely more than ever, electronic signatures have become critical to authenticate documents digitally and securely.
The electronic Signature market was valued at USD 2.28 Billion in 2018 and expected to reach USD 17.20 Billion by 2025 with a CAGR of 33.47% over the forecasted period.
Which documents need electronic signatures?
Electronic signatures are used in documents that need to be legally enforceable. Here are some examples of those documents:
Non-disclosure agreement (NDA)
Non-compete agreement
Commercial lease agreement
Sales agreement
Shareholders agreement
Founders agreement
Master service agreement
Read the blog on 20 essential business documents that every organization needs to function well.
Why are wet signatures a practice of the past?
A wet signature is a traditional method where a person physically signs a document with a pen or seal.
Wet signature no longer fits with the evolved business practices of today's fast-paced digital world.
Here are the key challenges with wet signatures:
Demands physical presence: Wet signatures rely upon the physical company of signatories and the exchange of documents. The unavailability of either halts and delays the overall process.
Cumbersome process: It requires the recipients to go through a laborious process of download-print-sign-scan-upload-send documents, which leads to significant time wastage. The trouble multiplies when the documents are shared in print copies. Physical papers can get lost in transit, and tracking down the missing documents becomes a fatiguing task.
Prone to forgery: A hand-signed document is not tamper-proof and can be altered.
Security risks: Paper documents with wet signatures are vulnerable as they can easily fall into the wrong hands or get stolen. Without any digital tracking mechanism, it is impossible to trace who all accessed the document.
Storage issues: Paper documents call for a big storage space. Organizations always face the challenge of expanding the storage area as the pile of documents increases.
Inefficient: Imagine when several pages in a document need to be signed by different people. Much time gets lost in sharing, coordinating, signing, and sending the documents back. This stretched exchange of documents can stall the progress of an important business deal.
Requires huge financial investment: Signing documents is an essential step towards business success and advancements. Every day numerous documents are shared within and outside the organization for signatures. This demands substantial monetary investment in ink, papers, copiers, printers, dispatching, and storing the documents.
Detrimental to the environment: Paper-heavy organizations contribute to increasing carbon footprint in many ways. More demand for paper means cutting down more trees, more factories for paper manufacturing, and more vehicles for logistics, which becomes fatal to the planet earth.
In short, wet signatures are tedious, outdated, and create impediments in an organization's progress.
Manual document management can lead to a data breach, missing documents, incoordination, etc. Here are a few scary tales of businesses dealing with manual ways of document handling.
You can do away with all such issues by implementing a document management system in your organization.
What is an automated document management system?
A document management system or document management software is a web-based tool that automates document generation, sharing, and signing processes. You can create, edit, track, store, and send documents for eSign using document management systems.
Some document management tools also provide advanced features to streamline document workflows along with automating the eSigning process like version control, document analytics, collaboration, app integrations, etc.
In short, an electronic document management system enables organizations to optimize document workflows, making the entire document lifecycle quicker and error-free.
Further Reading 📖
The top three benefits of a document management system

A document management solution increases the efficiency of document-related processes through various features. It standardizes and optimizes operations and brings much more consistency in the documents produced by any organization. Here are three pivotal ways in which such a system proves to be beneficial:

Promotes a synchronized way of functioning: When organizations rely on paper documents, a lot of time goes into finding and passing on the right documents to the right people. But with document management systems, employees have wider and easier access to relevant documents. This increases transparency and helps the organization function in a more cohesive manner.

Enhances security of sensitive documents: It is important for small as well as large organizations to safeguard their sensitive documents (contracts, agreements, etc.). But manual handling leaves scope for various loopholes. Implementing a document management system provides better control over an organization's documents.

Saves time and resources: Businesses always find ways to cut down on the extra costs by implementing new and advanced technology which will help automate manual, repetitive tasks and yet let them personalize when there is a need. A document management system is one such technology that helps save time, energy, and human resources, all the while automating your document management workflows.
Partner with Revv and run your eSignature workflows like a pro
Revv is an advanced document management system with next-generation features that ensures a seamless document signing experience.
Based on varying business requirements, organizations seek different outcomes from their document management system. Learn how the outstanding features of Revv meet and exceed these needs.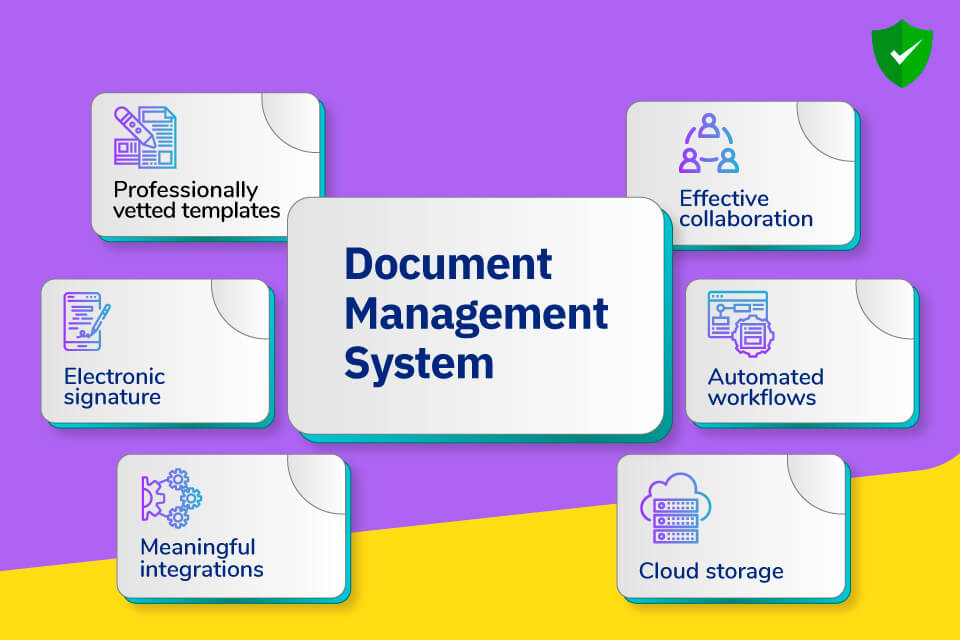 Professionally vetted templates: Creating each document from scratch is inconvenient and time-consuming for organizations, especially when multiple documents are processed every day. This is one of the many reasons why companies love Revv, an all-in-one document management system. Revv provides a pool of 1000+ readymade templates vetted by the legal teams. These templates are customizable and easy to use. They save a lot of time and bring consistency to all your documents.
Legally binding and bank-grade electronic signatures: Documents electronically signed through Revv are valid in more than 60+ countries that have enacted electronic signature laws, making them legally binding and enforceable in a court of law.
Revv gives the signers full freedom to choose the way they want to sign the document. They can 'Draw signatures,' 'scan and upload signatures,' choose from 'pre-formatted text styles,' and even connect their crypto-wallet MetaMask to complete the signing process.
You can validate the recipient's identity with email and SMS-OTP-based authentication.
With Revv you can upload documents made outside Revv to be eSigned. The file types can be PDF or DOCX. You just need to upload the file, add eSign blocks, and send it to the concerned person.
By adding form fields, the fillable placeholders in a document, you can gather additional details from the signers by assigning those form fields to them before sending the document to eSign. Use the Fill and Sign option to give signers access to fill the forms within the document itself.
Revv protects its documents with bank-grade digital signature technology and ensures documents' safety and security as per the latest industry standards and compliance.
Revv Fact💡
64% of our customers close documents in less than 60 minutes
Business app integrations: Oscillating between multiple business applications to create a document demands a lot of time and effort. This process can be relied upon only when creating documents is a rare event for you. An integrated document management system fosters rapid processing of huge volumes of information, reduces risks, and cuts down admin tasks. Revv provides seamless integration with your business platforms/applications including Salesforce, HubSpot, Bos, Quickbooks, SAP ERP, NetSuite, Zoho, and Google Workspace among others. You integrate the apps using Revv's in-built app integration, APIs, and Zapier.
Flawless data mapping with Data Studio feature: Along with seamless business app integration, precise data mapping is equally important to make the document workflows run flawlessly. Often this is a herculean task involving APIs, scripts, codes, and developers. The data mapping process can stretch from days to weeks and months depending on the document's size and data complexity. Revv makes the data mapping task a matter of minutes with the no-code Data Studio feature. The users can map data between their business platforms and Revv through point-and-click or by drag-and-drop.
Workflow automation with "Pipeline" feature: Imagine if you could even automate the associated tasks of a document process. For example,
Your manager asks you to send her a copy of a signed document after the customer signs the contract.
Your sales head asking you to keep him informed on the closure of deals.
You might need to send another business document after the current one is signed, like sending an employee NDA after the employment agreement is signed by the employee.
Or, it could be the copying of document-related data and associated data fields to other business applications to initiate the next process, like initiating the invoicing process in the invoice software after the business contract is signed.
The above-mentioned are just a few examples. With Revv's Pipeline feature, the sky's the limit, You can trigger workflows for each stage of your document process from creation to approvals and eSignatures, and ensure the workflows run non-stop.
Effective collaboration: Revv's collaboration tools enable users to interact on a single platform. You can record the interactions through notes, tag other users via @mentions, and share information using attachments. These helpful features foster quicker decision-making.
Cloud storage: Unlike other document management systems, Revv offers forever free document storage in an organized and easily retrievable manner. You can save huge volumes of data securely without worrying about storage issues.
Easy access and convenience: The users don't have to be physically present to receive the paper documents and sign them. Revv's mobile-enabled document management system gives users the liberty to sign the documents anywhere and anytime based on their convenience using their mobile device, tablets, etc.
User management: Unrestricted access to all the electronic documents within an organization creates confusion. You tend to miss revisions and updates in a document. You have no information about who opened or made changes to a document. Revv allows you to define user roles by granting specific permissions. This helps in avoiding unauthorized people from making unwanted changes to a document.
Let's see how Revv and Box integration work:

With the help of document metadata and metadata derived from Revv's form fields, you can trigger workflows in Box workflows as per your business needs. With Revv's document automation power and Box's cloud storage and workflows, you can automate crucial business processes including:

– Customer onboarding
– Employee onboarding
– Contract renewals
– Policy renewals
– Vendor management
– Contract management
– Invoice management

Here's one of the examples of what an automated workflow can look like with Revv+Box: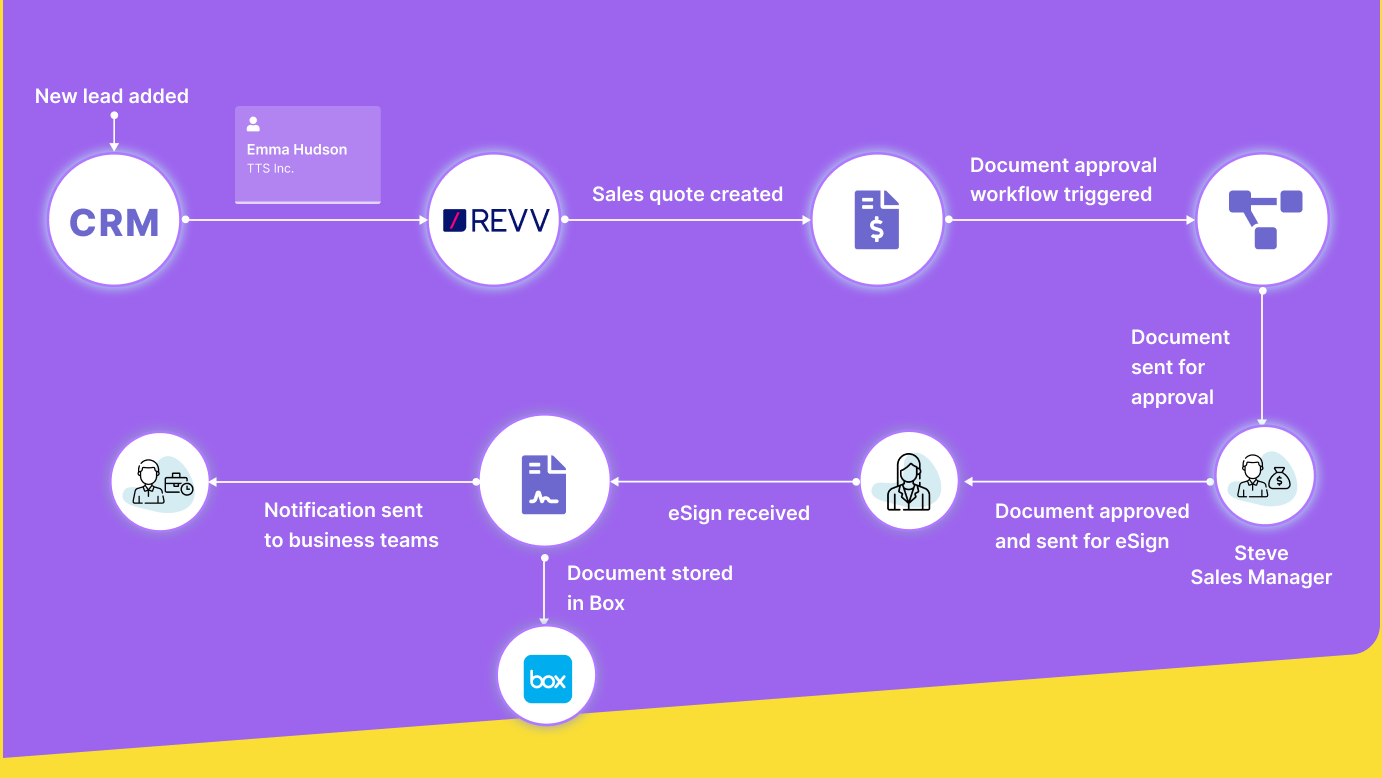 You can trigger workflows between Revv & Box for actions taken on a document.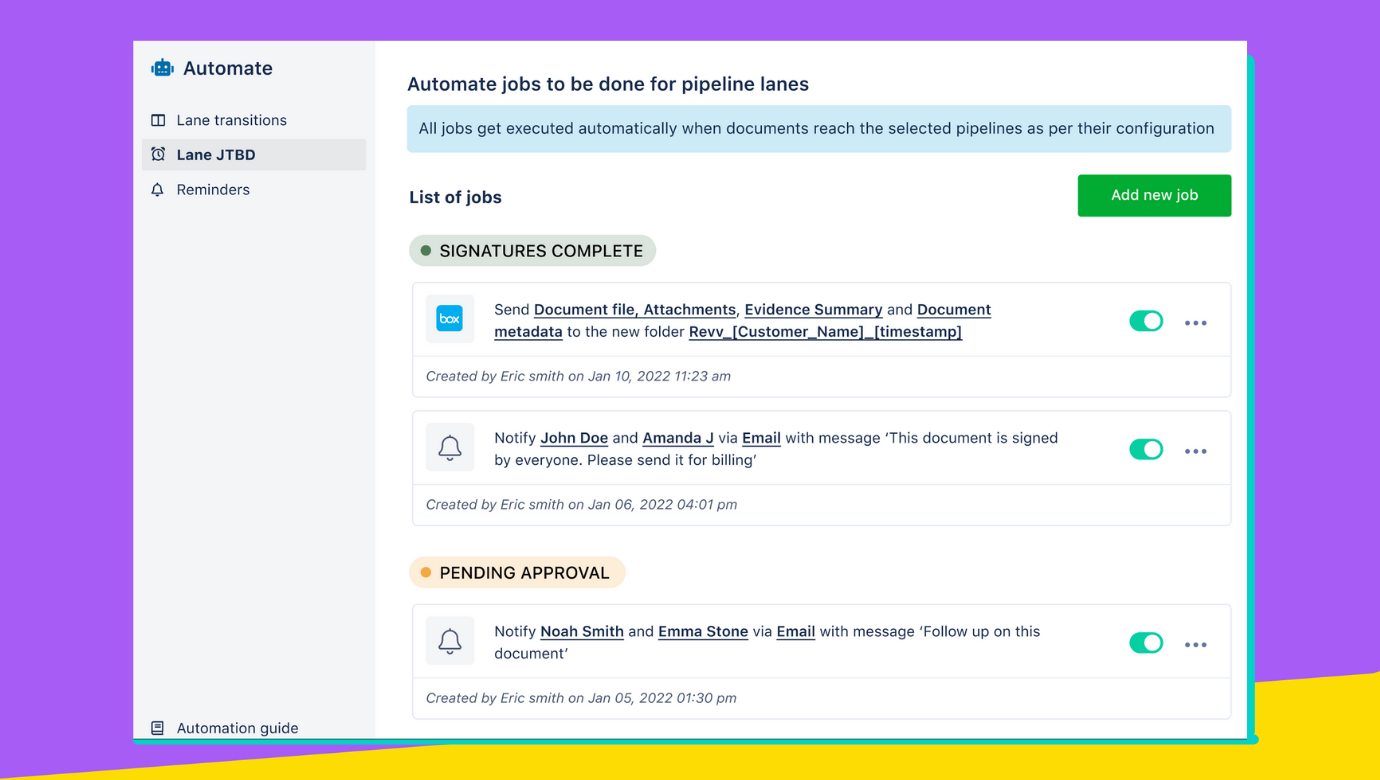 Revv allows you to add custom data associated with documents in Box. You can devise a workflow to route Revv documents and associated document information to the Box folders in the chosen format. When you integrate Revv with Box, you can even choose which data to send to Box, such as Document file, Evidence Summary, Document Attachments, Document form fields, and quote line items, among other options.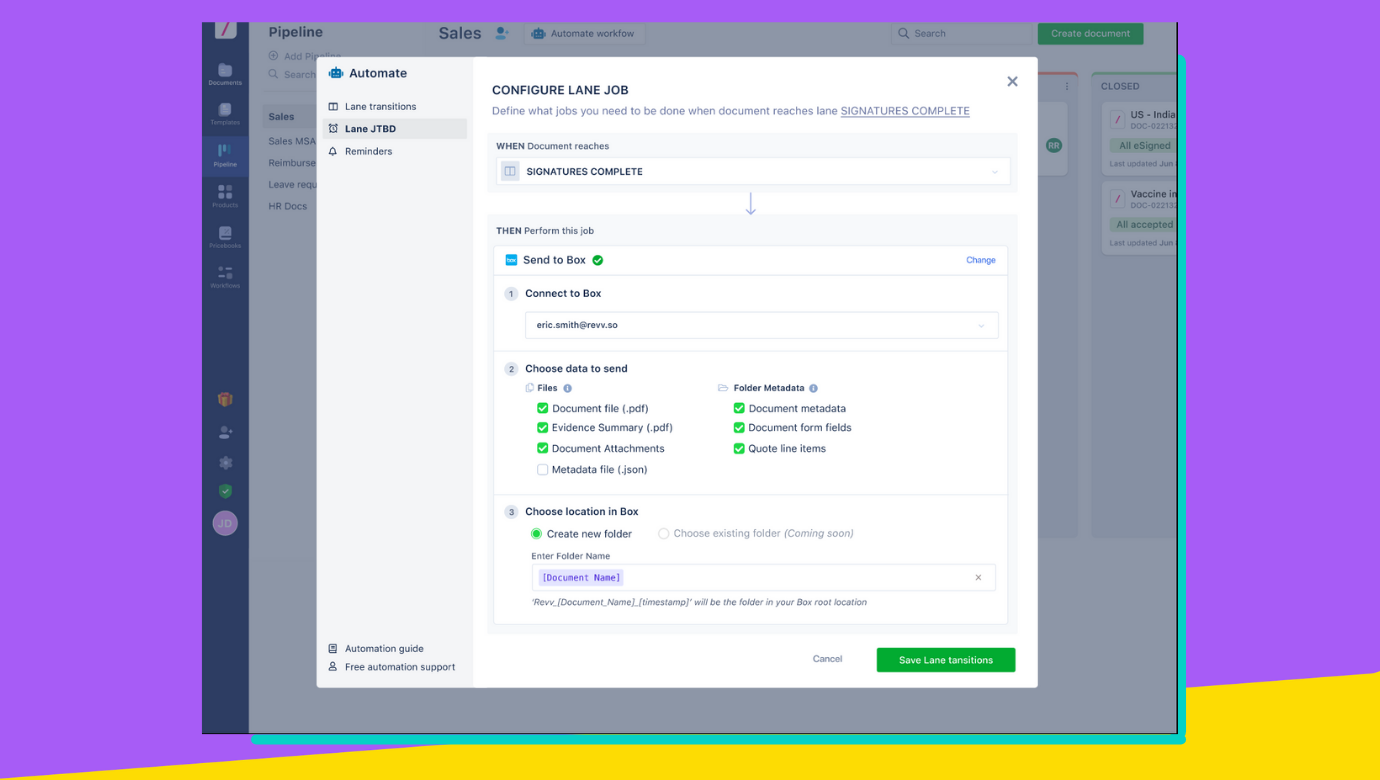 Take workflow actions in Box based on the data generated in Revv.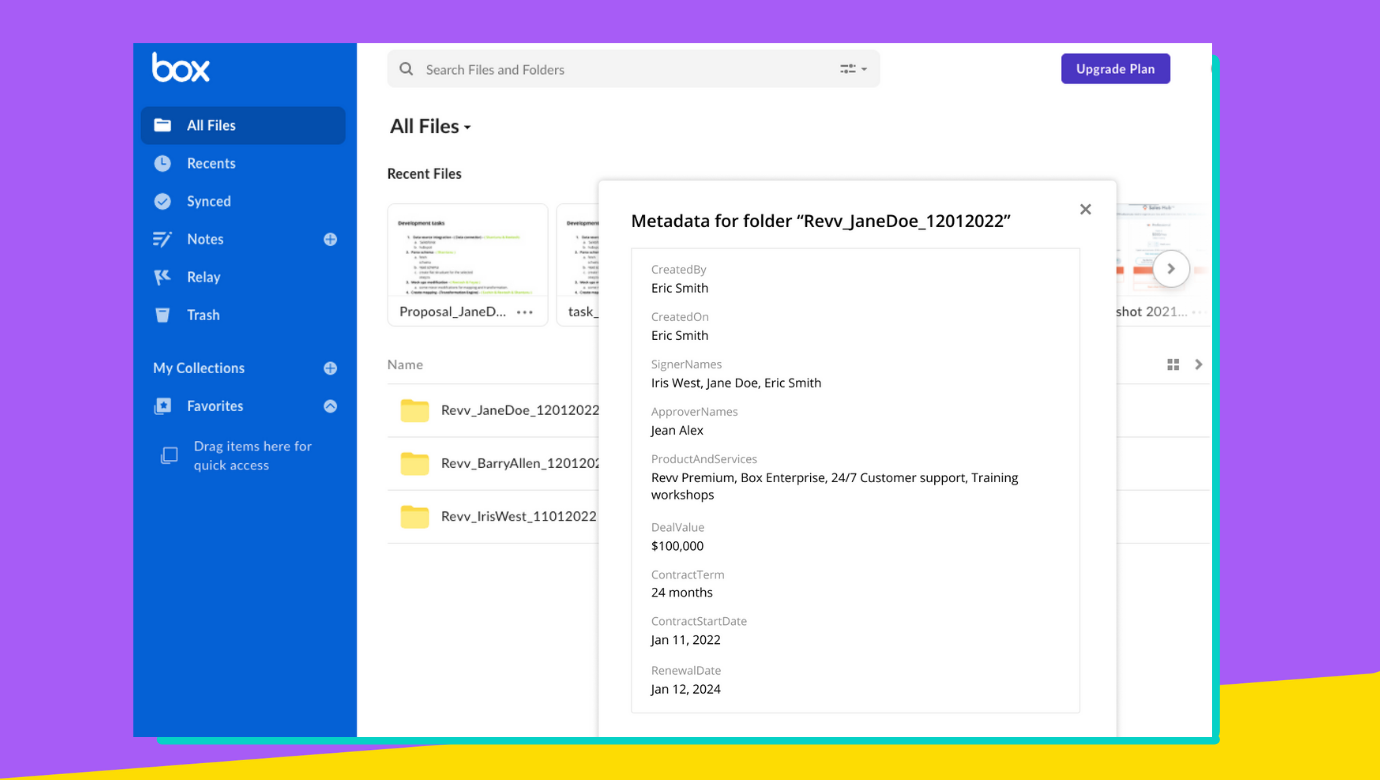 How to create an electronic signature in documents with Revv?
Follow the below instructions to enable electronic signature in documents through Revv:
1. Revv is a free document management tool. Start by signing up and create an account in Revv.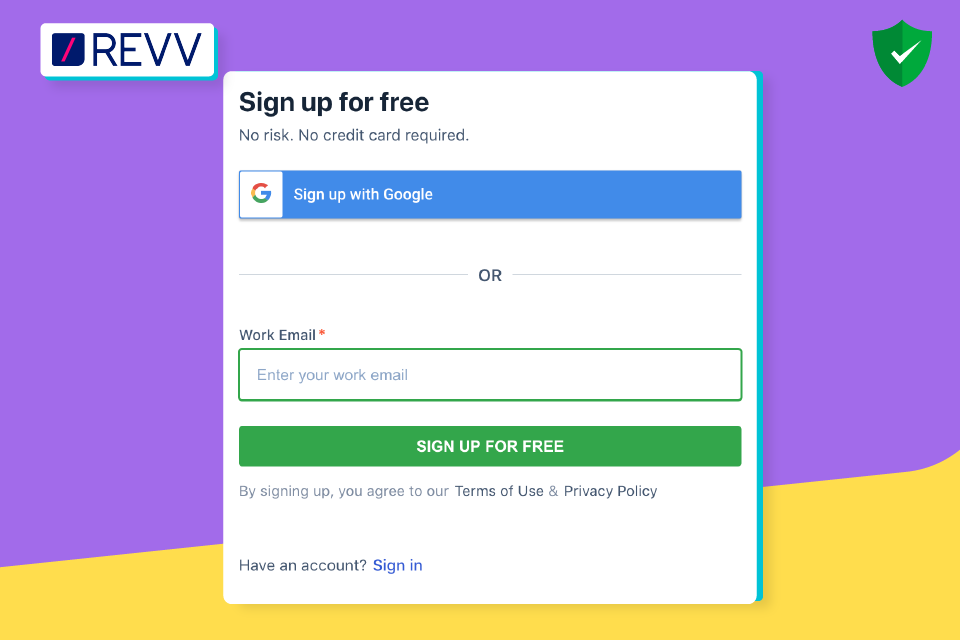 2. Create a document.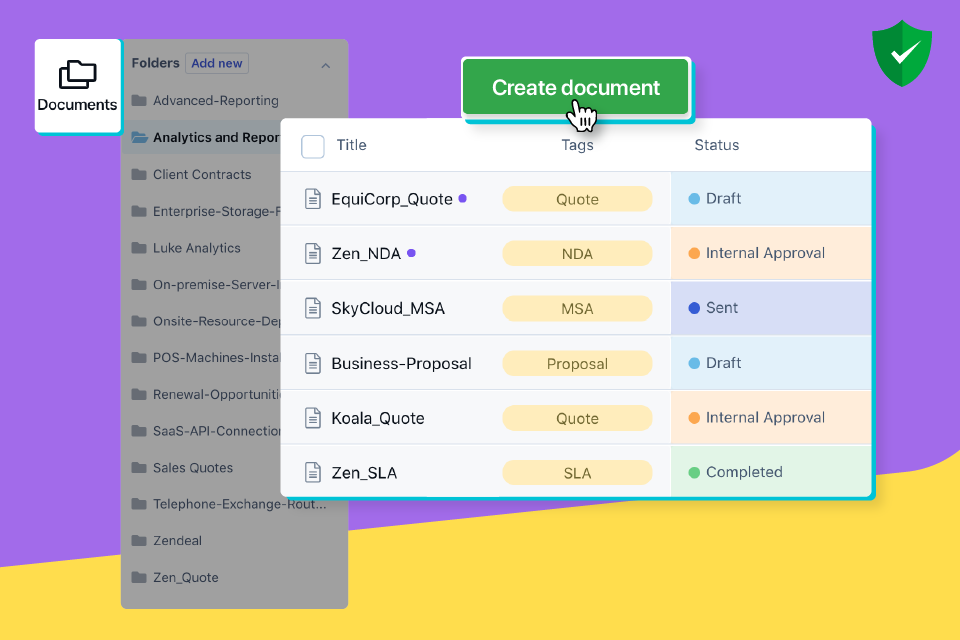 3. Revv's in-built and pre-formatted template library provides easy access to standardized and ready-to-use document templates. The users have the option to either use one of the templates, create a document from scratch, or upload their own document and edit it in Revv.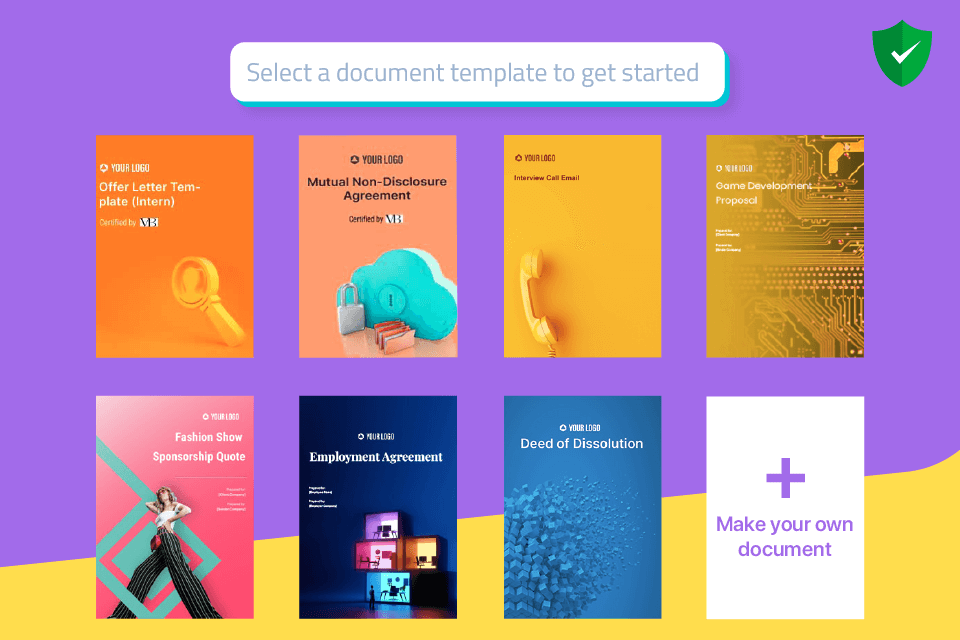 4. The documents can be further tailored using the drag and drop document blocks. Alternatively, customize the document by clicking on the plus (+) icon and choosing the required block.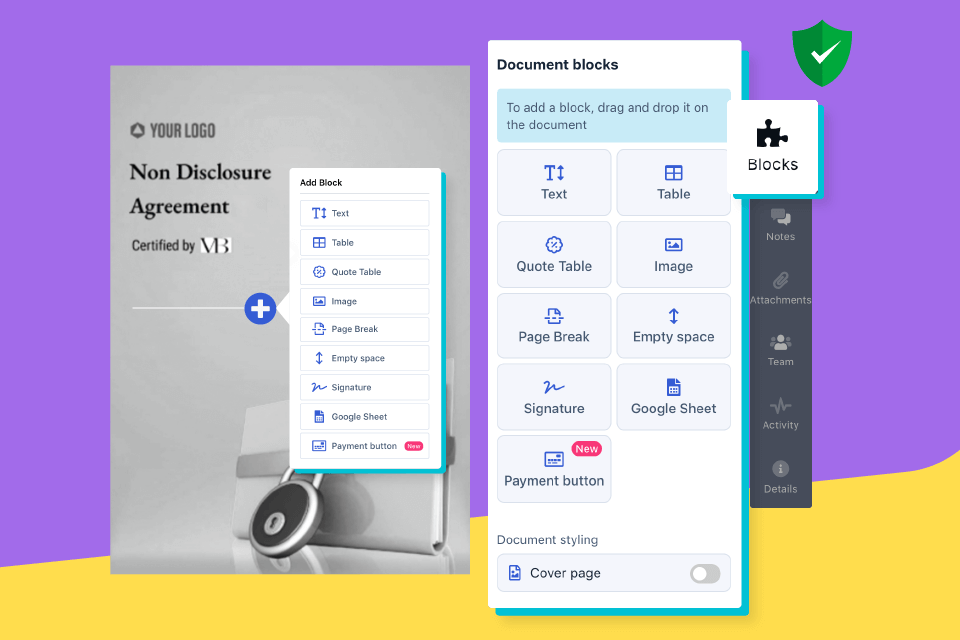 5. Once the document is ready, enter the signer information – name and email id in the signature block panel. Click on the eSign tab and send it to the recipient for electronic signature.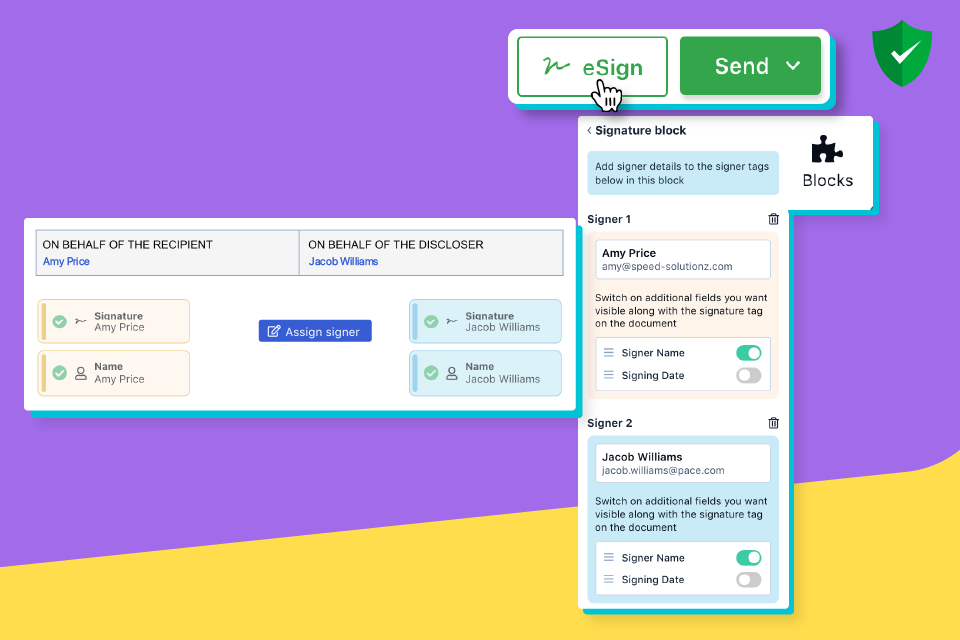 6. Revv triggers email notifications to the recipient to sign the document.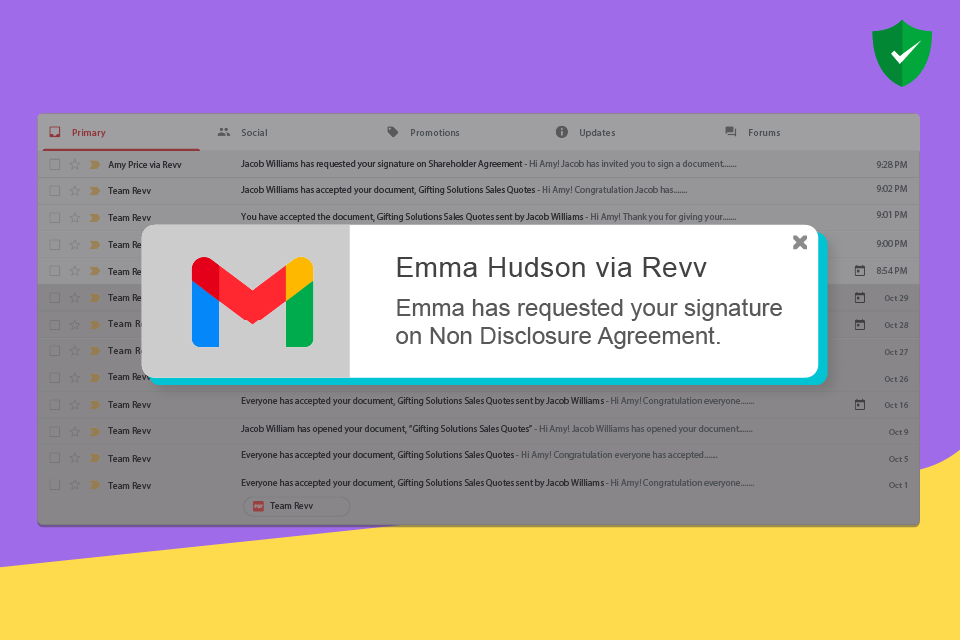 7. When the recipient clicks on the sign document tab, he/she can access the document directly without logging into Revv.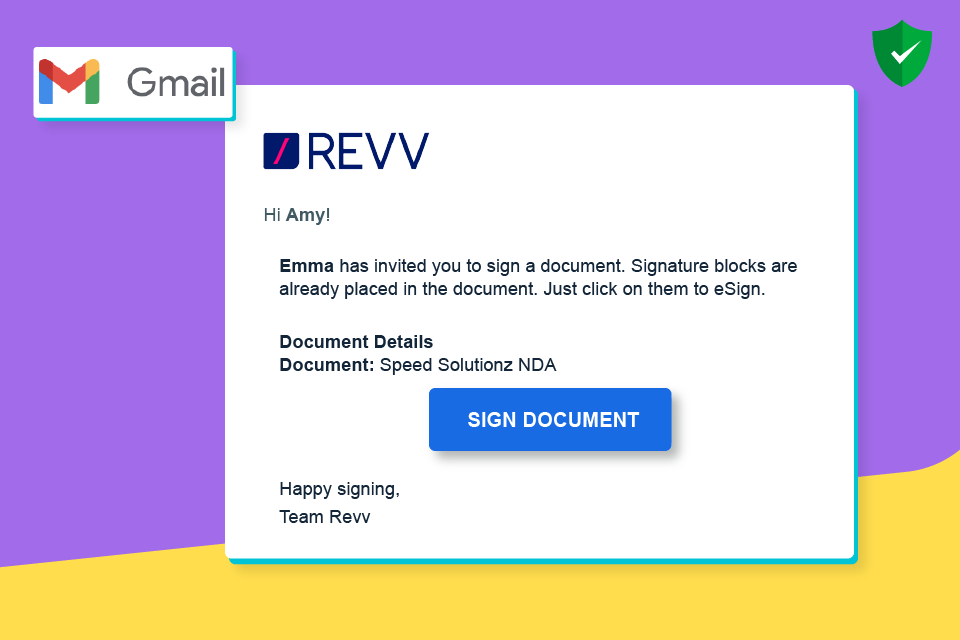 8. Sign the document by clicking on the yellow box.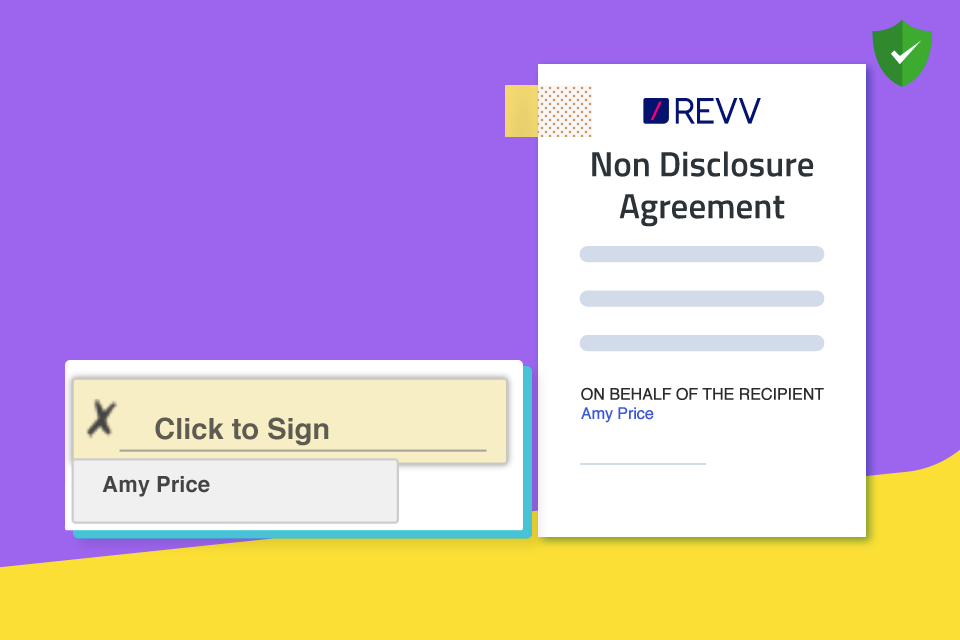 9. The eSign process is now complete.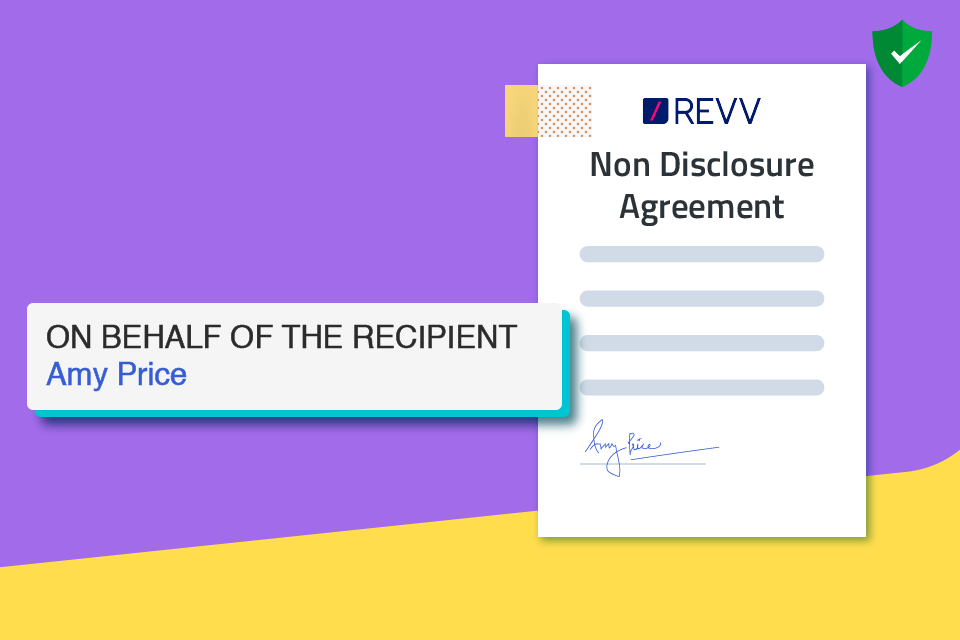 10. Revv's Activity tab provides real-time recipient activity monitoring and helps to make informed decisions.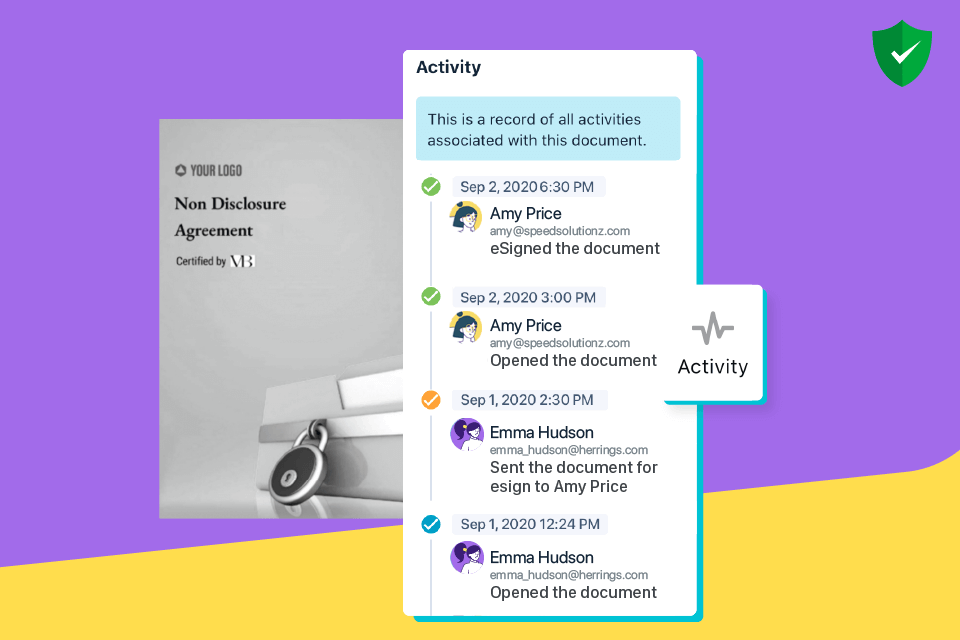 11. The sender also receives the document's status updates through emails.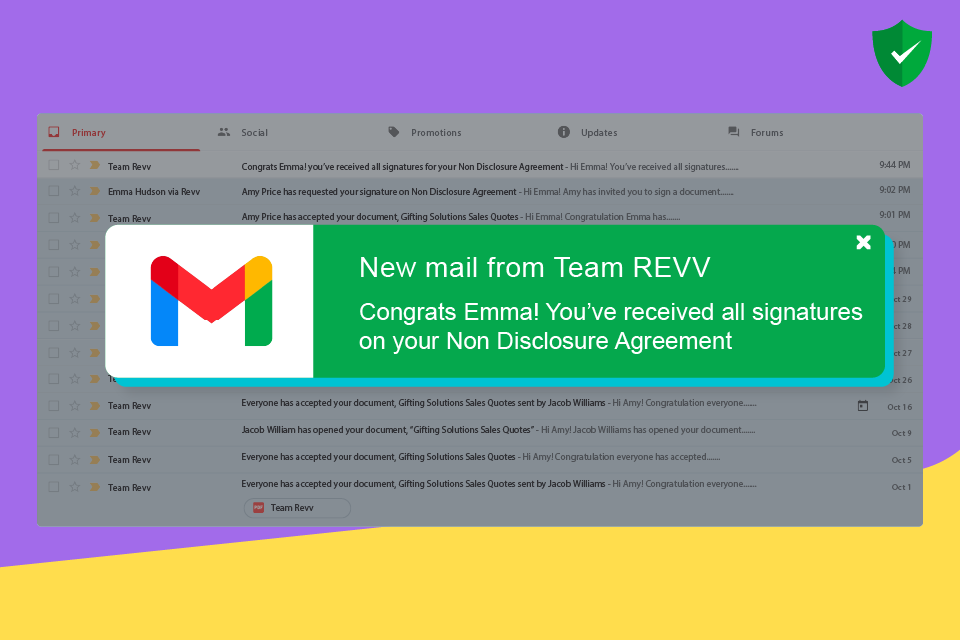 Watch a step-by-step tutorial on how to enable electronic signature in documents with Revv
Conclusion
The paper-driven document management process involves numerous steps and is not the right document management technique in this era. Automating business processes has become the need of the hour.
Revv is a smart and business-friendly document management solution that empowers small and large organizations to accelerate their business processes, minimize cost, and maximize productivity. Not only eSignatures, but it also automates and optimizes the entire document lifecycle with its document workflow automation capabilities.
It offers very competitive pricing plans suitable for freelancers, professionals, and all types of businesses. Users have the liberty to choose between monthly and yearly billing.
Revv's eSignature features give businesses the speed they need to win.
Frequently asked questions
What is the best eSign service?
One of the best eSign services is Revv. It offers bank-grade security and makes signing documents an easy affair. Moreover, Revv offers you the liberty to choose how to eSign a document. You can ask the signer to give their full name, draw their signature, or just provide their initials.
How to insert a signature into a PDF?
You can leverage a document management system like Revv to insert eSignature blocks in PDFs that are made outside Revv. You just need to upload the PDF, add eSign placeholders in the doc, and send it for signature.
Don't miss the second part of this blog!

The next post provides valuable information on the Send for acceptance sign-off feature, which is an alternative to creating electronic signatures in documents. This feature gives you a direct way to get consent from your stakeholders or clients on your business documents.

Click here to read the blog on Send for acceptance!