Electronic signatures make documents legally enforceable. But not all documents demand a great degree of diligence and legal authentication.
Documents such as quotes, bills of materials, proposals, offer letters, etc., may not always need an electronic signature to complete the process. An affirmation from recipients on such documents is enough to proceed to the next steps.
What is "send for acceptance" feature in Revv?
Revv offers its users the flexibility to obtain consent on documents from recipients through a simple process of sending for "acceptance".
Following are the key benefits of the "send for acceptance" feature in Revv:
A flexible and free alternate to the electronic signature: While eSignatures may come at a price, getting acceptance on documents is completely free in Revv. Depending on the document's type and criticality, users can opt to get either an eSign or just a formal acceptance from recipients. Documents can be sent with requests for acceptance to internal teammates as well as external parties, just like an eSignature process.
Easily accessible: Revv's documents are accessible from anywhere, on any device. A recipient can accept documents with just a few clicks without logging into Revv.
Smart sharing: Revv facilitates document sharing with one or many recipients and automatically routes the document to people for acceptance.
Tracking and analytics: The "activity" tab provides real-time insights on documents – who opened the document and when, how many times, when the document was accepted, etc. It helps to identify the obstacles, where the document is stuck and by whom, and speed up the process.
Facilitate collaboration: It frees up users from sharing and reviewing documents over long email threads. Both senders and recipients can collaborate over the document in Revv through chats, @mentions, and notes and sort out their doubts.
Some documents might require supporting files. Revv's "attachments" feature supports both the upload and download of supporting documents.
Highly secure: Every recipient receives a document link unique to them. These links are highly secure and can only be accessed by the assigned recipients. Revv complies with the latest industry standards and provides heightened safety and security on documents.
Notifications: Once sent, the recipients receive email alerts to accept the documents. Revv also keeps the senders updated on all activities on the document.
All-in-one: Revv is an all-in-one document management tool. Right from drafting documents using in-built templates to sharing and tracking their status – Revv allows users to create and manage end-to-end document workflow.
How to share a document with "send for acceptance" feature in Revv?
1. Sign up and set up your account in Revv. Revv has a forever free basic plan covering unlimited users, unlimited documents, five free eSigns per month, five free active templates, and many more benefits. Find here the complete details on Revv's plans.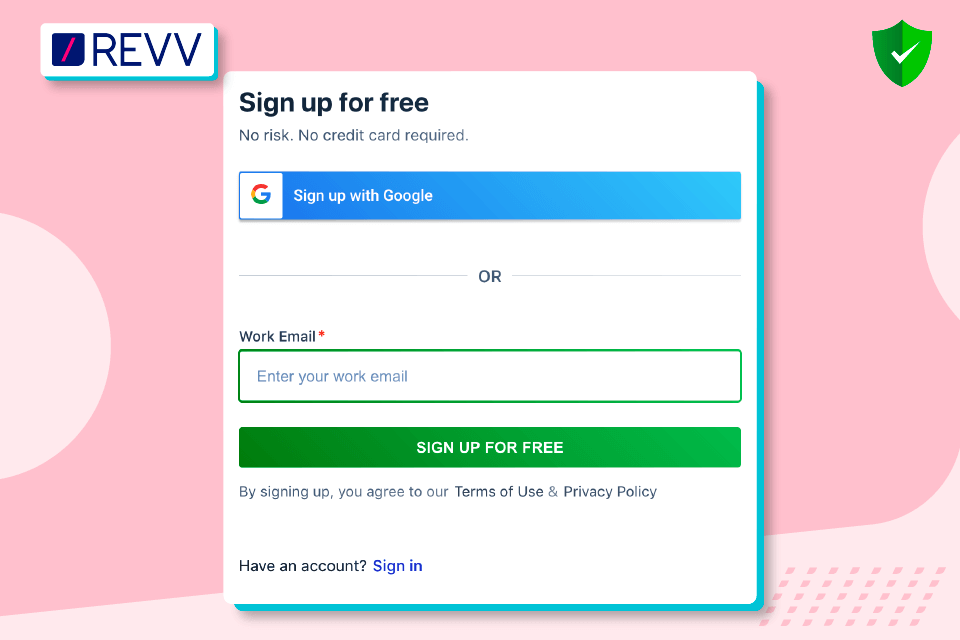 2. Sign in to your account, click on the "create document" button, and start drafting the document.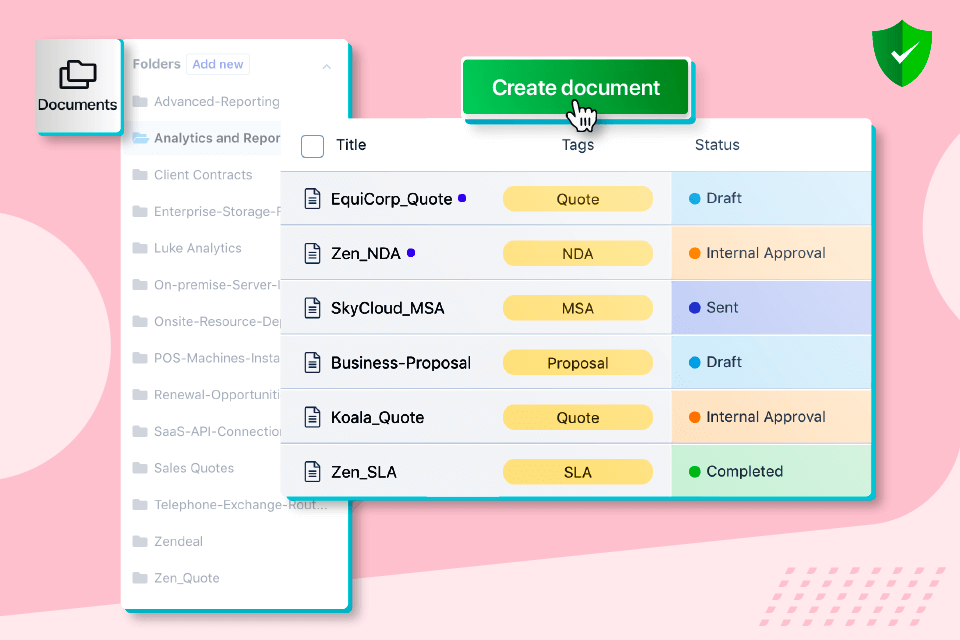 3. Revv provides options to create a document using its pre-formatted and ready-to-use template library, or produce a document from the beginning, or upload your document and edit it.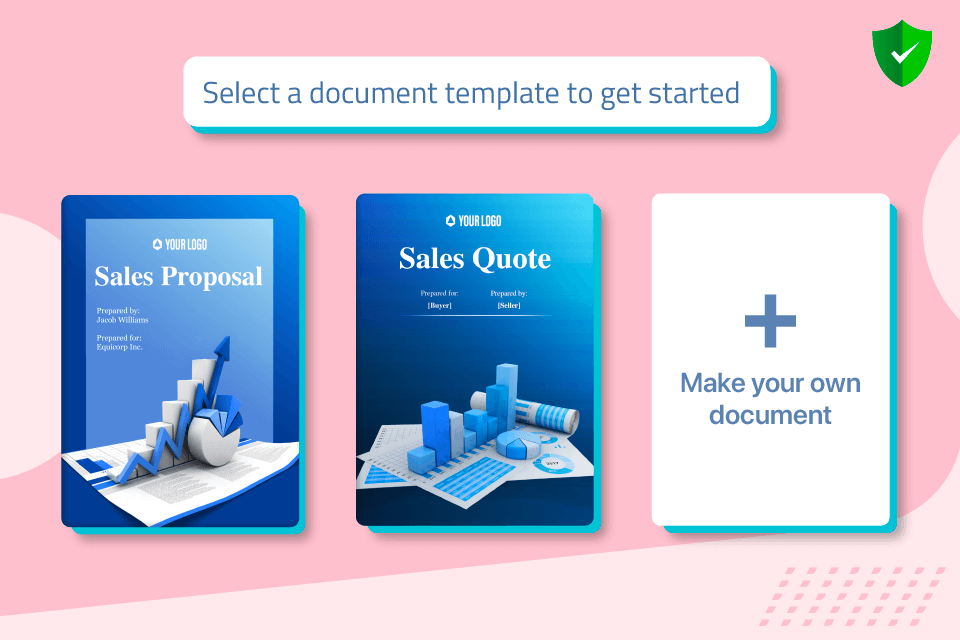 4. Create professional and visually appealing documents in a few minutes using Revv's rich drag and drop document builder. Users can also edit a document by clicking on the plus (+) icon and selecting the required field. Revv also allows users to integrate Google Sheets and fetch price tables from Google Sheets to document.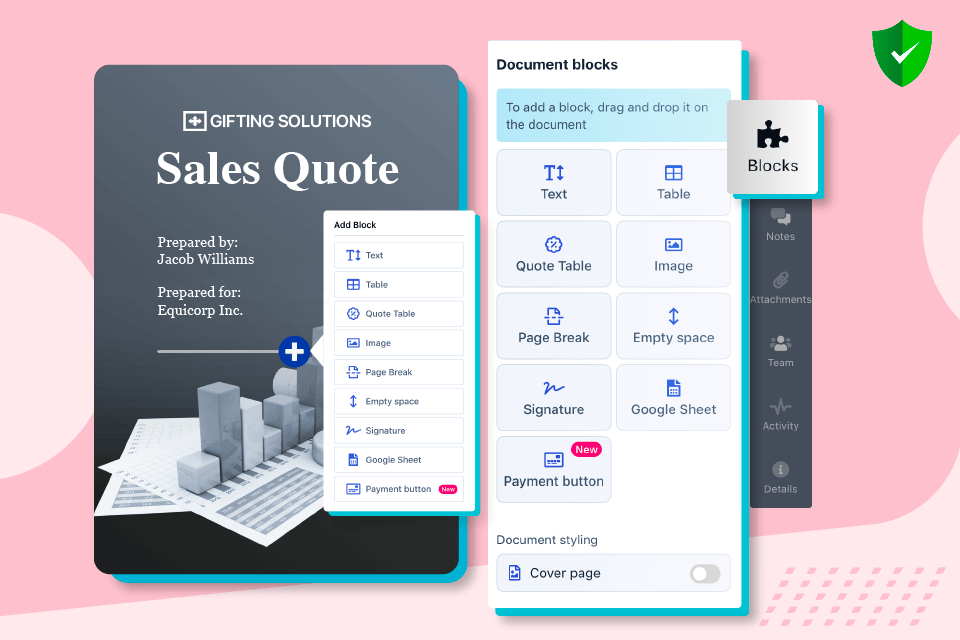 5. When the document is ready, click on the "send" button and select "send for acceptance."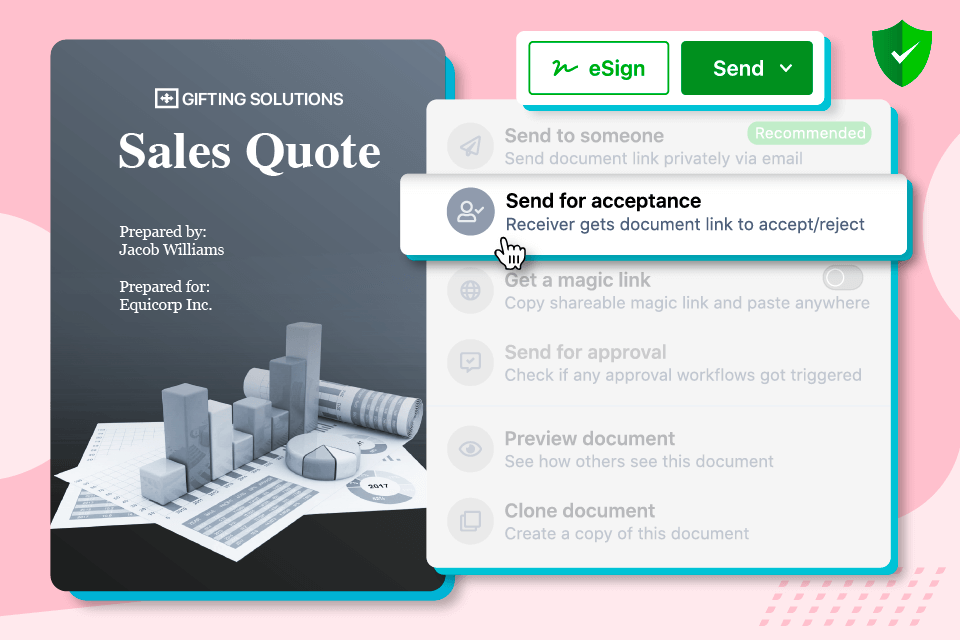 6. Enter recipient(s) details – email id and name, add a message that should go to the recipient along with the document, and hit the "send for acceptance" button.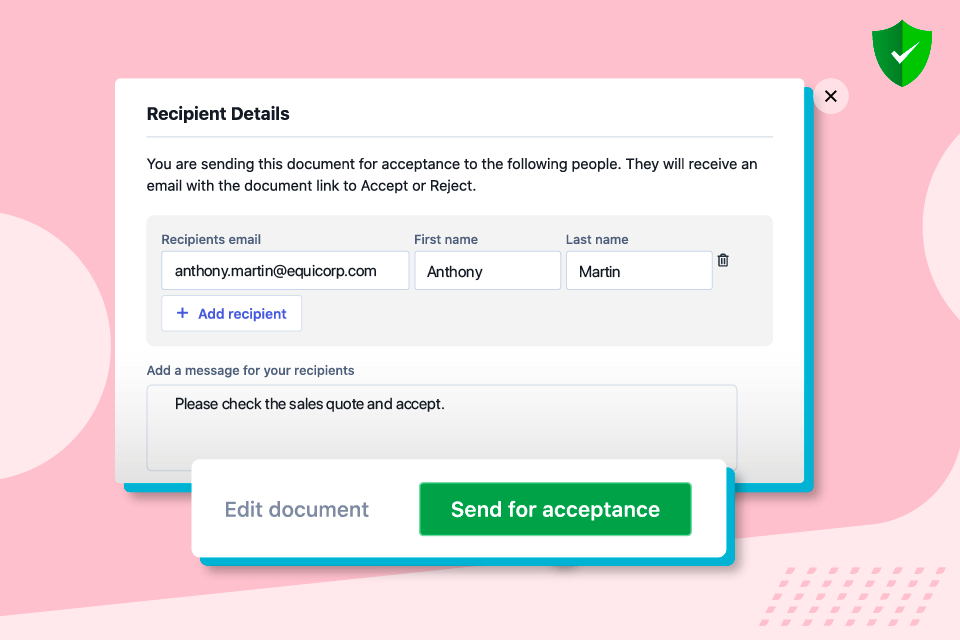 7. The recipient(s) receive an email to review and accept the document.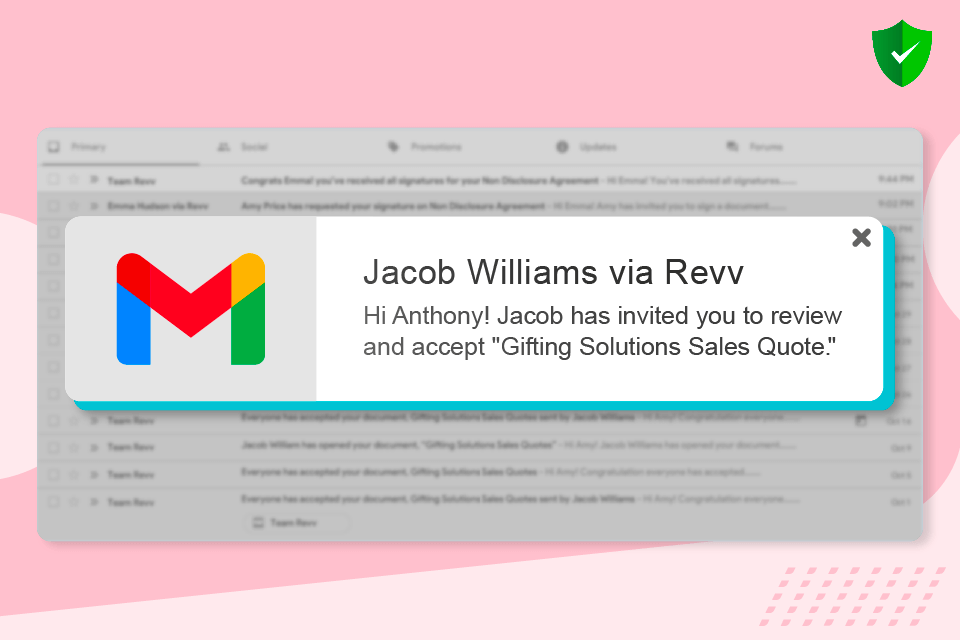 8. When a recipient clicks on "view document" button, they can access the document directly without logging into Revv.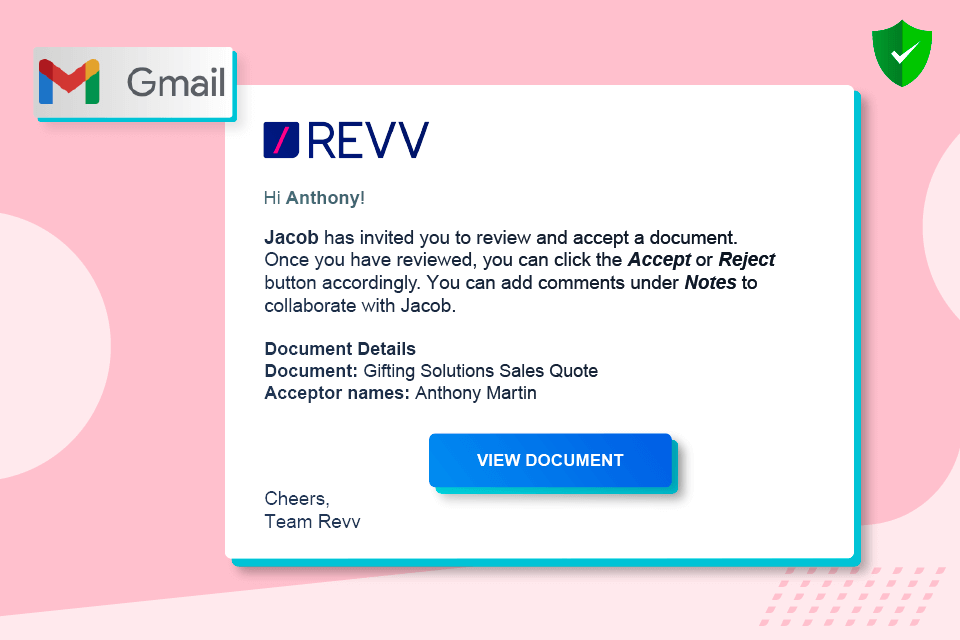 9. After reviewing, the recipient can accept/reject the document by clicking on the "accept/reject" button.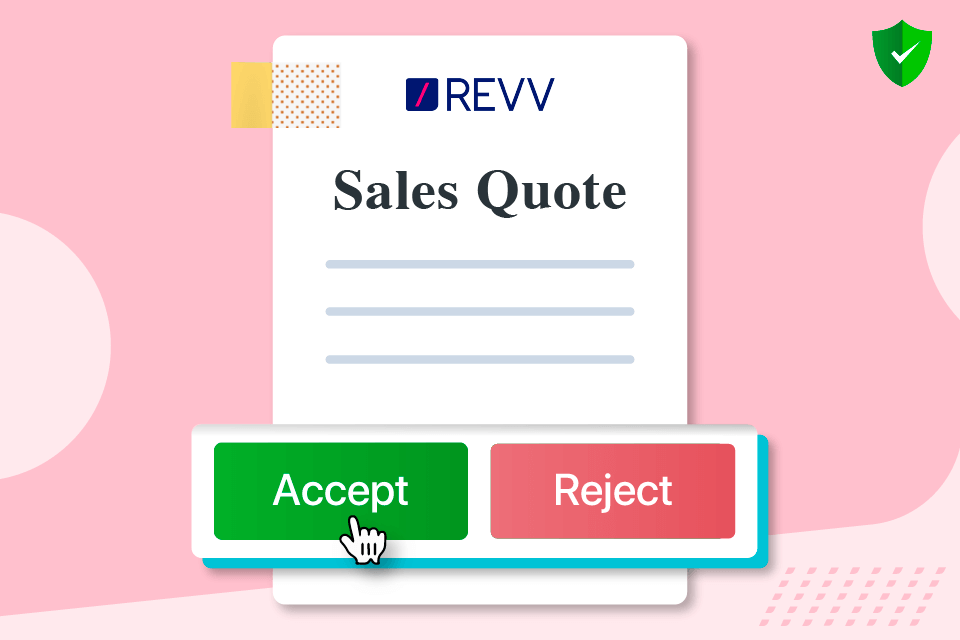 10. Senders can keep an eye on the status of the shared document through the "activity" tab – when the document was opened, by whom, how many times, etc.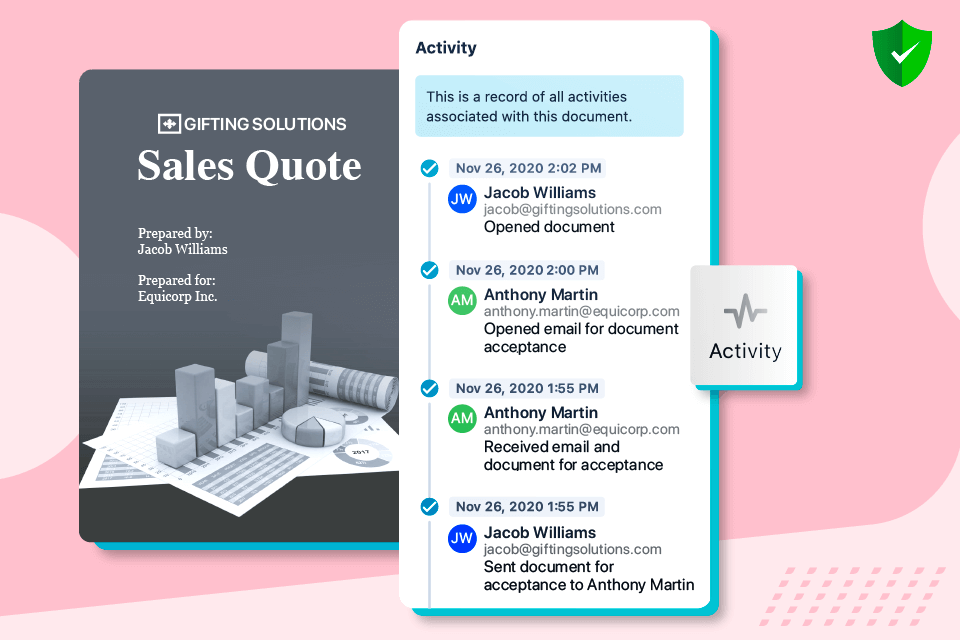 11. The sender also receives updates on document status through email alerts.
Watch: How to obtain consent of the recipient(s) through "send for acceptance" feature in Revv?
Conclusion
The "send for acceptance" feature in Revv equips its users with the right sign-off. It saves time, increases productivity, and enhances user experience.
Kick-start your document management with the most efficient and innovative tool – Revv.
Connect with us at sales@revv.so, and we will solve your document management challenge.
Wait! There is more.
Until now, we have explained the benefits and application of two digital sign-offs in Revv – "eSignature" and "send for acceptance."
We are now sailing towards the third and concluding part of this blog, which talks about "send for internal approval" sign-off.
The blog will blow your mind because the "send for internal approval" feature is one of a kind!
This feature detangles the document mess most smartly. It streamlines document approval workflows and automates the approval process.
To know more, follow the blog – How to Automate Document Approval Workflow Process with Revv? – Digital Sign-Offs Part 3