Electronic signatures make documents legally enforceable. But documents like quotes, bills of materials, offer letters, etc., may not always need an electronic signature to complete the process. An affirmation from recipients on such documents is enough to proceed to the next steps. Revv's document management system facilitates this through its 'Send for acceptance' feature.
What is Revv's 'Send for acceptance' feature?
'Send for acceptance' is a free alternative to e-signature.
These are soft signatures equivalent to a 'clickwrap agreement' where a user is required to tick on the checkbox of "I agree" or "I accept" when installing a software system, downloading a mobile app, browsing a website, etc.
This soft signature feature works well for not-so-sensitive-documents that are produced in high volume. Signing off each of these kinds of documents with electronic signatures can be an expensive affair.
Revv's document management system offers users the flexibility to obtain recipients' consent on documents through a simple process of sending for 'acceptance.'
It benefits both small and large organizations in terms of cost-saving, ease-of-use, and freedom from paper documents.
Why should you opt for 'Send for acceptance' feature?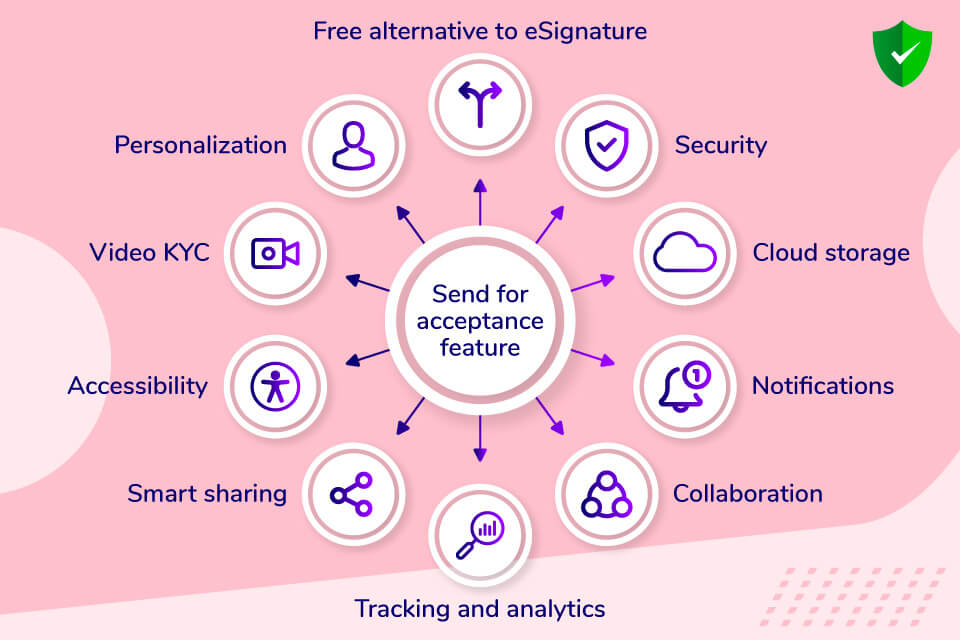 A free alternative to the electronic signature – Whether solopreneurs, startups, or larger organizations – signing documents is a key enabler of business processes.
Depending on the document's type and criticality, users can choose to close legally enforceable files with eSignatures or with just a formal acceptance from recipients.
Documents can be sent with requests for acceptance to internal teammates and external parties, just like an eSignature process.
While eSignatures may come at a price, getting acceptance on documents is completely free in Revv.
Upload your own files – Businesses can upload multiple file types like Microsoft Office PDF and DOCX documents and send them for acceptance.
A touch of personalization – For better accountability, you can add personalized text and video when sending your documents for acceptance. The recipients can see the video when they open the document link sent to them via email.
Enable recipients' verification by video KYC (Know Your Customer) – In today's virtual workplace, businesses are running on an internet connection, and there are least in-person interactions.
In such scenarios where documents are signed-off virtually, Revv brings in the video KYC feature to authenticate the identity of the recipients.
Revv complies with the highest safety standards and has tight data security measures to keep videos protected.
Easily accessible – With an internet connection and mobile access to documents, the documents can be accepted/rejected and closed faster within a few clicks, irrespective of where the recipient is.
Smart sharing – Revv facilitates easy sharing of electronic documents through magic and snap links. This enables external users to quickly view the files without signing into Revv.
Tracking and analytics – The 'Activity' tab provides real-time monitoring on documents – who opened the document and when, how many times, when the document was accepted, etc. It helps identify the obstacles, where the document is stuck, and by whom, and speeds up the process.
Collaboration within the document – It frees up users from sharing and reviewing documents over long email threads. Both senders and recipients can collaborate over the document through notes and comments, tag other users with @mentions, and sort out their doubts.
Some documents might require supporting files. Revv's 'attachments' feature supports both the upload and download of supporting files.
Notifications – Once sent, the recipients receive email alerts to accept the documents. The sender will also be notified about the document activity via email. For instance, when the recipient opens the document for review, the sender will receive an email alert regarding the same.
Cloud storage – Cloud storage is an innate part of an electronic document management system. Cloud services enable users to quickly search and retrieve documents from an organized central repository, from any location, and at any time.
Security and protected environment to process documents – Every recipient receives a document link unique to them. These links are highly secure and can only be accessed by the assigned recipients. Revv complies with the latest industry standards and provides heightened safety and security on documents.
How does the 'Send for acceptance' process work in Revv's document management software?
First and foremost, sign up and set up your account in Revv. It is effortless and quick.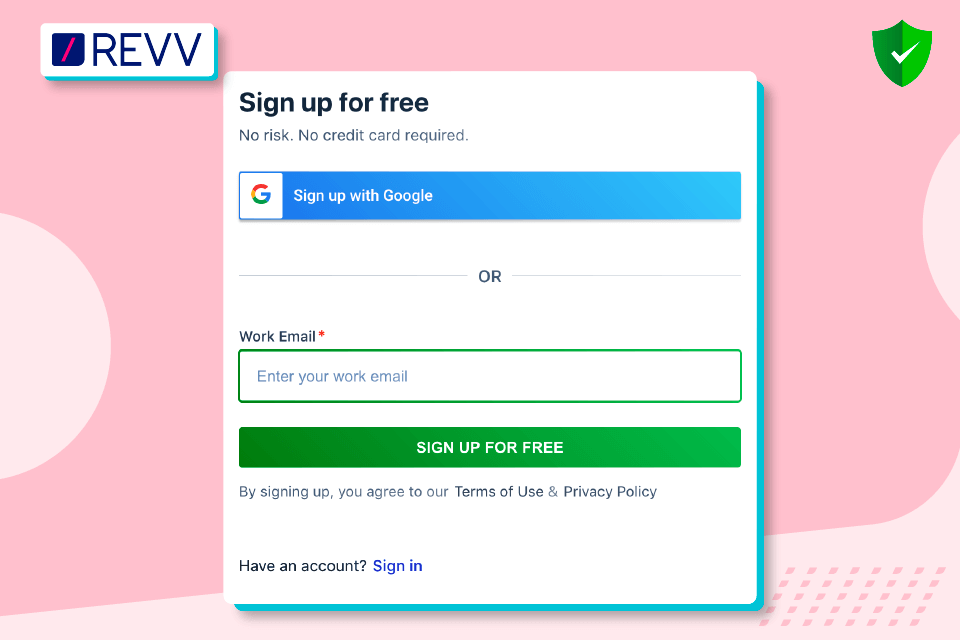 2. Sign in to Revv's document management software, click on the 'Create document' button, and start drafting the document.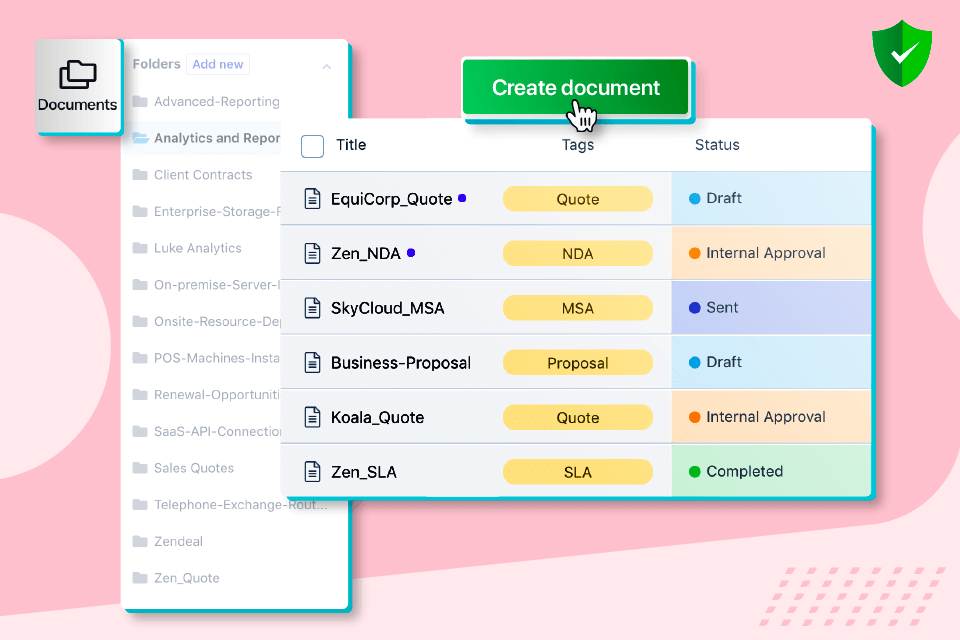 3. Revv document management solution provides options to –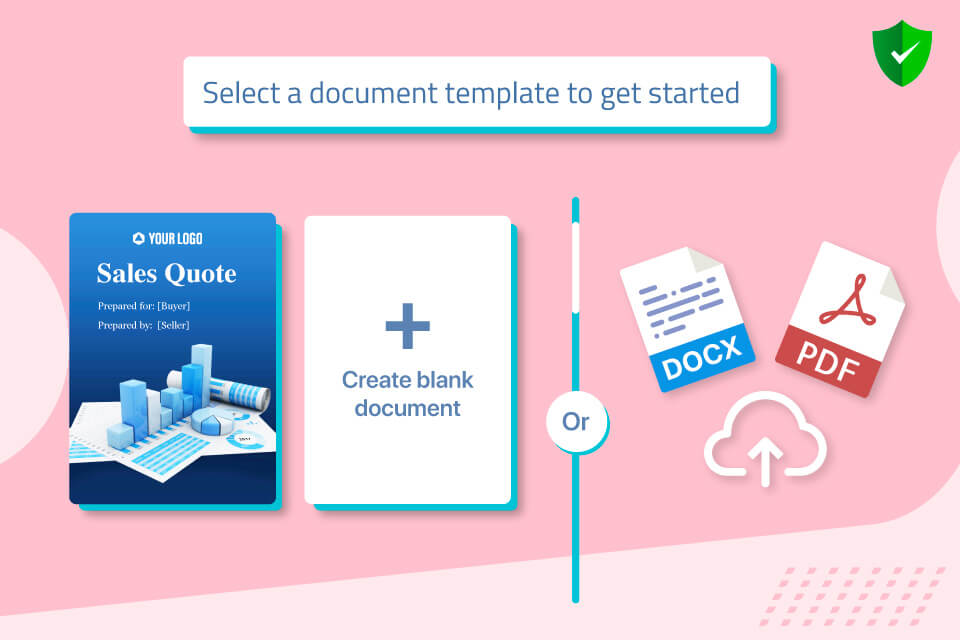 4. To explain this 'Send for acceptance' process, we have selected a sales quote template.
The next step is editing the template.
Create professional and visually appealing documents in a few minutes using Revv's rich drag and drop text editor.
Users can also edit documents by clicking on the plus (+) icon and selecting the required field.
Revv also allows users to integrate Google Sheets and fetch price tables from Google Sheets to document.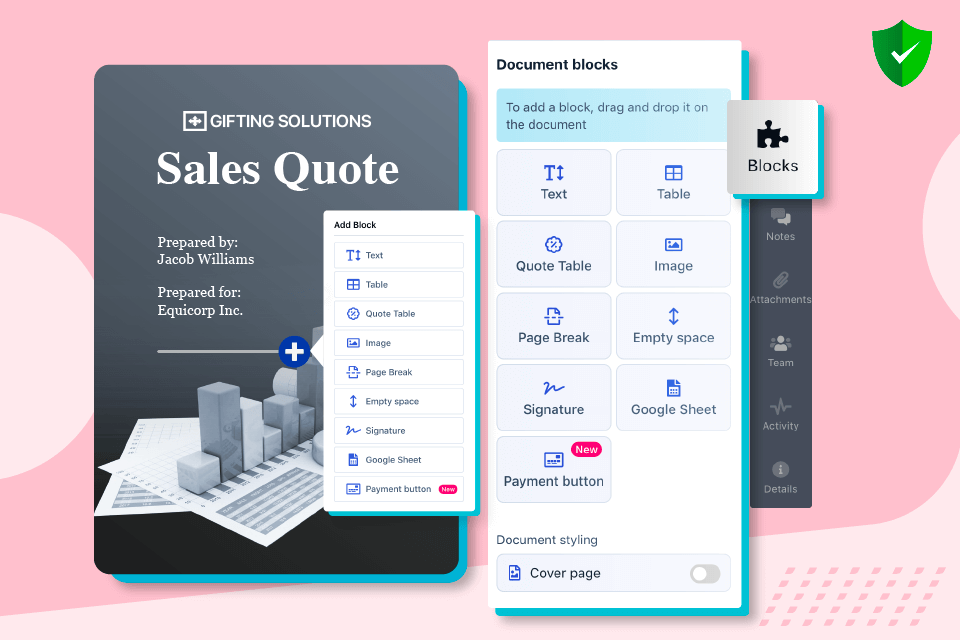 5. When the document is ready, click on 'Send' button and select 'Send for acceptance.'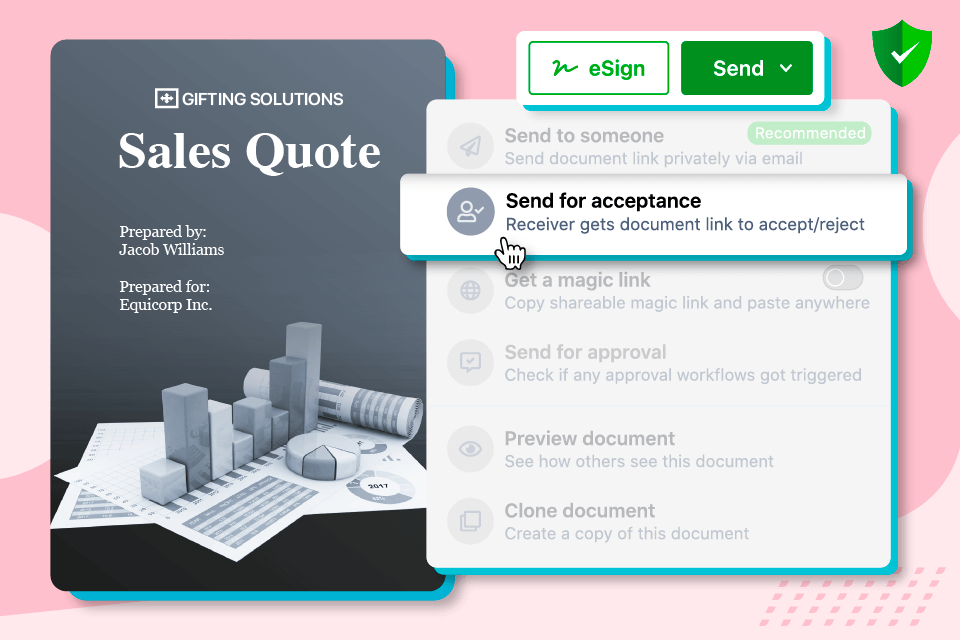 6. Enter recipient(s) details – email id and name, add a message that should go to the recipient along with the document, and hit 'Send for acceptance.' You can also add a personalized video for the recipient.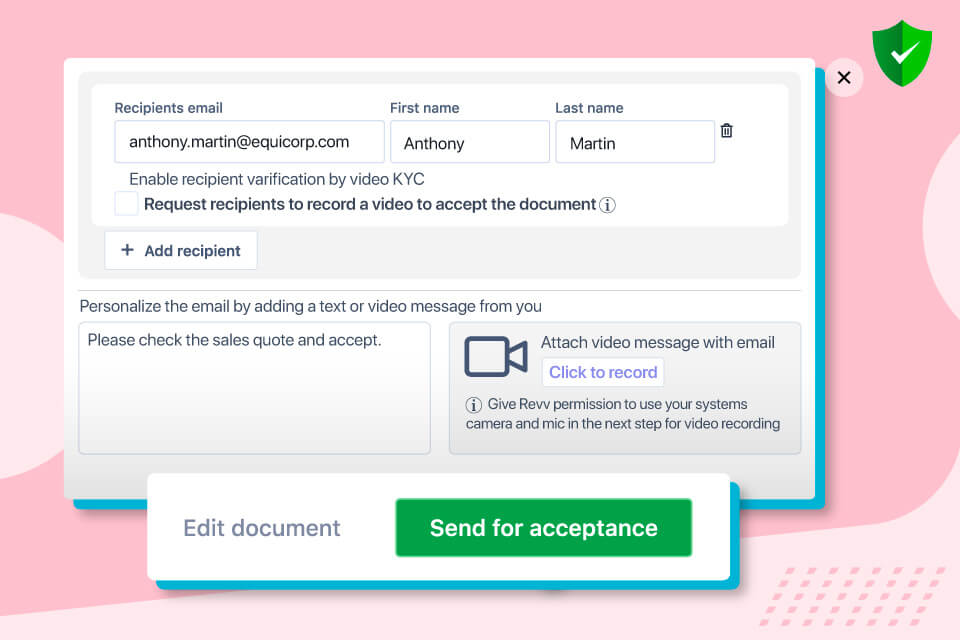 7. The recipient(s) receive an email to review and accept the document.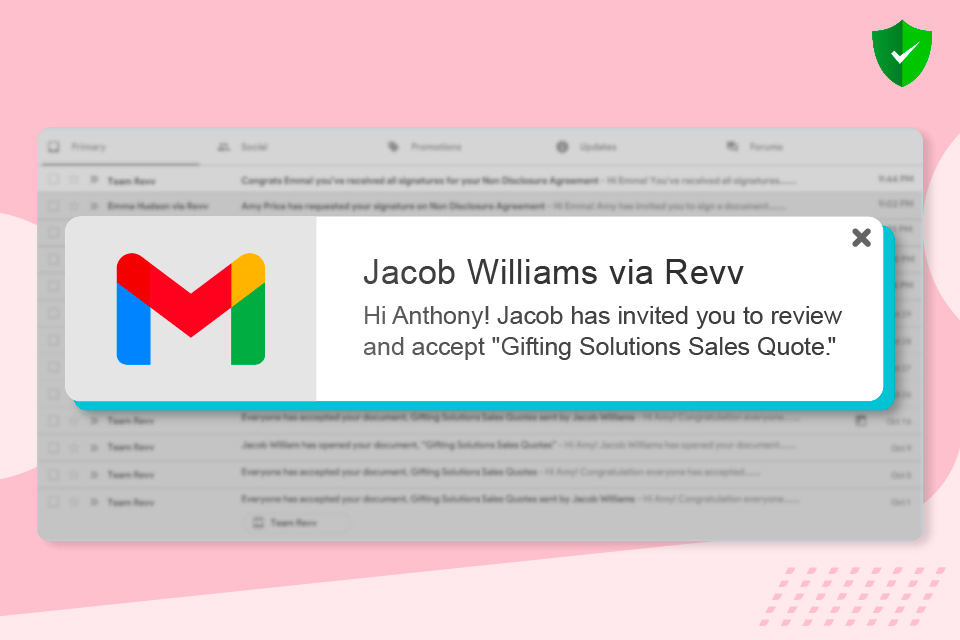 8. When a recipient clicks on the 'View document' button, he/she can directly access the document and see the video message without logging into Revv.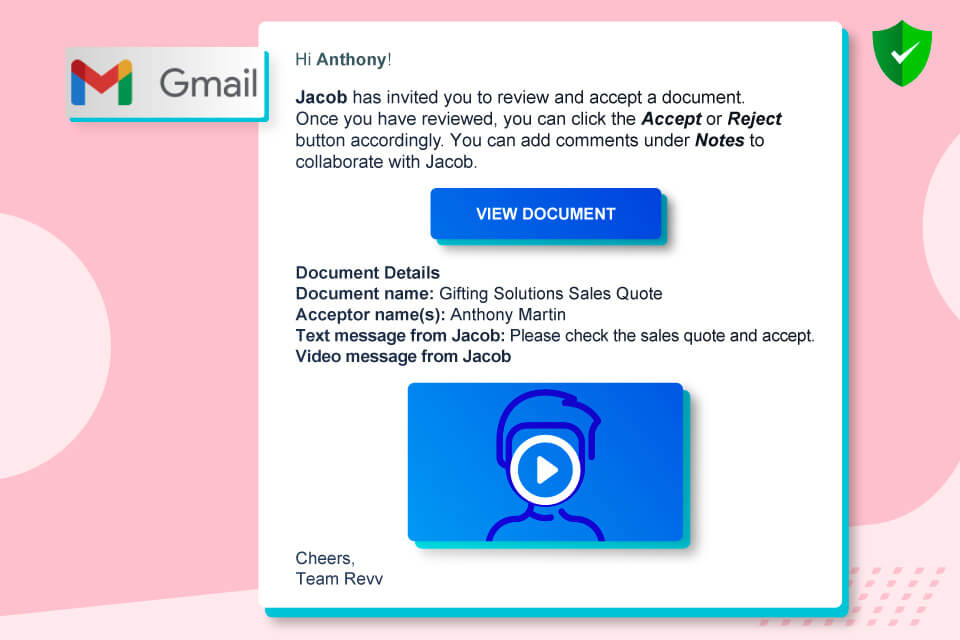 9. After reviewing, the recipient can accept/reject the document by clicking on the 'Accept/Reject' button.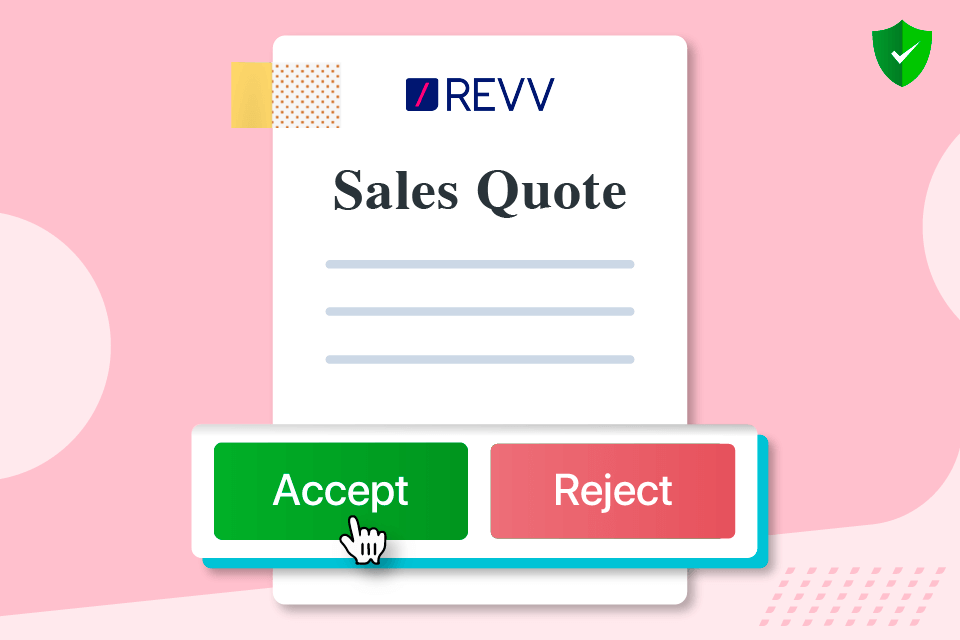 10. When the recipient clicks on 'Accept' button – a window pops-up to add a supporting text or record a video before finally accepting the document.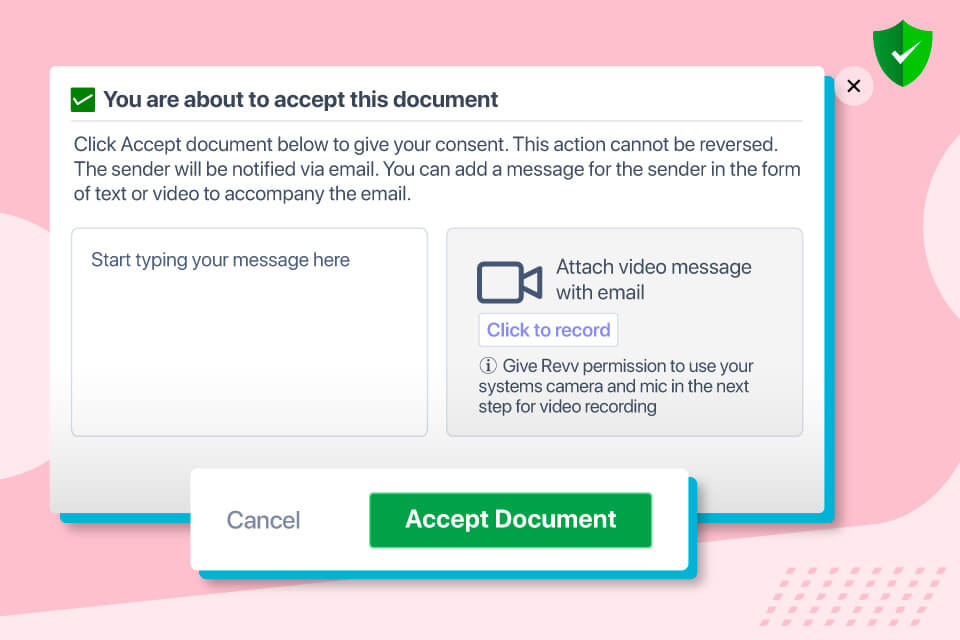 11. Senders can keep an eye on the status of the shared document through 'Activity' tab – when the document was opened, by whom, how many times, etc.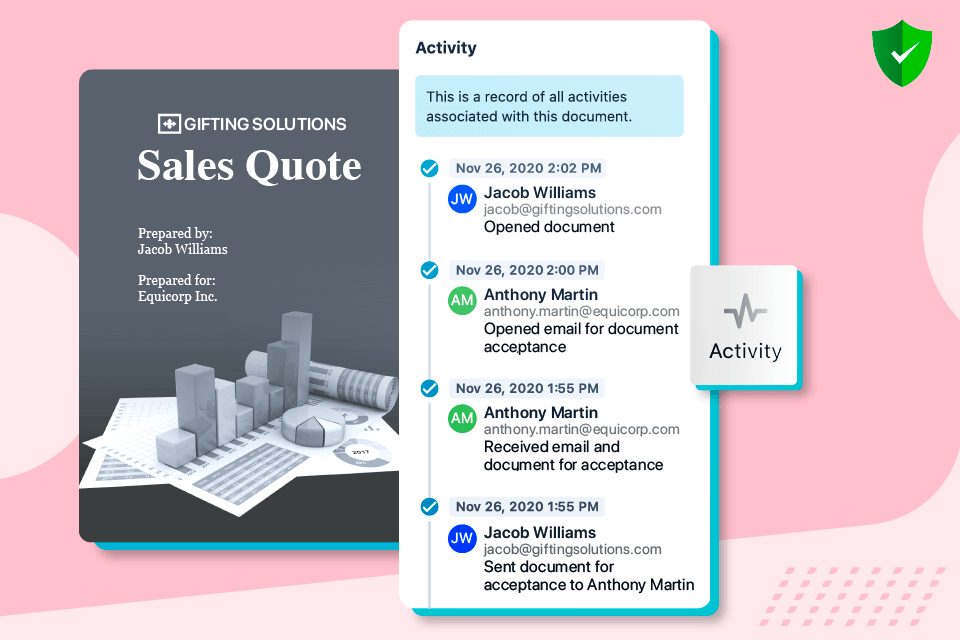 12. The sender also receives updates on document status through email alerts.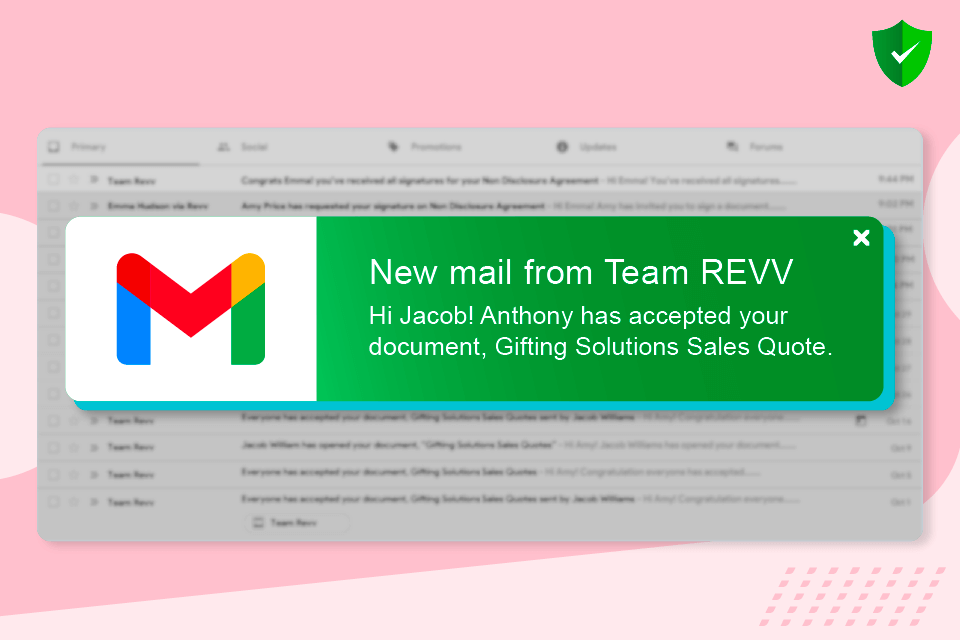 Watch Video:
How to obtain consent from the recipient(s) through the 'Send for acceptance' feature in Revv?
Revv – Driving the future of document automation
Revv stands out from the many document management systems available today. It provides holistic management of web-based documents empowered by automation features that help businesses stay competitive in today's virtual working environment.
The below points highlight how to automate workflow processes and achieve end-to-end management of electronic documents with Revv –
A library of professional templates – Users spend hours scrolling the search engine to find the right template. Still, they struggle to find a comprehensive one.
With a document management system like Revv, businesses get access to 1000+ customizable, design-rich, and legally-vetted templates with an easy-to-use text editor.
Greater business value through API integration – Revv's advanced yet simple document management system enables seamless integration of business processes and product suite through native API integration. Create streamlined information management and records management across all third-party applications like customer relationship management (CRM), accounting software, and many more.
Business apps integration through Zapier – Connect Revv with other business applications through Zapier in just a few clicks, and automate repetitive and crucial document tasks.
Integration of other business platforms with document management systems saves tremendous time and effort and helps achieve consistent data and information across all platforms.
No-code workflow automation – With in-built automation features, workflow tools, business applications integration proficiency, and an easy-to-use visual user interface (UI), Revv's cloud-based document management software allows businesses to automate and streamline document workflows end-to-end – without any coding or programmer's help.
Let's take an example and understand how an automated workflow runs with Revv's integrated document management system –
A sales quote gets automatically generated in Revv's document management system when a new lead is added to a customer relationship management system (CRM)
The user edits and modifies the sales quote by using Revv's rich drag-and-drop text editor
The user sends the quote to recipients through Revv's 'Send for acceptance' feature
The recipient accepts the file. Once accepted, the file gets automatically stored in Google Drive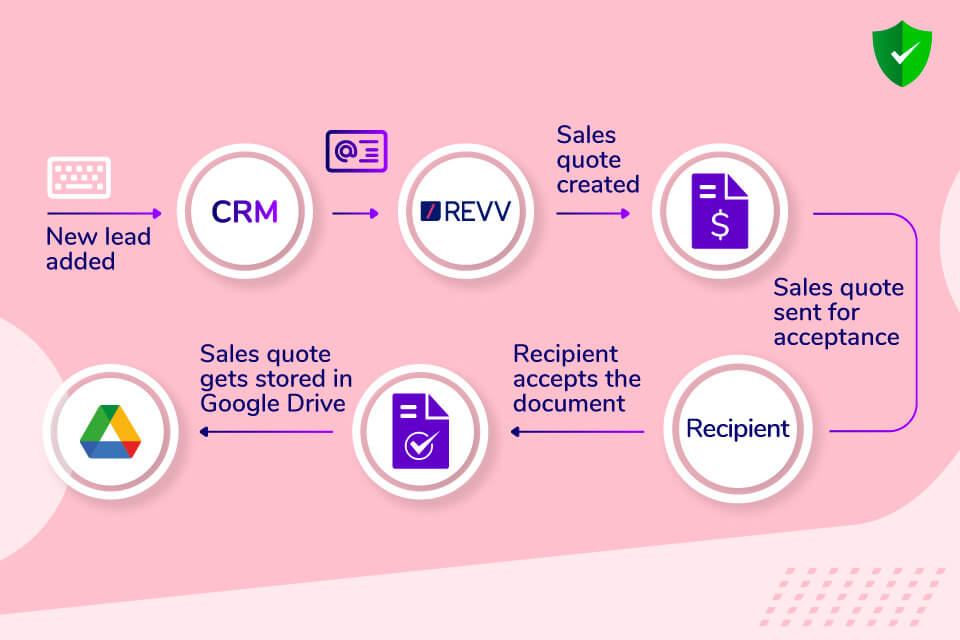 Automate internal approvals on documents – An outstanding feature of document management systems is the automation of internal approval workflow on documents and putting better document control in place.
With Revv, users can define conditions and actions for each workflow that, when triggered, automatically routes the electronic documents to respective approvers.
Restricted access to templates with user management – Protect the sensitive data in templates. A template owner can select who all can access or use a template.
Analyze documents with Metalens – Revv is an intelligent machine-learning based document management system.
Its Metalens feature empowers businesses to extract relevant data and identify important points from any PDF or DOCX file type within Revv. This extracted data helps identify obstructions and unlock new findings that help set-up workflow and optimize a business process.
Payment integration – Collect online payments instantly by integrating Stripe within your proposals, quotes, and contracts. Revv doesn't collect any charges on your transactions and all the payments are managed by Stripe.
Above all, Revv provides the most affordable pricing plans to empower each business, whether big or small, with document automation.
Summing it up but there is more!
We have already covered the benefits and application of eSignature in the previous digital sign-off series blog.
This blog explained the second sign-off feature in Revv – Send for acceptance. It took an in-depth view of how 'send for acceptance' can save time and money, increase productivity, and enhance user experience.
We are now sailing towards the third and concluding part of this blog, which talks about 'Send for internal approval' sign-off.
The blog will blow your mind because the 'Send for approval' feature is one of a kind!
This feature detangles the document mess most smartly. It streamlines document approval workflows and automates the approval process.
To know more, follow the blog – How to Automate Document Approval Workflows with Document Management System? – Digital Sign-Offs Part
Frequently asked questions
How to digitally sign a word document?
Revv, an all-in-one document management system, has simplified signing web-based document files like a Word document. The best part is that you can get it done for free.
Follow these simple steps –
Sign up to Revv (Our experts will provide customizable plans suiting to your business needs) 
Use our templates or upload your doc file
Edit your document with the rich editor
Complete your review and approval processes 
Add signature placeholders in your document
Add recipients information
Send the file for electronic signatures
How to electronically sign a document?
Sign electronic documents with Revv's document management software.
Steps to send docs for eSign –
Create or upload electronic documents
Add signature placeholder in the doc
Add recipient details
Click send. An email is sent to the recipient
Steps to eSign a file –
Open the document link sent in the email
Click on the eSign box, and it is done
How to sign a document online for free?
Revv's automation features allow you to create your own documents or upload PDF and DOCX files and send them for eSignatures.
Revv is the best cloud-based document management solution that also offers a 'Send for acceptance' feature – a free and flexible alternative to eSign for the files that just need recipients' consent to move forward, saving time and money.
What are the three benefits of a document management system?
A document management solution provides distinguished benefits to businesses.
Brings standardization and compliance – With document automation, transparent information management and records management, tracking mechanism, and centralized cloud-based storage, document management solutions foster a compliant environment where every move is detectable.
Air-tight security – Storage of documents in physical cabinets or common folders increases the risk of documents falling into the wrong hands. Document management systems provide high-level security and store all the documents on a secure cloud server with restricted user access.
Enhanced productivity – A right document management software saves countless hours of document search, document creation, and unending email communications. With automated workflows, smart collaboration, easy retrieval, simplified routing, expandable storage capacity on the cloud, in-built electronic signature system, customizable templates, and many more – document management systems make the document processes more streamlined and efficient.
What is the purpose of a document management system?
The purpose of a document management system is to make documents based operations more efficient and transparent.
A document management software provides a clear framework to create, edit, share, store, and manage documents.
Document management systems make working in today's virtual business environment a cakewalk. It offers a suite of automation features.
Document management systems provide –
A secure cloud database to secure all document-related information
Indexing of documents for easy search
Version control
Document control
Document workflow automation
Business platform integrations
Permissioned access to files
Document monitoring features
Electronic signatures
Watertight security
Real-time collaboration
Backup and disaster recovery benefits
Mobile-friendly document processing