Whether in large organizations or small, documents act as an essential pillar enabling smooth execution of day-to-day business processes. This places even more emphasis on creating perfect winning documents, which can be achieved effortlessly through an electronic document management system.
Business documents are sent to internal teams for reviews and approvals before sharing them externally for final sign-offs.
Cloud-based document management system, Revv, enables users to create rules, nominate approvers, and obtain approval/rejection on documents through 'send for internal approval' feature.
What is a document approval workflow system?
Let's first decipher what workflows are.
Workflows are the rules that trigger a set of actions when a particular condition is met in documents.
So, what is a document approval workflow?
Whether internal or external, all documents are sensitive documents filled with information that circles around your business. While some documents don't need the lens of scrutiny, some documents capture critical information that needs to be validated by internal teams before sending them to the recipients.
Therefore, an approval workflow specifies the rules on how a file should travel and what stops it should make before reaching the destination.
Here's an example of an approval workflow –
Mr. Steve, sales manager at XYZ company, wants to ensure that if any of his sales associates offer a 'yearly' billing period instead of 'monthly' in the sales quote, such documents should be sent to him automatically for his approval.
Also, he wants his sales head's (Miss Emma) approval on these documents. But, he wants the quote to be sent to Miss Emma only after he has approved them.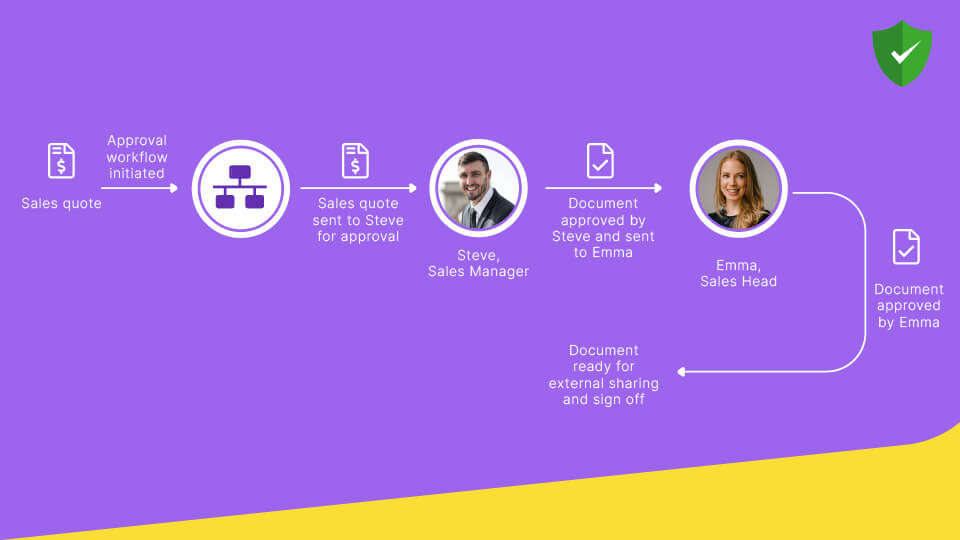 Now, let us understand what a document approval workflow system is.
A document approval workflow system streamlines and enhances business operations. It automatically routes electronic documents to the respective approvers and provides insights on approvers' actions and pending tasks.
Why are document management systems 'the solution' to automating approval workflows?
First, what is a document management system (DMS)? What is the purpose of a document management system?
Document management systems are cloud-based software that builds a paper-free workplace. It protects organizations from the horrors of haywire, painful, and error-prone document management. The software helps create, organize, digitize, store, and manage files and protects them with a built-in security system.
The document management system features list includes – customizable templates, e-signature, no-code workflow automation, collaboration, business platforms integration, API integration, notifications, real-time tracking, version control, access control, information management, data and records management, and file type conversion – along with an added layer of security.
Next, why do you need a DMS for approval workflow automation?
Automating document approval workflow is the tip of the iceberg when it comes to document management. To bring efficiency into the system, businesses also need to fasten the pre- and post-process of document approval. 
For example –
Is the document drafted professionally?
What's happening to it post-internal approval? 
Is it sent to customers for eSignature or soft signs? 
Is it signed? 
Where is it stuck?
…and so on.
An integrated document management system is equipped with workflow tools, business apps integration, machine learning, drafting, storing, and tracking capabilities. It puts a stop to NIGO (Not-in-Good-Order) issues and makes the whole document process automated, intuitive, and faster.
Let's consider the same document workflow example explained above to explain an automation process.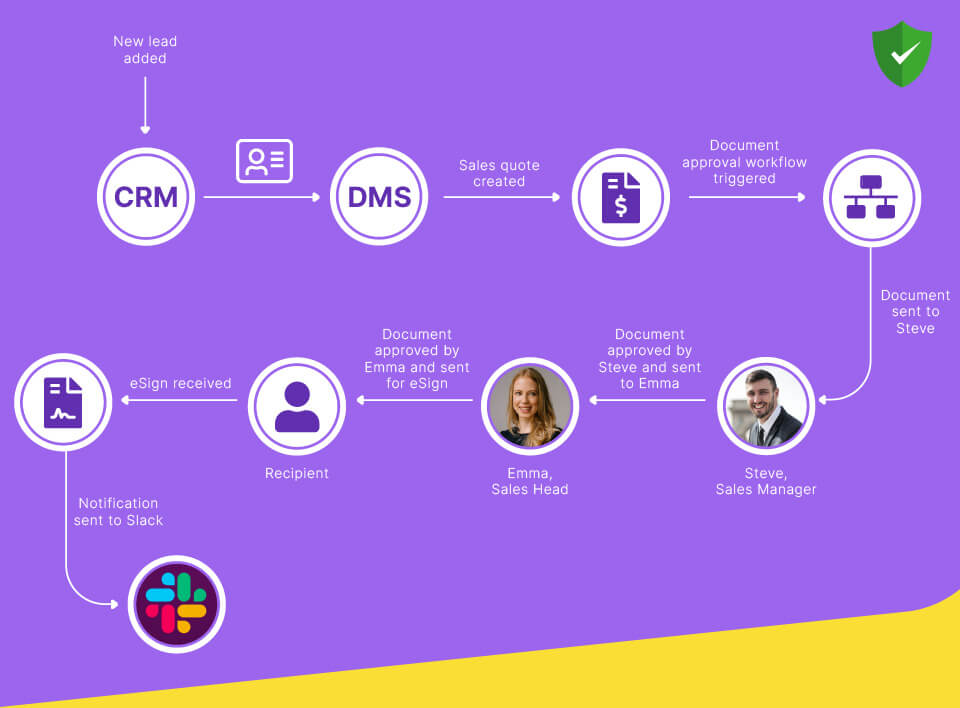 A sales quote is automatically created in a DMS when a new lead is added to CRM
Sales quote edited in DMS as per the requirement and sent for internal approval
File sent for eSignatures in DMS post internal approval
Once eSigned, a notification on the same gets delivered to a chat channel in slack
Who needs to automate the document approval workflow?
Processing documents is an ingrained part of every department in an organization – sales, purchase, human resources, marketing, finance, customer support, legal, etc.
The documents in each business function flow through various approvals depending upon the set rules.
If the approval process is driven by paper documents or via emailing of web-based documents like Microsoft Office Word or PDF –
Tracking each document manually in the approval chain becomes difficult and time-consuming
The sender has to go through non-ending email threads to check approvers' feedback and whether the document is approved or rejected
This all further increases the turnaround time and delays the sharing of files with the final recipients
Therefore, every business needs a document management system to automate these approval workflows. It liberates them from error-prone and time-consuming manual methods and focuses their strengths on more fruitful work.
Revolutionize document approval workflows with Revv – The all-in-one document management software
Revv is an easy-to-use and advanced document management software system. Its user-friendly features redefine the approval process, enhance daily operations, increase productivity, and ensure that nothing slips through the cracks.
How to configure approval workflows in documents with Revv?
1. Template level
Business departments in an organization deal with multiple documents on a daily basis. There is some information that remains common in these documents, while some fields need customization.
Also, depending on the criticality of the information, some fields might require approvals. 
Revv's document management solution expedites this process through its form-based templates.
a) Form fields level – Form fields are fillable placeholders in a document.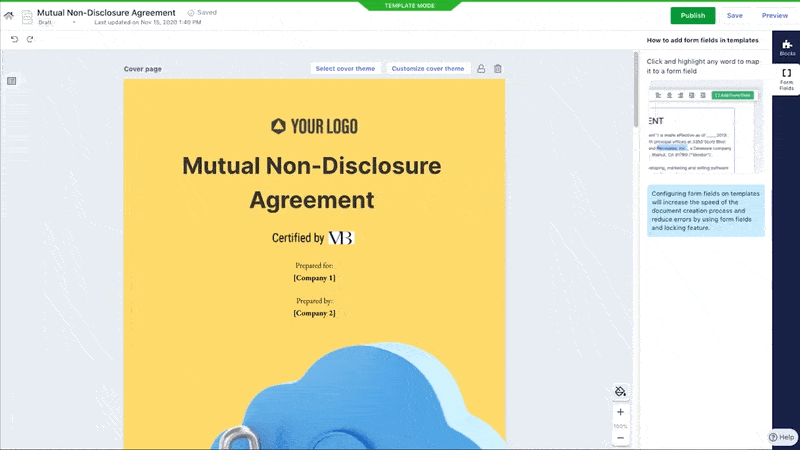 The information that you fill in these fields gets automatically updated in the corresponding fields throughout the document, and reduces the repetitive processes of redoing the work.
It helps to draft a document without any hassle in just three steps – pick a template, create a doc, and fill the form fields to complete it.
For example, the sales team in an organization sends out sales proposals to prospective clients. Some information is kept standardized for every sales proposal, while some need customization like packages, billing period, company name, company address, etc.
The fields that need to be updated every time can be created as form fields in the sales proposal template.
Next, create an approval process for fields that demand scrutiny from colleagues or seniors before sending them externally. For example, a workflow can be created for all sales proposals where the billing period is more than two months.
Upon trigger, such approval requests get routed to the list of approvers provided in the workflow settings.
Note – The proposals that don't require approval get automatically approved.
b) Clause or text level – Create multiple options for clauses and use them in documents as and when you require them. For example, you can have three clause options for three different pricing terms. If any particular selected clause demands a review, users can configure workflows based on text or clause level in the template.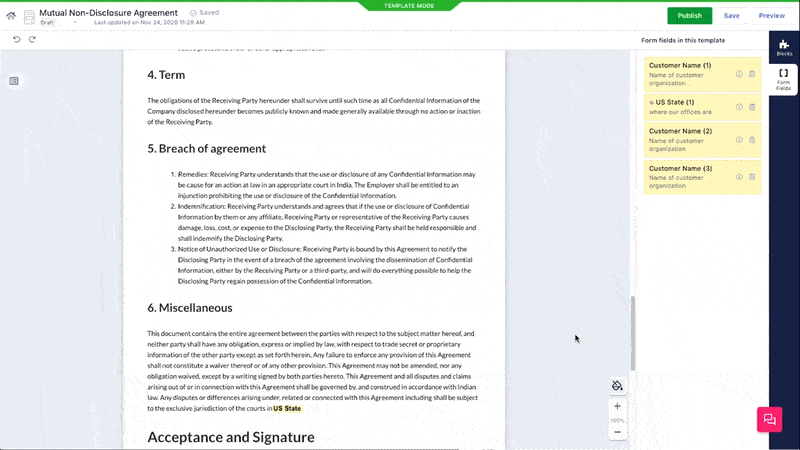 2. Quote level
Revv rescues sales teams from chaotic and inefficient email approvals on sales quotes.
In Revv, you can specify criteria at the product or price level and select the approvers. For example, an automated approval workflow can be created when the sales team increases quantity beyond a threshold or gives more discount than allocated in the quote.
Benefits of Revv's seamless document approval process
Revv is an all-in-one suite that streamlines and puts the right document management system in place. Its advanced approval workflow features enable smooth and effortless management of documents.
Enable sequential or parallel approval workflows – Revv enables users to specify the order in which documents need to be approved.
In a sequential approval system, a file moves to the next approver only when approval is received from the previous approver.
In parallel approval, a file is delivered to all the approvers altogether.
Standardized processes – It saves businesses from the chaotic loop of follow-ups over emails. It automates the approval workflow based on rules and criteria on documents and standardizes the entire process across business functions and teams in an organization.
Quick actions – The 'Check and send for internal approval' feature facilitates responding to a document by clicking on the 'approve' or 'reject' button. The internal approvers can also leave their comments/reasons for their decisions in the feedback box.
Set precise triggers and automate your document approval workflows with this option.
If you want your document to be reviewed by someone outside your organization, opt for the 'Send by email' option provided. The sender can set the recipient permission to view or edit the document.  
Document status tracking – Revv's workflow tracking mechanism provides insights on actions performed on a document, where the approval is stuck, and by whom. Clear visibility of every step helps to identify the hurdles and take necessary measures.
Faster – Approval automation speeds-up the entire process and leaves no space for confusion. It also informs approvers to act on tasks through email notifications.
Real-time notification system – Revv sends email notifications to both sender and recipients of the action that needs to be taken on the document. For example, the sender gets notified when documents are sent to recipients, when the recipient opens them, and completes the assigned task. While, the recipient will gets email alerts on what document has been sent by whom, and what action he/she has to complete. 
Easily accessible – Revv provides easy accessibility of files, be it from a desktop or mobile device. This means, with an internet connection, decisions on documents can be taken immediately from anywhere.
Highly secure – Revv ensures safety and security on all documents with the latest industry standards.
Step-by-Step process to automate and streamline the document approval workflow through Revv
In this blog, we will create and implement an internal approval workflow on documents for form fields. Similarly, workflow processes can be created for clauses and quotations.
Follow the below instructions and learn to create and manage your document approval workflow process in Revv:
Step 1 – How to add form fields in a template?
1. Go to the 'Templates' section.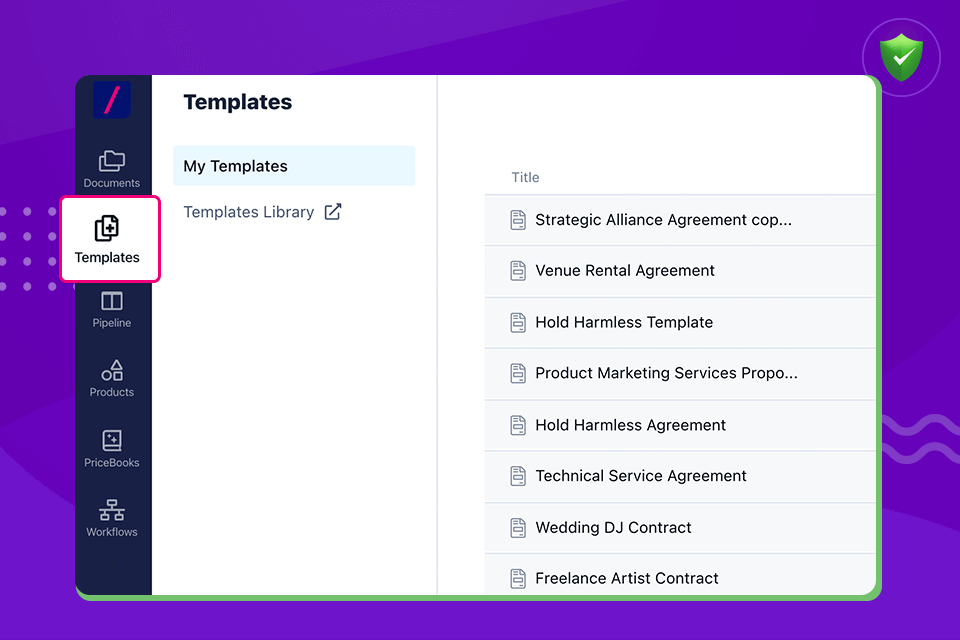 2. Choose a template from 'My Templates.'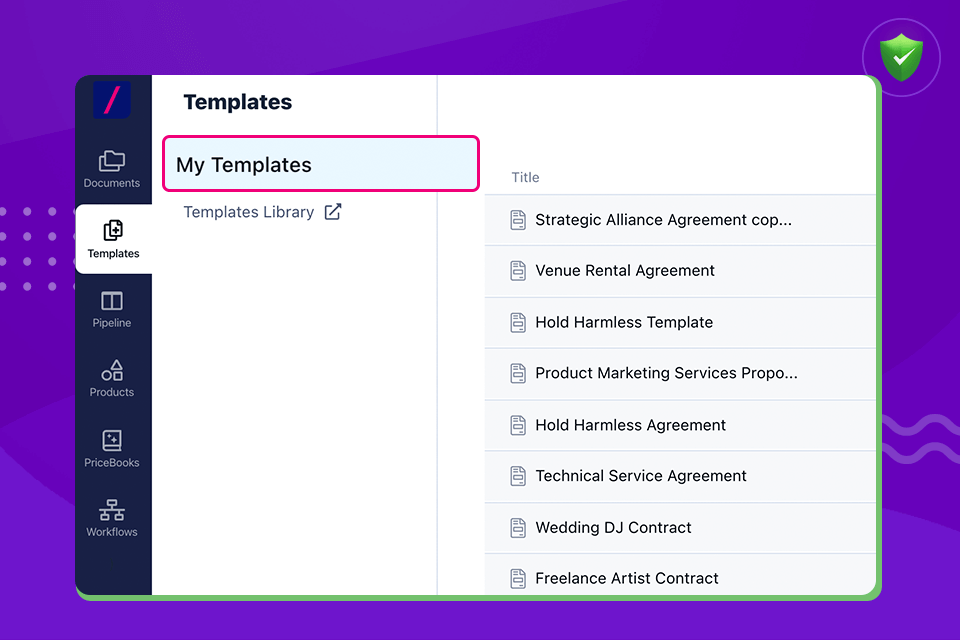 3. You can also import a template from Revv's 1000+ templates. Add it to the 'My Templates' section in Revv.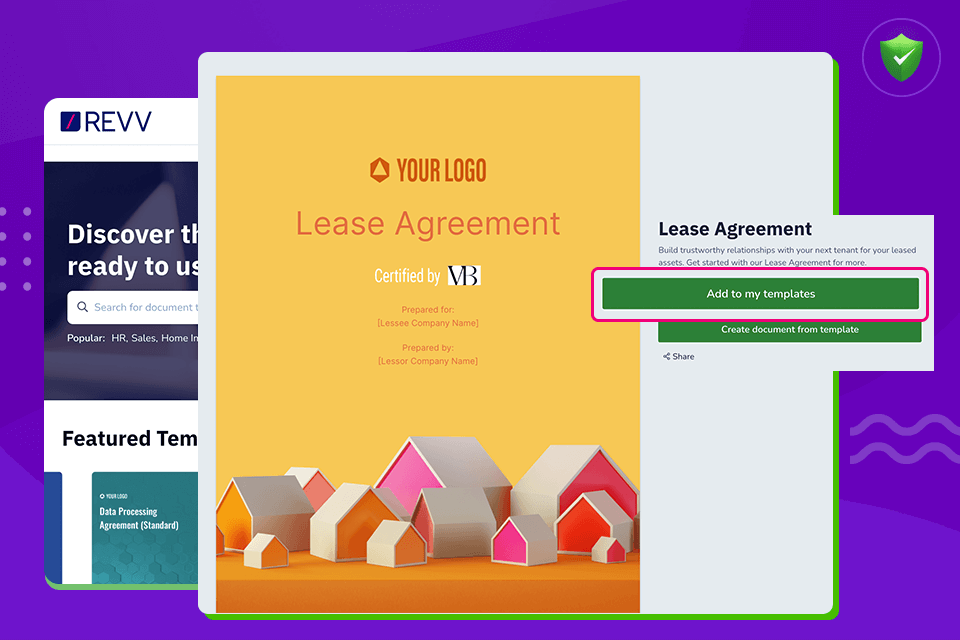 4. Click on the template.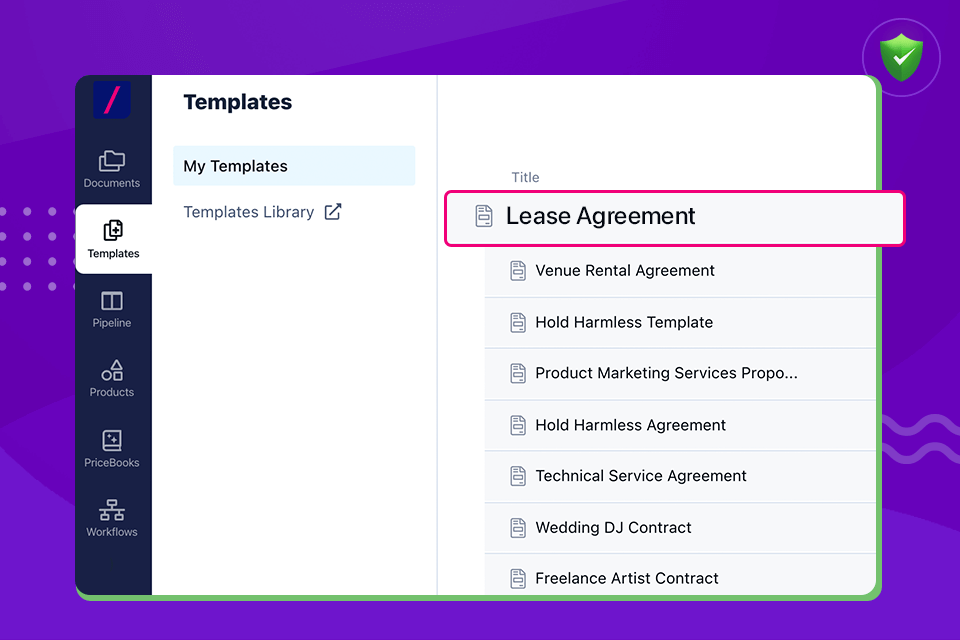 5. To make any changes in a template, ensure that it is in 'Template Draft' mode and not in 'Published' mode. If it is in 'Published' mode, then click on the 'Edit' button on the page and change it.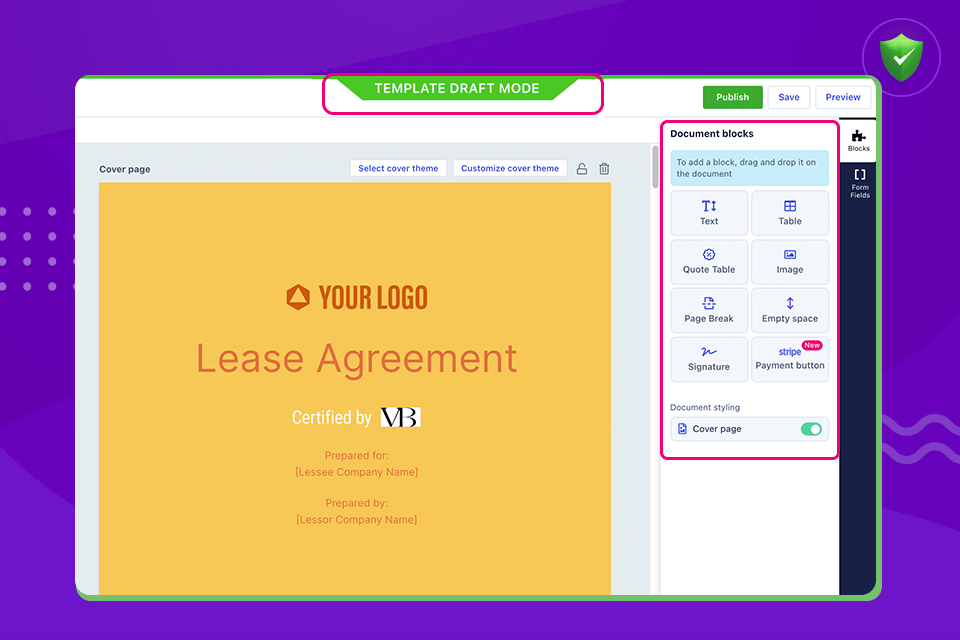 6. Edit and complete the template. Customize it using Revv's rich drag-and-drop editor, add more blocks to the template, and edit them based on your requirement. Another way to do this is by clicking on the plus (+) icon, selecting the required block, and editing it.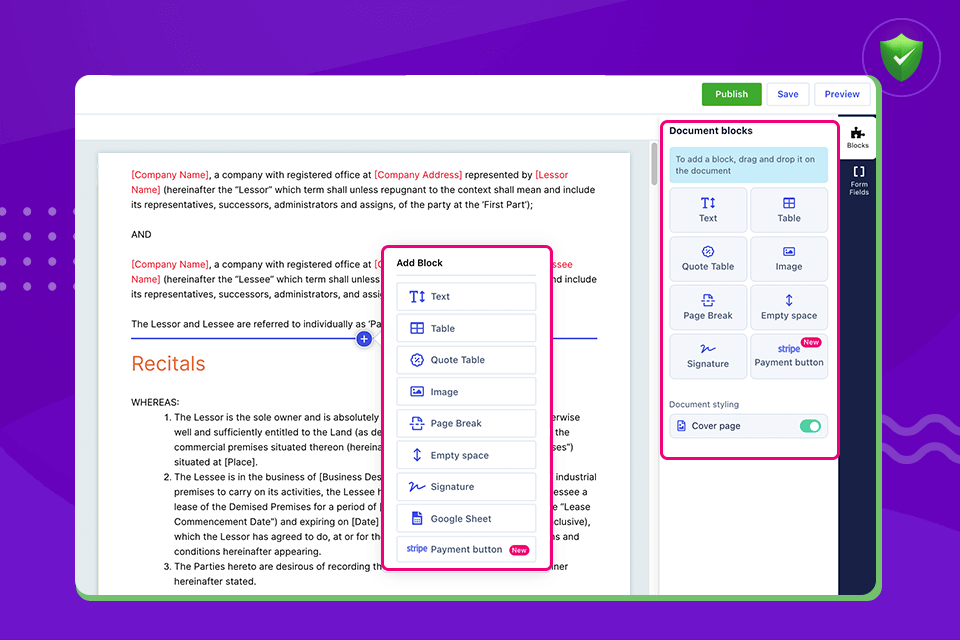 7. Select the text you want to customize.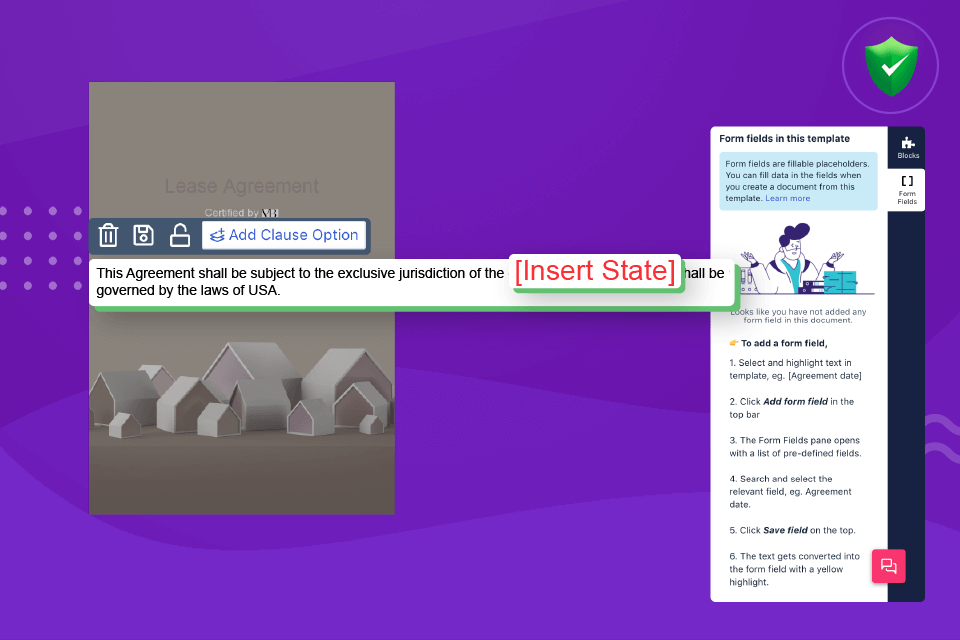 8. Click on the 'Add Form Field' button.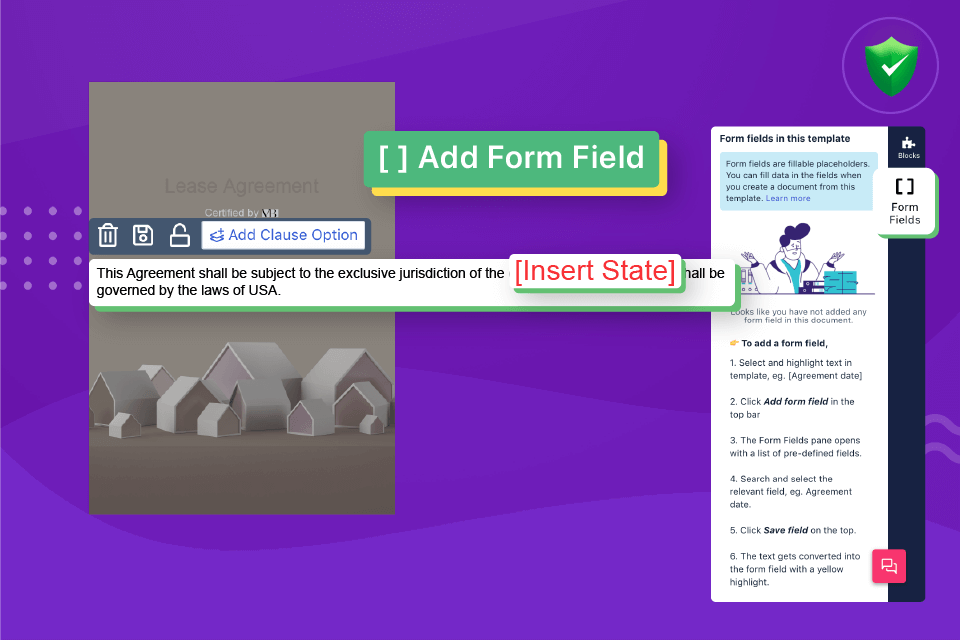 9. Choose a relevant form field and save it. For example (in the below image), the 'State' field in 'Jurisdiction and Governing Law' section is linked to 'Jurisdiction (USA)' form field.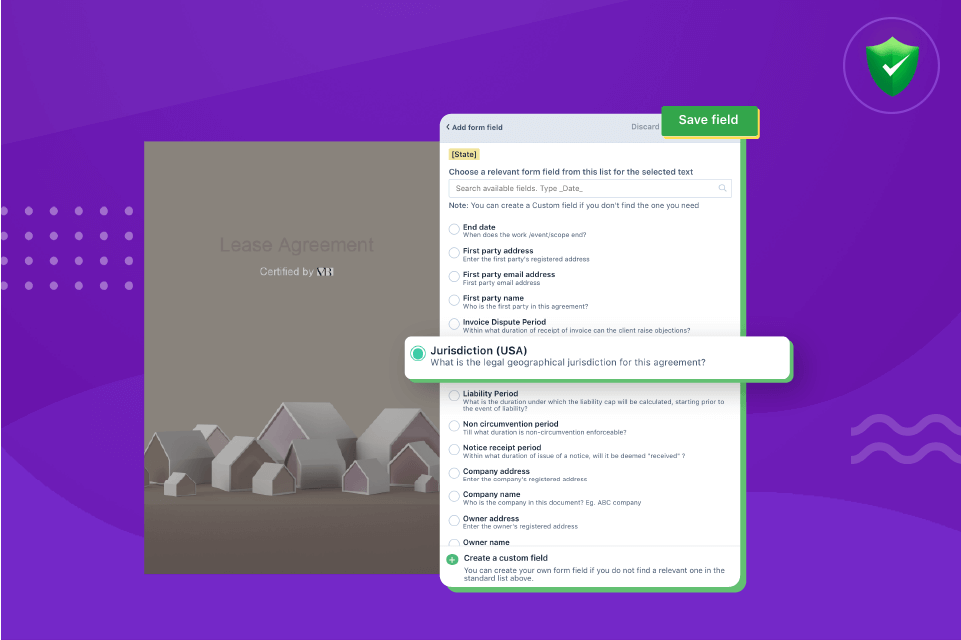 Step 2 – How to create and implement an approval workflow for form fields?
1. Go to the form fields pane, hover over the created field, and click on 'Attach Workflow.'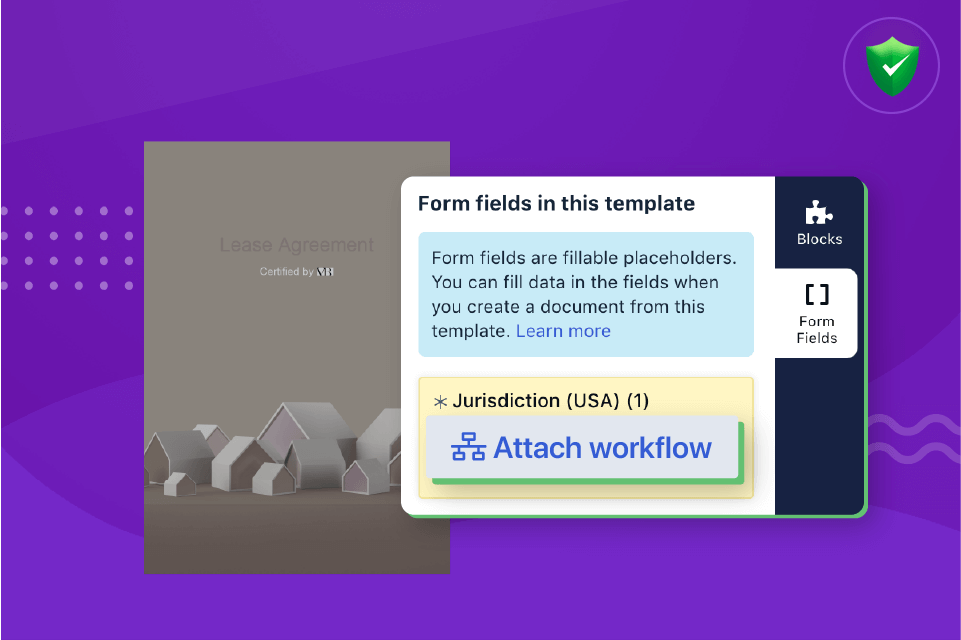 2. Let us create a workflow. For example, route an agreement for approval if the jurisdiction falls under 'California.'
To do that, first, let us create a condition and select the value as 'California.'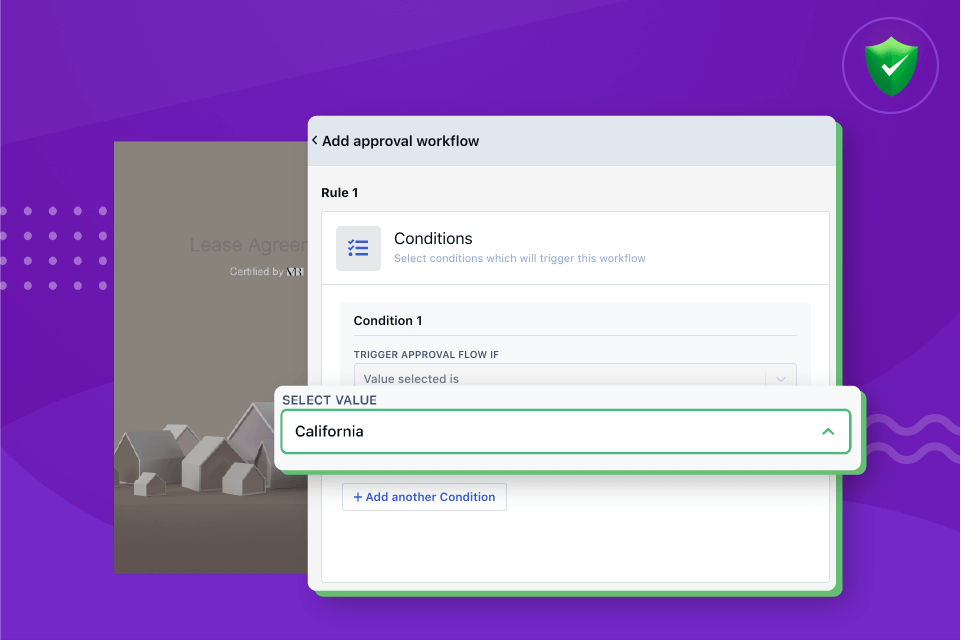 3. Next, we will choose the actions that will get activated for those conditions.
Choose between sequential and parallel approval.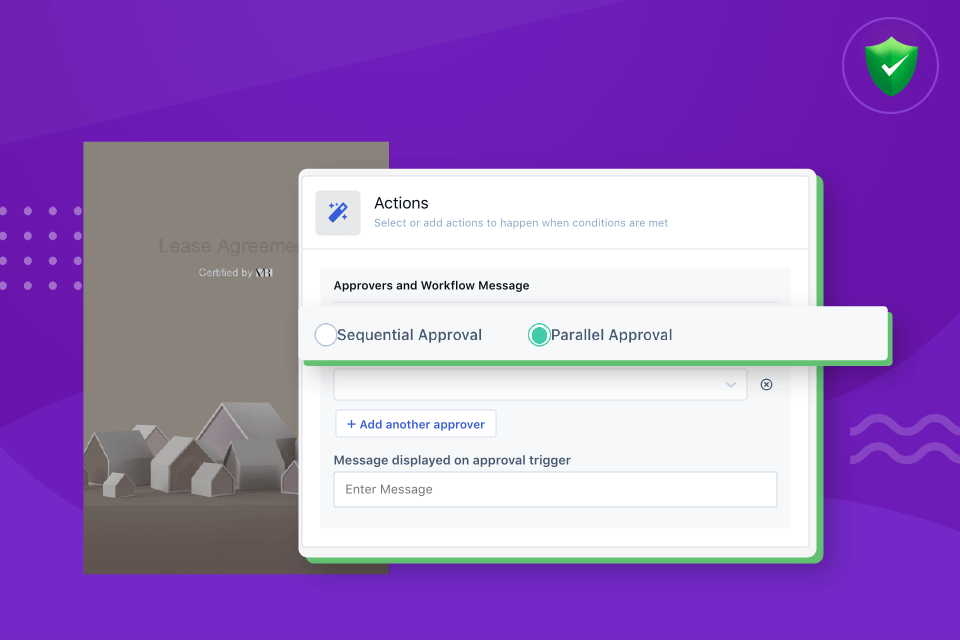 4. Add approvers to the list. You can also create a group of approvers in Revv. For example, corporate team, legal team, sales team, finance team, etc. 
While creating an approval workflow, you can select a user or a group to respond to approval requests. Learn how to create user groups.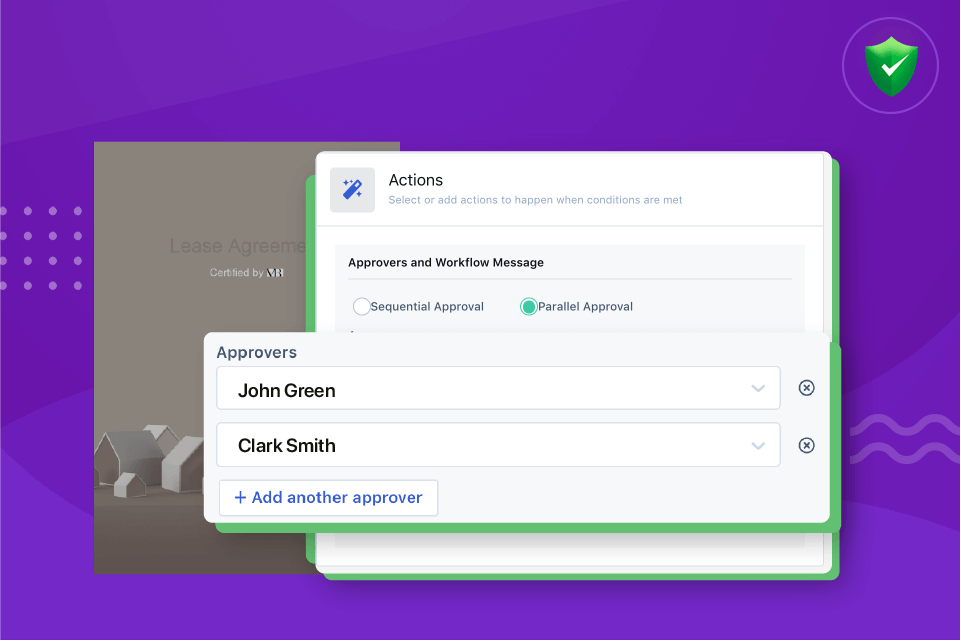 5. Write a message that gets displayed when the workflow is triggered.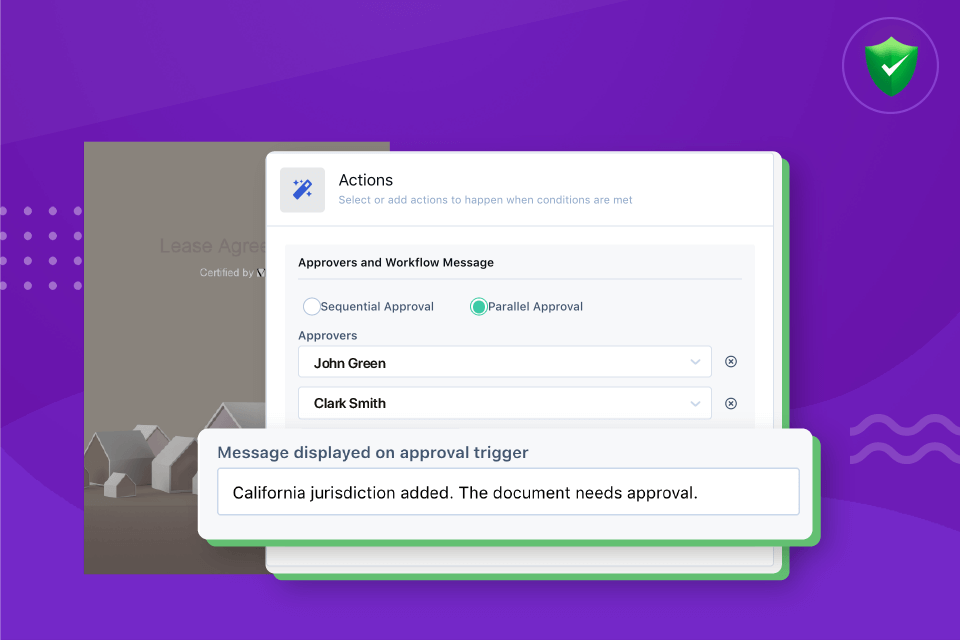 6. Click on 'Save' button. The workflow is now created and will be triggered whenever this condition is added.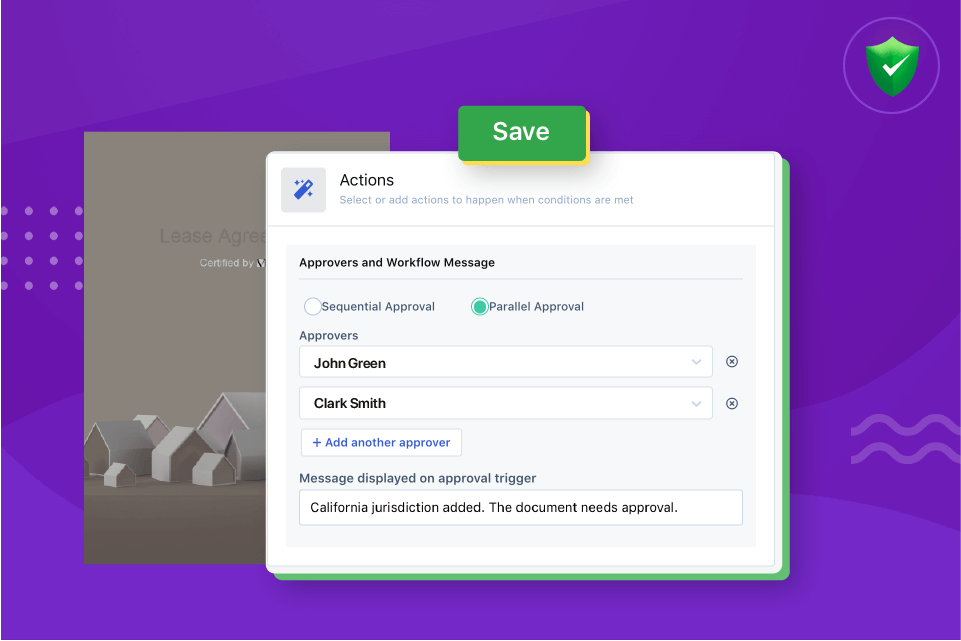 7. Click on 'Publish' button when the template is complete and ready.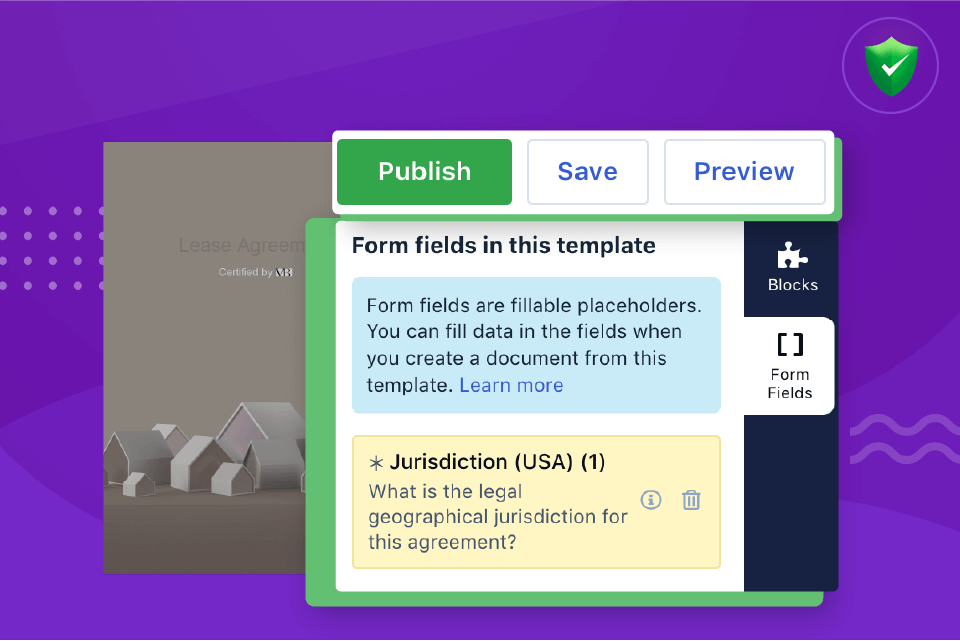 8. Select 'Form template' tab, and click on 'Publish as form template' button.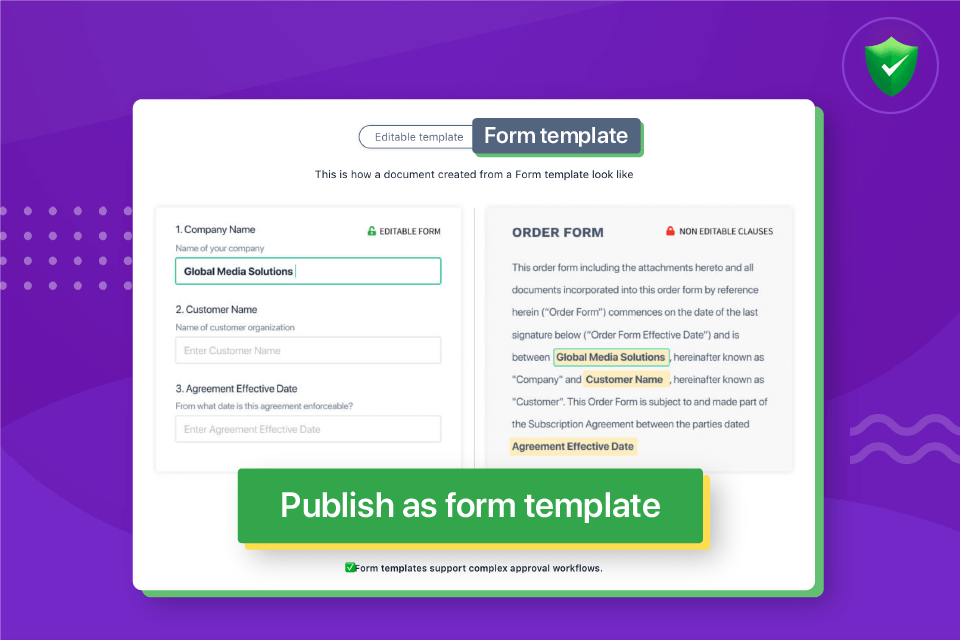 Step 3 – How does 'Send for internal approval' process works in Revv?
1. Go to the 'Documents' section in Revv. Click on the 'Create document' button.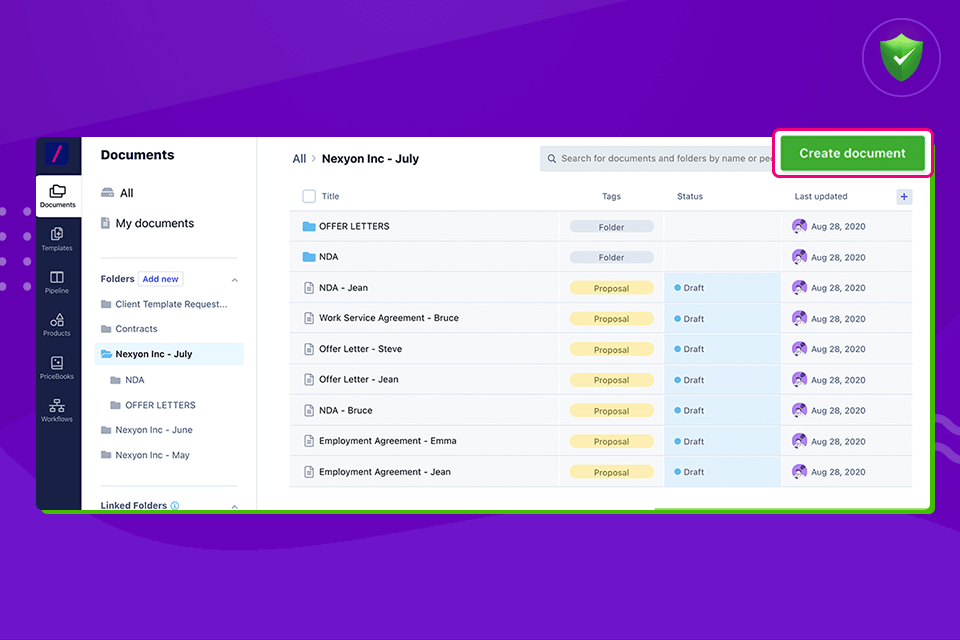 2. Select a template. Here let us select the lease agreement template that we have tailored in the above steps.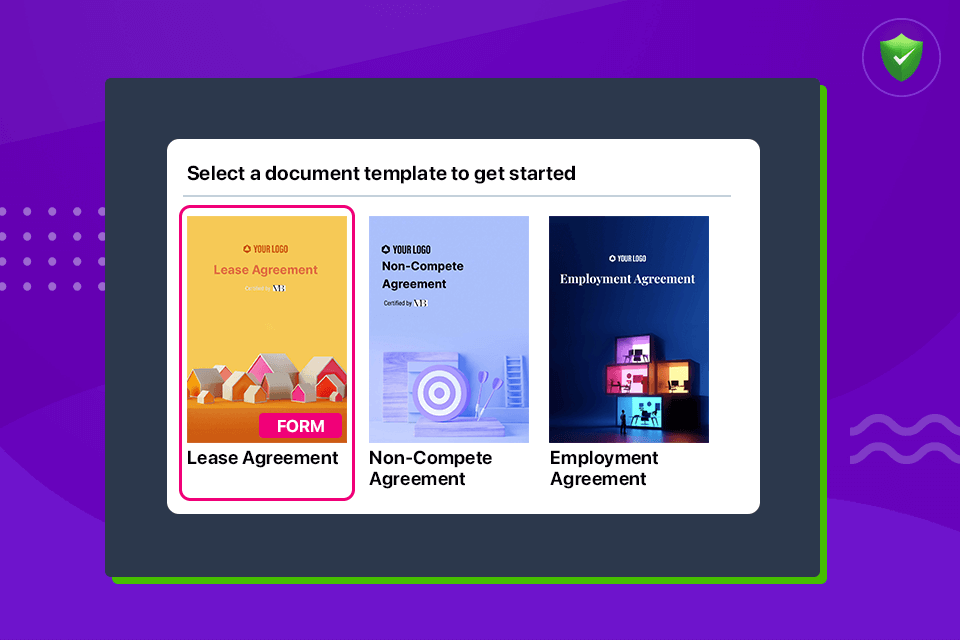 3. You can view all the form fields that are included in the template.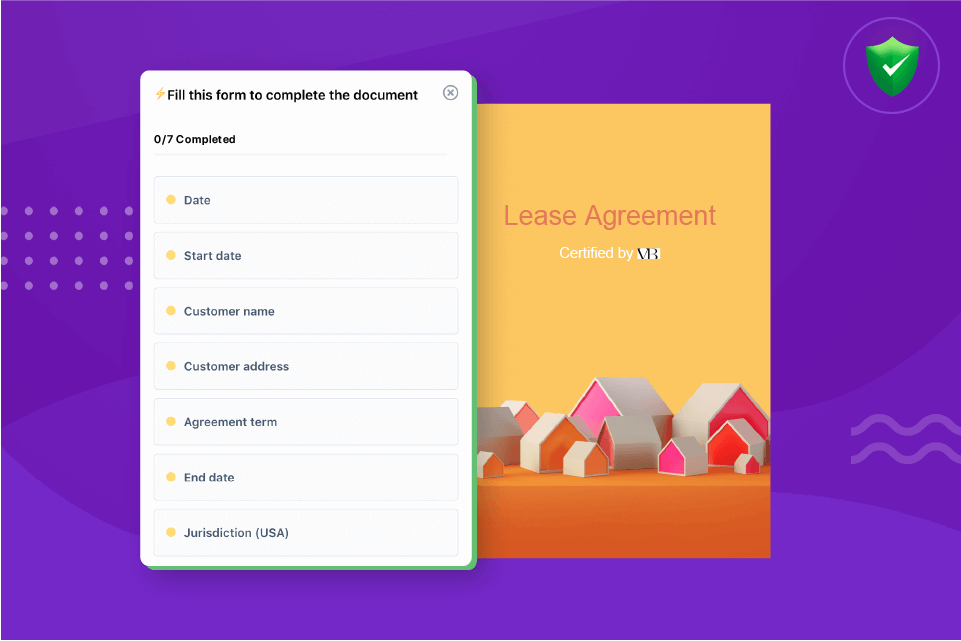 4. Fill in the form fields. Details entered in the form fields are automatically updated in the relevant fields of the document.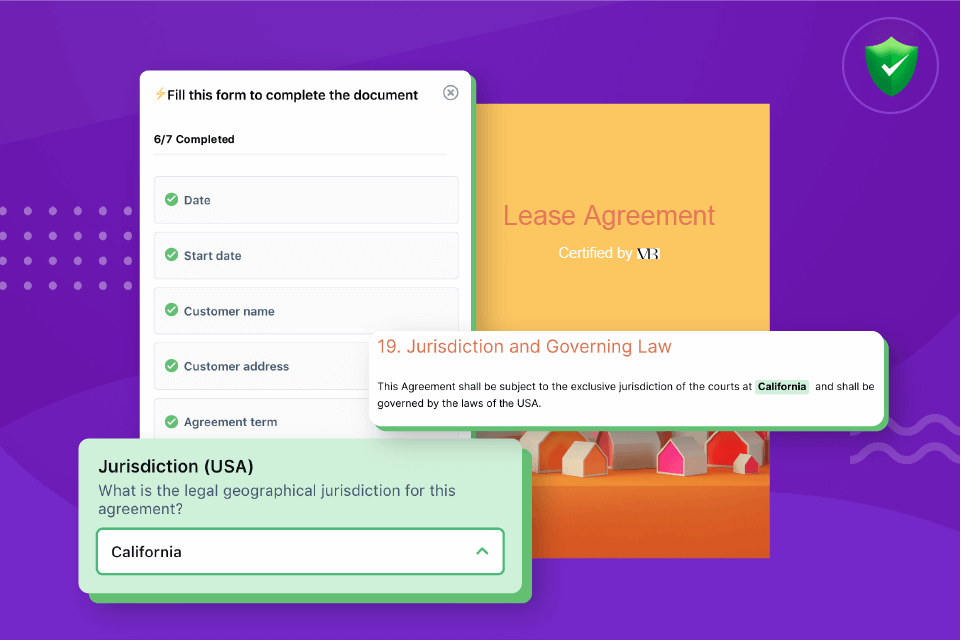 5. When done, click on 'Send' button and select 'Send for internal approval' from the drop-down.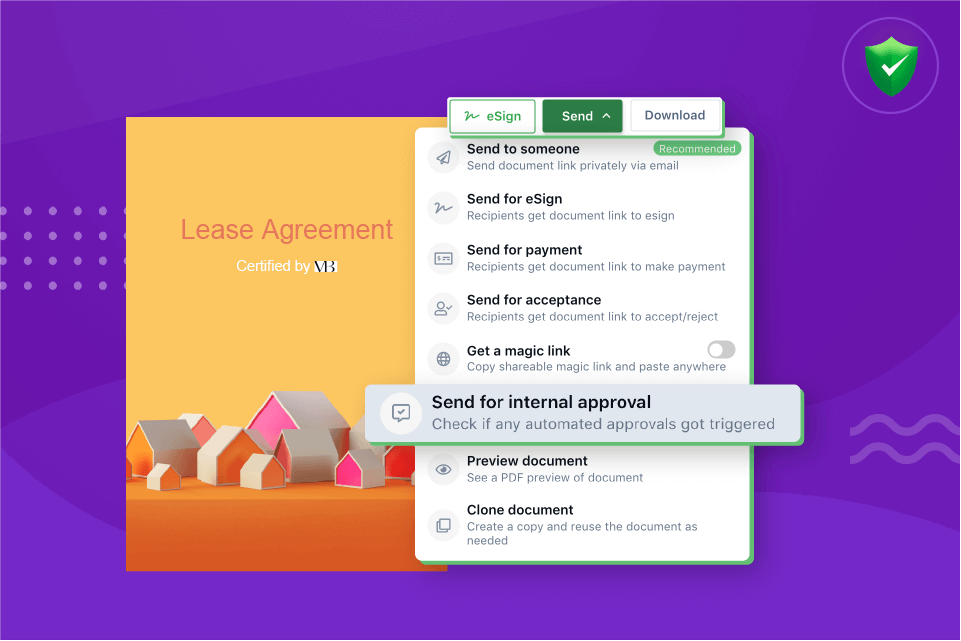 6. Documents associated with workflows can't be sent directly to recipients without internal review. By default, such documents will be first routed for internal approvals. Later, once approved, the file can be sent to the final recipients for eSignature or acceptance.
As you can see in the below image, California is the selected value in the jurisdiction field. Since it is associated with a workflow, a message pops-up with a list of designated approvers and a comment box. Add a comment citing the reason for approval and send it for internal review.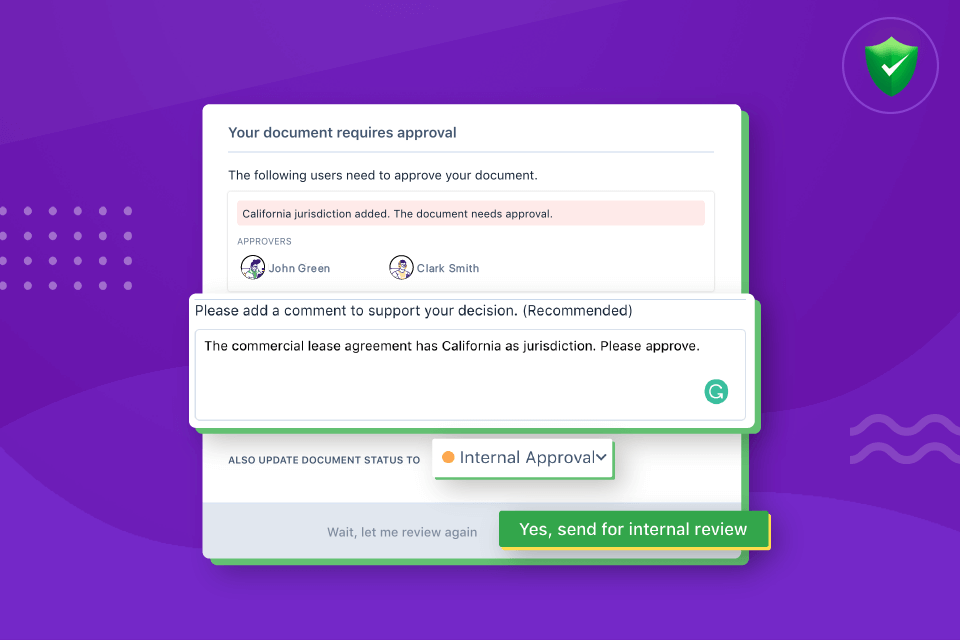 7. The approvers get immediately notified through email alerts. Click on 'View document.'
8. It will take you to Revv's sign-up page. Enter credentials – login id and password.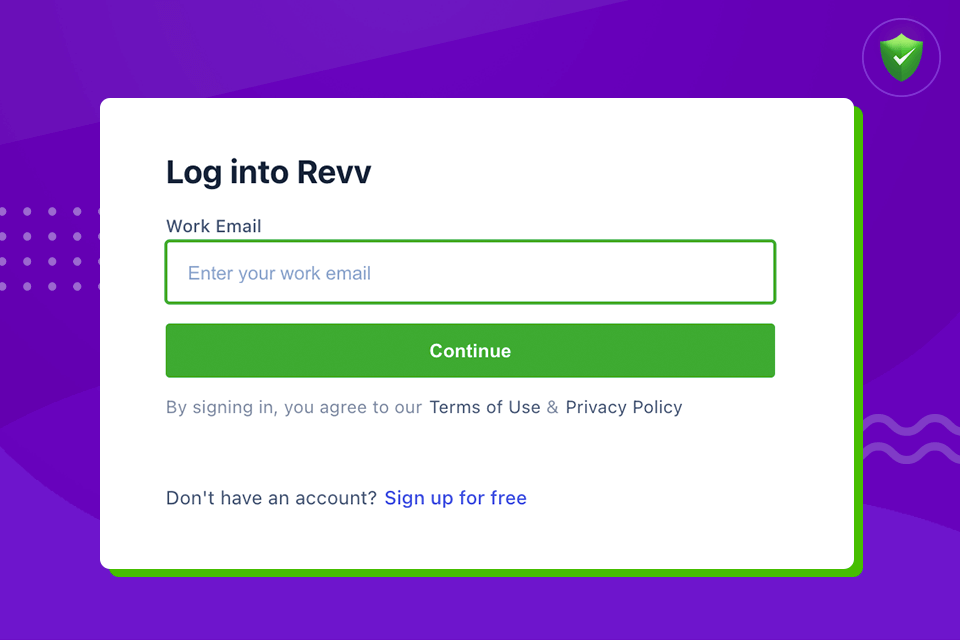 9. Approve/Reject it.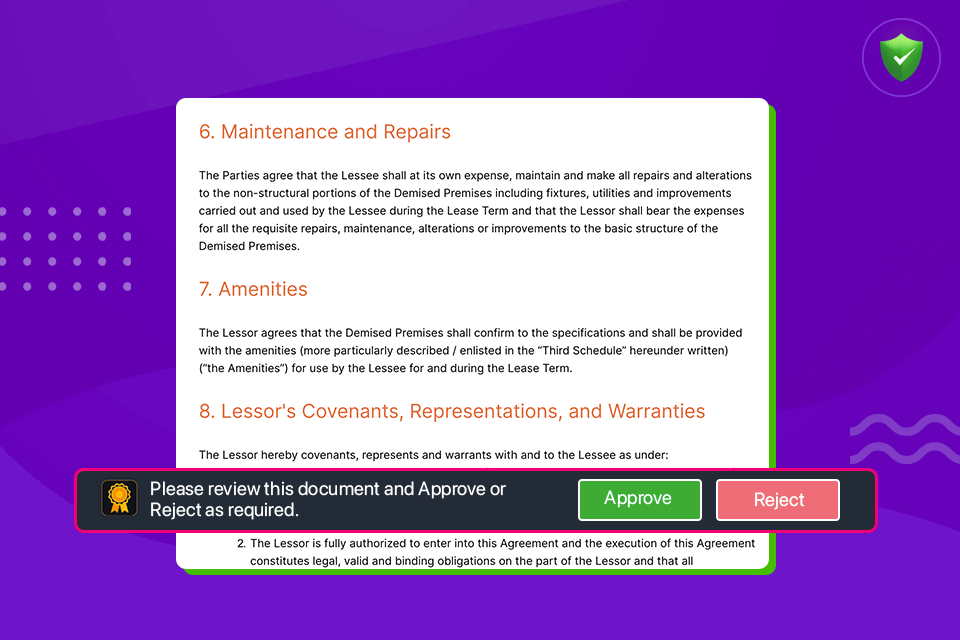 Step 4 – How to track approvers' actions on documents?
1. The 'Activity' tab provides clear visibility on all the actions taken or pending in documents. The sender can easily track who has approved it, pending approvals, where it is held up, and by whom.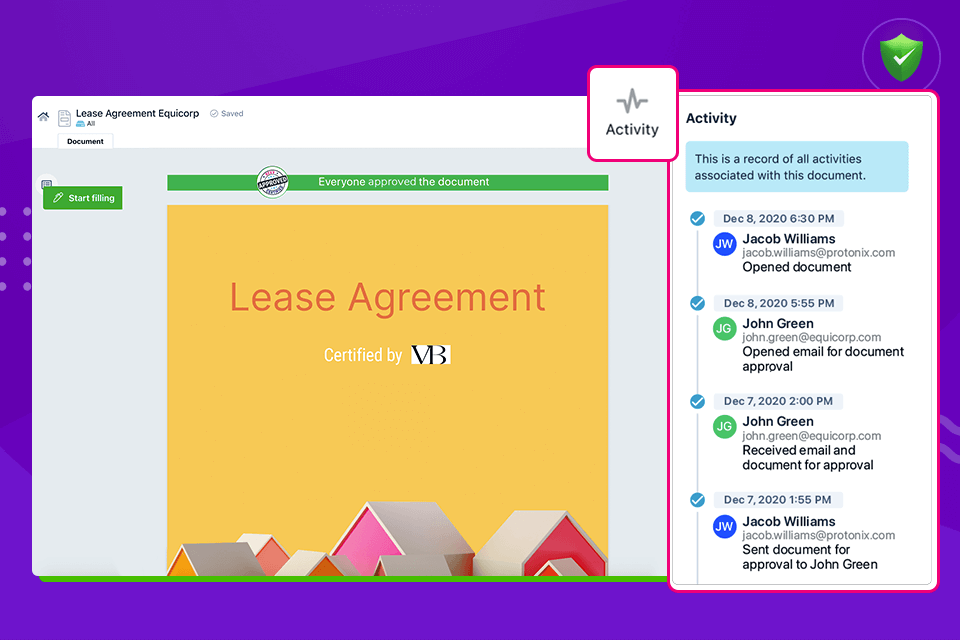 2. Revv also sends email notifications to the sender when a document is approved.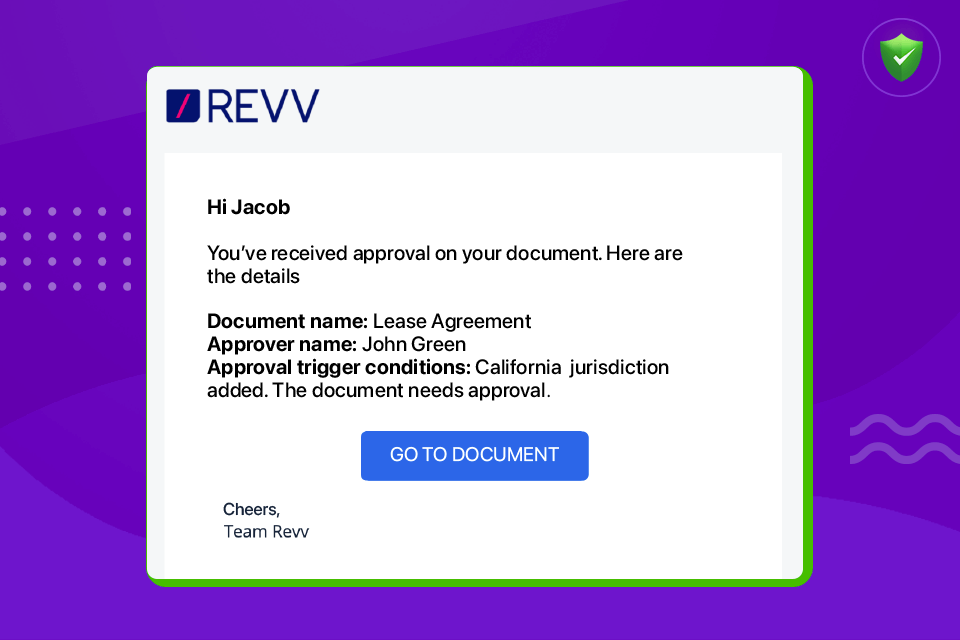 3. The list of approvers can also be accessed through 'Team' tab.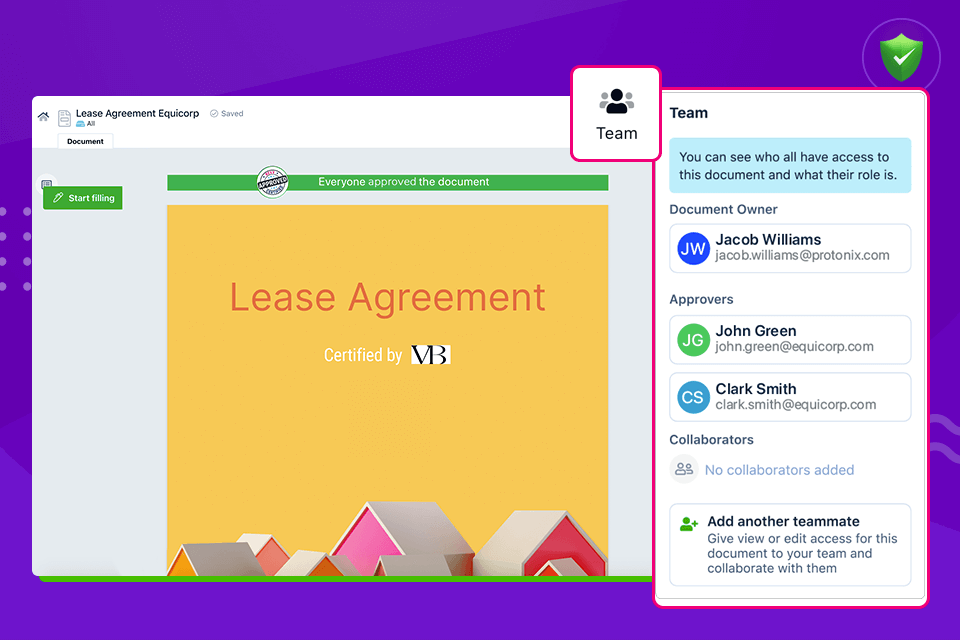 Watch video:
How to create document approval workflows with form fields?
How to trigger document approval workflows with 'Send for internal approval' feature?
Connect the dots: Go beyond document approval – Embrace document automation with Revv's unparalleled features
Document approval workflows are one part of the document management landscape.
Revv's document management solution is filled with vast capabilities that connect the before and after steps of a document approval process and help accomplish end-to-end document management. Here are the key features –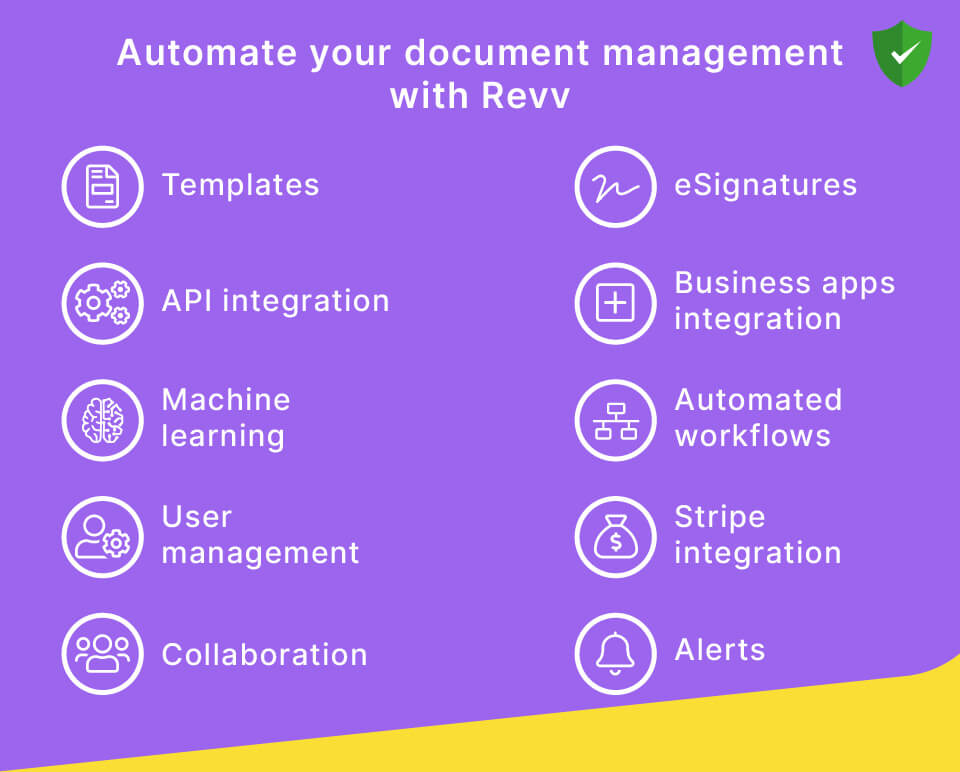 Pre-vetted template library – Revv provides 1000+ legally-vetted templates that are easy-to-use and completely customizable with a rich text editor. This saves significant search time that goes into looking for the right template in the search engine.
Electronic signatures – Revv's in-built eSignature system with bank-grade security provides a pool of advanced options to obtain an electronic signature for legal documents. The eSignatures are completely safe and compliant to local and international laws. The recipient can also personalize their signatures and sign off the documents. They can draw signatures, upload their wet-ink signature, choose from pre-formatted text styles, and connect their crypto-wallet such as MetaMask to sign off. 
The users can pick how they want the recipients to sign the dotted line – by writing their full name, drawing signatures, or signing it with just their initials.
Once sent, recipients can eSign the documents on the mobile app within minutes.
To ensure the security of documents, Revv offers OTP-based identity authentication via SMS.
If the users have their own files that need to be signed, Revv enables that too. The file types that Revv allows are PDF or DOCX. All users have to do is – upload these file types, add a signature placeholder, and send it for eSignatures.
Revv also provides an option of soft sign through its 'Send for acceptance' feature. Documents that need recipients' consent to move forward can be closed using this feature.
API integration – Revv's document management system enables integration of third-party applications like customer relationship management (CRM), accounting software, and many more through native APIs. This ensures consistent information management and records management across all applications.
Business apps integration – Revv also provides Zapier integration that allows the business apps to talk to one another. Automate tasks as per your business process and let data and documents flow effectively across multiple platforms.
Bonus: Revv's Data Studio feature allows users to map simple to complex data to their documents seamlessly. No code, scripts, and APIs are required to avail this feature. All you have to do is connect your data source (Salesforce, Spreadsheets, HubSpot, etc.) to the Revv platform and map data from your source to the respective form fields inside the document.
Automated workflows – Whether it is about automating internal approval on documents or automating workflows between multiple apps, Revv 's document management system workflow outranks other such cloud-based solution systems.
Template access control with user management – Add security and prevent confidential data and information in templates by choosing each template's users.
Machine learning on data – Revv is a machine learning-based document management software. Its Metalens feature allows users to extract relevant data and identify crucial information from any PDF or DOCX file type within Revv.  This extracted data uncovers new insights that help to create workflows and optimize business processes.
And the features list doesn't end here! Revv also provides –
Stripe integration to collect online payments
Collaboration within the document through @mentions, notes, and comments features
Organized cloud storage of files which makes the search for electronic documents a breeze
Right from creation to approval, distribution, eSignatures, and storage on the cloud, Revv brings a document control system in order. Businesses get an extensive view and tracking of documents and information that enables document control and improves compliance.
Automated alerts to recipients to take action on documents
Legally binding audit trail is also provided by Revv for all eSigned documents. It is called the Evidence Summary certificate. It is a digital certificate that chronologically records each action taken during the signing process. It includes – the signer's information, date and time stamp of each action taken by the signer, the IP address of the signer, and other details that act as legal proof.
Shareable online document links (magic and snap links) for external users for a quick view of the document without signing into Revv
Pricing of Revv – Cherry on the cake
Revv gives access to all these automation features with generous pricing plans that fit the pocket of both smaller and larger organizations, freelancers, or solopreneurs.
Revv offers customizable pricing plans, suiting your requirements.
Try out Revv! Sign up and commence your document management journey.
It's time to take action
Revv frees up teams and departments from sluggish approval workflows. Manual or email approvals are tedious and can end up costing the company in terms of money, time, and brand value.
Revv accelerates the entire process and saves time by automatically routing the documents around the workplace. It tracks and identifies bottlenecks in real-time and enables teams to take prompt actions.
With Revv's advanced automation features, businesses go one step ahead of approvals and manage the entire lifecycle of documents, right from creation to storage.
Partner with Revv and make your document management intelligent and smarter.
Frequently asked questions
What is an approval workflow?
An approval workflow is a series of tasks that route documents to recipients for their approval. Here, a document goes through multiple checks by the approvers to rule out the scope of any wrong information.
How do you create an approval workflow?
An approval workflow is created by establishing rules and criteria and automatically moving the documents to the approvers when a condition is triggered. Here's how it is done in Revv –
Create a condition by selecting the value
Choose the routing method of approval – sequential or parallel
Add who should approve the workflow
Add a message that should appear to the approvers to give them a context
What are the best document management systems?
Revv is one of the best document management systems. It is equipped with 1000+ easy-to-use templates, a rich document editor, payment integration, form mode templates, collaboration through comments, notes, and attachments, eSignatures, activity trackers, online sharing and soft sign, no-code workflow automation, Google Sheets, business apps integration with Zapier, and many more.
What are the three benefits of a document management system?
Better compliance – A DMS elevates compliance with automated workflows, version control, and a tracking system. This rules out the scope of errors and makes everything identifiable and audit-ready.
Added security – Data stored in easily-accessible folders or file cabinets is vulnerable to theft or tampering. A DMS provides security and confidentiality of data through user-based access control. Only the chosen users can see or edit documents.
Centralized cloud storage – Document management systems provide abundant storage capacity (on the cloud) to store documents. The organized pool of electronic documents helps in better records management and quick search and retrieval of files.