Non-disclosure agreements (NDAs) are the most common as well as copious contracts signed in any organization.
Signing NDAs is an essential step at the outset of a business relationship, especially a B2B relationship.
This is the step after which the organizations start working together by sharing crucial business information.
Delay in signing NDAs can be unnerving for the parties because –
NDAs not signed = No sharing of confidential information = Stalled business projects
Documents based on manual, error-prone, paper-driven, and administrative NDA processes are often complex and decelerate the business.
NDA automation is the elixir to execute flawless NDAs in no time, enhance efficiency, and save significant hours.
This blog gives deep-dive information on –
How to achieve NDA automation through professional templates, workflows, workflow tools, integration, and eSignatures, and
How a document management system (DMS) can help you implement all this
What is a non-disclosure agreement?
A non-disclosure agreement (NDA) is a legally binding contract between two or more parties regarding the use and disclosure of confidential information.
Here, one party agrees to share sensitive documents or information about its business with the second party, and the second party agrees to keep this information confidential.
In essence, it provides security and makes sure that a secret remains a secret.
What are the three types of non-disclosure agreements?
Unilateral non-disclosure agreement
A unilateral non-disclosure agreement is an agreement between two parties where only one party discloses the confidential information and prevents the receiving party from any further dissemination. An employee non-disclosure agreement is a unilateral agreement.
Bilateral non-disclosure agreement
A bilateral non-disclosure agreement is an agreement between two parties where both parties disclose confidential information to each other and secure it from further disclosure to external parties.
Multilateral non-disclosure agreement
A multilateral non-disclosure agreement involves three or more parties on how confidential information should be treated. Here, at least one party discloses sensitive information, and the other parties promise to protect it.
Why is NDA automation a must? Challenges with manual document management of NDAs
Let's first understand what happens when NDAs are not automated and how poor document management can haunt businesses.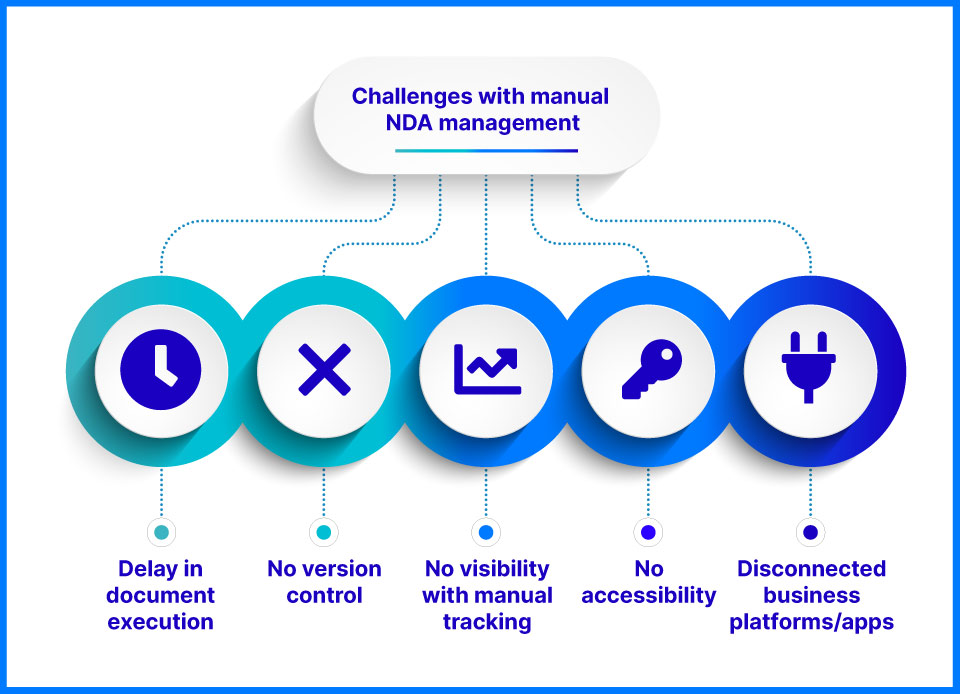 Delay in document execution – In larger organizations, creating and managing too many non-disclosure agreements limits the legal team to cater to each requirement in time.
Whereas smaller organizations, who can't afford an in-house legal team, rely on their discretion and search engine to create NDAs.
In both cases, a significant amount of delay happens in addressing the NDA needs. This can be detrimental for businesses, especially for sales and customer success teams where quick turnaround time matters.
No version control – Manual document management means zero version control, which means no real-time visibility of what all changes have been made in the file and by whom. This leads to multiple versions of the same file flowing among the users through emails and chats, making it difficult to find the most up-to-date one.
No visibility with manual tracking – With so many files and data exchanged within an organization, communications get lost in the emails. Due to a lack of visibility over the NDA workflow, tracking each agreement manually for signatures and approvals becomes exhausting.
No accessibility – Once signed, either the teams store these files or documents in physical cabinets or save electronic documents in folders that are not accessible by all. A lack of records management makes the search for files a laborious task.
Disconnected business platforms/apps – Organizations invest in numerous software/platforms to ramp-up their business and growth. But, the absence of integration between these platforms often increases the workload for users. Besides creating and managing non-disclosure agreements, a lot of their time also goes into re-typing and updating information from one software system to another.
What are the benefits of automating non-disclosure agreements with document management systems?
Automation is becoming the key to thriving in today's highly competitive business environment.
Contracts and agreements are the first steps towards building a business relationship. Any delay in executing them can mean lost opportunities.
This is why many organizations are rapidly adopting document management systems to streamline and automate their painstaking and paper-heavy document process.
Quick Bite:

What is a document management system?

At the core, a document management system is a software used to create, send, sign, store, manage, and track web-based or electronic documents in a secure environment. But in recent times, the document management system features list is much more advanced and includes collaboration, workflows, third-party integrations, etc.

What are the three benefits of a document management system?

Improved compliance – A document management system brings conformity into documents with better visibility and control.
Enhanced security – Manual dealing of documents makes them vulnerable. Such documents can end up in the wrong hands with access to sensitive information. A document management system provides added security with access control.
Central repository – Document management systems reduce the storage space requirements and facilitate quick retrieval of documents through its organized document library.

3. What is the difference between document management systems (DMS) and content management systems (CMS)?

Document management software handles data that resides in structured documents like Word, Excel, PDF, etc. The core purpose of a DMS is to manage these documents from start to finish. A CMS can handle and manage both structured and unstructured electronic data such as HTML, video, audio, multimedia files, etc.

Workflow automation and platform integration are essential features in a DMS, unlike in a CMS.

DMS offers imaging and scanning strengths like optical character recognition (OCR). This functionality is not there in CMS.
Now that we understand what a document management system is, let's check out the benefits of outstanding features of document management software that put an end to the messy affair of NDA management.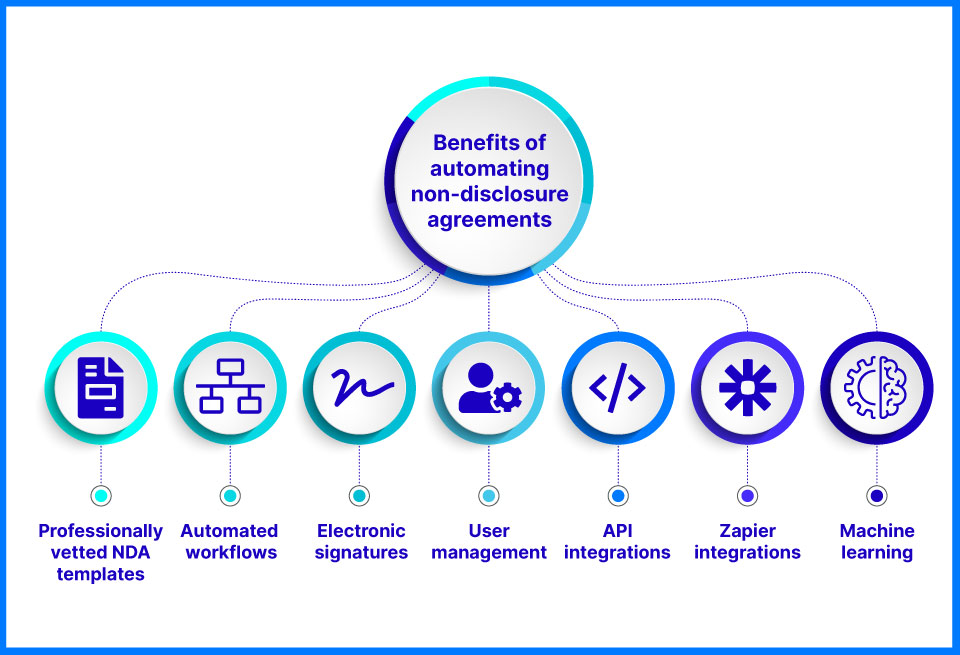 Professionally vetted NDA templates – NDAs are extensive documents with complex information. Writing each NDA from scratch can be very burdensome, especially for legal counsel or in-house legal teams who manage NDAs in large volumes.
Access to ready-to-use and customizable NDA templates can reduce days and months of slogging into minutes.
A smart and advanced electronic document management system like Revv gives access to professionally designed 1000+ legally-vetted templates that are completely customizable with its rich text editor. Use Revv's templates to create stunning and perfect documents.
Automated workflows – NDAs are vital documents. Each NDA demands scrutiny before it goes out. A small glitch that went unobserved today can be very detrimental to either party in the future.
Therefore, it is crucial that all such documents should be routed for internal approvals before sharing them externally. Imagine how much time and effort can be saved if such workflows are automated.
Revv's document management system workflow stands one step ahead of other such cloud-based solution systems. It allows creating specific conditions and a set of actions that should take place when the conditions are triggered.
Here's an example – Let's say if a user has added Clause A in NDA, then it should be sent to Mr. X or a group of people for their approval. Revv facilitates the creation of such conditions and respective actions within the NDA template.
Electronic signatures – With businesses operating virtually through digital screens, eSignatures have become a secure, convenient, faster, and cost-effective option to sign and close documents.
Electronic signatures for legal documents is a prerequisite for the speedy execution of documents.
Revv's advanced eSignature feature makes signing electronic documents a cakewalk. All you have to do is add signature placeholders in the document and send it for signature.
To ensure a document's security, Revv also facilitates OTP-based identity authentication via SMS.
If you have documents created outside Revv but want them to be eSigned, you can do that too. The file types can be Microsoft Office PDF or DOCX. All you need to do is – upload the file, add a signature placeholder, and send it.
Sometimes the sender also wants to retrieve crucial information from the recipients along with the signatures. Use Revv's 'Fill and Sign' feature and give them access to fill the forms right within the document.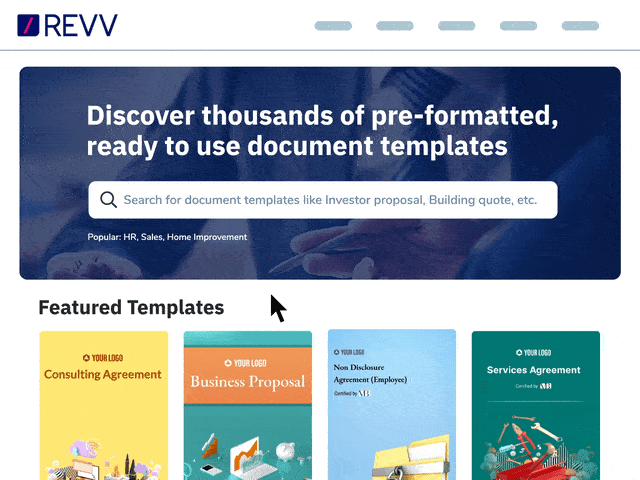 Moreover, at Revv, you have the liberty to choose how to eSign a document, whether you want the signers to provide their full name, draw signatures, or sign it with just their initials.
Also, not all documents demand eSignatures for closure. Some documents just need acceptance from the recipients to move forward. This is equivalent to the 'Clickwrap agreement' where one clicks on the checkbox "I agree" when accepting cookies, installing a mobile app, and agreeing to the terms of service. Revv's 'Send for acceptance' feature facilitates obtaining consent on documents through such soft signatures.
Revv's eSignature technology offers bank-grade security, making signing documents simpler, faster, and safer.
According to Connie Brenton, Chief of Staff and Senior Director of Legal Operations at NetApp Inc., tapping into electronic signature technology and automating NDAs has improved governance and shown significant results.

"All in all, it saves about $2.9 million every year," she said. "It was easy to set up, easy to measure, and led to significant ROI."

Source – Above the law
Controlled template access through user management – The downside of a web-based document is that the files can be sent to unauthorized personnel in just a click. This increases the risk of exposing crucial data or information.
One of the outstanding features of smart software document management is placing a user restriction on templates – who can use, view, or access a particular template.
Revv provides a user management solution and gives the template owners the right to select each template's users.
API integrations – A critical milestone to automation is a streamlined flow of information and data between multiple applications, which means uniform information management and records management across all platforms.
This means no more wasting time over switching between multiple applications and manually updating each app with the latest actions. For instance – an NDA generating automatically in a document management system when a new account is created in a customer relationship management system (CRM).
Revv is an integrated document management system with native APIs that allows information exchange between applications like customer relationship management systems, accounting software, and more. Such synchronized data eliminates the shortcomings of working in silos and improves productivity.
Zapier integrations – Another easy-to-use option to automate the NDA workflow process is through Zapier. It allows users to integrate web applications and automate tasks. For example, if an NDA gets signed in Revv, a notification with this update is automatically delivered to a chat channel in Slack.
Machine learning – Drafting or reviewing NDAs is no walk in the park. Each NDA should be carefully scrutinized to fix the loose ends.
This creates bottlenecks, especially for organizations that don't have in-house legal teams and have to shell out huge costs to get NDA reviewed by external legal people.
On the other side, legal counsel has to spend countless hours scanning each line in the agreements.
A machine learning based document management software sorts this out through an intelligent layer to optimize workflows and business processes.
It reduces dependency on legal experts as well as saves time to review the NDA documents.
Revv's Metalens feature is one such intelligent document analyzer. It is based on machine learning that allows users to –
Extract the relevant entities from the documents
Turn them into datasets, known as metadata (information about other data)
Use datasets to set up workflow processes
Here's how it helps –
It helps to easily draft new NDAs using pre-established datasets captured from past NDA documents
It enables to easily navigate through the critical clauses and entities within the NDA
It digs up the motive behind the clauses and identifies crucial discussion points in NDAs
It tracks all the relevant information
Here are some other compelling reasons why a document management software and automating non-disclosure agreements go hand-in-hand –
Collaboration – Lift the curse of working on non-ending and difficult-to-search email threads to discuss any doubts or changes in the NDAs.
Document management systems offer collaboration within the document.
Revv creates a synergetic working environment and keeps all members at the same wavelength through its notes and @mentions features.
Notes helps to add comments, suggestions, and text annotations in the document
@mentions feature helps to tag other team members for their inputs. The tagged person gets an email to look into the comment.
Central repository – Whether large organizations or small, storage of documents is always a concern and headache for them.
Document management systems provide freedom from paper documents and provide organized cloud storage and an easy search system for files.
Monitoring users' activity on NDAs – The tracking feature of a document management system software helps keep an eye on what stages a document has crossed and the action items pending – for example, who sent it, viewed it, signed it, etc.
Document control – Orderly files and activity tracking of documents puts a document control system in place. Right from draft to distribution, approval, and storage – an organization gets a zoomed-in view on documents. It helps to maintain compliance, increases efficiency, and improves audit readiness.
Device and location independent – Cloud-based document management system like Revv speeds up the signing of NDA documents.
It provides ease of use to the users by enabling them to access the signed NDAs from anywhere and from any device – be it desktop or mobile access. All you need is an internet connection.
Automated alerts – Document management solutions send automated alerts to the recipients to sign the document. Revv alert system automatically sends emails to the recipients with file name and link that needs to be signed.
Security – Document security is one of the prime concerns of organizations. Revv ensures documents' safety and security and meets the highest levels of compliance with industry standards. It facilitates document encryption when NDAs are shared with external stakeholders, providing an added level of security.
Searching for smart document management systems?

An advanced and yet simple document management system makes NDA management sweat-free and error-free.

However, with so many document management systems available in the market, finding the best that suits one's organizational needs can be challenging.

Go through this extensive guide on the best document management systems and find the one that matches your requirement.
Blueprint – Steps to automate NDAs with document management system
Now let us get to the core topic and practically understand how to streamline electronic document management with a cloud-based document management system.
Take a deep dive and check out how Revv, an all-in-one document management system, streamlines and automates a document process in three steps and sorts out all NDA worries in one go.
The workflow system created in this process integrates Revv with Zoho CRM, Zapier, and Google Drive. Here's how it works –
Create pre-formatted and standardized non-disclosure agreements (NDAs) from Revv's templates library
Automatically generate an NDA document in Revv when a new contact is created in Zoho CRM
Real-time status monitoring of documents
Get email notifications when the document gets signed
Automatically save a signed copy of the non-disclosure agreement in Google Drive for easy and quick access by the team members
But, before we start, here's an important note – This is one of the cases. But, as explained in the 'benefits' section, NDAs can also be automated through native API integrations for varied purposes.
Following are the three steps:
Step 1 – How to Integrate Revv with Zoho CRM and automate non-disclosure agreements?
Start by integrating Revv to Zoho CRM.
There are two ways to do it.
First, directly sync Revv with Zoho CRM.
Second, sync Revv and Zoho CRM through Zapier.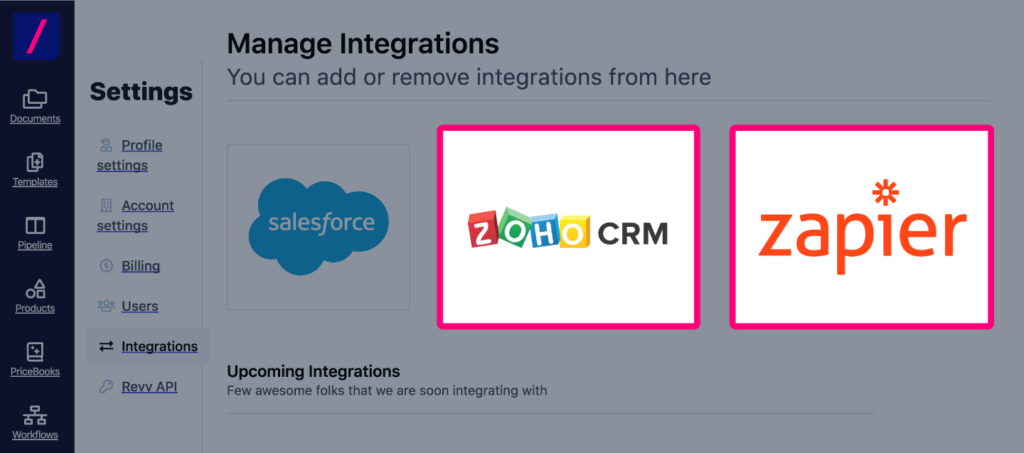 Let's consider an example: creating NDA for new accounts.
The below zap states that whenever there is a new module entry (a new account) in Zoho CRM, a new document (NDA) will automatically get created in Revv.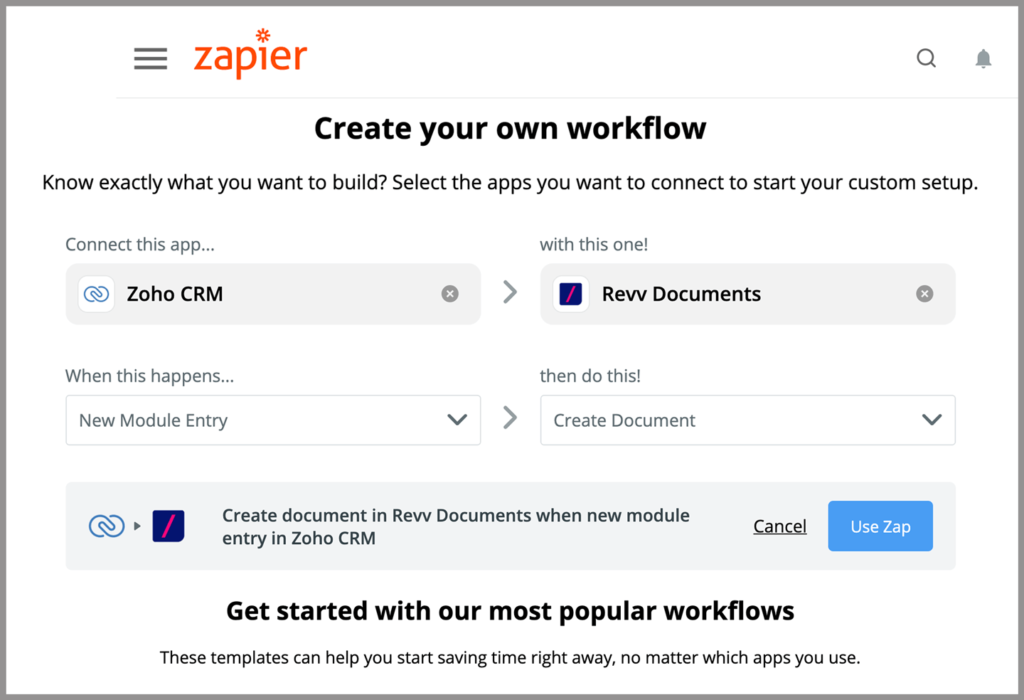 This saves phenomenal time for users. The users no longer have to toss the tabs, copy the new entries like name, company name, address, etc., from Zoho CRM and paste each entry individually to the document management software.
The integration facilitates the auto-filling of the fields in non-disclosure agreement documents from Zoho CRM. For example, there is a new entry, Speed Solutionz, in Zoho CRM.

Revv has automatically created a new folder with the account name.

The folder has an NDA document.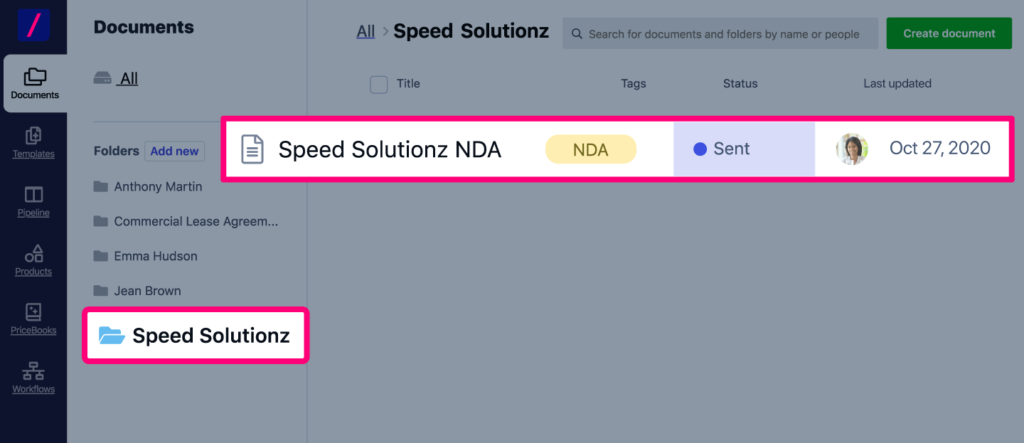 Also, there are two ways to create a non-disclosure agreement (NDA) in Revv. Either pick a template from ready-to-use templates or develop a new one from scratch.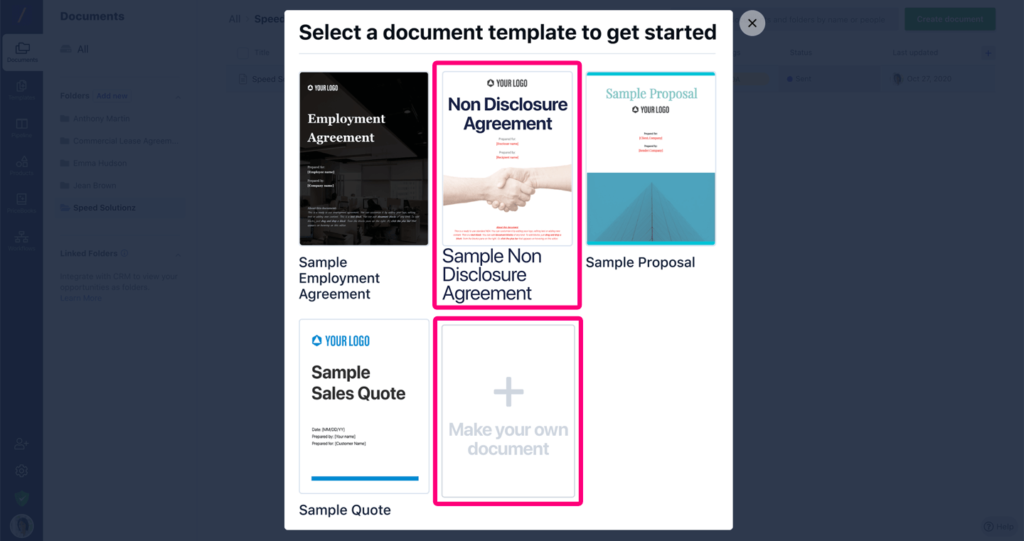 Revv will automatically populate the relevant information from Zoho CRM to an NDA document created using a pre-selected template.
In the below image, account details of Speed Solutionz have been pulled from Zoho CRM to Revv.
You can edit documents and customize them through Revv's rich drag-and-drop text editor. The other way to customize it is – click the plus icon, select the block, and edit it. You can also arrange the blocks as per the requirement.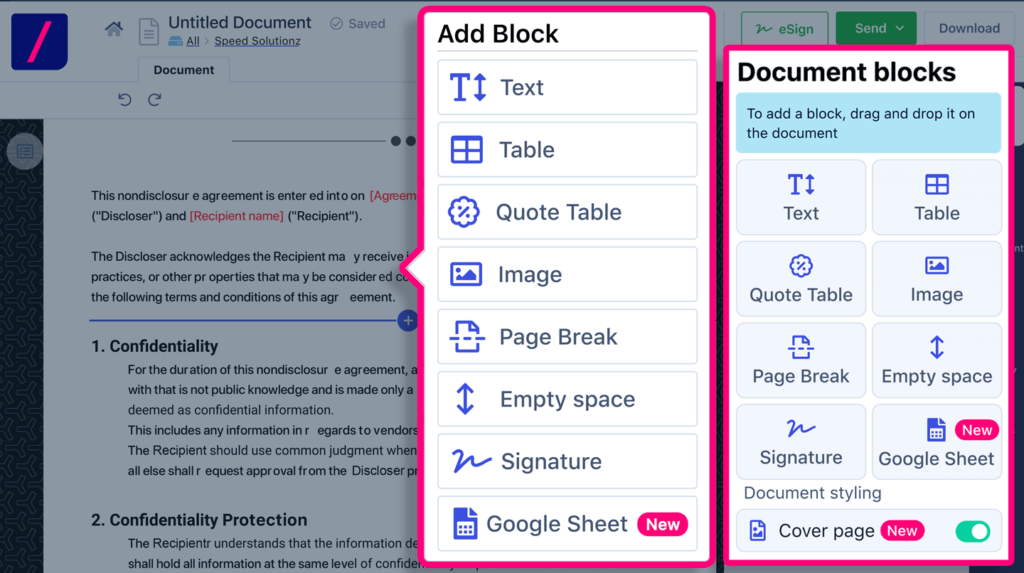 The non-disclosure agreement is now ready to be shared with the recipient for eSignature.
With Revv, users enjoy the freedom to share the document links and read the documents from a mobile device, which means from practically anywhere and anytime.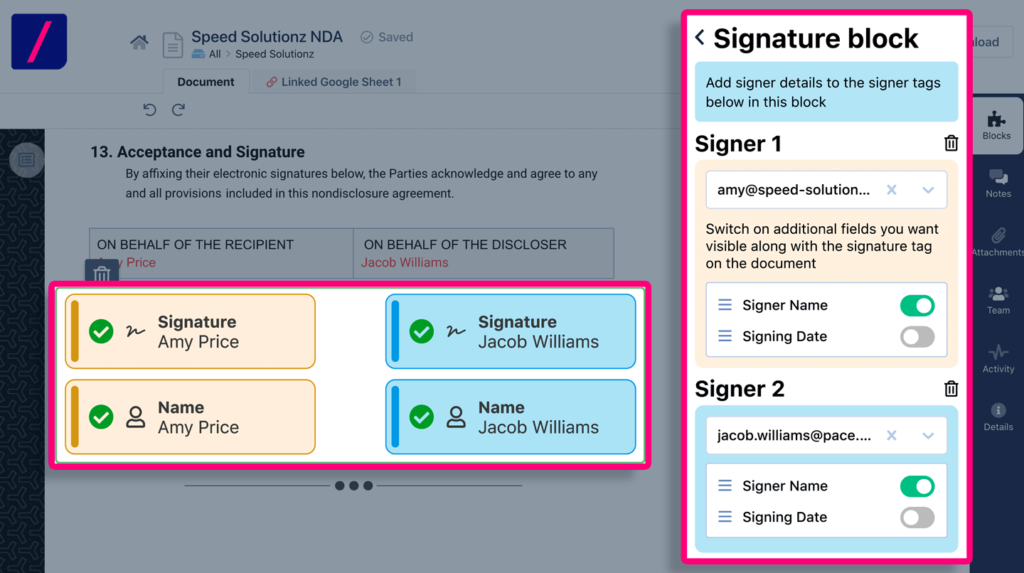 Step 2 – How to track and monitor the NDA process in Revv?
Monitor the document's status change through the 'Activity' tab – when the document was opened, sent, received, and signed.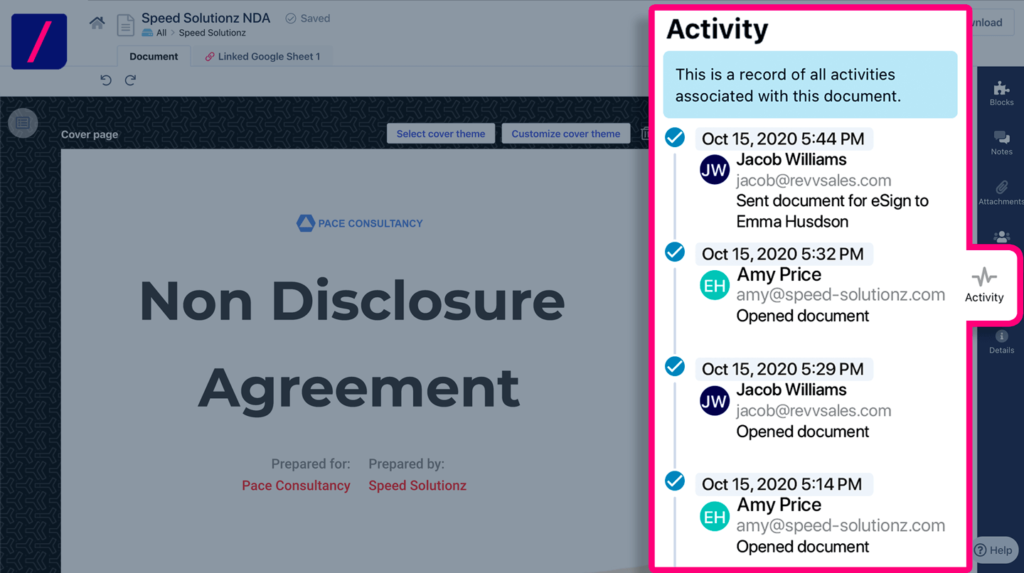 Once all parties sign the document, the NDA gets automatically stored in a customized folder in Revv. Organized storage of files in Revv makes the file search very easy.

Step 3 – How to automatically store non-disclosure agreements in Google drive from Revv?
One common challenge among businesses is the search for signed non-disclosure agreements. Once signed, they sit either in some software or in a personal folder that others can't access.
Connecting Revv with Google Drive via Zapier allows the storage of signed documents in Google Drive automatically. This provides easy search, access, and visibility of the place where all NDAs live.
Here's a zap created for cloud storage of signed NDAs in Google Drive.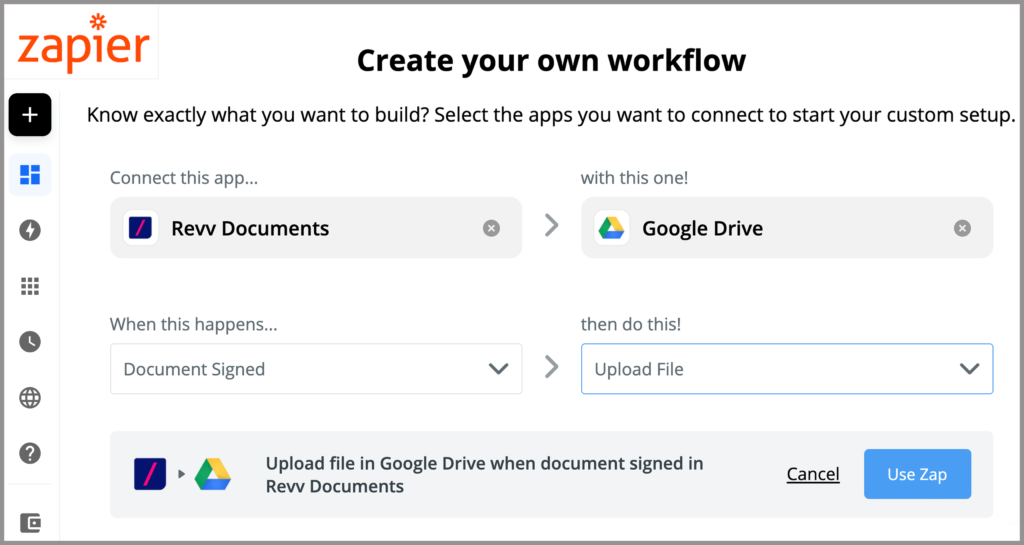 Continuing with the same example, since the non-disclosure agreement is already signed by both the parties, Pace Consultancy and Speed Solutionz, a copy of the signed document is automatically stored in Google Drive.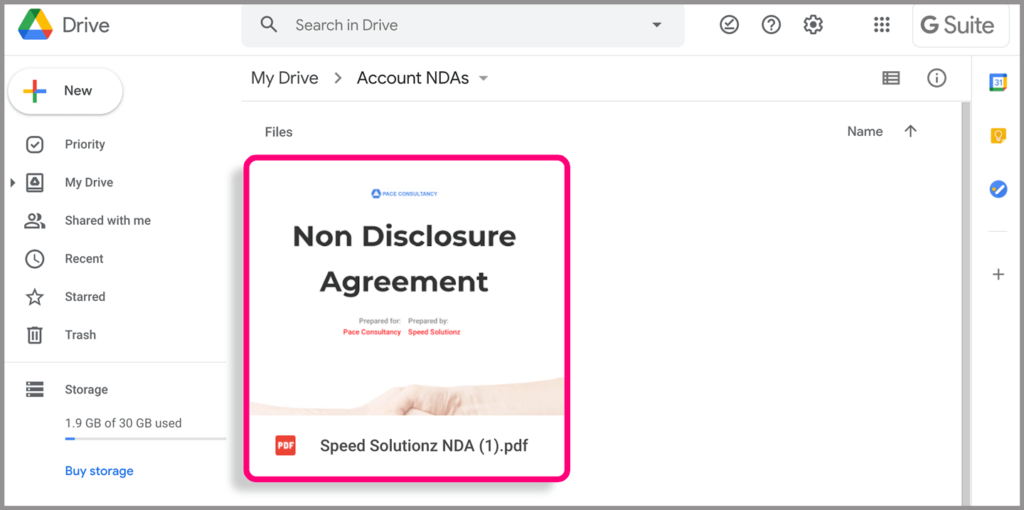 Check out the video: How to automate non-disclosure agreements with document management system?
Bonus – Download free non-disclosure agreement template pdf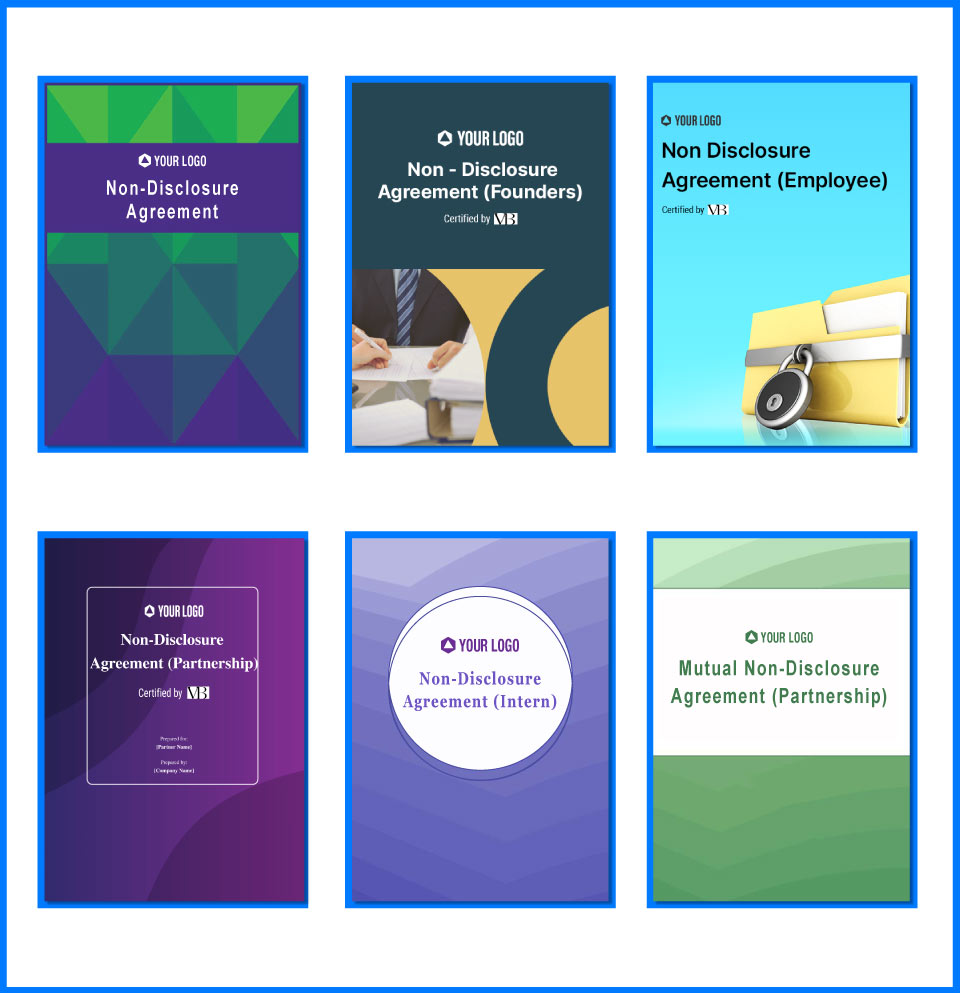 Want to download a professional and legally-vetted NDA template pdf?
All you have to do is get a stable internet connection, sign up in Revv (it is really simple and quick), and download a pdf file type.
Choose the right non-disclosure agreement based on your requirements and jump straight to the link.
Frequently asked questions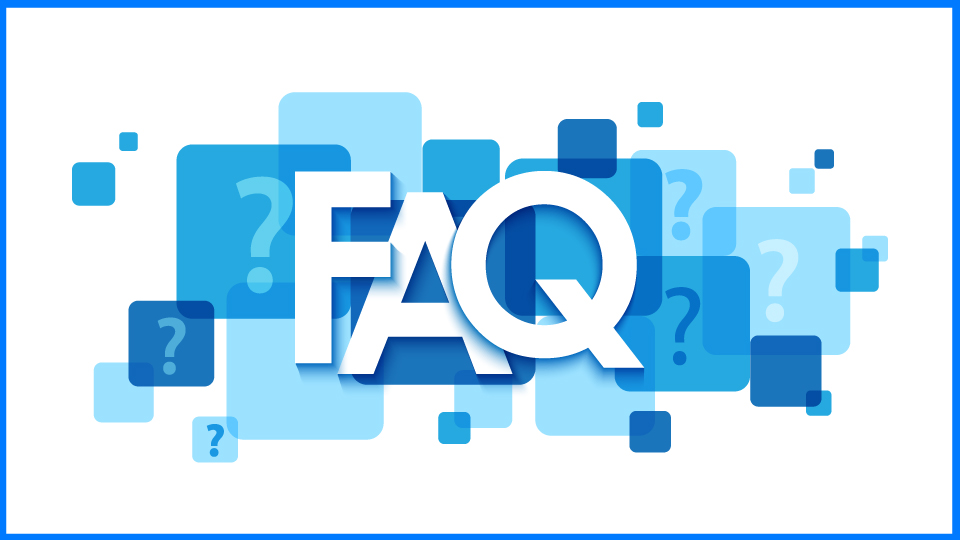 What is the purpose of a non-disclosure agreement?
When two or more parties shake hands to work together, they share sensitive data and information about themselves with the other parties like – a new business idea, financial information, asset management, new product or technology briefing, etc.
Signing a non-disclosure agreement binds these parties in a promise to not disclose this sensitive data and information to any third party.
What should an NDA include?
Here are elements an NDA document captures –
Identification of the parties
Definition of things deemed to be confidential like 'applicable law,' 'confidential information,' 'governmental authority,' 'third party,' etc.
Non-disclosure obligation
The exceptions from confidential treatments
Return of confidential information
The term and termination of the agreement
Arbitration
Governing law
How to write a non-disclosure agreement?
An easy yet professional way to write NDAs is through legally-vetted templates. Such templates ensure that your NDA is complete with all the necessary terms and clauses. Revv, an all-in-one document management system, offers many NDA templates that can be further customized to meet specific business interests.
Is a non-disclosure agreement legally binding?
Non-disclosure agreements are legally binding contracts. They are enforceable under the court of law if there is a breach and leakage of sensitive data and information to any external party.
How to break a non-disclosure agreement?
Non-disclosure agreements bind the signing parties not to disclose sensitive information to the outside world. Breaking a non-disclosure agreement can have serious consequences. Therefore, it is recommended to seek legal advice before taking such a step.
How to get around a non-disclosure agreement?
There is certain information that is protected by an NDA, while there are circumstances where it can't. Always exercise discretion, talk to a lawyer, and seek legal advice to understand what invalidates an NDA.
Can anyone make a non-disclosure agreement?
NDAs are typically owned, created, reviewed, and approved by legal teams.
But legally-vetted NDA templates and document management systems built on machine learning have reduced the dependency on legal teams considerably. It facilitates in drafting an all-inclusive and intact non-disclosure agreement even in the absence of a professional.
What are the key features in a DMS that enable NDA automation?
Document management system helps to automate and manage an NDA business process end-to-end, right from creation to storage.
The key features of document management systems that enable NDA management are – ready-to-use templates, collaboration, information management, organized files storage, eSignatures, machine learning on data, workflow automation, notifications, file type conversion, and document tracking.
Use Revv – The best document management software to automate NDAs
There is no scope for delays and process-driven mistakes in NDAs.
Procrastination in delivering the right non-disclosure agreement slows down the exchange of other critical information. This can impede the goal timelines of both parties and impact business in the long run.
Partner with Revv and keep your NDA worries at bay – improve efficiency, save time, and create a better experience for internal teams and customers.
Revv's feature-to-cost ratio is most competitive. It provides very liberal pricing plans to fit into the various organizational and budget needs. Revv also offers options between monthly and yearly billing.
The free plan in Revv includes advanced features like Stripe payment and eSignatures that are mostly available in the paid plans of competitors.
Even if you are a small business where documents are managed within 10 employees, you can get access to 10 eSigns, Zapier integration, document data extraction, and many more features for only $15 a month.
The best part is that Revv doesn't charge per person like others, but rather on a consumption basis which allows multiple users in one account. In the Pro Plus plan, you can have up to 50 separate users and up to 50 eSigns along with access to advanced automation features like API integrations, machine learning, workflows, and many more – all this for less than $50 a month.
Sign up here for a free trial and power your non-disclosure agreements through automation.