A sales quotation (or quote) is a crucial document required to close a business deal successfully. The sellers need to provide prospects with a business quote or sales quote that clarifies the costs of products or services that the seller is offering to the prospect. In some cases, sellers send sales quotations as a response to the RFQs shared by the prospect. A prospect usually shares RFQs to various sellers and suppliers to receive a detailed report of their offering.
How will you make sure the customer chooses you?
By drafting the right quotation. Since a sales quote forms the basis of a relationship between a client and a seller, it needs to meet certain standards. In this competitive market, multiple brands target the same cohort of target audiences, making competition more fierce. This is why the moment you receive a request for a sales quote, you should start drafting it according to your customer's requirements and your brand guidelines.
Start by researching the customer's requirements. Refer to the RFQ shared by the customer for more details. You can look into previous sales quotes that have worked for you.
How do quotes, proposals, estimates, and invoices differ?
There are documents similar to a sales quote that create confusion. A sales quote, a sales proposal, an estimate, and an invoice are often used interchangeably, but they are not the same documents. These documents may serve similar purposes, but they do have different components, which are addressed below.
How is a sales quotation different from a proposal?
Both sales quotations and sales proposals give the prospect an idea about the goods/services you or your company offers. The significant difference between these formal offerings is that a quote addresses the deal's quantitative aspects (quantity and price). A proposal talks about the detailed process of how the organization offers the service or the seller hands over the product.
A sales quote comprises the exact quantity and pricing information of your company's products and services. In comparison, a business proposal is more comprehensive on how the offer will be delivered. It is text-heavy in comparison to quotes.
If you look at a simple business quotation sample, it will have a title page followed by the table of products/services that the client has requested, and some standard terms and conditions and clauses which govern the quote.
Read here to know more about how to write a business proposal and a sales proposal process in detail.
How is a sales quotation different from an estimate?
A quote presents the exact pricing details, whereas an estimate is a rough idea of the cost of the product or service.
A quote becomes a legally binding document when the prospect accepts the offerings by signing the document. In contrast, an estimate has no legal boundaries as it does not include final costs.
Keep reading to know more about the key components and how to write quotes that persuade your client.
How is a sales quotation different from an invoice?
Both quotes and invoices are forms of financial documents used in a business transaction. The striking difference between these similar documents is that the seller sends a quote before an order is made and is negotiable in some conditions. In contrast, the seller sends an invoice after the purchase. It is the request for payment sent to the buyer and is non-negotiable, unlike sales quotes.
Keep reading to know more about the critical components of quotes and how to write quotes that persuade your client.
Components of a successful business quotation
A business quote's objective is to persuade your customers to choose your offerings over others and finalize the deal. Consider the demands of your customer before structuring the quote to win them over.
Look for readymade quote templates available online. These templates will help you structure your quote correctly without missing any critical component.
Document management systems like Revv offer a wide range of templates to draft quotes across industries and services. These templates contain standard information that can be edited according to your customer's requirements, like industry size, specific offerings, etc.
Here is a checklist of the standard components that a business quote contains:
Title page
The title page contains basic information like the company's logo, your company's name, the client's name, and the business quotation's name.
Here is an example of a Service quote title page from Revv for your better understanding.
Client information
Make sure to include details about the client who is going to receive the quote. Mention standard information like their name or the company's name, their address, email-id, and contact numbers if available.
Company's information
Your business quote should have all the necessary information about your organization. Provide the company's name, company's address, email-id, and contact numbers. You can also add a summary of how your company functions.
The date of issue and validity period
The date when you send a quote to the client is the date of issue. It is important to mention this in your business quote as quotes usually are limited-time offers. You can add a note saying 'valid for a certain number of days.'
This information will create a sense of urgency resulting in a quicker response by the client.
A quote number
If your company uses accounting software, then it will automatically generate a unique number for your quote. If you do not use any such software, you can manually assign your quote a specific number. This will help you easily track and locate the quote in the future for reference.
Products/services in the business quotation
The client's interest lies in the products and services that you or your company is offering. Ensure that all the offering details are listed clearly with its required pricing in the quote.
Consider the following structure while you describe the proposed products /services to the client in your quotation:
See if you need one or more tables to list down different products and services. You can use multiple tables if there are different categories of products and services being offered
Include columns for the name of the product/service, quantity, duration (if service), price, and the total amount, including applicable taxes
You can add an extra column mentioning some details about the offering for the client's better understanding
Here is an example of how to include your products/services in the quote for a client in the form of a table by using Revv's document editor.
To get a basic idea of how a professional Service quote looks, you can visit Revv's templates library and access vetted templates for your business.
Pricing structure
You need to have an eye for detail while drafting the pricing structure. Leave no room for confusion as these pricing details will become the guide for all the future payments if the deal closes successfully. Don't forget to mention all the applicable taxes along with appropriate rates that will get added.
Prepare a separate section for the cost breakdown. Include every possible detail before finalizing the quote and sharing it with the prospect. For example, if you own a SaaS company that has a tiered pricing strategy (that offers multiple packages), include the features of the package that you are offering to the client in the quote. Also, mention the validity period of the package with ways to renew the plan. This will eliminate any future disagreement between you and the prospective client.
Terms & Conditions
It is important to lay down the terms and conditions that will govern the overall agreement. There can be unfavorable conditions like goods delivered in bad condition, late deliveries, poor customer service, etc. These agreements help settle disputes between both parties.
Here, you need to mention the duration of the contract, the payment terms, clauses, if any (like Intellectual property, confidentiality, termination, limitation of liability, etc.)
Revv offers legally vetted templates that can save you time and hassle. It's advisable to get your quotation checked by your legal counsel.
The signatures
The signatures from both the parties involved in the business quotes act as a confirmation of the deal. You can leverage the e-signature feature in the Revv templates to get rid of the lengthy manual process of fetching the client's signatures.
Notes for clarity
If certain information in the pricing structure or the terms and conditions laid out by you is a bit complex, you can add small notes for clarity. These notes provide additional information along with the terms and conditions mentioned in the quote.
Optional details
A business quote is usually a concise document, but you can include some extra information like discounts, other related services you offer, etc. as optional details. These optional details might increase your chances of persuading a prospective client to choose you.
For example, if you are a wedding planner, you can provide an added checklist of things that can be required in a wedding with the table of services that have already been requested by the client.
Here is an image of the wedding checklist in the wedding planning quote template by Revv for your clarity.
Tips to create a sales quotation that attracts customers
To know how to write an ideal quote for a prospective client, here are some tips that can help you get started:
Choose an easy-to-edit template: Select a template to create your business quotation as it saves time. It allows you to edit the template as per your brand's design guidelines and the prospect's requirements. With Revv's easy-to-edit business quotation templates, you can customize your quotes as per your needs.
Here is an example of how to prepare a quote and customize it in Revv.
Add images, quote tables, texts, etc. with the easy-to-use building blocks. Drag and drop the element of your choice in the document.
Stick to a proper structure: A document that follows an appropriate hierarchy of components reads better. Look into some previous successful business quotes for reference. Follow the same order as your reference to avoid errors and omissions. You can add other elements if required
Be transparent: Make sure the prospect easily understands all the information that you present. Do not leave any scope for ambiguity as hidden details can result in a lack of trust. Be very accurate about each detail so the client can easily compare your offering with others. Clear communication in your business quotation is essential for client's satisfaction
How to quote a customer? -Checkpoints before you hit the send button
Recheck the calculation: The main objective of any business quotation is to provide the prospect with relevant and accurate pricing details. Ensure all your numbers are on point before you send a quote to the prospective client. A wrong calculation can mislead the prospect
Ensure proper formatting: Proper formatting means ensuring that your quote is laid out well in terms of appearance. Choose clear fonts, soothing colors (if required), and highlight headings and keywords. This will make your quotation presentable and easy to read
Cross-check spelling and grammar: Your quotation must include simple language but it should be accurate. A tiny grammatical or spelling error can leave a bad impression on the client, reducing your chances of deal closure. Review the final quotation to avoid mistakes and errors
Are you creating your sales quotes manually?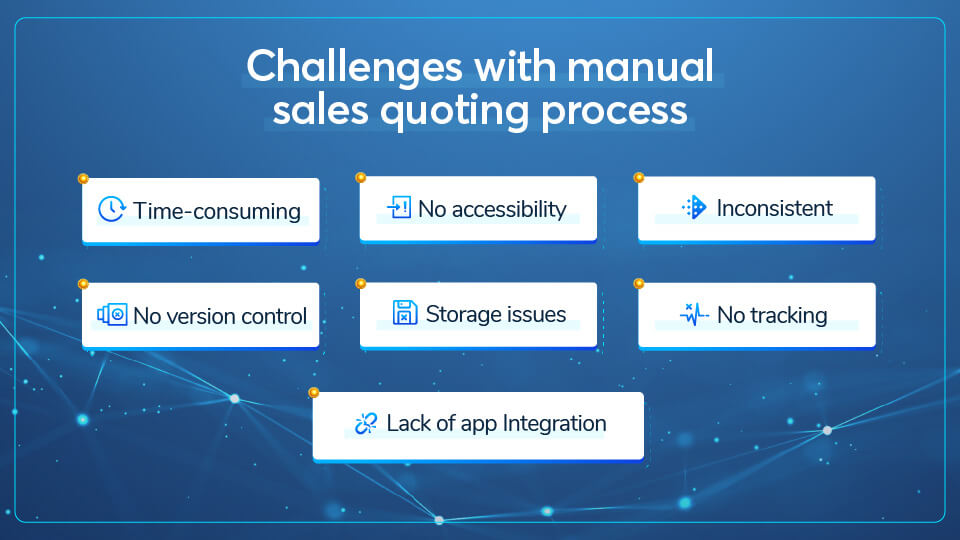 All the teams in a business (sales teams, product teams, marketing teams, and so on) need to be dynamic and empowered with the current technology to deliver their best. In the modern era where cloud-based software solutions have developed immensely, creating, managing, and storing sales quotes manually is not beneficial at all.
Here are some challenges users face with manual handling –
Time-consuming – Creating and managing multiple quotes and proposals limits sales teams' potential, especially in larger organizations as the process takes up a lot of time. Smaller companies usually do not have dedicated sales teams to look into each quote and proposal. These companies end up wasting a lot of time looking for a suitable template online.
Inconsistent – Creating each quote from scratch without a pre-defined format leads to the creation of inconsistent quotes. Lack of consistency in the quotes sent out to prospective customers can hamper an organization's brand image.
No version control – Lack of version control is yet another drawback of a manual document management system. The users aren't aware of the changes and updates made in a particular document. Moreover, different versions of the document keep circulating via emails and messages among various users. This creates confusion and makes the sales process uneven as the desired file isn't located in time.
No track of the document – Multiple quotes and proposals are exchanged between the sales team regularly. With manual documents floating across teams, it is difficult for users to keep track of the document pending for approvals or signatures.
No accessibility – Sales teams have various members, and all of them need access to the quote at different points in time. But a quote created manually sits either in some office cabinet or in a sales representative's personal folder. Any other member cannot access it instantly. As a result, accessing a particular quote becomes an uphill task.
Storage issues – Storing paper files in offices or their scanned versions in the system is not a feasible solution. It demands a lot of space, effort, and time. Users face a difficult time trying to retrieve important files when needed. There are high chances of even losing critical documents. You can miss out on an important deal if you get stuck in such a situation.
Lack of integration between platforms – Users/employees within an organization work with multiple business applications (CRM, Google sheets, etc.) to prepare sales quotes and proposals. But, the process becomes very long as there is no integration between these apps. Users have to switch between various platforms to create a perfect quote which results in errors and inefficiency.
Manual document management can lead to numerous errors and can result in scary document mishaps for businesses.
Tools to create sales quotes and sales proposals easily
A successful business is all about managing existing sales well and adopting new ways to enhance sales operations and grab more deals. Manual processes reduce the productivity of the sales team and affect the growth of a business.
This is why tools for sales enablement are in great demand to automate the sales quoting process. But, the market is huge, and the platforms available in the market are diverse.
Here are some of the tools you can use to automate your quote creation process –
Sales quoting software
It is a cloud-based tool that is used mostly in small businesses to create quotes. A sales quoting software helps companies spend less time on tasks like data entry, price calculations, etc., and spend more time closing profitable deals.
In short, it enables the sales automation process through its helpful features. Here are the features of the best quoting software –
It provides quote and proposal templates with a rich editor to customize the quote or proposal as per the RFQ (Request for quotation/quote)
Quoting software offers seamless collaboration with internal and external team members
It offers useful no-code integrations with multiple business apps like CRM, Google Sheets, Google Drive, etc.
A quoting software helps automate the entire sales process to close more deals and earn more customers
Many such platforms give the option to eSign the quotes to easily receive customers' approval
Some examples are QuoteWerks, iquotexpress, PandaDoc, and, iqx. Most of these tools offer a free trial too.
CPQ
A configure, price and quote software is meant for organizations that create complex and highly configured quotes. A CPQ can be termed as one of the intricate technology service providers used by large enterprises with complicated offering and pricing plans. People often get confused between a quoting software and a CPQ as both are used for similar purposes. A quoting software can be termed as a subset of a CPQ as it has limited capabilities.
Here are some features that the best CPQ would offer –
It offers broad and descriptive analytics
CPQ has multi-level approval workflows
It has provisions for a variety of user pricing plans, discount schedules, customer plans, etc.
It offers automated deals renewal
CPQ has a product configurator and offers incredibly intricate catalog management
It allows customers to define custom pricing
CPQ is majorly used by manufacturing and infrastructure companies. Huge e-commerce software that has multiple SKUs can also use CPQ software.
Document management system
A document management system is another solution that can manage your quotes and proposals well. It is usually a complete solution and not concentrates explicitly on creating and managing quotes for a company like a quotation tool. Investing in such a tool is a valuable decision, especially for small businesses, because a single tool will handle all the document-related worries. With a DMS in place, you need not worry about implementing quoting software, contract lifecycle management software, or any other software for managing business documents.
A simple document management system comes with document templates for quotes, proposals, agreements, contracts, etc. It also provides integrations with other business apps like Google Sheets, Google Drive, Stripe, etc. You can link your price sheet within the quote and save the quote without switching between different platforms. Document management system workflow enables employees in the sales team to have proper communication.
Document management system features list doesn't end here, given below are some additional features the tool provides –
It comes with an editor to help you customize the templates
It allows you to have seamless collaboration with internal and external teams
It gives you the option to eSign documents
It comes with cloud storage to help you store huge volumes of documents securely
It facilitates workflow automation
You can explore this list of the top 18 document management systems of 2021 and shortlist the one that suits your needs perfectly.
Revv – the tool small businesses need for a better sales process
Revv is among the best cloud-based software solutions that enables companies to create, manage, and store quotes and proposals in an orderly manner. It comes with instrumental features that help in closing more deals in less time.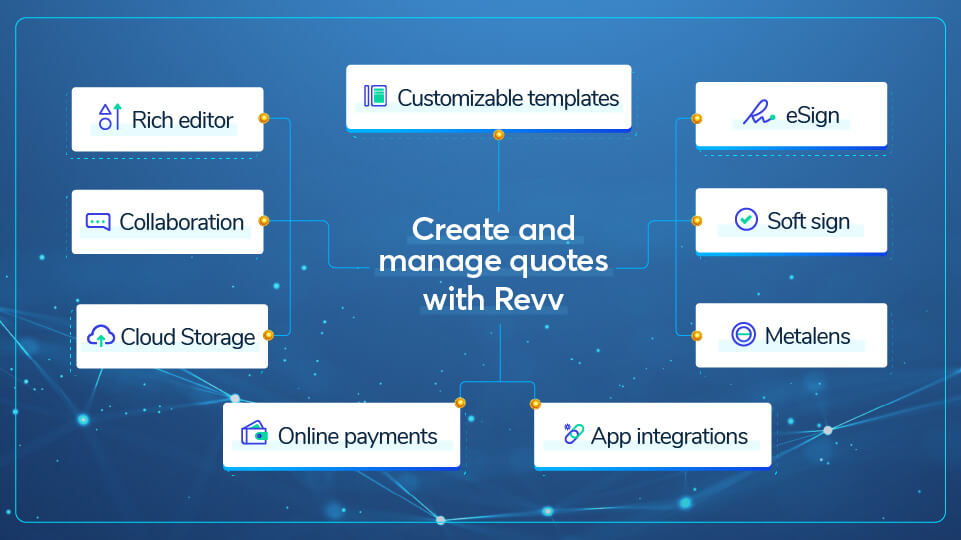 Here are some features of Revv, an electronic document management system that helps in the quote creation process –
Customizable templates – It offers a variety of ready-made templates of sales quotes, sales proposals, and other sales documents. These templates simplify the sales team's task as they do not have to create each quote/proposal from scratch.
Rich editor – The easy-to-use drag-and-drop document editor lets users create quotes and proposals as per their needs and preference. You can add or remove elements from the selected template. You can even make a new quote by using Revv's editor.
You need to specify the price distribution in a quote clearly. If you are wondering how to quote a price, Revv has an answer. The best way to do this is to add a 'Quote table'(an element in Revv's editor) in the document. You need to select a price book to add your products to the quote table. Once you choose the price book, the product catalog window appears; it lets you add your company's relevant products/services to the final quote.
App integrations – The tool offers app integrations via Zapier. It connects the apps you frequently use with Revv using triggers and actions. You can automate tasks according to your business process and enjoy data exchange without any hiccups.
Online payment – Usually, payment processing isn't required within the quote, but Revv provides the option to collect online payments by using Stripe integration. Revv enables you to collect an instant payment within your quote or proposal itself.
Soft sign – Documents like sales quotations do not necessarily require customers' signatures. With Revv's 'Send for acceptance' feature, you can send the quote for customers' consent. The customer can either reject or accept the quote as per their assessment. Soft sign is a free and flexible alternative to eSign.
Electronic signature (eSign) – The platform provides the option to send legal documents for eSign. You can trust Revv's eSign with all your legal documents as it provides bank-grade security. Read the blog to know how to eSign a document in Revv.
Smooth collaboration – A sales quote/proposal needs to be checked by sales managers and other sales authorities before being sent out to the end customer. Revv lets users collaborate over the same quote using features like notes and @mentions. You can enhance the customer experience by allowing them to give valuable feedback on the quote.
Magic link – You can share your quote created in Revv, a cloud-based solution, with the prospective customer in the form of a magic link. It is a permanent, public, and shareable link that can be copied, pasted, and shared with anyone. This will enable customers to view the document using their phones anytime and anywhere.
Metalens – Revv is based on machine learning. Its Metalens feature helps users to identify and extract crucial information from documents (PDF and DOCX file formats). This feature becomes important when you need to review multiple quotes regularly. You can compare the offerings of various companies quickly using Metalens.
Cloud-based storage – Storing huge volumes of quotes and proposals in wooden cupboards or storing their pdf versions on computers is not convenient for any organization. Revv comes with unlimited secure cloud-based storage to safeguard all the quotes and proposals for future reference.
Revv has the most generous pricing plans ever as it charges on the basis of consumption and not per person. This way, multiple users can access the same account and leverage the benefits. Revv's user pricing plans are completely customizable suiting your business needs.
Sign up with Revv now for a free trial.
Creating multiple sales quotes daily? – Try Revv's no-code workflow automation
Automating business processes has become the need of the hour. In a world where speed is a significant determinant of success, business owners cannot depend upon manual ways to create and manage business documents in bulk.
Sales is one major pillar for organizations as it brings revenue. A sloppy sales quotation process can harm the growth of a business. Therefore sales automation using automation workflows can enhance the sales operations of a business leading to more profits. Sales teams will feel empowered with a sales tool (a quoting software or even a document management system) that helps them drive more profit using advanced features.
Are you worrying about coding? Do you have very limited knowledge or expertise in such a technical field?
Revv, a cloud-based tool, has sorted out these issues for you by launching its no-code workflow automation processes. Using this platform enables your sales team to integrate business apps like CRM, Google Sheets, Storage platforms, payment platforms, etc., and have a streamlined quote and proposal automation workflow.
Here is how Revv, a simple cloud-based document management system, helps you automate your sales quotes through its advanced features-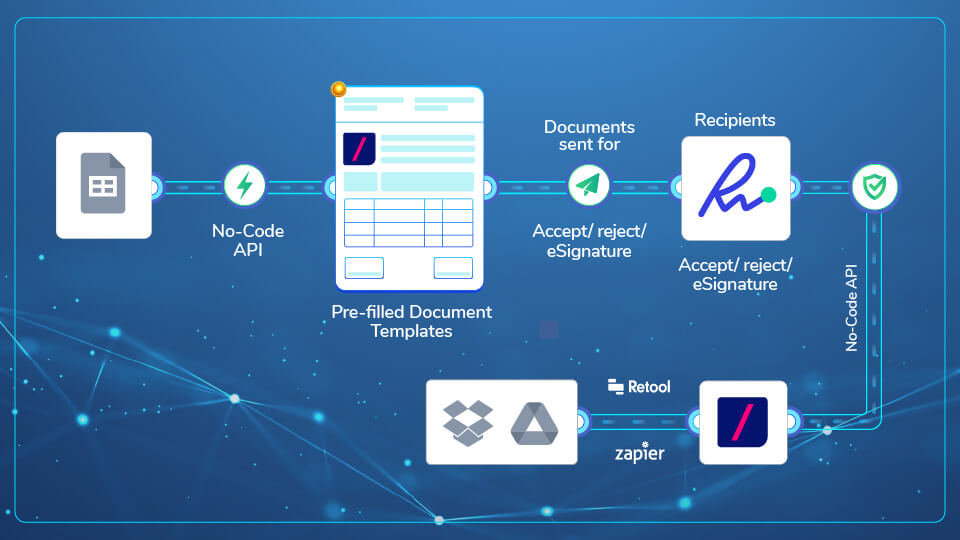 You can draft loads of documents (quotes) easily
You can pre-fill the sales quotes using Google sheets integration
You can send multiple sales quotes for soft sign/eSign
You can also analyze the sales quote/sales proposal using the Metalens feature in Revv
You can easily connect with CRM and other platforms
It offers unlimited and reliable cloud storage
Watch the video – Sales quote automation using Revv
This video explains how sales quotes get generated automatically for the customers using app integrations (CRM, Google sheets, etc.) in Revv. Read the blog on sales quote automation to glance through all the steps thoroughly.
The Final Note
Writing attractive business quotations or sales proposals is vital to seek and retain potential customers. You need to create accurate and concise quotations that meet customer's requirements to win the deal.
Revv provides an efficient document management system with various quote templates to professionally and easily offer your products/services to clients. Workflow automation is the masterpiece that lets you minimize your efforts in mundane tasks and focus on creating optimum quotes in seconds.
Check out all quote templates by Revv here and minimize your effort and time in writing a business quote.
Frequently asked questions
What is the best quoting software for creating sales quotation?
There are many sales quoting software in the market, but Revv is one the best among them as it has some out-of-the-box features. Revv, a cloud-based software comes with multiple proposals and sales quotation templates, app integrations, workflow automation, eSign, soft sign, etc. You can enjoy a free trial to start with and upgrade to a paid plan later.
How do I send my business quotation?
Once you have included all the details and have formatted the quote well, recheck the quote before hitting the send button. Sending the quote through email is not the best way as you cannot track the progress. Using Revv to create and send quotes allows you to track the progress of the quote. Moreover, customers can accept/reject/eSign the quote as soon as they view it.
What is the best free quote maker to use?
There are various software like QuoteWerks, PandaDoc, iqx, etc., that help create quotes, but Revv is one software that is packed with multiple beneficial features that allow users to create and automate winning quotes. It offers a free trial, unlike other quote makers that are priced as per the number of users, Revv's paid plans are based on usage. Ask yourself these 10 evaluation questions to make a perfect choice.