Organizations right now, whether big or small, are looking for critical tools and solutions with various features to ensure smooth business operations. The primary lookout is for a quoting software because no matter which industry you belong to if you do business, you need quoting software for creating quotes and proposals for your products and services. Now with several relevant options in place, you as a customer are spoiled for choices when it comes to finding the one that fits your needs. Keeping the current situation in mind, it is crucial for companies to be judicious about their choices and do a thorough evaluation before making the purchase.
Burst the question bubble!
In order to make the evaluation process stringent, you should design the question list with two categories in mind – i) Software-oriented questions ii) Process-oriented questions. This will help to address both sides of the coin and let you find the perfect software with relevant features for your business.
Software-oriented
This approach will help you understand the software's features and bring clarity on whether you really need the tool and how it can help you improve your current sales processes.
Do you really need a quoting tool? Does it meet your requirements?
Companies looking for quoting software tools are definitely swamped with a lot of proposals and quotes to be worked on at a point in time. And a manual procedure makes it even more challenging to manage the sales cycle. A quoting software helps you perform all your tasks in one place, instead of juggling across different platforms (doc, excel, emails, etc.). It automates sales processes to ensure faster quote creation with efficient document management and secure storage facilities. With multiple leads, customers, and stakeholders to deal with, quoting software helps you to plan and prioritize tasks to reduce friction and close deals faster with flawless quotes. It helps you enhance your sales operations and improves the overall customer experience.
But selecting a quotation software tool (or any tool in general) for your organization is an exhausting process. It takes a lot of your time and effort. So it is important that you are sure of the quotation software you need before making the final purchase to be able to create flawless quotes for your customers. There are times when organizations just opt for a tool due to its extensive feature list that has little relevance to their requirements. This barely adds any value to the process, but sure burns a hole in your pocket. Don't make that mistake!
Align your tool well with your internal project management and people. The quoting software should improve the quoting process and not complicate it further.
Do you have complex products in a tangled set-up?
If you have a lot of products that you sell and purchase from multiple vendors, you will have to keep track of them. Also, there are certain products that are sold in bundles, packages, and kits to the clients – so your tool needs to have those capabilities and also support different pricing options as per clients' requirements.
A tool with a built-in product catalog lets you list all your products in one place and configure it to a pricing method when adding it to a price book. This makes it easy for users to configure and price products.
But what if your sales quote process has many product offerings and bundlings? For example, e-commerce software companies have complex pricing strategies, customized discounts, and intricate workflows and calculations.
For such complicated sales quotes, a better go-to solution is (Configure-Price-Quote) CPQ software.
A CPQ deals with this problem head-on and sans any scope of errors and accelerates document creation.
A CPQ fits well for larger organizations with numerous SKUs (stock-keeping units). Also, a CPQ provides artificial intelligence and much more detailed analytics than a sales quoting solution.
It is important to have clarity between CPQ and sales/business quoting platforms to empower sales teams with the right sales automation solution as they are different from each other in various aspects.
Do you need these 'sought after features' in your quoting software?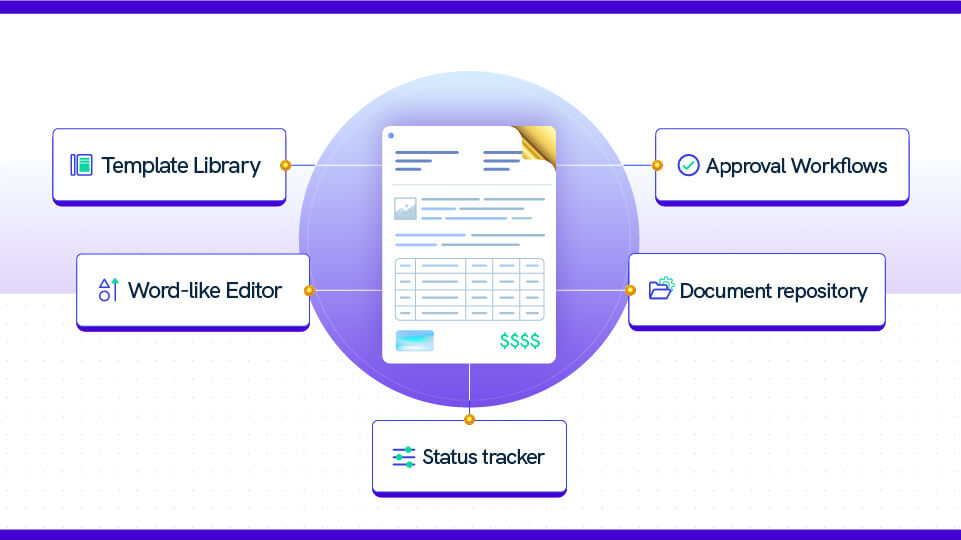 Yes, you do! Nowadays, almost all quoting software tools come with a long feature list. But some features are standard and much needed. Listing down some of them for your reference
Template library –  A large repository of pre-configured templates of sales documents (quotes, proposals, etc.) that can be customizable to give your sales team a head start. The quote creation process becomes easier with ready-to-use templates having legally vetted content.
Word-like editor – Author quotes and proposals with a user-friendly editor that is easy to use and allows you to create customized quotes. You can edit the templates present in the tool as per customer requirements.
Cloud-based document repository – One place to store and manage all your documents (quotes, proposals, purchase orders, etc.). You don't need to worry about storage as your documents expand and become more complex with a cloud-based repository.
Approval workflows – The tool's ability to let you set approval workflows that trigger notifications based on the conditions set. 
User-based management – Manage the document (quote, proposal, etc.) access based on the user role. This will help you eliminate unnecessary changes made by irrelevant people.
Status tracker  – Know where your quotes/proposals are stuck in the cycle and prioritize your tasks accordingly. You can monitor the user's activity on the document – who opened, signed, accepted, and rejected the document.
App integrations – The best quoting software is the one that lets its clients integrate already existing software like CRM, ERP, accounting software, etc. with it.
Effortless sharing of quotes– Ability to quickly share quotes in easily accessible file formats with customers via shareable links or via email address.
Native APIs – Native API integration seamlessly moves data between your documents and business apps such as CRM, Accounting Software, and more.
eSignatures – eSignatures help companies move away from the tedious process of signing quotes and proposals manually.
Revv offers all of these features and helps you achieve an optimum way of creating and managing quotes and proposals.
Are you looking for a tool/platform that enables seamless collaboration in the sales process?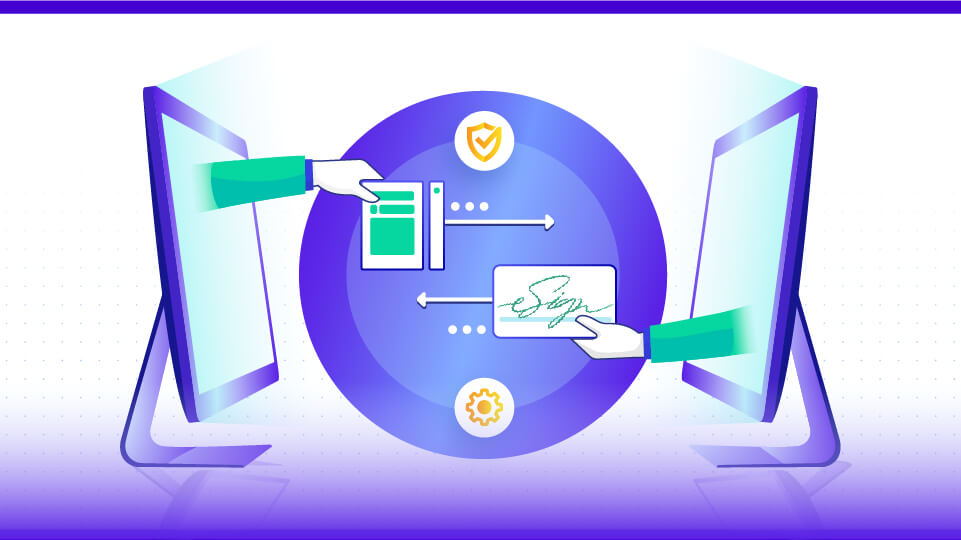 Complete reliance on email, text, and chat for communication can be time taking. This realization has happened to many people now, with remote working becoming the 'new normal.' Such a situation triggers more importance on solutions that ensure easy collaboration. A tool that enables multiple members to work on a single quote.
You should look for a tool that supports some kind of communication even if it's a notification of change or allocation of a task.
Revv allows users to interact and collaborate with prospective clients or customers within the business documents through its various features. The users can add comments, suggestions, text annotations in the document, and tag their team members for feedback. This eliminates repeated and unnoticed follow-ups.
Do you want a platform with reporting capabilities that provides real-time analytics data?
Teams these days are working from different or remote locations. So a tool with the ability to provide clear insight on document status helps them be on the same page, literally!
Features of this intent help in identifying the bottlenecks and prevent the process from slowing down. Real-time reporting of data and insights will help you understand and improve the sales process. This inclusion of reporting features acts as an indicator of a mature and complete quoting software package.
Process-oriented
This approach will help you in managing the changeover better and make work easier for the users.
Is there an onboarding process in place?
Just getting the right tool isn't enough! There is more. Change and transition are difficult in themselves. If the set-up and installation of the software are complicated and extensive, it can result in users losing interest. This may create resistance towards using the tool.
A proper onboarding process with sufficient resources like help videos, in-app cues, knowledge base, and appropriate customer support will make the transition easier for the users and customers.
Does the quoting software integrate with the other tools used by you? Is the UI/UX of the platform user-friendly?
Seamless integration with a system of record like a CRM is essential for quoting software. There are companies that have systems of record and other management software (contract management software, contact management software, etc.) in place to be integrated with the quoting software. And, bi-directional sync can be the cherry on your cake. Such integrations fetch you real-time data like the price and availability of the product or service from multiple distributors through a single sign-on.
Having a quoting software with a smooth configuration experience that will work quickly is of utmost importance to crack more deals. A metric to measure this would be the time taken by a user to start using the tool effectively.
With a non-intuitive UI/UX it can take way longer and that hurts the business. Many users deal with complex products, so it's important that the UI/UX of the application should be functional, pleasing, and easy to use for the user.
Does Revv integrate with all the CRM?
Revv integrates with all major CRM software like Hubspot's, Zoho's, Salesforce, Zendesk, etc. are to name some.
Is the tool scalable as per your business requirement with ongoing customer support?
With scale come more geographies, currencies, and target segments. And the difference in geography, currency, and target segments often leads to companies adjusting their pricing methods and contractual compliances. The application should be able to adapt to all such change requirements as companies want a tool that grows with them. Keep in mind that the quoting software that you choose should have the option to upgrade as per the business requirements. Because changing tools frequently can be a disadvantage as it can hold back the companies' growth graph. Thanks to Revv for charging as per the usage and not as per the number of users (sales reps, managers, etc.) in the team. You don't need to worry about the number of people using your Revv account as its pricing is based on consumption.
Also, no matter how low maintenance these quoting software tools are, there are certain occasions that ensue the need for vendor support to ensure smooth functioning. From phone calls, chat, email to rich knowledge base centers – it should be able to cover all the immediate queries of your team and extensive complicated issues too!
Can you afford the quoting software tool?
This is one of the most important factors that should be considered and discussed. The price of the tool can be affordable but there might be overhead costs that come with it. This means that the tool might not be complete. Check before signing up if there are additional investments in other systems to complete the requirement. You can also look for a tool that is a "business is a box". You get a set of tools that work together and adds value to the money spent. The purpose of getting the tool is to ensure smooth functioning and not a cost burden that doesn't serve the purpose.
Revv's platform offers consumption-based pricing plans and you can customize them as per your requirements after talking to our experts.
If you think this is the tool for you, do you get a free trial or a basic free forever plan?
There are a lot of quoting tools that provide a free trial for a limited period of time. This is done for the convenience of the buyer, to let them understand the product better and then make a decision. You can see whether it meets the requirements and is the right fit for your organization before making the final purchase.
Also, many companies have the option of setting up product demos. Don't hesitate to ask for a demo from the sales reps. This will give you a hands-on glimpse of the quoting software and help you save a lot of time, effort, and money that goes into the entire selection process.
Towards a wise decision
Before choosing any product whether it is a car or a software tool, it is important that you know the purpose of your purchase. A lot of time, effort, and money go into making such decisions so it is vital that you make the most appropriate choice. Making the wrong choice can lock you in and hurt rather than help the business. So do not hesitate and just ask away your questions to make the right decision.
Revv's new generation quoting solution lets your sales team create and manage sales quotes and proposals quickly and enhances your sales process. You can try it out for yourself. Click here to sign up and enjoy the free trial (no credit card required) by signing up for the forever free plan. You can also set up a demo to know about the product in detail.
FAQ
Given below are some questions related to quotes and quote-making software –
What is a quoting software?
Quoting software is a tool that helps to streamline the quoting creation process by using different features like document templates (quotes/proposals/purchase orders, etc), business app integration, eSignature, etc. Some examples of the best quoting software are Revv, PandaDoc, QuoteWerks.

What is a quotation management system?
A quotation management system is a web based tool or application that helps customers create, manage, submit, and track quotes as well as invoices. It helps companies seamlessly handle the process, starting from quote requests to the final invoices.
How do you design a price quote?
A price quote is a call to action. You must design it in a manner that clearly specifies each and every detail and leaves no room for confusion. Include the pricing with all the applicable taxes, payment terms, due dates, 'valid until' date, and your terms and conditions. Format it in proper tables for clarity of the customers.
How do you create a quote?
You can create a sales quote using a cloud-based tool like quoting software or a cpq, or even manually. In case of a tool you need to select a template first. Add your company's and client's details in the quote, include products/services being offered with the pricing details, mention the terms and conditions, add any other notes or optional details as per your need, and the quote is ready.
How do you make an online quote?
With a variety of cloud-based software solutions available today, creating a quote online is quite easy. You just need to select the right quote template from a quoting software or CPQ like Revv, Quotewerks, PandaDoc, etc. Your sales reps can add price books to the quote using Google sheet integrations, they can save the quote as a pdf or share it directly with the customer via shareable links.
What is a better alternative to PandaDoc?
Revv is a better alternative to PandaDoc as it provides clients with a lot more features than PandaDoc. Some unique features of Revv that are not supported by PandaDoc are price book versioning, product grouping/sorting, conditional pricing workflows, opportunity sharing, and sequential approval. You can enjoy a forever free trial of Revv without providing your credit card credentials.
What is a better alternative to Quotewerks?
A better alternative to Quotewerks is Revv's quotation software as it comes with great features in affordable pricing plans. The best part is that unlike Quotewerks Revv has consumption-based pricing plans.