Timely drafting and sharing of sales quotes with prospects and clients is a crucial part of the sales process. But, sending generic quotes and proposals to meet the timelines does not always prove fruitful for the business.
The increased competition in the B2B industry has seen a rise in demand for highly customized products and services. As a result, the standard rule policy doesn't hold anymore.
73% of non-CPQ users take more time to produce a typical quote or proposal.
Source: SoftClouds
But manually configuring a long list of products and services can occupy the sales teams for hours on end. This has paved the way for a versatile and scalable digital sales platform – Configure-Price-Quote or CPQ software.
Sellers use a CPQ solution to create accurate quotes and handle complex business processes by configuring highly customized products and services.
Understanding the CPQ software functionality
A CPQ software simplifies the quoting process by enabling users to configure product and service offerings, lay down pricing rules, manage discounts, etc. In addition, it facilitates the generation of error-free quotes with real-time pricing details.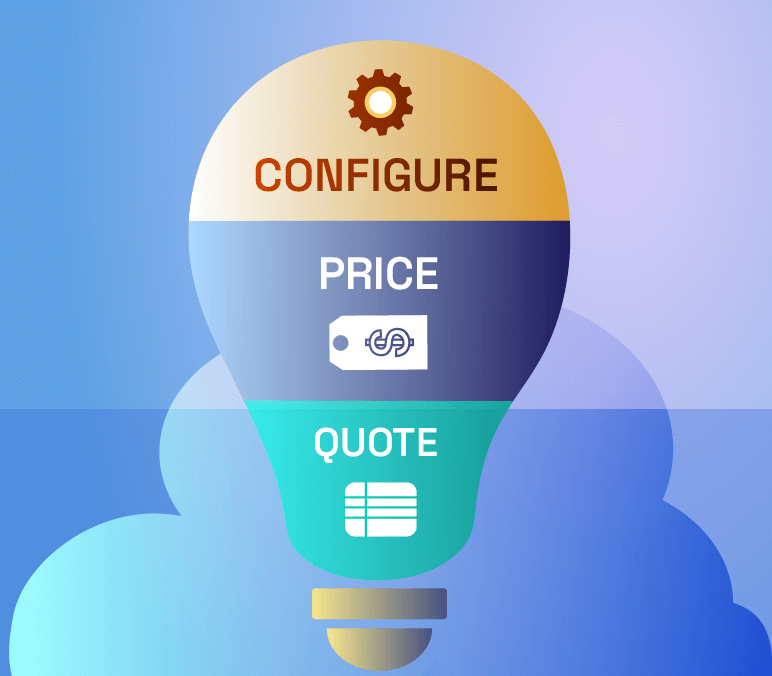 Let's break down the process of CPQ software to better understand its functionality.
Configure
The one size fits all theory does not hold strong grounds in the SaaS world anymore. Business offerings today, be it a product or a service, needs to be highly customized. Configuring the products and services based on the product family, attribute-based products, required/suggestive add-ons, etc., makes the offering more contextual and helps accelerate the deal process. A CPQ solution enables complex product configurations, minimizes the possibility of human error, and simplifies the life of sales reps working on customer-centric offerings.
Price
When your business offers straightforward products, the pricing structure in such cases is relatively simple. But the demand for customized offerings has led to complex product configurations resulting in complicated pricing structures. The pricing capability of a CPQ solution ensures accurate pricing and also takes variable components like – discounts, tax calculations, etc. into account.
Quote
Once the configuration and pricing process is figured out, the next step is to successfully communicate your offer to prospective clients through a quote.
It is common for customers to request quotes from multiple sellers. Leveraging CPQ solutions to send accurate quotes within stipulated timelines increases the possibility of beating the competition. A good CPQ software enables its users to easily collaborate with their team, seamlessly review quote details, and send them for acceptance – all in a single platform.
Finding and adopting the ideal CPQ software for your business is like choosing a multi-talented salesperson with the ability to do things like a supercomputer.
CPQ solutions have a CAGR (Compound Annual Growth Rate) of 20%
Source: Forcetalks
How to decide whether your business needs a CPQ solution?
Now that you know what a CPQ solution can do for you, it's time to take the next step – ask the right questions before making the final decision.
When does your business need a CPQ tool?
What key features make up an ideal CPQ software?
It is very critical for businesses to have clarity on what exactly they need before investing. The increasing requirement for tailored buying experiences and cut-throat competition to reach prospects (within a specific time frame) has intensified the need for companies to streamline their business operations.
Intending to keep up with the market, businesses are focusing on creating a tech stack that delivers the required outcomes. Any addition in the tech stack should go through a suitability and applicability check for achieving the desired results.
Here are some questions to help you make a judicious decision when finalizing your CPQ software:
When does your business need a CPQ tool?
To answer this question in the best way possible, you need to understand the already established quoting process in your business. Highlight the pain points or the bottlenecks which are causing the shift to another CPQ tool or adoption of a CPQ tool for the first time.
The number of products you manage
If you are an SMB, the number of products you offer might not be a lot. But there are high chances of you selling different variations of a particular product that the customer is looking for.
Let's take an example; a prospect reaches out to your business and wants to know the different plans you offer. If you have CPQ software in place with all your plans listed, you can discuss and inform the customer about the different types of plans and products available in them, which they might not know about. Here, you are basically creating a path for upselling.
Incorporating a CPQ tool in your SMB can organize your business and make the selling cycle more streamlined.
If you are a large-scale enterprise, the number of products and services you offer will be significantly high. Large-scale companies also have more customers and prospects in the pipeline to manage and close.
CPQ solutions aid sales teams in reinventing the buying experience for customers. It configures and lists all the products and services to be offered in a single product catalog. All the heavy lifting happens in the backend of the CPQ application for generating quotes on time.
Product configuration and pricing by sales teams
If you are an SMB or a large-scale enterprise, adopting a CPQ tool will make it faster and easier to update and configure existing products and add new products to the product catalog.
These changes reflect in real-time, allowing sales reps to access the most updated product catalog and price list. It also brings a whole new level of speed and efficiency to your sales process.
Why can't an SMB with fewer products, a smaller sales team, and lower quote generation rate use Google Sheets for product listing and maintenance instead of CPQ software?
To be honest, it's a fair ask. A small business wouldn't want to invest in an expensive tool to manage a few products that can be done manually. But as mentioned earlier, the CPQ process has three stages. The last stage requires generating quotes.
Revv, a cloud-based quoting solution, allows users to manage their product catalogs, price books, and create quotes in their rich & intuitive document editor. In addition, you can easily integrate the document in Revv with Google Sheets, and transfer the data without any delays and errors. Also, Revv offers a fair pricing plan that includes the needs and requirements of small-scale businesses.
The number of quotes created by sales reps
The role of CPQ software does not limit to configuration and pricing. The ability to send well-drafted quotes also plays a critical role in determining the need for CPQ software.
In SMBs, even if the number of quotes created daily might not be very high, the manual updating of products in Google Sheets, Excel, etc., can lead to delays and errors. And drafting a quotation from scratch can be time-consuming, with the possibility of omissions and errors.
With large-scale enterprises, this need is inevitable as the daily count of quote documents will possibly be high. Manually exporting pricing and product data from Google Sheets can be tiresome and prone to error.
Transitioning to CPQ software will accelerate sales and improve the deal size for your business, regardless big or small.
Turnaround time in your sales process
Time is crucial when running a business. The faster you get back to customers, the higher the chances of closing a deal successfully. This is valid for both SMBs and large-scale enterprises.
A CPQ software acts as a catalyst to improve the sales cycle time. It is a tool that maintains and tracks critical updates and provides better visibility on what's working and not working in the quoting process.
Such inputs improve the process and help convert one-time purchasers to repeat buyers, expanding the existing customer base. In addition, customers remember a smooth buying and satisfying experience made possible by companies that use a CPQ platform.
A salesperson spends only 35.2% of their time on selling. 65% of their time is spent on non-sales-related activities like administrative tasks, managing CRM data, attending meetings, etc.
Source: Forbes
What key features make up an ideal CPQ software?
Listed are some of the prominent features that the best CPQ tools in the market must possess:
Seamless product configuration: It should be easy for the user to easily configure products in the tool without extra training or hand-holding.
Incorporate advanced pricing rules: Businesses have various products with complicated and tricky pricing rules that an ideal CPQ software should incorporate.
Ease of quote creation: A user should be able to draft documents with the support of a rich document editor and share the sales quote with customers on time.
Integrations with external apps: The CPQ system should swiftly integrate with third-party tools like CRM systems, ERP, Google Sheets, etc., for smooth data transfer.
Process automation capabilities: The tool can automate repeatable and redundant tasks like admin work which saves time and allows users to focus more on selling and less on trivial tasks.
Quote status tracking: Sending quotes to customers is not the end game. However, checking whether the quote was opened or viewed can help the sales team determine the next steps.
Device friendly: The flexibility to access quotes and other documents from any device benefits both sellers and customers. It eases the process and ensures faster responses.
Why should you choose Revv as your CPQ software?
Revv is an all-in-one CPQ software that manages your offerings in terms of configuration, product listing, pricing, and quote creation. It has the capability to manage your end-to-end sales cycle.
Listed below are some key features Revv offers to give you a competitive edge and help your business grow.
👉 Configure products and create a product catalog
Revv's product catalog enables users to add, manage, and update all the products and services offered by your business. The product catalog layout is designed like an excel spreadsheet to give users a familiar experience and ease the transition process.
How to configure products in Revv?
You can access the catalog by clicking the Products tab in the left navbar.
The catalog will show a list of all the products and services configured and added to date that your business sells or is planning to sell.
Here's how you can add a product to Revv's product catalog:
Go to Products and click Add new product on the top right corner of the screen. The Add new product pop-up window is displayed.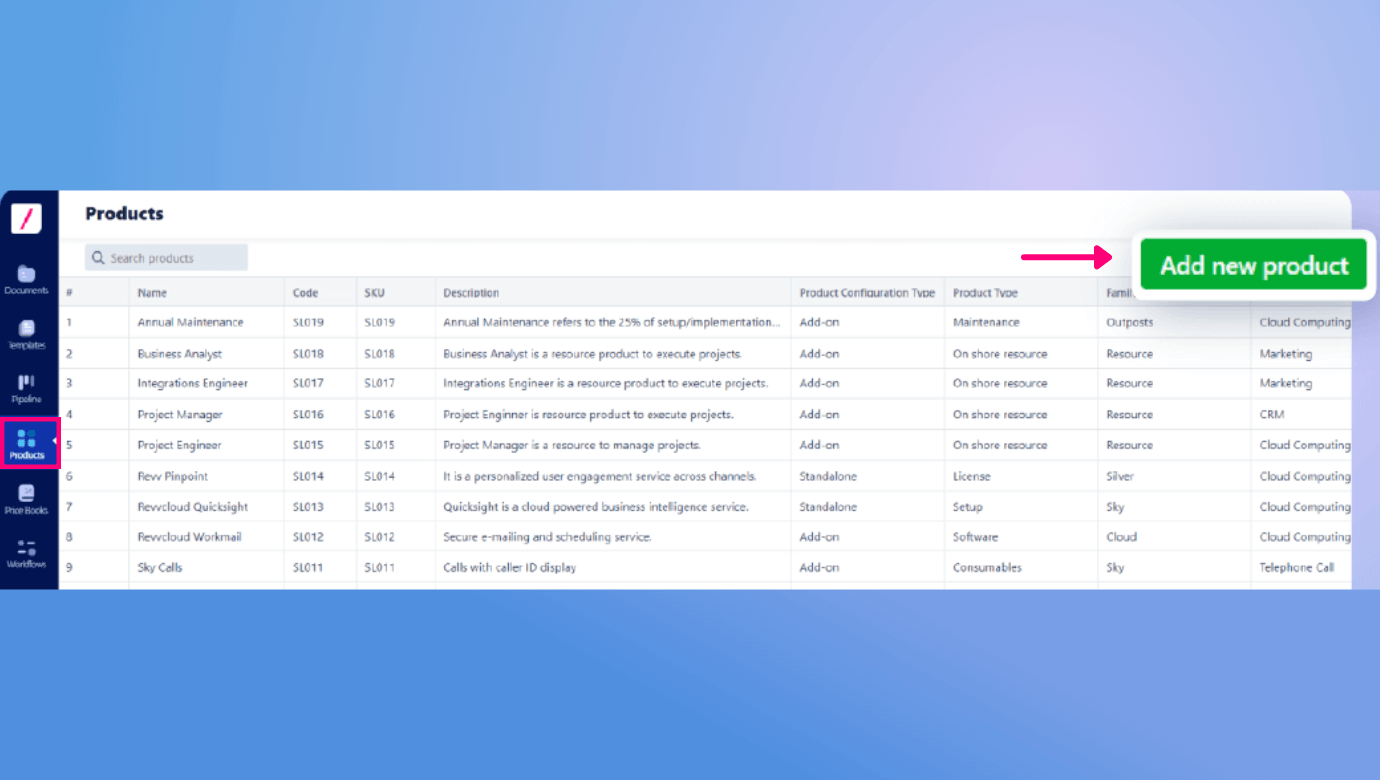 Enter the Product Name, Code, SKU, Product Configuration, and Product Type. These are all mandatory fields that need to be filled for the product to be added to the product catalog.
Make sure the Active checkbox is checked. If not, the product will not be visible for adding it to the price book.
Click Add and the product will be added to the catalog.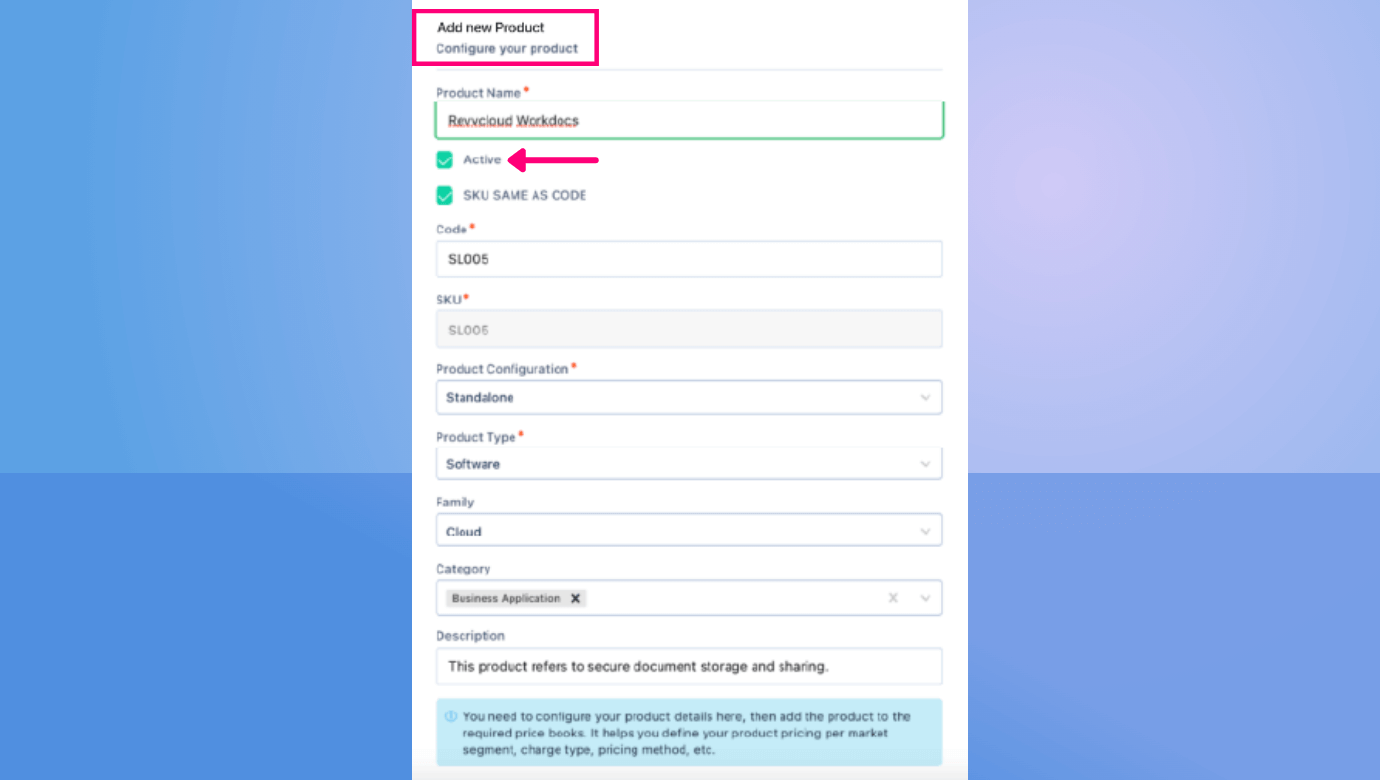 Additionally, in the product catalog, you can make column-related edits, add new columns, or hide/view columns. You can also search your products, and export the list of all products in .csv, .xlsx, and .xml formats.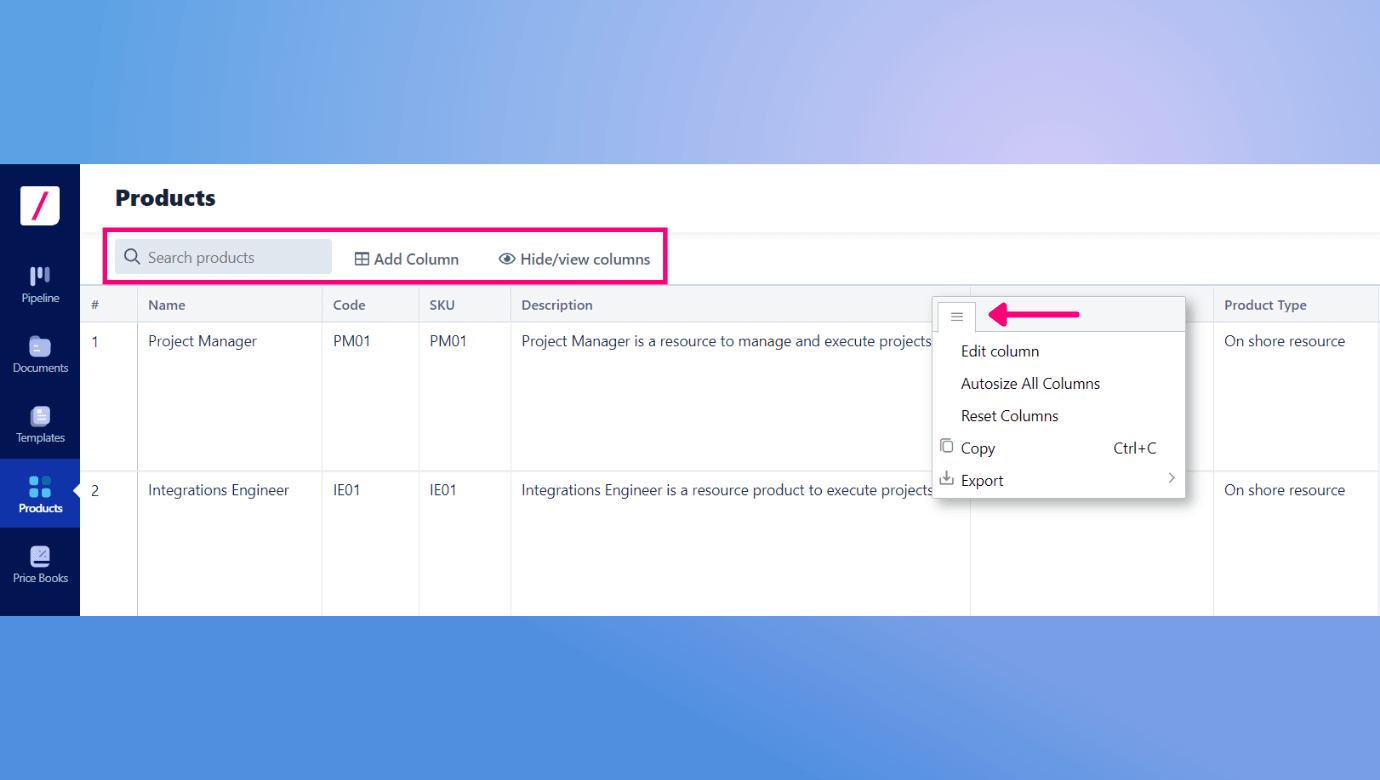 👉 Create price books based on your business needs
A price book lists all the products and services with their pricing details. In addition, Revv allows users to create multiple price books depending on the currency, geography, product lines, buyer group, etc. This will help you to deal with customer-specific pricing and assure sales reps that they are using the right price list.
How to add price books in Revv?
Click the Price Books tab on the left navbar.
Click + to create a new price book.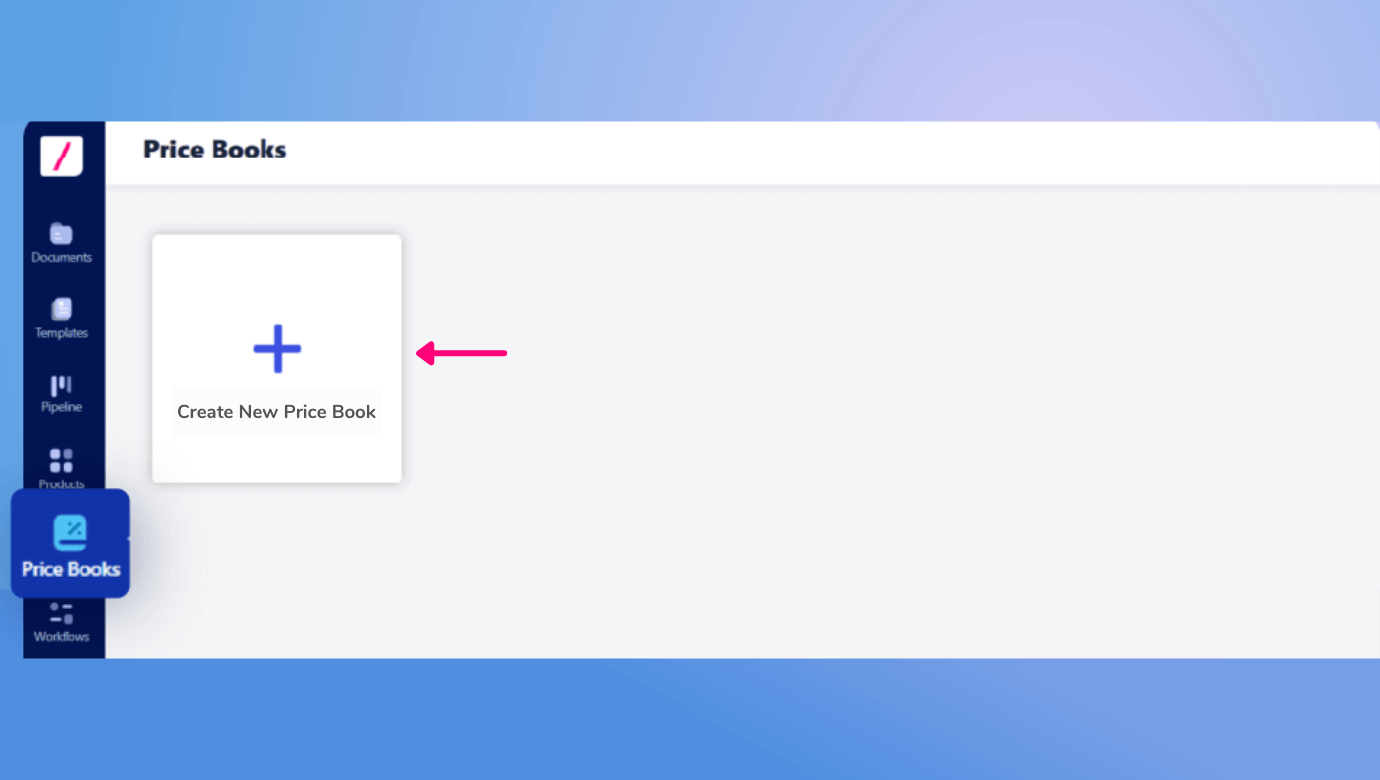 Enter the Pricebook Name, Description, and Currency fields.
Click Add to save the price book in your account.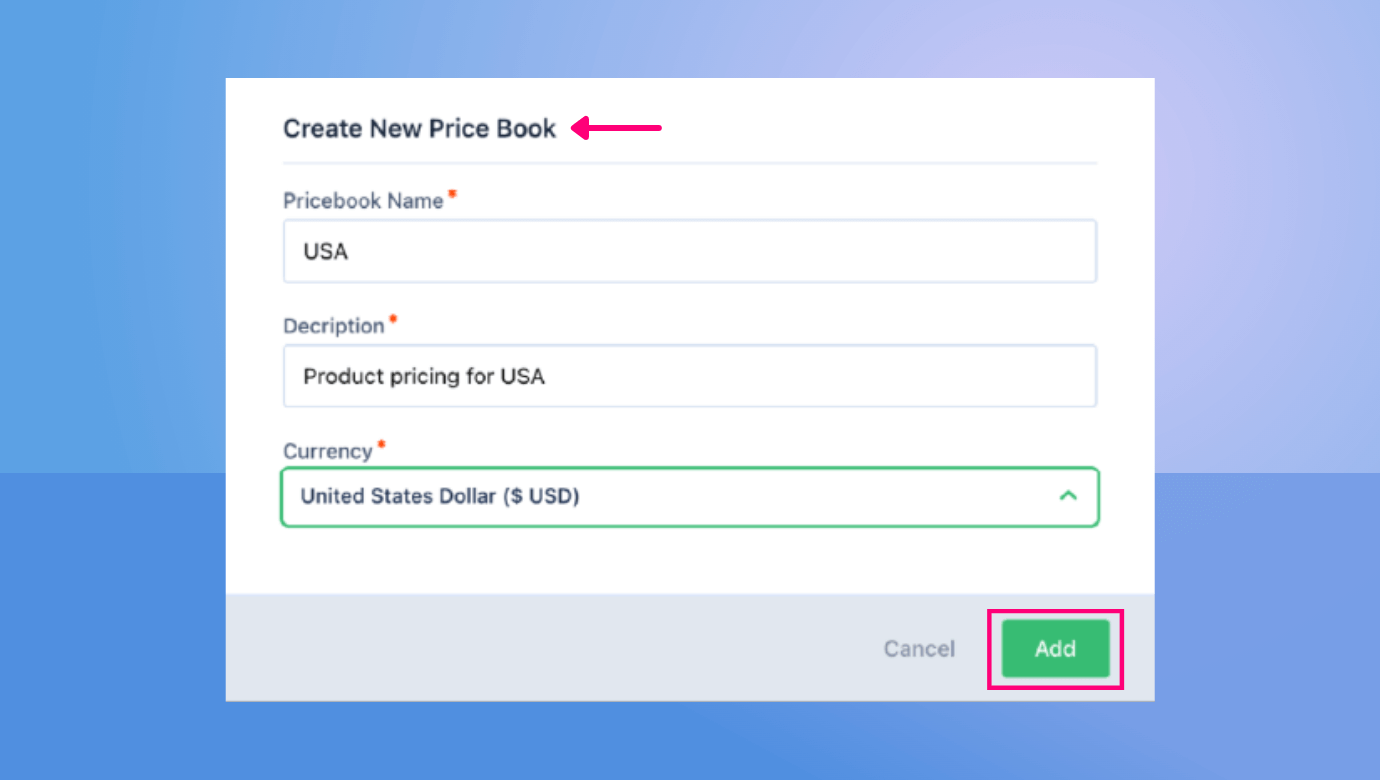 Quite simple, wasn't it? Once you add a price book, you must add different products and services to the price book. Revv allows you to define charge type, charge frequency, billing frequency, minimum selling term, pricing method, and many more for every single product or service you add. Let's see how to do that.
Click on a price book to further edit it.
Click the Price Book Inactive toggle button and activate the price book. If not, the price book will not be visible while creating quote tables.
Click Add Product to Price Book button on the top right corner of the screen.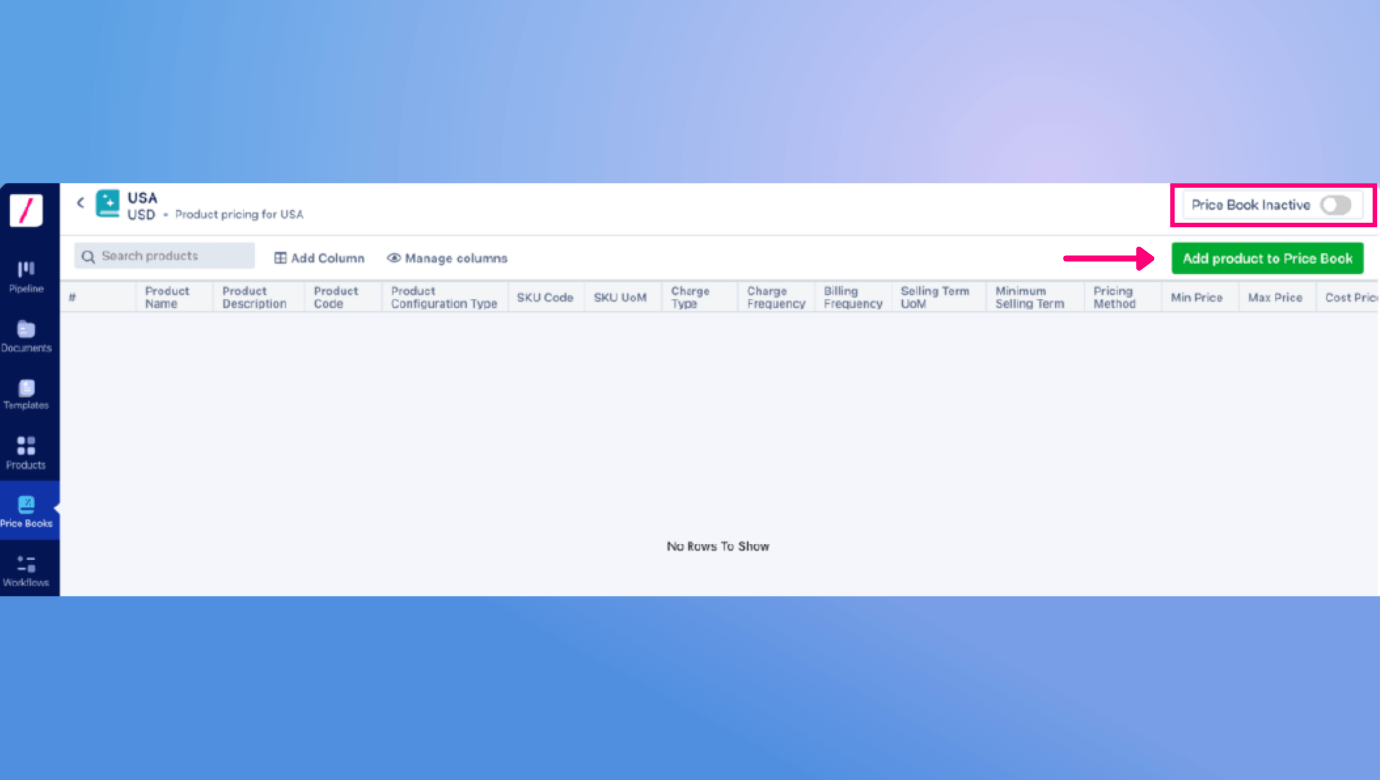 Enter the mandatory fields like Product, Charge Type, etc., and click Next.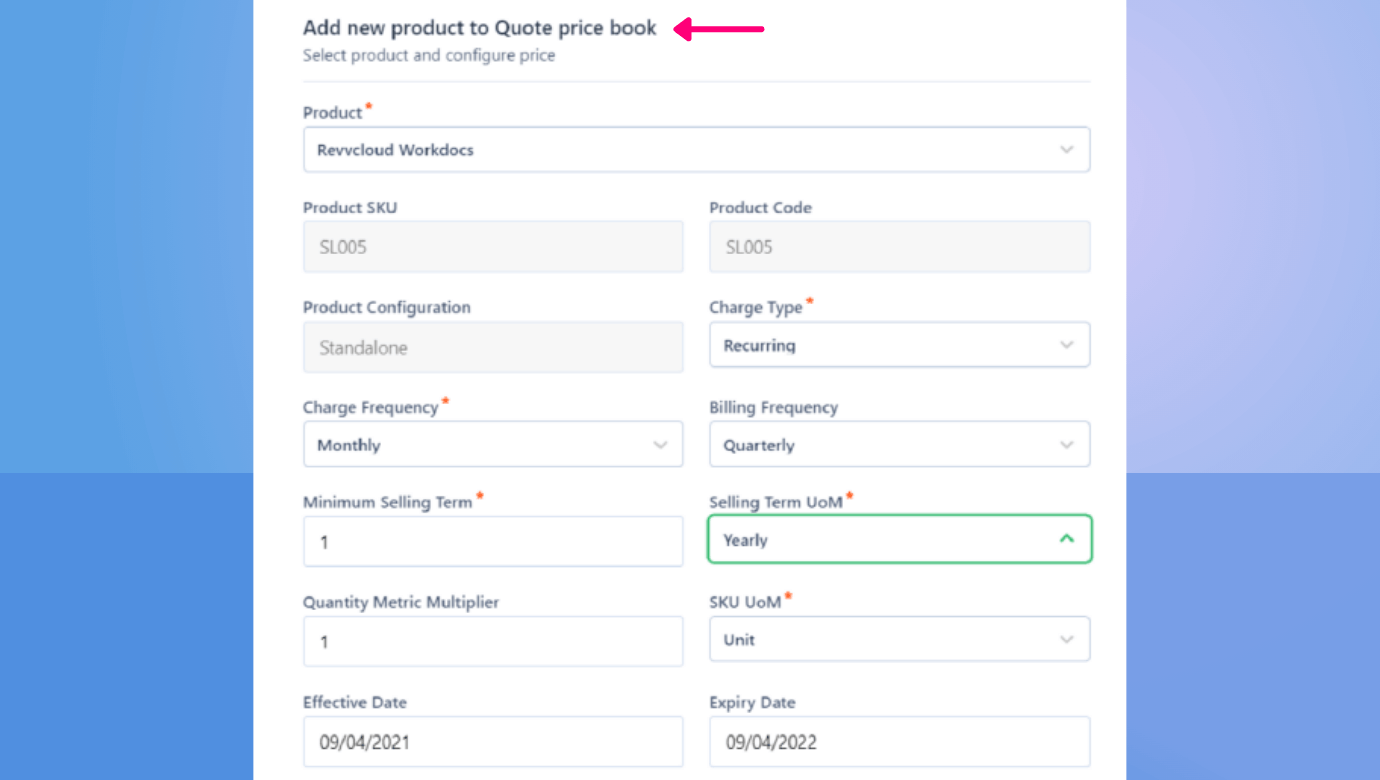 Select the pricing method from flat price, tier pricing, volume pricing, stair-step pricing, bundle pricing, percentage of total, and DIY pricing.
Enter other mandatory fields and click Next.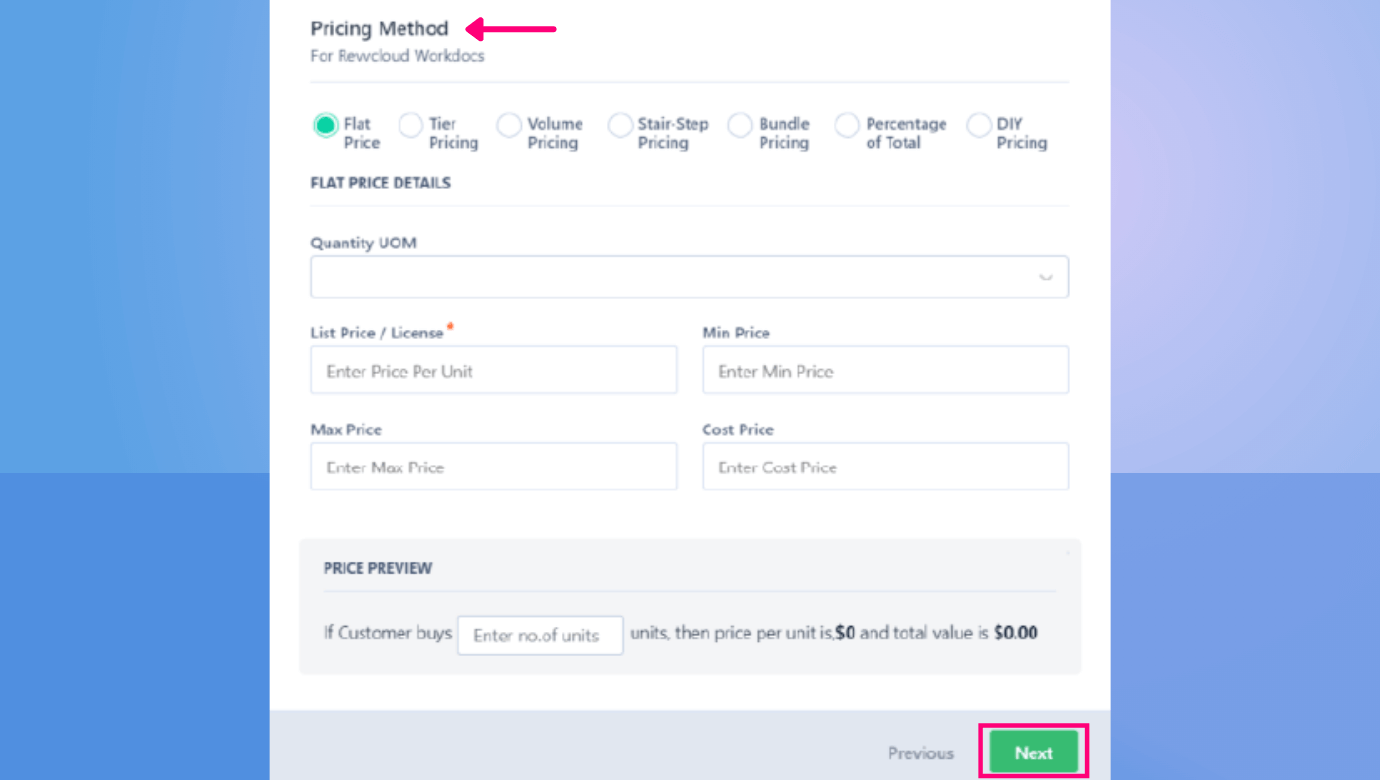 Check/uncheck price book attributes to limit the editing access and click Next.
The product will be added to the price book.
Similar to the Products, Price Books also allows you to make column-related edits, add new columns, or hide/view columns. You can also search for your products, and export the list of all products in different formats.
👉 Automate the quoting process
Revv's immense automation capabilities will help you gear up your quoting process and yield better results. In this section, we are going to learn about:
Let us understand different Revv features that help in automating your end-to-end process.
✅ Instant quote creation
Readily available quote templates
Revv's template library has over 1000+ legally vetted templates that are pre-designed and ready to use. This allows CPQ users to get a head start on creating quote documents and ensure the timely submission of quotes to targeted customers.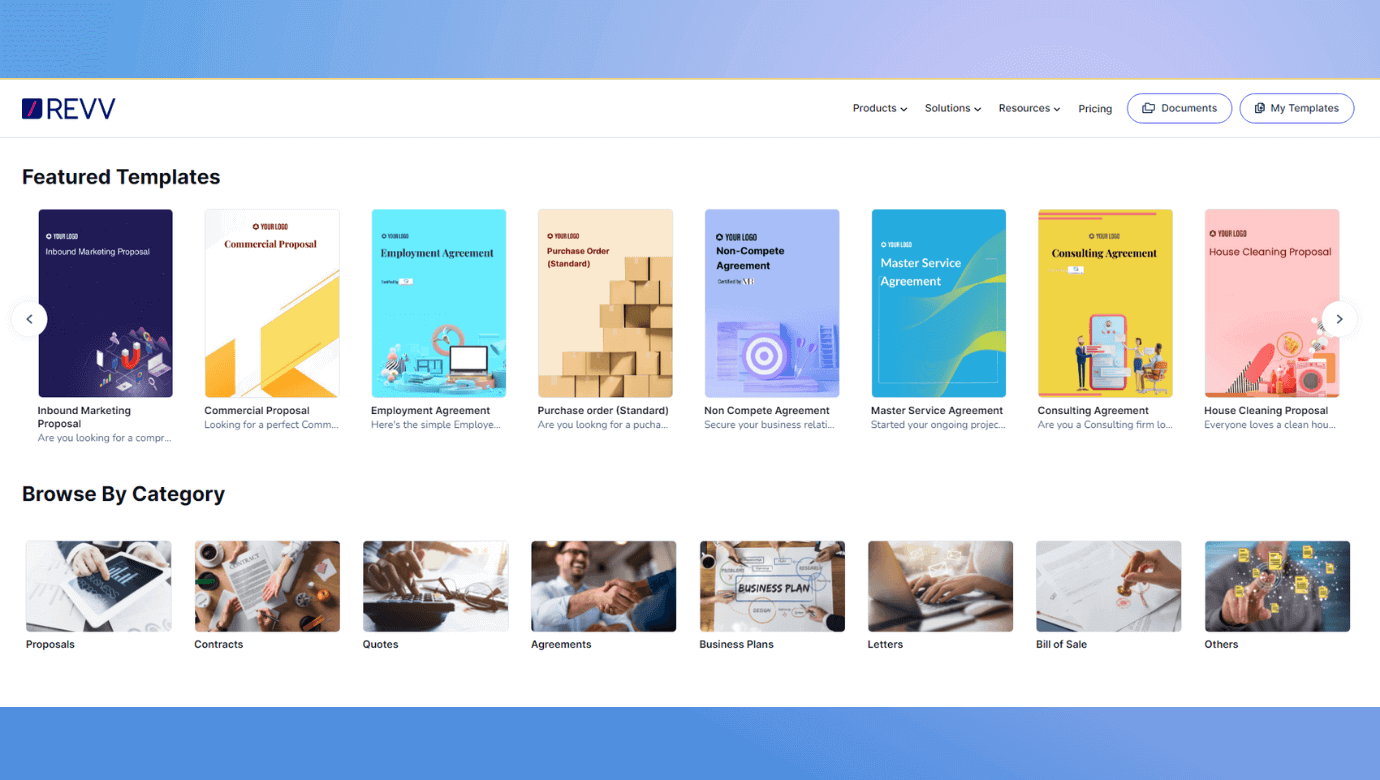 With the rich document editor in Revv, you can easily customize your quote templates, upload your document to work on, or create one from scratch. It is simple and user-friendly. You can drag and drop various elements like images, texts, tables, eSign blocks, and many more inside your quotation.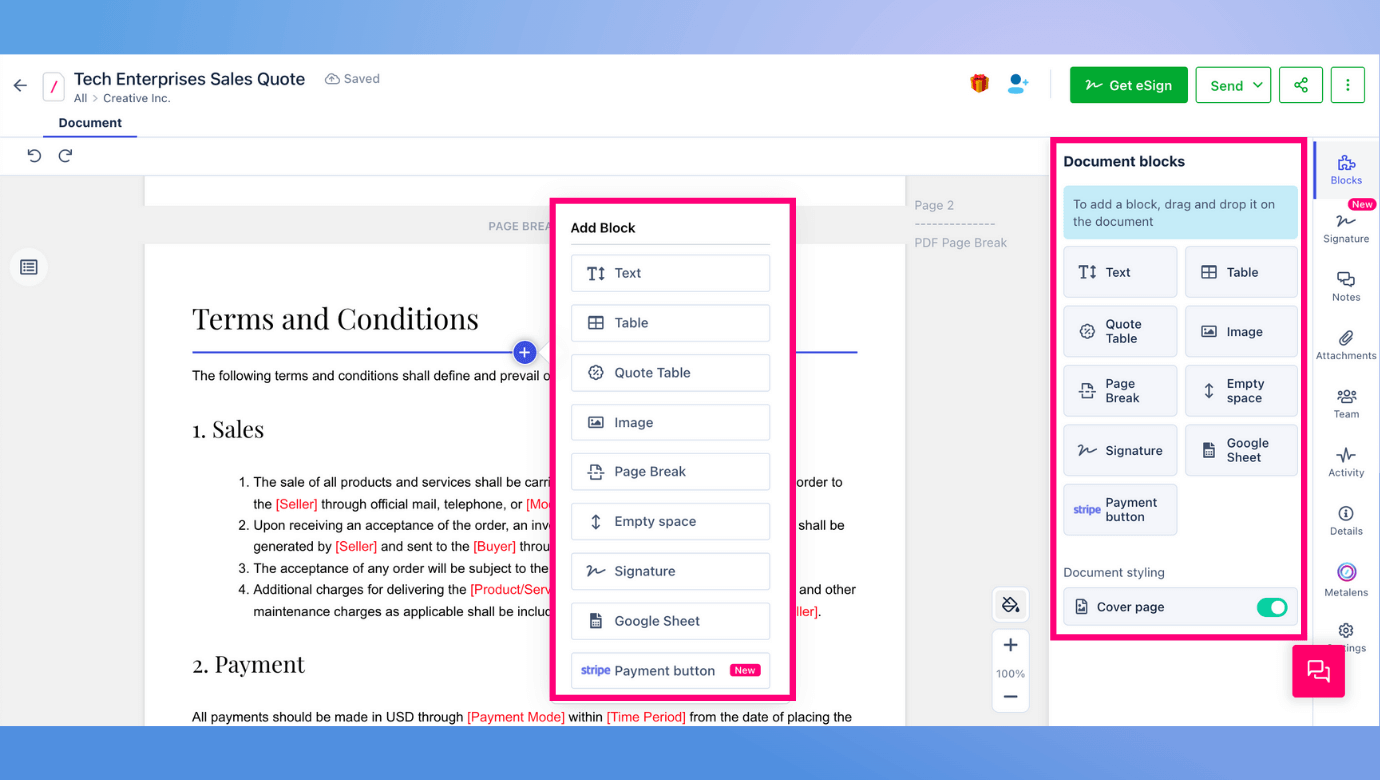 Working with quote tables
A quote table helps you list your offerings inside your quote. You can add configured products and services you would like to quote your prospects or customers and price them as needed.
How to use the quote table in Revv?
Once you create a document from a template, you can edit the document and add further elements to it before you send it for acceptance or eSign. A quote table is the final pricing table added in the sales quote.
Here's how you can add a quote table in Revv:
Go to Documents and open a document where you want to add the quote table.
Drag and drop the Quote Table block in your quote. A pre-designed table will appear in the quote.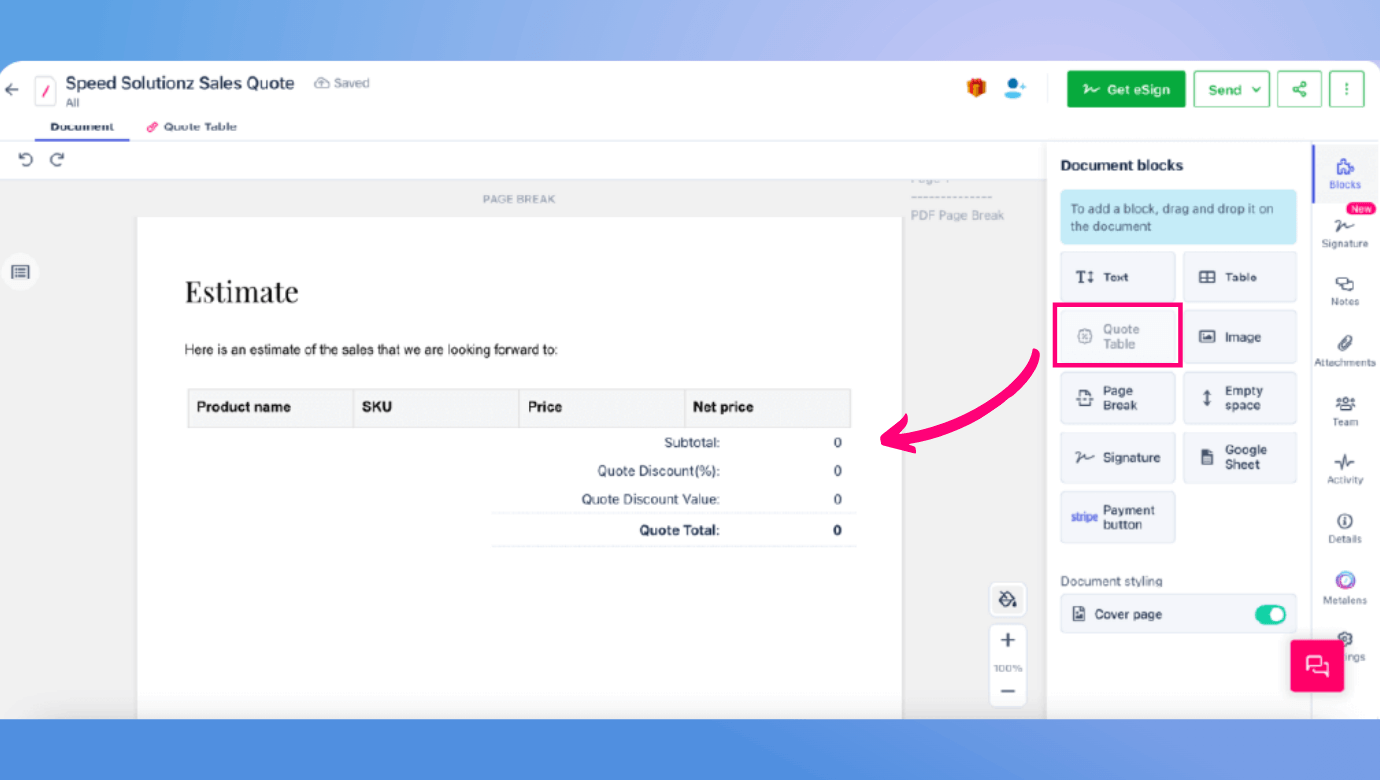 Click the Quote Table tab next to the Document tab.
Choose a price book to add products to your quote document.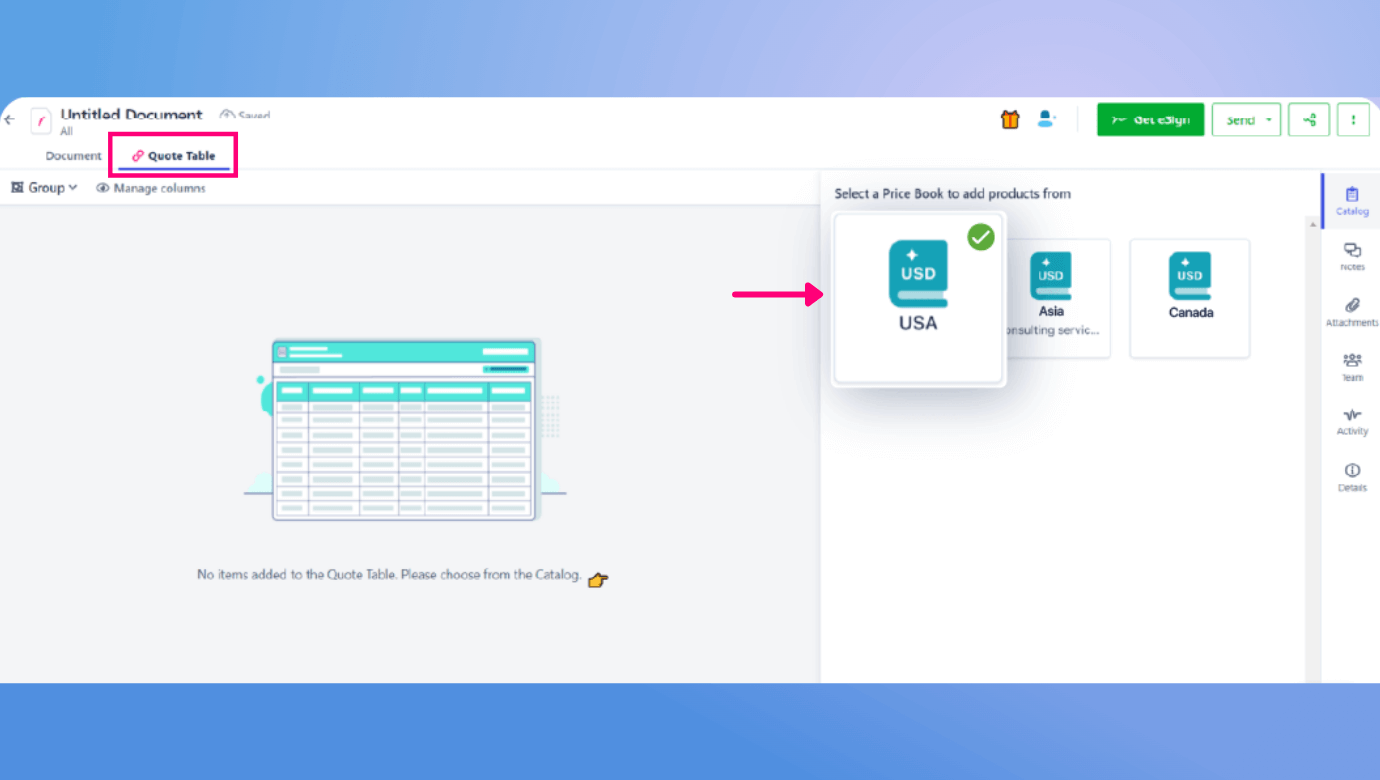 Select all the products and services you want to quote in your offerings and click Add to Quote Table. The products will be added and listed in the quote table.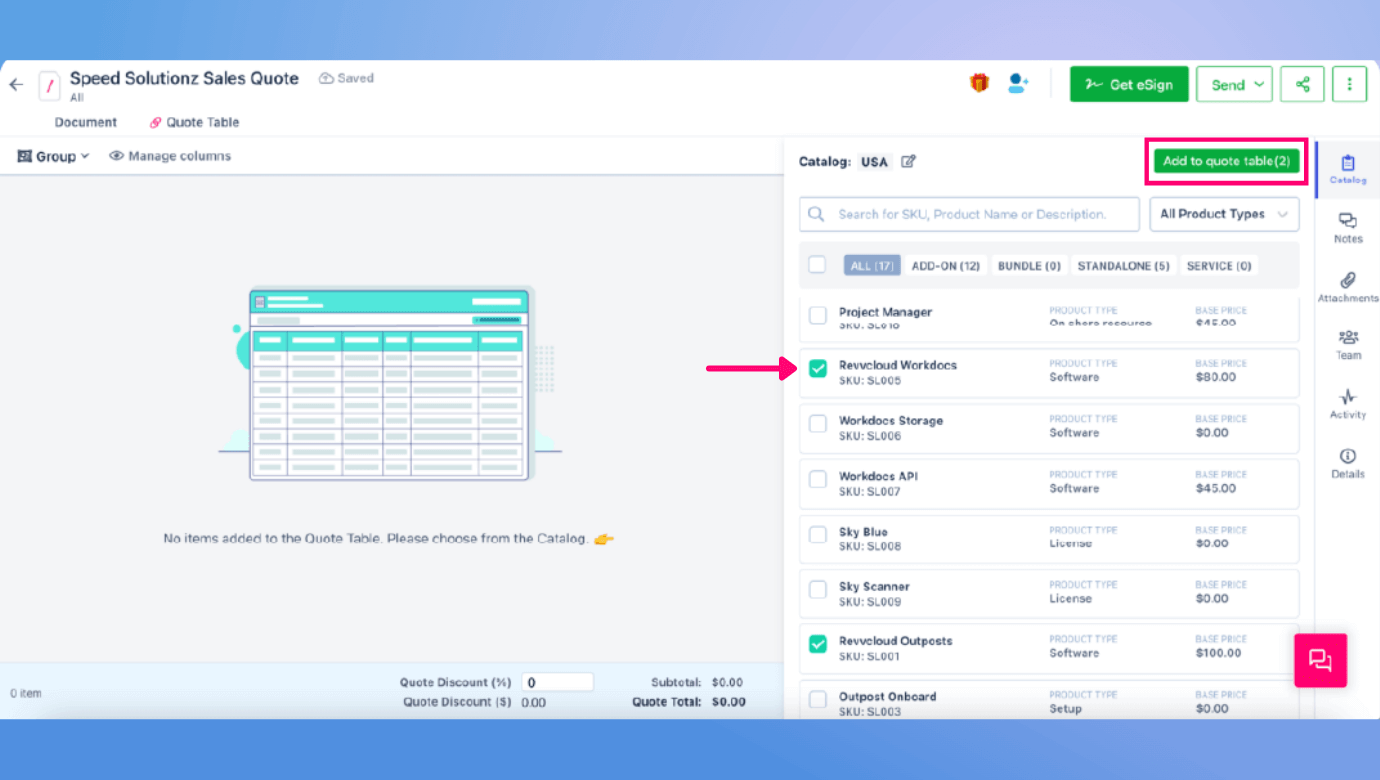 You can make changes to the fields marked in green in the quote table. Once the quote document is ready with your offerings and other information, you can send it for internal approval to your colleagues. Further, you can send it to your customer for acceptance or an eSignature.
✅ Quote process automation
Integrate with external apps
You can boost your CPQ workflows by connecting your CPQ workflows with other data sources. Revv enables you to seamlessly integrate with external apps such as:
CRMs like Salesforce, Zoho, HubSpot, etc.
Storage systems like Box, Dropbox, Google Drive, etc.
Billing and payment apps like Chargebee and Stripe
Accounting software like QuickBooks
Excel Sheets and Google Sheets to import data
Chat platforms like Slack, Google Chat
Revv's integration capabilities are further powered by Zapier, Retool, and Native API solutions.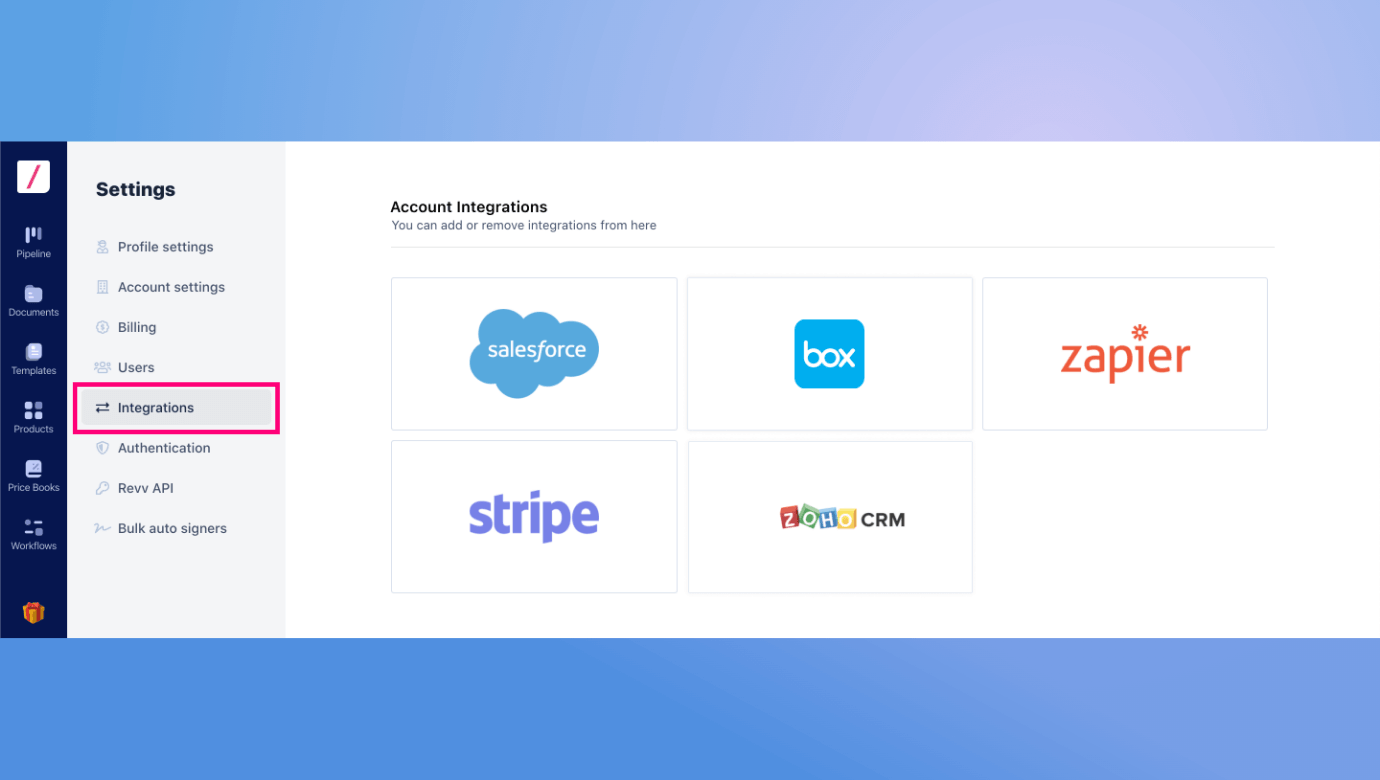 Flawless data mapping with Data Studio
Poor data mapping between your business platforms or manual copy-pasting of data from one app to another can lead to faulty business processes, unnecessary delays, wrong estimations, and ultimately poor decision-making. One of the reasons why customers love Revv over other CPQ tools is because of its no-code data mapping feature. 
Revv's Data Studio is an efficient data mapping feature that enables you to seamlessly pull in data from external business platforms like CRM, ERP, etc., to Revv. It reduces the data-mapping time from days to minutes and creates perfect documents in a beat. What makes it so unique is its user interface, anyone can map data fields with a simple point-and-click action without any dependency on scripts, coding, developers, or APIs.
The Data Studio allows you to:
Integrate with multiple data sources like Salesforce, HubSpot, Excel Sheets, etc.
Map all the data from other platforms to respective form fields in Revv templates
Create precise documents irrespective of the size and complexity of the data
Increase productivity and efficiency of the workforce
Once you map all the fields and bring in data to Revv, you can select multiple rows containing different values and create quotes in bulk. On the same platform, you can directly send the quotes for eSignatures and move an inch closer to the finishing line – everything in a few clicks.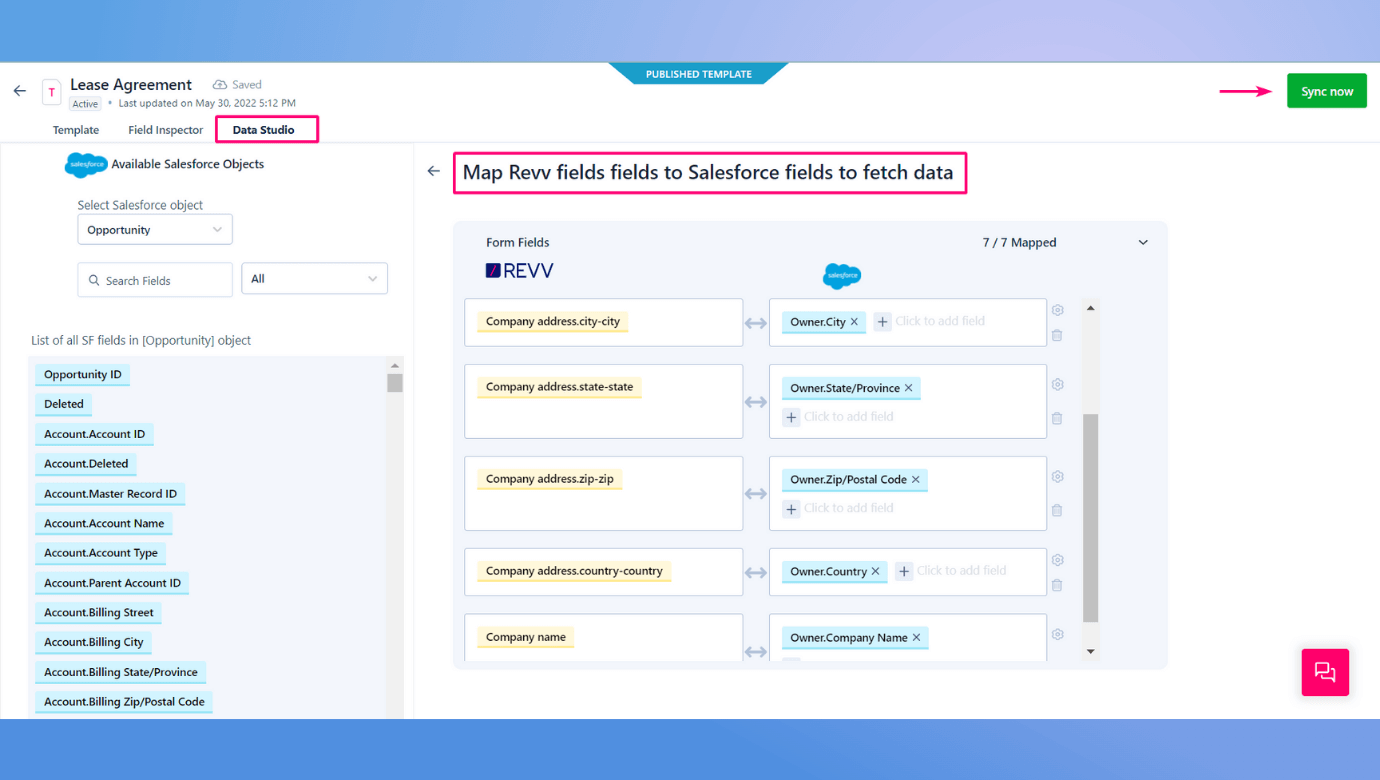 Capture data using custom web forms
Most quotes have repetitive fields like customer name, address, etc. You can skip filling these fields again and again with the help of form fields in Revv. Form fields are fillable placeholders that convert your documents to web forms. This feature reduces the quote turnaround time and boosts your productivity.
All you need to do is add form fields to your template and convert it to a form-based template. So now, anytime you create a quote from a form template, you need to fill a unique form field once and all the repetitive fields will be automatically filled. You can also use form fields to effectively gather data from your customers that only they can provide.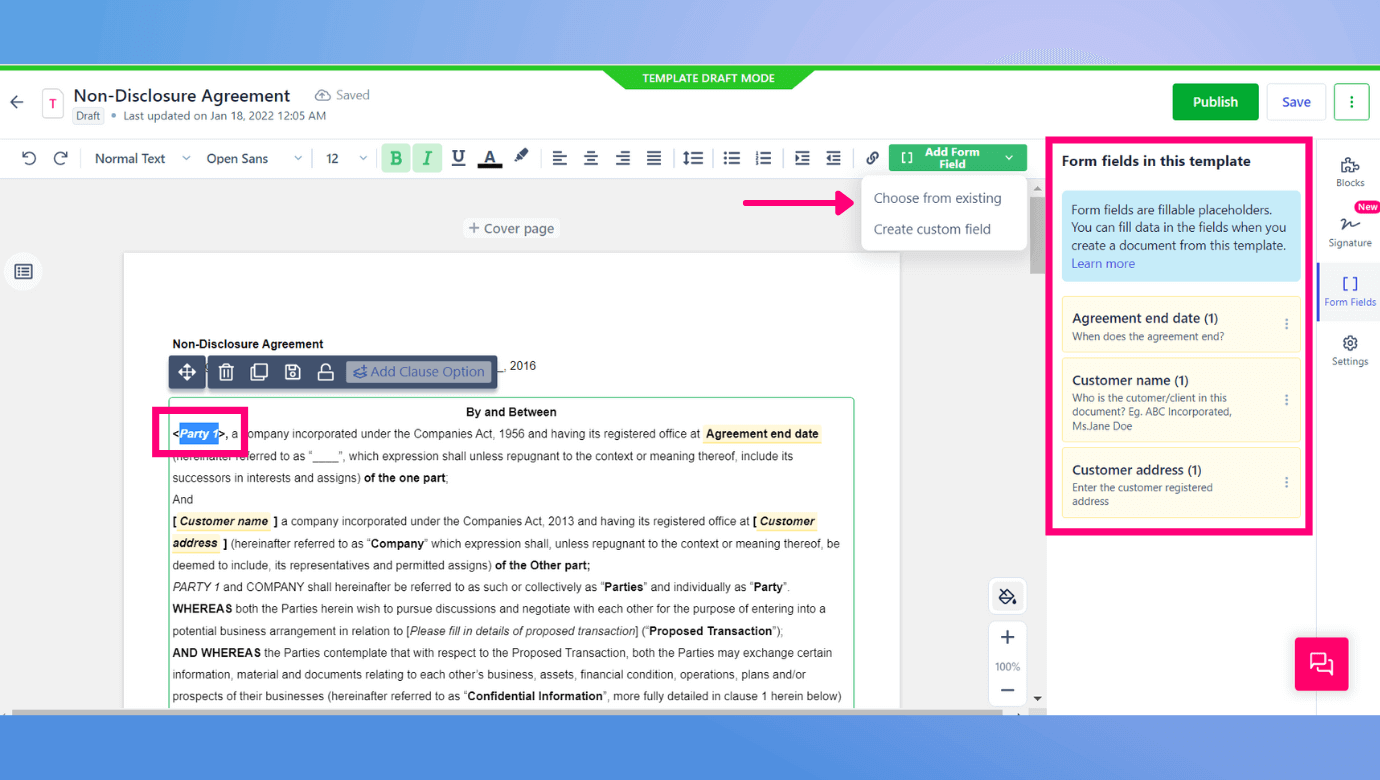 Optimize the quote process with the Pipelines feature
Every quote in a business goes through a bunch of stages like drafting, reviewing, signing, and closing. All these stages will include dependent sub-operations like notifying, reminding, etc.
For example, once you send a quote to a customer, you might have to remind your customer to accept that quote you sent. Once the quote is accepted, you will have to notify your Sales Manager to move ahead in the process.
Manually taking care of each stage is time-consuming and there are chances that you might overlook a sub-task, resulting in a void quotation, business inefficiency, flawed analytics, and huge correction costs.
To avoid this confusion, choose automation! Utilize Revv's Pipelines feature to automate your entire quoting process and configure associated jobs and reminders. Pipelines provide immense possibilities to automate the associated workflows when a document reaches a new milestone and reduces repetitive tasks.
Let us deep dive and learn more about Pipelines in Revv.
Pipelines in Revv follow the Kanban method of handling operations, so each pipeline defines a process. Every pipeline has multiple customizable lanes that are the stages associated with the process. One thorough look at your pipeline will give you an idea about the status of all your business documents under one umbrella.
For example, you can have a pipeline called Sales documents that will host all your quotes, invoices, etc. with Created, Approved, Sent for eSign as lanes.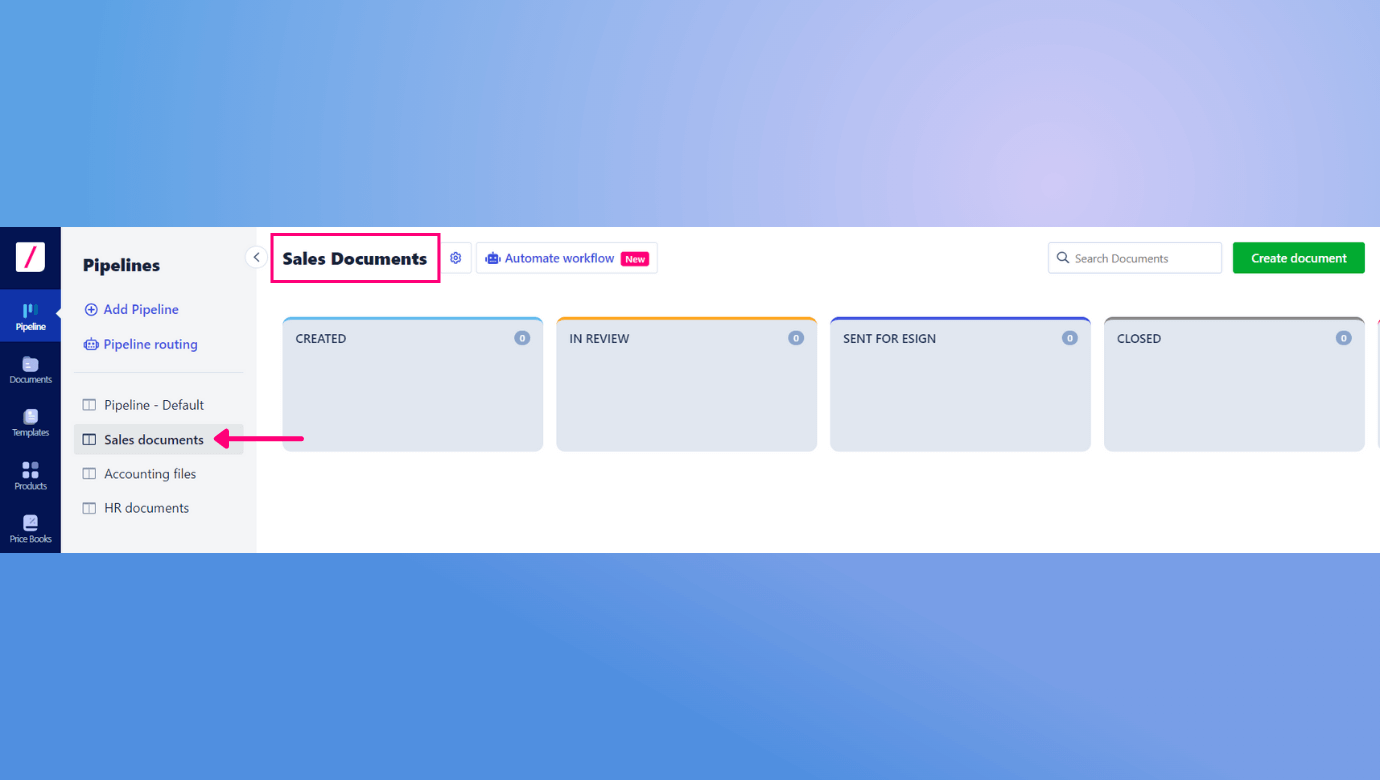 You can configure the Pipeline Routing feature to channel the associated documents to the respective pipeline. In this feature, you set up triggers and actions for the pipelines.
Trigger: When a document is created from a template
Action: Send the document to a particular pipeline
For instance, you can set a routing rule to send all the documents created from the Sales Quote template to the Sales documents pipeline. Similarly, you can create another rule to send documents created from a Sales Invoice template to the same pipeline. Now you can view all your quotes and invoices under one pipeline, i.e., the Sales documents pipeline.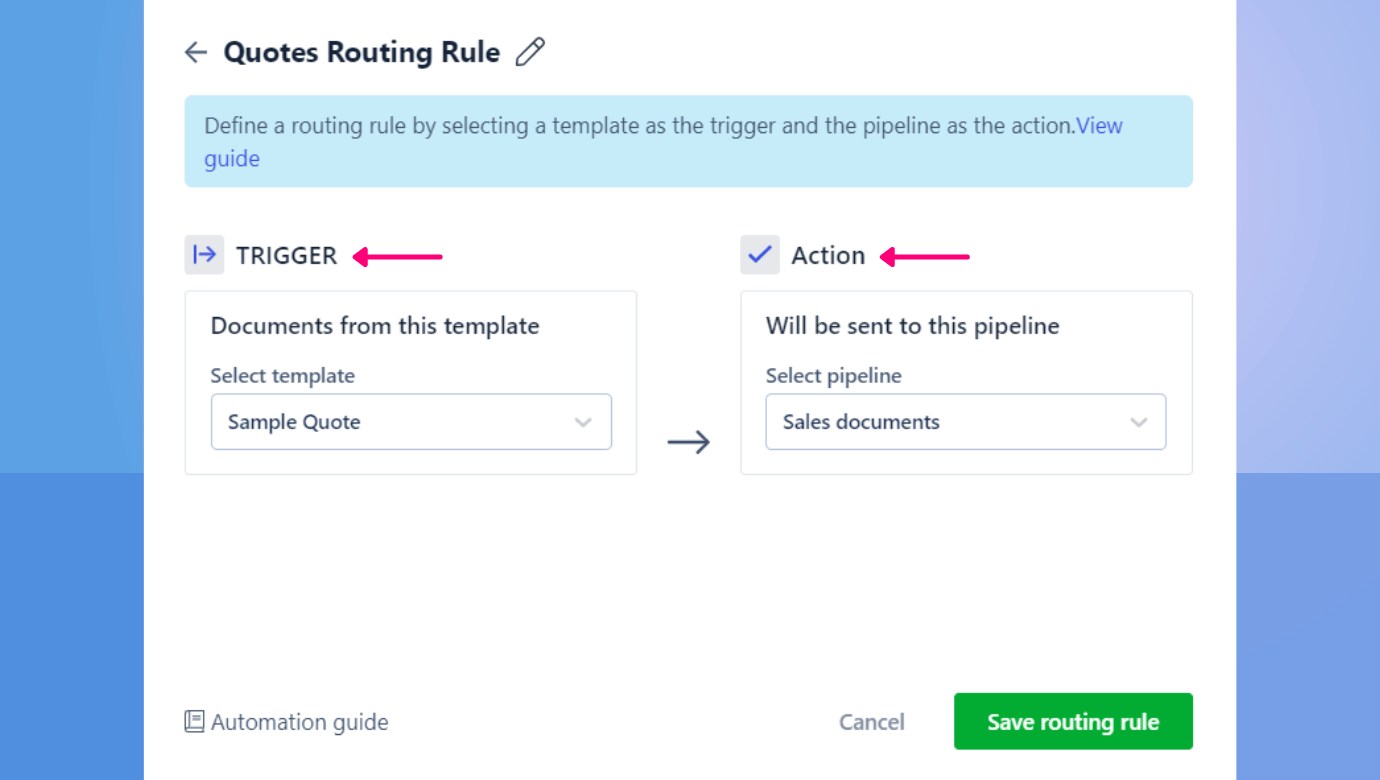 Each pipeline is a collection of lanes that represents the status of a document. You can customize a lane by changing the name and color according to your needs. You also can automate the movement of your document between lanes to create a smooth document flow with the help of lane transitions. Lane transitions work with respect to lane events which are the entry conditions for a document into a lane. Only when you assign a lane event to a lane, the transition will happen.
For example, when a Quote is internally approved, it will be moved to the Approved lane.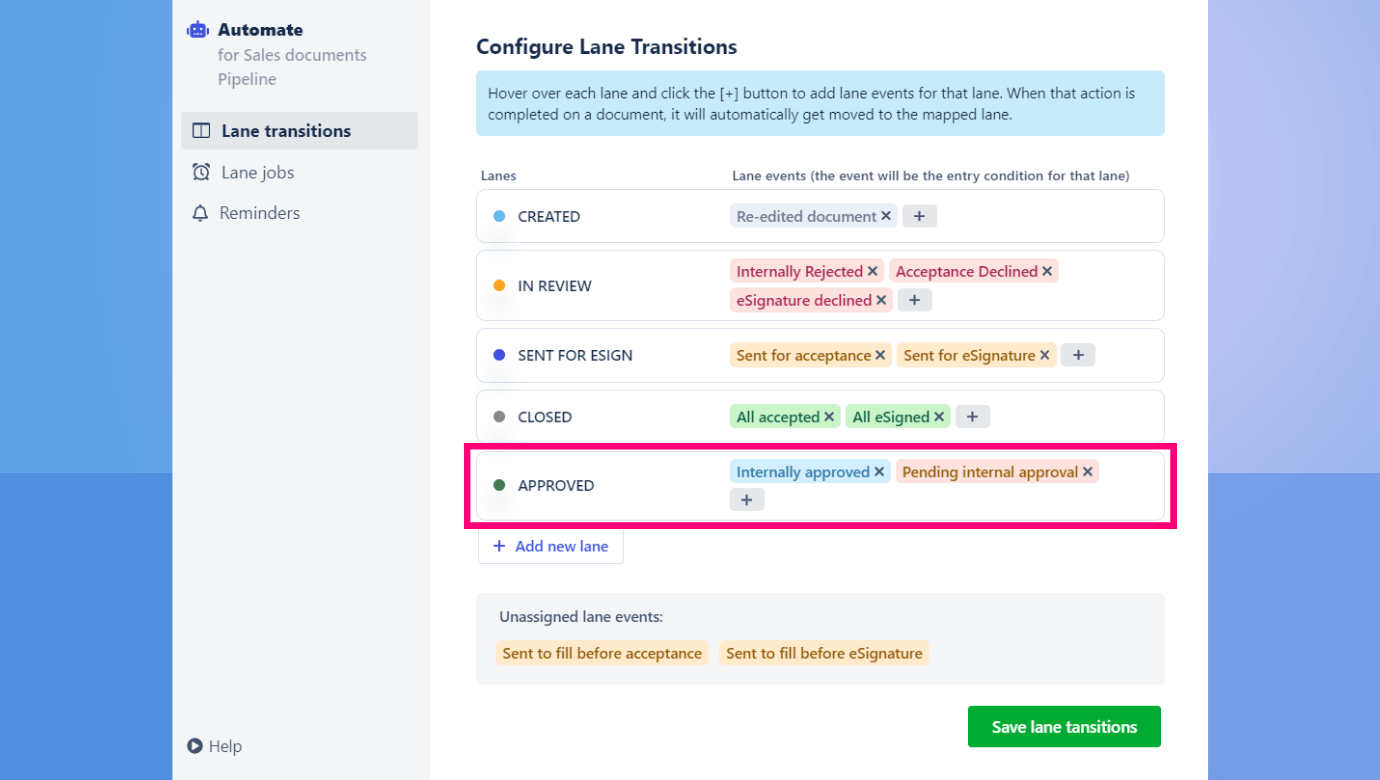 You can also add jobs to each lane that defines what must be done when a document enters that lane.
For example, you can notify your Sales Manager when a quote is in the Approved lane.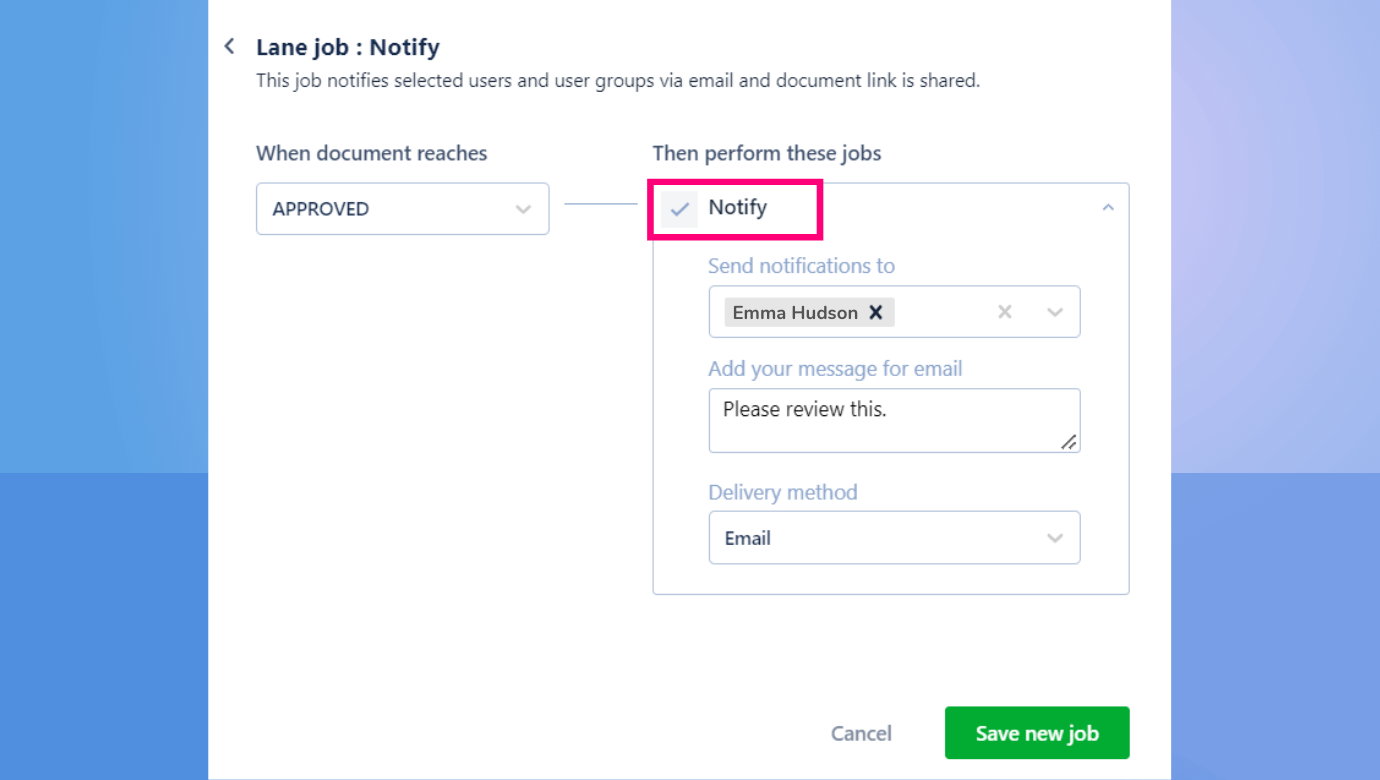 Finally, you can also set reminders that notify a document's recipient to complete a pending action. It will be applied to all the documents that enter a particular pipeline.
Store all your quotes in one place using Revv+Box integration. 

The efficient integration capabilities of Revv make it possible for businesses to continue their processes post-eSignature of quotes. When Revv is integrated with Box, workflows can be automated for your business systems before and even after the completion of eSignatures. 

Revv's Pipeline feature makes it easy to automate operations between Revv and Box. Workflows of any complexity may now be created, managed, and executed with ease. Trigger new Box workflows based on your business needs using document metadata and metadata obtained from Revv's form fields.

When it comes to deciding what data to save in Box, you have the last say. Document file, Evidence Summary, Document Attachments, Document form fields, and quote line items are some of the data types you can send to Box.

 
Revv CPQ cloud solution allows companies to use Box's features to achieve great document management.
✅ Quote approvals
You can attach approval workflows to a quote or set it up for specific products or services added to the quote. These workflows act as guardrails to ensure the defined rules for the particular deal are complied with.
Revv's quote approval workflows contain two parts:
Conditions: Conditions are the trigger to execute a workflow (Pricebook level or SKU level)
Actions: Actions are something that happens when conditions are met (sending the document for approval to the mentioned approvers)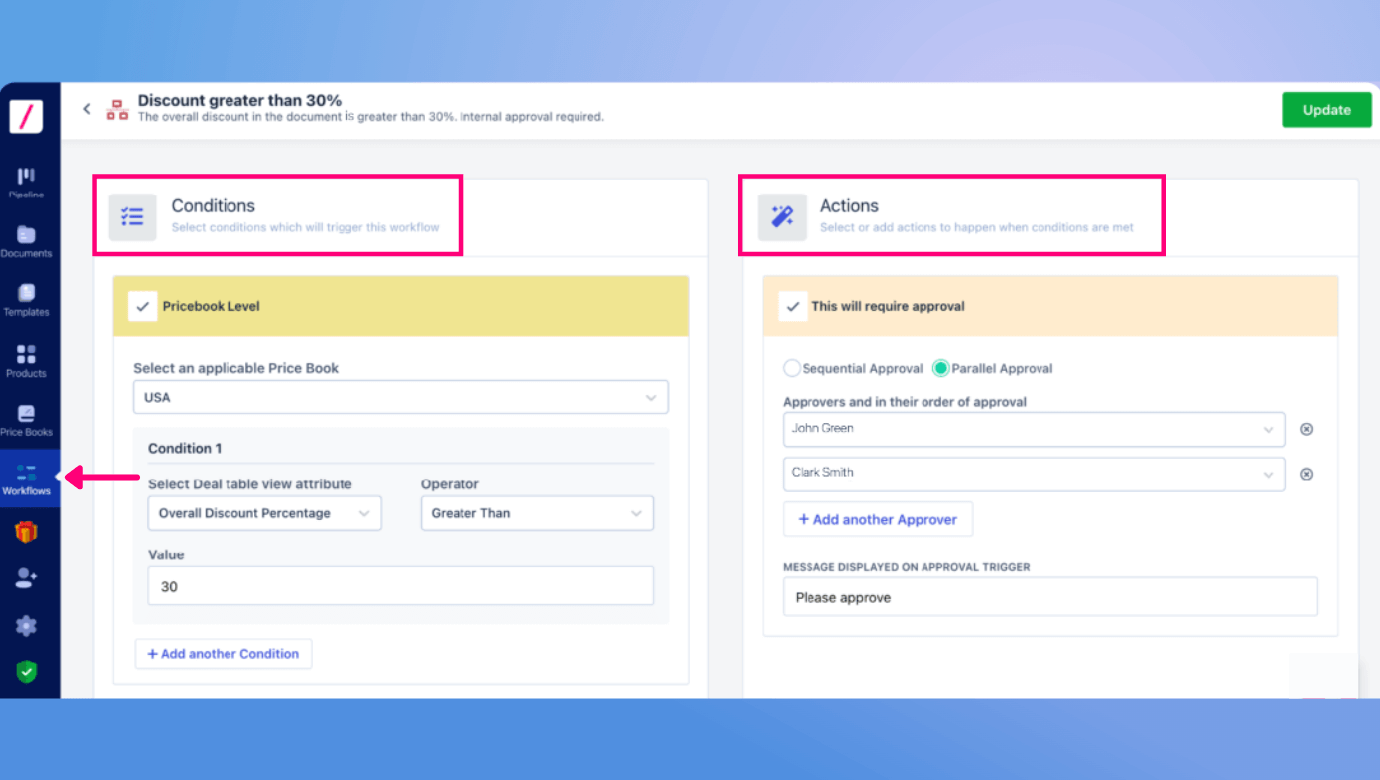 Once you configure these workflows, every time you send a quote for internal approval, Revv checks for any configured approval workflows and acts accordingly. If not, you can manually add the approvers to your quote and send it for approval.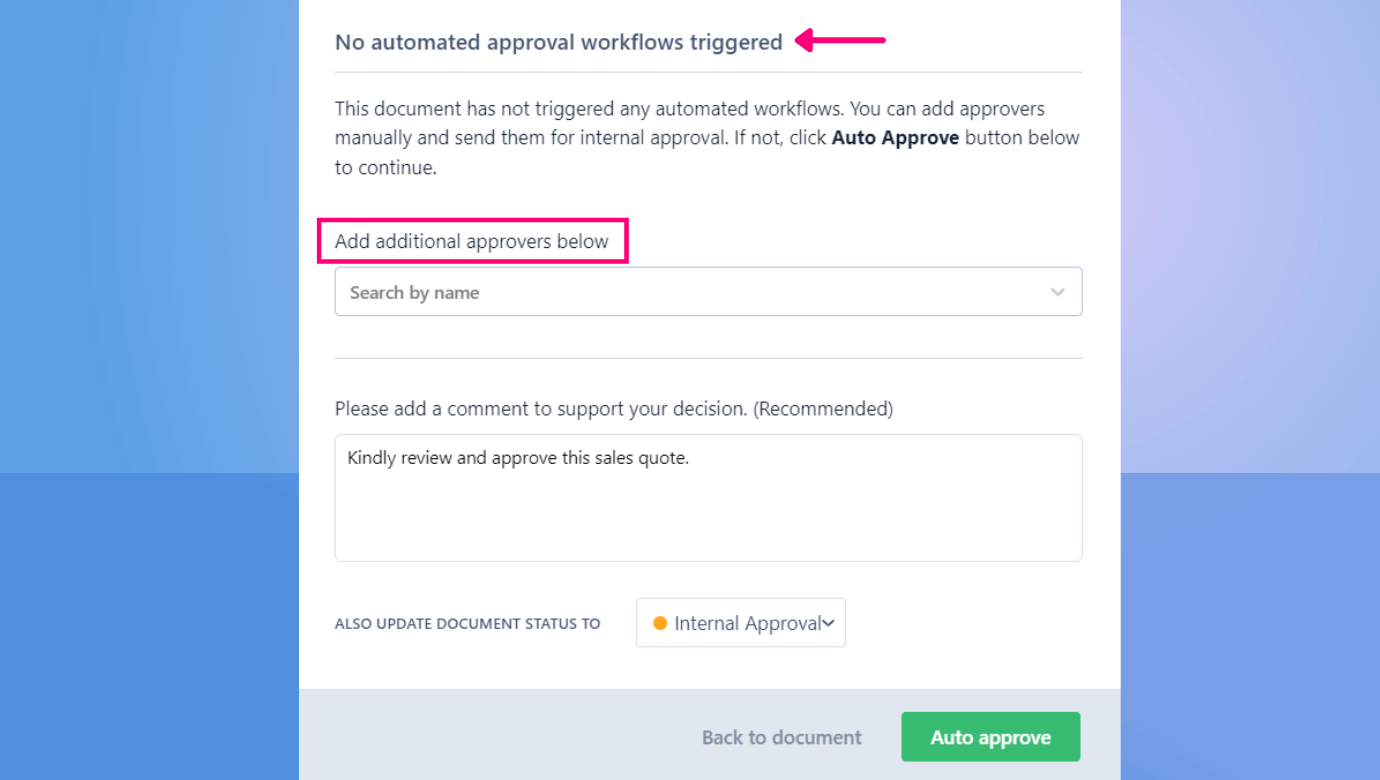 ✅ Quote closures with eSignature
Revv's built-in eSign feature enables you to send quotes and other sales documents for signatures within the system. You don't have to rely on any external app for eSignatures and that makes the process quick and hassle-free.
Revv complies with local and global eSignature laws including ESIGN Act, UETA, and eIDAS Regulation. It provides an extra layer of protection with SMS-OTP and video authentication. With vast eSignature features, you and your customer can get business handled efficiently, no matter where you are or what you're doing.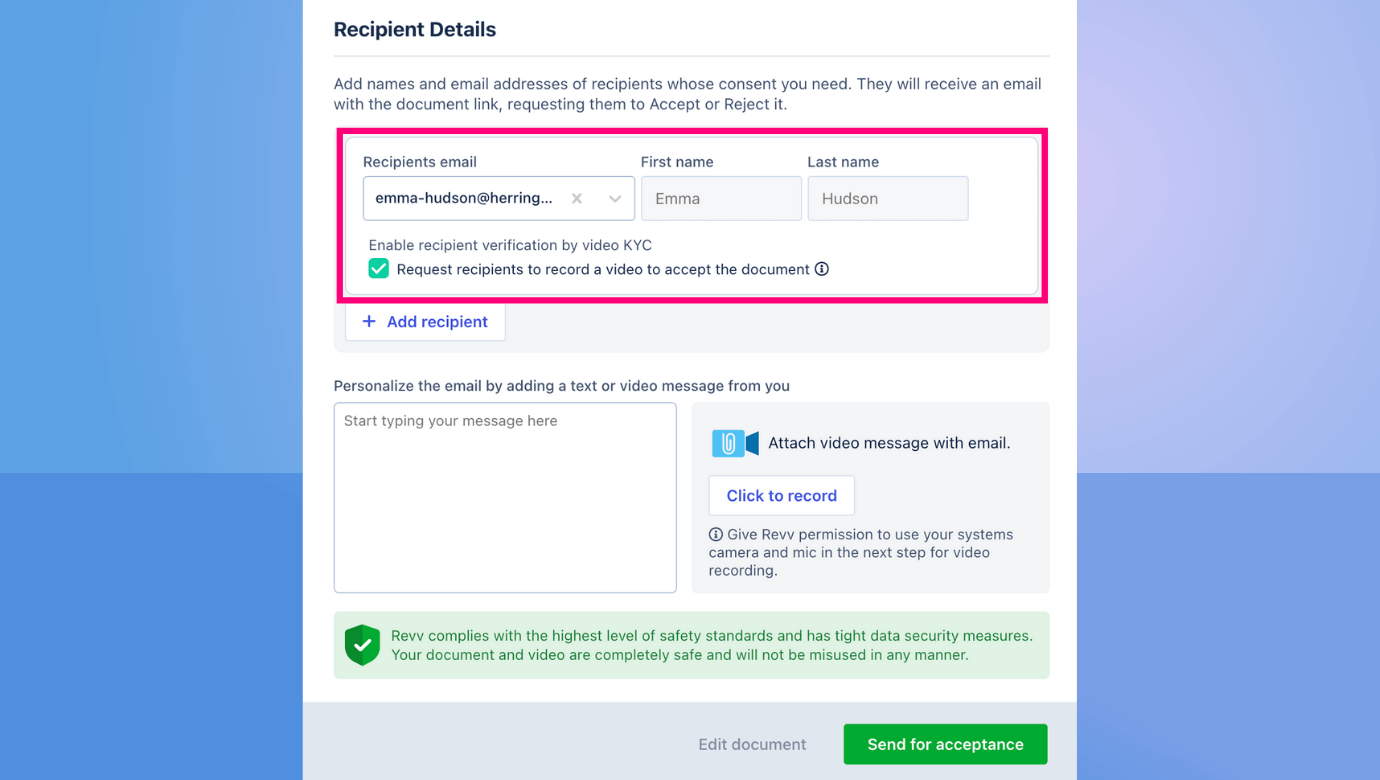 Additionally, Revv offers more than one way to record an eSignature:
Text: In this method, the signer can choose their signature from a set of pre-formatted styles. They can even customize their name which will appear in the signature. 
Draw: This method demands the signer to draw their signature using the mouse. In the case of mobile phones, a digital pen or a finger will work.
Upload: In this method, the signer is required to upload a scanned image of their wet-ink signature.
MetaMask: Using this method, the signer can use their crypto wallet to eSign the document.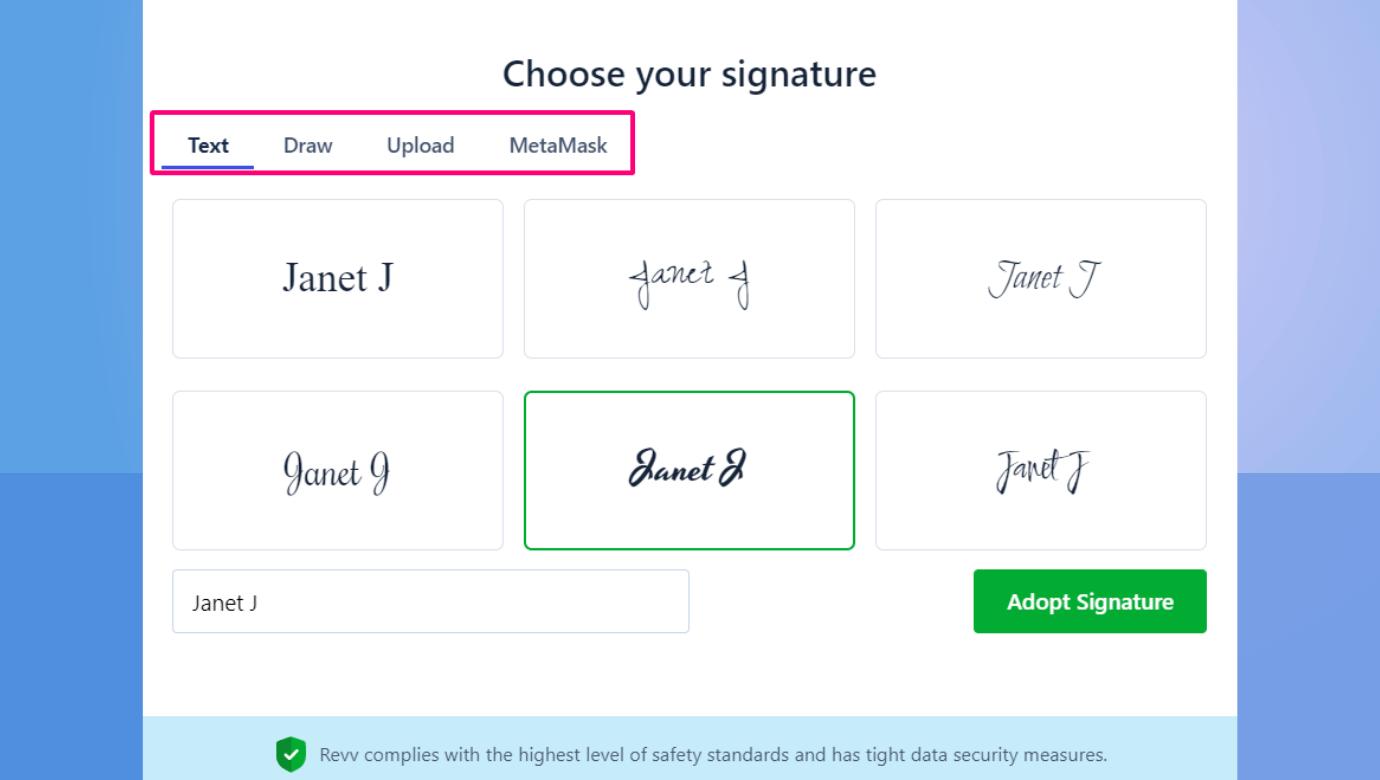 After the eSign process is finished, Revv also generates an Evidence Summary for all the documents. It is an audit trail, a digital certificate that records all actions taken during the signing process, which includes – the signer's information, date and time stamp of each action taken by the signer, IP address, and other details that act as legal proof. It can be downloaded as soon as the signing is completed by all the signers.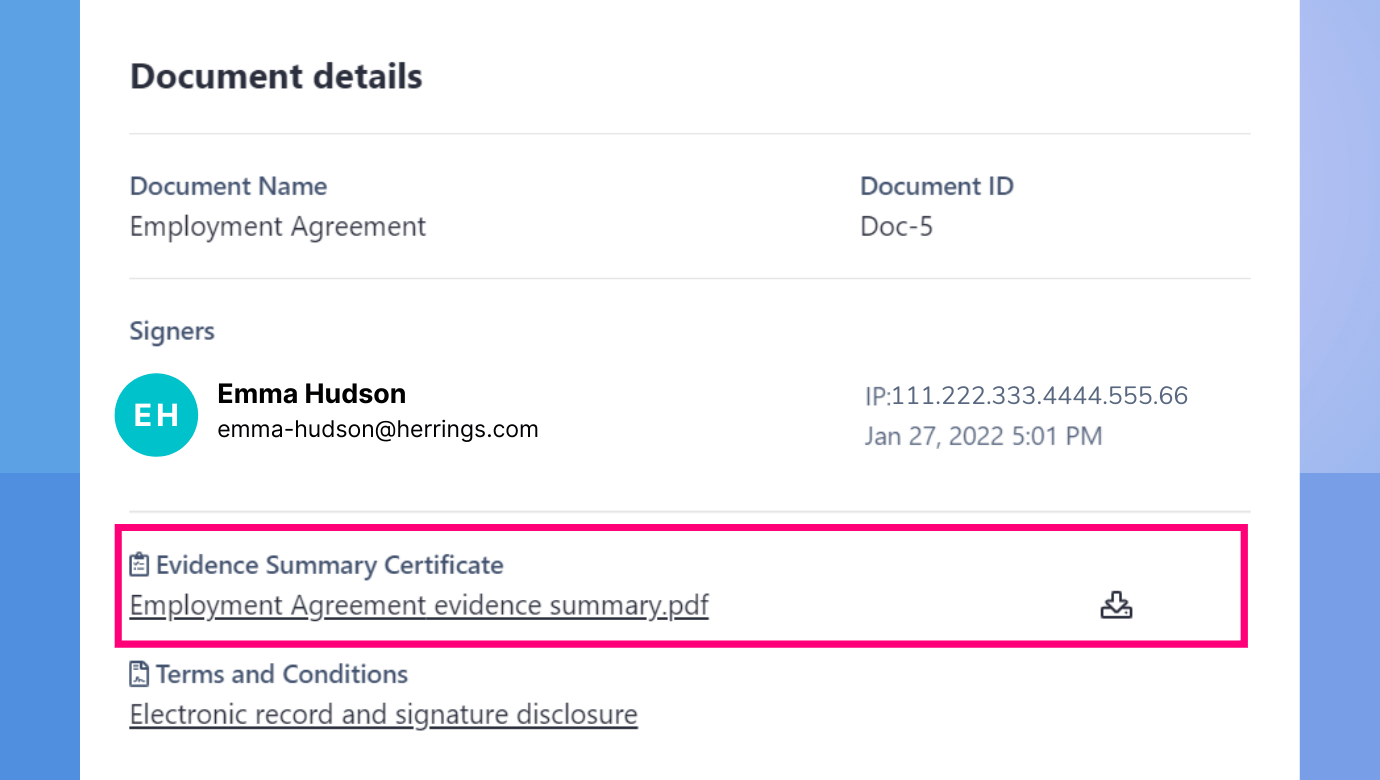 A twist in the tale! What if you don't need an eSign but just the consent of your client on a document?
For such scenarios, you can use Revv's soft sign – the Send for acceptance feature. You can reduce the number of eSignatures using this feature. It can be used for verifying different versions of a quote before finalizing one.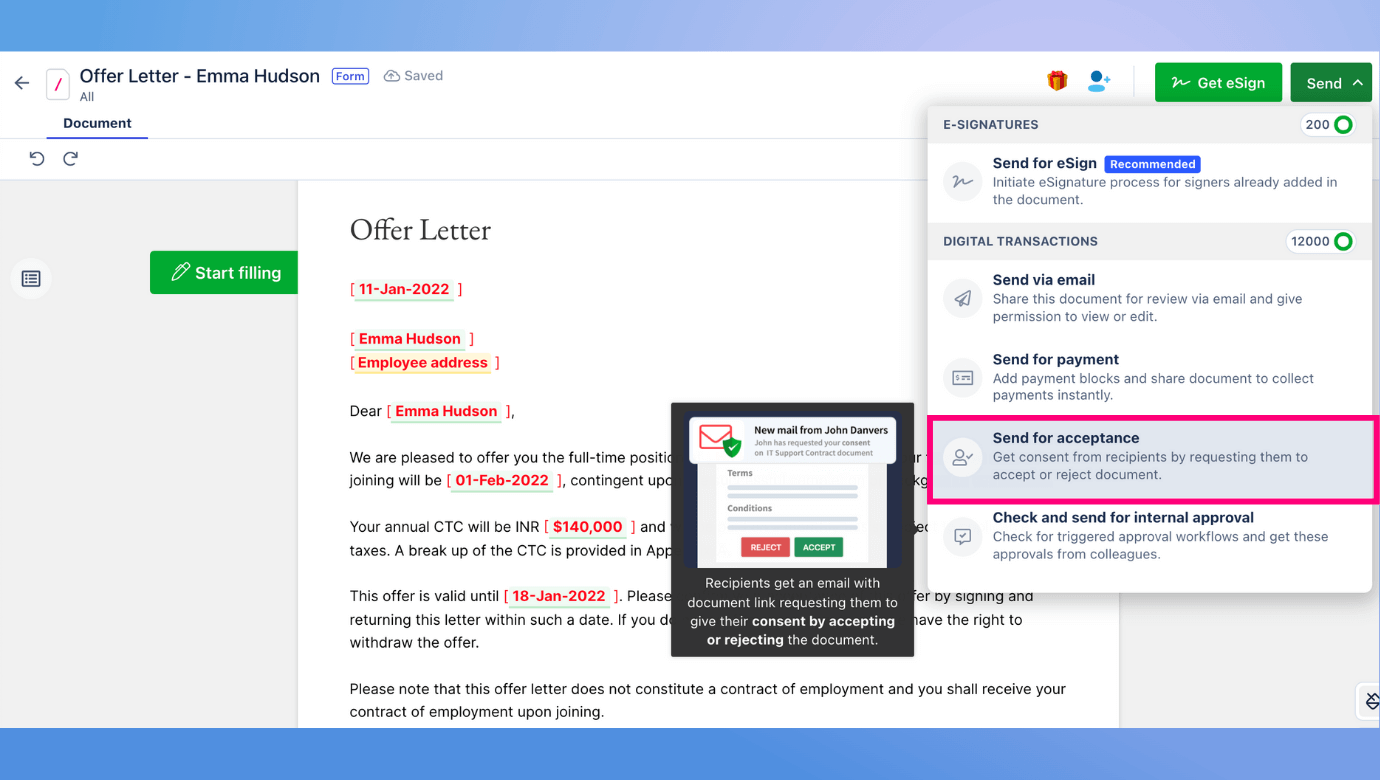 ✅ Quote tracking
Sending the quote to your customer is not the endgame. Instead, you should follow up if you get no response from them after a certain period. Revv makes this process easier as it records all the actions taken on a quote with the help of the Activity feature. You can view and track customer activities like who opened the quote, who viewed it, who has accepted, and who hasn't. This helps the sales teams decide the next steps and prioritize tasks accordingly.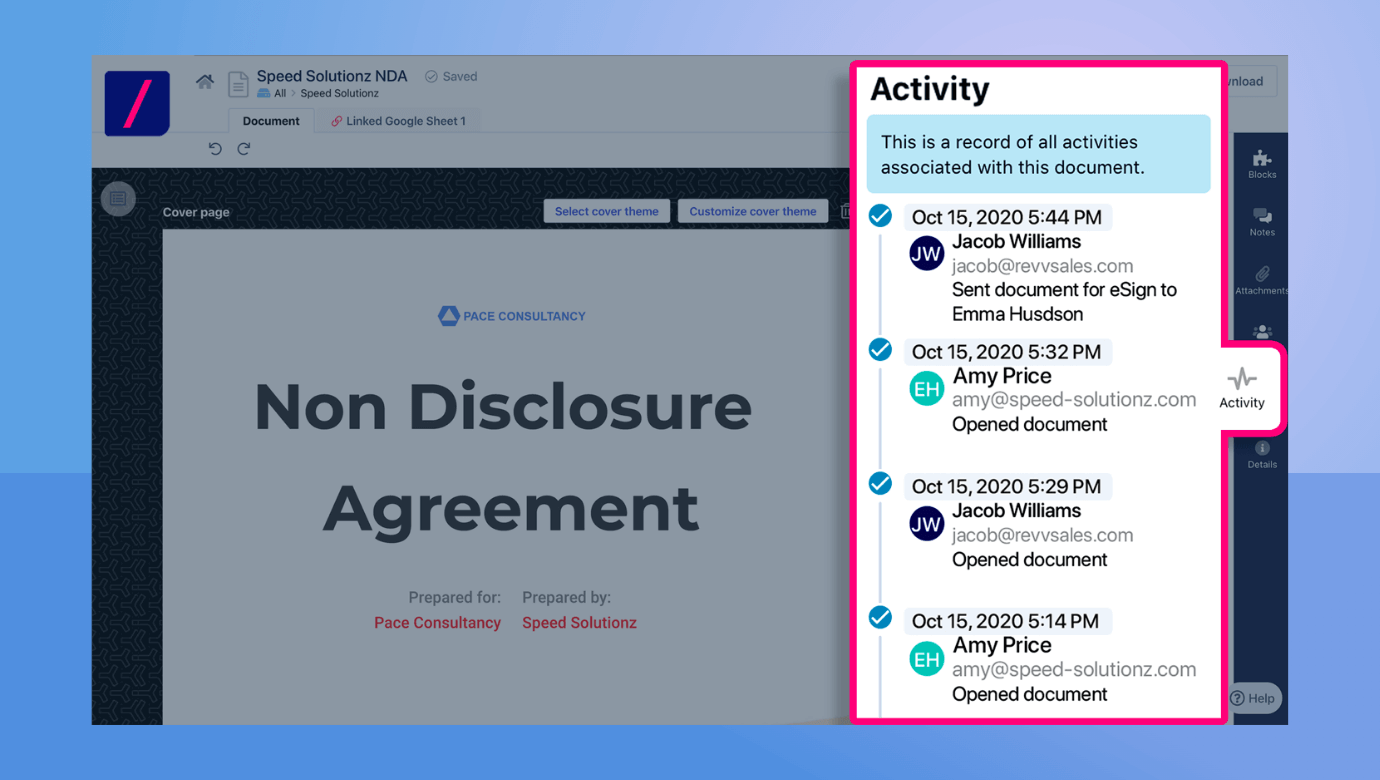 Get your CPQ software today!
The new-age style of selling has more inclination towards customizing and enriching the customer buying experience. CPQ software, with its dynamic features on pricing and configuration process, increases efficiency and streamlines the overall sales cycle for businesses across industries.
It is time for you to make a move and enjoy the benefits of implementing Revv's CPQ system inside your organization.