As the hybrid workplace model is becoming the new normal across markets and verticals, the myths related to collaboration, workforce productivity, and best practices in business are all breaking. We have learned that by means of a digital device that connects us to the internet and decent network bandwidth that aids this process, we can practically address issues ranging from education to nuptials to business and everything in between.
However, this sudden shift from physical to digital has left us wondering about the effectiveness, security, and legality of many 'new' practices, right? One such practice that makes document authorization much simpler these days – electronic signatures – could also raise these concerns. Are documents that you receive in your email and "sign" with the click of a button legally binding? If you're wondering about the validity of the computer-generated signatures on documents that you send and receive, we can help. In this blog, let's explore:
Once we're done, you'll be able to peacefully send documents to your clients for their e-signature. You'll also feel confident about electronically signing your own name to necessary documents.
What is an electronic signature?
You receive a contract via email for your review and signature; only, you aren't meant to print it off and sign it in ink. Instead, there's a box to click, which brings up what appears to be different stylistic options for "signing" your name. With the click of a button, your name appears on the line, leaving you wondering what just happened.
You've just signed a document with your eSignature! An electronic signature as defined by the Global and National Commerce Act (ESIGN Act) is "an electronic sound, symbol, or process, attached to or logically associated with a contract or other record and executed or adopted by a person with the intent to sign the record."
Simply put, an electronic signature is a way of endorsing a document without the use of an individual providing their signature in ink (wet signature).
There are multiple ways to obtain or provide an electronic signature, including digital signatures. Digital signatures are a type of electronic signature that uses a specific kind of encrypted technology to further protect the integrity of electronic signatures. Some companies prefer this added layer of safety when requesting or offering electronic signatures. The question still remains; are these electronic signatures legal?
Are Electronic Signatures legally binding?
Yes. Electronic signatures are legally binding not only in the United States but almost everywhere worldwide.
The ESIGN Act was passed into law on June 30, 2000, making the use of electronic or "e-signatures" legally binding.
So yes, the contract you just signed is a legally binding, enforceable contract. But how?
The ESIGN Act provides specific requirements to ensure conformity in terms of obtaining electronic signatures, informing signers that they will be signing electronically, and retaining records.
Here's a brief look at some of the conditions that must be met for an electronic signature to be legally binding.
Intent to sign
Electronic signatures are only legitimate if the user shows a clear intent to sign, just as traditional wet ink signatures. Signer should be given the option to deny signature requests if they do not want to sign a document online.
Consent to conduct business electronically
Before asking for an electronic signature, a company must inform the signer that they will be signing a document electronically and obtaining their consent.
The consent must be specific, stating which document they are agreeing to and whether their approval to e-sign will be implied for subsequent documents and agreements.
Association of signature with the records
The system used to capture an electronic signature must keep an associated record for all the eSignatures obtained. For example, the time and date associated with each electronic signature on a document must be recorded.
Record Retention
Institutions that obtain consents and electronic signatures must keep records of the consents and electronically signed documents for a specific period of time governed by law.
These are some of the most important aspects of creating an electronic signature that is legally binding.
Transitioning to electronic signatures can benefit organizations in many ways. Let's explore some of them.
Benefits of using electronic signatures
They're electronic and legal, but are they actually useful? If you're considering moving all or part of your in-person document signing to electronic, it's important to understand the advantages of electronic signatures over wet ink signatures.
Here are some of the most important benefits of using electronic signatures.
1. Safety. Social distancing is still relevant from a health and safety standpoint and it's always better to avoid in-person meetings if possible.
Obtaining electronic signatures allows everyone to stay safe and limits contact with those who might be more vulnerable to falling ill while still allowing them to make important decisions and continue the business.
2. Speed. Obtaining a wet ink signature takes time. You must either coordinate schedules with both parties or use a mail or shipping service to get original documents delivered. Both methods can take a minimum of 24 hours or (much) more.
But it only takes minutes to finish the task with an electronic signature. From document creation and delivery to signing and return could be fast-tracked.
3. Convenience. Arranging a face-to-face meeting can take time and requires the parties' schedules to align. Additionally, if you have documents to be sent for signing outside your geography, electronic delivery is the perfect solution. When operating globally, the most efficient method of conducting business is in electronic format.
Using electronic signatures allows parties to review and sign documents on the go, without interrupting their schedules or relocating anyone to get the job done.
4. Enhanced security. Can you trust an electronic signature? The short answer is yes. Encryption features, seals, and passwords are just a few of the many ways of keeping your documents safe and protected from fraudulent activities.
5. Increased Efficiency. Time is money, and obtaining electronic signatures saves both and allows your employees to work more efficiently. Many electronically signed documents can also be part of electronic document creation, management, and storage flow, which can allow even more efficiency, effectiveness, and cost savings.
Did you know: North America accounted for the highest market share in 2020, holding nearly two-fifths of the global digital signature industry, and is expected to maintain its dominance in terms of revenue by 2030.
Source – Digital Signature Market by Component, a report by Allied Market research
How does Revv ensure your electronic signatures are legally binding?
Today, electronic signature platforms are dime a dozen. While a safe, secure, and reliable electronic signature is definitely a priority, it's important to zero-in on a solution that's equally affordable and user-friendly. Try Revv if you want to use an e-signature solution to swiftly sign contracts, agreements, quotes, invoices, or other important documents in a legally permissible manner; with benefits that transcends other solutions available in the market.
Let's see how Revv's electronic signature adheres to different compliances.
Compliance with different laws and regulations
Revv provides bank-grade electronic signatures that are enforceable in a court of law in more than 60 countries. They are fully compliant with relevant US laws, such as the Global and National Commerce Act (ESIGN Act) and the Uniform Electronic Transactions Act (UETA).
Under ESIGN Act, it is mandatory that all your electronic signature workflows should include the following elements:
Intent to sign
Consent to conduct business electronically
Association of signature with the records
Maintaining and retention of records
Revv adheres to all these four clauses with their eSignature solution.
Intent to Sign
For each document sent for eSignature, Revv first asks the recipient's intent to sign it. The first thing a signer will see while opening the eSign document is the 'I agree' clause. They can proceed to eSign only when they express the intent to sign by clicking the checkbox. Revv also gives the option to decline or refuse to eSign the document. The opt-out (decline) option is given at the top right-end side next to the notepad icon as three dots (፧).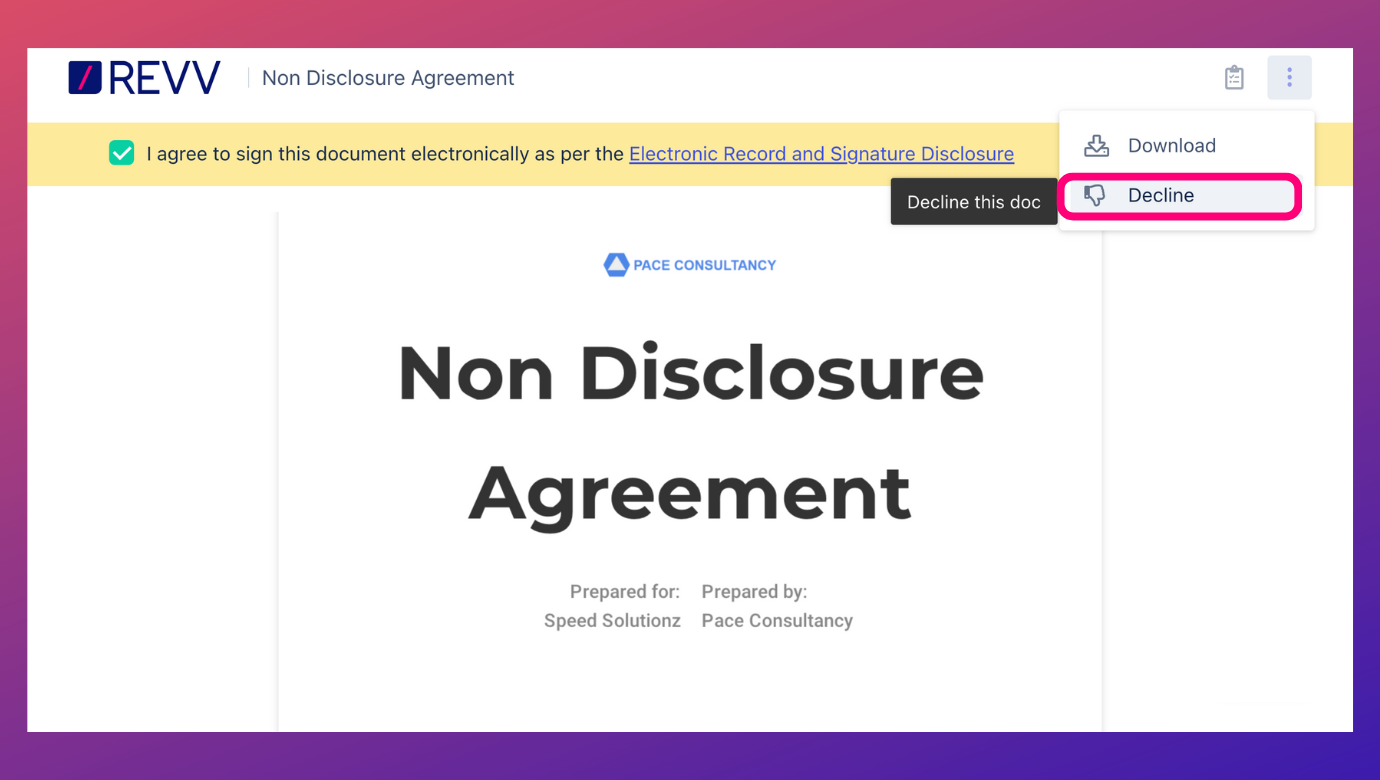 Consent to conduct business electronically
Once the intent is expressed, click the 'Start signing' button. The recipient will be directed to the areas where the signatures are required. The 'Sign here' arrows navigate you to all the places where an esignature is required. After all eSigns are done, Revv asks the recipient's consent to close the eSigning procedure with a 'Finish Signing' button as shown in the image.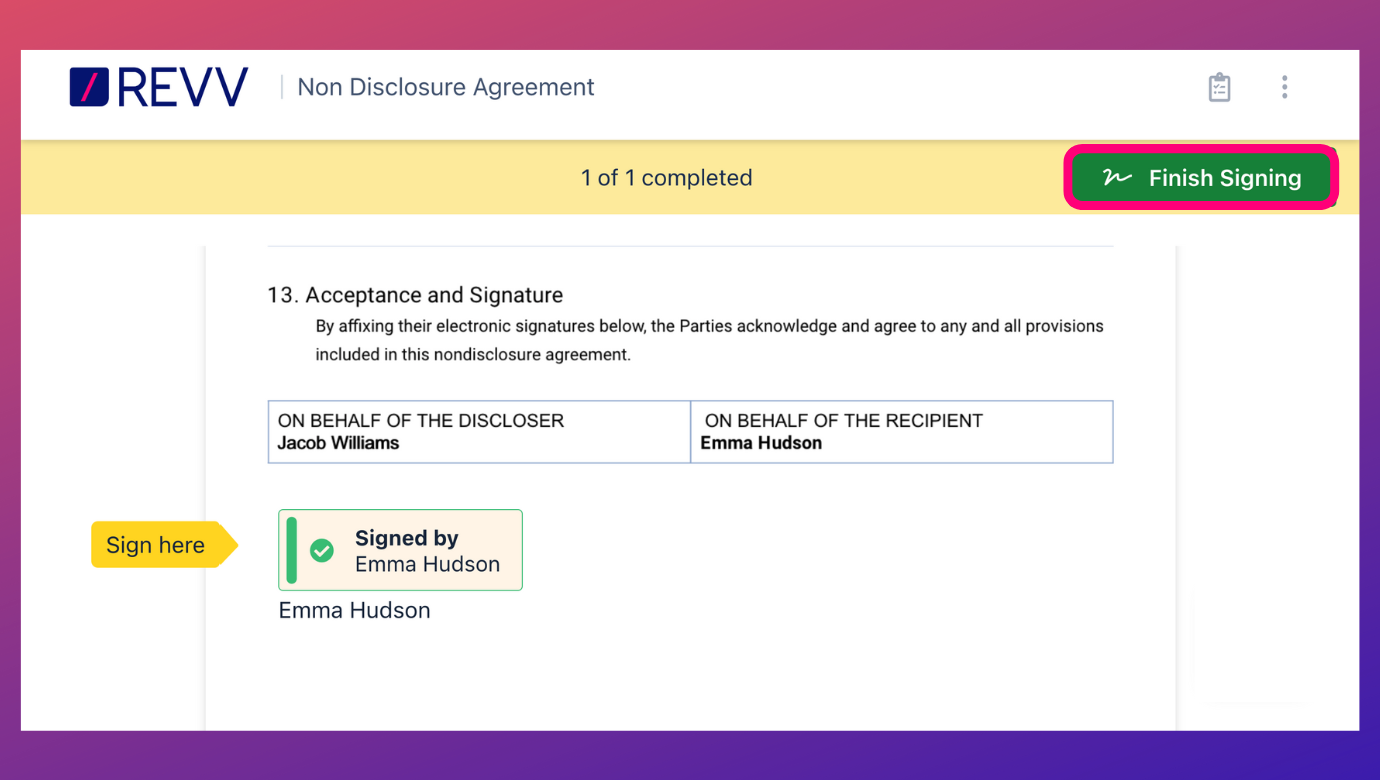 Association of signature with the records
Revv adds the eSignature to the document after it has been signed, together with the date, time stamps, and IP address of the device, thereby recording the details associated with the signature. This further authenticates the validity of all eSigns in the document.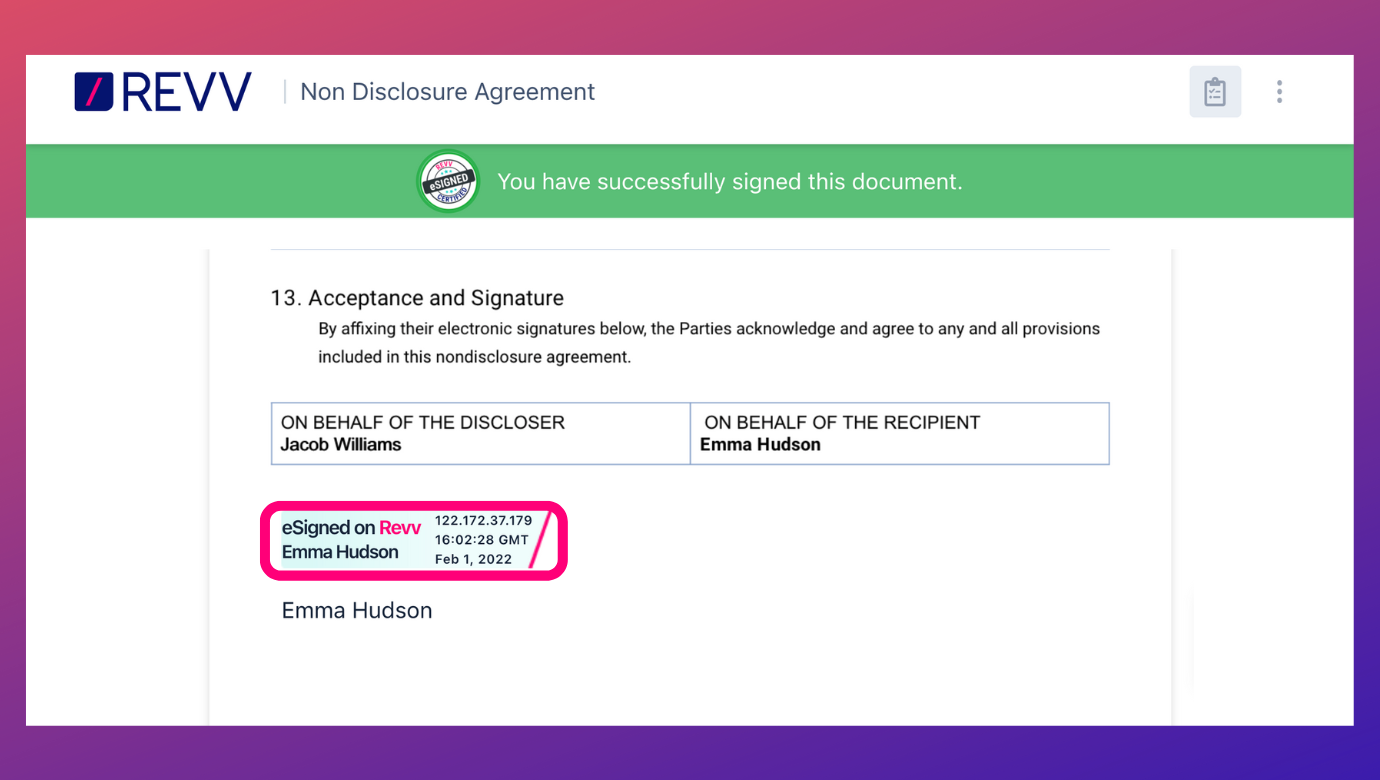 Maintenance and retention of records
Revv uses Amazon Web Services Server-Side Encryption (AWS SSE-S3) to enable secure and permanent cloud storage for all electronically signed documents. Your documents are safe and secure as it follows multiple layers of encryption with AWS global cloud certification – such as Cloud Security Alliance Controls (CSA), SOC 1: Audit Controls Report (SOC 1), SOC 2: Security, Availability & Confidentiality Report (SOC 2), and ISO 27001 Security Management Controls.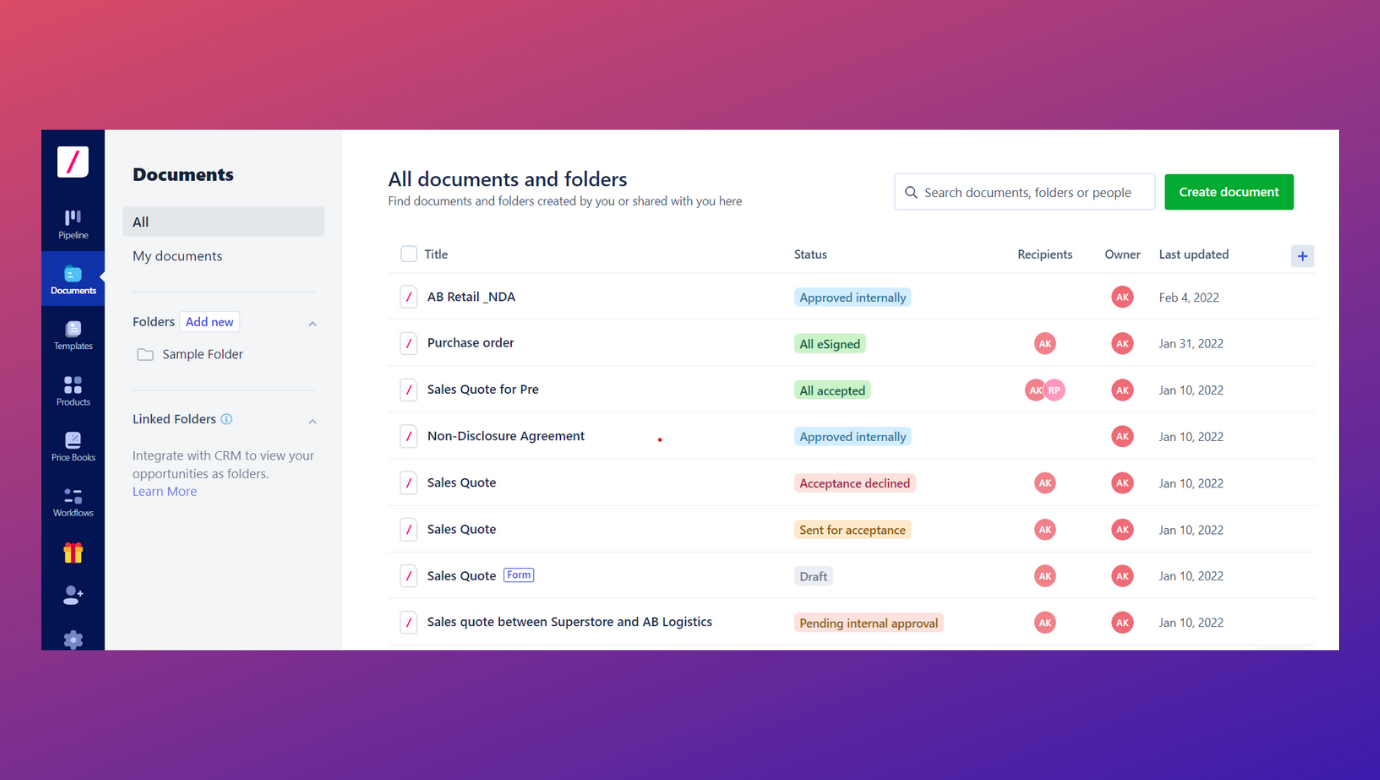 Retention of records from the recipient's end

Recipients can view the eSigned document by email. Revv sends a link to the eSigned document to the signer's email id. He/she could access it anytime, anywhere, and from any device that is connected to an active internet.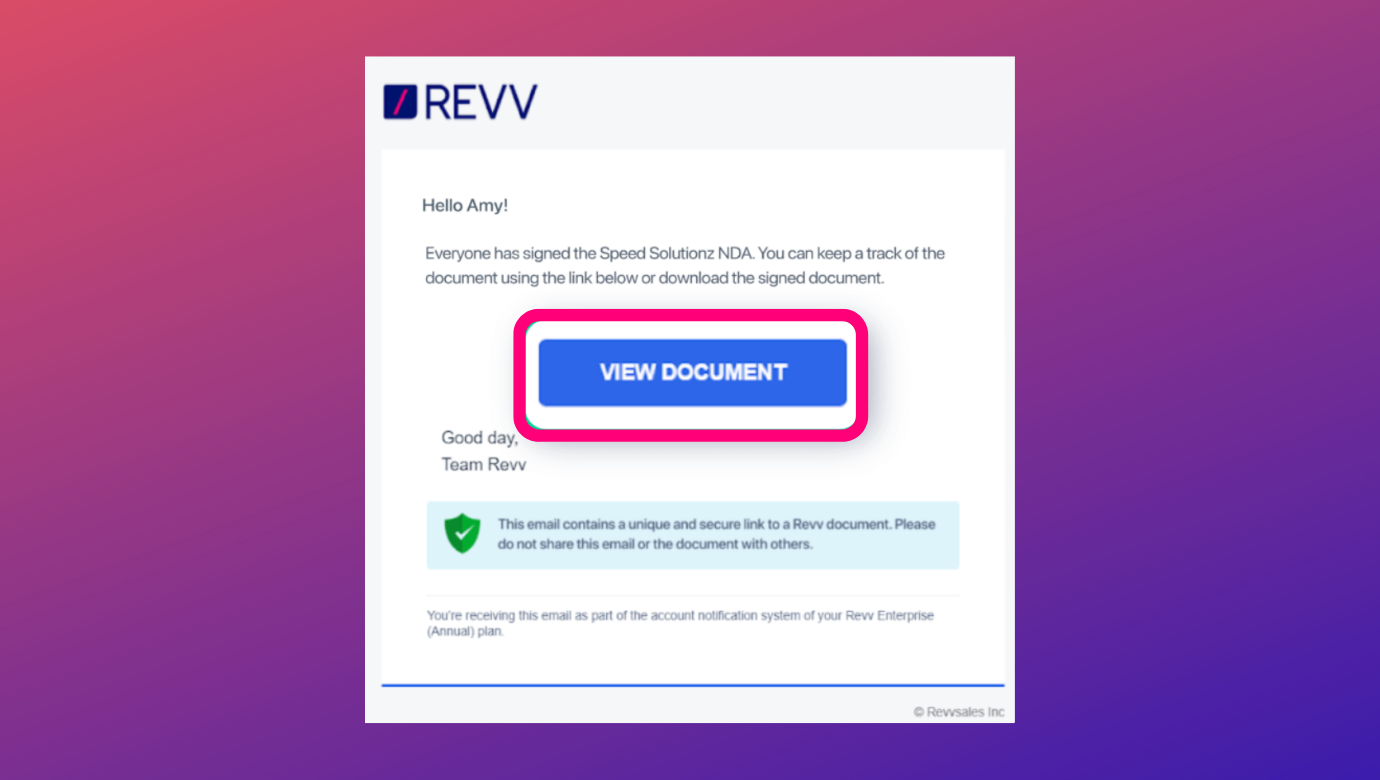 But if the recipient wants to keep an offline copy of the document, Revv provides the option to download the same.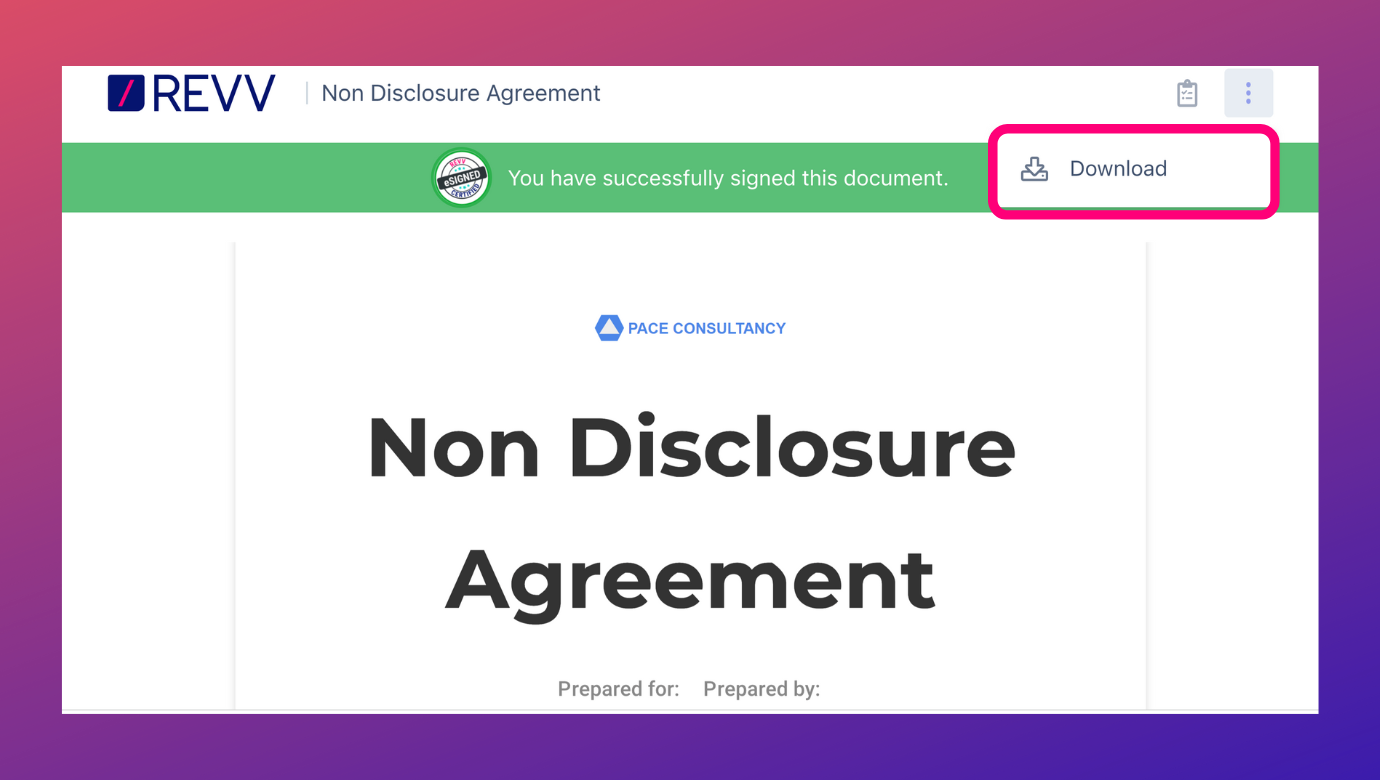 For countries coming under the European Union, Revv complies with Electronic Identification, Authentication, and Trust Services (eIDAS regulation).
Instant and safe payment collection
Collect payments right on the document. All payment operations in Revv are managed directly by Stripe. It complies with PCI DSS (Payment Card Industry Data Security Standard) requirements.
Extensive audit trail that is tamper-proof and legally admissible
Revv collects a thorough Evidence Summary for every eSigned document. It tracks every action done on the document in chronological order. This audit trail can be used in any court of law since it includes information like the recipient's unique IDs, the name of the document, the date & time it was created, viewed, and eSigned. It also records the IP addresses from which the document was accessed. The Evidence Summary can be downloaded by both the sender and the receiver.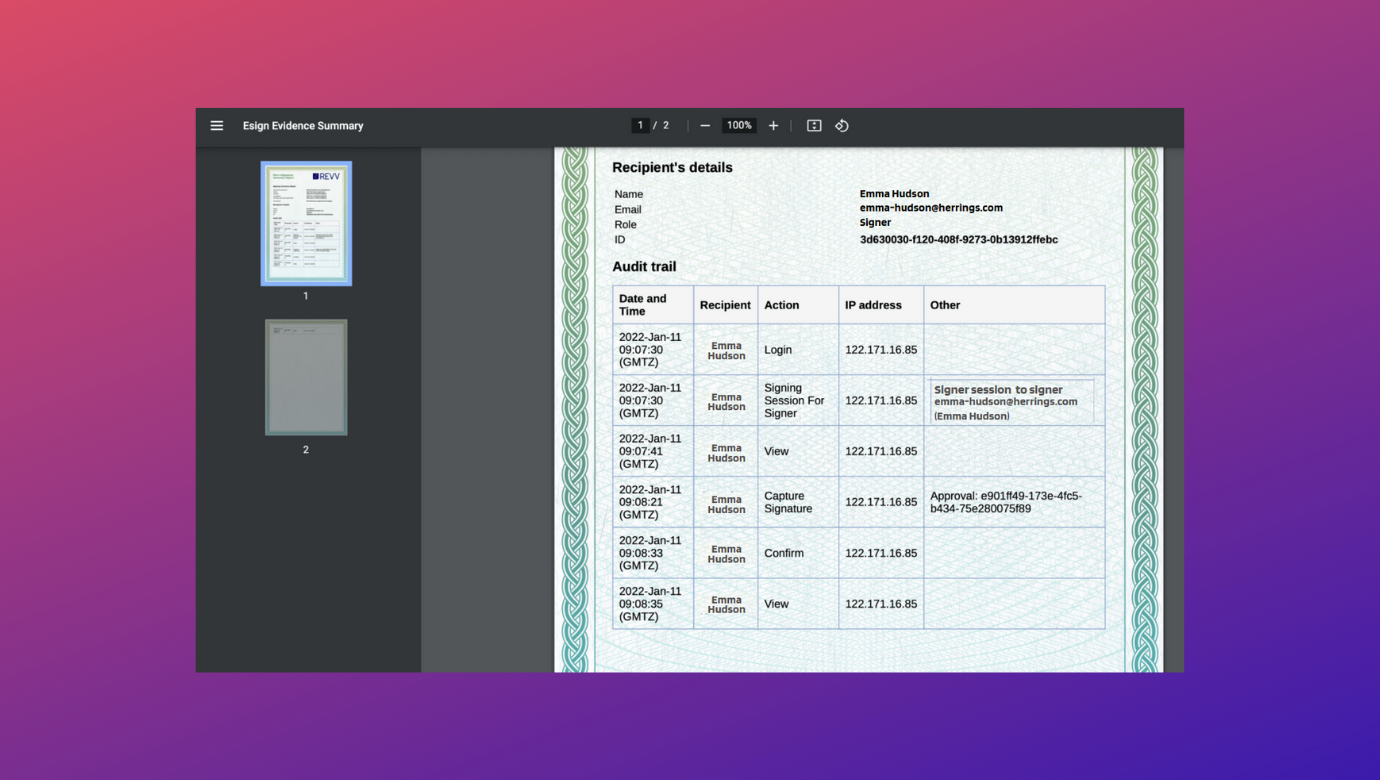 Creating different eSignatures is possible with Revv
Be it any kind of document you create, Revv gives the recipients the flexibility to choose from different types of eSignature options.
Text signatures– Signers can choose their signatures from pre-formatted styles. They can even customize their name for this type of signature. For instance, if the recipient's name is John Doe, in the Text sign option, the signer can personalize the name as JohnD, JD, JDoe, or in whichever way they want to sign off.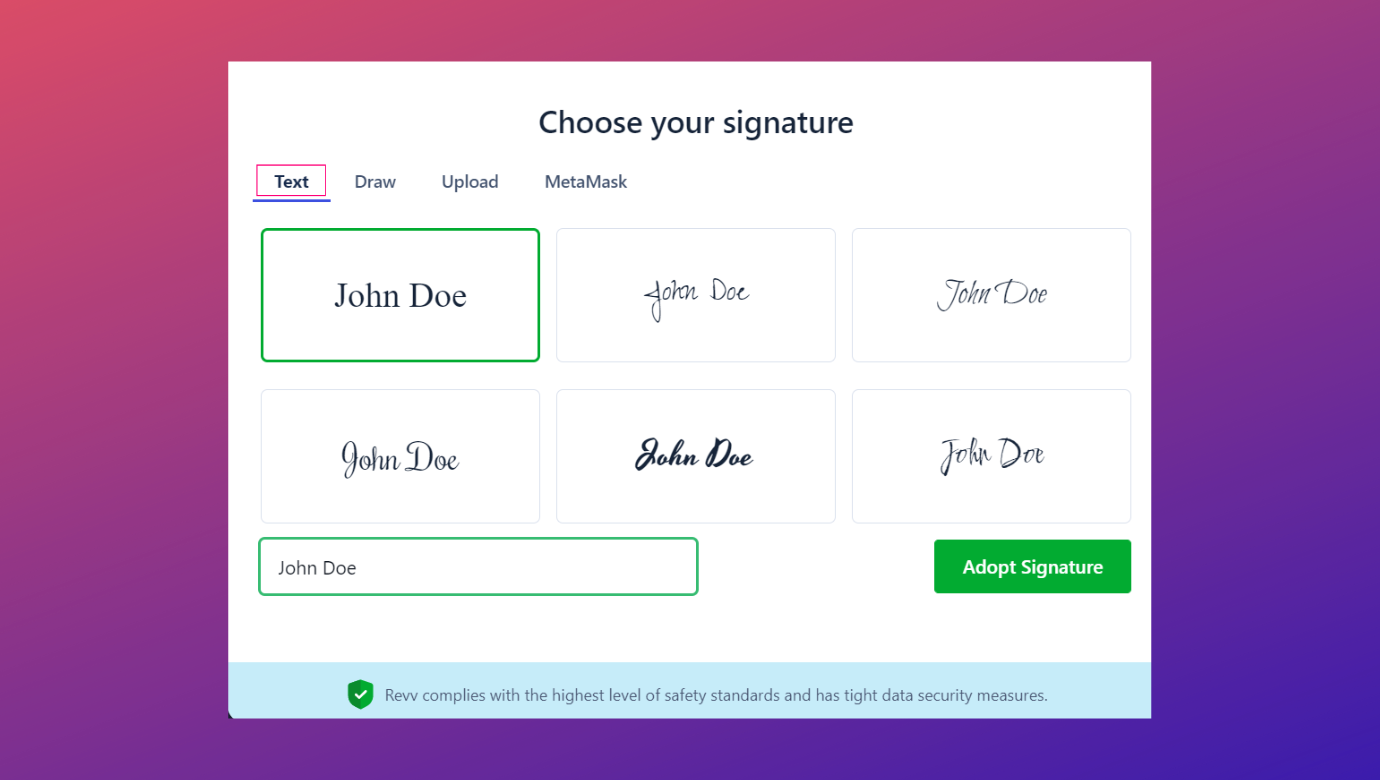 Draw signatures – Recipients can draw their signatures using a mouse or digital pen.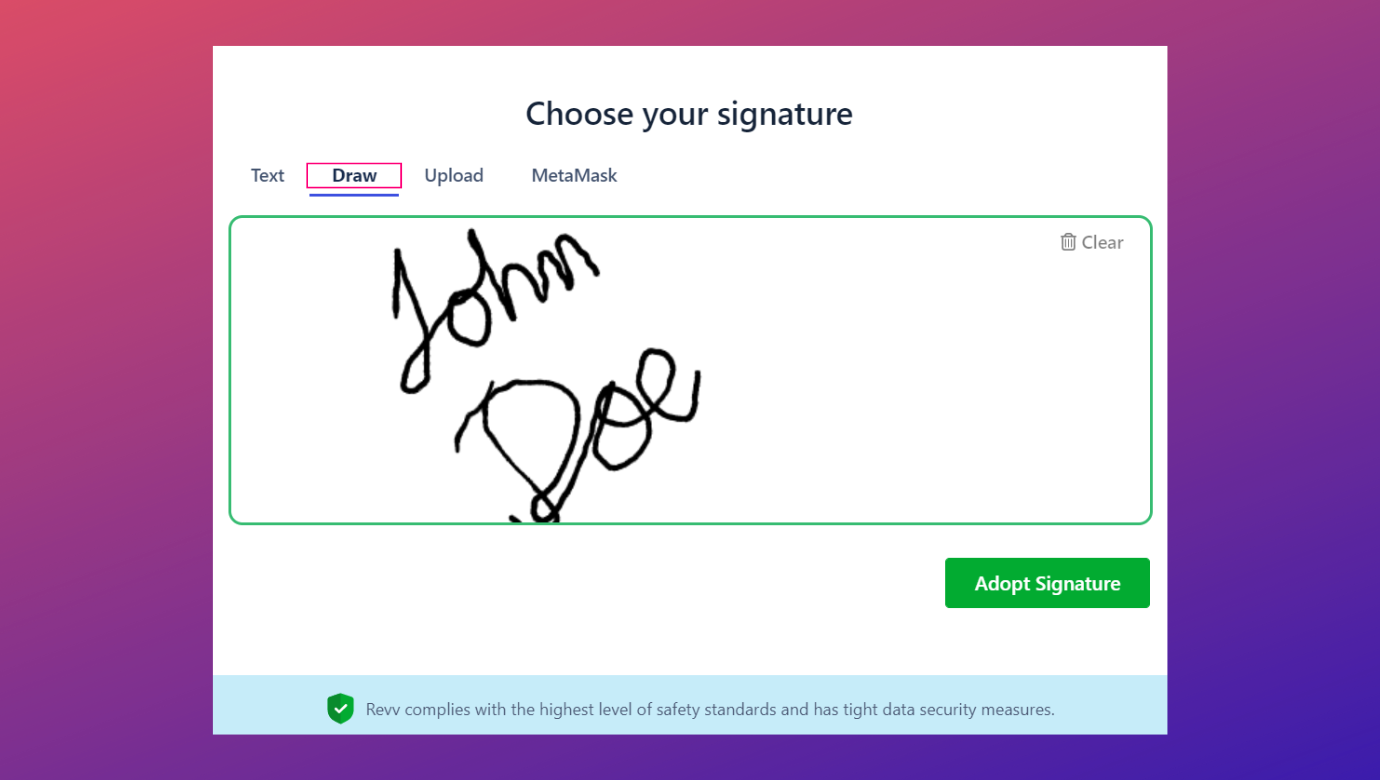 Upload signatures: Signers can even upload the image of their signature by simply scanning their wet-ink signatures.
Sign off using crypto wallet MetaMask: With Revv, recipients can even eSign their documents using their MetaMask wallet.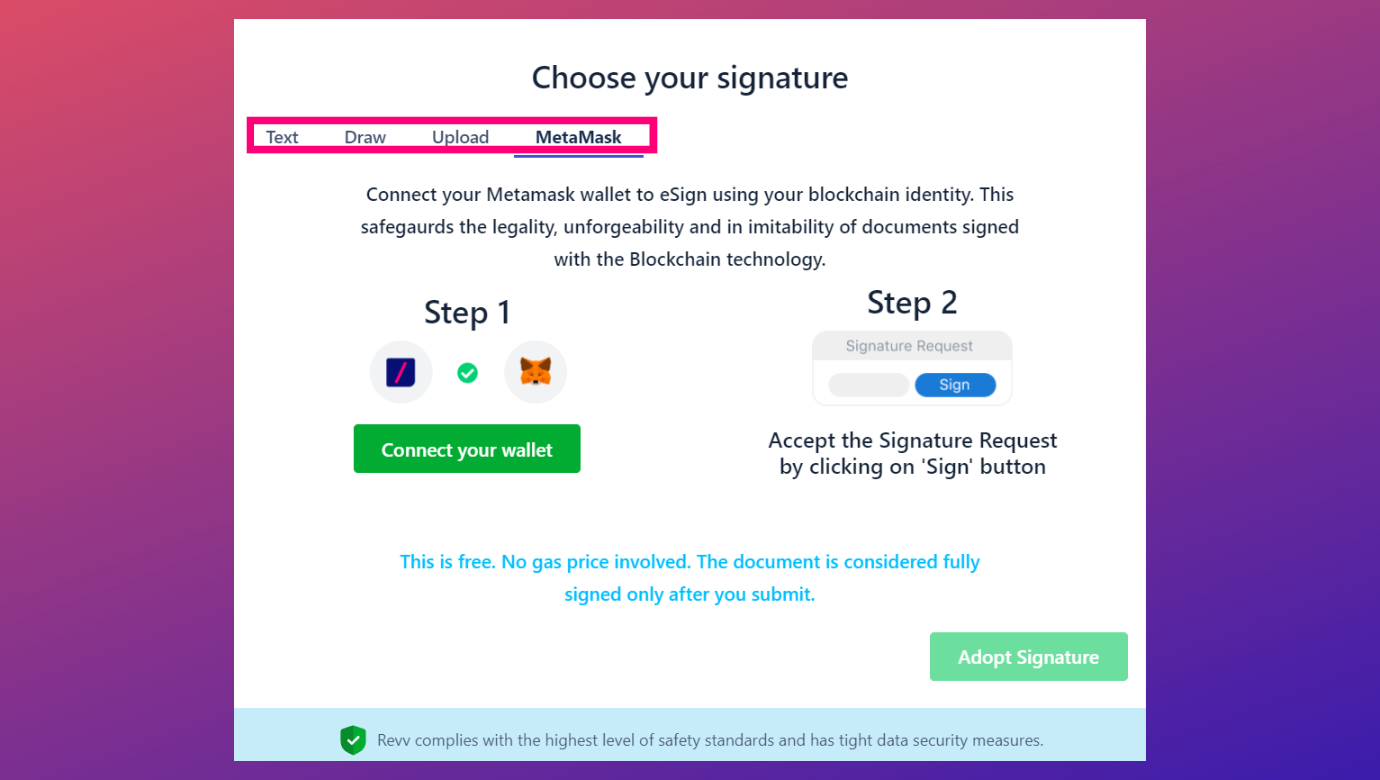 Soft sign
Revv provides a 'Send for acceptance' feature for documents that merely need acceptance from the recipients. You can reduce the use of eSignatures with this feature. It could be used for your consent forms, acceptance letters, renewal agreements, and other documents.
How does Revv ensure the identity of your recipient?
It is better to be safe than sorry. You don't want random people to open your confidential documents by mistake. If the signer's identity is verified, this situation could be avoided entirely.
Revv ensures your documents are not accessed by an unauthorized recipient by:
Email authentication – Documents are sent for eSign to the recipient's email address. When a signer logs into their email account and clicks the eSign link, the signer is automatically authenticated.
SMS-OTP – You can use two-factor authentication (2FA) in addition to email authentication to validate the signer's identity. Select the 'Authenticate with OTP through SMS' option and enter the phone number when sending a document for eSign. An OTP is generated and sent to the recipient's mobile when they click the eSign link to validate their identity. To access the file and start signing, the recipient has to enter the OTP code.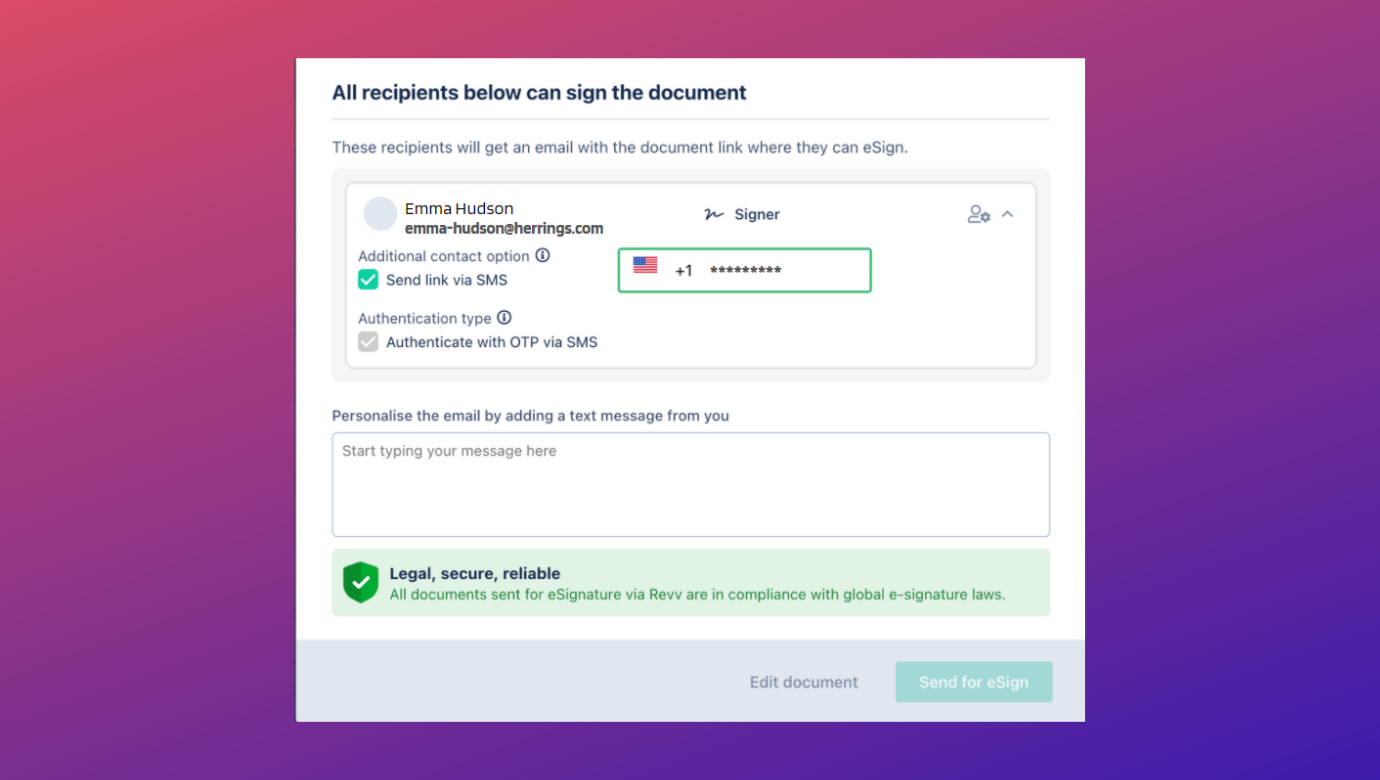 Video authentication – Video authentication asks the recipient to record a video of self and validate their identity as the approving authority. This feature is available for 'Send for acceptance' option.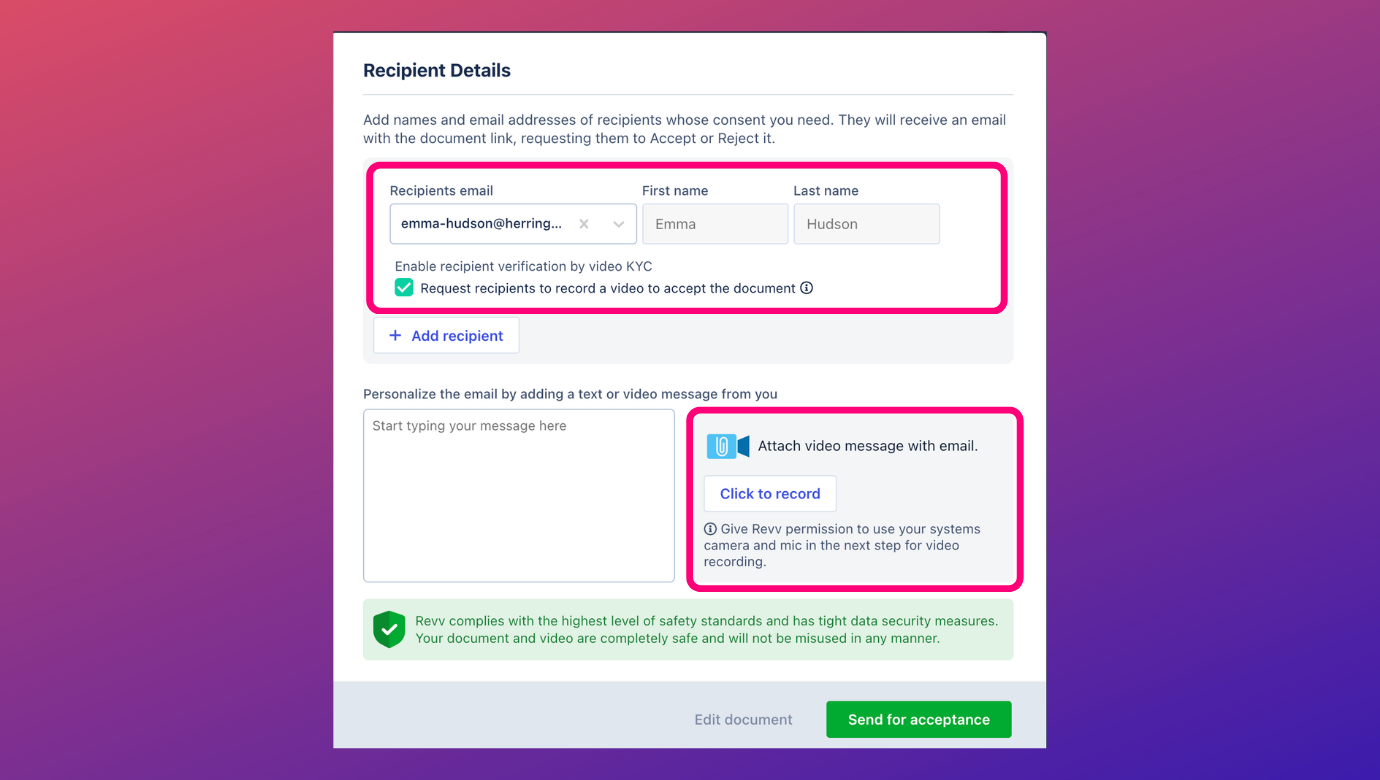 Compliant tracking and notification
Revv's autogenerated emails notify both the senders and the receivers when documents are sent for eSignature in real time. Aside from email notifications, Revv's 'Activity' tab keeps track of every activity performed on a document.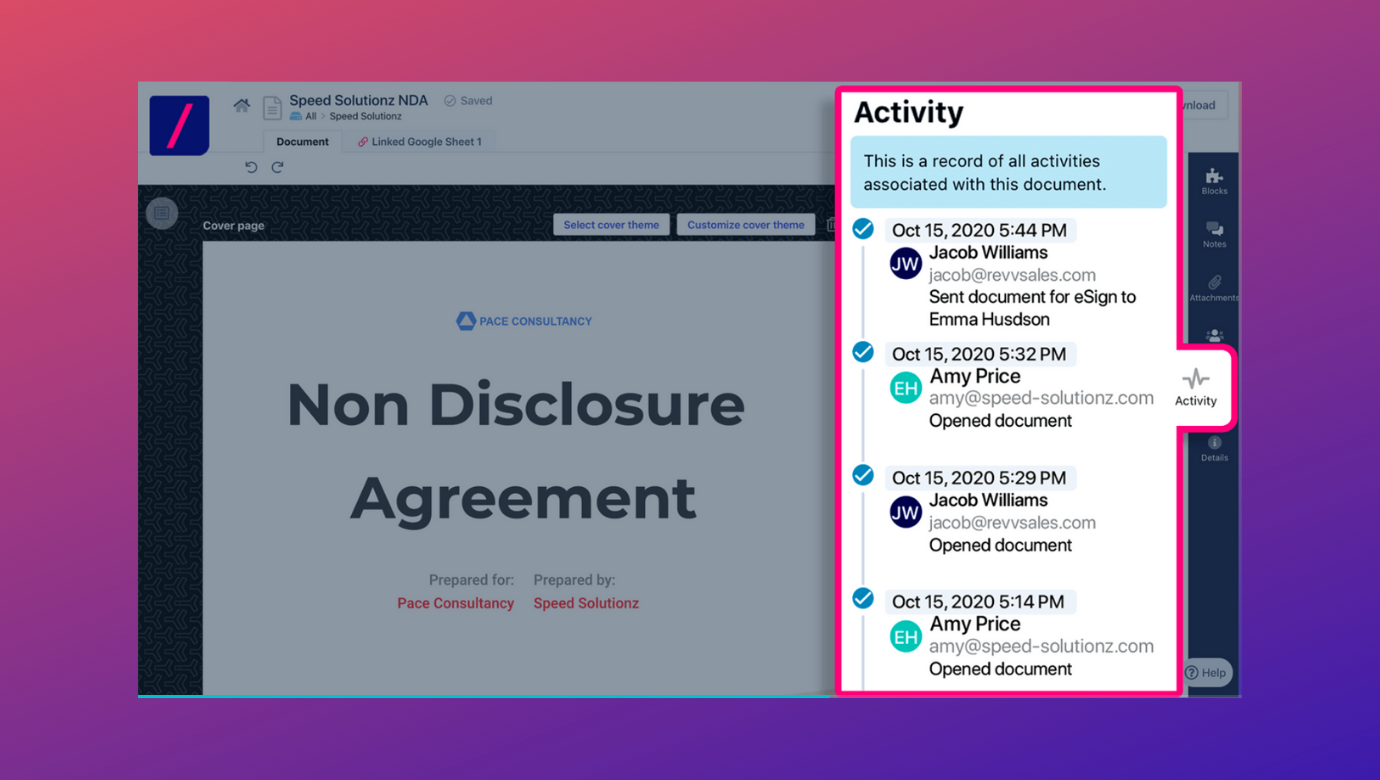 Unlock the true potential of automation with Revv
In addition to providing legally compliant eSignatures, Revv's powerful document automation features make document workflows and other business processes function seamlessly.
Integration possibilities
Revv has the technology in place to effortlessly link your business platform and automate all possible tasks. You can simply link Revv to tens of thousands of business applications using tools like Zapier and solutions like native APIs.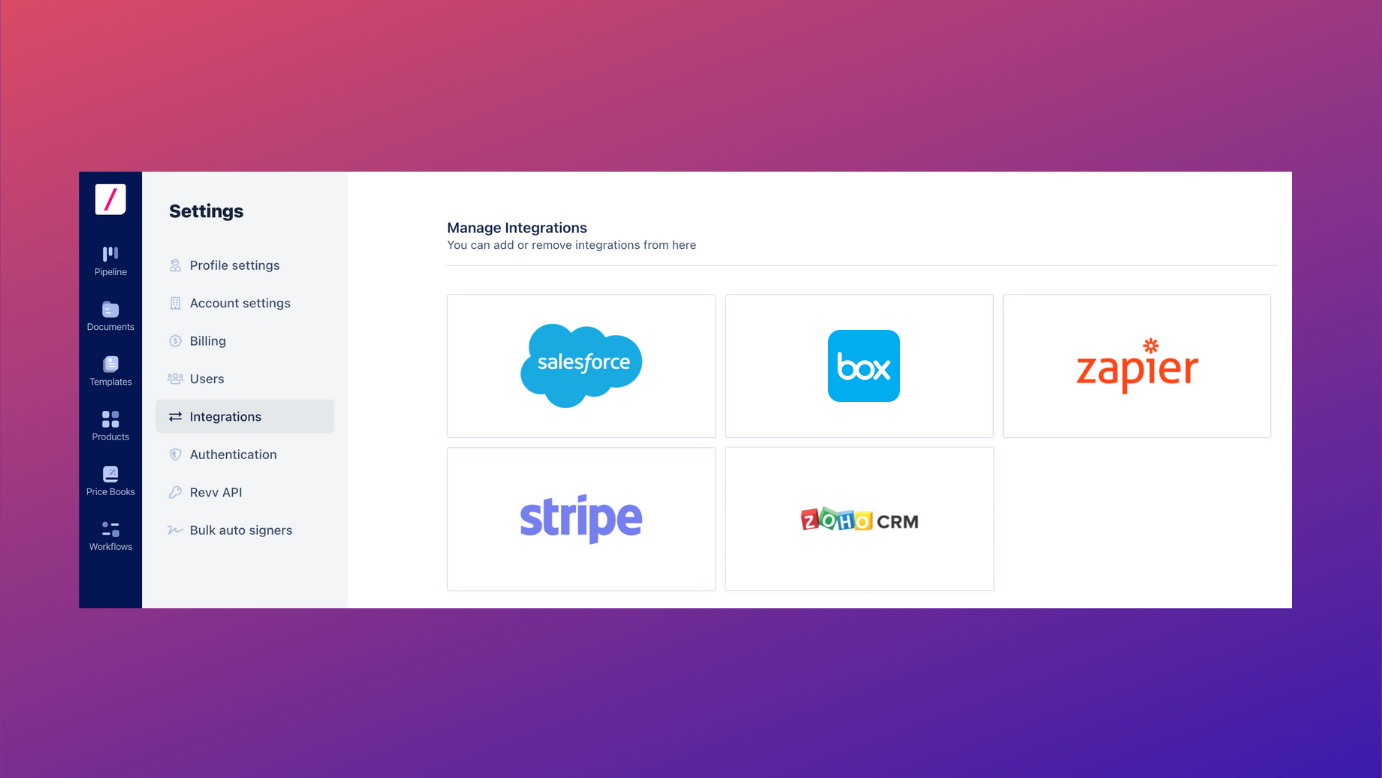 Revv + Box – a perfect pairing to accelerate and automate workflows

Revv integrates easily with Box, a cloud-based storage system that collects all your data and documents in one place. Revv and Box together augment the automation possibilities.

You can now create, manage, and run workflows of any complexity seamlessly. With the help of document metadata and metadata derived from Revv's form fields, trigger new Box workflows based on your business needs.

When you integrate Revv with Box, you can even choose which data to send to Box, such as 'Document file,' 'Evidence Summary,' 'Document Attachments,' 'Document form fields,' and 'quote line items,' among other options.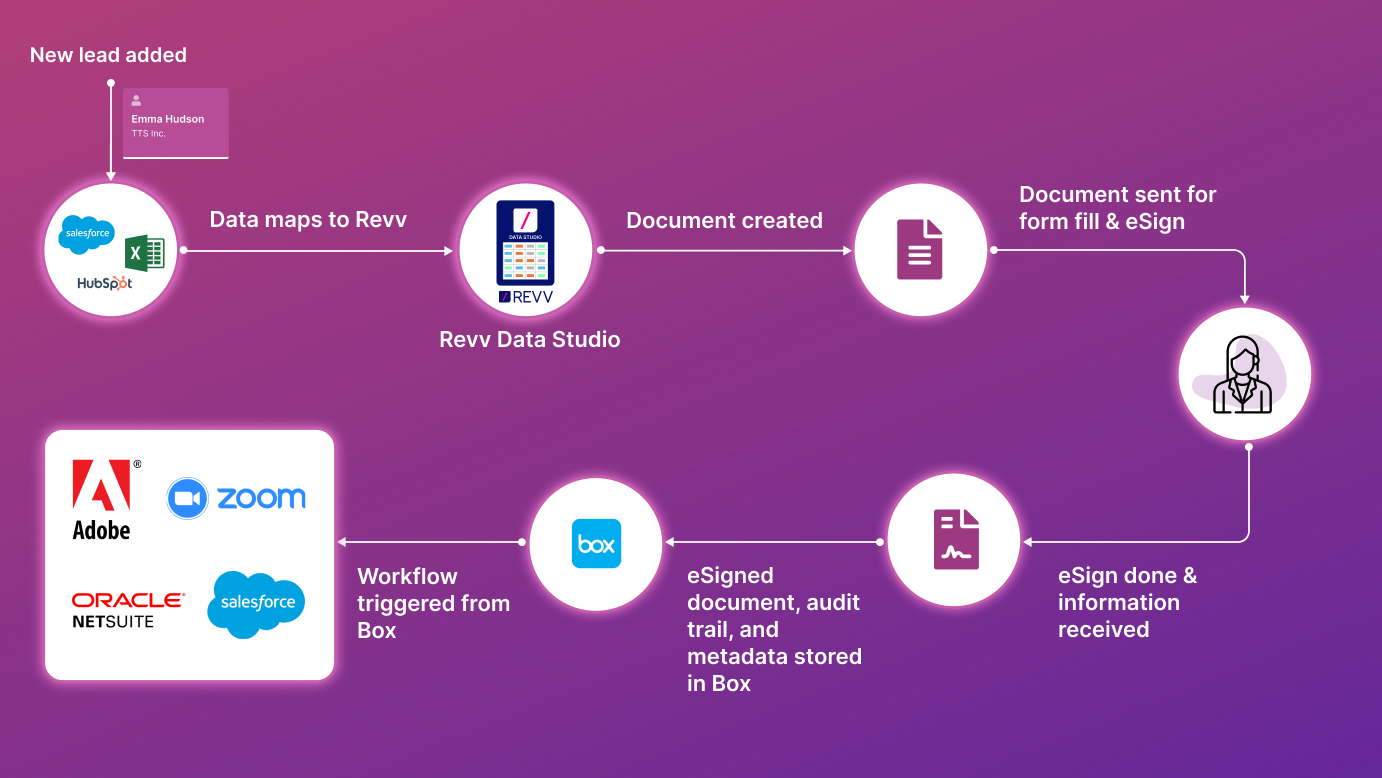 Map complex data with Data Studio
Map data in the blink of an eye with Revv's Data Studio feature. It lets you map data from numerous data sources/business platforms to the respective form fields in your document in no time. It gathers accurate information that helps you create precise documents. This way, it minimizes the turnaround time associated with various business operations, regardless of the quantity or complexity of the data.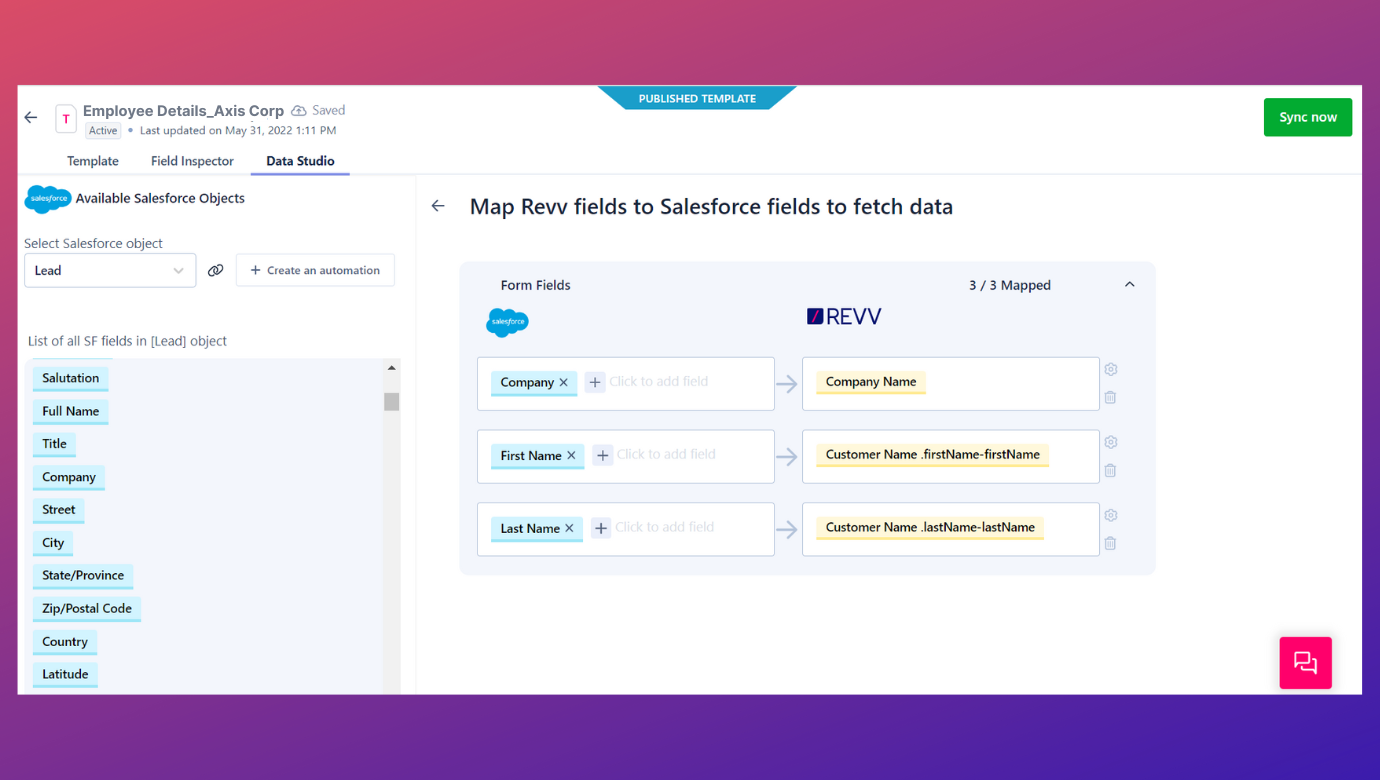 Decoding form fields in your documents

Scenario 1:
There are instances when you need current and accurate information from your recipients on your documents. For instance, you need the recipient's current resident address on a legal document. With the help of form fields (they are fillable placeholders in a document), simply create a form-based template for your document. Using the form field feature, add form fields wherever they're needed. When the recipient gets the document, they will be asked to fill in the information and complete the signing process.

Scenario 2:
Form fields can also be used to avoid repetitive filling. For example, in a document, information like the name of the signer or some other key information is a recurring event. The document owner can set up form fields at the template level. Simply enter the information in the form field once, and it will be populated throughout the document.
Automate workflows with Pipelines
Create automated workflows with the help of the pipeline and stop worrying about the different stages of your document process. Prep up the 'pipeline' with specific actions to be taken at each level of your document process, and rest assured it will automate them all.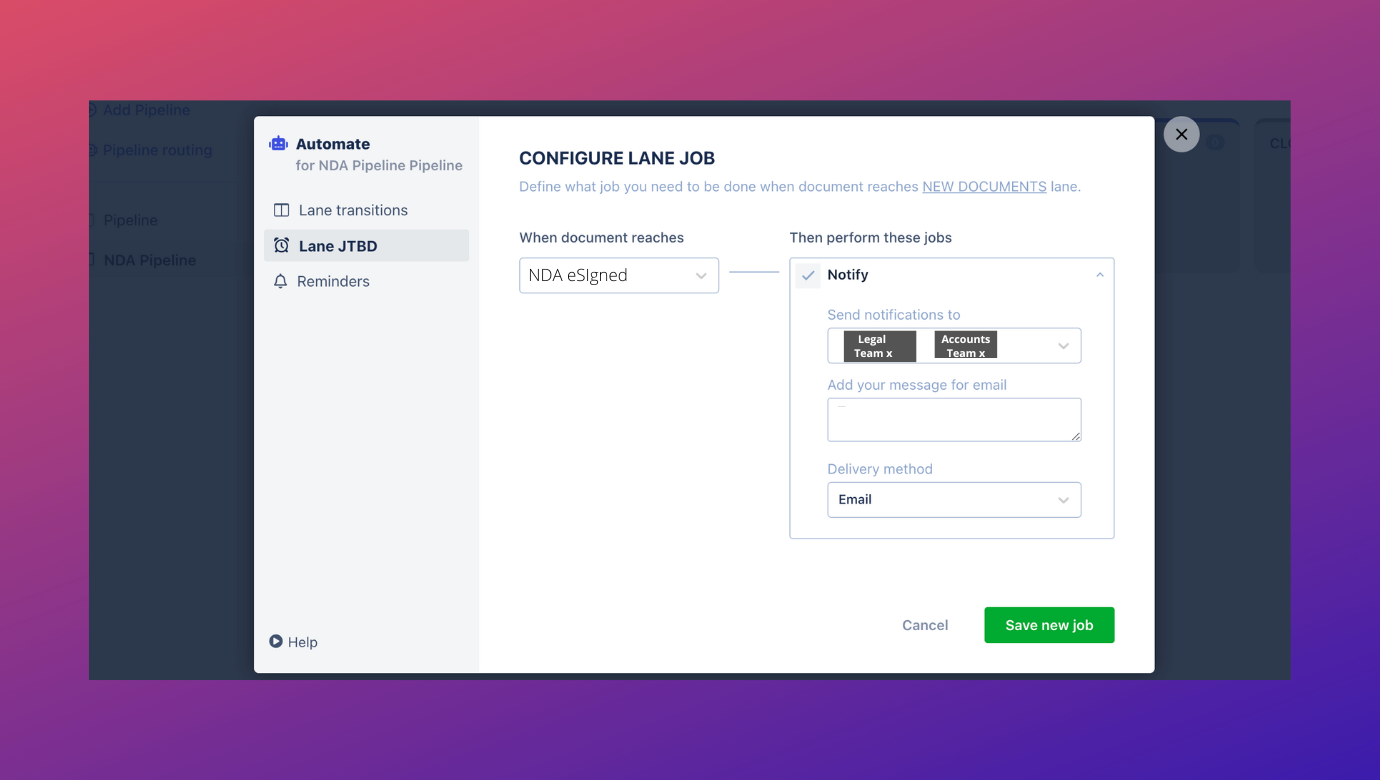 The takeaway
With electronic signing growing in popularity and the global business environment becoming more and more digitally focused, making the move to electronic signatures is a solid option.
With Revv, you can be absolutely positive that your electronic signatures are legally binding, enforceable, and safe. What gives Revv a competitive advantage over other e-signature products on the market today is its comprehensiveness. You can integrate Revv with your existing business systems, and automate almost all aspects of your document's lifecycle. It can be easily integrated into your existing business systems to accelerate and maximize the scope and effectiveness of the automation capabilities. All this comes in an affordable package, eliminating human intervention and boosting productivity.
With such exhaustive features in-built in Revv, you can close deals faster, get contracts signed sooner, and speed up your business processes seamlessly.
According to Allied Market Research, the electronic signature market is expected to reach $61.91 billion by 2030, witnessing a CAGR of 33.2% from 2021 to 2030. This means that other businesses are already on the move in the adoption of this digital transformation technology, and you cannot fall behind.
Get up to speed, get Revv.