Businesses are always looking for ways to increase their productivity, cut costs, save time, and become even more efficient.
One way to success is adapting to new technologies, but that can be challenging. What happens when you find a new method of doing business that can save time and money but could be difficult to implement? Some business owners may simply choose to avoid the change, but essentially, they'd only be putting it off until a later date.
One such major change in the way we do business is going paperless. While the introduction of email certainly reduced the amount of paper (and time) we spend handling business communications, the opportunity to reduce our paper footprint is even larger, and taking advantage of it can improve the functionality and efficiency of your business.
A team of paperless experts at Revv will help you learn what a paperless office system is, is it beneficial to your business, and how to implement one.
What is a paperless office system?
Having a paperless office system doesn't mean there's never a sheet of paper in your cubicles.
A paperless office is one in which the amount of paper is significantly reduced. Sometimes, the ultimate goal of a paperless office will be to eliminate paper usage, but most businesses start with simple reduction methods.
There are numerous reasons why a business may decide to go paperless. Here are just a few.
Environment: The use of fewer paper and paper products helps you create a greener business that has less of an environmental footprint.
Cost: The cost of sending and receiving documents digitally that would otherwise be printed and delivered on paper is significant. In fact, going paperless can potentially save your business up to $80 per employee, per year.
Machinery: Office machines like printers, fax machines, and copiers are expensive, require refills of elements like ink and toner, are finicky, and need frequent maintenance. Transitioning to a paperless office can eliminate these machines completely or drastically reduce your office's reliance on them.
Less storage space: You know the rules and regulations, and you keep important documents for the time required by law, but keeping documents (sometimes up to seven years) can take up space and require extensive filing systems. Going paperless can save your space and make filing easier and more accessible.
Efficiency: It's no secret, transitioning to an electronic method of doing business (i.e. paperless) makes your employees more efficient when handling internal approvals.

Think of it this way – let's say you have a deal you'd like to close by the end of the week. On Monday, the final proposed agreement is drafted, but before it can be sent to the client, two of your partners need to review and approve it. Instead of sending paper copies to those partners, using a collaborative document builder can allow them to review, make changes, and approve the document wherever they are. Even if they're in the same office, you'll save time between inner-office envelope runs, saving you likely an entire day. The document can then be sent immediately to the client for an electronic signature. Instead of coordinating schedules and having the client come in to sign, which could take days, your client can sign and return the document the same day they receive it. Your deal is closed on Monday, and you've got the rest of the week to work on other matters or proceed with your agreement.
If going paperless sounds appealing, we're with you. We can help you get started, even if you feel like you're somewhat in the stone age. Making the transition is easier than you think and pretty painless if you get help from Revv.
Create a paperless office with the best document automation platform – Revv
Start your journey now! No Credit Card required.
How to start being paperless?
Your initial goal to achieve a paperless office should be to reduce your paper usage instead of eliminating it, and you'll set yourself up for success. You can also achieve total elimination with training, diligence, and time.
Here are some tips for beginning the process:
💡Make your staff aware and provide training: No one likes change, and your employees may be resistant to your paperless efforts. They may also feel as though you're attempting to mislead them by approaching the switch to paperless from a purely environmental standpoint.
Be honest and direct with your reasons for going paperless. Offer training and adequate time for workers to master new software and procedures that reduce the amount of paper traffic they're accustomed to using.
💡Make the switch desirable: If you provide your employees (or yourself) with easy-to-use e-tools, you'll all find making the switch to paperless convenient and helpful. Consider user-friendly software that makes your employee's paper-driven jobs easier, like the document automation offered by Revv.
When an employee can use a drag and drop document composer, they can construct crucial business documents like agreements, proposals, quotes, letters, and many more in a jiffy. This saves time and boosts productivity; helping teams to become more efficient.
An electronic filing system is also a great way to encourage employees to go paperless. It's much easier to find a document by keyword or client name electronically than to search a filing cabinet crammed with (probably mislabeled) files.
💡Upgrade your hardware: Instead of wasting money on inkjet refills, toner cartridges, and constant machine repairs, ditch the old machines and upgrade your computers. Employees that have access to computers and new technology are quantifiably more productive.
💡Encourage clients to go paperless: Your office can be a paperless wonderland, but if your clients aren't on board, it can be difficult to conduct a transaction with them. Help your clients transition to working with you in a paperless fashion by showing them the benefit (i.e., you'll close their deals faster, turn out the product more quickly, and save them money in the process).
💡Be patient: Rome wasn't built in a day, and going paperless won't happen overnight. For starters, you've likely got paper records you still need to hold on to for legal reasons. While it can be a great goal to get them all scanned in for digital record-keeping, it's a task that takes time and manpower.
Achieving a completely paperless office is a long-term project. The bigger the office, the more time it will take. So, set milestones, take one step at a time, and decrease your paper-related needs to reach your goal slightly faster.
If you're looking for a simple way to automate your document-related processes, Revv is your go-to. Here's how Revv helps you build a paperless office you and your employees can trust.
Create a paperless office with the best document automation platform – Revv
Start your journey now! No Credit Card required.
How can Revv help?
Revv makes the oh-so-lengthy procedure of creating documents, getting them reviewed, approved, and signed easy-peasy. What normally takes days can now happen in a matter of minutes with Revv.
Let us dive deep and learn more about Revv's capabilities.
👉 Vast template library
Reduce days of document drafting time to minutes with Revv's 1000+ templates, that are legally vetted, formatted, and can be quickly customized for your business. So no matter what type of document you need to create, we've got you covered.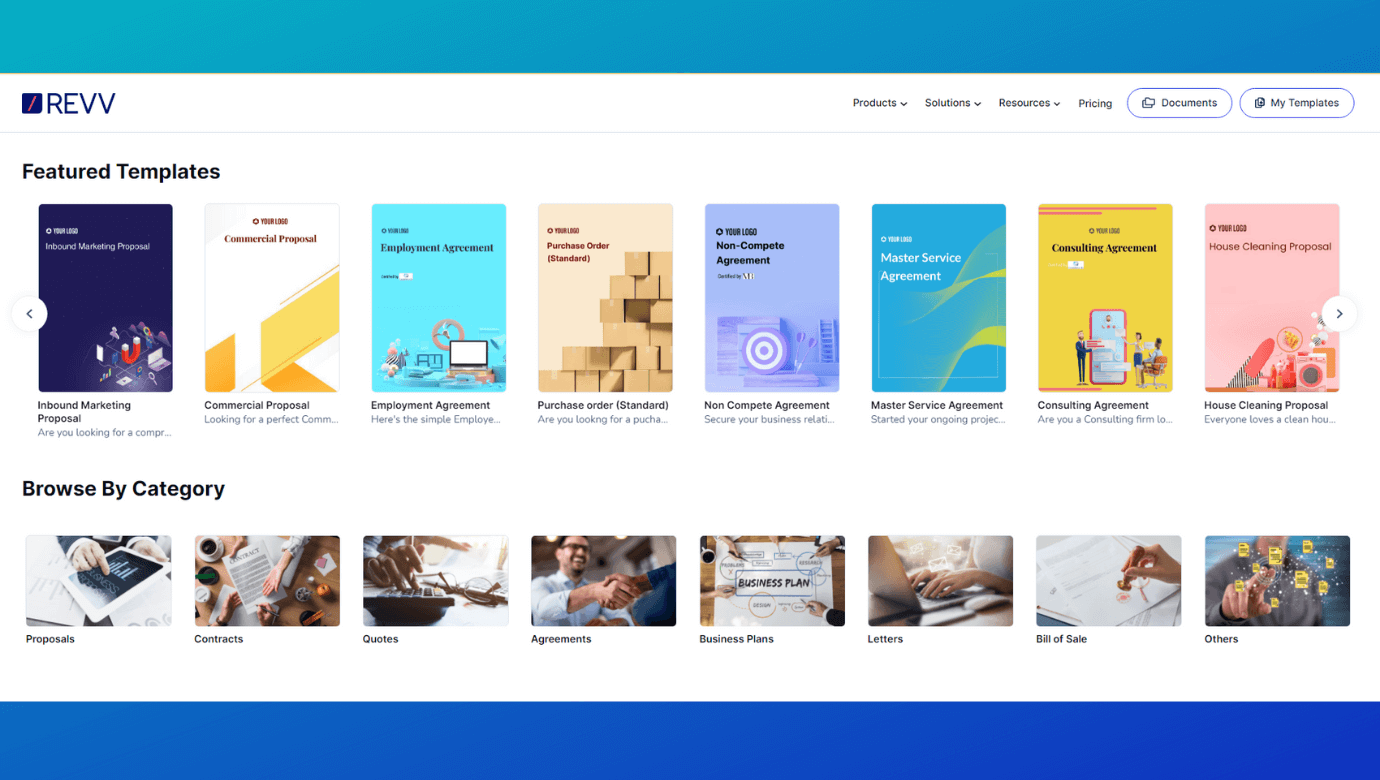 Want to add your logo to every document you produce? That's not a problem. Prefer to design a custom template for your employees to use? You can do that also. Revv makes customization a breeze!
You can also create a document from scratch and design it the way you want. Revv's rich editor is simple and user-friendly. It enables you to add many elements like images, text, tables, etc. with an easy drag-and-drop action. It takes just minutes to produce top-notch and professional documents.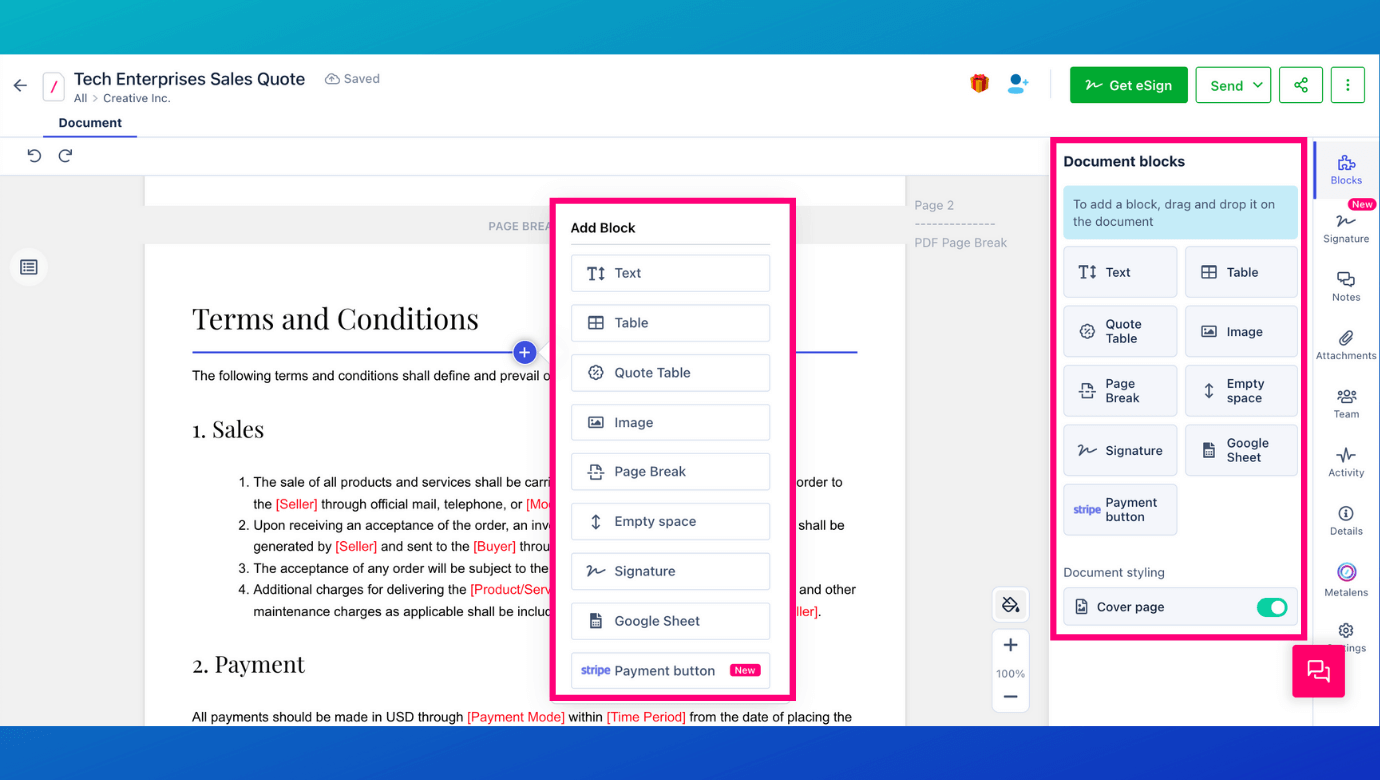 👉 Painless personalization
Have you ever been in a situation where you have to print out the same document but with different names? It is a repetitive process and can cause errors.
But if you go paperless with Revv, you can add form fields as placeholders in a template, otherwise known as form-based templates. These form fields can be a drop-down of options, clickable radio buttons, and checkboxes.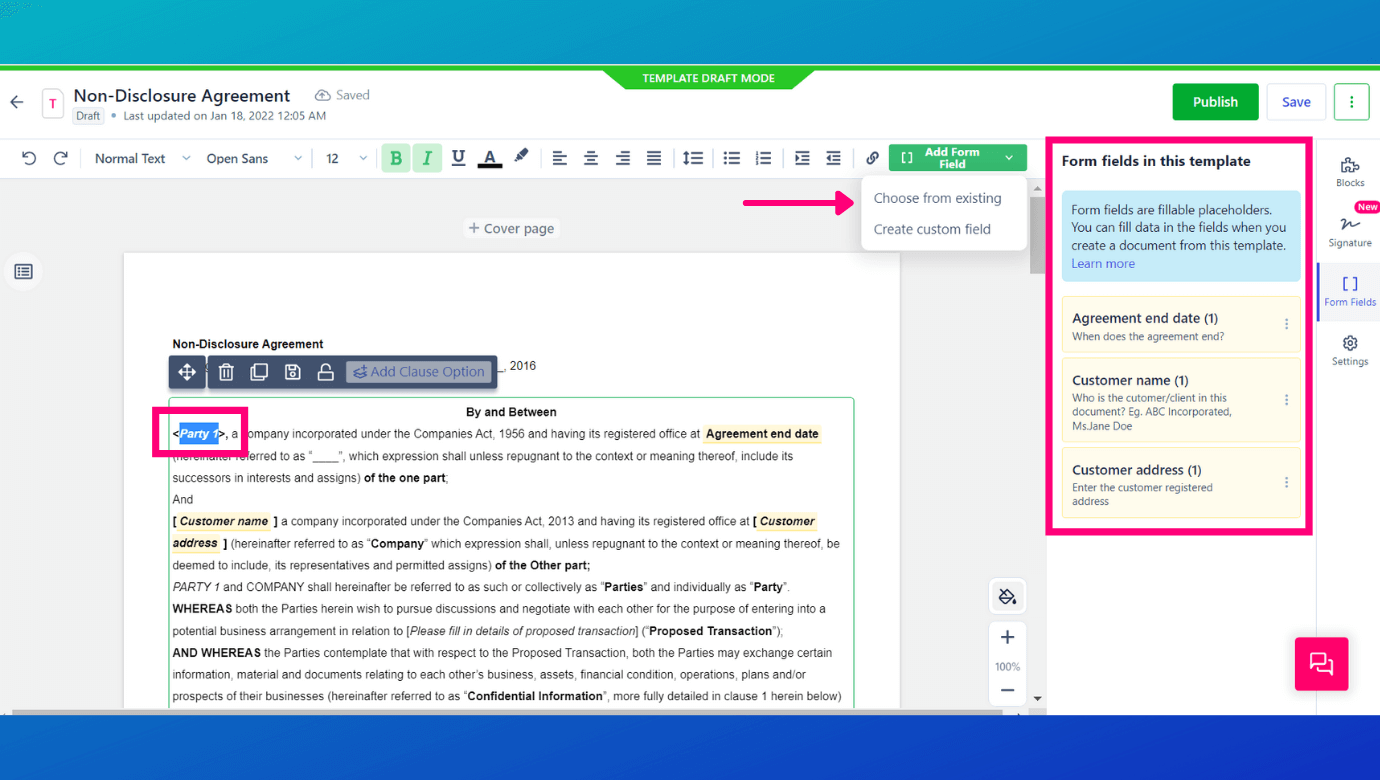 Whenever you create a document from a form template, you can personalize it by filling out each unique field once and it will be automatically copied to the same form fields in the document. You can gather data from your recipients that only they can provide by assigning them form fields to fill.
👉 Uninterrupted collaboration
Revv makes document collaboration easy and paperless by allowing users to access documents in a single workspace. You can add notes, attachments, and @mentions to tag teammates, and provide editing rights according to your needs.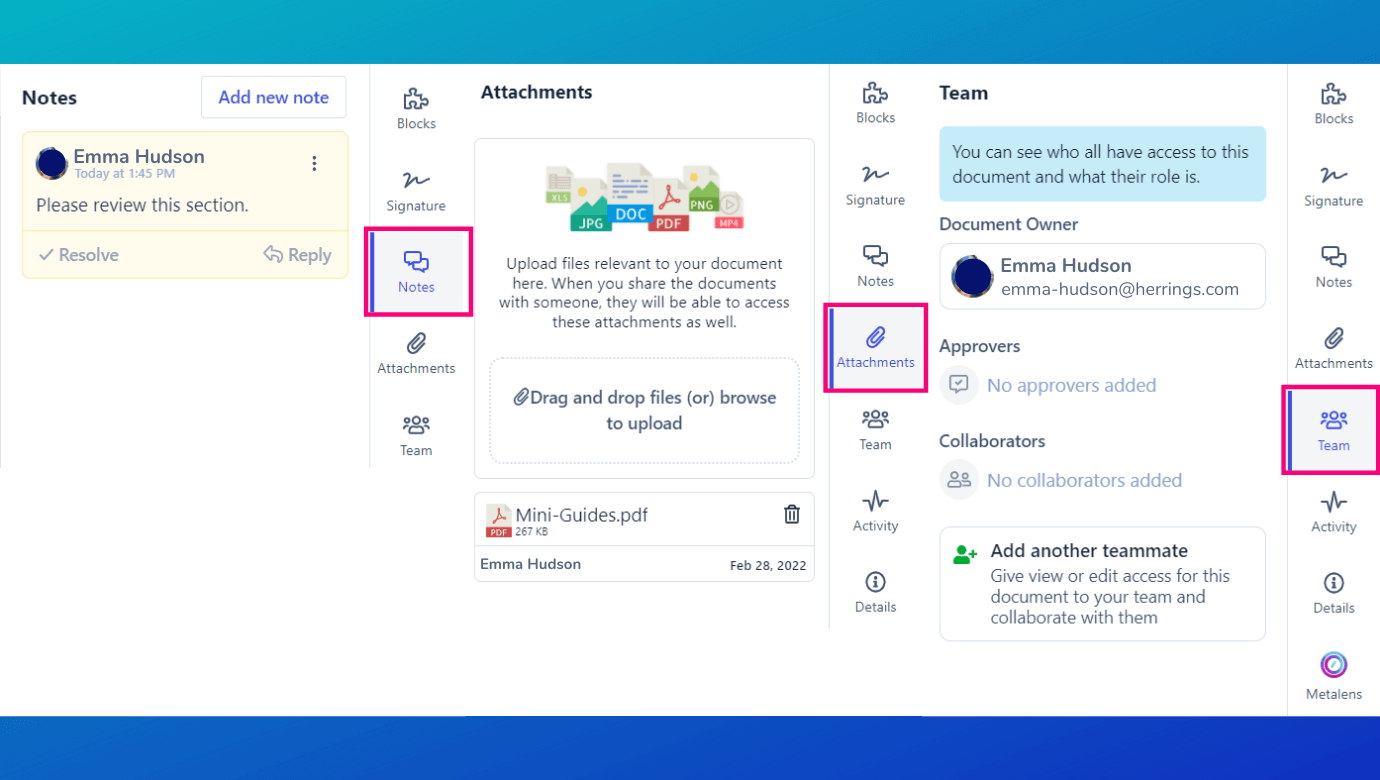 Revv also records all the actions taken on a document with the help of the Activity feature. So you can view and track all the activities associated with a document starting from creating the document to getting it eSigned.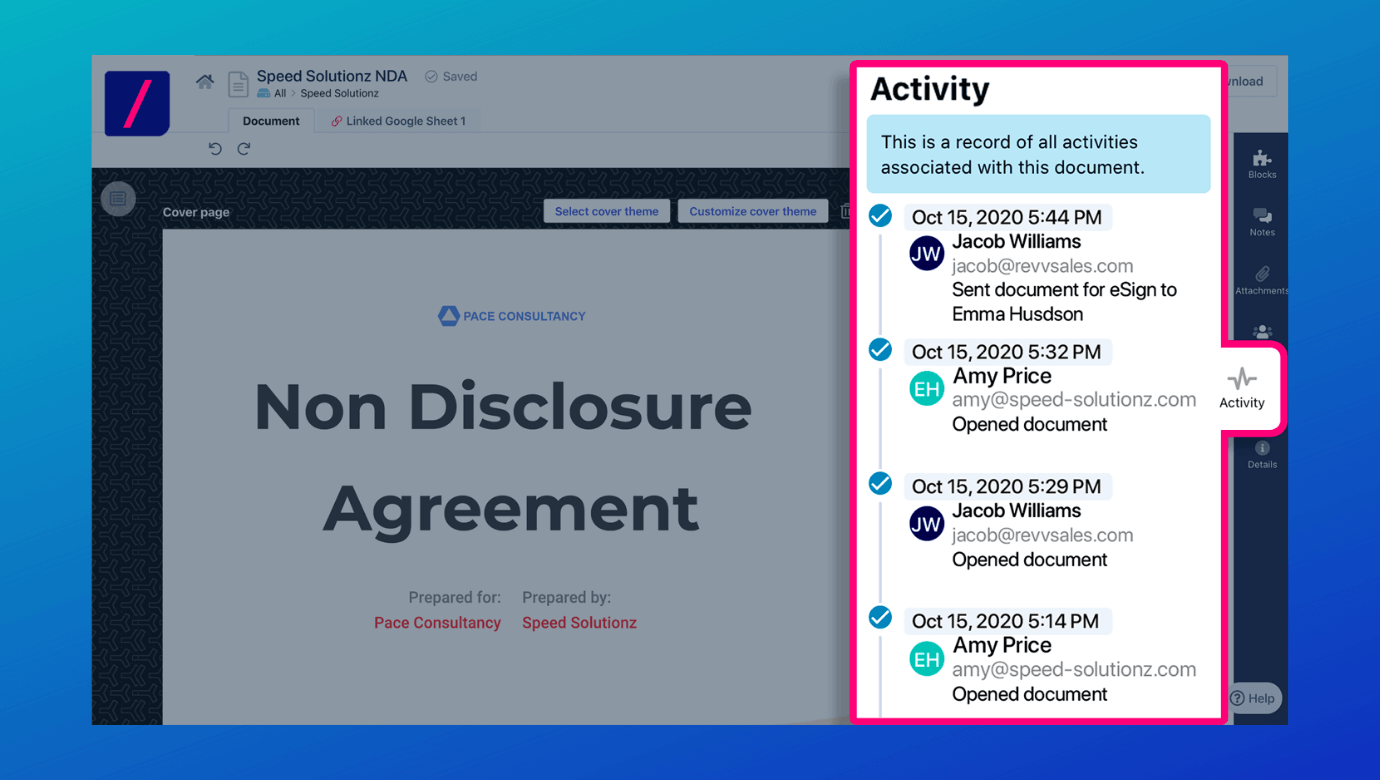 👉 Bank-grade and advanced eSign technology to close deals in a click
Revv's paperless and contactless eSign technology makes the whole signature process quick, simple, and hassle-free. You and your customer can get business handled efficiently, no matter where you are or what you're doing. Also, note that Revv offers more than one way for your customer to sign the document.
Text: In this method, the signer can choose their signature from a set of pre-formatted styles. They can even customize their name that will appear in the signature.
Draw: This method demands the signer to draw their signature using the mouse. In the case of mobile phones, a digital pen or a finger will work.
Upload: In this method, the signer is required to upload a scanned image of their wet-ink signature.
MetaMask: Using this method, the signer can use their crypto wallet to eSign the document.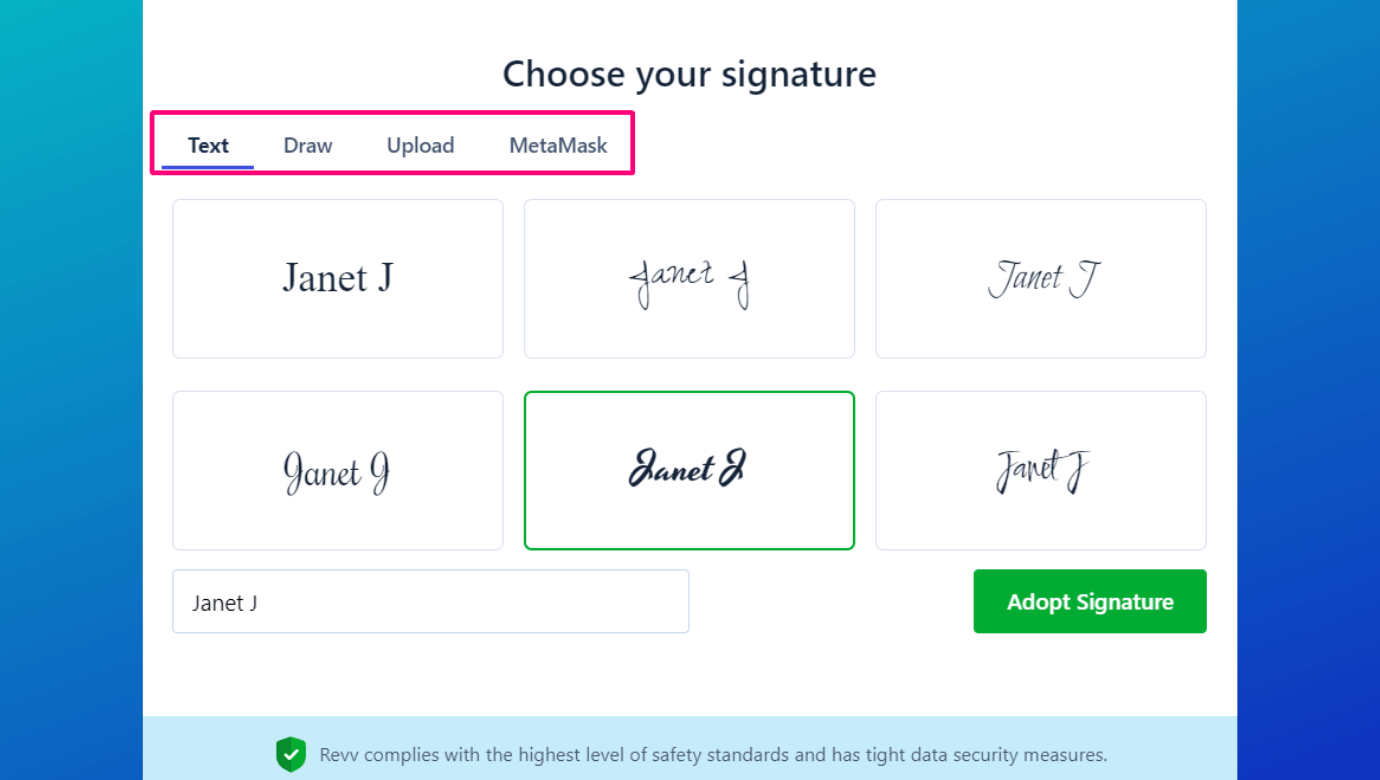 What if you don't need an eSign but just the consent of your client on a document? In such scenarios, you can use the Send for acceptance feature in Revv and receive a soft sign from your client. Quite simple, isn't it?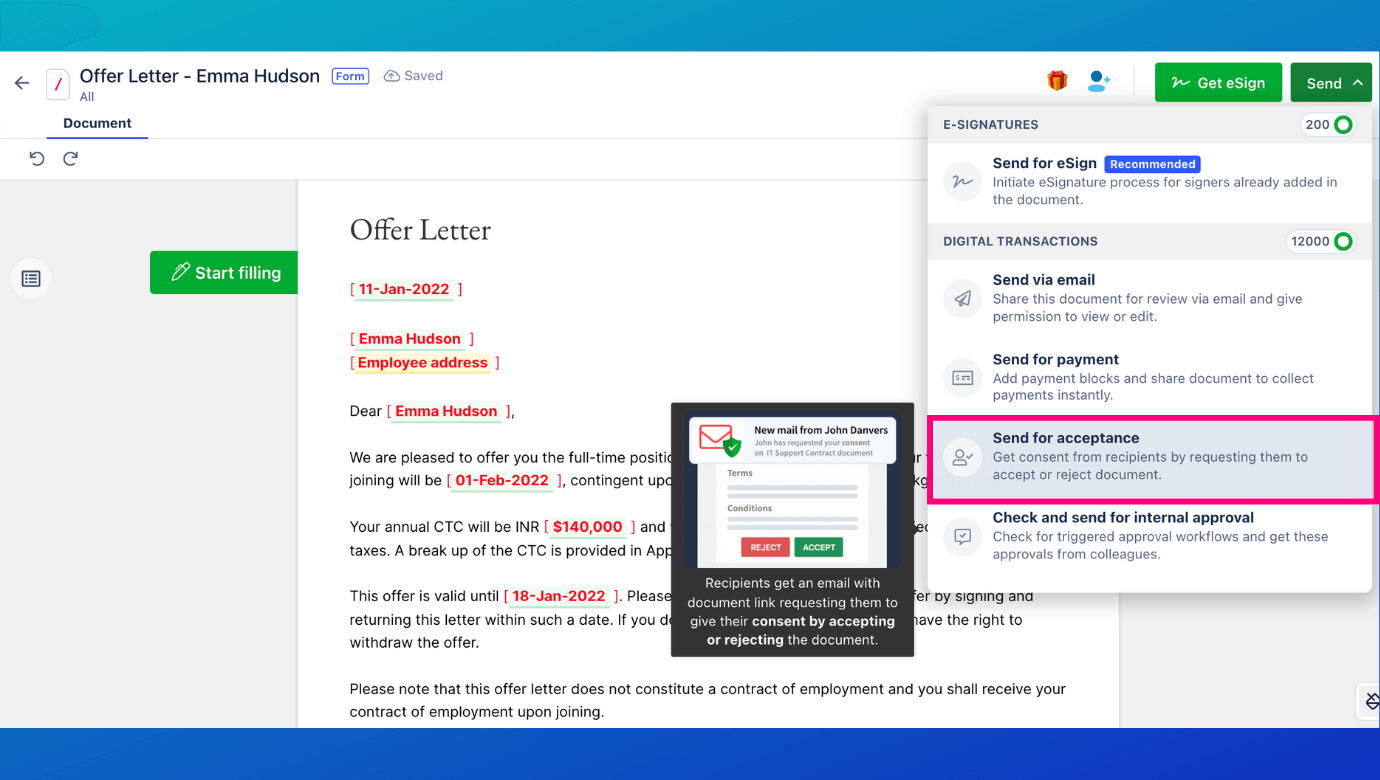 Revv's eSign feature is extra safe as it offers various authentication methods like Email, SMS (OTP), and video. Verifying the signer's identity prevents unauthorized users from accessing the document. With Revv, all signers must prove that they are who they claim to be before they're allowed to view the encrypted document or add their electronic signature.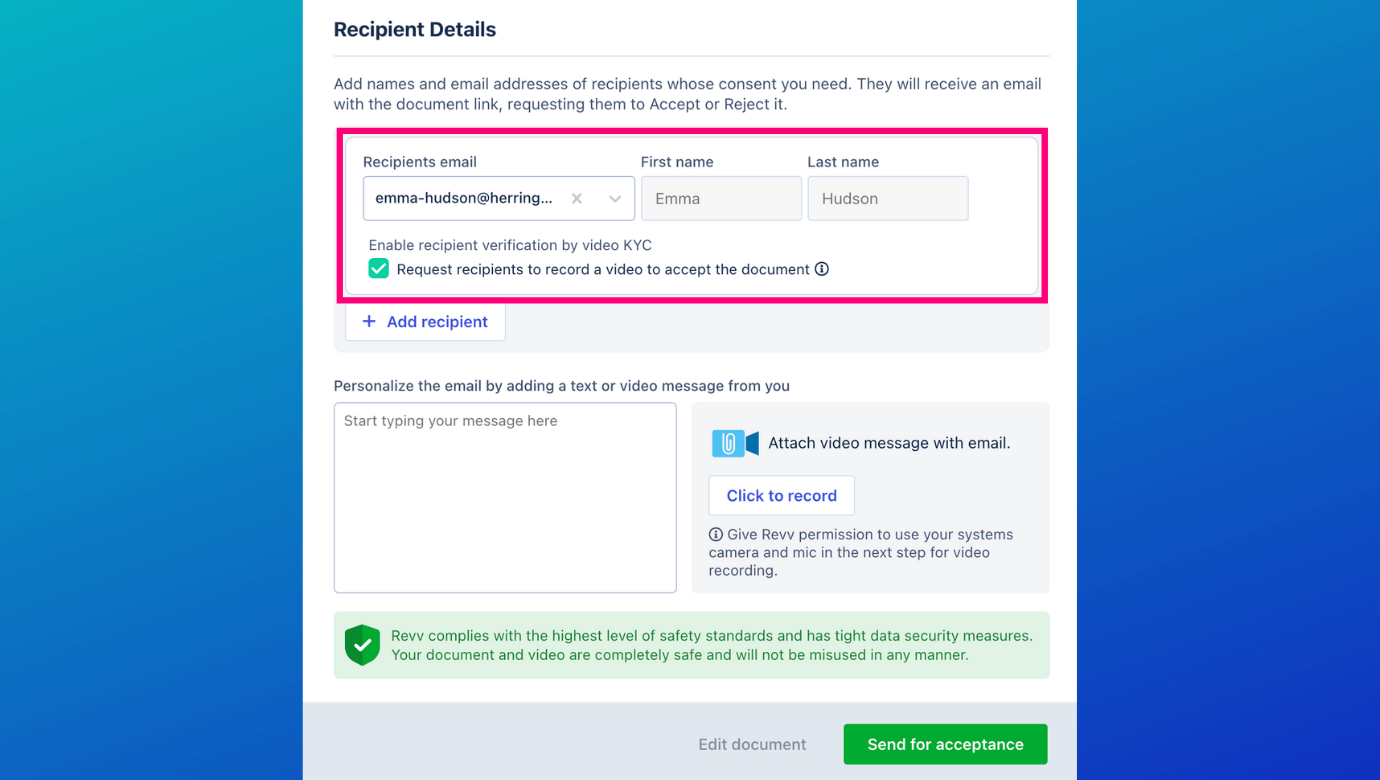 Revv undoubtedly abides by all the global & local eSignature laws. Revv ensures compliance with all these four rules throughout the e-signature process:
Intent to sign
Consent to do business electronically
Association of signature with the record
Record retention
Revv enables you to capture the intent of the signer in a hassle-free method. In every eSign document sent from Revv, the signer must click the I agree checkbox on the top to go ahead with the signing process. If the signer changes their mind, they can decline to sign the document without any hassle.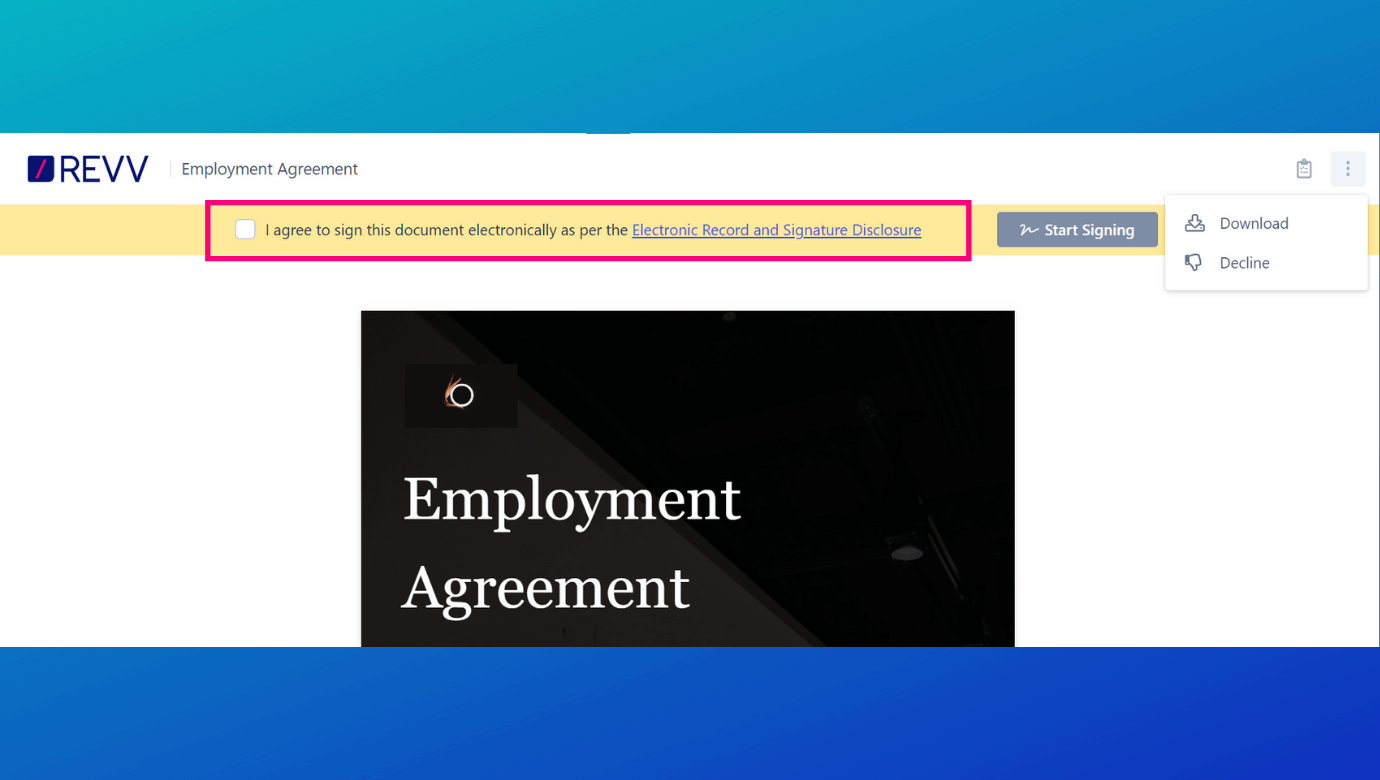 Once the signer places their signature in the document, they must click the Finish Signing button to give consent to do business electronically with Revv.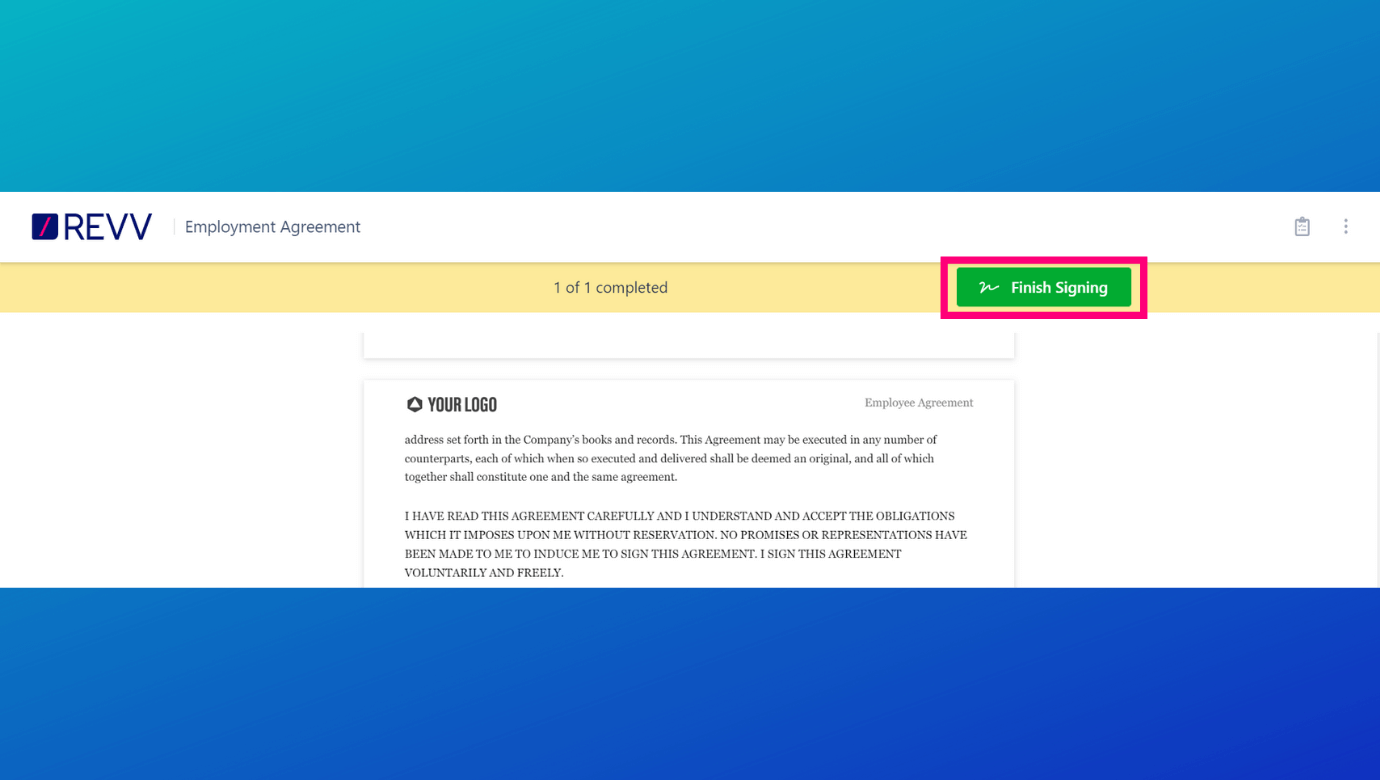 Revv also generates an Evidence Summary for all the documents. It is an audit trail, a digital certificate that records all actions taken during the signing process, which includes – the signer's information, date and time stamp of each action taken by the signer, IP address, and other details that acts as legal proof. It can be downloaded as soon as the signing is complete by all the signers.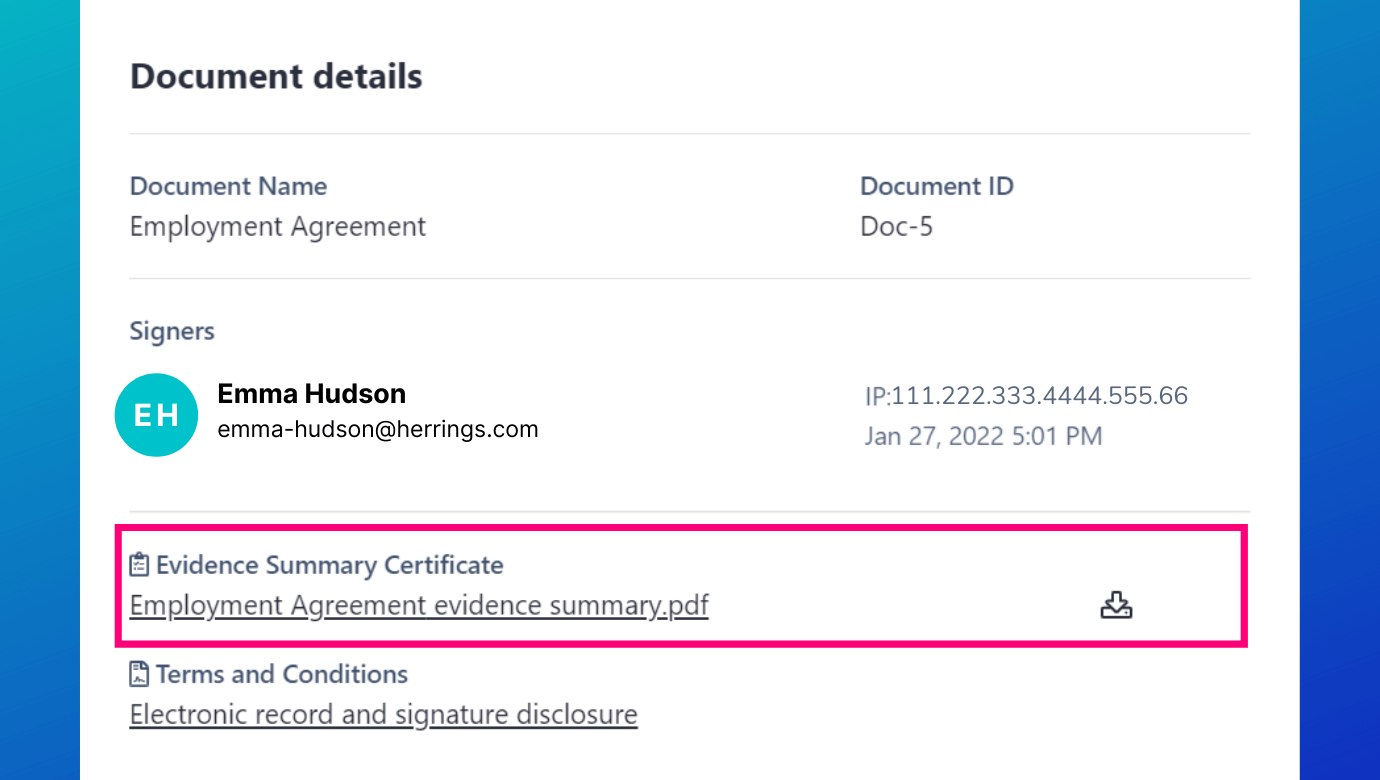 👉 Automate your document workflows
If you go paperless, you can aim for end-to-end document workflow automation. The reasons can be manifold – updating the system of records, receiving payments, triggering workflows, storing documents, and many more.
Automating certain actions reduces manual errors and enables all departments in your organization to work in tandem.
Revv provides multiple options that enable you to streamline your business processes with ease. Let us learn about them in detail.
Extensive integration facilities
Revv provides integrations with various external apps using which you can sync data to your Revv account. Integrating Revv with other processes will make your business process smooth like butter. Leverage Revv's integration capabilities via Zapier, Retool, and Native API, and integrate applications like:
CRMs like Salesforce, Zoho, HubSpot, etc.
Storage systems like Box, Dropbox, Google Drive, etc.
Billing and payment apps like Chargebee and Stripe
Accounting software like QuickBooks
Excel Sheets and Google Sheets to import data
Chat platforms like Slack, Google Chat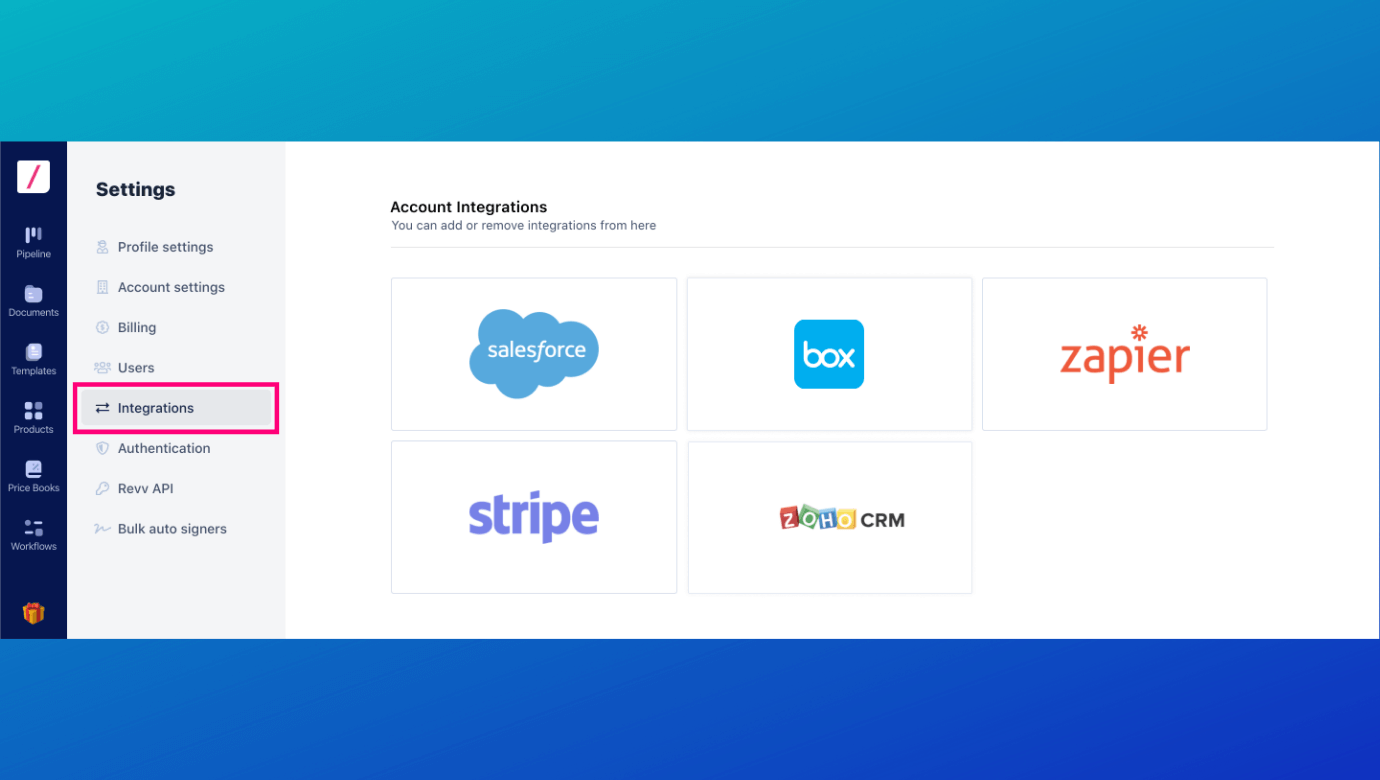 Take the going paperless game to the next level with Revv+Box integration.
Box is a secure and easy-to-use platform for content management, workflow, and collaboration. One of the key benefits of Box is you can access data, anytime, anywhere.

With the combined capabilities of Revv and Box, you can achieve end-to-end business process automation. You will no longer miss or delay initiating repetitive processes such as your contract renewals, payments, and other essential tasks.

With this effective and resourceful integration, you can choose which data to send to Box, such as Document file, Evidence Summary, Document Attachments, Document form fields, and quote line items, among other options.


Use Box for cloud storage and get rid of filing cabinets for the betterment of your employees and your company
Smooth data mapping with the Data Studio feature
Data mapping is important to maintain accurate and consistent information in your documents. Manual data entry from one app to another can cause errors if they are not interconnected. Repercussions of messy data mapping are severe and can incur major losses to your business. It is advisable to look for a solution that ensures error-free data mapping with less time consumption.
Enter Revv's Data Studio feature – an efficient data mapping tool. Data Studio does not rely on scripts, coding, developers, or APIs that can delay the data integration and onboarding process from weeks to months. It is easy to use and also creates perfect documents in the blink of an eye.
The Data Studio allows you to:
Integrate with multiple data sources like Salesforce, HubSpot, etc.
Map all the data from other platforms to respective fields in Revv
Create precise documents irrespective of the size and complexity of the data
Generate documents in bulk and send for eSignature
Increase productivity and efficiency of the workforce as they are freed from manual data entry processes
Effortlessly manage document workflows and reduce turnaround time to close your deals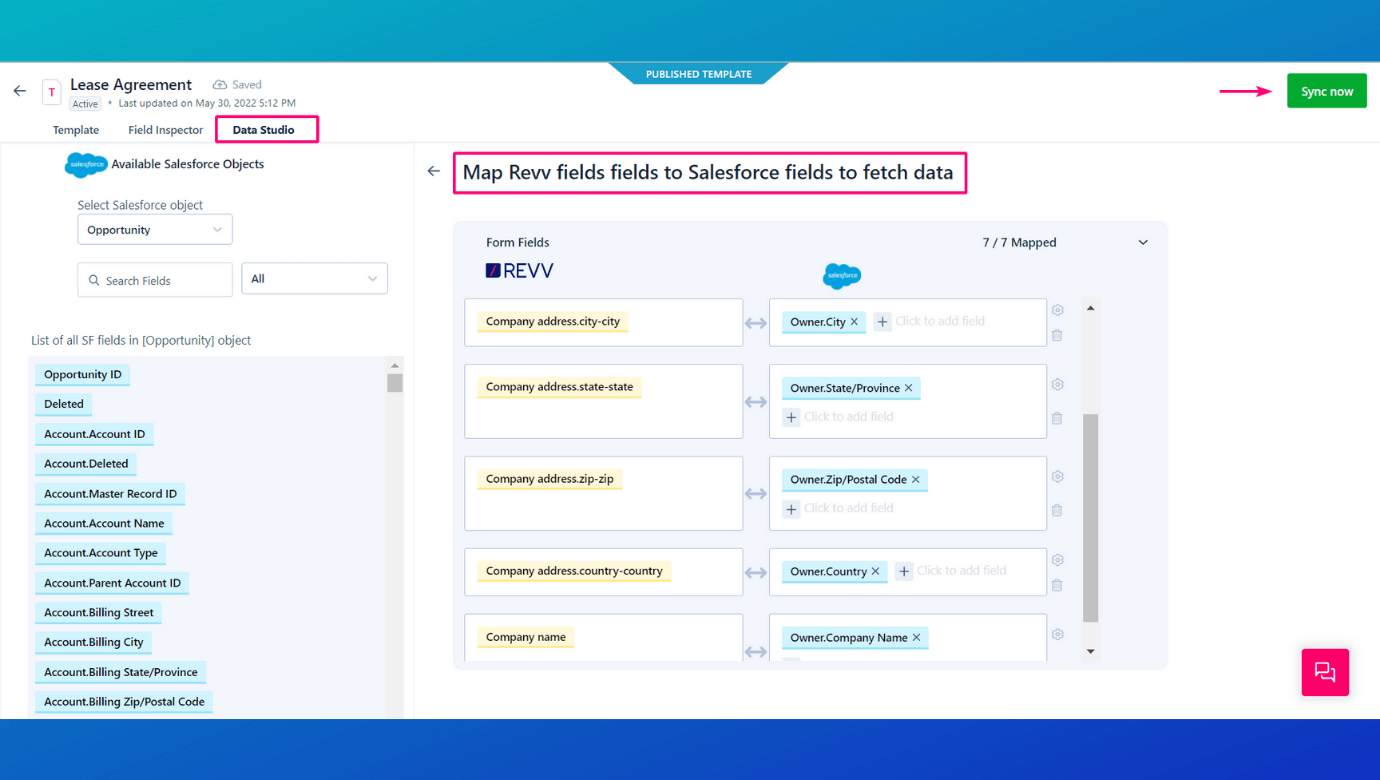 Optimize every stage of your process with the Pipeline feature
Most operations don't stop at creating a document. It just might be the trigger for other associated jobs to be done. For example, a company's HR Team has to notify the admin and payroll team about a new employee joining, after the employee has signed necessary documents. Another such instance is, after closing a deal with a client via eSignatures, the sales team has to inform the accounts team about the deal.
Use Revv's Pipelines feature to automate the entire workflow and reduce repetitive tasks. Pipelines provide immense possibilities to automate the associated workflows when a document reaches a new milestone.
Working of Pipelines
Revv's Pipeline feature follows the Kanban method. Every pipeline represents a process. Each pipeline has lanes that are associated with the steps in a process. You can add any number of pipelines based on your company. For example, you can create a pipeline called HR documents that will host all the HR-related documents you deal with.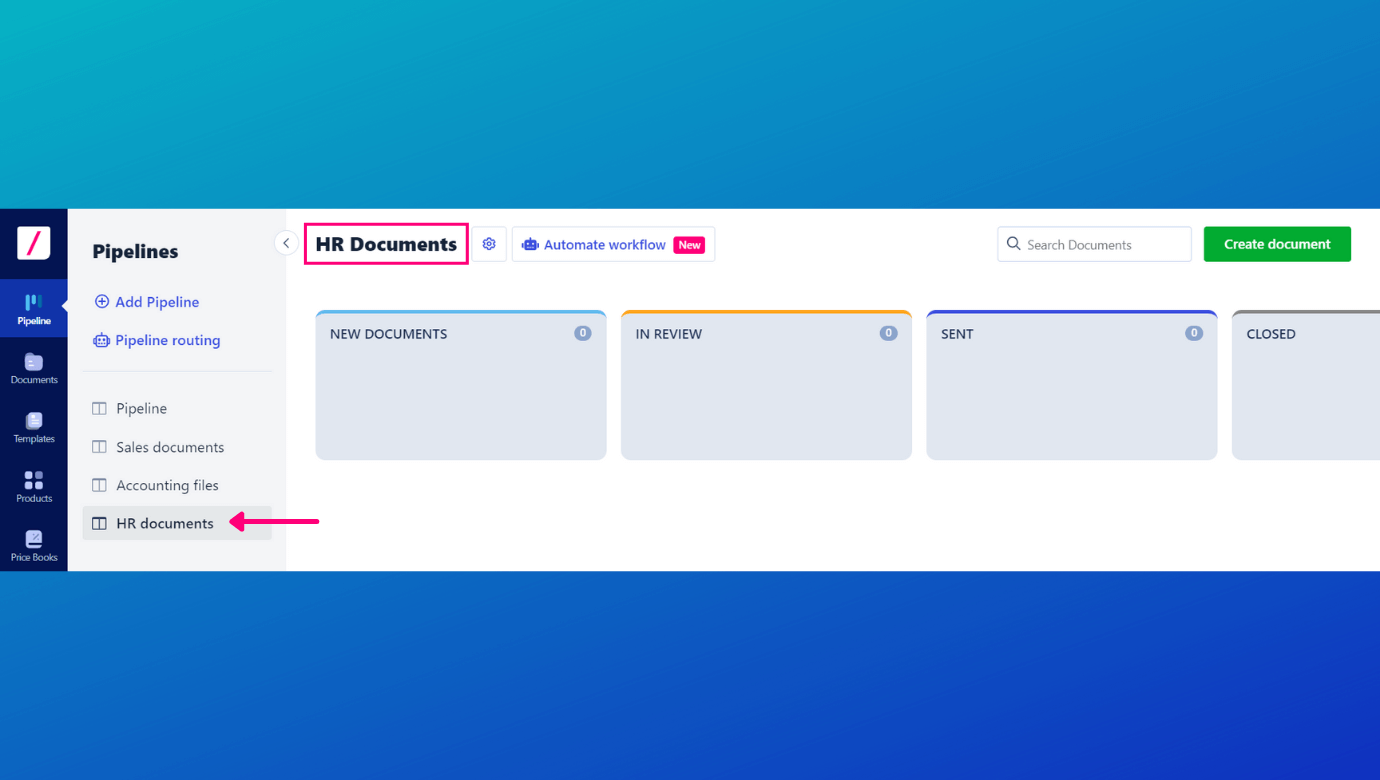 You can configure the Pipeline Routing feature to channel the associated documents to the respective pipeline. For instance, you can set a routing rule to send all the documents created from the Employee Agreement template to the HR documents pipeline.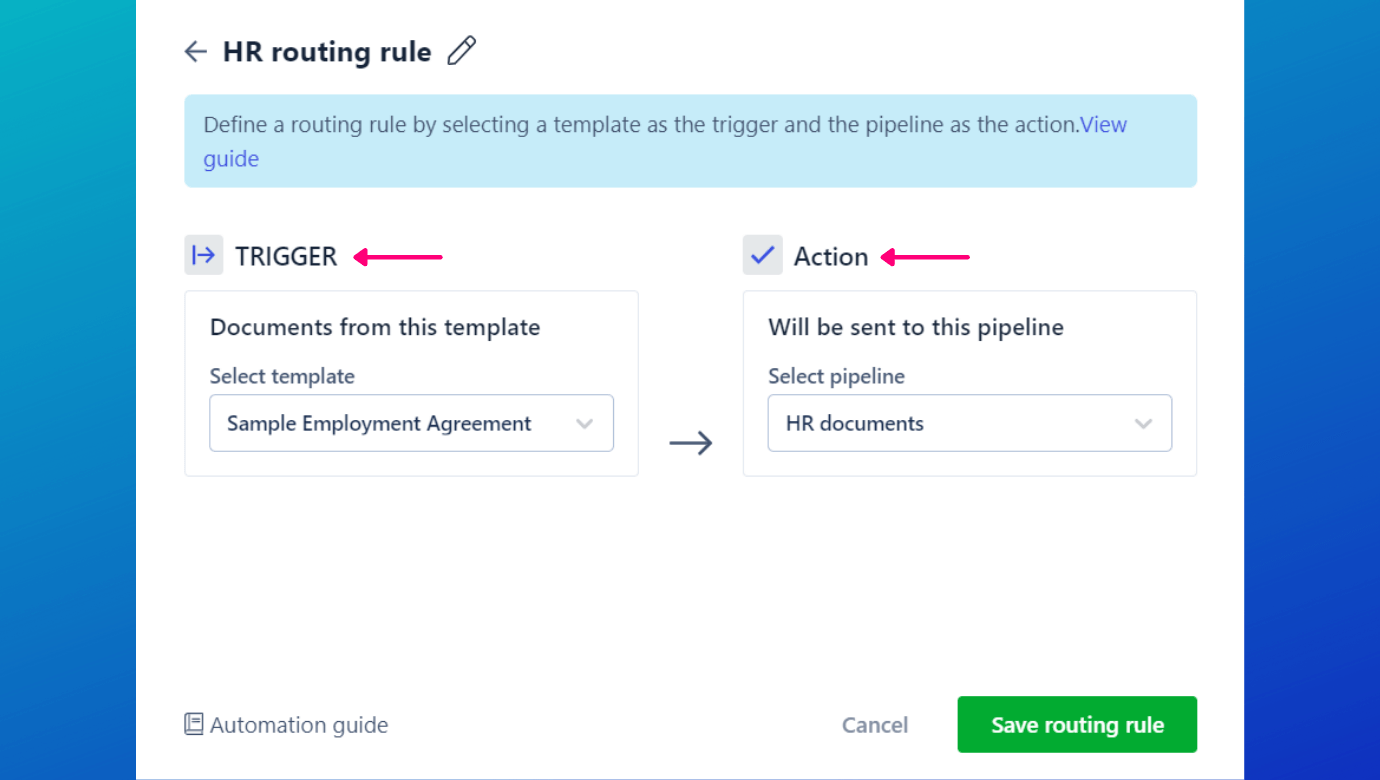 Each pipeline is a collection of lanes that represents the status of a document. You can customize a lane by changing the name, color according to your system. You also can automate the movement of your document in between lanes to create a smooth document flow with the help of lane transitions. Lane transitions work with respect to lane events which are the entry conditions for a document into a lane. Only when you assign a lane event to a lane, the transition will happen. For example, when an HR document is internally approved, it will be moved to the Approved lane.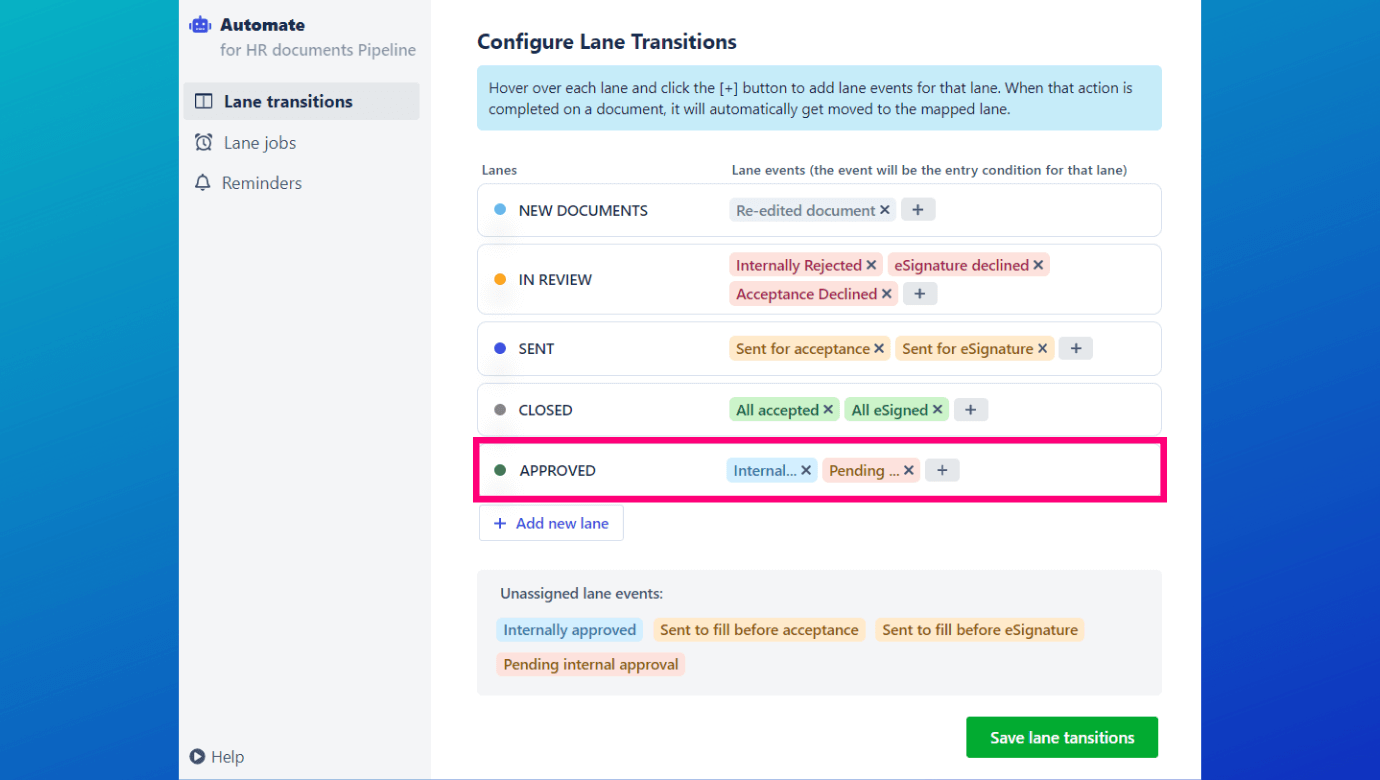 You can also add jobs to each lane that defines what must be done when a document enters that lane. For example, you can notify your HR manager when a document is in the Approved lane.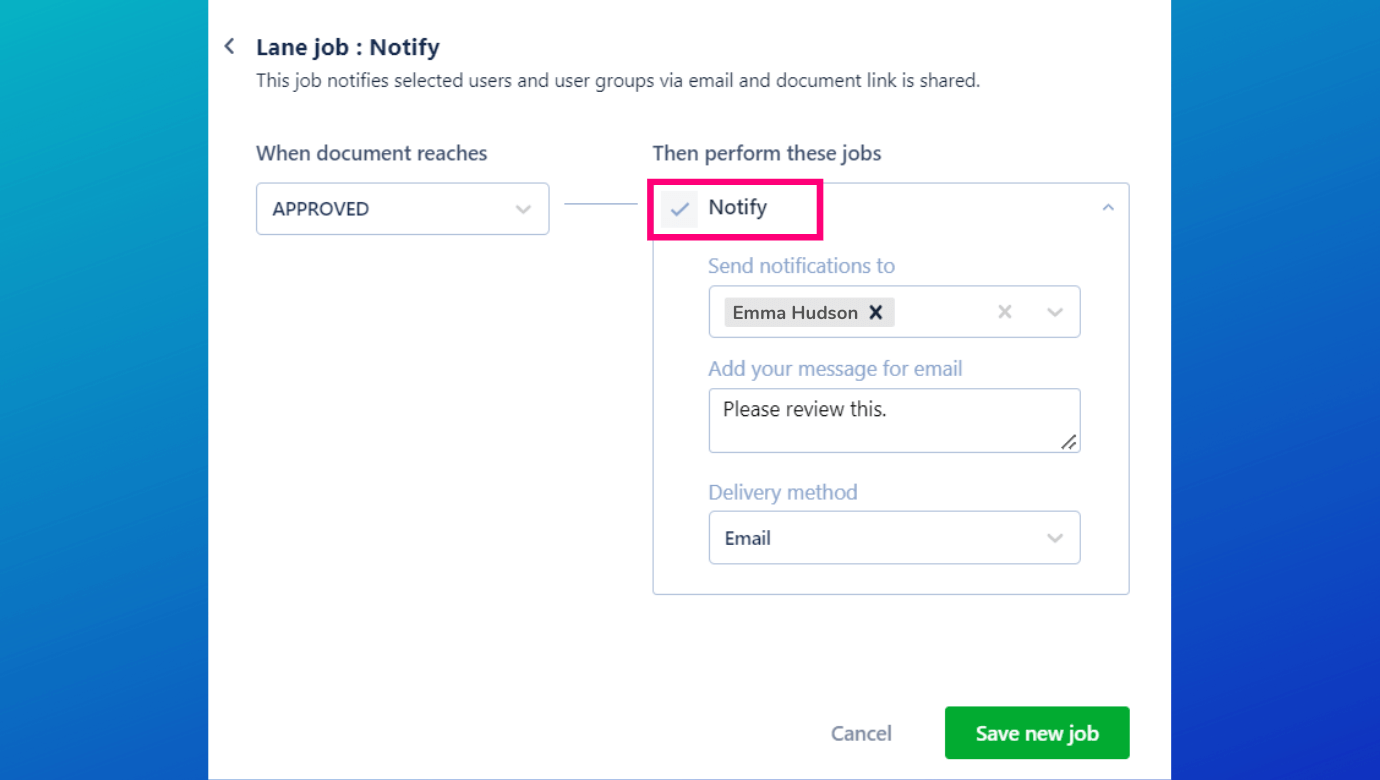 Finally, you can also set reminders that notify a document's recipient to complete a pending action. It will be applied to all the documents that enter a particular pipeline.
If you're wondering how much Revv will cost you per user, well, it won't burn a hole in your pocket!
There is a forever free basic plan that offers an unlimited number of documents and allows you to access some of the best features at no cost to you.
On the other hand, if you're looking to invest in improving your document workflows, Revv offers plans with advanced and premium features for as little as $15 a month. Users save 20% on plans when billed annually.
Better late than never
Going paperless is a great way to improve your business functionality, drive productivity, and become more efficient. What better way to achieve this than choosing Revv!
Revv is a one-stop solution as it offers templates for document creation, eSignatures to close deals, integrations to add more information, and pipelines to automate workflows.
It is the best document management and automation software in town that enables you to work paper-free in an easy-to-use, easy-to-learn environment.
Create a paperless office with the best document automation platform – Revv
Start your journey now! No Credit Card required.
Frequently asked questions
Why are companies going paperless?
Most companies are going paperless as it saves time, boosts productivity, and is cost-effective. Here are other benefits of a paperless office:
Environment-friendly
Better organization of files
Smooth collaboration
Enhanced security
Easier access
How can I make my business go paperless?
You can achieve your dream of going paperless by taking baby steps. Here are a few tips that might help you to use less paper:
Train your employees and clients to prepare digital documents
Upgrade your hardware and software
Switch to a document automation tool
Upload old documents to cloud storage by scanning them
Achieving a completely paperless organization is possible but it requires time, patience, and diligence.
What is the best way to go paperless?
The best way to go paperless is by choosing an all-in-one document management and automation tool like Revv. Revv is a legal, robust, and reliable tool that takes end-to-end care of your documents, automates your workflows, and provides high-level security.
How do you implement a paperless system?
Transitioning to a paperless system can be challenging in the beginning as the response to any change is always rejection. You can note the following tips to make the implementation smooth:
Address your company staff about your intention and provide effective training
Make the switch to a paperless system desirable
Upgrade your hardware
Deploy technology to automate paper-heavy tasks
Encourage your clients also to go paperless