Introduction to Data Studio
09 May 2022

2 Minutes to read
Introduction to Data Studio
Updated on 09 May 2022

2 Minutes to read
---
Share feedback
Thanks for sharing your feedback!
Precise data mapping is crucial to run flawless document workflows between business platforms. Flawed data results in dysfunctional processes, huge correction costs, erroneous insights, and wrong business decisions that could hurt your day-to-day operations immensely.
But not with Revv!
Revv's Data Studio is a unique feature that simplifies the entire data mapping process for all businesses.
It helps you seamlessly sync Revv with multiple data sources/business platforms.
It enables you to map data fields of external apps like Salesforce, HubSpot, Box, Google Sheets, NetSuite, SAP ERP, etc., to Revv's form fields.
It allows you to map signer information to signature blocks in Revv's templates and automate document delivery for eSignatures.
You can map any existing CSV document's data to Revv's tables and create documents in an instant.
It helps you store a document's metadata by leveraging Meta fields in a Revv template.
You can consolidate data fields of your business platform and transform them into more meaningful fields in Revv.
It scales up as your business data grows and runs your document workflows on autopilot.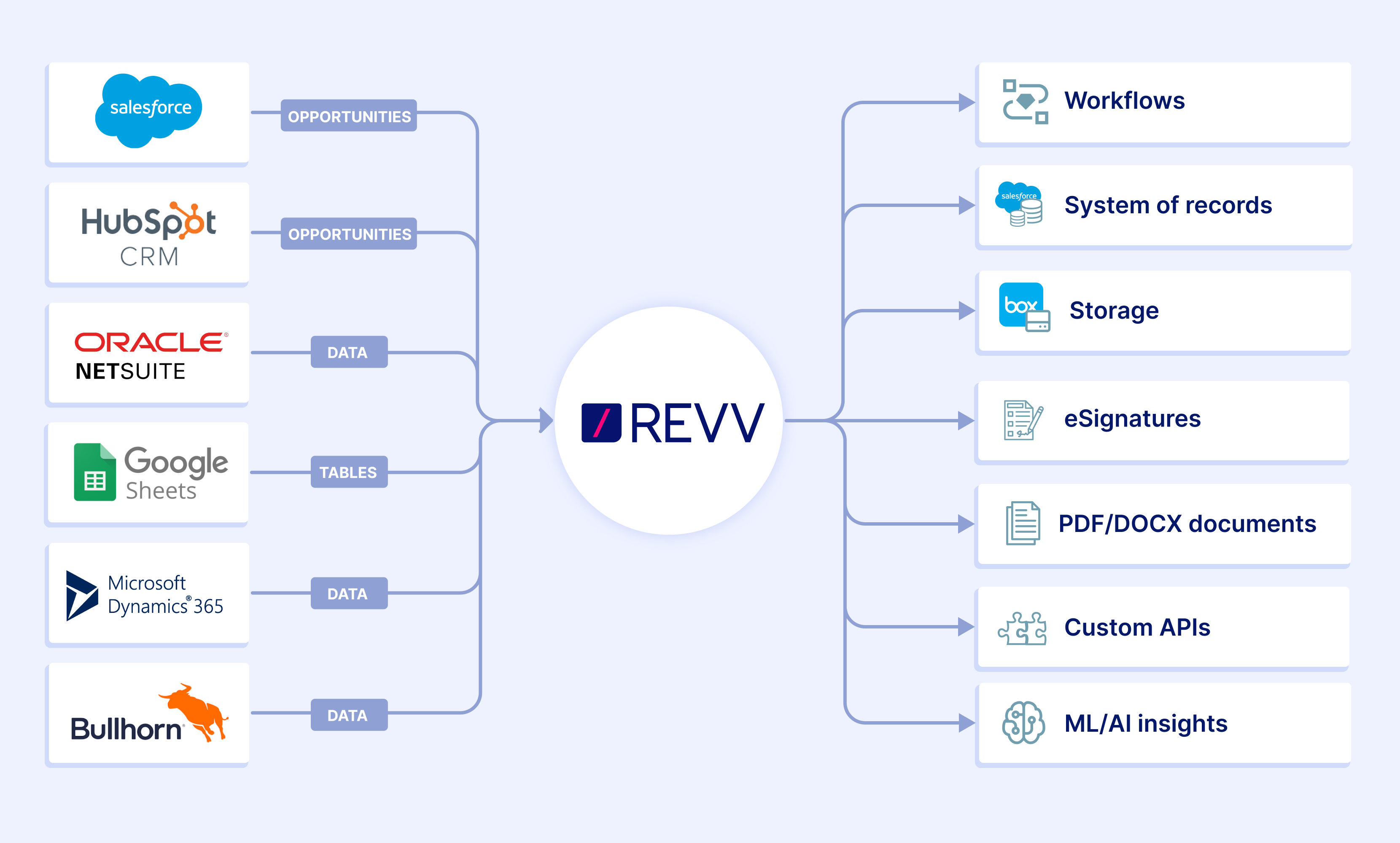 For example, let's say, a sales executive has to generate contracts for customers every month, and all the customer details are stored in Salesforce.
Revv amplifies data onboarding with Data Studio.
It enables the sales executive to quickly map the data fields in Salesforce to form fields and signature blocks in Revv's Templates. All the incoming data is uniformly stored in the assigned fields. Now the sales executive can generate any number of contracts and send them for eSignatures in no time.
What makes it unique?
Data Studio does not rely on scripts, coding, developers, or APIs that can delay the data integration and onboarding process from weeks to months depending on the complexity of the data. You can map data between your business platform and Revv in just a few clicks. Hence, it is faster, more reliable, and easier to manage.
Benefits of Data Studio
Simple, easy to implement, and cost-effective
Establishes smooth data flow between the external app data and Revv through an intuitive point-and-click and drag-and-drop experience
Reduces the data mapping task to minutes
Facilitates the creation of precise documents irrespective of the size and complexity of data
Empowers you to generate documents in bulk and save time
Gives freedom from Excel Sheets to Doc generation cycle
In a nutshell, Data Studio is a boon for all process owners as it eliminates dependencies, ensures flawless data mapping, and enhances your document workflows.
Want to learn more about Data Studio? Read these articles:
---
Was this article helpful?
---
What's Next