As businesses strive to envision what the future of work will look like in this continuously evolving workplace, one thing is certain: remote working is here to stay. Workers have learned they can get as much done at home in sweats as they could in their offices, with no two-hour commute required.
To keep up with evolving working styles, businesses must also quickly adapt. They must determine the best direction for the future of their firm, handle compliance and risk issues,
Some jobs adapt to telecommuting more easily than others, like programmers and freelance writers. However, many workers have historically struggled to complete customer-facing jobs from home.
Today, workers and consumers have both adapted to customer-facing remote work. Just like customers can shop from home, business people can close deals and even sign contracts without ever having to leave their homes.
Why are eSignatures such a big deal right now?
The pandemic has made people less likely to leave their homes, but even without a global emergency, workers have learned it's simply more convenient to do things from home. It's not just comfortable, but also means they don't lose a quarter of their day to transportation time.
The need for physical office space and physical documentation processes has significantly decreased as businesses move their operations online.
Even if you aren't telecommuting, there are many benefits to a paperless office. Offices can save money and increase the productivity of their resources by doing away with printing and filing. It gives more usable workplace space by getting rid of bulky, enormous filing cabinets. Moreover, it is better for the environment because it doesn't waste ink and paper.
Ever since the federal eSign act of 2000, eSign documents have been deemed legally binding. This means legally binding documents can be drafted and signed between parties on opposite ends of the Earth. If your office hasn't adopted eSign procedures, you run the risk of clients leaving for competitors with more efficient business processes.
Technically, eSigning covers a variety of different signature formats. While all of them are secure and some are more binding than others, each format serves its own purpose.
A handwritten signature on an online platform
When the average person thinks of eSigning, they imagine a digital presentation of their handwritten signature.
The standard way to complete a digital handwritten signature is to use a stylus or finger to sign on a touchscreen or trackpad. This creates a reasonable facsimile of your signature even though it might not look exactly like your true signature.
The other way to capture a handwritten signature digitally would be to scan or take a photo of the user's handwritten signature on a piece of white paper. The user can then remove the white paper background using editing software and store it on their device or in the cloud for future use.
Type your signature in a pre-existing "handwritten" font
A typed eSignature or a pre-formatted text-style signature is much easier to use than a handwritten signature because it doesn't require a touchscreen, tracking device, or scanner. This type of signature is still legally binding as the eSignature platforms providing such styles will make sure that they are compliant and secure. These signatures are favored by businesses as they are time-stamped, safe, traceable, and save time and money.
By typing your full name into a typed eSignature, you acknowledge responsibility like you do with pen and ink. The software will substitute a cursive font to mimic handwriting, but this is primarily for visual effect—the act of typing was your signature.
Clickwrap
Clickwrap is a form of eSignature that most of us use frequently. They are basically the equivalent of an "accept/reject" agreement. For this signature to be considered valid, the user has to mark their agreement by ticking a box or clicking a button. For example, when you surf through a website, a popup comes asking you to accept, reject, or manage preferences regarding their usage of cookie usage. This popup consent is a form of clickwrap signature.
It isn't technically a signature, but they are still valid as it is used to acknowledge that someone has seen an agreement or agrees to certain terms and conditions of a website, app, or device.
What about digital signatures?
To the uninitiated, a digital signature sounds like the same thing as an eSignature. Most people typically use the terms digital and electronic interchangeably, but there are significant differences between the two when it comes to electronic signing.
An eSignature creates a binding signature using a secure login to confirm a user's identity.
A digital signature adds an additional layer of encryption. It is typically used by government institutions and banks to safeguard data.
Digital signatures use two sets of digital "keys." Each signatory will have a public and private key. The person who creates the document signs with their private key, and is sent to the recipient. When the document is sent, it is encrypted. When the recipient receives the document, they use the first party's (sender or document owner) public key to open the document. The recipient then signs it with their private key, which re-encrypts the document, and sends it back.
After the first party receives the signed document, they use the second party's public key to open and file the document. This confirms both parties' identities while keeping the document confidential.
There is a higher level of encryption called QES or qualified electronic signature. QES requires special hardware-based devices to verify users' identities before the document can be opened. This is only used for the highest security applications, such as for financial transactions, as it is extremely expensive and requires special equipment.
The level of encryption you get from digital signatures is unnecessary for most transactions because the complexity, time, and cost are laborious, and your information may not be that secret. For example, do you really care if someone is able to see your lease terms? Standard eSignatures are still extremely secure and will work in most circumstances.
If your business is attracted to eSigning for its convenience and efficiency, adding these steps are counterintuitive.
Why choose Revv?
Regardless of which type of eSigning you need, Revv is ready to help.
Whether you prefer a digital signature or a clickwrap acknowledgment, Revv can cater to your needs. Let's see the flexible eSigning options Revv has in store.
Once a signer receives a document for eSign through the Revv platform, all he/she needs to do is open the link received via email and close it with his/her signature. Since Revv follows all local and global laws such as E-SIGN Act, UETA, and eIDAS Regulation, a recipient is asked to provide their consent to sign the document.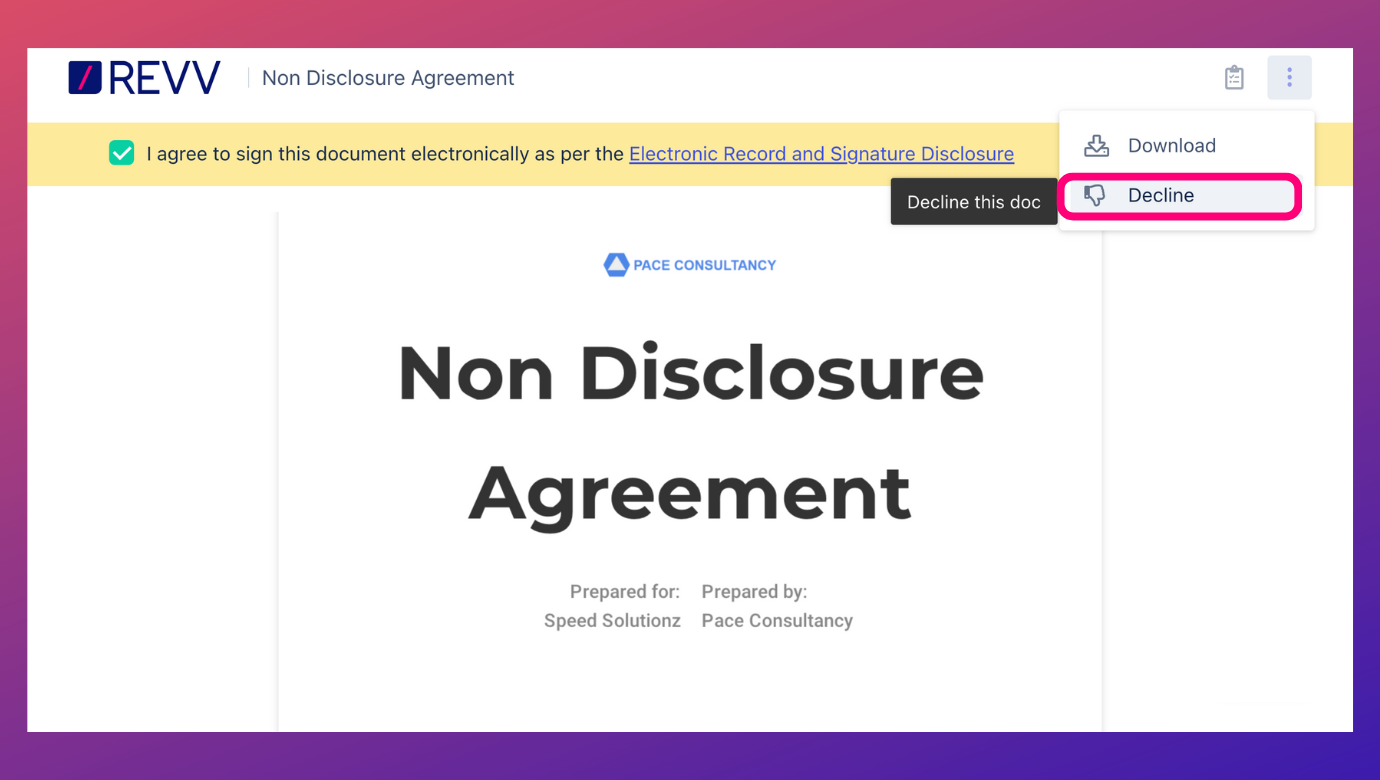 Only when they click the 'I agree,' button, they are taken to complete the signing process.
The recipient's signing journey is enhanced further as they are offered to sign the document with multiple eSigning options.
Text signatures: A signer can sign a document by simply typing his/her name and choosing from the pre-formatted text styles provided in Revv. Recipients can even choose to customize their names. For instance, if a signer's name is John Doe. He can type his name in full, retain just the first letters like JD, or make it JohnD, JDoe, etc.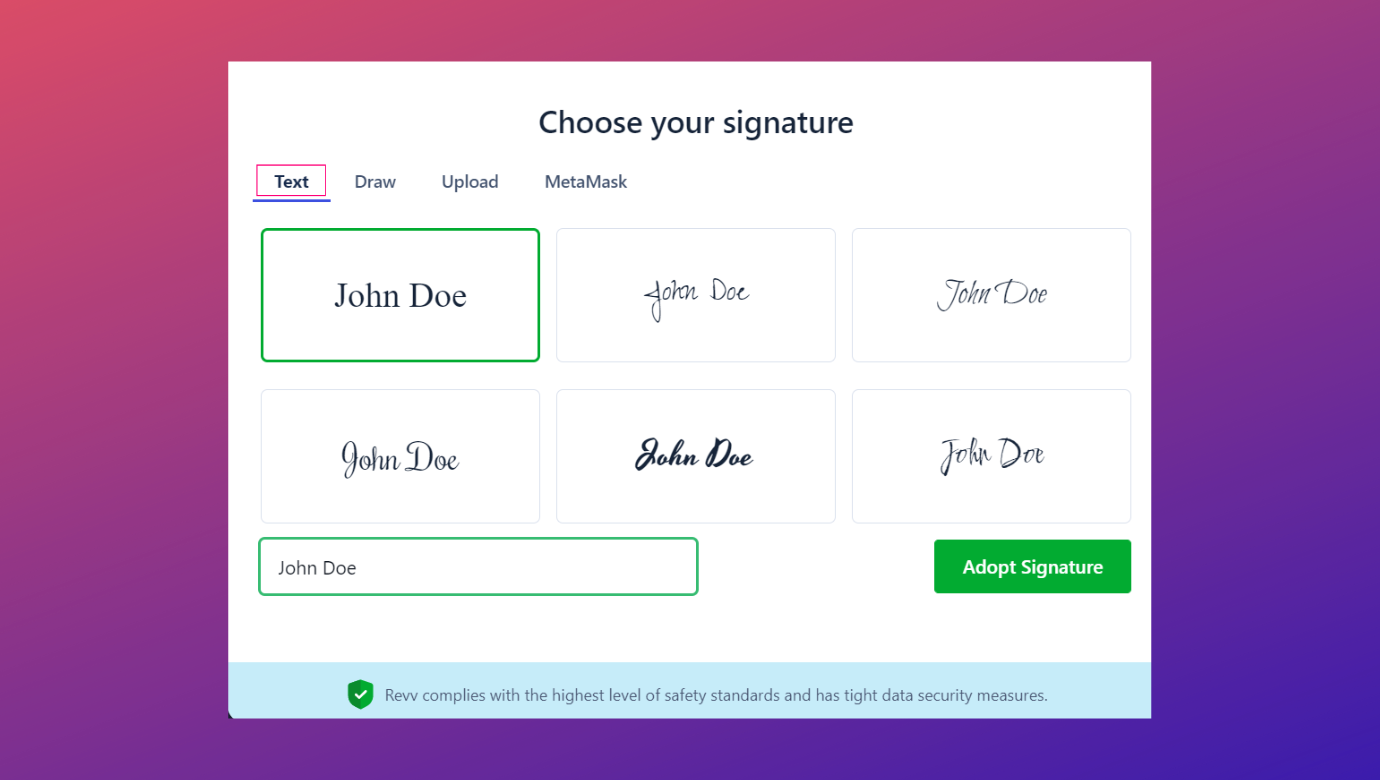 Draw signatures: Do you miss signing your name like a wet-ink signature? The draw signature option covers that. Recreate your handwritten sign by drawing your signature using a mouse or digital pen.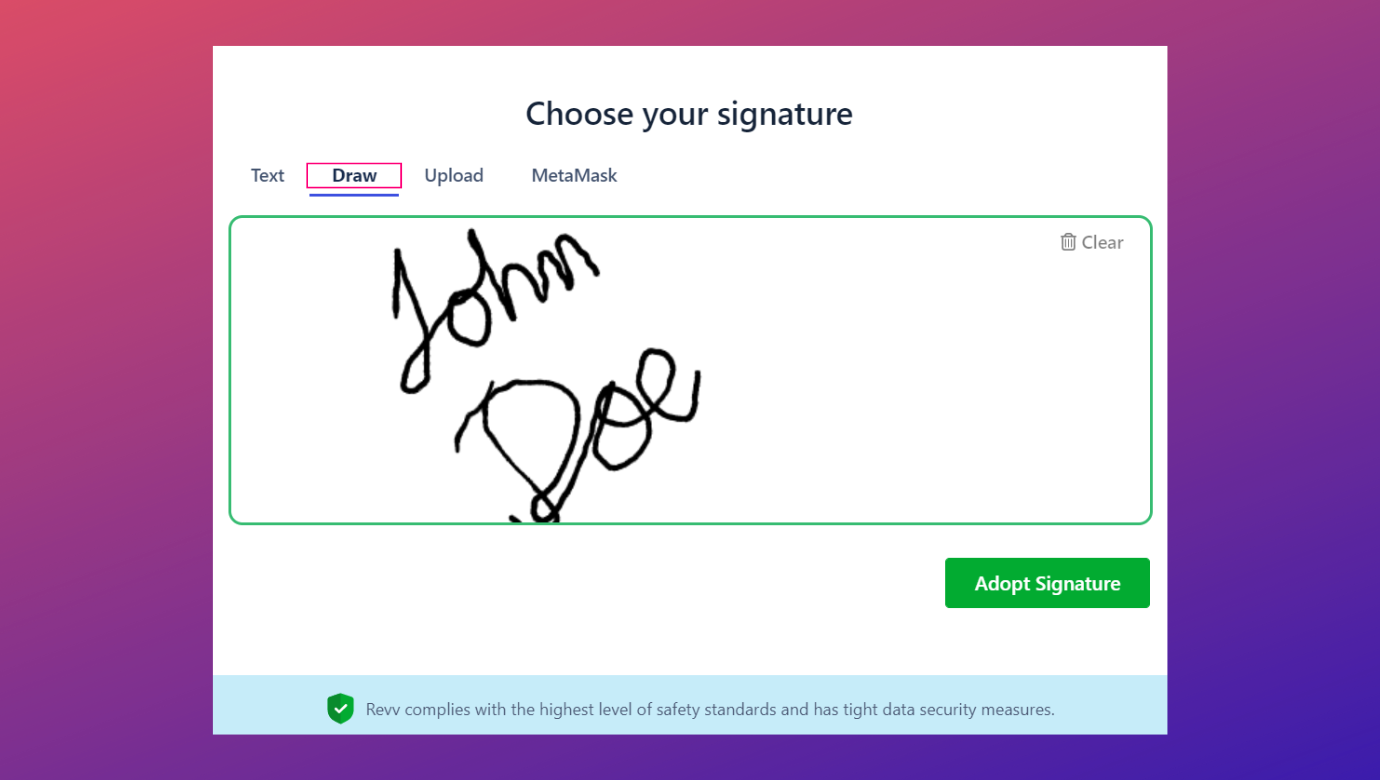 Sign off with the help of Crypto-wallet: With Revv, recipients can even eSign their documents using their MetaMask wallet. Users who are more into the crypto-currency world can utilize this sign-off.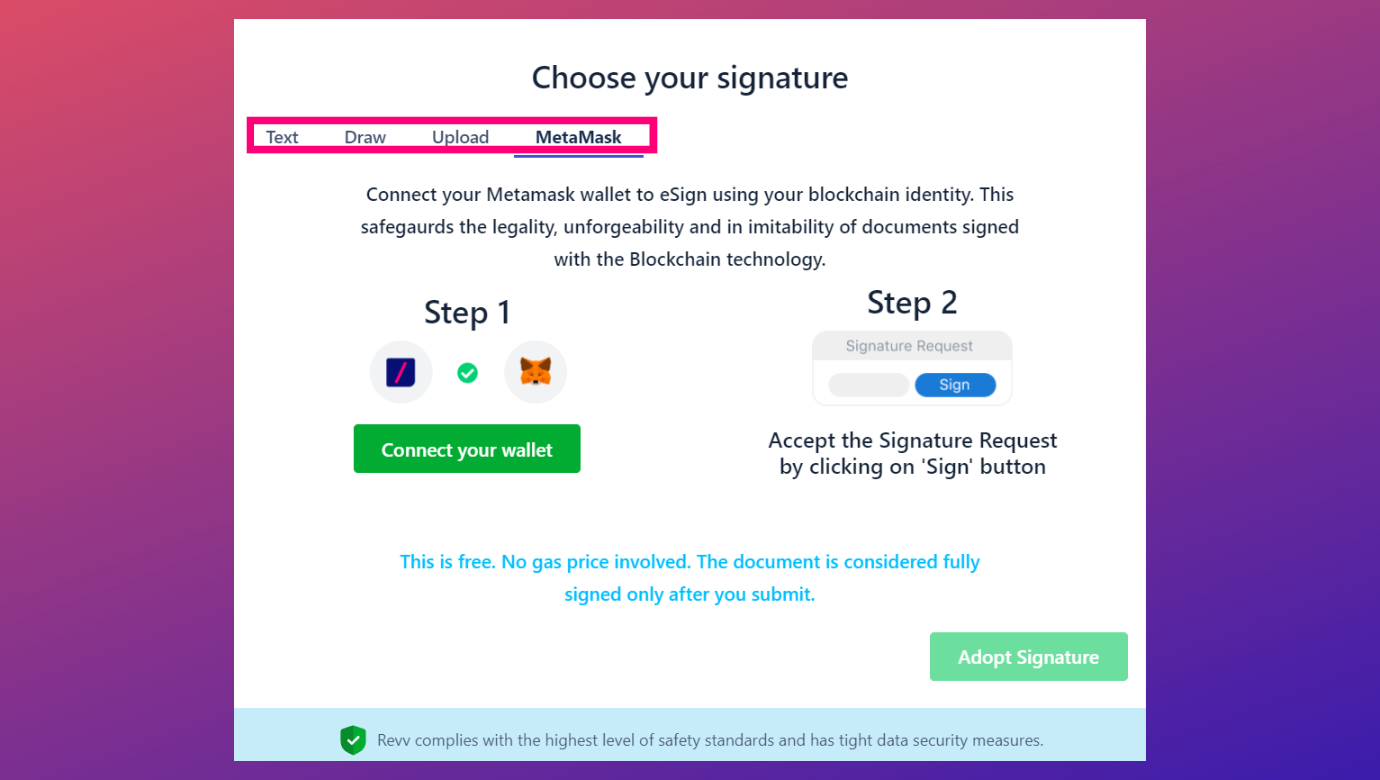 Upload signatures: Make use of this option if you are not comfortable using digital drawing tools, or if you want your exact handwritten signature. You just need to draw your signature on paper. After that, upload the image of this handwritten signature by simply scanning it.
Creating a signable document is as easy as importing a contract and adding as many signature blocks as you need. Revv doesn't limit the number of signers you can include within a document.
Once your document has been signed, Revv can store it in a centralized repository of your secure Revv account for future reference. It also helps you with electronic signature workflows.
We also have over 1000+ templates that you can use to create the perfect contracts, agreements, proposals, letters, and more.
Revv can be used by anyone to sign any type of contract, or agreement; even people without a Revv account. It only takes minutes!
Revv will even provide updates on your document at every step of its journey until it has been safely returned to you.
How?
With auto-generated email notifications, and real-time activity tracking features.
Email notifications are sent to both sender and recipient. The sender will be notified whether the recipient has received the document, whether they have opened it, and have been signed and returned back. The recipient on the other hand will be notified when they are asked to eSign or review a document. The action needed to be taken by the recipient will be mentioned in the email.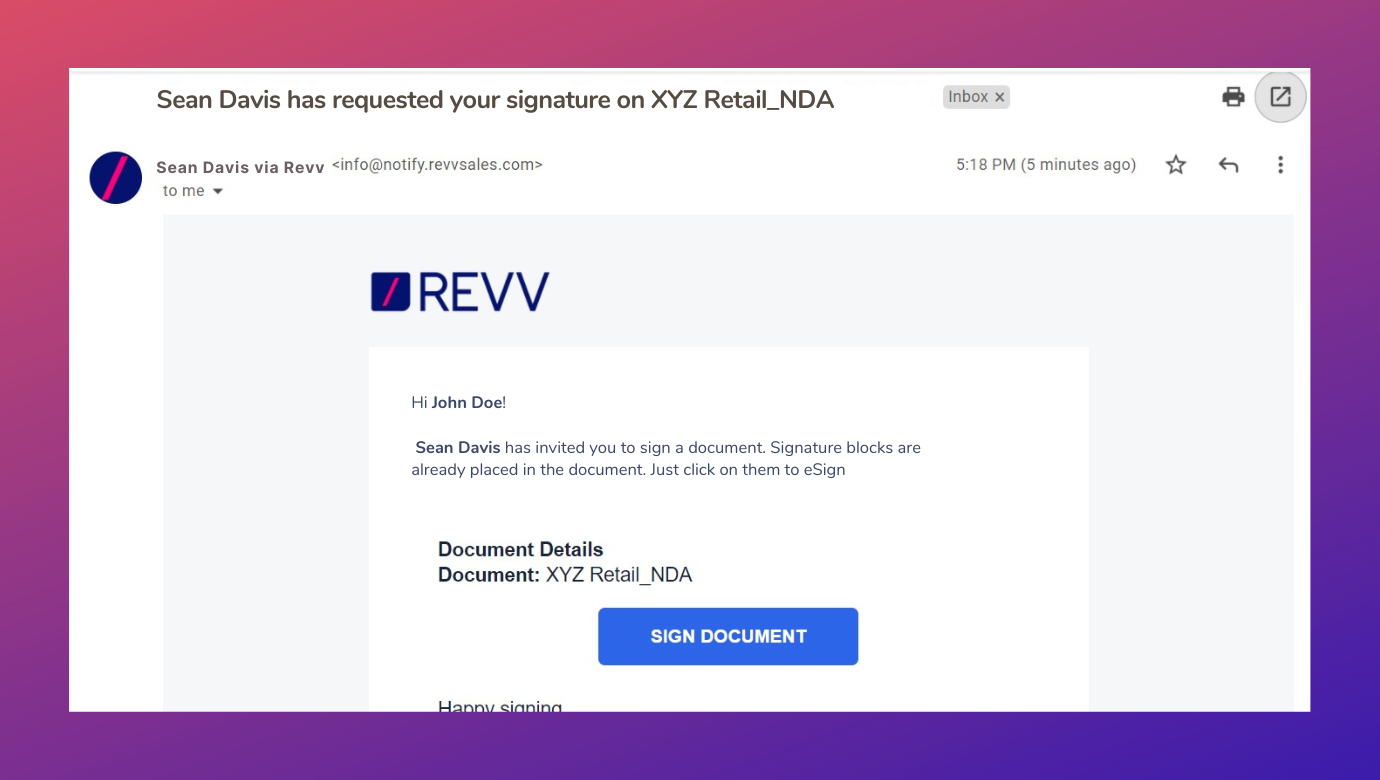 Real-time activity tracking is nothing but recording any action that is taken on the document can be seen with this feature. The sender can see, when the document is opened, what action has been done, etc.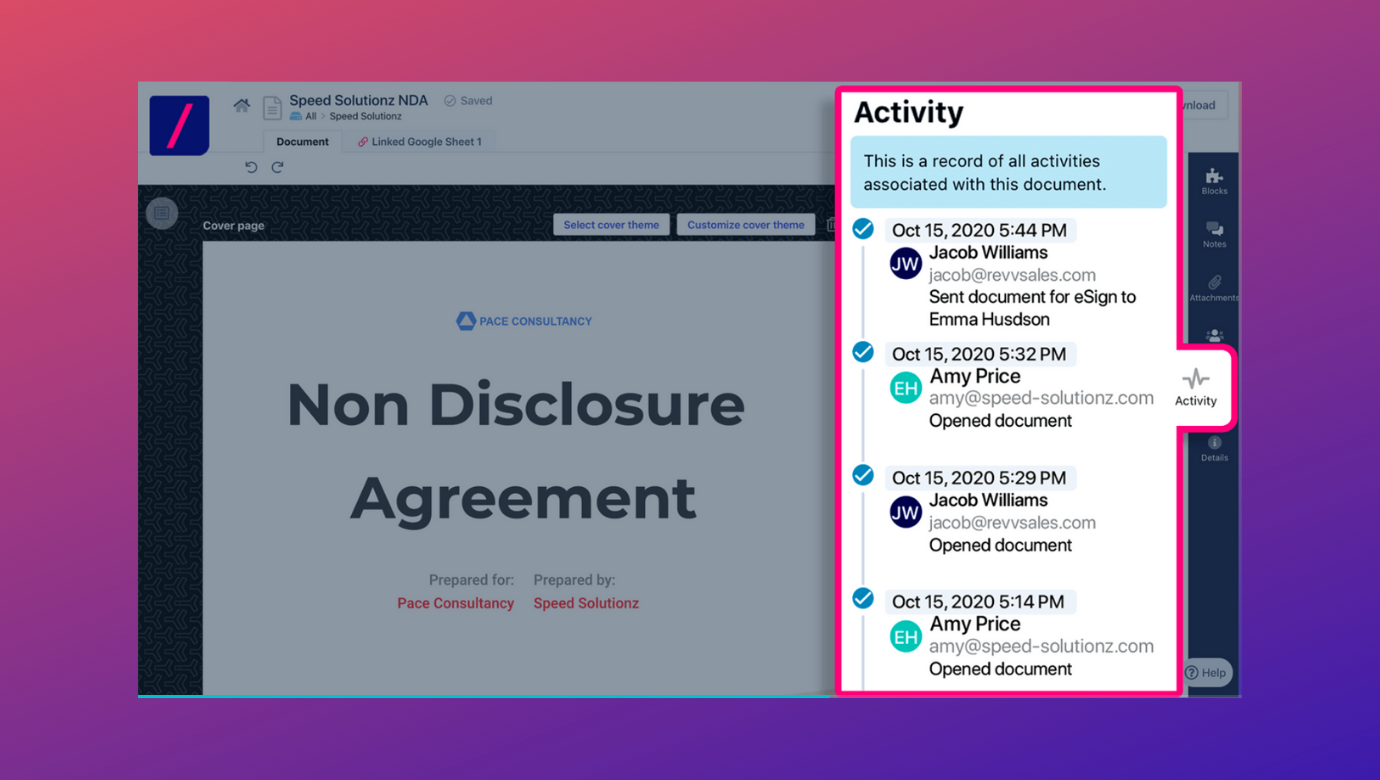 A legally binding audit trail is also provided by Revv for all eSigned documents. It is called the Evidence Summary certificate. It is a digital certificate that chronologically records each action taken during the signing process. It includes – the signer's information, date and time stamp of each action taken by the signer, IP address of the signer, and other details that act as legal proof.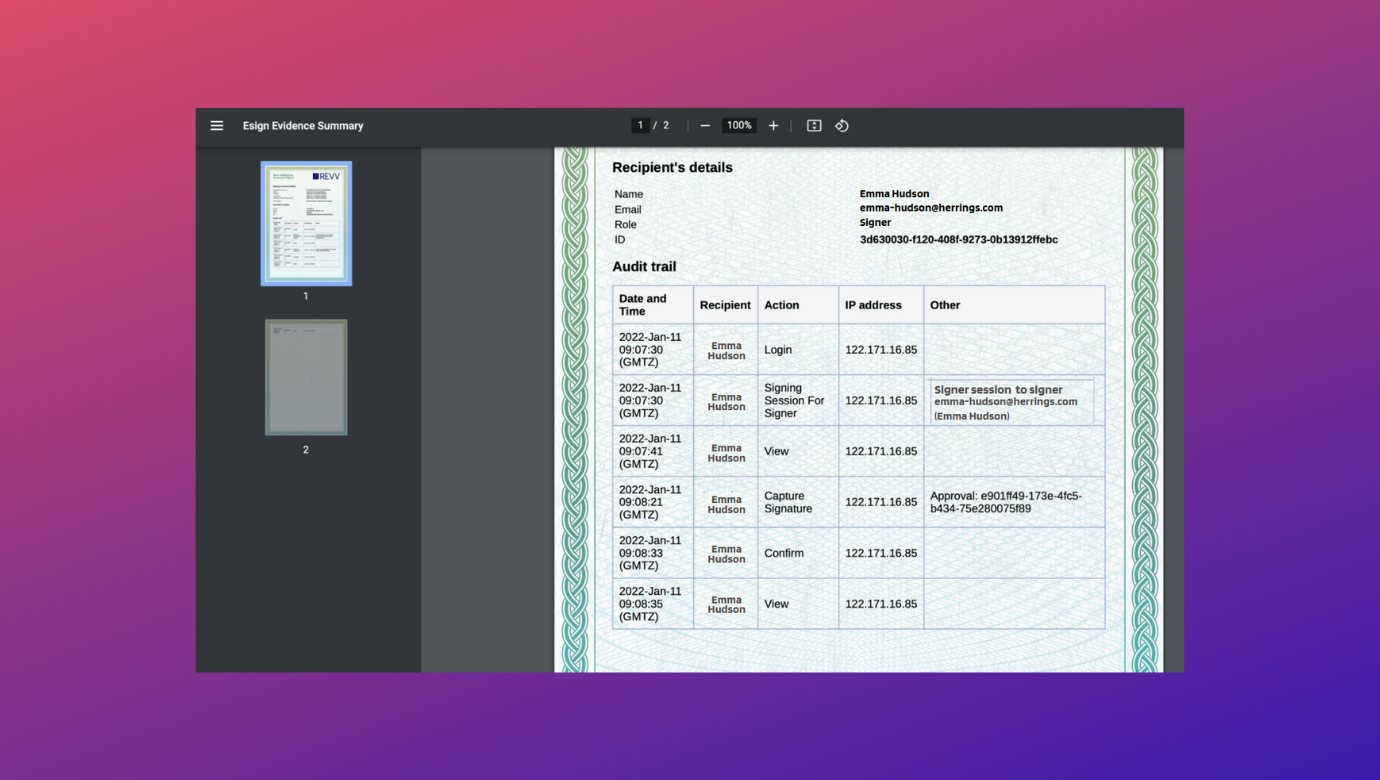 You can also use Revv to create fillable forms and sign forms online.
Now you know how Revv can facilitate your eSigning journey with its unparalleled features. Try Revv and explore the full capability of the platform today.
Sources:
The Difference Between Wet, Digital & Electronic Signatures | Laser Fiche
How eSign and Digital Signatures Work | American Financing