Electronic signatures are proving to be an effective solution to tackle the challenges of document authorization in a hybrid workplace. But having an electronic signature solution at hand is only the tip of the iceberg. Every organization, irrespective of the type or size, runs certain events that precede and succeed the electronic signatures. These series of events involve business departments, teams, and business platforms.
All these different entities have to come together and work in tandem to ensure a free-flowing business workflow that makes the electronic signature process seamless and efficient. In other words, an eSignature solution is only as good as the business workflow it is connected to.
In this blog, we will explore the different factors that make workflows complex, how to simplify them, and how to set up an electronic signature workflow that is efficient and streamlined.
Overcoming the hassles of business processes with the right eSignature workflows
As mentioned before, your business is a collective of various dependencies. Let us look into the roadblocks that slow down the electronic signature process, and why you need the right solution.
The troubles of manual data entry and inaccurate data
Your business generates volumes of data on a day-to-day basis. You might have various platforms and tools to store, manage, and access this data as well.
But when it comes to document creation, you have to manually switch between various platforms to capture this data and copy it to the document. It is tedious, time-consuming, and prone to human errors. This, in turn, impairs your business' operational efficiency.
Given the fact that you have to repeat the process every single time you create a document, it's important to have a solution that accurately flows data from various dispersed sources onto your document automatically.
Approvals, wait time, and manual follow-ups
Documents such as sales quotes, project proposals, legal documents, etc., require multi-level approvals from different departments within an organization. It requires the sender to manually follow up with each approver leading to a long approval cycle. Keeping track of each document, making changes as per review, sending reminders for approvals, and moving it to the next stage post-approval, etc., adds to more confusion and delays.
These complexities of human interventions and wait times can be avoided if you can align all these processes through automation, wherein the completion of one process automatically triggers the next.
Lack of a single source of truth
Organizations rely on various business platforms like CRM, HRIS, ERP, etc. to run day-to-day operations. To send a document quickly for eSigning or approvals, oftentimes the sender has to create documents separately incorporating the information from respective business tools.
Business platforms working in silos mean inaccurate, outdated, and varying data. This makes it tougher for the teams to identify the right data for their documents. Without a solution that integrates and unifies data across applications and platforms, chances are that you might end up with erroneous documents and void deals.
Accessibility issues
An efficient document workflow should always facilitate an easy accessibility of documents for both the sender and the recipient. Chances are that your workflows demand the involved parties to do the following:
To initiate the sign-off, the recipient might have to log in to a website or third-party site
To view the document, the recipient might have to download it first.
Further plug-ins to be downloaded if the document doesn't support the recipient's device formats
Once the electronic signature is complete, the recipient should deliver it back via email or take a print and send it manually
A much faster solution would be for the recipient to view and sign off the document within the eSignature platform and for the sender to be able to access it in the same place.
Gaps in collaboration
As every document created as part of your business workflow involves more than one party, the absence of real-time collaboration can prompt efficiency in certain workflows.
Whether it be approval, review, editing, notifying, or monitoring, your document workflow should enable your teams and stakeholders to collaborate on your document and/or provide their additional inputs at specific stages.
These can be some of the blockers affecting your document workflows. Creating electronic signatures alone will not ensure a smooth business process. It is important to automate your electronic signature workflow that can seamlessly be integrated with your existing business processes.
Revv: The best partner for creating electronic signature workflow and automating it end-to-end
The core focus of Revv's document automation and eSignature platform is to save your business time and thereby increase productivity. Automation helps your business eliminate the human errors document workflows are prone to. It enables you to navigate the complexities associated with processes and enhance a business' operational efficiency.
Let's look at the different steps through which you can set up a simple, efficient, and productive eSign workflow with Revv.
Step 1: Seamless app integration
Depending on the type of business you're in, you might be using a specific business software or platforms like CRM, HRMS, or cloud-based storage systems like Box, etc. The kind of actions to be completed before kickstarting a document workflow and after its completion varies depending on the platform too. But this is no more a blocker since Revv is infrastructure-ready to seamlessly integrate your business platform with ours and streamline all automatable tasks. With the help of tools like Zapier and solutions like native APIs, you can easily connect Revv to over 4000+ business software.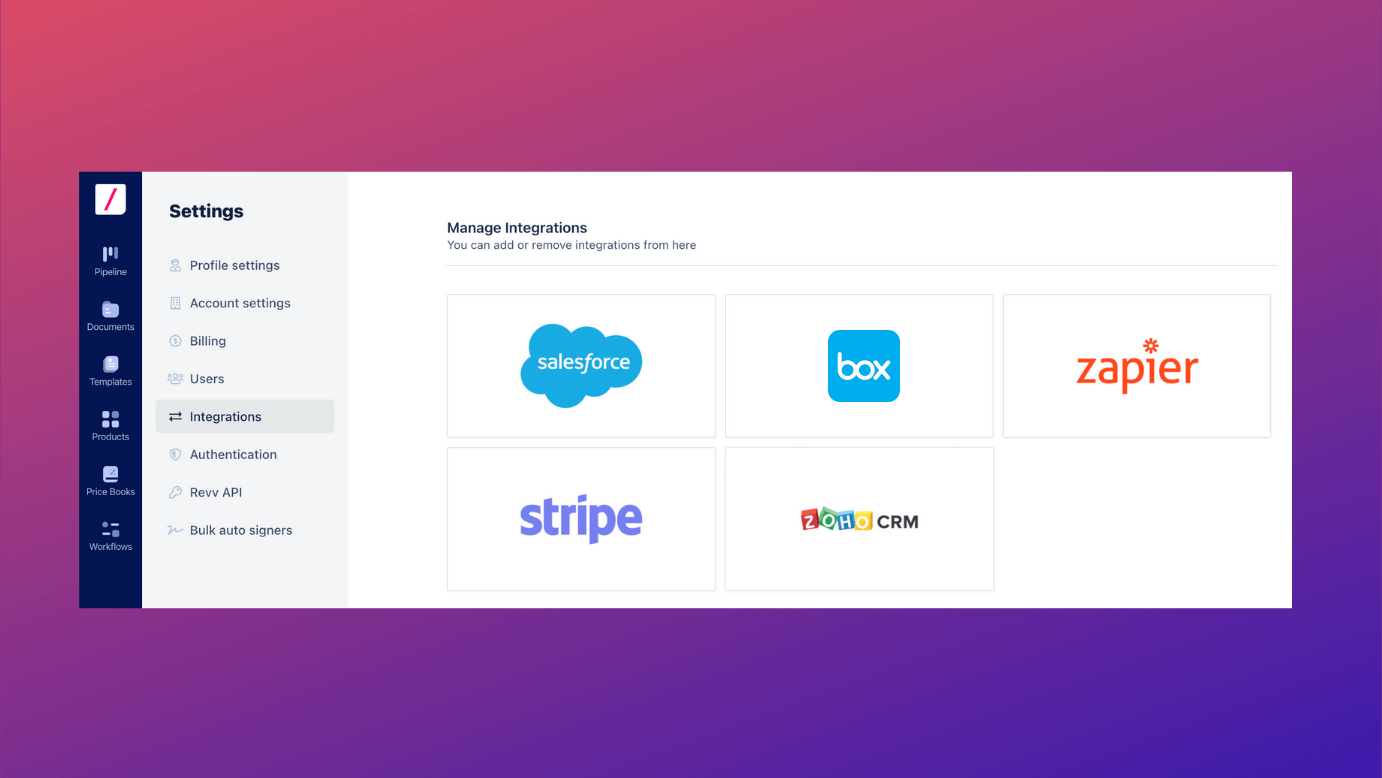 Revv gives your document automation an advanced edge by integrating seamlessly with Box. Revv blends the power of its document automation & eSignature with Box's cloud storage and workflows to ensure that your business processes run literally on autopilot while you smartly invest your resource productivity elsewhere!
How does Revv + Box enable hassle-free workflow automation?
Let's see how Revv and Box integration works together to create seamless workflows.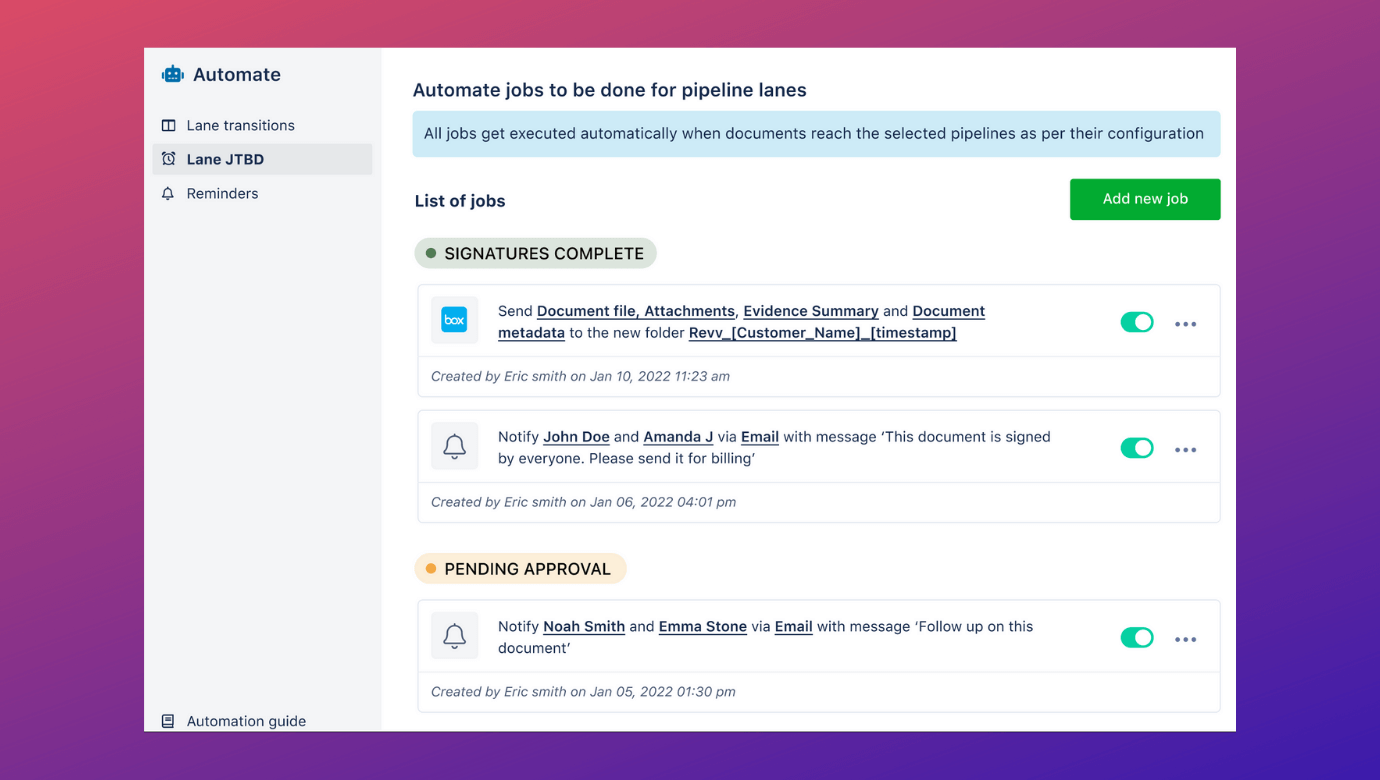 Using Revv's pipeline function, you can automate workflows by triggering them between Revv & Box for actions taken on a document.
Once a document reaches the eSignature completion stage, you can route documents and associated document information to the Box folders in the format of your choice as shown in the image.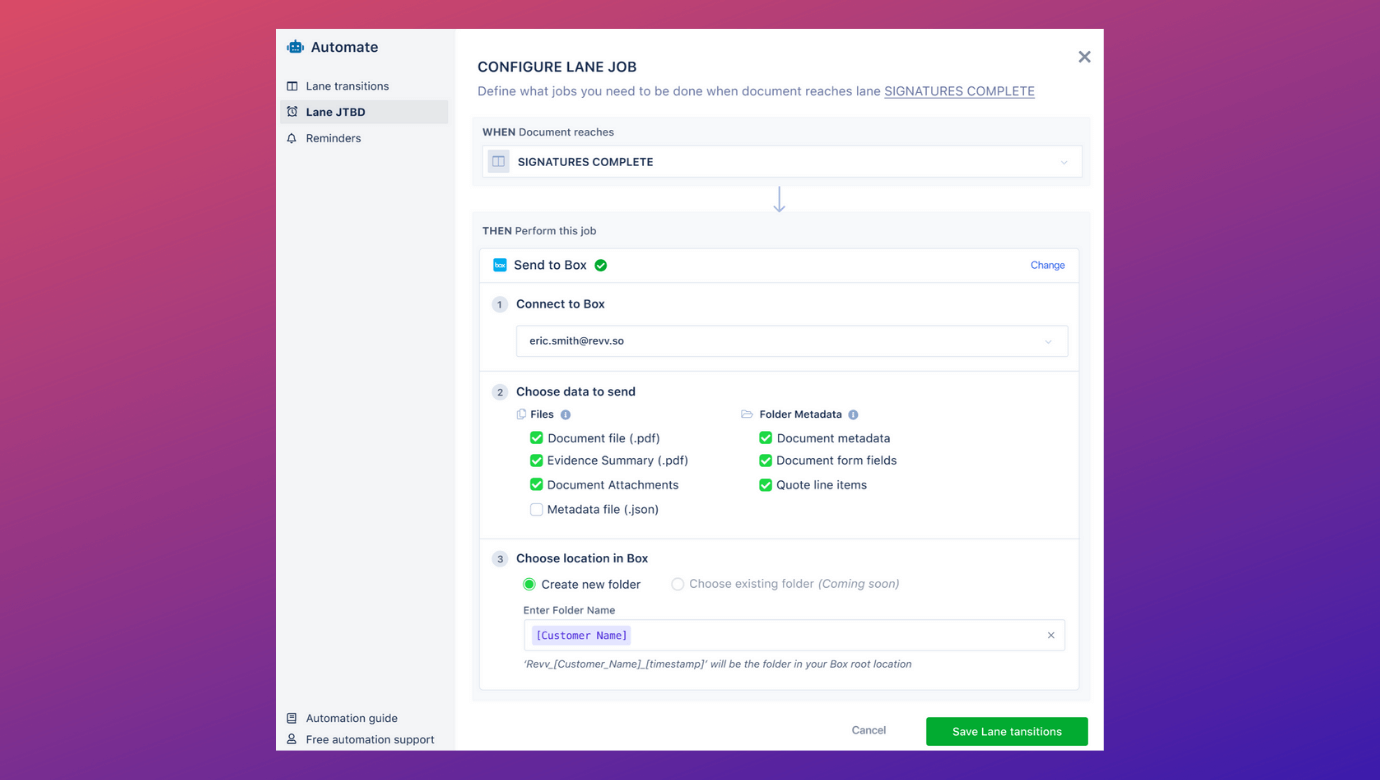 You can choose which data you want to send to Box such as 'Document file,' 'Evidence Summary,' 'Document Attachments,' 'Document form fields' and 'quote line items'.
The best part about Revv+Box integration is how you can effectively leverage document metadata generated in Revv to take workflow-related actions in Box.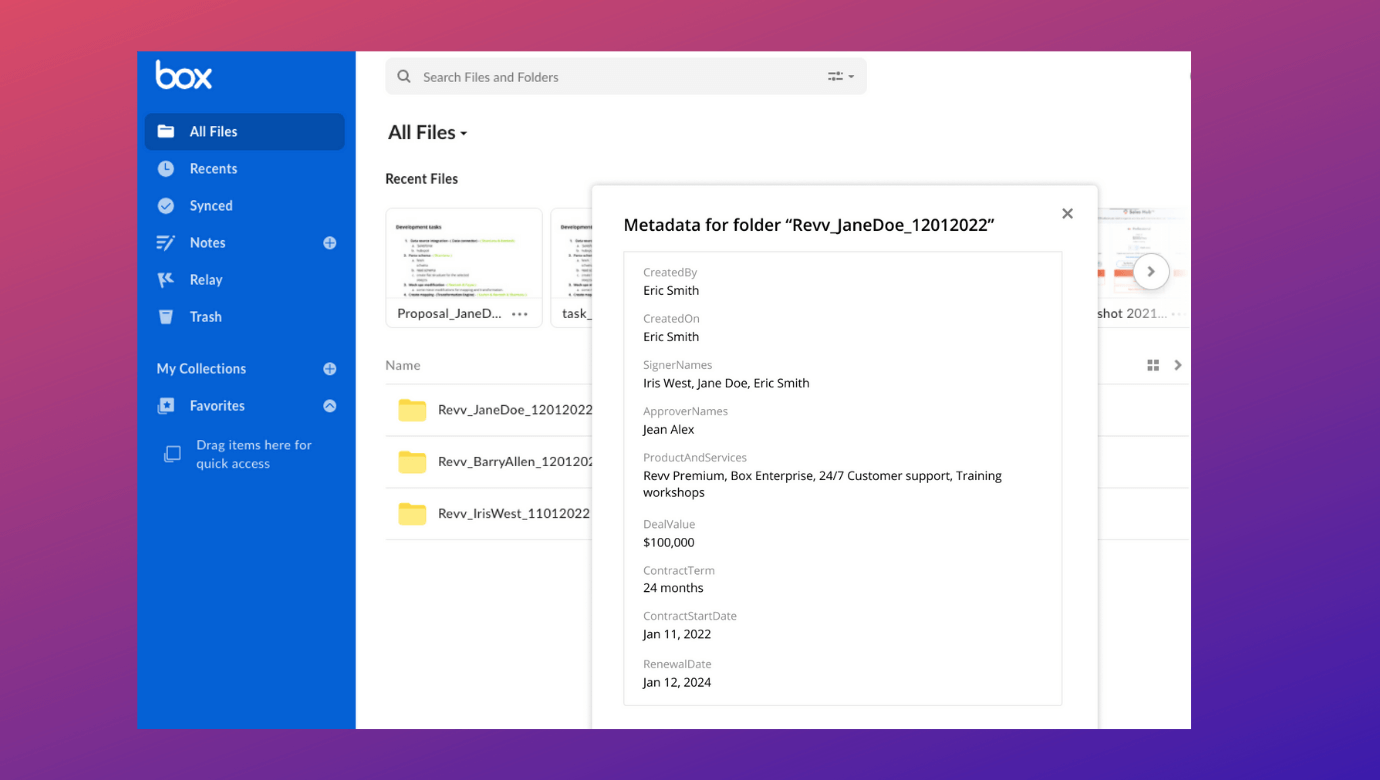 For instance, a sales contract would be signed in the present day and stored in Box at the end of the eSigning workflow. This agreement would be due for renewal on the same day next year. With the help of contract metadata shared by Revv like 'contract establishment date,' Box can trigger a workflow related to the renewal process.
Not just this, you can trigger workflows from Box ranging across aspects such as document upload, document metadata, document form fields, or a change in metadata attribute, quote line items, or form fields.
Who can benefit from this partnership?
Literally, any industry or business vertical can benefit from this integration including (but not limited to) sales, marketing, finance, HR, legal, business operations, procurement, purchase, etc. The use cases include the automated triggering of workflows for:
Customer onboarding
Employee onboarding
Contract renewals
Policy renewals
Vendor management
Contract management
Invoice management
This integration between Box and Revv also enhances visibility across teams and tools by facilitating the seamless flow of information to other tools, teams, and partners.
Step 2: Effortless data mapping through Data Studio
As we mentioned earlier, the difficulty of the process starts right from the data entry. To understand this, let's look at a business use case.
The problem:
An ongoing task for Steven, a sales manager of a software company is to create & send sales proposals to prospects. He has to collect information from his company's CRM portal for this task. Manually entering data and creating individual documents for each client and sending for approvals is a challenge in itself but it doesn't necessarily be error-free as well.
The solution:
Revv's Data Studio feature makes data mapping simple and faster. Not weeks, days, or hours, this feature empowers you to sync data in a few minutes.
With Data Studio, Revv enables you to quickly map data fields between Revv and the business platforms integrated with it. Additionally, the consolidation of data fields of your business platform to meaningful fields in Revv happens in just minutes. It enables you to create precise documents from a large pool of complex data.
So, are you ready to bid adieu to excel sheets and tedious data mapping via scripts, coding, APIs, and integration platforms?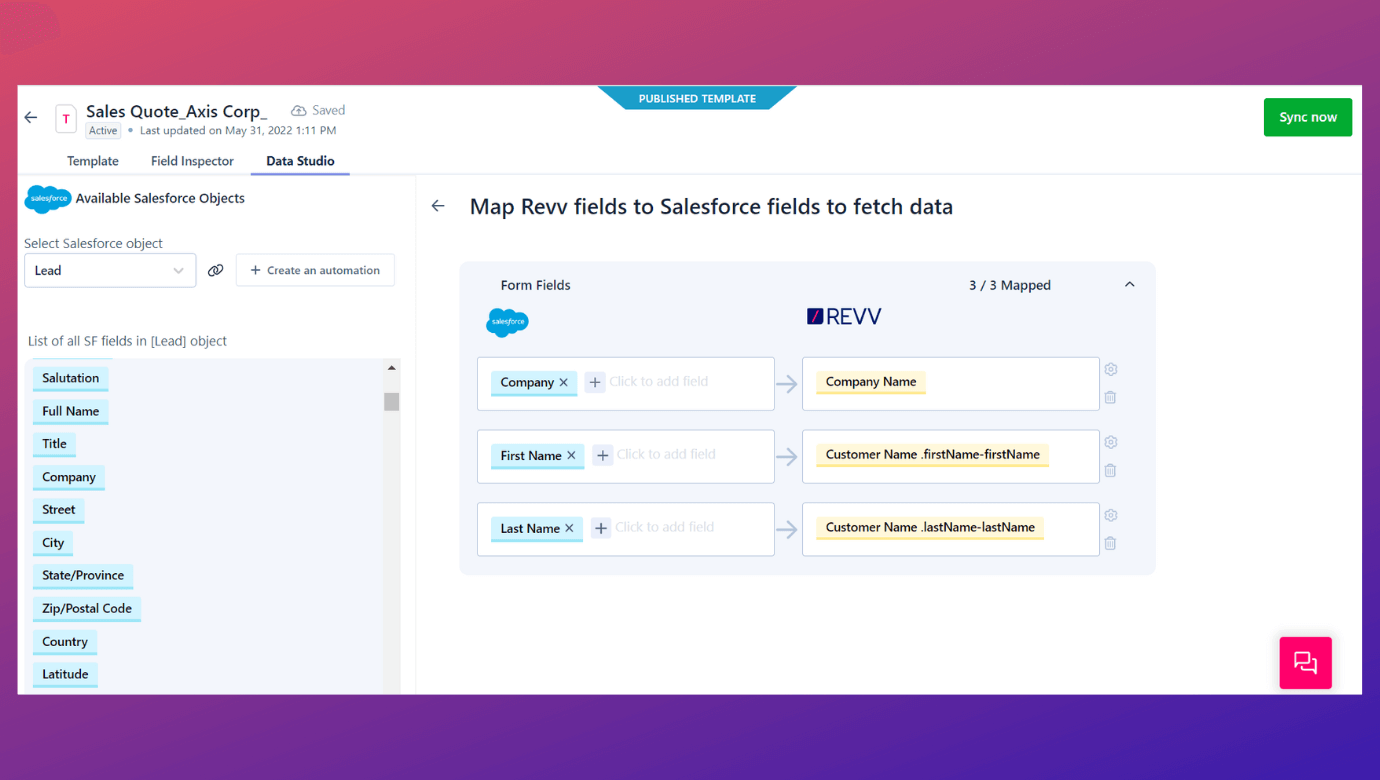 Step 3: Enabling convenience through customizable templates
Businesses have varied document requirements and it's tiresome to start creating documents ground up every single time. With Revv, you don't have to create your documents from scratch. Ranging from your sales documents (contracts, quotes, proposals, etc.) to non-disclosure agreements, employee consent forms to letters, Revv provides 1000+ legally binding and professionally vetted templates that can be further customized as per your business requirements.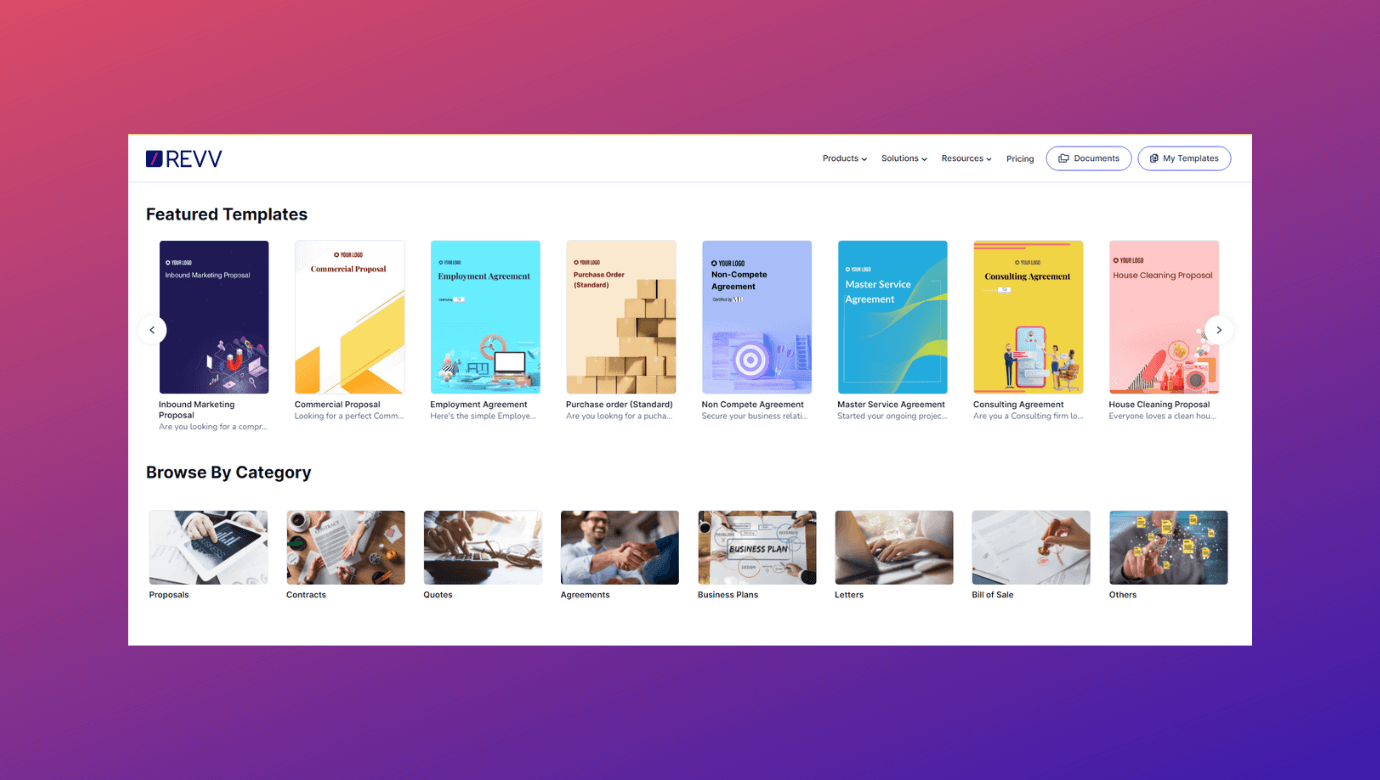 If you have already created templates in your organization, all you need to do is upload your document to the Revv platform. Before sending it for eSignature, users can make further edits using Revv's rich document composer. The document editor allows you to add any text, table, quote, image, etc. within the document.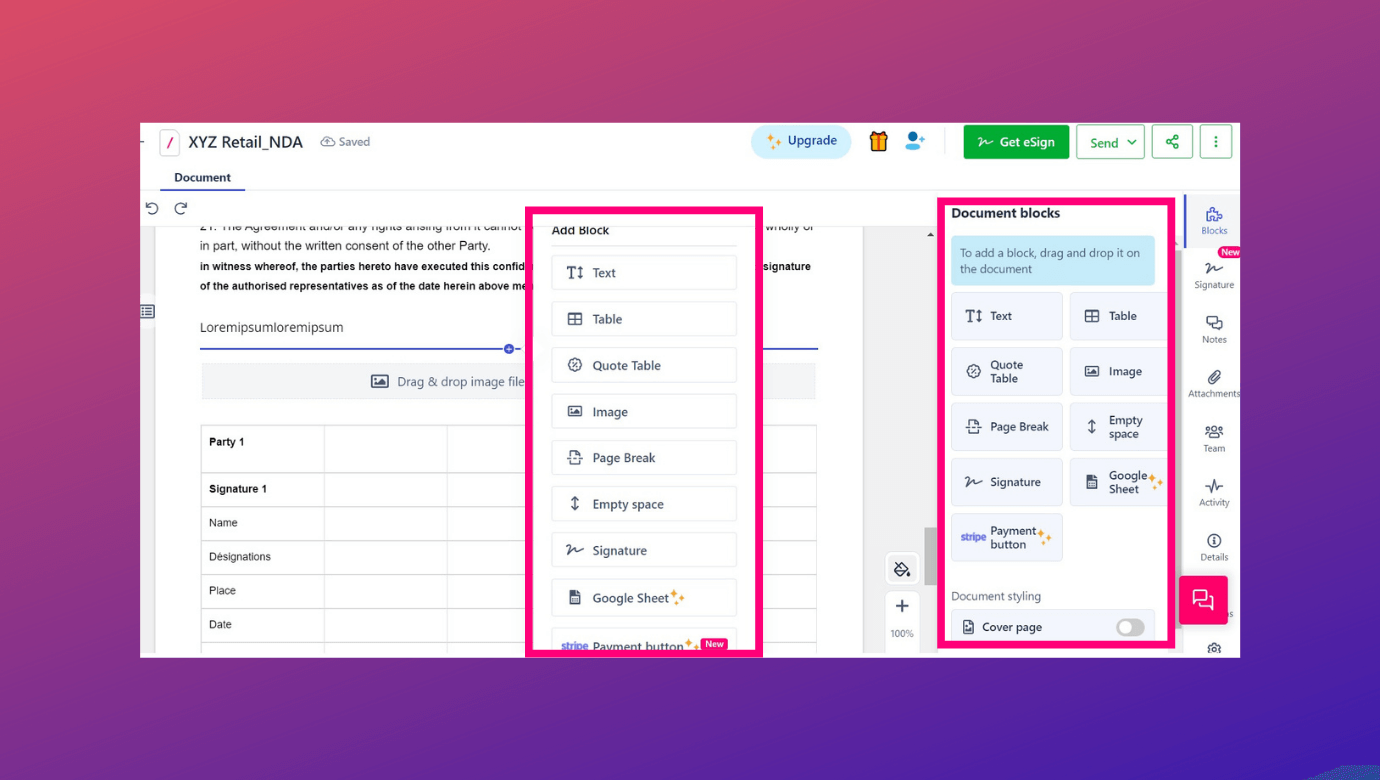 Step 4: Leverage the efficiency of web forms
Don't require integrating your business platforms with Revv? You can still navigate the challenges of manual data mapping and simultaneously enjoy the benefits of Revv's automated document workflows with the help of form fields or fillable placeholders in your document.
All you need to do is make your document a form-based template. Insert form-fields wherever needed using the form-field feature. You can use form fields to effectively assign data entry to your clients if there are data fields (like client address or other info) that only they can successfully finish.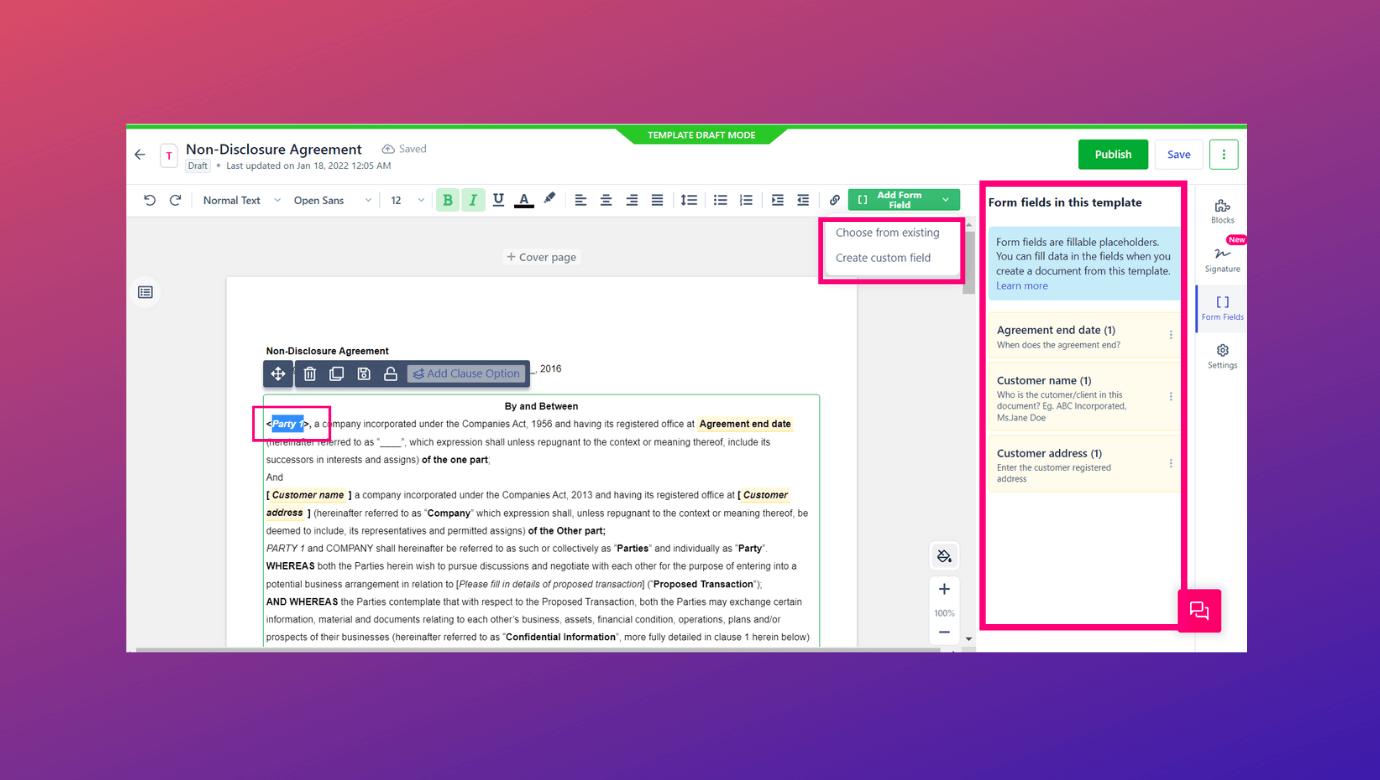 Step 5: Triggering an automated workflow in Revv Pipeline
Perhaps the most critical aspect once the document is created is maintaining how it moves through different stages inside your organization. Creating and collaborating, sending and notifying, tracking, signing/collecting, and storing your electronic documents usually require time and effort from your personnel. Well, not anymore. Revv makes document automation extremely simple as we streamline and automate document workflows for businesses with the Pipeline feature. It creates immense possibilities to automate your documents before and after electronic signing.
Let's see how.
5.1 Create multiple pipelines and route your documents for electronic signatures
Users can create multiple pipelines according to the type they want their documents to be categorized. For instance, you can have an 'HR Documents' pipeline that channels all the onboarding documents and company policies where you need to add electronic signatures.
To decide how the documents should get routed into each pipeline, you should use the feature – pipeline routing. For instance, if you want documents related to 'purchase order' in one place, then you can simply create a pipeline called 'purchase order'.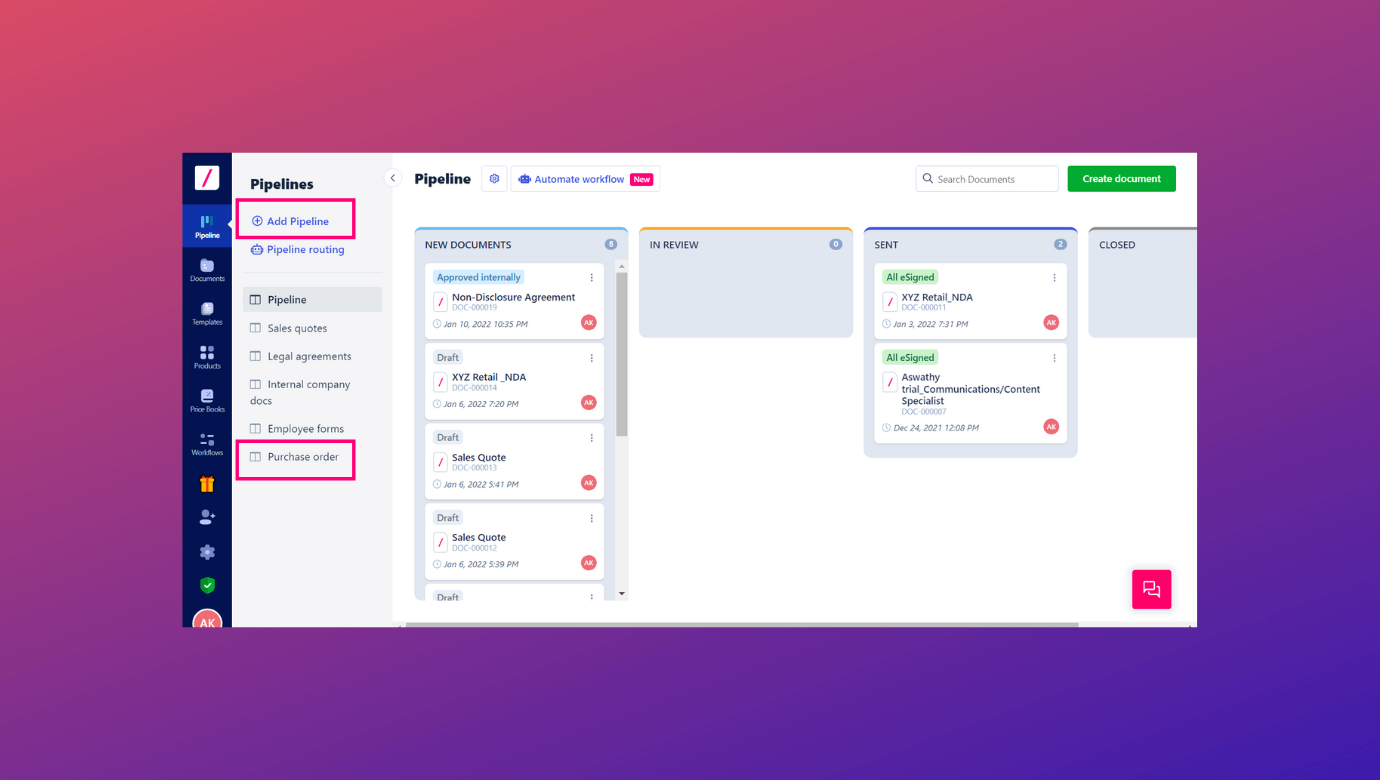 Through the 'pipeline routing' feature, set your rules using trigger and action as shown in the image. Under trigger – select from your pre-configured template from which your document is created (documents created using purchase order template). Once that is done, under 'action' you can add the desired pipeline where you want to send the document (here it is the 'purchase order' pipeline).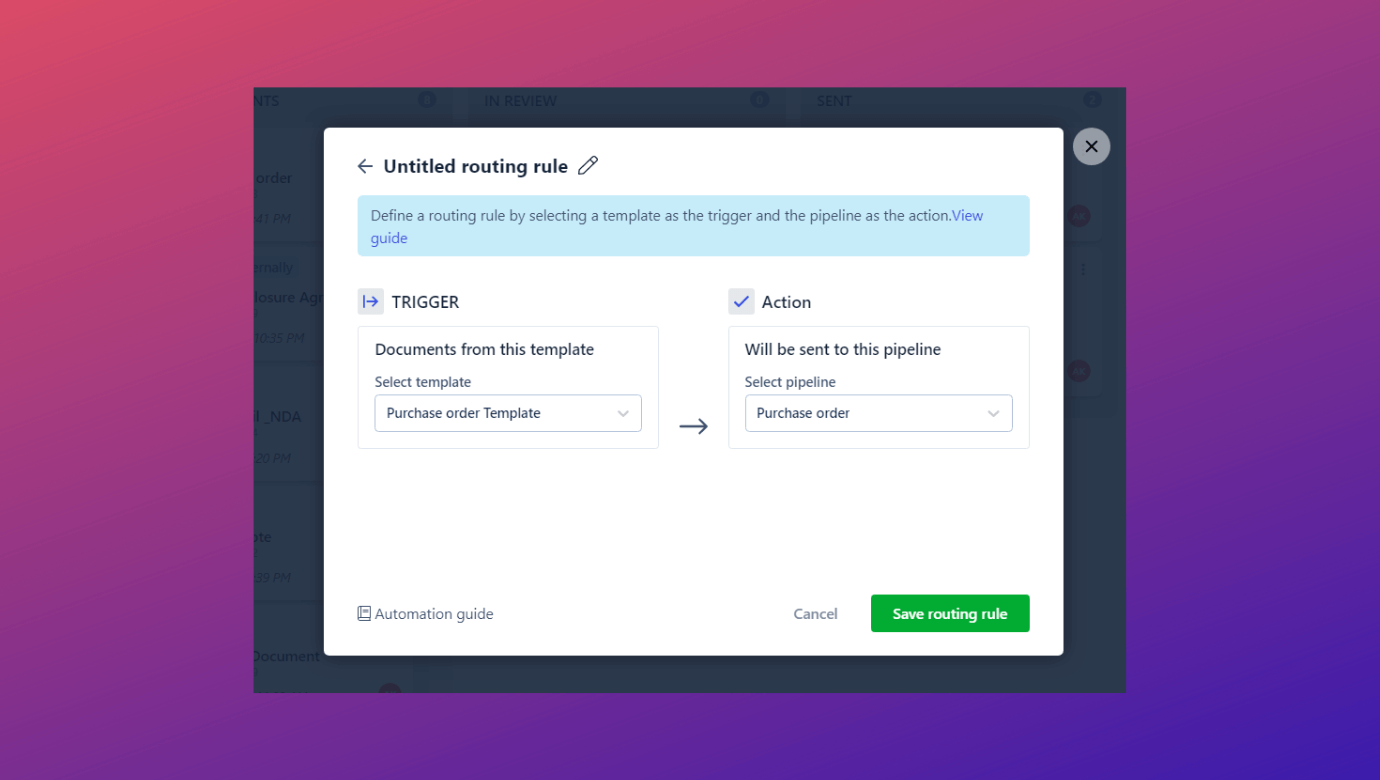 5.2 Customizing lanes
As shown in the image, each pipeline will have a collection of lanes that could be customized depending on your business process. Users can add lane titles that fit their workflows. These lanes could further be streamlined by automating the workflow for each lane by assigning different events to them.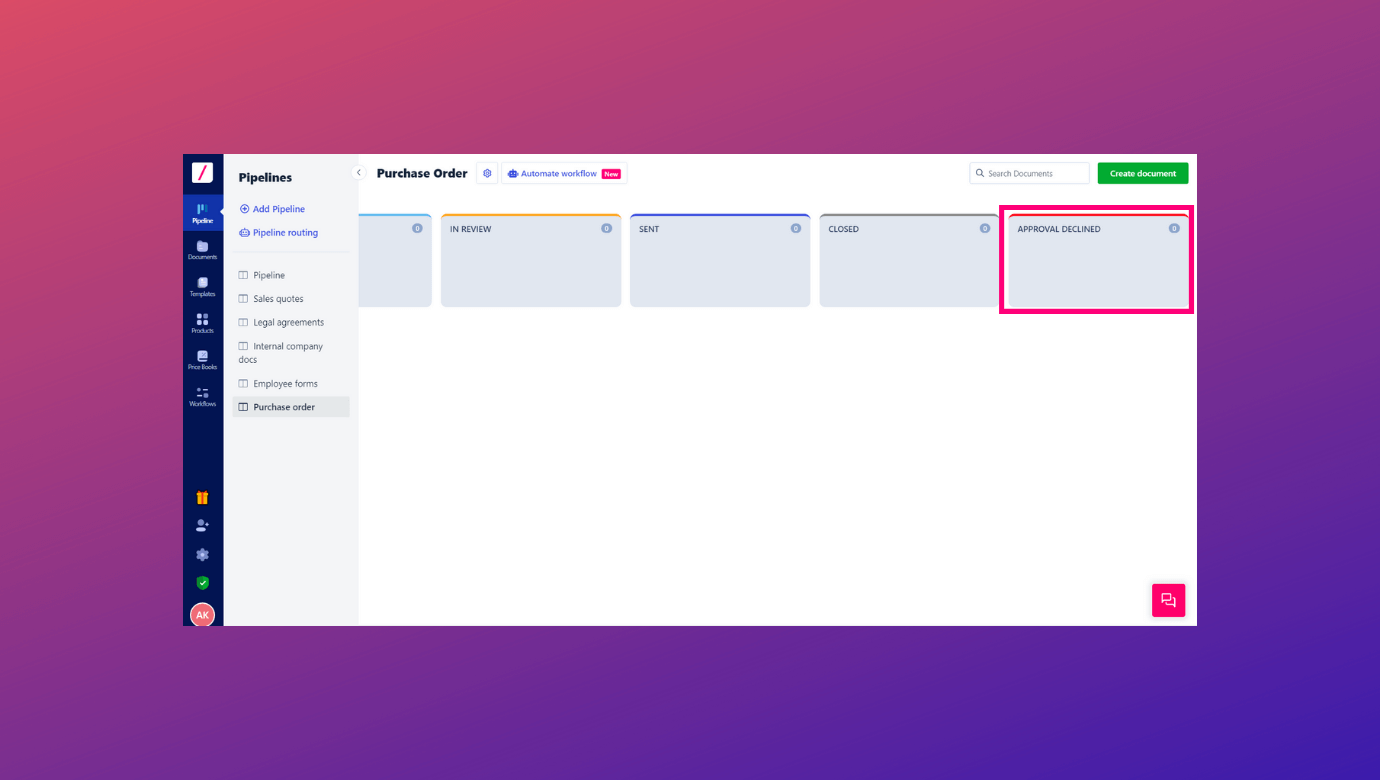 5.3 Assigning lane events for a smooth document workflow
For each lane, you can assign or add a lane event by clicking the [+] button. This helps in adding lane events for that lane. When that action is completed on a document, it will automatically get moved to the mapped lane ensuring a seamless document workflow of your documents as shown in the image.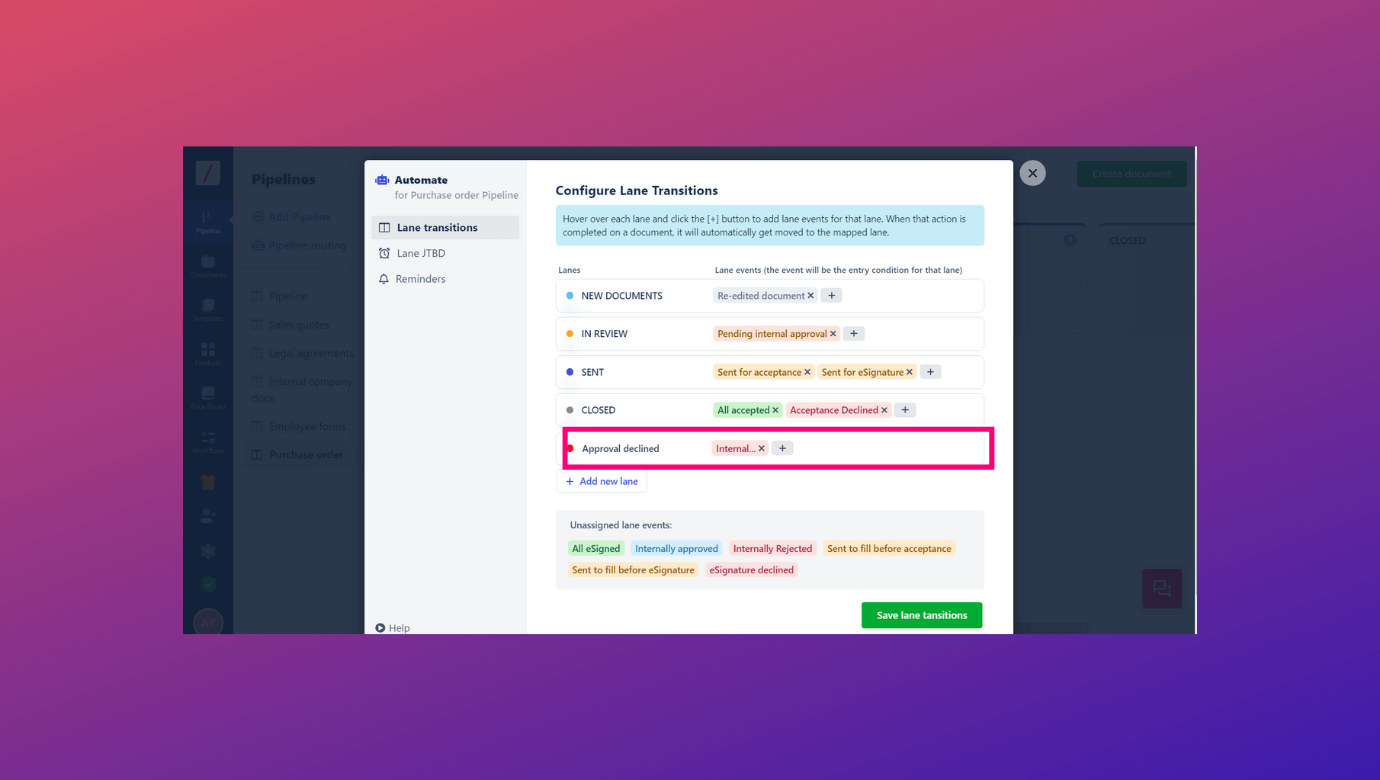 5.4 Allocate respective lane jobs
Along with assigning lane transitions for the document workflow, you can add Lane JTBD (job to be done). This feature lets you add jobs that get executed automatically when a document reaches that particular lane. For example, once a document reaches 'all eSigned lane,' if you want to notify your finance or marketing team about the status, you could simply select the pre-defined lane, add any number of people to whom you want to notify the status of the document via email as shown below.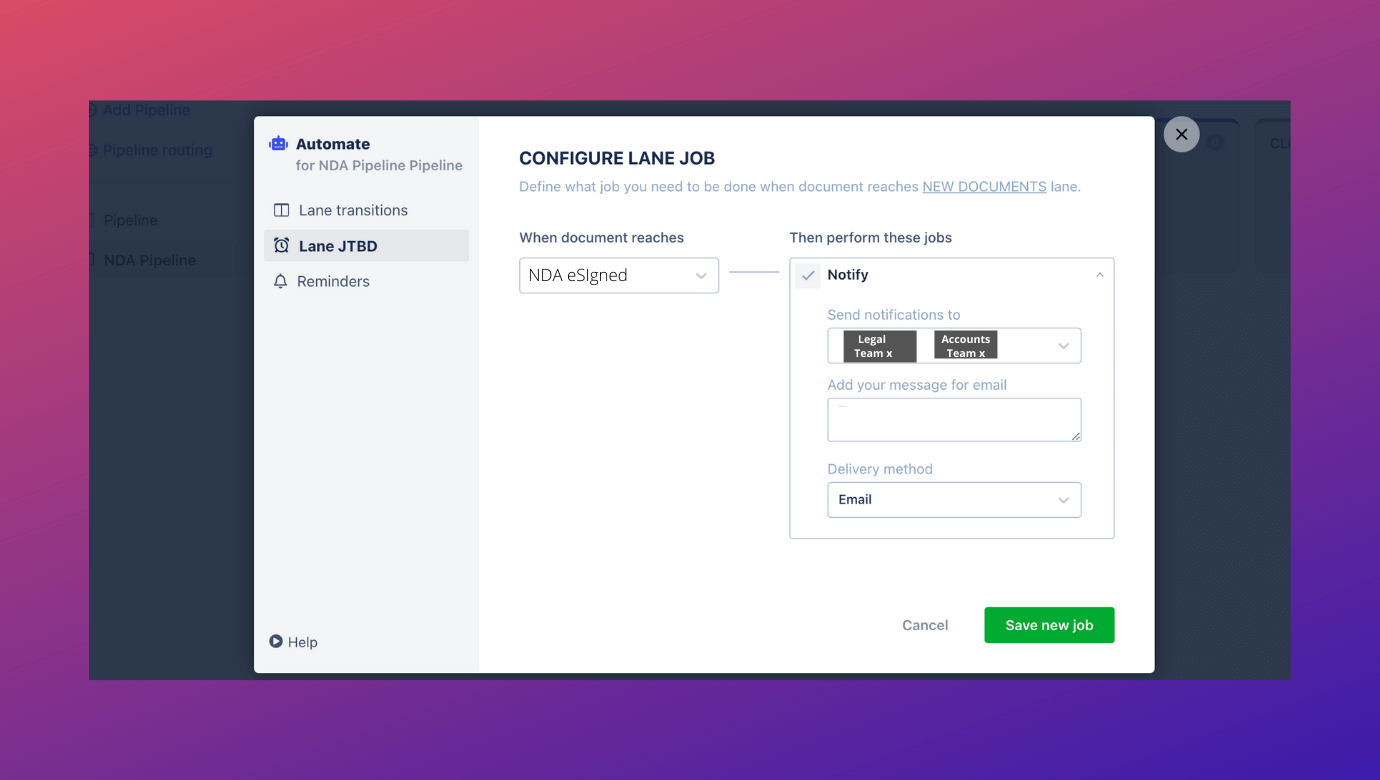 5.5 Set automated reminders
Reminder settings apply to every document that enters a pipeline. This feature helps in setting up automated reminders for pending recipient actions. For instance, if you have set daily reminders for internal approval events, the recipient will keep receiving the reminder till the designated action is completed.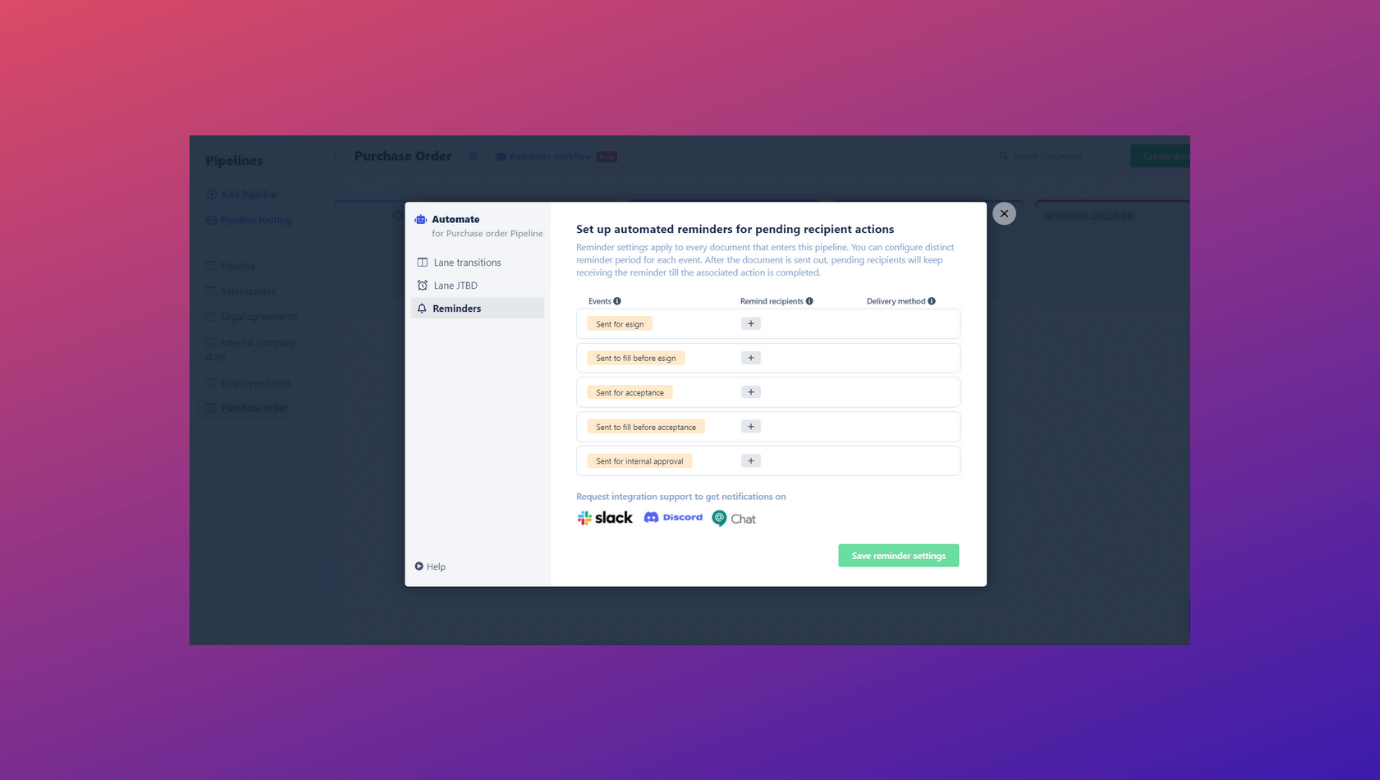 Step 6: Electronic signatures that work for your advantage
6.1 Flexibility to use different sign and send options
Revv provides bank-grade electronic signatures that can be added anywhere in your document with simple drag-and-drop action. Revv eSignatures are fully compliant with relevant US laws, such as the Global and National Commerce Act and the Uniform Electronic Transactions Act.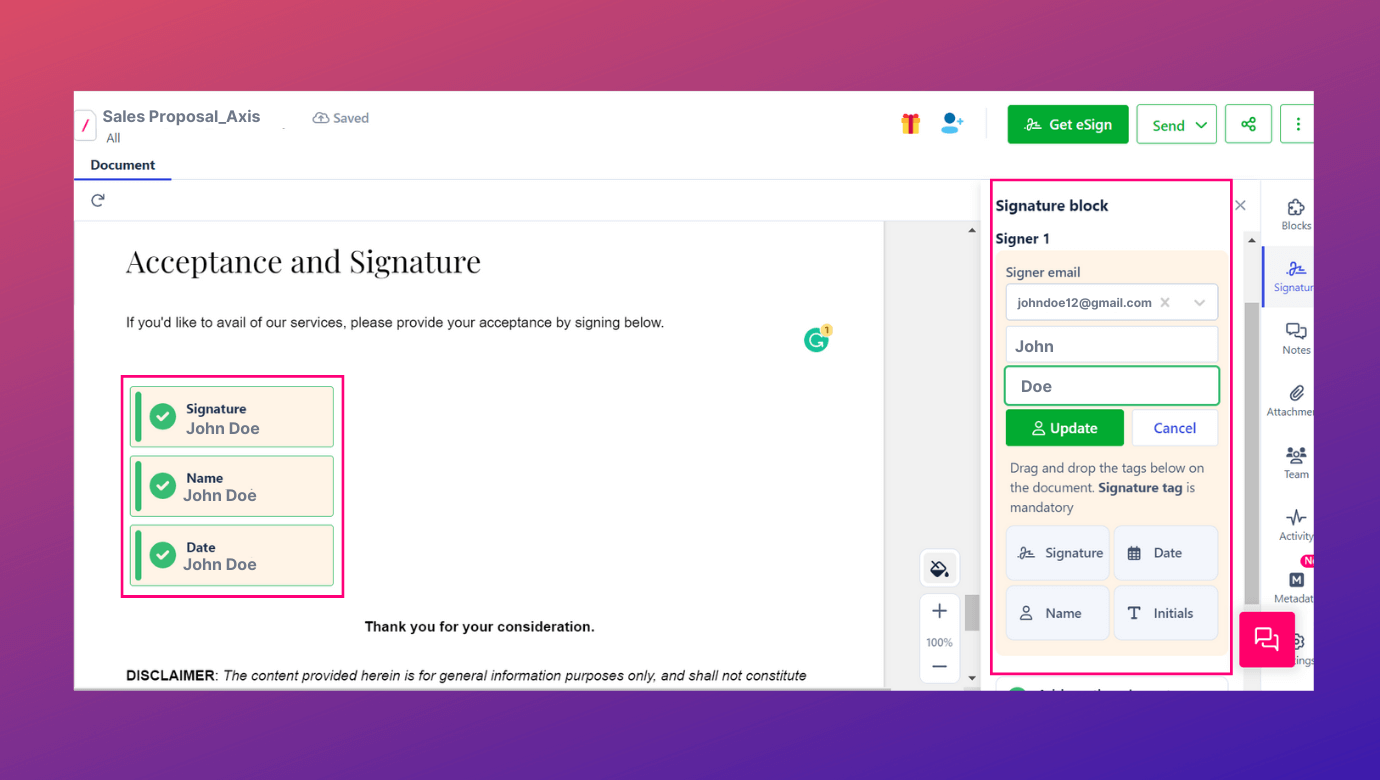 But not all documents require electronic signatures. Some just need to be reviewed or approved. For example, your negotiation letter or consent forms only need the receiver's acknowledgment. With Revv, you can just use the 'Send for Acceptance' feature which allows them to accept or reject the document. Revv's user-friendly interface provides insightful and crisp descriptions of what each menu option does as can be seen in the image.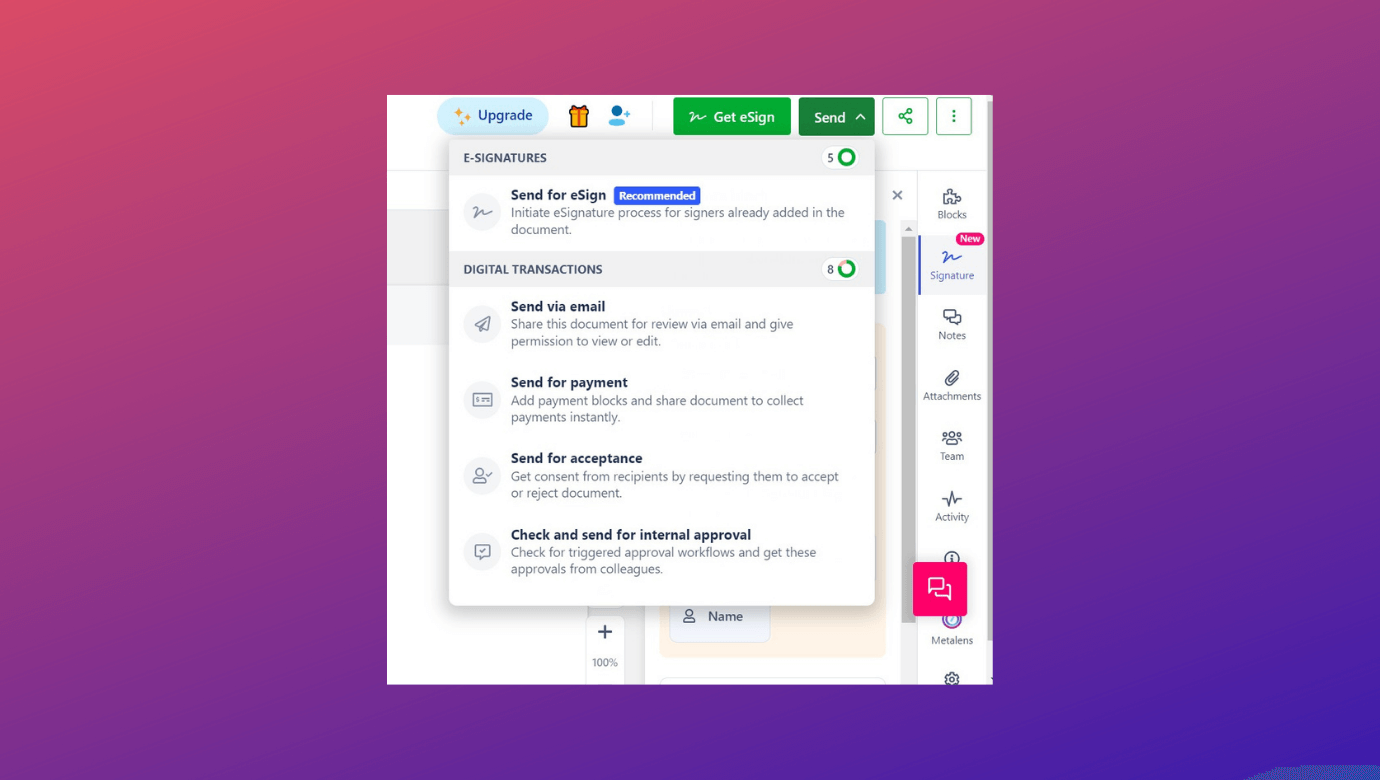 You can also use the magic link feature that generates an online link for your documents which can be shared with anyone across platforms. It can be viewed by the recipients from almost any device.
When you send documents for eSign, the recipient instantly receives an auto-generated email notification asking them to take necessary action.
Recipients or signers can now have the flexibility to sign off documents faster with Revv's flexible eSigning options. They can 'draw signatures,' 'scan and upload signatures,' choose from 'pre-formatted text styles,' and even connect their crypto-wallet MetaMask to complete the signing process.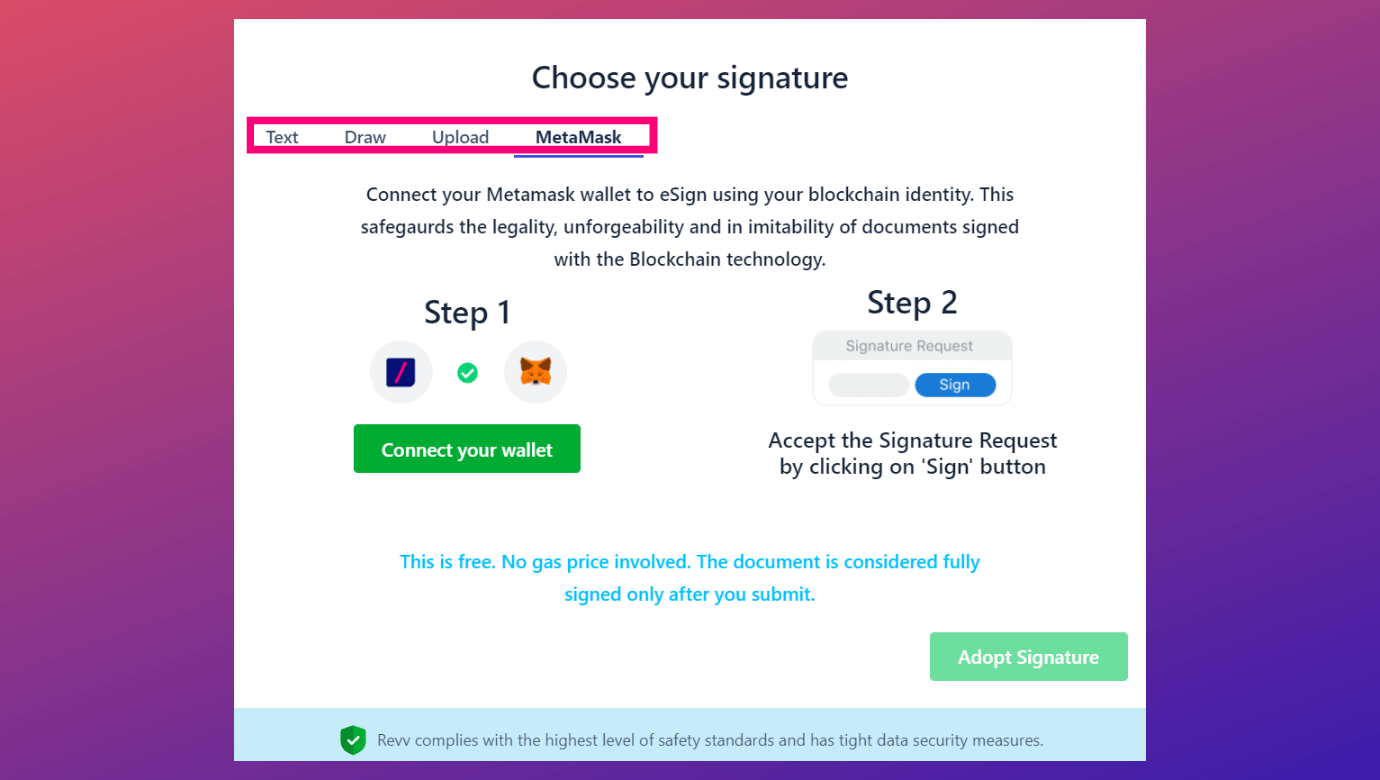 6.2 Collaborate seamlessly with your team
Revv provides you the flexibility to collaborate with your internal teams with the 'notes' feature. If you want feedback or want additional input from a different department, all you have to do is tag as many people you want from a team or a specific member of the team using '@ mentions'. The tagged person will also be notified via e-mail. Team members and those in the signature list who has access to the document or are tagged in it can attach files and, include private and public notes.
6.3 Real-time notification and tracking
Whether you are sending for an electronic signature or internal approval or acceptance, all actions will be instantly notified to both document creators as well as recipients. A sender can also track any activity that has happened in the document from the 'Activity' tab. He/she can know whether the document was opened, when and who opened it etc.
6.4 Secured document storage and access
Once your document is eSigned and received, you might need to think about how you'll retrieve the signed documents at a later stage. Revv organizes all of your documents under the 'Documents' section and offers unlimited storage for all of your documents. You will be able to access the files anytime and from any device.
Recipients can also be able to view and download a copy of the document once it is eSigned.
Additionally, Revv can also be seamlessly integrated with your existing storage systems such as 'Box,' 'Google Drive,' 'Dropbox,' etc.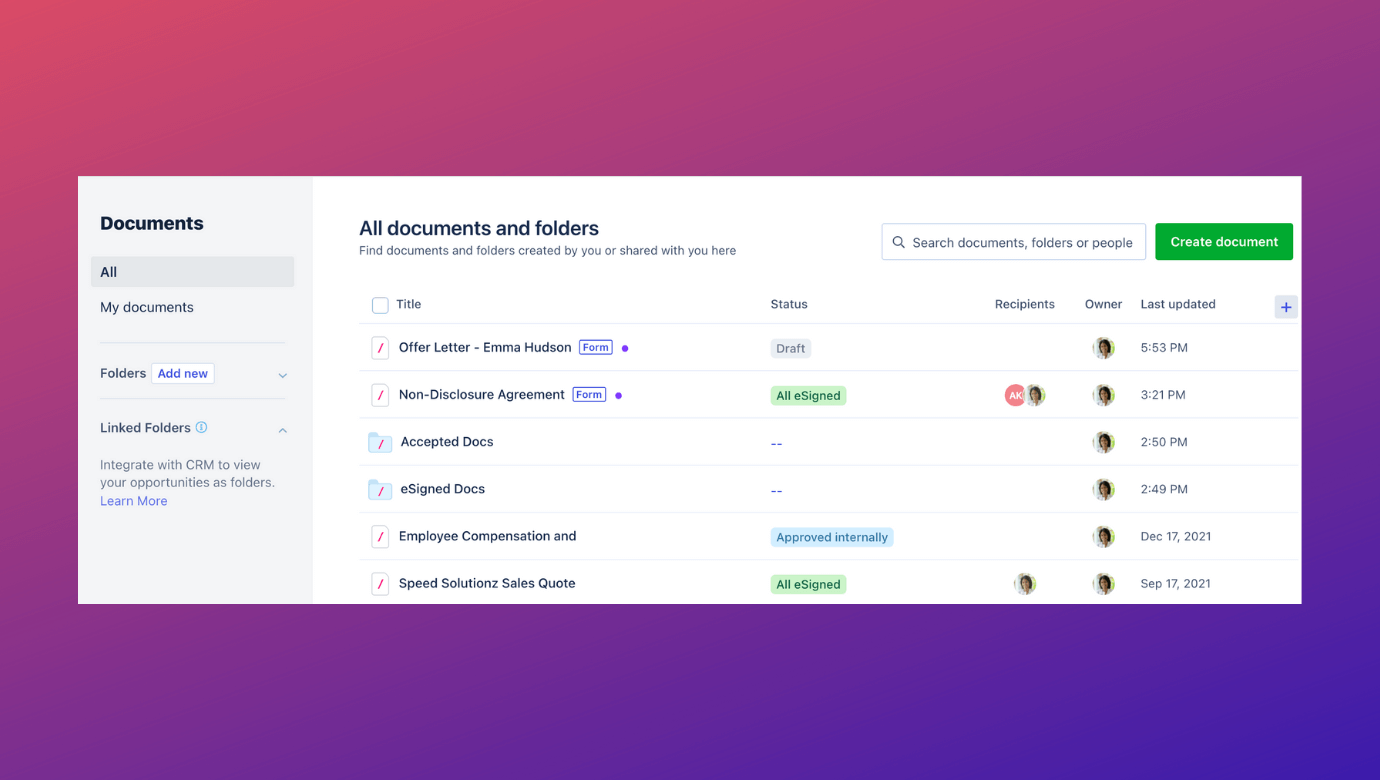 6.5 Evidence summary and audit trail
For documents that have completed the electronic signature process, Revv captures an extensive evidence summary. It contains information such as the recipient's unique ID, name of document, date and time it was viewed, created, and eSigned, and even the history of IP addresses from which the document was accessed.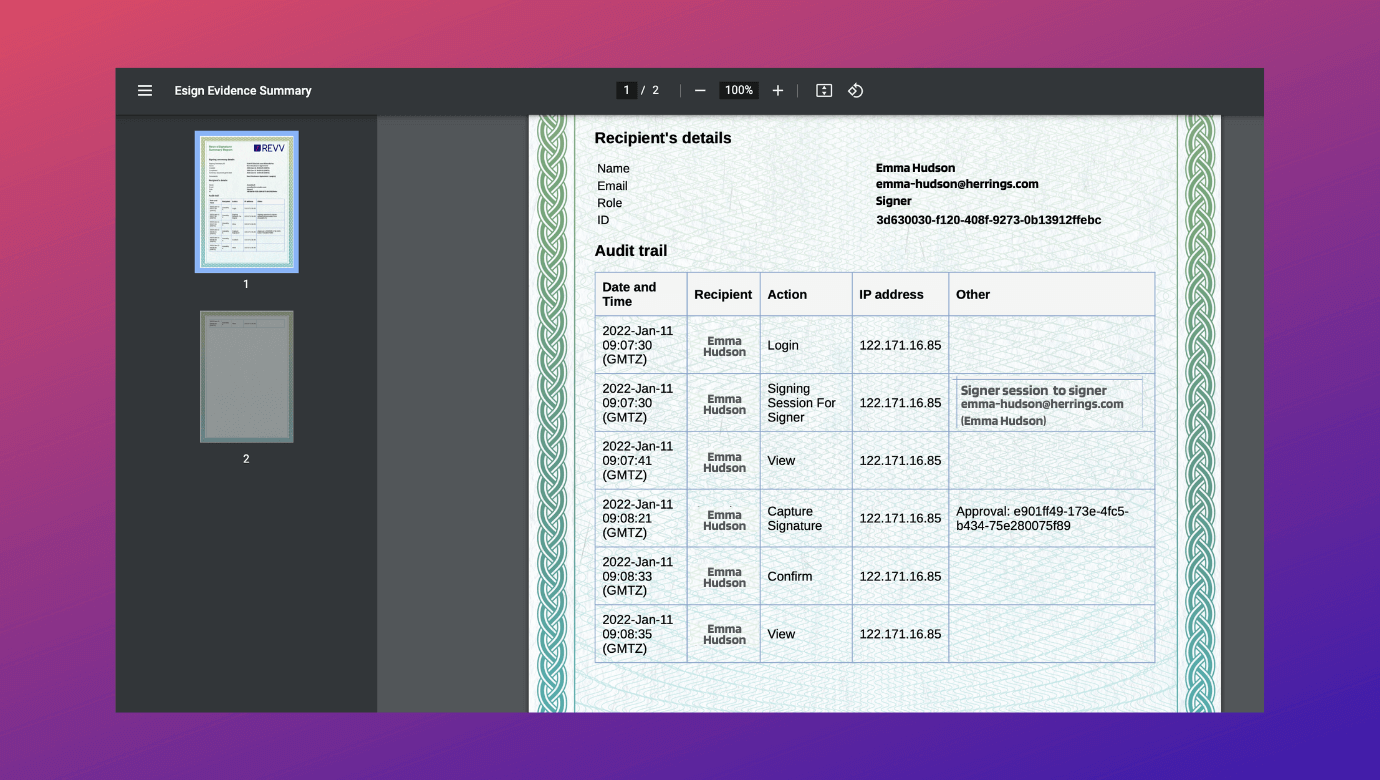 Wrap-up: Key takeaways
In today's hybrid workplace era, electronic signatures have become imperative with respect to your business document workflows. With many diverse documents and signing processes involved in each line of business and channel, it's important to ensure a smooth document workflow to deliver a seamless eSignature process.
And with Revv's document automation and eSignature capabilities you can create electronic signature workflows that are easy to implement within your existing document and business processes.
Completely secure and no credit cards required. Sign up for free!