Implementing electronic signature software is an efficient and cost-effective way to overcome the challenges of paper-driven processes.
However, finding the right eSignature software for your business needs can be an uphill struggle.
But, there are a few software that have gained the trust of customers over the years.
DocuSign and Adobe Sign are two such eSignature software.
If you are looking for an in-depth comparison of these two tools, this is the right blog for you.
This blog compares Adobe Sign and DocuSign on various parameters to help you make the right decision.
You can click on the links below and jump straight to the section of choice. Alternatively, scroll down and read on for an in-depth understanding.
Overview
Adobe Sign overview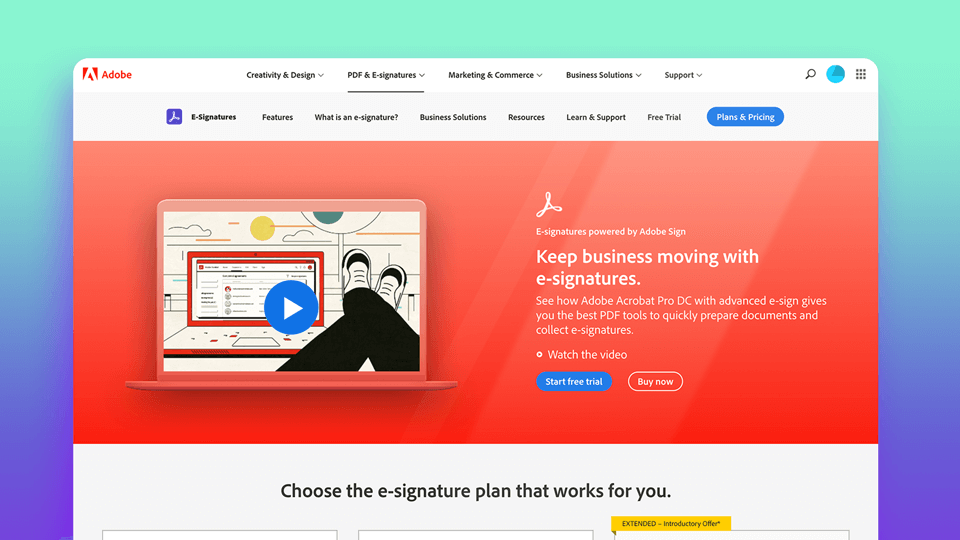 Adobe Sign, formerly EchoSign, is an Adobe Document Cloud Solution that liberates organizations from paperwork. It is a cloud-based e-signature service to send, sign, track, and manage documents digitally.
Easy device accessibility, integration with business systems and applications, automated workflows, and a great level of security and compliance makes Adobe Sign a trusted player in the industry.
Another plus side of Adobe Sign is that it can effortlessly integrate with other products of the Adobe family, such as Adobe PDF and even the Adobe Creative Cloud.
DocuSign overview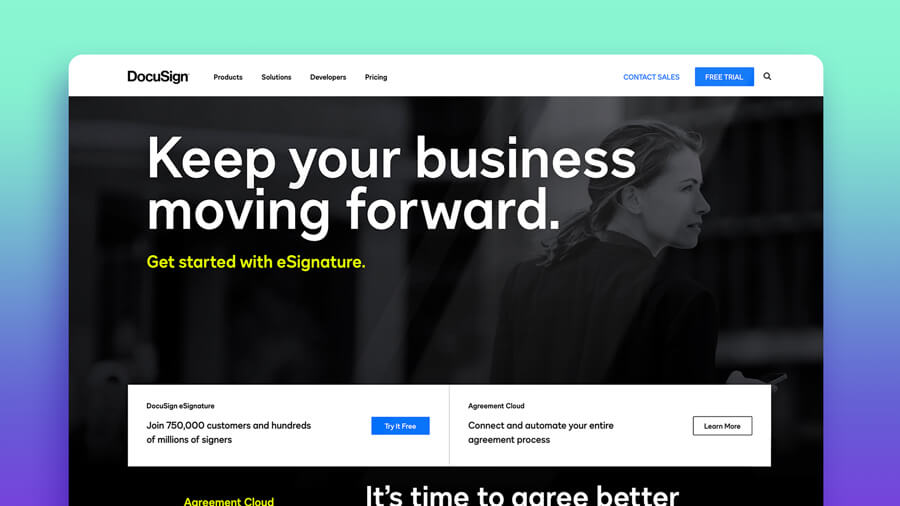 The discussion of e-signature software is incomplete without DocuSign.
Founded in 2003, DocuSign plays a key role in the evolution of e-signature technology. It is a cloud-based electronic signature service that works well for businesses of all sizes.
Reusable templates, geolocation capture, apps and systems integration, insights & analytics, mobile accessibility, workflows, and security and compliance – DocuSign is infused with advanced features that make the execution of electronic signatures smooth, faster, and smarter.
Comparison
Now that you have a basic idea of both the tools, let's move forward and compare them point-by-point to unravel the similarities and differences between them.
For easier understanding, the blog is divided into various comparison sections.
The first section talks about and compares the features of Adobe Sign and DocuSign and identifies which one stands out by each feature. The subsequent sections discuss and give an understanding of – pricing, compliance with the law, deployment, ease of use, and customer support and training.
Features
1. Electronic signature
Enabling businesses with eSign technology sits at the heart of both platforms.
Not in the same sequence, but the eSignature process in both platforms is pretty similar and straightforward, and both offer multi-party signing.
You need to upload documents and add signer(s) information. When you upload documents, both the tools identify any form fields in your documents and make them digital and fillable.
If you want any additional information from the recipient, use drag and drop tools to add the respective data fields into the document.
You can write your own email subject lines and custom messages. Right there, you can also select an option for automated notifications and select their frequency.
And finally, send the document.
A sender can also protect the file by creating a password or access code only to be shared with the recipients.
The recipients don't need a user account to open and sign the file. All they need is to open the link sent in the email and follow the process.
DocuSign also shares a security code at the bottom of the notification email. You can directly access your document with that code on DocuSign's website.
Both tools do record-keeping and provide audit trails for each transaction.
Who wins here?
It's a tie!
Both tools are exemplary w.r.t their eSignature process and create an almost matching experience for the customers.
2. Support for different signature capture methods
For convenience and security, both Adobe Sign and DocuSign offer sufficient ways to create and sign a document.
With DocuSign –
You can sign a document with a signature style suggested by DocuSign
The second way is to draw a signature using a finger or stylus
Lastly, you can upload your signature
Adobe Sign also allows you to draw your signature or upload an image from the local system.
It slightly differs from DocuSign –
It also offers you to type your name
There might be times when you want to draw a signature, but the device (e.g., desktop) is not touch-supportive. In such a case, you can go for the mobile option and feed your phone number to a touch-enabled device. Adobe Sign sends a link to that number where you can draw your signature and import it to your user profile.
Who wins here?
Undoubtedly, both tools have made adding signatures to documents simpler. However, Adobe Sign weighs more in providing that comfort by enabling a mobile option as well. For this category, Adobe Sign gains the upper hand and becomes the winner.
3. Customization
DocuSign offers personalized branding options –
Adding your logo
Editing the document colors
Changing banner colors
Customizing action buttons
Customizing email notification copy and create custom messages, and
Add header and footer links
This customization is not available in the Personal plan (for a single user) but in Standard and Business plans.
Adobe Sign offers similar branding options and much more. Besides adding a logo and customizing email copy, you can also –
Creating a personalized hostname URL for your account. This means you can have your company name in the URL your users login to and the URL where documents are hosted for your signers.
Customizing the confirmation pop-up with your own messages along with URLs, social media buttons and their count bubble
Adding your brand logo to your Adobe account page to keep a consistent brand profile
And with additional fees, both DocuSign and Adobe Sign offer advanced branding features (e.g., HTML access) to give the perfect branding treatment at every step.
Who wins here?
Undoubtedly, both the tools offer sufficient functionalities to help users customize their account with the right brand feel, but Adobe Sign offers more options that are also accessible even in the single user plan at a lesser price than what DocuSign offers.
4. Integration with other business applications
If you want to make your eSigning process smarter, it becomes essential to automate the workflows by weaving your other business applications with your eSignature platform. Let's see how both tools stand at achieving this feat.
DocuSign supports 350+ integrations – Box, Dropbox, Salesforce, Oracle, Google Drive, Microsoft Office 365, Workday, and with many other major partners. However, the CRM integration is only available for the Enterprise edition. Keeping that aside, DocuSign supports all third-party and custom API integrations, even in the basic personal plan.
Adobe Sign integrates smoothly and offers extensive APIs to seamlessly connect with popular CRM, CLM, CPQ, ERP, Human Resources software, and many more tools. Here are some names – Salesforce, Google Drive, Box, SAP Ariba, Zoho CRM, Workday, and Microsoft dynamics.
But, with Adobe Sign, the custom API integrations are only available in the Enterprise and Business plan, which means there is a higher cost associated with integrations.
Who wins here?
Clearly, DocuSign offers and supports API integrations at a lower price point than Adobe Sign.
5. Device accessibility
Accessing, signing, and tracking both Adobe Sign and DocuSign documents is very convenient.
The users can close documents with a mobile signature or can sign documents through other preferred devices – tablets, desktops, or laptops.
Adobe Sign has mobile apps for iOS and Android devices, whereas DocuSign mobile apps are available for iOS, Windows, and Android devices.
Who wins here?
It's a draw. There is no major difference here. With both tools, you can sign a document with a mobile signature or from other devices.
6. Real-time tracking
Both Adobe Sign and DocuSign provide a tracking mechanism to keep an eye on the signing process.
You can monitor all this inside their 'Manage' tab. It gives users a clear understanding of which documents are eSigned, which ones are waiting to be signed by you or others, which ones are completed, and which ones have expired.
Both tools also provide a search and a filter to easily find the information they are looking for.
With Adobe Sign's Enterprise and business plan, you can also know the status of documents across the organization and get insights into the document lifecycle.
Who wins here?
Overall, both tools make the real-time tracking of documents easier and faster. Both are at par here.
7. Insights
The 'Signing Insights' feature of DocuSign helps the users to decipher the trends and patterns in the signing behaviors. Its rich set of filters and visual dashboard empower businesses with data visualization capabilities. It helps them make informed decisions and provide enhanced signing experiences.
Adobe Sign gives you a detailed report on your document insights in its Enterprise plan.
Who wins here?
DocuSign gives you access to intelligent insights at a lower price point, which seems favorable, especially if you are a small business, whereas Adobe Sign supports and gives that level of experience only at the enterprise level.
DocuSign wins here.
Pricing
Pricing of DocuSign
In DocuSign, you can choose from three pricing editions. All the plans are charged as per the users.
Personal – $10/user/month, billed annually
Standard – $25/user/month, billed annually
Business Pro – $40/user/month, billed annually
If your business demands advanced features like payment integration, signer attachment, or bulk send – you can avail these only in the Business plan.
If your organization has complex information technology needs and demands more advanced solutions like single sign-on, API, customized usage limits, and more – contact the DocuSign team to explore those possibilities.
On a side note, DocuSign also offers separate plans for real estate.
Pricing of Adobe Sign
Adobe Sign offers three pricing options for single users with affordable subscription costs ranging from $9.99 – $19.99/month, billed annually.
Adobe Sign's $19.99 monthly plan offers more as well as better features (except bulk send) at a much lesser price than DocuSign's Standard ($25) and Business ($40) editions.
It further provides two plans for businesses needing more than one user. For business and enterprise-level requirements and customized plans, you need to contact the Adobe team for pricing.
One more difference – DocuSign's Standard and Business plans allow you to buy licenses online for up to five users. You have to call the team to buy more than five.
But, with Adobe Sign's plans, you can buy any number of user licenses online.
Compliance with the law
Both cloud-based eSignature solutions comply with eSignature laws and industry-specific regulations across the world.
Here are the details –
DocuSign – Canada's federal PIPEDA Act, the U.S. ESIGN Act and UETA, and the EU eIDAS regulation.
Also, DocuSign eSignature can be set up to support industry-specific regulations such as FedRAMP, HIPAA, and 21 CFR Part 11.
Adobe Sign – UETA, ESIGN, and eIDAS regulation
Deployment
Here is a chart that compares the deployment support provided by both e-Signature solutions –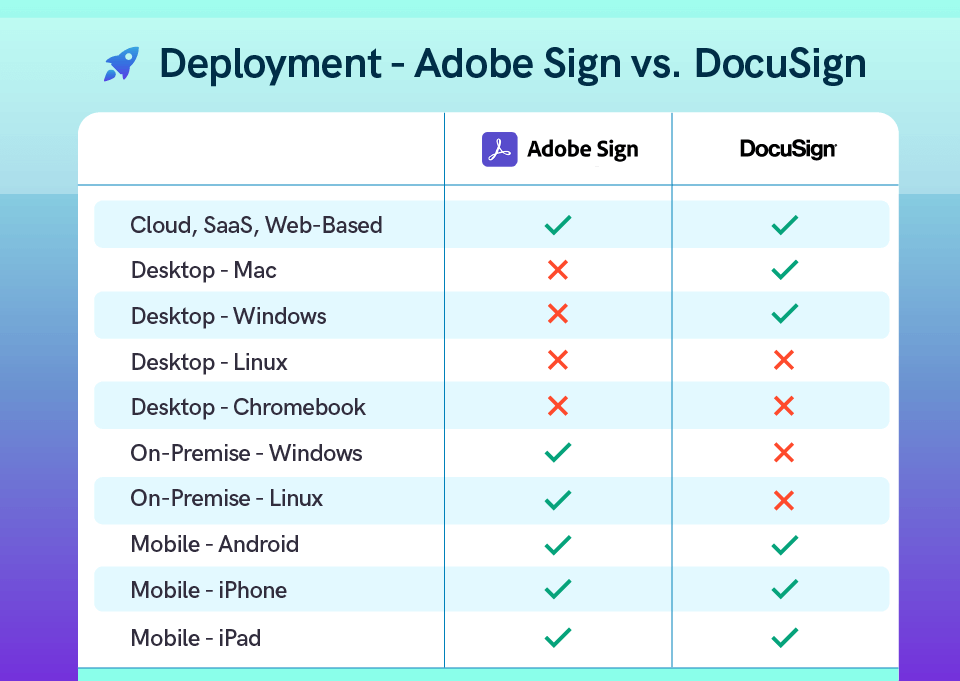 Source – Capterra
Ease of use
The user experience of both e-Signature solutions is good. Both are quite straightforward to understand and use.
Let's see what customers think of usability and check out their ratings on popular review platforms –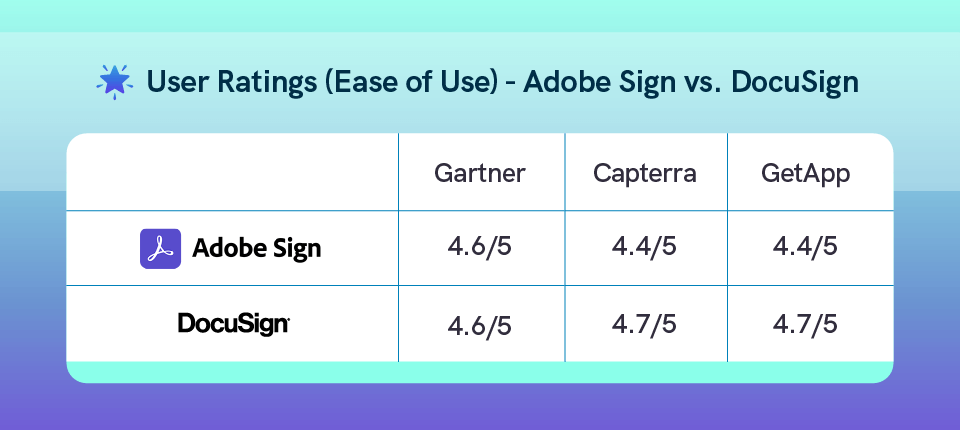 Source – Gartner, Capterra, GetApp
Customer support and training
Both tools offer an extensive library of self-service learning materials, resources, online webinars, documentation videos, and more to help their customers with a smooth learning process.
The customers can also connect to other users through Community Forums, where they can ask questions and collaborate with others.
Here are the different kinds of customer support options provided by Adobe Sign and DocuSign.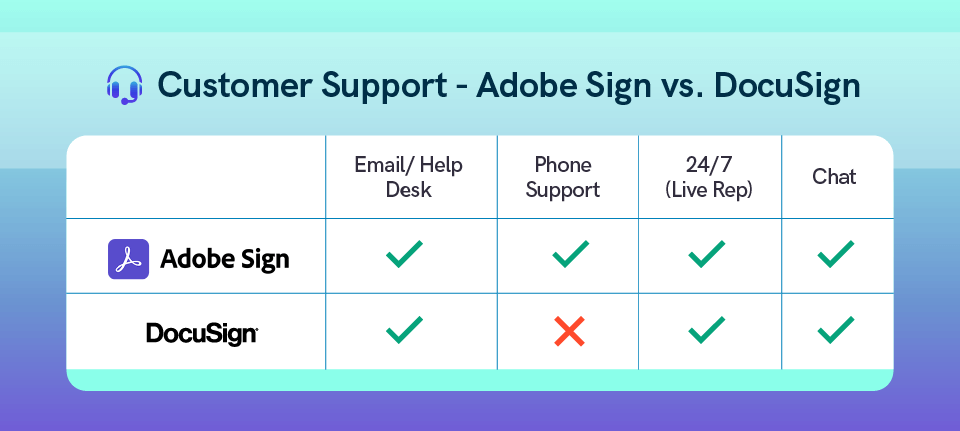 Source – Capterra
Adobe Sign vs. DocuSign – The final decision
Undoubtedly, both DocuSign and Adobe Sign are two awesome eSignature service providers that have a huge user base, good user reviews, and almost the same set of features.
But, certain nuances make them different from each other.
Unlike DocuSign, Adobe gives you much more options for company branding and personalizations in lower pricing tiers. Also, it gives you access to payment getaway even in a single user plan, whereas DocuSign lets you use this feature in the Business Pro plan.
If editing and customizing PDFs is an everyday thing, you can take advantage of Adobe Sign's bundling with Adobe Acrobat in the Adobe Document Cloud suite.
Go for DocuSign if weaving signature workflows between your website and other business-related apps are critical to your business. DocuSign's cost-effective API integrations expand your signature workflows capabilities.
Lastly, which way your inclination goes also depends on the company size, budget, customization and integration requirements, and the level of access and control your business demands.
Please note that all the information in this blog is taken from company websites, comparison websites such as GetApp, G2, Capterra, Gartner, and others. Since companies keep adding features, some of the information may be out of date. Let us know at support@revv.so if there's any information that needs change. We'll verify and update as quickly as possible.
Revv – A great alternative to transform your eSignature process and document workflows
We appreciate the valuable time you have spent evaluating Adobe Sign and DocuSign. However, to aid you in making an informed decision, we highly recommend you to check out Revv – an all-in-one document automation and eSignature platform that provides out-of-the-box and ever-evolving features to scale your business and meet your information technology requirements.
Here's what makes Revv so advanced, powerful, and unique from other platforms.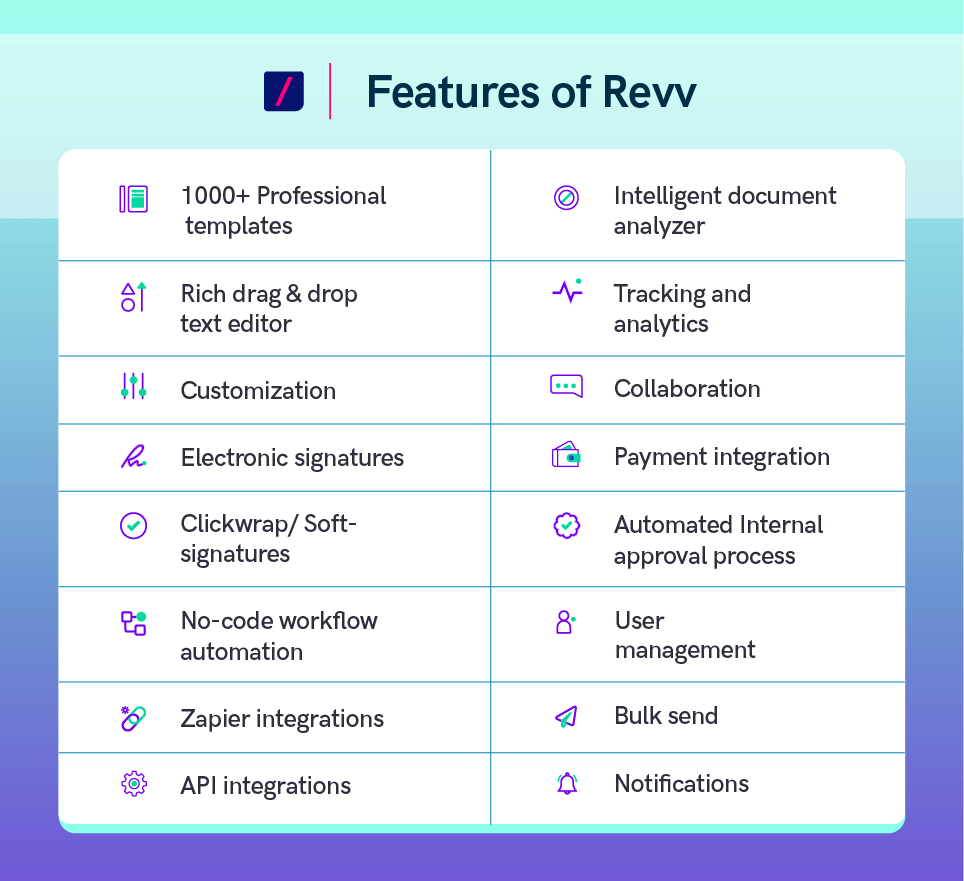 1. Optimize your eSignature workflows with business apps integration
Unite your diversified business platforms with Revv and create a single processing model to automate document workflows end-to-end.
Gain better control over your workflows. Build a friction-free environment for your teams where they can operate efficiently.
Revv provides various ways to do so: built-in integration with apps, Zapier, or Native APIs. Once integrated, here's what an automated workflow could look like: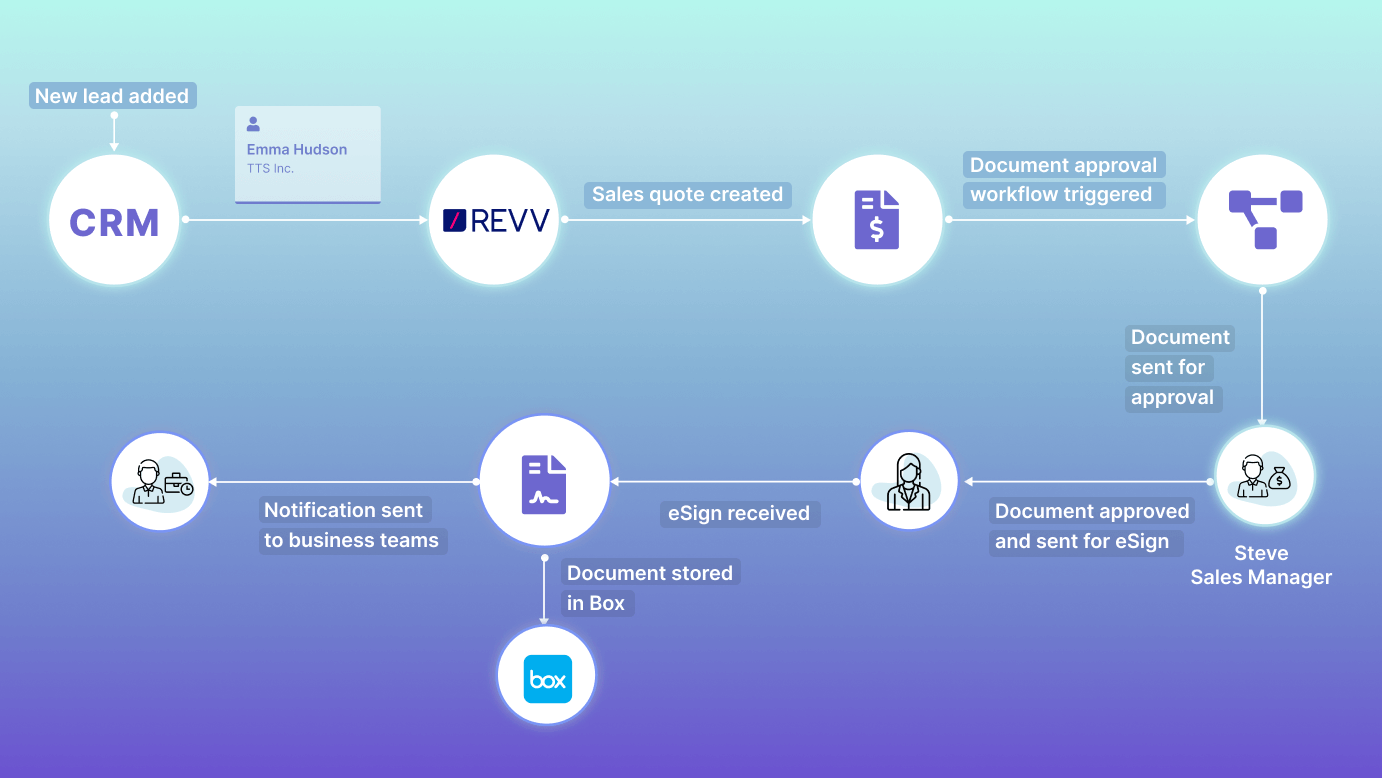 All of this on autopilot. This is one of the examples. With Revv, you can optimize all crucial business processes like customer onboarding, contract lifecycle management, contract renewals, employee onboarding, vendor management, and many more.
You can integrate your HRMS, ERP, Google Sheets, or other applications like:
CRMs like Salesforce, Zoho, HubSpot, etc.
Billing and payment apps like Chargebee and Stripe
Accounting software like QuickBooks
Excel Sheets and Google Sheets to import data
Storage systems like Box, Dropbox, Google Drive, etc.
Chat platforms like Slack, Google Chat
2. Align data fields between your app & Revv, and make your workflows flawless
A wrong data entry can ripple throughout your document workflows. Revv's Data studio features take away this pain and make your document workflows impeccable.
How?
Revv's Data Studio feature allows you to map data fields between your platform and Revv.
What makes it so unique?
Depending upon the volume and complexity of data, usually, such type of configuration involves developers, APIs, and running code or scripts. But, with Data Studio, it just takes a few minutes and a few clicks to achieve this.
How?
Once the app integration is done with Revv, all you have to do is select the object from your platform. All the fields of that object will appear in the left column. Just place them against the right side column having Revv's data fields, and boom, your job is done.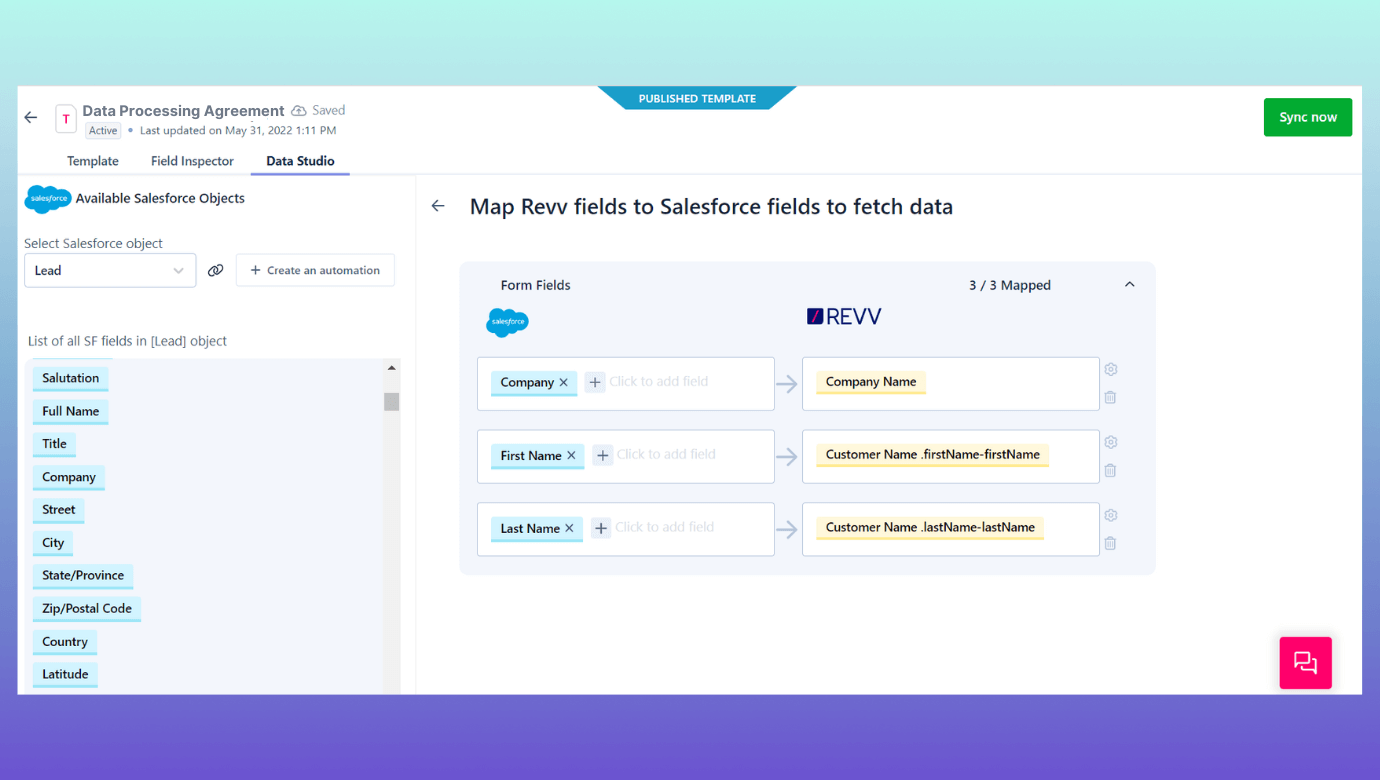 The cherry on the top is that if you want to merge the data fields of your business platform and transform them into one field in Revv, you can do that too.
3. Enhance your business operations by pipelining the document workflows
Businesses often have multiple steps involved in each stage of a document workflow. For example:
Sending the document metadata, signed copy, or other key document-related information to other platforms like CRM, HRMS, or Content Management & Storage System like Box, and boost the workflows from these platforms based on the updated information
Notifying the HR Head when a new employee signs the employment agreement
Sending vendor onboarding documents to the legal team after they are eSigned
Sending and notifying the Sales Head about the sales contract when a client signs it
Revv's 'Pipeline' feature couples the document workflows with your business processes in three steps, so that your workflows run non-stop.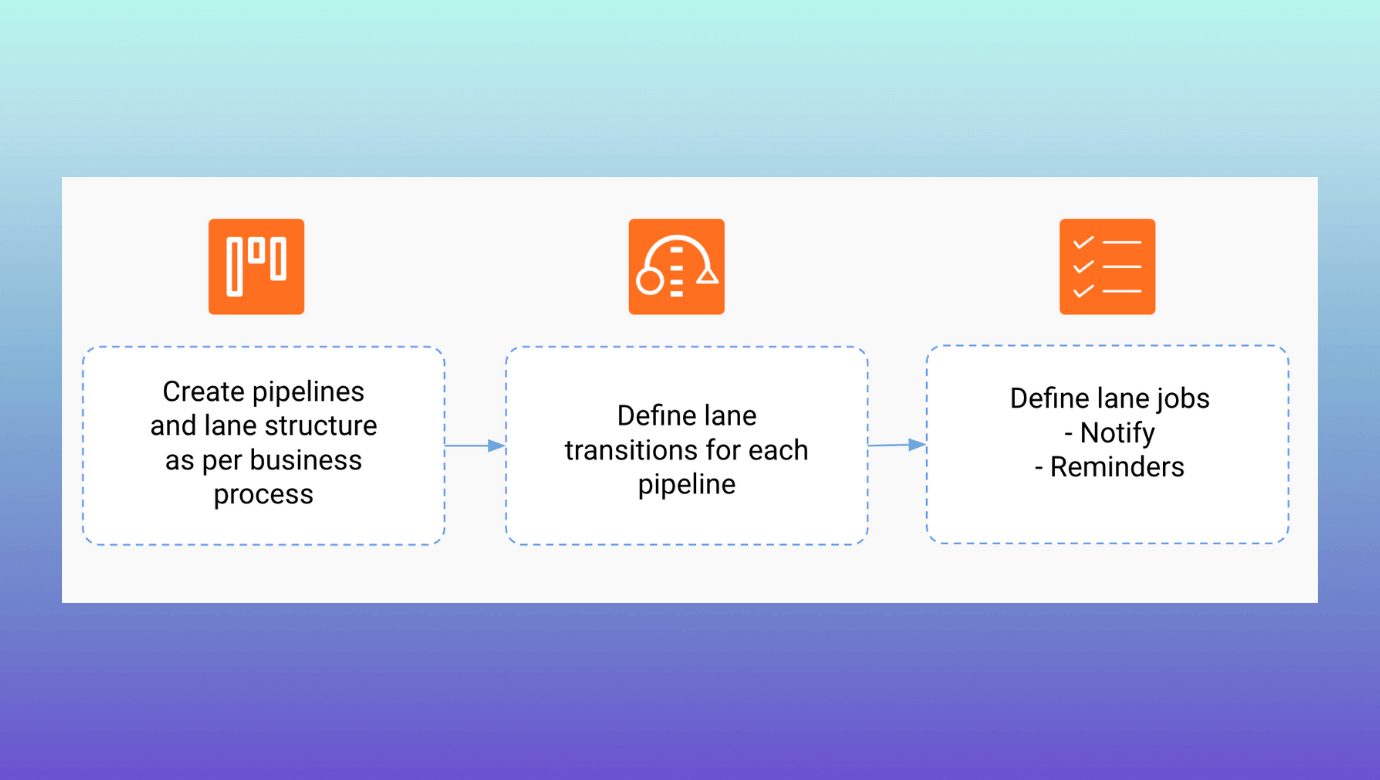 Step 1: Create pipelines & lane structure
Start by creating a Pipeline and select a template that becomes the source for this pipeline workflow.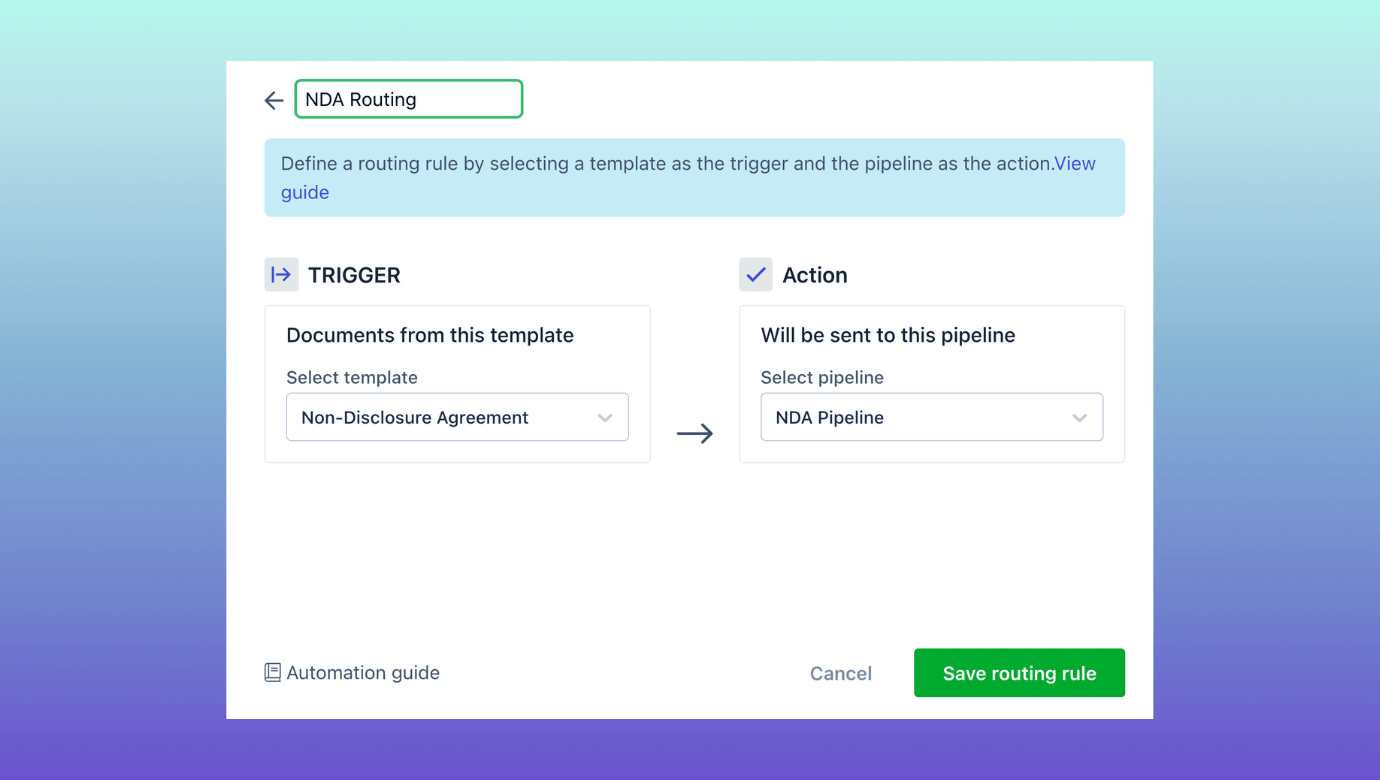 Next, click on the new pipeline created and click on the 'Automate Workflow.'
Define the lane structure for your document. You can rename the lanes, add new lanes, and arrange the process pipelines as you need. When a task triggers, the documents go through each pipeline in the workflow in sequential order.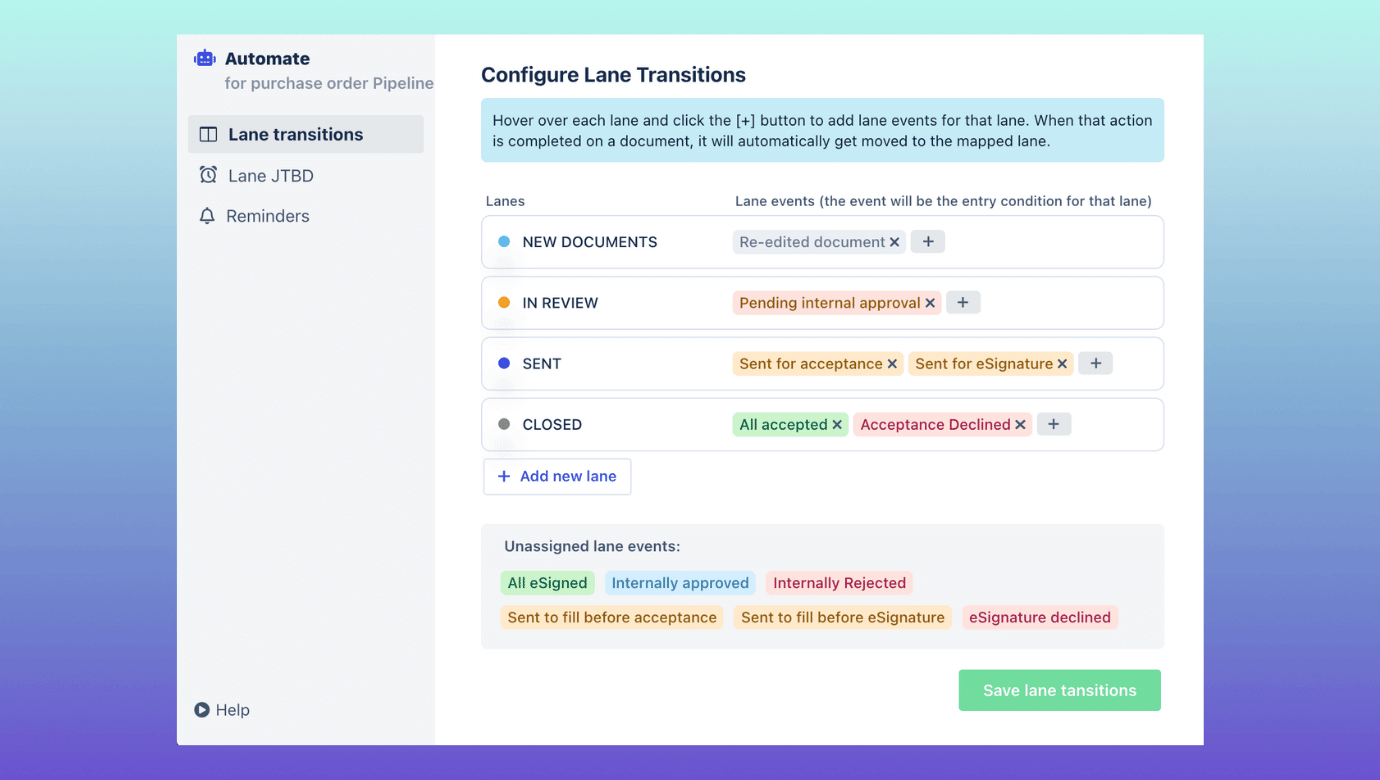 Step 2: Define lane transitions for the pipeline
Add the events as your process demands.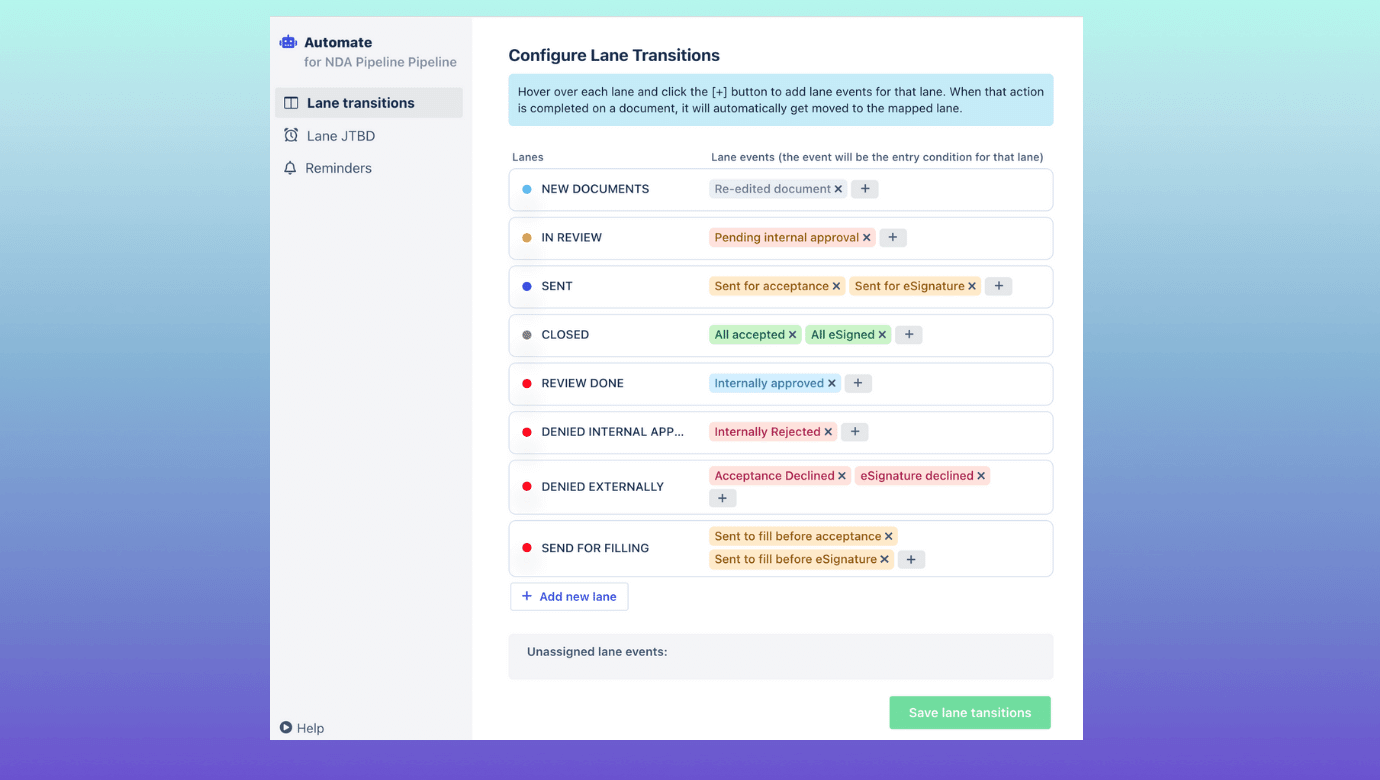 Step 3: Define lane jobs, set up notifications, and reminders
Click on the 'Lane JTBD' tab and define the job for the lane. For example, notifying teams when a document is signed.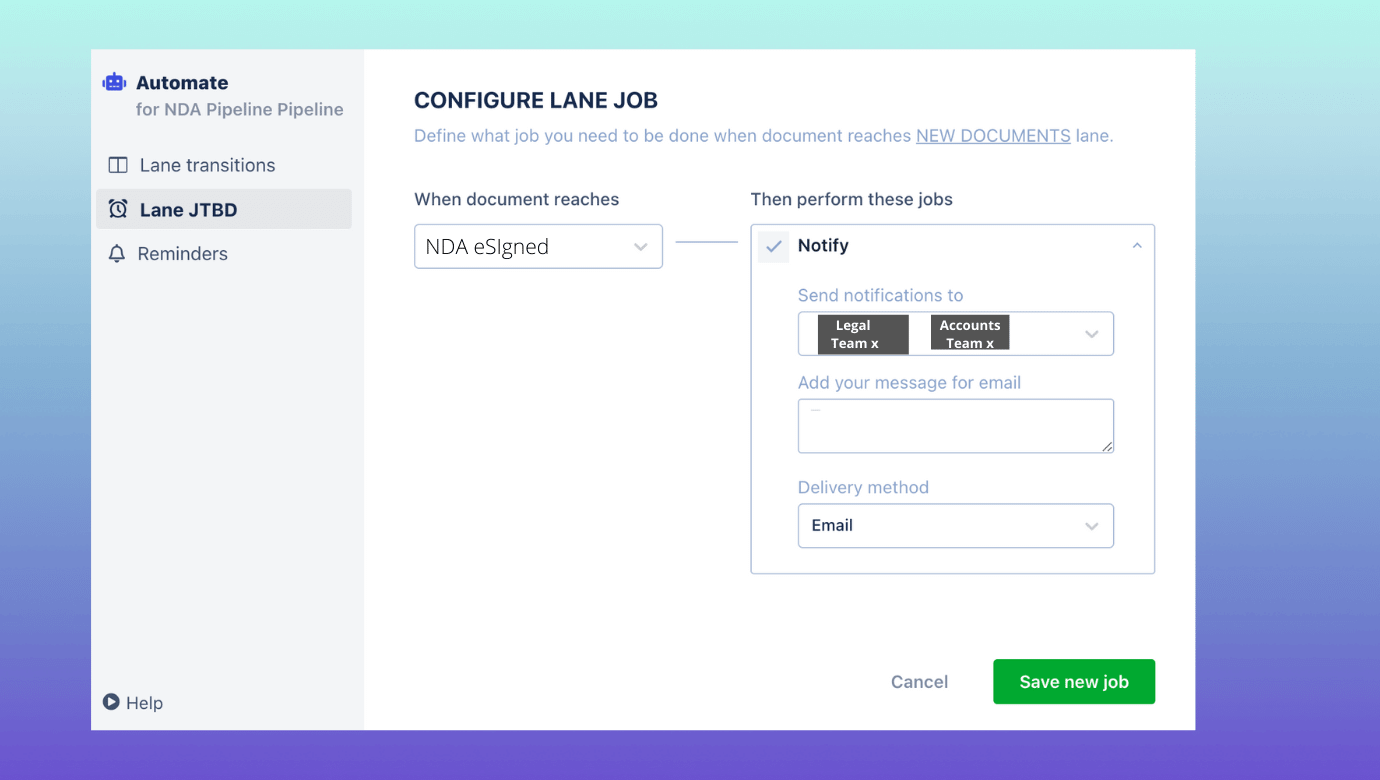 Or sending signed pdf, evidence summary, document metadata, and other key information to Box.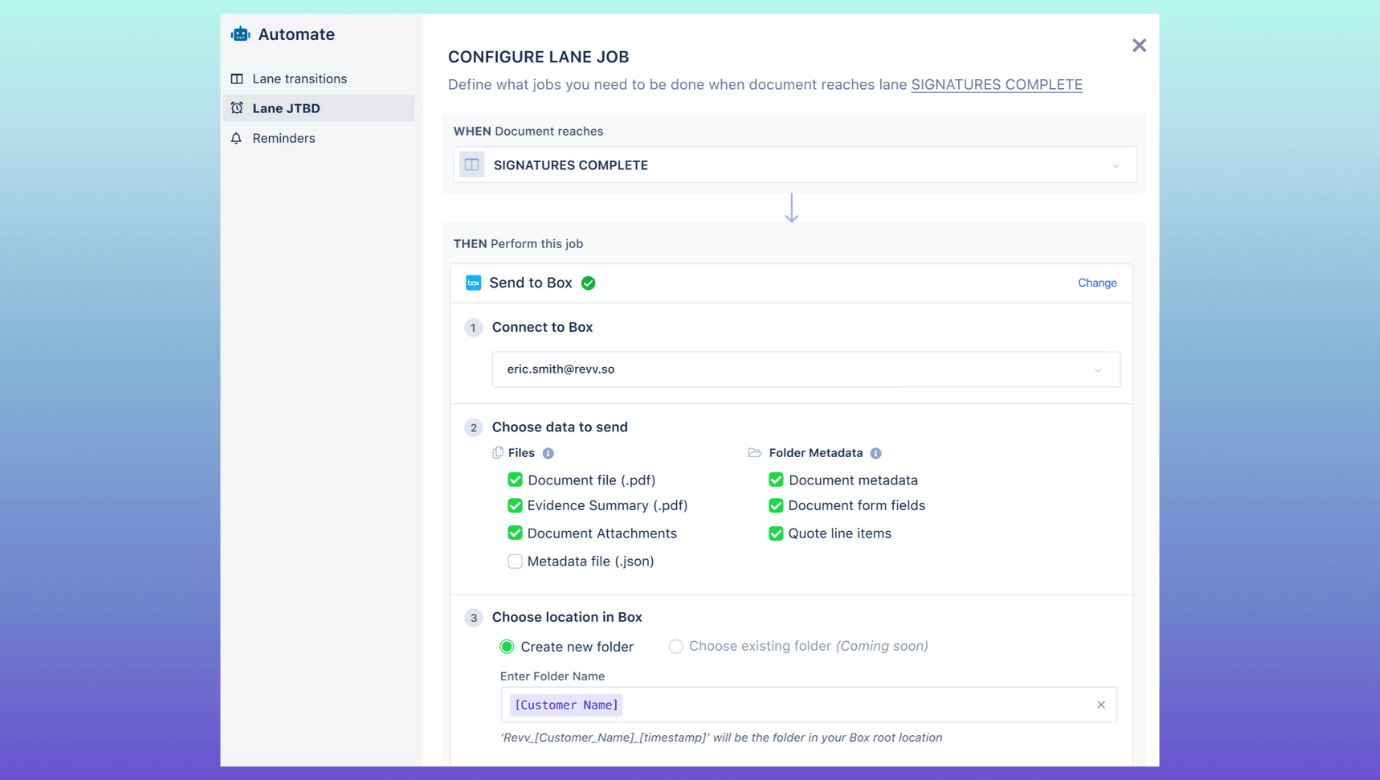 You can configure various jobs to automate the next steps of a document milestone.
Lastly, set up reminders & frequency to remind the recipients to complete a task.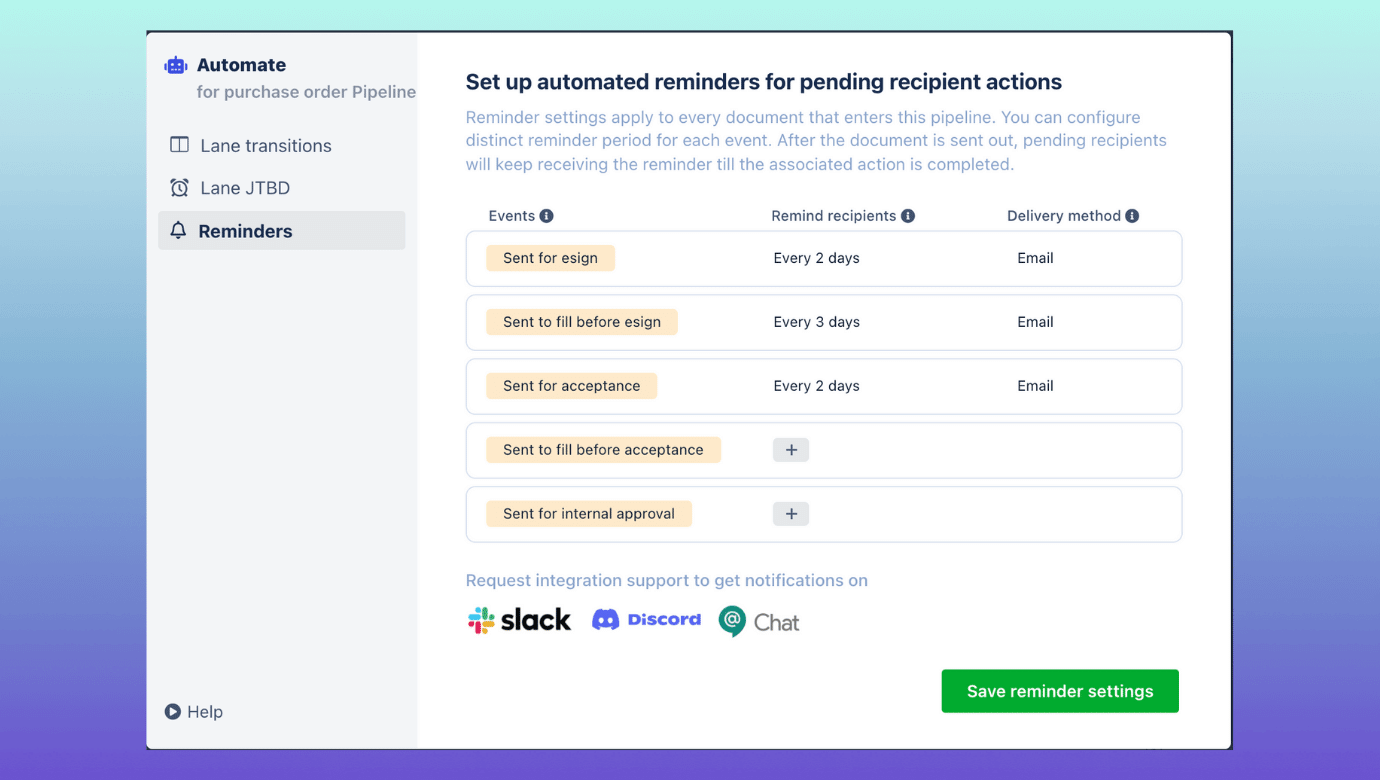 4. Make the document's internal approval process self-propelling
Get your crucial documents reviewed by the approvers, with no human intervention.
Bring control to chaos using Revv's approval workflows. You can configure these workflows at different levels –
Form field level: When the information in the form field meets certain criteria that need approval
Clause level: For the crucial clauses that when added to a document should be reviewed
Quote level: When the product quantity, discount, price, or other quoting related elements go beyond the standard norm
To create an approval workflow, select a condition and define action against it. You can choose between sequential or parallel approval to decide the flow of the approvals. Once a condition is triggered, the electronic document gets automatically routed to the respective approvers for review, and they get notified to take action.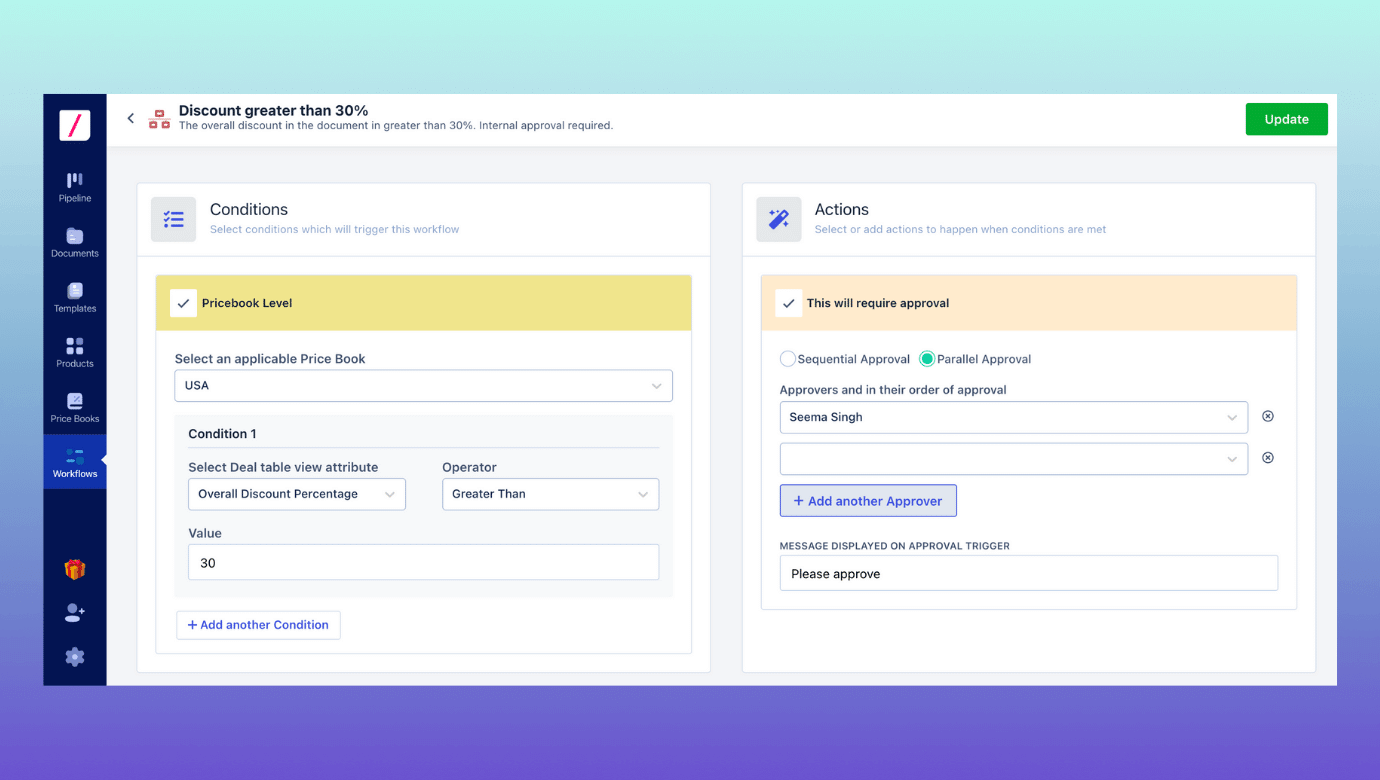 Alternatively, you can also send a document for review using another flexible 'Send for email' feature and give them permission to view or edit.
5. 1000+ legally vetted and customizable templates to give you a jumpstart
Revv's business document templates are crafted with finesse, vetted by legal teams, and designed carefully to give you engaging documents and make your customer go 'wow.'
Our templates range from quotes, agreements, contracts, proposals, statements of work, letters to many more. These perfect templates save hours of the team's time spent over designing, writing, & formatting.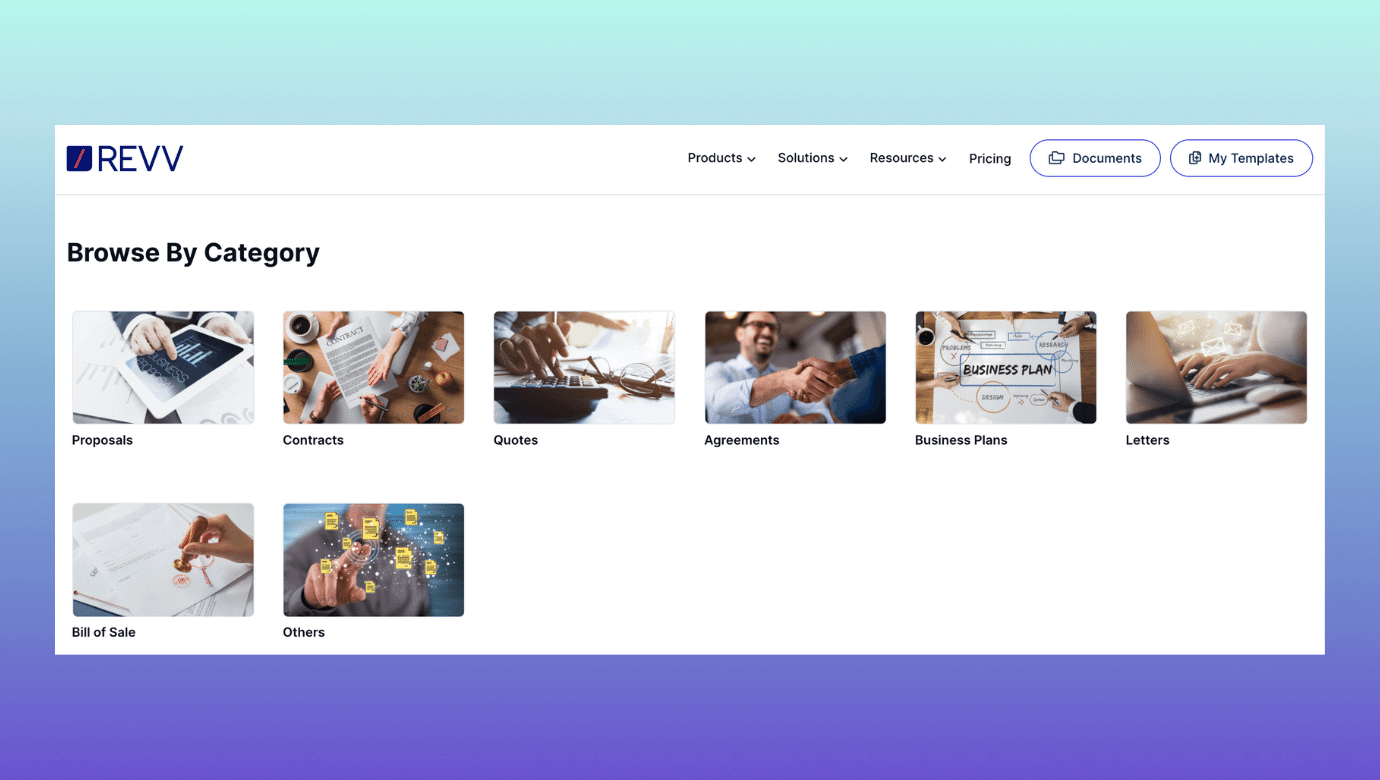 Customize them to suit your needs using the rich drag & drop editor. You can import images, add page breaks, text, table, and even import data by syncing your Google Sheets with Revv. Make necessary changes wherever required, and your document is ready to impress the clients.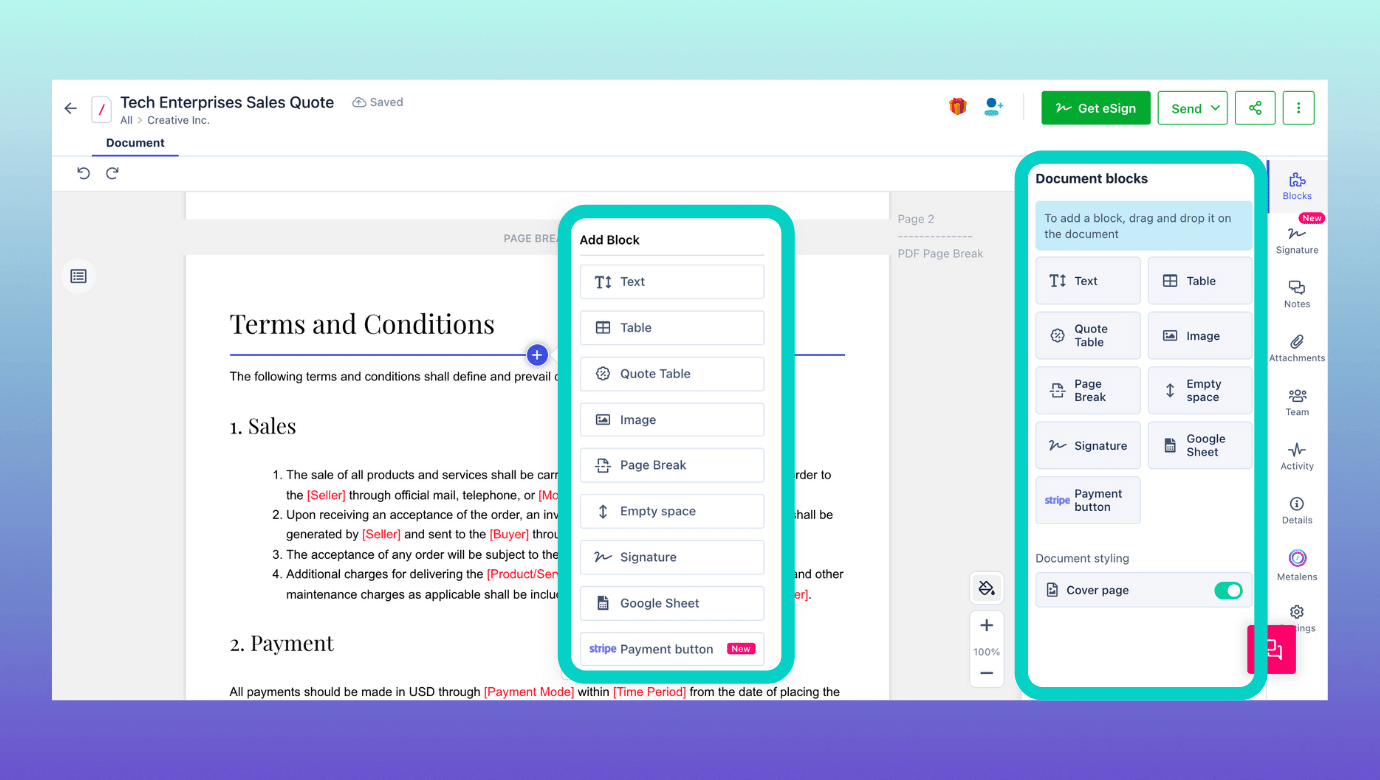 6. Simplify data collection in documents with form fields
The crux of automation is to automate the repetitive process. Form field is one such feature that liberates the business teams from the repetitive filling of the same data in the document.
How?
Step 1: Pick a template.
Step 2: Turn the document fields into form fields
Step 3: Publish the template as a 'form template'
Here's how these steps do the magic:
When you create a document using the template, all you have to do is fill the field data once and it gets replicated throughout the document.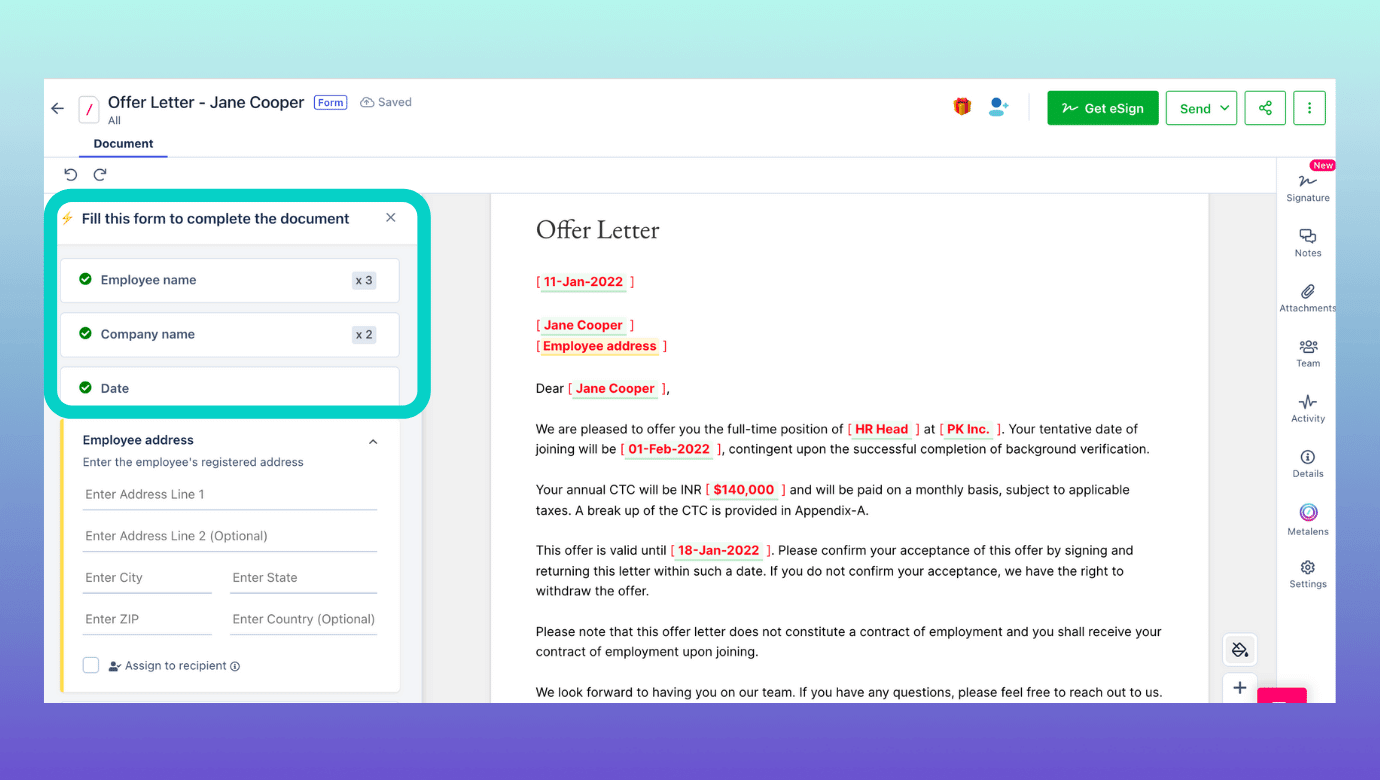 Based on your business demand, if you want information from your customers via some of these fields, you can assign them to the customer. Once the recipient receives the document, he will be navigated to first fill the form fields and then eSign the document.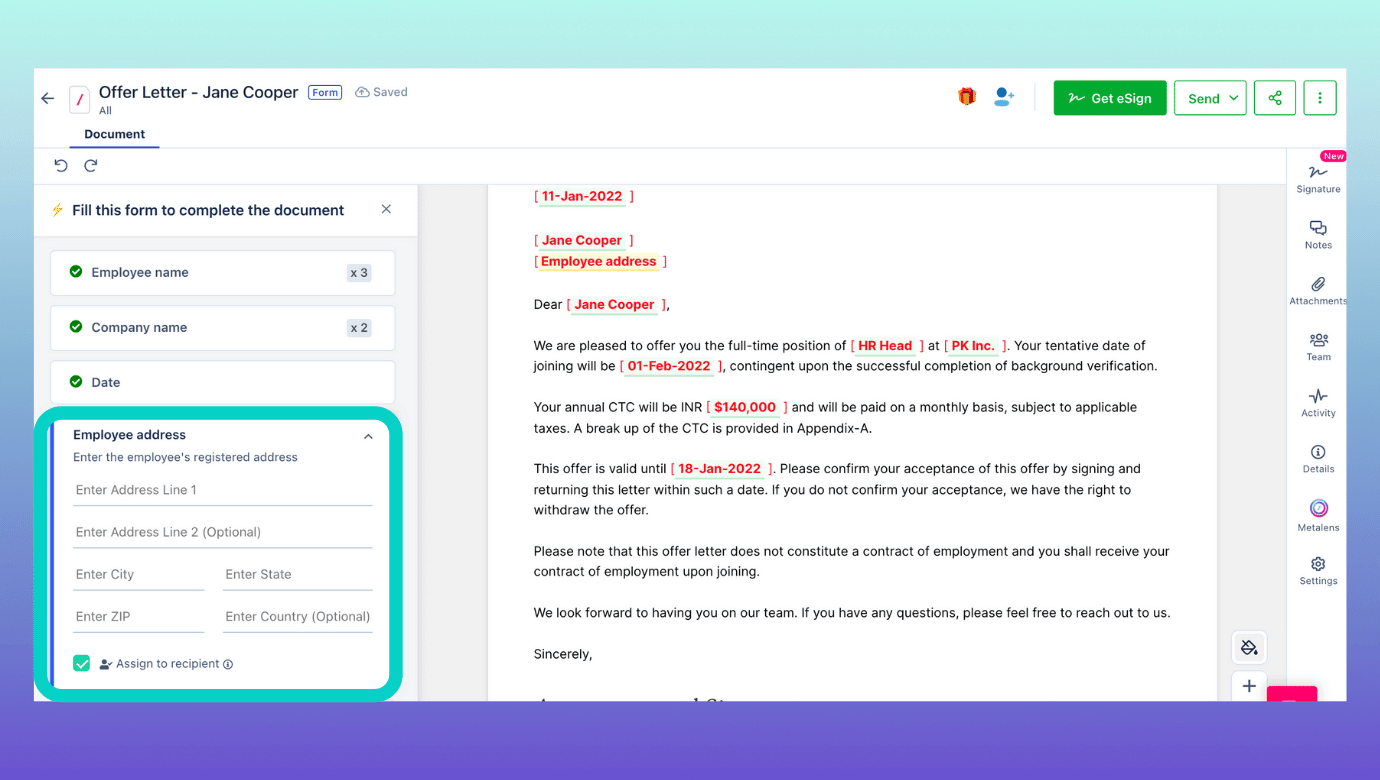 7. Collaborate in real-time
With teams working virtually, it is even more important to facilitate ease of collaborating over the document.
Revv helps teams to work simultaneously on a document without depending on confusing and non-ending email threads. You can add notes, tag other people using '@mentions,' and support your discussion with files using the 'Attachments' feature.
These real-time collaboration features make problem-solving, discussion, and execution faster.
8. Close document confidently with advanced eSignature features
Let's start with compliance, the key priority among eSign users.
Documents signed using Revv are legal in 60+ countries like the Electronic Signatures in Global and National Commerce Act (ESIGN Act) & Uniform Electronic Transactions Act (UETA) in the U.S., and the eIDAS Regulation in the European Union.
Revv provides utmost security to the documents. Its two-factor authentication testifies that the right person is signing the document. With this method, the assigned signer gets an email with a unique link to access the document and receives an SMS OTP to unlock the document and start the signing process.
Once the eSignatures are done, both the recipient and sender gets access to download the 'evidence summary.' It is a step-by-step audit trail of the entire eSigning process.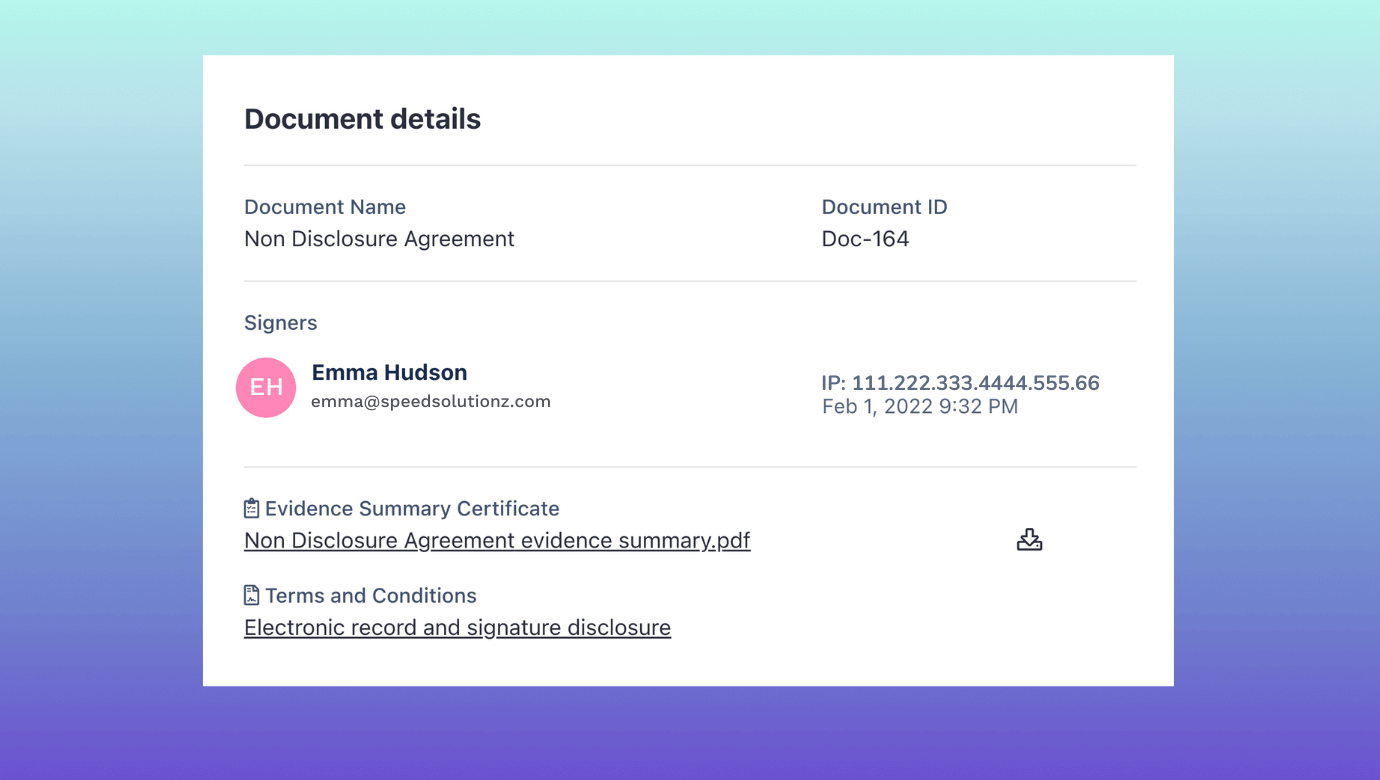 The evidence summary is legal proof of the conclusion of eSignatures. It includes the signer's information, date and time stamp of each action taken by the signer, when the document was viewed, confirmed, signed, and the details of IP addresses from which the eSign was done.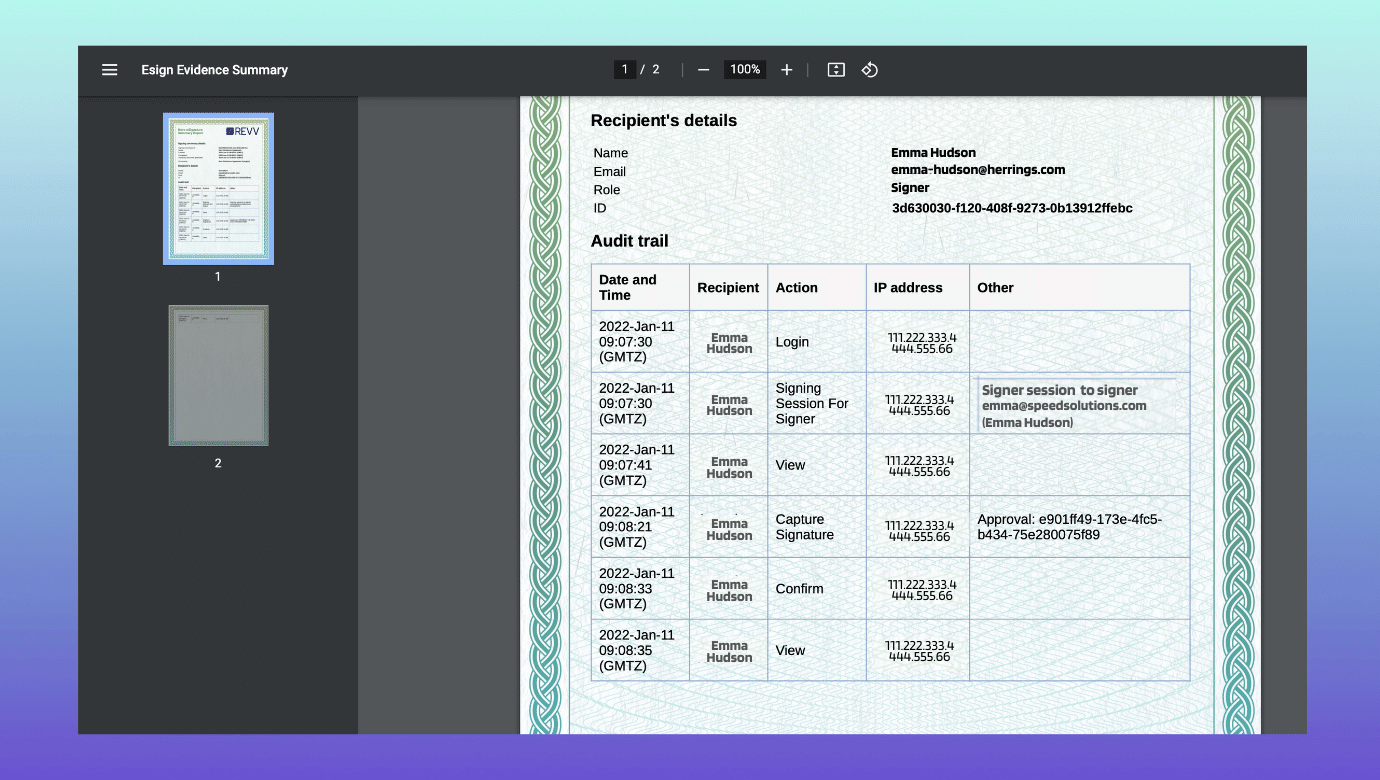 Each transaction is secured under robust layers of encryption and AWS global cloud certification – CSA, SOC 1, SOC 2, and ISO 27001.
Now, let's talk about the other advanced eSignature features that make the whole process like a cakewalk.
You can also opt for a soft-sign method – 'send for acceptance,' which is a flexible alternative to electronic signatures. It works well for documents like consent forms, offer letters, etc. where the document needs the recipient's acceptance for closures rather than eSign. Revv also includes video capabilities in the 'send for acceptance' feature where you can send and request video consent during the signing process.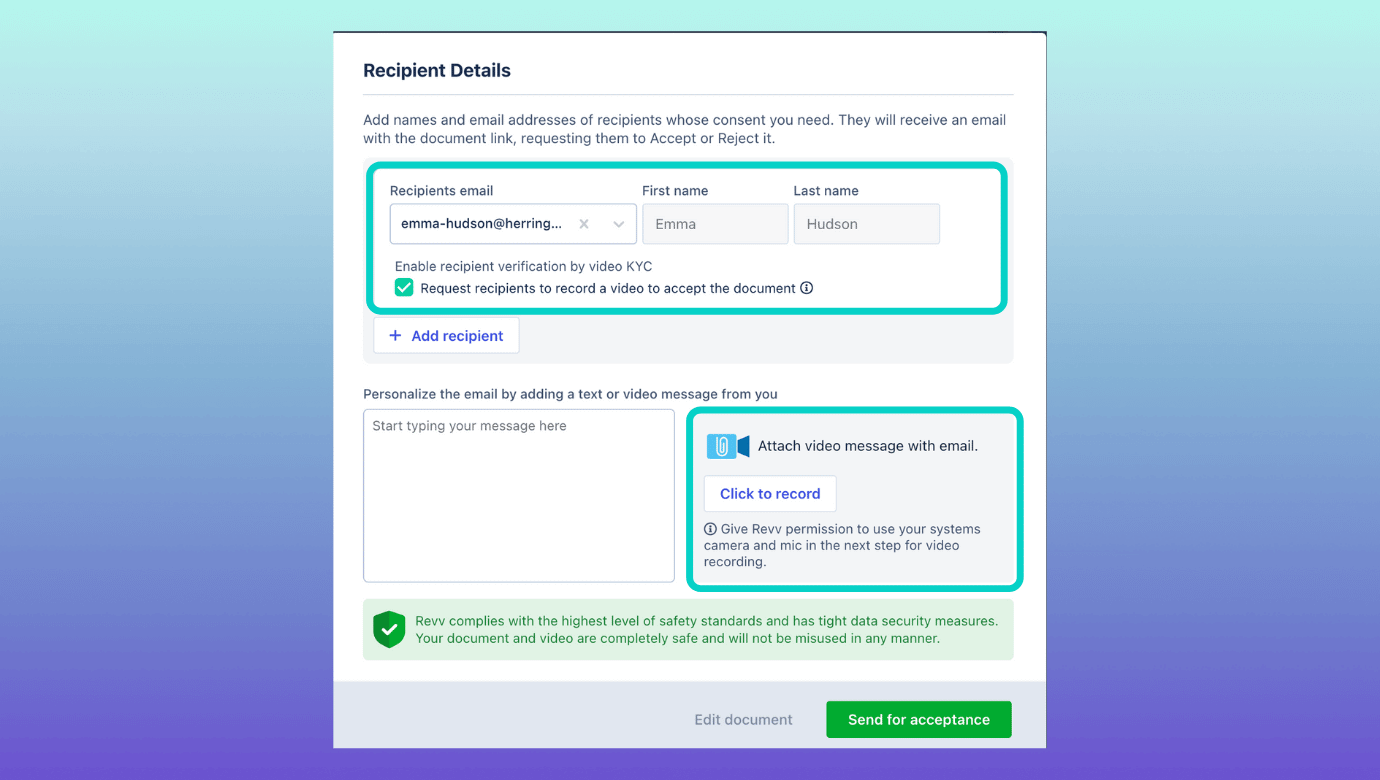 Revv provides bank-grade eSignature that are completely safe and secure. You can add any number of signers in your document and send them for eSign.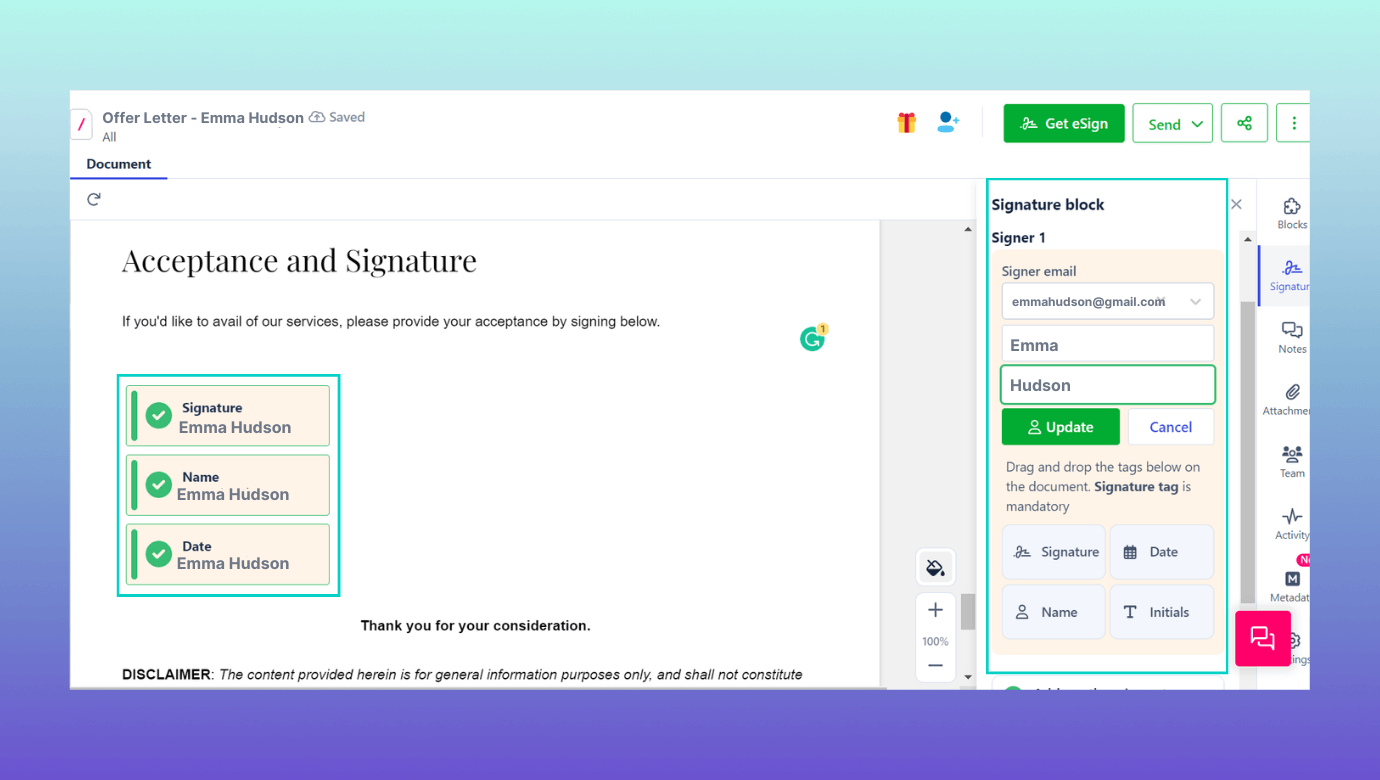 If you want to send the same document to multiple people with the customized details of each person – you can accomplish this via the 'Create documents in bulk' option. This feature helps you to customize each document with standard details like name, contact no, email address, contact address, etc., and send as many documents as you want to e-sign.
The beauty of using Revv eSign is its device compatibility. The recipients can sign the documents anywhere, anytime, and from any device.
9. Keep an eye on your document's progress with the 'Activity' feature
The 'Activity' panel in Revv lets you watch out for any delays and hiccups in your document's movement. You can check all the actions taken on the document – is it viewed, approved, signed, etc. If the document isn't moving from a particular recipient, you can intervene at the right time and clear the roadblocks.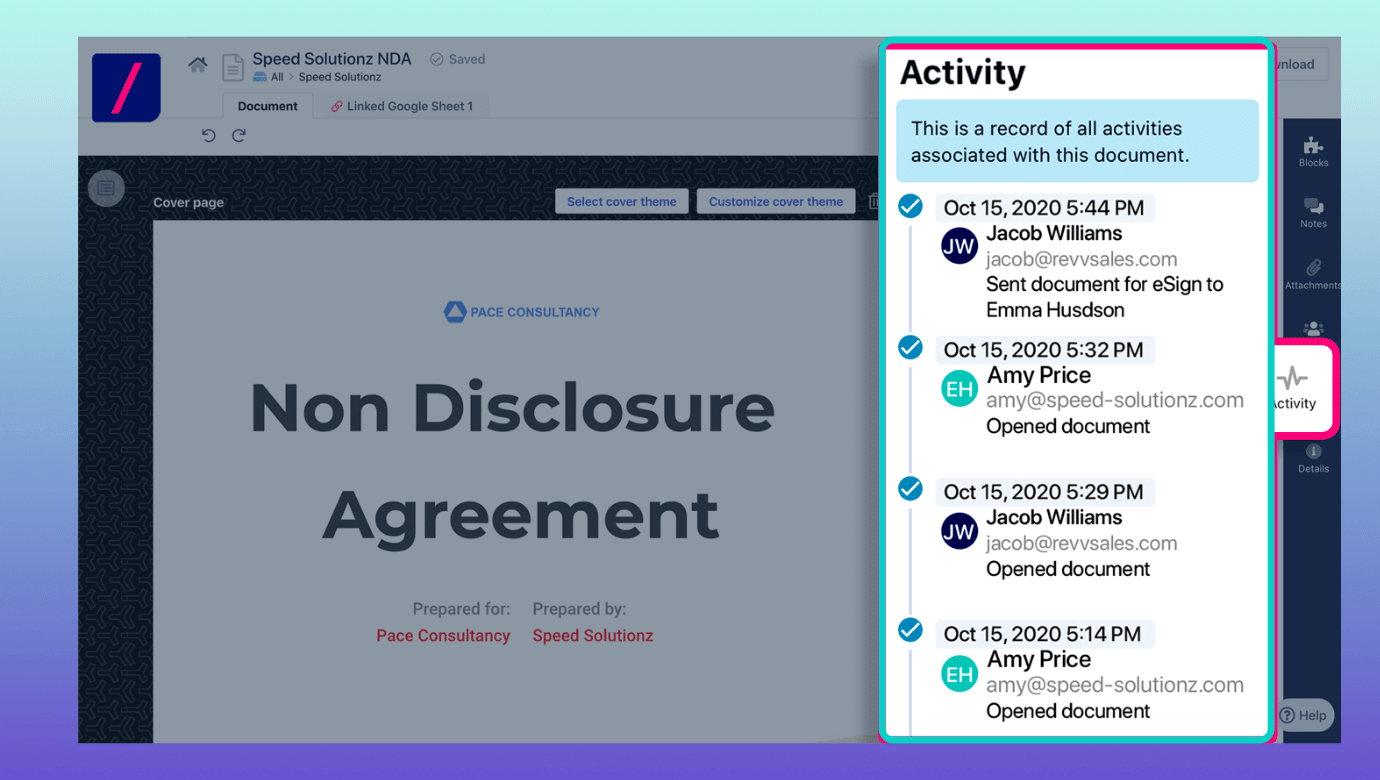 Revv sends email notifications to senders when the documents are opened, filled, and signed. It also notifies the recipients with a link to access the signed document, once the recipient completes eSignatures.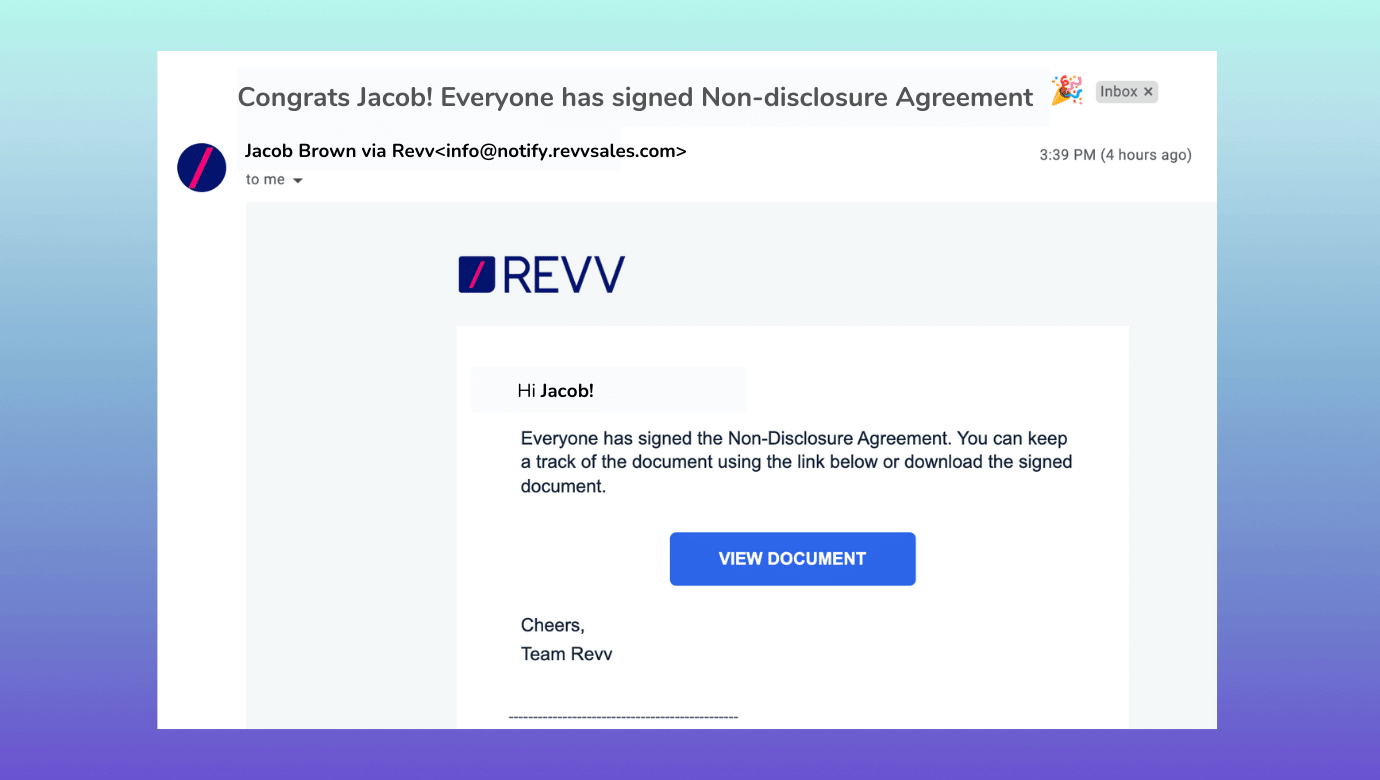 Recipients or signers can now have the flexibility to sign off documents faster with Revv's flexible eSigning options. They can 'Draw signatures,' 'scan and upload signatures,' choose from 'pre-formatted text styles,' and even connect their crypto-wallet MetaMask to complete the signing process.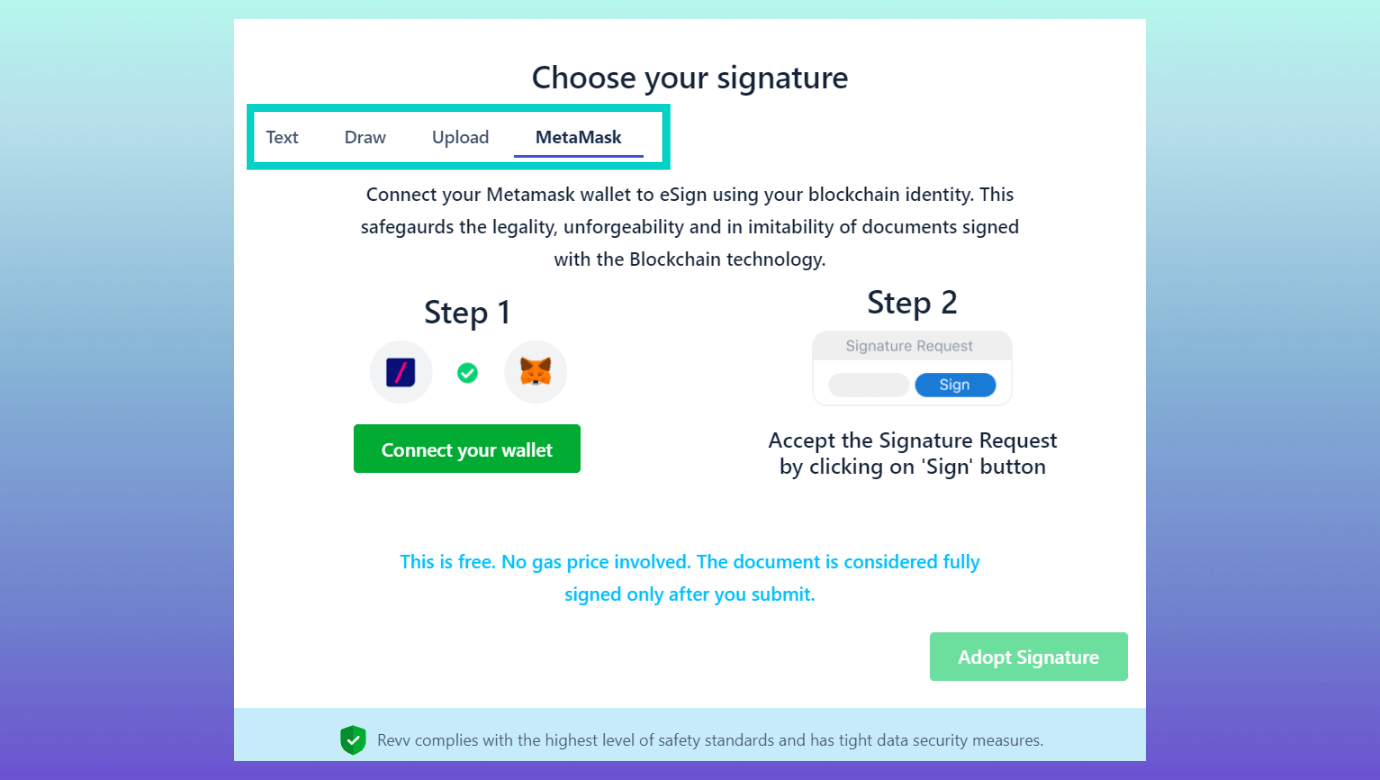 How Revv's document workflow automation transforms business operations? A quick example

BEFORE REVV:

Rachel, the Sales Manager, is getting drained and losing out on good sales opportunities as she and her team spend 60% of their time running sales operations rather than doing the actual sales.

Some of the new opportunity data is stored in Salesforce while some are stored in Excel Sheets. The team has to look into both apps and manually copy-paste the data into a sales document (quotes, proposals, agreements, or contracts). Often there are some human errors in adding the data, which lead to issues with the customers later. In most cases, a sales rep has to recreate a sales document, which gives more time to the prospective clients to evaluate their competitors.

A lot of time, the sales reps need to gather some key information from the recipients which they ask in the email to the clients. But, a delay in a reply further delays the whole deal-closure process.

If the customer eSigns document, the team has to update the Salesforce & all other platforms with the right data along with saving a copy of the signed document to Box. Doing all these tasks manually is causing delays in closing the deals, making it error-prone, and stressing out the sales team.

AFTER REVV: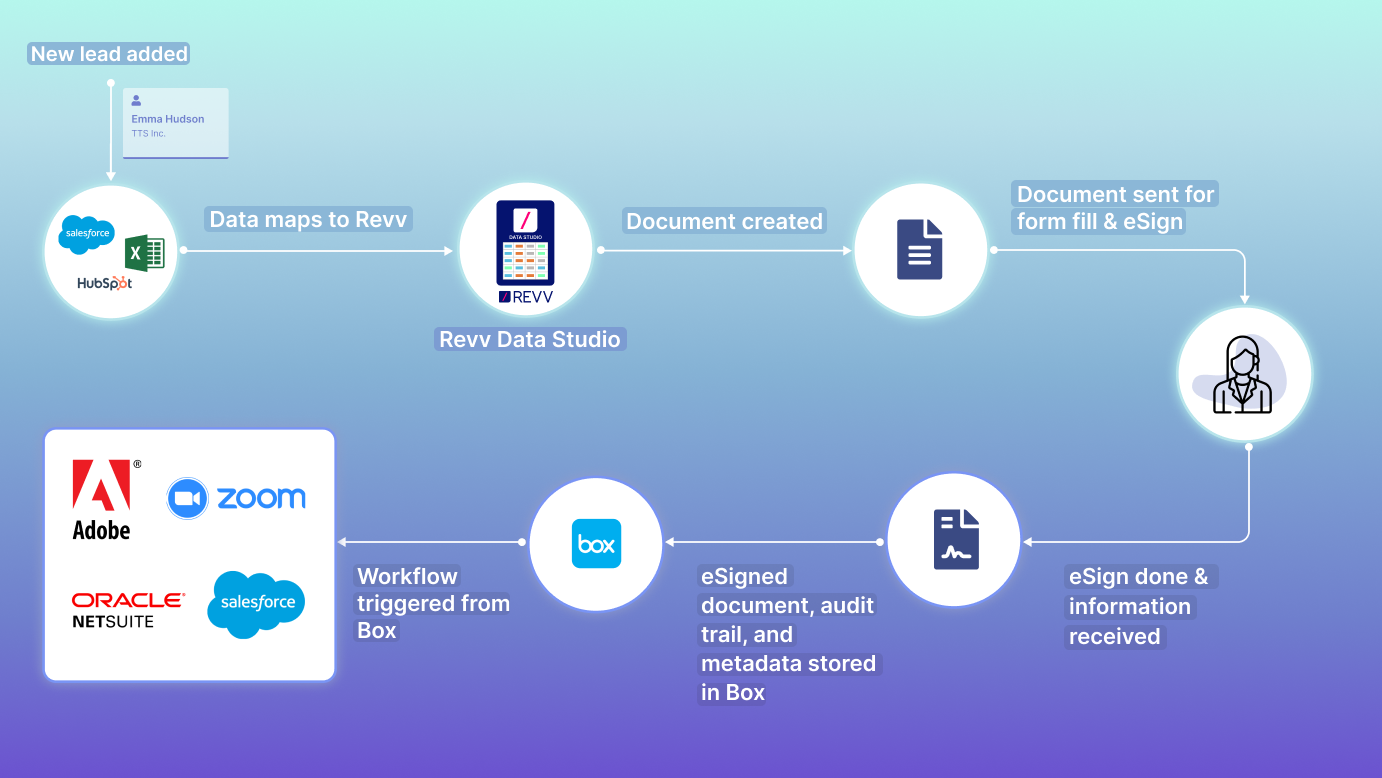 With app integration capabilities and Data Studio feature, Revv automatically fetches data from Salesforce & spreadsheets and creates a document with the populated data. Using the form fields, the team assigns the fields which customers fill right within the document. First, Revv routes the document to the client to fill the form fields and then send it for eSignature.

Revv provides seamless integration with 'Box' – cloud storage and content management system. After a document is signed, Revv stores the signed documents, its audit trail, and all associated metadata to trigger the next workflows from 'Box.'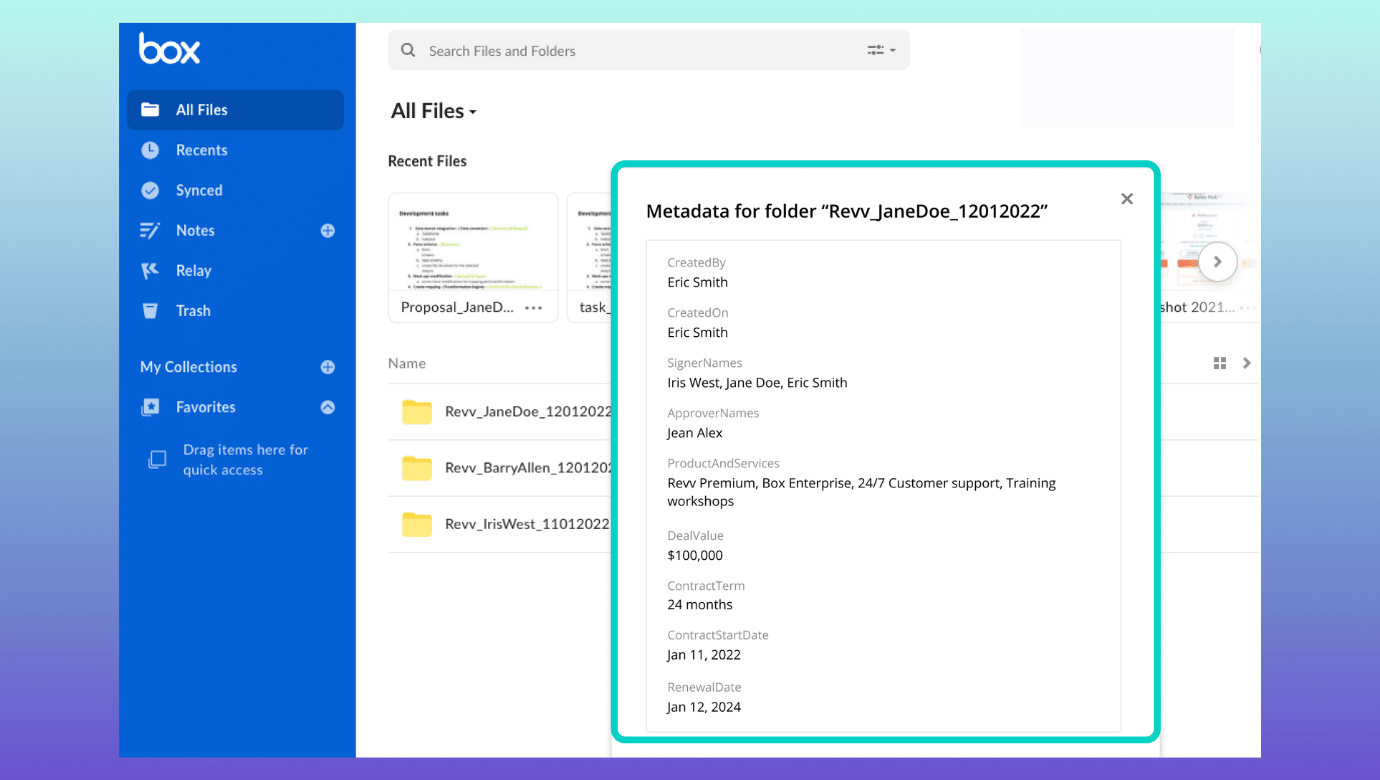 Our ratings speak for us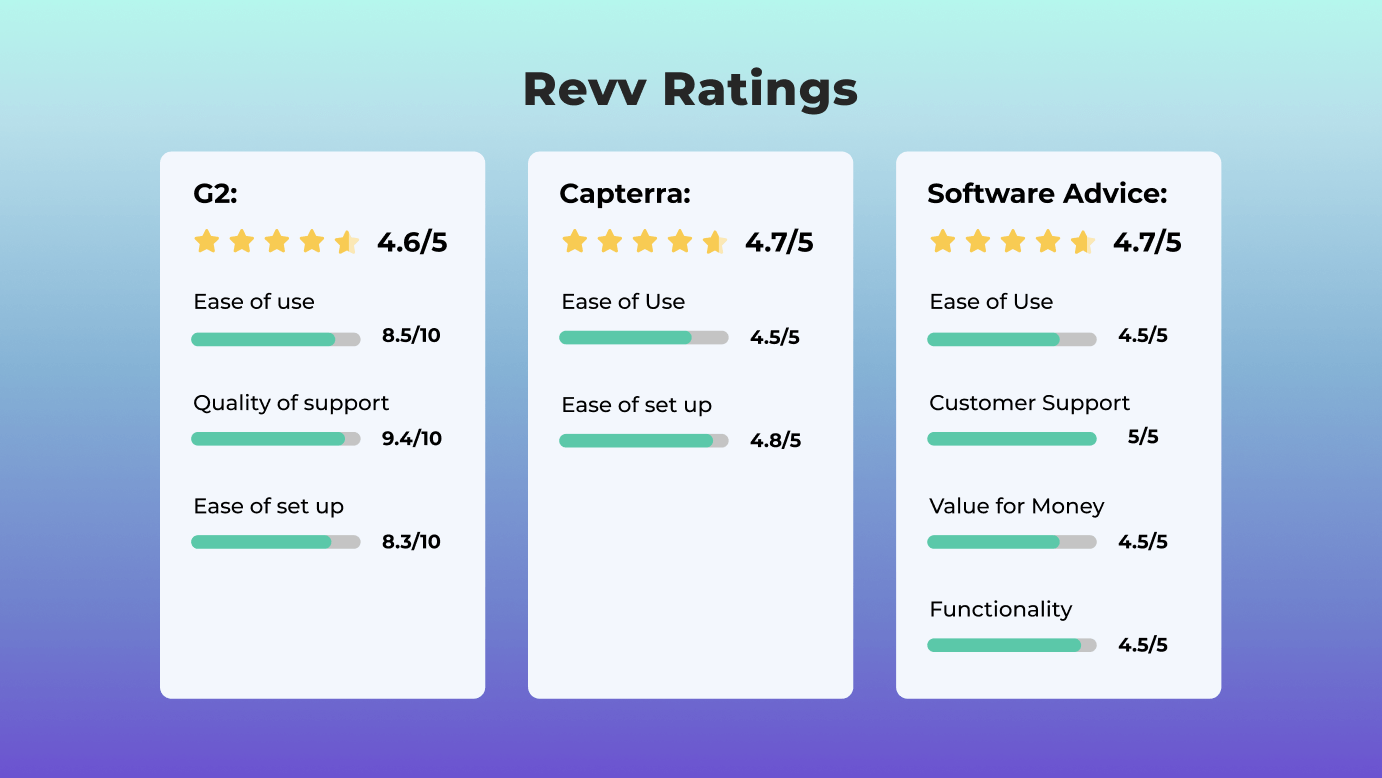 Here's a comparison grid to understand how Revv stands with both Adobe Sign and DocuSign in terms of key features –
| | | | |
| --- | --- | --- | --- |
| | | | |
| | Revv | Adobe Sign | DocuSign |
| Template library | ✓ | X | X |
| Form fields | ✓ | ✓ | ✓ |
| Notifications | ✓ | ✓ | ✓ |
| Customization | ✓ | ✓ | ✓ |
| Multi-party signing | ✓ | ✓ | ✓ |
| Workflows | ✓ | ✓ | ✓ |
| Bulk send | ✓ | ✓ | ✓ |
| PDF form conversion | ✓ | ✓ | ✓ |
| Authentication | ✓ | ✓ | ✓ |
| Zapier integration | ✓ | X | ✓ |
| Tracking and analytics | ✓ | ✓ | ✓ |
| Intelligent insights | ✓ | ✓ | ✓ |
| Device accessibility | ✓ | ✓ | ✓ |
| Audit trail | ✓ | ✓ | ✓ |
| User control | ✓ | ✓ | ✓ |
| Collaboration | ✓ | ✓ | ✓ |
| Collect payments | ✓ | ✓ | ✓ |
| Multiple language support | ✓ | ✓ | ✓ |
Revv's user reviews – A shower of love and trust from Revv's customers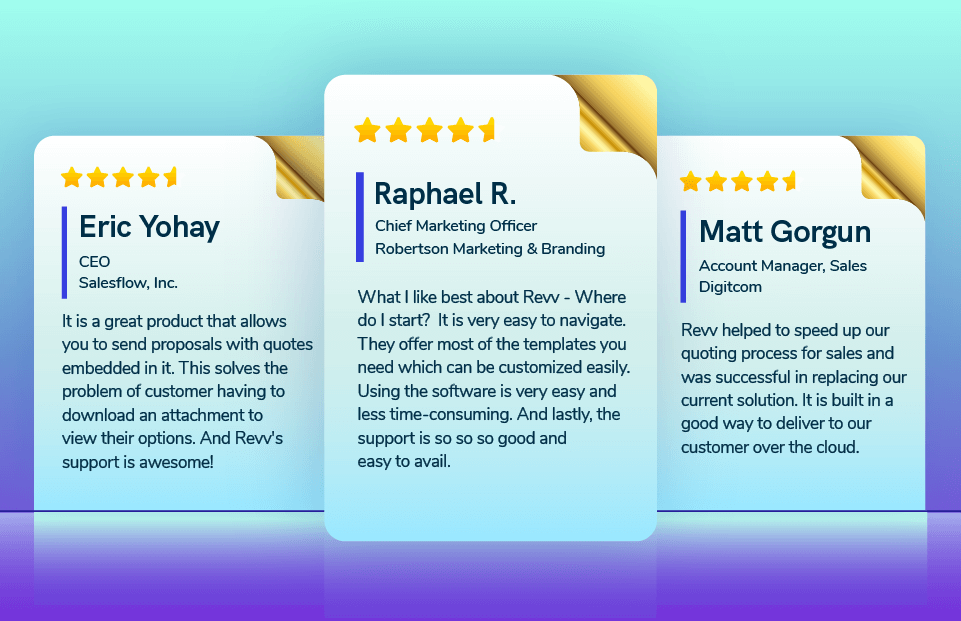 What are you waiting for?
Revv powers your business with document automation and gives it the speed it needs to be successful.
When it comes to pricing Revv offers the best features to cost ratio. Check out the pricing details here.
From self-driven document workflows to seamless eSignatures – Revv is your trustworthy partner at every stage.
Try it out yourself.
Join Revv!
If you want to know more about Revv or have any questions, hit us up at sales@revv.so.