The dotcom boom had brought to us a new sense of convenience – a way of doing things digital. Any solution that provided the luxury of not having to step out of one's home found quick adoption.
The COVID-19 pandemic further highlighted the benefits of this digital transformation. Many things we thought required face-to-face functionality can be done from home, all with little or no complications. One of the things that we have come to realize is that contracts and agreements that we have always signed in-person can just as easily be handled digitally. Digital signing is easy and convenient, and according to current legal precedent, it is fully legally binding.
There are quite a few companies in the digital signing sphere, each with its unique functionalities. Read on to help determine which is going to be the best fit for you and your organization.
List of most popular eSignature software being discussed are as follows:
Adobe Sign
You cannot really even discuss eSign software solutions without considering Adobe Sign. Adobe created the PDF in 1992, following the dream of a fully digital office. Dr. John Warnock, Adobe's co-founder, had a vision of the future office where documents, including contracts, could be scanned, emailed, and signed, all without leaving your desk. His vision led to the creation of a secure digital document, even before the arrival of the internet which is still used today.
Adobe Sign has high functionality, including in-app signing on your cell phone. The biggest drawback to Adobe Sign is the cost. The price per month is fairly standard but is specifically geared toward multi-signer organizations. For single-person usage, Adobe Sign is expensive and only provides 150 eSignatures a year.
Secured Signing
Secured Signing is a cloud-based solution. When trying to go as virtual as possible, cloud-based options allow you to eliminate in-person contact efficiently and conveniently. Allowing multiple users to log in to the same document and sign eliminates the need for users to physically interact.
Secured Signing has a fairly complex pricing model that utilizes both the number of documents being signed and the number of people using the software. This means it can work out to be one of the less expensive options, but if you have more than a few documents to sign each month, or if you have multiple employees in your organization who will need to sign, the price can quickly climb.
Signeasy
If you are just looking for software to sign documents without a lot of bells and whistles, Signeasy maybe your best option. It does have a high level of mobile integration, so it is great for getting your documents submitted, signed, and returned quickly. Signeasy's pricing model is mostly channeled at individual users.
Signeasy is a great value for individual users since the basic plan allows for unlimited simple document signatures. Additional users are added one at a time, and the only plan that allows for more than one is the top-tier plan. Costs for this can add up to be much higher than some other options if you need several users to have access. In addition, there is no option for two users.
The top-tier plan that allows multiple users also requires at least three. The multiplier for three users on this plan costs more than many other companies' top-tier plans, with fewer features than most. Companies that only need two signers will have to choose between paying for an additional account they do not need, or the two employees will have to purchase their own separate personal accounts.
PandaDoc
PandaDoc is one of the most popular options on the market today for one huge reason: it has a functional free version. PandaDoc's free version allows you to complete many basic tasks. PandaDoc has a fairly rich selection of upgrades, but even the free version offers unlimited document signing, something that is typically reserved for mid or upper-tier software packages.
The biggest drawback to PandaDoc comes when you need more options for your company. The corporate, multiple-employer plan is one of the most expensive on the market, and each additional employee is an additional fee. This adds up pretty quickly if you need any of those additional features.
Keepsolid Sign
Keepsolid is primarily known as a security services company, so it makes sense that their eSign software provides a number of resources to make your documents function more safely. 256-bit encryption paired with annotation and collaboration tools makes this software simultaneously secure and functional. Since eSign documents are almost universally intended to be used in a legal scenario of some sort, it makes sense that the people who purchase them would want it to keep the documents safe.
Keepsolid Sign is one of the more frugally-priced eSign software solutions on the market. It has a great deal of variation in what people eventually pay but not due to choosing different software levels. All of the paid versions of Keepsolid Sign provide the same decent list of standard services. The difference in prices is exclusively based on how many members of your team will need to use the software.
DocuSign
DocuSign is a cloud-based solution that allows you to sign an unlimited number of documents with its free version. Every document you sign with DocuSign is available on their cloud servers, which is great if you need access to your documents to be available at any time. With cloud-based services, you can open and sign your documents from your phone or any device as needed.
If you only need the ability to sign documents, this is a great free service, but if you need to request eSignatures from others on your own documents, you will be required to purchase a paid version. There is a lot of granularity in services offered by DocuSign. DocuSign offers a few features in their free version. To get all features, you need to have subscriptions which can be pricey for the users.
Disclaimer:
Please note that all the information in this blog is taken from company websites, comparison websites such as GetApp, G2, Capterra, Gartner, and others. Since companies keep adding features, some of the information may be out of date. Let us know at support@revv.so if there's any information that needs to change. We'll verify and update as quickly as possible.
Revv – the most reliable and affordable eSignature platform
Revv is the most advanced electronic signature and document automation platform available, outperforming all other options. It comes with a slew of innovative document automation tools that boost the efficiency of your document and its workflow process manifold. Besides providing some free eSignatures, our free version is packed with some distinctive features that are only provided in premium subscription plans of other platforms.
Revv allows you to generate a legally enforceable electronic signature quickly, easily, and affordably. Let's take a peek.
Automation capabilities
The most practical need for any business when it comes to handling documents and their workflows is to reduce human intervention as much as possible. Revv helps to automate every step of the document creation process, from start to finish. But this is not limited to documents. Revv's automation capabilities are further enhanced by the Pipeline feature. You can easily automate end-to-end business workflows for your organization and eliminate redundant processes utilizing varied features of the Pipeline.
So, what exactly is the Pipeline feature?
A bite-sized guide to using the Pipelines feature
Categorize your documents by creating multiple Pipelines that suit your business processes.
Automate workflows with the help of 'Pipeline Routing.' You can decide which document should fall under which Pipeline using this feature.
It could further be categorized and assigned to different lanes according to the status or action taken on your documents.
These lanes could further be streamlined by automating the workflow for each lane by assigning different lane jobs/events to it. This feature lets you add jobs that get executed automatically when a document reaches that particular lane. For example, you want to alert your colleagues after a new lead is added to your client pool. After the deal is closed and eSigned, the document automatically reaches the 'closed lane'. To 'closed' lane, you can pre-set lane jobs. Simply select the pre-defined lane (here it is the 'closed' lane) and enter the email addresses of your colleagues you want to notify about the new client. Once a deal is closed, all your team will get email notifications simultaneously intimating about the document status.
Along with automating documents and their actions, users can set automated reminders as well, curtailing the time spent on manual follow-ups.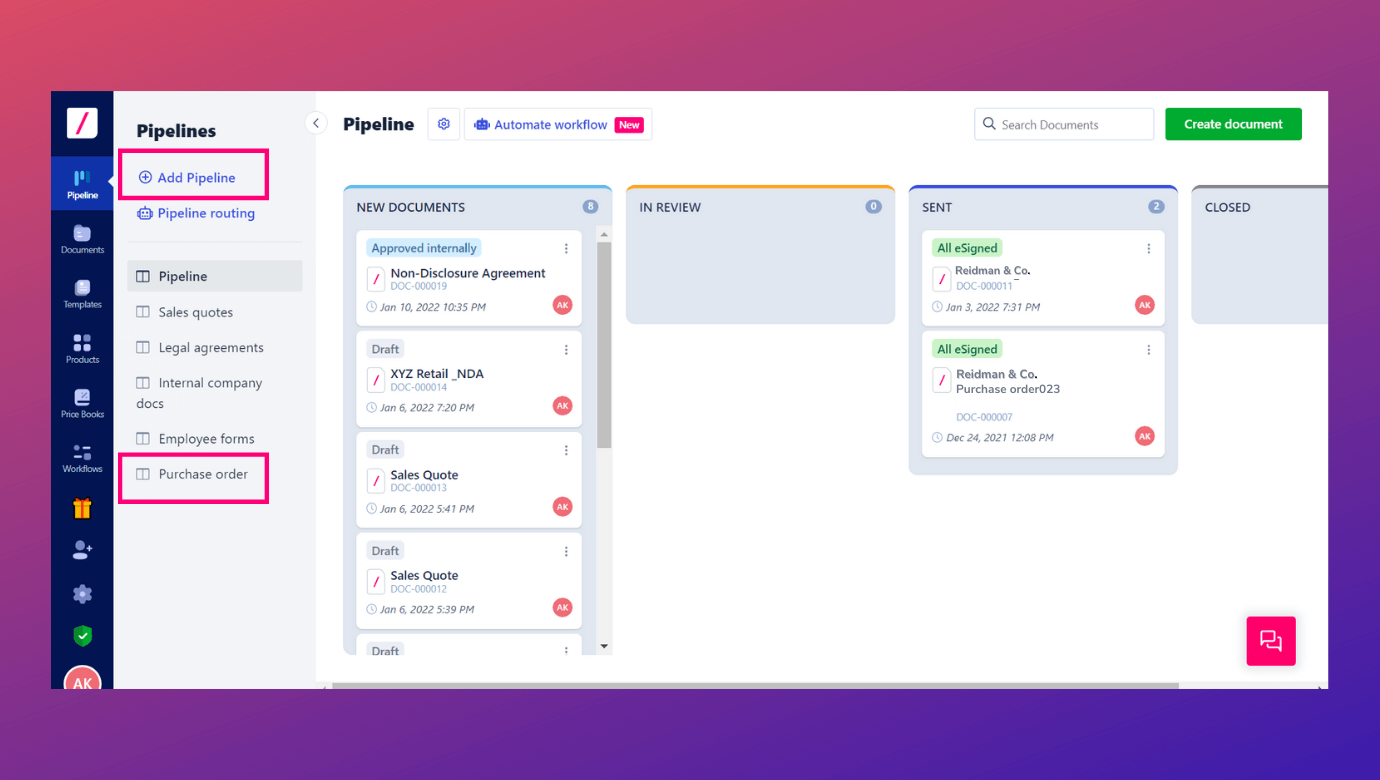 "I couldn't tell you in any detail how my computer works. I use it with a layer of automation."

Conrad Wolfram, Co-founder and CEO of Wolfram
Integration with your existing business systems
Automation will never work to its full efficiency unless and until there is a seamless passing of data across your business platforms. That's where Revv's boundless integration ability works its magic. As you integrate your existing business apps with Revv, you will be able to capture accurate data from different software applications. This way, workflows can be triggered and documents can be stored, all without leaving your existing CRM, HRMS, or other crucial systems.
Revv can be integrated with:
CRMs such as Salesforce, HubSpot, Zoho, etc.
Storage platforms like Box, Google Drive, Dropbox, etc.
Communication and collaboration tools such as Slack and Google chat
Payment apps such as Stripe and Chargebee
Google Sheets and Excel sheets to import data
And many more.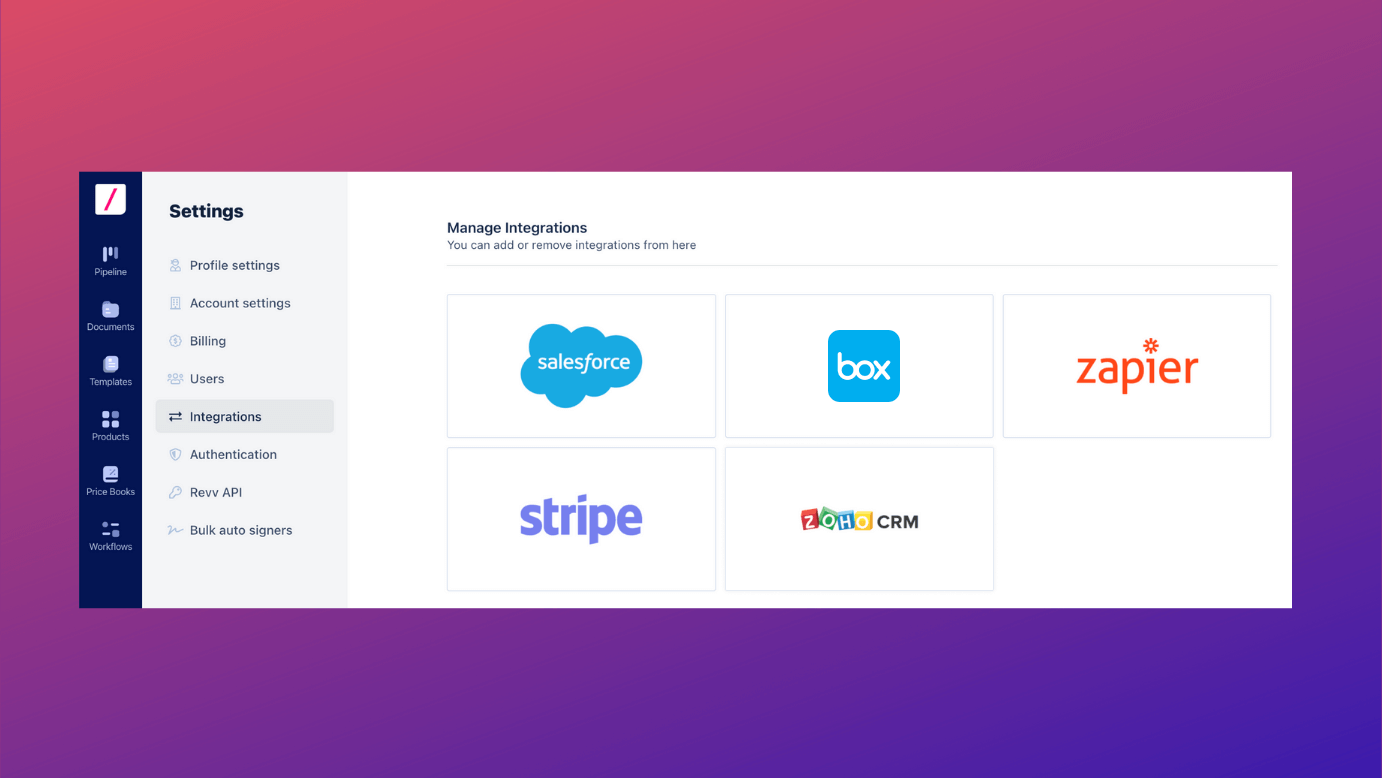 Revv intensifies its integration further with Zapier (you can unlock integration to 4000+ business apps), Retool, and Native APIs.
Integration + Automation capabilities – A perfect concoction to automate workflows even when you are away from your business systems or even when your documents are stored safely after electronic signing.

How?

Revv + Box integration
Box is essentially a cloud-based storage system that collects all your data and documents in one place. You can access the data anytime from anywhere, and from any device.

But powering it with Revv means a complete overhaul to your business processes. The document metadata & the metadata generated from form fields can be used as a trigger to launch new workflows from Box according to your business requirement.

With this effective and resourceful integration, you will no longer miss or delay initiating repetitive processes such as your contract renewals, payments and receipts, and other essential tasks.

You hold the ultimate power in deciding what data to be stored in Box. You can choose which data you want to send to Box such as 'Document file,' 'Evidence Summary,' 'Document Attachments,' 'Document form fields,' and 'quote line items.'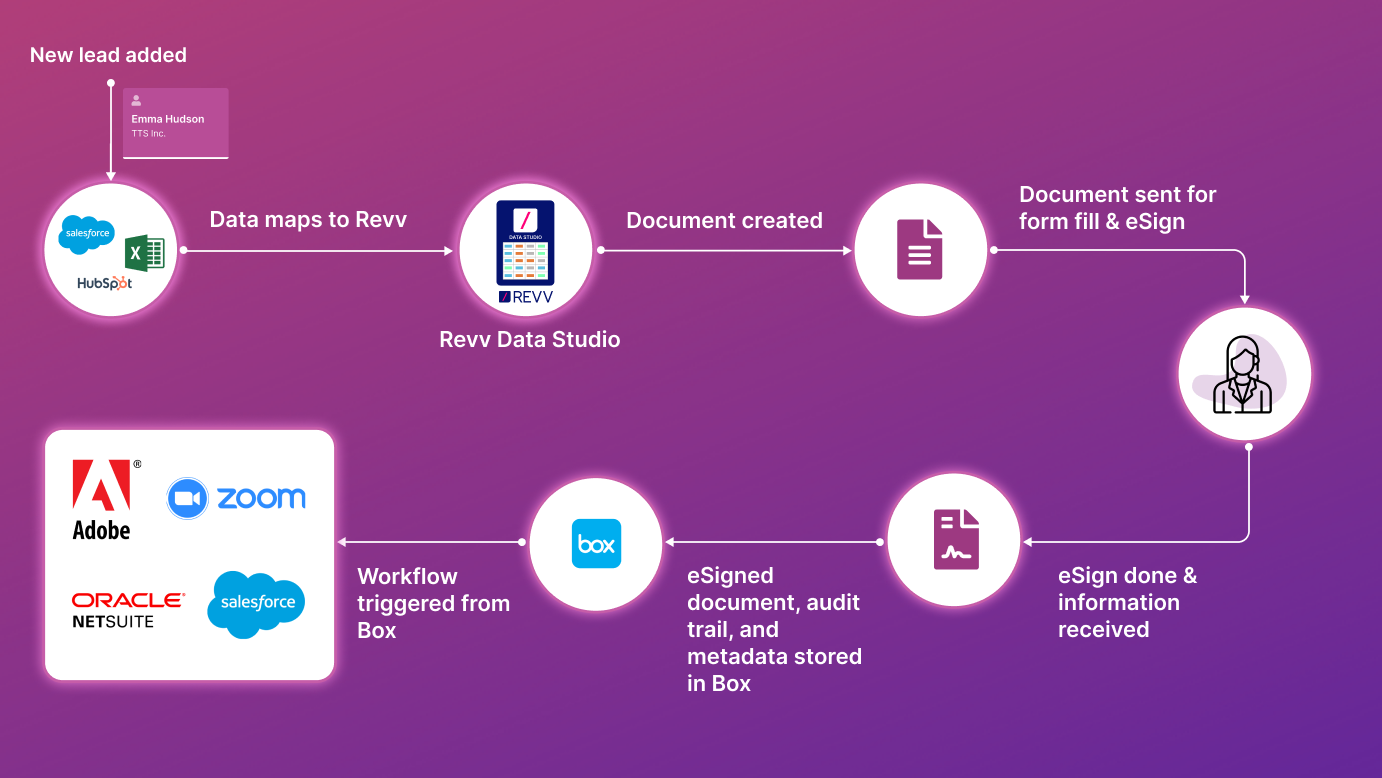 Seamless data capture with Data Studio
Revv's Data Studio feature allows you to map data from multiple data sources/business platforms to the respective form fields in your document. Regardless of the magnitude or complexity of the data, it captures accurate information that helps you to create precise documents thereby reducing the turnaround time involved with different business processes.
It only takes minutes to capture data from your exhaustive Excel sheets or other data sources. You don't have to create separate scripts, codes, or APIs to avail these benefits from Revv.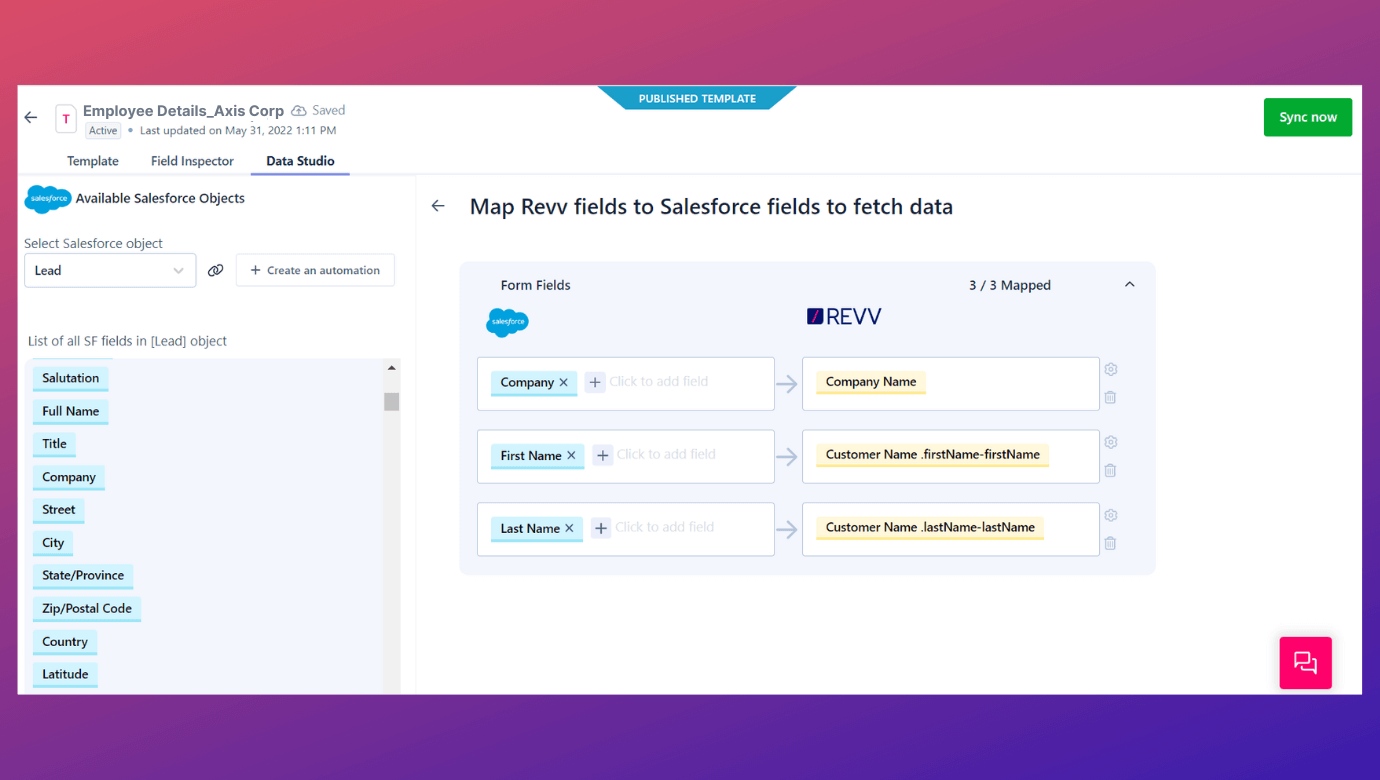 Following compliance to a tee
Revv provides bank-grade electronic signatures that are enforceable in a court of law in more than 60 countries. They are fully compliant with relevant US laws, such as the Global and National Commerce Act (E-SIGN Act) and the Uniform Electronic Transactions Act (UETA). For countries coming under the European Union, Revv complies with Electronic Identification, Authentication, and Trust Services (eIDAS) as well.
Each electronic signature document created in Revv strictly adheres to the following four rules,
Intent to sign
Consent to conduct business electronically
Signature association with the records
Maintaining and retention of records
How? Before proceeding to actual eSigning, Revv first seeks the recipient's purpose and consent to sign the business document electronically. Signers can directly refuse/decline to sign the document even at this stage.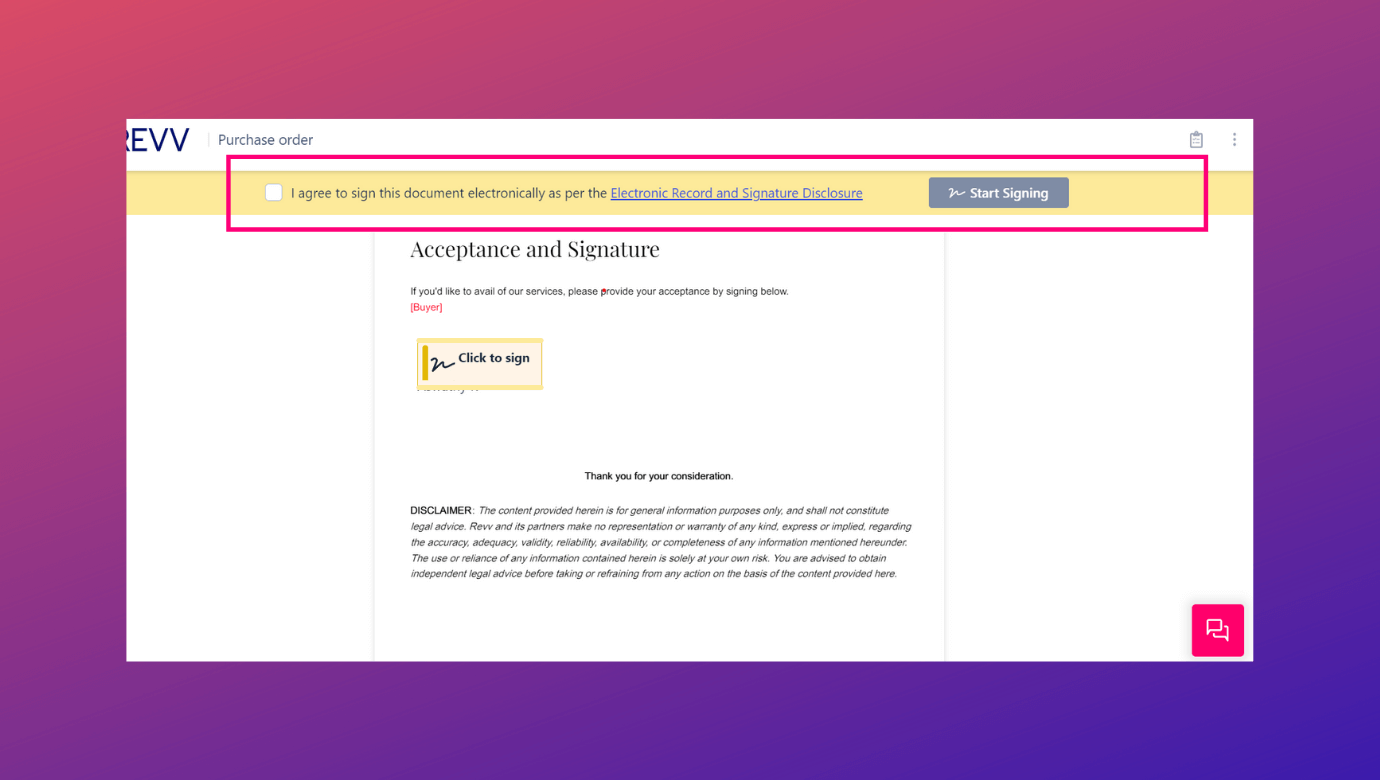 You can even add two-factor authentication (2FA) to verify your signer's identity. When you send a document for eSign, choose the 'Authenticate with OTP via SMS' option and add your recipient's phone number. In this case, the recipient can only unlock the document and initiate the eSigning process when he/she adds the OTP.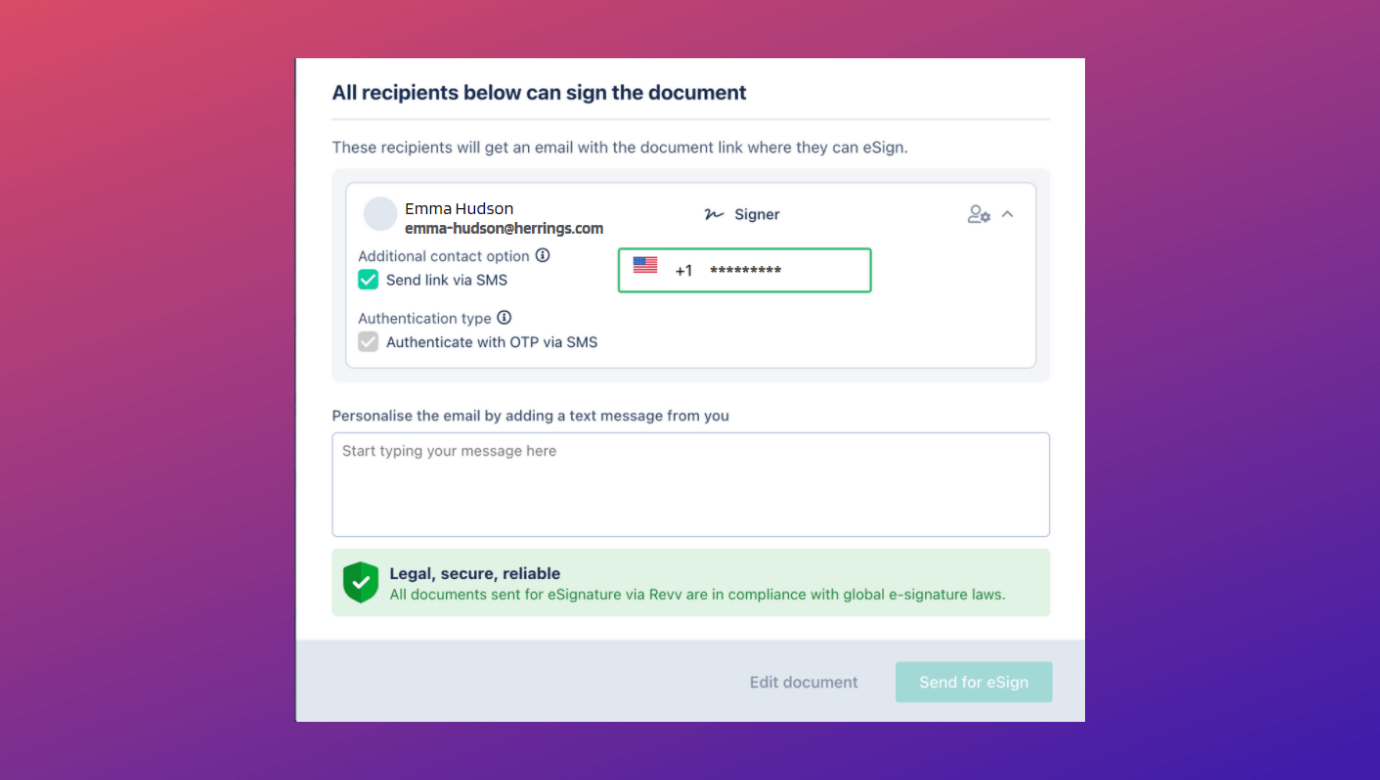 Every signed document in Revv also captures an exhaustive audit trail that chronologically records any action taken on the file. It provides a more compliant and secure way of tracking your document activities. They are admissible in any court of law since it contains information such as the sender and recipient's unique ID, name of document, date and time it was created, viewed, and eSigned. It also contains the history of IP addresses from which the document was accessed. Both sender and receiver can download the Evidence Summary for safekeeping.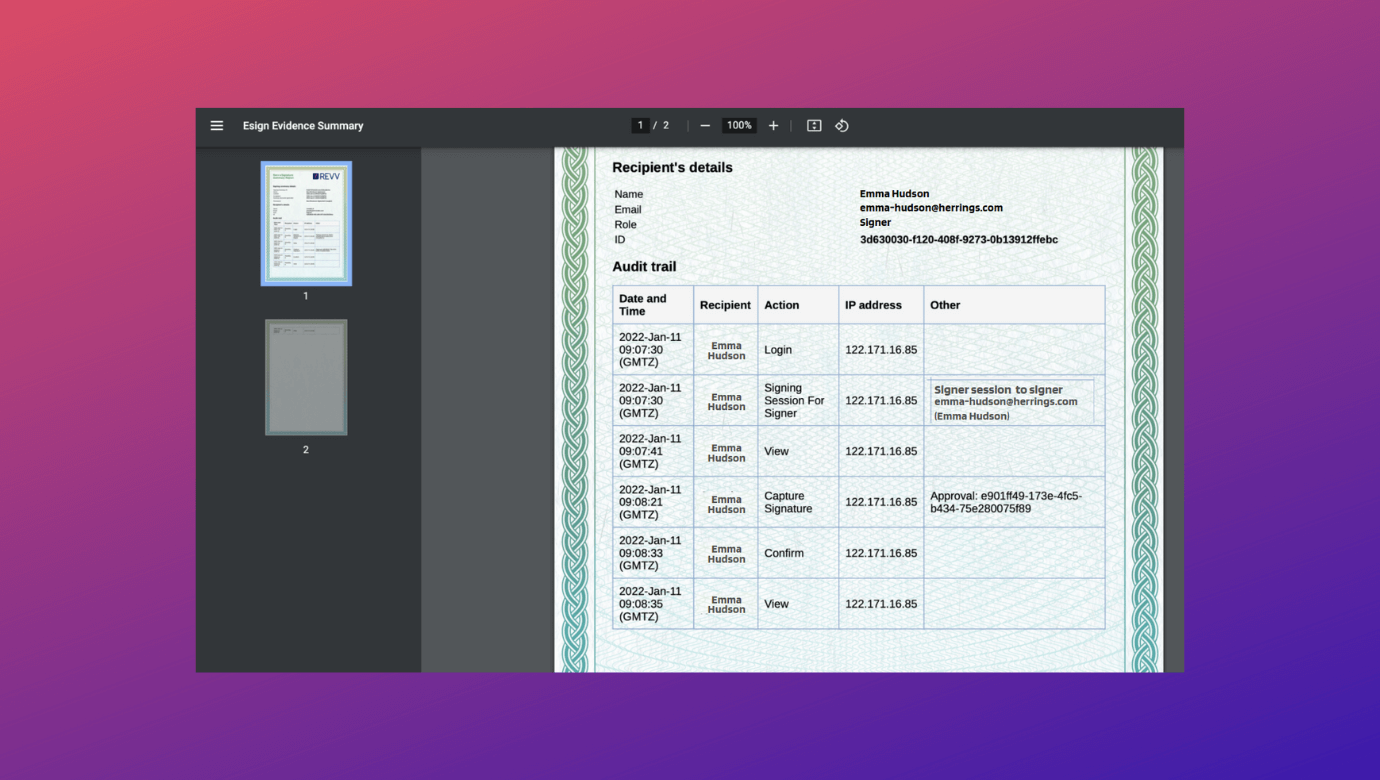 Avail extensive document templates even from Revv's basic plans
Revv allows users to create an unlimited number of documents with a free plan. Revv's basic plan starts from $15 per month per user and gives free access to 400+ document templates.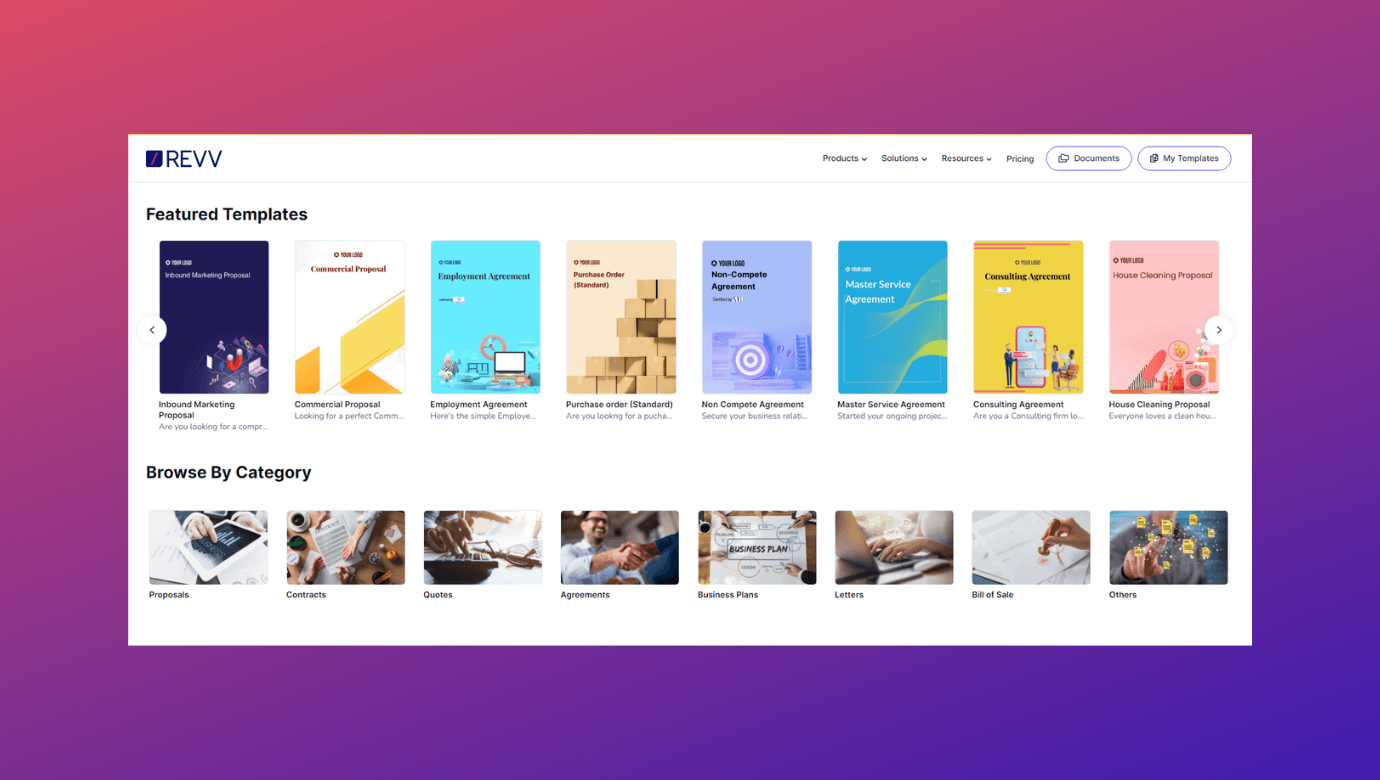 Be it building documents from scratch, uploading existing designs, or using templates from Revv's exhaustive template library – custom-designing is possible at every step of your document journey with Revv's rich document composer. You can add, edit, attach (images, important files, spreadsheets), assign signatures, and do more within your documents.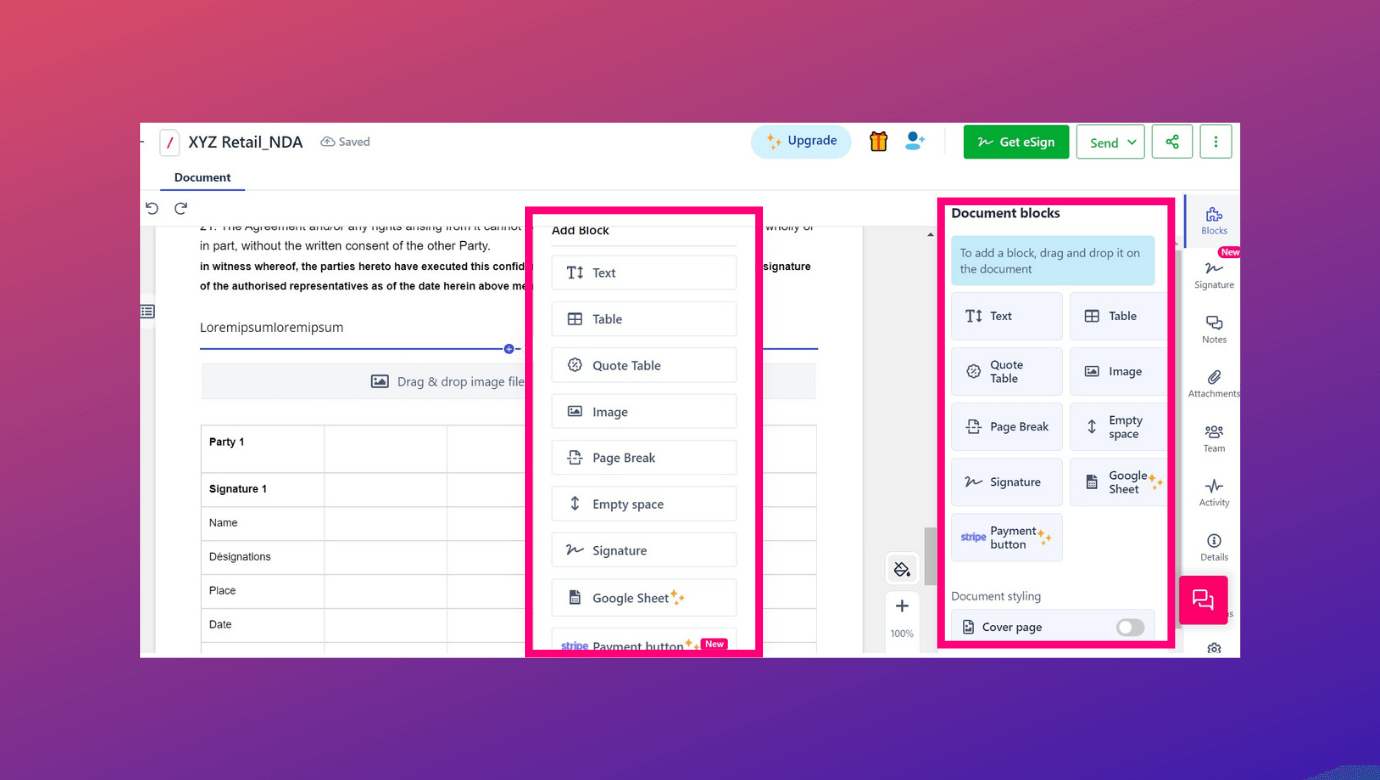 Some other key benefits are:
Make instant payment collection on the document itself.
Upload existing PDFs or Word documents and collect signatures on them.
Capture relevant and accurate information from the recipients through custom web forms.
Unlimited document storage in a central cloud-based location.
On any plan, there is no limit on the number of users. You can add as many as you want as your team expands.
Access our entire template library of 1000+ professionally vetted and legally binding templates with premium plans.
Connect and communicate in real time
Collaborate with your teams seamlessly at any point of your document journey. Tag anyone internal or external, spread across different departments and/or geographies, with '@mentions'. Tagged people could comment, share ideas, and attach additional information in the form of images, documents, and other attachments in the same place.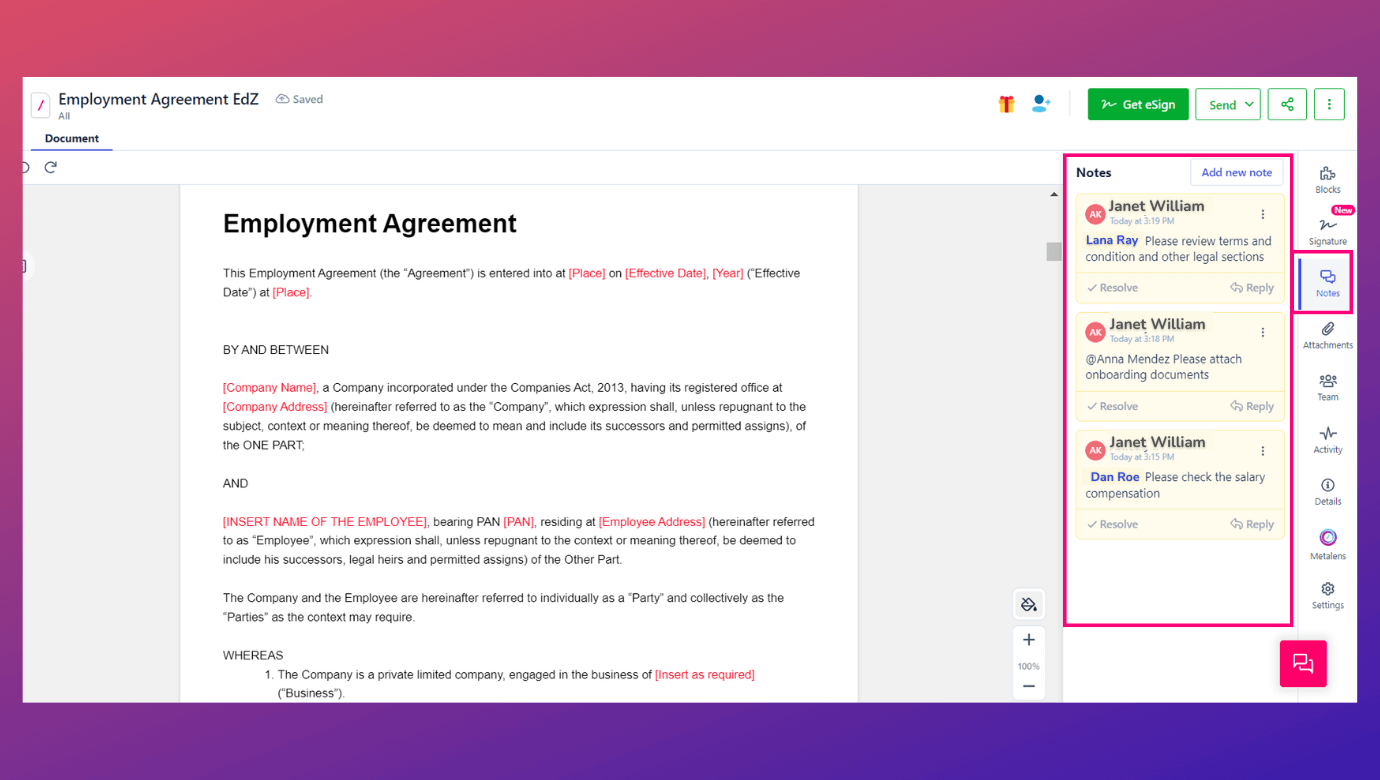 You can even collaborate with higher-ups if you need approvals before sending documents for eSignatures to recipients. Automate these kinds of approval procedures with Revv's 'Check and send for internal approval' feature. As and when a workflow criteria is met, the document is automatically triggered for approval, simultaneously notifying the respective personnel to take an action.
Initiate eSigning ceremony
You've created your documents, filled in the form fields, and had them evaluated by internal teams. Now, it's time to add and assign signature fields to your document. Revv provides bank-grade electronic signatures that are safe and compliant.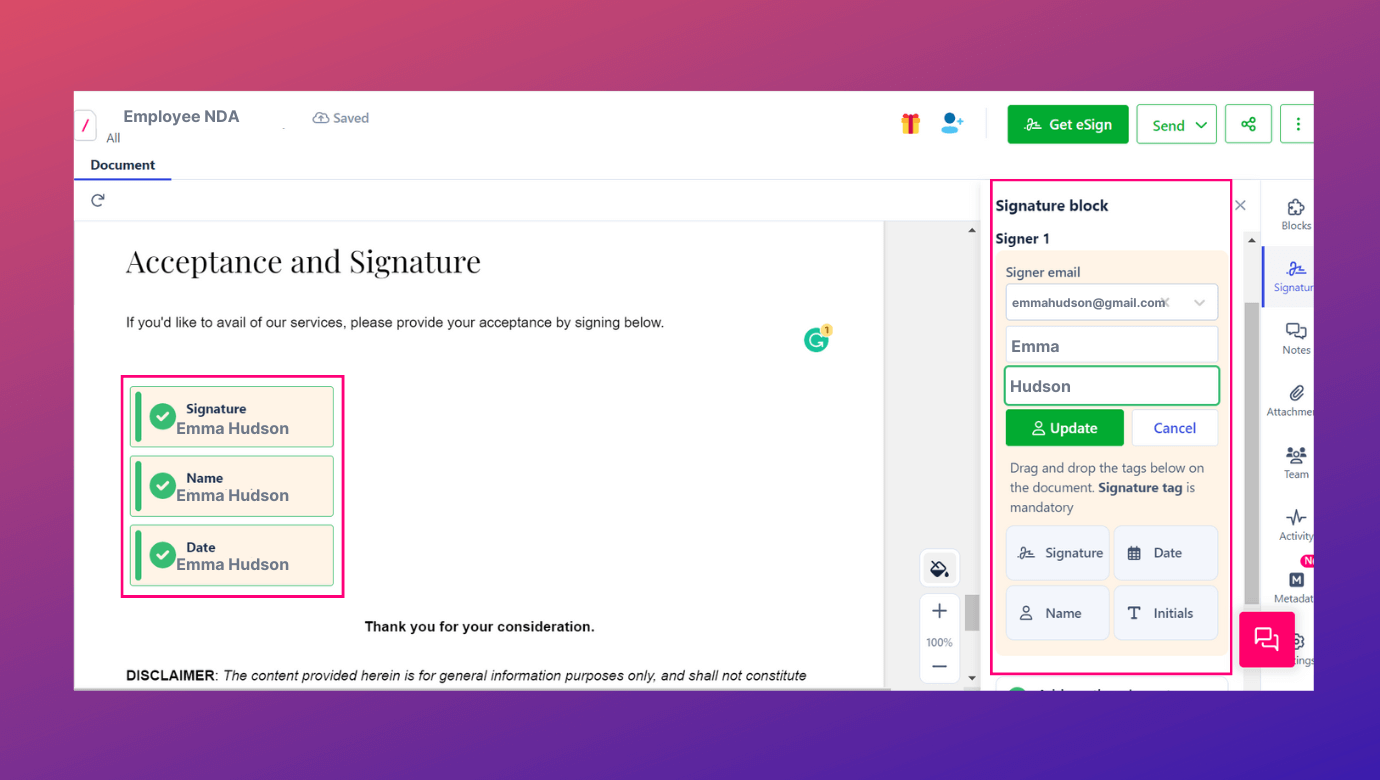 Plethora of options to send and share documents
Initiate the eSign process for any documents by simply clicking the 'Send for eSign' option.
Minimize the cost of using eSignature authentication that doesn't require to be sent for eSign. Opt Revv's 'Send for acceptance' feature for documents that merely need an acceptance from the recipients. Your consent forms, offer acceptance letters, renewal agreements, etc. can all use this feature.
Users can have the Revv advantage where they can send or share the document link via email or even send it as an SMS to the recipient's mobile phone. This way the recipient could access the documents literally from anywhere.
When you send documents for eSign, the recipient instantly receives an auto-generated email notification asking them to take necessary action. Recipients or signers can now have the flexibility to sign off documents faster with Revv's flexible eSigning options. They can 'Draw signatures,' 'scan and upload signatures,' choose from 'pre-formatted text styles,' and even connect their crypto-wallet MetaMask to complete the signing process.
Senders can also type their message to the recipients in the message box, activate OTP- based authentication to add an extra layer of security, and grant permission to the recipient to either view or edit the file.
Revv's 'Magic link' feature makes the recipient's eSign journey completely hassle-free. They need not log in to the Revv platform or download a separate app to view and complete the eSignature.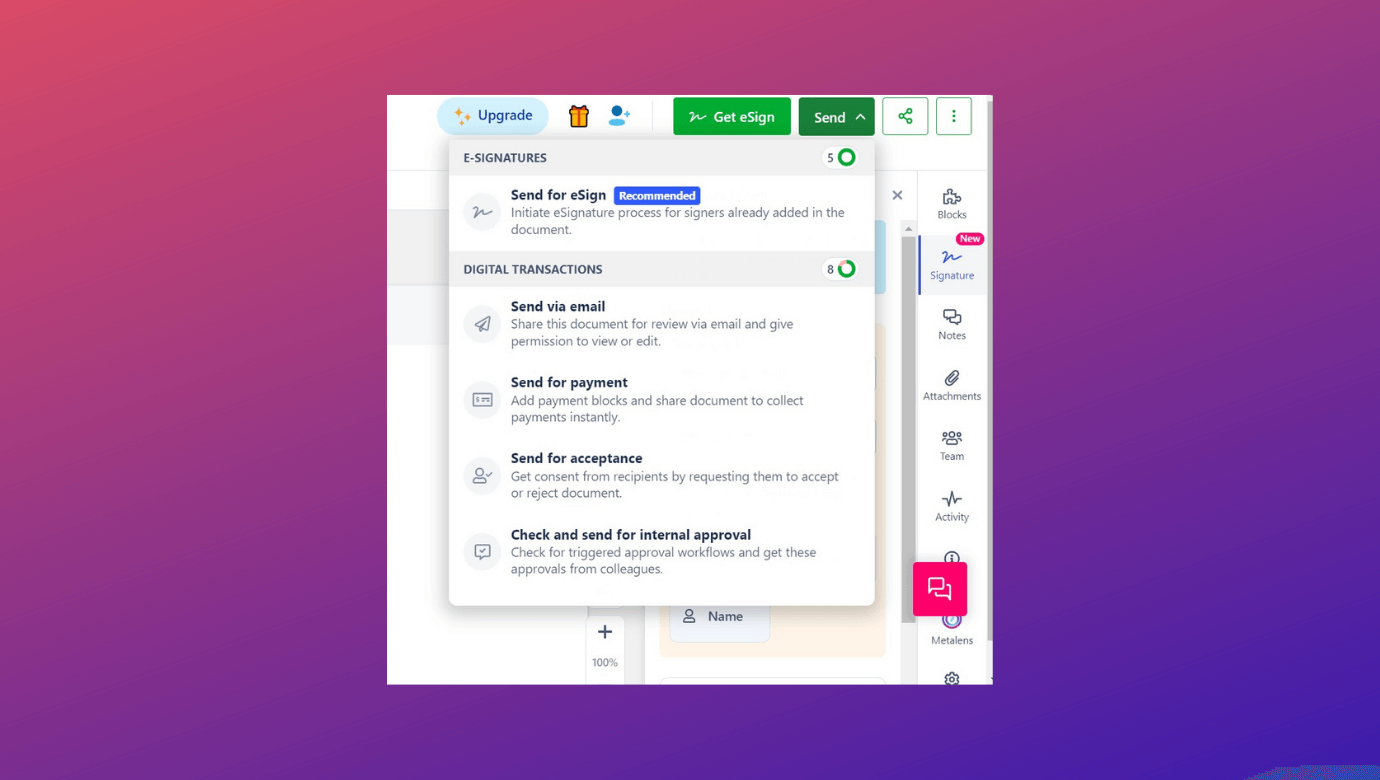 Instant notification and compliant tracking systems
All activities are promptly notified to both sender and receivers via Revv's autogenerated emails. Senders are alerted if the document sent for signature was opened and completed.
Besides email notification, Revv's 'Activity' tab records each and every action that is taken on a document. From the moment a document is created to when it is eSigned, the 'Activity' feature keeps track of everything that happens with it.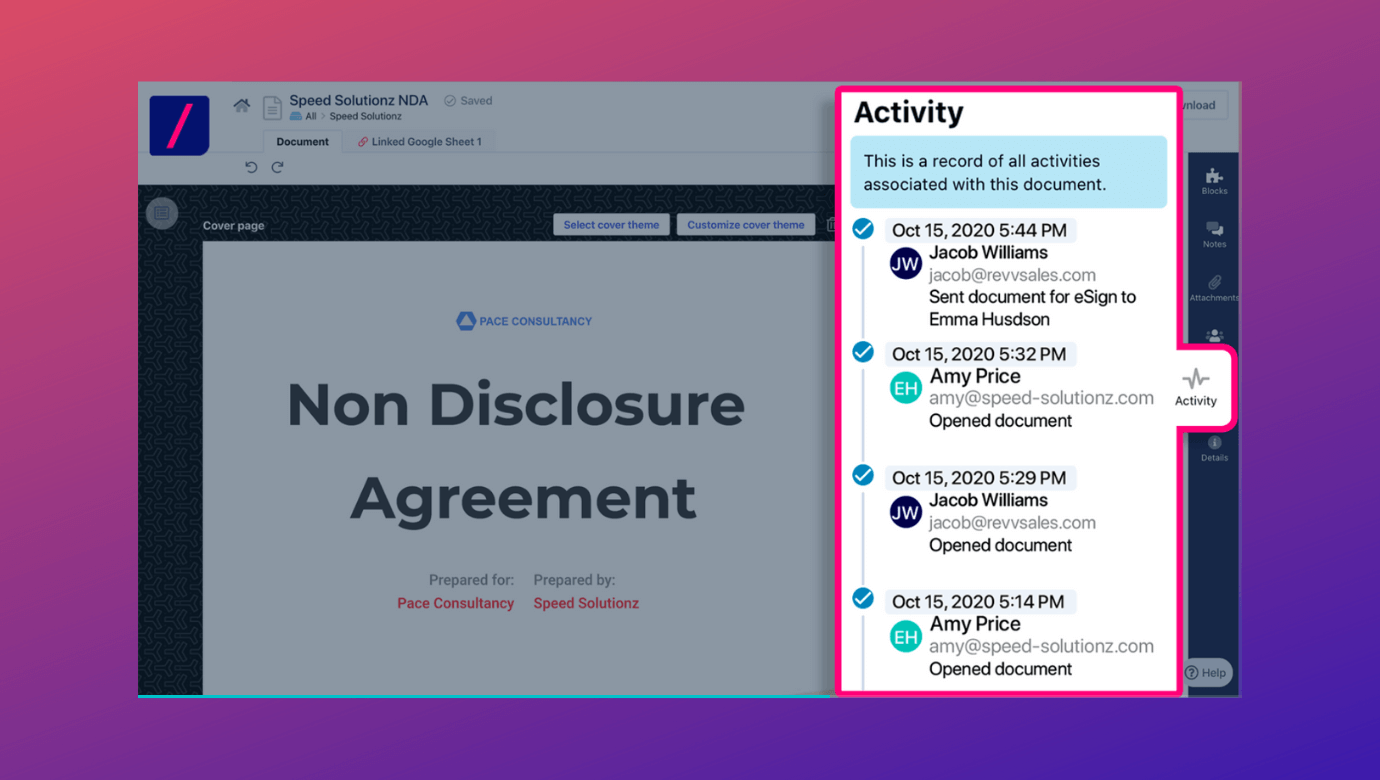 Final verdict
Be it solopreneurs, small and mid-sized entrepreneurs, or enterprise-level business owners, these attributes should be on your checklist when choosing an electronic signature:
security
usability
affordability
functionality
automation
integration
And guess who ticks all the boxes?
Revv – the best and most trusted eSignature platform out there in the market. We could go on and on, listing down all the amazing features and functionalities in Revv. But the bottom line is that Revv is not your ordinary electronic signature platform that just provides eSigning services.
Whether it's the pricing model or the features available in free and pro versions, Revv is eons ahead of other service providers. Simply put, Revv is the strategic differentiator that gives your business processes transparency with cutting-edge capabilities.
It is smart, intuitive, and super easy to fuse across your business systems. Upgrade to Revv and redefine your workflow processes, authentication, reporting, and above all eSignature processes. Astonish your clients and coworkers with a better signing experience with Revv's pocket-friendly plans for businesses and individuals. Schedule a demo with our experts today.