In this fast-paced digital world, online operations, and digital documentation are increasing as it is more efficient and reliable. All business departments around the globe such as Sales, IT, Finance, Legal, etc., run their work electronically and mostly rely on eSignatures. But while making these transactions over the internet, it is essential to safeguard the document from any unforeseen damages.
Nowadays, almost all documents such as NDAs, sales quotes, employment agreements, and business contracts are closed via eSignatures and demand utmost security as they are the backbone of businesses.
Do you want to know how to protect your documents too? Read along and understand how Revv can secure your document workflow with minimal effort and provide maximum efficiency in the workplace.
Read along and understand how Revv can secure your document workflow with minimal effort and provide maximum efficiency in the workplace.
What are eSignatures?
From thumbprints to physical signatures to electronic signatures, we have come a long way. In short, eSignatures are the digital version of wet signatures. It solves all the hurdles associated with physical signatures and also provides an extra layer of security.
It is a legitimate way to get consent on confidential electronic documents. According to the Global & National Commerce Act (ESIGN) and the Uniform Electronic Transactions Act (UETA), an eSignature provides the same legal weightage as a traditional signature.
Risks – What makes your document workflow vulnerable?
Most businesses have adopted electronic signatures since they offer so much value like time and cost savings, paperless transactions, enhanced protection, environment-friendly, to name a few. No wonder the global eSignature transactions have increased from 89 million to 754 million during 2012-2017.
Along with other daily tasks, ensuring the security of these confidential documents is a priority. Here are the risks associated with an unsecured document workflow:
Unfamiliarity – Not familiar with eSignatures and signing a document without understanding its weightage.
Unauthorized signing – Not knowing whether the signer is who he claims to be. This can easily lead to forging and fraud. How can the organizations confirm that all their signers are properly authorized? And vice versa, how will all the signers know what exactly they are authorized to sign?
Tampered information – Changing the details in a document or replacing the document altogether can put the organization, the signer, or both in jeopardy.
Misplaced document – The worry of saving a document in an unnamed folder and forgetting it, or losing a document when a computer crashes is real and common.
Non-compliance – Organizations should comply with regional and international eSignature laws and other rules and regulations. If not, there are chances of encountering hollow deals, fake transactions, and business losses.
The thought of going through the above experiences is spine-chilling. Hence, having a secure document workflow that involves eSignature in your business processes is crucial. Technology is constantly evolving, and many electronic signature softwares are coming up with new methods every day to guard the integrity of electronic signatures.
The right tools ensure that the authorized people are signing the respective documents. Most of these tools offer multi-factor authentication to keep people from faking their identities to sign the documents. A document management software (DMS) can also avoid people from viewing documents that they haven't been authorized to see.
Revv is the best electronic signature and document automation platform that outshines all other tools. It is a legal, secure, and reliable platform that complies with all the global & local eSignature laws. It is packed with advanced document automation features that increase the efficiency of your document workflows by 100X. Revv is your best bet in securing and automating your document workflows seamlessly.
Curious? Continue reading…
Secure your document workflow with Revv
Revv empowers the users by letting them own their documents and have complete control over them. Here's how securing documents with electronic signatures factors into your document workflow.
👉 Customize templates
Did you know that you could customize your document according to your needs with the help of Revv's Form Fields feature? Yes, you read it right.
Whenever you create a document from a form template, you can customize it by filling out each unique field once and it will be automatically copied to the same form fields in the document.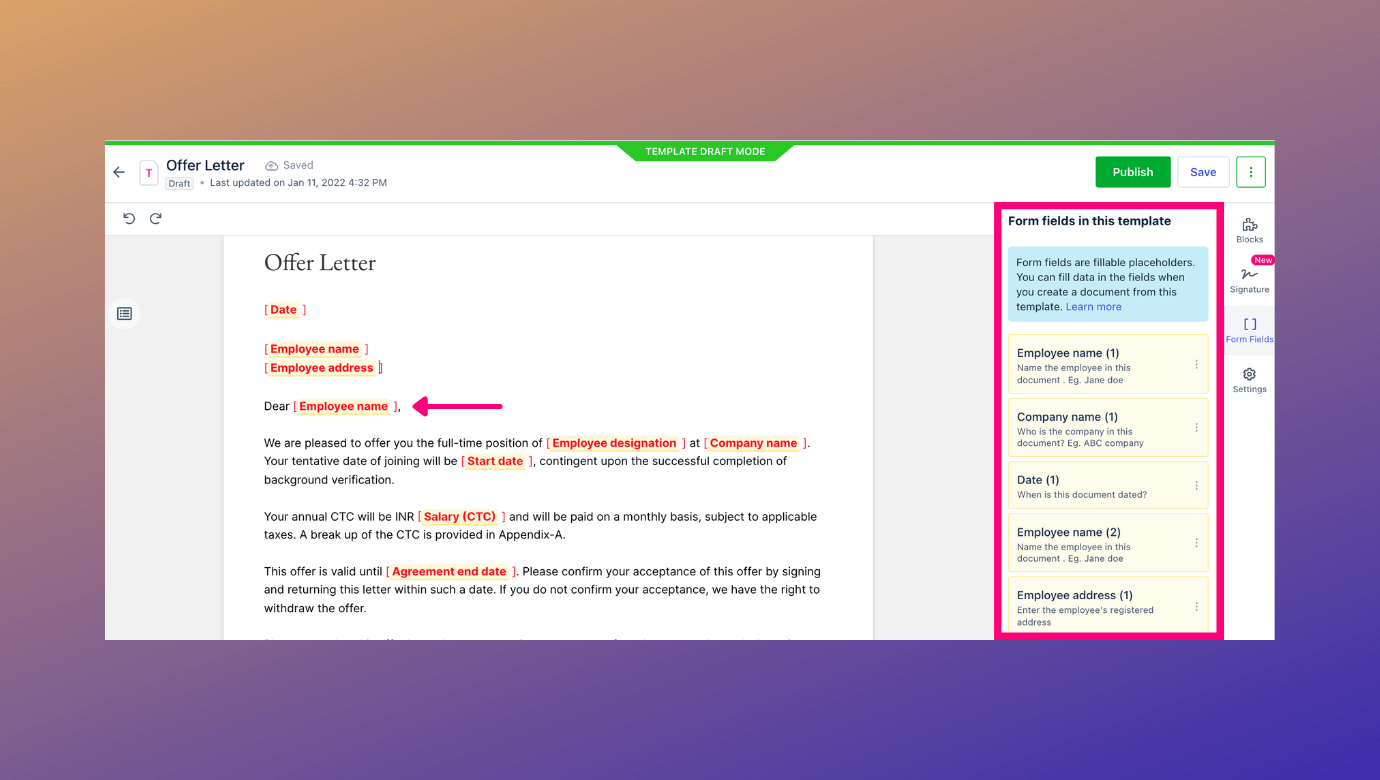 👉 Collaborate in real-time
It is always wise to double-check your documents before you send them to your customers. Revv enables you to collaborate with your teammates through notes and refine the document for a better customer experience. Like they say – ''A second opinion never hurts.''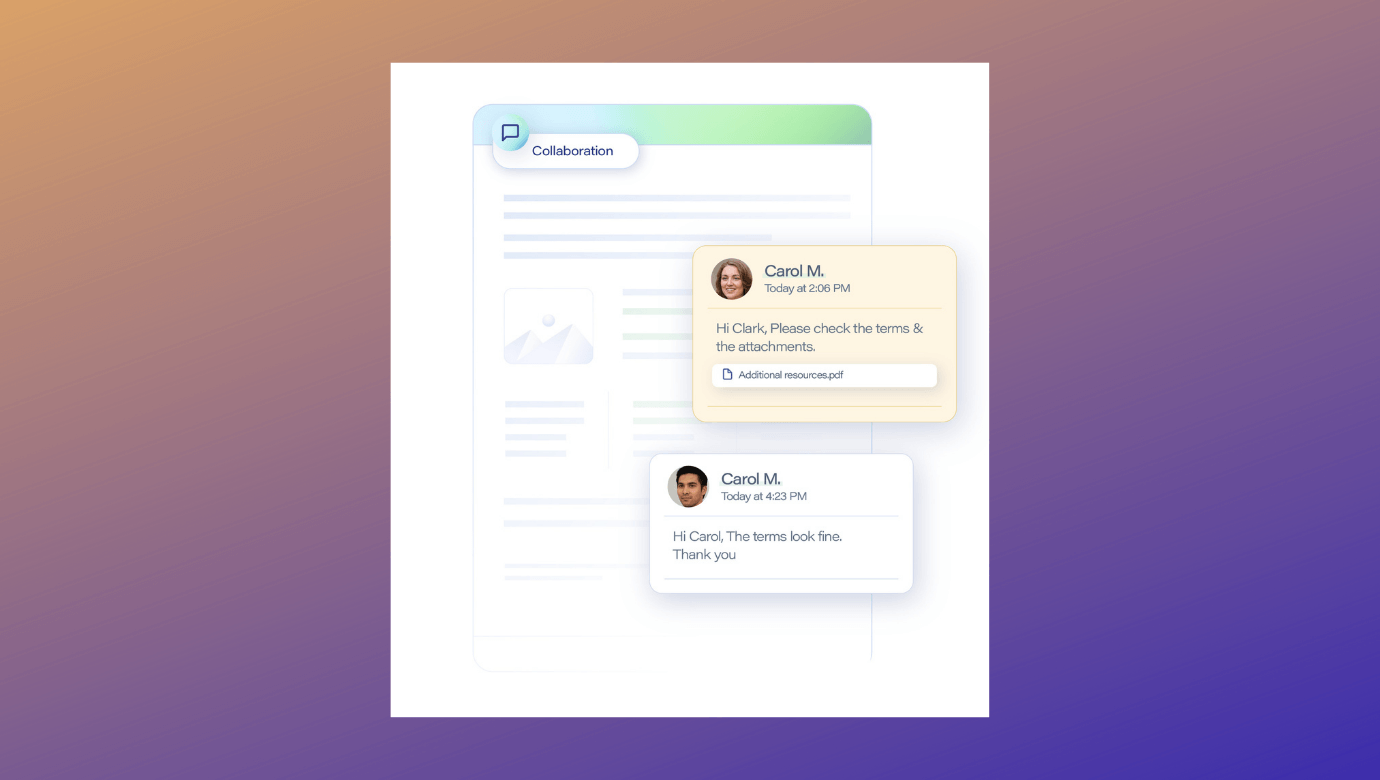 Also, in some cases, if you need to add more documents as supplements to the current copy, you can do so with just a click using Revv's Attachments feature.
👉 Get clearance
Sometimes it is necessary to involve your co-workers or managers in a documented workflow and get their approvals before sending them to the customers for signatures. Revv's Check and send for internal approval feature eases this process via automated approval workflows.
When one workflow condition is triggered, the document is automatically sent to respective approvers in your organization and they get notified to take an action.
To add a cherry on the top, Revv allows you to set the order of your approval process, either sequential or parallel! Learn how approval workflows run in Revv.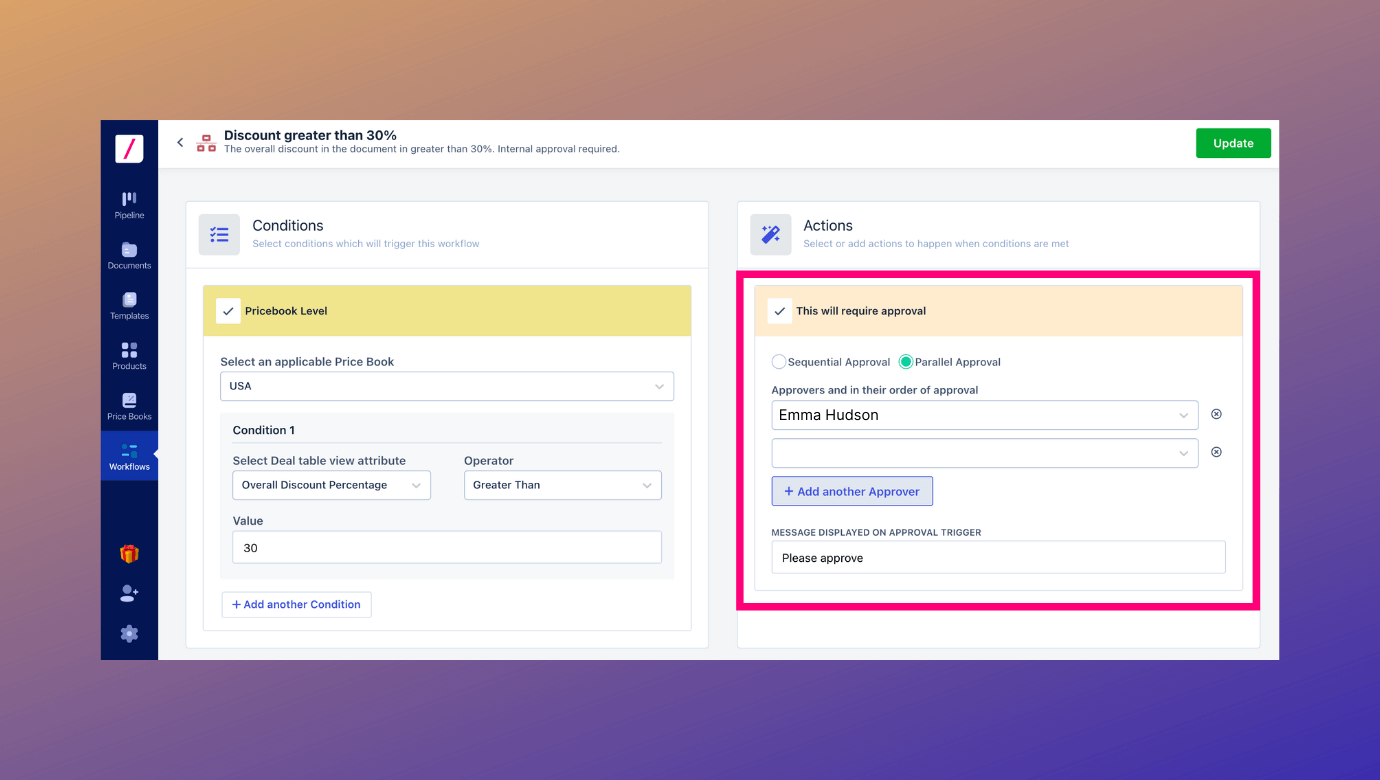 👉 Sign the document
eSignatures have certainly improved over the years. Your customer can choose how they want to sign the document. The signature can happen through a variety of methods; often in a single click.
Revv offers more than one way to record an eSignature:
Text – In this method, the signer can choose their signature from a set of pre-formatted styles. They can even customize their name that will appear in the signature.
Draw – This method demands the signer to draw their signature using the mouse. In the case of mobile phones, a digital pen or a finger will work.
Upload – In this method, the signer is required to upload a scanned image of their wet-ink signature.
MetaMask – Using this method, the signer can use their crypto wallet to eSign the document.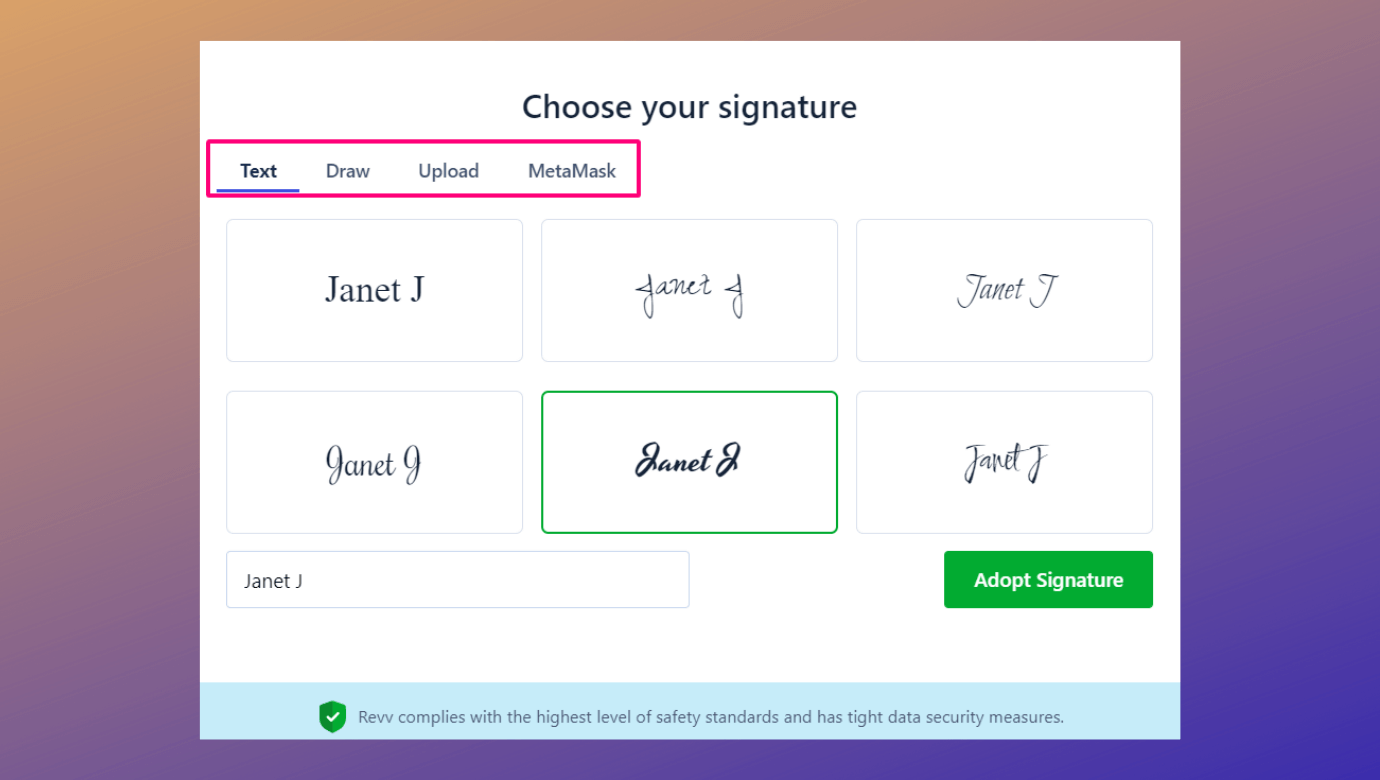 What if you don't need an eSign but just the consent of your client on a document? In such scenarios, you can use the Send for acceptance feature in Revv and receive a soft sign from your client.
Quite simple, isn't it?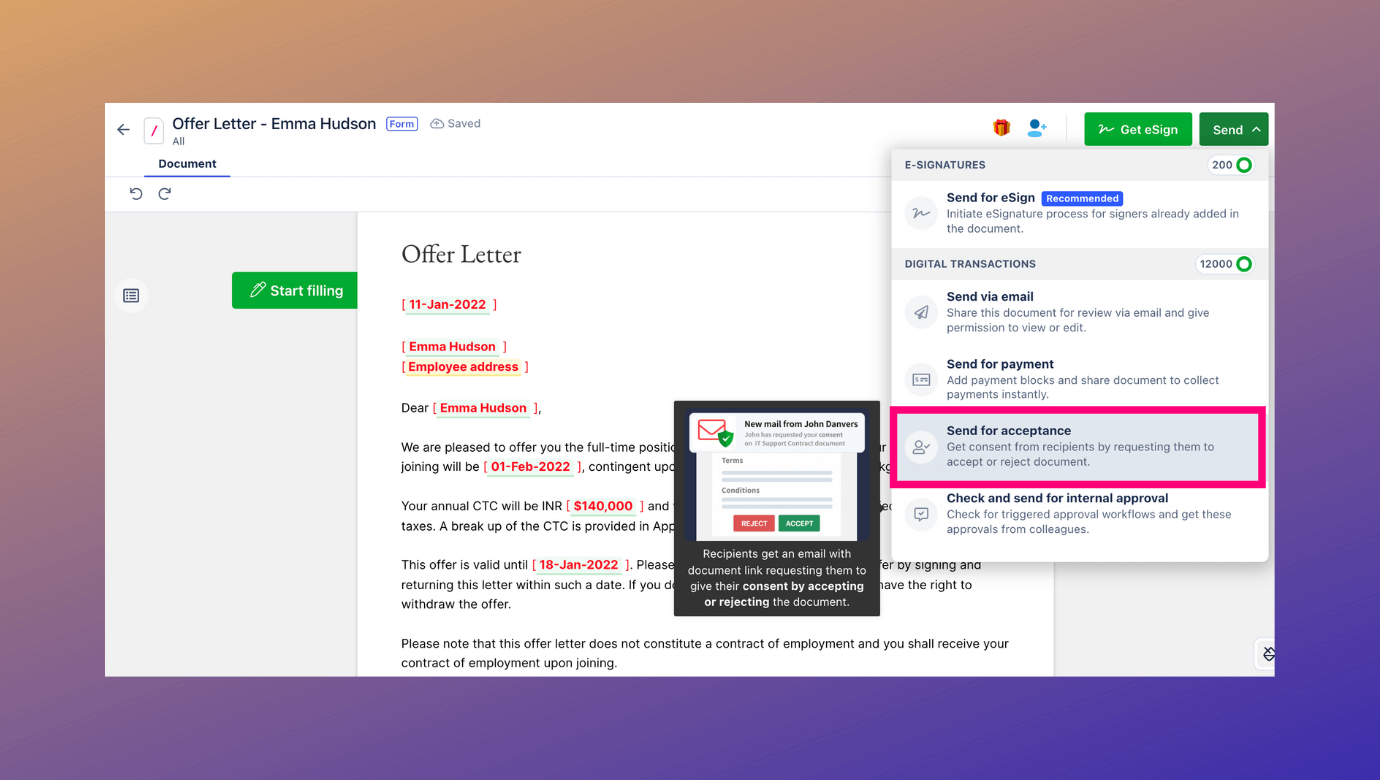 Are you looking for a way to obtain signatures on a stack of documents at once?
Revv offers a unique option to create documents in bulk with the help of a CSV file and send it for eSignatures. The number of documents depends on the number of rows present in the CSV file. It is the best way to reduce your effort and get the work done in a few clicks.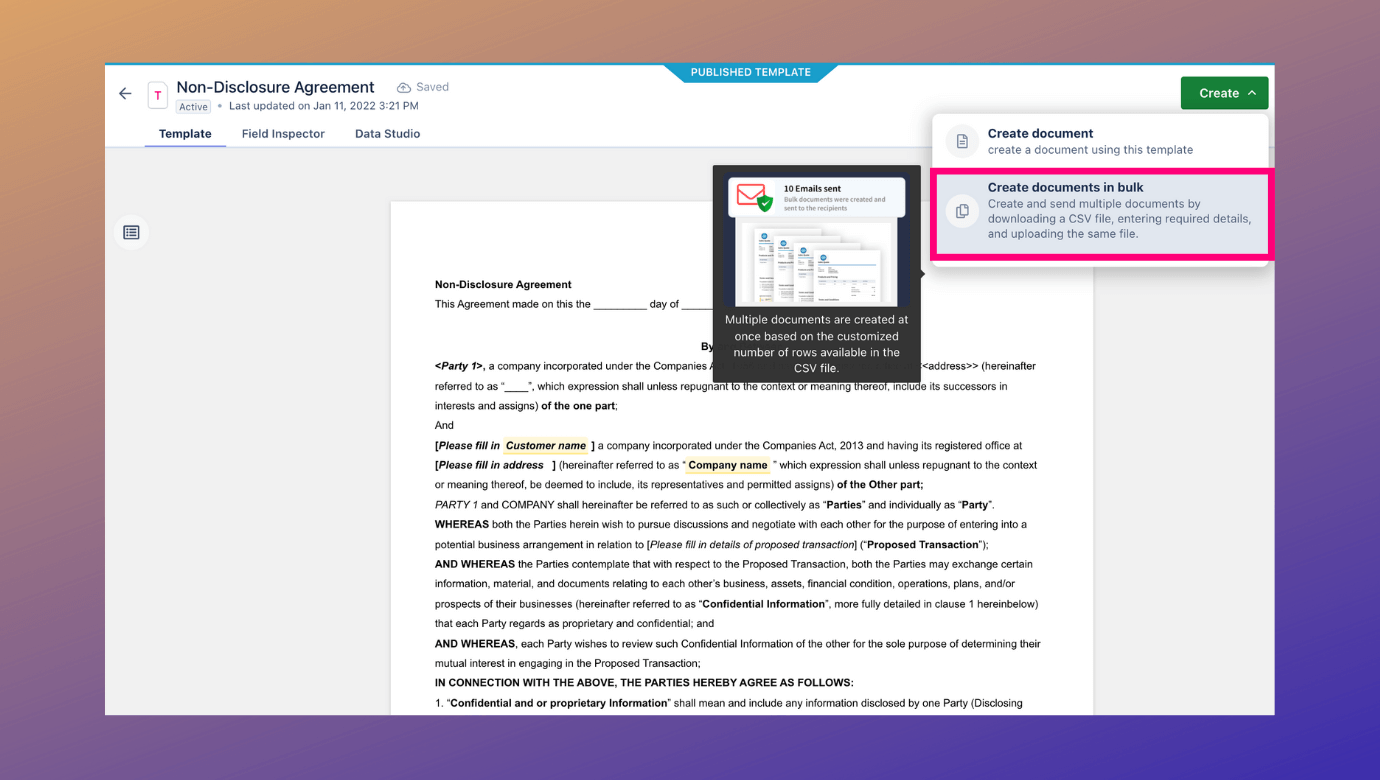 Once the document is signed, it is verified and sent to the appropriate parties for review.
👉 Share the document
The next step of workflow management is to decide with whom to share the document. Frequently, you need multiple parties to sign in a document, but it may contain confidential information, so you wouldn't want everyone to see it.
Once you've decided who needs access, Revv provides two modes using which you can send the document for eSign:
Email – You can send the document link in an email to the recipient.
SMS – You can send a link to the recipient's contact number to initiate the eSigning process.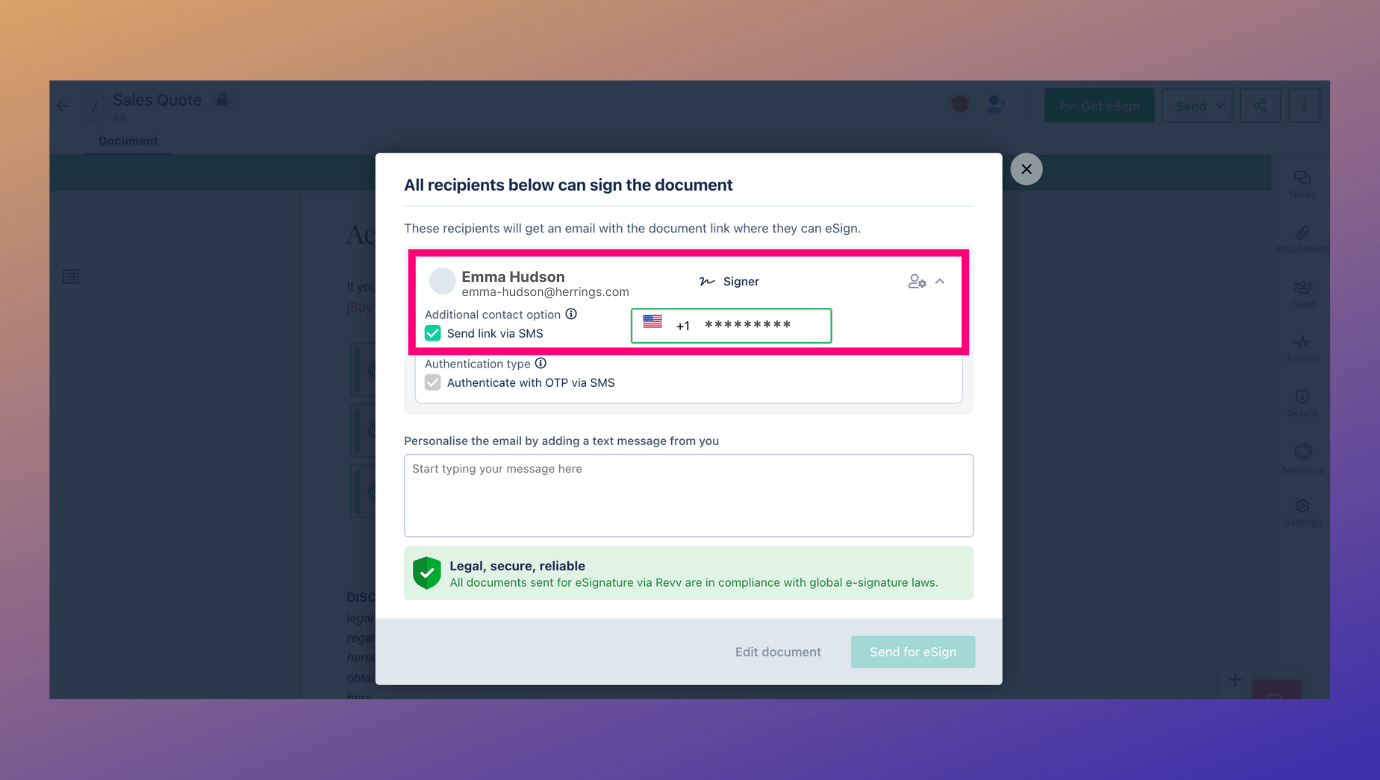 Besides the above two modes, you can also keep your documents online, so authenticated individuals can view them in their browsers. This is convenient as the recipients won't have to download any special software. Revv enables you to achieve this using the following features:
Share a magic link – This link provides a live view of the document. Any changes made on the document get updated on the magic link. You can paste this link on your webpage or other public platforms.
Publish a snap link to the web – This link is a search engine friendly link that can be shared anywhere. Note that this link is a timestamped static version of the document.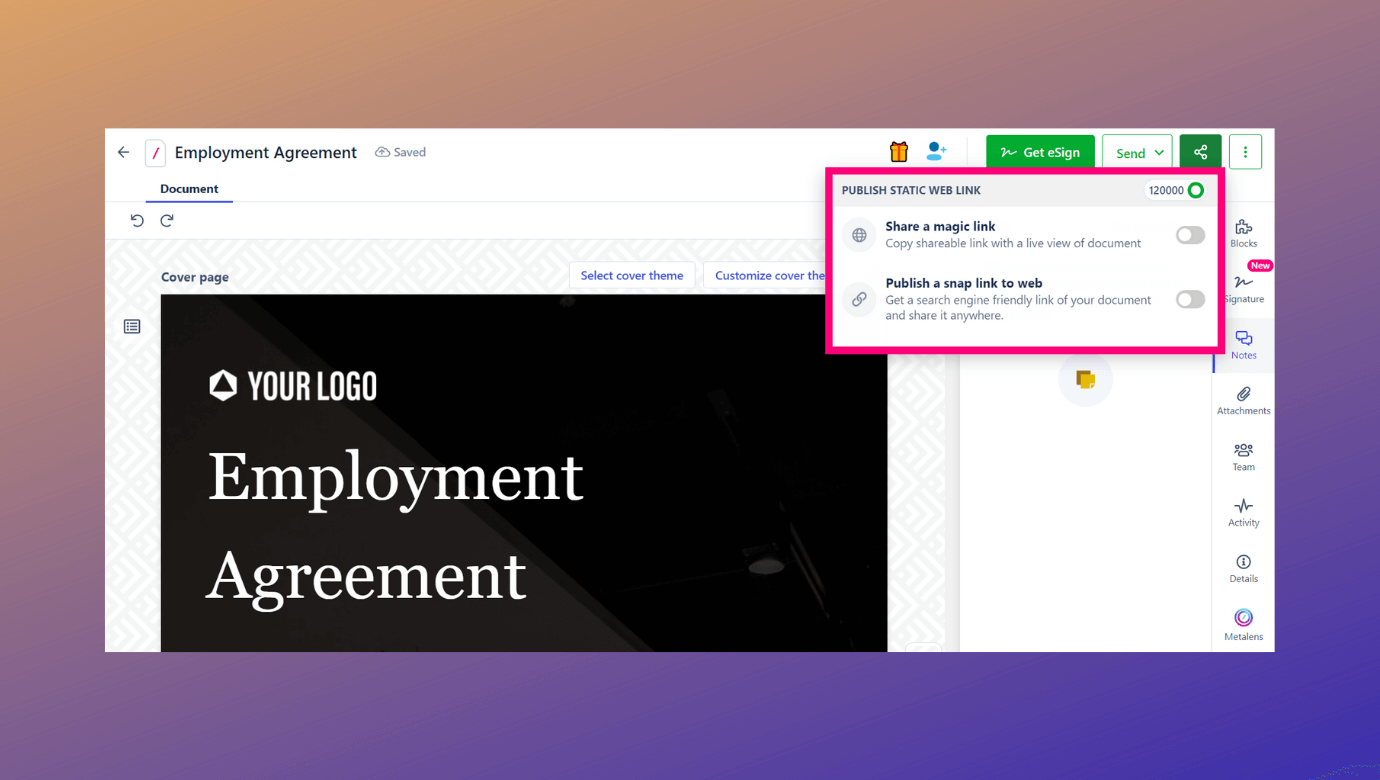 In situations where you need the customer's inputs on the document before sending it for eSignature, Revv allows you to send the document for review. The Send via email option enables you to permit the recipients to just view or edit the document.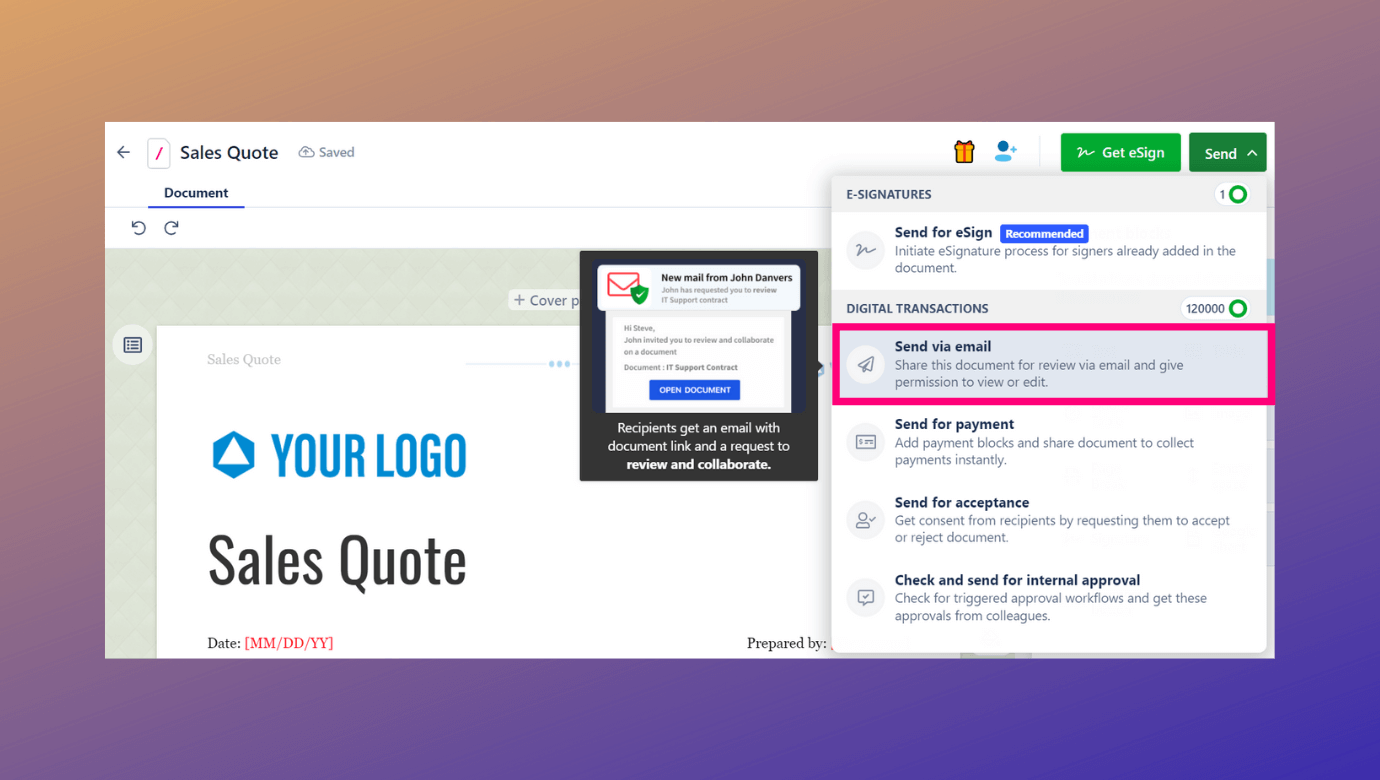 👉 Verify signer's identity
Verifying the signer's identity prevents unauthorized users from accessing the document. All signers must prove that they are who they claim to be before they're allowed to view the encrypted document or add their electronic signature.
Revv provides the following ways to authenticate your signers:
Email authentication – When you send a document to a signer for eSign, you send it to their email address. Email authentication automatically happens when the signer logs into their email and clicks the eSign link.
SMS-OTP – Along with email authentication, you can add two-factor authentication (2FA) to verify the signer's identity. While sending a document for eSign, you can select the 'Authenticate with OTP via SMS' option and enter the phone number. When the signer clicks the eSign link, an OTP is generated and sent to their phone number to verify their identity.
Video – Sometimes, email and OTP authentication methods can blur the identity of the recipient. Hence, the best option is video authentication. This verifies the recipient on the other side is who they claim to be. If you choose the 'Send for acceptance' option in Revv, you can request recipients to record a video while accepting the document.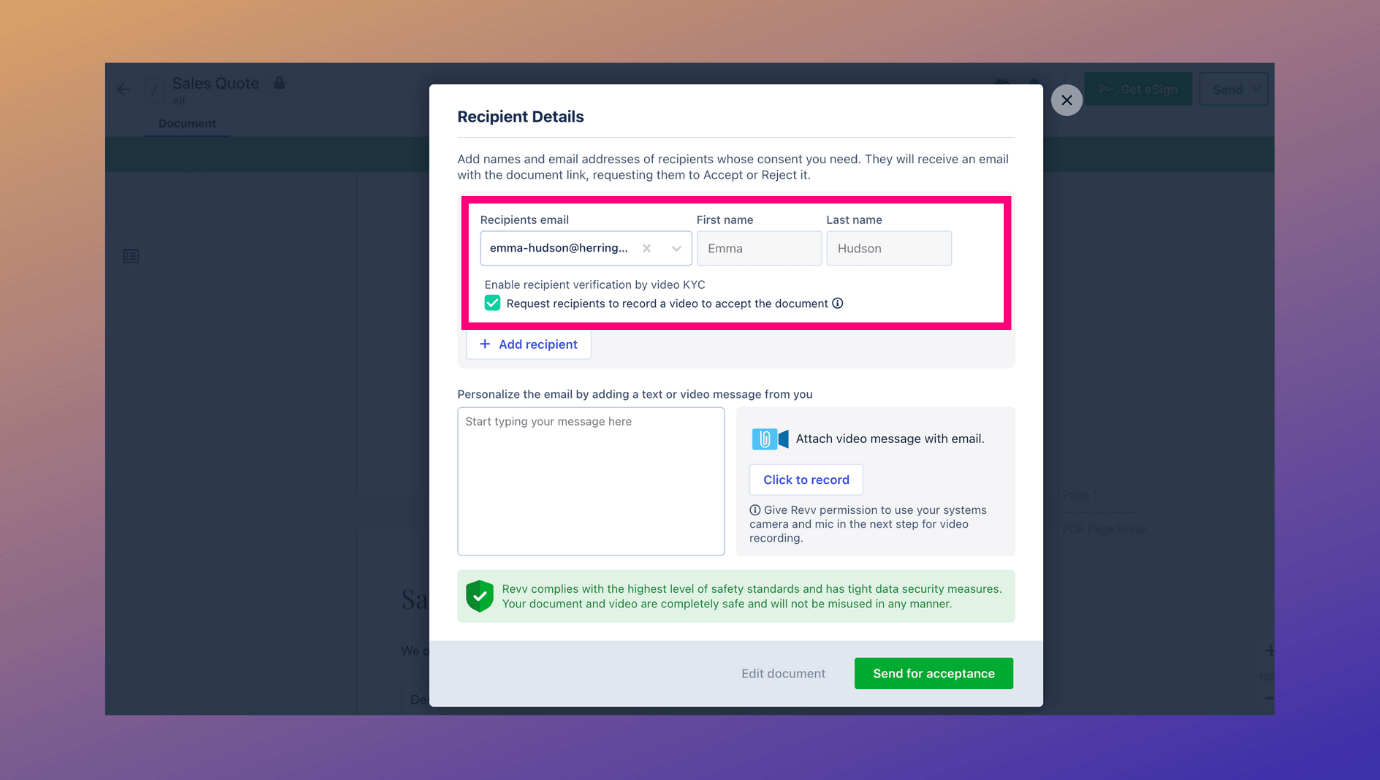 However you choose to authenticate your signers, once they have verified their identity, they'll move on to the next step in the process flow.
👉 Ensure compliance
As stated earlier, Revv undoubtedly abides by all the global & local eSignature laws. Revv ensures compliance with all these four rules throughout the e-signature process:
Intent to sign
Consent to do business electronically
Association of signature with the record
Record retention
Revv enables you to capture the intent of the signer and the consent to do business electronically with a single click. In every eSign document sent from Revv, a highlighted bar on the top conveys the same message. If the signer changes their mind, they can decline to sign the document without any hassle.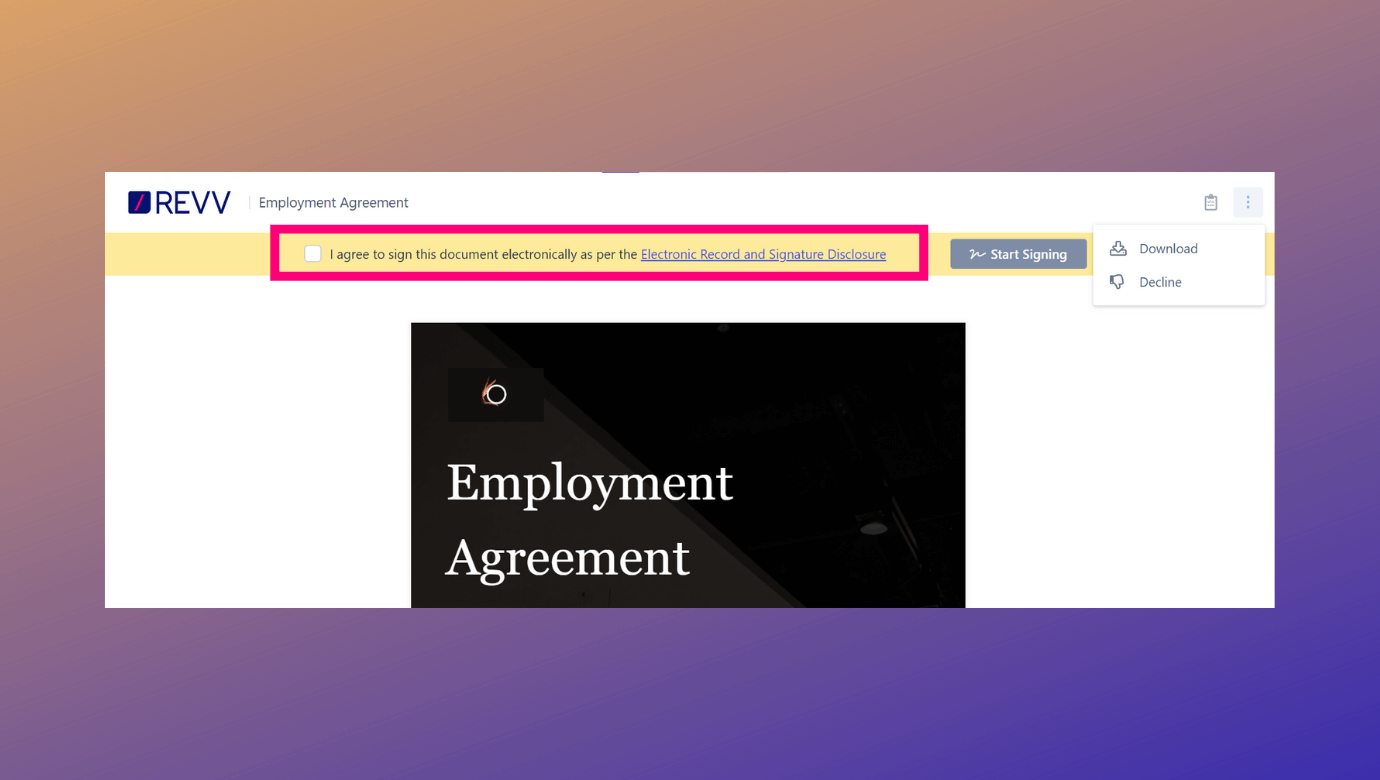 Revv also generates an Evidence Summary for all the documents. It is like an audit trail, a digital certificate that records all actions taken during the signing process, which includes – the signer's information, date and time stamp of each action taken by the signer, IP address, and other details that acts as a legal proof. It can be downloaded as soon as the signing is complete by all the signers.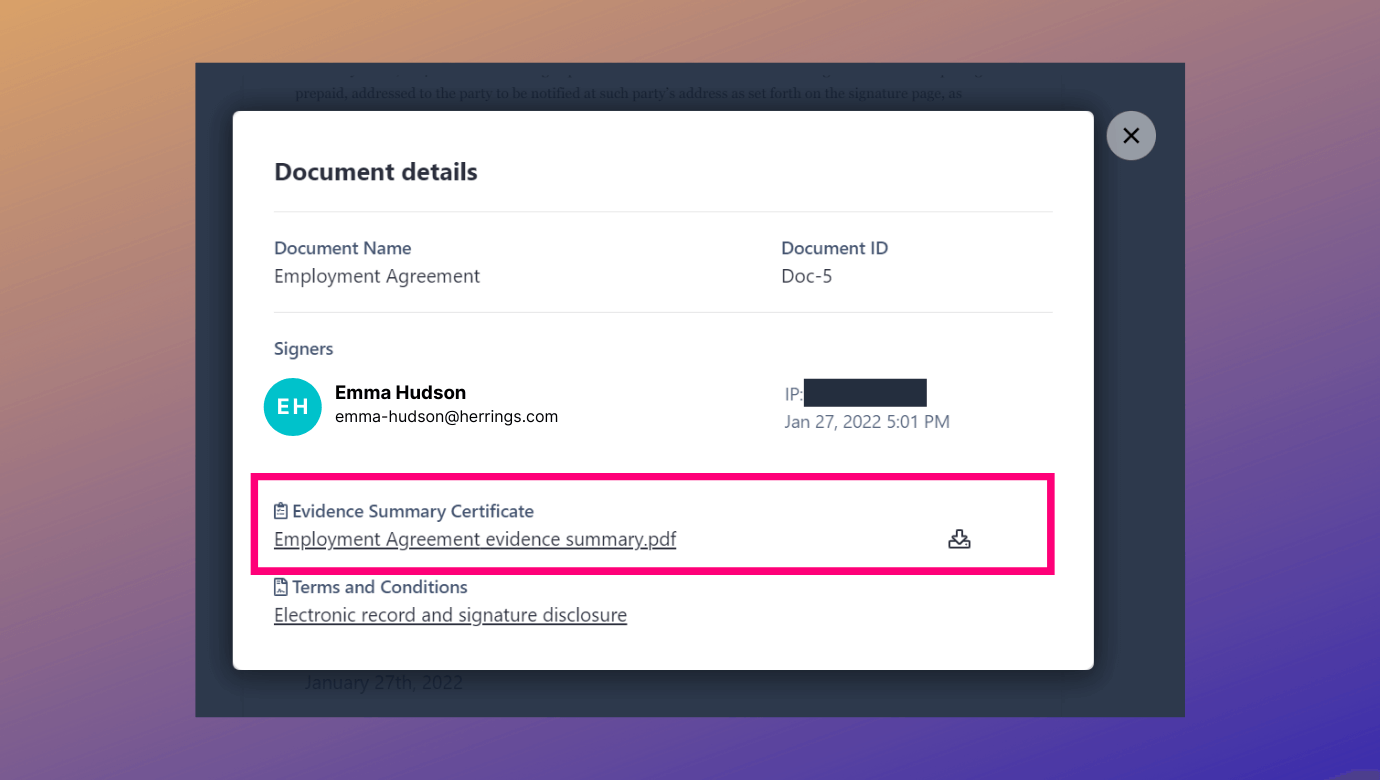 👉 Track document activity
Revv provides you a way to track your customer's actions on the document you sent for eSignature. The Activity feature records all the activities associated with a document starting from creating the document to getting it eSigned.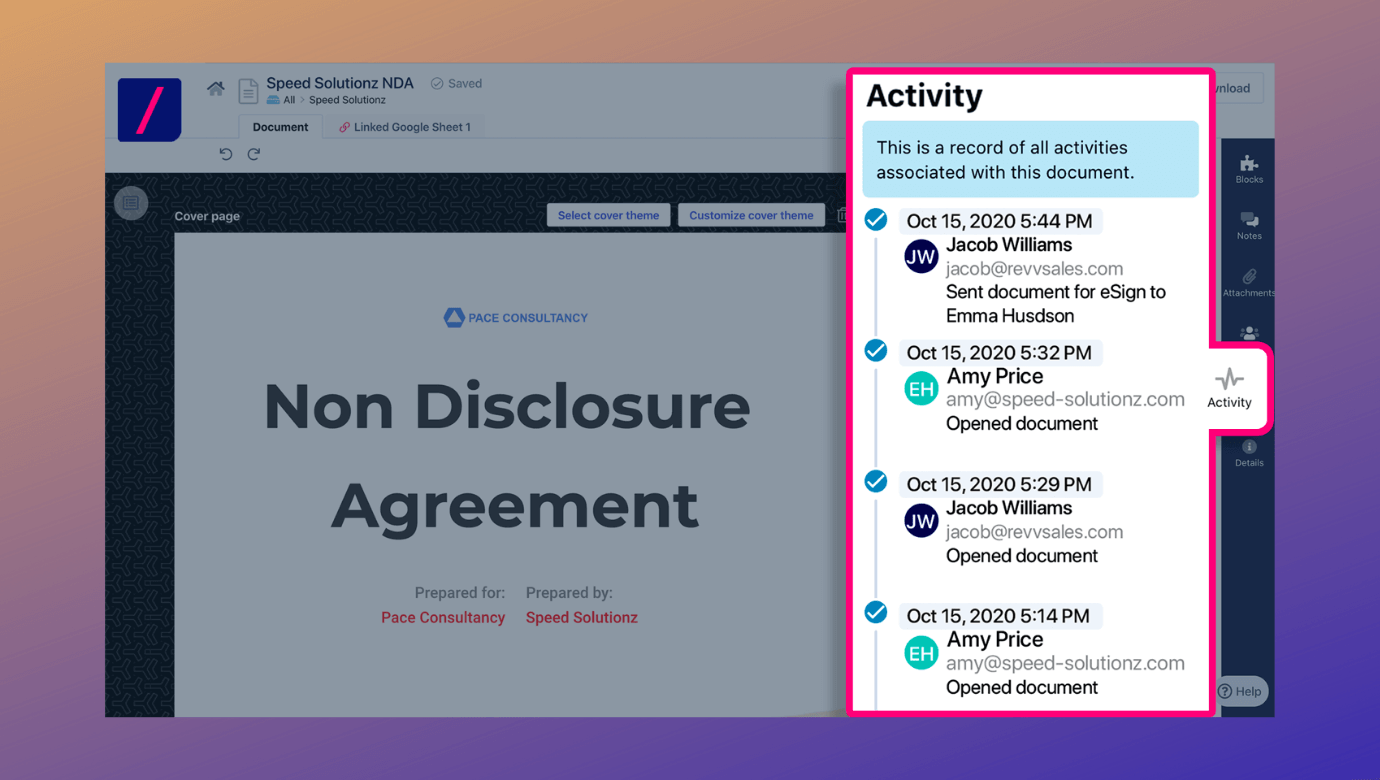 Keep one eye on your email as Revv sends automated notifications to you when a recipient successfully signs the document. You can also set up reminders in Pipelines to alert the recipients to take action on the document.
'Revv fact' 💡
Want to retract your document?
For any reason, if you want to expire or retract a document, Revv helps you do so. You can opt to edit the document (Document > ⋮ > Edit the document), thereby retracting the signature/approval/acceptance of the recipient on that particular document.
👉 Allow sharing details
If you are in a situation where you want the signers to add some information to the document before signing, you can also assign certain form fields to your recipient. Once you share this document with the recipients, they can enter the necessary information and later close the deal by signing the document.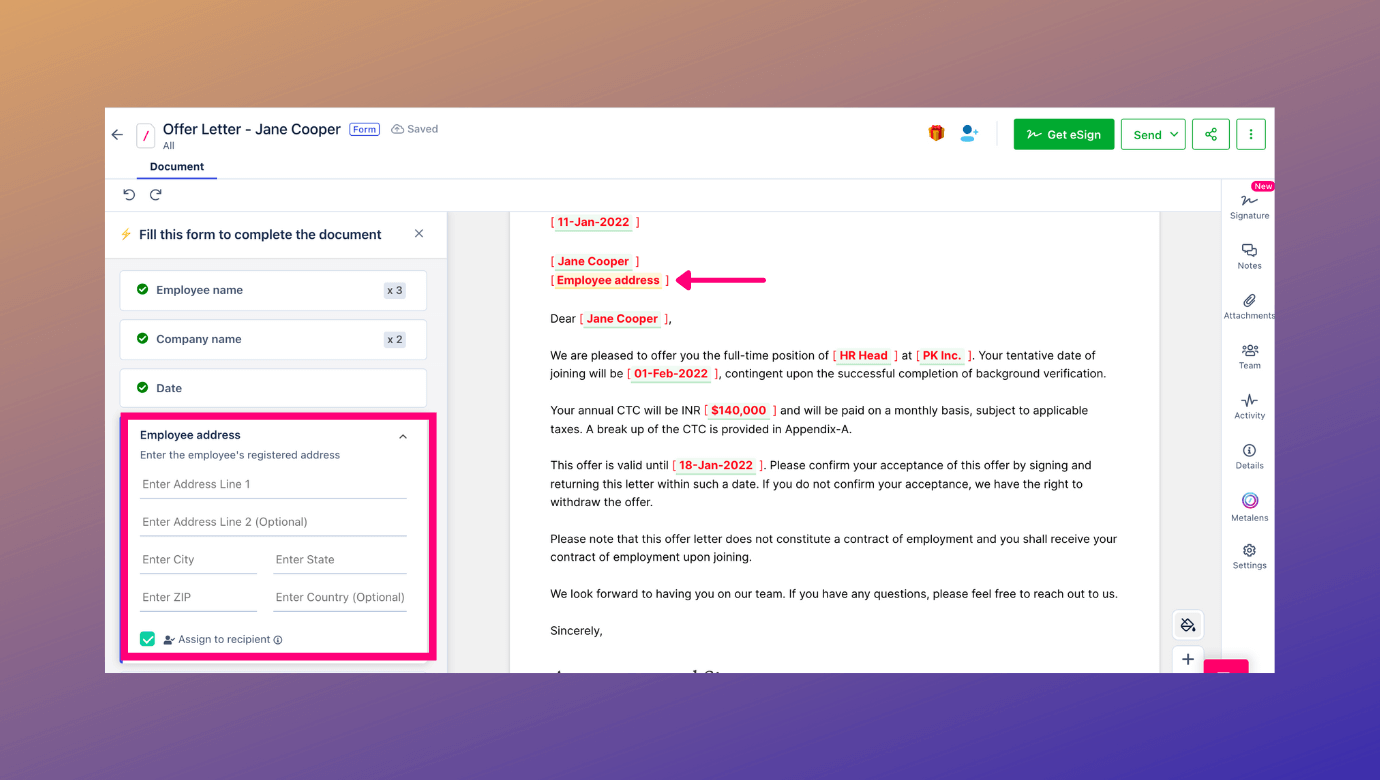 Do more with Revv – Secure your business processes
Until now you understood how Revv can secure your document workflows involving eSignatures. But this is just the beginning. Revv plays an important role in automating and securing your business processes and boosting productivity. Let us see how…
✅ Generate documents within minutes
Creating a document for eSignature is a cakewalk with Revv. You are exposed to plenty of options to make it effortless.
Use an existing template – Reduce days of document drafting time to minutes with Revv's templates. Revv's 1000+ templates are legally vetted, formatted, and can be quickly customized for your business.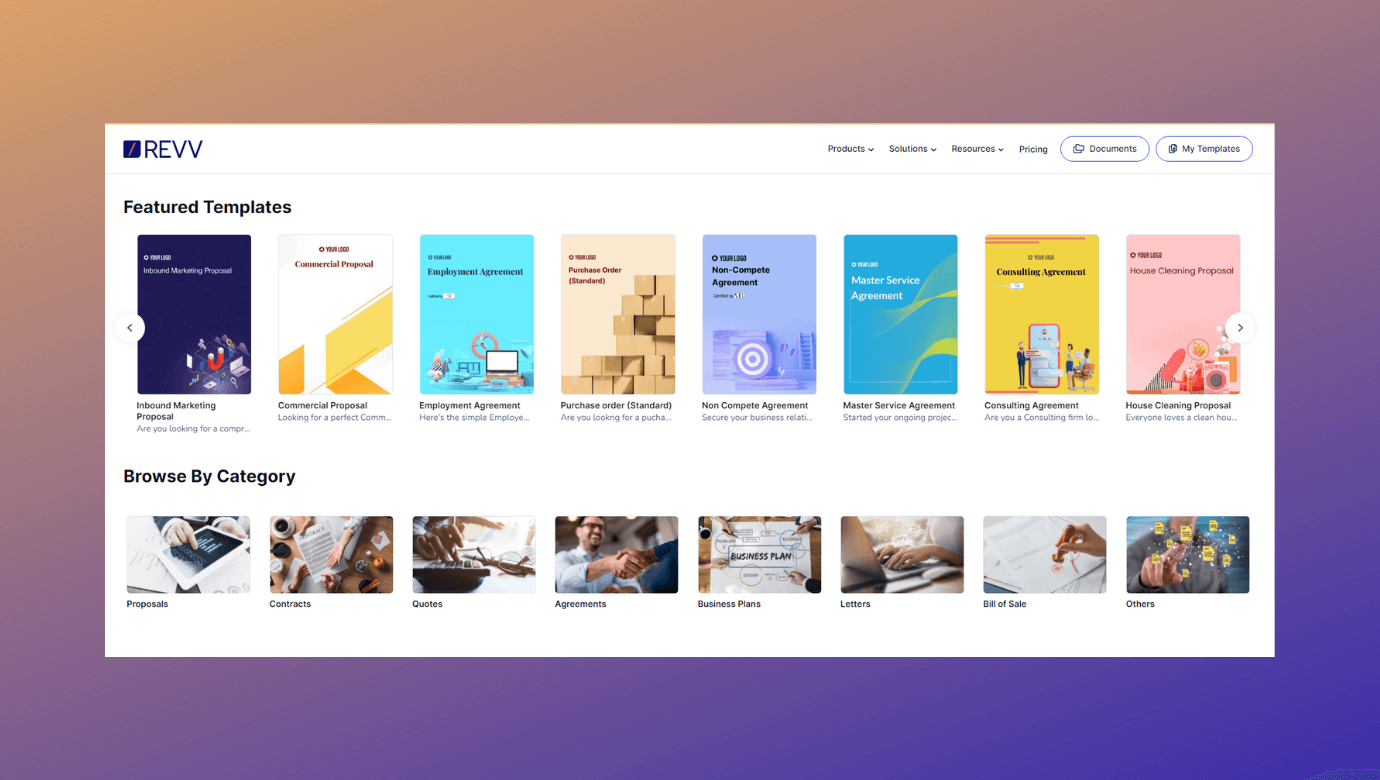 Upload a document – If you want to send an existing PDF or DOCX file for eSignatures, you can upload it to Revv and send it for signing.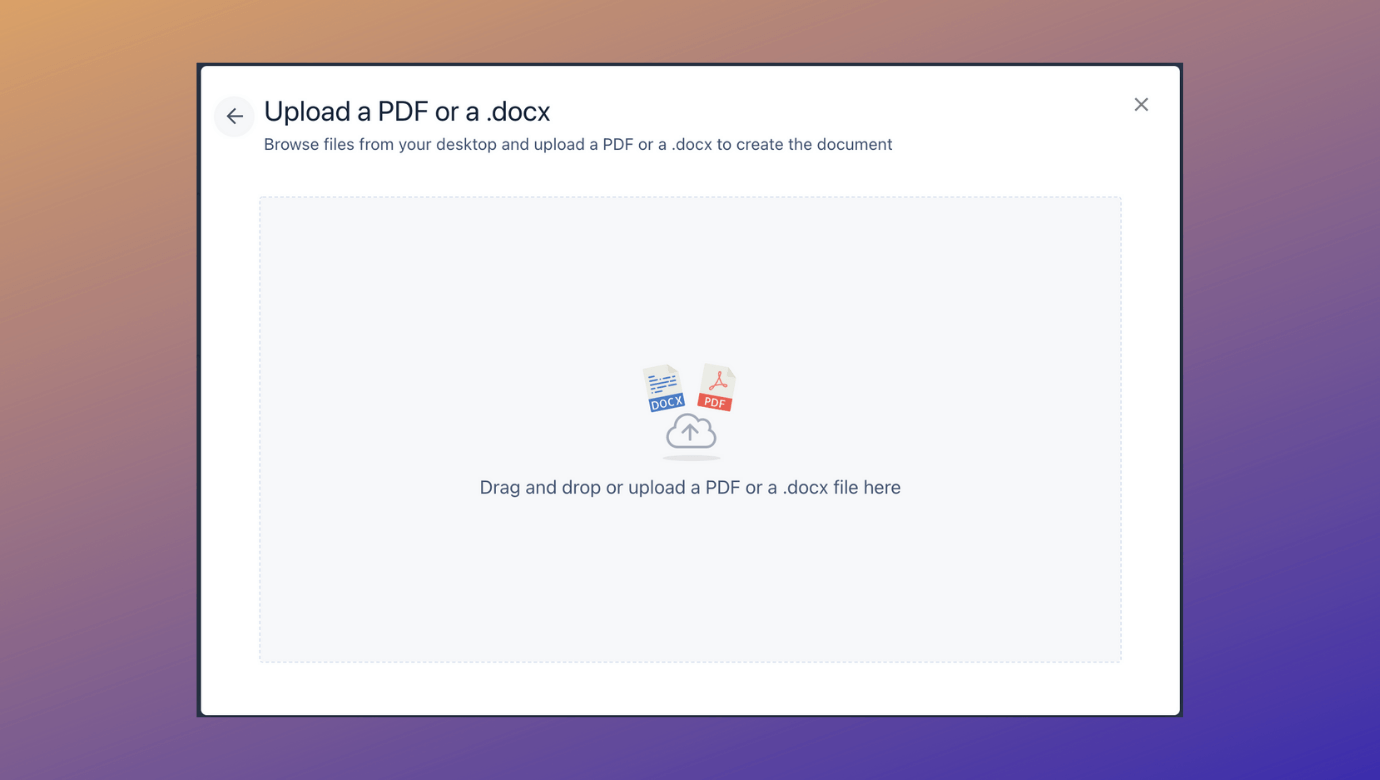 Create a template – You can also start creating a document from scratch and design it the way you want. Revv's editor is simple and user-friendly. It enables you to add many elements like images, text, tables, etc. with an easy drag-and-drop action. You can also lock certain sections in your document if you don't want anybody editing it.
✅ Integrate with other business platforms
If you aim for end-to-end document workflow automation, then you might want the help of other apps to enhance your document. The reasons can be manifold – add more information, receive payments, trigger workflows, store the documents, and many more. For example, if you want to insert values from a ledger, or add tables from an excel sheet, it would be tedious to go back and forth between apps.
The best solution in this scenario would be to make use of integrations!
Revv provides integrations with various third-party apps using which you can sync data to your Revv account. Integrating Revv with other processes will make your business process smooth like butter. Some of Revv's in-built integrations are:
Storage systems like Box, Dropbox, Google Drive, etc.
CRMs like Salesforce, Zoho, HubSpot, etc.
Billing and payment apps like Chargebee and Stripe
Accounting software like QuickBooks
Excel Sheets and Google Sheets to import data
Chat platforms like Slack, Google Chat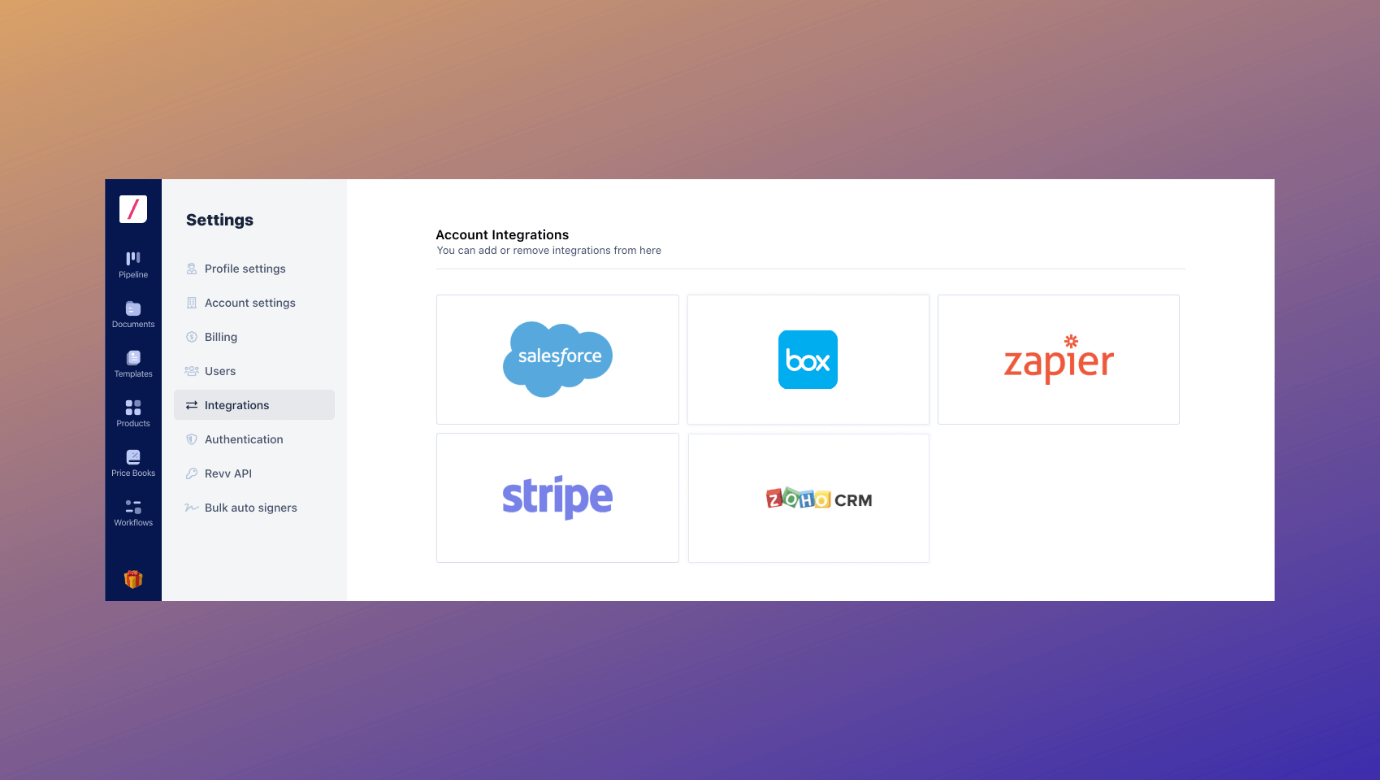 Securing document workflows with Revv just got better as we integrate with Box. The Box is a storage platform that categorically stores all your documents on the cloud. The main benefit of Box is you can access data, anytime, anywhere. An added benefit is it aids you to configure end-to-end business process automation.
With the help of Revv, metadata related to form fields inside documents can be used as a trigger for Box to automatically initiate new workflows as and when required.
Let us consider a situation wherein the client has signed a contract and it is stored in Box automatically. This contract has to be renewed every six months. With the help of metadata in the document, Box can be configured to trigger a workflow for a contract renewal process.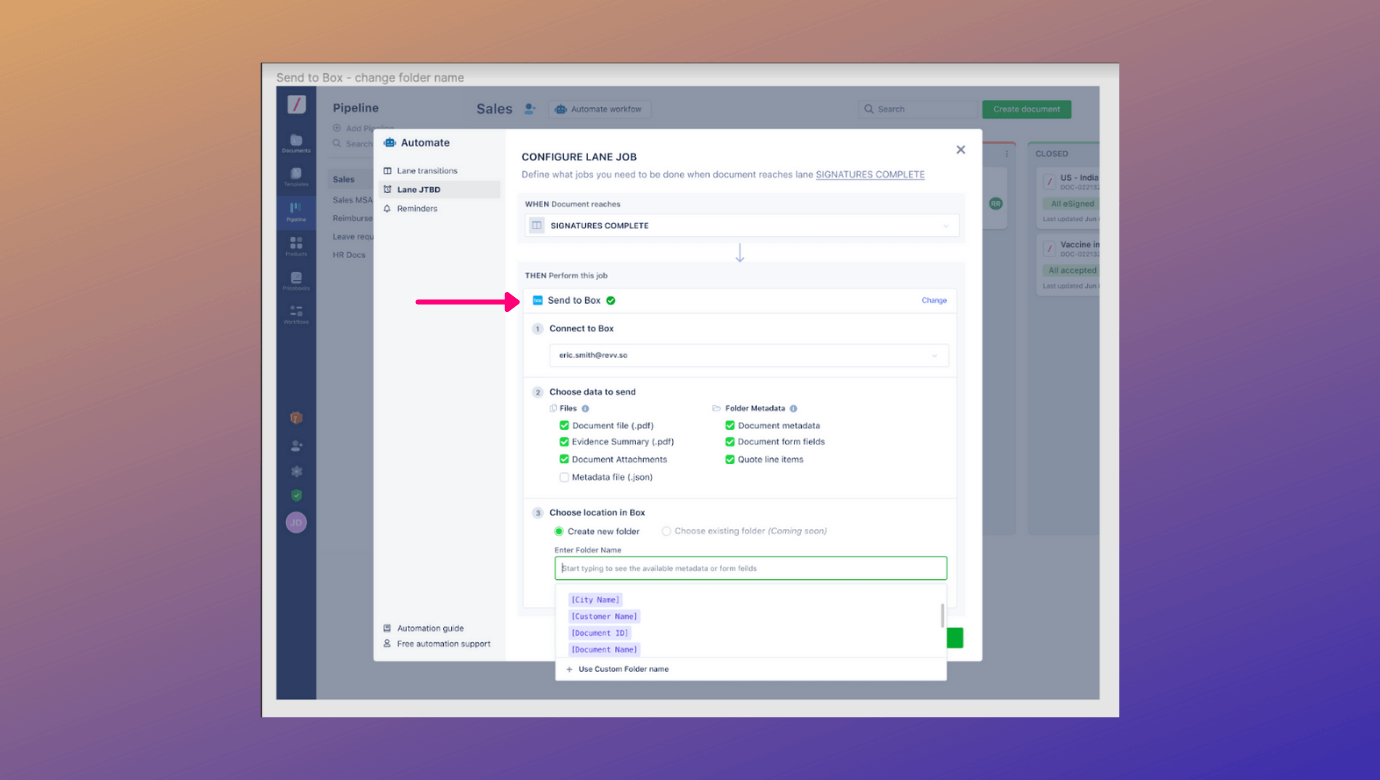 You'll be able to use this advantage to effectively trigger workflows not just related to document creations, but events and audit trails as well.
✅ Seamless data mapping in a trice
Data mapping is important to maintain accurate and consistent information in your documents. Manual data entry can cause errors and the repercussion of messy data mapping are severe and can incur major losses to your business. As a well-wisher, we suggest you look for a solution that ensures error-free data mapping with less time consumption.
Enter Revv's Data Studio feature – an efficient data mapping tool. It creates precise documents irrespective of the size and complexity of data. Once you have the integrations in place, the Data Studio allows you to map all the data from other platforms to your Revv account smoothly. It is easy to use and also creates perfect documents in the blink of an eye.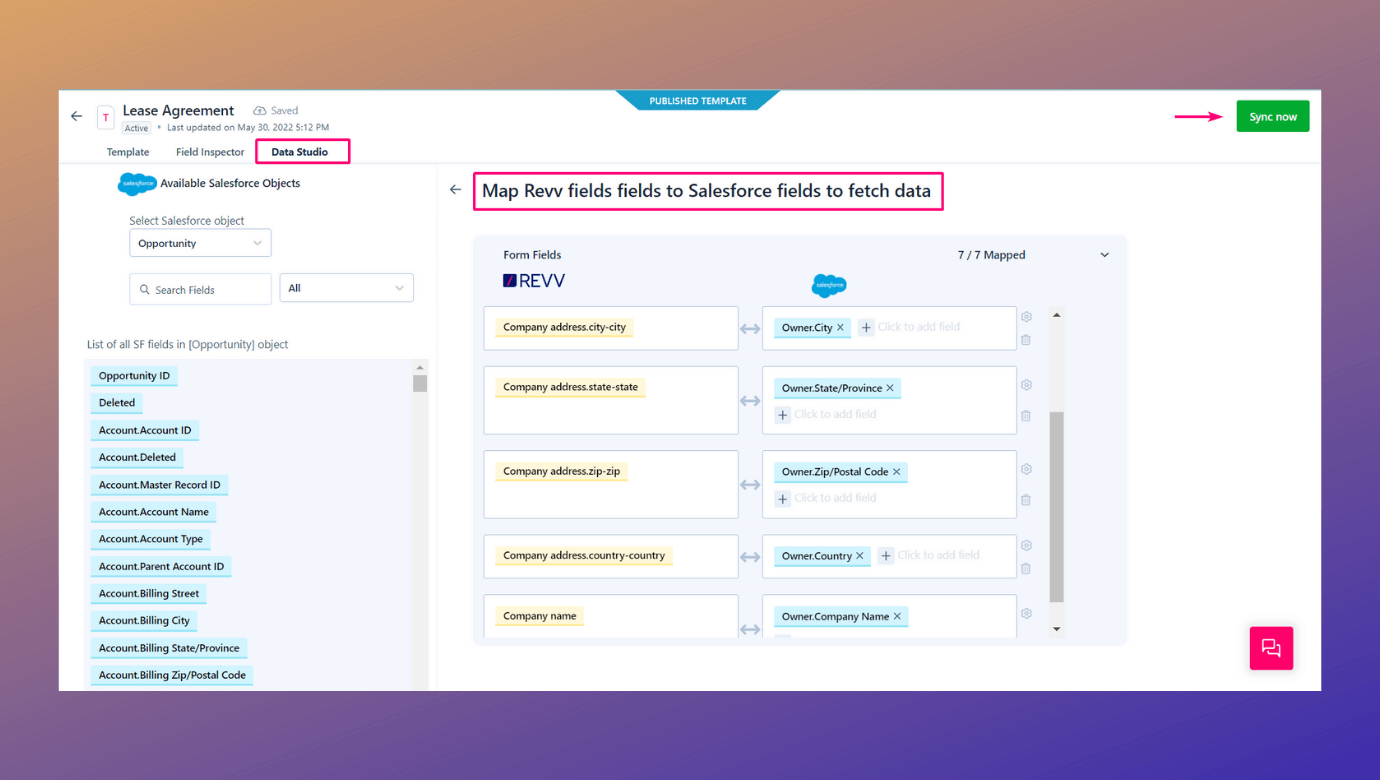 ✅ Automate the document process using Pipelines
Most operations don't stop at obtaining eSignatures from clients. It just might be the trigger for other associated jobs to be done. For example, a company's Human Resources Team has to notify the admin and payroll team about a new employee joining, after the employee has signed necessary documents. Another such instance is, after closing a deal with a client via eSignatures, the sales team has to inform the accounts team about the deal.
Automating all these processes and taking an operation to the finishing line can be a daunting task. But don't fret, because we have a solution for this too.
You can (without a doubt) use the Pipelines in Revv to automate the entire workflow and reduce repetitive tasks.
Revv's Pipeline feature follows the Kanban method. You can add any number of pipelines based on your requirement. For example, if you want all your quotes in a single pipeline, you can create a pipeline called 'All Quotes' that will host all the quotes you deal with.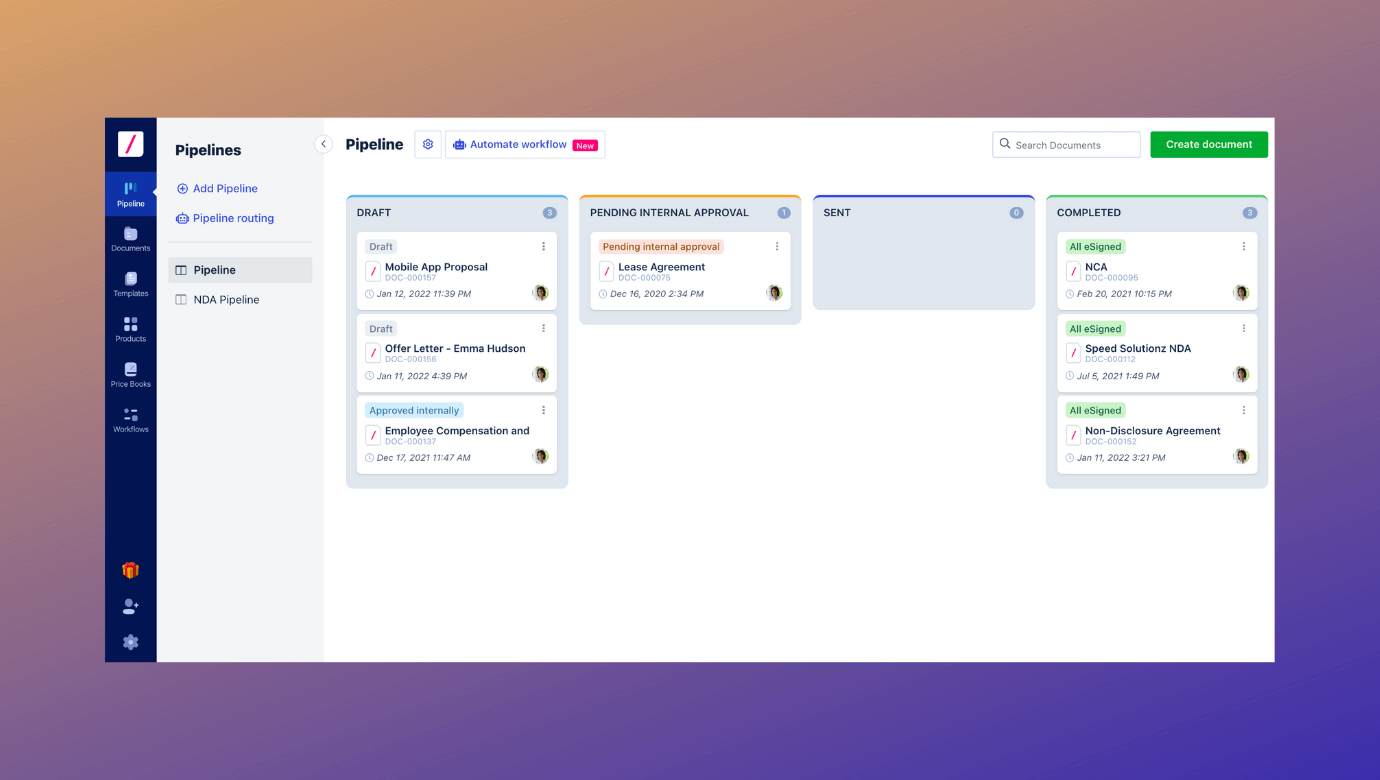 To make sure all the quotes land in that particular pipeline, you can configure that using the 'Pipeline Routing' feature. For instance, you set a routing rule to send all the documents created from the Quotes template to the 'All Quotes pipeline'.
Each pipeline will have customizable lanes. You can configure lane transitions by adding lane events. This automates the movement of your document in between lanes, thereby creating a smooth document flow.
You can also add jobs to each lane that defines what must be done when a document enters that lane. For example, you can notify your Accounts department when a quote is signed by the customer.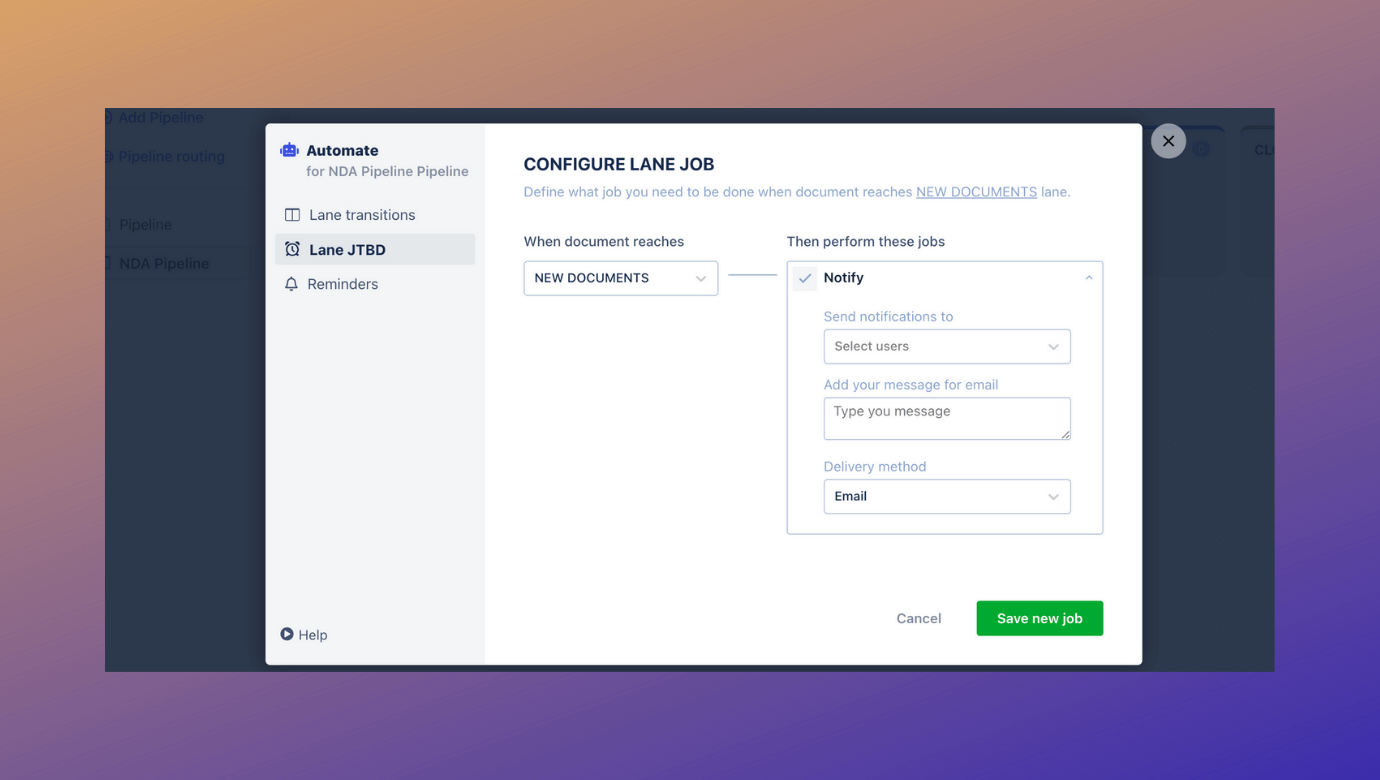 You can also set reminders that apply to all the documents that enter a particular pipeline. It reminds the recipient of the document to complete their action.
✅ Deep dive analysis of your documents
Metalens is Revv's AI buddy that reviews the entire document and highlights the data in the document such as names, dates, amounts, and many more. It can be very useful if you want to re-check your document and scan through the nitty-gritty.
Metalens has two sub-features as mentioned below:
Document Review – Metalens can check the document and review it by type like Product, Finance, Legal, etc. It also categorizes the highlighted information and displays insights in each review type.
Metadata – Metalens displays all the metadata of your document under a single tab. You can also add your own metadata by giving a name and a value. Finally, you can download the metadata in a CSV or JSON format for further analysis.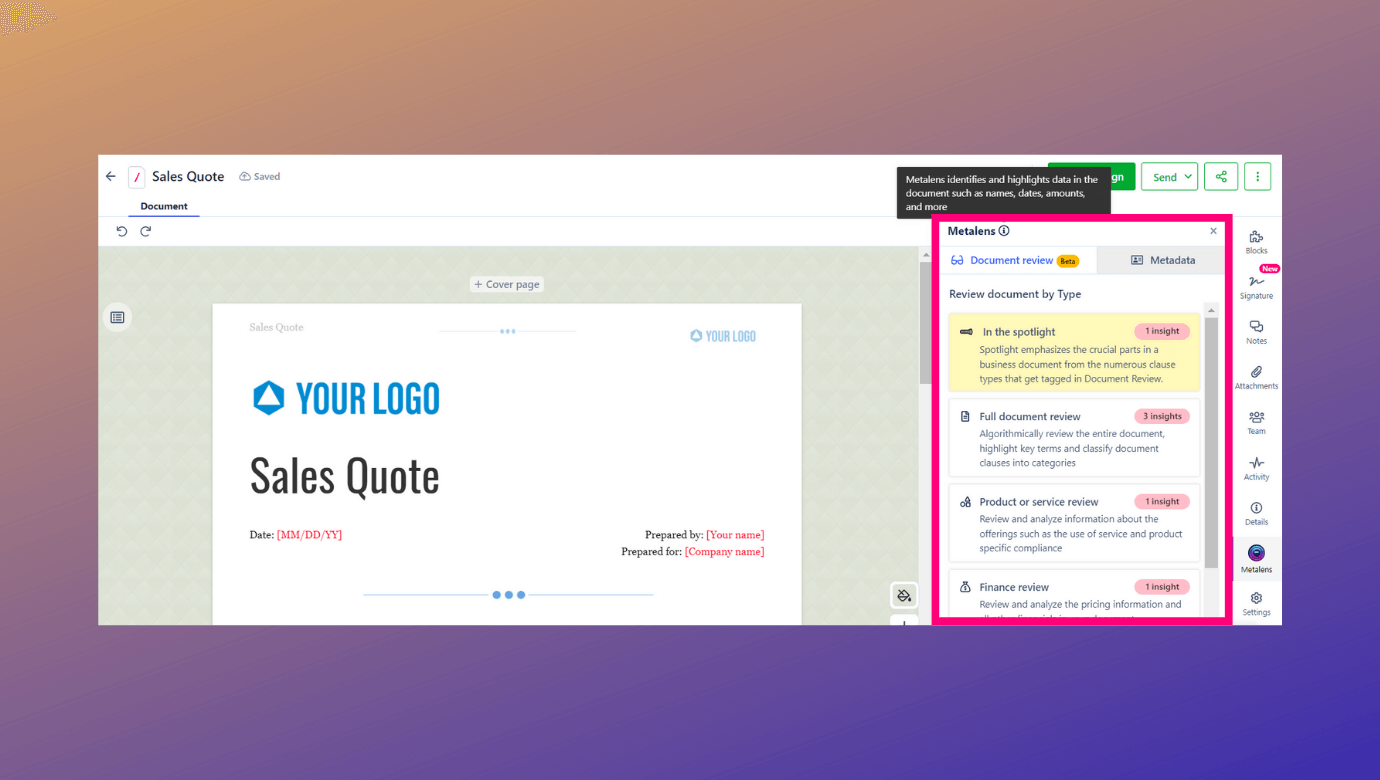 It was an in-depth take on securing not only your documents but also your business flow with Revv.
Next course of action
Well, we hope that you have understood how important electronic signatures are in this modern world. Along with that, securing the eSignature document workflows is pivotal.
It's time to choose Revv and update your system. It saves time and money while ensuring that you have the top security for your important documents. Ending this blog with a famous saying – ''Precaution is better than cure.''
Learn more about eSignature workflows:
Frequently asked questions
What is document workflow automation?
Document workflow automation is the process of creating, signing, updating, storing, and accessing your business-related document. These documents are usually passed between departments, employees, clients, partners, vendors for approvals, signatures, or changes. Once the process is complete, these documents can be either printed to paper documents or stored in cloud storage for a lifetime.
What are the steps to document workflow?
There are various steps to create a document workflow and they depend upon your business requirement. But to close deals quickly and smoothly, here are the basic steps to document workflow:
-Generate document
-Get internal approvals
-Send for review
-Send for eSign
-Track document activity
-Store it safely