Reaching the wide range of your customer base in one go while simultaneously imparting a personalized experience is every organization's dream come true. But whenever people and magnitude come together, chaos follows. This is exactly what happens for businesses when they try to send documents in bulk manually. The sheer complexity invoked by all the moving parts leads to errors and renders the attempt fruitless.
In this blog, let's explore the problems of sending documents in bulk manually and the alternative solution, and its benefits and use cases in various business scenarios.
Sending documents in bulk to multiple users: A problem of scale
Sending documents in bulk is an issue that invites more serious attention than meets the eye. The unprecedented events of the last couple of years have sensitized us to wrong information. So imagine if something goes wrong when you handle information at a large scale. In fact, errors in the process have led to almost 2,000 people receiving the wrong COVID vaccination letters in the UK recently.
Almost every other organization in every other industry vertical needs to send documents in bulk – for eSignature or otherwise. For instance, take the case of enterprises in the Banking and Finance industry. They need to generate and send statements, advice, and reports on a frequent basis. Marketing teams cannot do without the bulk sending features since 91% of customers are ready to shop with brands that send them personalized offers and greetings.
Similarly, in the Retail industry, bills and e-invoices need to be sent almost on a daily basis. While in Telecom, companies need to sign and send bills to subscribers. The HR department in almost all firms simply cannot do away with bulk sending since they need to send Form 16, Appraisal letter, Experience letter, policy documents, etc., to a wider database every time.
But when multiple touchpoints of authorization and so many people are involved, tracking, follow-up, authorization, and almost everything in between become totally unmanageable if done manually. The manual process also means that you are burning precious employee hours in unproductive work and only increasing the number of files and complexity of cataloging everything.
The need for an automated solution for sending documents in bulk
On a large scale, manual processes are not ideal for creating and signing important documents. This calls for the need for an automated machine-driven bulk document signing solution. A holistic automated eSignature solution like Revv with bulk sending features comes with immediate advantages.
Compared with sending documents manually, this helps in the immediate delivery with rapid turnaround times
It can support Microsoft Word and PDF file formats
It is far more secure
It is simple as the workflow progress is transparent and can be managed throughout
Rather than relying on paper storage systems or digital scanning services, it is possible to electronically store millions of records
But before we delve deeper into the benefits of such a solution, let's look at the various use cases where sending bulk documents is a given and the benefits a potential automated solution could bring.
Some use cases for bulk send and sign
HR: The HR department often has to send some policy change updates, employee consent forms, employee compensation & benefits document, etc. across the organization. Creating and sending each document to each employee separately is time-consuming and complex.
Sales: Sales is one industry vertical that always works around data. As is the case, it's very important to send sales quotes and proposals, to multiple clients at the same time. Bills and invoices also form a crucial part of the sales processes and these need to be sent in bulk in most cases.
Procurement: A company's procurement department will have to facilitate a high-volume amount of communication with clients and employees. For such a department, bulk sending is pivotal as they deal with purchase orders, and return and refund policy documents among others.
Banking and Finance: In a sector that witnesses a vast volume of transactions every day, the creation and distribution of documents act almost as a lifeline. For financial institutions, the need is to predominantly generate and send account statements, creating yearly financial reports that need to be sent to a multitude of stakeholders and customers.
Overall, the ability to send the same document to thousands of recipients easily and precisely is a strategic imperative for any organization dealing with documents. Having a seamless 'bulk send' option that negates the complexity and harrowing follow-ups involved in the manual processes is crucial to saving employee hours from mundane processes.
Revv's eSign platform provides a fully-automated process to make your bulk sending documents for the eSignature process easier, more effective, and more productive. It not only saves you time and money but helps you focus on business growth areas.
Let's explore how to bulk-send documents using the Revv platform.
How does bulk send work in Revv?
Here are some of the examples where bulk send is a viable option:
Scenario 1
HR has to create and send a consent form to employees regarding an organization-wide policy change.
Scenario 2
A sales team has to create a sales quote with the updated product and price listing that needs to be sent to a selected chunk of their clientele.

Scenario 3
A financial institution wants to send an approval document to all debit/credit cardholders to acknowledge their participation in the card loyalty program.
Follow the below steps to create and send hundreds or thousands of documents for electronic signatures in a few minutes.
1. Create different types of documents with Revv's customizable templates
Be it any industry or any type of document requirement, Revv provides a solution for multiple document needs. The platform offers 1000+ legally vetted document templates ranging from contracts, proposals, letters, quotes, agreements, and many more. It offers industry/department-specific templates that can be customized based on your needs.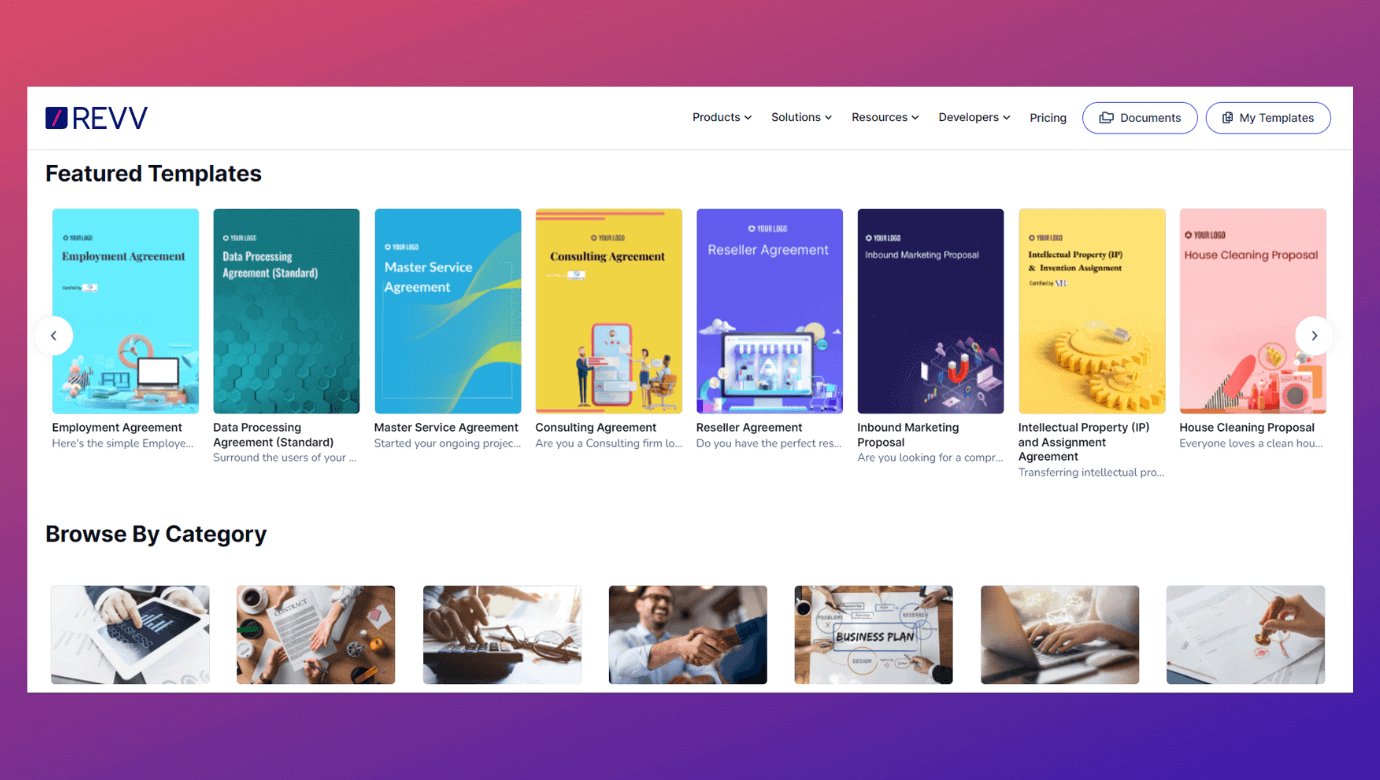 You can make any kind of customization in your templates with the feature-rich document editor provided on the platform. You can add or edit texts, images, tables, quote tables, google sheets, etc. with the simple drag and drop feature of the editor.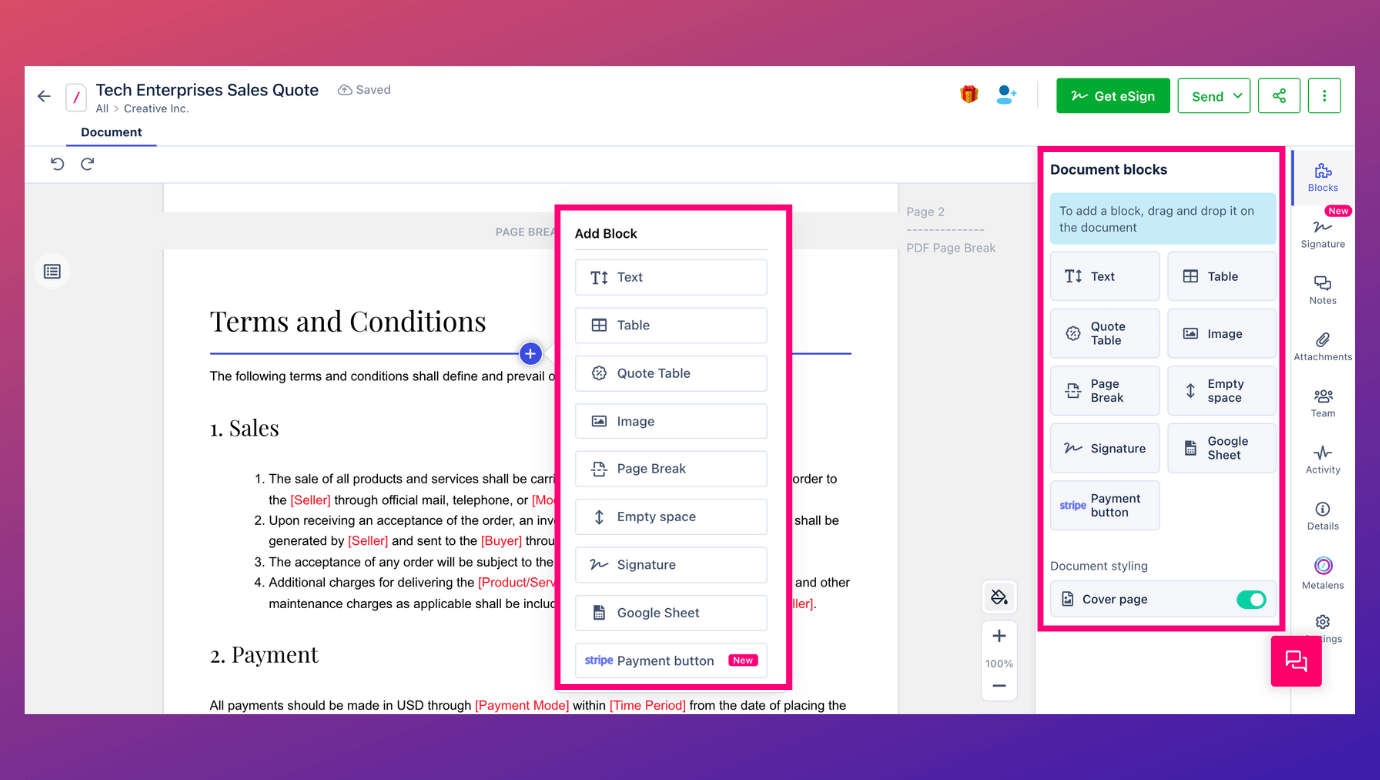 2. Convert repeatable information into form fields
In most cases, contracts, agreements, sales quotes, and proposal documents often contain repeatable information within the same document. For instance, in sales contracts and agreements, the name of the customer, company name, address, or other details need to be filled out more than once.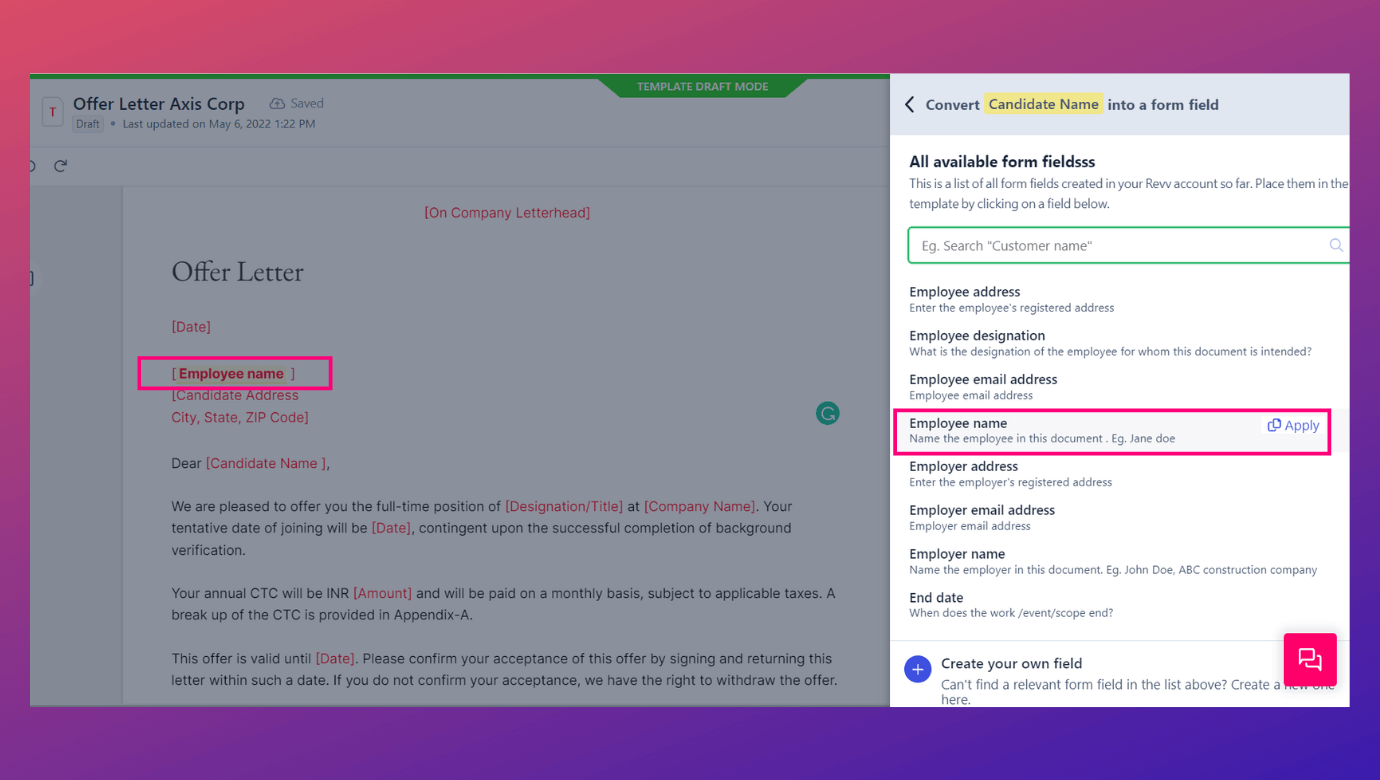 You can now avoid filling all these repeatable information in documents with Revv's form field templates. All repeatable information can be converted to respective form fields in Revv. The document owner only has to fill out the repeatable information once and it will get populated everywhere else.
You can also get precise information in your documents by assigning recipients to complete the form fields.
3. Automate data import from external apps through seamless integration and data studio feature
Be it any bulk document creation scenario, entering data manually from your HRMS, CRM, ERP, or Excel Sheets is taxing. Entering dozens of data fields from one business system to another generally leads to typos and manual data-entry errors. But with Revv, you can simplify all your data mapping tasks with its Data Studio feature.
How?
After your templates are created, use Revv's Data Studio feature to map to an external data source. Revv's Data Studio feature offers you the flexibility to choose any data source you use in your organization. You can integrate this external source and other business systems with Revv in a few clicks.
After the integration, it takes only a couple of steps to send documents in bulk.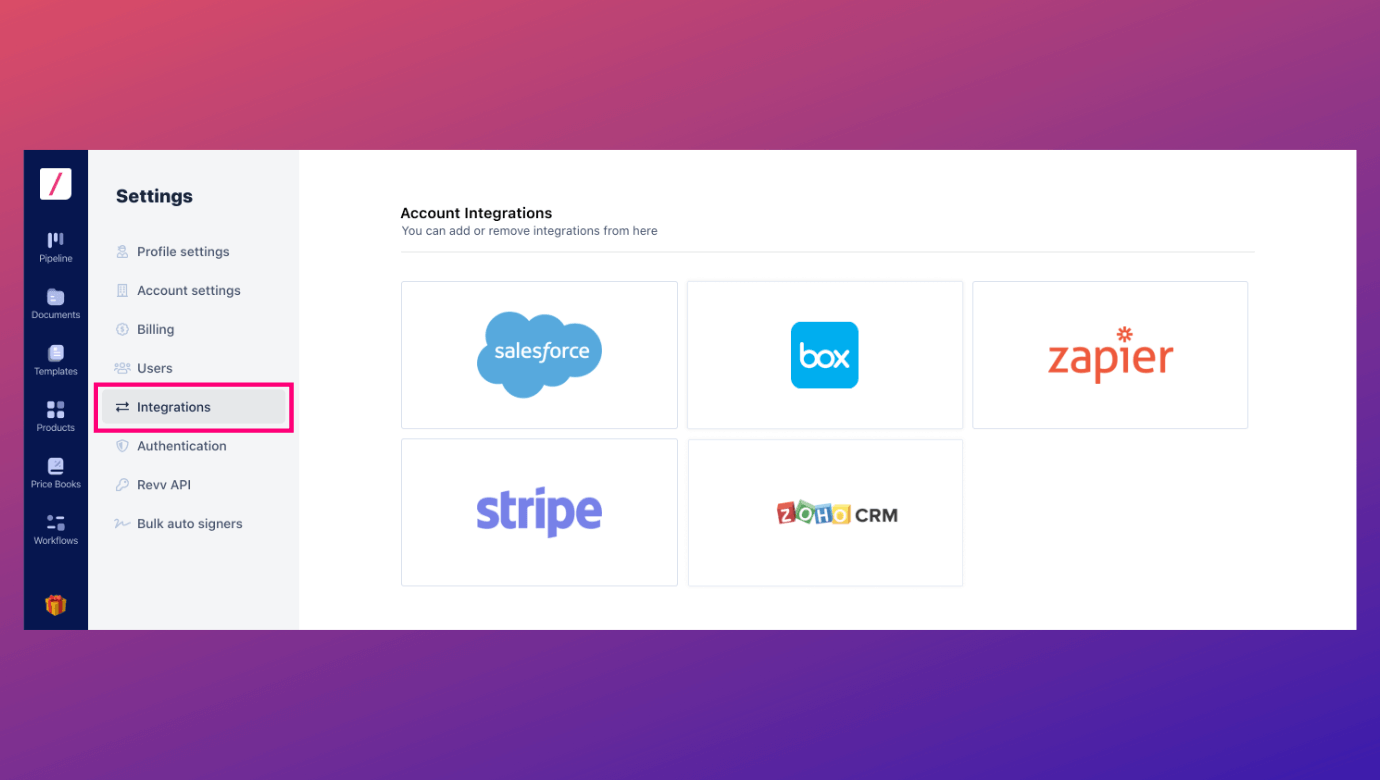 Here, let's take a look at how a CSV file upload works on the platform.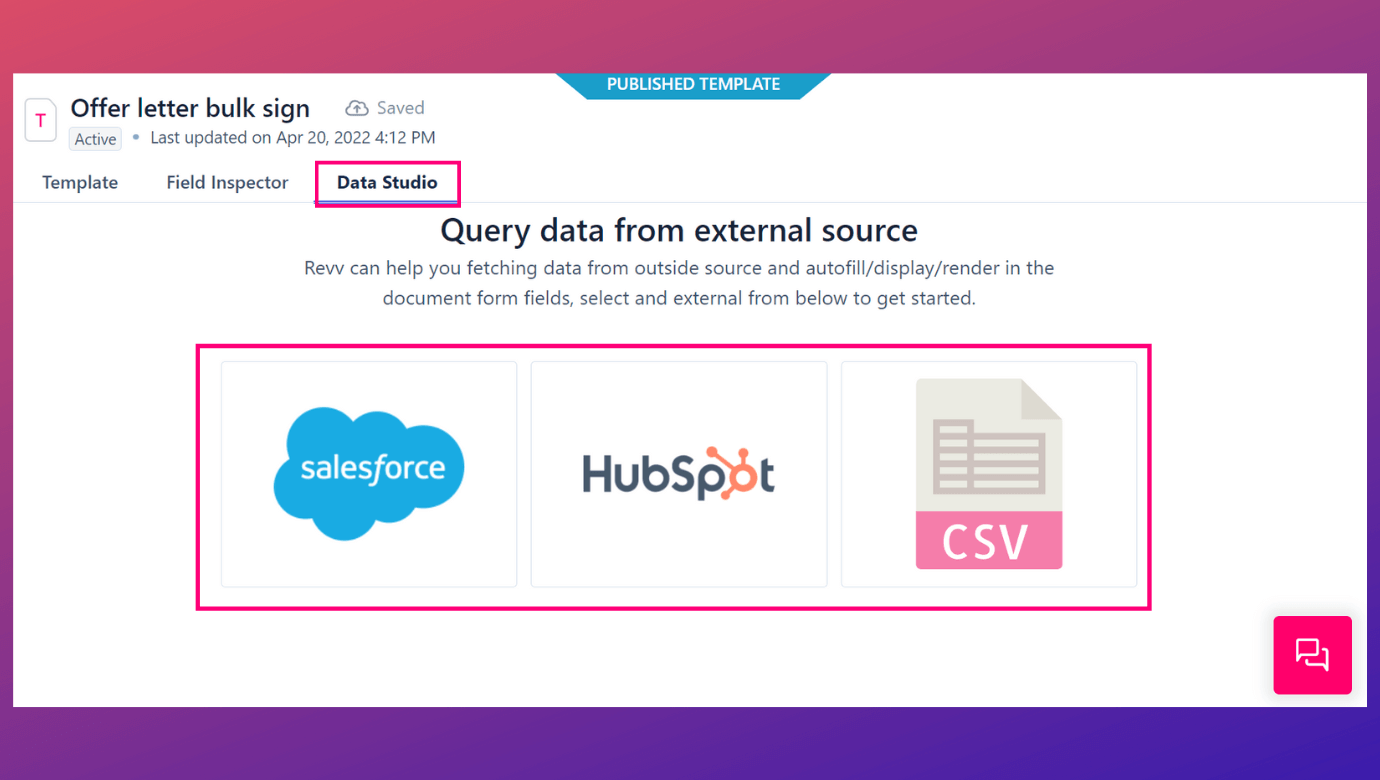 👉 Upload external data source
You have to upload your CSV file with the required details.
Bonus: You can learn how the Data Studio feature works in your Salesforce account from here.
👉 Sync your data fields
All data fields in the CSV file will be automatically fetched to the Revv platform. You only need to map it to the respective data fields of Revv and complete the process.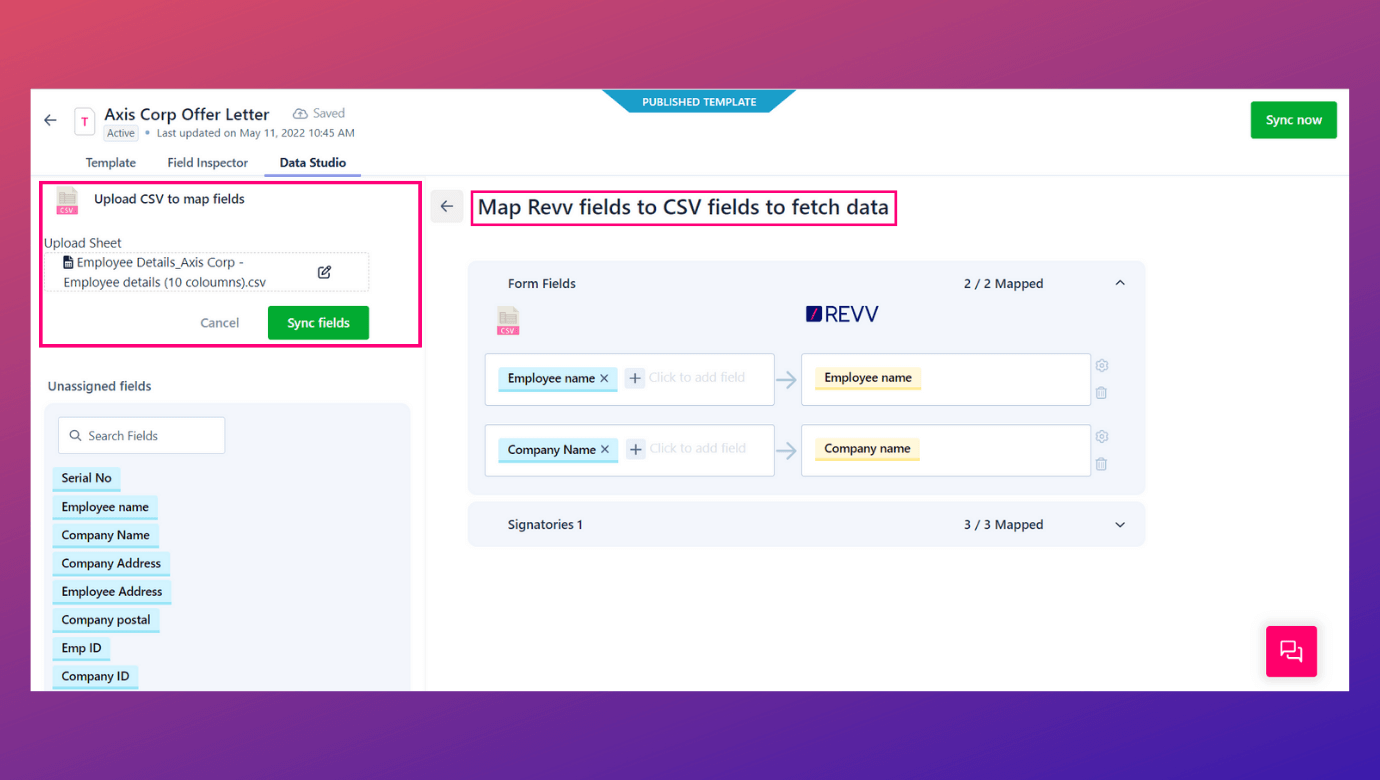 👉 Map data fields between CSV and template fields
Irrespective of the size or complexity of the data, all data fields will be mapped within minutes after completing the syncing process.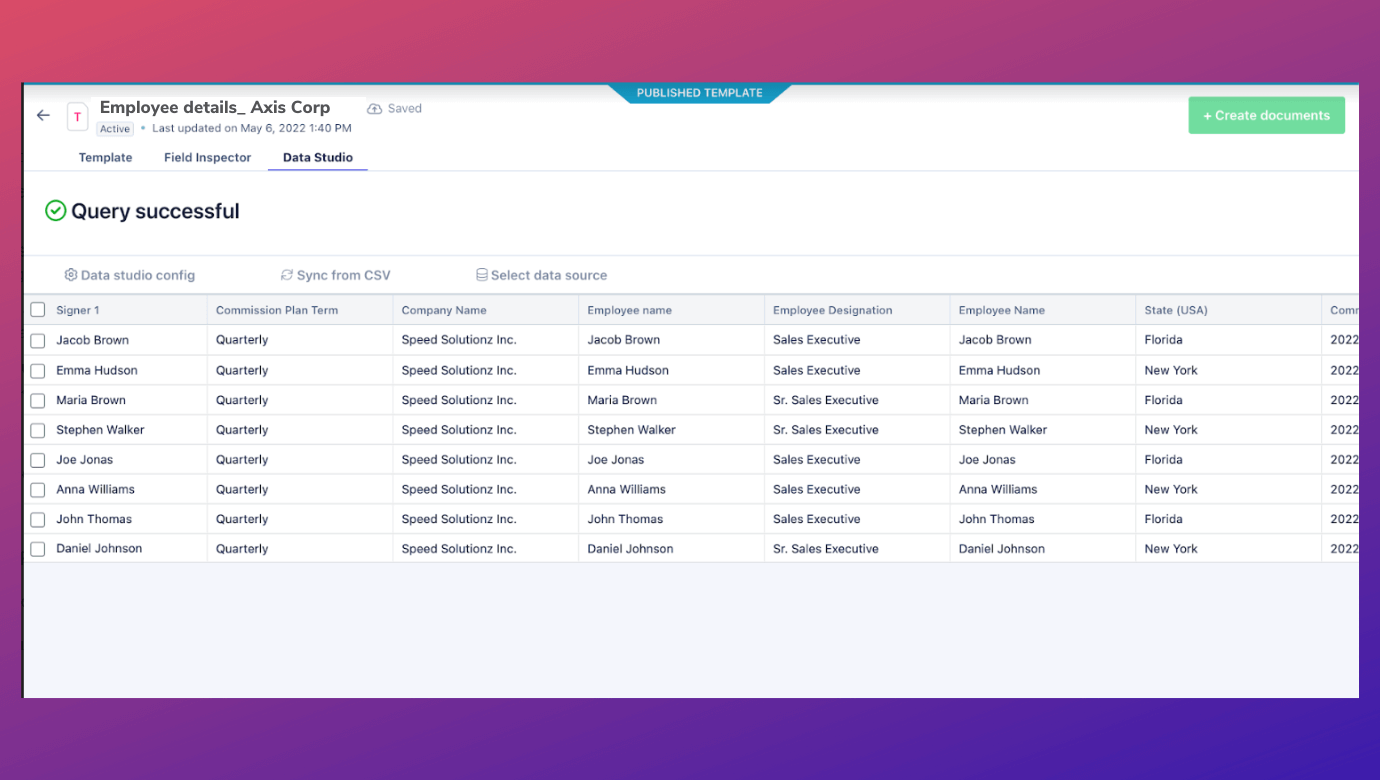 👉 Create and send bulk documents for eSign
You can choose to create single or bulk documents or you can even bulk send the documents for eSign directly by clicking the +Create documents option.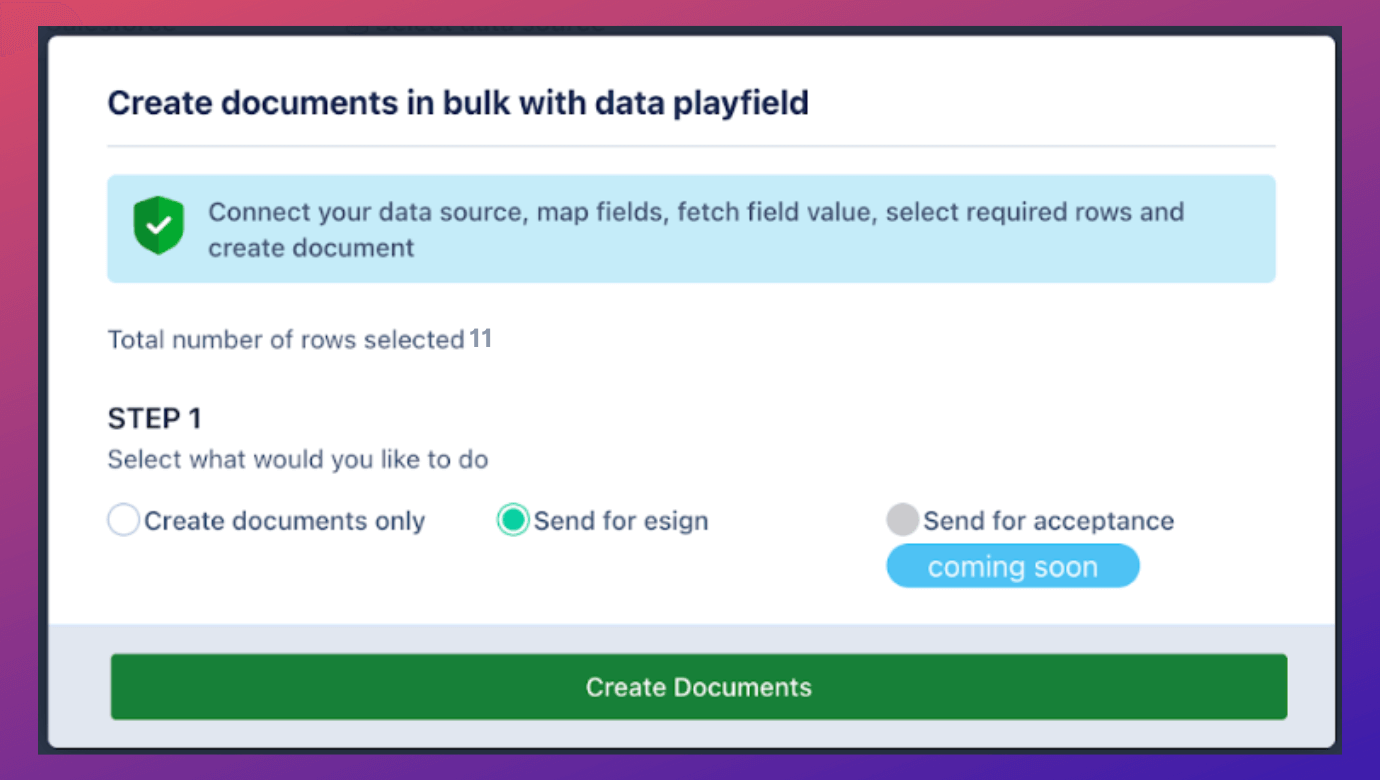 You can now watch and learn to automate bulk document creation and eSigning process with Revv
👉 Email notification
The sender will receive an email notification with all the status updates regarding bulk send and sign status. It will show details like how many documents are created and how many have been sent successfully. An email notification will also be sent if any document send action is unsuccessful.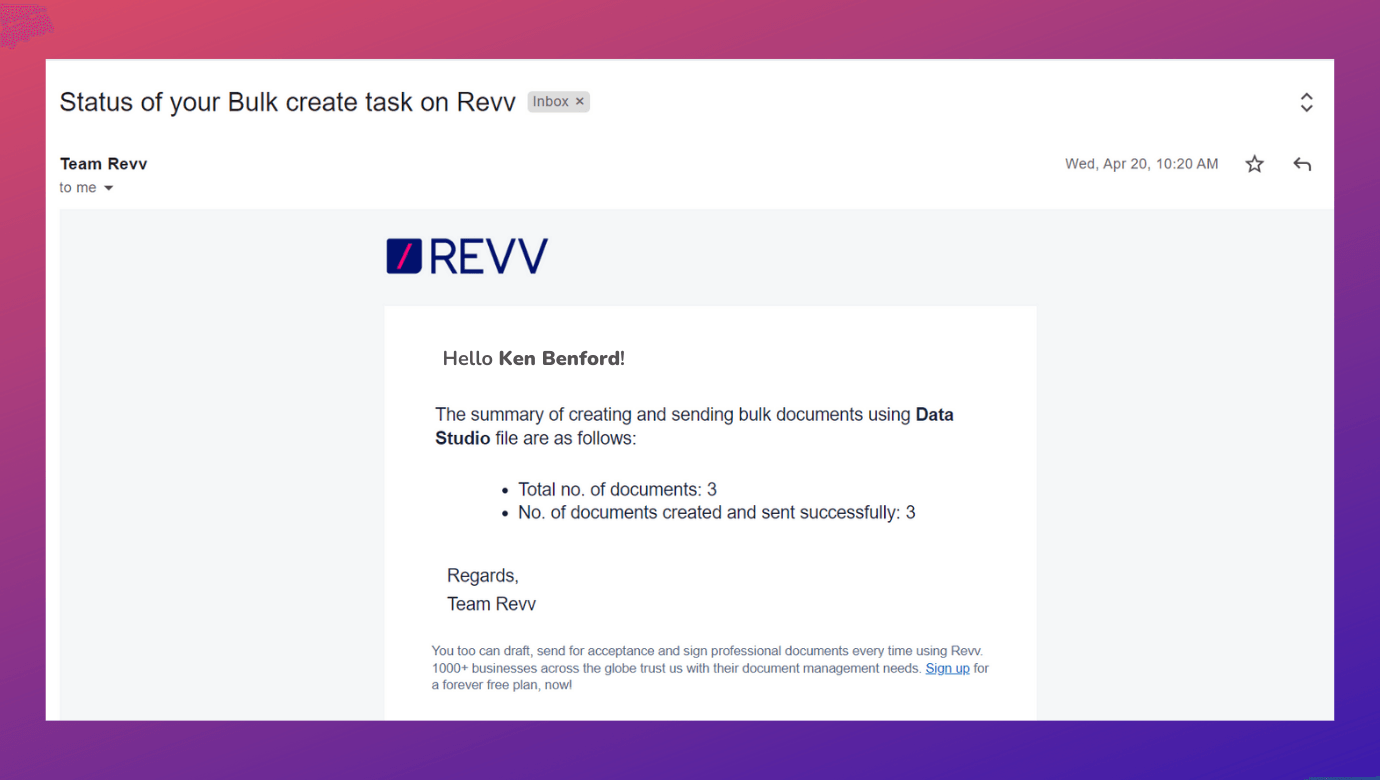 Recipients will also receive an auto-generated email to view and complete the eSign process.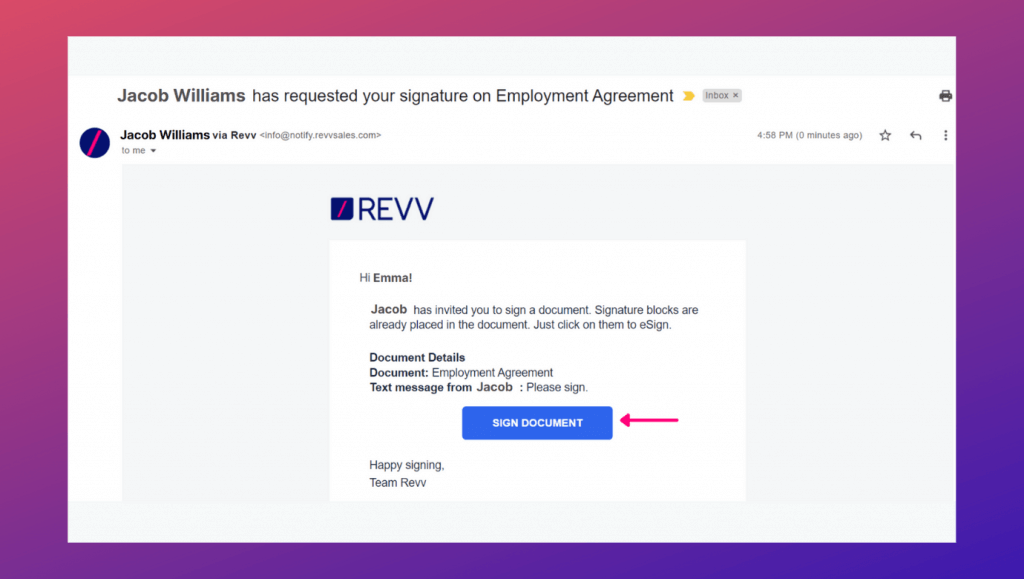 Revv's eSignatures: Legally compliant and simple to use
Revv provides safe and compliant eSignatures that follow all international and local laws. In the same document, you can add one or more signers with a simple drag-and-drop feature.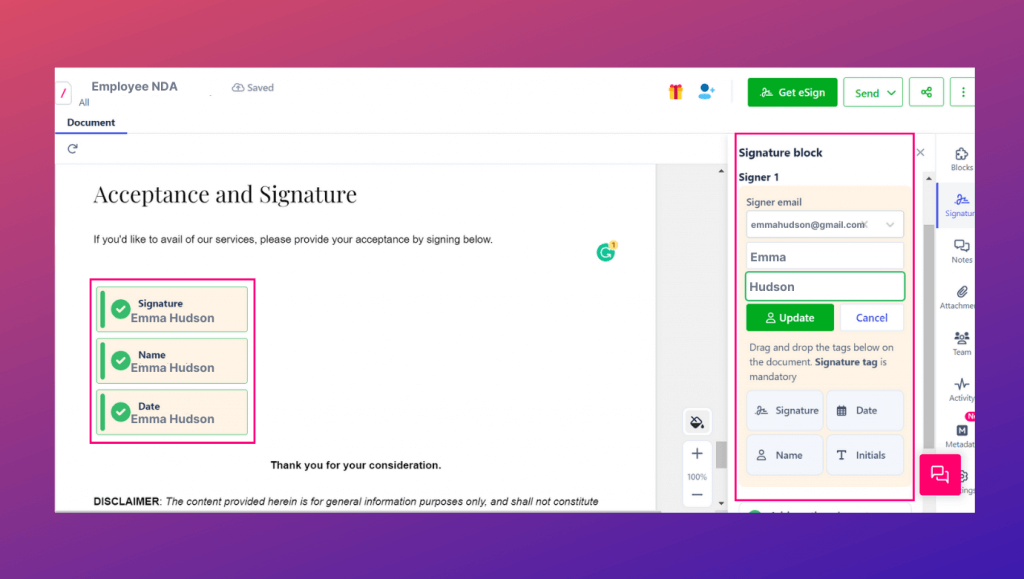 Compliance: Be it any eSign type you opt for, Revv's eSignatures are completely secure and adhere to both local and global laws. The eSignatures are compliant with ESIGN Act, UETA, and eIDAS Regulation.
Recipient identity verification: A concern for businesses while sending documents in bulk is that the right document should reach the right recipient. To avoid any security breach from the recipient's side, Revv ensures proper recipient identity authentication. In Revv, the signer's identity is verified by:
Email authentication: Documents are sent for eSign to the recipient's email address. When a signer logs into their email account and clicks the eSign link, the signer is automatically authenticated.
SMS-OTP authentication: You can use two-factor authentication (2FA) in addition to email authentication to validate the signer's identity. Select the Authenticate with OTP through SMS option and enter the phone number when sending a document for eSign. An OTP is generated and sent to the recipient's mobile when they click the eSign link to validate their identity. To access the file and start signing, the recipient has to enter the OTP code.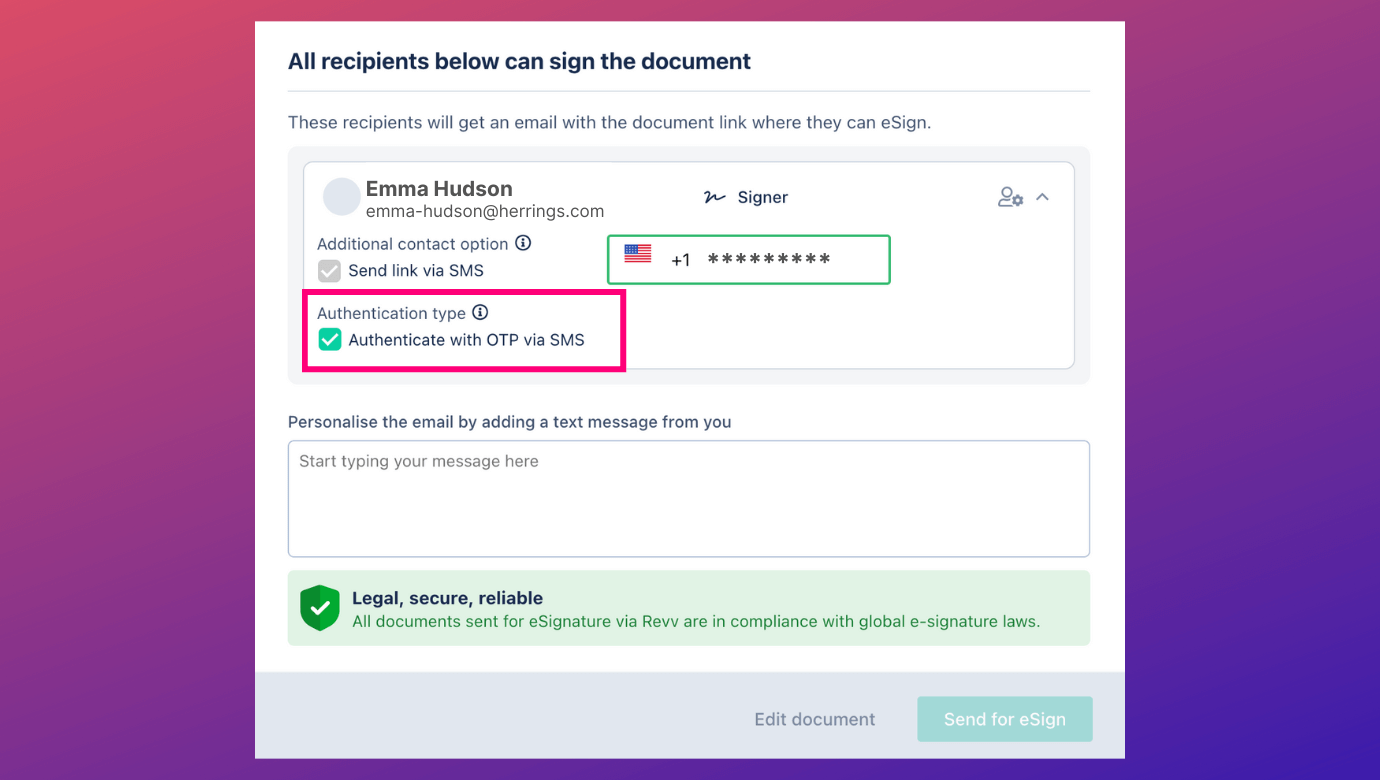 Legally binding audit trail
When your company is handling bulk sending of documents, you'd be mindful of the legal responsibilities if they are tampered with by any chance. To avoid complexities involved in the backtracking of documents or any unfortunate incident leading to legal suits, Revv generates an electronic copy of audit trails in the form of an Evidence Summary for all eSigned documents. It is a digital certificate that registers each action taken during the signing process, which includes – the signer's information, date and time stamp of each action taken by the signer, IP address, and other details that act as legal proof.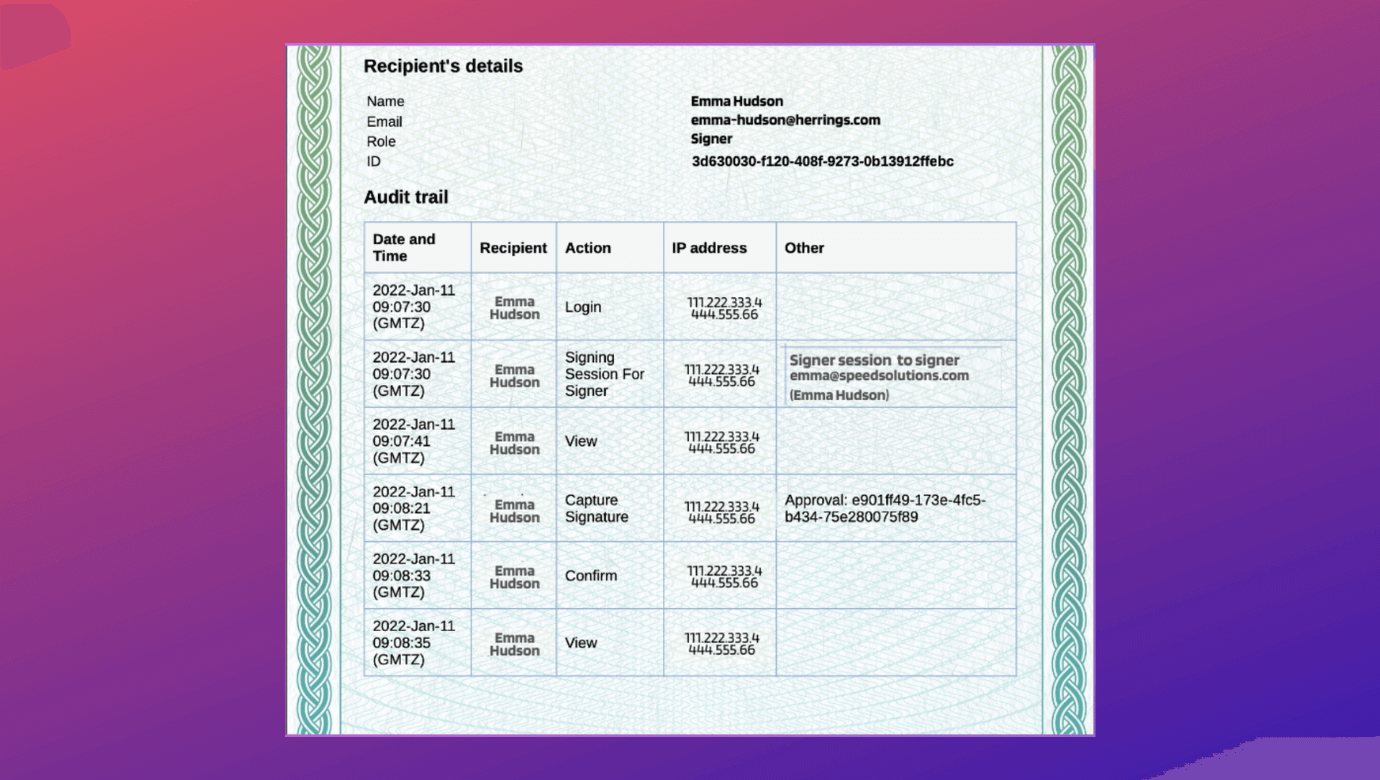 Bonus benefits of using Revv
1. Unlimited collaboration
When your documents require quick review from your team members or other inputs from other people in the company, make use of Revv's Notes feature. No more back-and-forth emails or follow-ups. For instance, if you want a sales contract to be reviewed by the Legal head of your company, you can simply tag the person using @mentions. The tagged person will get an email regarding the same.
Or if you want additional input on a sales proposal from the Sales Manager or want the product brochure to be attached along with it, add Public or Private comments in the document for the same. The tagged person will be able to complete the mentioned task as required.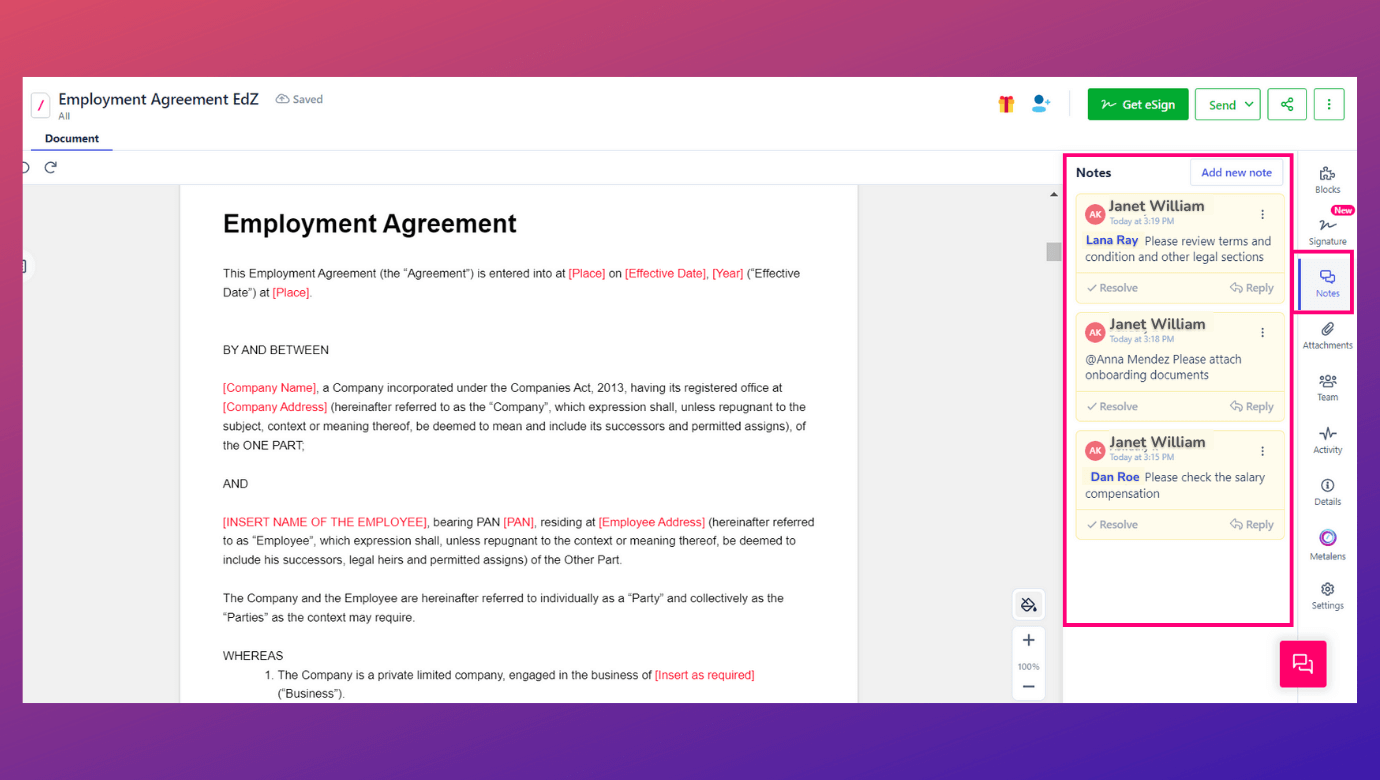 2. Quick internal approval and reviews
You can even send bulk documents for internal approval by automating the internal approval workflow in the Revv platform. Opt Revv's Check and send for internal approval feature, set precise triggers, and automate your document approval workflows.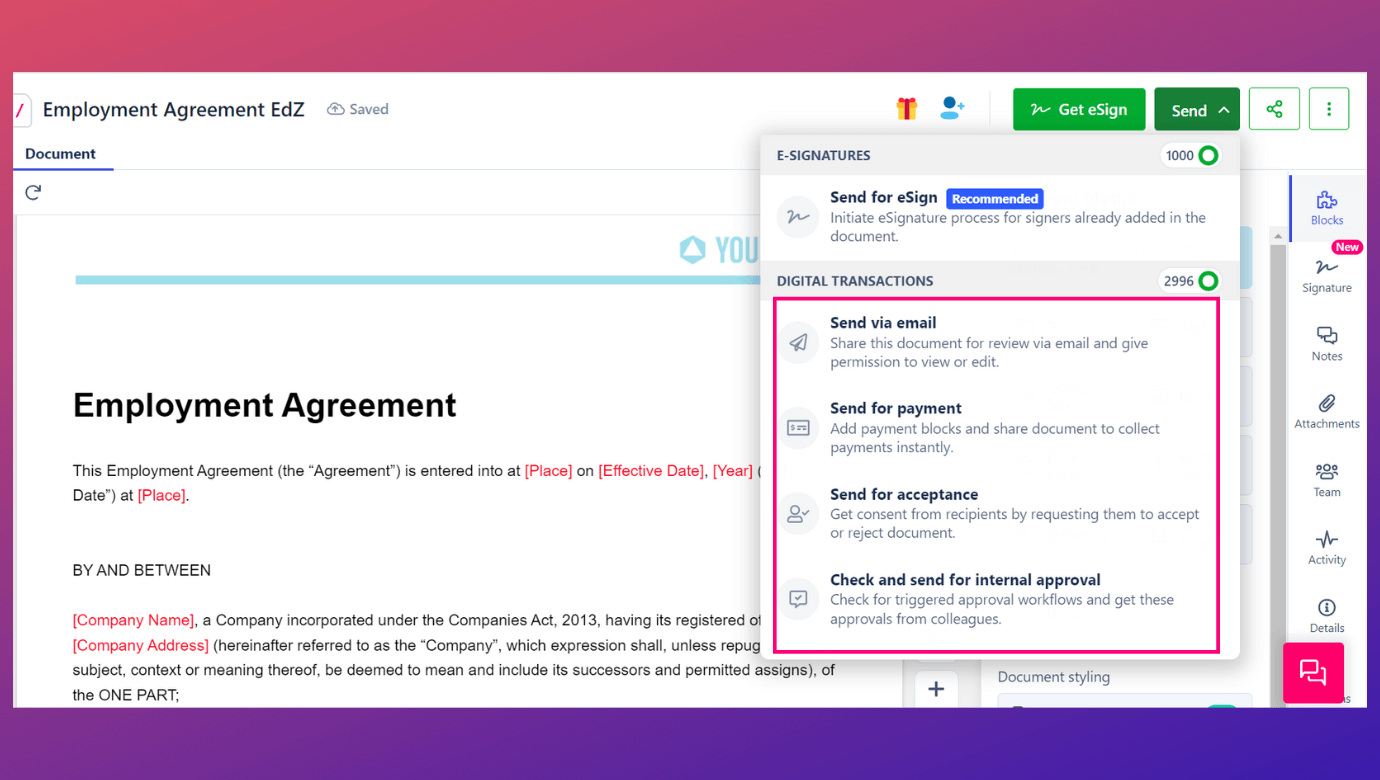 If you need someone to review your document outside the Revv environment, then choose to Send by email option. The sender can also set the recipient permission to view or edit the document.
3. Real-time activity tracking
Just like Evidence Summary, tracking the activities on your documents is a pivotal part of making informed decisions. But when a large number of recipients are involved, this could become a time-consuming and tedious process. As a sender, bulk sending has never been easier as Revv helps you track any activity in the document through the Activity tab. It records all actions associated with it, right from the creation of a document to the completion of electronic signatures.
You can accelerate your decision-making by filtering out all the recipients delaying action on the document even after viewing it. Revv gives the sender more control as one can analyze bottlenecks from the Activity tab and clarify recipient queries immediately.
Choose Revv for bulk send and eSign of documents
In the age of digital transformation, a complex task like bulk sending and tracking of documents need not be as complicated as it is. An eSignature platform like Revv is a profound example of a wholesome solution to automating all your document workflows and enabling you to ensure productivity and business continuity by reaching out to your target audience, irrespective of their size.