Sales teams drive revenue, but what drives them to give their best?
The key stimulus for sales teams to fuel revenue growth is sales incentives.
But how to communicate, officiate, and bring transparency between a business and sales rep on the goals and incentives against each goal. Well! You sign a sales compensation plan agreement that utters all of it in nuts and bolts.
But what happens when you sign a sales compensation plan with poor calculations and misleading data? Perhaps you can handle it and fix the teensy-weensy issues if you are just starting a company with a handful of salespeople.
However, this approach becomes unscalable for SMBs and enterprises, where the size of sales teams is bigger. For enterprises where this workflow extends to HR, payroll, and finance teams further complicates its execution. Even a small glitch in the sales compensation plan workflow can have serious consequences for the entire business (more about it later).
You increase the odds of turning these small glitches into big blunders if this workflow is heavily dependent on Word documents, spreadsheets, copy-pasting of data, emails, chats – basically heaps of manual involvement.
If 👆this is what your sales compensation plan workflow looks like, then this blog is for you.
Learn how to supercharge your sales compensation plan workflow with Revv's document automation features and make it self-operating.
Let's dig in.
Pitfalls of manual sales compensation plan workflow and reasons why you should automate it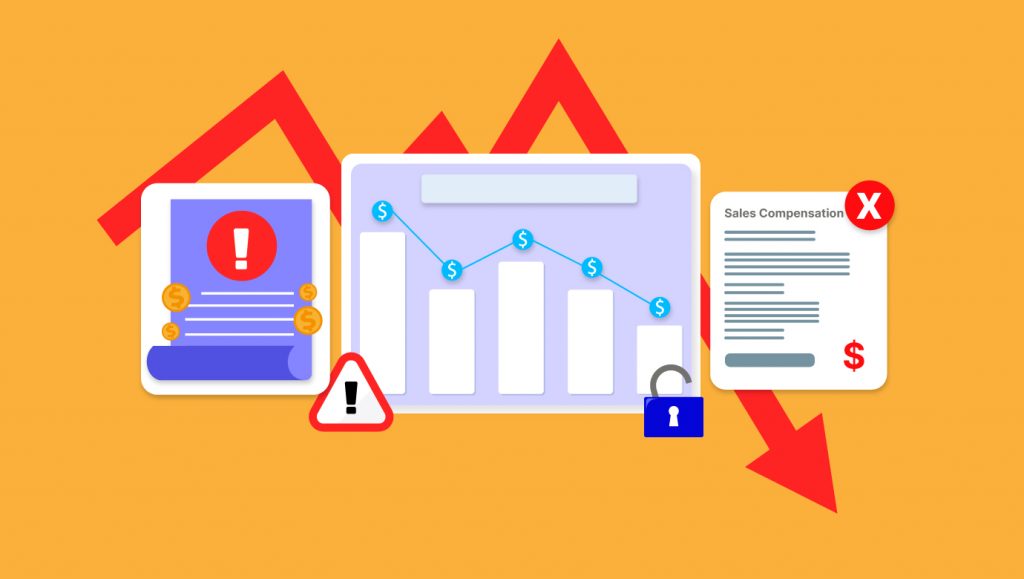 Organizations that bank on manual sales compensation plan workflow often grapple with a variety of operational bottlenecks.
What does a sales compensation plan workflow look like?

Most companies begin a sales compensation plan workflow with a template. The template is then fine-tuned manually to match the nitty-gritty of each employee's goals and incentives. Once a sales compensation plan is created, it is sent for managerial approval through email, and finally sent to the sales reps for their signatures.
And sure enough, it wears away the productivity of sales managers, sales heads, compensation plan managers, and other teams that facilitate this process including HR, finance, and payroll. It deviates them from focusing on their prime business goals. Here are the drawbacks of running the sales compensation plan workflow manually:
1. Siloed data sources. Complex data gathering. Inaccurate sales compensation plan.
One of the major drags in creating a befitting sales compensation plan is the various tools owned by the Sales, HR, and finance teams. When each team has access to only their platform, they become dependent on each other for the data requirements of the sales compensation plan. For example, the goals information can be in the CRM, the employee information in the HRMS, and compensation data in the compensation plan software or spreadsheets. 
Over-reliance on emails and chats to share the data and manually update it in the sales compensation plan can have ruinous effects on the process.
There could be slipups while updating the information that can:
Threaten the accuracy of the data and credibility of the compensation plan
Lead to misinterpreting the sales compensation plan
Make the entire process move at a snail's pace
Impede productivity and collaborative work
Result in dysfunctional sales compensation plan workflows
Trigger payment errors
2. Chaotic approvals and reviews. Stalled process.
Before the sales compensation plans are shared with sales reps, they are often navigated through decision-makers like sales heads and HR managers for their review and approval. This approach often begins to crack when the approval process is manual and requires:
Numerous hours spent tracking down paperwork
Sharing Word or Excel documents
Long and confusing emails threads
Making phone calls for corrections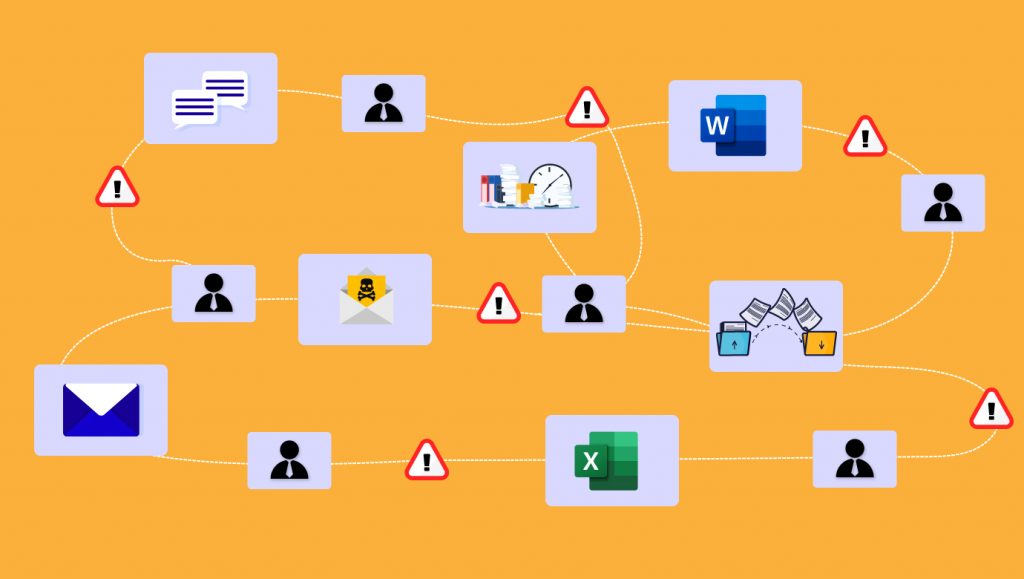 The manual compensation plan approval process can be a nightmare. Such processes become decentralized in a remote workforce environment or for organizations with multiple offices across different locations.
It transforms into a time-consuming and complex approval workflow. It involves justifying the incentive approach to outlining the salesperson's potential in multiple email threads, and then rerunning it at every level until it is approved. If someone in the approval chain demands additional details, it further puts the process on hold.
When unmanaged, these approval blockers can cause an insidious effect on a sales organization.
Do you know?
50% of high-performing sales organizations have sales processes that are "closely monitored, strictly enforced, or automated."
Source: Process Street
3. Lack of insights
When working with diverse and dispersed teams to nail the right sales compensation plan, the people driving the process often get blindfolded by inaccurate insights. A zero visibility on who is doing what, where's the holdup, and what information is required to move the sales compensation plan workflow, creates bottlenecks in keeping the process in tandem with the timelines.
4. Now multiply all these problems with this: Different teams, different incentive programs, and multiple compensation plans
As your business grows, so does your team. Business teams branch out to account executives (AE), sales development representatives (SDRs), customer success, lead development representatives (LDRs), sales trainees, and so on.

Each team's targets differ with varying incentives, for example, giving demos and closing deals are the prime goals of an AE. Similarly:
An SDR's goals could be calling and qualifying leads and booking demos
A customer success manager's goals could be upselling or business renewals
An LDR's objectives could be getting the leads
A sales trainee only gets entitled to the incentive when he stays with the organization for a period
What further complicates the entire sales compensation agreement process is the frequency of goal targets. It differs from business to business. Some organizations set goals for their employees monthly while others fix them quarterly, bi-annually, or annually.
Use Revv's automation to create a cohesive, intuitive, & self-driven sales compensation plan workflow

Schedule a demo with us!
The employees are paid for their goal achievements at the end of each cycle. A fresh agreement is signed off between an employee and his manager for the next cycle. This means navigating through the entire process every time – creating an agreement for each team member, running it through approvals, and coordinating and following up via emails.
Now, multiply these menial tasks for different teams – SDRs, LDRs, and customer success managers.
The magnitude of work and time required to accomplish these squeezes out the productivity of the people driving the process. They can easily lose track, get confused, and commit manual errors. And one wrong data entry or one wrong update can lead to reinventing the wheel. 🤯
If any error goes unnoticed, it could lead to:
Inaccurate incentive payouts
Agitated sales reps
Disputes and sales rep complaints
Low morale of employees
5. Inaccurate paychecks. Messy payment process.
As each cycle ends, the sales operations team begins the calculations for each sales rep's target achievements. It's not an easy task, especially when the data is dispersed across spreadsheets, sales compensation software, HRMS, CRM, or other apps.
After gathering the data and calculating the total amount, the team needs to validate it with the sales compensation allocated at the beginning of the cycle.
Post all this, the reporting manager's approval is required before passing the final number to the payroll team.
Doing this without any errors and within the timelines becomes unattainable even for smaller sales teams. It demands immense time from the sales operations team.
Even for the reporting manager, it is indeed a herculean task to check and approve the incentive figure for each sales rep over emails.
There is no single truth to validate the sales performance payment as each person involved in the process might not have the updated spreadsheet or the updated sales compensation plan.
Administering this entire process becomes gruesome due to fragmented communication, multiple systems, emails, and a lack of transparency.
These all make a strong case for automating the sales incentive process.
Do you know?
A third of the tasks in two-thirds of jobs could be automated.
Source: McKinsey
What's the holy grail of automated sales compensation plan workflows? It's Revv. Period.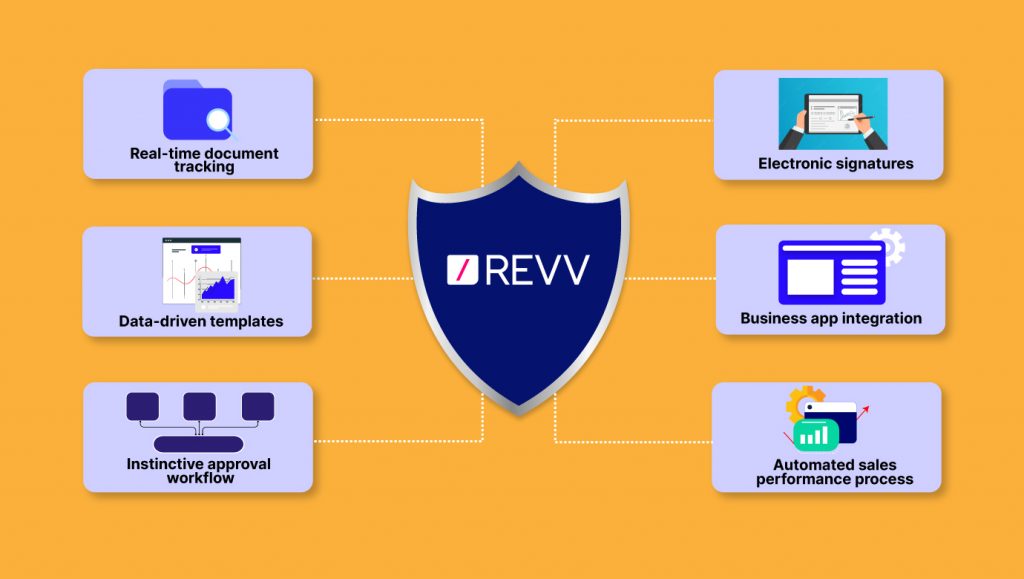 Are you and your team enduring the above challenges? 👆
Are you feeling uptight with all the sales compensation workflow hullabaloo? 😡
Do you want to stop the sales compensation plan workflow from interfering with sales success? ✋
Do you want minimal involvement of your and your team members, and yet desire flawless sales compensation plan workflows? 😍
Fancy the idea of focusing back on your prime business goals? 🤩
Use Revv's automation to create a cohesive, intuitive, & self-driven sales compensation plan workflow

Schedule a demo with us!
Revv is the only solution and your go-to partner that can pull you out of all this.
Our advanced document workflow automation features will help you:
Architect sales compensation plans in every nook and cranny
Completely automate associated administrative tasks
Here's how!
1. Let the document creation speed unfold | Data-driven templates
A template's flexibility defines its usefulness.
When it comes to creating compensation plans, any ordinary template will not do the job. You need a data-smart, scalable, and flexible template that runs on your business logic. Revv's sales compensation template gives you exactly this outcome.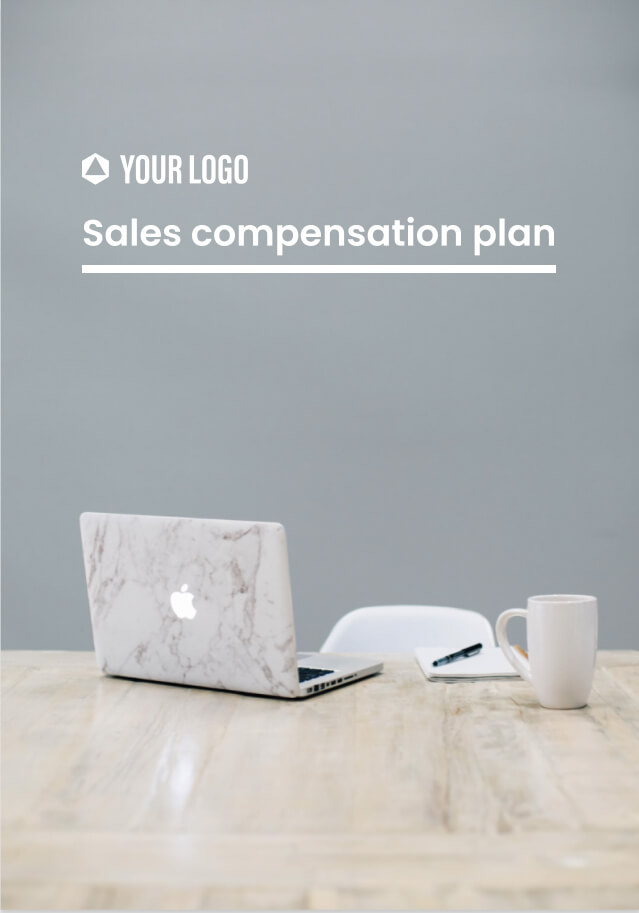 Click here to access this sales compensation plan template.
It is a pre-built and professionally- vetted template that comes in handy to kickstart the workflow.
If you want to tweak it further to reflect your brand feel or to customize it in anyways, Revv's rich document editor lets you achieve that. If you want to create a template right from the cover page, the editor supports that too.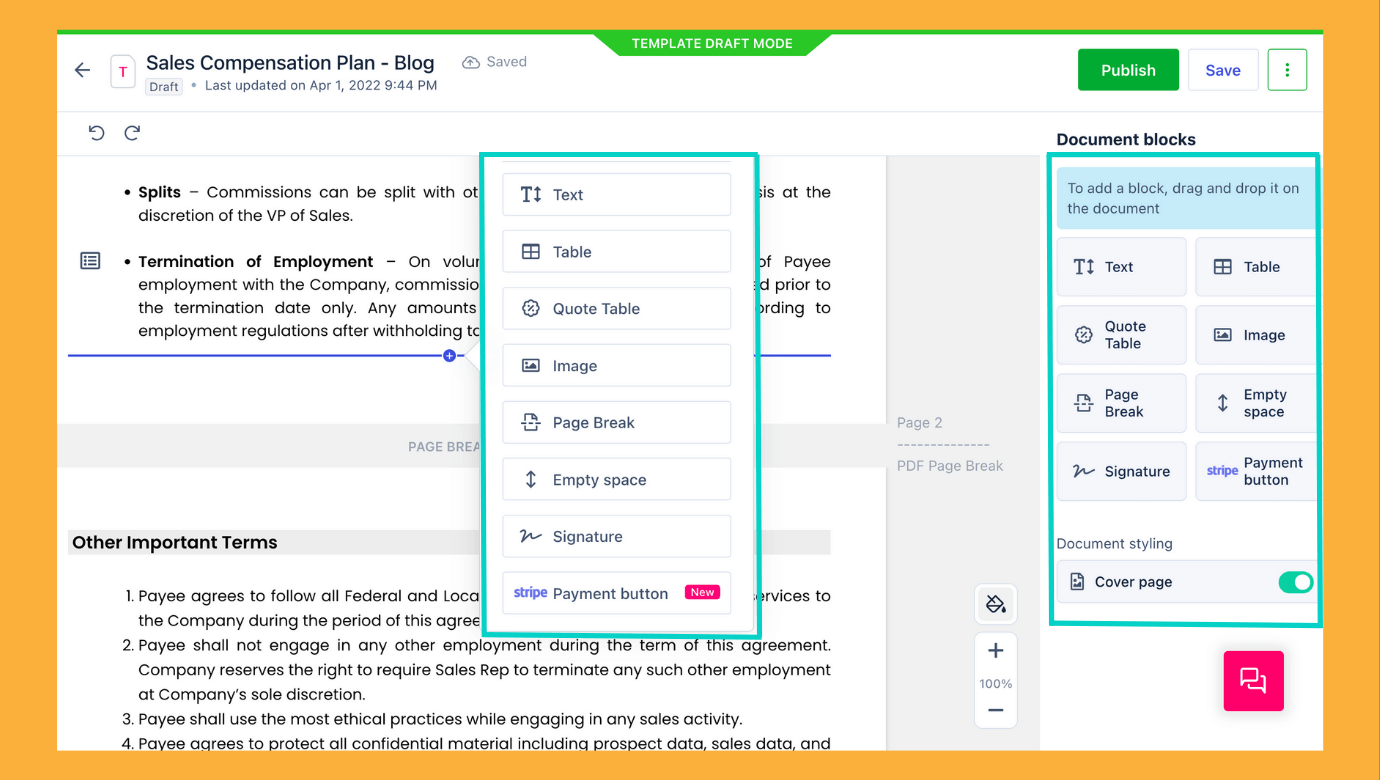 Here are some more functionalities to transform the sales compensation plan template into a smart template.
a) Form fields to accelerate document generation, gather data, and curb the repetitive filling
WHAT YOU NEED
Creating a compensation plan involves copying the repetitive information for each document and then customizing the data at required places. You also end up typing the same data on multiple occasions in a document like an employee name, employee business unit, company name, etc.
What a world would it be if you could standardize this entire work; if you had to enter the data once and it would have been automatically populated to all the recurring fields throughout the document.
Use Revv's automation to create a cohesive, intuitive, & self-driven sales compensation plan workflow

Schedule a demo with us!
HOW REVV SOLVES
Revv makes this desire come true with form fields. These fields are fillable placeholders in a document.
Each sales compensation plan has some fixed and some variable information. By leveraging form fields, you can create a form-based sales compensation plan template. Here, you convert the fields, where the details need to be changed for every sales rep, into form fields.
Once it is ready, all you need to do is fill in the fields and the document is good to go.
It also overcomes the pain of typing in repetitive data in multiple instances in a document. While creating a sales compensation, you type in the data once for each form field, and boom, the data gets added to all other places as well. 
The form fields also come in handy when some key data is required to be provided by the recipients of the document before they sign.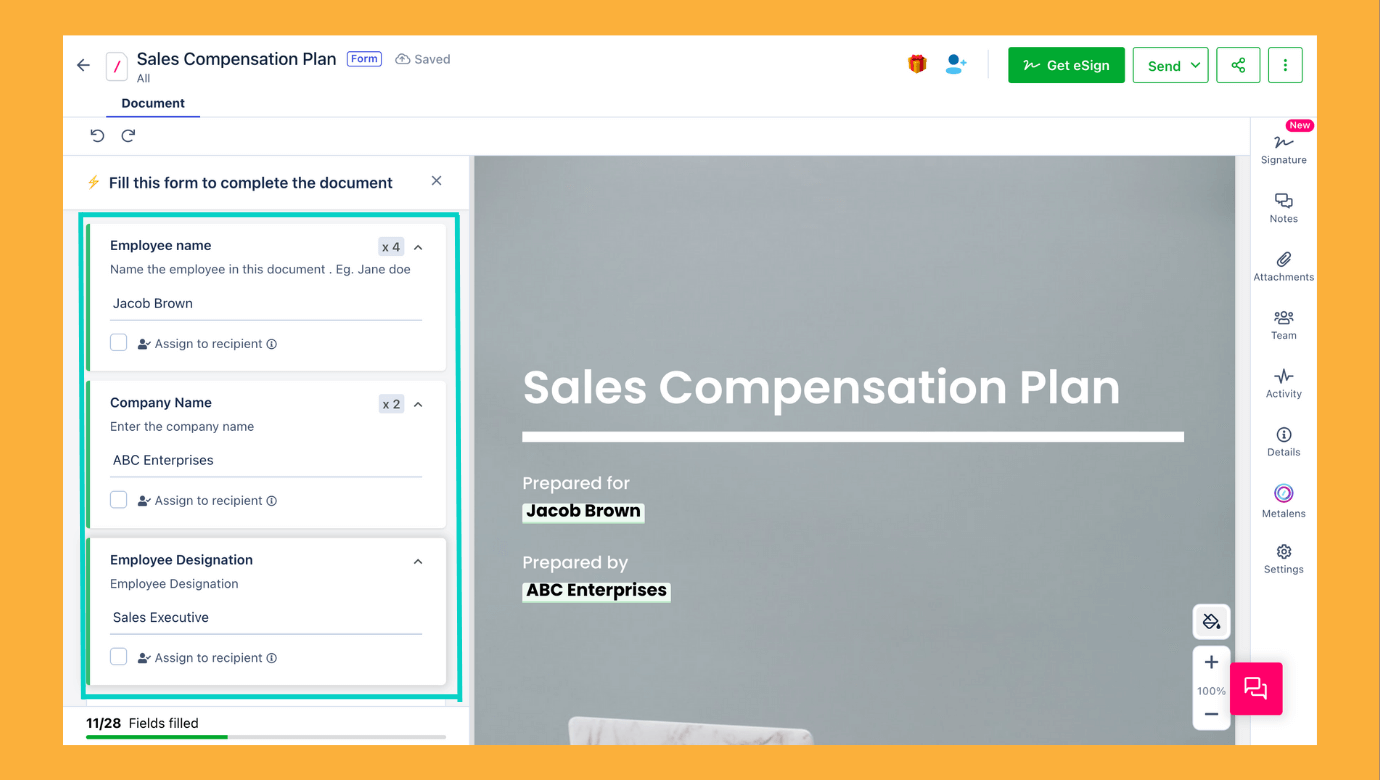 b) Data import from spreadsheets and business apps to create and send hundreds of sales compensation plans at once? Not a problem!
WHAT YOU NEED
Many businesses use spreadsheets to run formulas for compensation and to store the break up of a sales compensation plan.
Whereas enterprises prefer to deploy tools like:
Sales compensation tools to manage the incentive plans 
CRMs to manage customer-oriented information like opportunities, leads, accounts, etc. 
HRMS to manage employee information
and so on.
Irrespective of which boat you are in, often manually copy-pasting each detail from these other platforms to a Word doc for each sales compensation plan is a traumatic experience, especially when it has to be done at scale.
Along with being so tiresome, it snatches away the productive hours you could have spent focusing on other crucial tasks. Not to mention the additional unplanned hours you spend fixing the data in documents due to copy-pasting errors.
Won't automating this data import without compromising on the accuracy be a breather?
HOW REVV SOLVES
1. Create and send sales compensation plan in bulk with CSV
Revv allows you to download a CSV file of the sales compensation plan template where the form fields of the template are arranged as column fields.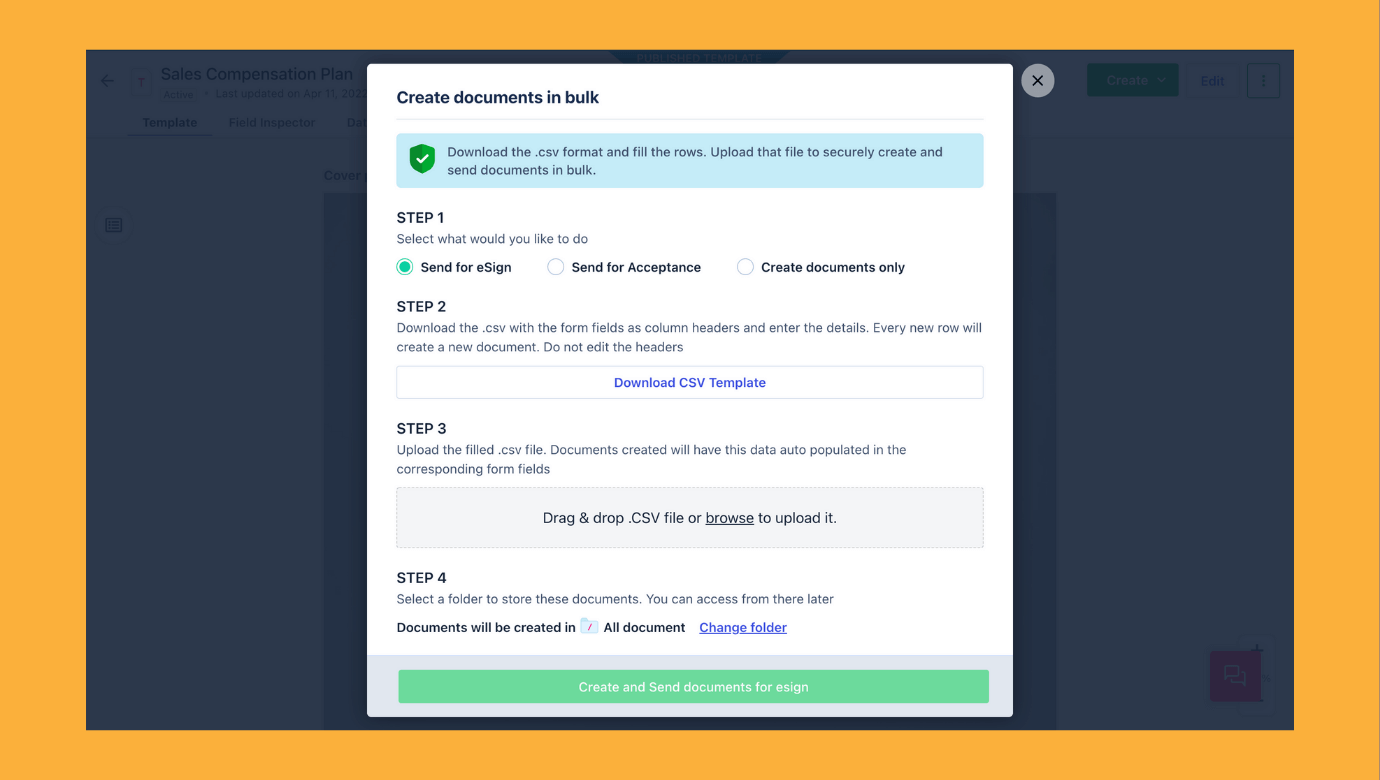 After you fill the data for each field, upload the updated CSV file and click on create and send documents for esign.
2. Create and send sales compensation plan in bulk with Zapier integration
You can also achieve the same results with Zapier by creating a Zap connecting spreadsheet and Revv.
Quick Bite
A Zap is an automated workflow that connects your apps and services together. Each Zap consists of a trigger and one or more actions. When you turn your Zap on, it will run the action steps every time the trigger event occurs.
Follow these steps:
Step 1: Copy this sales compensation plan template in your Revv org
Step 2: Copy this spreadsheet. It lists all the form fields used in the sales compensation plan template
Step 3: Connect Spreadsheet to Revv template using this Zapier Link. Here you sync the spreadsheet where the data is stored to the sales compensation template in Revv and align the data fields between them.
Step 4: Add new rows in the spreadsheet and automate the bulk creation of the sales compensation plan
---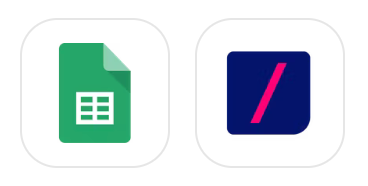 Create new sales compensation plans for new spreadsheet rows
Revv + Google Sheets
---
The trigger for this Zap would be New row in a table and the action would be Create document and send for eSign.
After the setup, every time a sales rep's information is added in a new row, a sales compensation plan with customized data will get created and sent to the recipients for their eSignature.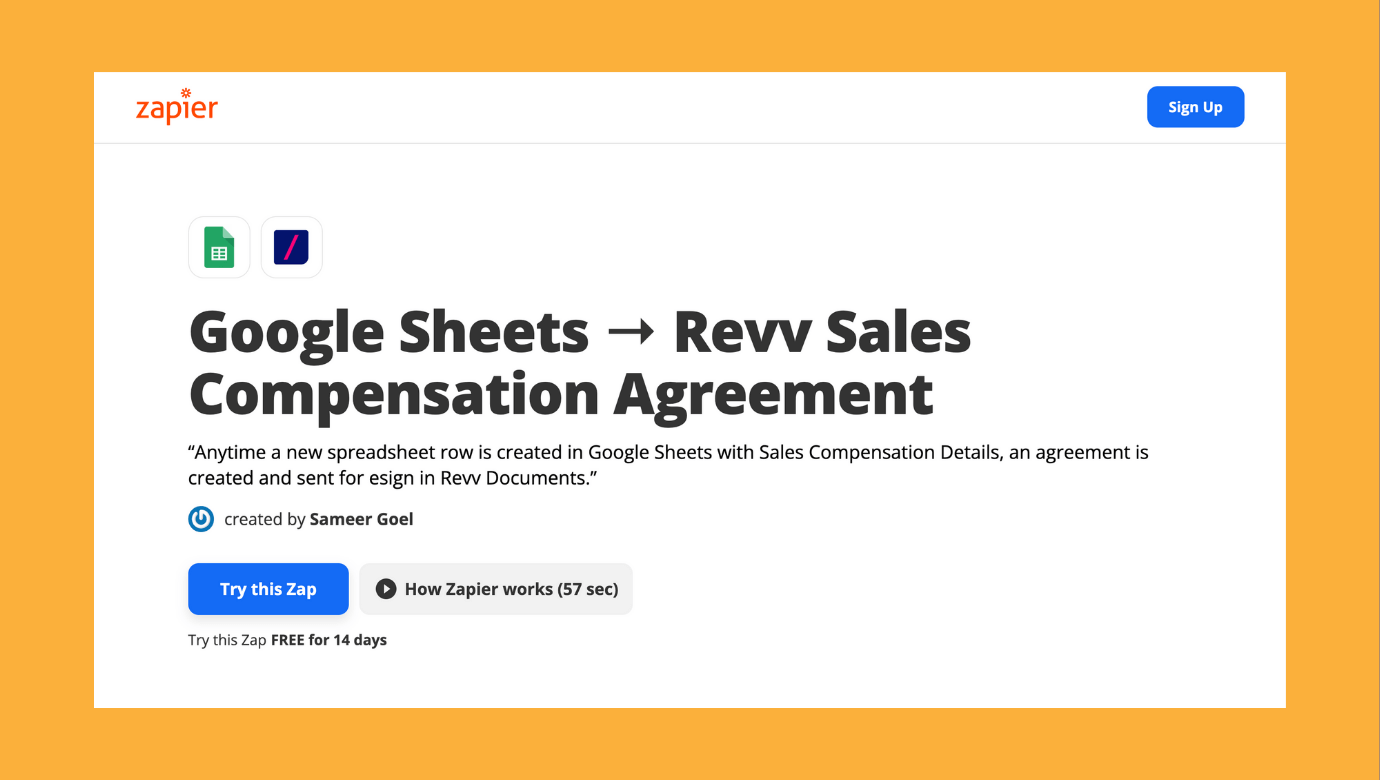 3. Create and send sales compensation plan in bulk with Data Studio: no-code data mapping feature
Revv gives you the capability to create and send thousands of sales compensation plans at once. Using Data Studio, Revv's no-code data mapping tool, you can integrate a myriad of business platforms to Revv and sync the data fields between them.
Results👇
The data for each sales compensation plan gets automatically fetched from multiple data sources like spreadsheets, databases, HRMS, CRMs including Salesforce and HubSpot, and brought together in a document.
All sales compensation plans are created automatically and then sent to each individual for signature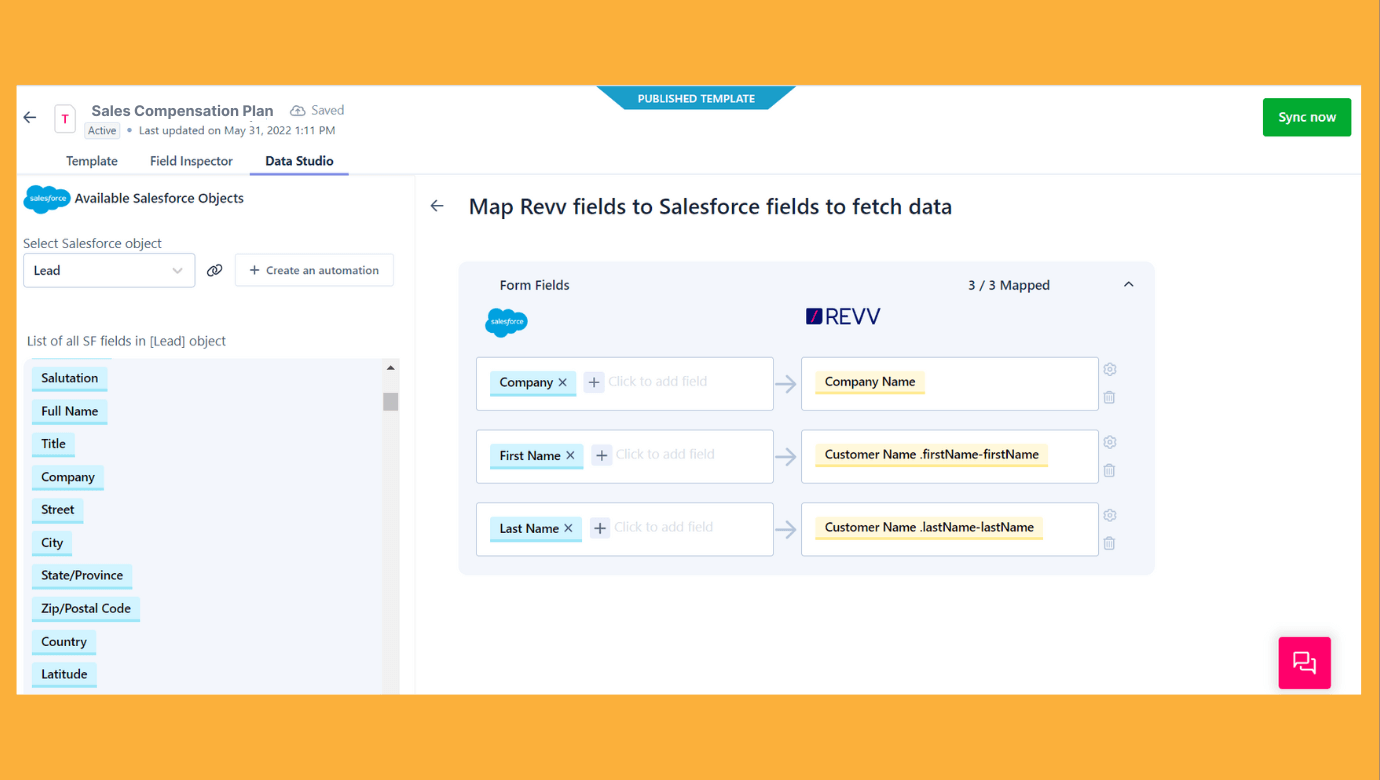 c) Clause options for the right enforceability
WHAT YOU NEED
Clauses are crucial to sales compensation plans as they protect your business legally in case a dispute arises. But all clauses are not standardized and need some adjustments. For example, let's say, your sales team is spread out in three business locations – New York, California, and Florida. Every time you create a sales compensation plan, you need to add a jurisdiction clause depending on each sales rep's work location.
This is one example. You might need varying clause options for any clause in a document.
Keeping yourself watchful while making changes to each plan and managing the clauses manually isn't a feasible choice and can put the entire agreement at risk.

HOW REVV SOLVES
With Revv, you can define clause options for a particular clause and choose the right clause option according to the recipient.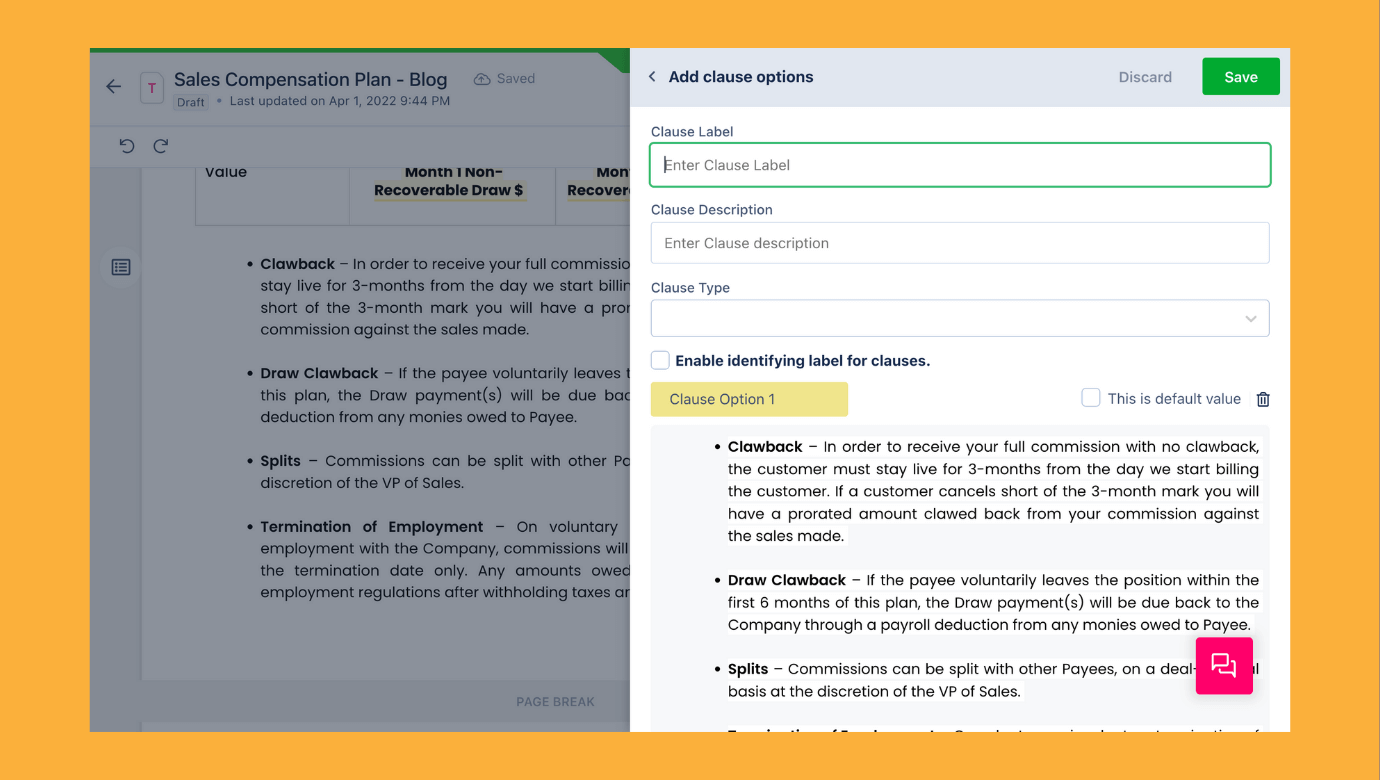 2. Let nothing slip | Instinctive approval workflow
WHAT YOU NEED
Scenario1: Each sales compensation agreement is run by the respective reporting manager and HR team before sending it to the sales rep and sales head for final signatures. Flooding the inboxes of approvers with hundreds of emails isn't a viable option. The confusing and difficult-to-follow email threads make it difficult to identify and address the feedback on each one and iterate each plan accordingly. Pfff.
Scenario 2: Do you, sometimes, encounter some exceptions in a sales rep's incentive plan? Exceptions that don't meet the standard business rules of incentives. These situations are tricky and if such commitments are made to the sales team without due diligence, it can lead to disputes in the future. 
Do you want such exceptions to be run by you and/or your supervisor and/or other colleagues? But doing it over email is unworkable even when you are dealing with 15-20 sales compensation plans at a time.
Imagine if your approval process would be running on its own, making stops in the approver's inbox in an assigned fashion, and reminding them to approve the sales compensation plan.
HOW REVV SOLVES
With Revv, you can automate the approval process and get each sales compensation agreement formally approved before beginning the signing process. You can achieve this process by setting the approval process at the form field level. For example, you can configure an approval workflow where whenever a compensation plan term is selected, the document gets routed for approval.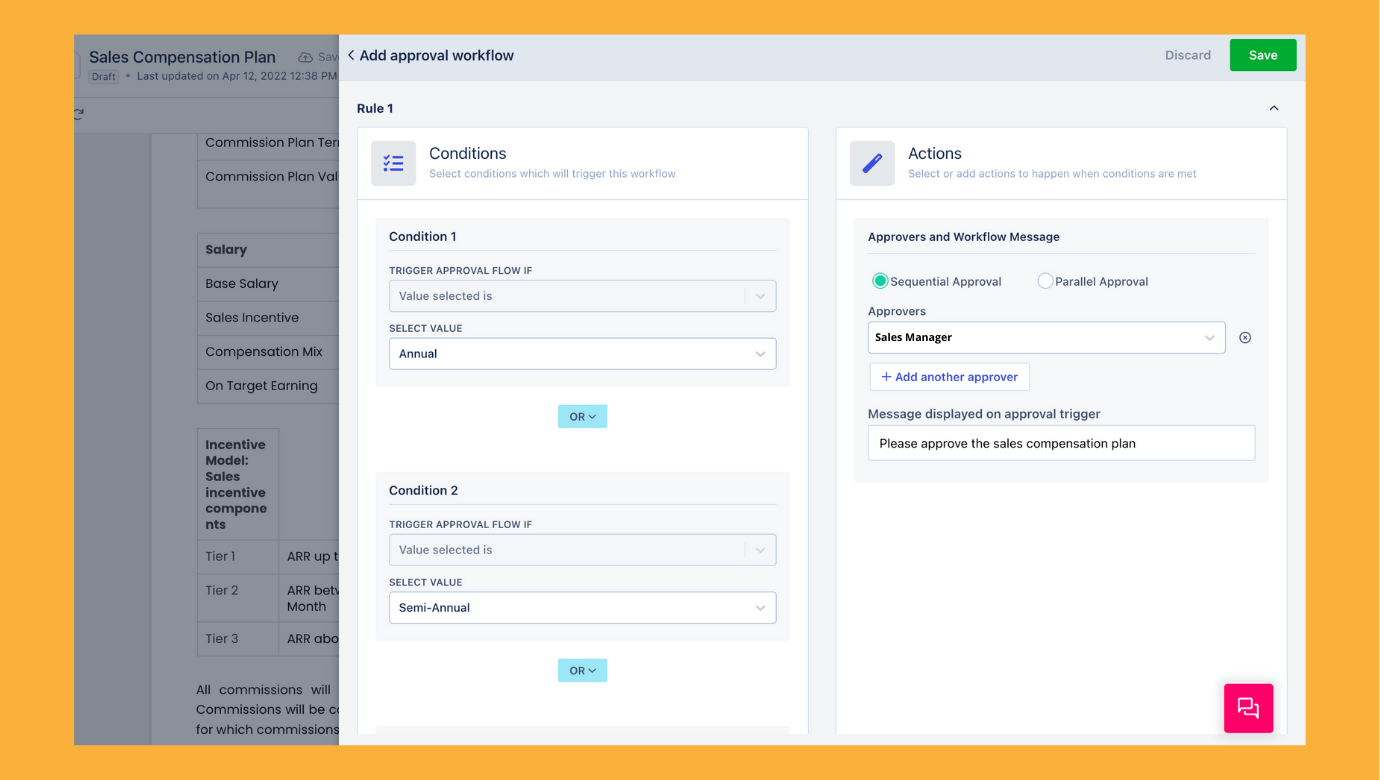 Accomplish more with Revv! Let's say if a salesperson does sales for more than $145,000, he/she is entitled to get a 20% incentive. But, in a one-off situation, a salesperson is made eligible for a 25% incentive. For such kinds of cases, you can set conditions on the sales compensation plan (template level) that acts as a triggering point for approval workflows along with the actions that need to be taken when such conditions are triggered.
With Revv, you can even devise the sequence in which the approval should flow. Whether it should be sequential (one after another) or parallel (document sent for approval to all the approvers in one go).
The approvers get instantly notified to take action on the sales compensation plan and approve/reject it.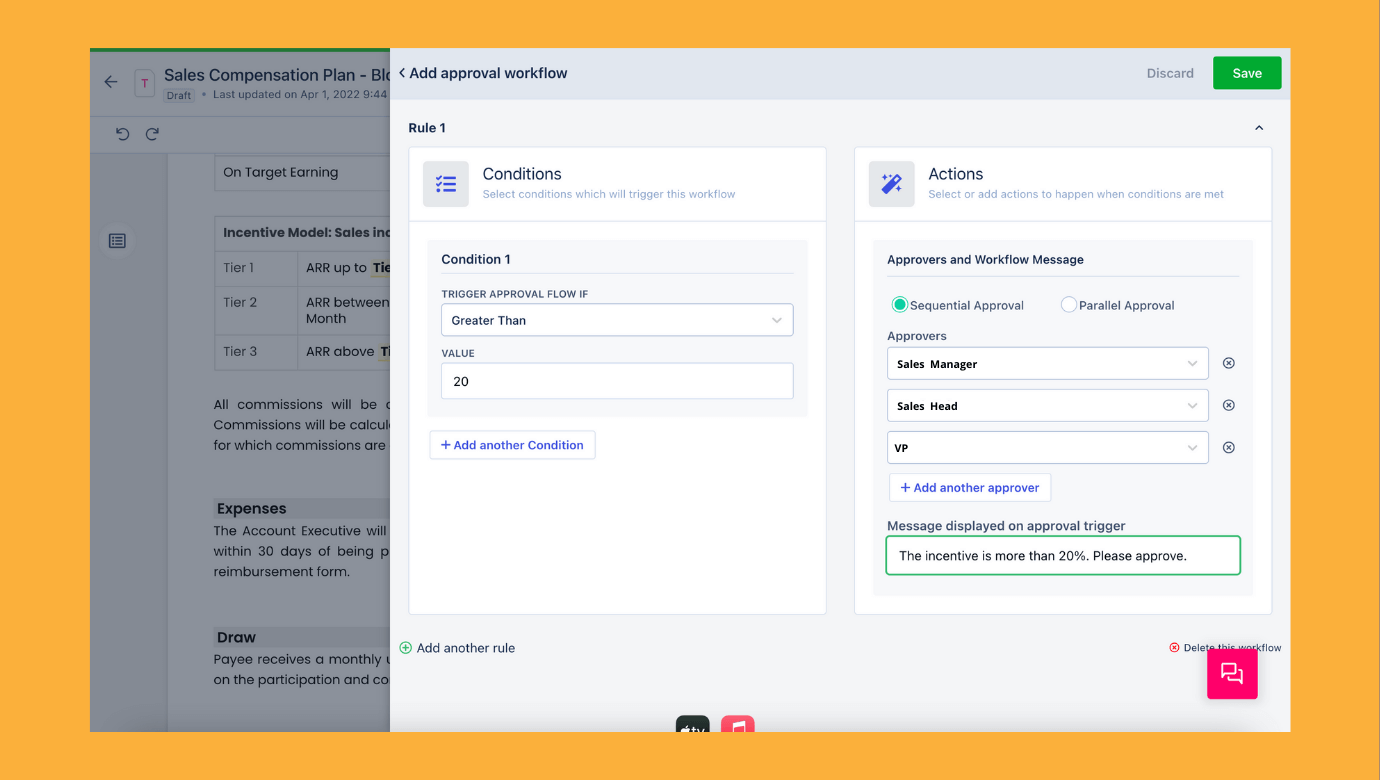 3. Let the recipients breeze through the signing process | Advanced eSignatures
WHAT YOU NEED
Sales teams are always up to their knees chasing quotas. It becomes challenging to match the timing of a sales rep and his/her manager to discuss and sign off the agreement. Chances are high the other person will stand you up. And accomplishing this task for over 50-100 sales reps becomes unattainable.
Furthermore, procrastination in signing the document leads to relentless follow-ups, and "just get it closed" takes the front seat. There remains hardly any scope for a cooling-off period, where both parties can discuss and settle the disagreements. 
Other challenges: After all this, if the signatures done were wrong, or the agreement landed in the wrong person's inbox, or the signatures done hold no legal value – man! all this work was for nothing?
No way. The good news is you can cease this in one fell swoop.
Use Revv's automation to create a cohesive, intuitive, & self-driven sales compensation plan workflow

Schedule a demo with us!
HOW REVV SOLVES
Revv provides bank-grade electronic signatures that take the burden off your shoulders. Now no more trauma of downloading, printing, signing, and scanning documents. It gives sales teams the convenience to complete the sales compensation agreement signing in a few clicks, in a secure environment. Here are the other key benefits of Revv's eSignatures.
Auto-signing feature for bulk documents: Signing a batch of hundreds or thousands of documents becomes very time-consuming. Revv takes away the pain of leadership or senior executives to sign each agreement individually.
With Revv's auto-signing feature, you can add them as auto-signers. This feature provides both automation and control and speed to close the documents faster. It is applicable in cases when one person is assigned as the signer to a large number of documents. After a person is assigned, his signature will be recorded automatically on the document.
This feature is revocable at any point in time.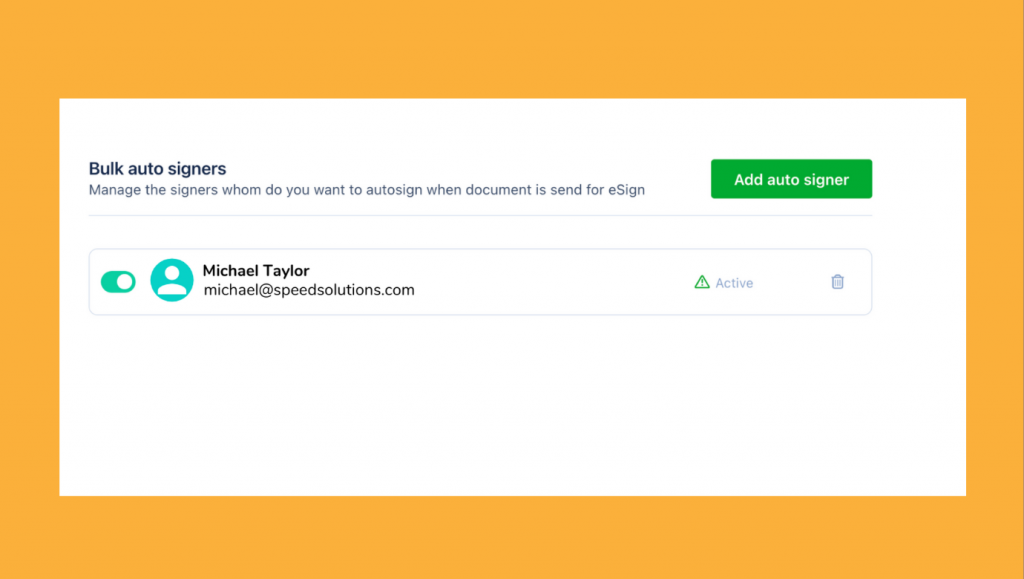 No geo-constraint: The sales reps can sign documents remotely from anywhere.
Legal weightage: Revv's electronic signatures are valid in over 60 countries across the world and compliant with industry regulations. All signatures done hold the time and date of the signature as well as the signatory's device's IP address to protect the document's integrity. You also get an evidence summary certificate that captures a detailed log of every action taken on the document. This certificate with audit trails acts as legal proof in case of litigation.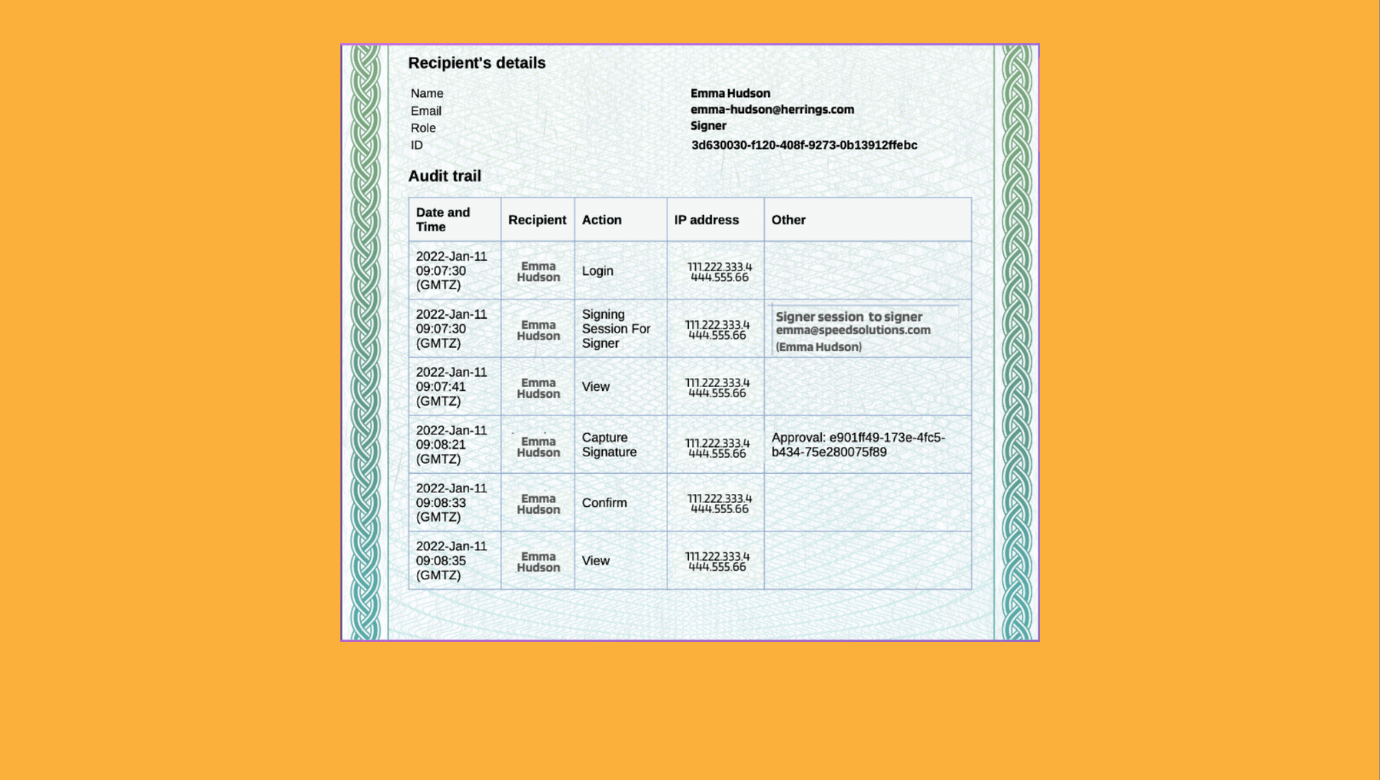 Bonus: You can also opt for a soft sign/flexible alternative to electronic signatures – send for acceptance. You can also choose to receive your recipients' consent recorded in a video.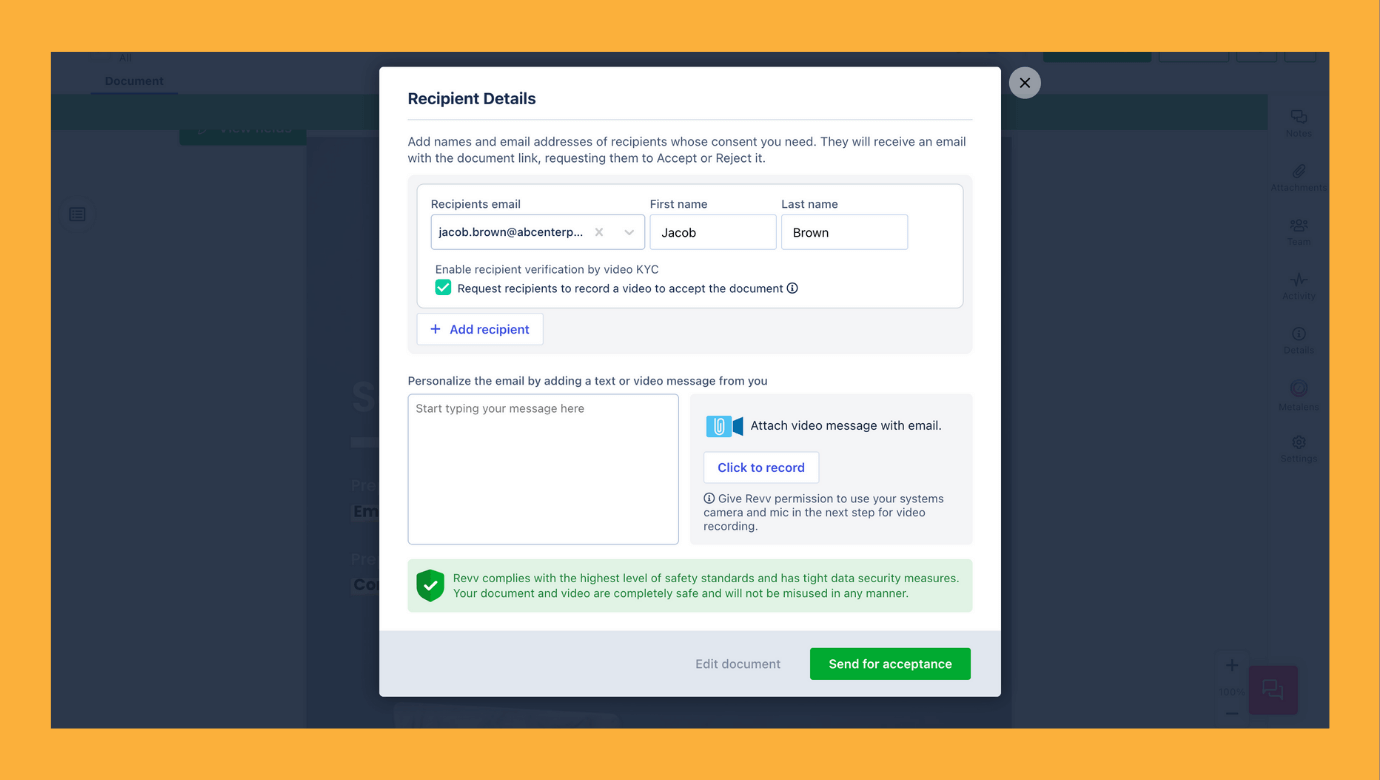 4. Let nothing hide | Real-time activity monitoring
WHAT YOU NEED
One way to keep a track of each sales compensation plan is by writing emails and follow-up emails and more follow-up emails. Another way could be to call each person and ask "did you receive the sales compensation plan agreement?" or "can you please close it." And when none of this works, then just wait and wait and keep waiting till the signatures are done.
This way of tracking eats away the precious time that needs to be spent on building business. It doesn't give you a clear-cut idea of the bottlenecks and delays the whole process.
Use Revv's automation to create a cohesive, intuitive, & self-driven sales compensation plan workflow

Schedule a demo with us!
HOW REVV SOLVES
Revv's Activity feature provides you with real-time tracking on all the actions being taken on the sales compensation plan agreement. You can see whether the sales rep has viewed the agreement and whether it is signed.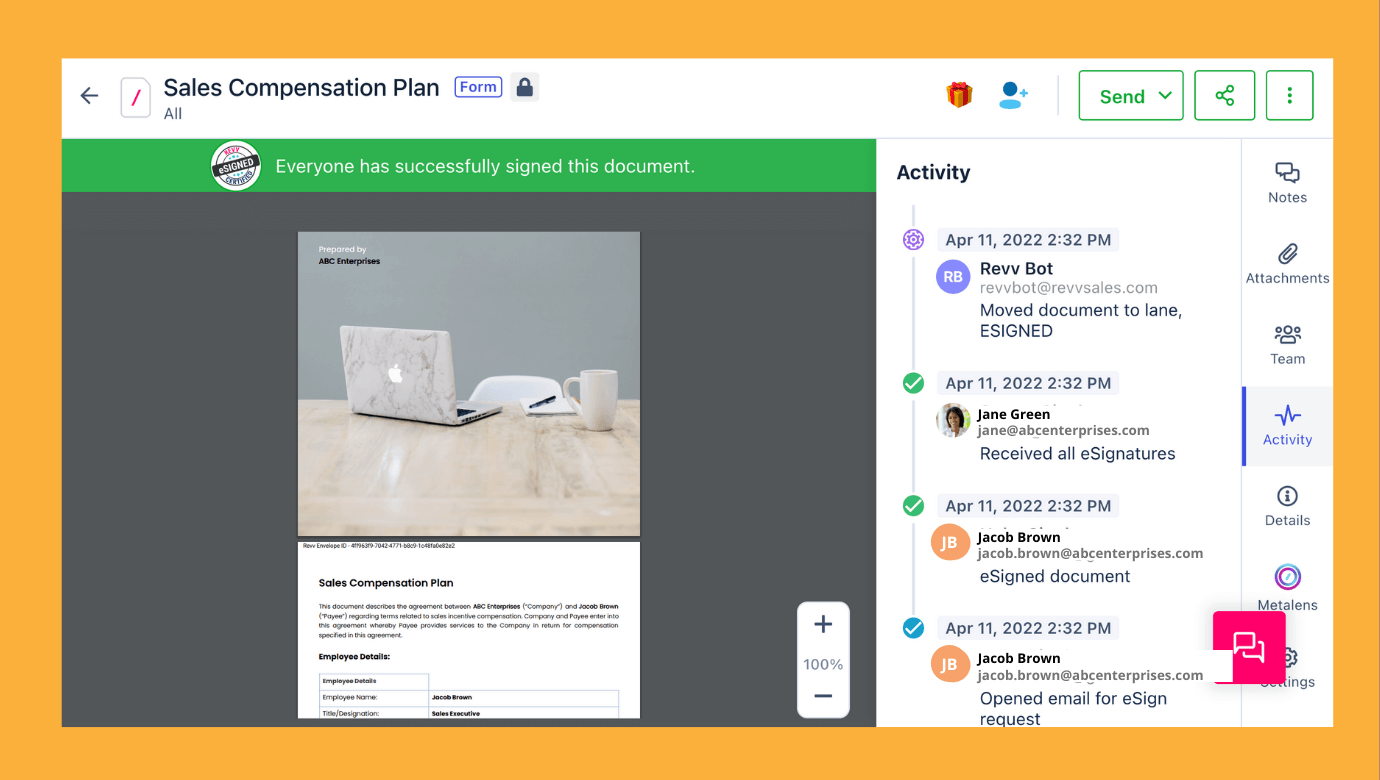 Alternatively, you can also check the live status of each document in the Pipelines dashboard.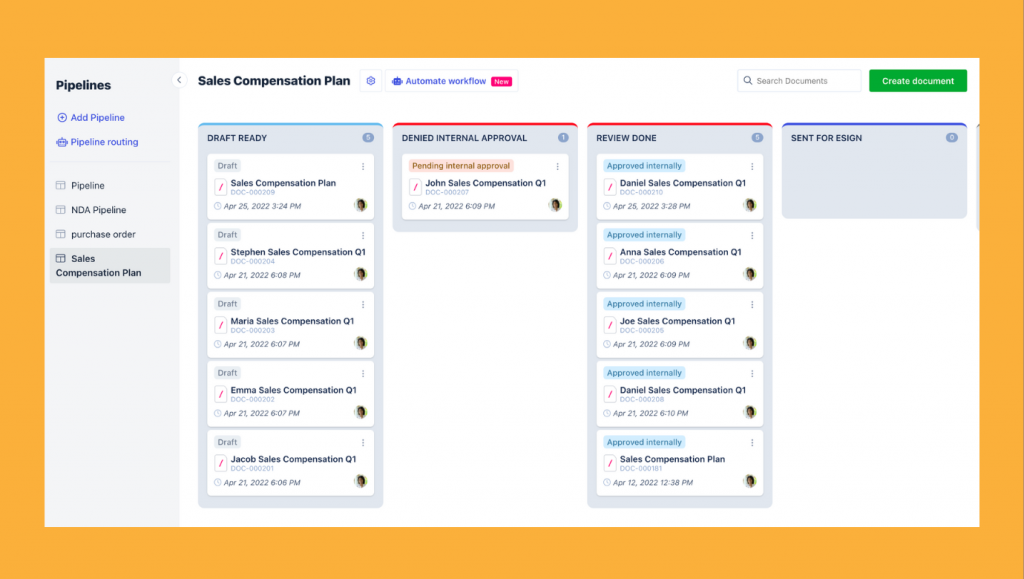 Real-time monitoring of the progress of the sales compensation plan agreement enables you to intervene at the right time and get the agreement signed quickly.
5. Let the sales compensation agreement workflows run uninterruptedly | Pipelines feature
WHAT YOU NEED
A sales compensation plan workflow demands intense involvement of people, processes, and platforms. These elements are stringed together to pull off the workflow. But doing all this manually can lead to data errors, misses, and eventually reinventing the wheel.
In such cases, tracking and closing sales compensation plan workflows for hundreds of employees will take an eternity. And pulling together this whole shebang without compromising on accuracy, timeline, and compliance can be nerve-wracking.
What if each step of the sales compensation plan workflow could run on its own.
What if your workflow knew:
Where it should pick the data from and where to fill the document
Who to send the agreement for eSign
Where to send the signed document
Who to notify about the accomplished tasks
Who to share the signed sales compensation plan agreement with
and everything else that is associated with the process.
Revv turns this imaginary workflow utopia into reality.
Use Revv's automation to create a cohesive, intuitive, & self-driven sales compensation plan workflow

Schedule a demo with us!
HOW REVV SOLVES
Now you can weave business logic into each stage of your sales compensation agreement workflow by using lane jobs in the Pipelines feature, ensuring the workflow runs smoothly on its own.
The lane jobs are tasks built on the 'if-then' logic. For example, if the sales compensation plan reaches the 'lane name' lane, then trigger these 'tasks.'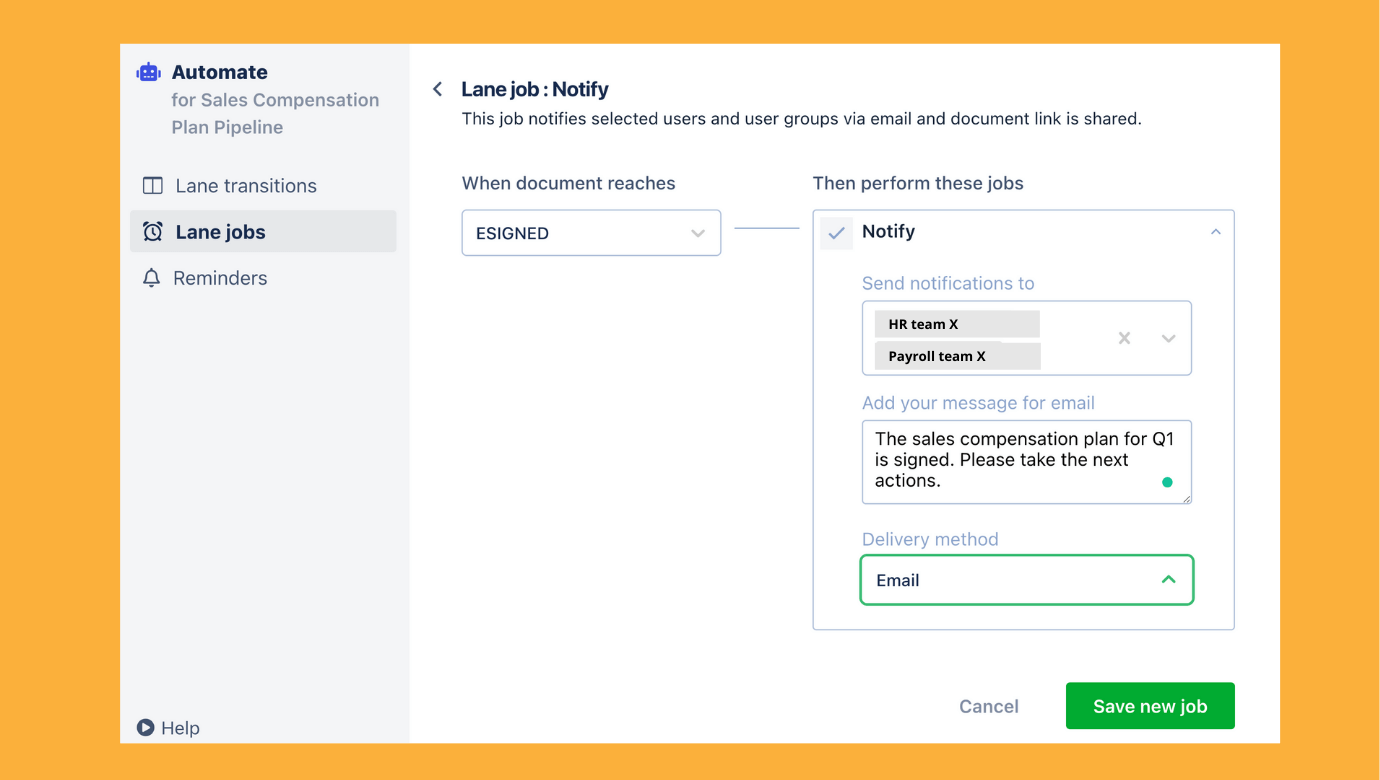 For example, notifying the:
Compensation Manager when the sales compensation plan is approved by the sales head
HR team after a sales compensation plan is signed by all the parties
Finance team along with sharing the signed compensation plan agreement for bookkeeping purposes
Payroll team about the revised compensation plan for salary purposes
Other team members over company-deployed chat platforms like Slack, Google Chats, etc.
For example, updating the
HRMS with revised salary structure after the compensation plan agreement is signed
Third-party payment solution with the updated data to execute incentive compensation processes
Document's status and data to CRM, ERP, HCM, and other technologies in your stack
For example,
Triggering the next set of workflows (based on the document metadata) to external business tools for the next round of automation
Pulling insights based on sales compensation plan metadata and taking the right decisions
Storing the document in an external platform like a Box folder and a Google Drive folder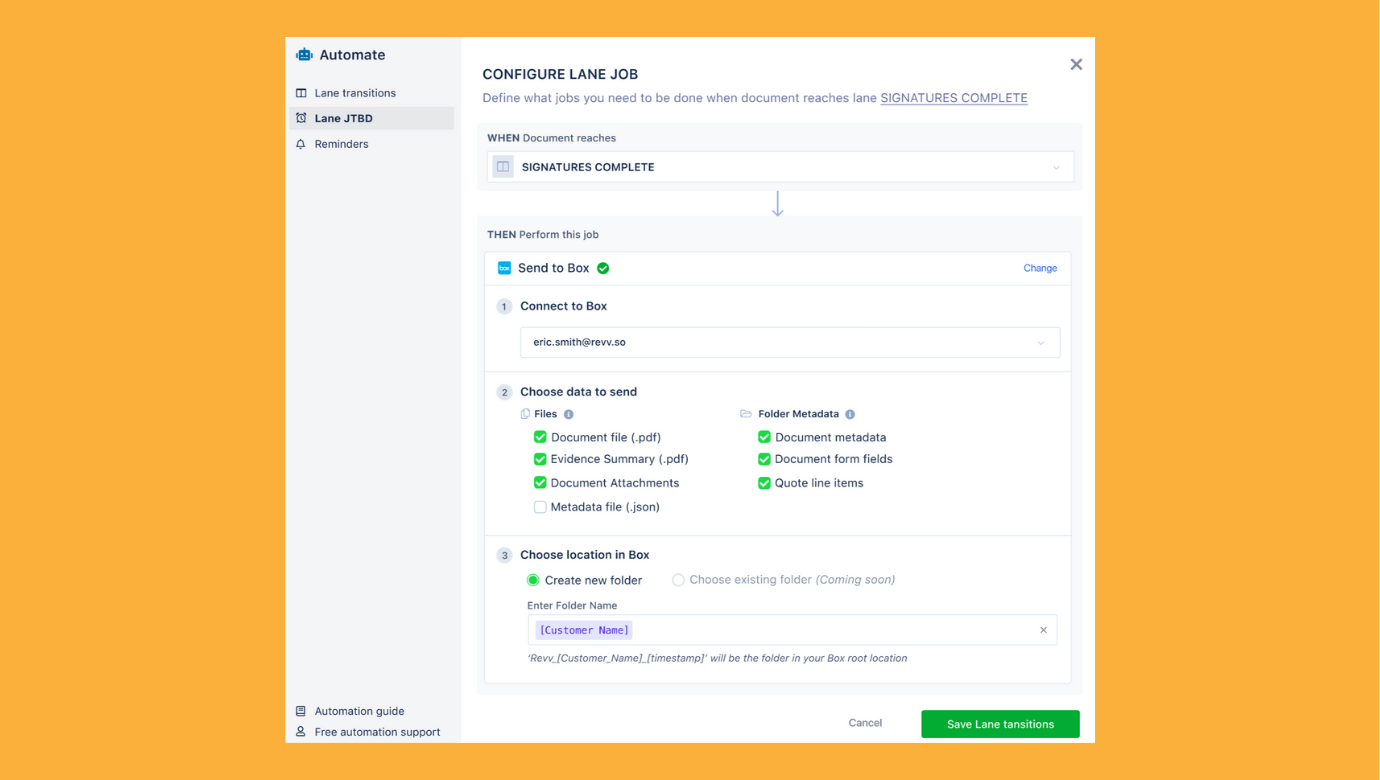 Pipelines Explained

Make your workflow hum with Revv's Pipelines feature. It allows you to break your workflow into milestones. For example, you might want to keep an eye on which sales compensation plans are:

– Sent
– Reviewed
– eSigned
– Rejected
– Denied internal approval
– Denied eSignatures

With Revv, you can transform each of these milestones into lanes. You can rename these lanes as per your requirement.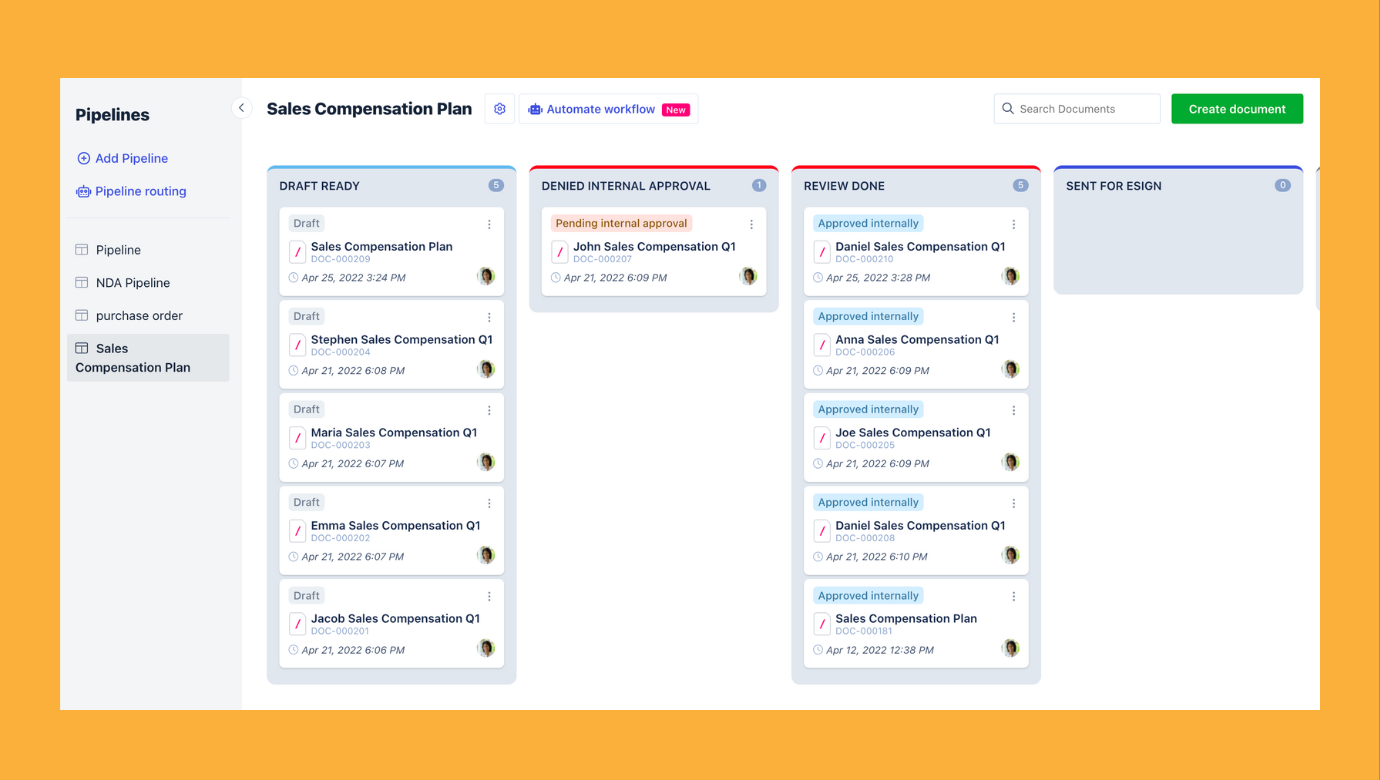 The next step is to add the entry points or conditions for a document to be in one of these lanes. For example, when should the document move from the 'sent' lane to the 'eSigned' lane? These entry points are called lane events.

Revv provides you with a pre-configured set of lane events. Once you add and match the lane events to each lane based on your requirement, you would be able to monitor the status of the sales compensation plans on a kanban-style board (like above👆). This step is performed in the Lane transitions section in the Pipeline.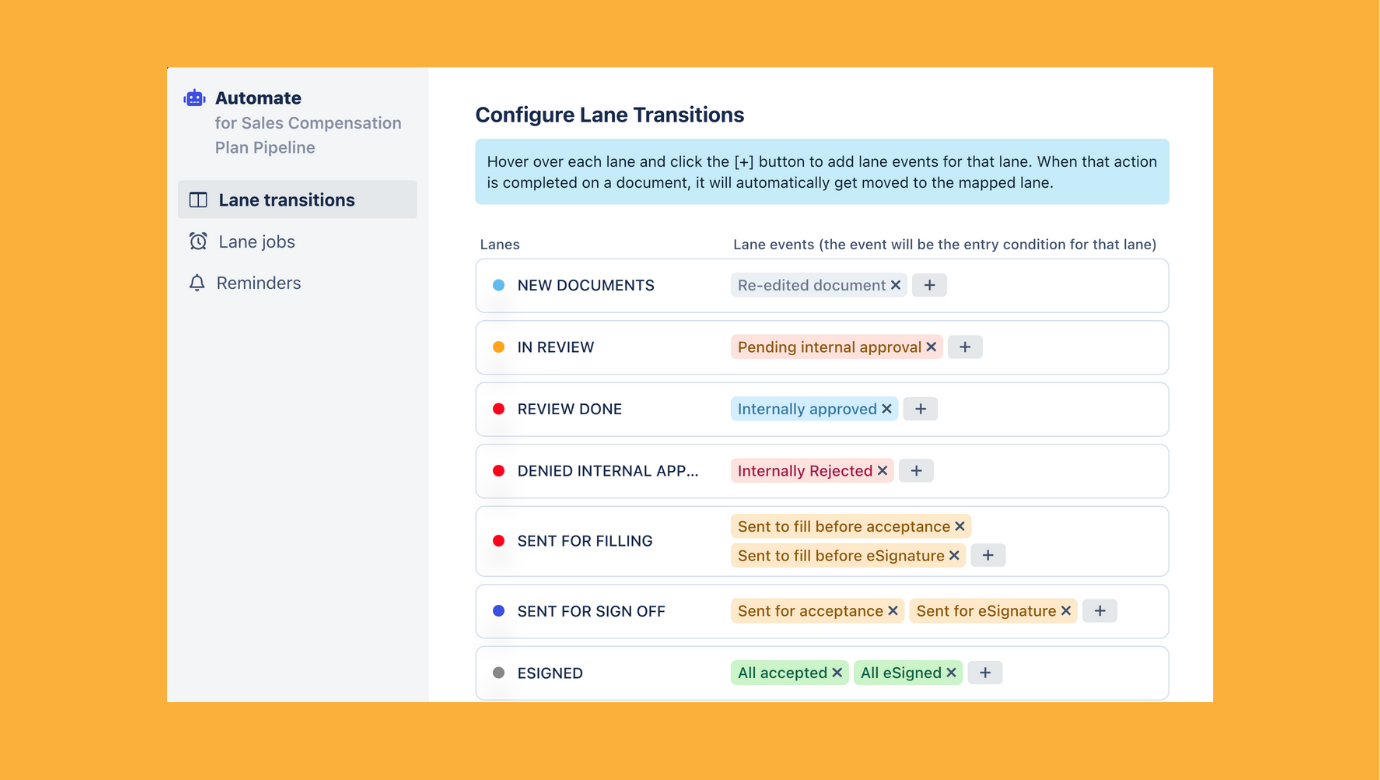 The next step is assigning lane jobs to the required lane, which are the tasks that should be triggered once a document reaches that lane.

In a nutshell, the Pipelines feature:

– Brings consistency and structure to a sales compensation plan workflow and sweeps away the manual involvement
– Gives you extensive control over your business workflows
– Ensures the involvement of designated people
– Facilitates branching workflow paths and weaving one workflow path to another
– Keeps workflows running on schedule by controlling the frequency of reminders for each task

6. Let the payment cycle close with accuracy
WHAT YOU NEED
Once the cycle of a sales compensation plan is over, there comes the season of sales performance calculation for each individual.
Usually, managed by the sales operations team, it starts with fetching the sales performance report of each sales rep into a formal document. This document is then sent to the sales reps for their signature and later stored for records purposes.
HOW REVV SOLVES
Using Revv's integration abilities and data studio, the sales operations team can automate the entire process. After the sync, the achieved targets and other related data are pulled from external business apps and bulk documents are automatically created. Each document, customized with a sales rep's information, is shared with the sales rep to provide his/her consent via eSignatures. After eSignatures:
The documents are stored in an organized manner in Revv or in other integration platforms like Box, Google Drive, Salesforce, HubSpot, etc.
All involved business teams including HR, payroll, and finance are notified and receive a copy of the signed document to commence the next steps.
Use Revv's automation to create a cohesive, intuitive, & self-driven sales compensation plan workflow

Schedule a demo with us!
REVV IMPACT: Supercharged sales compensation plan workflow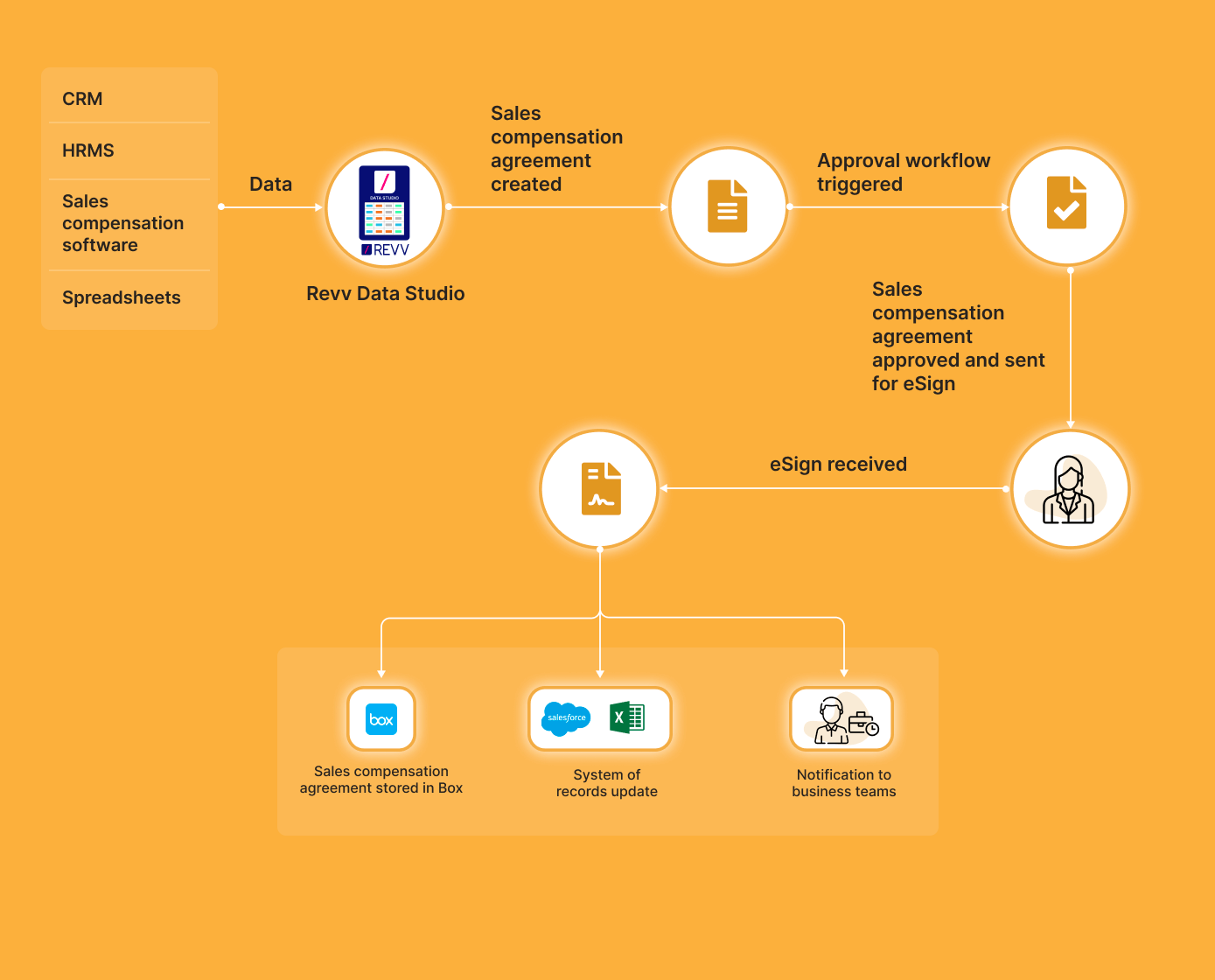 Summing up, here are the benefits of automating and optimizing sales compensation plan workflows with Revv:
Efficient and seamless sales compensation plan workflow
Minimized errors
Increased sales productivity
Enhanced data integrity
Data-driven analysis and informed decision making
Simplified sales compensation plans
Saved days of work
Watch how Revv automates the sales compensation plan
Wrapping up
Implementing a sales compensation plan process is indeed a herculean task for entrepreneurial companies with so much on their plates. Yet it is a crucial task to keep the sales team pepped up and contributing to business growth. Every business is unique, and so is its compensation sales plan workflow. Revv empowers businesses to sync their data, customize sales compensation plans, configure workflows that work best for them, and close them with electronic signatures.
Use Revv's automation to create a cohesive, intuitive, & self-driven sales compensation plan workflow

Schedule a demo with us!