Providing your employees a cherishable experience starts with the perfect onboarding experience. But creating it is no cakewalk. Onboarding new recruits is one of the crucial business operations that touches so many aspects of a firm. Companies are under increasing pressure to revamp their onboarding experience as manual operations fall behind expected productivity benchmarks and business demands.
While the HR department often leads the onboarding process, it also requires close coordination with IT, security, operations, facilities, finance, and other business divisions. These departments work on dotted lines. A lack of accountability, communication, and coordination between the departments can lead to delays that often leave new employees confused, irritated, or both.
Good onboarding can help deepen employee engagement, boost productivity, and reduce turnover. But failure to get off on the right foot with new hires can cause many to leave within months of being hired, squandering the high costs of recruiting top talent.
Let us take you on a masterclass on how to automate the employee onboarding process. We will explore the challenges you face and the tools you could leverage to optimize the onboarding process and maintain timelines. We will deliberate on the best ways to smartly innovate and holistically automate your onboarding process thereby increasing the productivity and efficiency of your team. Let's begin!
Challenges faced by HR during onboarding of new hires
1. Creation of HR documents for the employee onboarding process
The onboarding process is surely a document-heavy and time-consuming affair. A single employee onboarding translates to a multitude of documents. They can range across:
Offer letters
Employment agreements
Non-disclosure agreements (NDA)
Training manuals
I-9 form(identity and employment authorization form for individuals hired for employment in the United States)
401(K) form (employer-sponsored retirement account) and a lot more.
But, what if HR departments have a smart platform to take care of all the documentation requirements? With an onboarding solution, instead of creating documents from scratch, organizations can get ready-to-use templates as well as customize them to their brand guidelines.
2. Cumbersome HR document approvals and reviews
When it comes to onboarding, multi-level approvals are an aspect that you cannot do away with. From offer letters to employment agreements and compensation forms, different departments are involved in this process and require the sender to manually follow up with each approver. Monitoring the progress across these documents, making changes as per review, sending approval reminders, and moving docs to the next stage post-approval makes processes chaotic and prolonged.
Human intervention and wait times can be avoided if all of these processes are aligned through automation, where the completion of one procedure immediately initiates the next.
3. Poor visibility of HR documents
Onboarding a resource into the organization calls for many supporting documents in addition to the onboarding files. Dependency on physical documents or emails means that there is a fair chance of missing out on important documents as they are scattered around in your mail or in the office.
4. Errors due to manual data entry processes
To err is human. But from a business perspective, this can be costly. Errors in document creation can be eliminated by deliberately reducing the dependency/involvement on manual tasks. For instance, HR recruiters often have to enter data manually into their HRMS once a candidate accepts the offer letter. And to create further onboarding documents, they have to copy-paste details from their HRMS every time. While these tasks in themselves are tiring, they are often prone to errors as well.
A smarter way to go about reducing errors and thereby saving the company's valuable money is to choose software to perform the same task. There is also no risk of a "bad day" affecting the performance of the software.
5. No real-time collaboration in the onboarding process
Onboarding document creation involves several parties. It's imperative to have real-time collaboration to navigate the inefficiencies in the workflows.
Your document workflow should allow your teams and stakeholders to collaborate on your document and/or provide additional inputs at specific stages, whether it's approval, review, editing, notifying, or monitoring.
Redefine the onboarding experience with Revv
1. Process HR documents faster with customizable templates
HR departments have to process hundreds of documents and each document is different from the other. Creating multiple documents from scratch is definitely a headache. This is where Revv comes in with its customizable templates.
Revv offers 1000+ legally vetted templates including
Now HR teams can quickly create any type of document suiting their requirement.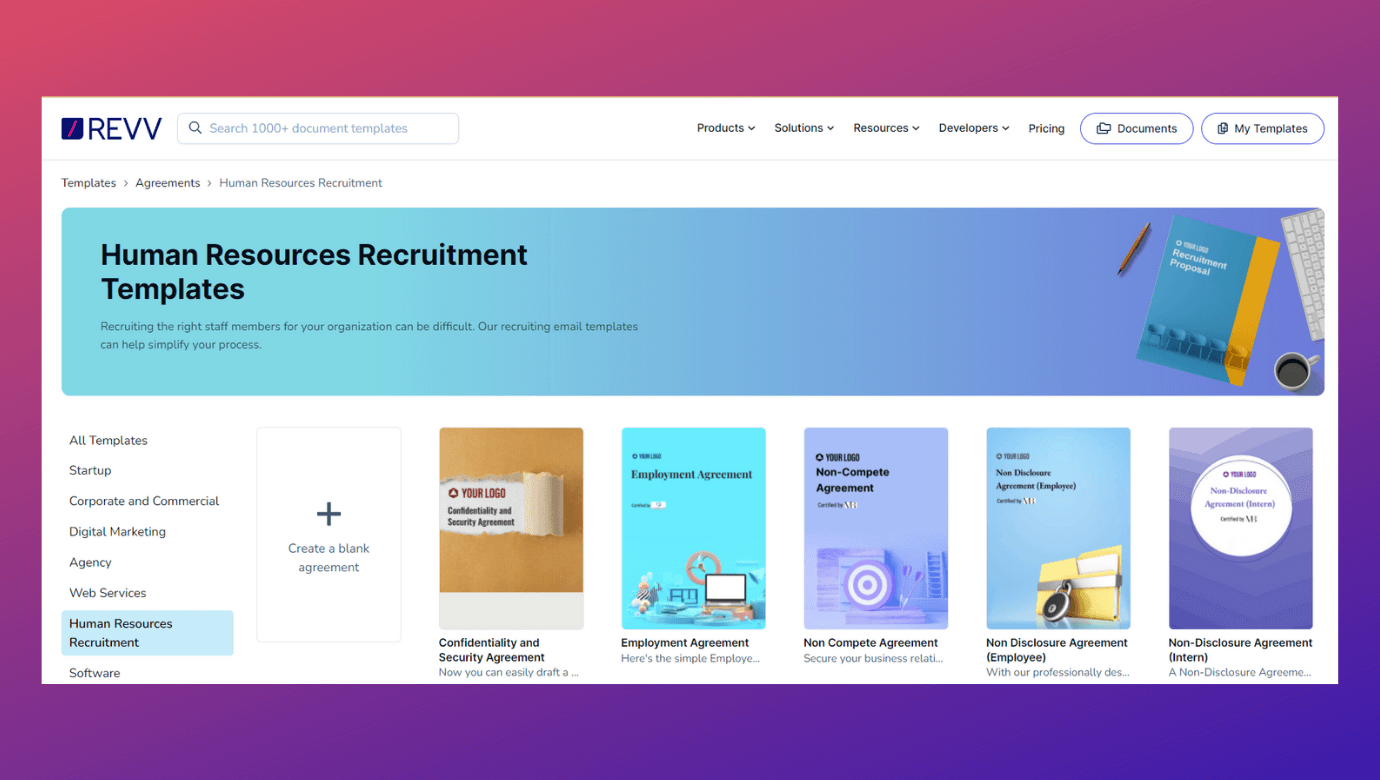 2. Make HR documents brand consistent with the feature-rich document editor
Even when ready-to-use templates are available, you need to have consistency across your company's collateral. All your HR documents should also be brand-aligned and follow the existing brand designs. Revv is fully-equipped with such contingencies with its feature-rich document editor. Be it any kind of document, users can drag and drop text blocks, images, simple tables, eSign blocks, page breaks, etc.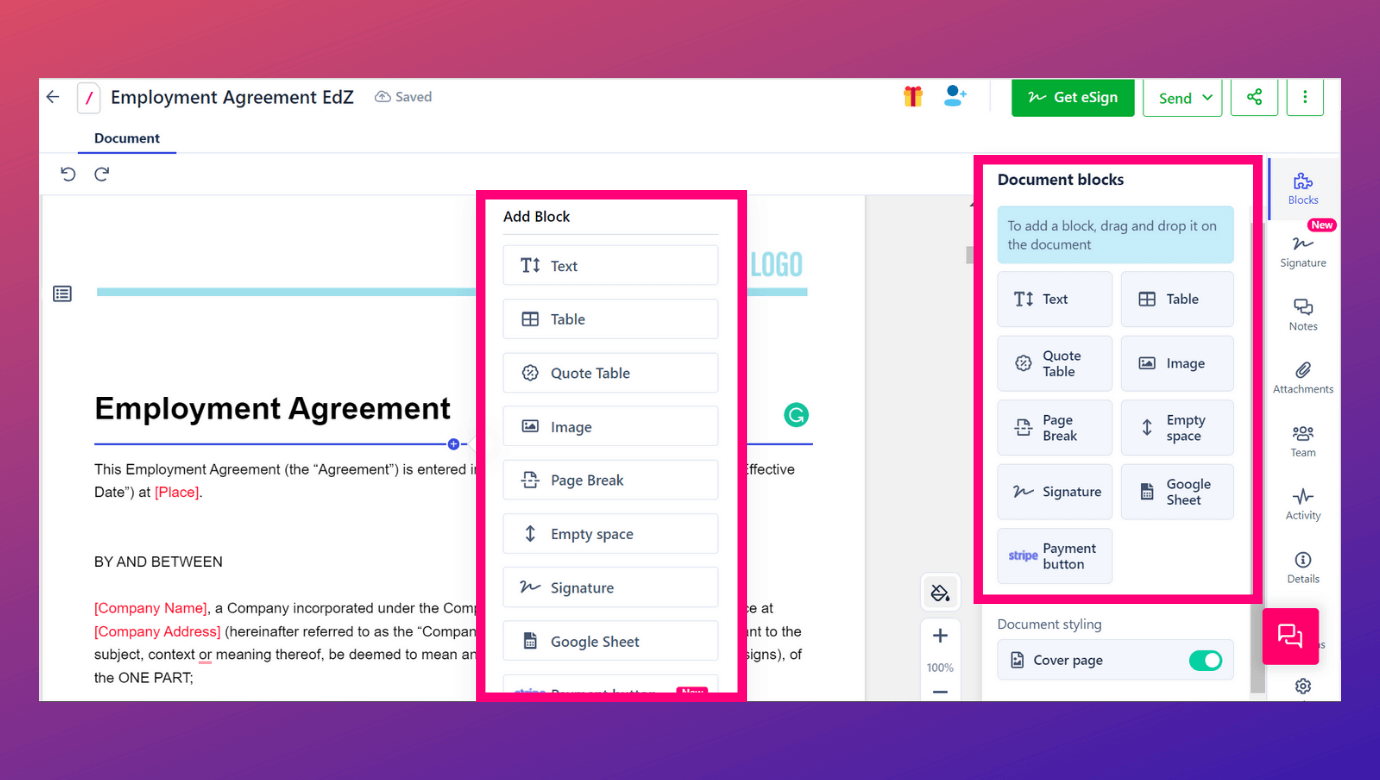 3. Integration with your favorite business systems
HR departments in companies often use Human Resource Information System (HRIS) and also opt for different software to manage different jobs like applicant tracking, documentation for new hires, etc.
Multiple applications for multiple operations of the onboarding process means data is stored disparately. A lack of a single source of truth increases complexity and delays. 
With Revv's seamless integration capabilities, you can now easily connect all these different apps and let the data flow accurately, without interruption.
With these integrations, you no longer need to leave your favorite tools or switch between applications. Seamless integration between apps can help you automate the entire process. Plus, it gives your HR team more time to enhance the onboarding experience for the new hires.
Running offer letters from HRMS is easier, once new hire details are added to the HRMS
Simple and fast creation of onboarding documents
Quick approval and review processes
Smooth eSigning process
No repetitive entry of data in multiple systems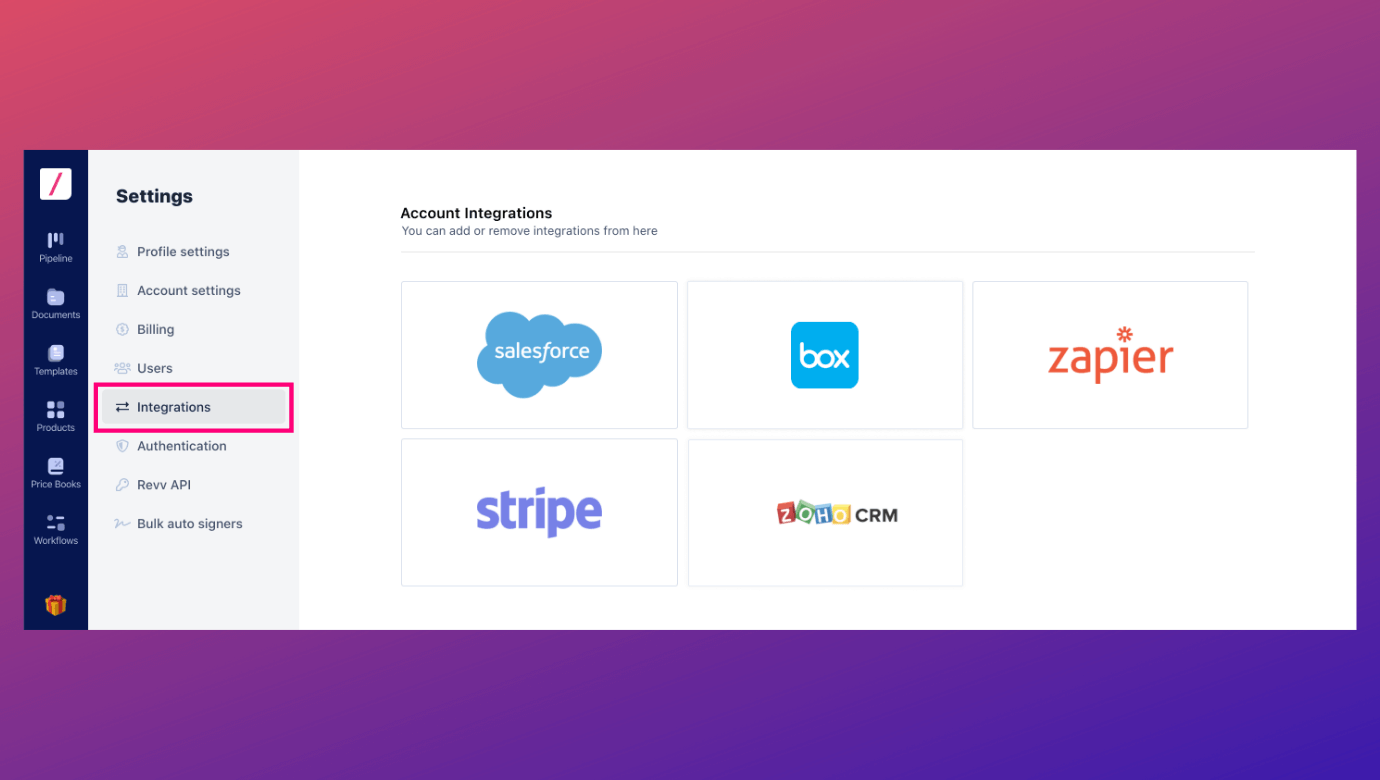 Revv's integration capabilities are further powered by Zapier, Retool, and Native API solutions.
4. Map accurate data from multiple data sources
There are various instances when HR teams have to create documents in bulk. For instance:
Consent forms that need to be sent to all employees where each form needs to be personalized with employee names and employee IDs.
A policy update document to be sent to everyone in the company.
Creating onboarding documents for new recruits
During bulk documentation, entering data manually is taxing. Entering dozens of data fields from one business system to another generally leads to typos and manual data-entry errors. And if you want to correct an error, then the same needs to be updated to other HR apps. You can simplify all your data mapping tasks with Revv's Data Studio feature.
With Data Studio:
You can pull multiple data from an external app to Revv's form fields with a few clicks. Form fields are nothing but fillable placeholders in the document.
Complex data can be mapped within minutes
Create bulk documents
No need for an IT team or developers as Revv's Data Studio doesn't require separate scripts, codes, or APIs
Real-time data integration also ensures accuracy and consistency across the system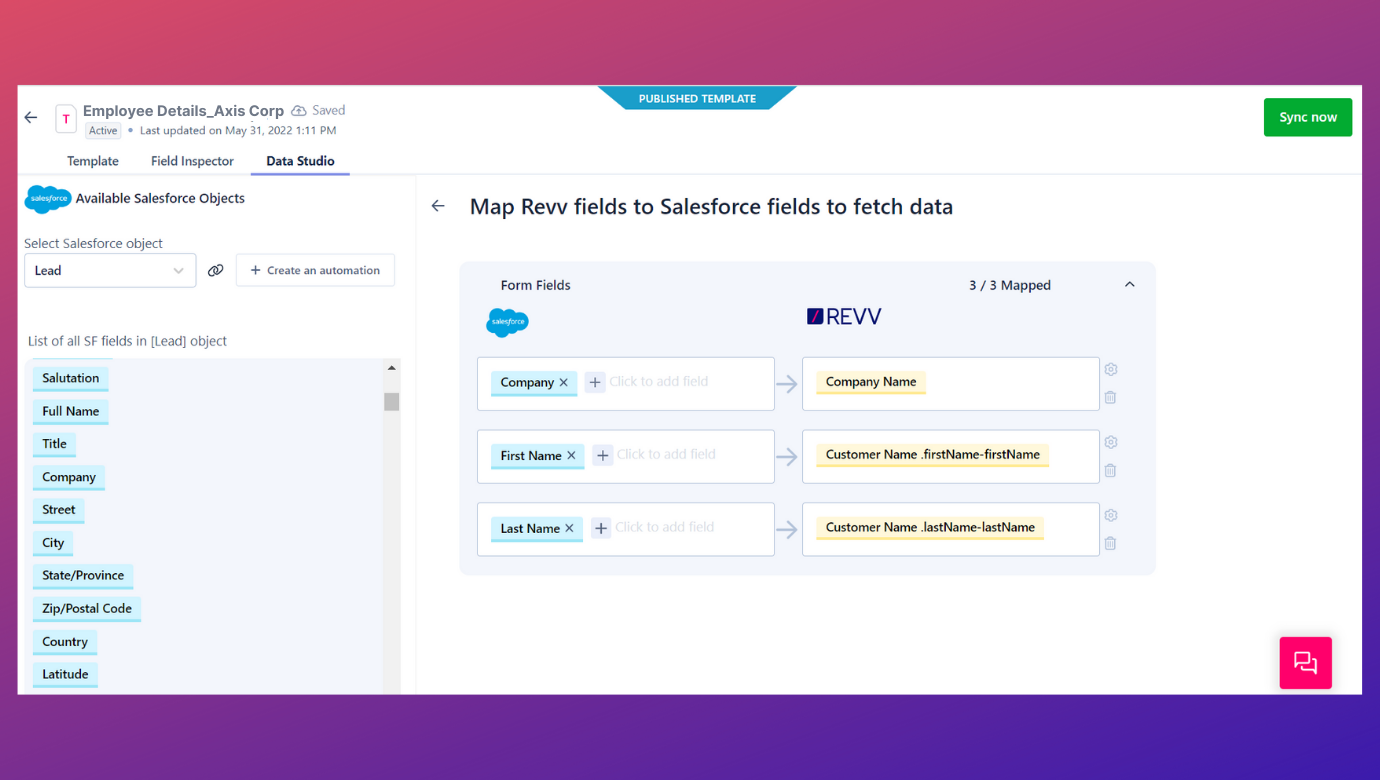 5. Streamline any HR workflow
As mentioned before, there are multiple moving parts involved while onboarding a new employee. Right from rolling out offer letters to providing access and work equipment, different departments' intervention is needed every now and then. Different workflows kickstart as soon as a candidate is selected.
Below mentioned are some scenarios:
Case 1
Internal review and approval with respective department/functional managers regarding salary compensation and other benefits.
Case 2
Intimating facilities team to allocate workspace and other amenities.
Case 3
Informing accounts/payroll team to initiate all payroll, banking, tax, and insurance-related documentation.
Case 4
Inform your admin team to start other processes (arranging travel, initiating visa process if the new joinee is from another country, arranging accommodation, etc.).
Case 5
Associate with the IT department for timely equipment and software support for the new employee.
Case 6
Keeping HR documents at one centralized location or in cloud-based storage systems like Box, DropBox, Google Drive, etc.
The use cases can go on and on.
However, with Revv, you can enable all your workflows from one end to the other. With the multi-resourceful Pipelines feature in Revv, you can have complete control of all your HR documents at every stage of the workflow.
How you can automate workflows using Pipelines
You can categorize different HR documents under different pipelines by simply adding theme-specific pipelines. For example, if you want all your onboarding documents in one place, simply create onboarding files as a new pipeline and route all onboarding documents to this pipeline.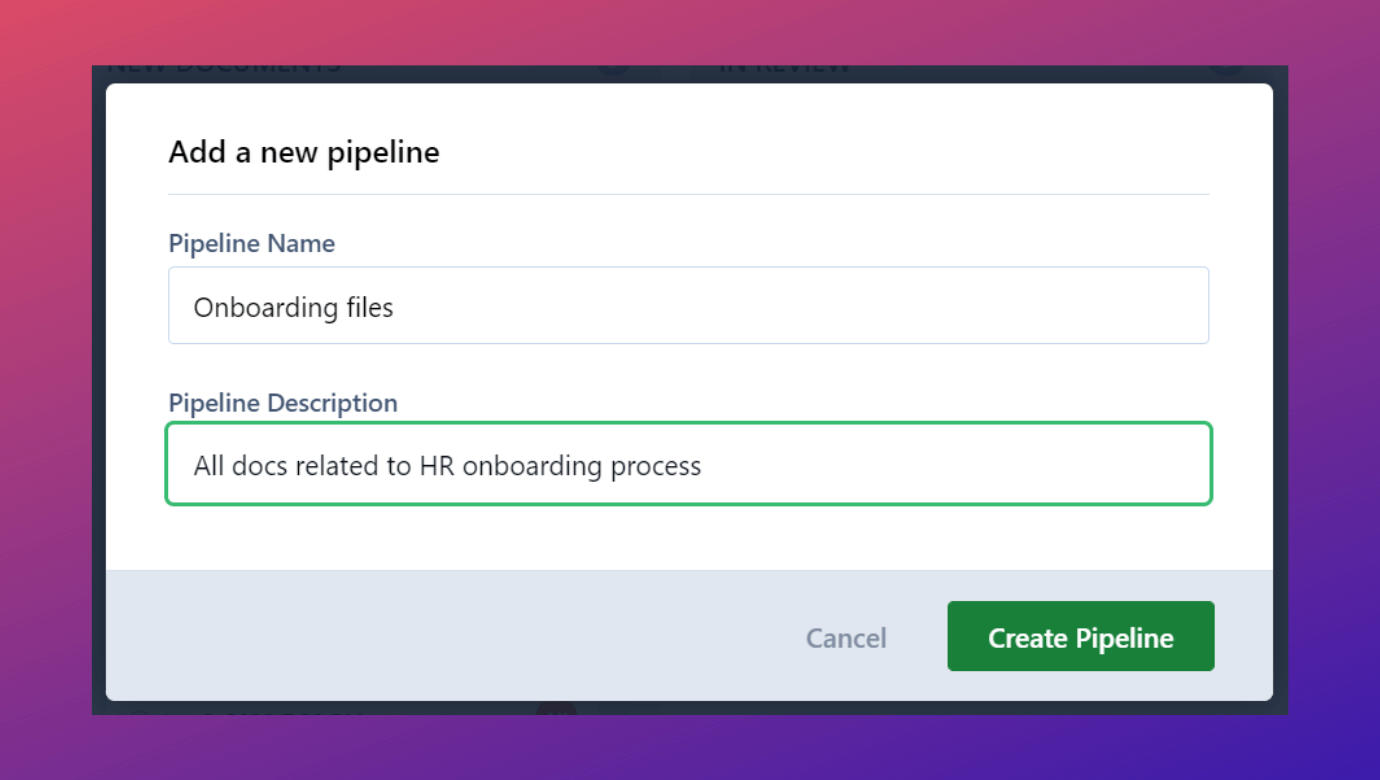 The documents can be routed by opting Pipeline Routing feature as per your requirement. For example, if you want all documents from the Employee Agreement template in the Onboarding Files pipeline, you can set it accordingly with a simple click and drop option in the Pipeline Routing feature. Likewise, Consent forms can be collected in the Consent forms pipeline, etc.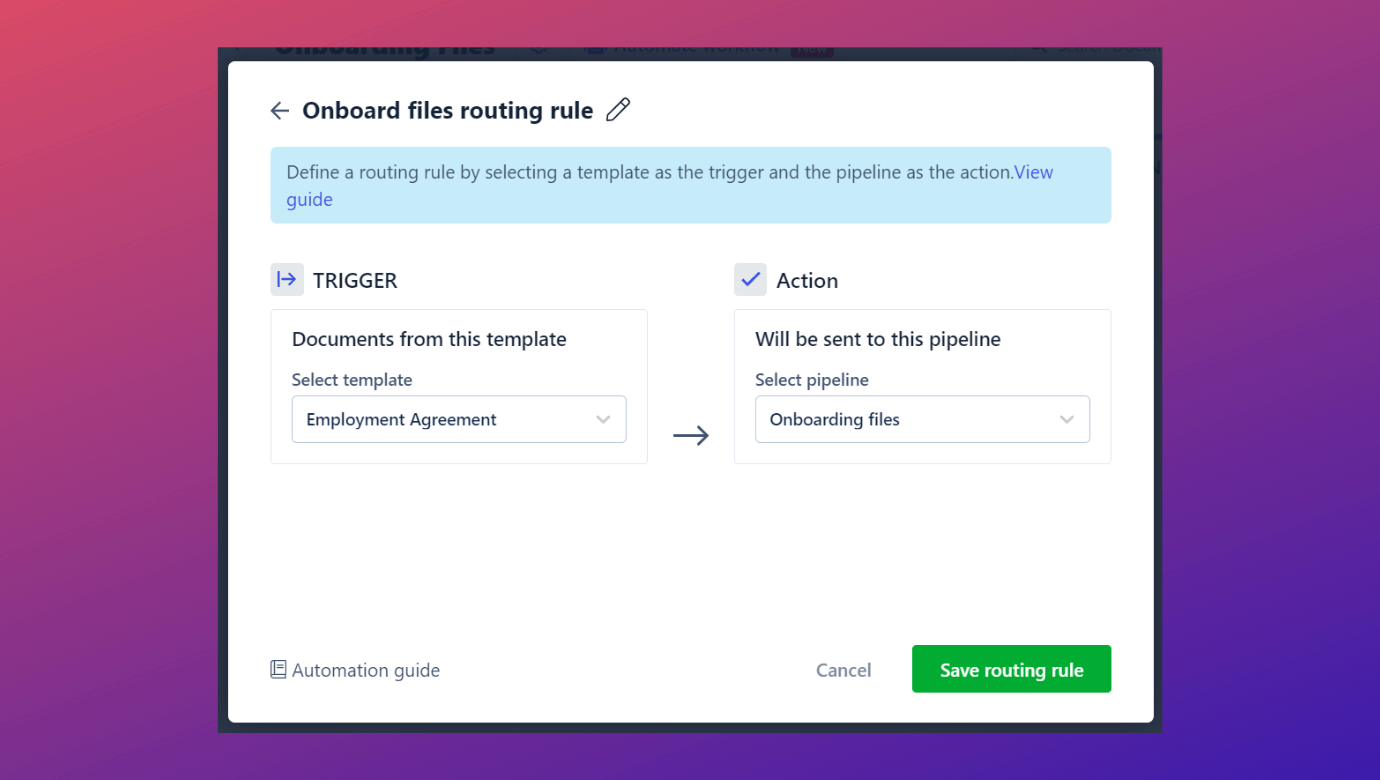 Each pipeline consists of different lanes, where you can channel your documents as per their status. For instance, you can create lanes such as new onboarding, internal review, sent for eSign, accepted, etc. When each document finishes particular criteria, it can be automated to the next lane by assigning lane jobs.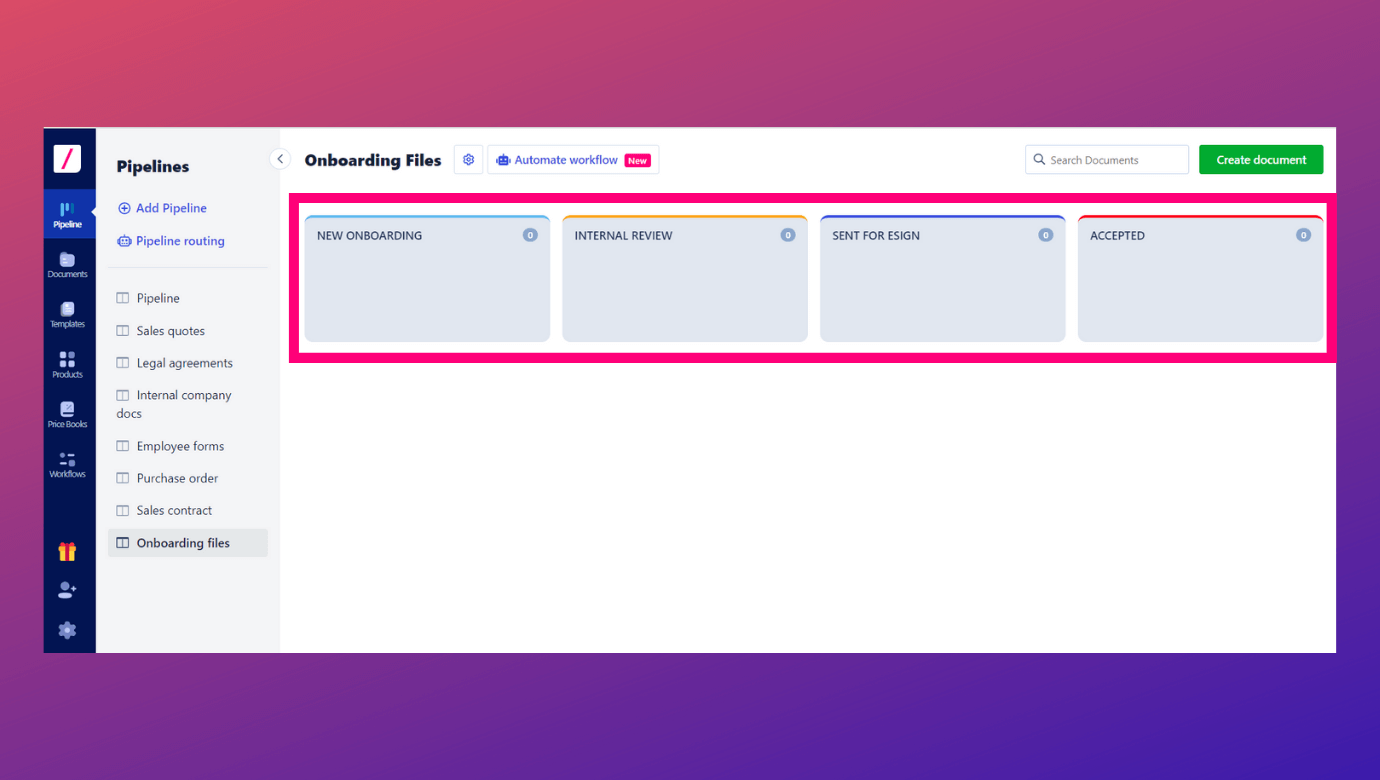 You can assign lane transitions according to the process involved with document workflows. For example, HR creates an offer letter and sends it for internal approval to the respective department to which the candidate is hired. The offer letter will be in the New Onboarding lane, while sending for internal approval/review, it will go to the Internal Review lane, and when it gets eSigned, it will go to the Closed lane. These functions could be done by assigning lane transitions for each lane.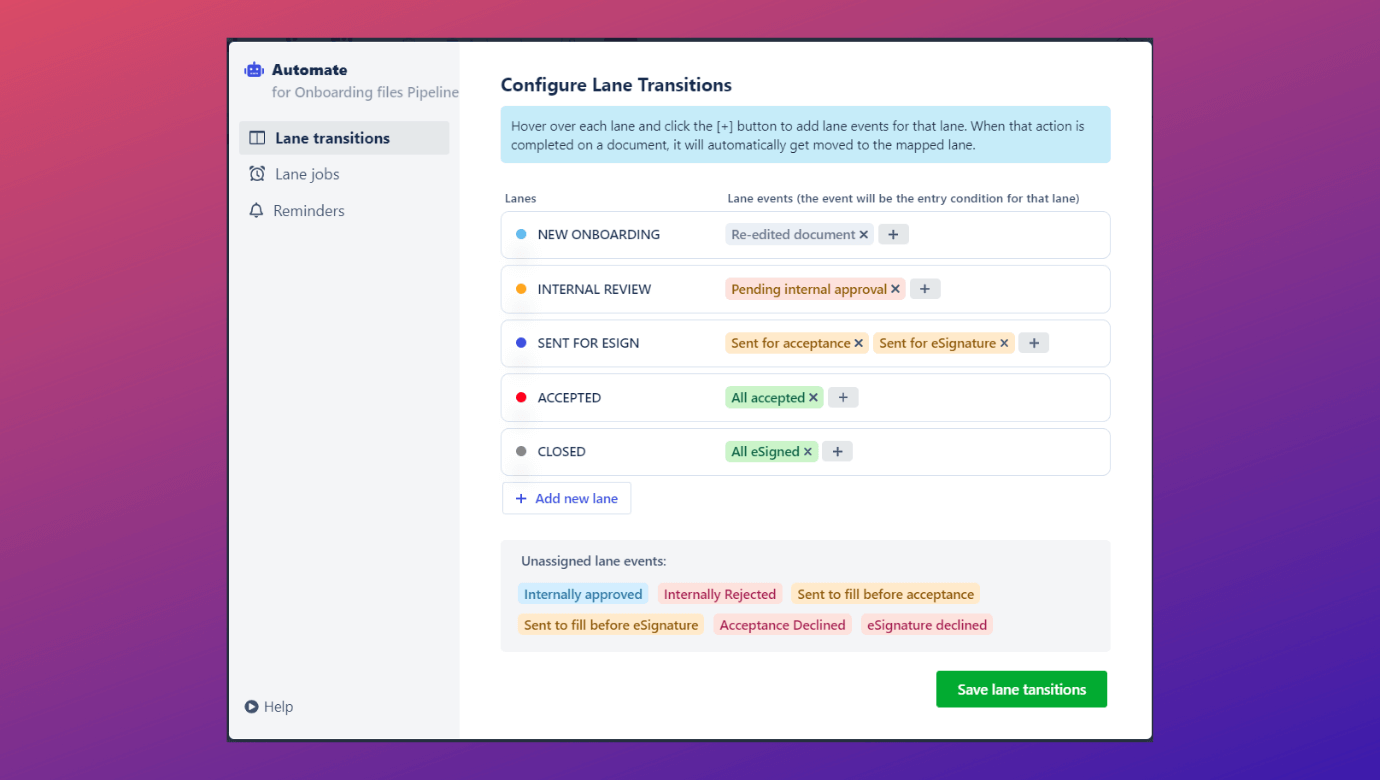 Lane jobs can also be created to trigger the associated tasks when a document reaches a lane. For example, you can notify your IT Manager, Payroll Manager, Facilities team, and Travel department when a candidate accepts the offer letter and the document reaches the eSigned lane.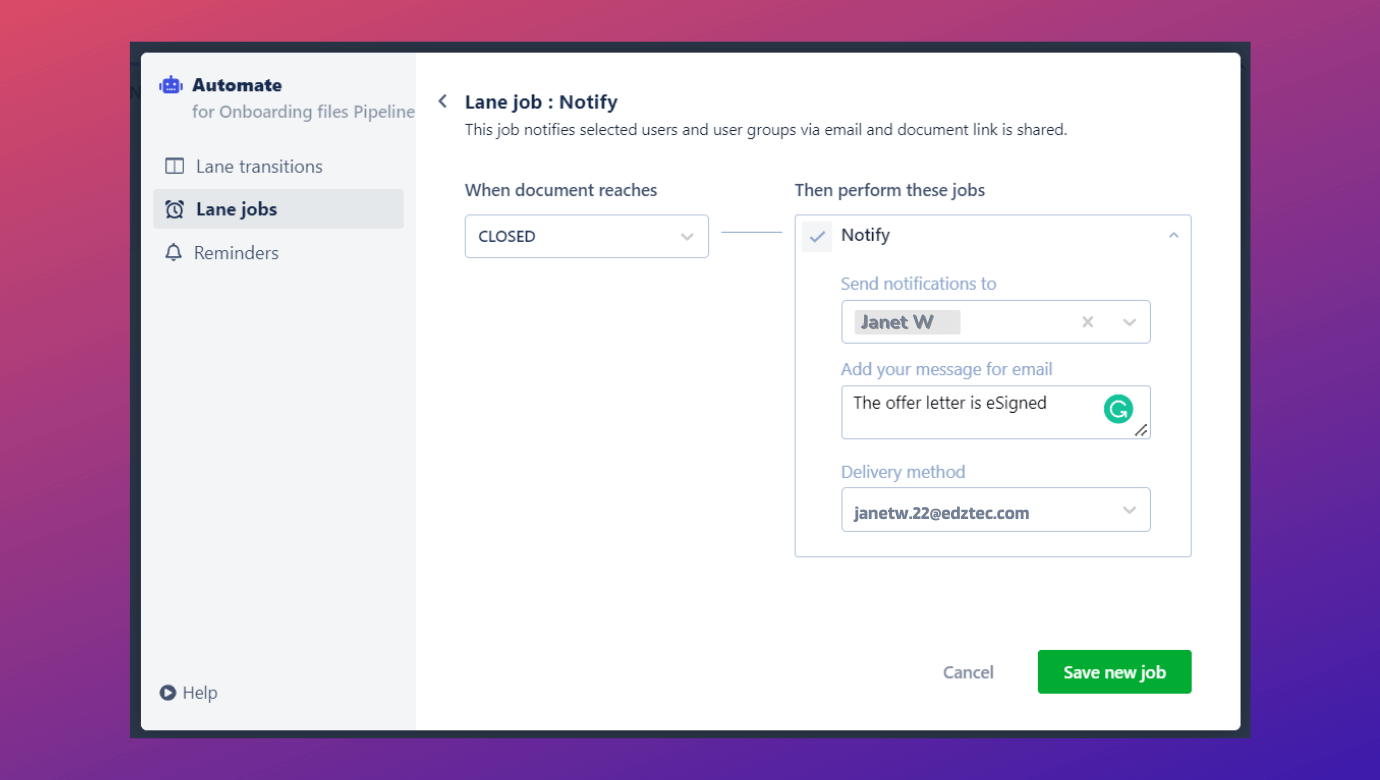 You can send any HR-related documents to any storage app you are using or update the systems of records or share the signed agreements (in this case offer letters, consent forms, etc.) with business teams. From Pipelines, users can send or share documents to external software such as Box, Google Drive, Gmail, DropBox, Salesforce, HubSpot, etc.
For instance, if your business uses Box to store documents or trigger business workflows, integrate Revv with Box. Now you can send all the HR-related documents to the Box folder. You can also choose to store document-related information like metadata associated with the document metadata, document attachments, evidence summary, etc. This piece of information can be used to trigger the next set of workflows from Box.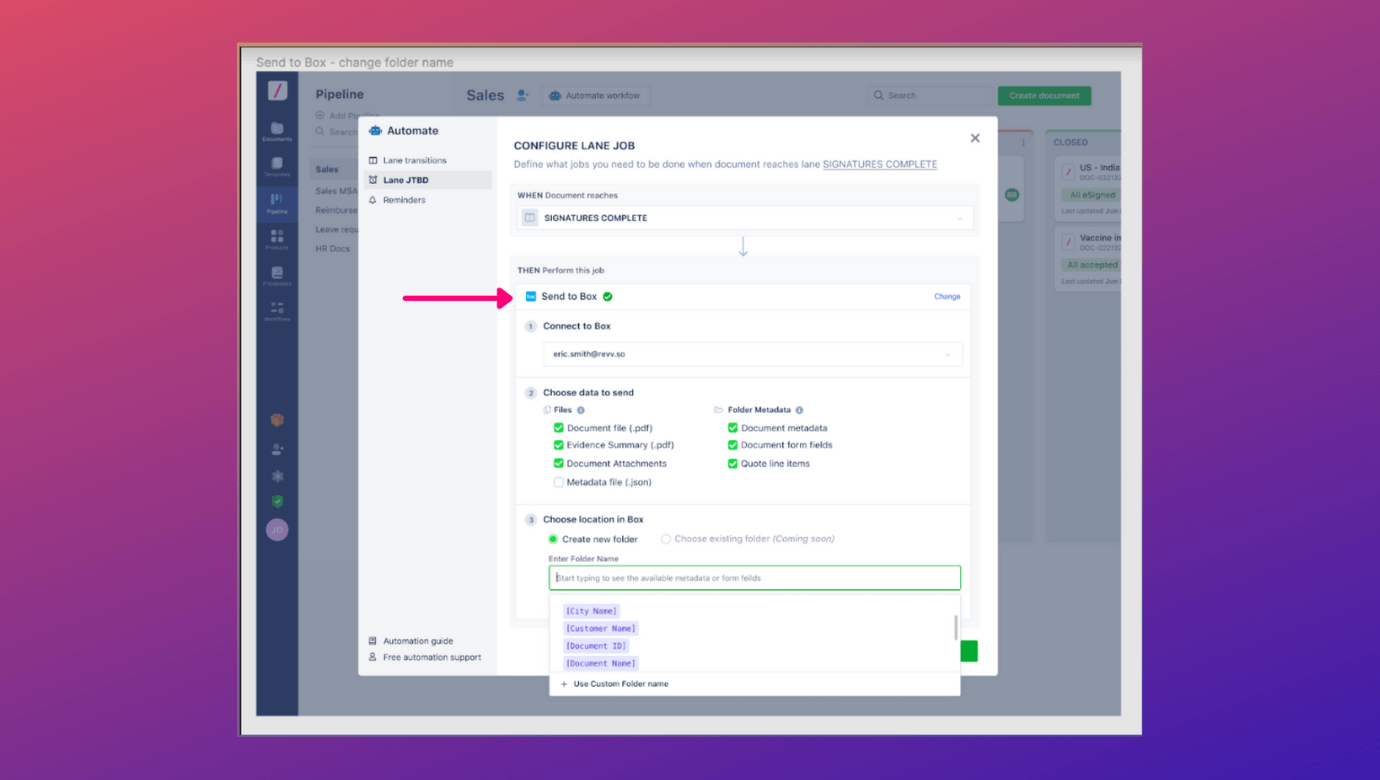 Watch our self-help guide to automate your employee onboarding process.
6. Hassle-free approval and review of onboarding documents
The onboarding documents, especially offer letters are run through an internal approval process before sending them to the candidate for signatures. These documents are sent to reporting managers or other team members for their review and approval. During such instances, opt for Revv's Check and send for internal approval feature. Set precise triggers and automate your document approval workflows with this option.
If some HR documents need to be reviewed by someone outside the company, then the user can choose the Send by email option provided in the Revv platform. The sender can also set permission to view or edit the document.
7. Easier collaboration with teams
Now you can forget about the back-and-forth email to review HR documents or the constant follow-ups with other departments if you want additional input. Revv not only helps in automating HR workflows but improves real-time collaboration with your teams with its notes feature. 
For instance, If you want an offer letter to be reviewed by the Hiring Manager, you can simply tag the person using @mentions. The tagged person will get an email regarding the same.
Or if you want additional input from the Legal team in NDA or want a policy document to be attached along with it, add Public or Private comments in the document for the same. The tagged person will be able to complete the mentioned task as required.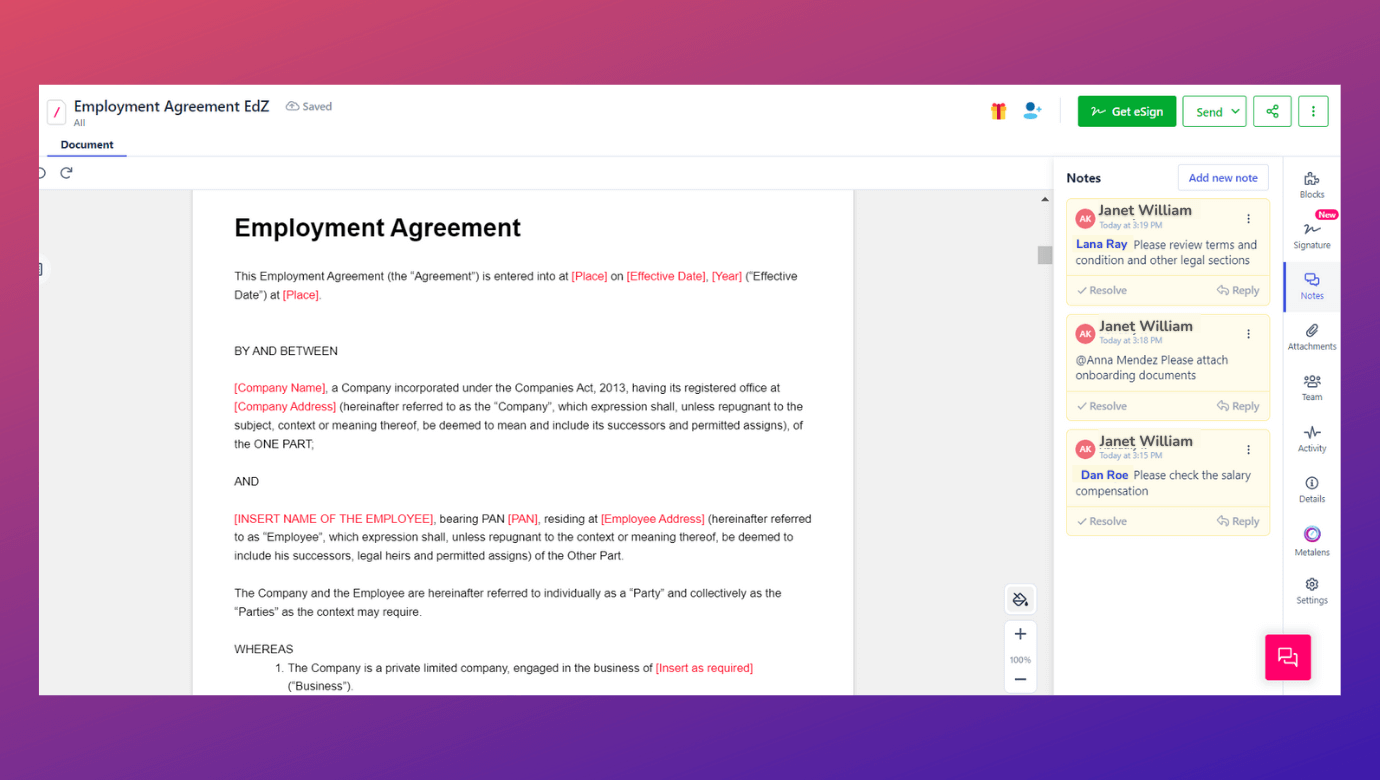 8. Electronic signatures to close new hire onboarding faster
a. Revv follows rigid compliance checks
While onboarding new employees, HR needs signatures on multiple documents. If you want to close the process faster, then adopting an electronic signature platform is the smartest choice. Rather than depending on wet-ink signatures, electronic signatures save time for both senders and recipients.
With Revv, you can easily create documents, complete all the review processes and easily send for eSigning without any hassles. Because Revv provides legally binding and compliant eSignatures that adhere to all global and local laws. The eSignatures are compliant with ESIGN Act, UETA, and eIDAS Regulation.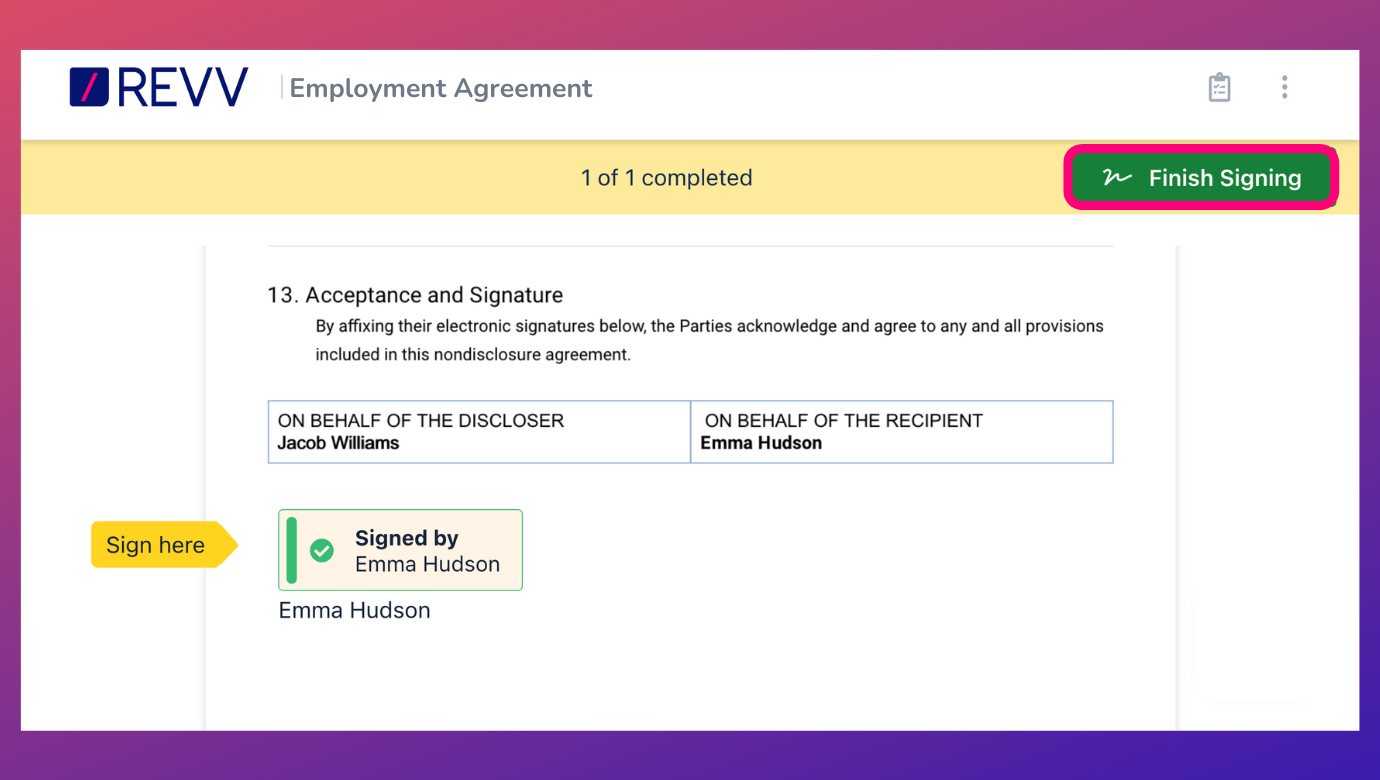 b. Multiple options of eSign
In the Revv platform, there is no limit to the number of signers that could be added to a document. You can choose to add any number of signers to the same document.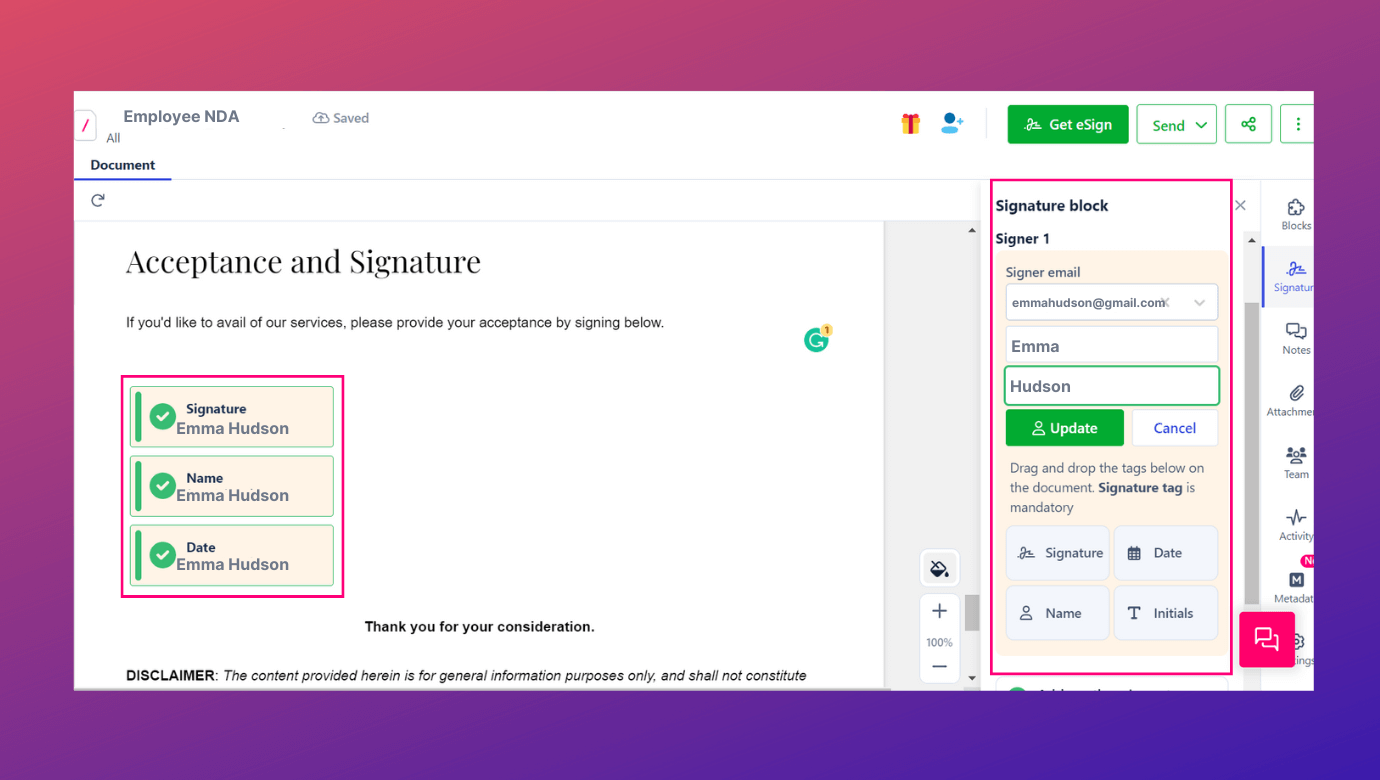 When you send documents for eSign, the recipient instantly receives an auto-generated email notification asking them to take necessary action.
Recipients or signers can now have the flexibility to sign off documents faster with Revv's flexible eSigning options.
They can 'Draw signatures,' 'scan and upload signatures,' choose from 'pre-formatted text styles,' and even connect their crypto-wallet MetaMask to complete the signing process.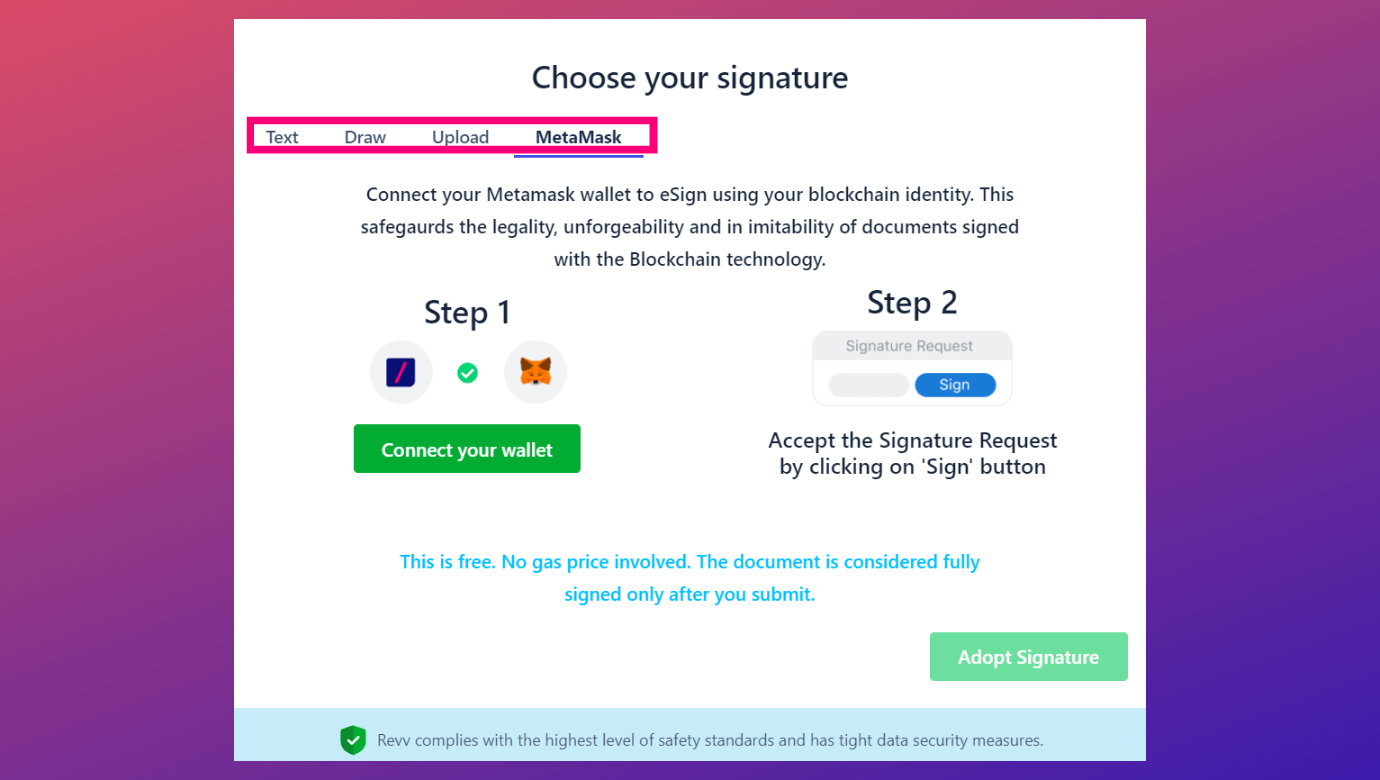 c. Create documents in bulk and send for eSigning
The HR department often has to send consent forms or policy documents to all employees in an organization. Sending documents in bulk to tens of thousands of people is possible with Revv. Create a form-based template and select create documents in bulk option. In this feature, Revv stores a CSV file format consisting of various fields. All you have to do is download the CSV file and enter all the required details (employee name, emp ID, etc.), and upload the same file to the Revv platform. This feature helps you to customize each document with standard details like name and address, and send as many documents as you want for eSign.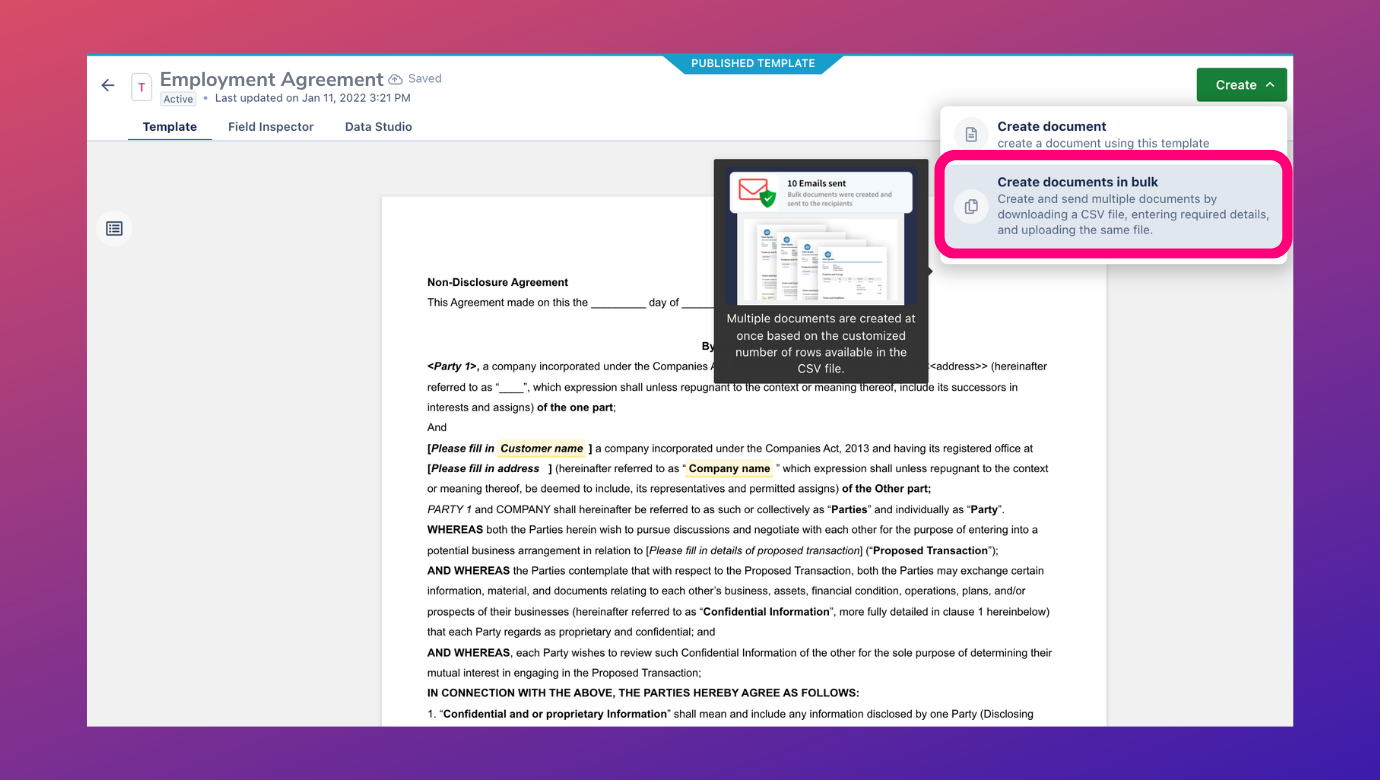 You can also opt to overpass these uploading and downloading tasks by simply integrating your data source with Revv. Use the Data Studio feature to map the data from external data source to Revv's form fields and create documents in bulk. After data syncing, select the details you want in your document by simply clicking the checkboxes from the configured data. Then click the +create documents option which will prompt to Create documents in bulk pop-up window. The bulk documents created from here will have all the required data mapped to the respective form fields in Revv document templates.
d. Auto-signing in bulk
Now you know how to create and send documents in bulk for eSign. But what about when a single signer has to sign off hundreds of documents in one go? It's not an unheard-of situation.
For instance, HR managers have to sign off every onboarding document of new employees, process and sign appraisal forms, relieving letters, experience certificates, among many others. He/she has to sign a lot of documents on a daily basis which is often tedious and time-consuming too.
To ease the signing process for such individuals, Revv provides an Auto signing feature.
Under this, any enterprise can register its designated signer as an auto signer. Once registered, whenever he/she is assigned a signer to the document, his/her signature will be recorded automatically on the document. Any user in an organization can be registered as an auto signer. The assigned auto signer has to provide a one-time consent to be registered as an auto-signer.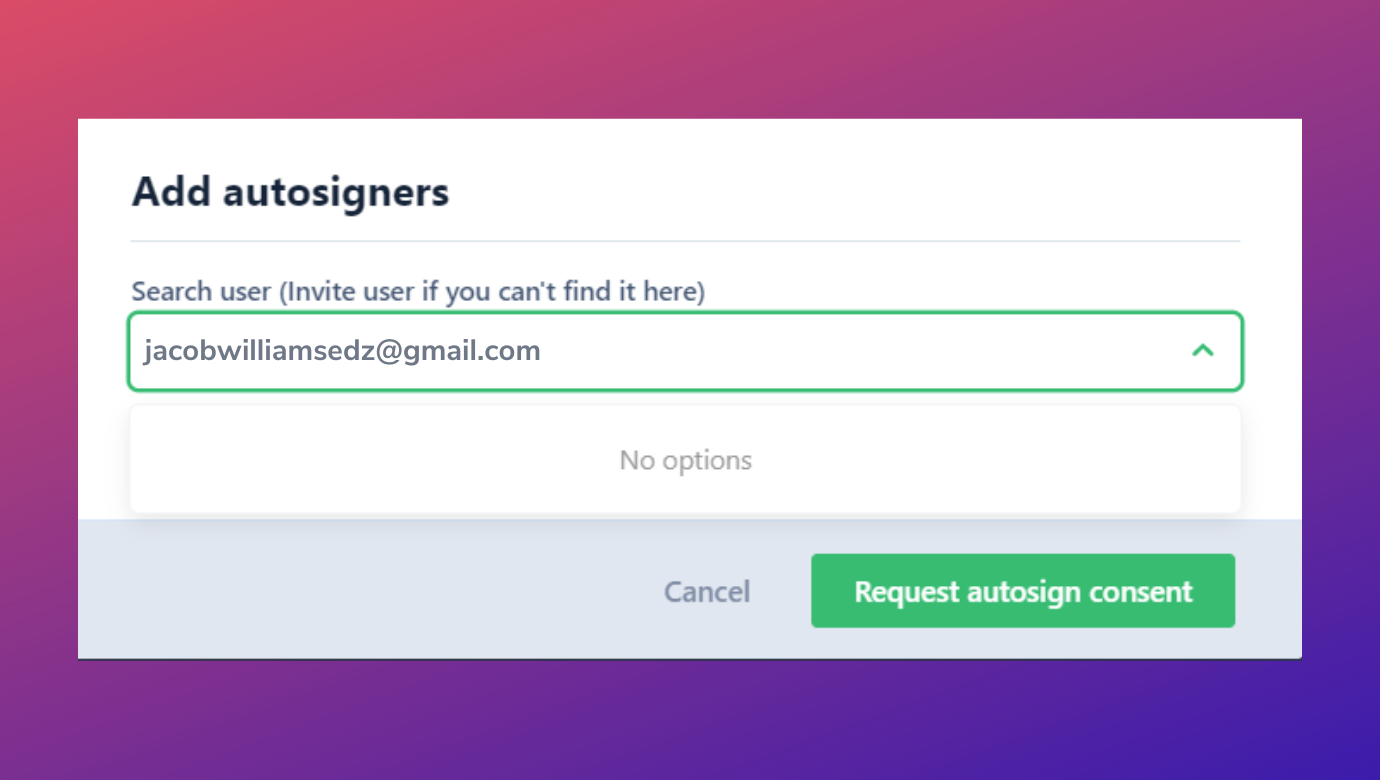 e. Verification of recipient's identity
HR documents such as offer letters, NDAs, and employee information forms contain sensitive and confidential information. You don't want it to be accessed by some unauthorized people. To avoid such circumstances, Revv provides security measures like Email authentication and SMS-OTP authentication to verify its signer's identity.
Email authentication: Documents are sent for eSign to the recipient's email address. When a signer logs into their email account and clicks the eSign link, the signer is automatically authenticated.
SMS-OTP: You can use two-factor authentication (2FA) in addition to email authentication to validate the signer's identity. Select the Authenticate with OTP through SMS option and enter the phone number when sending a document for eSign. An OTP is generated and sent to the recipient's mobile when they click the eSign link to validate their identity. To access the file and start signing, the recipient has to enter the OTP code.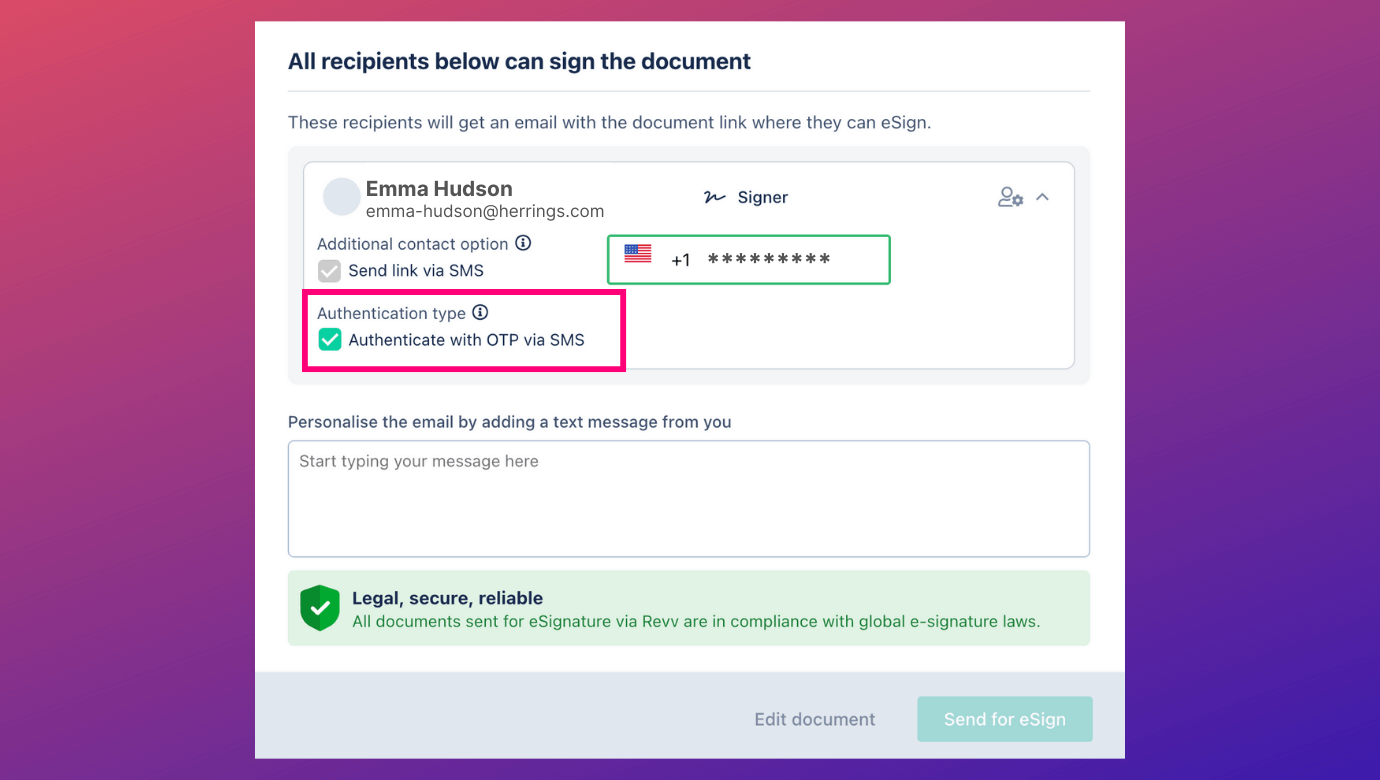 9. Detailed audit trail
Offer letters, NDAs, terms & conditions, and other onboarding documents have sensitive information. You don't want your company to be held responsible in a court of law if these documents are tampered by any chance. Hence to avoid such unfortunate incidents, all eSigned documents in Revv generate an electronic copy of audit trails in the form of an Evidence Summary. It is a digital certificate that registers each action taken during the signing process, which includes – the signer's information, date and time stamp of each action taken by the signer, IP address, and other details that act as legal proof.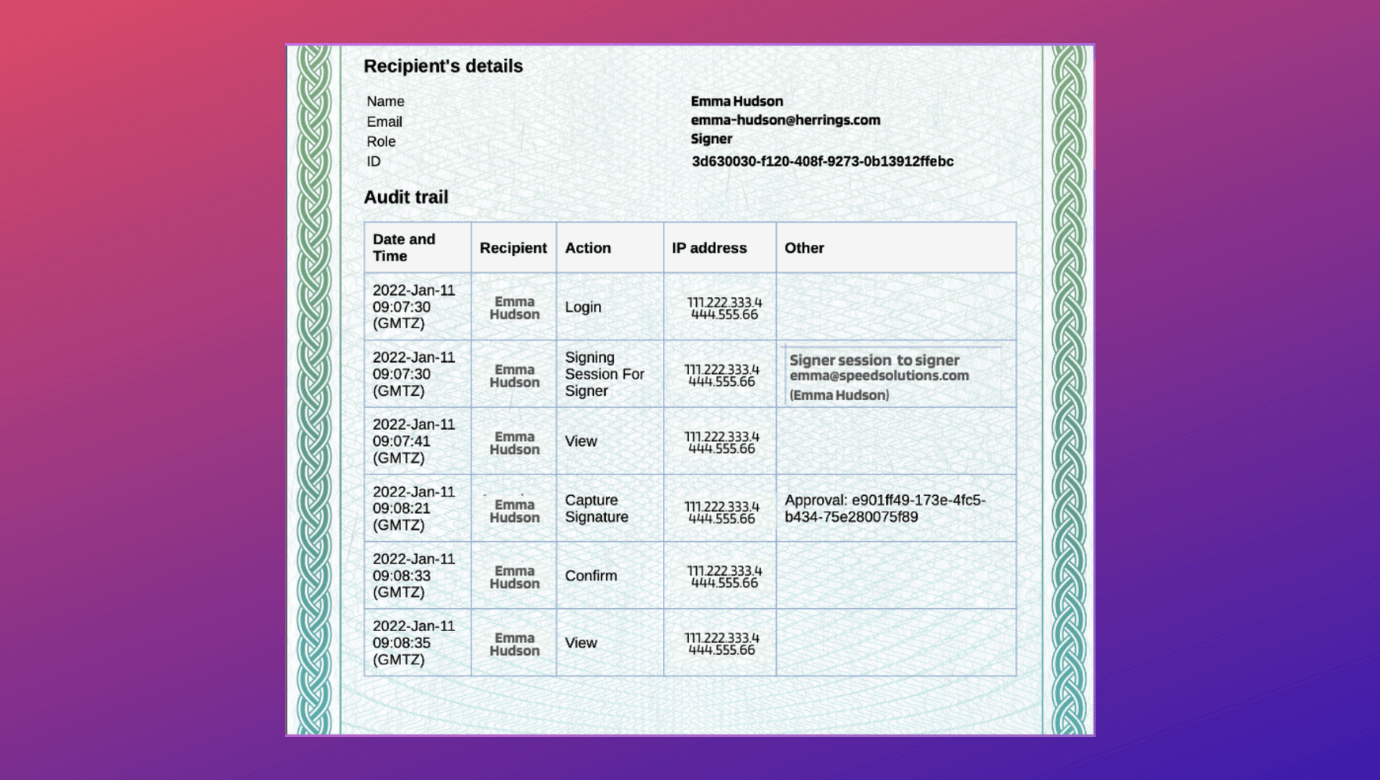 10. Instant notification and real-time activity tracking
One of the time-consuming yet mundane tasks HR executives have to do is follow up with the new hire. It can be regarding the completion of the onboarding process or signing off an offer acceptance letter. Besides, HR also has to notify internal teams about the progress of each and every employee's onboarding process.
Revv makes the job easier with auto-generated emails. Both the sender and recipient will receive emails specifically mentioning who is the sender and what action he/she wants the recipient to do on the document via these emails.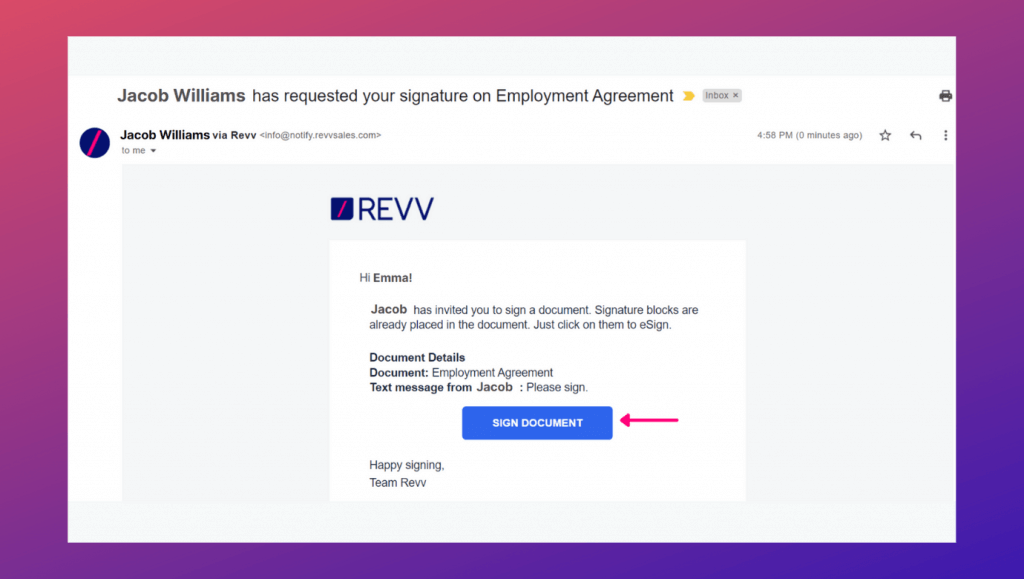 Now there are instances when a signer wouldn't have completed the eSign even after viewing the document. If the HR teams can track these activities, they can quickly take action to accelerate document closure. Revv's Activity tab comes in handy. It shows you who has read the document, how many times it has been viewed, whether it has been signed, who has eSigned, who hasn't, where it is being held up, and by whom. It assists in intervening at the appropriate time and removing stumbling impediments.
If any HR document is assigned to an auto-signer using the Auto Signing feature of Revv, then the same is shown in the Activity of the document.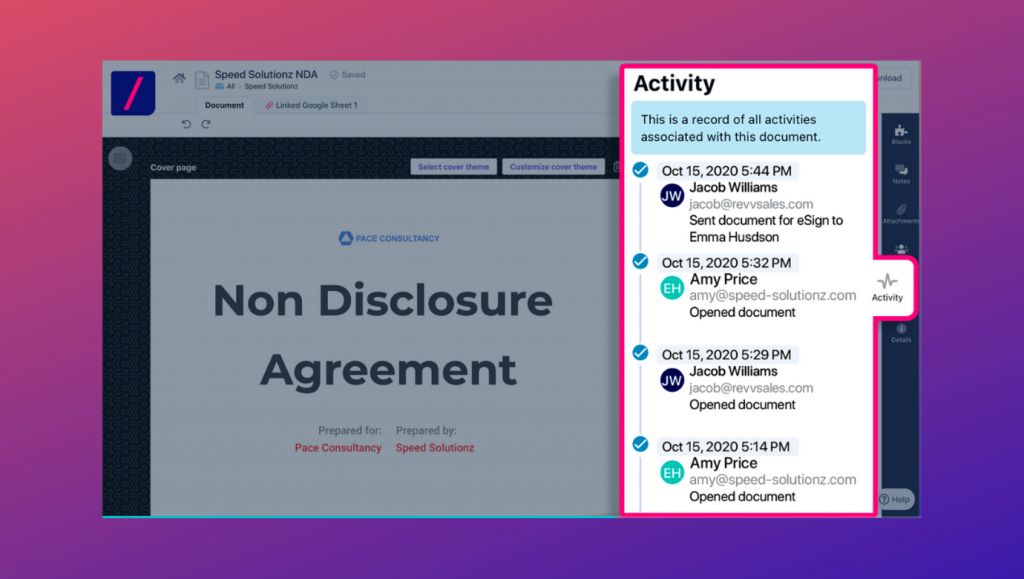 Choose Revv for a great employee onboarding experience
Revv is a powerful platform that deeply understands the onboarding needs of your organization. Its versatility allows each business to access, deploy, and create automated workflows, seamless integrations, and compliant eSignature benefits uniquely tailored to their needs. It is one of the best software solutions that untangles the intricacies of the onboarding process and helps HR teams to spend less time to complete the important steps in talent acquisition.
Start optimizing and automating the employee onboarding process with Revv and empower the HR teams.