You never get a second chance to make a first impression. Getting started at the right feat is crucial to any partner relationship. And it all begins with a great onboarding experience. The partner onboarding period is vital and challenging for companies. It involves taking care of all the nitty-gritty like educating your partners, making them familiar with your brand and partner program policies, clearing the roadblocks, etc.
The best way to lay a good image about your company is by providing your partner with an effective onboarding process that covers the four C's — compliance, clarification, culture, and connection. This forms a great foundation, addresses concerns, develops trust, and set expectations for both parties involved.
The onboarding process contains various phases and involves a mountain of paperwork to support it. Nowadays, 31% of companies have chosen to automate at least one of their business processes, but some of them are still paper-based.
In this blog, you will understand the challenges of partner onboarding and how Revv provides effective solutions to automate and boost the entire process.
Challenges faced during a partner onboarding process
Onboarding a partner to your company is not a cakewalk, and there might be hundreds of hits and misses before you find the exact process to do it. Companies normally face the following challenges during partner onboarding:
Manually creating agreements: From creating partnership agreements to ensuring every detail is correct, it involves a lot of human intervention and is prone to errors. It also gets chaotic over a period when you are building agreements for every partner from the start.
Clumsy approval cycle: Sending the agreements for reviews and approvals to multiple people is a back-breaking task. Monitoring its progress, reminding the approvers to take action, making changes, and taking it to the finish line is time-consuming and exhausting.
Insufficient storage: Storing physical agreements in files and filing cabinets is old-fashioned. It consumes space and does not guarantee security, longevity, and proper organization of your agreements.
Lacks proper collaboration: Without proper collaboration with your colleagues, you might miss out on crucial inputs and suggestions that might save your day.
Sluggish deal closures: The agreement signing procedure slows down when it involves 'N' number of steps like sending the agreement to the partner over email, downloading, reviewing, signing, scanning, and uploading it again. It reduces the efficiency and hampers the project's timelines.
Looking for a way out? Presenting Revv to you!
Revv automates your partner onboarding process and makes it more effective. With top-class automation features, you can spend less time worrying and more time closing deals.
Try these effective partner onboarding best practices with Revv
👉 Develop a consistent partnership agreement with Templates
Are you tired of developing a partnership agreement from scratch for every new partner? Revv provides a library of legally vetted, pre-designed, and ready-to-use partnership agreement templates. You can find templates for all your needs and kickstart agreement creation. These readily available partnership agreements reduce manual errors, thereby building a solid foundation for a business relationship.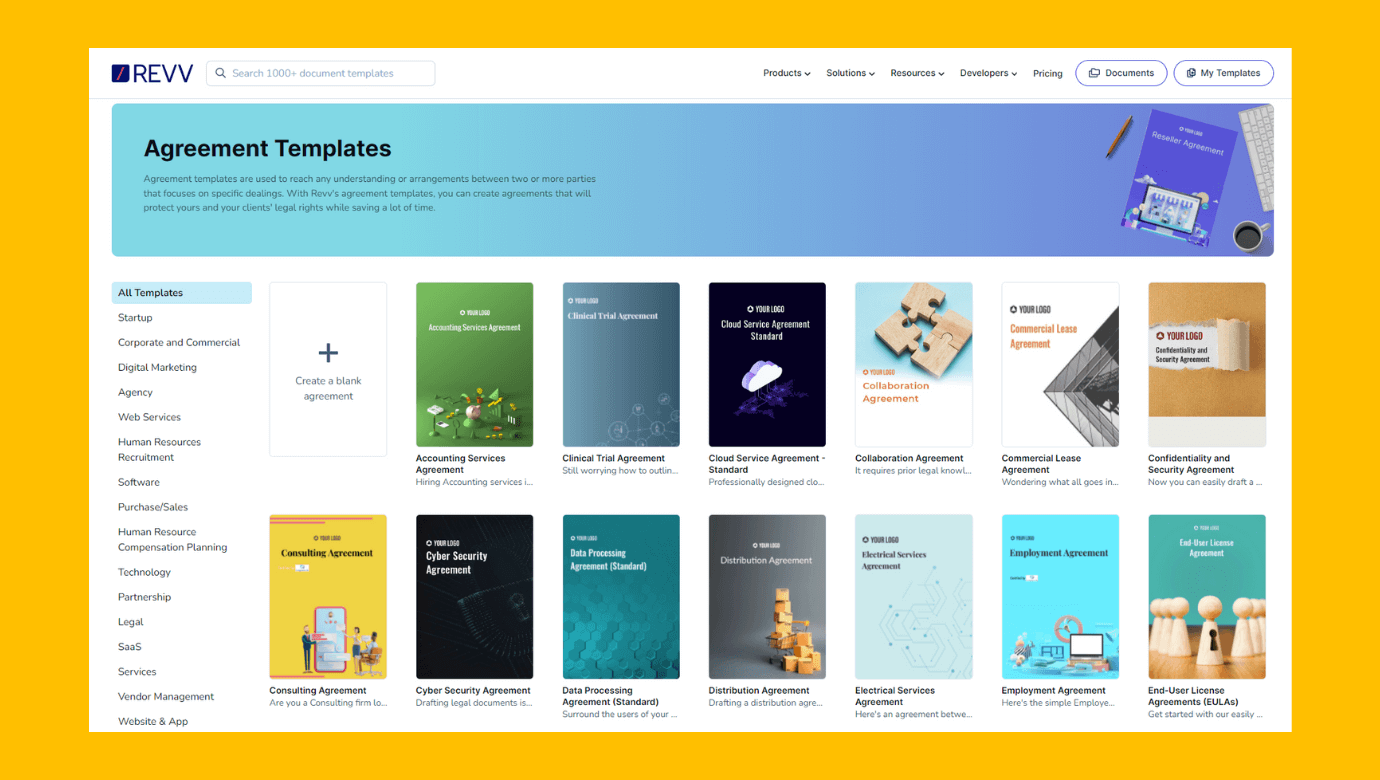 👉 Customize your partnership agreement using a rich editor
Each partner is special and so is the partnership agreement. Revv's rich editor is user-friendly and enables you to personalize the partnership agreement as you desire. It has various elements including tables, images, text, and eSign blocks that can be added with a simple drag and drop action. You can also link Google Sheets and import data right within the agreement.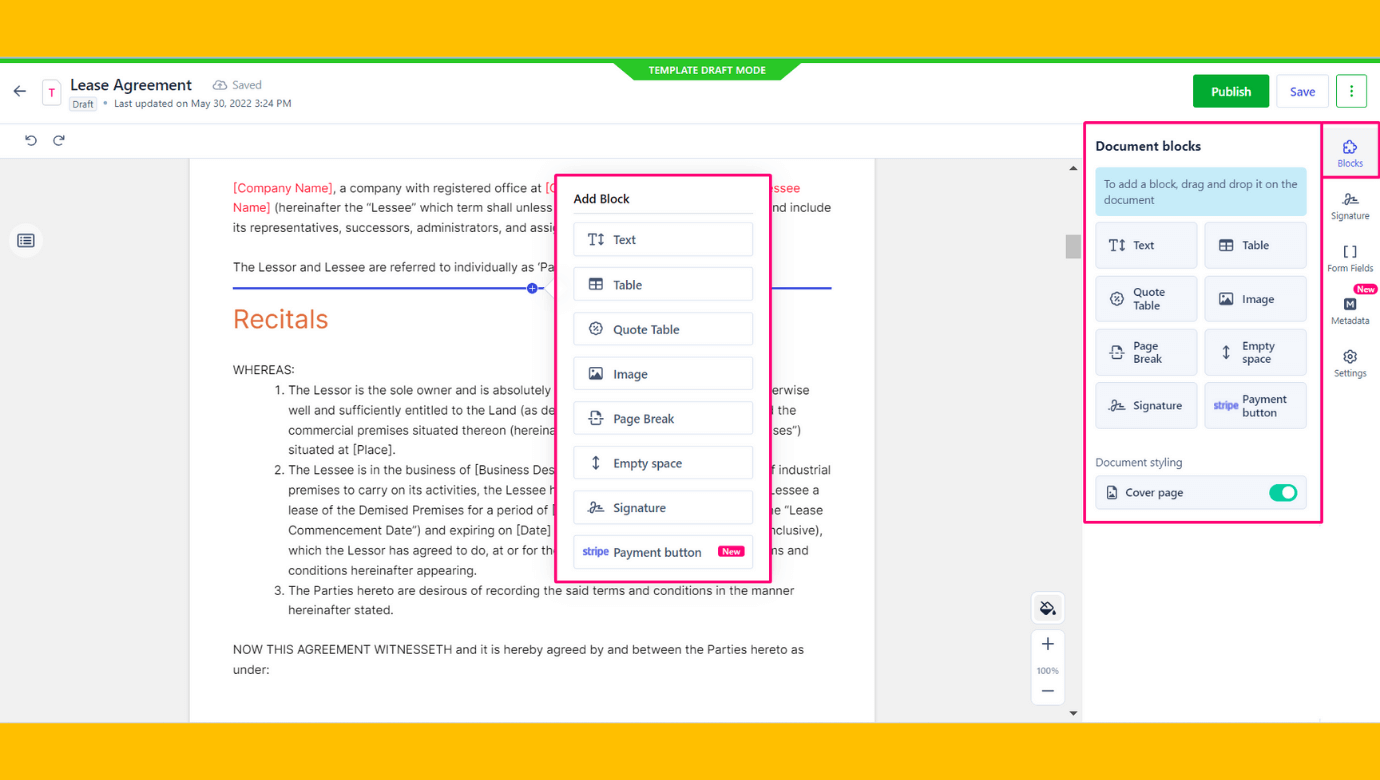 👉 Create partnership agreements in a blink with form fields
Partnership agreements are lengthy documents with details like partner name, date of commencement, terms, etc. occurring repeatedly in several instances. Manually typing them every single time is a monotonous task. Sometimes these details also change for different agreements based on the partner. Finding a simpler way? Check out Form Fields in Revv!
Form Fields are fillable placeholders for such repetitive fields that transform your agreement into a form-based document. With this feature, you can generate agreements in a jiffy and boost your productivity.
Whenever you create a partnership agreement from a form-based template, you have to fill each unique form field once and every other occurrence of the field in the agreement gets automatically filled.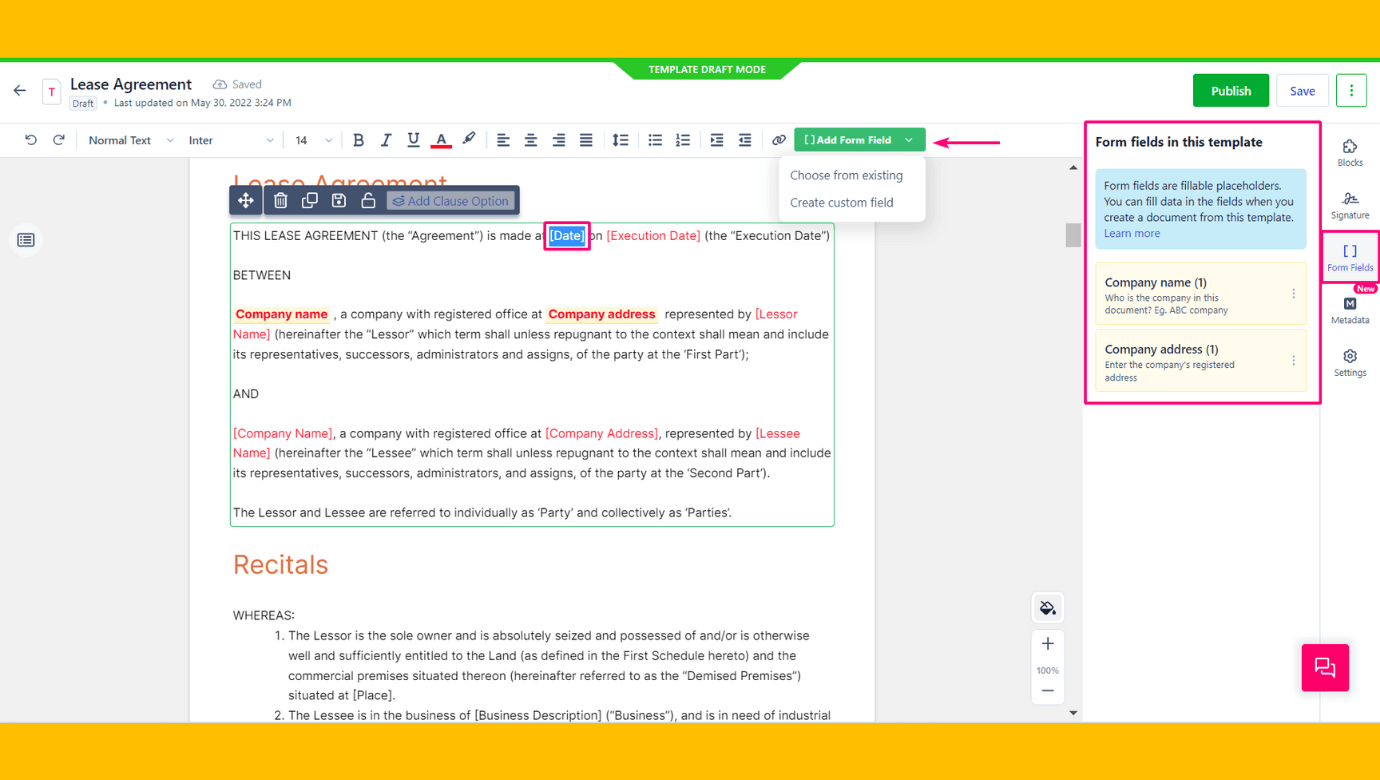 If you want to gather some information on the agreement from your partners, you can do that too by assigning the respective form fields to them.
Once your work on the template is complete, you can publish it and keep it ready for document creation.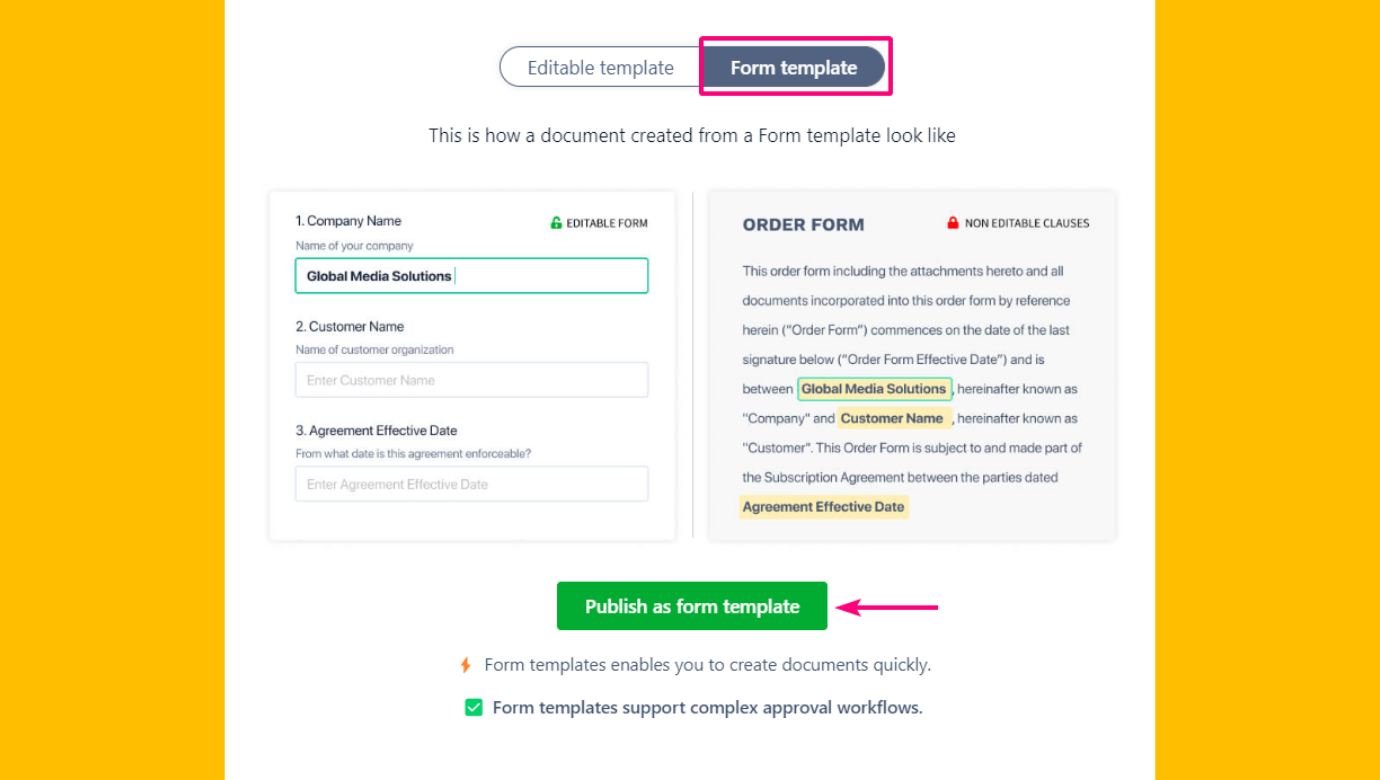 👉 Control the progress of your partnership agreement with Pipelines
Each partnership agreement's lifecycle is different. Monitoring your agreement's progress through several stages is tedious and demands undivided attention. Solution? Automate it with Revv's Pipelines.
The Pipelines feature allows you to organize and create a space for all your partnership agreements under one roof. Each pipeline has lanes that represent the status of the agreements like new, in review, closed, etc. This gives an overall view of all the agreements and in what stage they are in. You can also customize these lanes by changing their name, color, and the order in which they appear.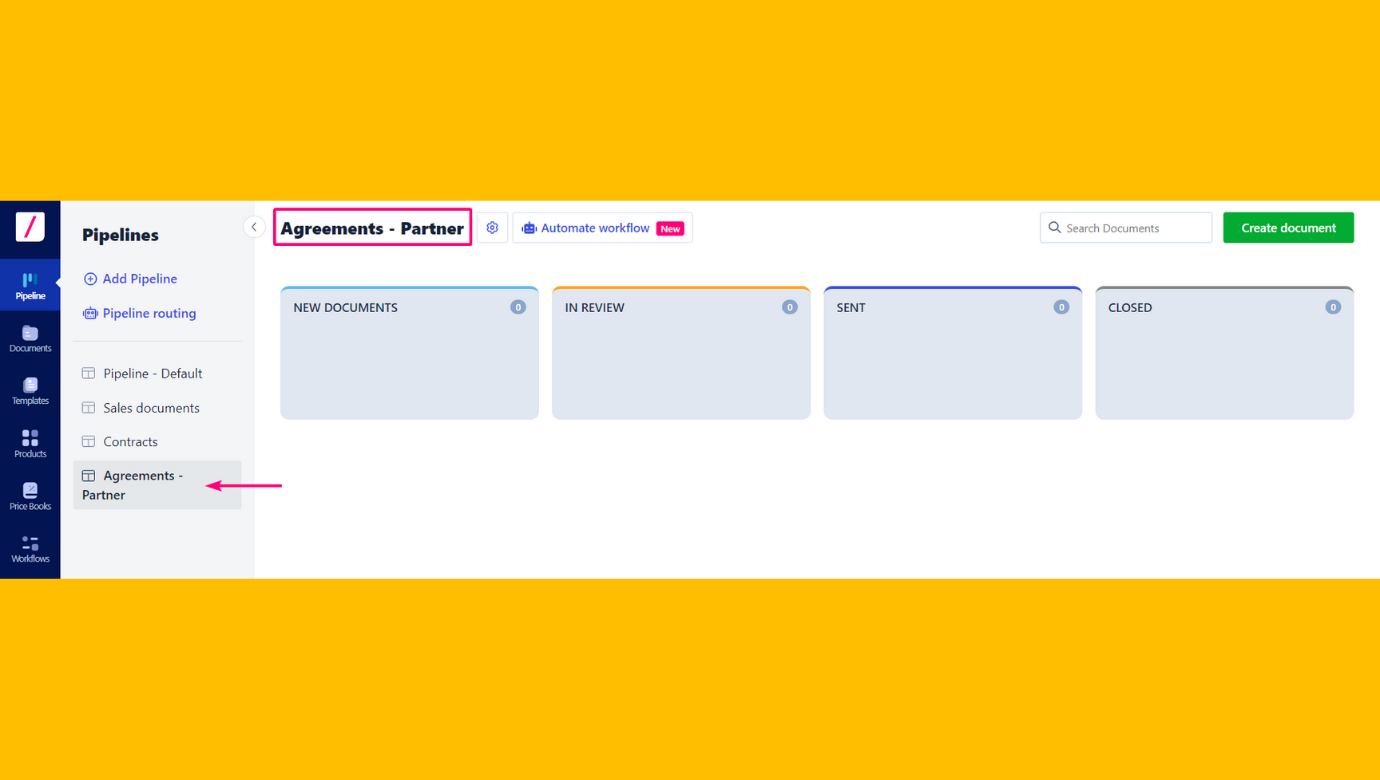 Once you add a partnership agreement-specific pipeline, you have to create a channel through which all the partnership agreements will automatically flow into the pipeline. How? Try pipeline routing. As the name implies, with pipeline routing, you direct all documents created from a template to the designated pipeline.
For instance, whenever you create a document from the Lease Agreement template, it will by default be moved to the Agreements-Partner pipeline.
The Pipelines feature has other functionalities like adding lane transitions, lane jobs, and reminders. Let us learn about them in-depth.
Adding Lane Transitions
When an agreement is in the pipeline, you can automate its lane-to-lane movements using Lane Transitions. This works by assigning lane events to a lane — an entry condition of an agreement into a lane. Only when the event happens on an agreement, it moves to the specified lane.
For example, you can create a new lane called Approved. The partnership agreements will transition to this lane only when they are internally approved or pending internal approval.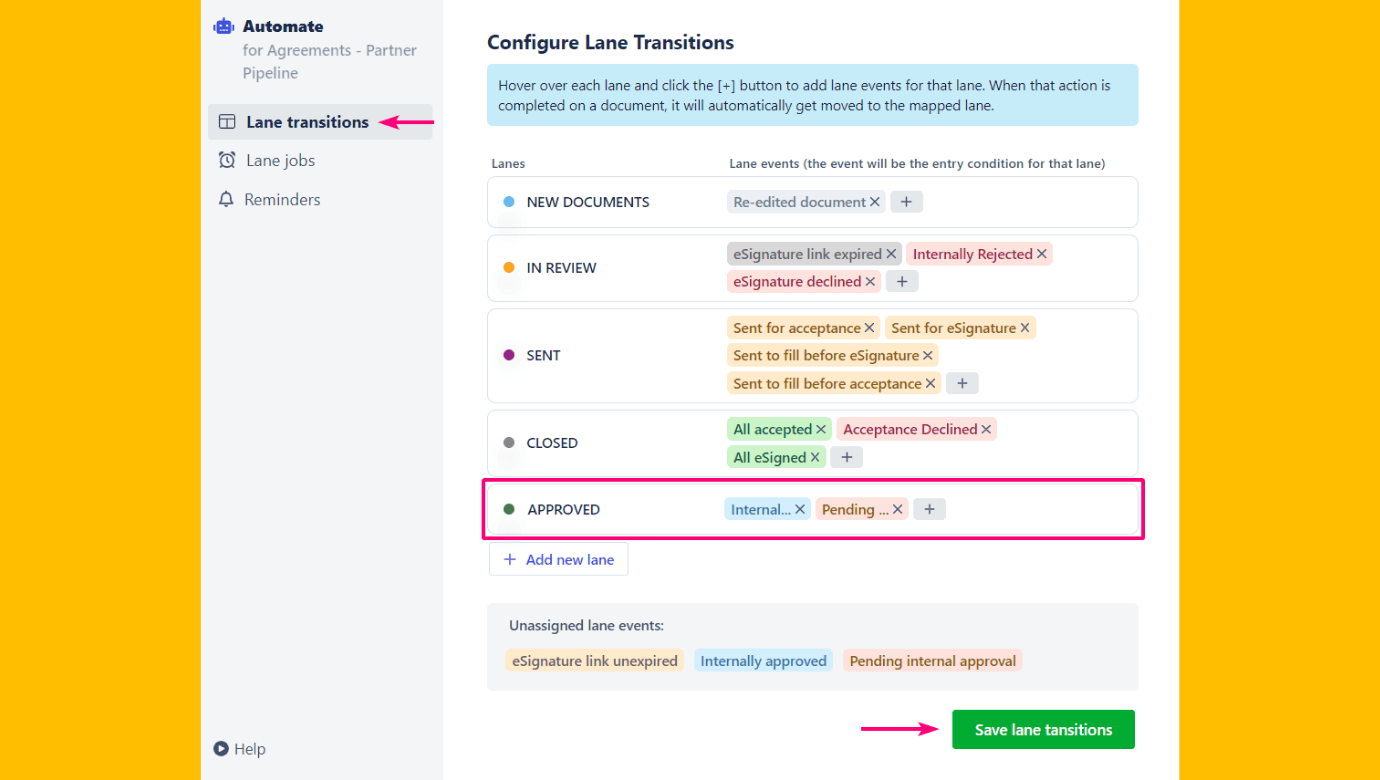 Adding Lane Jobs
The Lane Jobs functionality allows you to specify a task that must take place when an agreement shifts to another lane. Tasks like sending notifications to your colleagues about the recent change, transferring the agreement to other applications, updating the systems of records, etc.
For instance, when a partnership agreement moves to the Approved lane, you can notify your teammate via email about the change.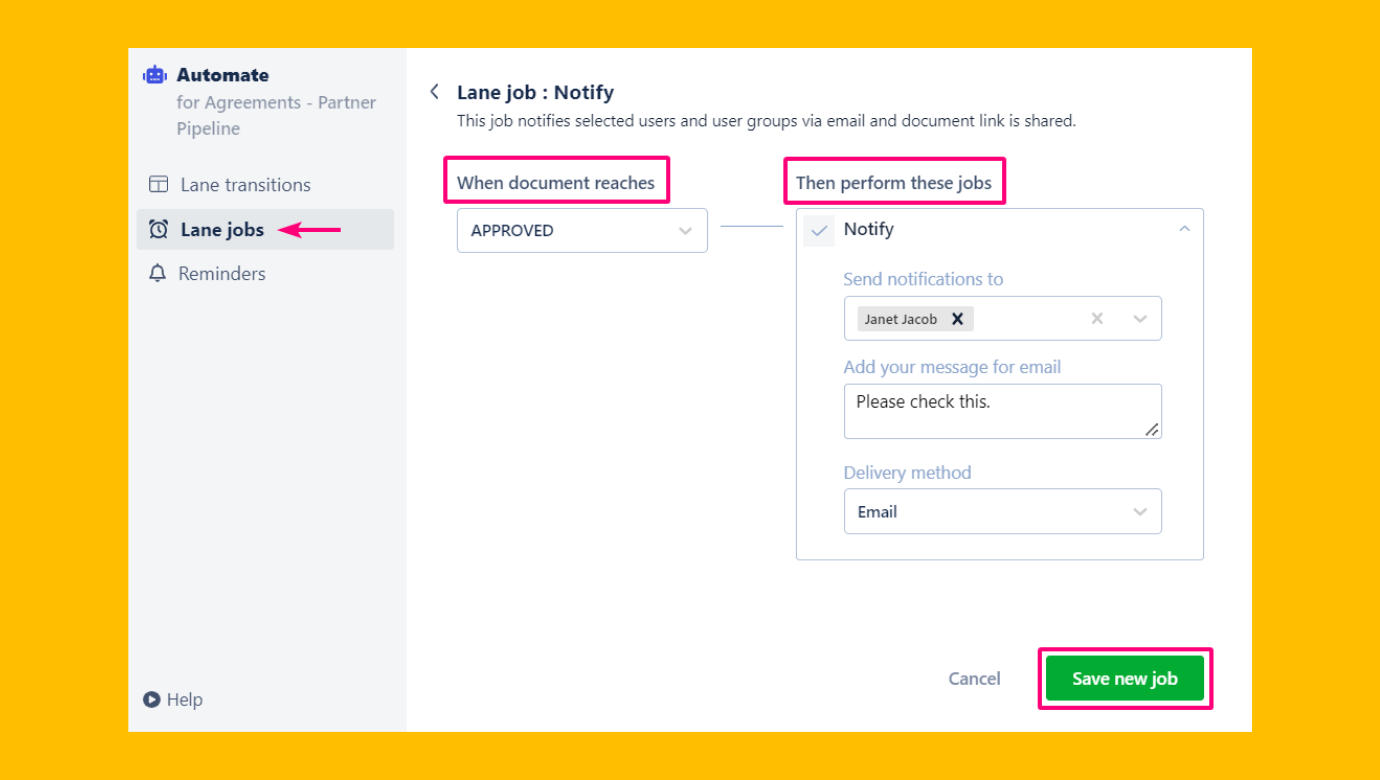 Adding Reminders
Tired of doing manual follow-ups? Set up reminders to do it for you!
Reminders are used to inform an agreement's recipient to complete a pending action. It will be applied to all the documents that enter a particular pipeline.
For example, you can set up a reminder that notifies the recipient every day to sign a document sent to them.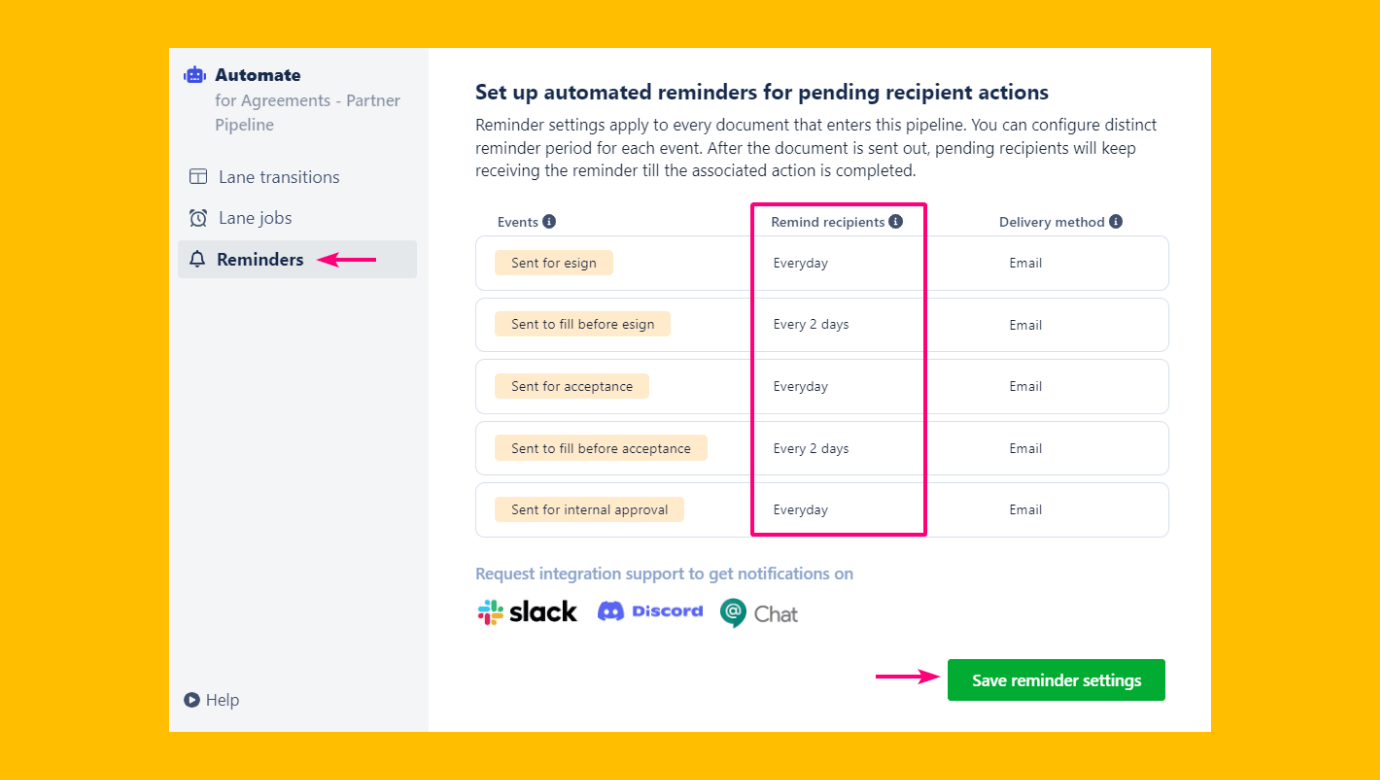 👉 Integrate with other applications for smooth data flow
Revv provides integrations with various third-party apps using which you can sync data to your Revv account. Integrating Revv with other processes will ease your partner relationship management. Some of Revv's in-built integrations are:
Storage systems like Box, Dropbox, Google Drive, etc.
CRMs like Salesforce, Zoho, HubSpot, etc.
Billing and payment apps like Chargebee and Stripe
Accounting software like QuickBooks
Excel Sheets and Google Sheets to import data
Chat platforms like Slack and Google Chat
Revv's integration capabilities are further powered by Zapier, Retool, and Native API solutions.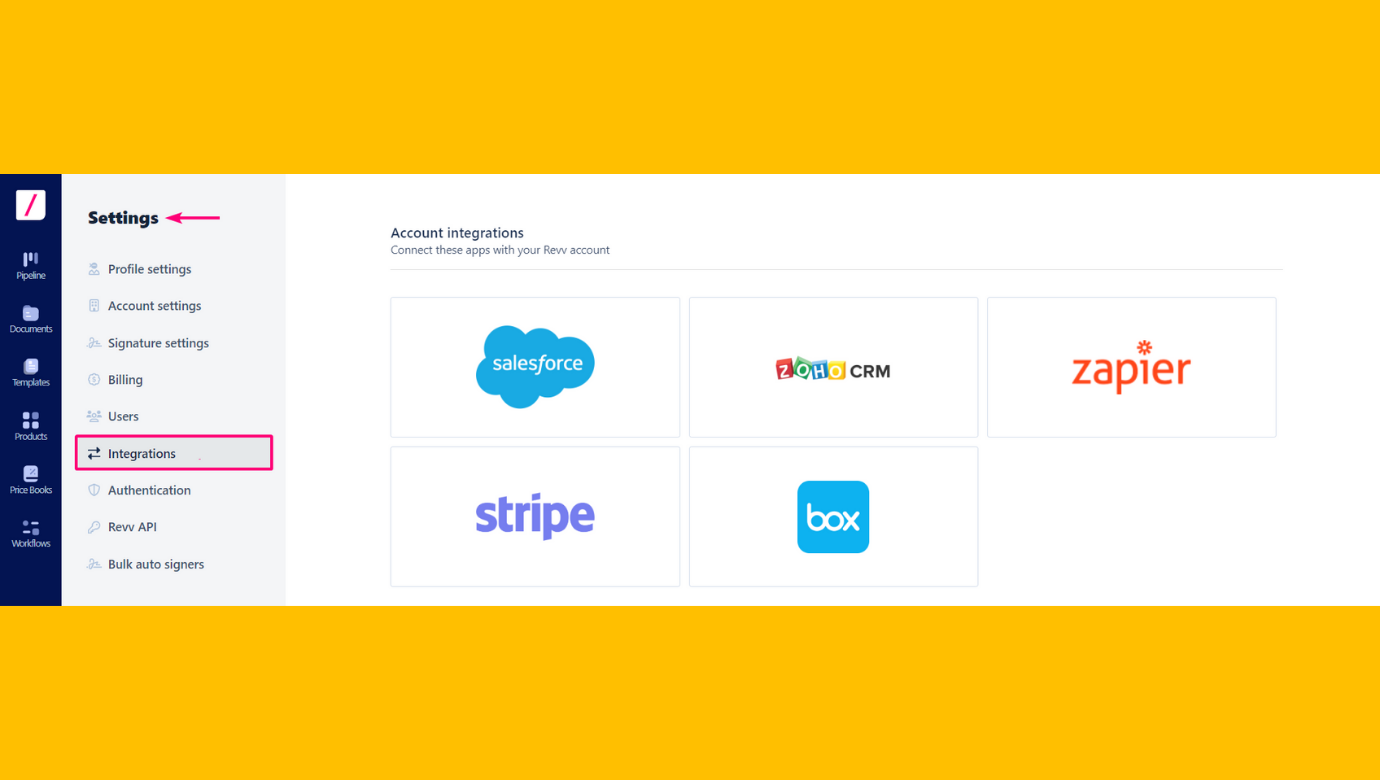 👉 Manage your data with the help of Data Studio
Struggling to transfer partner-related data from one application to another? We offer a seamless data-mapping tool — Data Studio! It does not depend on scripts, coding, developers, or API, and reduces the data mapping time from hours to minutes.
The Data Studio allows you to:
Seamlessly pull in data from external sources like CRM, HRMS, ERP, etc., to Revv with a simple point-and-click action
Map all the data from other platforms to respective form fields in Revv templates
Create precise agreements irrespective of the size and complexity of the data
Generate partnership agreements in bulk and send for eSignature
Increase productivity and efficiency of the workforce as they are freed from manual data entry processes
Effortlessly manage document workflows and reduce turnaround time to close your deals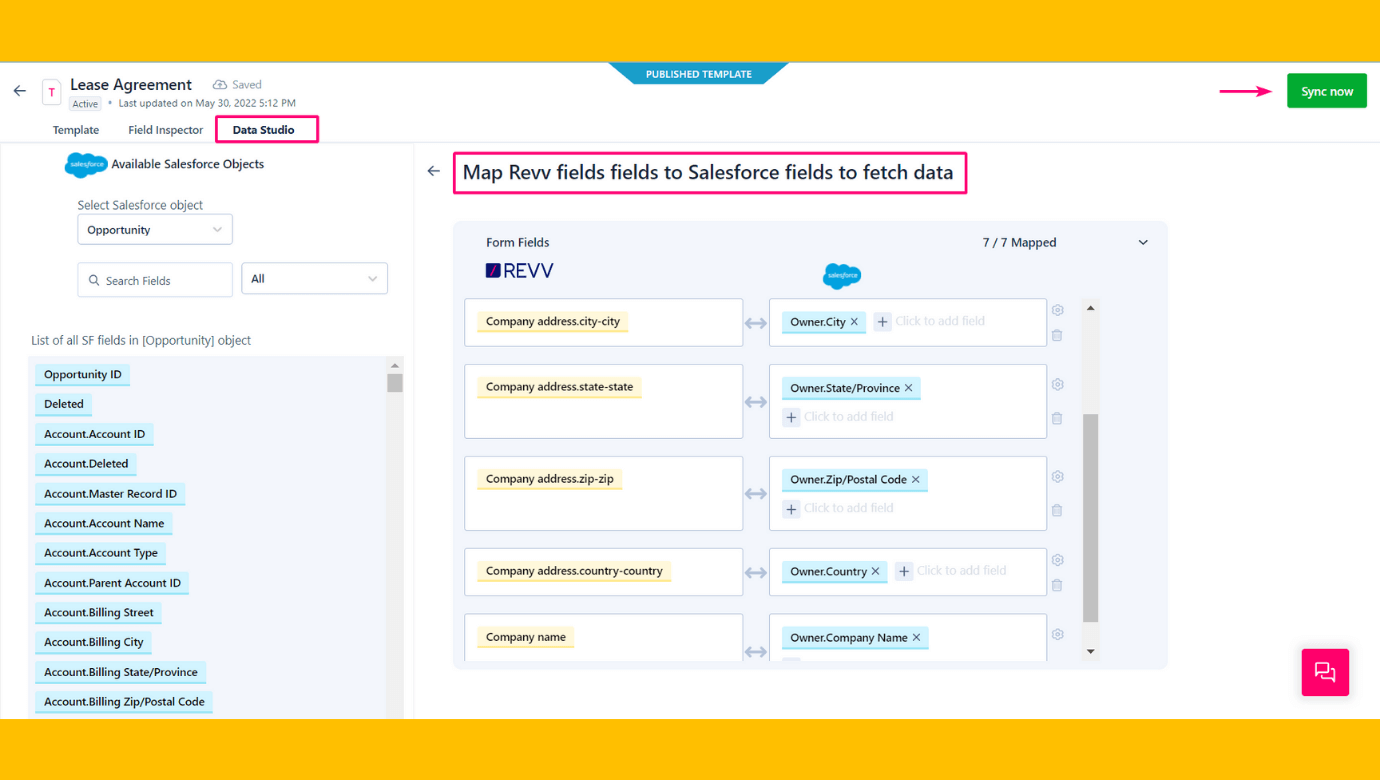 👉 Generate multiple partnership agreements at once
In cases where you have to create more than one partnership agreement, use Revv's Create Bulk Documents feature. As the name suggests, you can create multiple partnership agreements altogether from any published template. The agreements will be created in seconds based on the data present in your source file. It is the best way to reduce your effort and get the work done in a few clicks.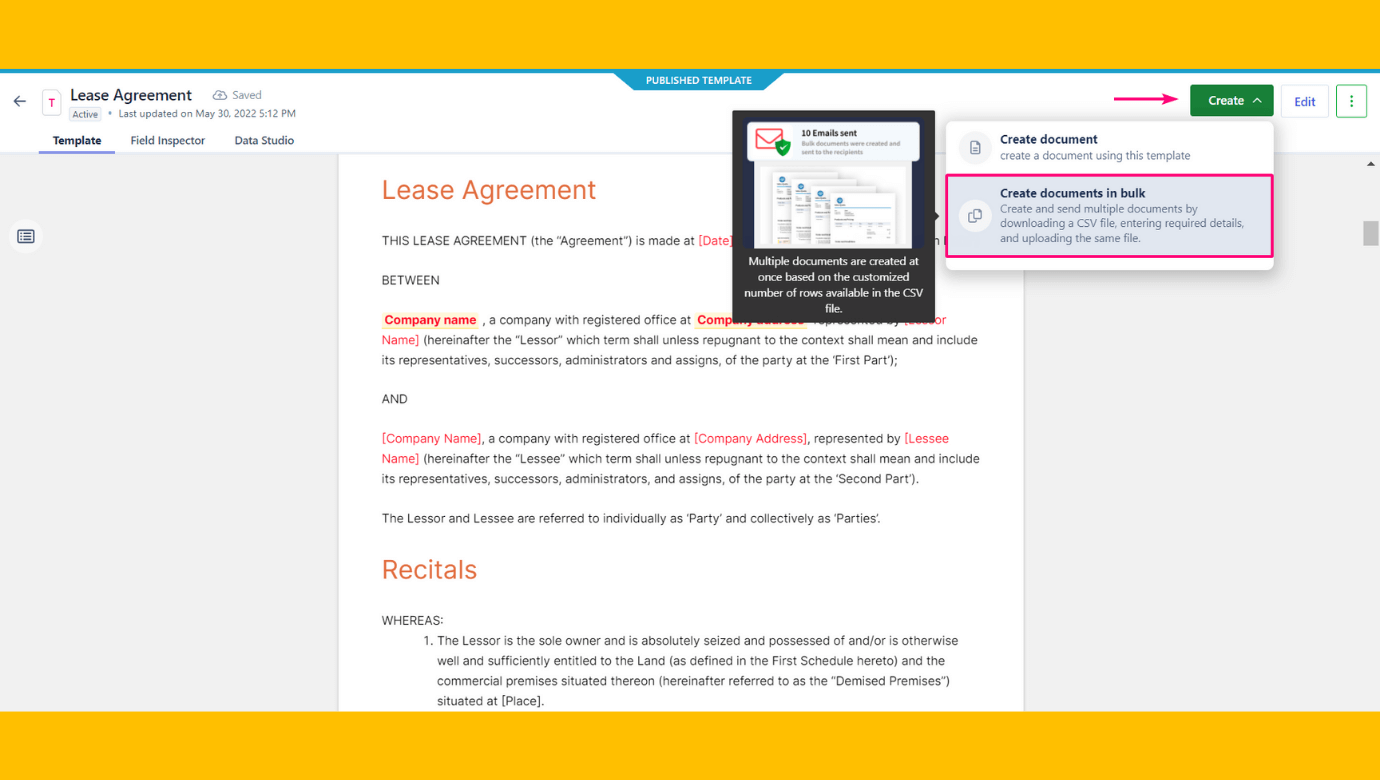 What if your data is in an external app like a CRM, ERP, etc? You can still create partnership agreements in bulk. How? Data Studio.
In Data Studio, after syncing your data from the connected external app, you can select multiple rows and create partnership agreements in one go.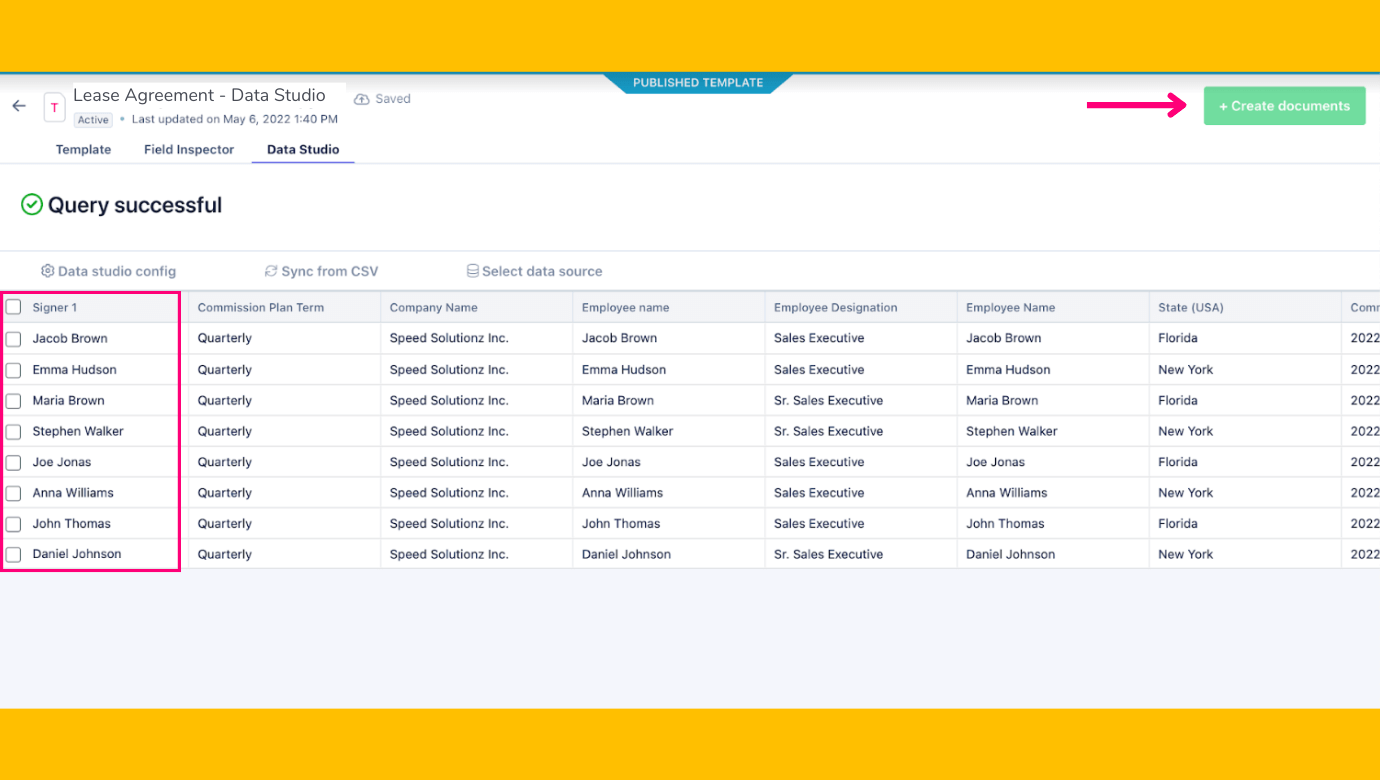 👉 Collaborate with your associates within the partnership agreement
Partnership agreements are sensitive documents and they need to be double-checked before finalizing. Revv allows you to collaborate with your teammates and speed up the agreement closures. You can tag them from within the agreement, have conversations via notes, and use attachments to support the conversation. This enables everyone to work together and come up with an error-free agreement.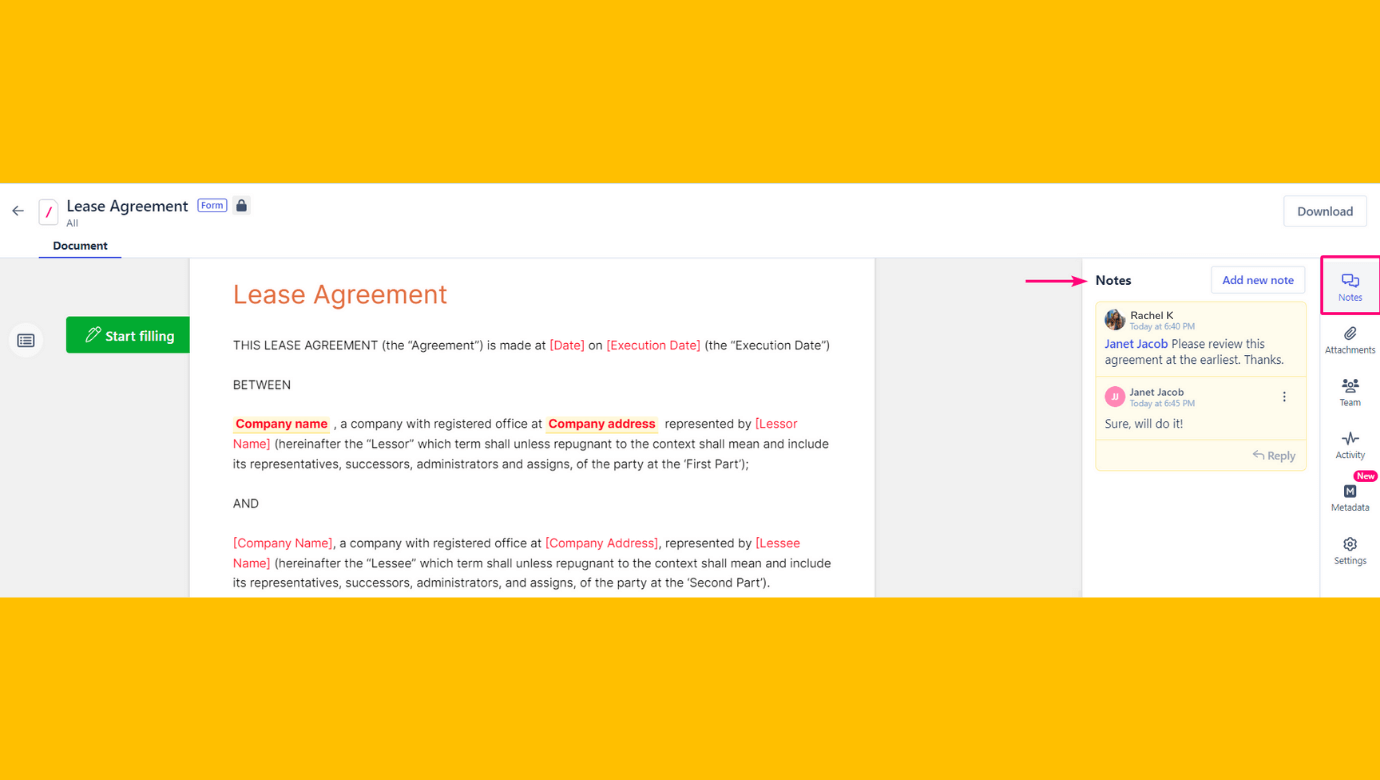 👉 Ensure that your partnership agreement is accurate by sending it for approval to your internal teams
How can you achieve an error-free and precise partnership agreement? With approvals.
Approval Workflows in Revv enable you to automate the agreement review process, ensuring it runs through all the checks.
Agreements have clauses, terms and conditions, and other crucial information that might need internal approvals from your teammates. In such cases, you can select a specific clause in the template and attach a workflow to the clause field by defining the conditions and actions.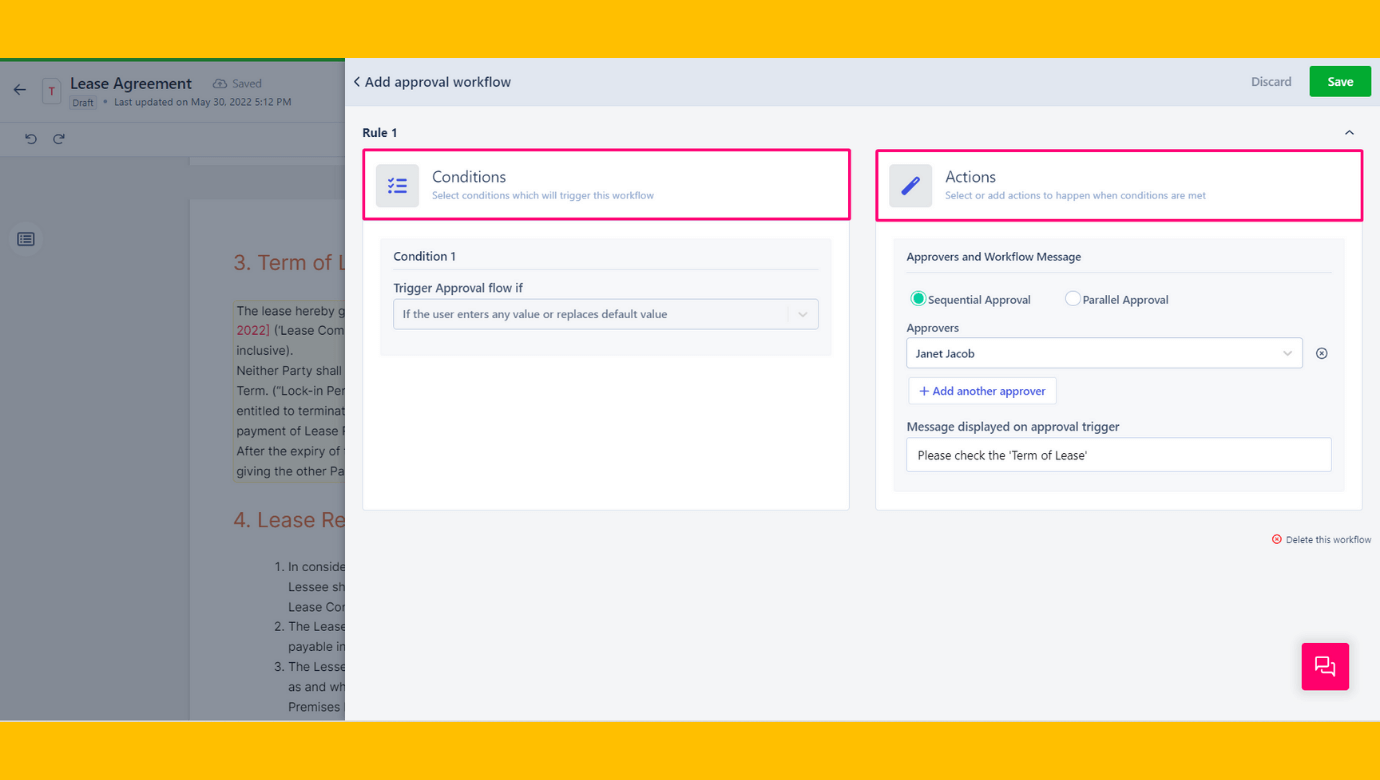 After you add an approval workflow to a clause, if there are any changes made to the clause, the workflow will automatically trigger and the partnership agreement will be sent to the approvers instantly.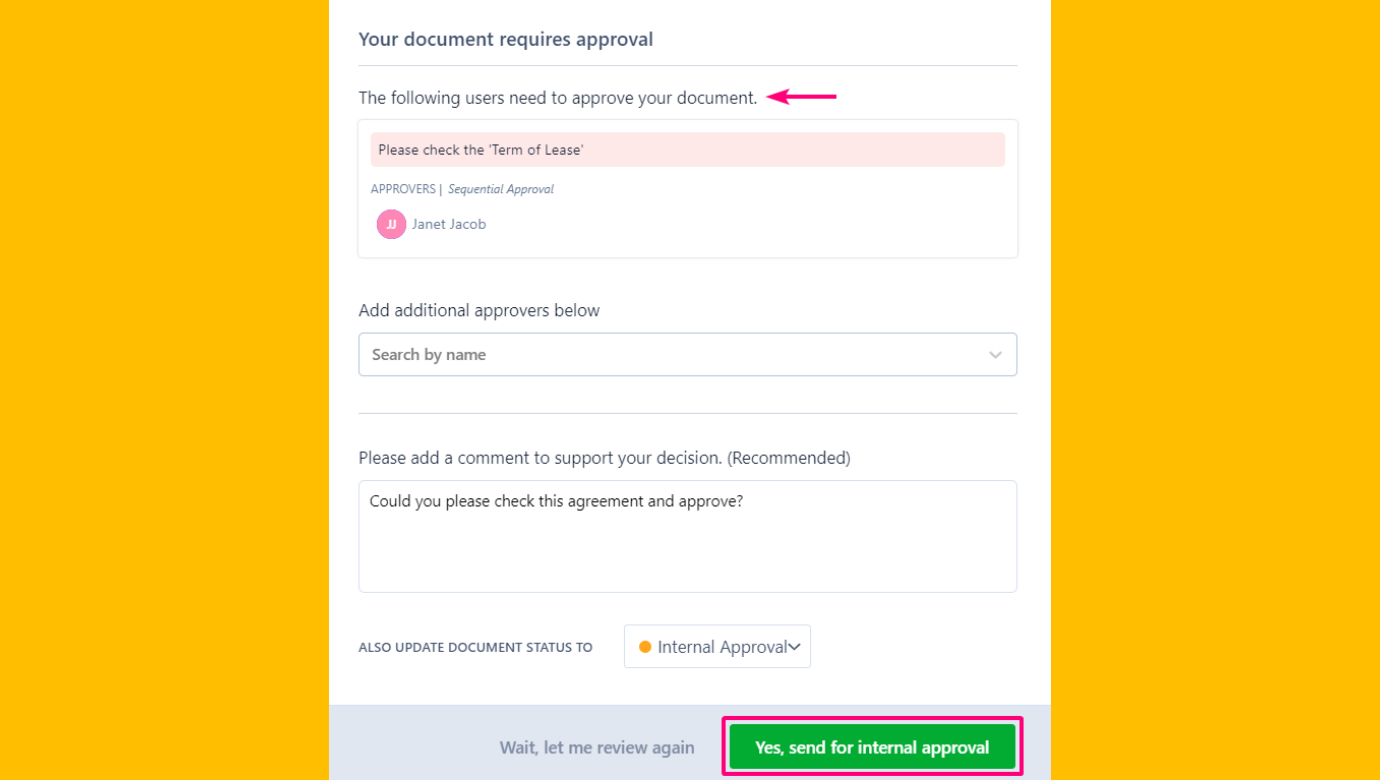 👉 Send your partnership agreement for reviews via email to your partners
You can email the partnership agreement to your partner for quick reviews and make sure you both are on the same page. You can share the agreement with view access or provide edit permission to enable customers to do changes to the agreement, then and there.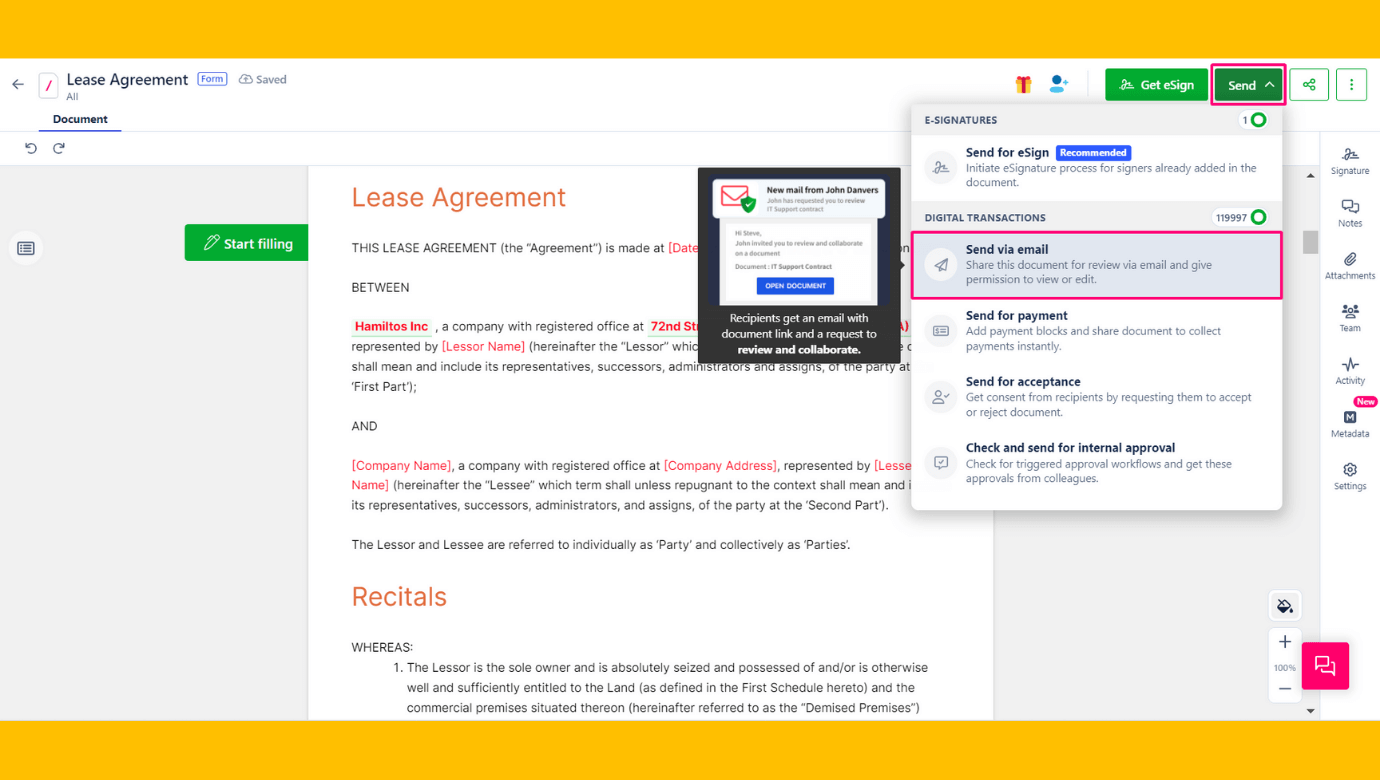 👉 Obtain eSignatures in just a click
A partnership agreement becomes official only when it is signed by both parties. Revv provides a completely secure eSign advantage as it complies with the local and global eSignature laws including ESIGN Act, UETA, and eIDAS Regulation. Revv's inbuilt eSign feature allows you to send an agreement for eSign within the system and not rely on any external apps. It provides an added layer of security with SMS-OTP authentication to verify the signer's identity.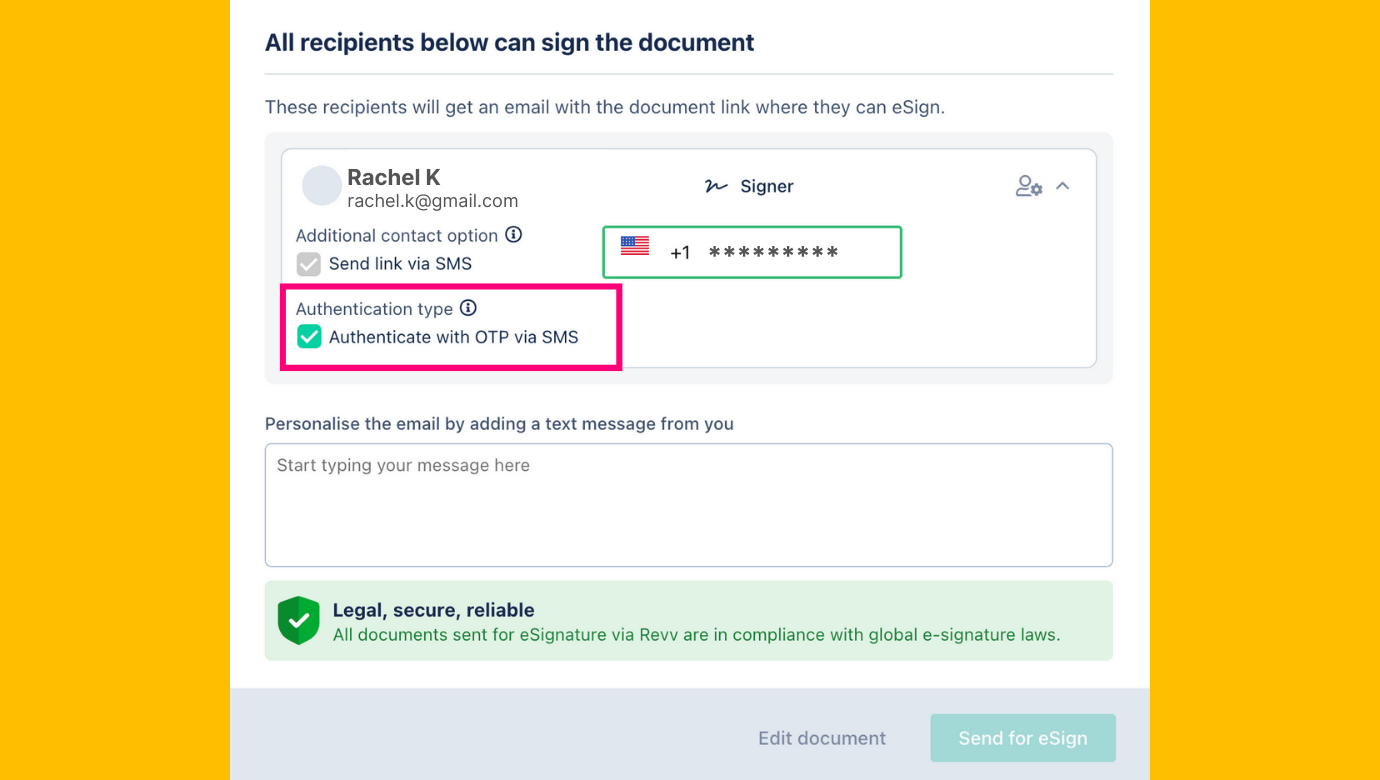 You can drag and drop the signer blocks in the partnership agreement, assign specific signers to it, and get the agreement signed successfully. The best part is that Revv provides more than one way to place the signature on the agreement. You can either type your signature, draw it with a mouse or stylus, upload a scanned copy of the signature, or use a crypto wallet — all in just a click.
Hey, were you thinking about sending agreements for eSign in bulk? We heard you.
Using Data Studio, you can sync data from an external app to Revv through any template. Once that is done, all you have to do is select multiple rows at once and send documents for eSign directly.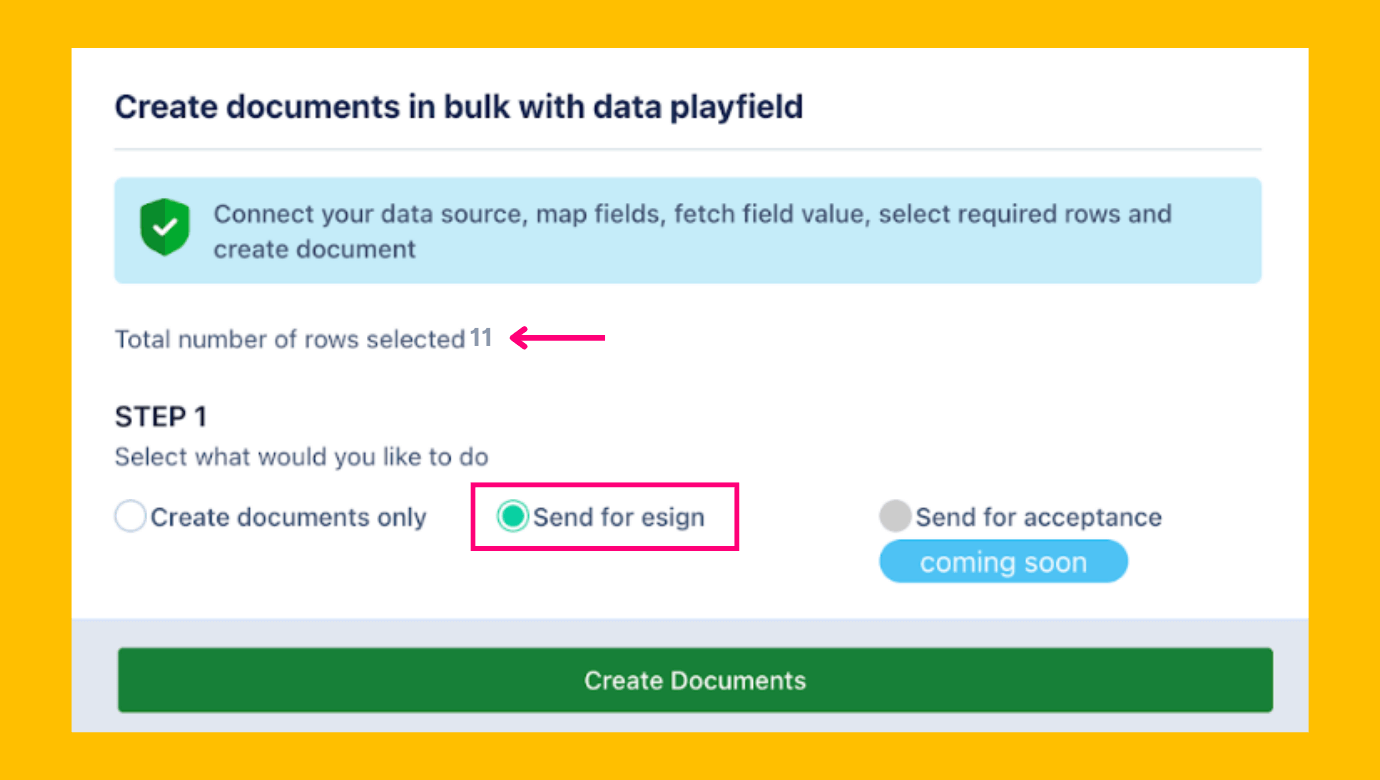 Revv provides another unique feature wherein you can assign autosigners. Autosigners can be the employees in your organization who juggle signing multiple documents in a day. This feature is a boon to them as it involves zero involvement of the signer. All they need to do is authenticate and provide their signature once. After the authentication, if a partnership agreement is assigned to them, their signature will be recorded automatically.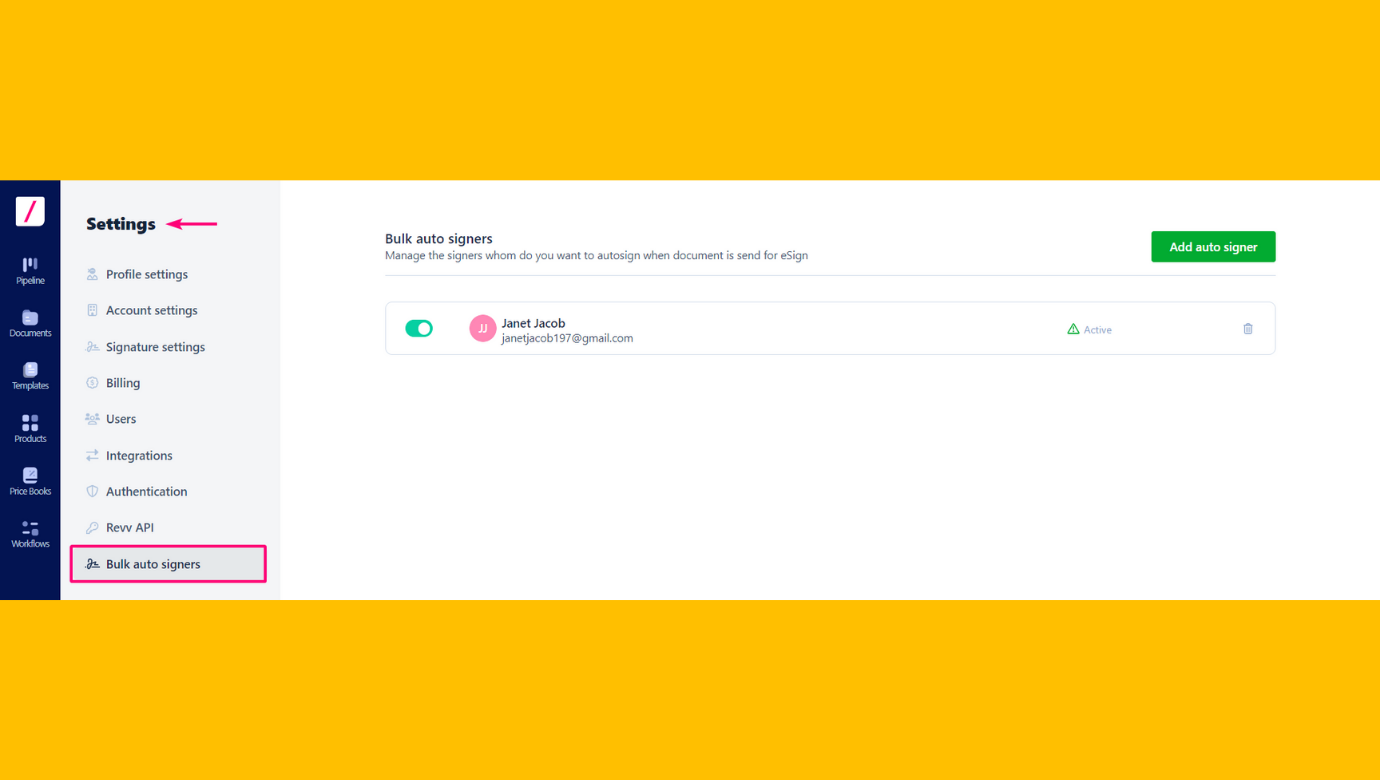 👉 Be audit-ready with a legally valid Evidence Summary Certificate
Is your agreement's compliance the cause of your worry? Snap out of it, because we have an Evidence Summary!
Revv generates an Evidence Summary for all the agreements once eSigning is completed. It is an audit trail, a digital certificate that records all actions taken during the signing process, which includes – the signer's information, date and time stamp of each action taken by the signer, their IP address, and other details that act as legal proof.
It is legally admissible and can be downloaded as soon as the signing is completed by all the signers.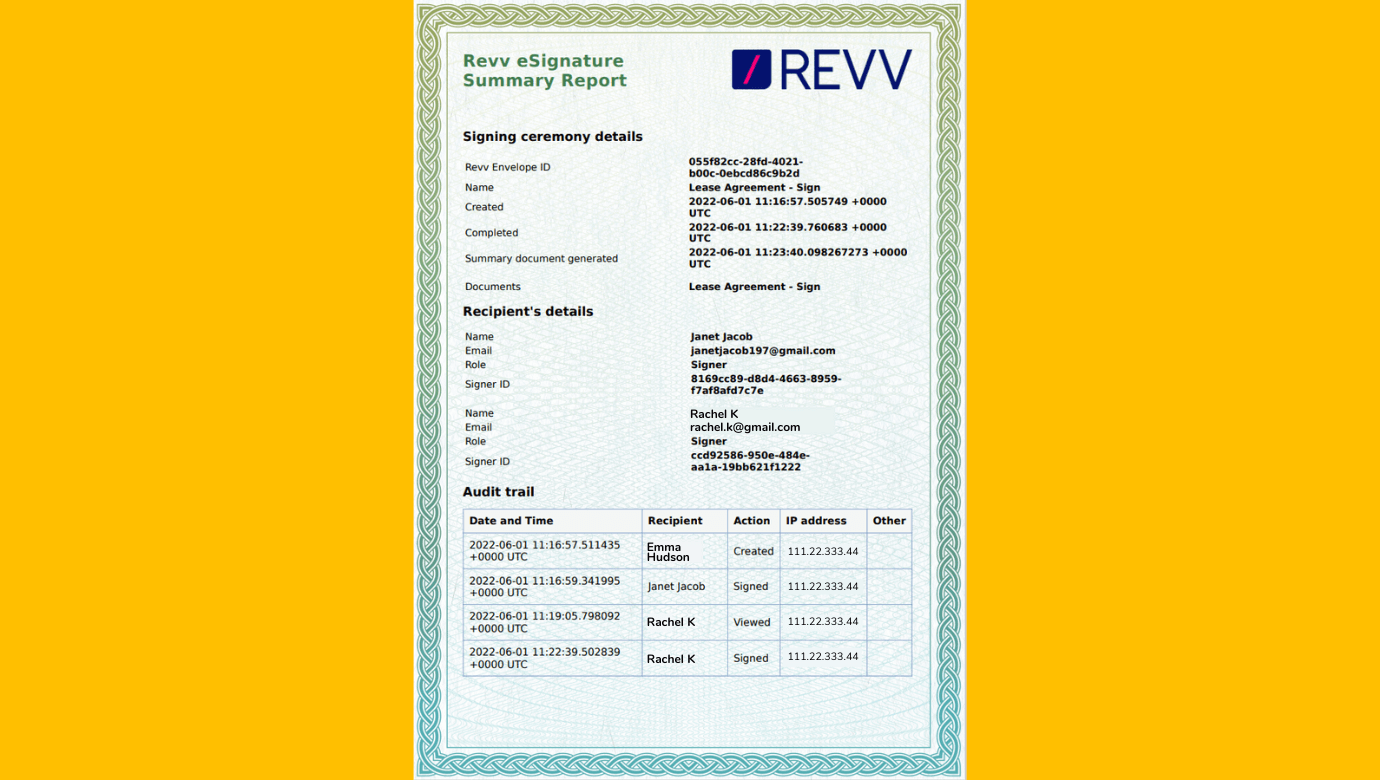 👉 Follow your partner's activity on the agreement in real time
A partnership agreement normally goes through a lot of stages and suffers unnecessary delays. The best way to identify these roadblocks is by using the Activity feature in Revv. This feature allows you to track user activity even after an agreement is sent to a partner. It shows information like — who opened the document, who viewed the document, who signed the document, along with timestamps.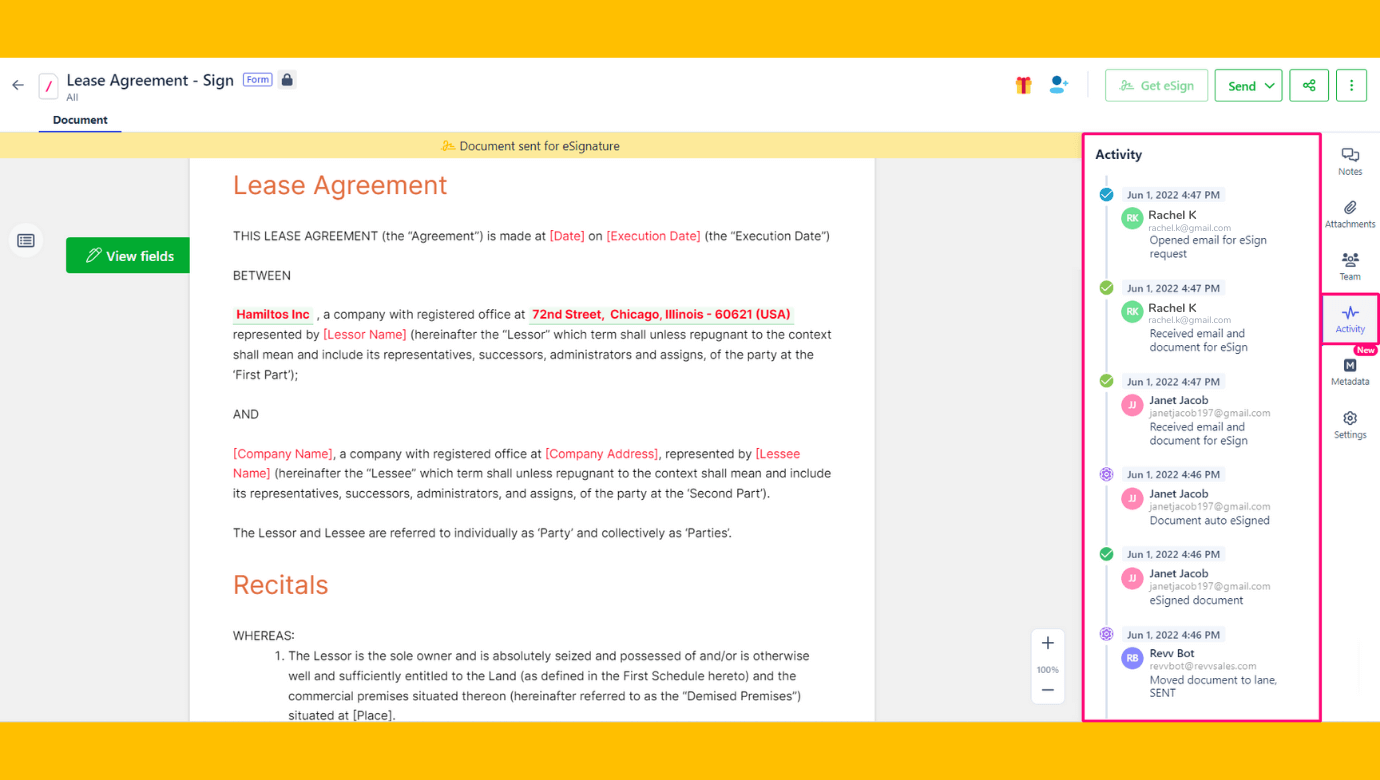 👉 Notify your partners to take the right action at the right time
How would you know if your partner has signed the document or not? Check your email. One of the BIG little things in Revv is the Notifications feature. Whenever you send a partnership agreement for approval, acceptance, or eSignatures, Revv generates and sends automated email notifications to both sender and recipient via auto-generated emails.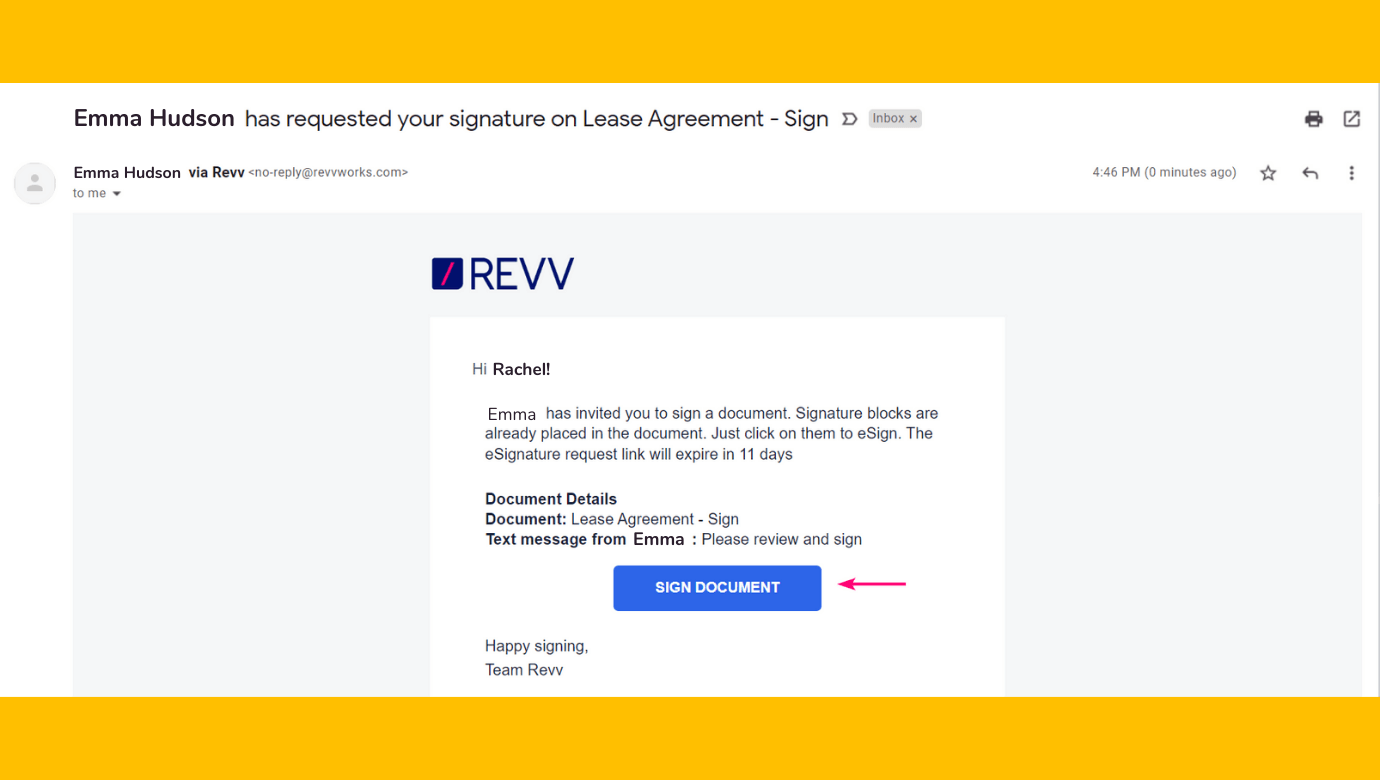 It's time to amp up your partner onboarding process with Revv
In this day and age, it is highly essential to convert your business to completely digital and enhance your partner onboarding experience. Revv not only helps you in creating partnership agreements but also automates the entire lifecycle and the process of the partnership agreements.
You can sign up to Revv for free or schedule a demo to understand better about our automation capabilities. Revv customizes its pricing plans based on the customer's needs. Revv experts will create the best price plan for your business based on the number of user licenses, document volume, eSignatures, and automation features. Get your pricing plan now!
See you on the other side! 😊