Invoice processing is a crucial stage in a business process. It helps in improving your cash flow management, maintaining records, and tracking payments. An invoice process can become increasingly complex as your business scales. The complexity can further aggravate if your invoice process relies on the traditional pen-paper-email method. It can lead to increased processing time, productivity decline, data entry errors, and unending follow-ups.
Opt for an invoice processing automation solution to create an error-free, efficient, and streamlined account payable process. In this blog, learn how Revv empowers you to accomplish invoice processing automation in just five steps.
Challenges of manual invoice processing
Invoice management starts from entering accurate information from spreadsheets while maintaining consistency, reviewing and approving invoices, receiving payments, to finally getting signatures on them. The responsibility of invoice processing lies on your accounts department's shoulders and things can easily go from bad to worse if the invoice processing is not done the right way.
Here are some of the challenges faced by them due to manual invoice processing:
Payment delays: Paper invoices take a long time to be entered into the system. Approving them also gets delayed especially if you have multiple approvers from different departments.
Fraud risk: Financial documents are crucial to a company and must be handled safely. If your invoices get exposed to manipulations, theft, or cyber-attacks, such incidents can lead to reputation damage and business loss.
Unmatched data: As the saying goes "To err is human," manual data entry in invoices are subjected to errors and complications. This can increase the accounts team's load as detecting these discrepancies and correcting them consumes a lot of time and energy.
Invoices misplaced: Chances of losing invoices under a heap of papers are very high, especially when many individuals are involved in it. Finding the missing invoice becomes an insufferable job that your accounts team is better off without.
Duplicate payment: One of the major drawbacks of paper invoices is double payments. With the accounts team engrossed in managing invoices for multiple clients, the possibilities of entering the wrong information and sending double payment requests increase.
All the above challenges can lead to a lot of chaos, follow-ups, time wastage, and productivity loss. This might create a snowball effect and damage your reputation in the end. To overcome the above hurdles, it is important to switch to invoice processing automation software and:
Slash the error rate
Save your manpower expenses
Speed up the approval process
Eliminate duplicate payments
Read on to understand how Revv's advanced automation features simplify invoice processing.
Revv's checklist to attain top-notch automated invoice processing
✅ Maintain uniformity in the invoices

1. Develop consistent invoices with templates
Revv offers carefully designed, customizable, legally vetted, and ready-to-use invoice templates. This takes the burden off the accounts team's shoulders and also enables them to create error-free invoices on time. Check out Revv's template library and complete invoice generation in a jiffy!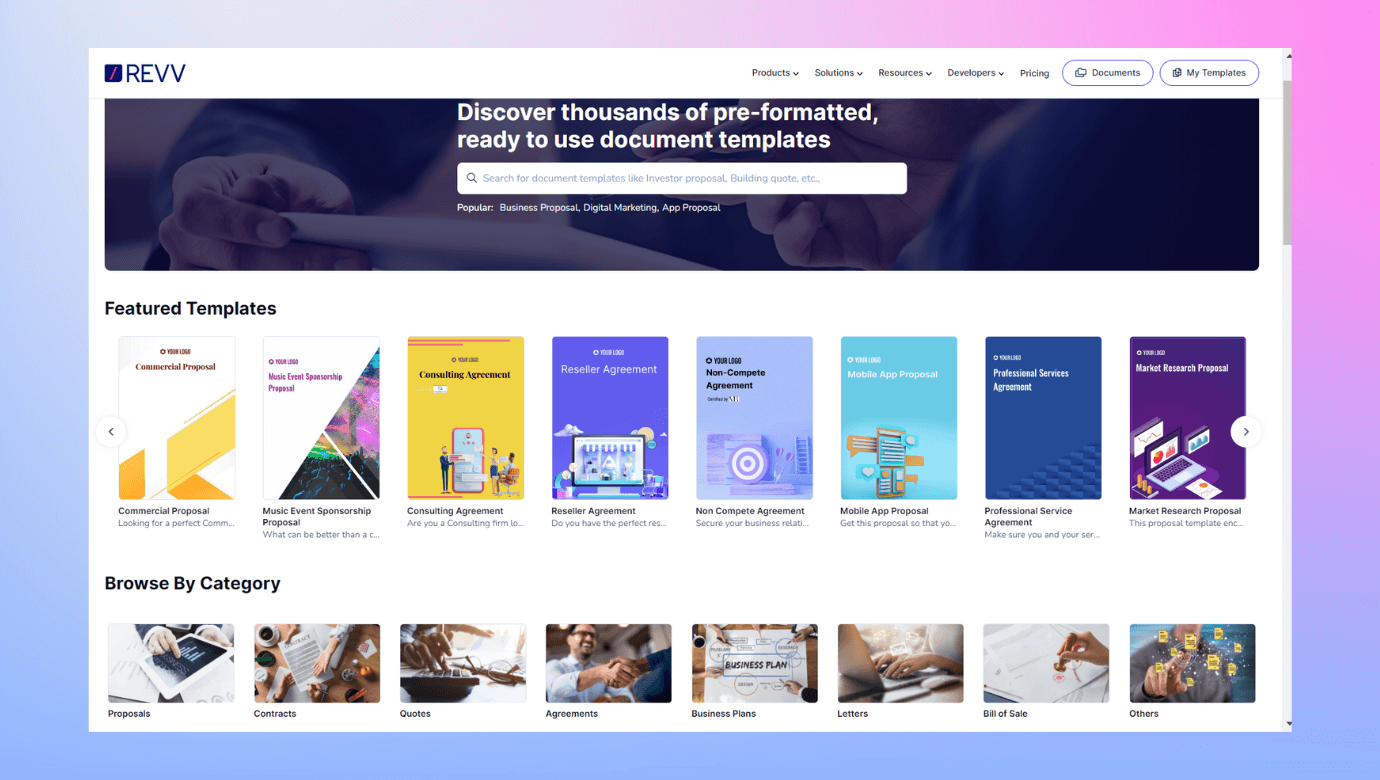 2. Personalize the invoice with a rich editor
Revv's efficient editor is user-friendly and allows your accounts team to personalize the invoice based on the client's requirements. It has various elements like tables, images, text, payment, and eSign blocks that can be added with a simple drag and drop action. You can also link Google Sheets and import data right within the invoice.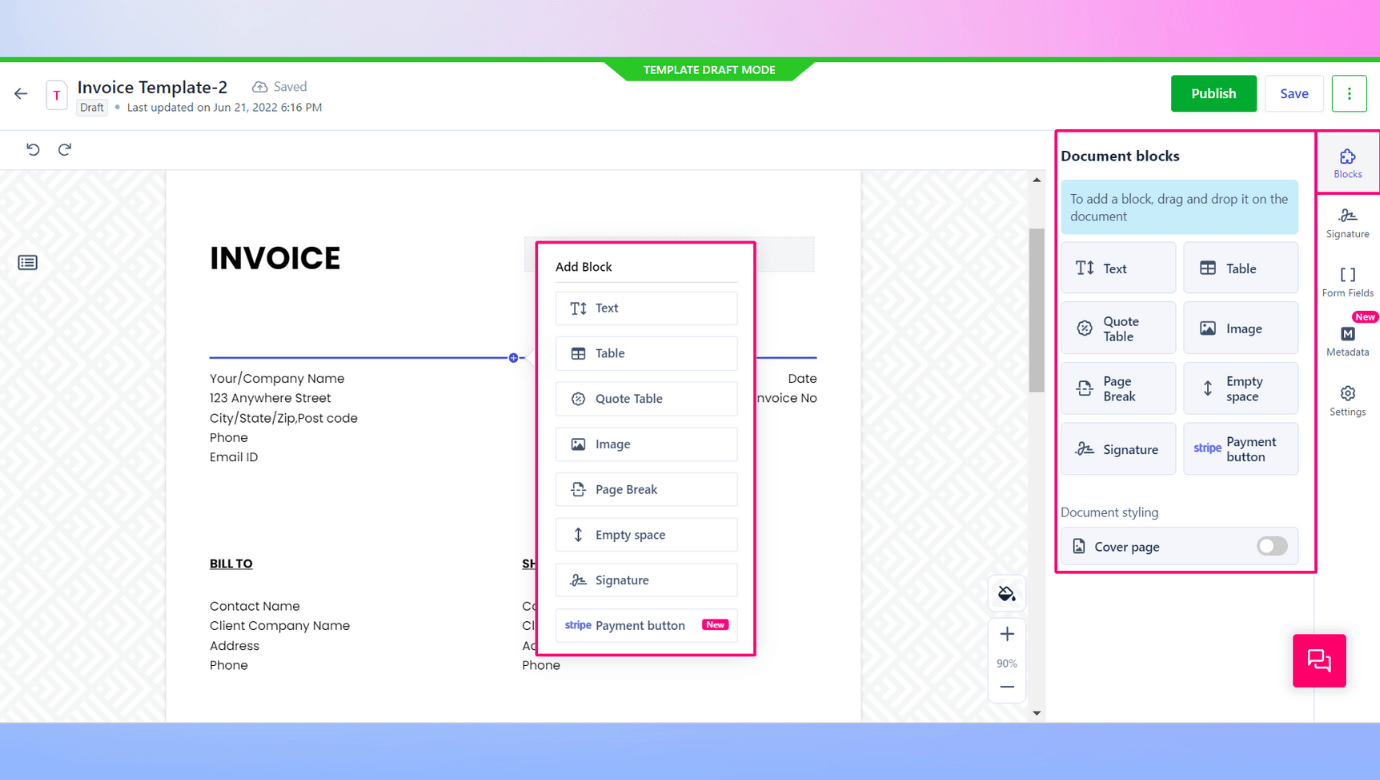 Revv Tip 💡
In some situations, you might want to store the metadata of the invoices you create. Metadata is the information about your document that helps businesses to analyze and compare it with other similar documents. For example, invoice created time, invoice owner, etc. Using metadata, you can sort, organize, and extract your invoices whenever you need them, without any trouble.


3. Autocomplete customized invoice information with form fields
Invoices are crisp, client-specific documents. Each invoice contains data placeholders to be filled with customized information like client name, address, invoice number, date, and so on. Instead of manually entering this data in every invoice, you can automate it with form fields!
Form Fields are fillable placeholders for such data fields that transform your invoice into a form-based document. This feature enables you to generate invoices faster and boost your productivity.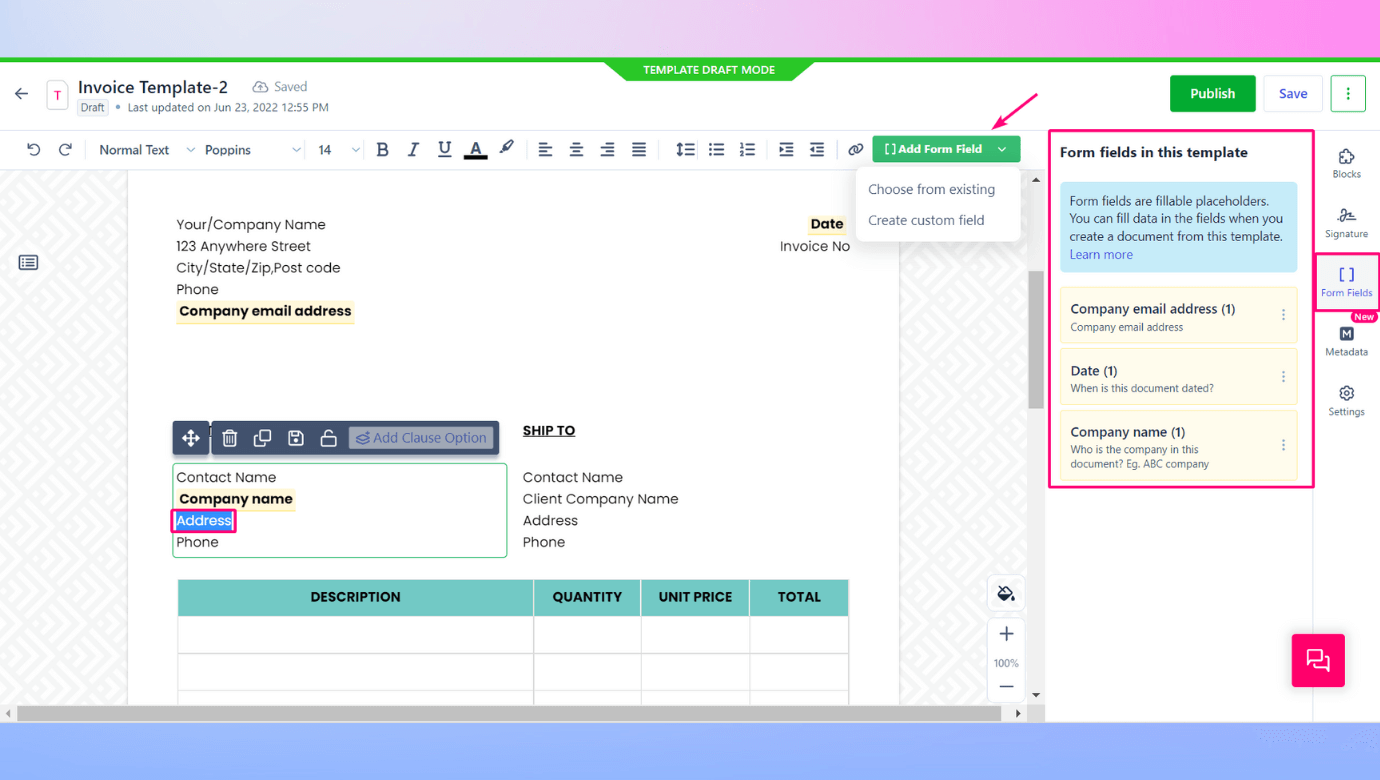 Furthermore, form fields give you an inside path to import invoice data from external sources and generate bulk invoices at once, with each invoice customized with client information.
You can also gather some information on the invoice from your clients, by assigning the respective fields to them.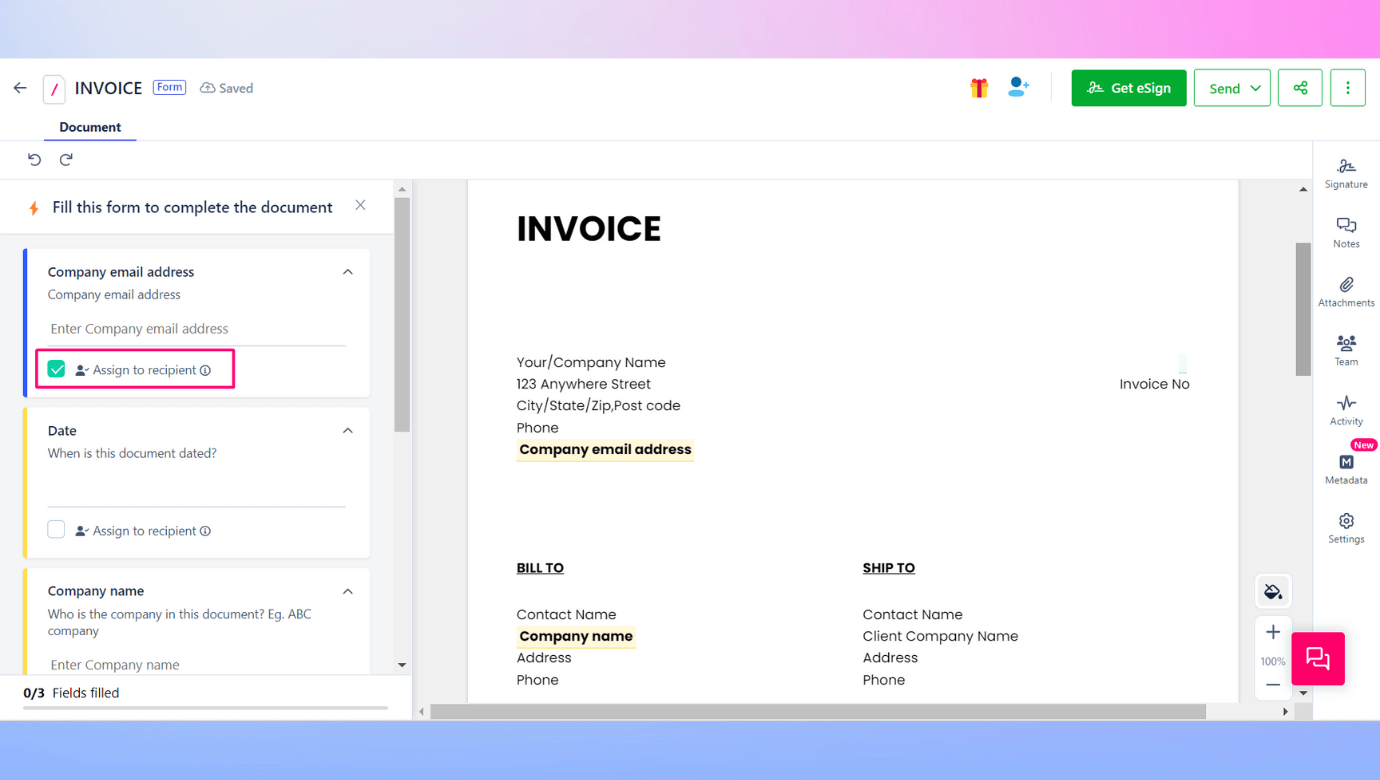 ✅ Create accurate invoices with less effort

1. Integrate your invoices with third-party business applications
Revv's strong integration abilities allow you to seamlessly connect it with external applications such as CRMs, ERPs, HRMS, QuickBooks, Stripe, Google Sheets, Box, etc.
When you have everything under one roof, you can avoid the cumbersome back-and-forths between numerous applications and amp up your productivity. Revv even takes it a notch up and lets you easily import customer data to your invoice, request payment, send it for eSign, and store it safely. Revv's integration capabilities are further powered by Zapier, Retool, and Native API solutions.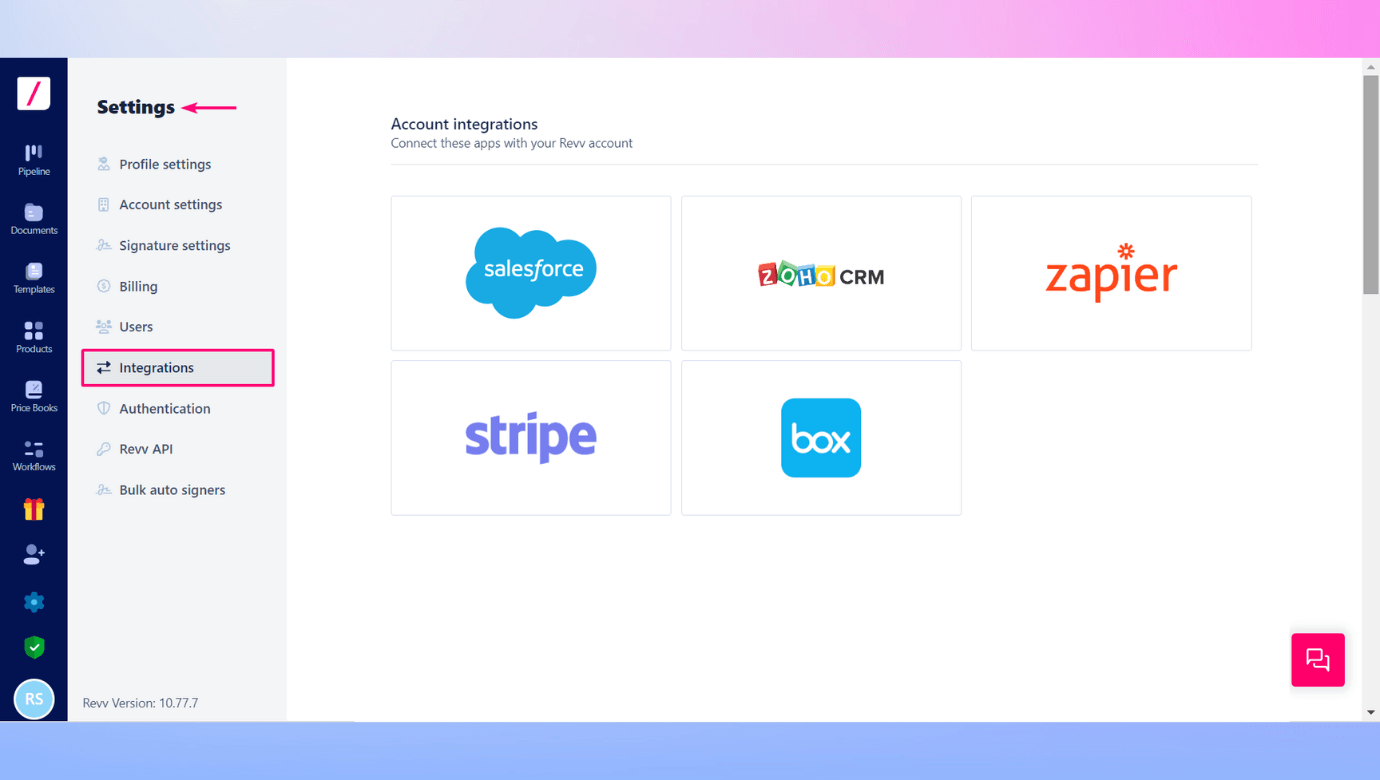 Revv Fact ✅
You can also use Revv to send data to other apps. For example, if your business runs on QuickBooks for invoice generation and if you wish to transfer data from Revv to QuickBooks, you can do that by creating a zap.
2. Bring in data from an external software to Revv using Data Studio
The data-mapping process can be challenging when invoices depend on spreadsheets or Google Sheets for client and pricing information. Erroneous data mapping can lead to a lot of rework and delays in invoice creation.
It's time to come out of this jeopardy and use Revv's efficient data mapping tool — Data Studio. It seamlessly pulls in data from external sources like CRM, GSheets, ERP, etc, to Revv with a simple point-and-click action. Data Studio does not depend on scripts, coding, developers, or API and reduces the data mapping time from hours to minutes.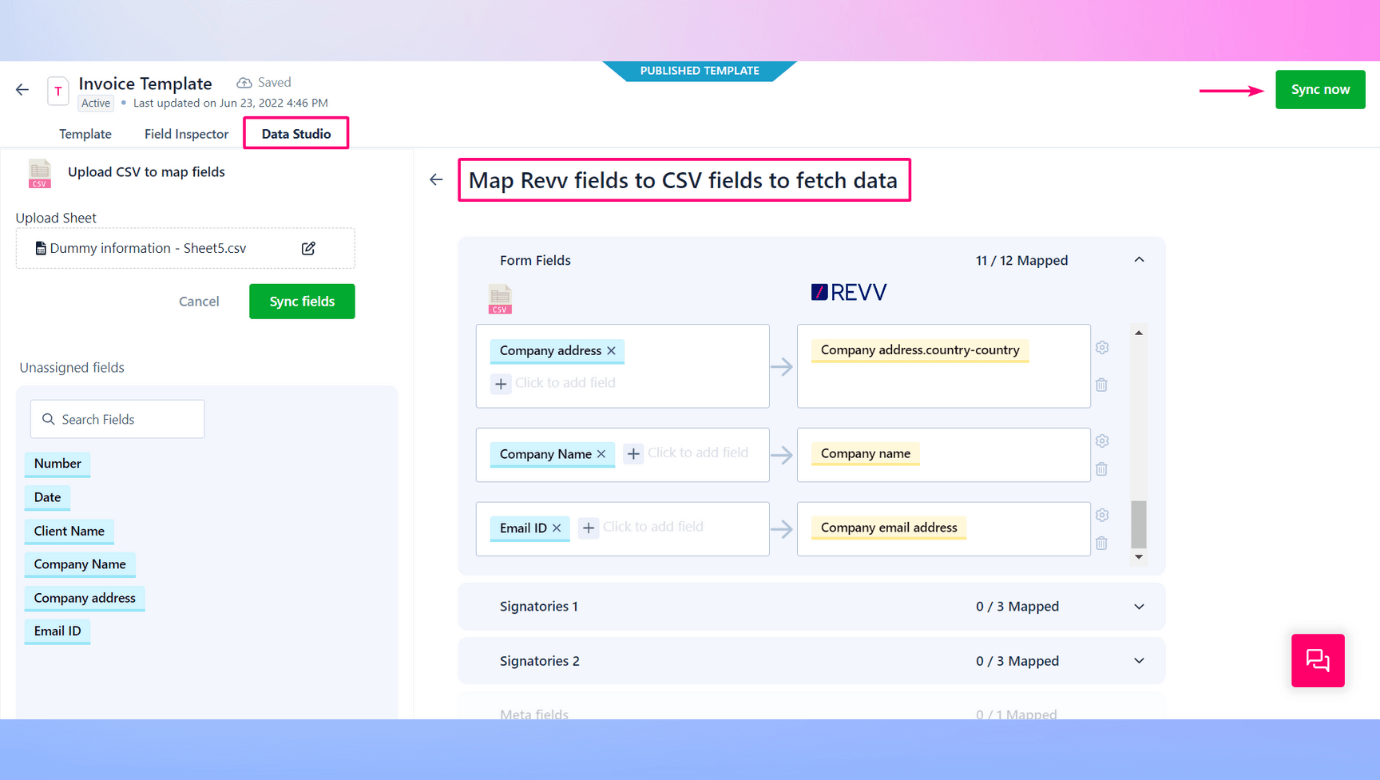 The Data Studio allows you to:
Map all the data from other platforms to respective form fields in Revv templates
Create precise invoices irrespective of the size and complexity of the data
Increase productivity and efficiency of the workforce
Once you map all the data fields to Revv, you can select multiple rows containing different values and create invoices in bulk. Or you can directly send the invoices for eSignatures within Revv – everything in a few clicks.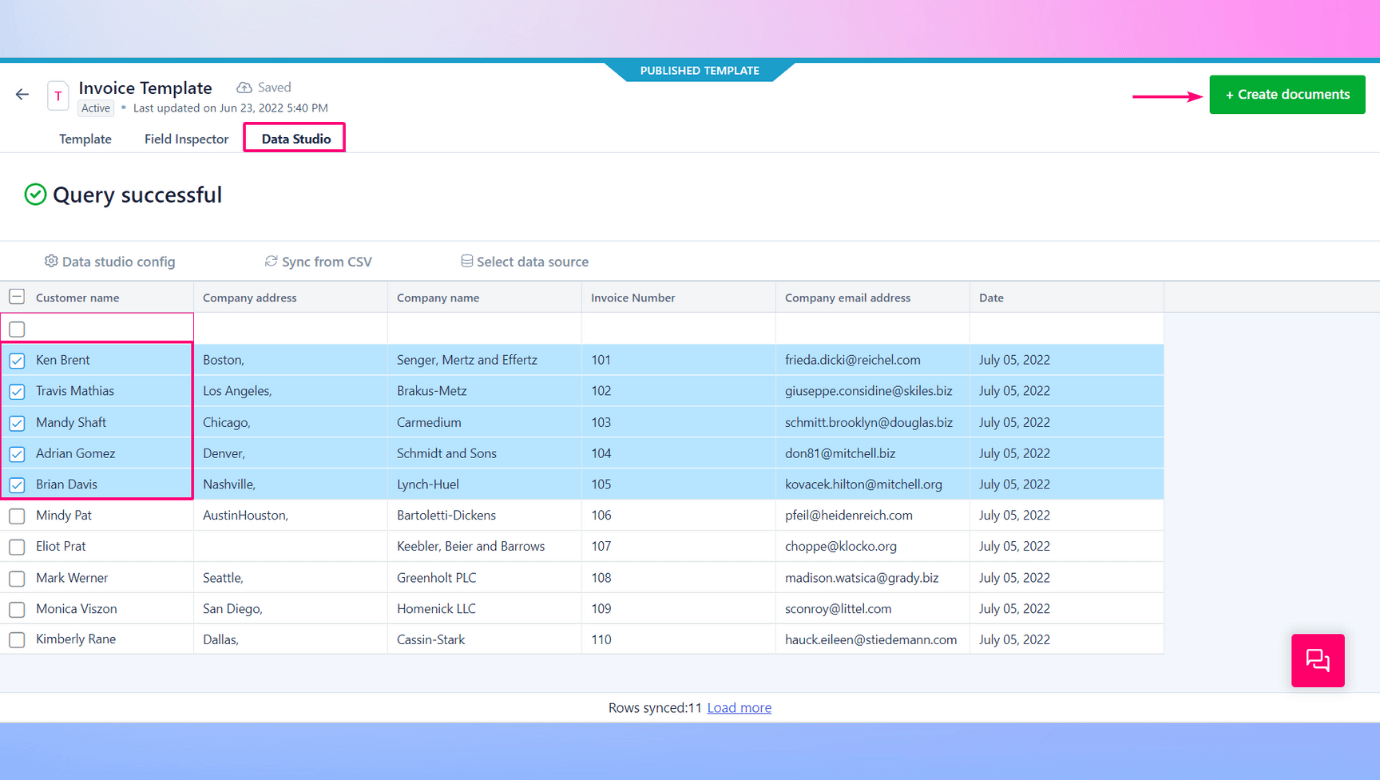 3. Create multiple invoices at the same time
If your business relies on spreadsheets to store data, you can still create multiple invoices for different clients with Revv's Create Bulk Documents feature.
Accordingly, you can create and send multiple invoices altogether from any published template. Here's how:
Revv provides a CSV file that contains your template's form fields as headers.
Download the CSV file, enter your client details in it, and upload it safely back to Revv.
The invoices will be created in seconds based on the number of rows present in the CSV file.
These invoices will have your client data auto-populated in the corresponding form fields.
It is the best way to reduce your effort and get the work done in a few clicks.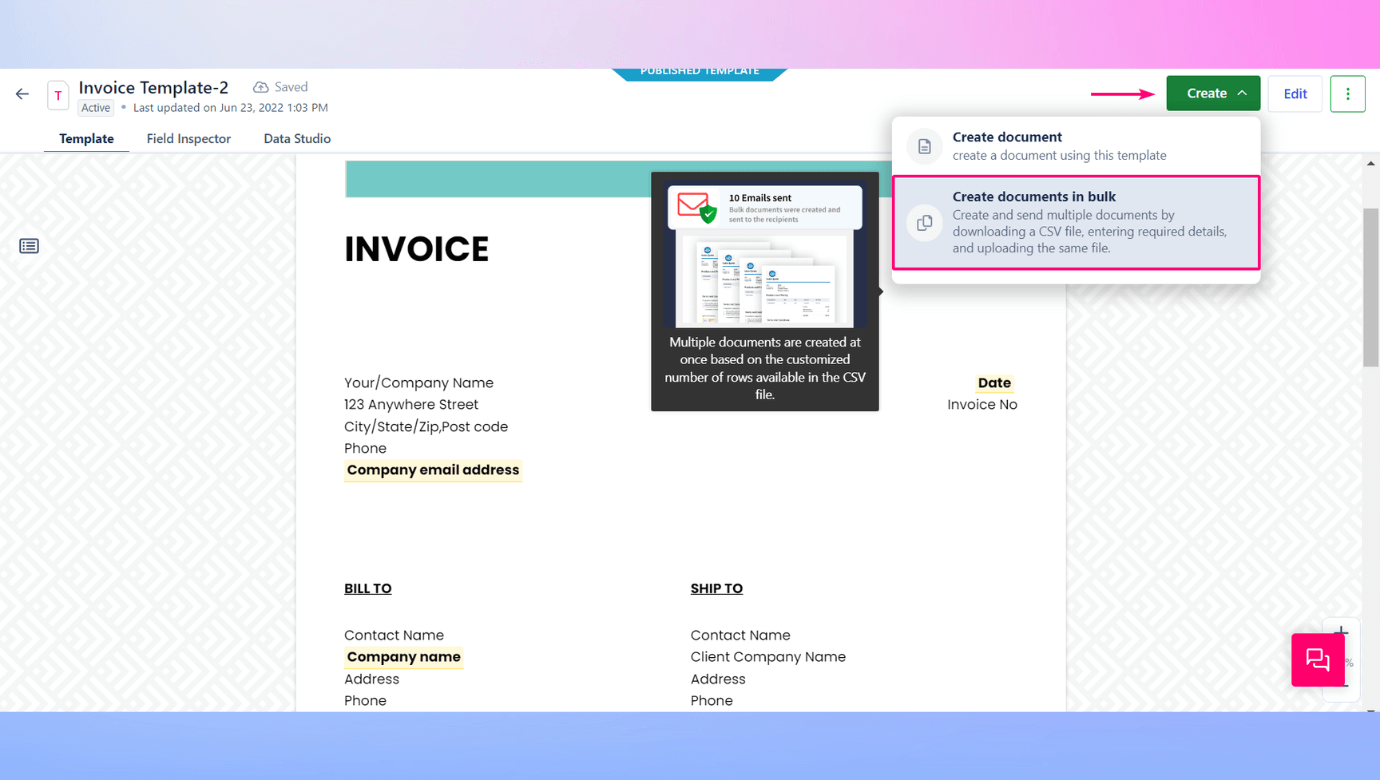 4. Collaborate with your teammates in real time
If you need a fresh pair of eyes on your invoices, Revv allows you to collaborate with your teammates in real time. You can tag your teammates within the invoice to discuss the invoice details and make iterations. You can also add notes to share thoughts, and attachments to support your pointers. This enables everyone to work together and come up with an error-free invoice.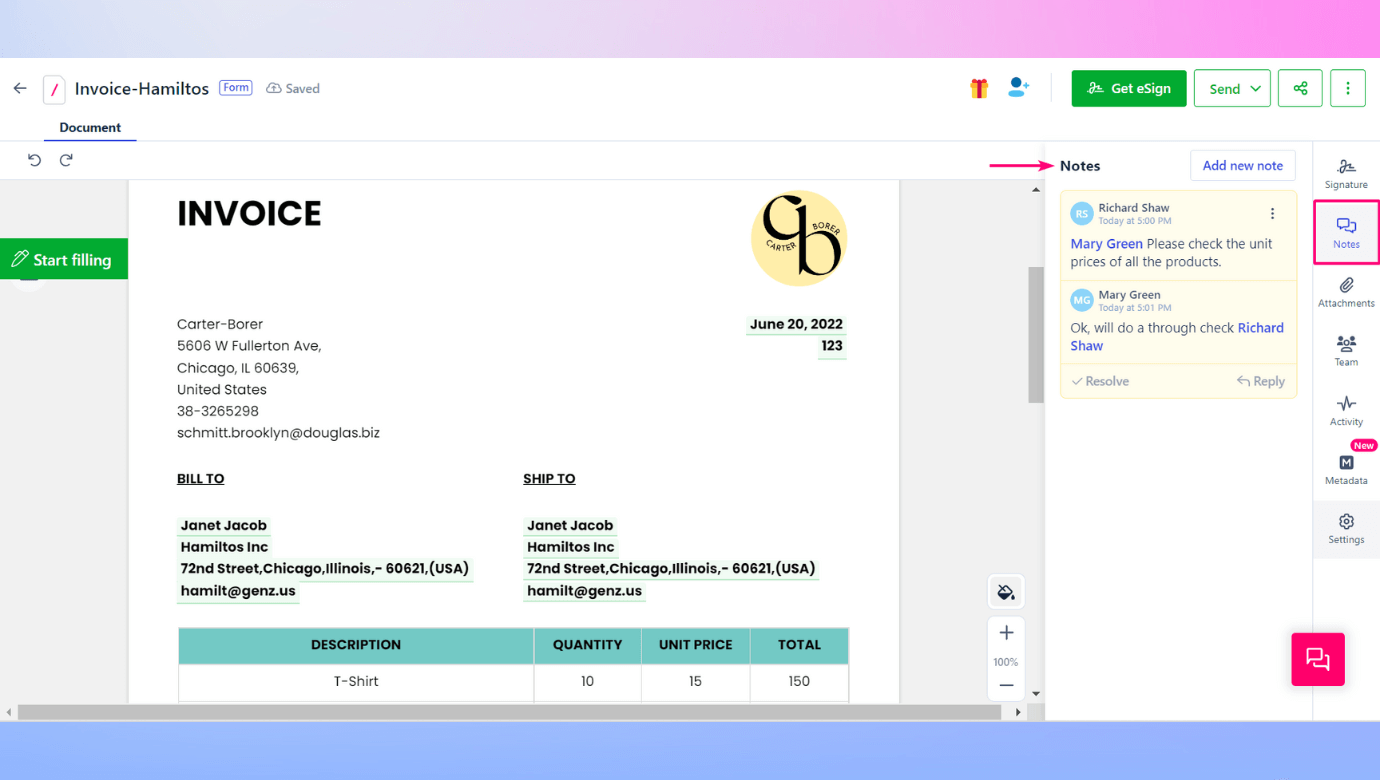 5. Get your invoices approved with approval workflows
One tiny error in your invoice can result in differing payments and inaccurate company accounts. Hence, it is always suggested to play it safely via approvals.
Since each invoice is client-specific and involves pricing information, Approval Workflows in Revv enable you to automate the invoice review process, ensuring it runs through all the checks by your teammates.
All you have to do is add form fields with in-built workflows to the invoice template. Further, attach a workflow to the form field by defining the conditions and actions.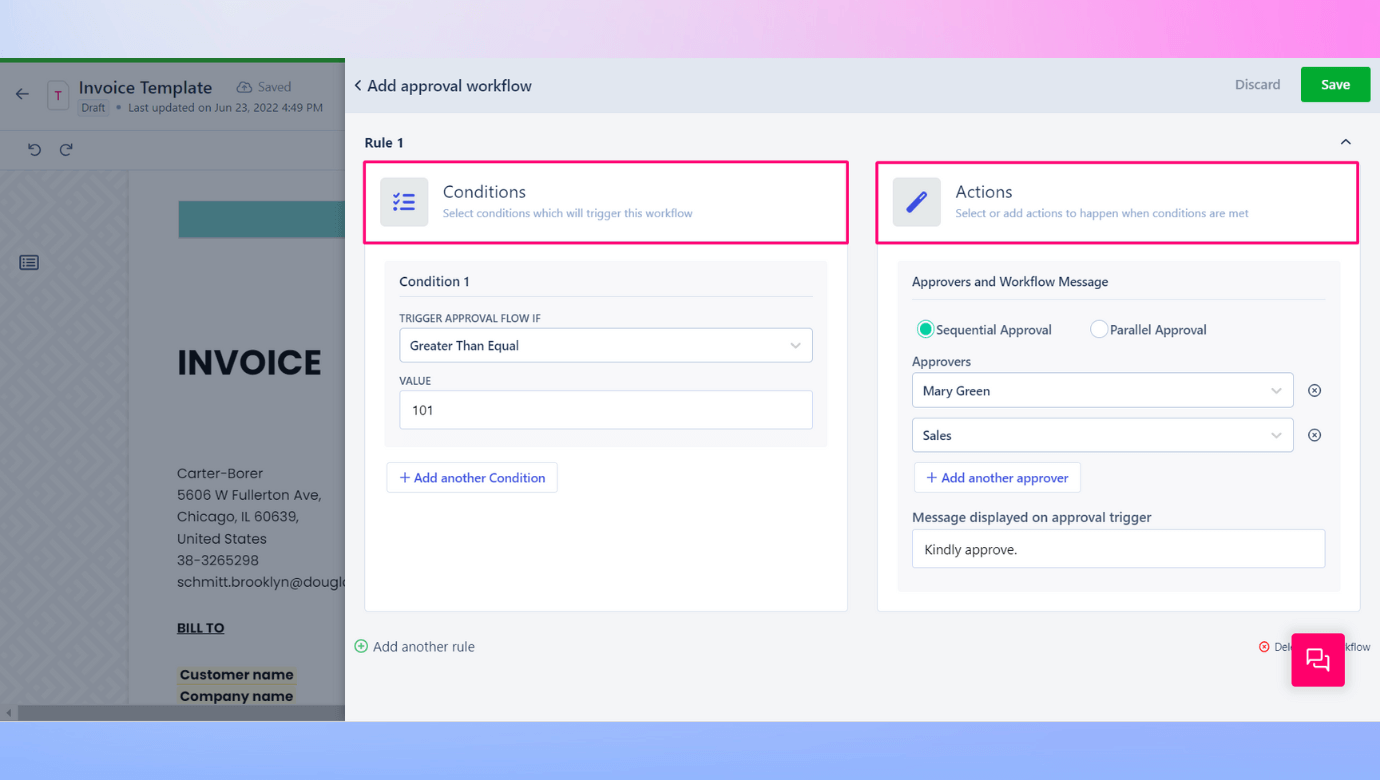 When the form field's data matches the defined condition, the workflow will automatically trigger and the invoice will be sent to the approvers instantly.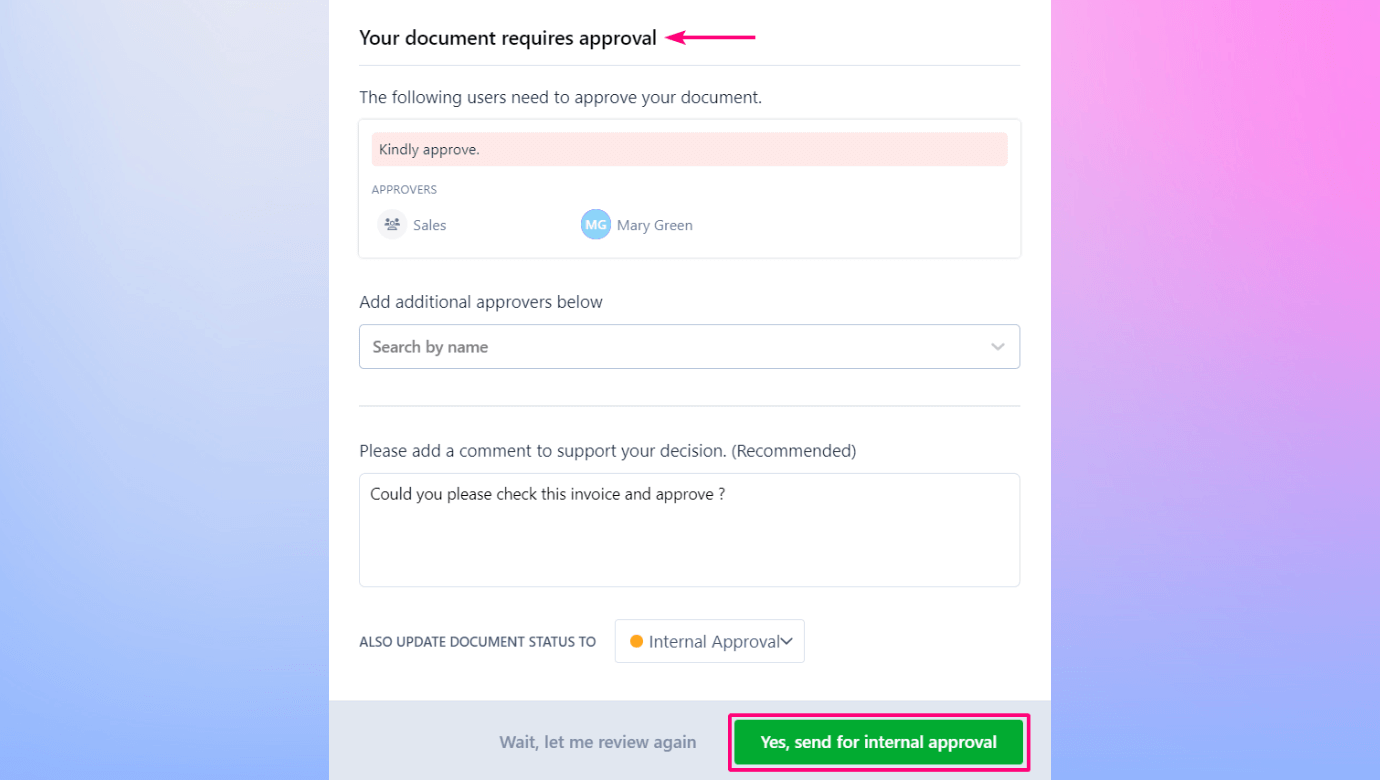 Revv enables you to receive payments from your accounts payable in seconds

As you are already aware, Revv provides numerous integration options to make your job painless. You can take advantage of it by sending payment requests to your clients directly from the invoice. This will be done in a few clicks. Once you connect your invoice to your Stripe account, you can enter the amount to be paid and seamlessly receive payments to your account from your clients.


✅ Provide a painless invoice eSigning experience
1. Get invoices auto-signed by the assigned signer
Even though eSigning documents is simple, it gets fairly complex when one person has to sign numerous documents. It is a time-consuming process that can impact other priority tasks' deadlines. Looking for a solution? Try Revv!
Revv provides yet another unique feature wherein you can assign auto signers.
Auto signers can be the employees in your organization like Department Head, Accounts Head, etc. who juggle signing multiple documents in a day. This feature is a boon to them as it saves them from the hassle of signing each document individually. All they need to do is authenticate and provide their signature once. After the authentication, if an invoice is assigned to them, their signature will be recorded automatically.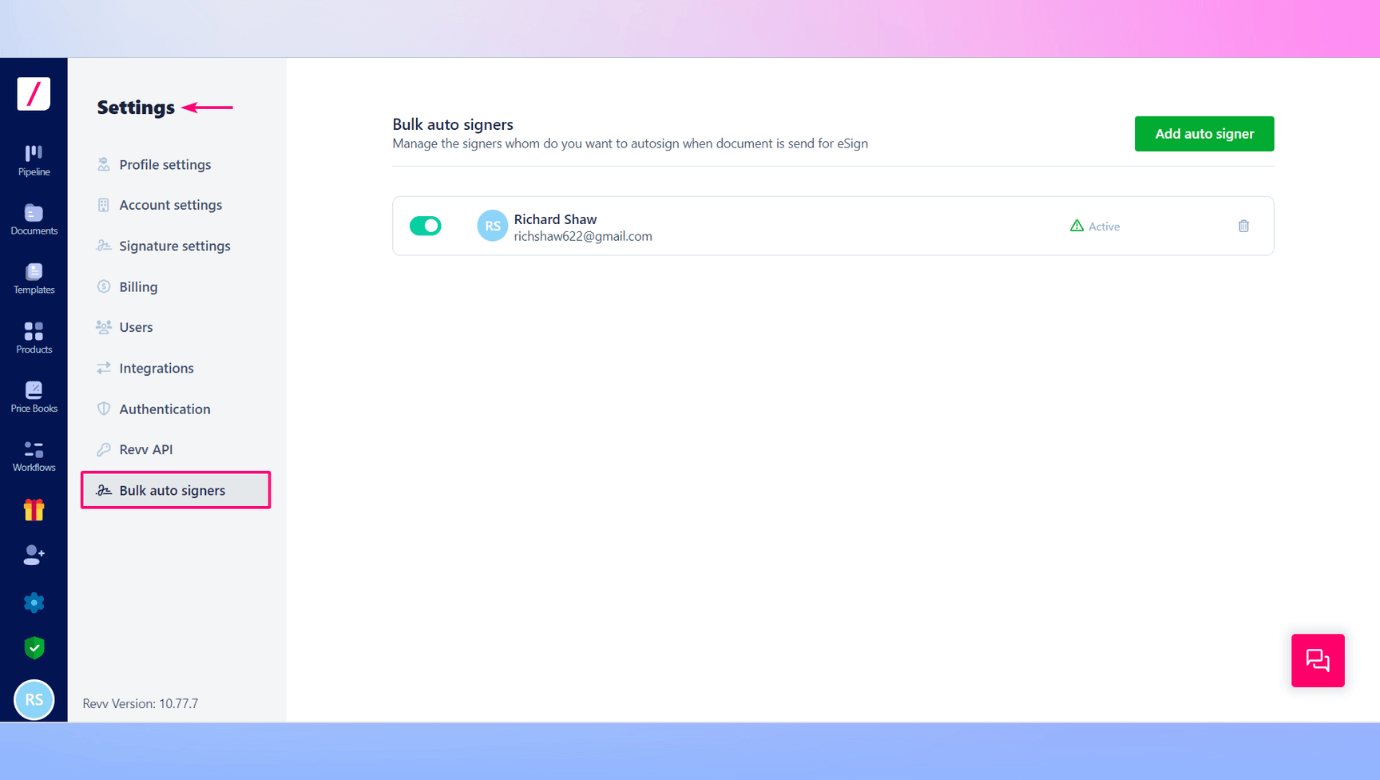 2. Record eSignatures on multiple invoices in one go
Not just creating invoices in bulk, you can also get them eSigned in bulk using Revv's Data Studio! This inbuilt eSign feature allows you to send an invoice for eSignatures within the system and not rely on any external apps.
Primarily, you must sync data from an external app to Revv in a template. Once that is done, all you have to do is select multiple rows at once and send documents for eSign directly.
This is very useful in situations when you are on a deadline and you have to get signatures on multiple invoices from different clients.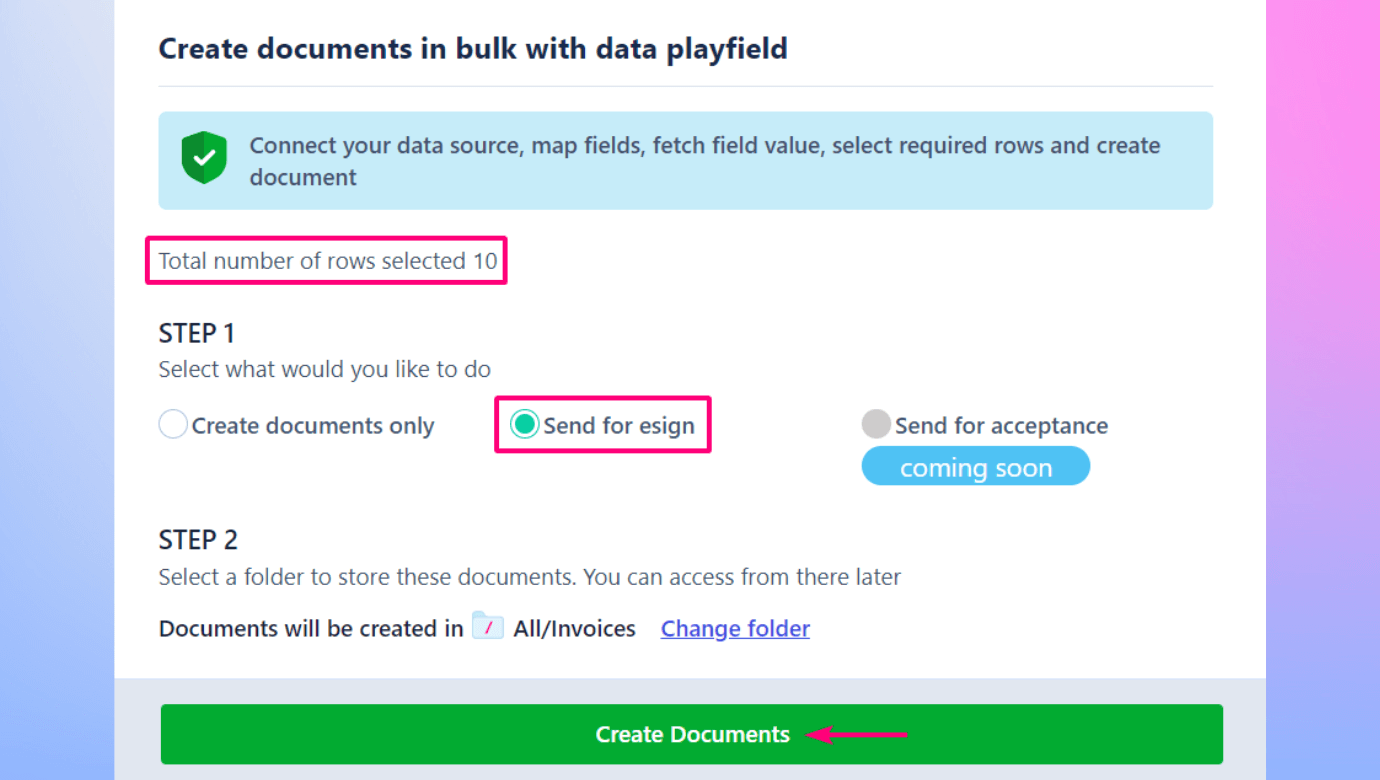 Revv provides a secure eSign advantage as it complies with the local and global eSignature laws including ESIGN Act, UETA, and eIDAS Regulation. It provides an added layer of security with SMS-OTP authentication to verify the signer's identity.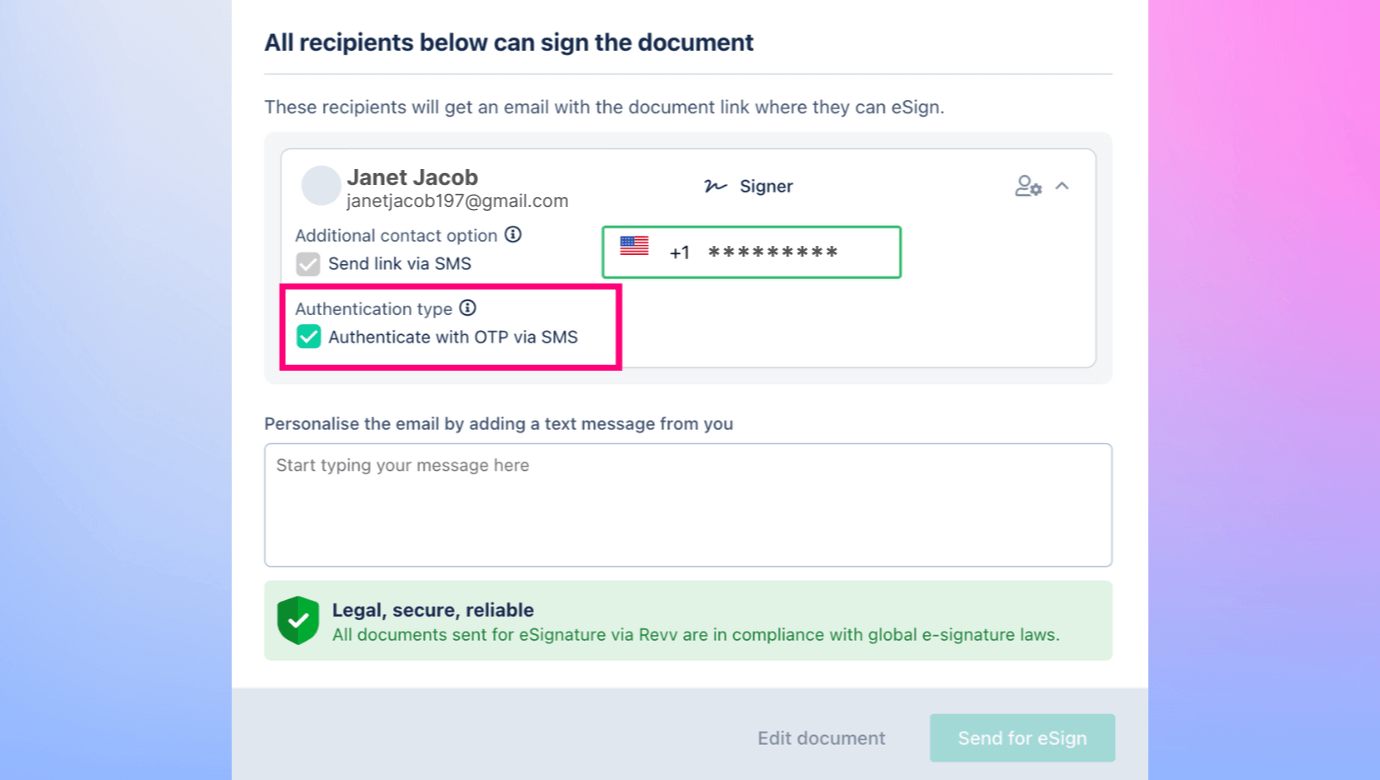 You can also individually send invoices for eSign. Just drag and drop the signer blocks in your invoice, assign specific signers to it, and get the invoice signed successfully. The highlight is that Revv presents four different ways to place your signature on the invoice. You can either type your signature, draw it with a mouse or stylus, upload a scanned copy of the signature, or use a crypto wallet — all in just a click.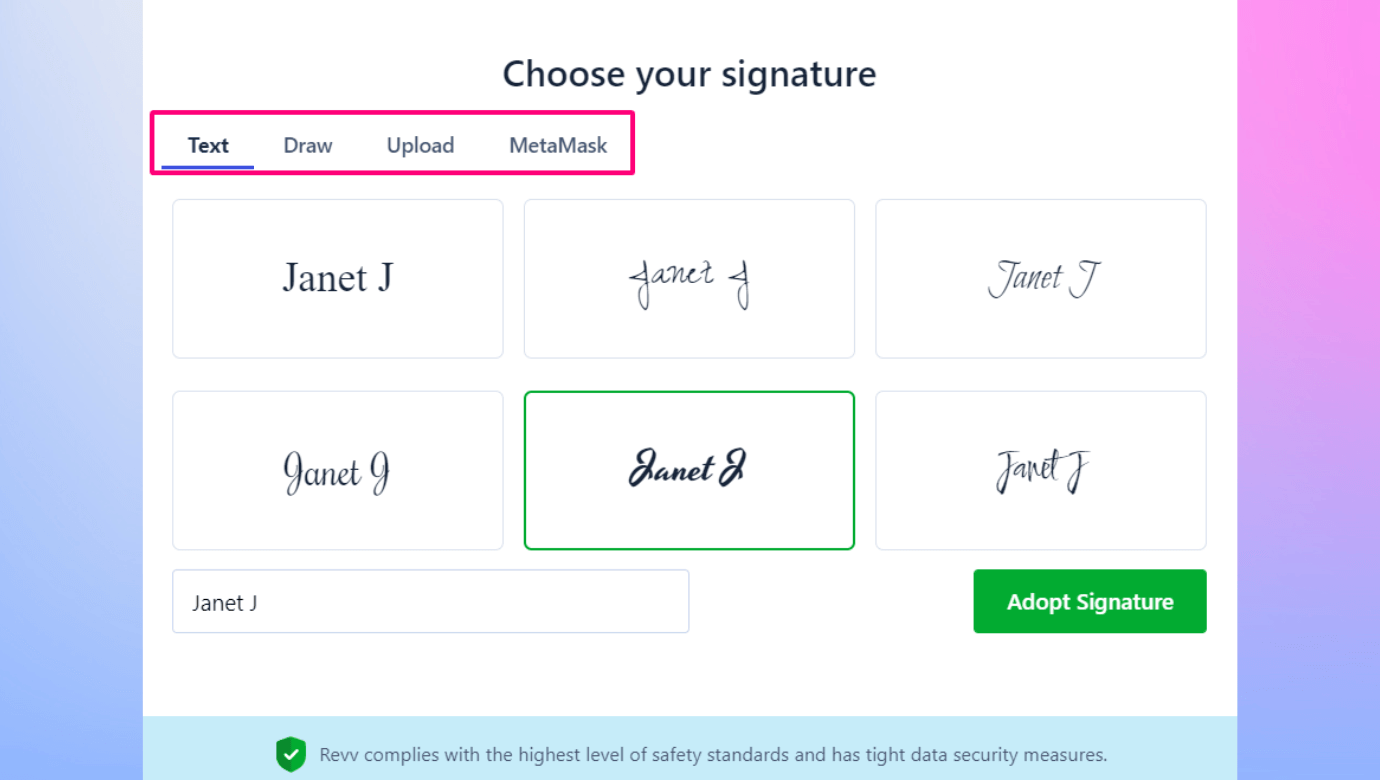 ✅ Retain control on the invoices post eSigning

1. Ensure compliance of your invoices with the Evidence Summary certificate
Revv develops an Evidence Summary for all the invoices once eSigning is completed. It is an audit trail, a digital certificate that records all actions taken during the signing process, which includes – the signer's information, date and time stamp of each action taken by the signer, their device's IP address, and other details that act as legal proof.
It is legally admissible and can be downloaded as soon as the signing is completed by all the signers.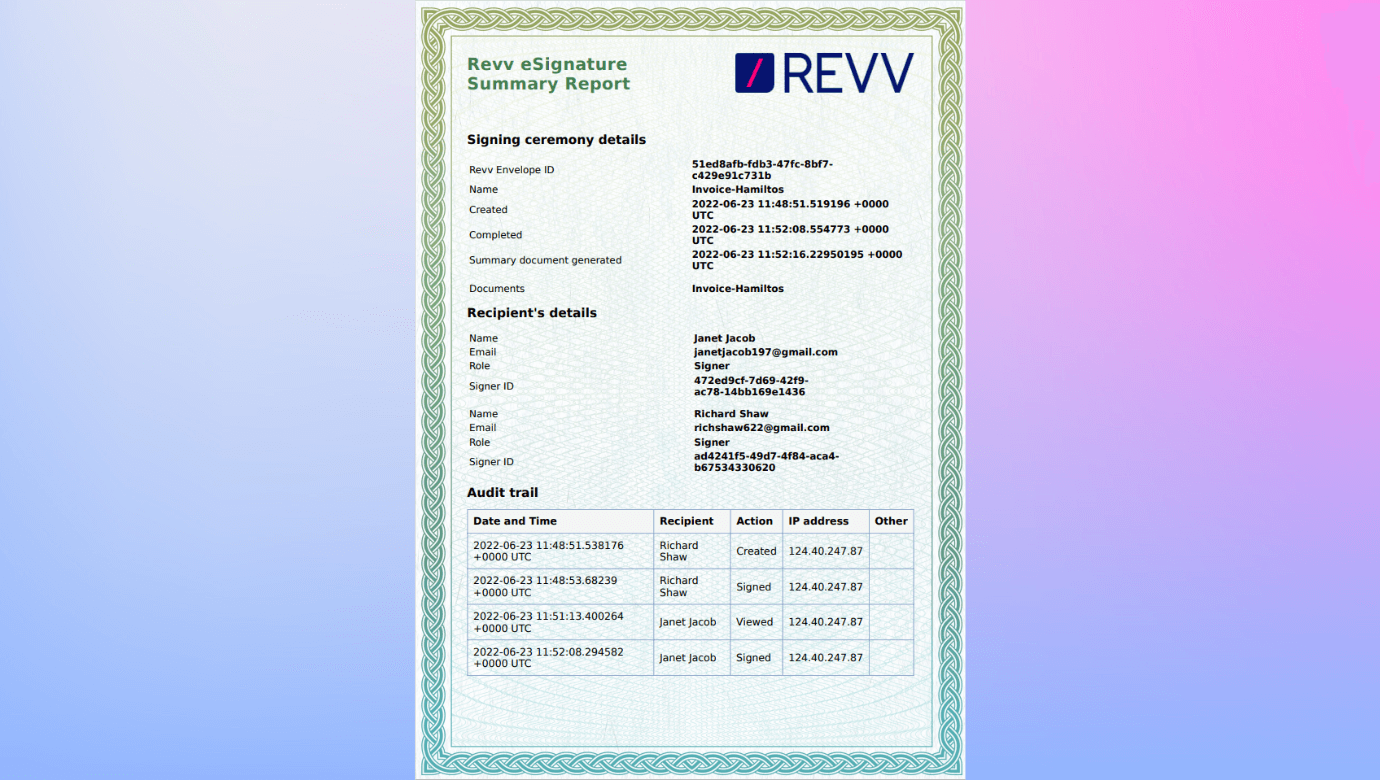 2. Track your recipient's activity on the invoice
Right from creating an invoice to closing it after eSign, an invoice goes through a lot of stages. The best way to follow these stages is using the Activity feature in Revv. This feature allows you to track user activity even after the invoice is sent to a customer. It shows information like — who opened the document, who viewed the document, who signed the document, along with timestamps.
For example, you sent an invoice for eSign two days ago and your client hasn't answered. With the help of the Activity tracker, you can pinpoint where the invoice is stuck, reach out to the client, resolve issues, and accelerate invoice payments.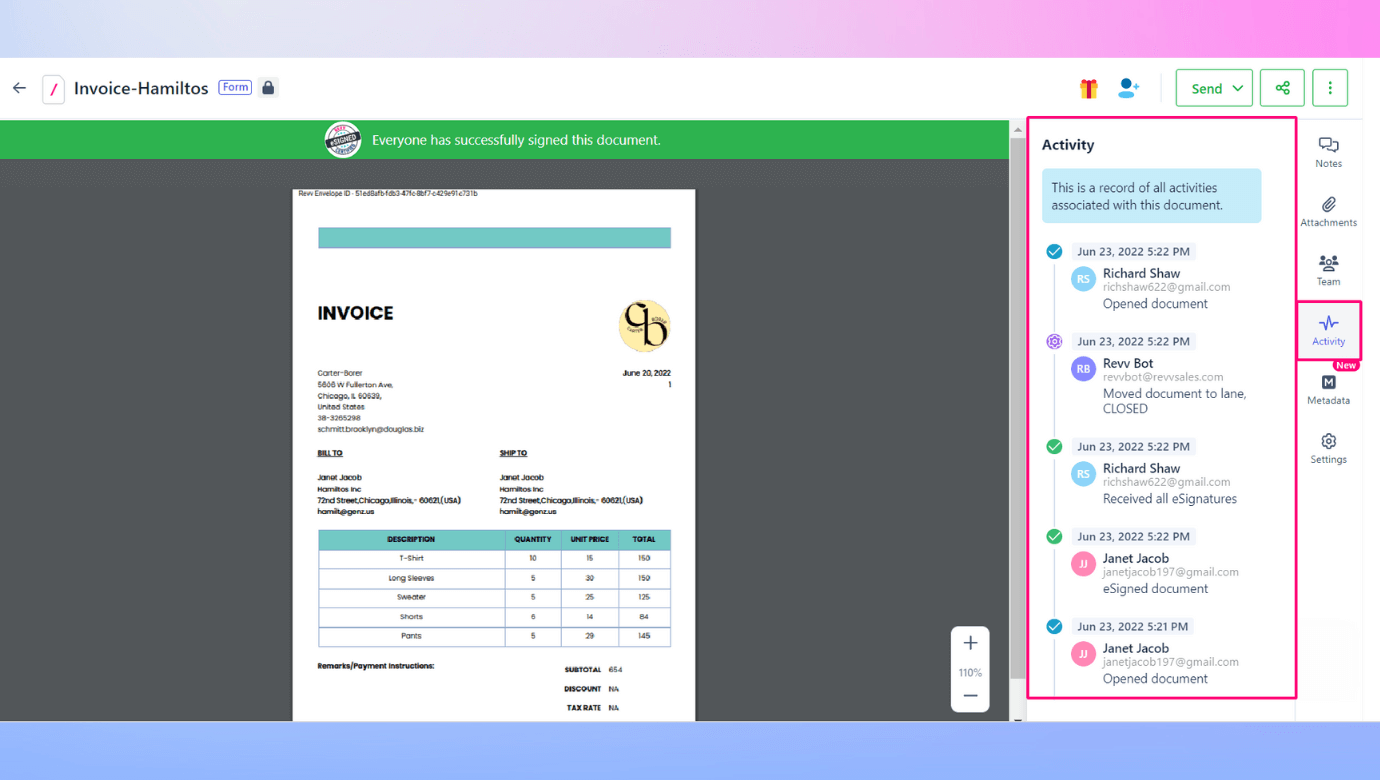 3. Always be up-to-date with invoice-related notifications
Never lose track of your invoice's progress with Revv's on-the-dot notifications functionality.
Notifications help you follow up on your invoices and receive payments without delay.
How?
Whenever you send an invoice for approval, acceptance, or eSignatures, Revv instantly sends auto-generated notifications to the recipient. It is an email that nudges them to take the relevant action on the invoice. Revv also notifies the sender when a recipient completes their action on the invoice.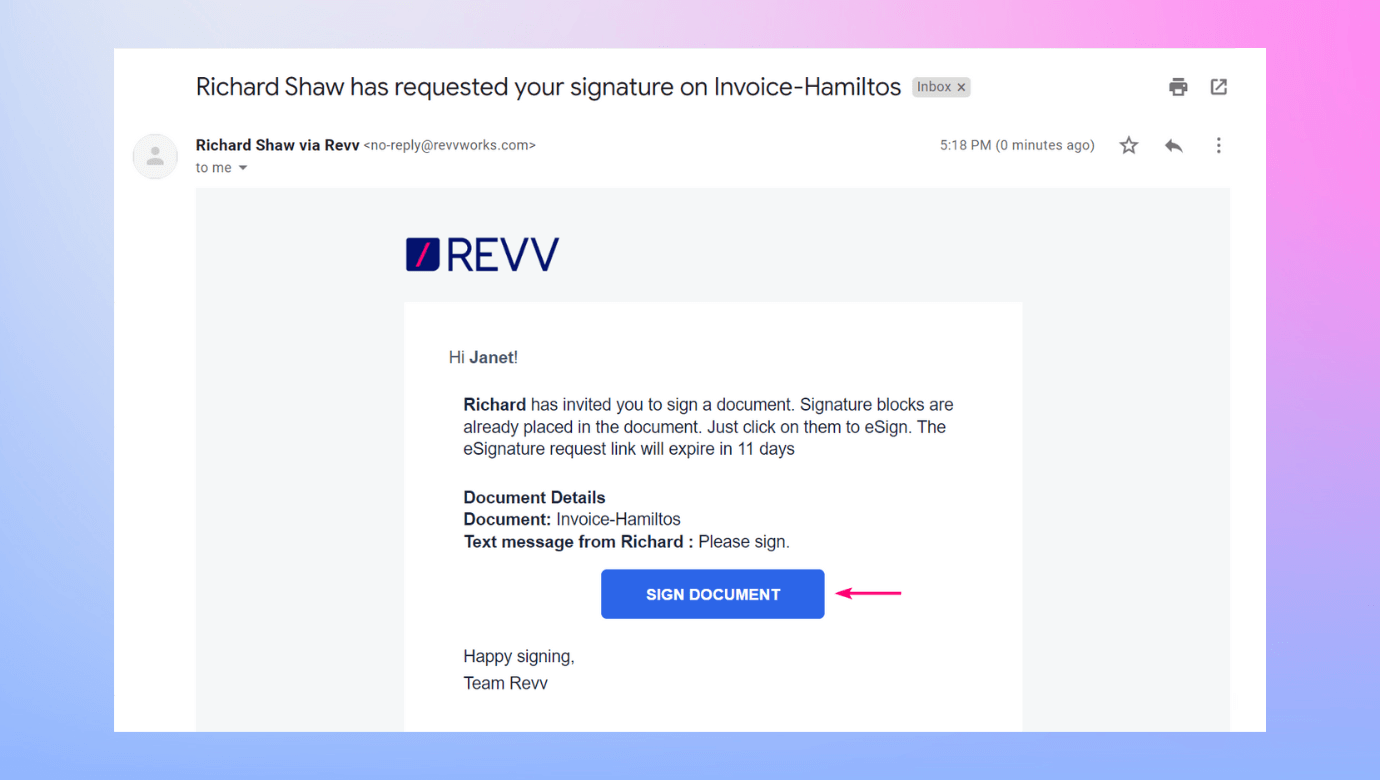 ✅ Streamline end-to-end invoice workflows with Pipelines

Until now you read about automating each step of your invoice workflow. But with Revv's Pipelines feature, you can automate the entire workflow as a whole!
Most operations don't stop at creating an invoice. It just might be the trigger for other associated jobs to be done. For example, your accounts team has to notify the admin and audit team whenever an invoice is generated and sent to the client.
Revv's Pipelines feature streamlines pre and post-invoice processing tasks. Pipelines provide immense possibilities to automate the associated workflows when an invoice reaches a new milestone.
Working of Pipelines
Revv's Pipeline feature follows the Kanban method. Every pipeline represents a process. Each pipeline has lanes that are associated with the steps in a process. You can add any number of pipelines based on your company. For example, you can create a pipeline called Invoices that will host all the invoice documents you generate for your clients.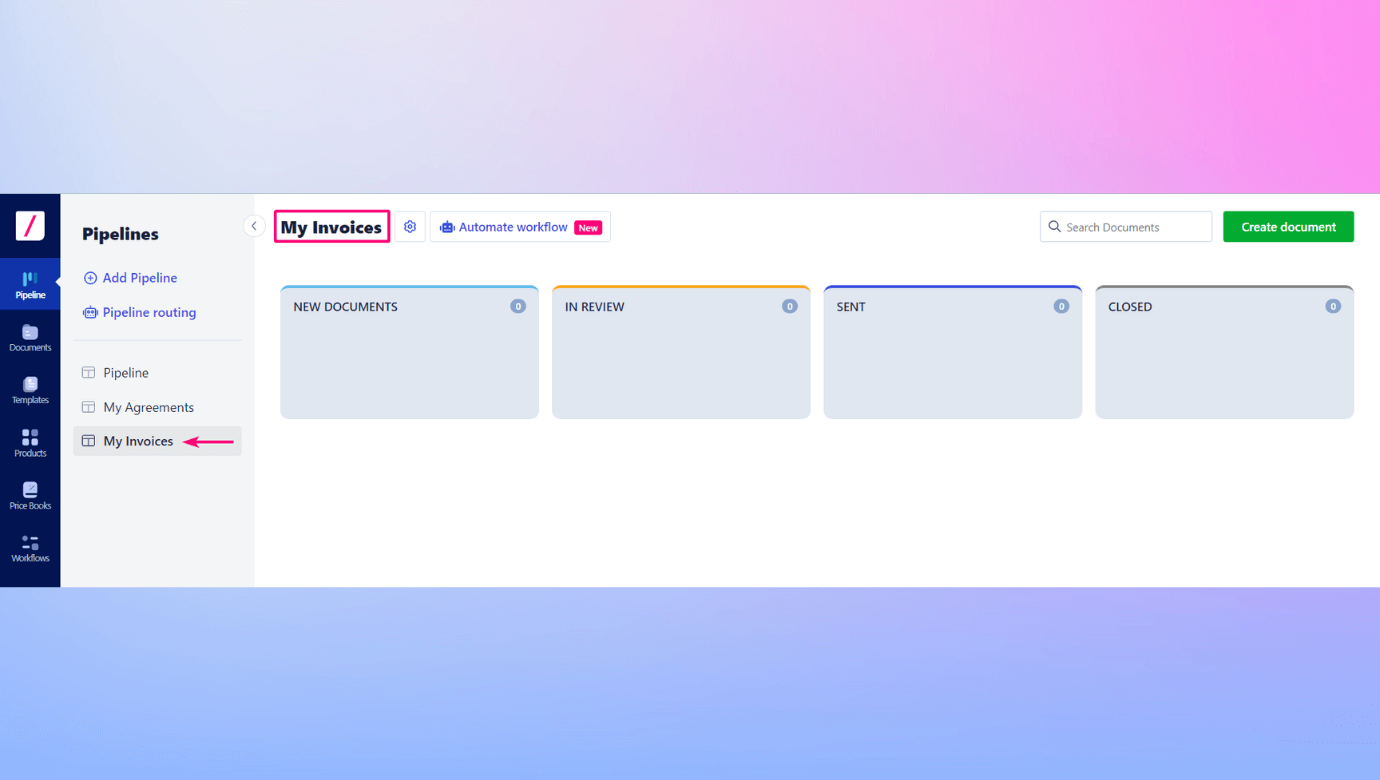 Further, you can set up the Pipeline Routing feature to channel the associated invoices to the respective pipeline. For instance, you can set a routing rule to send all the documents created from the Invoice Template to the Invoices pipeline.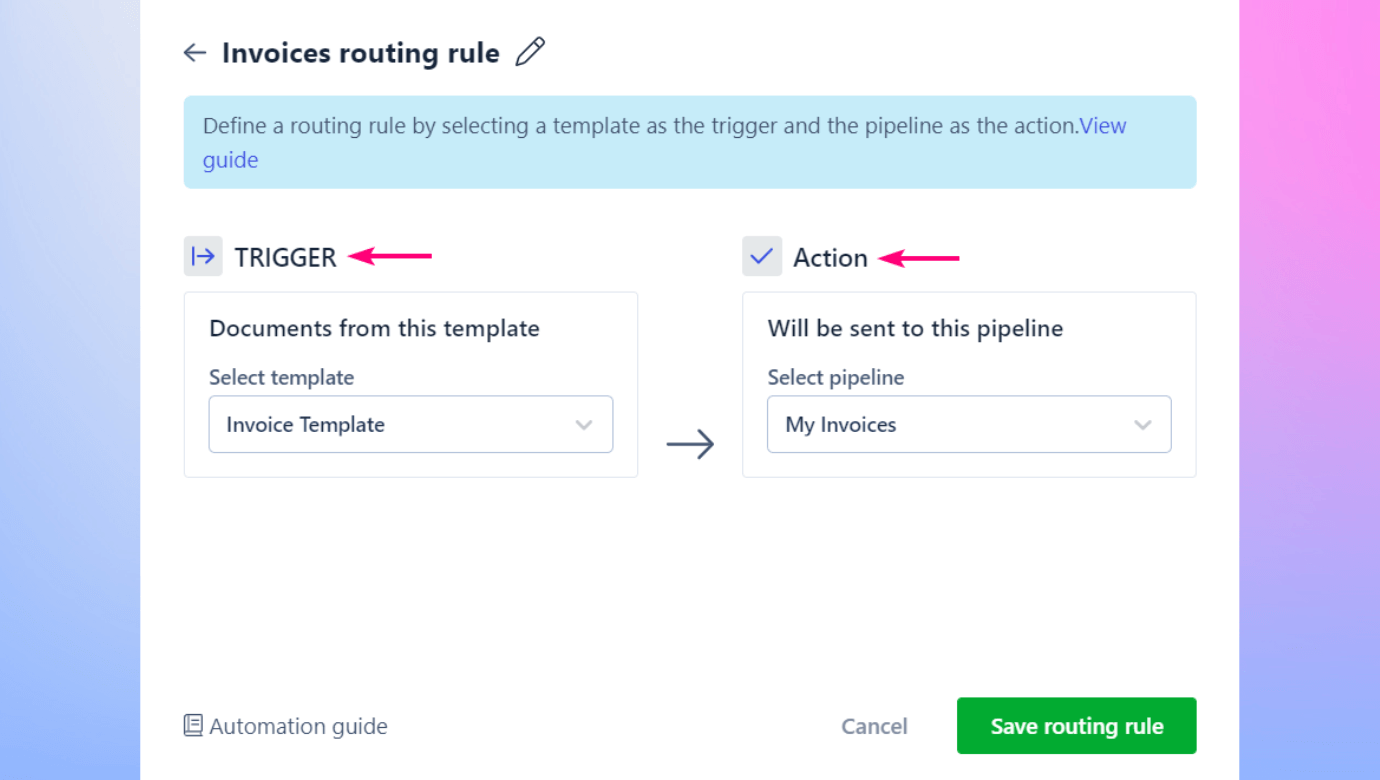 Each pipeline is a collection of lanes that represents the status of a document. You can customize a lane by changing the name, and color according to your system. You also can automate the movement of your document in between lanes to create a smooth document flow with the help of lane transitions. Lane transitions work with respect to lane events which are the entry conditions for a document into a lane. Only when you assign a lane event to a lane, the transition will happen. For example, when an invoice is internally approved, it will be moved to the Approved lane.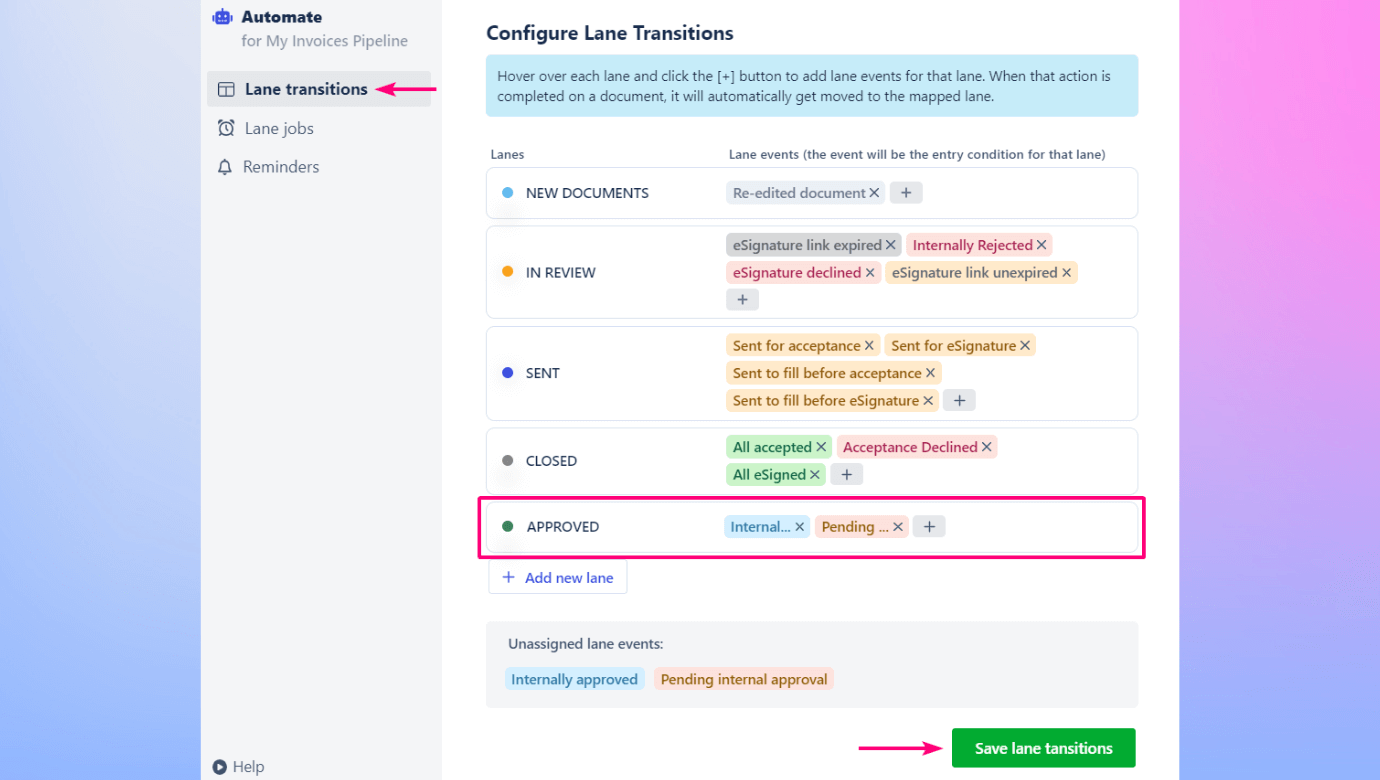 You can also add jobs to each lane that defines what must be done when a document enters that lane. For example, you can notify your Accounts manager when a document is in the Approved lane.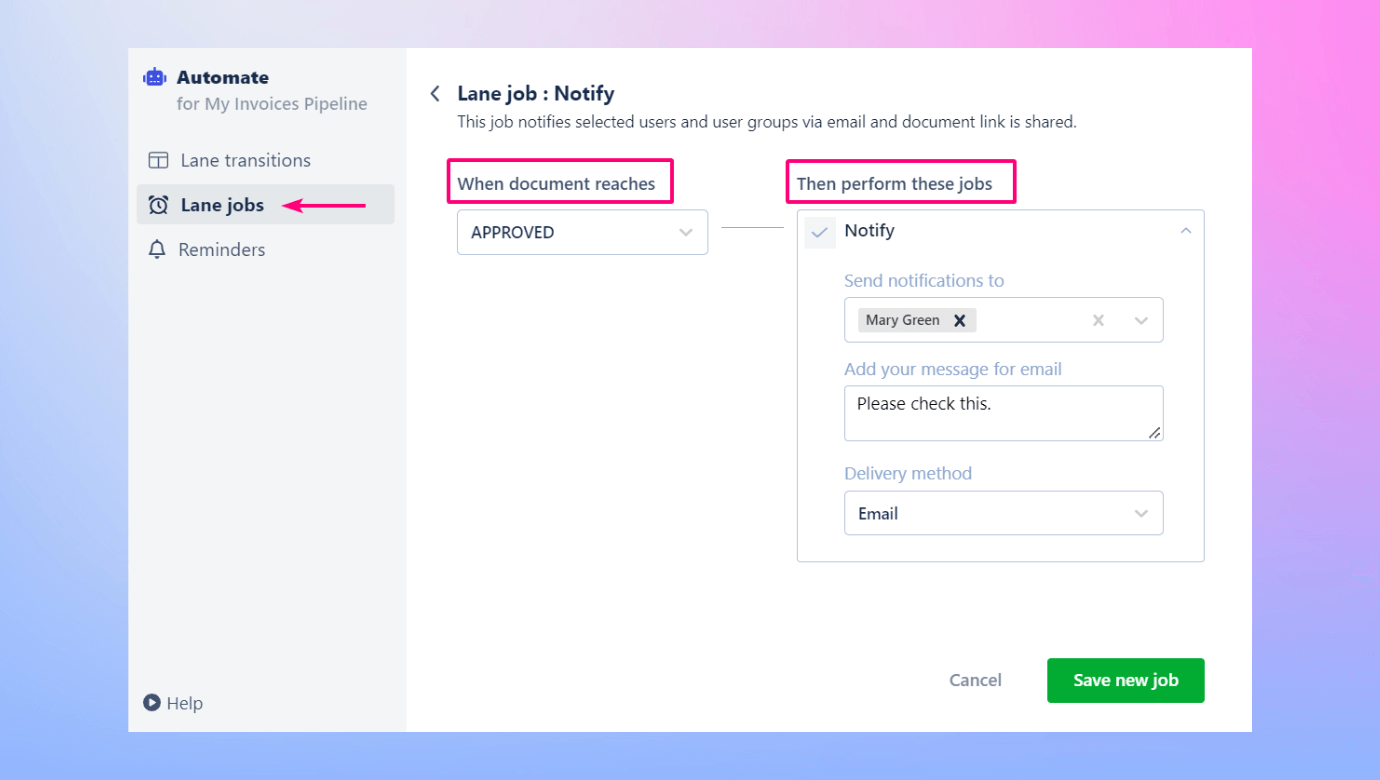 Finally, you can also set reminders that notify your client to complete a pending action. It will be applied to all the documents that enter a particular pipeline.
Kickstart your invoice automation journey with Revv
Invoices are one-page documents but a lot of effort goes into developing them. By automating your invoice process, you can increase your team's productivity and reduce repetitive, time-consuming tasks. 
Revv enables you to automate every step of your invoice process like creating, reviewing, collecting payments, and signatures on your invoices. It also allows you to carry out post-eSign actions such as tracking your client's activity and saving the audit trail.
Revv is an all-in-one automation platform that serves all your invoice automation needs with ease. The wow factor of Revv's pricing plan is that it can be customized based on your business requirements.
So wait no more, sign up for free, or schedule a demo today!
Frequently asked questions
How do I automate an invoice processing?
You can automate your invoice processing workflow using Revv, the best document automation software! 
It solves all the problems faced due to manual invoice processing like chaotic procedures, time wastage, follow-ups, and productivity loss. 
In return, an invoice processing automation software like Revv cuts the error rates, eliminates duplicate payments, and saves your manpower expenses.
Can invoicing be automated?
Yes, you can automate your invoicing process with Revv, the all-in-one document automation software. The benefits of invoice automation are:
> Generate error-free invoices in a short period
> Reduce the man-hours spent on drafting invoices
> Avoid duplicate payments 
> Improve customer relationships
> Store data in a safe and secure cloud environment
What are the 3 main steps involved in invoice processing?
Invoice processing automation includes the following three steps:
1. Standardizing the invoices using templates
2. Integrating the invoices with external applications
3. Verifying the invoices via reviews and approvals