For a business to be successful, the transaction between the buyer and seller must be smooth. A transaction is smooth when it is possibly risk-free, transparent, and clearly communicates all the requisite info between the buyer and the seller. To ensure all of these, businesses came up with Purchase Orders or POs. An efficient purchase order (PO) system is crucial to building a procurement strategy. It helps your organization to manage funds efficiently by tracking current and upcoming purchases and plan accordingly.
But, a business is a sum of its many parts. When the many processes and people come together, or when the operational scale becomes big, it's difficult to keep your POs organized, trackable, error-free, and streamlined. Sometimes, you are not just looking at sending one purchase order, but a bulk of it, and all of a sudden you have errors, inconsistencies, and technical difficulties popping in. Even today, many businesses follow a manual purchase order process that's riddled with challenges leading to delays in approvals and processing.
What if you had a more efficient purchase order system that guides you in regaining control over spending and streamlines the purchasing of goods and services? It could foster a proactive spending culture that boosts profitability? Let's find out the specific challenges businesses face and how Revv can help in remediating the same with an automated and seamless solution.
Challenges involved in today's purchase order system
A purchase order usually follows a specific workflow and in the modern-day business landscape, this workflow is riddled with blockers. Let's try and address what causes them and then explore the appropriate solution that fixes them.
Issues in creating single and bulk purchase orders from scratch
Creating a purchase order is easier said than done. A purchase order can vary depending on the nature of a company, its size, the type of industry, human resources involved, organizational structure, the goods and services you are acquiring, and more. It might even have to be modified at times depending on the budget approvals, contractual approvals, quality checks, etc. Creating these documents repeatedly and in varied formats is tedious and consumes a lot of time that can be used productively elsewhere. However, with an automated purchase order system, you can templatize your POs on a need-to-need basis and create purchase orders much faster.
Errors while filling purchase orders manually
Let's take a familiar business scenario where your business requests an order from your usual supplier. You have to create a purchase order that will outline the specifics of the purchase request – including an order description, quantity of items, and the agreed-upon price and payment terms. You also need to specify the purchase order (PO) number. Chances are that you have to refer to multiple other documents like the sales proposal and your inventory list to identify data needed for filling the PO.
If you have five different order requests, all the aforementioned data entry tasks are increased five times over. The complexity increases further when you have to send these orders in bulk. You're running a high risk of data entry errors while copying the data from multiple sources onto the purchase order.
An automated purchase order system can circumvent this challenge. With it, you can connect disparate data with the integration of your business systems and enjoy a seamless data transfer process.
Payment delays due to time-consuming approval and review processes
A purchase order must be approved before it is dispatched. Who must approve a PO before it is issued to the supplier will depend on the company's approval procedures.
Modern businesses frequently demand (and approve) purchase requisitions in order to streamline this phase. Even so, the PO or requisition form has to be redone after the review process and undergo the entire process again. This is not just time-consuming but affects the financial planning and budgeting process of the organization. When purchase orders are not approved on time, the finance/accounts team will further delay the payment release process, thereby hampering vendor/seller relationships.
What if the entire purchase order approval process was automated? It will make the whole process quicker and simpler, right? With automated approval workflows, you can send your POs directly to the person in charge of approving them through the system, thus reducing bottlenecks. There won't be any more approval or payment delays in the whole PO process.
Back and forth email exchanges to initiate purchase-order-related workflow
While the workflow related to purchase order starts right at the time of a purchase order creation, the critical phase of the workflow kicks in once the purchase order is approved and sent to the seller. It is also sent internally to the accounting team to be acknowledged and kept track of. The PO becomes a binding contract once the seller (or vendor) acknowledges the PO and agrees to fill in the order request.
Though this sounds easy on paper, it's a cumbersome back-and-forth process in the real world. If you had a self-driven PO system in place, you won't have to bother about the never-ending email notifying processes as it has its own automated notification mechanism.
Lack of a transparent, real-time tracking system
You might already know about the 'three-way matching system' that ensures consistency between the purchase order, the goods and services delivered, and the final invoice. A perfect match between the three means that your supplier can be paid with no issues.
The issue with this process is that finance teams have to likely wait until the very end to get engaged. They probably aren't aware that the business has agreed to spend a certain amount with this supplier until they receive the invoice.
With an automated system, all the teams participating in the process, including the finance teams, may see all the POs as soon as they are created. The finance team can even match these documents with current spending and upcoming expenditure profiles (like subscription payments for instance) to take important spending decisions. Important events in the PO process–like 'purchase orders that are accepted or rejected' and 'purchase orders that are submitted'–can be tracked anytime, anywhere, and from any device. As a result, the budget managers can monitor team budgets in real-time and ensure that there are no problems with cash flow.
Storage problems and increased chances of losing or misplacing purchase orders
Let's face it. Irrespective of whether we're digitally transforming or not, we still store important documents like purchase orders in physical copies or in physical storage devices like office systems or hard drives. Damage to any of these storage media means that you lose important data represented in the POs. You also run a chance of losing these documents if your workplace or the employees in charge of storage transition to another place.
Let's beat the clock with Revv: An easier, more efficient workflow management for your purchase order process
As we stressed earlier, automation is a panacea to the most troubling issues you face with your purchase order document workflows. Revv can effectively address these pain points with our flagship electronic signature and document automation solution. Let's break down the solution in detail and explore how it streamlines and enhances your operational efficiency.

1. Create Purchase Orders faster with customizable templates
As mentioned before, creating single or bulk purchase orders from scratch is time-consuming, inconsistent, and a hassle. Now, with Revv, you can forget all the pain of creating POs. Revv provides a much more efficient solution with its ready-to-use purchase order template. You can customize it as per your requirement, make it brand-aligned using the feature-rich editor, and create multiple POs within minutes.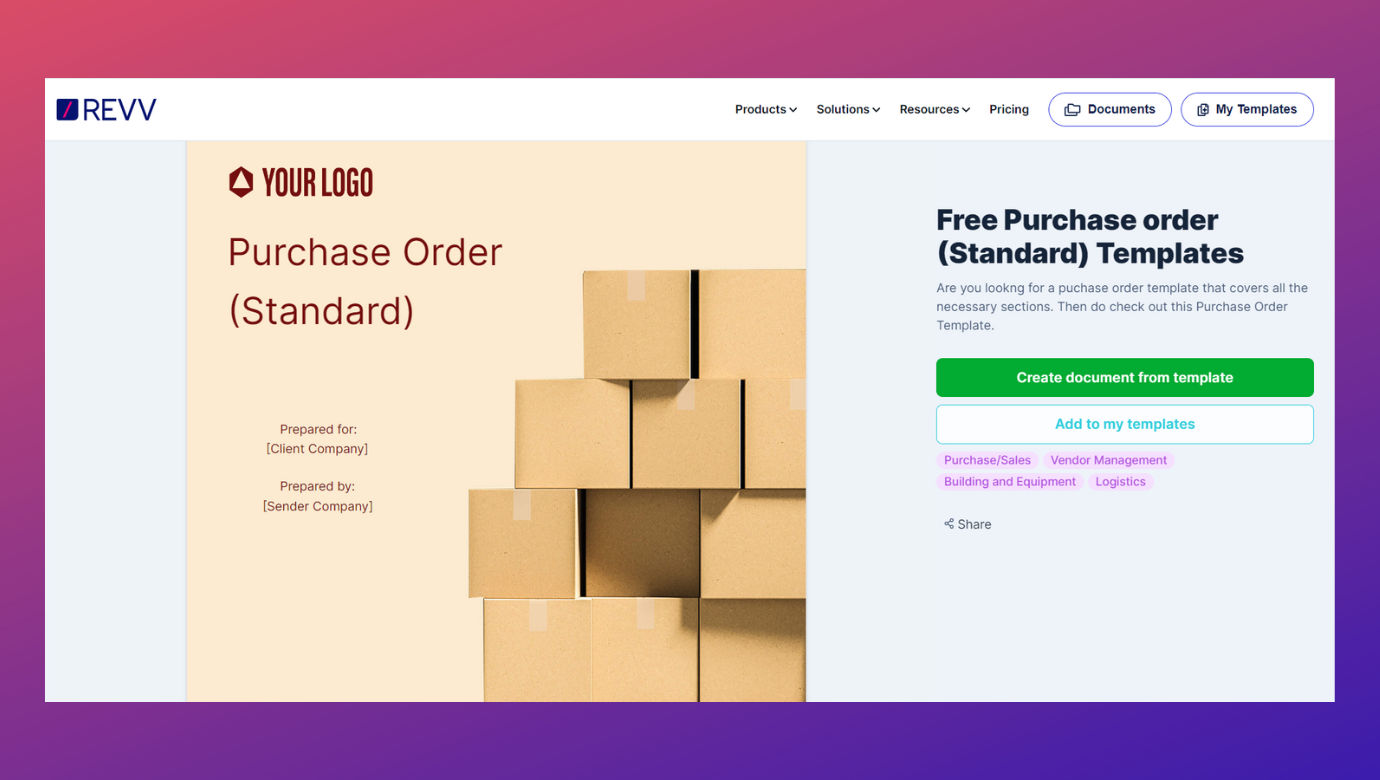 Bonus: Click to create single or bulk purchase orders with the help of Revv's ready-to-use purchase order template.
If you have an existing PO template, you can simply upload its Microsoft Word or PDF format to the Revv platform with a simple drag-and-drop feature. You can further edit your template with the document editor. It allows you to add/edit texts, images, and tables, and integrate your Google Sheets and payment systems.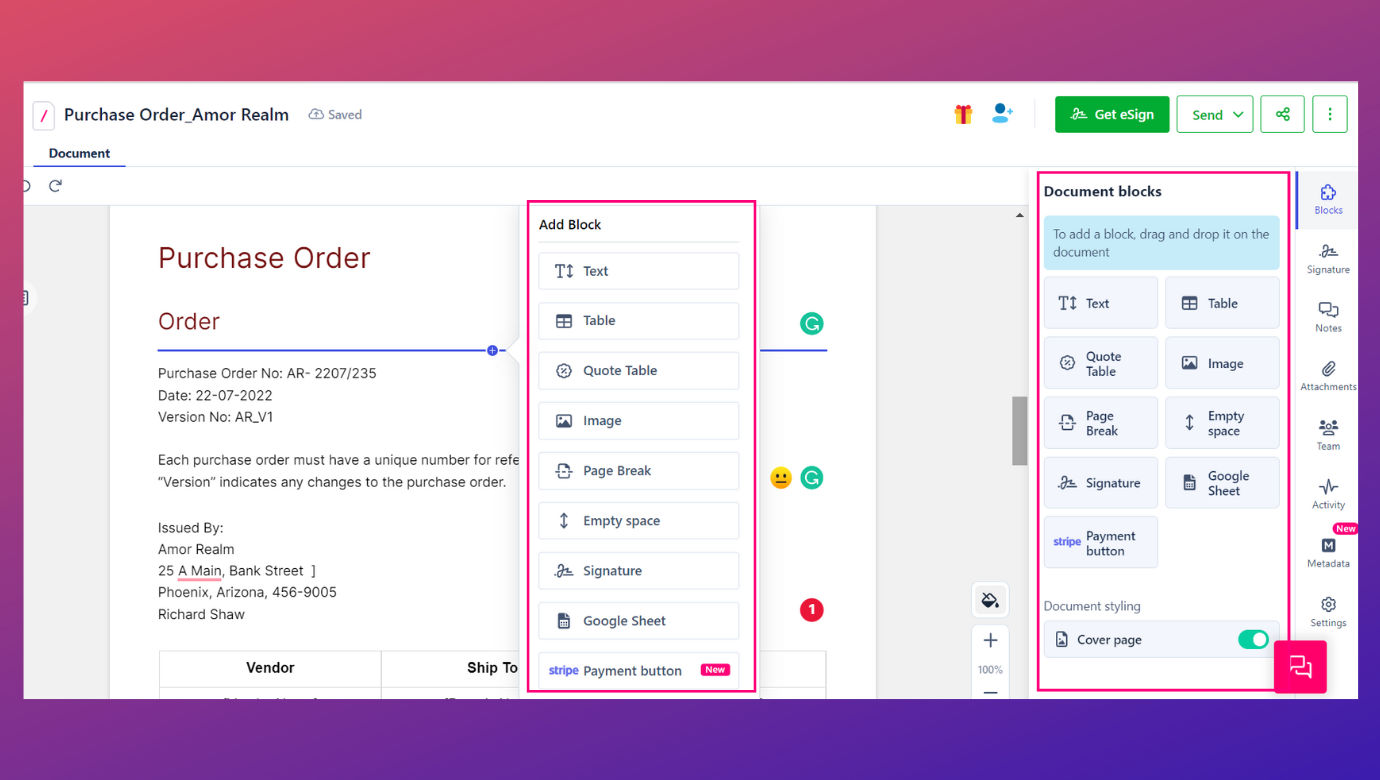 Besides PO templates, Revv also provides a plethora of other business templates such as NDAs, different types of proposals and agreements, letters, consent forms, and more.
2. Leverage the benefits of integration for a seamless flow of information
Different enterprises use different types of purchase order management systems. Very small to small business owners depend on spreadsheets and ledgers, while medium to large businesses may depend on different software such as QuickBooks, Coupa Procurement, Xero, Procurify, etc. to manage their procurement lifecycle. Along with using such PO management systems, businesses will depend on different other systems to create, manage, and track their purchase orders. Using multiple applications to complete various steps in the purchase order process leads to complexity and unnecessary delays as data is saved inconsistently. Due to a lack of a single source of truth, the PO personnel often has to switch from one system to another in the PO process.
You can now link all these various apps with ease and allow data to flow precisely and uninterruptedly with Revv's seamless integration capabilities.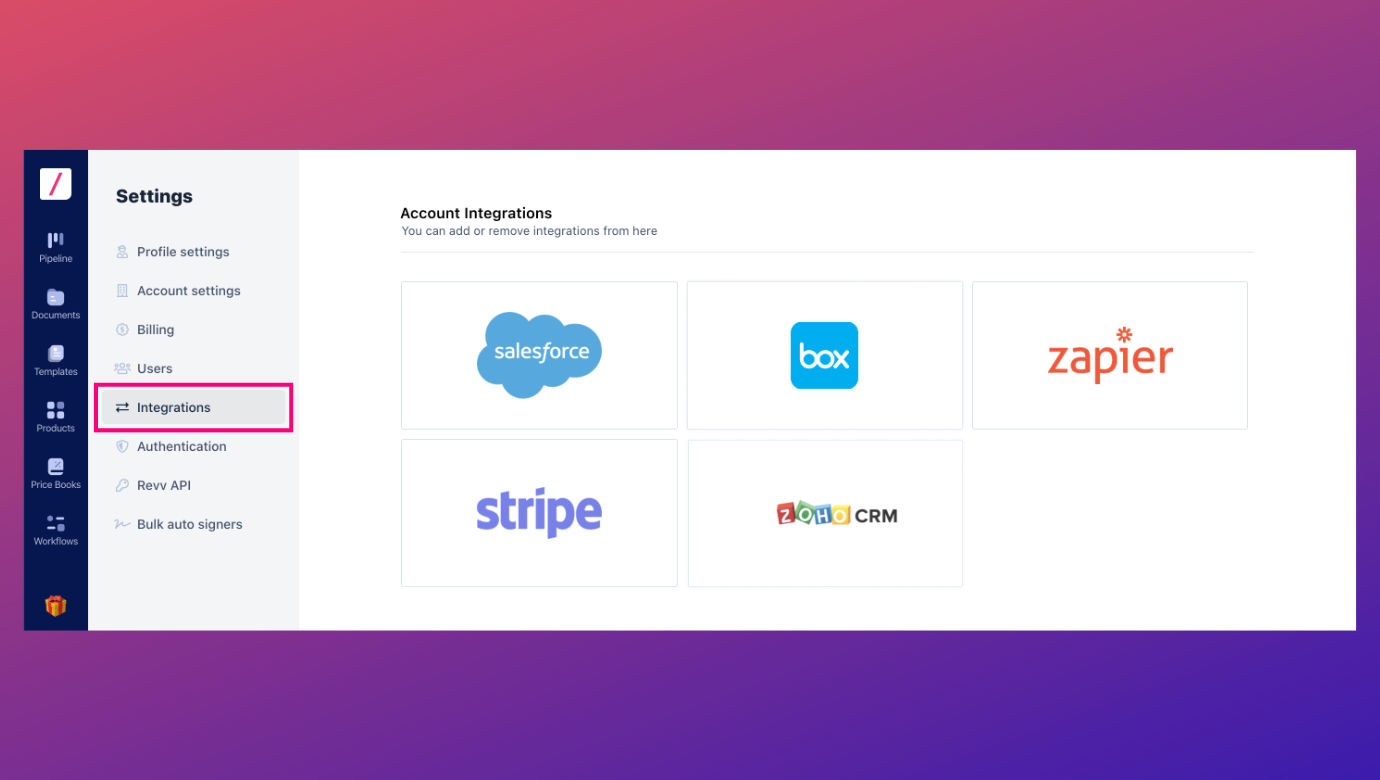 Let's see some of the benefits you can get from these integrations.
No more switching from one tab to another to get different information to create your purchase orders
No repetitive entry of data in multiple systems. You will get a comprehensive view of varied data in one place
No need to write separate codes, scripts, or APIs to connect your business systems
Quick approval, review, and eSigning processes
Irrespective of the size, mapping data to your purchase orders from an external data source is fast and simple with Revv's Data Studio feature
Explore in detail, Revv's Data Studio feature
A problem case: In an organization, the procurement team has to create and send purchase orders to multiple vendors. The terms and conditions are also different for different vendors as well. The team has stored all the vendor details and their inventory list in various spreadsheets. The team not only has to create POs mapping accurate data from the spreadsheets, but they also have to get it approved by their managers and send it to vendors for eSigns. To complete all these tasks, they only have a stipulated time.
Don't rack your brains more as Revv provides a much more efficient and result-driven solution for it – Data Studio. Data Studio is an effective data mapping tool through which you can connect and import data from any external data source (it can be Excel or GSheets, ERP, CRM software, etc.) to the Revv platform. With a simple point-and-click feature, you can map data to your purchase order's form fields.
Purchase orders will be updated with mapped data. You will also be able to create single or bulk purchase orders within minutes.
Bonus: You can learn how the Data Studio feature works in your Salesforce account from here.
3. Real-time collaboration to make your purchase orders error-free
While creating multiple purchase orders on a daily basis, mistakes may happen if you have inputted the wrong number of items, addressed to the wrong vendor, or have used an old purchase order template with old price details, etc. Avoid all these human errors and make your purchase orders error-free with the Notes feature. It is a real-time collaboration feature provided by Revv. If you want your POs to be thoroughly reviewed by your peers, you can simply tag your colleague with @mentions. The tagged person will receive an email notification for the same.
For instance, along with the PO, you want to attach a previous invoice, but the same is available with the finance team. All you need to do is add a Public or Private comment, tag the respective accounts team member and ask him/her to attach the invoice to the same PO document. The real-time collaboration feature makes the review process easier and improves turnaround times.
4. Efficiently manage PO approvals with fast approval processes
Since purchase orders are critical documents closely interlinked with company budgets, it is important to send the right PO to the right vendor. Even a slight mistake in the purchase order can disrupt your business. Before sending POs to vendors, it is necessary to run these through necessary internal reviews and approvals from your procurement manager or any other reporting authority.
Now, with Revv, send purchase orders for internal approvals seamlessly by opting for the Check and send for internal approval feature. Set precise triggers and automate your document approval workflows with this option.

You can also send your POs to be reviewed by someone outside the company, by choosing the Send by email feature. For instance, this feature can be used if you want to discuss the terms and conditions with your vendors before finalizing the PO request. The sender can easily set recipient permissions where the recipient is able to either view or edit the document.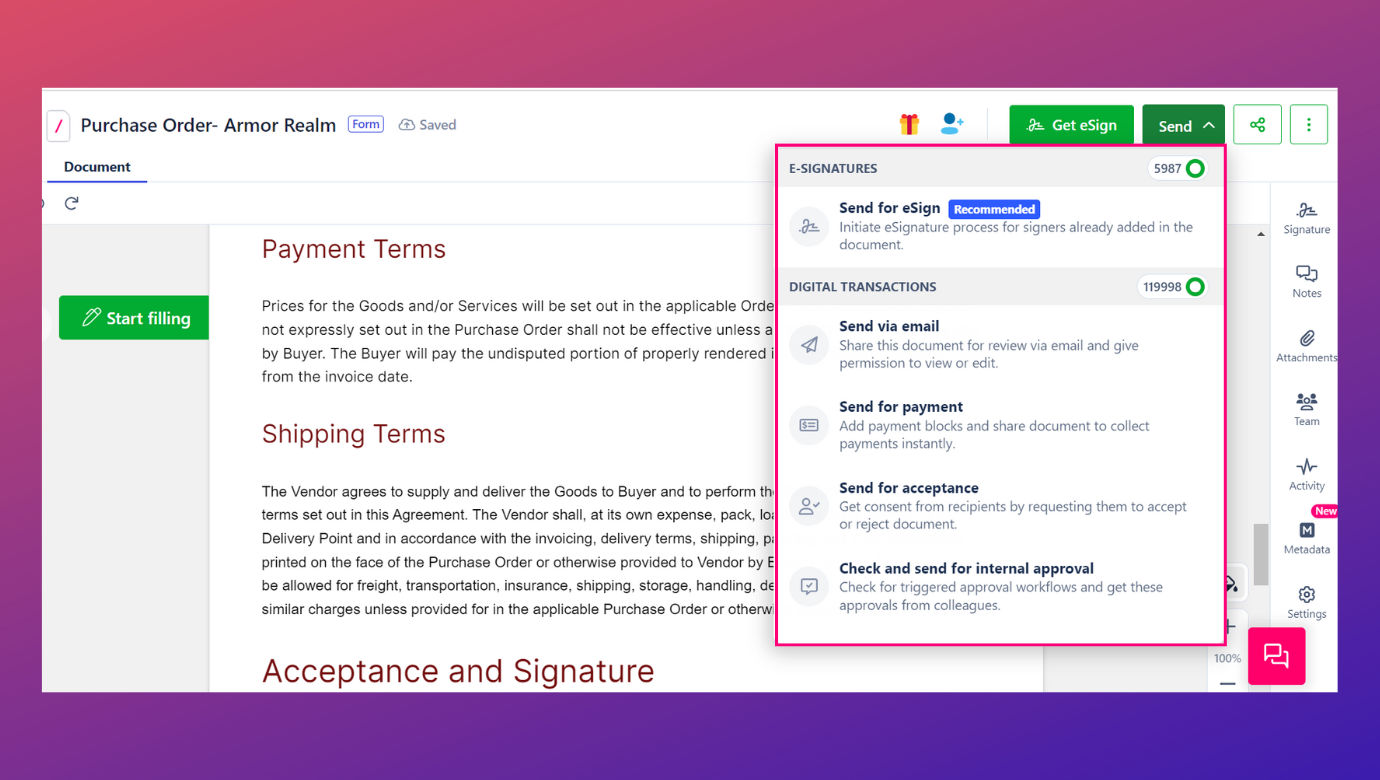 5. Seamless eSigning experience for quick purchase order closures
5a. Legally binding eSignatures
Once your purchase orders are created, reviewed, and approved, the next course of action is to send them to the vendors/suppliers for eSignatures. Revv provides easy and fast eSign processes, where with a simple drag-and-drop feature, you can add eSignature boxes in your POs. There is no limit on the number of signers you want to add to your purchase order. You can also set an eSignature expiration date to speed up your PO process.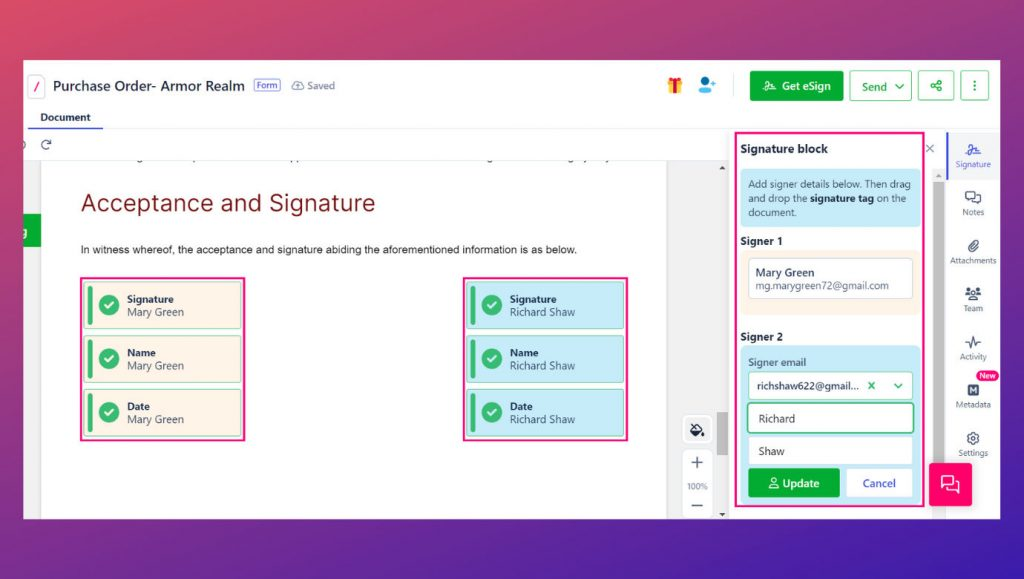 Revv also makes your purchase orders legally binding with its bank-grade eSignatures. It follows all local and global laws such as ESIGN Act, UETA, and eIDAS, among others. They are encrypted with Amazon Web Services Server-Side Encryption (AWS SSE-S3), and certified with AWS global cloud certification – such as Cloud Security Alliance Controls (CSA), SOC 1: Audit Controls Report (SOC 1), SOC 2: Security, Availability & Confidentiality Report (SOC 2), and ISO 27001 Security Management Controls.
5b. Fool-proof recipient identity authentication methods
Your company is constantly dealing with different vendors and suppliers on a daily basis. To make sure that your purchase orders are signed by the right vendor and to avoid any fraudulent activities, Revv ensures proper recipient identity verification. Recipient identity is verified by:
Email authentication: Purchase orders are sent for eSign to the recipient's mail address. When a signer logs into their email account and clicks the eSign link, the signer is automatically authenticated.
SMS-OTP authentication: You can use two-factor authentication (2FA) in addition to email authentication to validate the signer's identity. Select the Authenticate with OTP through SMS option and enter the phone number of the vendor when sending a PO for eSign. An OTP is generated and sent to the vendor's mobile when they click the eSign link to validate their identity. To access the file and start signing, the vendor has to enter the OTP code.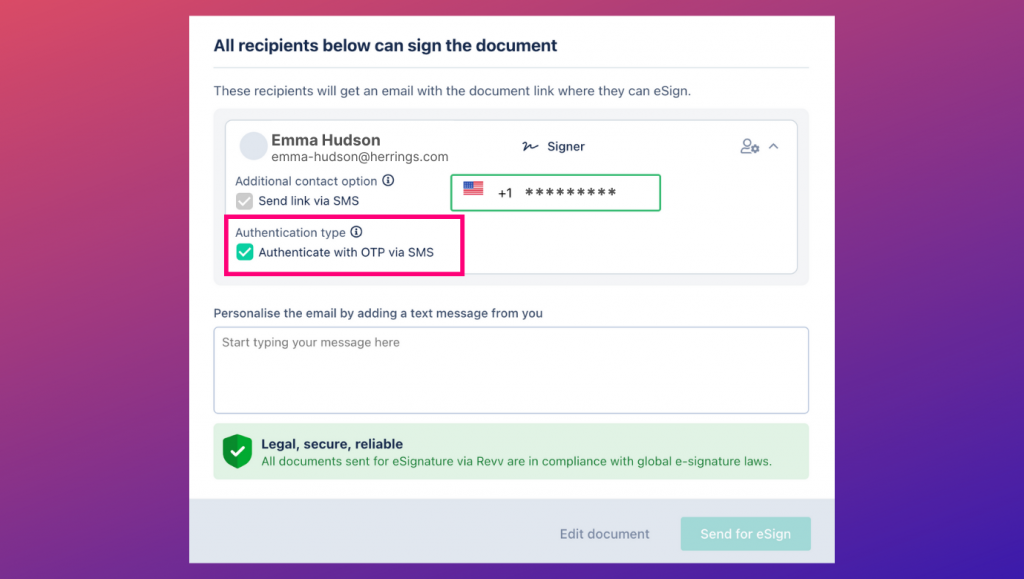 5c. Flexibility to customize eSignatures
Revv offers the flexibility for the signers to choose from different signature types to sign off purchase orders. They can:
Draw signatures: Recipients can draw their signatures using a mouse or digital pens.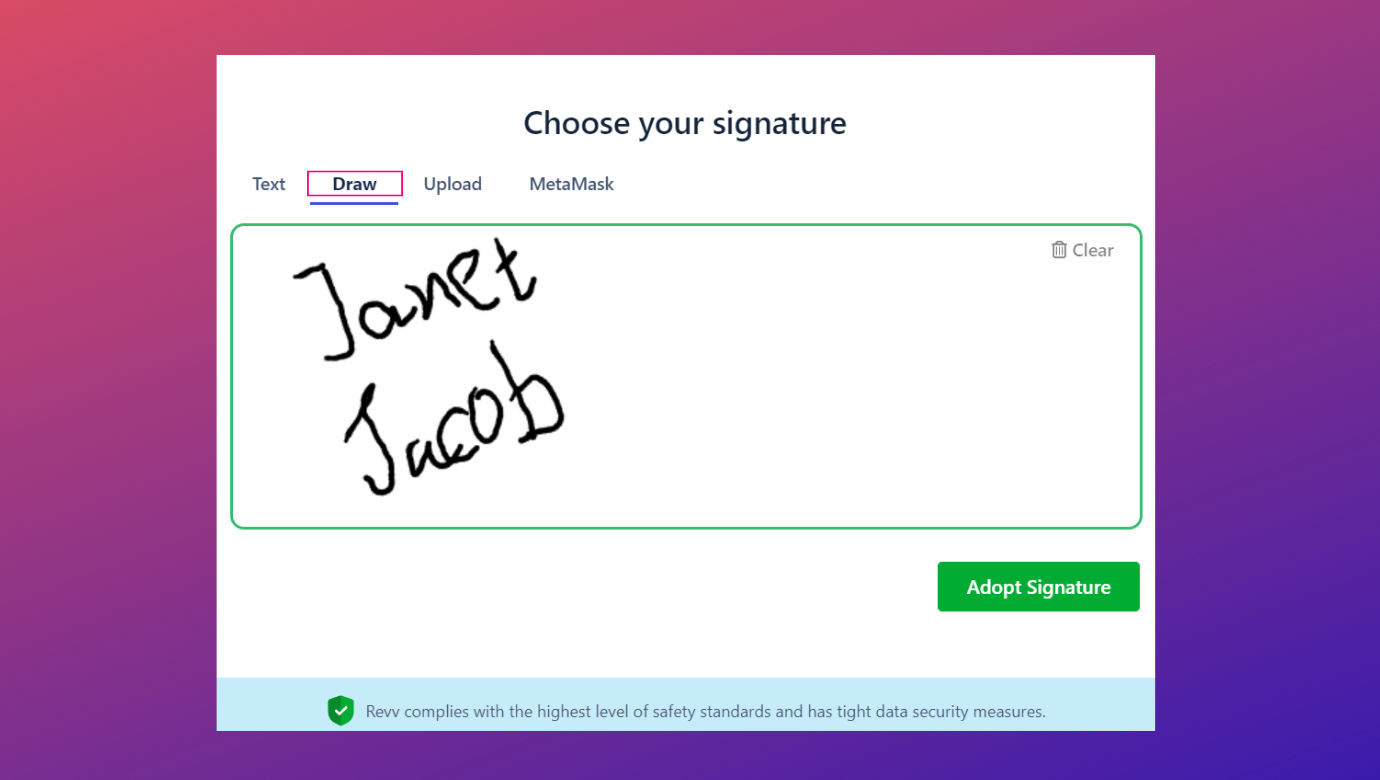 Text signatures: Signers can choose their signatures from pre-formatted styles. They can even customize their name for this type of signature. For instance, if the recipient's name is Janet Jacob, in the Text sign option, the signer can personalize the name as JanetJ, JJ, JJacob, or in whichever way they want to sign off.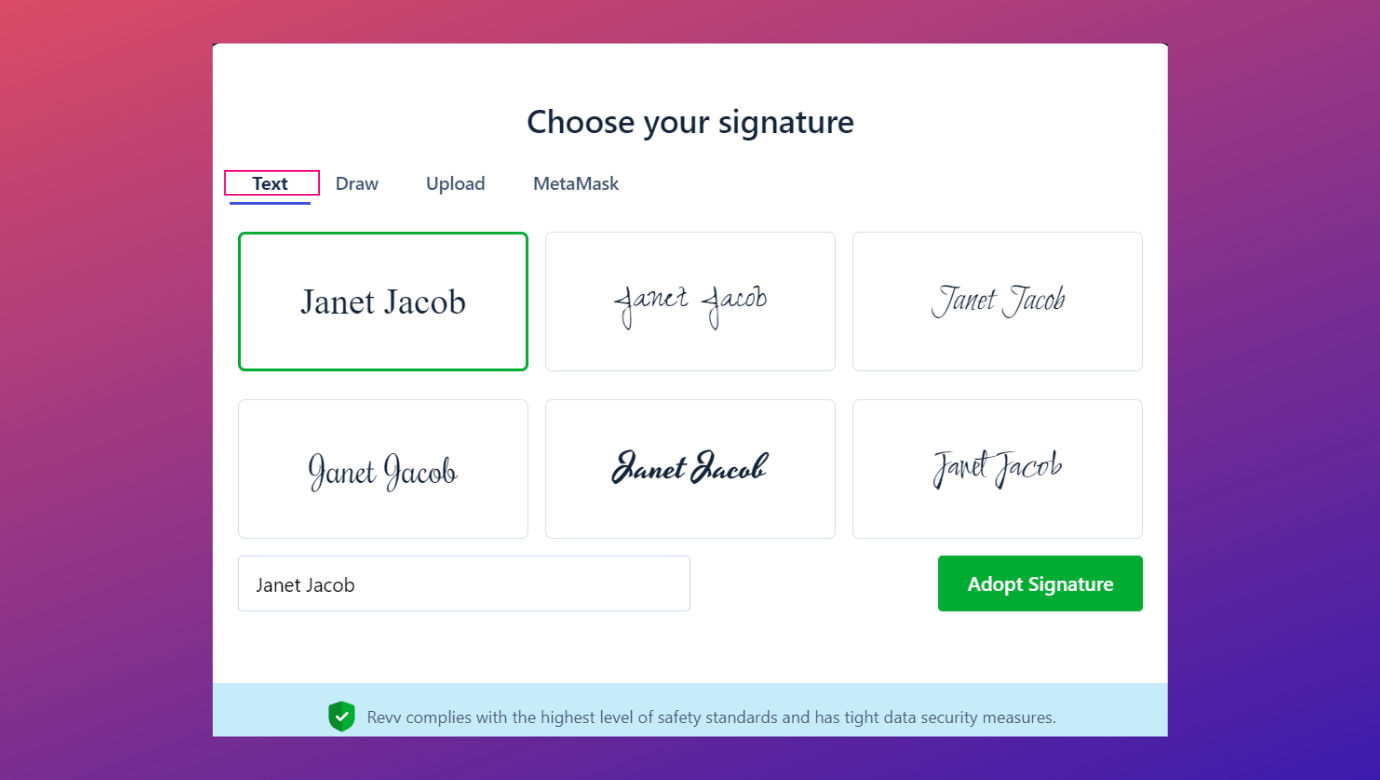 Upload signatures: Signers can even upload the image of their signature by simply scanning their wet-ink signatures.
Sign off using crypto wallet MetaMask: With Revv, recipients can even eSign their documents using their crypto wallet – MetaMask. With this eSign, Revv users can choose their Ethereum wallet to verify their identity and eSign POs. And the good thing about this sign-off is that there is no gas fee involved as well.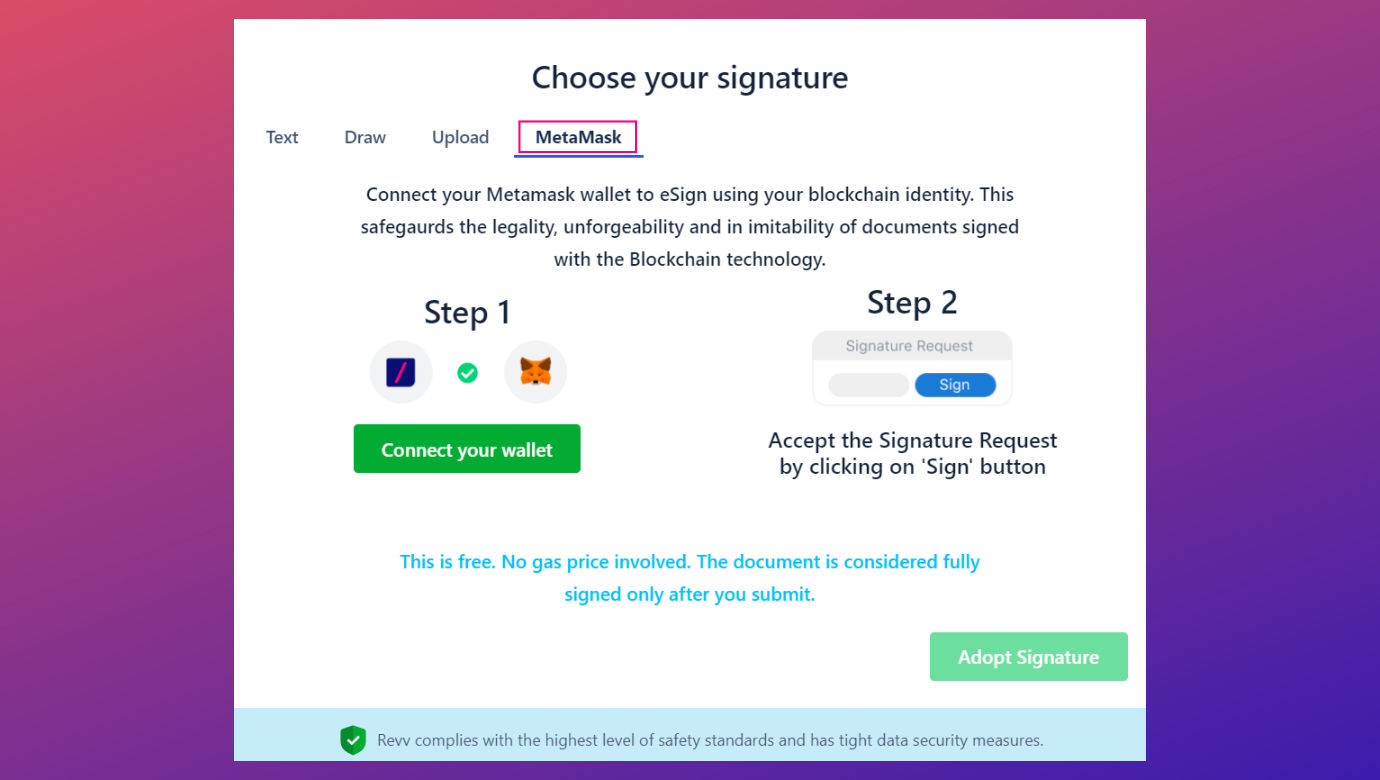 6. Easy trackability and legally binding audit trails
You might be dealing with a multitude of purchase orders, and it becomes impossible to track the status of each and every PO. But with Revv, you can track real-time activity for all your purchase orders from the Activity tab.
For instance, let's say, you sent a purchase order for eSign to a vendor and another purchase order to your reporting manager for approval. You notice from the Activity tracker that the vendor has opened the PO as soon as he/she has received it, but has not completed the signature even after two days. Meanwhile, for the PO sent for approval to your manager, you see that the manager has not even opened your PO. Having these real-time data on your POs not only helps you to analyze the blockers but you can also directly check with the respective vendor as well as remind your manager to complete the purchase order-related tasks and resolve the issues immediately.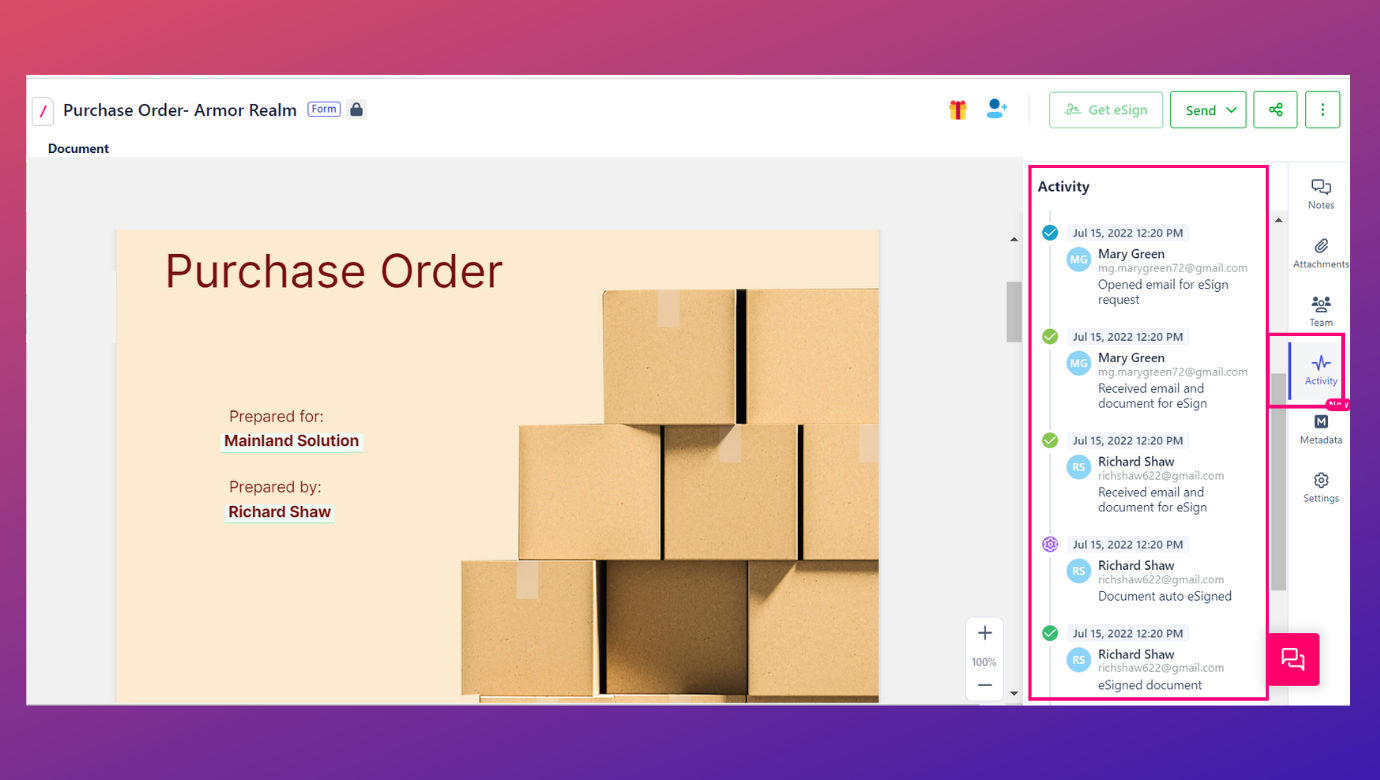 When your company is handling bulk sending of purchase orders, you need to be cautious about the legal responsibilities if they are tampered with by any chance. To avoid complexities involved in the backtracking of documents or any unfortunate incident leading to legal suits, Revv generates an electronic copy of audit trails in the form of an Evidence Summary for all eSigned purchase orders.
Evidence Summary is a digital certificate that chronologically records each action taken during the signing process of POs. It includes – the signer's information, date and time stamp of each action taken by the signer, IP address of the signer, and other details that act as legal proof.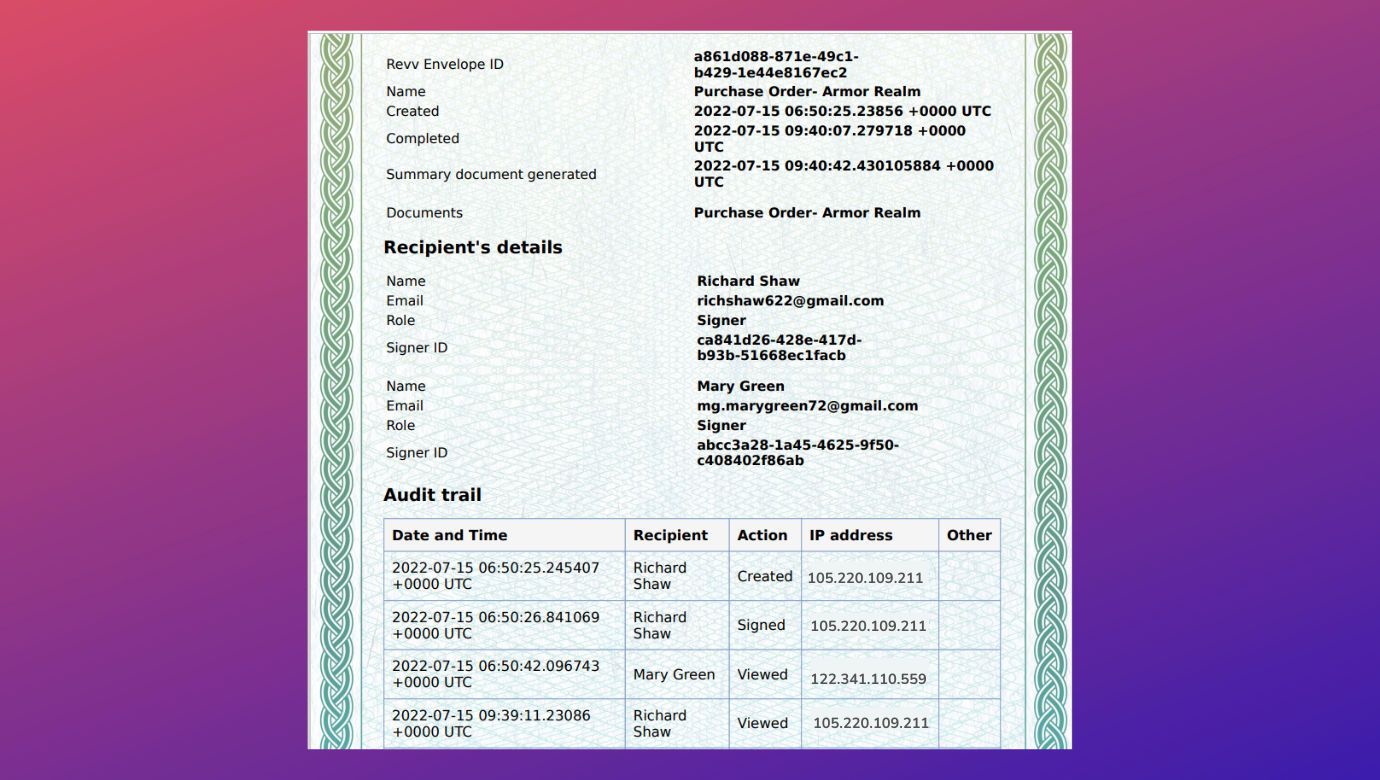 7. Optimize purchase order workflows with Pipelines
There are many moving parts involved in your purchase order process. For instance, you need to create your purchase orders, get them reviewed, send them for approval, eSign, notify other departments to initiate the next workflows, and more. Scenarios that demand bulk creation, processing, and sending of POs mean more complications, delays, and possibilities of human errors.
But with Revv, you can streamline all these processes with its Pipelines feature. For instance, if you want to categorize all your purchase orders as per vendors or product-wise, all you need to do is create category-specific pipelines and set routing rules for them. Thus making it easier to find POs from the same vendor in one place.
Procurement teams often find it difficult to track the status of each and every purchase order they create. For example, some POs might be sent for internal review or for approval; some might be sent for eSignature to vendors, and there will be POs that might have been rejected by the vendor due to certain revisions. Opening each and every PO to know their status is not only a hassle but also time-consuming.
The pipelines feature allows the user to categorize POs as per their status under different lanes. Lanes could be added, customized, or renamed as per your needs. You can create multiple lanes, such as draft, sent for internal approval, sent for review, internally approved, sent for eSign, rejected, closed, etc. Each PO could be routed to the specific lanes as per its status through lane jobs. Now, procurement teams will have complete visibility into the status of POs without any manual tracking. Reminders, notifications, and next workflows can also be triggered with the help of self-running pipelines, making the purchase order process seamless from start to finish. Pipelines make each and every stage of the purchase order workflow automated with minimal human intervention.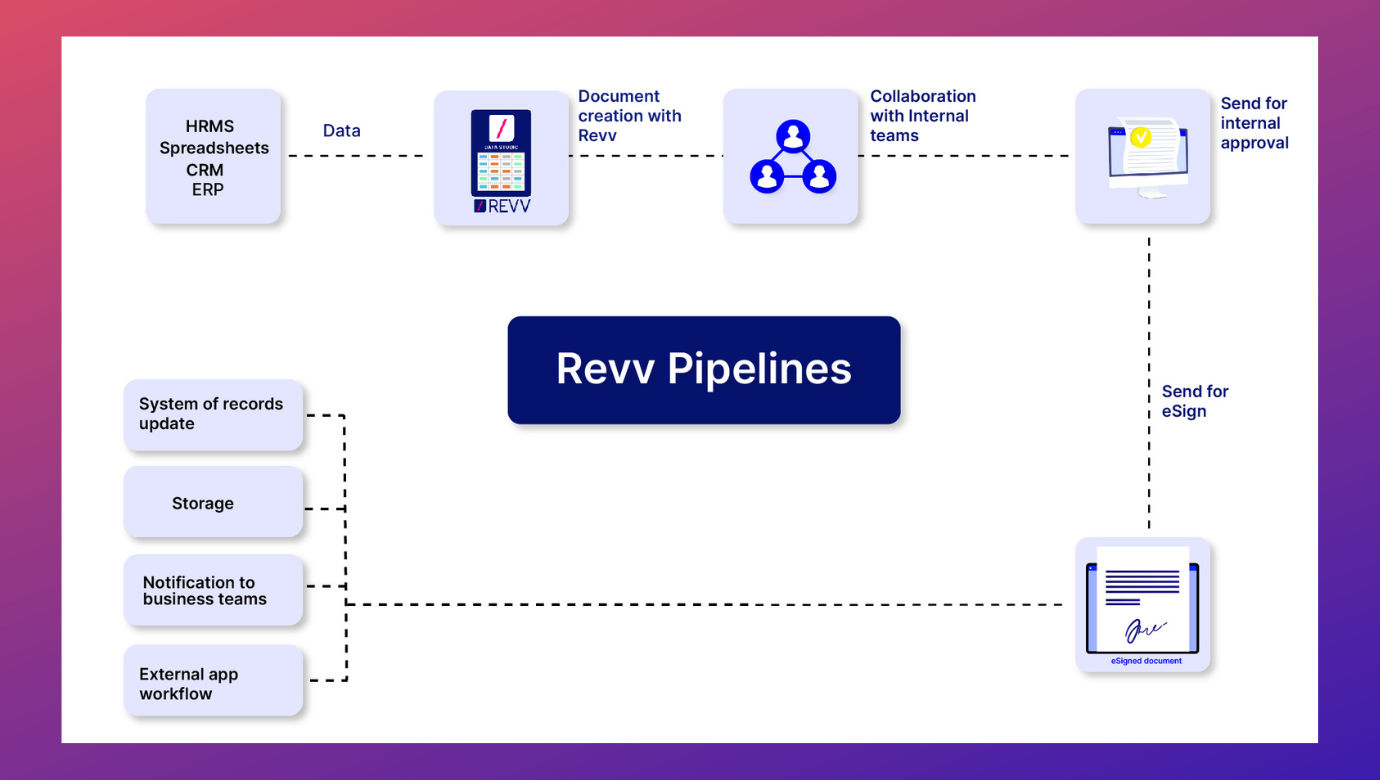 Revv: The ultimate choice to streamline your purchase order process workflow
Purchase orders are imperative to your procurement strategy and are great documents as long as they function effectively, like other business processes. However, they stop being useful when they start to impose an administrative load on the already overworked team members. You can reduce the amount of administrative work involved in the process by automating purchase orders. This is exactly what you can leverage with the help of Revv's eSignature and workflow automation platform. It just makes things easier, clearer, and seamless.

It centralizes the PO process and gives better visibility to your finance teams. It helps you create a one-stop-shop for all your procurement processes that enhances your procurement strategy and improves your business's bottom line. More and more organizations are realizing the potential created by automation of such scale, freeing their time and resources, improving the buyer-seller relationship, and minimizing documentation errors among other benefits. If you haven't started thinking seriously about purchase order automation, now is the right time to take the next step and we are happy to assist you with the best course of action.
To know more, schedule a demo with our experts today!