As a business, we know the pivotal role spreadsheets play in different business processes. While eSignatures are mostly linked with long-form documents like contracts and NDAs, many signed documents like invoices, purchase orders, and expense reports begin as spreadsheets.
But it's not just the finance department that depends on spreadsheet applications. As businesses increasingly start looking up to the cloud for digital transformation, Google Sheets have become the go-to tool for many departments like HR, Sales, Business Operations, and Procurement, to accomplish day-to-day tasks. But, are we really perceptual about the potential of GSheets and how it can be streamlined?
The challenges faced by organizations when it comes to working with GSheets can always be traced back to the underlying issues in their document workflows. In other words, the more efficient your document workflows are, the better experience you'll have working with GSheets. For instance, consider an approval process-related document workflow. Your GSheet contains all the employee appraisal details, and each appraisal letter needs approval from the respective department heads. Because department heads are always juggling multiple responsibilities, getting approval signatures takes a long time. This is like an inherent blocker related to your document workflow, which ultimately hampers the efficiency of your GSheets.
Did you know?
Studies show we spend more than 10% of our working lives in spreadsheets.

Source: Financial Post
In this blog, we will explore the many challenges faced by business departments while working with GSheets, how they tie back to a document workflow blocker, and how an automated workflow management system like Revv can make a world of difference in your GSheet experience.
Adverse impact businesses face while working with GSheets
Be it any kind of business, spreadsheets play an inevitable part in an organization and among business teams.
Spreadsheets are used for exclusive purposes by each business department. Let's look at the departmental dependency on Google Sheets and the related document workflow challenges.
HR: HR team has to create and send consent forms to their employees. They even have to draft and get signatures on administrative letters like intent letters, experience letters, and negotiation letters, to name a few. But, when they use GSheets to store employee and organization-wide details, a set of challenges unfolds.
🚩Blockers:
Creating HR documents like consent forms and different letters from scratch.
Manually copy-pasting information from GSheets to create the documents. The whole process is not only time-consuming but also prone to errors.
Getting signatures on time on consent forms, letters, and agreements.
Did you know?
According to a Sage survey of small and medium-sized enterprises in 11 countries, almost "120 working days" are spent on administrative activities, which is mostly attributed to obsolete technology.

Source: Simple Legal
Sales: The sales team has to send sales quotes to their premium clients for signatures. But before sending the sales quotes, they require internal approval from the sales head. However, to create these documents, the salesperson has to take the client data from GSheet and all sales-related figures from Salesforce. Besides, the team also has to create sales quotes and proposals in bulk, which is yet another hassle.
🚩 Blockers:
Data is scattered across different systems and juggling between multiple apps to get data means more confusion.
Creating bulk documents and sending them to the right people can be tedious.
Back-and-forth email exchanges and follow-ups to get internal approvals for the bulk document created.
Manually entering updated data back to GSheets can be missed by the team as well as they are prone to errors.
Accelerate the efficiency of Google Sheets with 
automated document workflows and compliant eSignatures.
Try Revv today
! 
Procurement: Procurement teams often store the purchase order details in GSheets. These details are used to raise invoices and collect payments.
🚩 Blockers:
Raising invoices by mapping the accurate information from GSheets.
Getting payments released on time.
Finance and accounting: The team has to prepare finance and expenditure reports consolidating data stored in different GSheets. These reports are also sent to partners and board members of the organization.
🚩 Blockers:
Getting centralized data
Creating complicated financial reports from scratch
How Revv, the leading eSign and document automation platform, revolutionizes the efficiency of GSheets?
As the dependency on GSheets is increasing over time, the challenges related to its use are too. Juggling between various spreadsheets not only creates confusion but causes unnecessary delays as well. With the right intervention, the complexity and blockers associated with GSheets can be safely and successfully bypassed. In such scenarios, a holistic document automation and eSign platform like Revv is your trump card and savior for your business. Let us explore how.
1. Document creation based on multiple GSheet information is now made easy!
As you already saw in the above section, different departments depend on GSheets to create different sets of documents. But, Revv makes the document creation process much easier and faster. With Revv:
1.1 Generate documents faster with customizable templates
Revv has an extensive collection of professional and ready-to-use templates which caters to every business requirement of yours. Now, you can create letters, consent forms, sales quotes, proposals, NDAs, invoices, proposals, and more, within minutes. Be it any kind of business document, there is a template available in Revv.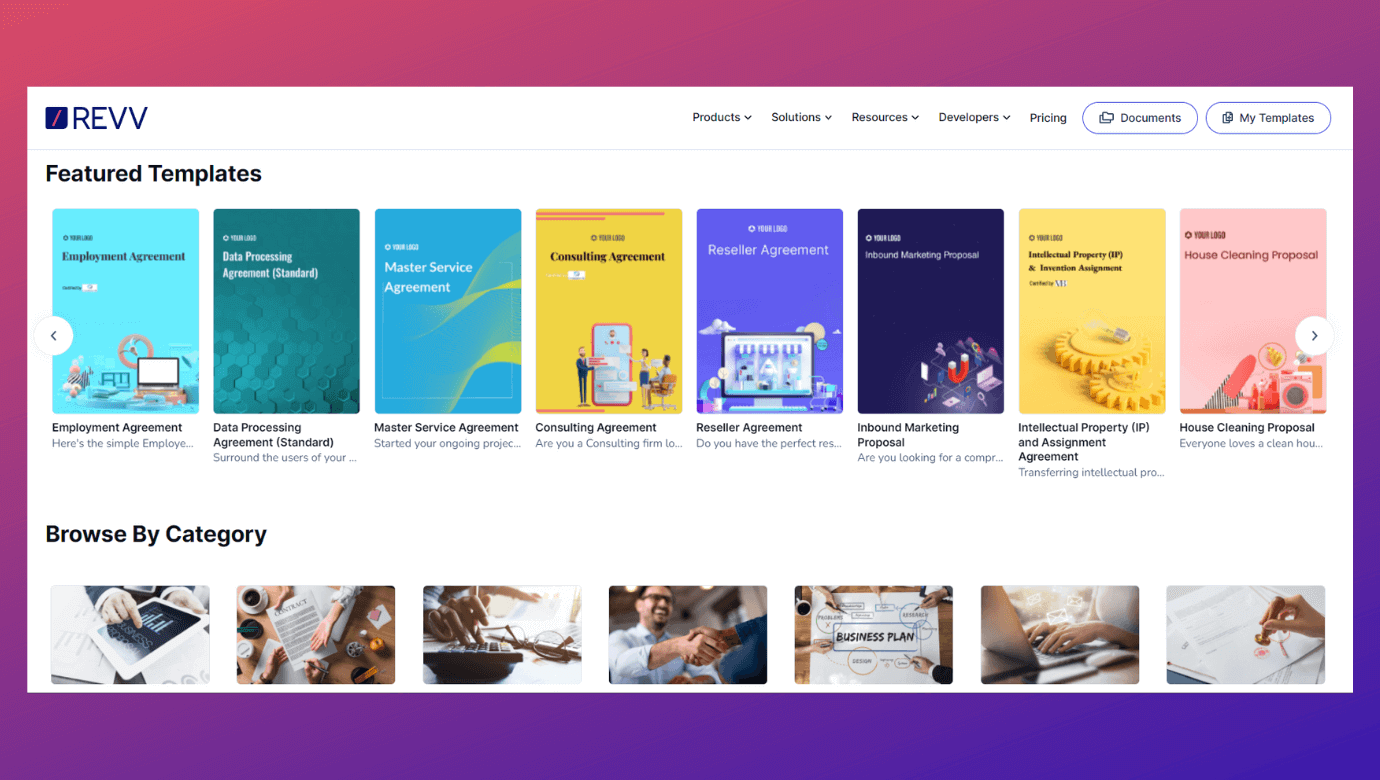 But, what if you already have existing business templates?
Then you can simply upload your template to Revv platform and further enhance it, with the feature-rich document editor. You can not only do away with creating your documents from scratch but also customize them as per your brand designs. With a simple drag-and-drop feature, you can add or edit texts, insert images and tables, and customize accordingly.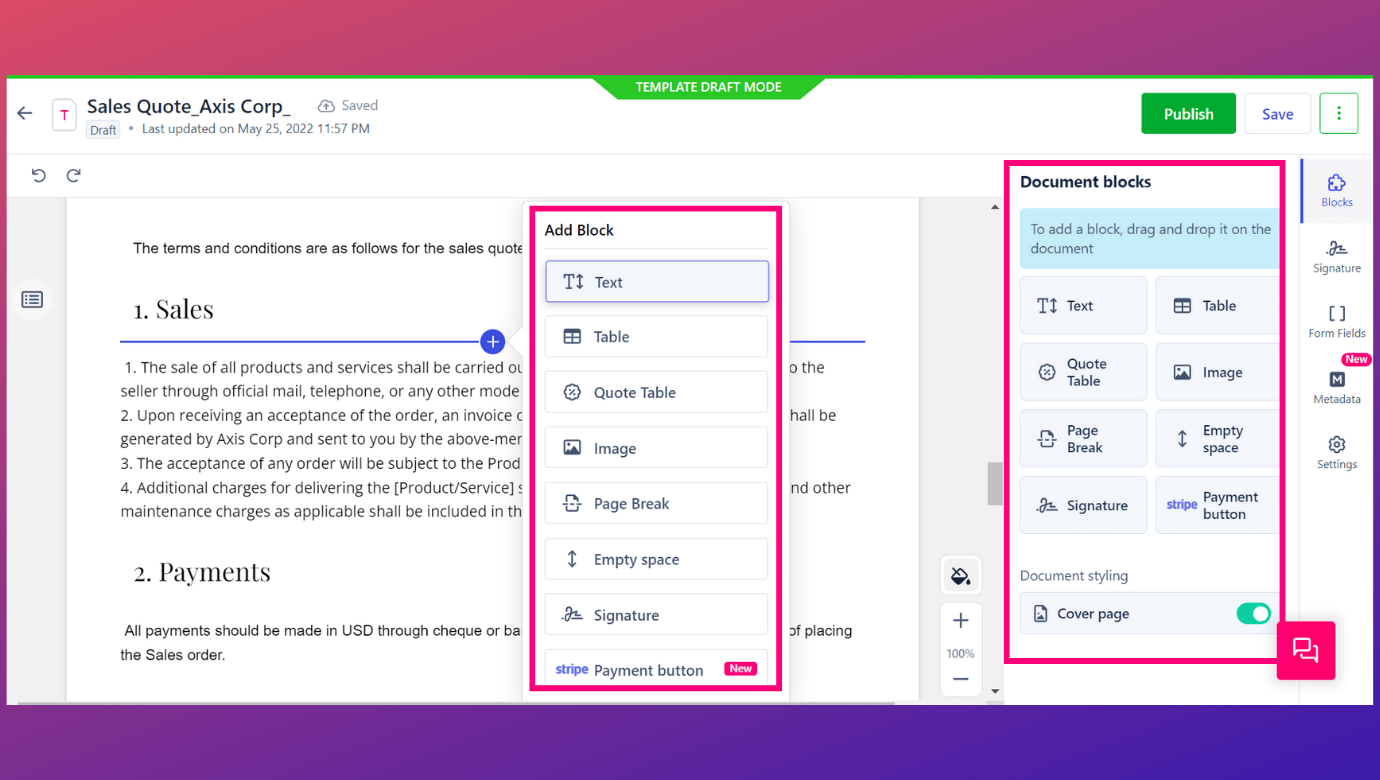 1.2 Conveniently add a plethora of information from GSheet to your documents
Even after creating your templates, there would be information that needs to be incorporated into your documents from GSheet. For instance, you are creating a consent form to be sent to each employee in the company. In the consent form, you need details like Employee Name, Employee ID, Email, etc., from the GSheet. Copy-pasting each employee detail to each document is tortuous and cumbersome.
But Revv gives a perceptive solution with its form-based templates. Wherever you need the information to be fetched from GSheet, convert those places in the template to fillable placeholders called form fields. Insert details in the form fields by mapping your GSheet to Revv.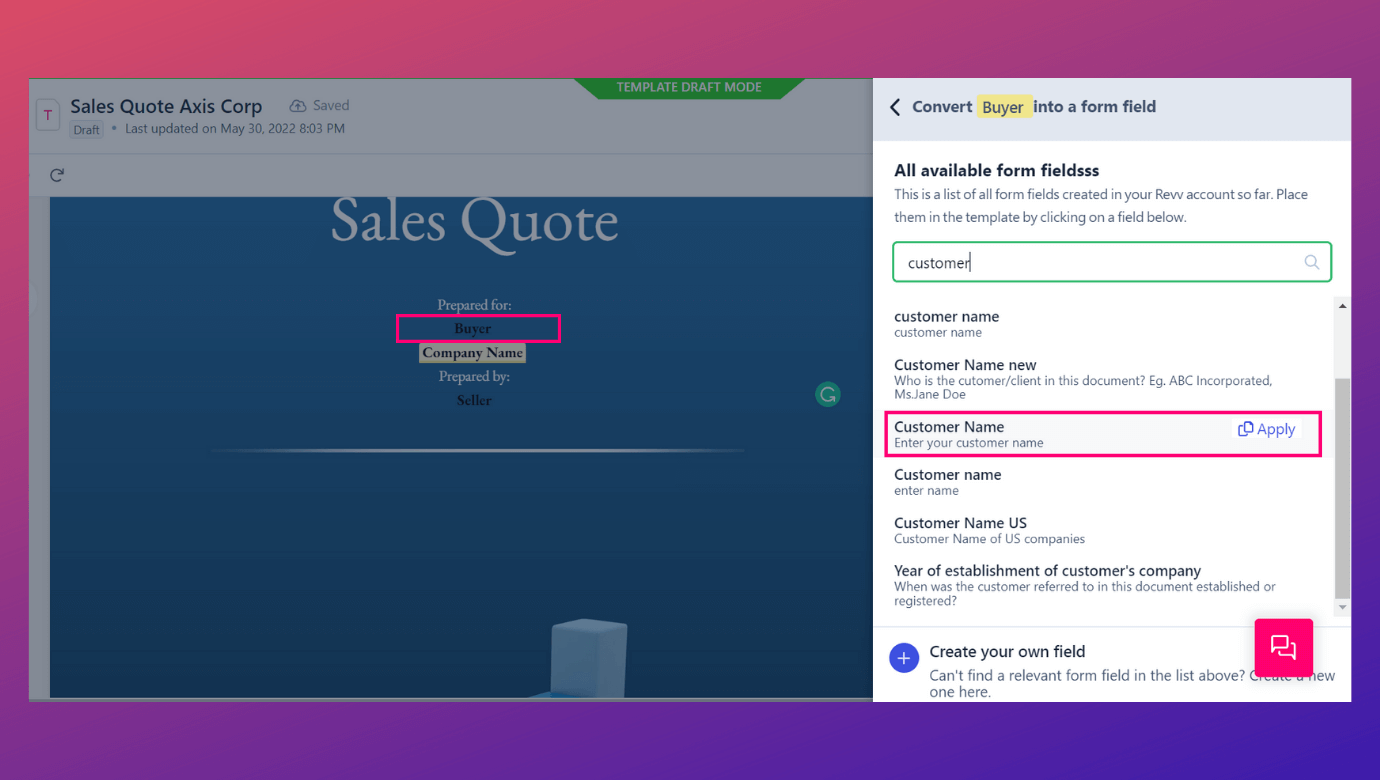 We will talk about how easily you can map your data between GSheet to Revv's form fields in the subsequent section.
BONUS: In case you want accurate information from your recipients, you can even assign form fields to be filled out by the recipients.
2. No more errors while moving GSheet data across documents
Is your data scattered over multiple spreadsheets? Is switching between different spreadsheets to pull data creating confusion, errors, and delays? With Revv, you can break free from all your data mapping problems. It is easy to map data from your Google Sheets with Revv's integration abilities.
Managing complex data in your GSheets creating hassles?
Make data mapping a cakewalk with Revv!
Sign up for free
!
With Revv's no-code Data Studio feature, you can easily integrate your Google Sheet and map any chunk of data to Revv's form fields within minutes. You can map data between Google Sheet to Revv's respective form fields using a simple drag-and-drop feature. For example, let's say, you need to create a sales quote for a few of your clients. All your sales figures and product details are stored in a GSheet. With Data Studio, you can seamlessly integrate your GSheet and start mapping your data from the GSheet to respective Revv fields.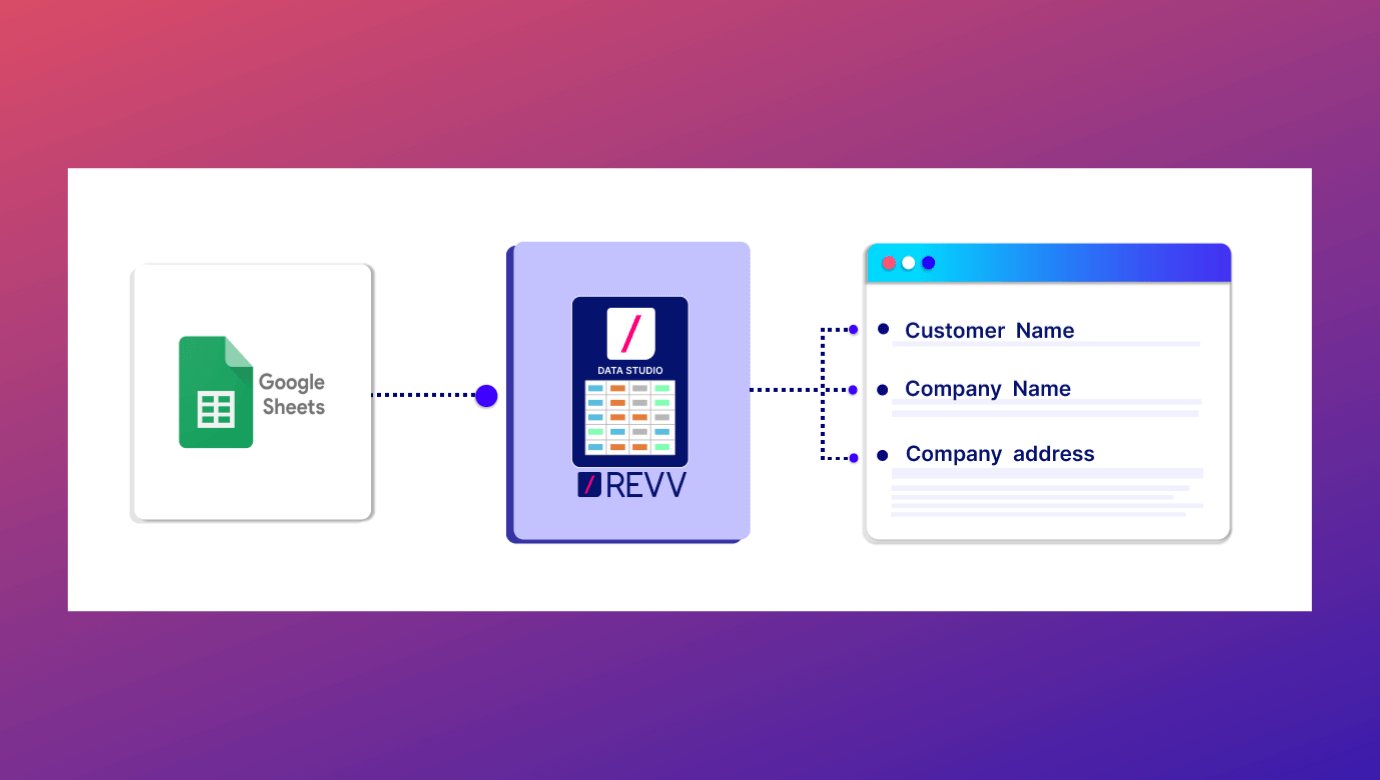 👉What do you get with Data Studio's mapping feature?

📌Irrespective of the size and complexity, you will be able to map accurate data to your documents
📌No more dependency on manual data entry processes, hence no more human errors
📌Bulk documents will be created within minutes
📌You can directly send bulk documents for approval and eSignatures
📌No need of Scripts, Codes, or APIs
3. Prompt signing of documents created from GSheets
3.1 Easy and fast eSign process
Be it your purchase orders, invoices, consent forms, sales quotes, or any other documents created from the data imported from spreadsheets, each document requires to be closed with necessary eSignatures. Revv provides you with easy and fast eSign processes for any kind of business document. After the documents are ready, add eSign tabs with a simple drag-and-drop feature anywhere on your document. You can add as many signers as you want within the same document.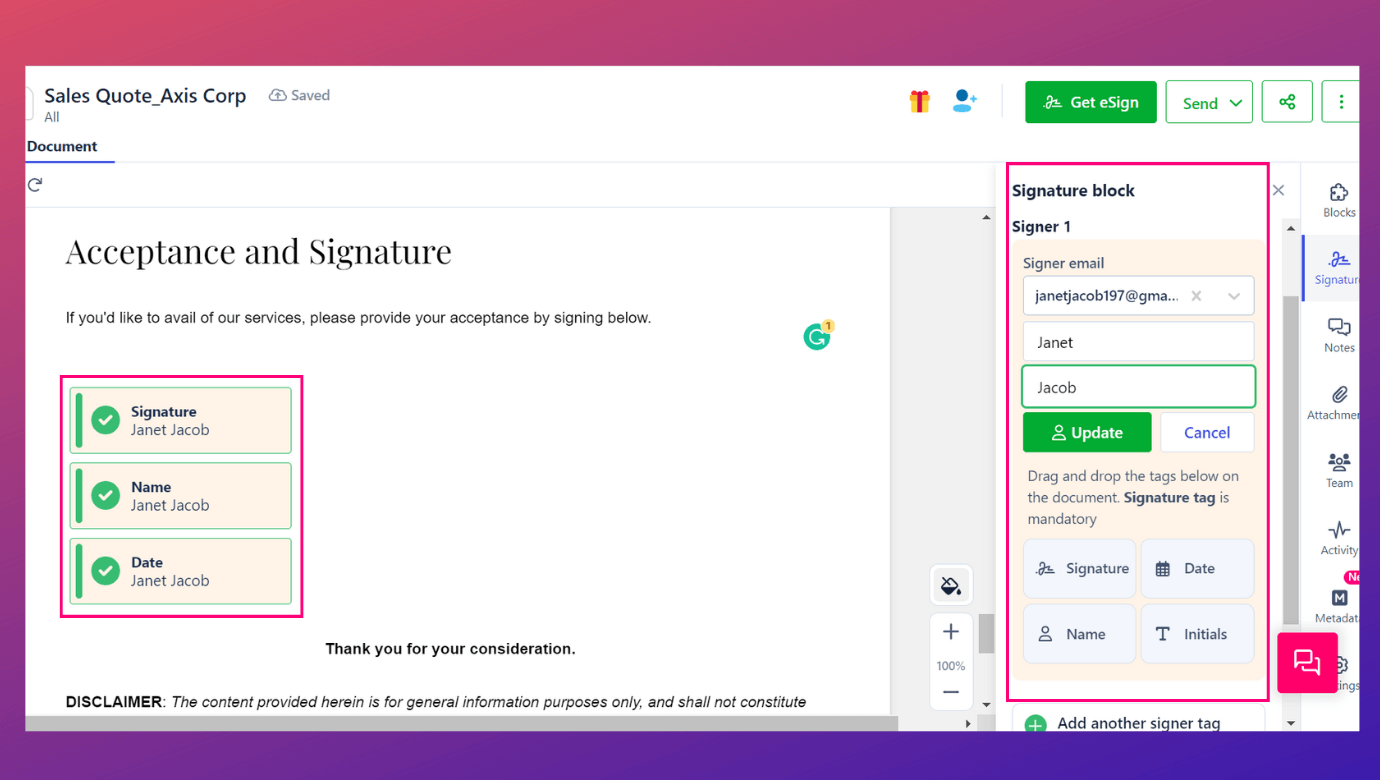 3.2 Assured compliance
Revv's eSignatures are legally binding and follows all local and global laws such as ESIGN Act, UETA, eIDAS, and others. They are encrypted with Amazon Web Services Server-Side Encryption (AWS SSE-S3), and certified with AWS global cloud certification – such as Cloud Security Alliance Controls (CSA), SOC 1: Audit Controls Report (SOC 1), SOC 2: Security, Availability & Confidentiality Report (SOC 2), and ISO 27001 Security Management Controls.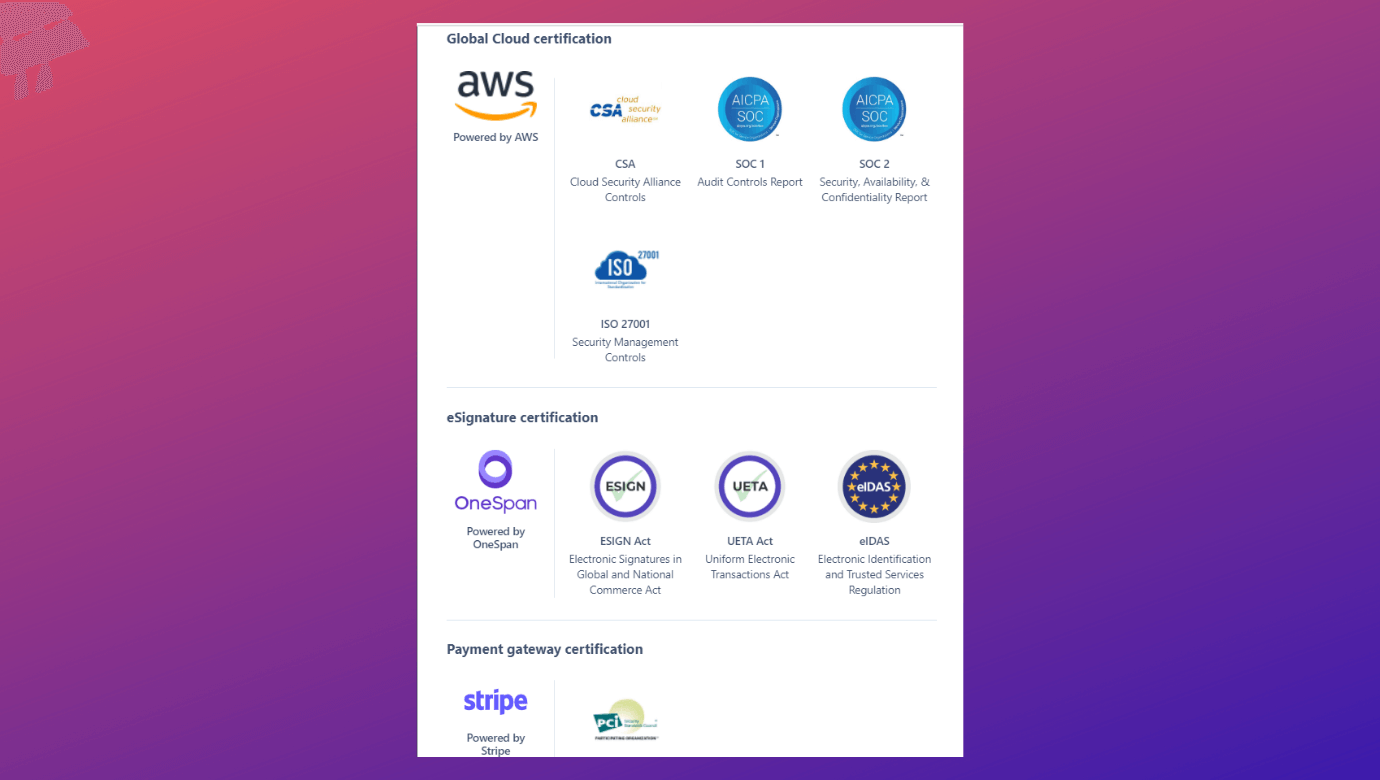 Your documents like NDAs, sales quotes, invoices, letters, etc., contain confidential information. Of course, you don't want your company to be held responsible in a court of law if these documents are tampered with by any chance. To avoid such unfortunate incidents, Revv generates an electronic copy of audit trails for all eSigned documents in the form of Evidence Summary. It is a digital certificate that registers each action taken during the signing process, which includes – the signer's information, date and time stamp of each action taken by the signer, IP addresses, and other details that act as legal proof.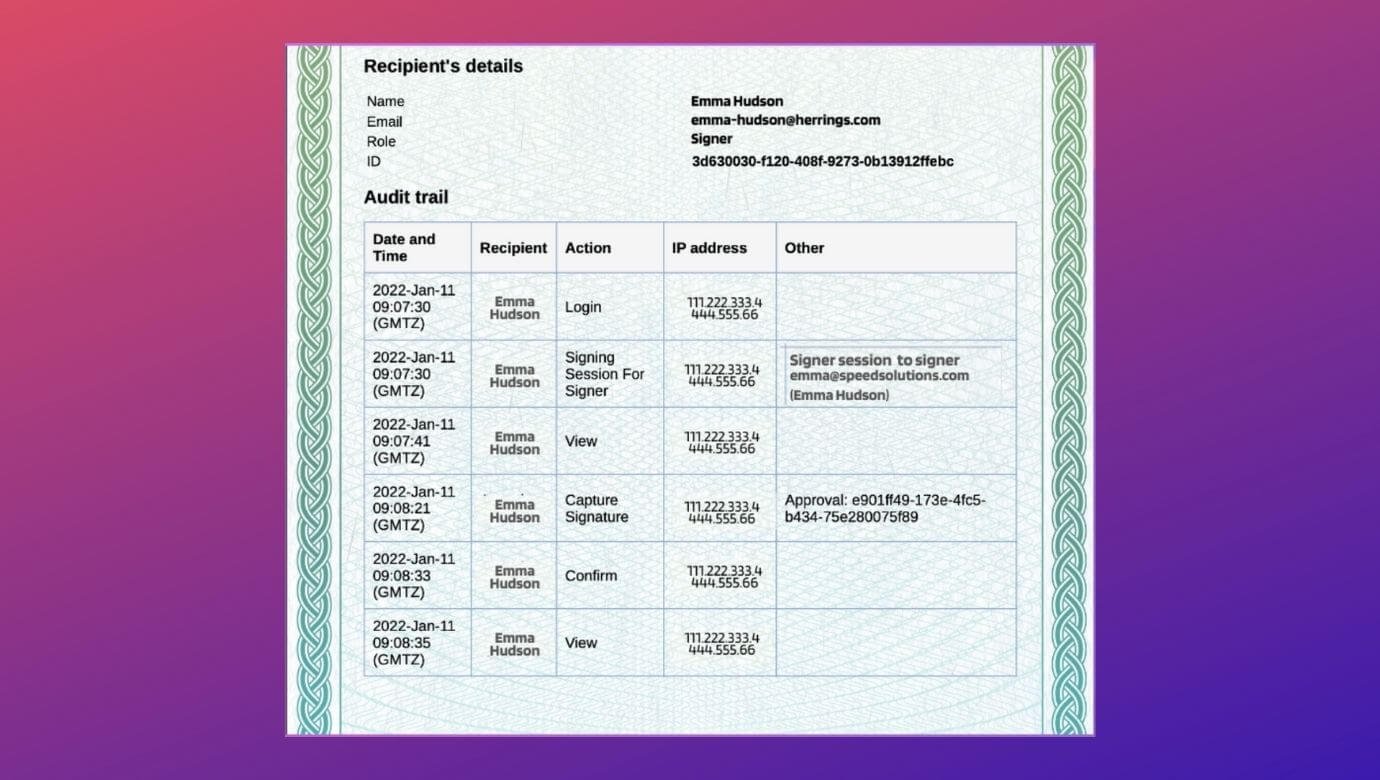 3.3 How you can authenticate recipient identity with Revv
A concern for businesses while sending documents for eSign is that the right document should reach the right recipient. To avoid any security breach from the recipient's side, Revv ensures proper recipient identity authentication. In Revv, the signer's identity is verified by:
Email authentication: Documents are sent for eSign to the recipient's mail address. When a signer logs into their email account and clicks the eSign link, the signer is automatically authenticated.
SMS-OTP authentication: You can use two-factor authentication (2FA) in addition to email authentication to validate the signer's identity. Select the Authenticate with OTP through SMS option and enter the phone number when sending a document for eSign. An OTP is generated and sent to the recipient's mobile when they click the eSign link to validate their identity. To access the file and start signing, the recipient has to enter the OTP code.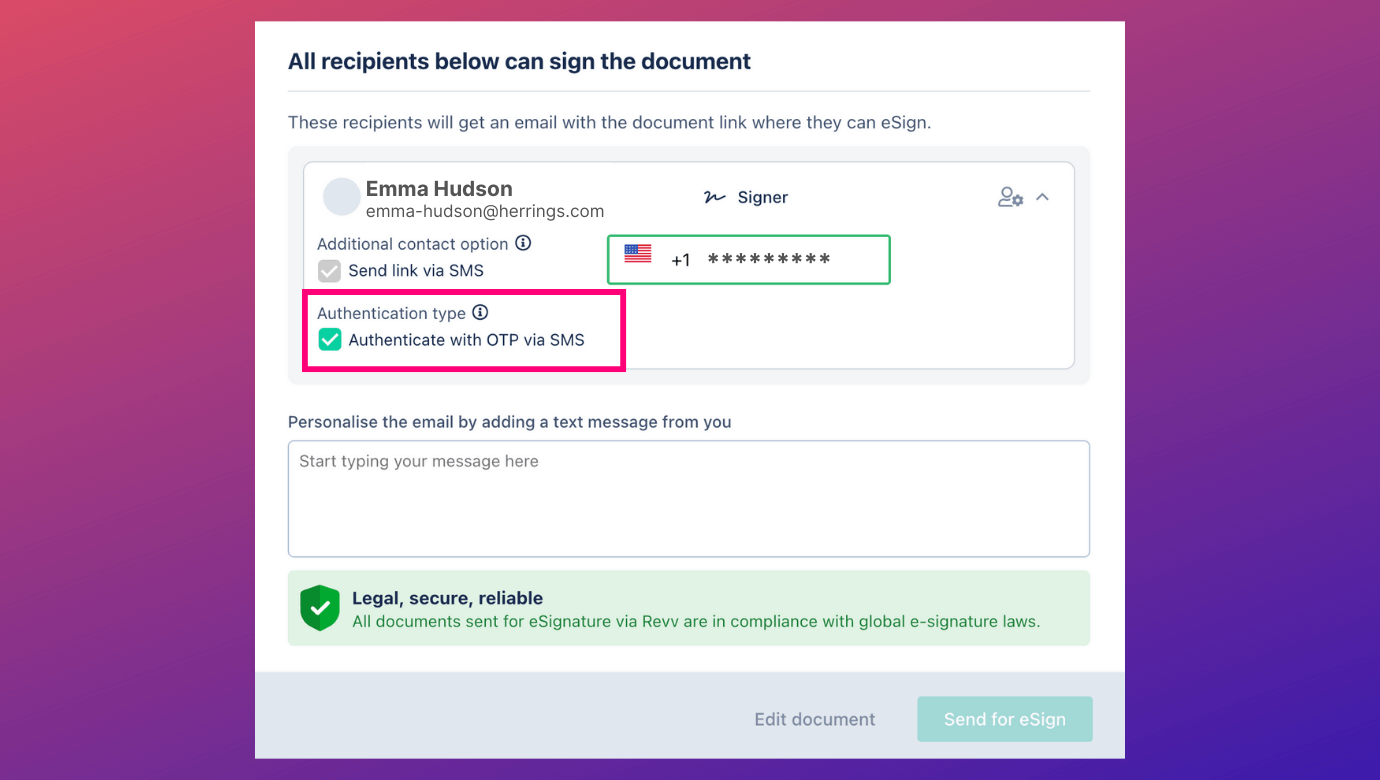 Accelerate the efficiency of Google Sheets with
automated document workflows and compliant eSignatures.
Try Revv today
!
3.4 Recipients can personalize their eSignatures with Revv
Revv offers the flexibility for the signers to choose from different signature types. They can:
Draw signatures: Recipients can draw their signatures using a mouse or digital pens.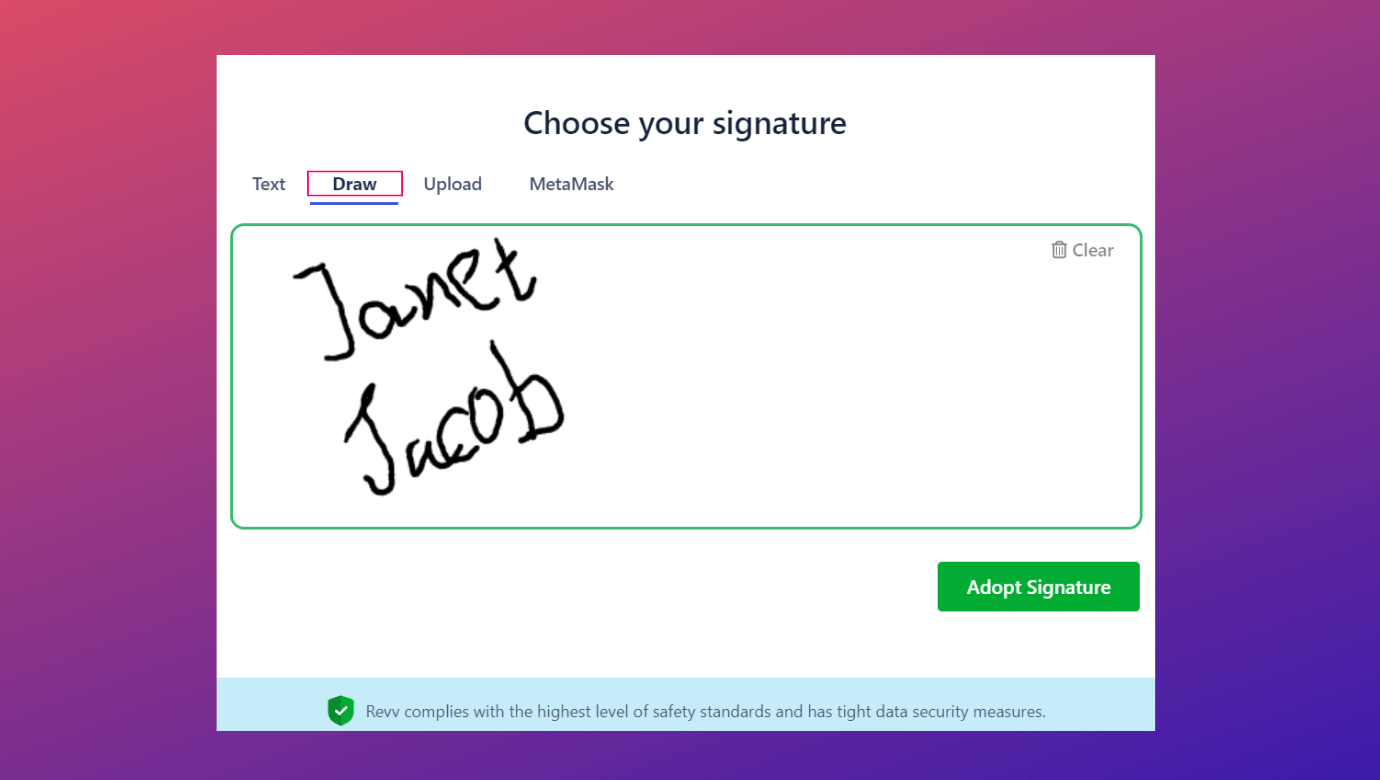 Text signatures: Signers can choose their signatures from pre-formatted styles. They can even customize their name for this type of signature. For instance, if the recipient's name is Janet Jacob, in the Text sign option, the signer can personalize the name as JanetJ, JJ, JJacob, or in whichever way they want to sign off.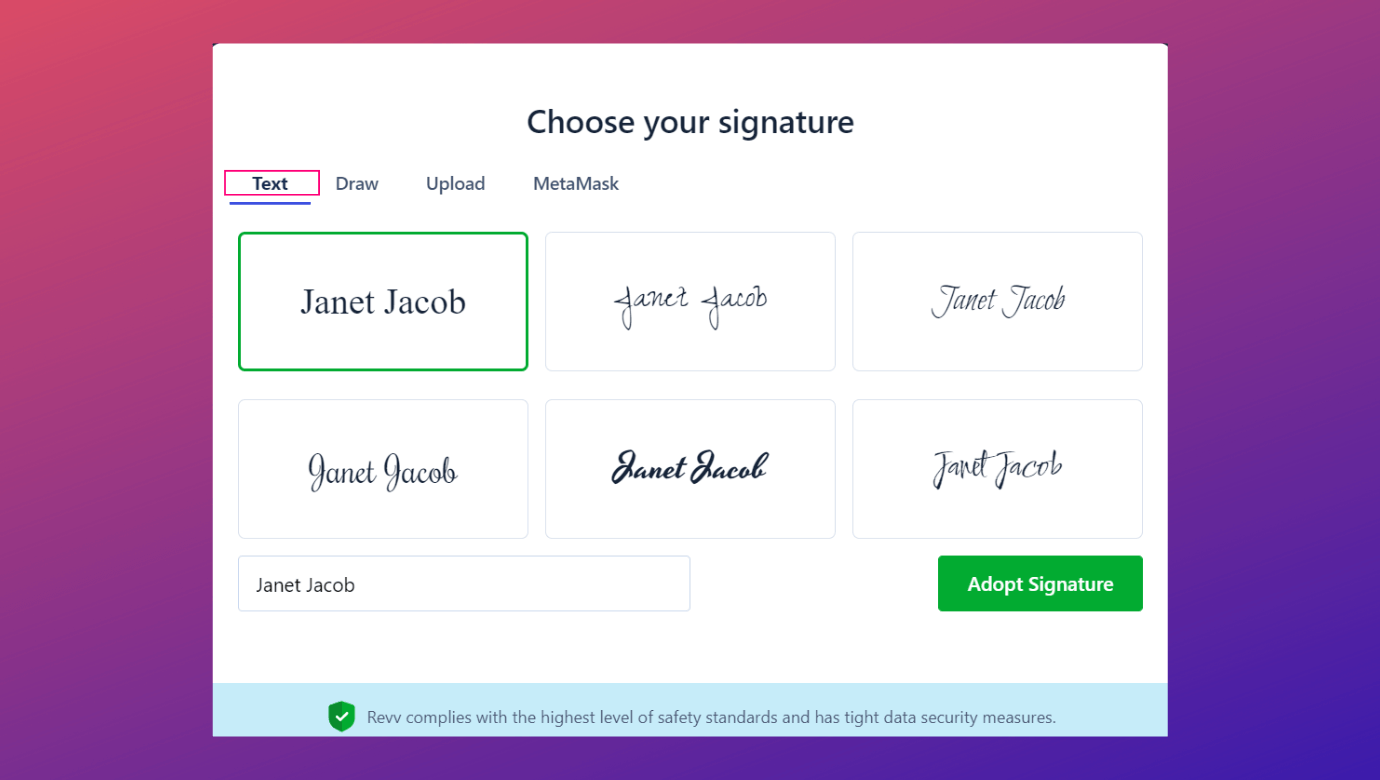 Sign off using crypto wallet MetaMask: With Revv, recipients can even eSign their documents using their MetaMask wallet.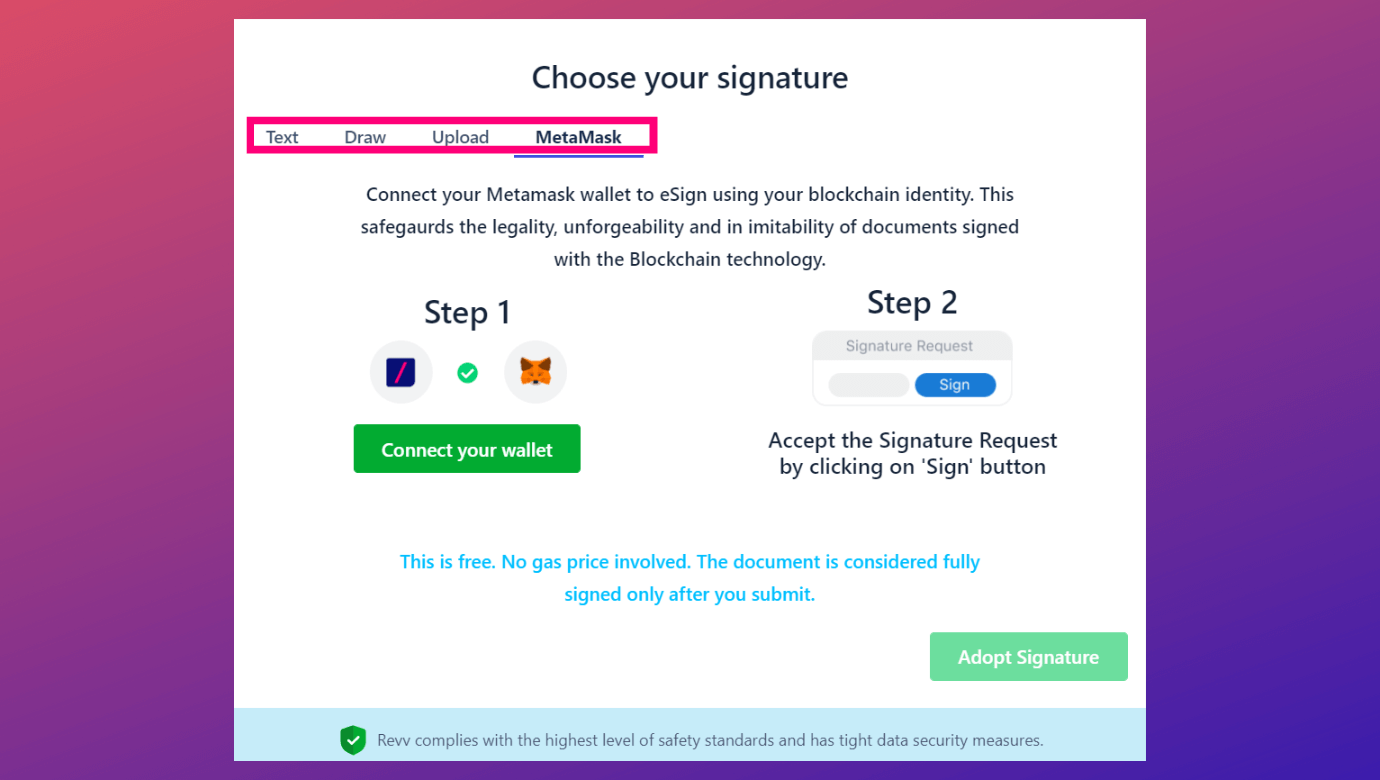 Upload signatures: Signers can even upload the image of their signature by simply scanning their wet-ink signatures.
4. Seamlessly take bulk actions from GSheet
4.1 Create, send, and sign off bulk documents
One of the key reasons why companies use GSheets is to easily manage big data. And, while working on GSheets, taking bulk actions like creating documents, sending for the bulk signs, and approvals is a given. With Revv, sending documents in bulk to tens of thousands of people is possible. You can simply integrate your GSheet with Revv. Use the Data Studio feature to map the data from GSheet to Revv's form fields. Data will be configured within minutes. You just need to select the checkboxes for which you want to take bulk actions. Then click the +create documents option which will prompt you to Create documents in bulk pop-up window.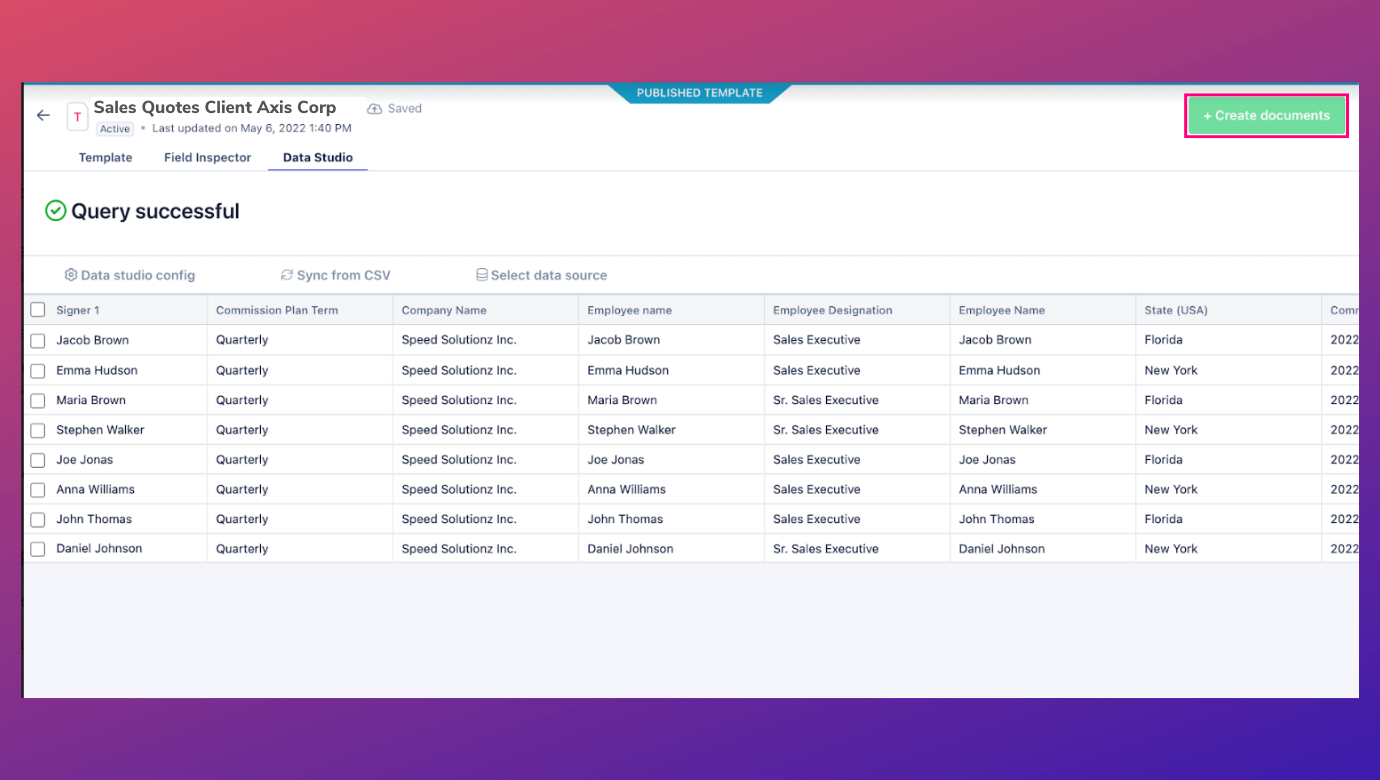 You can opt for the following actions from there:
Create documents only
Send for acceptance
Send for eSign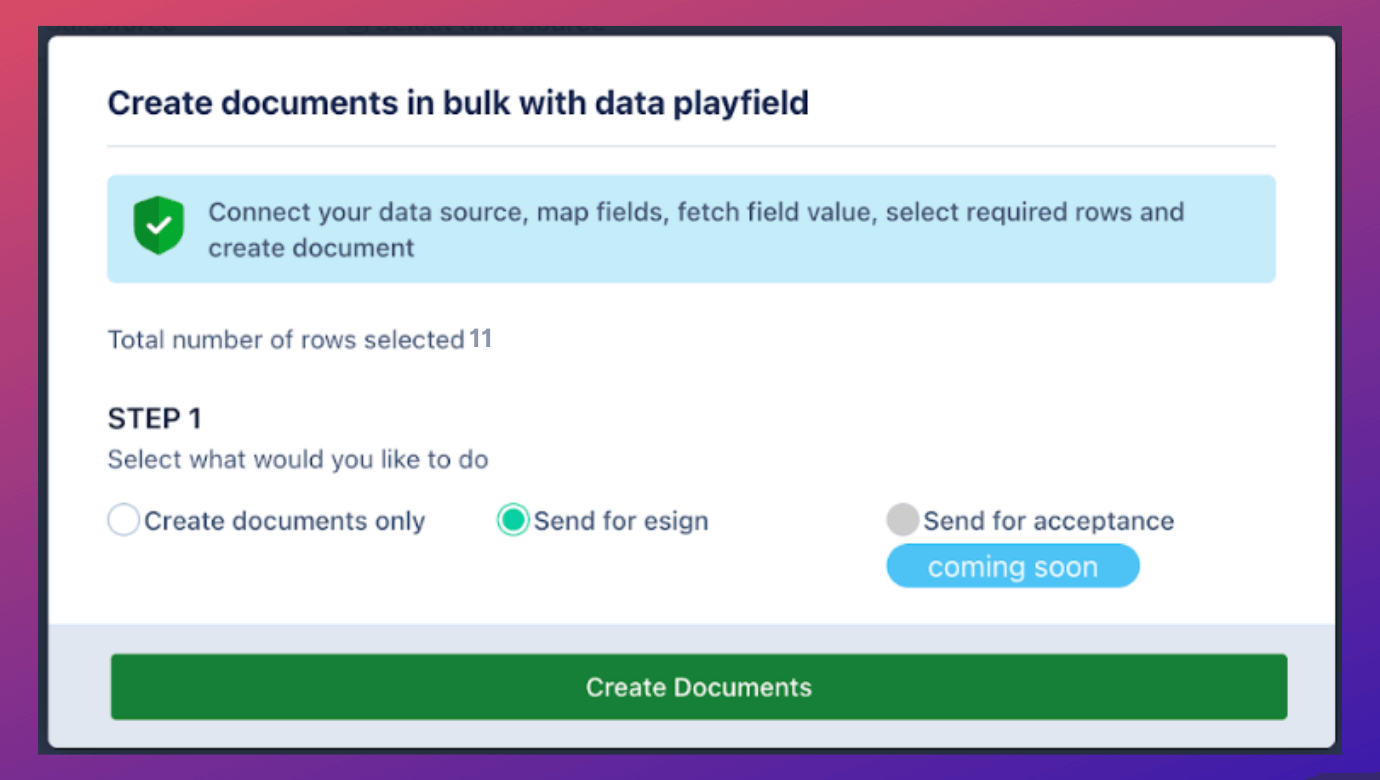 The bulk documents created and/or sent for eSign or acceptance will have all the required data mapped to the respective form fields in Revv document templates.
4.2 Auto signing in bulk
Sending documents for bulk is not the only scenario that arises while using GSheets. There are instances when a single signer has to sign off hundreds of documents in one go.
For instance, various department heads like Sales Managers, HR Managers, Legal Heads, etc. might have to sign off multiple sales proposals, experience letters, appraisal letters, and legal documents to name a few. Having many critical priorities to handle, these core personnel wouldn't always be cognizant of the multitude of documents they are supposed to sign. Chances are that they won't be even available at times since they might have to travel for crucial responsibilities, hence missing out on their signing tasks. Even with the luxury of time at their disposal, it is rather prosaic and tedious for these key people to go through each and every document and sign them off.
To ease the signing process for such individuals, Revv provides an Auto signing feature.
Under this, any enterprise can register its designated signers as auto signers. Once they are registered, whenever they are added as a signer to a document, their signature will be recorded automatically on the document. Any user in an organization can be registered as an auto signer. The assigned auto signer has to provide a one-time consent to be registered as an auto signer.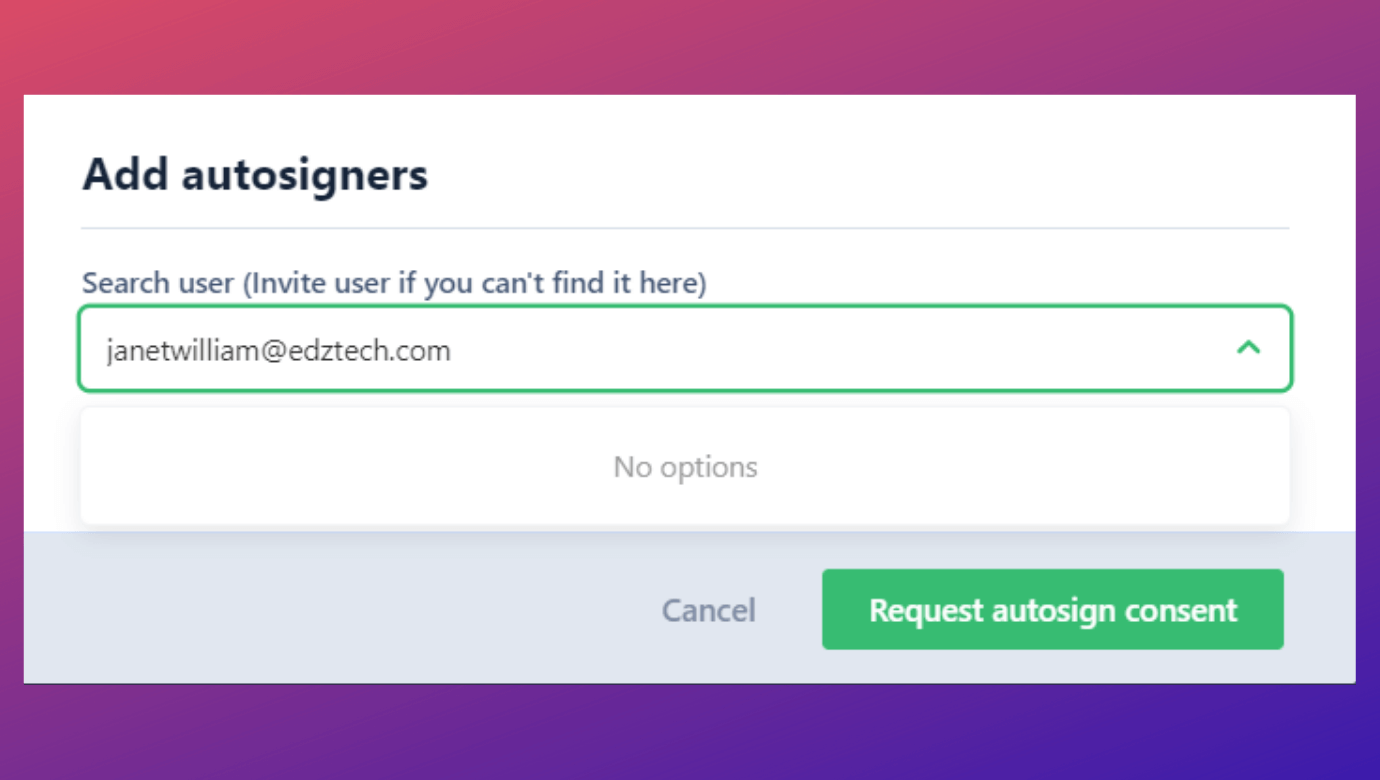 Do more with Revv!
1. Real-time collaboration with internal and external teams
What if your documents need to be reviewed by an internal team or need approval from higher-ups? Revv provides multiple solutions to collaborate with your teams and automate approvals.
With Revv's Notes feature you can seamlessly collaborate with your teams in real time. Team members can be tagged using @mentions. The tagged person will receive a notification email for the same. If you want some additional input from anyone, you can add Public or Private comments to it. The mentioned person can review and complete the action all in real time.
If you want your documents to be approved by higher-ups, all you need to do is opt for Revv's Check and send for internal approval feature. You can automate the approval process for your documents by setting precise triggers. Or, if you want the documents to be reviewed by someone outside the team, you can choose to Send by email option. The sender can set permission for the recipient to edit or view the sent document.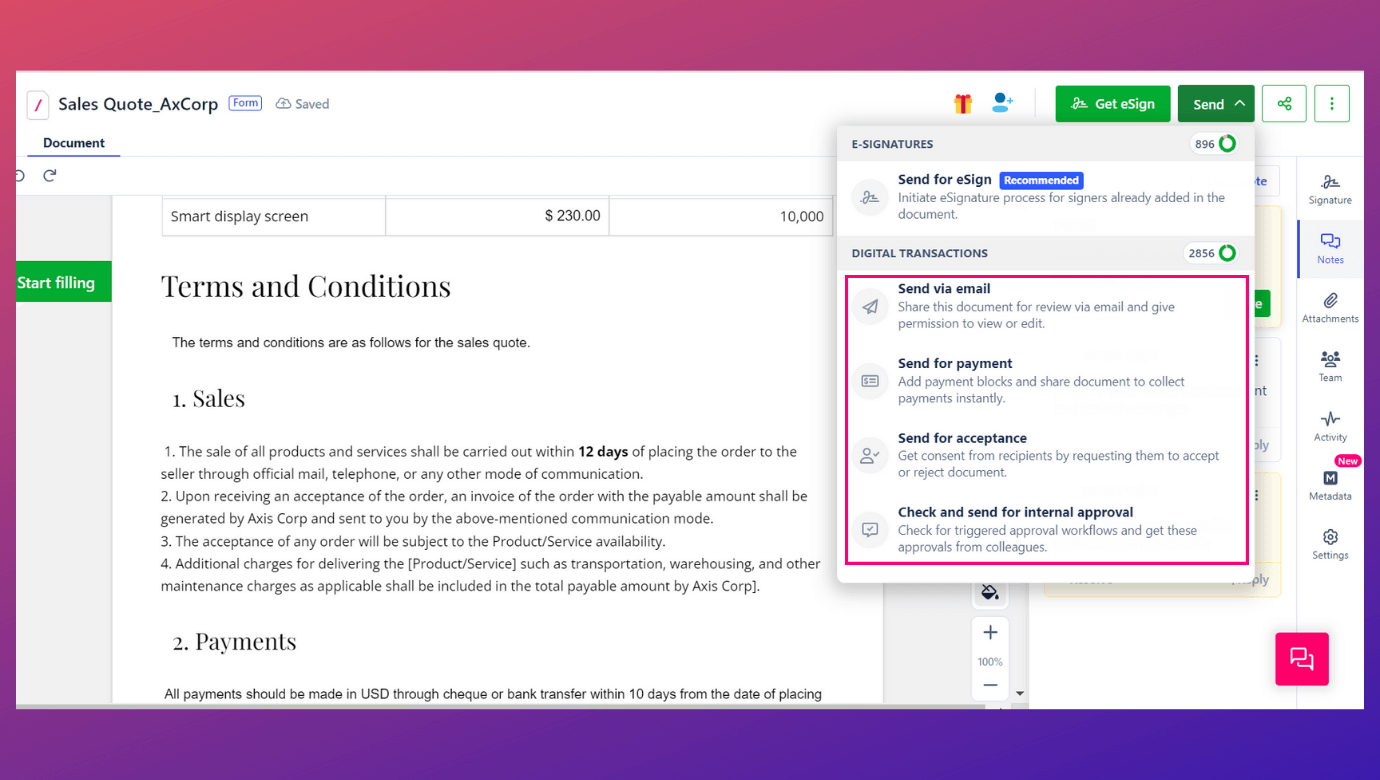 2. Automate each stage of document workflows
Creating, tracking, managing, and notifying each and every stage of your document workflow could feel like a never-ending process.
For instance, a sales executive has to create and send sales quotes to a couple of his/her clients using the information stored in GSheets. Using Revv's sales quote template, the executive can quickly create documents. The integration possibilities (Data Studio) of Revv can be put to good use to map data from GSheet to respective documents.
Once the sales quotes are created, the executive has to get them reviewed by a team member, get approvals from the manager, send for eSign to clients, notify other departments, and store the signed documents in a secure place.
Going by conventional ways, by the time the sales executive completes all these tasks, there would have been a plethora of email exchanges and manual follow-ups done. These processes are time-consuming and tiresome. This can turn into a bumpy customer experience and can lead to customer attrition.
But with Revv, you can automate all these processes with its Pipelines feature. Every stage of the document workflow can be automated and routed by the rules you set for it.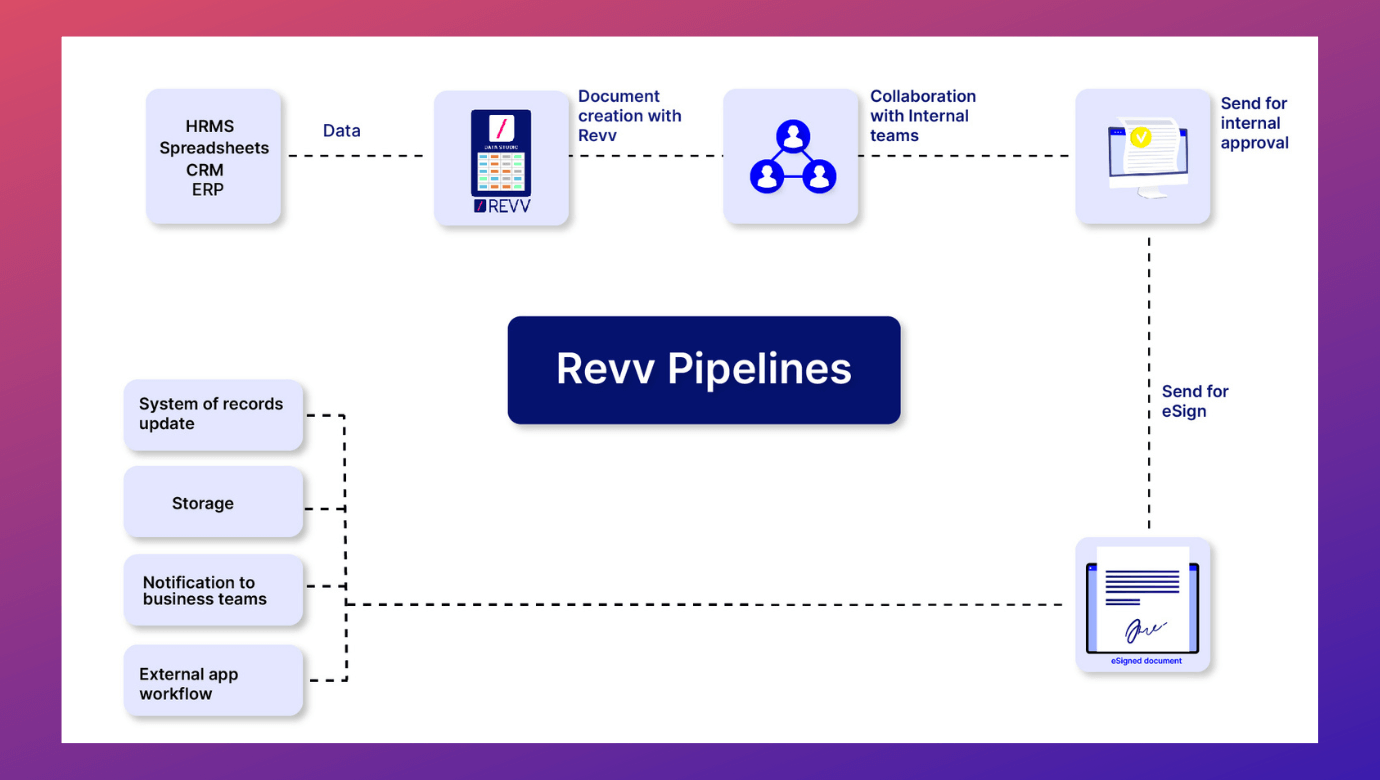 Watch how Revv redefines business workflows with Revv + Google Sheets Integration
3. Get paid faster with easy integration with payment systems
Along with document automation and eSign solutions, Revv helps you integrate any payment system to your invoices or bills created. You can simply add the payment button to your already created invoices, bills, and other reimbursement forms from the document editor. Integrating the payment system into Revv platform is completely safe and secure.
Accelerate the efficiency of Google Sheets with
automated document workflows and compliant eSignatures.
Try Revv today.
Sign up for free
!
4. Ensure complete transparency on your documents with Activity tracking
Tracking the activity on your documents is important to make informed decisions. With Revv's Activity tracker, you can track any activity that happens on your document. From the production of a document until the completion of electronic signatures, it keeps track of everything that happens in it.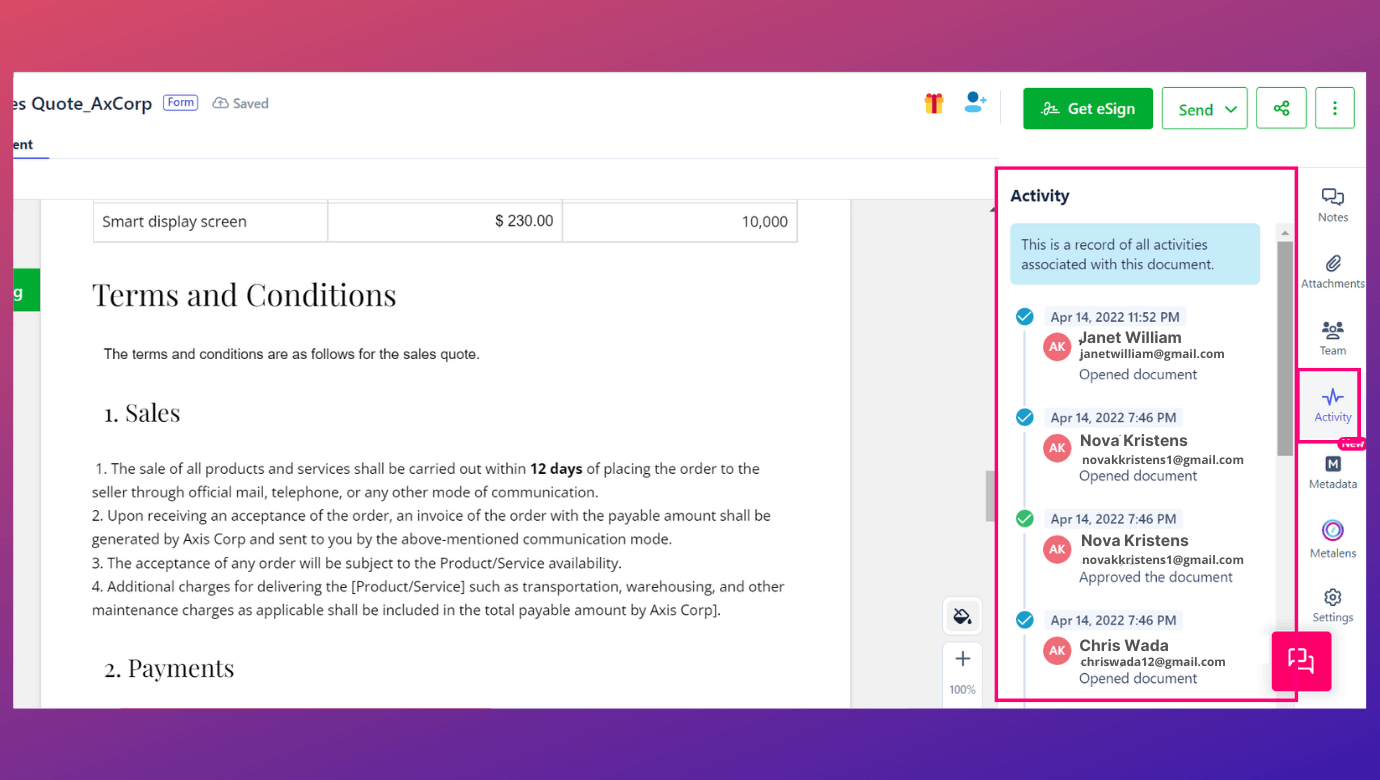 For instance, let's say, you sent an offer letter to a candidate for signatures. You notice from the Activity tracker that the candidate has opened the offer letter as soon as he/she has received it, but has not completed the signature even after two days. This not only helps you to analyze that the candidate might be facing some blocker but also you can directly check with the candidate and resolve the issue immediately with the help of the Activity tracker.
Revv: Your ideal partner to optimize and make GSheets work for you
From speeding up document signing and releasing payments to storing data accurately and enhancing collaboration on your GSheets, Revv can holistically support your business operations. With quick integration and simple adoption, Revv fits into your business's scheme of things way too smoothly.

To know more, Try Revv today!