Successful and unsuccessful salespeople have the same goals. Every salesperson wants to crush the targets. What distinguishes winners from losers is 'how' they did it. And behind every successful salesperson is his perseverance braced by advanced technology and intuitive sales processes.
Optimizing each part of the process often results in more sales, bigger sales, less waste, higher profit margins or all of the above. Automating these processes takes two things: the right software and the ingenuity to make the best use of the software.

Gareth Parkin, CEO, GoPromotional
A flawless sales process and perfect document automation software are strongly interrelated. Together, they protect business deals from falling through the cracks.
Revv is a magnetic document workflow automation software with incomparable features such as intuitive document workflows, eSignatures, cross-system integrations, and professional templates.
Along with these advanced features, Revv's biggest value and why clients are in love with the platform is because it empowers sales teams to:
Automate their sales workflows their way
Manage the entire sales workflows without leaving their CRM
Imagine this like a kitchen of a restaurant – you relish your favorite meal while Revv is working incessantly behind the scenes to provide the best experience to you.
This blog is an inside-out guide that explains how to magnify the potential of Salesforce with the power of Revv.
Revv+Salesforce – Build sales workflows that win businesses
Let's say Mr. Efficient, Sales Manager at Sello Inc. is worried about his business's performance. When he started looking at the reasons, he found a plethora of problems.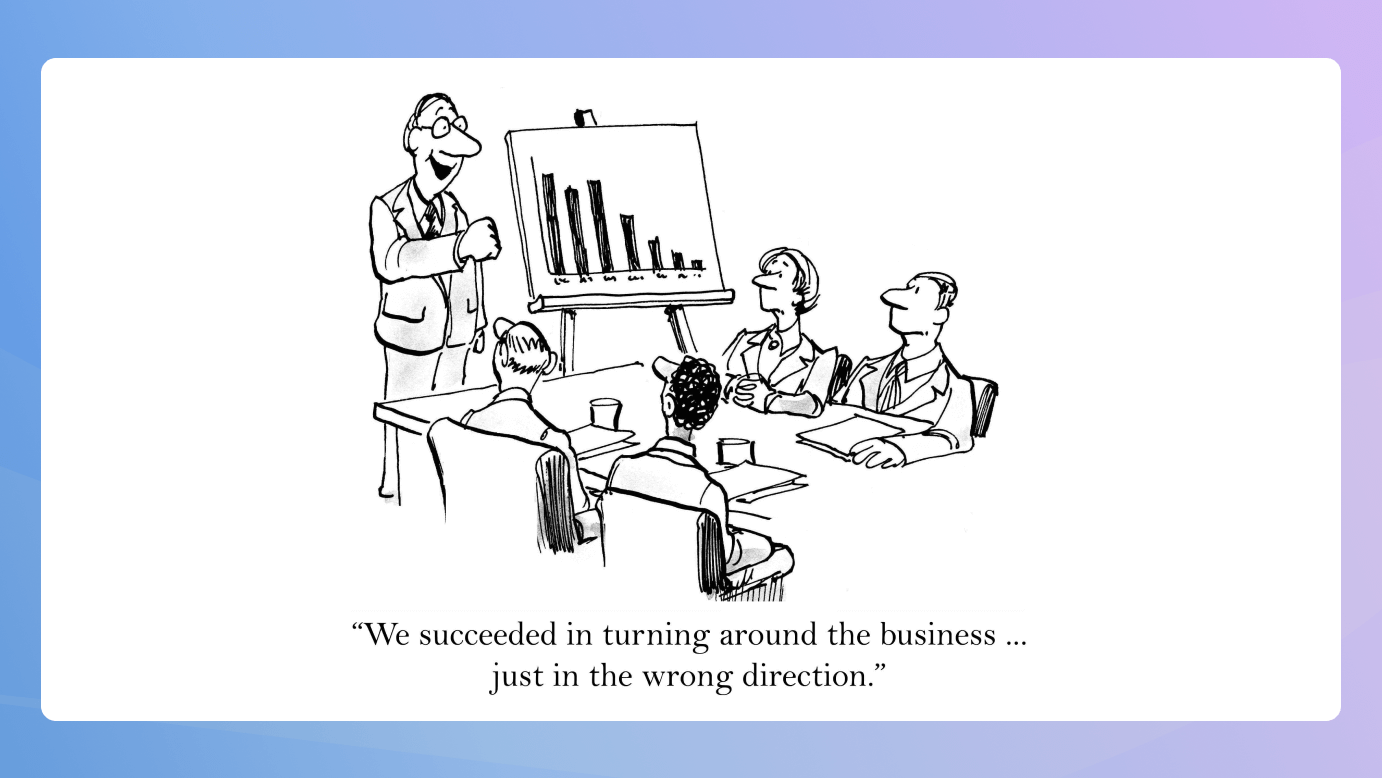 Problem 1 | The hither and thither of drafting sales documents
His sales team is lagging behind their targets. His sales team spends 30 percent of their time in data entry to Salesforce CRM and then manually copying and pasting data from the Salesforce platform into sales documents.
Later, they redo the entire work because they used an outdated template, the product information was incorrect, or the formatting was broken due to the inclusion of more information, or they missed adding some important details.
Meanwhile, customers are left frustrated, waiting for final, error-free agreements.
Problem 2 | Delayed payments
Some sales reps forget to update the accounts team on the new deals and their payment schedules, which results in deferred payments from customers.
Problem 3 | Inadequate compliance
He also received complaints from the legal team as some sales reps often miss to keep them in the loop when the deal was signed and do not send appropriate documents for legal purposes post the deal closure.
Let's see how the integration of Revv with Salesforce solves all these issues in a blink and enables you to do more with less.
For easy understanding, the explanation is categorized into three parts:
Pre-deal sales process
Deal process
Post-deal sales process
To further simplify it, each category is divided into three parts:
What do Sales Managers want?
How does Revv+Salesforce integration enable this?
Achieve 100X more – How to further optimize the sales process with Revv?

🎁 Bonus – Every sales team might operate differently depending on various factors like the organization size, business needs, etc. We've ensured to provide you with customization possibilities, so you get your kind of sales process in Salesforce. You can find these possibilities under 'Achieve 100X more.'
PRE-DEAL SALES PROCESS
---
What do Sales Managers want with the pre-deal sales process ?
WHEN → A sales rep creates an opportunity in Salesforce
THEN → A sales quote with pre-filled data (fetched from the opportunity details like name, company name, etc.) along with some empty fields (to be filled by the lead like billing address) gets sent to the lead.
How does Revv+Salesforce integration enable the pre-deal sales process?
1. When a sales rep adds a new opportunity to Salesforce and selects 'Create and Send Document,' Revv generates a document:
From the pre-selected sales quote template
Pre-filled with the salesforce opportunity data
Pre-configured with empty form fields to be filled by the signer
2. Revv sends the document to the signer for eSignature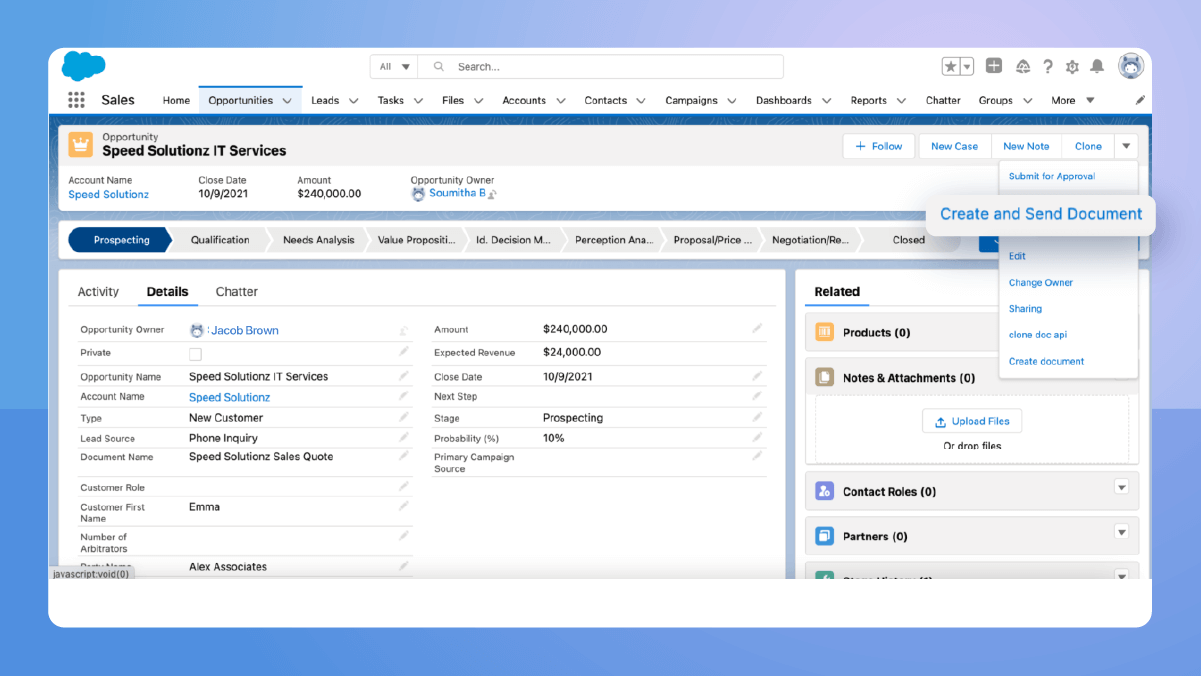 Achieve 100X more: How to further optimize the pre-deal sales process with Revv?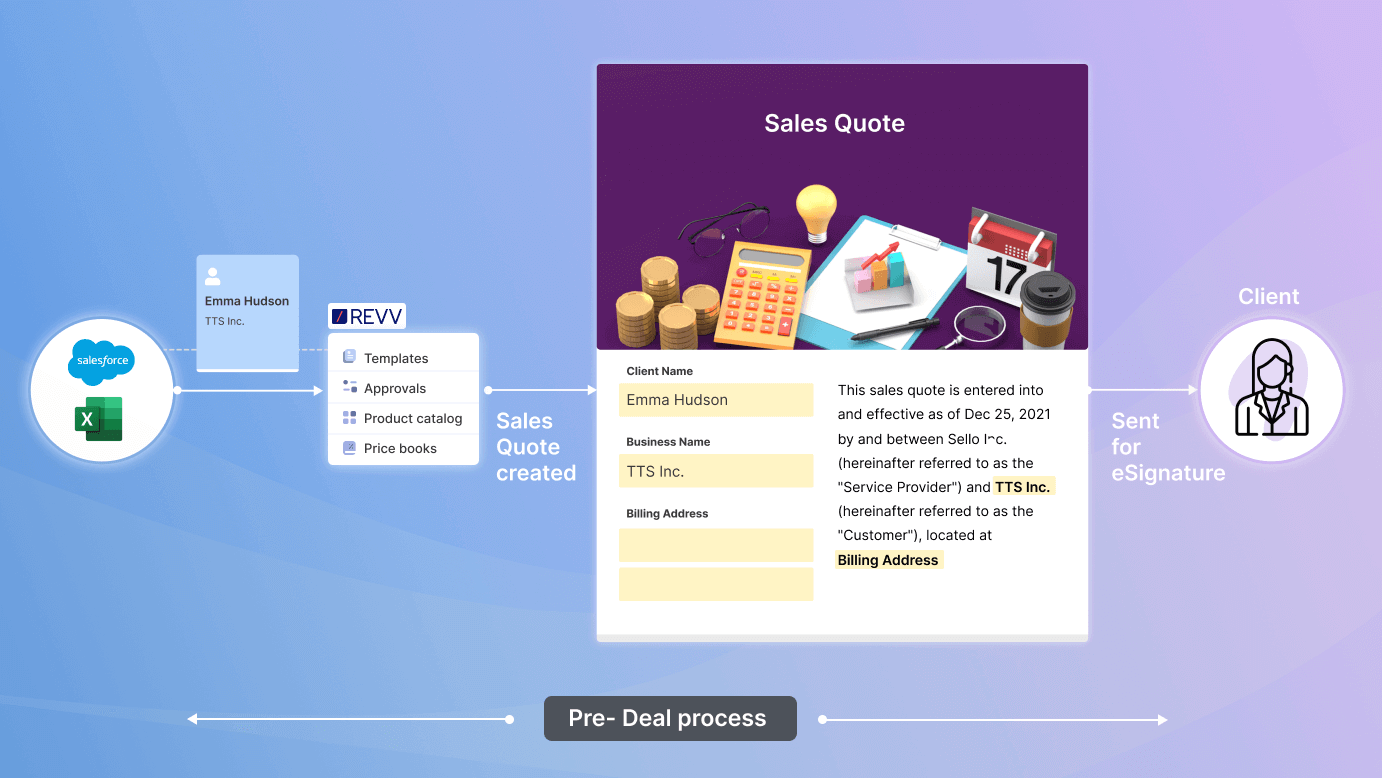 Drive data from excel sheets with ease
If your business:
Also relies on Excel Sheets to store information on leads
Keeps key business details in Excel Sheets
Integrate Revv with Excel Sheets to:
Automatically copy important details from the Excel Sheets along with Salesforce
Liberate the sales team members from manual copy-pasting
Revv fact💡

Does your business work on Google Sheets?

Awesome! Revv provides in-built Google Sheets integration.
Sync your Google Sheets with your Revv account and add information from it, within your quote.
Configure complicated products and pricing and create accurate quotes within minutes
If your business:
Demands a customized packaging of products
Have a multitude of products
Offers varying pricing models based on business types, customer segments, geographies, and industries
Offers discounting options
If your sales team:
Struggles to create the right bundle of products
Heavily relies on unmanaged spreadsheets to create pricing
Is committing manual errors
Take the capabilities of Revv + Salesforce integration one step further to straighten out the CPQ ( configure, price, and quote) issues
Revv comes with an in-built & intuitive CPQ tool with multiple options so that you can:
1. Create a comprehensive product catalog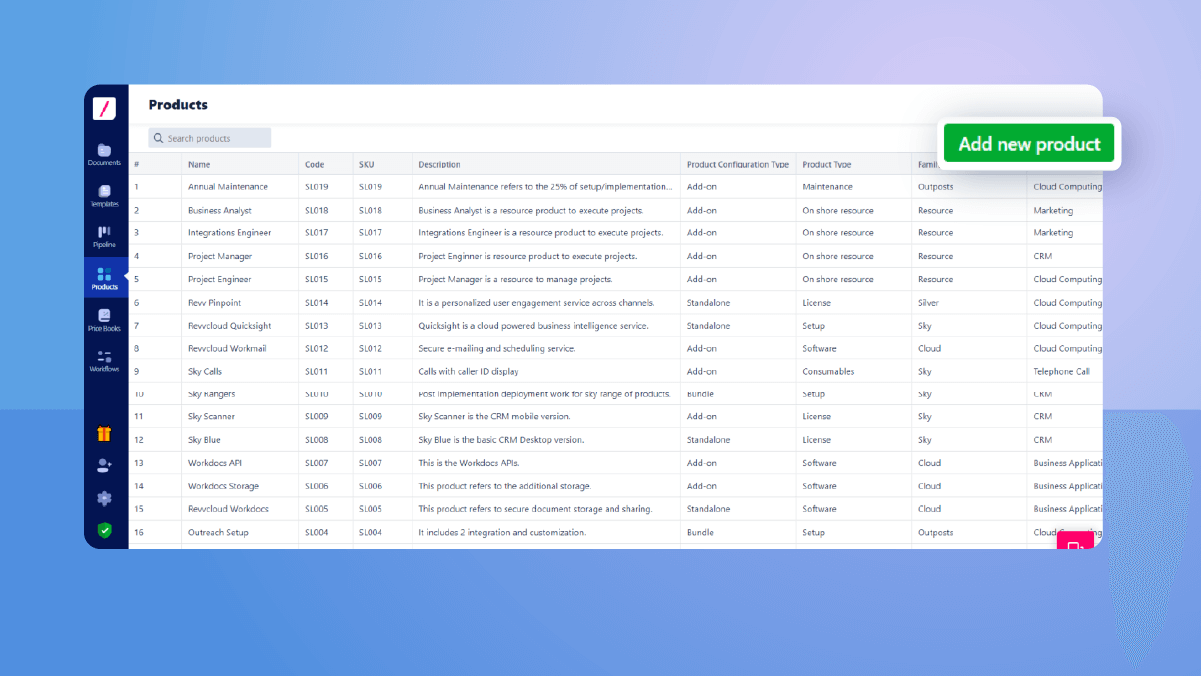 2. Generate multiple price books and optimize the price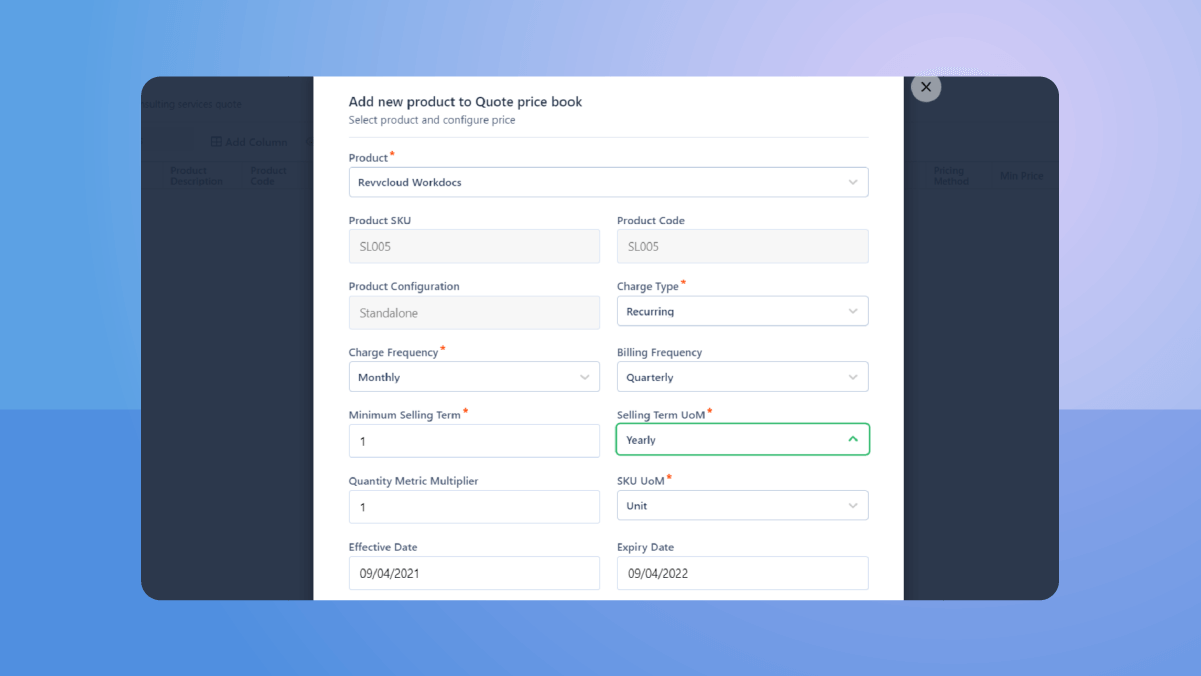 3. Customize the quoting based on your business dynamics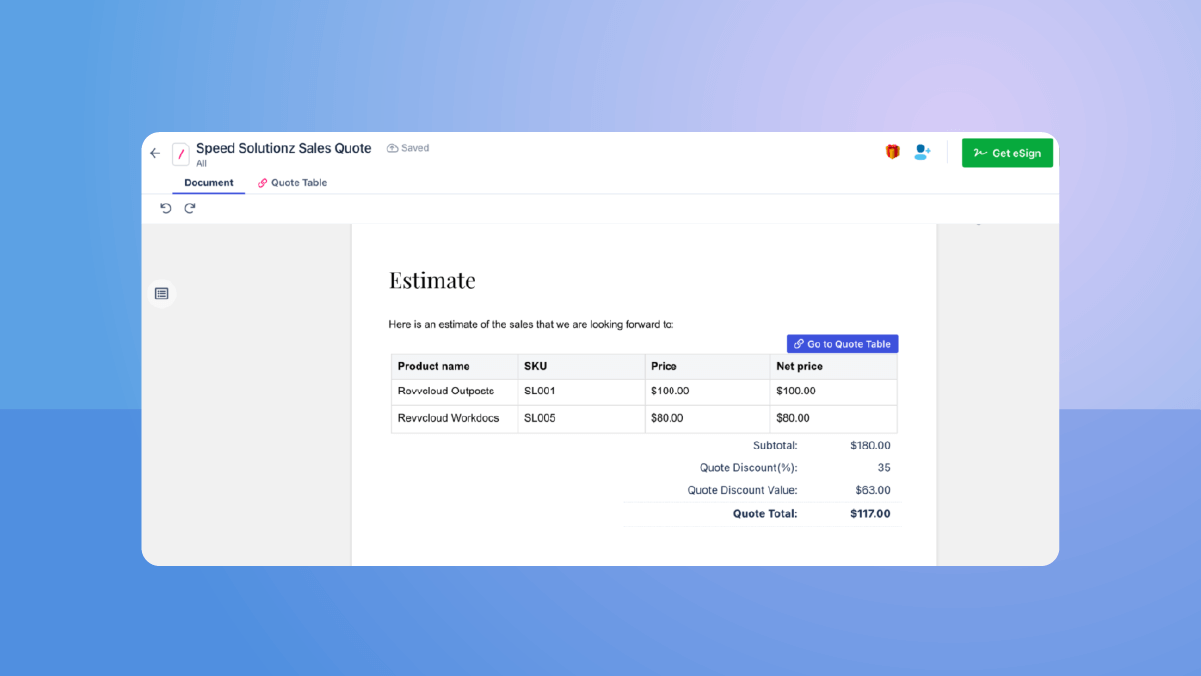 Seamlessly consolidate customer, product, and pricing data to produce sales documents! Below is one of the examples of how Revv's CPQ tool helps in creating accurate quotes:
A sales quote is created when a new opportunity added to the Salesforce CRM
Edit the quote Revv and pull the quote line items
Send it from eSignature
Sync the internal approval process before sending the quote to the client
If your sales document approval process is:
Manual and sluggish
Accomplished via emails
Increasing the lead response rate
Required to flow in order, for example, supervisors→ managers→ senior executives
Lacking trackability
Revv's intuitive approval workflows make your quotation process error-free, transparent, and streamlined
Here's how:
Create conditions (triggers) that involve approvals
Select the approvers (actions) who need to review and approve. For example, let's say when a sales rep sells more than 200 units of Product A (trigger), it requires approval from his manager (action)
Define the order in which approvals need to be done
What's more?
Send quotes for approvals to a group of approvers by creating user groups
Quotes not associated with workflows get automatically approved to speed up the quotation process
DEAL PROCESS
---
What do Sales Managers want with the deal process?
WHEN → The client fills in the information in the required key fields and accepts the quote
THEN →
The involved Sales Rep, Sales Manager, and Sales Head get notified of the status and receive a link to access the signed quote
The client receives a link to access the signed quote
The updated fields by the client are written back to Salesforce
A copy of the signed quote is added to Salesforce
The status of the deal in Salesforce changes automatically
How does Revv+Salesforce integration enable the deal process?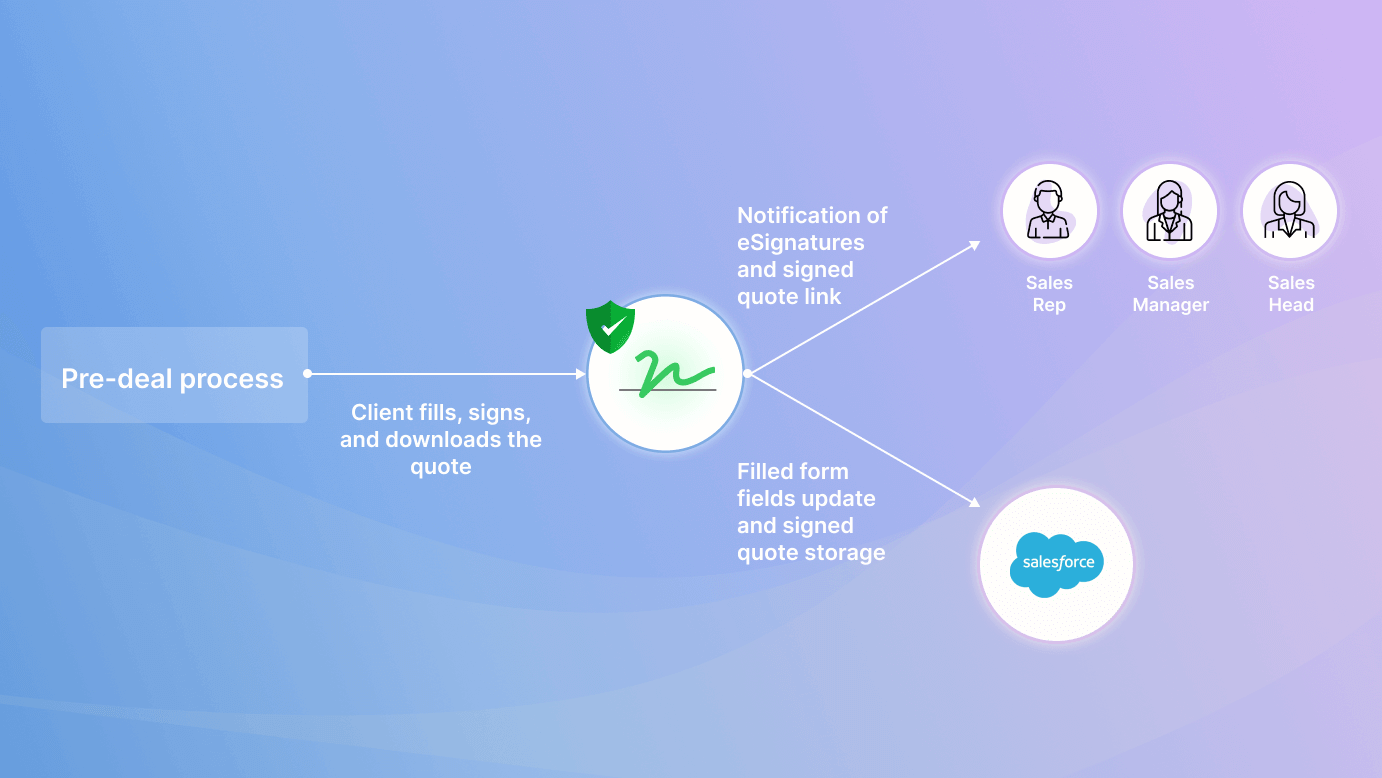 1. Once the client signs the quote, a window pops up with a link to download the document.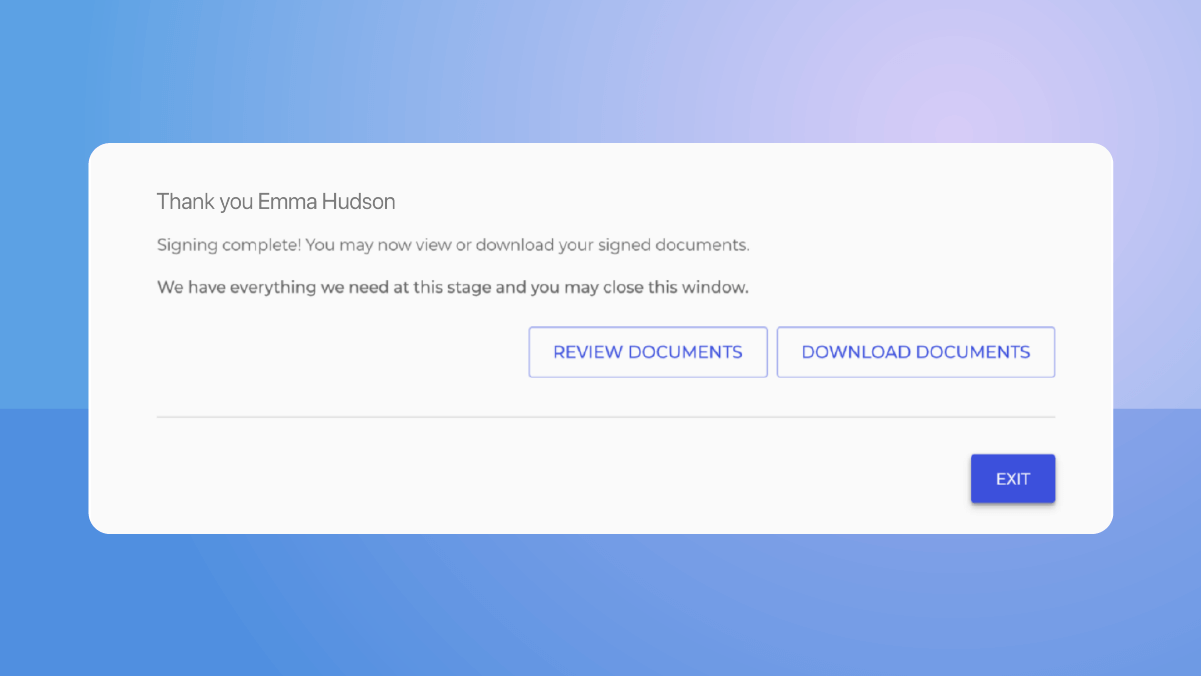 Revv also notifies the sender via email about the signature completion and sends a link to access the signed quote.
2. Here, the requirement is to send out the signature completion notification and the signed quote to three people. Revv's Pipeline feature fulfills this need. You can configure a job for the 'eSigned quote' lane, by selecting 'Notify and Share' from the drop-down and adding the recipients' – the sales rep, the sales manager, and the sales head, in this case.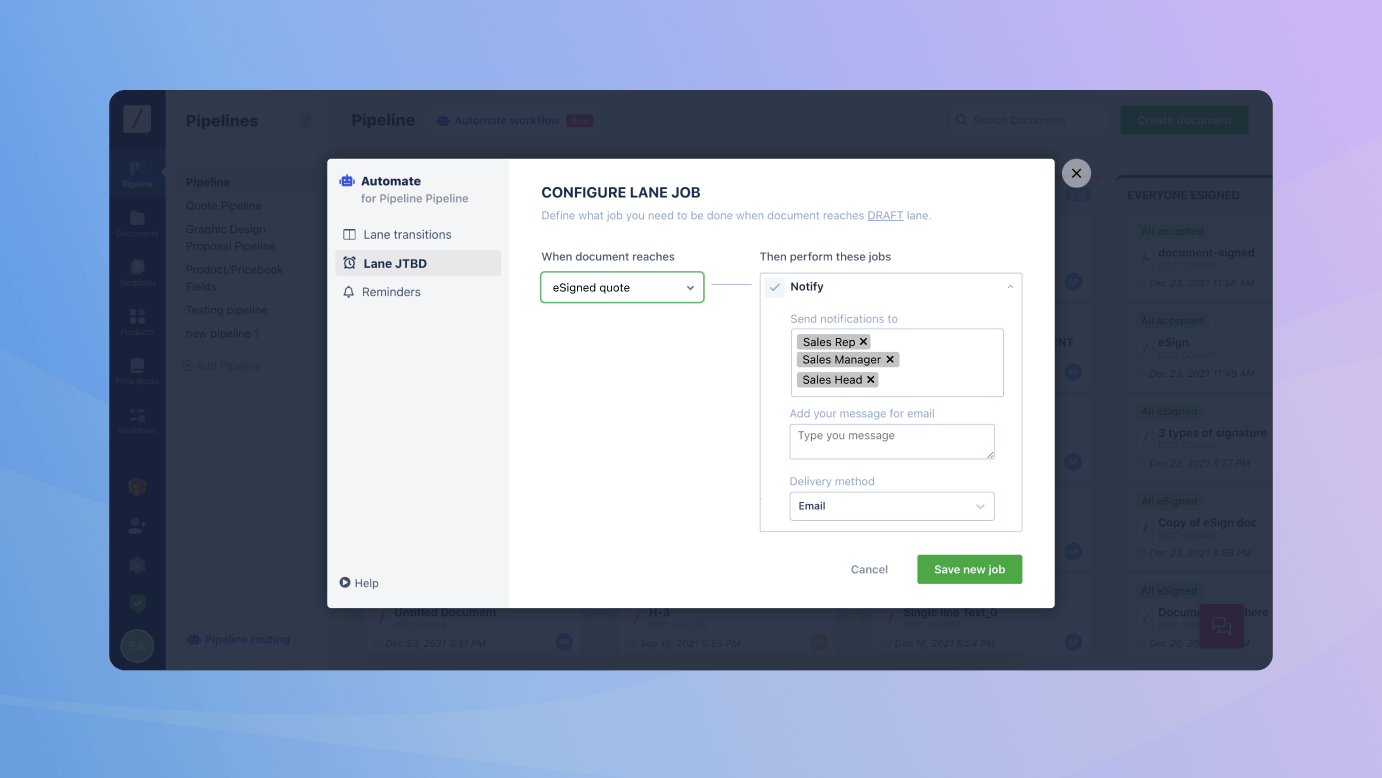 Pipeline feature explained

Revv's pipeline feature is based on the Kanban method of managing the workflows. The Pipeline feature lets you define each stage (called lane) of your document process and creates tasks (called jobs) that need to be completed at each stage.

Think of it like different stages of a plant's growth:
Sprout→ Seedling→ Vegetative→ Budding→ Flowering→ Ripening


Each of these stages marks a different milestone in a plant's growth.

Similarly, the Pipeline feature enables you to map your business process to the Lanes. This is called 'Lane Transition.' It facilitates in dividing your document process into multiple Lanes so that you get clarity of where your document lies presently, for example:

– Document generated: when a sales rep generates a document from a listed template
– Document pending legal approval: when the document is sent to the legal team approval but not yet approved
– Document eSigned – when the document is signed

You can customize, create a lane name, and define the lanes as you want.

Going back to the plant example – you can only pluck the flowers when the plant is in the flowering stage or pluck the fruits when the plant is in the ripening stage. There is a task that needs to be accomplished at each new stage.

The Pipeline feature enables you to define the task (job) at each stage (lane) via 'Lane JTBD (job to be done),' for example:
– Notifying the Legal Head when the legal team approves a sales quote
– Notifying the sales leaders when a sales document is signed
– Sharing the signed quote with a group of people after it is signed

Plus, you can set the frequency of reminders for each job and delivery method (email or phone).


3. While configuring Revv with Salesforce, you can:
Define workflows to update the fields in Salesforce as per the data provided by the client in the quote
Add a signed copy of a quote to Salesforce as an attachment
Update the status in Salesforce as per the status in Pipeline lanes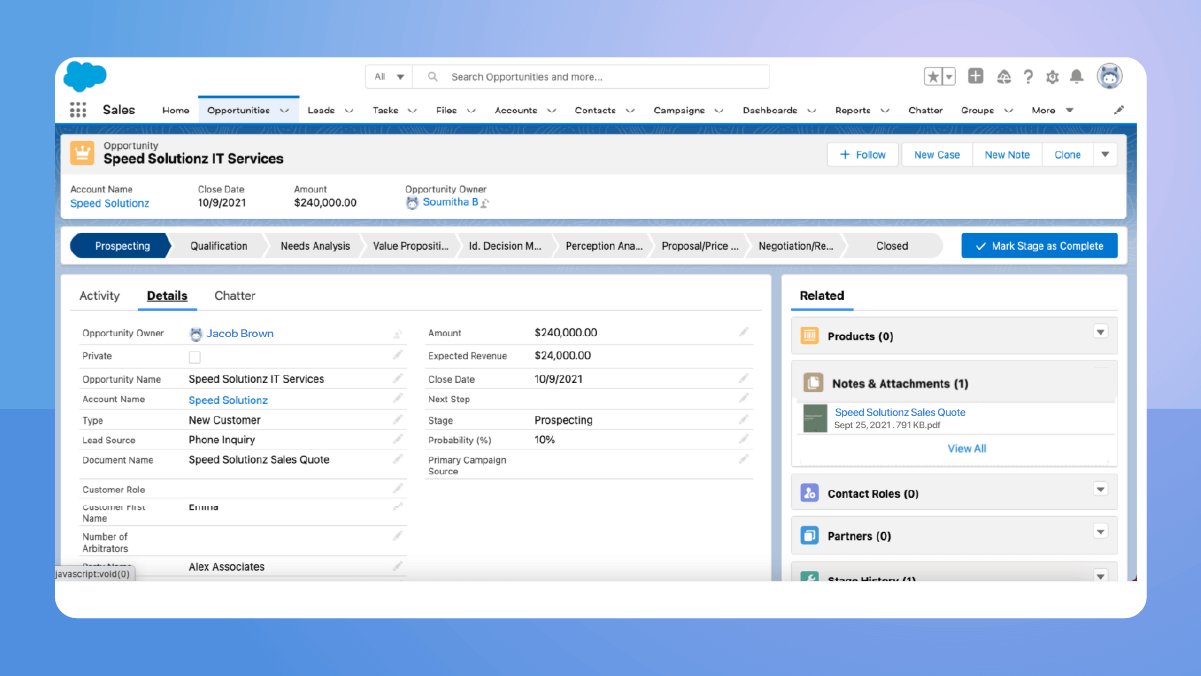 Revv fact💡

Want to store a copy of your document on external cloud storage platforms like Google Drive, Box, and Dropbox?
No worries, Revv provides integration with all three.
Achieve 100X more: How to further optimize the deal process with Revv?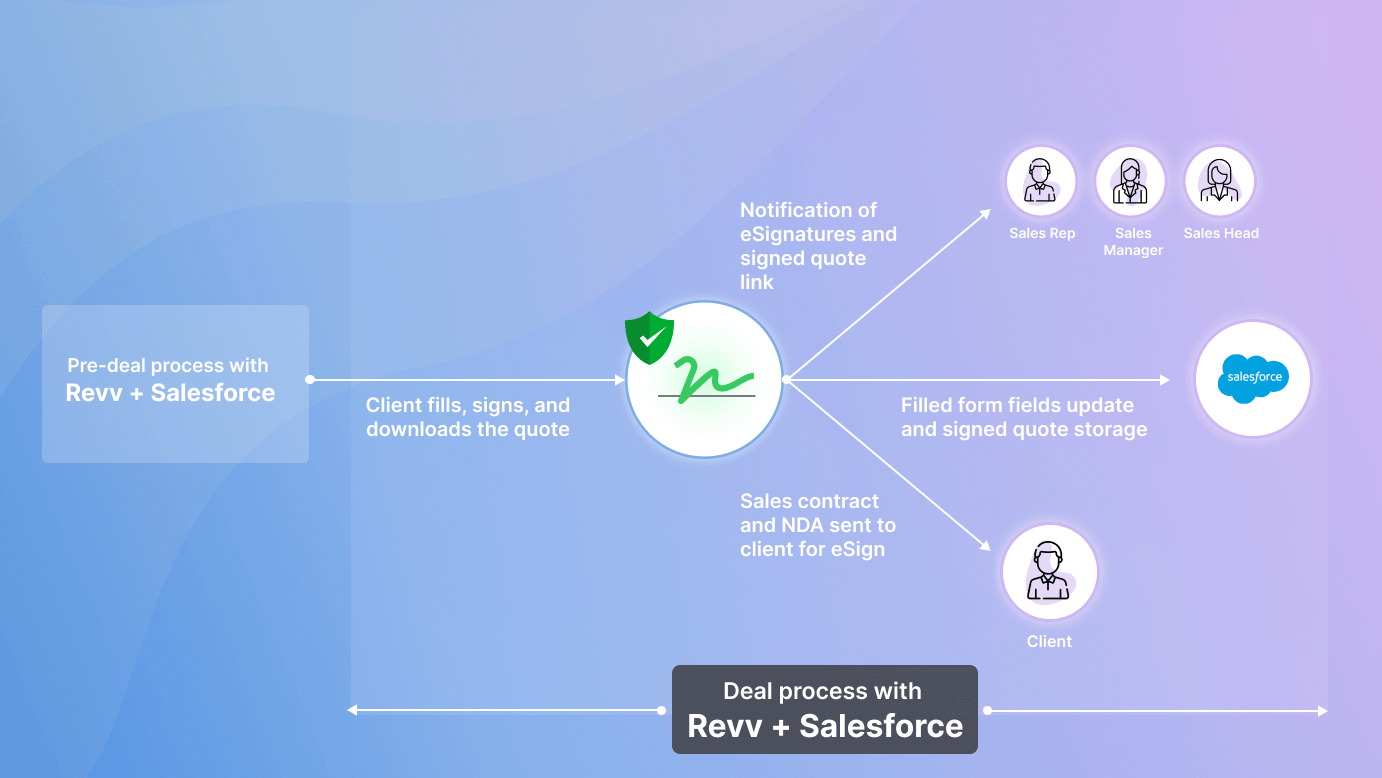 Automate the processing of next business documents after the quote is signed
Usually, the sales quotation closure is followed by other business documents like sharing sales contracts, non-disclosure agreements (NDA), or master service agreements (MSA) with the client for their signature. Think how much time the sales team can save by automating it.
Revv's Pipeline feature makes this achievable. You can create a job to send out a sales contract to the client after the quote is eSigned, and create the next job to automatically send an NDA to the client after the contract moves to 'eSigned contract lane.'
Automating this process:
Ensures the post-quote documents are sent promptly
Helps sales team to examine the status of the sent documents in the Kanban dashboard of the Pipeline page
Enables sales team to intervene at the right team if there is a delay in obtaining signatures on the documents
POST DEAL SALES PROCESS
---
What do Sales Managers want with the post-deal process?
WHEN → The sales contract and NDA are signed

THEN →
The signed sales contract and NDA are added to Salesforce
A copy of the signed sales contract is sent to the sales rep, sales manager, and sales head
The legal team is notified and sent a copy of all the signed documents
The accounts team is notified of the payment terms for bookkeeping purposes and to initiate the payment processing
How does Revv+Salesforce integration enable the post-deal sales process?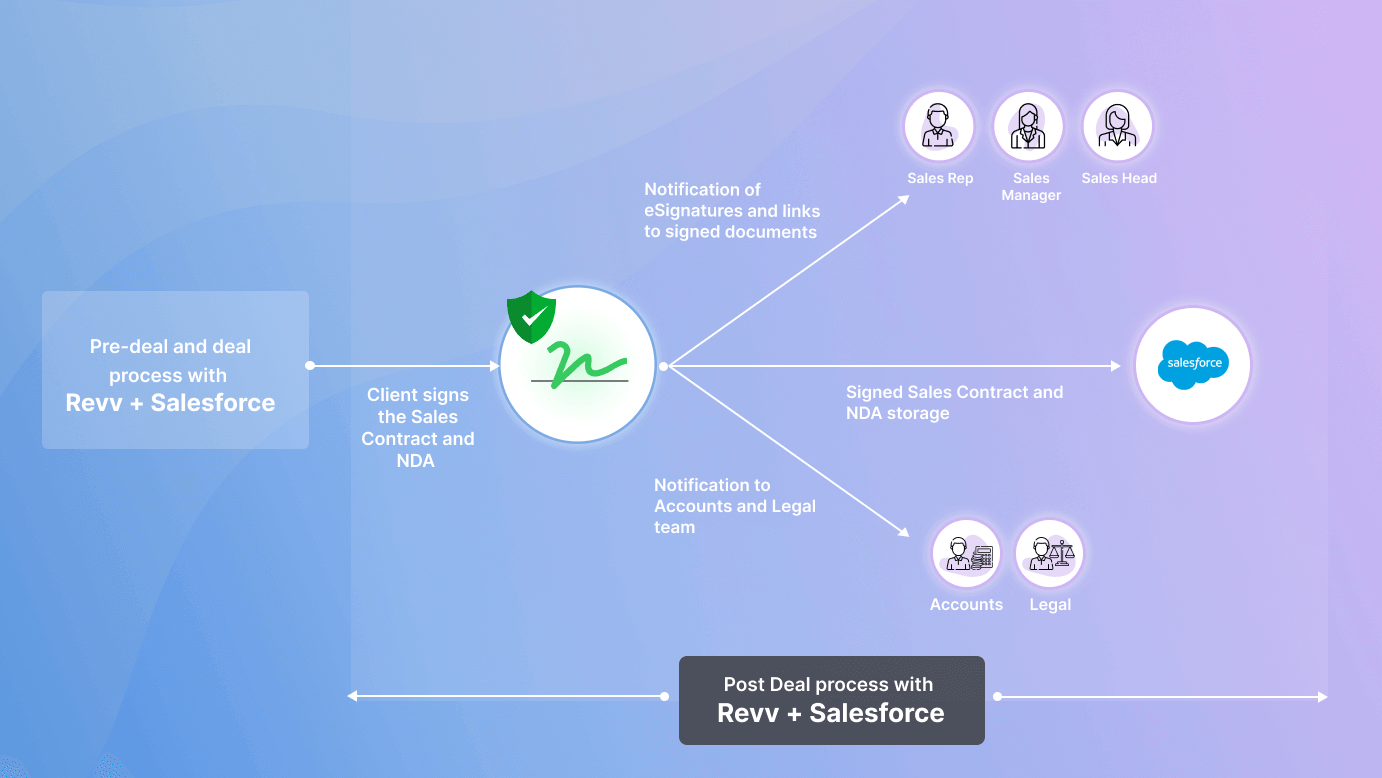 1. The task of sending and storing a signed copy of an NDA and sales contract in Salesforce can be accomplished by defining workflows using any of three integration methods – Revv APIs, Salesflow builder, or Zapier.
2. Tasks like notifying different people or teams and sharing signed documents with them are easily accomplished via the 'Pipeline' feature. As mentioned in the DEAL PROCESS, select the 'Notify and Share' option while creating the job for the 'NDA eSigned' Lane. Choose the people who should be notified.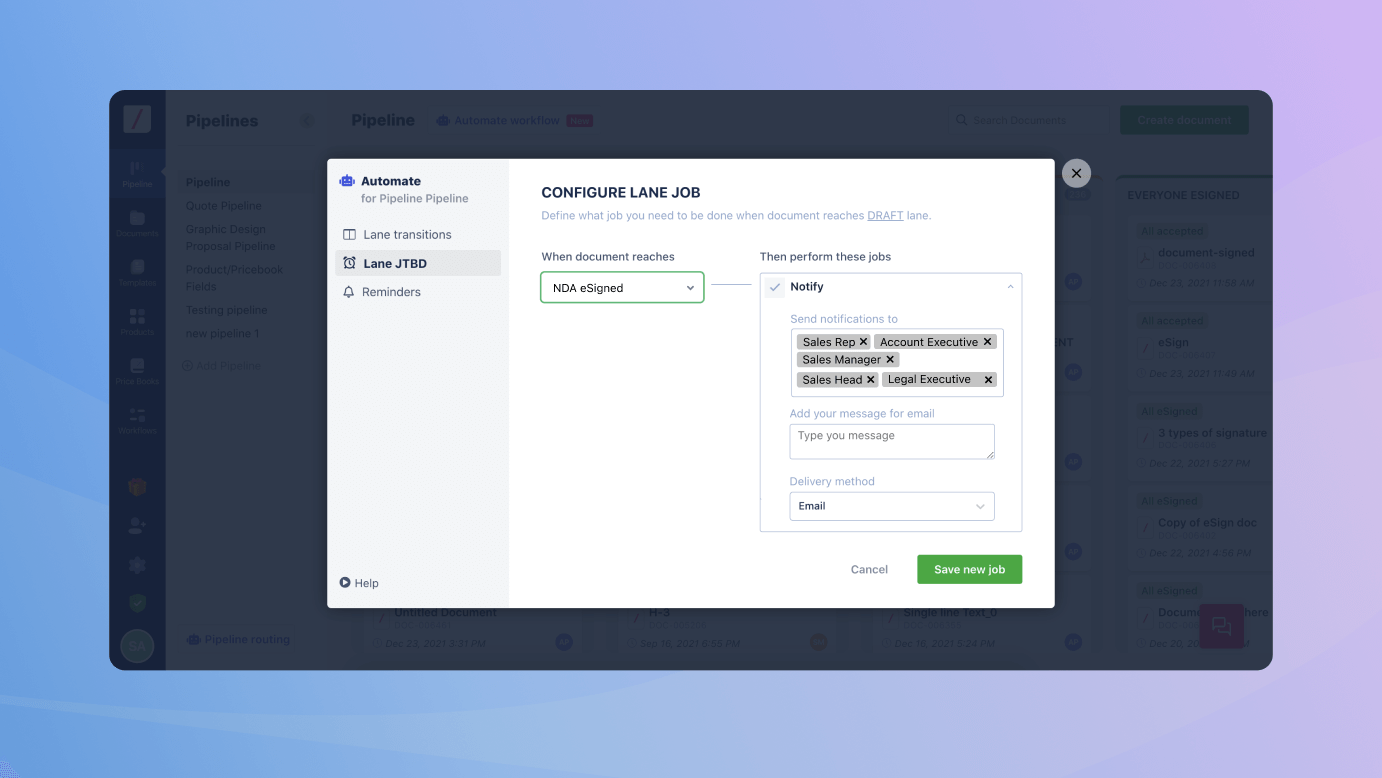 Achieve 100X more: How to further optimize the post-deal sales process with Revv?
Automate invoice creation once the deal is done
Revv offers integration with online accounting software like Quickbooks, where post the contract signature, an invoice is generated automatically based on the data in the sales contract.
Automate the creation and dispatch of sales contracts for renewals
Yes, Revv does that too! 🤩
Renewal reminders are very important. With sales teams being neck-deep busy juggling between unending tasks, keeping a track of all the contract renewals seems challenging.

Missed contract renewals mean lost revenue.
Revv never let you go down that path. Its 'Reminders' feature enables you to set notifications so that you don't rush to the last minute and get plenty of time to renew, renegotiate, or cancel the contract.
How to set up and integrate Revv with Salesforce?
The crowning moment about Revv and Salesforce integration is that you can create and automate sales processes without any code or programmer's help, just by using a single point-and-click method.
There are three ways to integrate Revv with Salesforce and define how the system will collect data, how the sales process will run, and how it will end.
Create multiple possibilities using –
Benefits of Revv+Salesforce integration
Sync Salesforce data fields with Revv data fields in a few mins
Revv's Data Studio feature plays a principal role in the swift, effective, and efficient flow of data between Salesforce & Revv.
It empowers users to accurately map data fields within minutes and in a few clicks, and generate accurate documents irrespective of size and complexity of data – all this without any scripts, APIs, coding, or integration platforms.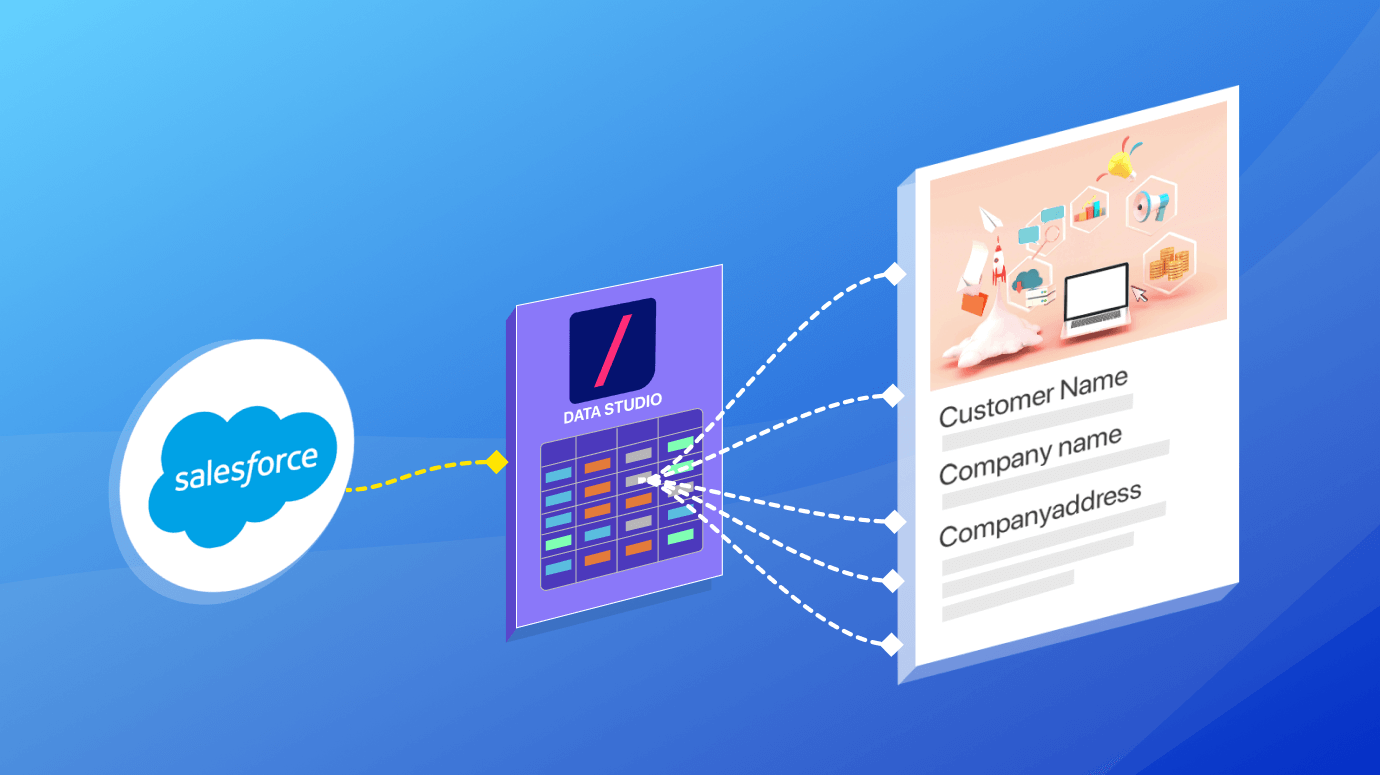 With Data Studio, you can also merge the data fields of Salesforce to a single field in Revv. For example, if you want to consolidate the fields 'Customer first name' & 'Account name' into one field in Revv, Data Studio enables you to accomplish it.
Once Salesforce integration with Revv is done, all that you have to do is:
Go to the 'Data Studio' tab of the chosen template
Pick a Salesforce Object in 'Select SF Object.' It shows a list of all the objects provided by the Object Manager in Salesforce like a lead object, opportunity object, or any custom object defined in Salesforce
Click on the 'Add field mapping' button
Click on the '+' button and match the existing sales process field in Salesforce to the Revv field, and start syncing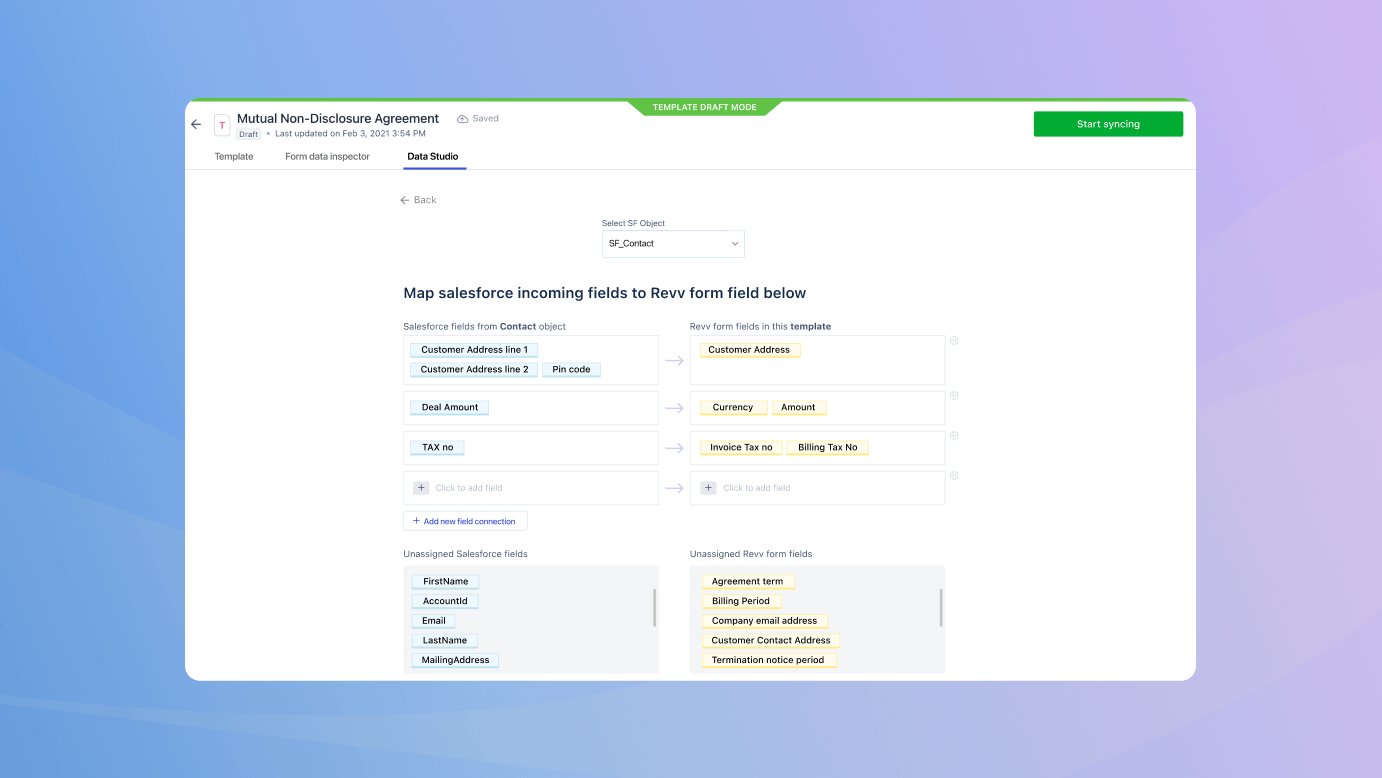 That's it!
Multifold Productivity with optimized document workflows
As Franz Kafka rightly put, "Productivity is being able to do things that you were never able to do before."
Revv and salesforce automation lift you from the chaos of manual data entry, tireless tracking, document creation, and formatting, confusing approvals, lack of transparency between the business teams. It brings the focus of business teams back to their core goals.
Comfort of home
Life is so easy when you can run all your errands without leaving home. Revv brings you that comfort and makes running your sales process in Salesforce easygoing. Manage everything in one place from web forms, quotes, contracts to electronic signatures and payments.
Precise data flowing from across and beyond Salesforce
If the data gets messed up, so do the associated processes. Revv and Salesforce together ensure that accurate data runs in all the apps involved in the sales process.
One of the mistakes to avoid early on is using a flawed data set. The inaccurate data generates skewed results in the algorithm's output. It sounds simple, but there is more complexity to ensuring data is accurate and the correct parameters are defined. Starting with flawed data sets can result in misalignment of targets and goals. This causes a trickle-down effect that impacts other decision-making challenges.

15 Mistakes Leaders Often Make When Implementing Tech Into The Sales Process, Forbes.com
Reduce risks and increase compliance
The sales process workflows bring all the teams from sales to accounts on one platform, promote transparency, and ensure all the team members are braided with the same rules, data, and processes – leaving no scope for errors.
Localize documents to resonate with your customers
Revv supports multiple languages so that you can generate the documents in their native language.
Conclusion | Revv+Salesforce→ An alliance that electrifies your sales growth
Absolute key to increasing sales efficiency is developing and operationalizing processes that increase speed, consistency, and repeatability of how you do business. These processes ultimately give your sales team more time to be creative, more ability to customize their approach to unique situations, but otherwise give them a blueprint to help all sides be more successful.

Five keys to sales enablement success, Heinz Marketing Inc
Uniting Revv and Salesforce gives you the freedom, power, and flexibility to boost your organization's sales productivity without spending a dime on hiring developers. It provides the ability to add custom features to bolster the sales process in Salesforce.
Whether you are a start-up, a small business, or a big organization, syncing and weaving your document process with the sales process in Salesforce pays off with boundless benefits. It speeds up the conversion of potential customers and optimizes the customer journey.
Reach out to us at sales@revv.so and our team would love to help you navigate the implementation and integration of both platforms.
Click here to schedule a product demo with us.