Going by its name, CPQ Software sounds self-explanatory – configure, price, and quote. But, beneath the iceberg of CPQ lies a web of complicated calculations, automation, and intelligence. These parameters differentiate one CPQ software from another.
When it comes to pinning down on one CPQ software for your business, there is no room for compromises. It should meet your unique business requirements and help to speed up the sales cycle and improve margins.
If you are presently evaluating or looking for the HubSpot CPQ alternative, you've arrived at the right place.
This blog gives you an exhaustive rundown of Revv and HubSpot CPQ. It compares them from different angles to help you make an informed decision and find the right fit for your business.
Overview
HubSpot CPQ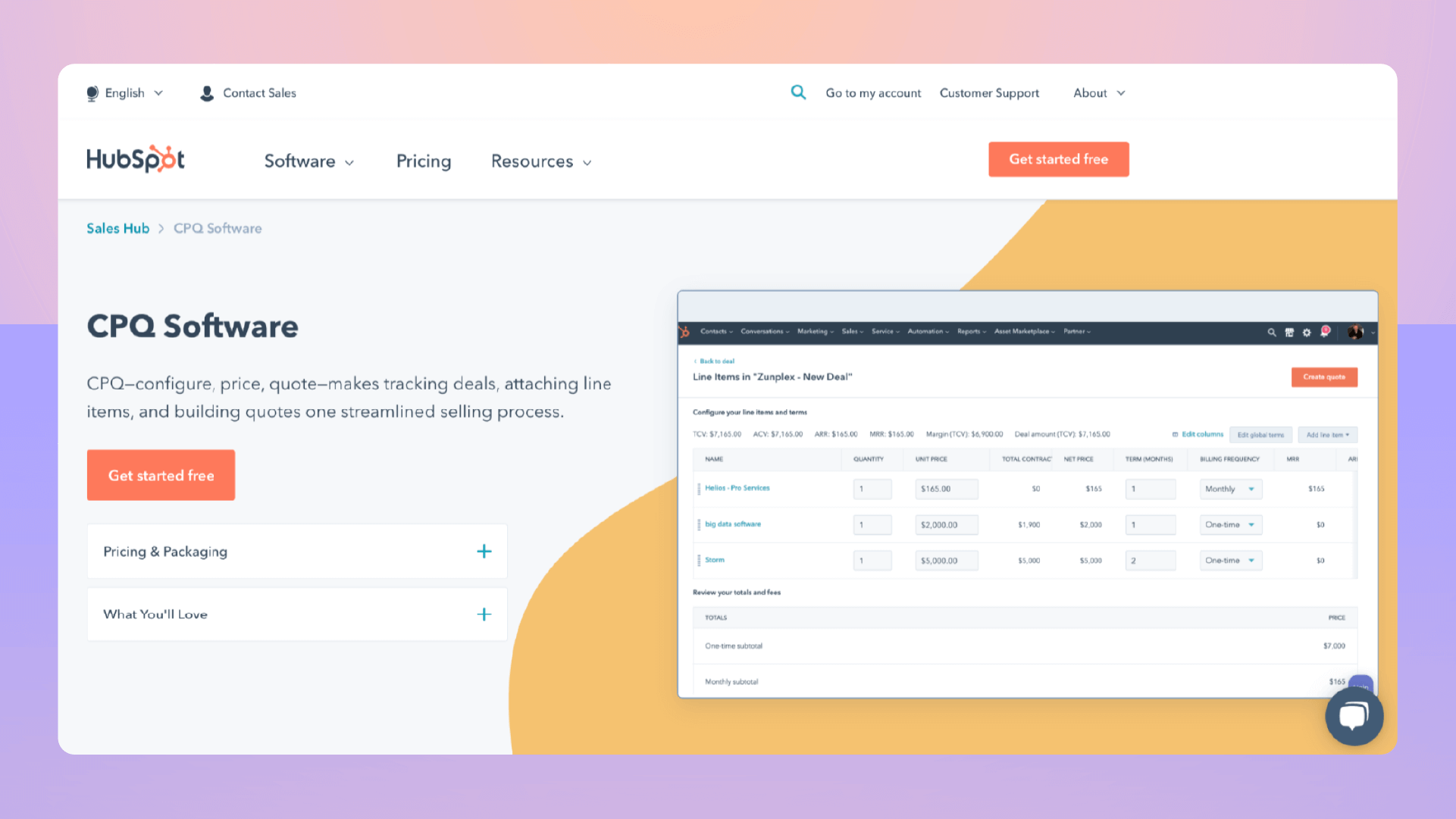 HubSpot CPQ software is a part of the Sales Hub (built on the HubSpot CRM platform) designed to enable sales teams to optimize the quoting process. With this platform, users can quickly configure products and pricing, automate approvals, and send quotes with just a few clicks. It is easy to work with and allows you to design logic to support the CPQ lifecycle.
Revv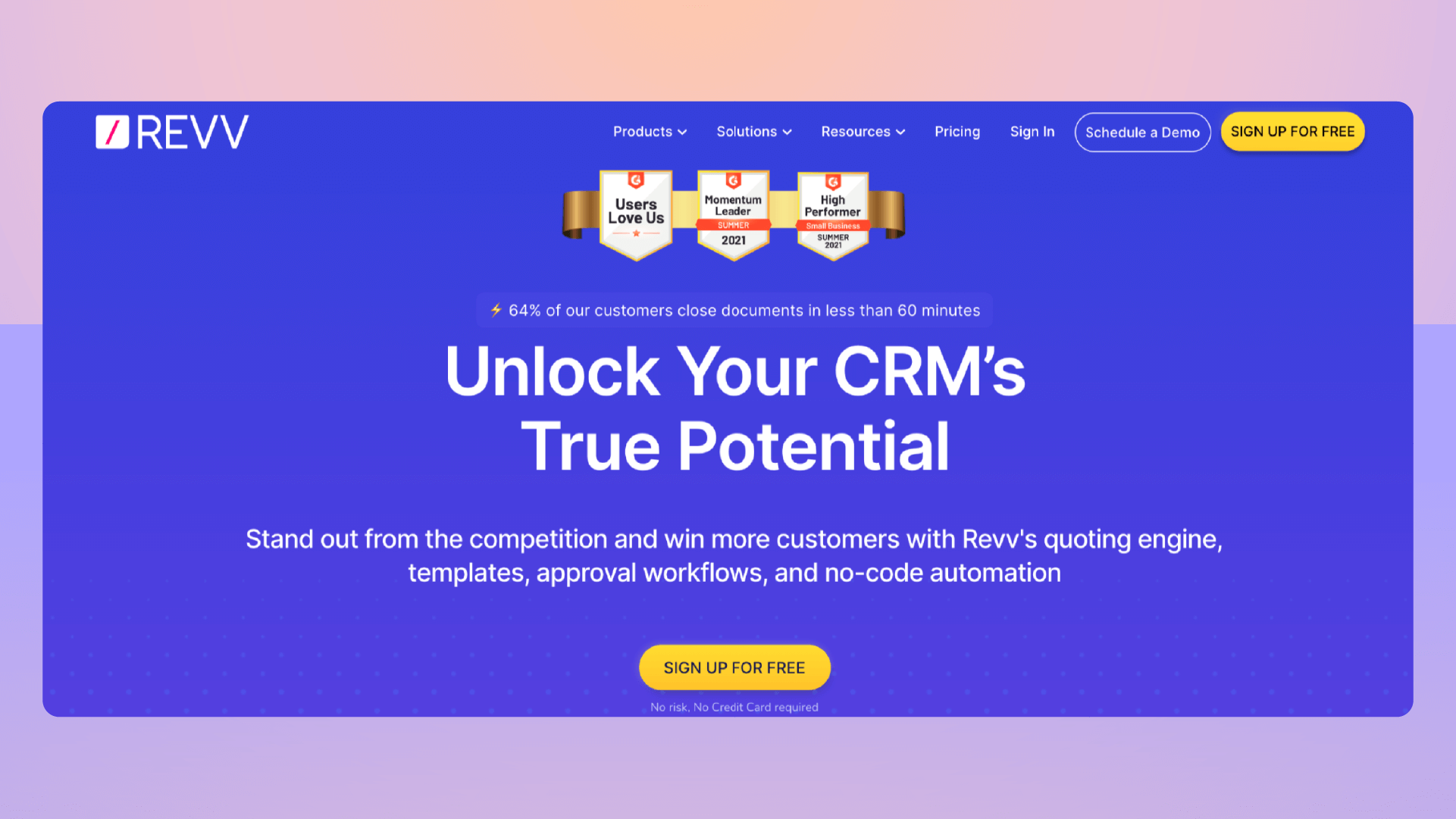 Revv is an intuitive CPQ (Configure, Price, Quote) software that streamlines and automates the quotation process. It works exemplary for both small and big businesses. From managing complicated product lines and dynamic pricing to self-activating approvals and electronic signatures, its features push the limits of what's possible with a CPQ system.
Revv is easy to set up and provides separate tabs to perform each task whether it is configuring products, defining pricing, or streamlining approvals. It makes building the entire CPQ process effortless. The spreadsheet-like format of its 'Product Catalog' and 'Price Book' features makes the user experience even better.
Comparison – HubSpot CPQ vs. Revv
Both Revv and HubSpot CPQ are built to empower sales teams and demonstrate distinct capabilities. Now, let's get to the bottom of each platform and explore its strengths.
To make it graspable, the comparison is branched into four sections –
Hop in to check out how these two CPQs stack up.
1. Features Comparison | HubSpot CPQ vs. Revv
1. Product catalog configuration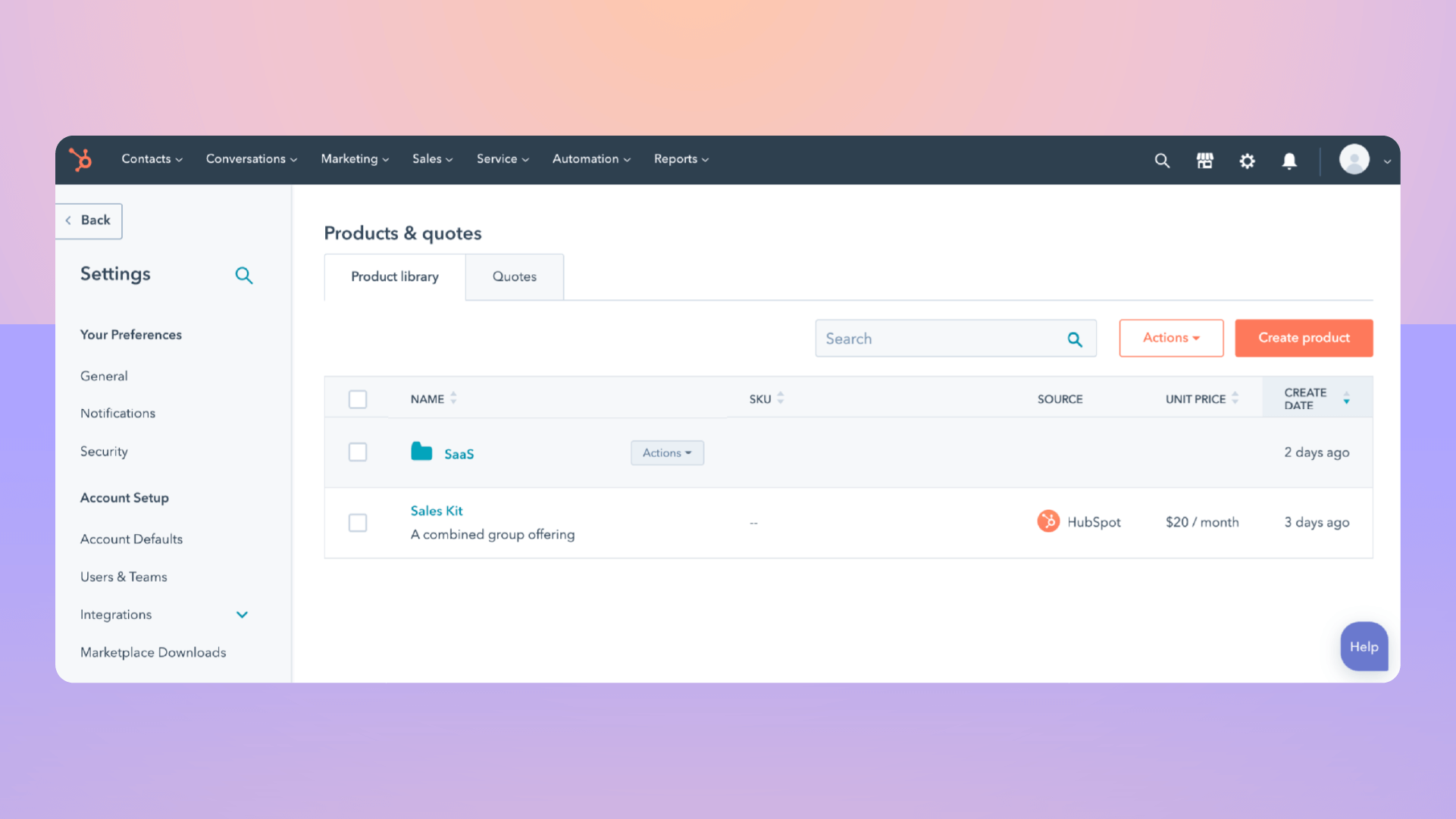 HubSpot CPQ has made configuring products pretty straightforward. Its 'product library' feature helps to quickly build a customized rate card as per the customer's requirements. It gives you the flexibility to import multiple products at once or create a product or service from scratch.

The 'product library' panel provides standard fields like name, SKU, and description. You can create custom fields using the 'create property' feature. You can add a link to the product image for buyers to see the product. Additionally, if the product is stored outside the HubSpot CRM, it allows you to add the product page URL to access the product information.
52% of customers expect offers to always be personalized – Salesforce
Revv is built to manage simple to complex products/services to meet the varying customization needs of clients. Its 'Products' feature helps to create a product catalog quickly.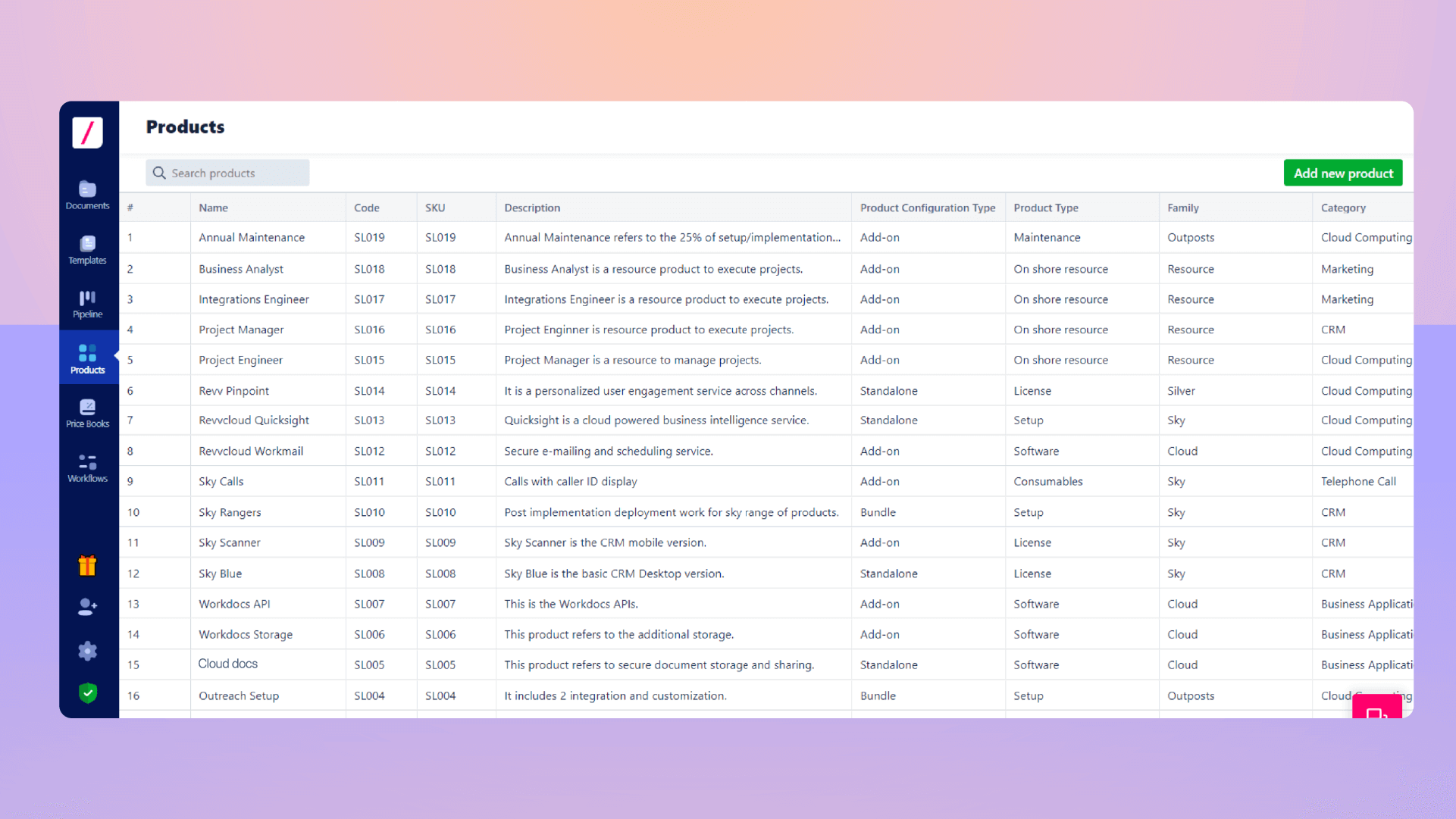 It provides an array of fields to chart out all the possible arrangements of extensive product lines. It offers four options to select the right configuration for your product/service.
Standalone
Add-on
Bundle
Service
While HubSpot CPQ provides a 'Folder' option to arrange and group the products, Revv goes a step beyond to help sales teams organize and categorize the products. You can classify the products at multiple levels and group them accordingly while creating quotes. For example, you can add the products with common attributes under the 'Product Family' field and tag them under different categories with the 'Product Category' field.  
For example, a laptop can belong to the family of 'Laptops and Accessories,' however, it can fall into many categories like brand name, laptop type, storage type, operating system type, etc.
2. Pricing Configuration
As mentioned above, the 'Product Library' in HubSpot CPQ is a single place to add pricing information along with product details. The pricing functionality of HubSpot CPQ includes limited fields like price, billing frequency, unit cost, and term length. It is suitable for businesses having a handful of products/services and standard/flat pricing. When you add the unit cost, HubSpot CPQ gives the margin on every product and upfront calculates the total profit you will be making.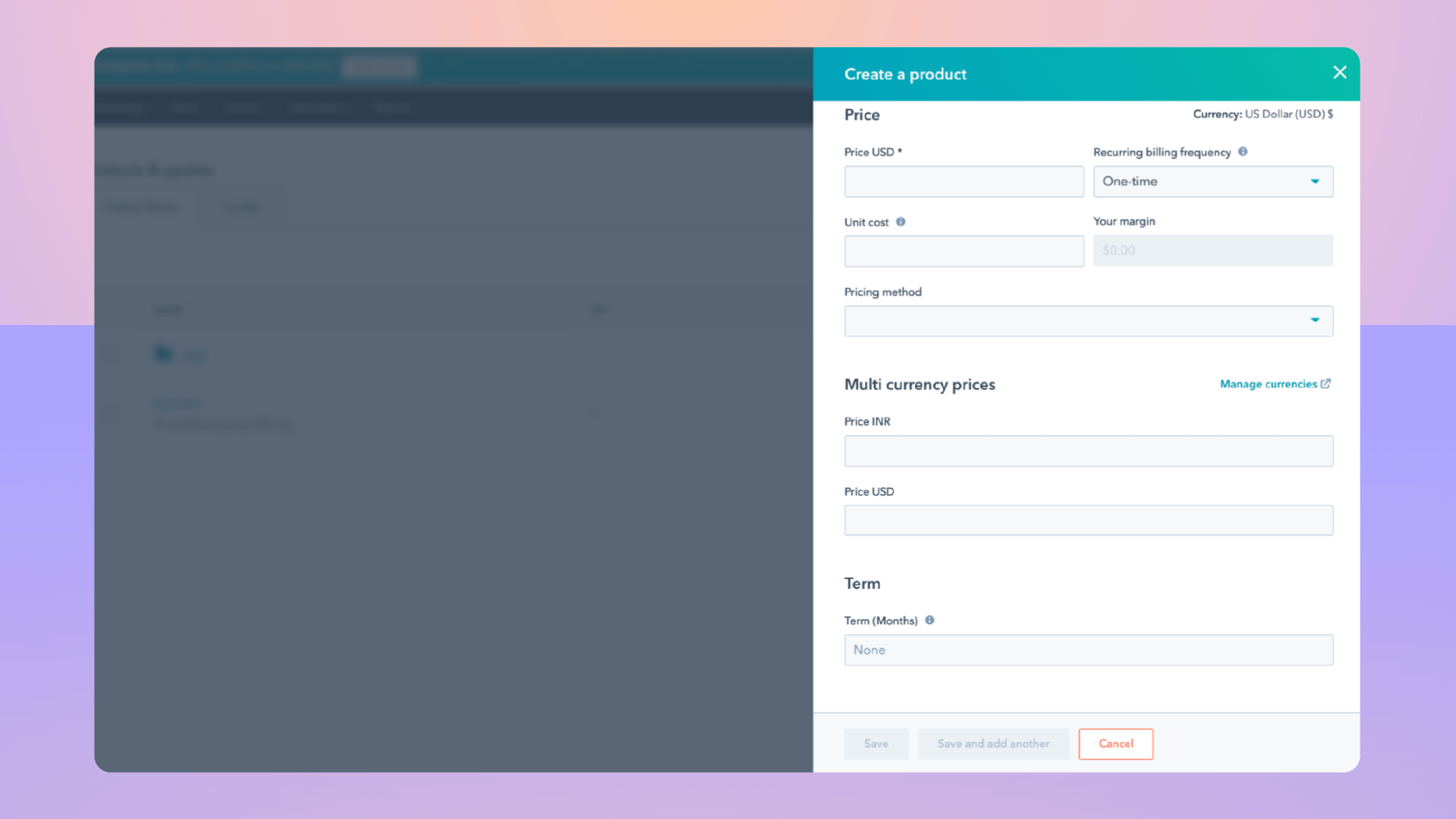 Revv's Price Books feature provides a robust infrastructure to optimize prices based on customer dynamics and their business priorities.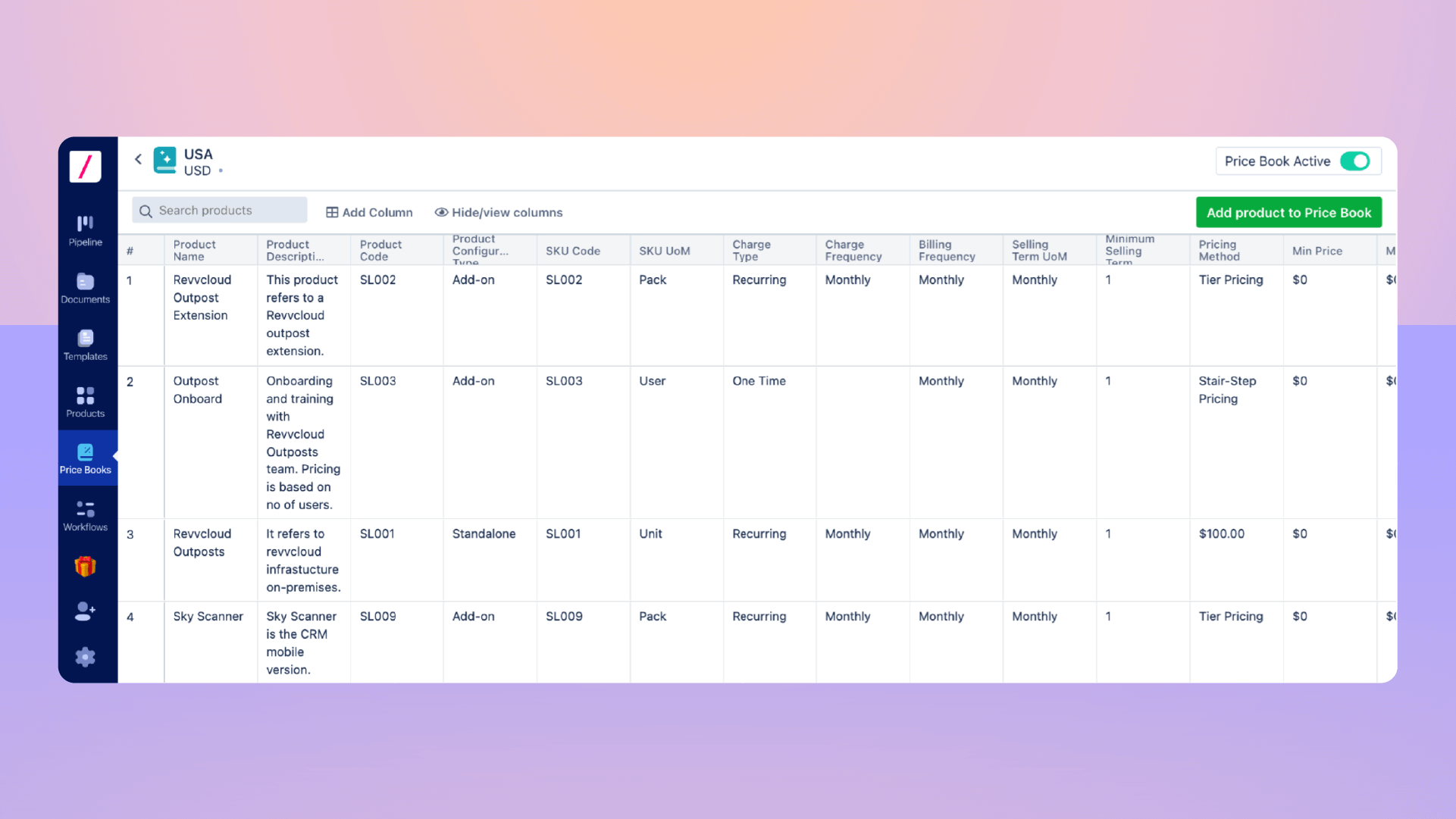 It is capable to handle complex business logic 
It allows you to create as many Price Books as your business segments demand like Price Books based on geography, currency, product lines, buyer groups, etc. 
It supports varying discounting models and tax requirements
It provides a single source of truth and precise prices in real-time
It saves enormous time for sales teams
Both platforms offer multiple currencies support to help companies with businesses spanning across countries.
In HubSpot CPQ, you can add currencies to your account and manually enter the price for each corresponding currency in the designated fields.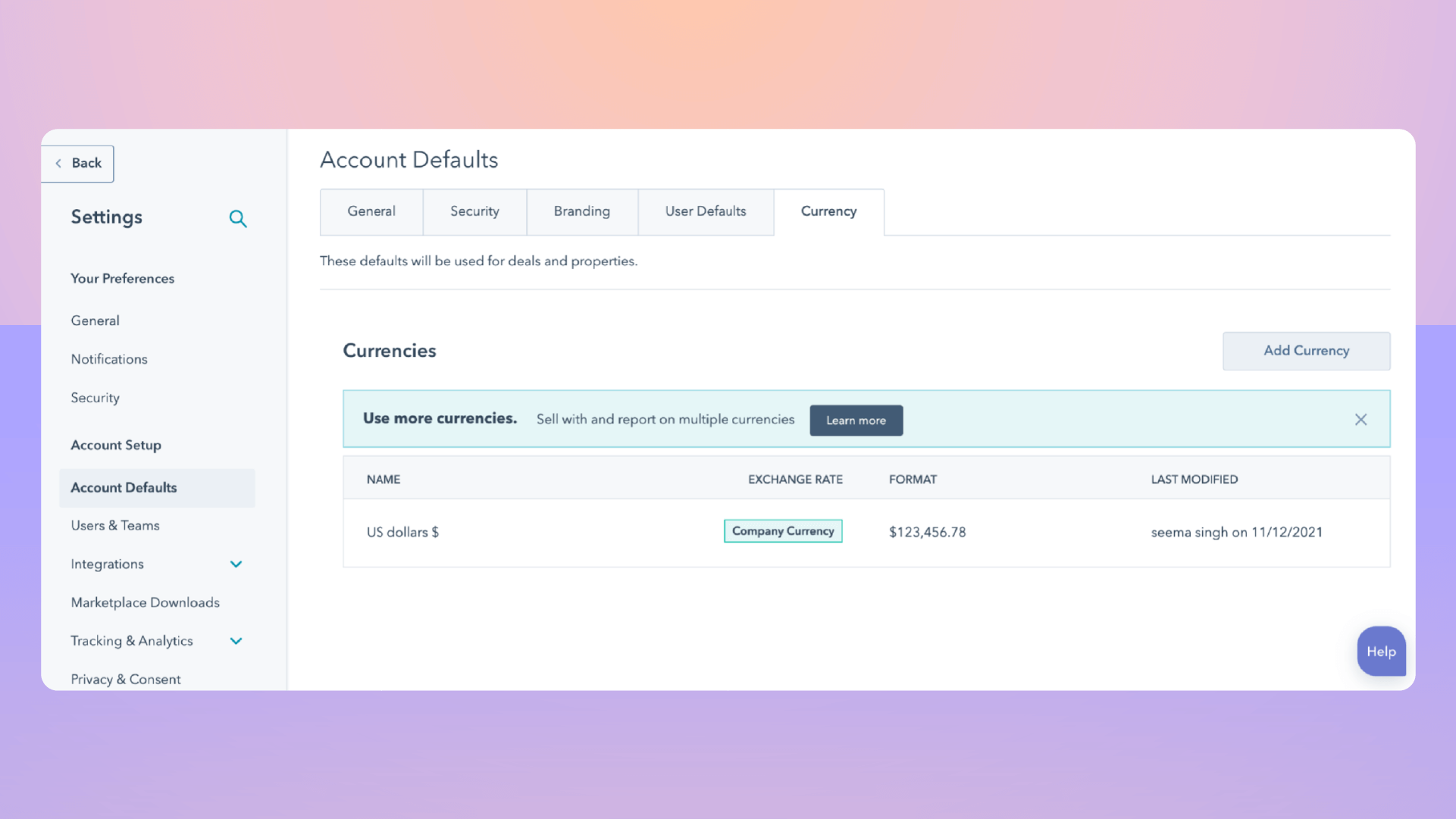 Revv makes the currency calculation a cakewalk. You can choose the currency right when you create the price book and automate all the calculations in the chosen currency.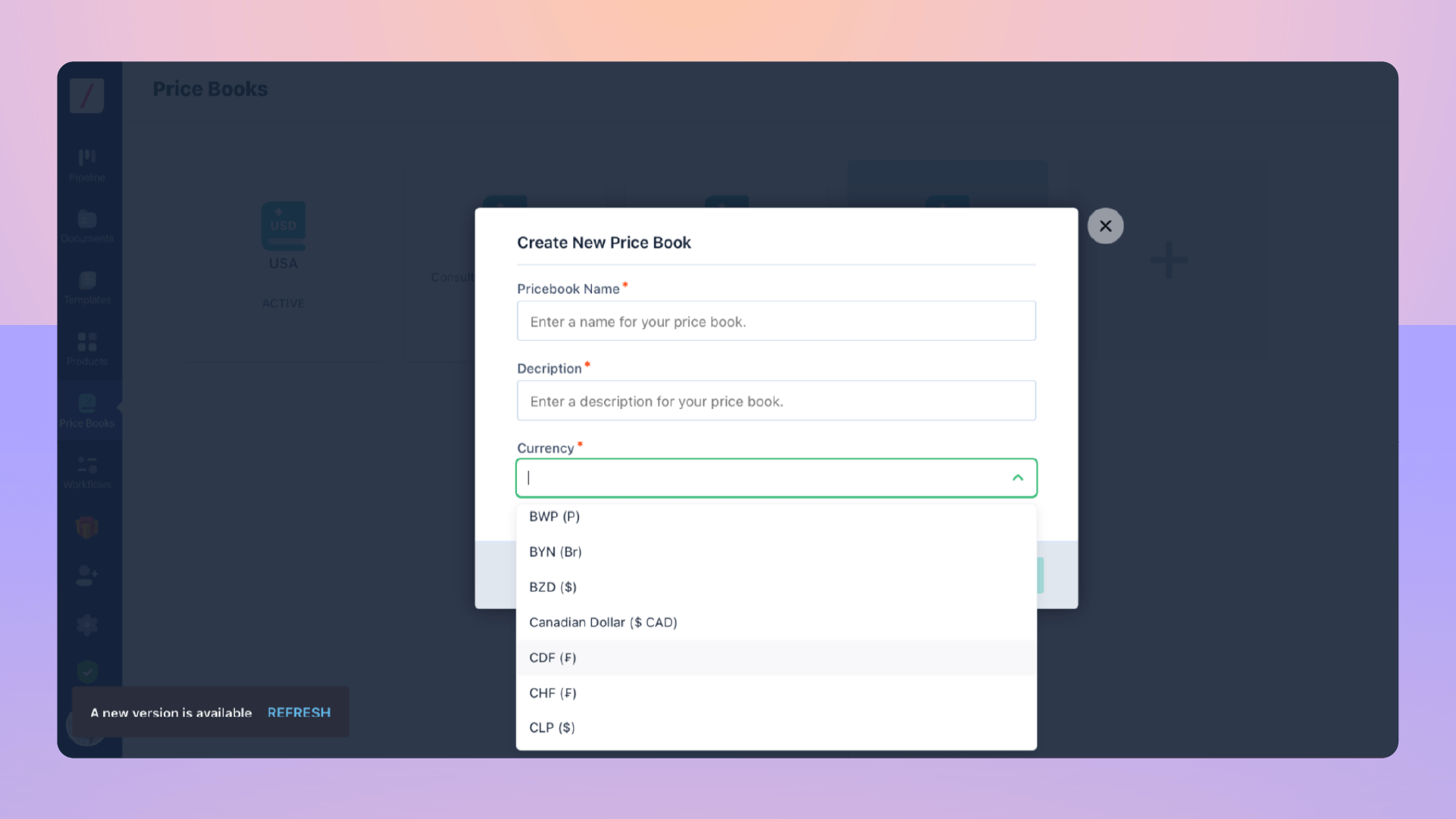 Coming to setting up the billing details, HubSpot CPQ lets you define the billing frequency based on one-time usage or recurring usage. But, Revv gives you a wide variety of options to accommodate the intricacies of your product pricing. With Revv, sales reps can –
Define the right mode to charge money to clients by selecting the right 'Charge Type' from the options – evergreen, one-time, recurring, recurring usage, and one-time usage.
Describe the 'Charge Frequency' to choose the periodic frequency at which you will charge the products marked with the Charge Type, Recurring or Recurring Usage
Set up the billing cycle for the products with 'Billing Frequency.' – the time duration after which the vendor produces the invoice and the customer initiates the payment.
Define 'Selling Term,' Selling Term UoM (Unit of Measurement), and SKU UoM
Mark the effective date and expiry date of the product
Decide 'Default Quantity,' if the business demands to sell a particular no. of products in each deal
Decide 'Minimum Quantity,' the rock bottom number a salesperson should sell in each deal if the deal can't be done for the default quantity
For example, let's say a SaaS product is charged monthly but the invoice is generated after a year, and the deal is done for 3 years. Here – the charge type is recurring, the charge frequency is monthly, and billing frequency is yearly, the minimum selling term is 3 years.

When using HubSpot CPQ, you can do the discounting only at the quote level whereas Revv gives you more flexibility to give discounts at the product level, product group level, and quote level.
Tax calculation is the inevitable part of the pricing, hence it is provided by both platforms. HubSpot CPQ allows you to add tax at the quote level whereas Revv facilitates this under its 'Percentage of Total Pricing' method. This pricing method gives you the liberty to not only add tax but do a lot more. You will get more clarity on this in the next section.
Additionally, Revv also provides role-based and user group-level access control of Price Books to prevent unauthorized access.

3. Pricing method
HubSpot CPQ offers a flat pricing method which is apt for business with a few products/services and having a simple product mix. Revv offers eight types of pricing methods to help businesses find the right calculation for their offerings and get accurate pricing instantly. Pricing is displayed during the configuration process so that users can quickly see how different pricing methods impact the price. The seven types of price methods are –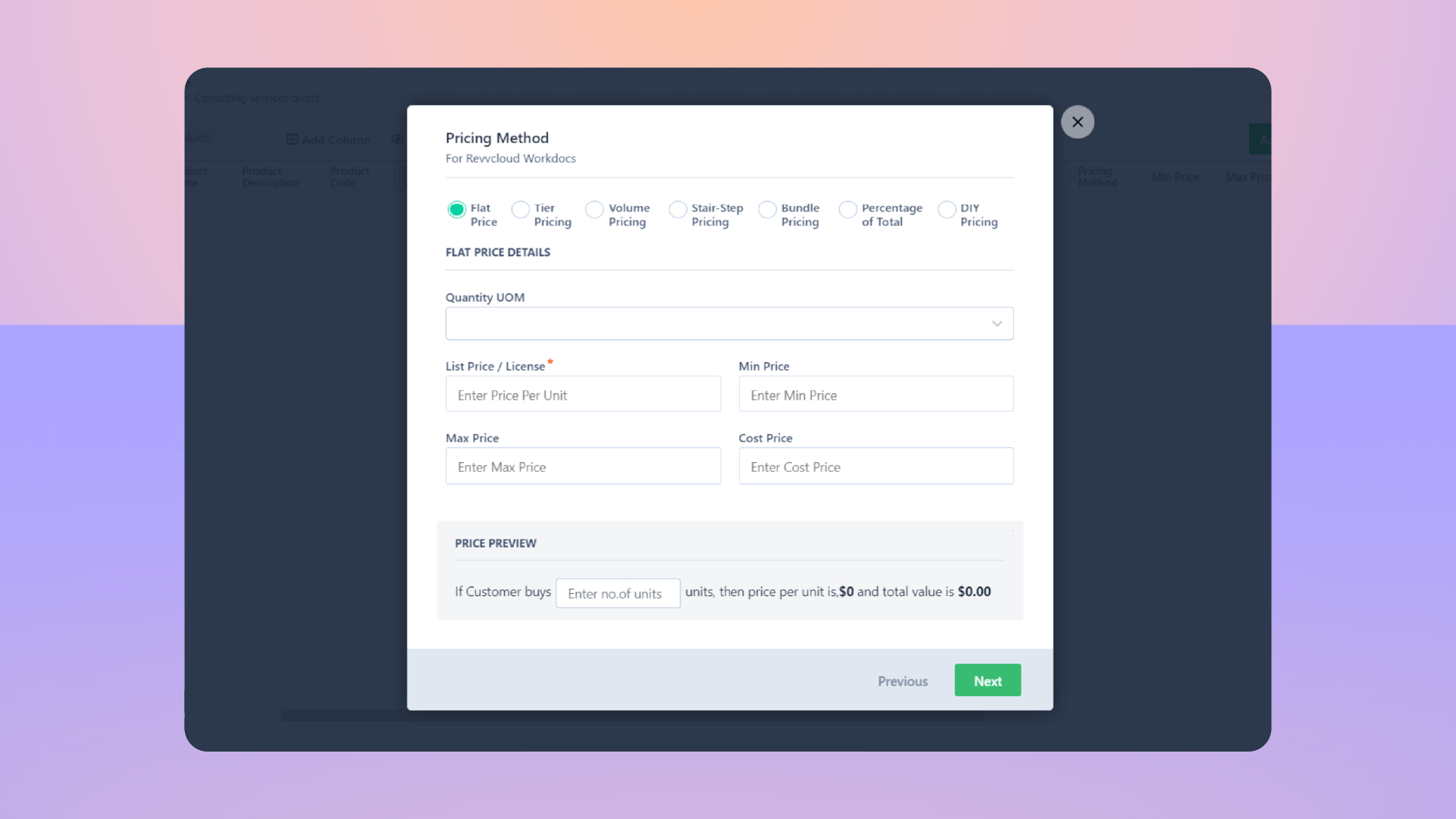 Flat Pricing, where the charge remains the same and is not dependent on the increase and decrease of quantities.
Tier Pricing, where each tier defines a no. of units and their associated cost/unit. After using all the units of a particular tier at the specified price, the client moves to the next pricing tier and gets billed accordingly.
Volume Pricing, where the price is dependent on the no. of units. More the units, the lesser the price per unit.
Stair-Step Pricing, where the price is set for a range of units. For example – $500 for a range of 10-20 units. This means that if the client wants to buy 10, 15, or 20 units, the price remains $500.
Bundle Pricing, where the seller can bundle the offerings together and sell them as a single unit.
Percentage of Total Pricing, where the price of an offering is dependent on the price of another product/service, for example, tax, tip on the restaurant bill, bike insurance, etc
Do-It-Yourself or DIY Pricing gives you the room to create custom pricing based on deals, customers, business dynamics, etc.
Resource pricing for the effort-based calculation to price resources for your service products. This lets you add resource SKUs to create the bundle and enter the effort (in-person-month) associated with each resource.
4. Quote creation
Creating a precise sales quote is crucial to winning a deal. Let's see how both platforms weigh up on this aspect.
"Whether or not a consumer chooses to engage or buy from an organization, it's critical that they receive the quote accurately and efficiently."
Source – Martech Advisor
Templates:
With HubSpot CPQ, you get three standard quote templates to choose from. You can get more templates from HubSpot CMS but that comes at an additional price.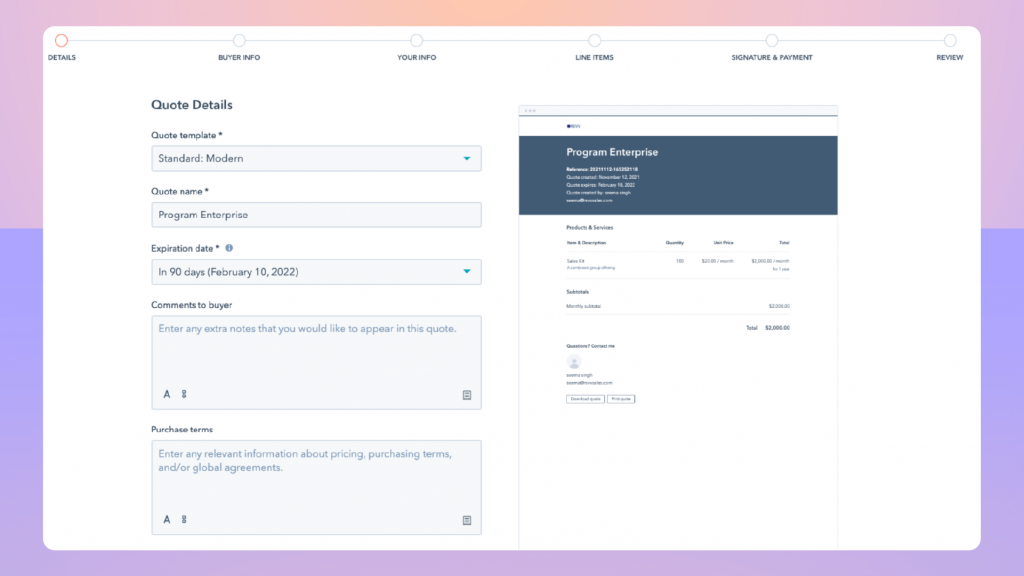 With Revv, you not only get access to legally vetted and beautiful sales quote templates but also to 1000+ other crucial business templates like sales contracts, sales agreements, non-disclosure agreements, proposal templates, and many more.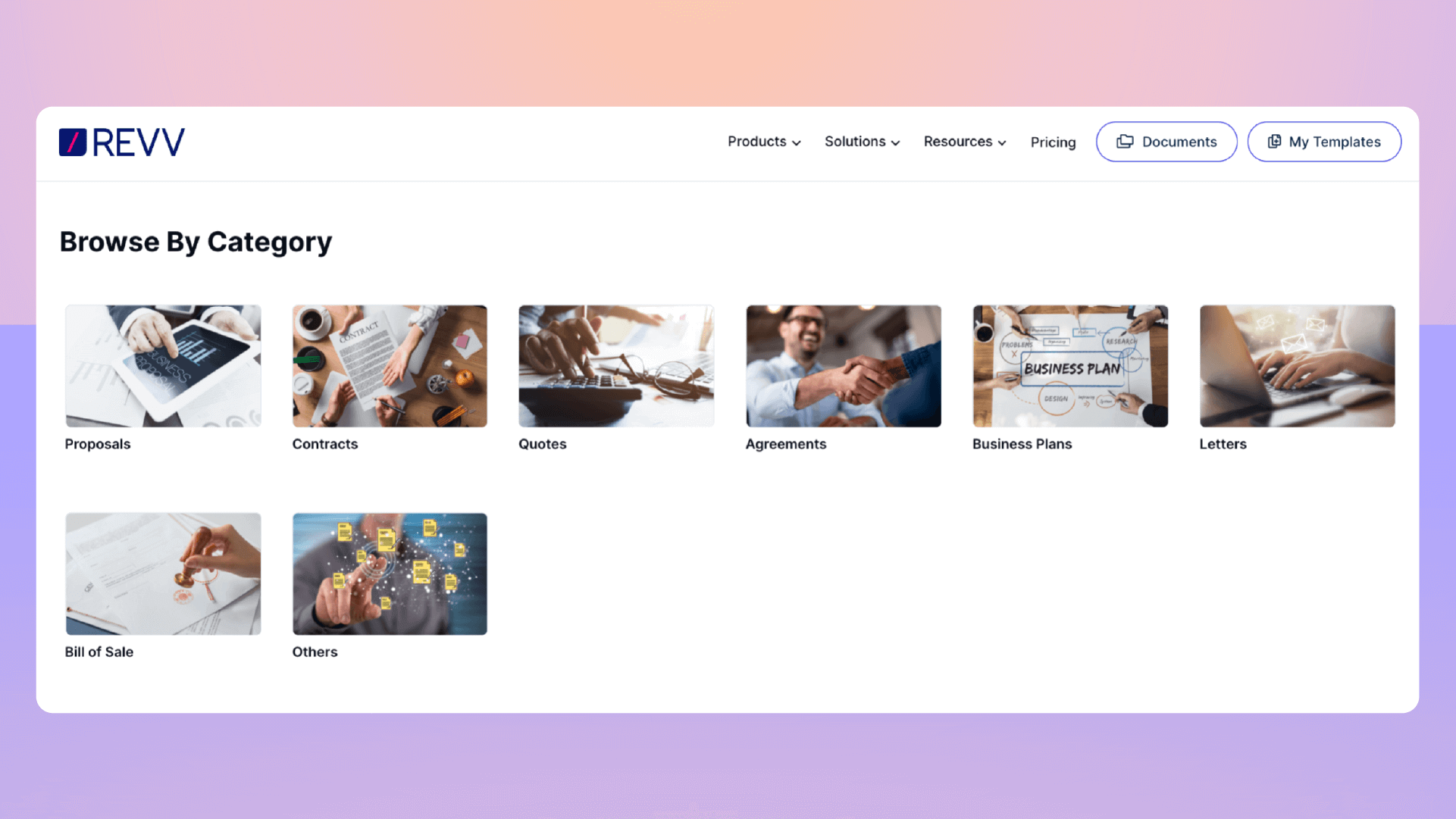 Quote customization:
HubSpot CPQ gives you a restricted scope for customization where you can add comments and purchase terms. The templates come with preset form fields.
Revv gives you a larger scope to create structured and aesthetically-pleasing sales quotes. Its rich drag-and-drop editor gives you the freedom to add the right font, font size, font color, tables, text, spaces, page breaks, and many more, to truly reflect your brand in your style.
Additionally, ​​you can choose from multiple types of fillable form fields in Revv and can also create custom fields for sales quotes based on the business requirements.
Quote table:
Before creating a quote, a deal should be created in HubSpot CPQ, where a user adds the line items from 'Product Library.' While creating a quote for the deal, it automatically fetches the information from the deal and generates a quote table. Here, you can edit all the fields and can also add more columns to the table.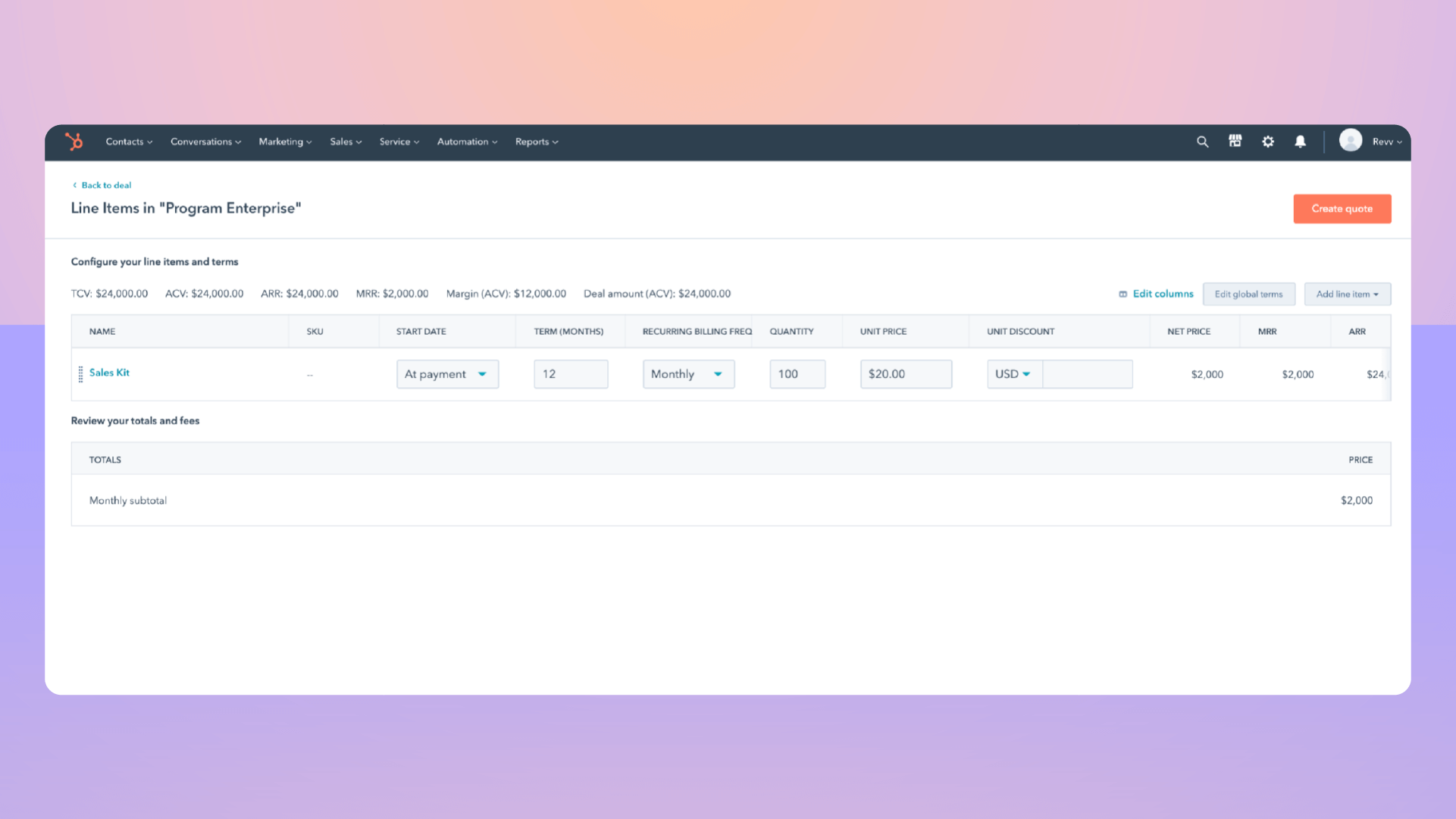 Revv lets you select a price book, select the line items, add discounts, and pull the quote table right within the sales quote.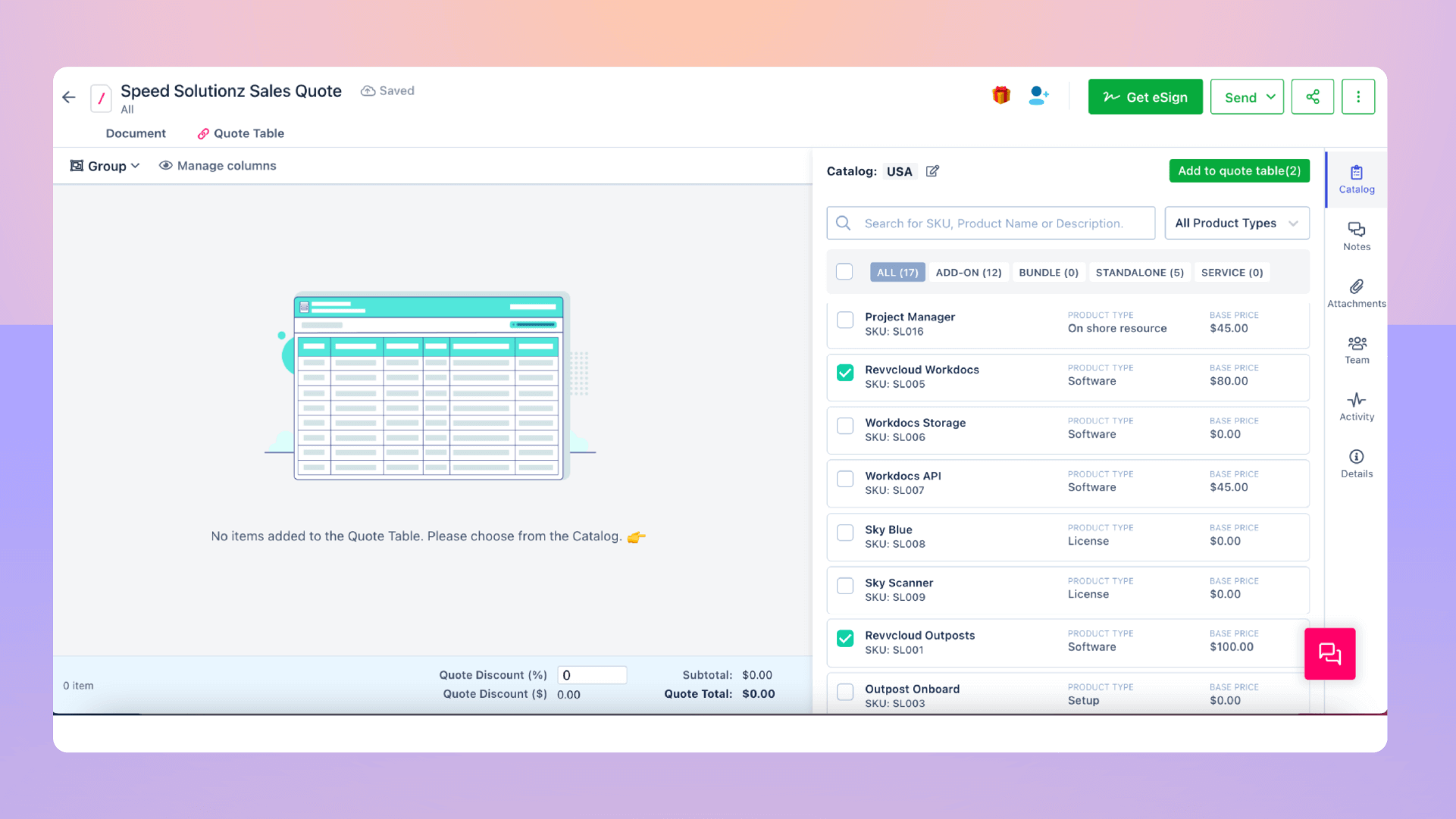 Quote editability control:
All fields are editable when creating a quote table in HubSpot CPQ. It does provide ease of creating quotes on the fly but also poses data tampering risks.
Revv's spreadsheet-style quote builder provides pre-configured line items with editable fields like selling term, discount percentage, etc., marked in green and the rest is auto-calculated based on attributes set up in the price book. It brings better control of quotations and ensures consistency.
Quote viewing options:
Revv supports multiple view types for the quote table to help users comprehend it better. You get the line-item view, grouped view, and summary view.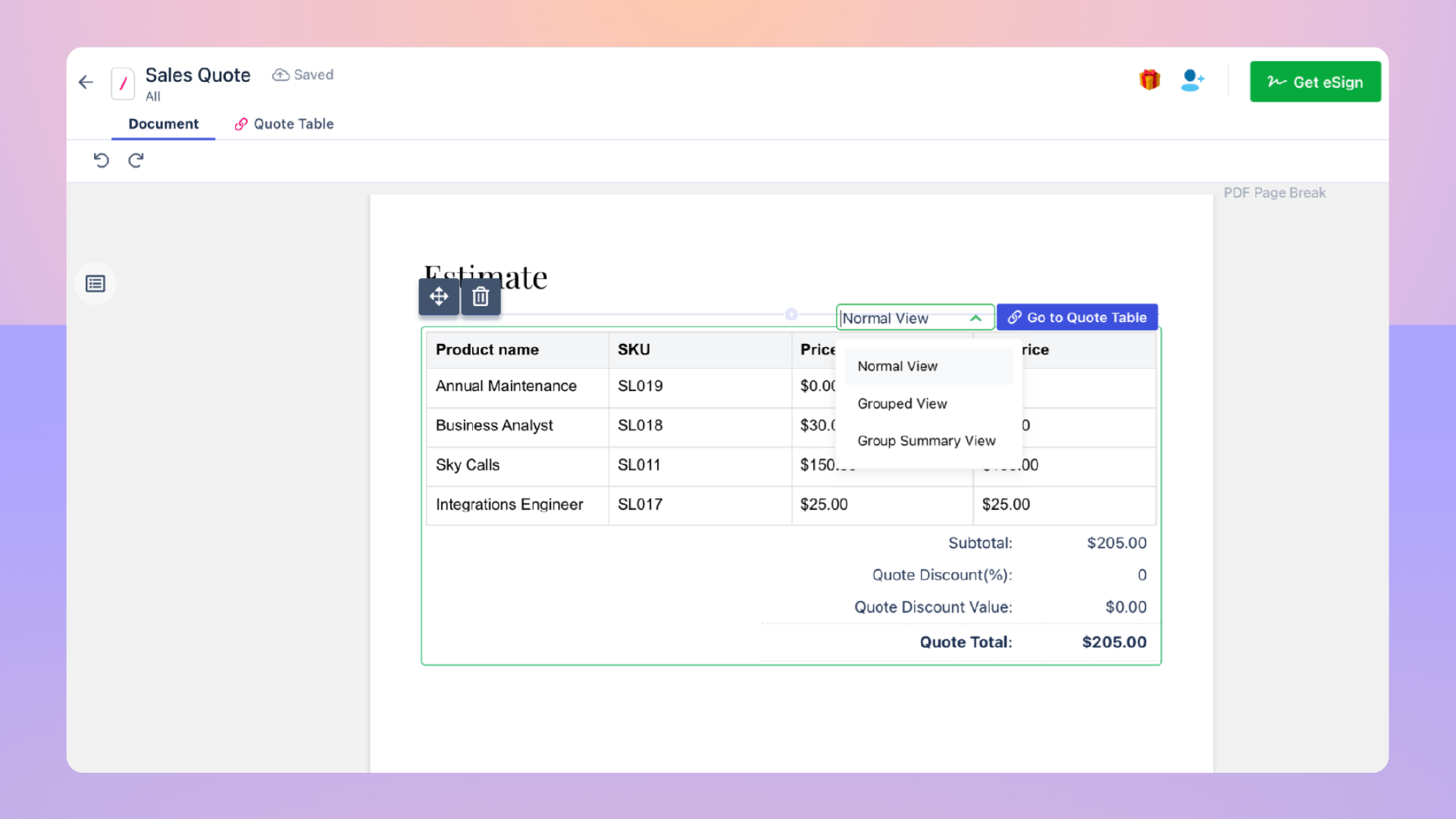 5. Quote approvals
A systematic quote approval process ensures that the information shared in sales quotes is right and reviewed by the sales managers. It gives them absolute supervision and control over the information going out.
When the quote approval setting is enabled, HubSpot CPQ enables three quote-based workflows to your account. These quote-based workflows can be further customized to add more actions.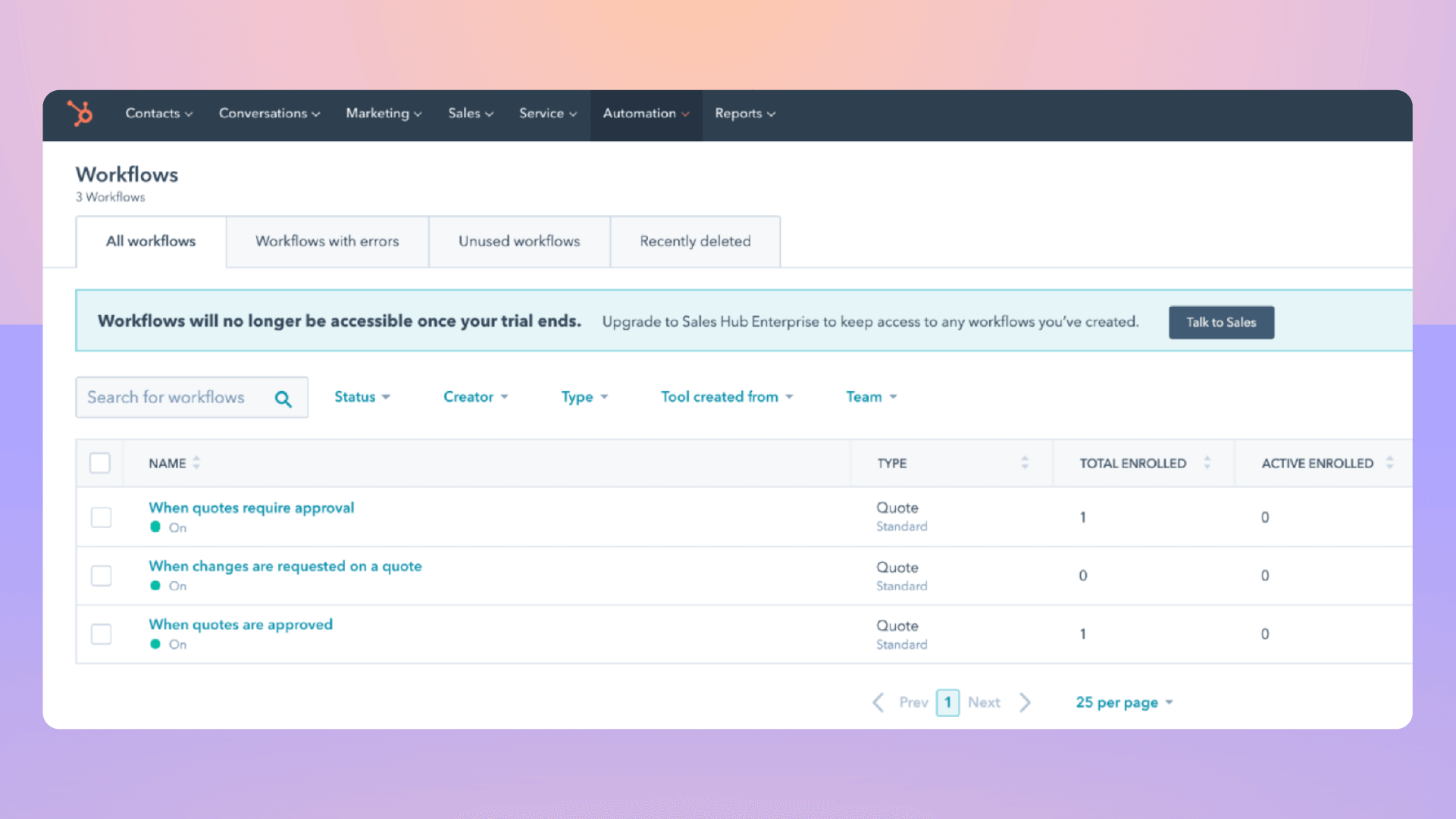 Like HubSpot CPQ, Revv's quote approval process is intuitive and automated. It speeds up the approvals and assists in sending out the quotes to prospective clients within the timeline.
Revv also gives you advanced features to streamline approval workflows –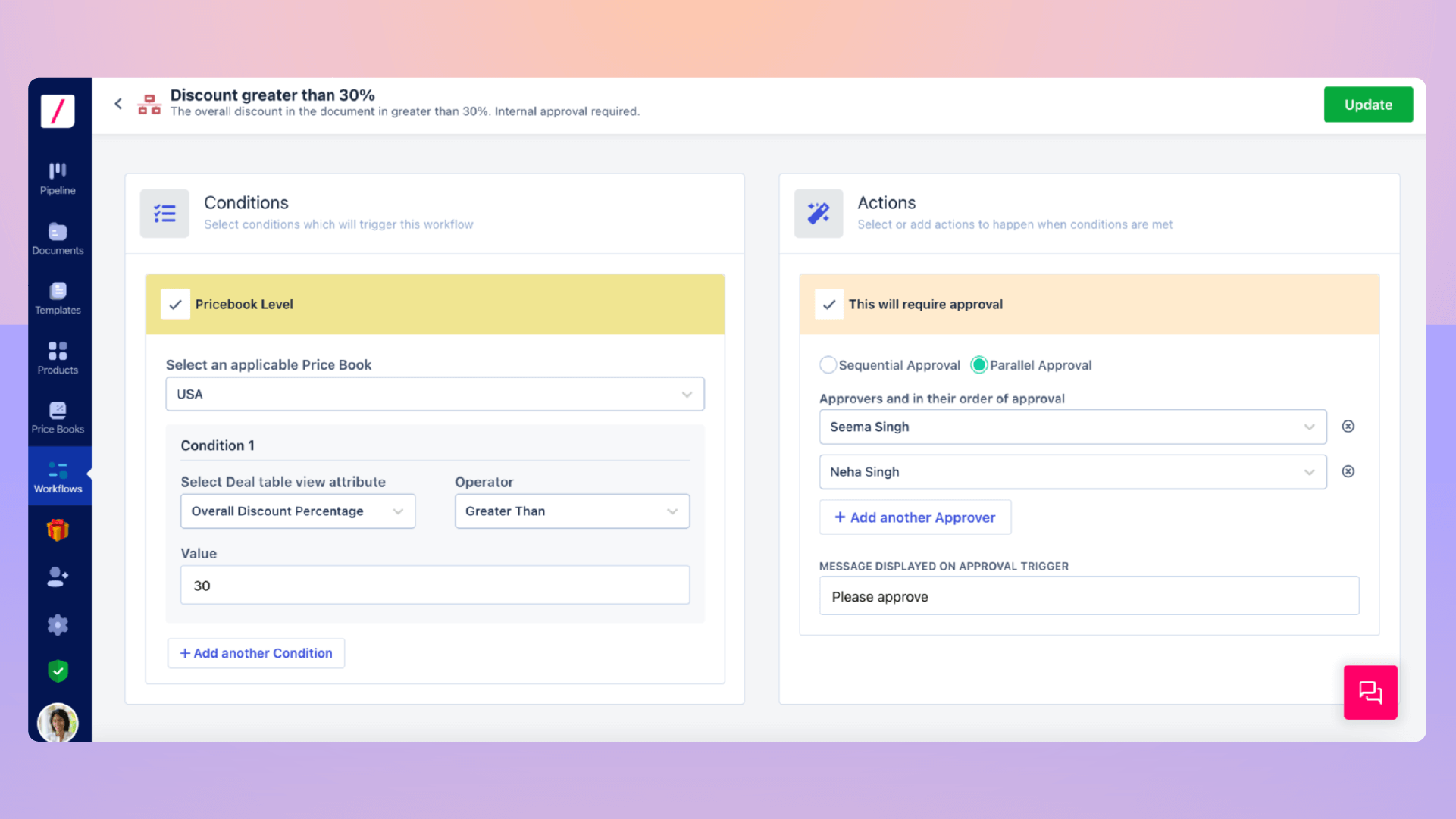 Create approval workflows at –

Form field level, if the information fed in a field of quote demands approval
Clause level, to create approval rules for clauses at a template level
Quote level, for example, routing a quote to a list of approvers when it exceeds a certain quantity or if the discount provided in the quote exceeds a limit

Options to create approval workflows for each line item like for each product and each price book, or for all price books
Enable sequential approvals where a quote goes for to the next approver only when it is approved by the previous approver
Enable parallel approvals where a quote goes to all the approvers at once
When a quote needs to be sent to a group of people, for example, a group of sales managers, this can be done by setting up a user group in Revv and selecting that user group as approvers
'Document forwarding' feature to enable recipients to share quotes with their internal team for review
6. Electronic signatures
HubSpot CPQ offers electronic signatures to officiate the deal faster. It provides three options to electronically sign sales quotes – draw a signature, use a photo of the signature, or type the signature. The system also verifies the recipient's identity via email before proceeding with them to sign the sales quote.
Revv has a built-in electronic signature system. It provides legally binding eSignatures and a multitude of associated features making the signing process secure and faster.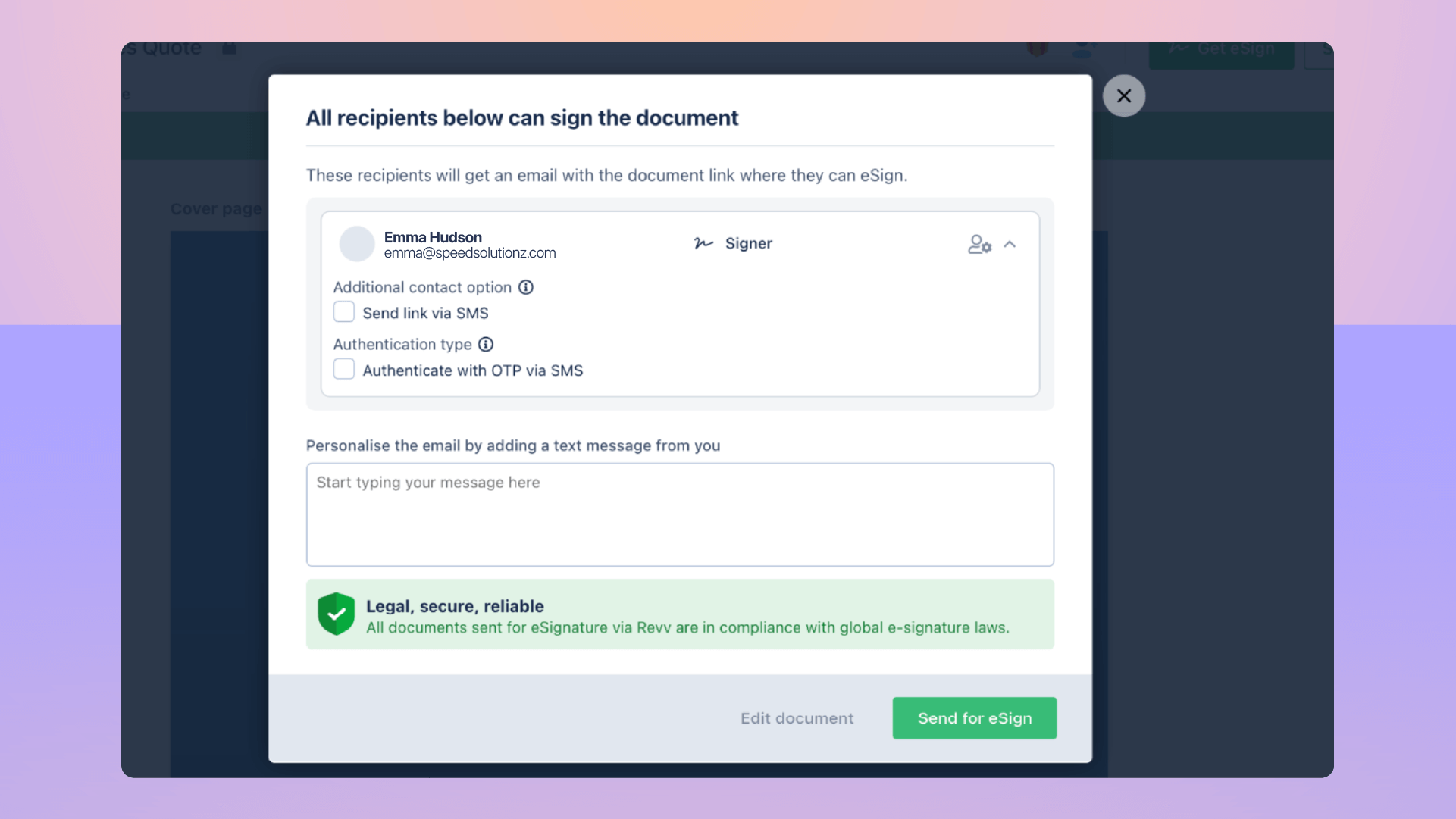 Three types of signature options to choose from- click-to-sign, draw a signature, or click-to-initial.
One Time Password (OTP) based two-factor authentication to validate signer's identity
Clickwrap signatures – a flexible alternative to electronic signatures for documents that require consent for closure
Option to avail recipient's consent in a video format
Draft and send sales quotes in bulk
Collect crucial data from the signers in text or image form using the 'Fill and Sign' feature
Evidence summary certificate that captures bit-by-bit every action taken to complete the transaction and sign the quote
7. Quote tracking
Both the software track status of sales quotes and notify via email once the quote is signed. You can check the status of a quote in HubSpot CPQ by clicking on the 'Quotes' link inside the 'Sales' dropdown. The page provides the status in a tabular style and displays the present stage of the quote – whether it is drafted, pending for approval, pending for signature, signed, etc.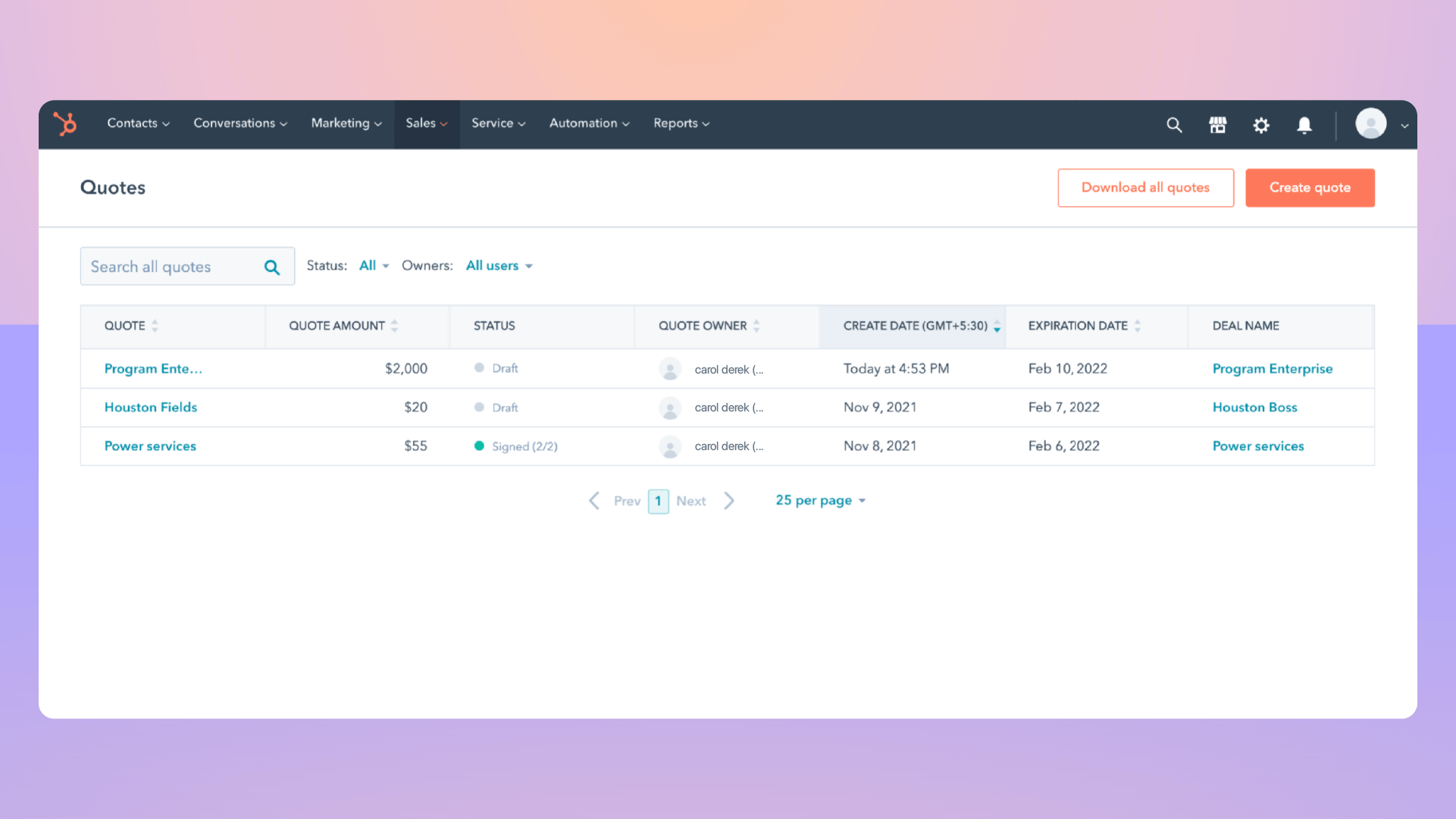 Revv gives you a real-time update on every step taken on the sales quote right from who opened it, when, who signed it, and who hasn't, etc. It helps the sales team to check what is causing the delay and take appropriate actions to accelerate the closure.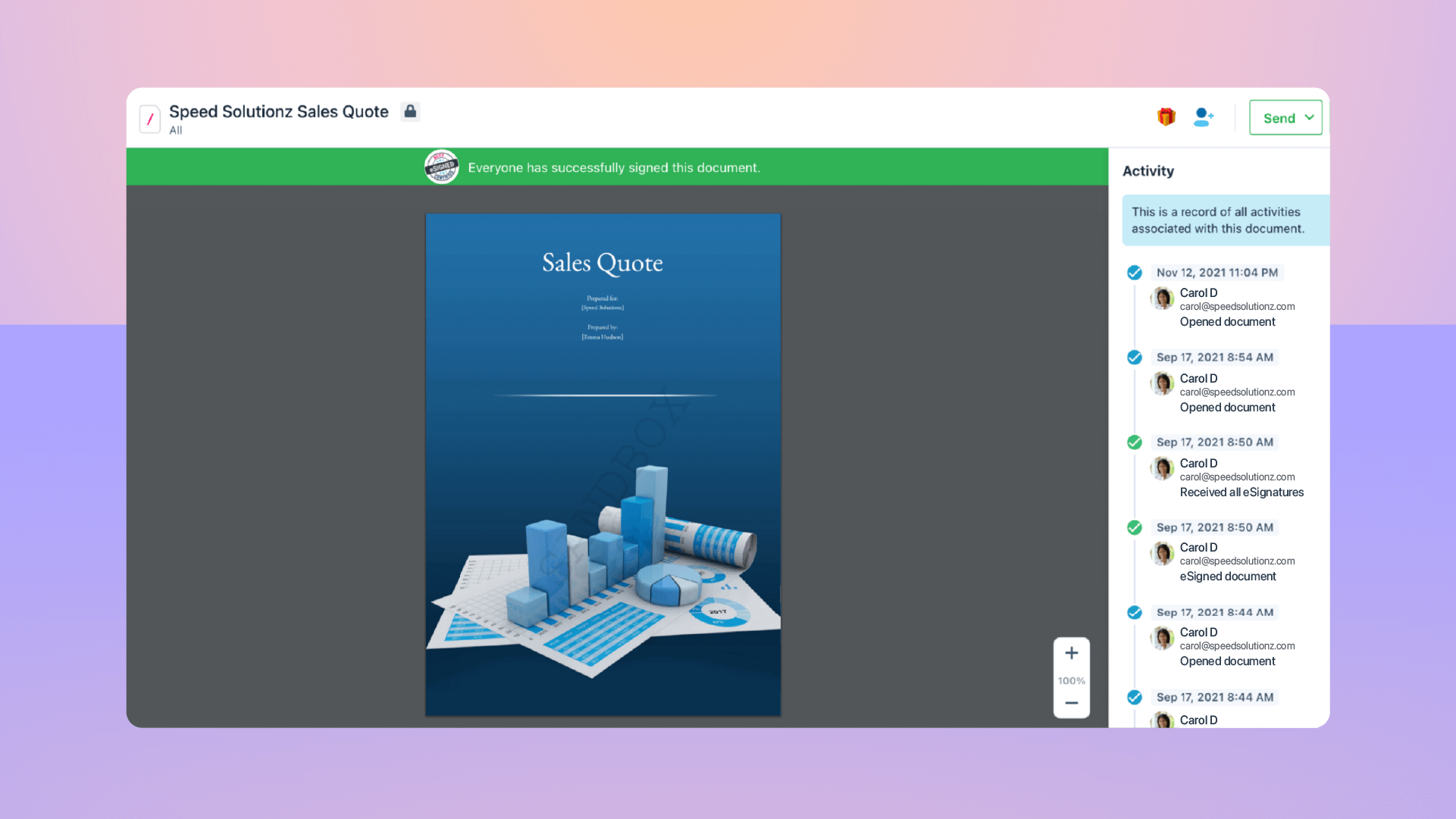 Additionally, you can also track all your documents inside the 'Pipeline' tab, which displays the document information in Kanban style.
8. Integrations with other apps
Both CPQ software integrates well with other business systems. Both connect seamlessly with crucial apps like Salesforce, NetSuite, QuickBooks, and many more external systems to streamline the quoting process end-to-end.
2. Pricing Comparison | HubSpot CPQ vs. Revv
Users can leverage the CPQ feature in HubSpot under the Sales Hub's Professional Plan. It costs $5400/yr for 5 users and charges $90/month for each additional user. It costs $5400/yr for 5 users and charges $90/month for each additional user. This plan offers standard features. But, this subscription provides access to the standard features. If your business demands to add quote-based workflows, user roles, field-level permissions, and get more administrative controls, which is often the case, then you need to move to the Enterprise Plan.
Users can get access to the Revv platform in the Business plan. At the outset, the Enterprise Plan of HubSpot CPQ and the Business Plan of Revv look the same, but they are not.
Both have striking contrast to each other.
1. Whether you are just getting started or building at scale, Revv pricing plans are most compatible with other technology service providers. Here's a chart that compares the yearly subscription cost of using both platforms based on users. It shows if you leverage Revv, as the user increases, you get more value at a much lesser price.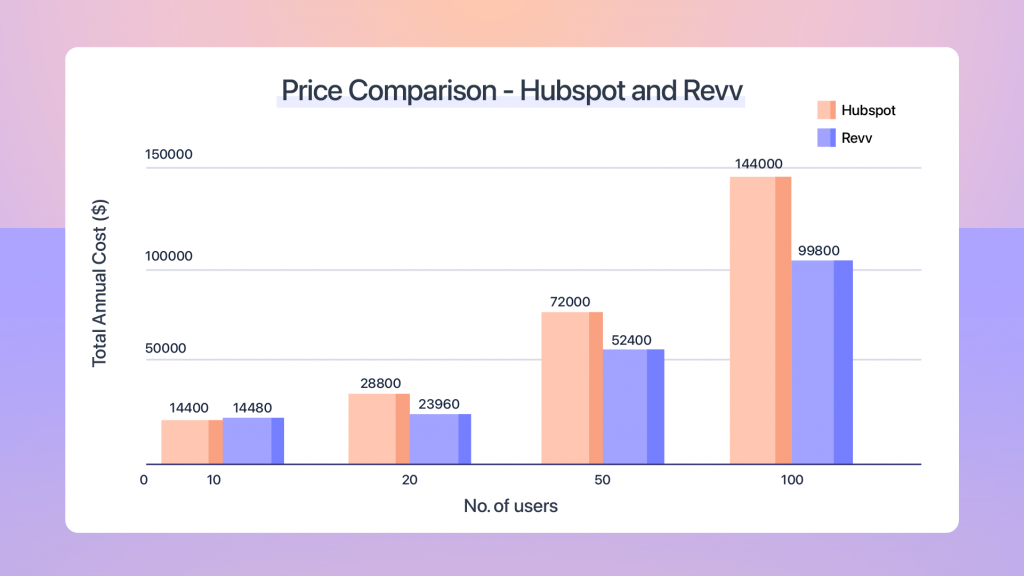 2. Revv features solve the sales team's challenges at a larger scale. Its advanced features can diligently manage complicated product mix, dynamic pricing, dispersed approvals, and branding demands.
What's more?
You can have unlimited eSignatures and unlimited documents in Revv (starting from the free plan) whereas HubSpot provides 30 eSignatures per user per month and 1000 quotes per deal on an Enterprise plan subscription.
While HubSpot Sales Hub's Enterprise Plan provides you up to 100 quotes per deal, Revv gives you unlimited quotes and other business documents in all the paid plans.
3. Ease of use | HubSpot CPQ vs. Revv
Both HubSpot Sales Hub (that houses the CPQ features) and Revv are designed keeping the user experience in mind. Both the platforms are simple to operate and understand. Based on customers' evaluations in the Capterra, both are highly appreciated by the users.
User Ratings (Ease of Use) – HubSpot CPQ vs. Revv (Source – Capterra)
| | |
| --- | --- |
| HubSpot CPQ (HubSpot Sales Hub Rating) | Revv |
| 4.3/5 | 4.5/5 |
4. Quality of Support | HubSpot CPQ vs. Revv
Both the software are exceptionally good at providing customer support and keeping your business moving upward.
All paid plans of both HubSpot Sales Hub and Revv include chat and email support.
Additionally, you get phone support in HubSpot's Professional and Enterprise Plan.
You get email, chat, phone, and zoom support, and a dedicated account manager in Revv's Business Plan.
The facility of help center, support articles, and videos guide buyers throughout the process.
"This product has all the standards for the quote creation and document creation processes. The energy and enthusiasm we get along with this service is incomparable. The sales support team is very quick and solves the problem at the earliest. I think this is the best customer support!"

– G2 Customer Review, Revv
Revv also provides –
Multi-language support for documents
Support for designing and creating templates
Revv runs the extra mile to solve customer queries and give the best solutions.
Here are the G2 user ratings for the support quality –
| | |
| --- | --- |
| HubSpot CPQ (HubSpot Sales Hub Rating) | Revv |
| 8.5/10 | 9.3/10 |
Please note: All the information in this blog is taken from company websites, comparison websites such as GetApp, G2, Capterra, Gartner, and others. Since companies keep adding features, some of the information may be out of date. Let us know at support@revv.so if there's any information that needs to change. We'll verify and update as quickly as possible.
HubSpot CPQ vs. Revv – A quick recap
Here is a table that gives a quick features comparison between HubSpot CPQ and Revv.
Revv
HubSpot CPQ
Product catalog configuration
– Multiple fields to create a complex product catalog with ease
– A detailed list of predefined fields to accommodate all types of product classification
– Standard product features, suitable for simple products/services provision to create custom fieldsImage URL and product page URL option available
– Four levels of product classification – charge type, product type, product family, and product category
– 'Folder' option to group products
– Easy to set up
– Easy to set up
– Easy to work with Spreadsheet-like user interface
– Easy to use
Pricing configuration
– Create multiple price books and optimize the price based on geography, currency, product lines, buyer groups, etc. and meet the subtleties of the customers' needs
– Manage complex business rules
– Grouping by multiple features – charge type, charge frequency, billing frequency, selling term, etc.
– Configure thorough pricing with additional options like Selling term, Selling term UoM, default quantity, minimum quantity, etc.
– Standard pricing options integrated with the product feature
– Grouping by billing frequency – recurring and one-time
– Option to add Unit price for margin calculation
– Upfront representation of MRR, ARR, and TCV per line item and on the overall quote
– Built-in currency calculation
– Manually add the price for the respective currency
– Discounting options at the product level, group level, and quote level
– Discounting at quote level
– Works well for small and big enterprises as it can manage simple to complex offerings and variable pricing plans, discounting options, etc.
– Works well if you are a small business with a limited number of products/services and simple pricing plans
– Role-based and user group level access control
– Administrative controls
Pricing method
– 7 types of pricing – flat, tier, volume, stair-step, percentage of total, bundle, DIY
– Flat pricing
Quote creation
– Access to 1000+ business templates for crucial documents like quotes, contracts, proposals, and agreements
– Option to build your own template
– Three standard sales quote templates
– Rich Drag and Drop editor to customize as you like
– Customization is limited to adding comments and purchase terms
– Support for multiple types of form fields and custom fields
– Preset templates with preset form fields
– Edit control to protect crucial information
– All fields are editable
– Supports multiple view types for quote table – line item view, grouped view, and summary view
Quote approvals
– Approvals at form field level, quote level, and clause level
– Options to create approval workflows for each line item (for each product, each price book, and all price books.)
– Sequential, parallel, and User group level approval workflows- Document forwarding feature
– Three predefined approval workflows that can be further customized
Electronic signatures
– Legally binding electronic signatures
– Unlimited eSignatures per user
– Clickwrap signatures to obtain consent
– Video consent option available
– Create and send documents for eSignature in bulk
– Two-factor authentication to verify recipients
– Evidence Summary Certificate
– Device compatibility
– Integrated eSignature feature
– 30 eSignatures per user per month (Enterprise Plan)
– Recipient's identity verification via email before signing the quote
– Device compatibility
Quote tracking
– Provides a step-by-step status tracking
– Pipeline features to check the document status in Kanban style
– Provides the status of the quote (drafted, approved, signed, etc.)
Integrations with other apps
– Available
– Available
Why should you choose Revv? – The takeaway
Revv gives you advanced functionalities of CPQ which makes it distinct and better than other CPQ tools. It optimizes the sales cycle and accelerates deal closures. It offers generous pricing plans that support your business growth.
Going by the verbatim of Matt Gorgun, Account Manager, Sales, Digitcom, "Revv helped to speed up our quoting process for sales and was successful in replacing our current solution. It is built in a good way to deliver to our customers over the cloud."
But that's not it!
To close deals faster, you also need to act quickly and precisely on what comes before and what comes on the heels of quotes.
Usually, a proposal is sent before a quote. Once quotes are approved, they are followed by other documents like non-disclosure agreements to officiate the partnership and get the ball rolling.
And don't forget the other commercial documents like sales order, purchase order, contract, invoicing, etc., that are crucial for financial transactions.
Acceptance of a quotation by prospective clients means you are very close to onboarding them. You don't want to goof up the post-sales quote process. Your other business documents should be as sharp and precise as a quote.
Revv is a document automation system that surpasses the features of CPQ software, gives you exponentially more, and streamlines your sales operations. It lets you create, automate, execute, and manage all your business documents in one place.
It saves the enormous cost of managing multiple systems simultaneously and the confusion and pain of tossing between the tabs to get the work done.
Simplify and turbocharge your CPQ process with Revv.
Try out Revv yourself, Sign up here. Revv offers a forever free plan and a 14-day free trial on all paid plans.
Need more information? You can also schedule a demo with us, our team would love to give you the product tour. 😊
Frequently asked questions
What is CPQ HubSpot?
CPQ HubSpot is a part of Sales Hub built inside HubSpot's CRM platform. It includes a product library, calculated properties, custom objects, preset templates, calculated properties, eSignatures, sales analytics, a full suite of integrations, and more.
What does CPQ mean?
CPQ stands for Configure, Price, and Quote. In today's time when there is no one-size-fits-all solution and customization is an evident customer demand, CPQ software empowers sales teams to manage complex product mix and pricing and generate accurate quotes. It suits companies with multiple SKUs, extensive and complicated offerings, multi-level approval workflows, varying pricing plans, and discount options. You require broad and descriptive analytics.
What is the CPQ Process?
A CPQ or Configure, Price, Quote process streamlines the quoting process by enabling users to configure complex product and service offerings, lay down pricing rules, manage discounts, automate approvals, and close the deal with eSignatures. It rules out the scope of quoting errors, helps sales teams to produce quotes faster, and increases the chances of winning customers.
Is HubSpot owned by Salesforce?
No, HubSpot is not owned by Salesforce. Both HubSpot and Salesforce are two different popular CRM platforms to manage leads, track progress, and automate sales processes.
They enable office teams like sales, marketing, service, etc, with the right tools to grow revenues and enhance customer experience.