Yay!
Your salesman charm and capabilities have paid off.
You have made a great first impression on your prospective client, and they have requested a sales quote.
Roll up your sleeves because this is the foundation stone that makes or breaks business deals.
Why? Two reasons –
Sales quotes need a faster roll-out because you are not alone. You need to reach out to prospective buyers before your competitors.
It will be a pity knowing your quote has been rejected because you messed with silly errors. Make sure you write what is right.
When dealing with multiple prospective buyers or customers, making flawless quotations simultaneously and delivering them on time becomes challenging.
To overcome this challenge, technology service providers offer quoting platforms to automate the sales quotation process, close deals successfully, and deliver a better experience and customer satisfaction.
Read on to gain insights on how to automate the quotation process with the right quoting platform.
What is a manual/general sales quotation process, and what are its challenges?
To explain the transformation quoting platforms bring in, first, let's do a rewind and see the world of the manual sales quotation process.
Collate products/services information – The first step a salesperson takes is gathering updated information on products/services. Open the catalogs, talk to colleagues and managers, check the emails of product updates, etc. 
Create a pricing table – Next, set up the pricing table. Create line items in the spreadsheets, copy/paste information, and perform calculations manually. 
Create a Word doc for quotation – Next, copy/paste the table from an Excel sheet to a Word file, draft the quote, and save it as a PDF.
Send the quotation via email – Open the mailbox, attach the PDF, search for the prospective buyer's email id, send the email, and follow up with them through phone and email.
Here's the downside of the manual sales quotation process –
Drafting each quote from scratch kills productivity and consumes a lot of time 
There is no single 'source of truth' for products and pricing information. Multiple versions of the Excel price book flows in the hands of salespeople. Finding the up-to-date sheet and creating prompt quotes becomes an uphill task 
No collaboration or visibility among the internal salespeople
Since salespeople deal with multiple quotes, random storage of such quotations in personal drives or folders makes them difficult to retrieve in the long run 
Negotiations over email threads add to the confusion, especially when working on multiple quotations
Manual creation of quotations can lead to typos, poor alignment, and formatting
Manual drafting results in delayed response to customers, which directly impacts the chances of winning a deal
Features of a quoting tool that automates the sales quotation process?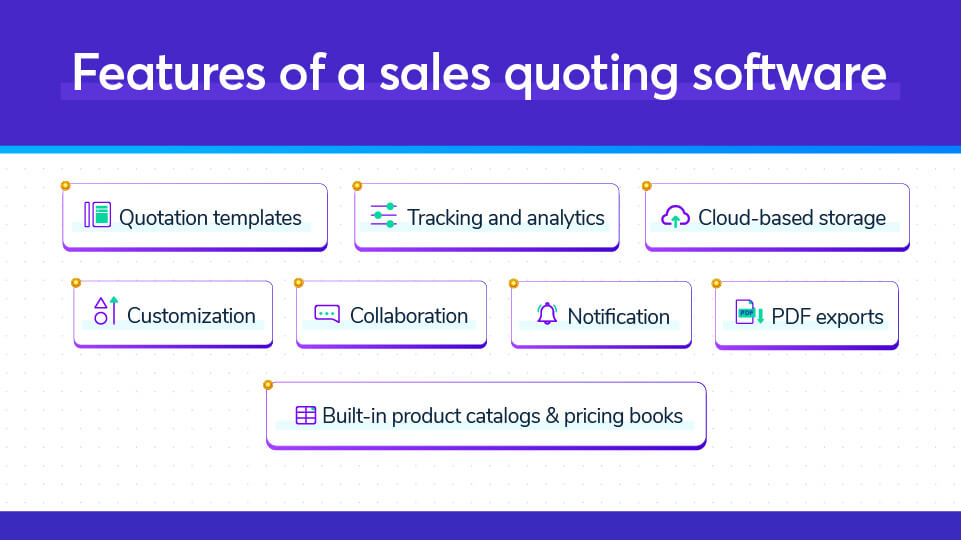 Professional-grade quote template library – A quoting tool injects speed in the quote creation process through ready-to-use templates.
Draft and design quotations with your branding touch – It gives you ample designing features to ensure your quote looks stellar, utterly professional, and truly reflects your brand.
Modify and customize quotations within minutes – The text editor lets sales teams easily edit the sales quotation according to their requirements.
Interactive quotations for real-time collaboration – Collaboration helps internal communications with teams and external communications with customers.
Instead of relying on emails, a user can tag, chat, and interact with the internal teams and prospective clients within the quote.
Consolidated product catalogs and pricing books – It saves the time that goes into tossing tabs between product catalogs, spreadsheets, and Word files. A quoting software lets you create, store, and manage comprehensive product catalogs, multiple pricing books, and discounts – all in one place.
Simplified tracking and analytics – It puts an end to the mystery of "What's happening to my quote? Is it progressing at the prospective client's end?"
The intuitive dashboard of a quotation tool creates a trail of all the activities performed on the documents, for example, who viewed it, who opened it, etc.
It also helps sales professionals take appropriate action in time.
For example – A quote being viewed but not accepted raises the flag that something is wrong. In such cases, the salesperson can reach out to the prospective client immediately and identify the bottlenecks.
Central repository – A cloud-based quoting platform means organized quotes, common searchable location, less rebuilding efforts, easy retrievals, and no more fear of losing quotations.
PDF exports – Quoting tools allow users to export a PDF format of the quote.
Online signatures – Not all but many quoting tools provide an eSignature option or give provision to integrate an eSign app into the system. This makes receiving approval on quotations faster and easier, without any physical interaction.
Notifications – A quoting tool sends automated notifications to recipients to sign the quotes. Also, it notifies senders on the actions taken on quotes.
Can a sales quoting software automate all crucial sales documents? No!
A quoting software helps sales teams to create winning quotes.
But, it takes more than a quoting software to succeed in business.
Because, let's face it, a quoting software circles only around quotations.
To close deals faster, you also need to act quickly and precisely on what comes before and what comes on the heels of quotes.
Usually, proposals are sent before quotes. Once quotes are approved, they are followed by other documents like non-disclosure agreements to officiate the partnership and get the ball rolling. 
And don't forget the other commercial documents like sales order, purchase order, contract, invoice, etc., that are crucial for financial transactions.
Acceptance of a quotation by prospective clients means you are very close to onboard them. You don't want to goof up the post-sales quote process. Your other business documents should be as sharp and precise as a quote.
So what would you do?
Would you buy one software for quotes, another for other documents, a separate eSignature platform, and a content management system (CMS)?
Absolutely not!
Managing multiple systems will waste even more time tossing between the tabs, increasing cost, and adding to the confusion.
How about opting for a system that surpasses the features of a quoting software and gives you more, like exponentially more?
How about a system that lets you create, manage, and automate all your documents in one place?
Yes, it exists for real.
You need a document management system!
From automating quotes to non-disclosure agreements – Revv is your document automation partner throughout the business process
Revv is an integrated document management system packed with advanced document handling capabilities. 
Revv gives you all the benefits of a quoting software and far more. 
Its out-of-the-box features enable sales professionals to create, automate, review, manage, organize, and store all the business documents.
Not just quote templates, get 1000+ highly professional business document templates – You don't want your salespeople wasting time scribbling documents rather than focusing on customers.
Revv's legally-vetted, aesthetic, and 100% customizable templates empower users to create documents within minutes. 
Enhanced sales operations with integration capabilities – Businesses don't run on one application.
But having multiple business apps brings upon its own challenges.
It often restrains them from achieving the desired goals – the back and forth to connect the dots turns into a tedious task.
For example –
Fetching the basic details of lead from CRM like customer name, customer's organization name, email id, etc.
Next, switching to a quoting tool, performing data entry, and creating a quote template
Further, manually updating the changes in the CRM once the quotation gets accepted or signed
Revv is capable of integrating multiple platforms like CRM, ERP, accounting systems, etc.
It eliminates the manual task of updating all the platforms, eliminates the scope of redundant data entry, and keeps all the platforms updated with the same data.
To suit the varying business and customer needs, Revv facilitates third-party app integrations through both native API and Zapier.
Built-in electronic signature capabilities – Whether it is quotes, proposals, or any other business-related documents, Revv's device-friendly e-signature empowers the business teams to close documents in time.
It saves clients from the hassle of downloading-printing-signing-scanning-uploading documents.
Unlike other document automation platforms, Revv offers much more features that leave the users wonderstruck –
Recipient's identity authentication via OTP-based SMS
Freedom to upload a ready DOCX or PDF file and send for eSignature
Option to capture important information from recipients along with eSignature via form fields – through 'Fill and Sign' feature
Flexibility to sign documents with initials, or by drawing signatures, or by using the click-to-sign method 
An all-inclusive evidence summary with an audit trail contains a table of all the recipients' actions on the document along with the date and time stamp.
Above all, Revv's bank-grade security measures make eSigning documents completely secure and safe
Soft-sign system – a free and flexible alternative to eSignature – Quotes are the most common documents that are sent in large numbers.
But, closing each quotation with eSignature can become exorbitant.
Moreover, e-signatures are apt for documents that need to be legally enforceable.
Documents like sales quotations can also be closed by obtaining the consent of recipients.
Revv offers the 'Send for acceptance' feature to achieve the same. There are no strings attached; this feature is completely free, which means send as many sales quotations as you want without worrying about any associated costs.
Automated internal approvals to ensure nothing slips through the cracks – Crucial documents demand reviews and approvals from stakeholders to ensure there is no wrong or incomplete information.
But, routing, reviewing, and discussing these documents over emails make them difficult to follow and increases the approval time.
Revv's internal approval automation mechanism makes this entire activity a walk in the park.
With Revv, the sales teams can create and automate approval workflows and set conditions and actions for each workflow. 
Once a condition is triggered, the document gets automatically routed for review to the respective approvers, and they get notified to take action. Peace of mind for sales teams through no-code workflow automation – With in-built automation features, workflow tools, business applications integration proficiency, and an easy-to-use visual user interface (UI), Revv allows users to manage end-to-end workflow automation – without any coding or programmer's help.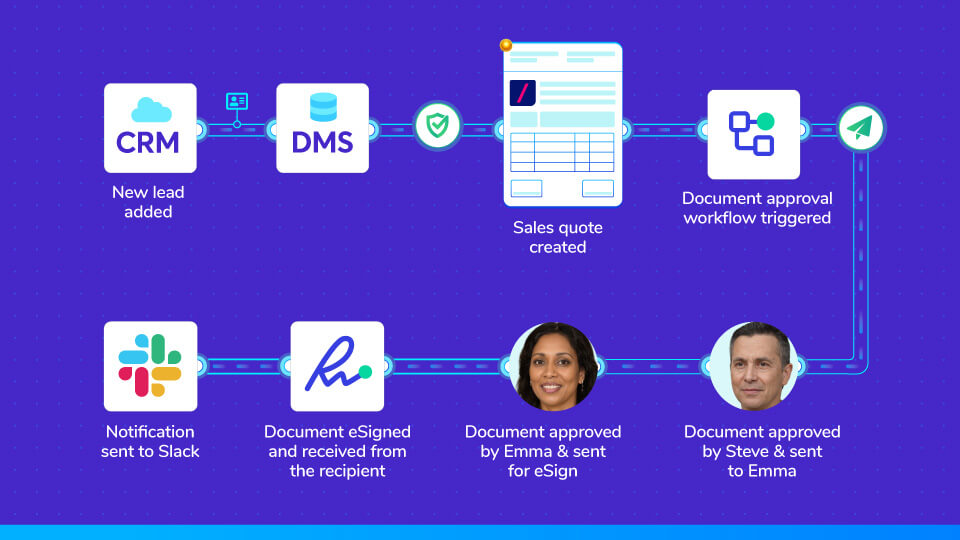 Protect your sensitive sales templates with user management – Protect your templates from unwanted changes and unauthorized access. Revv's 'user management' allows people to choose who all can view, access, and edit the template.
Optimize sales documents to an unparalleled level with an intelligent document analyzer – Revv's Metalens feature is an intelligent document analyzer based on machine learning that helps to look beyond content.
It extracts and automatically detects crucial data points.
This data helps remove the bottlenecks and uncover new observations that enable seamless workflows and close negotiations speedily.
Automated payment integration within documents – Revv powers payment processing by integrating PCI/DSS compliant Stripe within your sales documents. Revv doesn't charge fees on any business transaction, and the payments are completely managed via Stripe.
And we are not done yet!
The best and amazing part about using Revv is that you don't have to worry about the prices.
First of all, the billing is based on consumption and not based on user pricing plans.
This means there can be multiple users on one account.
Revv's pricing plans are so flexible that it suits all kinds of businesses.
If you are a small sales team, along with adding 10 separate users, you can leverage 10 eSigns, data extraction, Zapier integration, and many more features for only $15 a month.
For larger teams, the Pro Plus plan is a boon. For less than $50 per month, this plan includes up to 50 separate users, 50 eSigns, and a stream of automation features like API integrations, machine learning, workflows, and many more.
Feel the magic of Revv – one of the best document management systems.
Sign up for a free trial today!
To summarize –
Say no to the traumas of 'document dysfunction' with Revv.
Step-by-step guide – How to automate the sales quotation process in Revv?
Now it is time to show the real work.
Here's is one of the many examples to streamline a sales quotation process and related workflows from start to finish.
The below example illustrates how a quotation process can be automated by integrating Revv with Zoho CRM, Zapier, and Google Sheets.
It enables Revv to pick essential data from Zoho CRM and create a customized sales quote
Revv allows adding a price table to a quotation through Google Sheets integration. It makes all the offerings and pricing details available in one place
It keeps data updated and organized on all integrated business apps through Zapier's actions and triggers
It reduces hours of processing time to minutes
Here are the detailed steps –
Step 1 – Integrate Zoho CRM with Revv
Sign in to Revv with your user id and password. Sync your Zoho CRM with Revv – you can either do it directly or with Zapier.
This will enable Revv to automatically check and simultaneously update the folder when an action is triggered in Zoho CRM.
For example, every time a new lead is added to Zoho CRM's 'Lead' section, Revv will automatically pick one of the chosen templates, customize it and store it in a folder with the lead's name. 
In the below image, a new lead, Emma Hudson, is added to Zoho CRM.
With Zoho integration enabled, a folder category for Emma Hudson gets created in Revv.
Click on the folder, and open the quote.
Also, there are three ways to create a quote in Revv. You can either pick from the existing templates, create a new one from scratch using Revv's rich text editor, or upload your own PDF and DOCX files.
Note – When integrating Revv with CRM, pick the template from which the quote should be generated.
After the integration, the details like organization name, parties to the agreement will auto-populate in the quote from Zoho CRM.
Step 2 – Customize the business sale quote
You can further customize the quote by editing the template blocks and adding elements by drag and drop. The other way to customize it is – click the plus icon, select the block, and edit it.
Step 3 – Add price book from Google Sheets
It's a common practice to use Google Sheets to organize and store data.
Revv's integration with Google Sheets makes all the price information available in a single place and allows easy data modifications. 
Rather than doing the cumbersome task of manual copy/paste, the users can import the data from Google Sheets to the quote with just a button's push.
Follow the below instructions and integrate Google Sheets in the sales quotes:
1. Drag and drop the Google Sheet block in the quote.
A linked table will appear in the quotation.
2. Link Revv with your Google account. Select the price sheet you would like to add.
3. Select the pricing worksheet and sync the selected sheet.
4. The table will appear in the quotation.
You can further control the visibility of columns by selecting the table, go to 'Manage Columns,' and choose which column to show or hide. Once done, sync it again.
Step 4 – Send the quote for sign-off
The quote is now ready. Add details of recipients. You can directly share it with your customer for acceptance or eSignature. 
You can track the status change in your quote in the 'Activity' tab – when the quotation was opened, sent, received, and signed.
Once all parties sign the quotation, it gets automatically stored in a cloud-based customized folder in Revv.
Step 5 – Automate and update Zoho CRM based on quote actions in Revv
Sync the sales quote automation system back to Zoho CRM through Zapier. For example, a signed quote indicates that the lead is now converted into an account, and the same will reflect in Zoho CRM.
You can simply achieve this by creating a zap in Zapier. Whenever a quotation is accepted or signed, a 'Convert Lead' action will occur, and the lead will move into the 'Accounts' section.
It will complete the entire quotation process cycle and keep all the platforms updated with the modified information.
Because 'Emma' has signed the quote, she is now converted into an account. Her details have moved from the 'Lead' section to the 'Account' section, and her organization details appear in the 'Account' section.
Check out the video: How to automate and streamline the sales quotation process with Revv?
Up your sales process with Revv
In today's world, where speed defines success, you need to be always customer-ready. Prospects/leads/customers always appreciate a timely response.
From creating purchase orders to invoices to automating quotations, proposals, and all sales-related documents, Revv is among the best document management tools enriched with automation features.
Its legally-vetted and content-rich templates, automated workflows, integration capabilities, eSign and soft sign options, cloud-based storage, and flexible and affordable pricing plans make it stand out from other such platforms.
It allows salespeople to increase their work quality and focus on finding and winning new customers instead of juggling with paperwork and other mundane tasks.
Streamline the quote automation process with Revv and leverage the full potential of business applications. 
Sign up for a free trial today!
Frequently asked questions
What is a quote to order process?
A Quote-to-Order (Q2O) process is where organizations make an offer to prospective clients and turn business opportunities into the sale.
What is the best software for creating sales quotation?
Revv is one of the best tools to create quotations. This all-in-one platform is equipped with advanced features like professional templates, eSign and soft-sign options, cloud-based storage, tracking and analytics, user management, automation workflows, and many more. It offers a free trial and generous pricing plans to empower organizations with efficient sales processes. 
What is quotation in sales?
A sales quotation plays an important role in closing business deals. It is sent to prospective buyers to provide details of the seller's offerings. Whether you are a solo business owner or an enterprise, a quotation plays an important role in the sales process and in closing business deals. 
What is the purpose of a sales quotation?
The purpose of a sales quotation is to bring clarity on the products or services offered by a seller to a buyer. Mostly, a quote is a written response to the RFQ shared by the prospective client. It contains an itemized list of offerings that defines the prices and terms of payment. 
How does an invoice differ from a quote?
Both quote and invoice are a crucial part of a financial transaction.
– A quote is sent before an order, whereas an invoice is sent after an order
– A quote is negotiable, whereas an invoice is not
– A quote is an invitation to buy a company's offerings, whereas an invoice is requested for payment sent to the purchaser  
– Sometimes quotations can be in verbal form, but invoices should always be in writing