When you send sales quotes to prospective buyers, you also hand over evidence of how responsive, reliable, and customer-focused you are as a seller.
👉Responsiveness, based on how fast and timely you were able to share the quote.
👉Reliability, based on how accurate and comprehensive your sales quote is.
👉Customer-focused, based on how much your quotes are tailored to the needs of prospective buyers.
Essentially, a sales quote is the gateway to set yourself apart from competitors and close the deals.
But, creating a can't-say-no-to-it sales quote and delivering it to a prospective buyer in the given time frame is often a nerve-wracking exercise for the sales and the operations teams. This is why businesses should infuse their sales quotation process with the power of automation.
Faster quotes = Increased chances of winning businesses + Cost savings
61% of businesses leveraging automation reported exceeding revenue targets in 2020. – Hubspot
This blog is a comprehensive guide to understand all about sales quotes and how to automate them with the right sales quoting software.
If you are looking for specific information, click on the below links and jump to the section of your choice, or, read on.
What is a sales quotation? What are the elements of a sales quote?
Whether you are a solo business owner or an enterprise, a quotation plays a vital part in the sales process and closing business deals. It is sent to prospective buyers to provide details of the seller's offerings and prices.
What is the purpose of a sales quotation?
The purpose of a sales quotation is to bring clarity on the products or services offered by a seller to a buyer. Mostly, a quotation is a written response to the Request for Quotation (RFQ) shared by the prospective client. It contains an itemized list of offerings that defines the prices and terms of payment.
"Filter everything you're doing, saying and pitching through the customer point of view, and you'll improve just about every metric you care about today."

Matt Heinz
What are the elements of a sales quote?
Follow the below structure to write a sales quote and create a quote that wins business:
Title page – It contains basic details about the seller and the buyer like the seller's logo and name, the client's name, and the quotation's name
Client details – Name and contact information of the client
Company details – A small write-up about the seller and its contact details
The date of issue and validity period of the sales quote
A quote number
Details of products/services offered by the seller
A clear break-up of pricing information along with applicable taxes
Terms & conditions
Signatures
Revv Tip:
Make these quick checks to ensure a flawless quote –
– Work with well-defined structure and format
– Leave no scope for ambiguity
– Recheck the calculations
– Ensure no spelling and grammar mistakes
🎁BONUS – Click here to access the below sales quote template –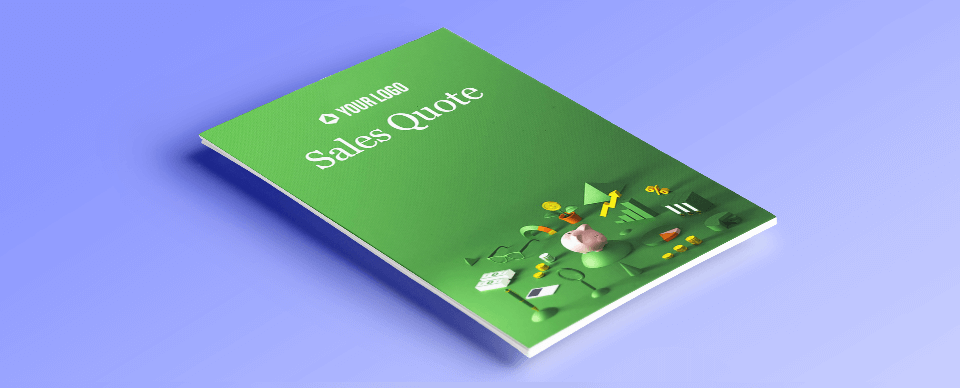 What is a sales quotation process?
A quotation process starts right at the moment when your prospective buyer shows interest in your offerings and asks for a quote. A sales quotation process can be simple or complex, depending upon the depth of your offerings and the type of organization.
Here's what a typical sales quotation process looks like –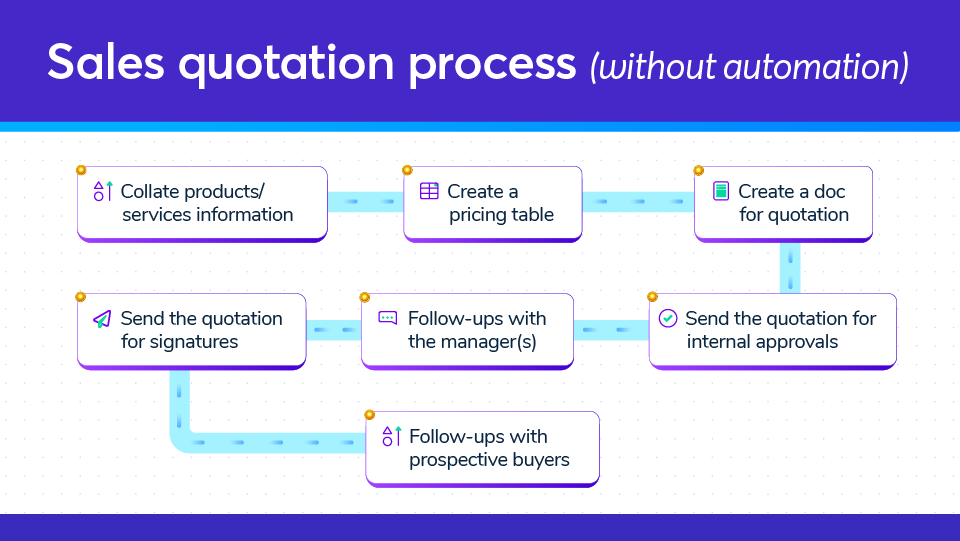 Collate products/services information – The first step a salesperson takes is gathering the latest information on products/services from various resources – checking catalogs, talking to colleagues and managers, checking the emails of product updates, etc.
Create a pricing table – Next, set up the pricing table. Create line items in the spreadsheets, copy/paste details, and perform calculations manually.
Create a doc for quotation – Next, copy/paste the table from an Excel sheet to a Word file, draft the quote, and save it as a PDF.
Send the quotation for internal approvals – Often, a quote is first sent to the manager(s) for their approval.
Follow-ups with the manager(s) through emails, calls, and meetings to discuss revisions in the quote.
Send the quotation for signatures via email after the manager approves it.
Lastly, follow-ups with prospective buyers through phone and email.
As you can see, common in organizations, this kind of sales quotation process is manually driven, and has its own challenges.
Here's the downside of a manual sales quotation process –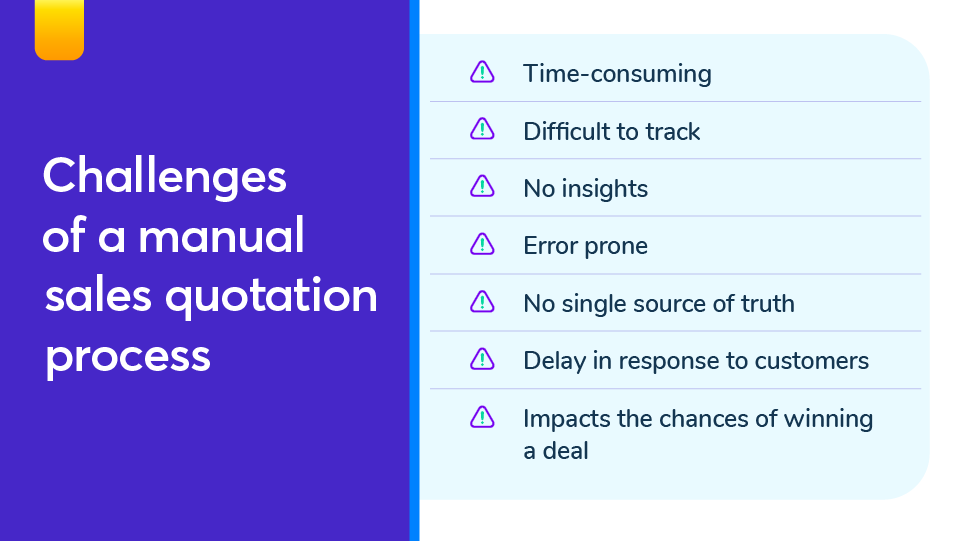 How Revv automates and boosts your sales quotation process?
Revv is a one-stop sales quoting software that optimizes the sales process and empowers sales teams to win deals. Its out-of-the-box features enable sales professionals to create, automate, review, manage, organize, and store all business documents in one place.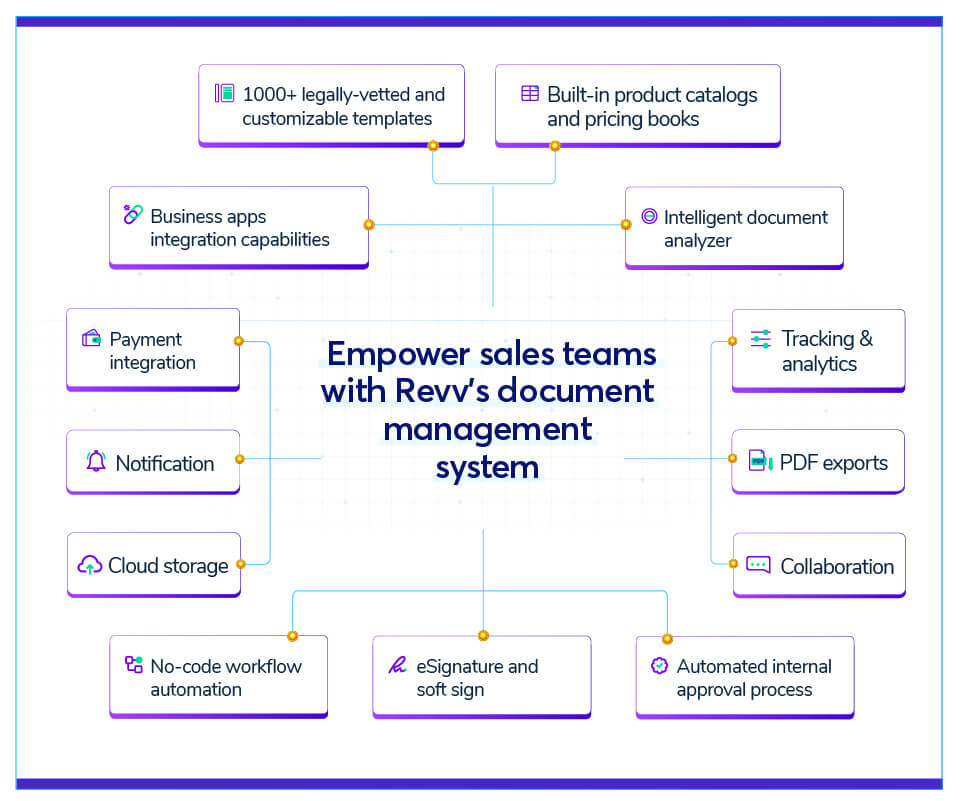 Faster quote creation with no errors – Revv injects speed into the quote creation process through ready-to-use, legally vetted, aesthetic, and 100% customizable templates. It empowers users to create quotations within minutes.
Revv's rich document editor gives you ample designing features to ensure your quote looks stellar, utterly professional, and truly reflects your brand.
Quick retrieval with consolidated product catalogs and pricing books – Revv's quoting software lets you create, store, and manage comprehensive product catalogs, multiple pricing books, and discounts – all in one place.
You can also integrate Google Sheets within your quote and fetch pricing tables.
Enhanced sales operations with business apps integration – Businesses don't run on one application. But having multiple business apps brings its own challenges.
Manually updating all the applications becomes a tedious task and restrains the sales team from achieving the desired goals. For example –
Fetching the basic details of lead from CRM like customer name, customer's organization name, email id, etc.
Next, switching to a quoting software, performing data entry, and creating a quote
Further, manually updating the changes in the CRM once the quotation gets accepted or signed
71% of sales reps say they spend too much time on data entry. — Toutapp
Revv is capable of integrating multiple platforms like CRM, ERP, accounting systems, etc. It eliminates the manual task of updating all the platforms, eliminates the scope of redundant data entry, and keeps all the platforms updated with the same data.
To suit the varying business and customer needs, Revv facilitates third-party app integrations through both native API and Zapier.
Did you know?

With Revv, configuring small to complex data is easy!

Revv's Data Studio feature makes data mapping simple and faster. Not weeks, days, or hours, this feature empowers you to sync data in a few minutes.

With Data Studio, Revv enables you to quickly map data fields between Revv and the business platforms integrated with it. It is an effective data mapping tool through which you can connect and import data from any external data source (it can be Excel or Google Sheets, ERP, CRM software, etc.) to the Revv platform. With a simple point-and-click feature, you can map data to your quote document's form fields.

So, bid adieu to excel sheets and tedious data mapping processes via scripts, coding, APIs, and integration platforms.

Explore the full capability of the Data Studio feature with Revv.
Built-in electronic signature to scale up your business – Revv's bank-grade e-signature empowers sales professionals to send quotes from anywhere, at any time. It lets the recipients sign the quotes within seconds, without the hassle of downloading-printing-signing-scanning-uploading quotations. Recipients can even personalize their signatures on the quote document with Revv's flexible eSigning options. They can draw signatures, scan and upload signatures, choose from pre-formatted text styles, and even connect their crypto-wallet MetaMask to complete the signing process.
Option to Soft-sign – a flexible alternative to eSignature – Quotes are the most common documents sent in large numbers. But, closing each quotation with eSignature can become exorbitant.
Moreover, e-signatures are apt for documents that need to be legally enforceable. Documents like sales quotations can also be closed by obtaining the consent of recipients.
Revv offers the 'Send for acceptance' feature to achieve the same.
Legally binding and compliant eSignature – Worried about the legality of electronic signatures on your sales quote documents? Revv adheres to industry standards as well as local and global eSignature requirements such as the E-SIGN Act, UETA, and eIDAS, among others. Electronically signed documents with Revv are valid and enforceable in a court of law in more than 60 countries.
For every eSigned quote document, Revv generates an extensive audit trail called an Evidence Summary certificate. It can be downloaded by both sender and recipient, once the eSigning is complete. It contains information pertaining to the document such as the signer's information, the date and time stamp of each action taken by the signer, IP addresses of the devices from which the document is accessed, and other details that act as legal proof.
Automated internal approvals to ensure nothing slips through the cracks – Some quotes demand reviews and approvals from stakeholders to ensure there is no wrong or incomplete information.
But, routing, reviewing, and discussing them over emails make them challenging to follow and increase the approval time.
With Revv, the sales teams can create and automate approval workflows and set conditions and actions for each workflow. Once a condition is triggered, the document gets automatically routed for review to the respective approvers, and they get notified to take action.
Simplified tracking and analytics – Revv puts an end to the mystery of "What's happening to my quote? Is it progressing at the prospective client's end?"
The intuitive dashboard of Revv's quotation software creates a trail of all the activities performed on the quotations, for example, who viewed it, who opened it, etc. It also helps sales professionals take appropriate action in time.
For example – A quote being viewed but not accepted raises the flag that something is wrong. In such cases, the salesperson can reach out to the prospective client immediately and identify the bottlenecks.
Automated payment integration within documents – Revv powers payment processing by integrating PCI/DSS compliant Stripe within your sales documents. Revv doesn't charge fees on any business transaction, and the payments are completely managed via Stripe.
Collaboration that drives real-time conversations – Collaborate and converse with internal and external teams within the document through notes, @mentions, and attachments.
Freedom from follow-ups with automated notifications – Revv sends automated notifications to recipients to sign the quotes. Also, it notifies senders of the actions taken on quotes.
And finally, peace of mind for sales teams through no-code workflow automation – With in-built automation features, workflow tools, business applications integration proficiency, and an easy-to-use visual user interface (UI), Revv allows users to manage end-to-end workflow automation – without any coding or programmer's help.
Yes, you heard right!
With Revv's Pipelines feature, you can create automated workflows and stop worrying about the different stages of your sales quotation process. For instance, there will be many moving parts involved in your quotation process such as:
Creating quote documents for different clients
Getting them reviewed
Sending them for approval to higher management
Sending them for eSign and getting it back
Notifying other departments to initiate the next workflows and more.
Then there will be instances where you might have to create multiple quote documents.
Bulk creation, processing, and sending of different quotes mean more complications, delays, and possibilities of human errors. But with the Pipelines feature, you can streamline all these tasks seamlessly.
You just need to prep up the 'pipeline' with specific actions to be taken at each level of your document journey, and rest assured it will automate them all.
The user-friendly platform shows the document journey in a Kanban-styled dashboard. It keeps a tab of the status of each document and what stage of the process they are in, like whether they are 'in review,' 'all eSigned,' 'sent,' or 'closed.'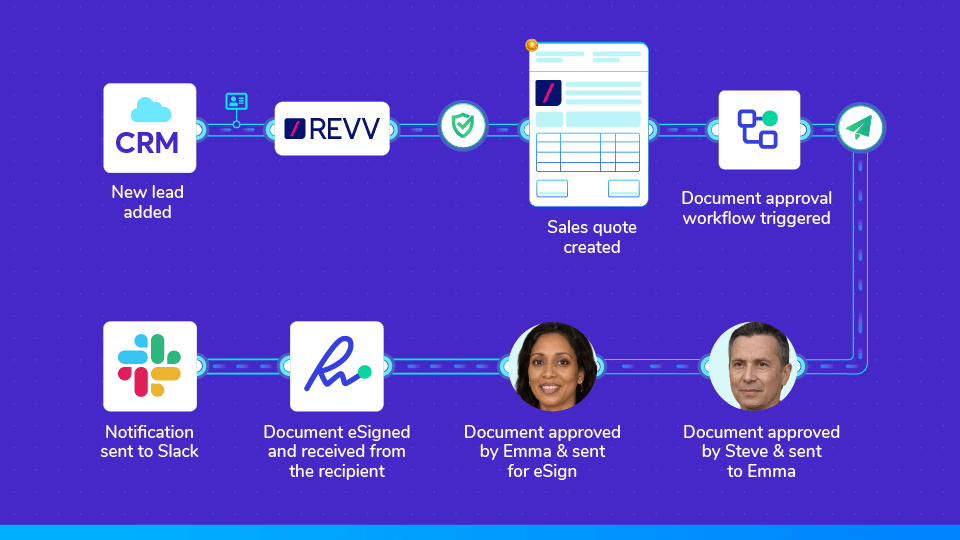 Here are some more benefits of using Revv –
Optimize sales quotes with Metalens – Revv's Metalens feature is an intelligent document analyzer based on machine learning that helps to look beyond content. It extracts and automatically detects crucial data points. This data helps remove the bottlenecks and uncover new observations that enable seamless workflows and close negotiations speedily.
Protect sensitive sales templates with user management – Protect your templates from unwanted changes and unauthorized access. Revv's 'user management' allows people to choose who all can view, access, and edit the template.
The convenience of PDF exports – Revv allows users to download a PDF format of the quote.
A central repository of quotes – Revv provides cloud-based storage of quotes, which means organized quotes, common searchable location, minimized rebuilding efforts, easy retrievals, and no more fear of losing quotations.
An example of how a sales quotation process works in Revv?
Now it is time to show the real work.
81% of sales reps believe it is important to have a connected view of data across the entire customer journey – Salesforce
Here's one of the many examples to streamline a sales quotation process and related workflows from start to finish.
The example below illustrates how a quotation process can be automated by integrating Revv with Zoho CRM, Zapier, and Google Sheets.
It enables Revv to pick essential data from Zoho CRM and create a customized sales quote
Revv allows adding a price table to a quotation through Google Sheets integration. It makes all the offerings and pricing details available in one place
It keeps data updated and organized on all integrated business apps through Zapier's actions and triggers
It reduces hours of processing time to minutes
Here are the detailed steps –
Step 1: Integrate Zoho CRM with Revv
Sign in to Revv with your user id and password. Sync your Zoho CRM with Revv – you can either do it directly or with Zapier.
This will enable Revv to automatically check and simultaneously update the folder when an action is triggered in Zoho CRM.
For example, every time a new lead is added to Zoho CRM's 'Lead' section, Revv will automatically pick one of the chosen templates, customize it and store it in a folder with the lead's name.
In the below image, a new lead, Emma Hudson, is added to Zoho CRM.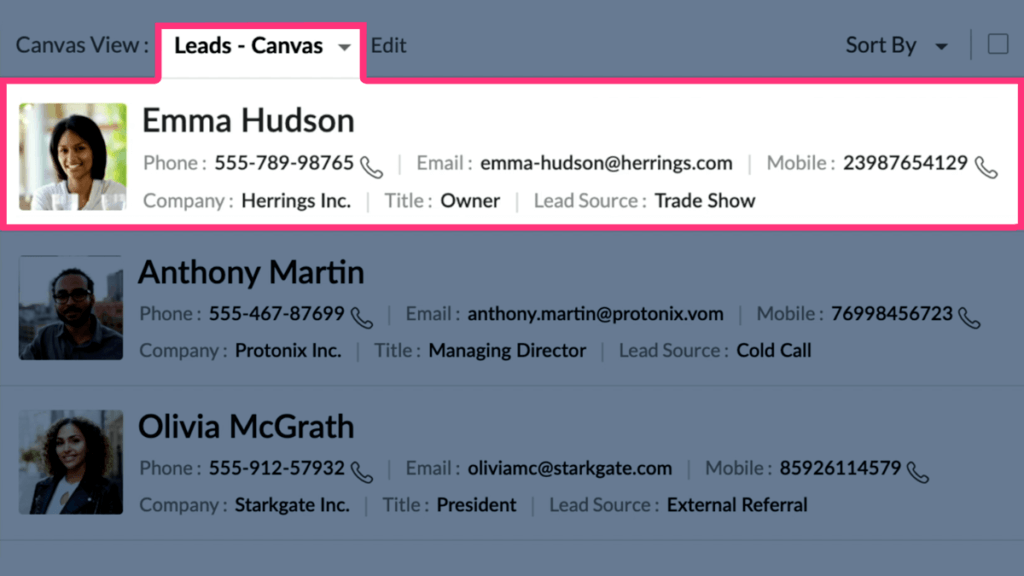 With Zoho integration enabled, a folder category for Emma Hudson gets created in Revv.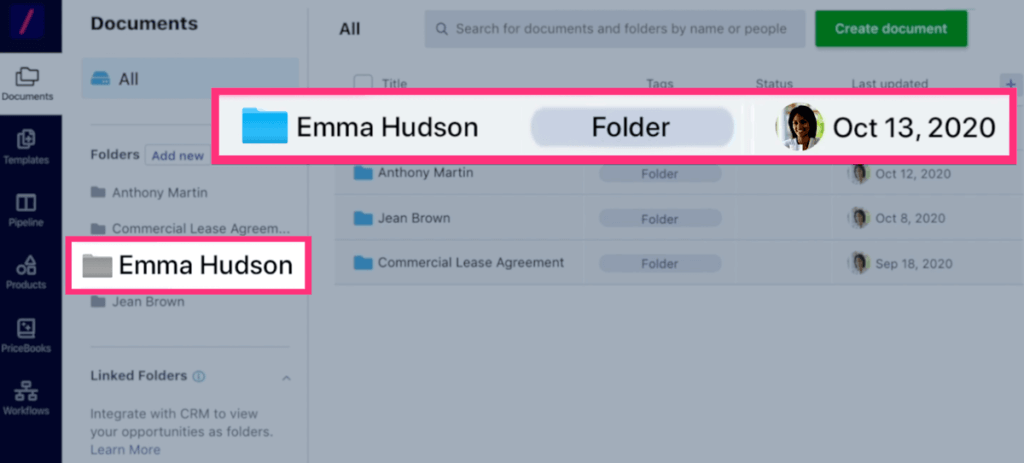 Click on the folder, and open the quote.
Revv Tip:
There are three ways to create a quote template in Revv –

– Pick a quote template from Revv's template library and edit it
– Create a new quote template from scratch using Revv's rich text editor
– Upload your own PDF and DOCX files

Once your quote template is ready, pick this template when integrating Revv with CRM.

After the integration, the details like the organization name, parties to the agreement will auto-populate in the quote from Zoho CRM.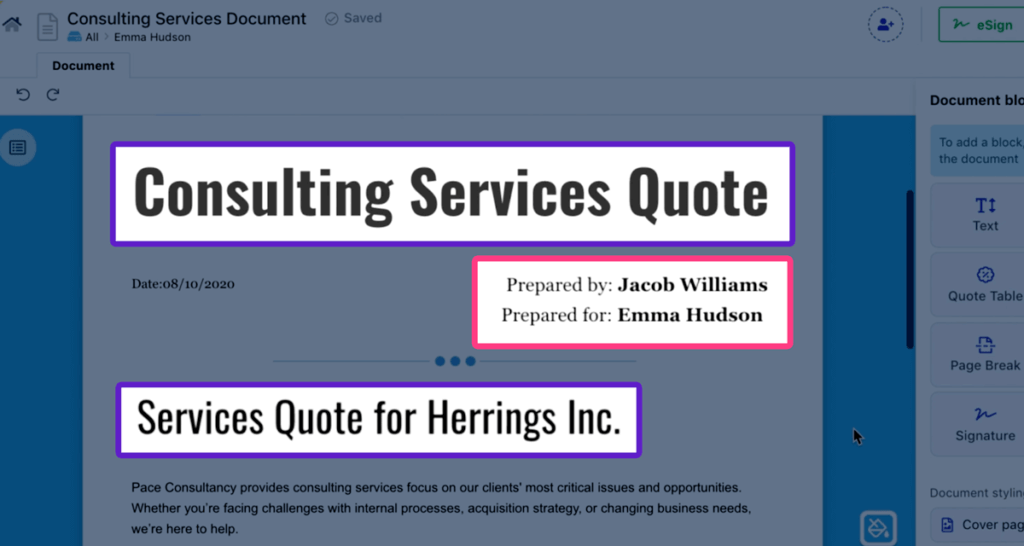 Step 2: Customize the business sale quote
You can further customize the quote by editing the template blocks and adding elements by drag and drop. The other way to customize it is – click the plus icon, select the block, and edit it.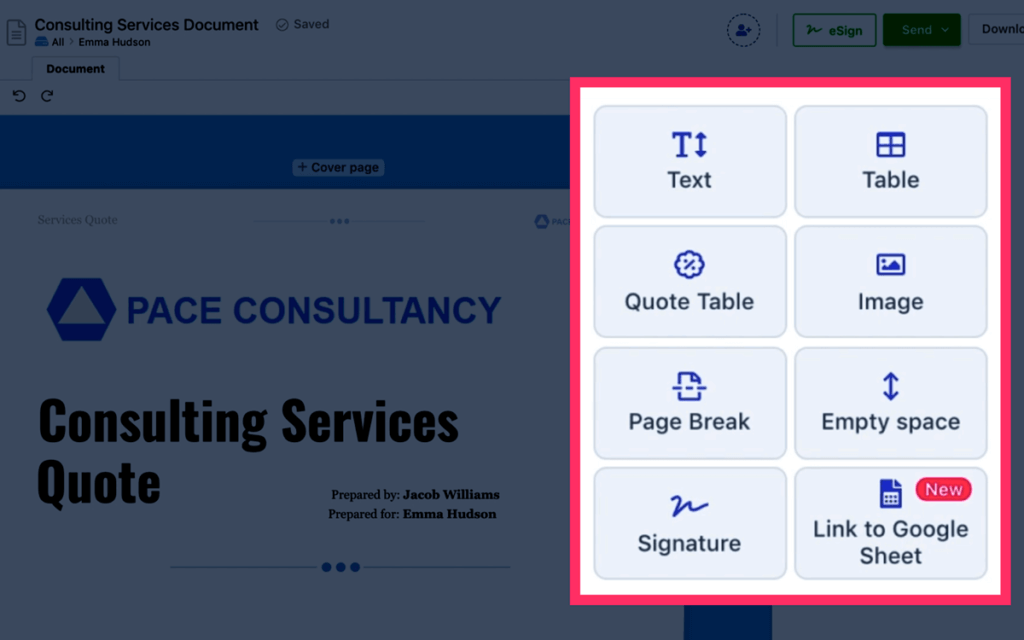 Step 3: Add a price book from Google Sheets
It's a common practice to use Google Sheets to organize and store data.
Revv's integration with Google Sheets makes all the pricing information available in a single place and allows easy data modifications.
Rather than doing the cumbersome task of manual copy/paste, the users can import the prices from Google Sheets to the quote with just a button's push.
Follow the below instructions and integrate Google Sheets in the sales quotes:
1. Drag and drop the Google Sheet block in the quote.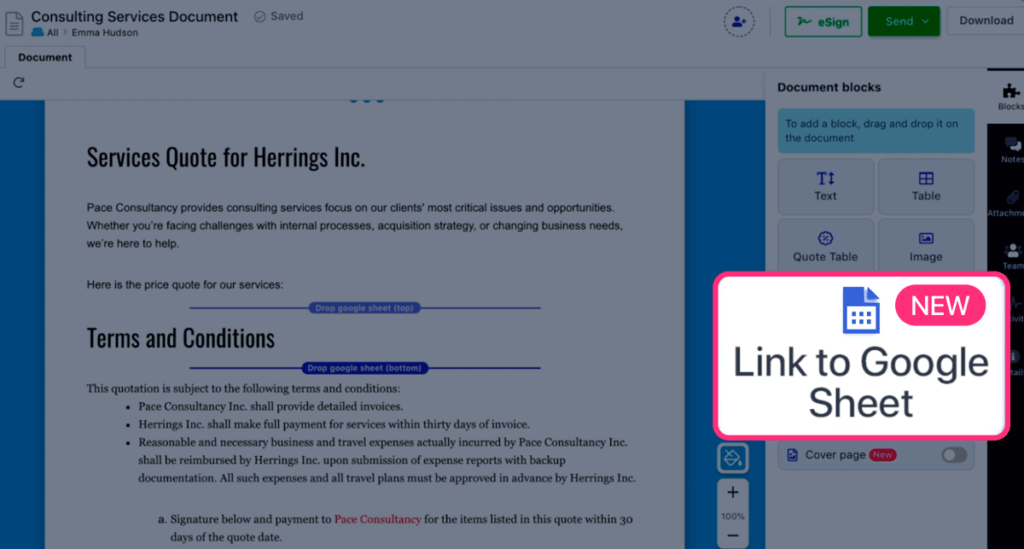 A linked table will appear in the quotation.
2. Link Revv with your Google account. Select the price sheet you would like to add.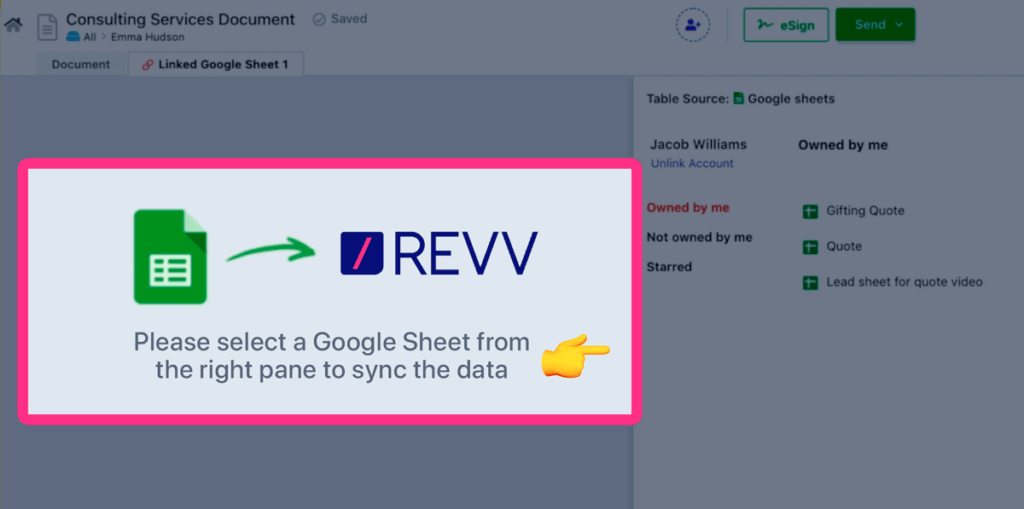 3. Select the pricing worksheet and sync the selected sheet.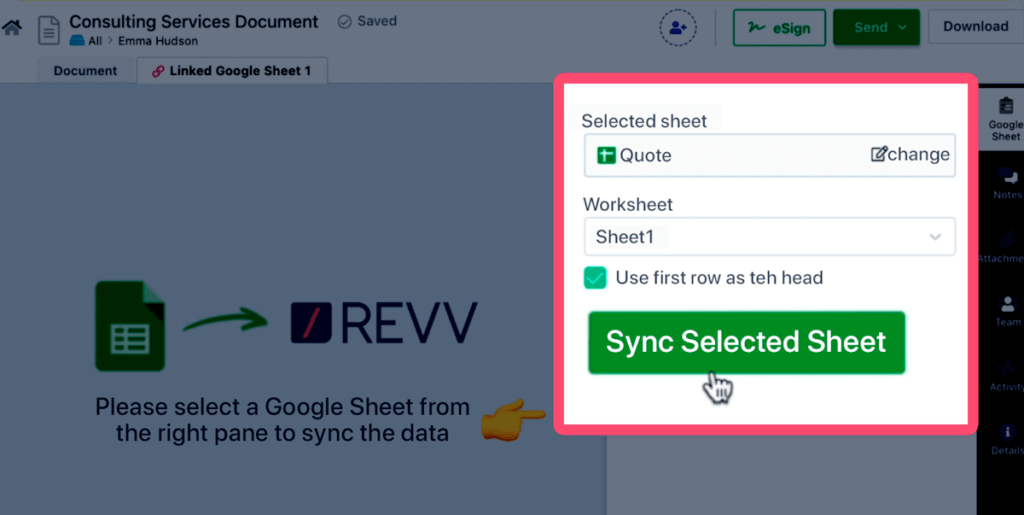 4. The table will appear in the quotation.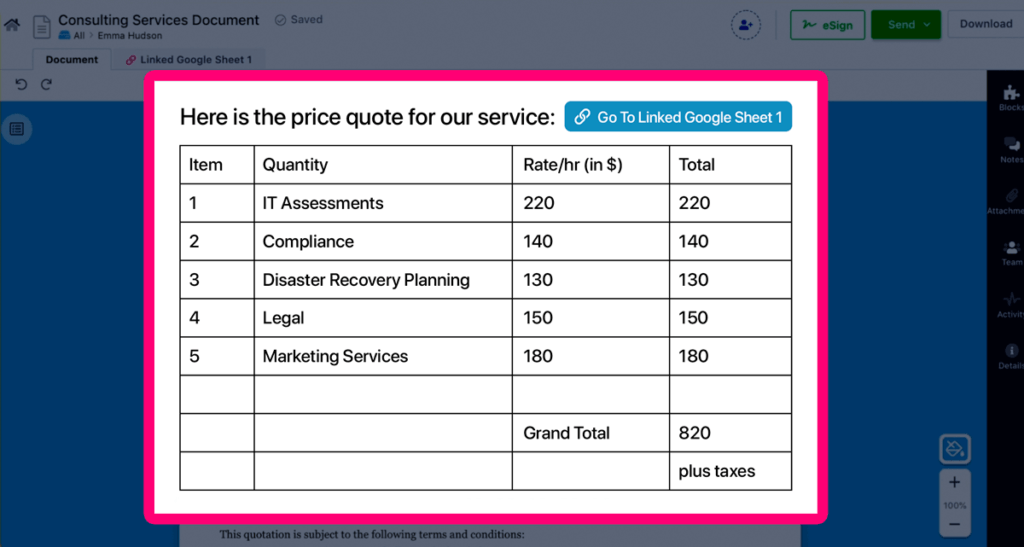 You can further control the visibility of columns by selecting the table, go to 'Manage Columns,' and choose which column to show or hide. Once done, sync it again.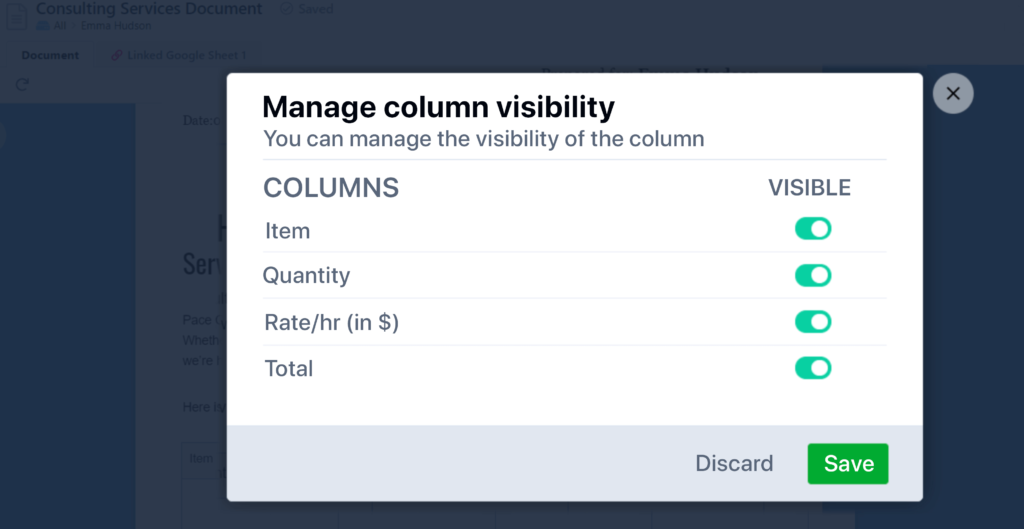 Step 4: Send the quote for sign-off
The quote is now ready. Add details of recipients. You can directly share it with your customer for acceptance or eSignature.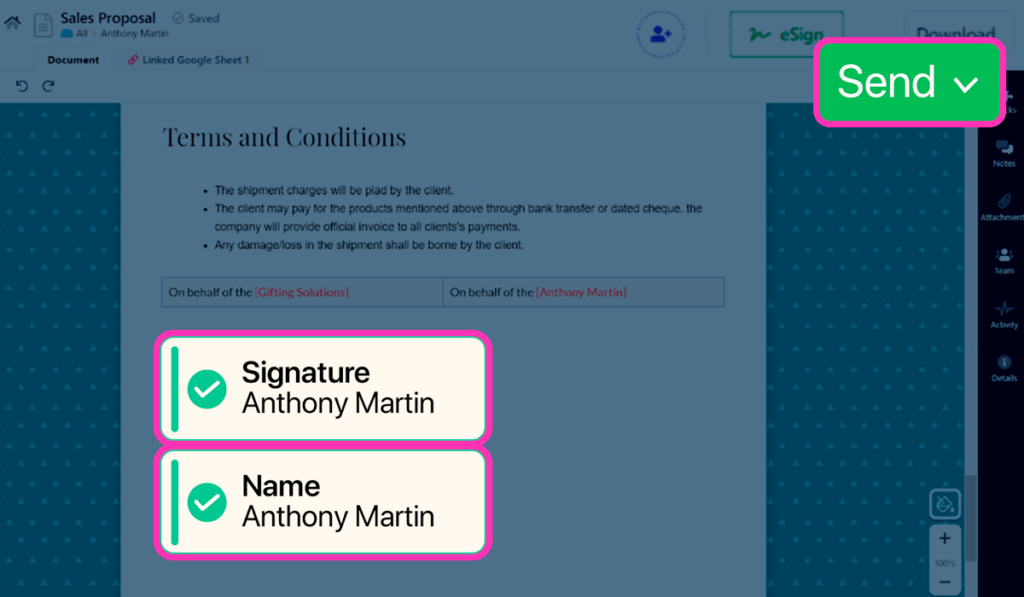 You can track the status change in your quote in the 'Activity' tab – when the quotation was opened, sent, received, and signed.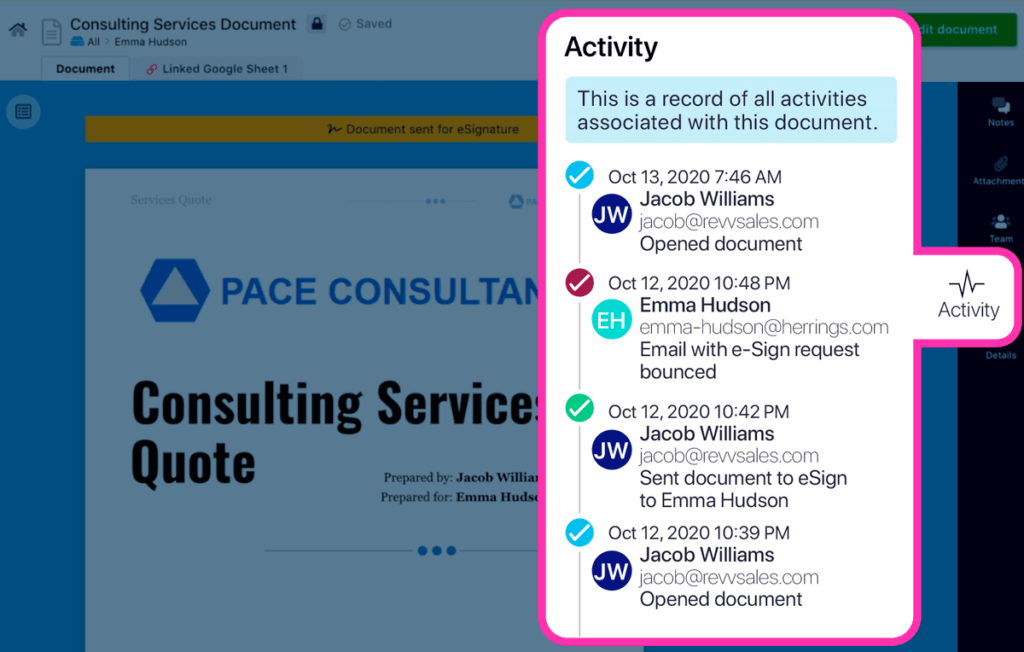 Once all parties sign the quotation, it gets automatically stored in a cloud-based customized folder in Revv.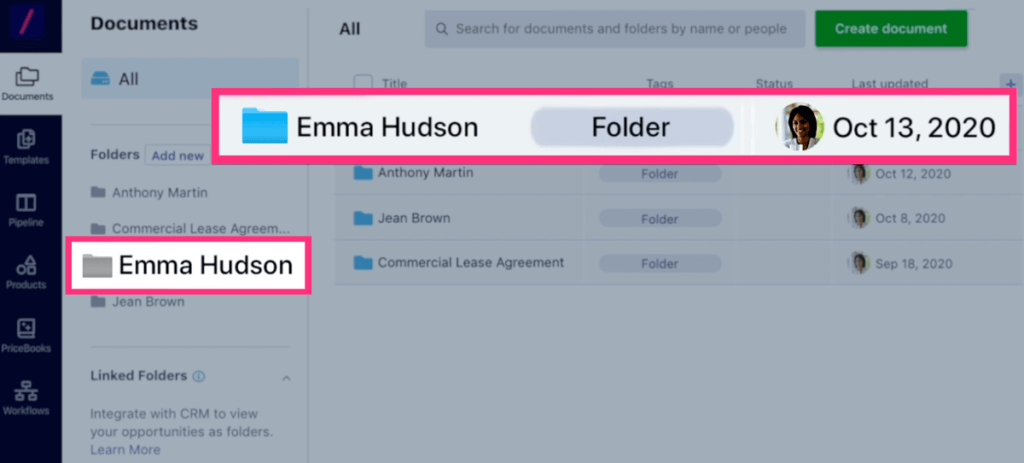 Step 5: Automate and update Zoho CRM based on quote actions in Revv
Sync the sales quote automation system back to Zoho CRM through Zapier. For example, a signed quote indicates that the lead is now converted into an account, and the same will reflect in Zoho CRM.
You can simply achieve this by creating a zap in Zapier. Whenever a quotation is accepted or signed, a 'Convert Lead' action will occur, and the lead will move into the 'Accounts' section.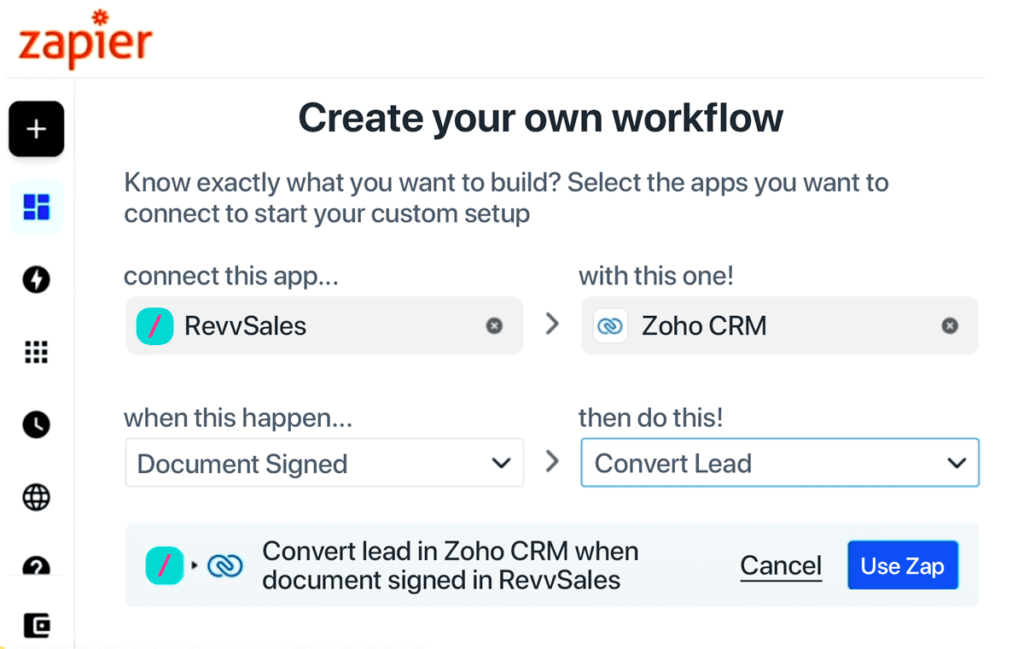 It will complete the entire quotation process cycle and keep all the platforms updated with the modified information.
Because 'Emma' has signed the quote, she is now converted into an account. Her details have moved from the 'Lead' section to the 'Account' section, and her organization details appear in the 'Account' section.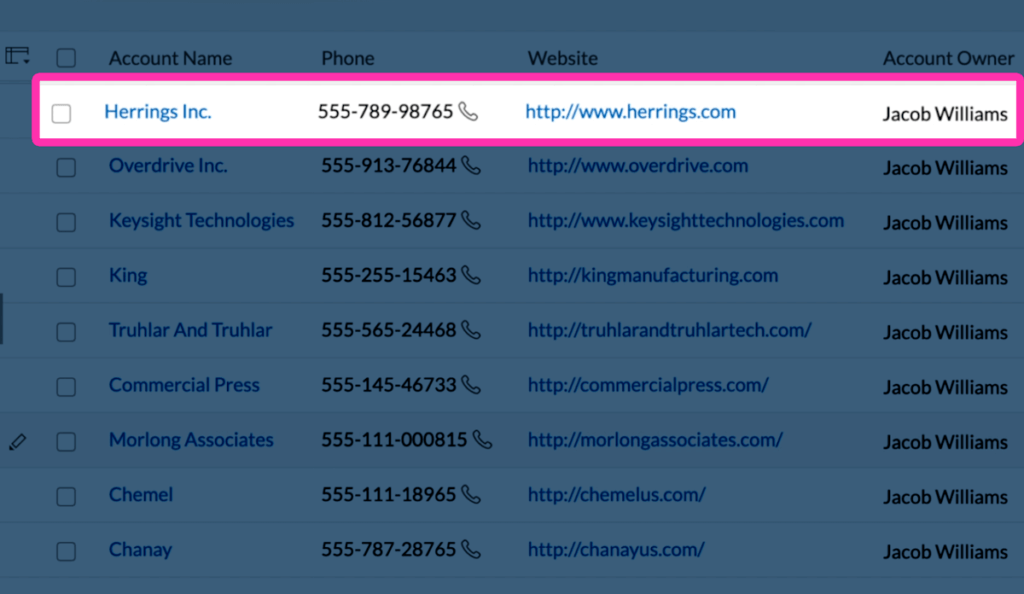 Check out the video: How to automate and streamline the sales quotation process with Revv?
Do more with Revv! Automate workflows of all your documents
In today's world, where speed defines success, you need to be customer-ready. Customers always appreciate a timely response.
From creating purchase orders to invoices to automating quotations, proposals, and all sales-related documents, Revv is among the best quoting software enriched with automation features.
Its legally vetted and content-rich templates, automated workflows, integration capabilities, eSign and soft sign options, cloud-based storage, and flexible and affordable pricing plans make it stand out from other such software.
It allows salespeople to focus on customer satisfaction and find new prospects instead of juggling paperwork and other mundane tasks.
To summarize –
Feel the magic of Revv!
Sign up for a free trial today!
Frequently asked questions
What is a quote-to-order process?
A Quote-to-Order (Q2O) means sale. 
A Q2O process is where organizations:
– Make an offer to prospective customers, and
– Go through a stage-wise process of quotation – contract – negotiation – sales order – billing – invoice – and finally revenue, and
– Turn business opportunities into the sale
What is the best software for creating sales quotation?
Revv is one of the best tools to create quotations. This all-in-one platform is equipped with advanced features like professional templates, eSign and soft-sign options, cloud-based storage, tracking and analytics, user management, automation workflows, and many more. It offers a free trial, and generous pricing plans to empower organizations with efficient sales processes.
How does an invoice differ from a quote?
Both quotes and invoices are a crucial part of a financial transaction. 
– A quote is sent before an order, whereas an invoice is sent after an order
– A quote is negotiable, whereas an invoice is not
– A quote is an invitation to buy a company's offerings, whereas an invoice is requested for payment sent to the purchaser  
– Sometimes quotations can be in verbal form, but invoices should always be in writing