Writing any kind of proposal is a critical task. You have to convince the potential customer that you or your business is the perfect fit for their needs. You might offer the best solution they require but how to write a business proposal that persuades them to choose you or your company from the pool of proposals lying in their inbox.
You need to stand out by clearly articulating your offerings that match the prospective customer's requirements.
Do thorough research about the prospect. It will help gather relevant information about them. If you have previously shared proposals that have closed deals for you, it's time you revisit them.
Leverage the data that you already have from previous successful deals and gain insights from them. See what worked and what didn't. This might help you understand the customer's way of thinking.
Make sure to keep your thoughts clear on what you offer.
Many people easily get confused between a business proposal and a business plan. Know what you are preparing and do your research accordingly.
Is a business proposal different from a business plan?
Business plans contain extensive information about the operations of a business. It outlines the business model and comprises of financial projections, in order to seek investment opportunities.
Whereas, business proposals as a document is an offering. Here you tend to seek customers, to whom you offer your services. The proposal summarizes how the business will carry out its services.
Tips on how to write a business proposal that stands out
Make it visually appealing – A visual document always stands out among other text-heavy proposals. Add photos or snapshots in your proposal to hold the prospect's attention and keep them interested.
Present the data in concise formats – Include tables and graphs to explain your points. These are quicker to read and easier to grasp. Also, it makes your formal and professional proposal look less boring.
Use simple language – For your proposal to stand out, communication is key. If the prospect does not understand what you are saying, they will turn down even the best offering. Keep the language simple. Avoid jargons.
Don't beat around the bush -Talk to the point. Don't confuse the prospect with too much information while at the same time, don't provide less information that makes it difficult to form a decision.
Most importantly, go digital, duh! Nobody likes receiving book-like documents to read. Switch to a document management system, where you can create, collaborate, and close documents like business proposals with much ease.
Be mindful that you are completely aware of what your proposal should contain.
Creating a basic structure for your business proposal
To be able to persuade someone, you sometimes need to put yourself in their shoes. This is the thought process you need while creating a business proposal.
The proposal should talk less from your perspective and more from the person or company for whom you are creating it. The components in your proposal might vary depending on the prospect's industry, size, specific requirements, etc.
Here are some standard components every prospect will look for in their proposal –
Details about you – How you define yourself and your business is critical. It plays a very important role in convincing the potential customer to choose you over the competitors.
How did you address their pain points – Promising to deliver the right solution is one thing. Conveying the solution by directly addressing the issues is more crucial. It brings in clarity and instills confidence in potential customers.
Basic pricing details – It is important that the prospect must know the value of the services being offered. This should be communicated without any ambiguity.
These basic components apply to almost any kind of proposal. Here are some sample formats of business proposal templates that you can use while creating a business proposal template.
Read this blog to know how a business proposal is differs from a business plan.
What does a business proposal look like? – Important elements that you must include
Let's do a deep -dive to help you understand the various elements that must be included when creating a business proposal.
Title page / Cover page
The cover page will include standard information i.e, company logo, name of the company, name of the customer, the name of the proposal.
Here is an example of the cover page of a website maintenance proposal template that will give you a better understanding.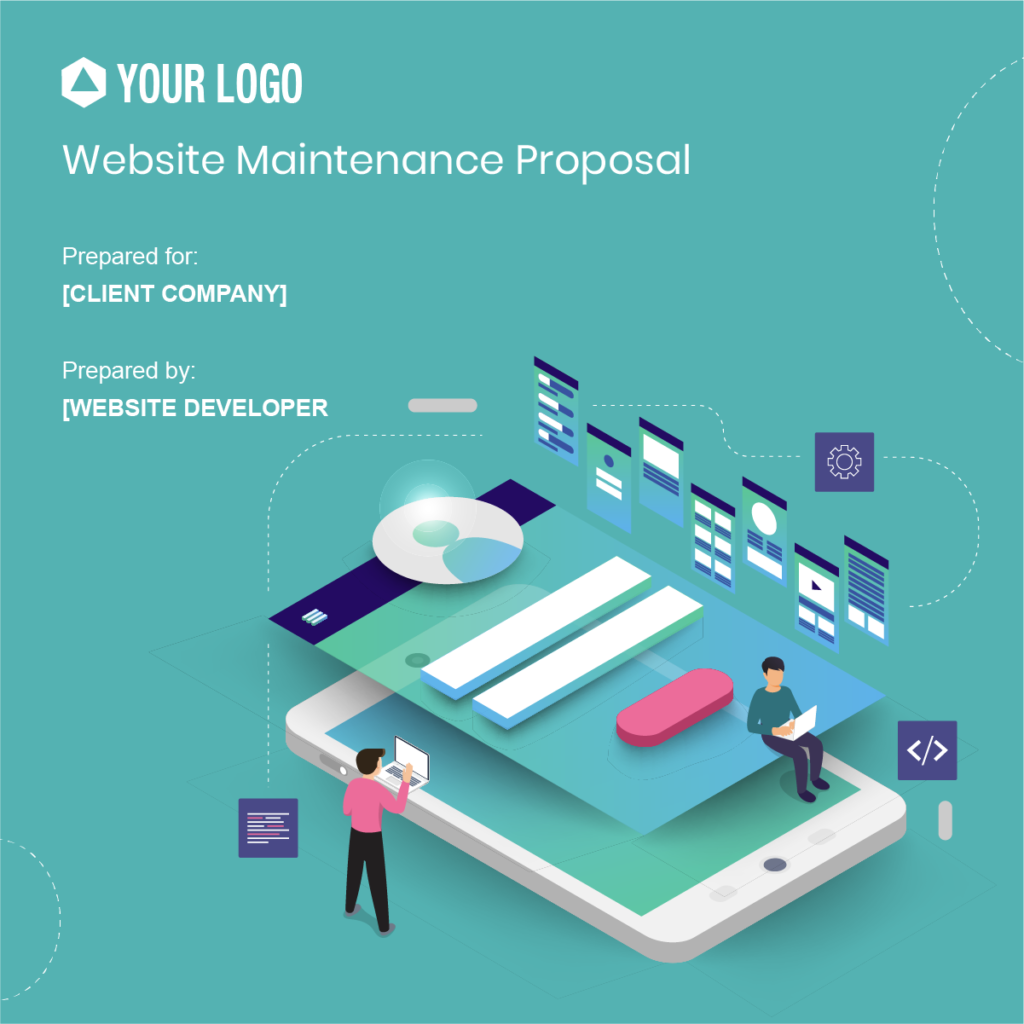 Table of contents (TOC)
Providing a list of different sections within the proposal helps individuals or organizations to navigate through the business proposal more easily.
Only if your proposal is brief (as in a few pages) can you forgo this element, otherwise it's always helpful to provide a TOC especially for first-time customers to read through your business proposal.
Executive summary
An executive summary forms the basic foundation – it specifies why you shared the proposal, what are you offering and why should the prospective customer choose you.
Here is an example to give you a better insight –
The proposal comprises of a well laid out plan to maintain the e-commerce website of Galaxy ltd. The sudden jump in Galaxy Ltd's website traffic slowed the loading and processing time. This was turning away many customers even before they would browse the first page of the listed products.
We at Axa tech solutions understand that the challenges of managing a website can be daunting. So we have a plan to bring back your website to its original glory.
Through our services, we will check the server that your website is currently hosted on. Check the theme and all the plugins on your website. Find out what is slowing the loading time and work with the team to fix it. We will also monitor your website for any crashes while the process is ongoing.
We assure you that all your data and that of your customers that are hosted on the website will remain secure during the entire maintenance process.
We have been providing services like website maintenance, hosting, and security services for commercial clients for over 7 years and received positive feedback for all our services.
As mentioned earlier, it is important to put yourself in your customer's shoes. Convince them that you understand the problem they are facing and you know what you are doing to solve the issue.
Service offering
This section talks about the issues in detail and the solution that you will provide. This will be an extension of what you have concisely talked about in the executive summary.
The methodology of services
Under the methodology section, you will have to explain in detail the process of onboarding, your transition plan and the steps of how the service you are providing will unfold.
If we continue with the example of the website maintenance case, you can present a timeline of when you will release what and how many resources will be assigned for each task.
A concise table format will make it easier for prospective customers to read and understand. This will give them clarity and help in making a quicker decision.
Pricing structure
This is the section that requires you to be very specific. Prepare a pricing table listing all the possible services that you think the customer will require along with complete pricing information.
Ensure that you do not leave any room for ambiguity when it comes to pricing. This might create confusion further ahead if the deal closes successfully.
Be realistic with the pricing that you offer to them – it should be neither be overestimated neither underestimated. Pricing is one of the key aspects to win a deal.
Know us better – about the company
This is where you let your prospective customer know about you in detail. You gave a little sneak-peek in the executive summary but now you can provide them with information that would make them want to work with you.
You can leverage this section to share some similar cases that you have earlier worked on. A success story where the customer was satisfied with your services.
You can also add snippets from your reviews and testimonials, that refer specifically to the services that you are supposed to provide to them. This will help you win the customer's trust.
Terms and Conditions (T&C)
The terms and conditions that will govern the overall agreement. This will include the total value of the services being offered, the duration of the contract, payment terms (how will you charge the customer), any specific clauses relevant to your services such as Intellectual property, confidentiality, termination, limitation of liability, etc.
It is always advisable to get your T&C verified by the legal team before sending it to the prospect.
Final signatures of agreement and CTA
Finally, agreeing to the legal lingo that goes something like – "I hereby agree to get into a contract with…" and proving placeholders for signatures by both the party.

The signature or e-signing will ensure consent and make the business proposal legally binding.
Include these elements and create a professional proposal.
Share it with the prospective customer and your job is done. Or is it?
Not yet! Just bear with us, you are almost there.
You must ensure to follow up with the prospect and let them know that you are available to address any queries they may have.
If you are creating and sharing your proposal in a document management tool like Revv, you can leverage features like an activity tab
An activity tab will enable you to track the activities in the background once the business proposal is shared with the prospective client.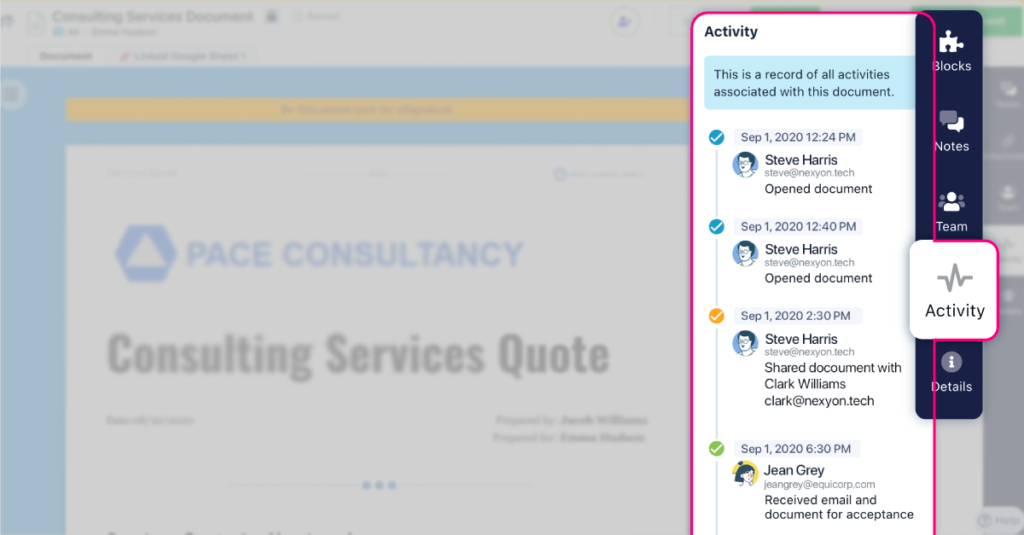 This will help you see the customer behavior like, whether they have opened the document or not, if yes, how many times was it opened. This lets you decide on the next course of action.
Don't let the challenges hold you back!
Creating a business proposal is not a cakewalk, but in order to run your business, you need to create these documents. You can face multiple challenges such as –
Difficulties in understanding legal jargons
Delays the process due to coordination with other teams
Review and approval process is too cumbersome
Too many documents to organize and store
Finding the right tool can help overcome these challenges and answers the question of how to create a business proposal that closes deals with fewer or no hiccups.
With Revv you will have vetted templates to create your proposal, the notes and comments make collaboration with other teams a breeze. The approval workflow process triggers notifications to approvers to check, review and approves documents on time. And lastly, you can securely store all your documents and manage them in different folders within the tool.
Sign up with Revv see for yourself.
Here is a complete guide on an event marketing proposal that will help you get rolling.
The concluding note
Understanding your prospects, leveraging the already existing data to your advantage is the key to creating a powerful proposal – it improves the chances of converting a prospect to a customer.
Follow an effective and efficient process and help put out fires (for your prospects) in the right place, at the right time.