Don't let mind-numbing statistics, business jargon, and unorganized data ruin your chances of winning a deal!
Planning, drafting, and polishing marketing proposals can be a huge undertaking. Many people struggle with the complexity of creating proposals, formulating content strategy, and focusing on the precise information that needs to be conveyed. You need expertise, time, commitment, and extensive brainstorming to develop a persuasive proposal that wins clients.
Fortunately, Revv makes it easier to develop compelling and winning proposals.
This article will help you understand the keys to developing successful proposals—specifically event marketing proposals.
What is an event marketing proposal?
An event marketing proposal is strategically crafted to obtain event marketing business from clients. It is similar to a business proposal, but its purpose and target audience are specific to events.
Event marketing promotes events organized by a brand, such as conferences, trade shows, seminars, and other events offered through offline or online platforms. Companies that offer event marketing services rely on event marketing proposals to acquire new clients.
The strategy underlying any event marketing proposal must focus on two factors:
The target audience
The purpose (typically increasing sales, building an audience, or encouraging investment)
Why is an event marketing proposal important?
"Think as if you were creating a motion picture that needs to captivate and hold an audience's attention." – Greg Jenkins
Anyone can rent a beautiful conference hall, hire the best florist and event management team, write the perfect guest list, and create a stellar program—but many fail to market their event adequately. Marketing an event is entirely distinct from organizing it, and it is the key to the success of any event.
Event marketing proposals help clients understand how the service provider will promote the event and deliver the desired outcomes in terms of attendance, leads, and other factors.
An event marketing proposal typically describes a strategic approach to event marketing. It identifies the online and offline platforms — social media channels, email campaigns, print advertisements, tv and radio ads, etc.— and the content and promotional strategy for each platform to reach the target audience and drive outcomes.
Who needs an event marketing proposal?
Events are a preferred means of communication and customer acquisition. Live events present opportunities for brands to communicate and connect with customers and stakeholders, conveying their key messages directly. They are an important part of integrated marketing portfolios, relationship maintenance, and brand equity.
79% of US marketers generate sales using event marketing. (Source)
Budgeted expenditures on events and their marketing have increased exponentially in recent years, largely due to the powerful results they deliver.
Due to all this, event marketing proposals have become standard for all companies, regardless of size.
How can I make my event marketing proposal stand out?
Here we present six tips that will help your event marketing proposal stand out and capture the readers' interest.
Tip #1: Keep it concise
Proposals aren't the most riveting material, so the content must be chosen carefully. "Less is more" works best here because it respects the readers' time constraints. Give prominence to relevant facts, figures, and easy-to-grasp numbers. Well-crafted and concise insights in your proposal will do all the talking.
Tip #2: Present accurate costs
Be mindful of the cost of implementing your proposal. Beyond money alone, this cost is the total investment that you are asking of your clients. Take the time to analyze every cost (tangible, intangible, etc.) and frame each one wisely. Getting even a penny from someone can be a monumental task, and even more when dealing with angel or corporate investors. Your proposal must justify the cost. Include the technologies, tools, and other capital investments that will be incurred in addition to all other expenses.    
Tip #3: Emphasize the return on investment
Once you have justified the cost, you can focus on the opportunity to demonstrate the return on investment and deliver positive outcomes. Show the value your services will generate over time. The return should be lucrative and significantly higher than the costs involved. If this crucial point is missing from the proposal, it cannot be persuasive and fall flat.
Tip #4: Present your risk management strategy
Every business has some risk, whether operational, economic, political, geographical or some other type. Businesses aren't always overly concerned with risk, but they are concerned with how efficiently you can mitigate and manage risks. Even if prospective clients are happy with the low cost and great returns described in your proposal, they will remain skeptical about risk exposure. Never omit your risk assessment and risk management plan from the proposal. You are the best judge of your business risks, so showcase your strategies for handling them in your proposal.
Tip #5: Define the milestones
In your proposal, be sure to highlight your achievements. Including milestones and timelines in your proposal will save you time and effort and ultimately build confidence among prospective clients.
Tip #6: Demonstrate the trustworthiness of your brand
By demonstrating your brand's trustworthiness, you give the readers a strong foundation to trust your business and offerings. Acquired trust (your trust based on someone else's trust in something) is a major factor in a client's decision-making. Include customer testimonials, feedback, case studies, and success stories to demonstrate your credibility among end users.
Revv Tip: Keep your audience at the center

Be aware that your target audience comprises many stakeholders, only some of whom are familiar with your company and services.

Assuming that your readers are extremely busy and have packed schedules, getting their attention is not an easy job. So, how can you get them to consider your proposal and, more importantly, your company?

The answer is – by playing smart.

First, analyze what the readers already know about your business. If you have delivered fabulous service in the past, they are already familiar with your company's strengths and capabilities. In that case, it will be easier to get people to read your proposal.

If the readers are unfamiliar with your business, you'll have to work harder—and craft a more compelling proposal—to capture their attention.

Given the high levels of competition prevailing in the event industry, your business strategy must be formulated around the cycle of awareness, interest, acquisition, and retention.

The C-level executives who will be making decisions based on your proposal have very little free time. For them to give your proposal the attention it deserves, it needs to be focused, brief, valuable, and of course, attention-grabbing.
Know more: 3 Essential Tips to Create Powerful Sales Proposals
What are the key elements of an event marketing proposal?
Event marketing proposals generally include the following sections.
The cover page/Title page
This is the starting page of a proposal. It generally includes the presenter's name, company name, proposal submission date, and client's name.
Revv Tip: A cover page is the first impression of your company. Make it visually attractive.
Table of contents (TOC)
This is a neatly formatted table with section names and page numbers. It improves navigation and allows readers to find what they're looking for in a proposal. If the proposal is submitted electronically, make sure that each item listed in the table of contents is linked to its corresponding page so that readers can click to jump directly to the section of interest.
Introduction
This section talks about the scope of the project with an emphasis on the need for event marketing in general and specifically for the client.
Company Overview
In this section, you can briefly introduce your company, notable accomplishments, experience, and key statistics about your performance history relevant to the proposal. This section should also present the service provider's understanding of industry trends and related issues.
Executive summary
The executive summary briefly states the purpose of the proposal and summarizes the proposed solution. This section gives a bird's-eye view of the proposal's entire contents and what readers can expect from it.
Value proposition/Why Choose us?
This section covers the strengths and unique selling propositions of the service provider. This is the place for building trust and gaining prospective clients' confidence regarding your capabilities and efficiency.
Methodology/How do we do it?
This section presents information and statistics related to the company's strengths and track record of success. Do a point-by-point segmentation of the content in this section so that you can showcase your strengths more clearly.
Revv Tip: Use qualitative and quantitative data to support each of your claims. Strong evidence helps investors make quick, informed decisions.
Services
This section outlines all the services to be offered by the service provider.
Pricing details/Charges and packages
Pricing is one of the most complex and crucial parts of the proposal. This section reflects the packages typically offered by event marketing service providers.
Revv Tip: Always try to explain and categorize the packages in a table format. It facilitates a clearer understanding and overview of the service provider's costs without requiring the reader to plow through dense text.
Terms and conditions
This section clarifies the business rules. Specifying terms and conditions in the proposal promotes transparent and fair business practices. The content is flexible as terms and conditions vary among companies.
Acceptance and signature
This final section includes a placeholder for both parties to provide their signature, name, and date. Signature indicates acceptance of the proposal and the intention to proceed with the project described therein.
Note: The sections listed above are standard, but other sections can be added based on a proposal's requirements
How to select the right event marketing proposal template?
To develop a successful event marketing proposal, look for a template that has the following five characteristics.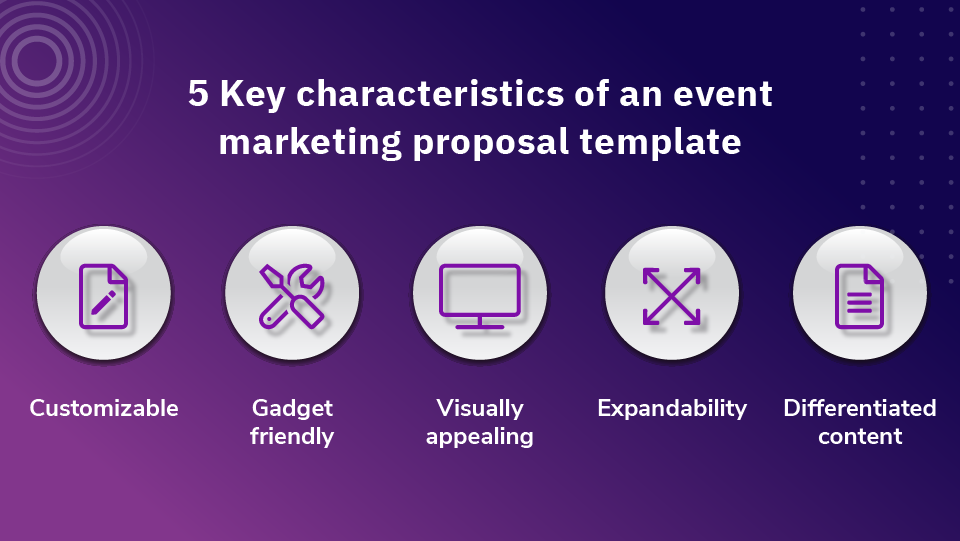 Characteristic #1: Customizable
Templates should be partially or completely customizable to fit every client's needs, situation, and business requirements. There should be options to customize both the content and format (font size, color, border color, design, etc.) to incorporate the service provider's specific look and feel, including logo and brand colors. 
Characteristic #2: Gadget-friendly
In the past, templates may have worked only with Microsoft Word or PDF, but today we need interactive, multi-gadget-friendly, and responsive event marketing proposal templates. They need to be both web and mobile-friendly to cater to an ever-more-demanding clientele.
Characteristic #3: Visually appealing
Reading an event marketing proposal might seem dry or intimidating, but good templates help counter this perception through visually appealing design and structure. The templates should use graphical elements, attractive fonts, and white space to present your ideas in the best light possible. If the template sets itself apart from other proposals in terms of appearance, you have won the first phase of the battle, i.e., capturing the readers' attention.
Characteristic #4: Expandability
Some companies have an extensive portfolio of products and services. Therefore, the chosen event marketing proposal template should be expandable and have enough space to highlight all the incredible services you are prepared to offer.
Characteristic #5: Differentiated content
Good marketing relies heavily on presentation. What is seen is what gets sold! That's why a template should offer different patterns and models for data representation to break up the monotony of all-text proposals. They should be eye-catching with enough room to add information about your expertise, technical superiority, team members, and more.
What makes Revv's event marketing proposal template the best?
Revv offers the industry's best ready-to-use event marketing proposal templates. These templates are part of Revv's diverse portfolio of templates for virtually all business needs.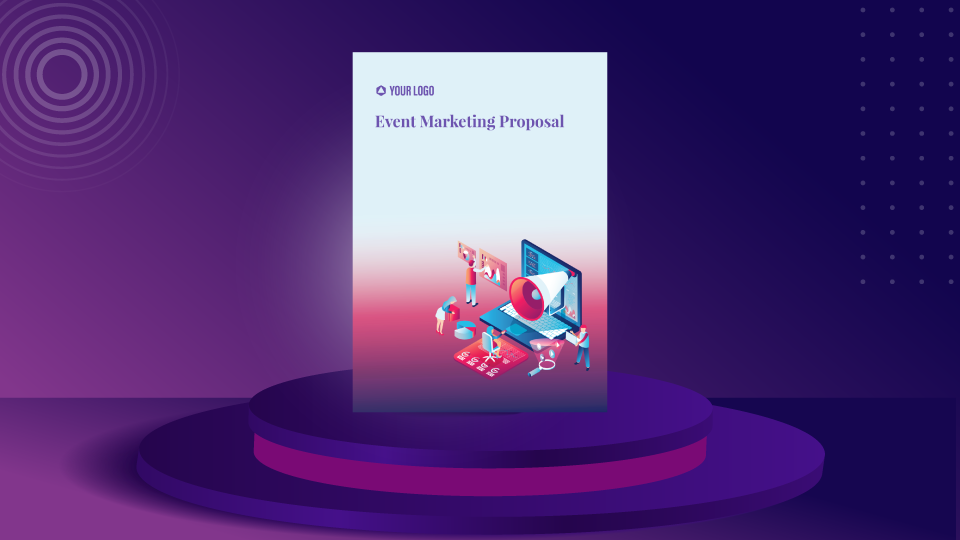 Click here to access the event marketing proposal template.
Here are the reasons why Revv's event marketing proposal templates are the best.
Customizability
Revv's templates are flexible to accommodate the needs of any industry and company. Most importantly, the appearance can be changed to match your brand values and requirements as the entire template is customizable.
Content Creation
Revv's templates offer rich text editing and formatting options. The templates include a drag-and-drop option for table blocks, images, text, page breaks, and more.
The templates also allow the insertion of tables and spreadsheets to configure the presentation of complex products and services with ease. These pre-built elements simplify the process of clarifying complex pricing options and packages.
Usability
Revv's templates can be transformed into easy-to-fill forms with custom fields, multiple-choice options, default values, and more. They also support auto-population from the system of record to eliminate unnecessary repetition and the errors associated with manual entry. These features not only reduce data entry errors but also save significant time.
Here are the benefits of using Revv –
Real-time document monitoring
Revv offers real-time document status tracking – document views, comments, who opened it, signed it, etc., and take necessary steps.
eSignature
Add eSign blocks to your proposal and send them for signatures in just a few clicks. Revv provides multiple eSignature options, including click-to-sign, typing, or a handwritten signature.
Seamless Collaboration
Revv enables users to collaborate within the document through notes and comments and tag other users with the @mention feature.
Integration with business apps
Users can integrate Revv with other business apps like Zoho, Google Drive, Zapier, Slack, and many more, and manage document process end-to-end.
Stripe integration for payment collection
Revv makes collecting payments easier and simpler through Stripe integration within your documents.
Store and organize documents
Revv provides a central repository to store and organize all your documents in a structured manner, which reduces the search time tremendously.
Frequently Asked Questions (FAQ)
1. What type of content works best in event marketing proposals?
Attractive, eye-pleasing, informative, and responsive content works wonders for event marketing proposals. Say goodbye to traditional, static PDF documents. You can easily add videos, Google Maps, photos, and more.
2. How can I write a proposal outline?
Proposals are often outlined based on information received from the client. In solicited proposals, an RFP response is usually based on the guidelines specified in the RFP, which requires a more tailored approach to meet the client's expectations and requirements.
3. Are Revv templates mobile-friendly?
Yes. Revv understands the need for multi-gadget-friendly content and templates. A responsive, mobile-friendly content template increases your proposal's chance of acceptance. Revv templates are responsive and dynamic, so they adjust automatically for optimal display, regardless of which device is used to open them.
4. How does Revv ensure the security of my documents?
Revv provides password protection for all its event marketing proposal templates. In this way, a template can be accessed and opened only by authorized personnel. Proposals also contain locked sections within templates to prevent unauthorized edits.
5. Can I sign the document digitally?
Yes. Revv templates have an eSignature feature to facilitate rapid contract execution.
6. How long should an event marketing proposal be?
The proposal's length depends on the project scope and complexity, the size of the service provider, and the amount of text needed to describe the service offering.
7. Does Revv offer free trials?
Yes. Revv offers free proposal templates so that you can review how the sections and content align with your requirements. Anyone can download any proposal from the company's template library as a PDF, but importing a template into the document editor requires signing up for a Revv account, which facilitates quick and easy editing.  
Conclusion
An event marketing proposal is your ticket to win event marketing projects. Revv's splendid and comprehensive templates leave an indelible impression of you on your clients.
Sign up with Revv and create a 'wow' event marketing proposal.
For any queries, contact us at sales@revv.so.