Including the right kind of contract clauses comes with its benefits. It reduces the risks to your company and provides legal rights in case of a dispute. But most of the time, the clauses in a contract are worded differently even if the subject matter of the clauses stays the same. What is more critical than using the wording as presented in the provision of the entire agreement is considering whether these clauses are applicable in the contract that is being signed.
Let alone contracts, even Santa comes with a 'Clause!'

Remove Your Fear of Understanding Contract Clauses
There is something important before we decide on the business risks present in a contract, what each clause states, and how to remove or reduce these risks by using these clauses. We should understand what are the important components of any business contract. This also helps set clear precedence of contractual obligations for both parties.
Components of a business contract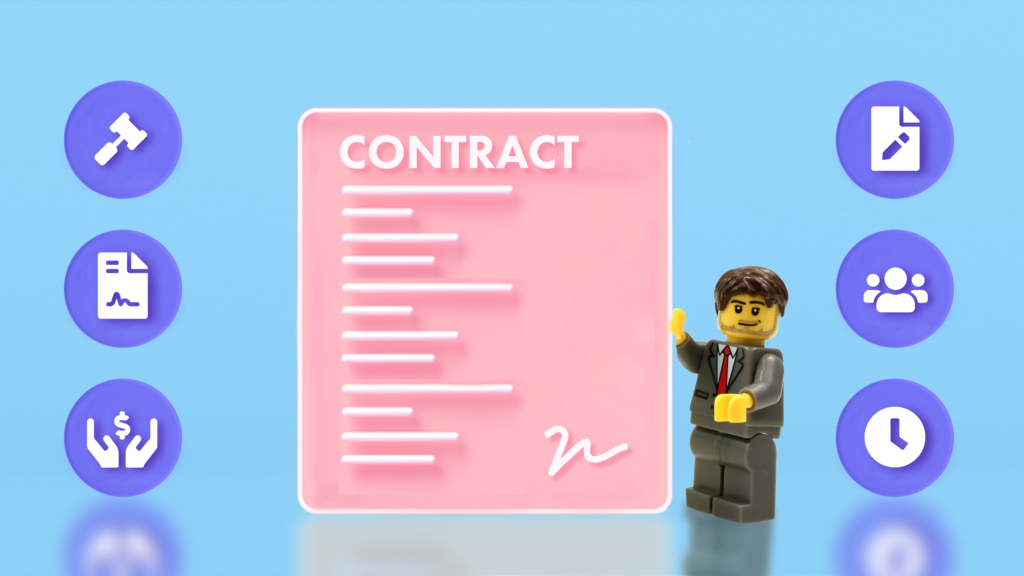 A business contract is exchanged in order to protect the rights of parties under the state law, and to clearly state what obligations each contracting party has. These contracts often specify the period of time, the terms of the contract, and specific provisions. Read this blog to know more about drafting and managing contracts using a contract management software.
Here are the seven most important components of a written agreement.
Including the who's who of the contract
These might be pretty basic key terms to be included in all your business contracts and it should answer who all are legally bound to the contract. Whether it is an LLC, a startup, a small business, or an individual contractor bound by the written agreement, including this key term helps establish personal liability. You can also sue the parties signing the contract – so this makes a significant difference. In many business contracts, you might also want the parties to have personal guarantees. The key here is to think in terms of who will be responsible in case something does go wrong.
Representations and Warranties
This section addresses the underlying facts of your business contract. Representations are essentially the minimum necessary qualifications for a party to provide the services or deliverables covered by the contract.
For example, if you are the owner of a software application subscription, you represent that your software is compliant with all the major laws and that all requisite software permits and certifications have been obtained when building this software in your service agreement contract.
However, when it comes to warranties, for example, it is reasonable to expect something from your software partner. Let's suppose a contract involves custom software development. In that case, it is best to get both parties to work together collaboratively and iteratively to develop such clauses for the solution. These clauses safeguard both of them and provide dispute resolution in case of cancellations, or breaches.
Payment terms
Usually, even before the creation of a written contract, the payment terms and the payment methods are decided. It remains one of the major components in all business contracts and must be stated in writing. If your payment terms are complex, it is best to have your accountants or lawyers review them before your contract is finalized. Most types of contract include payment terms.
Term length and grounds of termination
Is your contract set to expire on a set date?
Is this dependable on when the deliverables have been received?
Or, does your business contract renew automatically?
Depending on the agreement, you might also need to include built-in compensation. Besides the term length, a business contract also needs to include a termination clause that will give the provisions of how to deal with unexpected shutdown of work or closing/termination of an agreed contract term.
This component also includes the expiration date, or how much notice period the party needs to provide before it can terminate without a cause.
Confidentiality and Restrictive Covenants
If you need to share confidential information with the other party, it is always wise to include a confidentiality and non-disclosure clause. This will prevent any party from misusing proprietary information and help protect your business. Other restrictive covenants include non-compete agreements and non-solicitation provisions. If these are included, it is important to define the remedies if there is a dispute with the breaching party.
Insurance and Indemnification
One of the essential objectives of any business contract is to manage risks and protect both parties from an unexpected turn of events such as property damage, personal injury, etc. Therefore, business contracts include an insurance clause that requires parties to maintain defined insurance policies at certain policy limits. The indemnification provision is used to negotiate which party will handle covering the damages or losses under the contract that is not covered by insurance.
Finding the indemnification clause can often be a daunting task. For example, when looking for the clause, the keywords to search for will be 'indemnify,' 'defend,' or even 'hold harmless.' The other hack is to use Metalens, a feature that scans your business contracts and highlights contract clauses that carry risks.
Boilerplate provisions
Often referred to as the 'Miscellaneous' provisions at the end of the contract, they appear right at the end of your business contract and cover a wide range of topics.
Notice – This describes how one party can inform the other of its intent to terminate or make amends to the agreement.
​Modification – This explains whether the terms of the agreement may be amended, assigned, or waived.
Venue – This will help determine where and in what court(s) a dispute may be brought by a party or whether the parties will submit a mediation or binding arbitration, etc.
Force Majeure – This explains what happens to the business contract if the circumstances are beyond the control of either party and make it impossible to carry out regular operations. This clause accounts for the possibility of suspending or ending the participating parties of their obligations.
Critical clauses to be included in business contracts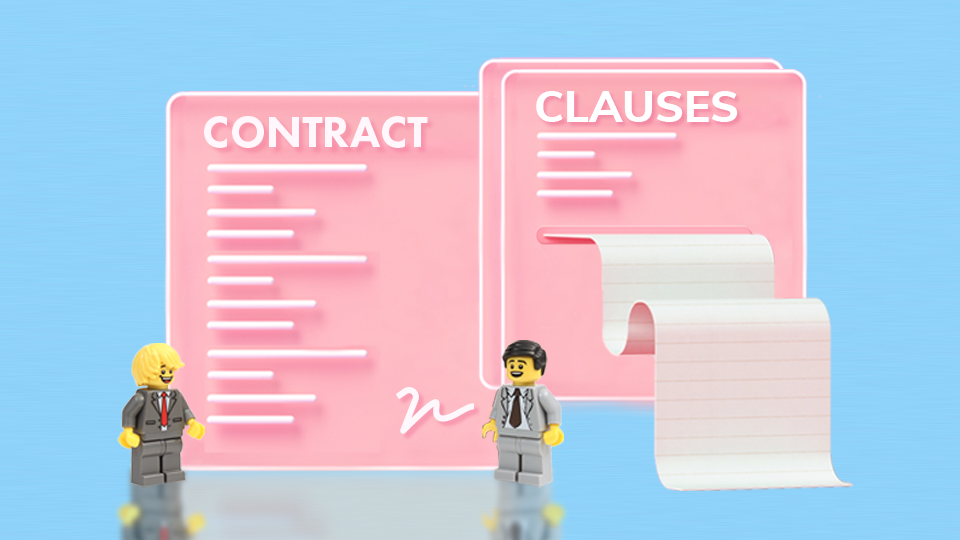 Enforceable contracts are detailed documents. But sometimes, all that a contract needs are two signatures on a piece of paper and one or two sentences. However, in the United States, your legal teams might disagree and ask you to lay out the terms and conditions explicitly, using clauses to safeguard your business in case of a breach.
All the clauses detail the contract's provisions, who are the parties, who gets paid, and what happens if one party does not deliver or if one wants to quit. These contract clauses are sections that address the specific aspect of the agreement. It not only defines the duties, rights and privileges but also outlines 'in case of scenarios' which is necessary when doing business. Usually, contract clauses are found towards the end of the contract after the requisite elements of a business contract (the offer, acceptance, consideration, and legalities) have been addressed. Here are some common clauses and some examples of contracts that you'll find them in.
Statute of limitations clause
This clause in a contract gives both parties a fixed time limit for filing a lawsuit in case of a contract breach. This contract clause cannot conflict with any existing law and many states do not enforce a shorter statute of limitations than what is already mentioned.
While the statute of limitations clause is not applicable in criminal cases, it is often used when a party wants to sue for medical malpractice or due to consumer debt because creditors have a certain amount of time in which to collect on the debt.
Time is of the Essence clause
If this clause exists in your contract and you fail to find yourself completing obligations in time, you may find yourself late to a very important date like the White Rabbit in Alice in Wonderland. When it comes to business contracts such as real estate, construction, and other service contracts, the courts often don't consider timing to be important. They believe minor deviations are not important enough to warrant damages or termination. But when it comes to the timing of a loan contract, the lender's failure to pay can be considered a breach. This is why, when parties want to include a clause in the contract that makes it abundantly clear that the obligations have to be completed on time, they include the 'Time is of the essence' clause.
Sunset clause
The sunset clause, if present in a contract, sets an outer time limit on the contract's viability. If either of the parties is unable to consummate the contemplated transaction by the set date in the clause, either party has the right to walk away from the contract.
Indemnification clause
Also known as the hold harmless provision, the indemnification clause in a contract is used to shift potential costs from one party to another. In mutual indemnification, both parties agree to compensate in case of losses caused by the indemnifying party's breach of contract. In one way, only the party provides the indemnity. This clause is often heavily negotiated. To cite an instance, agreements that involve the sale of intellectual property rights often include this clause by the seller to protect the buyer against potentially large liability associated with an infringement lawsuit by a third party.
Non-waiver clause
The word 'waiver' is defined as 'an act or instance of waiving a right or claim.' The non-waiver clause precisely prevents parties from inadvertently waiving their contractual right. Generally speaking, the purpose of including this clause in a contract is to protect the party who excuses the other party's non-compliance with contract terms. This clause also prevents the parties' course of conduct under the contract from resulting in the loss of enforceability.
Attorney Fees clause
In the event of a contract breach, this clause helps provide the injured party attorney fees that were accumulated during the legal proceedings. This often includes incidentals such as court fees.
Confidentiality clause in NDA
This helps businesses to protect their trade secrets and keep other business matters confidential. The confidential clause bars the receiving party from disclosing information specified under specific circumstances. This might be included in any contract, but they are also found in stand-alone contracts called confidentiality agreements or non-disclosure agreements.
Exculpatory clause in a contract
This clause limits a party's liability for damage incurred during the performance of the contract obligations. For example, if a dry cleaning company includes an exculpatory clause in its service contract, it releases the company from liability if clothing is damaged during the dry cleaning process.
Non-compete clause
Often included in employment contracts, it prohibits employees from working and competing with the employer during a set span of time, like by working with a competitor. This clause also mentions states, and regions where the employees cannot compete as well as the relevant scope of the service and skills.
Arbitration clause
The arbitration clause is included in business contracts because it specifies how the parties can resolve disputes. By including the arbitration clause, the parties usually agree to solve issues through arbitration rather than litigation. This also specifies that the arbitration will be binding and that both parties must abide by the ruling and cannot appeal in court.
This clause allows a neutral third party to work with the parties in the contract and is often much less formal than a court proceeding. If no mutual understanding is reached, the arbitrator can issue a ruling on the dispute.
Draft stunning and error-free contracts with Revv
By and large, irrespective of what's included in the contract, the clause is only enforceable when it doesn't conflict with existing laws. For example, the statute of limitations or the arbitration clause. This is why it is difficult to write contract clauses from scratch. But with Revv, you can create any business contract seamlessly.
Revv provides legally vetted contract templates that you can customize according to your requirements.
How?
With the feature-rich document editor provided on our platform, you will be able to add or edit text, insert images, connect to Google Sheets, integrate your payment system, and more. You can even make changes to your existing contract templates by simply uploading your document in Microsoft Word or PDF format.
Revv not only provides solutions to create and manage your contract documents but also offers a lot more.
1. Flexible eSigning options
A contract document becomes legally binding only when it is signed by the involved parties. With Revv, you get templates to create your contracts along with the capabilities to close them faster using our eSignature option. After your contracts are created, you just need to add signature tabs to them wherever required and send them for eSign.
Revv provides bank-grade electronic signatures that are safe, and compliant. It adheres to the mandates as stated by the eIDAS Regulation, E-Sign Act and UETA.
To sign documents, recipients are also given multiple eSign options. With Revv, it is easy to customize and gives a personal touch to your signatures. You can choose from:
Pre-formatted text styles: You can sign contracts by simply typing your name and choosing from the pre-formatted text styles. For instance, if your name is Janet Jacob, in the Text sign option, you can personalize the name as JanetJ, JJ, JJacob, or in whichever way you want to customize it.
Draw your signatures: Recreate your handwritten signature by drawing your signature using a mouse or digital pen.
Sign off using a crypto wallet: You can connect your crypto-walled and sign the contracts easily.
Scan and upload: Still like to see your handwritten signature on the contract documents? Revv offers the right solution for it too. All you have to do is use a pen and draw your signature on paper. After that, upload the image of this handwritten signature by simply scanning it.
2. Cost-effective and alternative solutions for eSignature
Contract documents are complex and mistakes can happen while drafting them. Sending the wrong document for eSign, not only adds up work for revising them but it will also cost you (for the eSign service). You can save both by exploring various collaborative features provided by Revv.
Solution 1
Before sending contracts for eSign, make them error-free with the Notes feature. It is a real-time collaboration feature provided by Revv. You can get your contracts thoroughly reviewed by your peers, or by the legal advisor of your company by simply tagging the concerned person with @mentions. The tagged person will receive an email notification for the same.
If the user wants additional information from a team member to be incorporated into the contract, he/she can do it by adding a Public or Private comment addressing the concerned person. The real-time collaboration feature makes the review process easier and improves turnaround time.
Solution 2
There will be contracts that need acceptance or approval from higher management, or certain clauses need to be reviewed by the involved parties. In such cases, before sending the contract document for eSign, you can opt for the following approval features provided in Revv that suits best for you:
Check and send for internal approval: Before sending contracts for eSign, if you want them to be reviewed or approved internally by higher management or peers, you can do that with this feature. Set precise triggers and automate your document approval workflows with this option.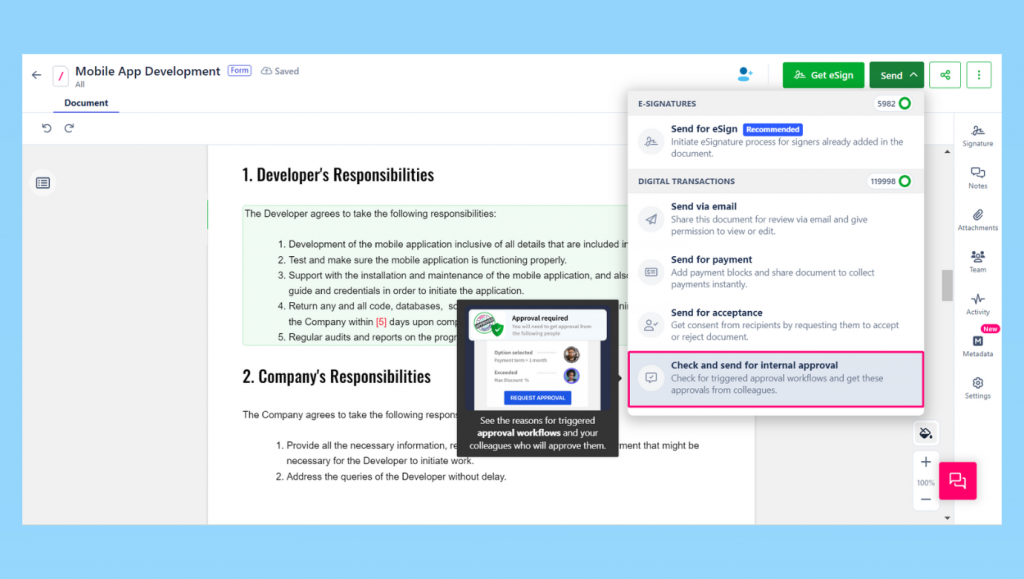 Send by email: You can choose this feature if you want feedback or review on certain clauses or terms and conditions mentioned in your contract from a third party or from someone outside the company. For example, you have created a service contract, and before sending them for eSign, you need to check upon certain terms and conditions with the client/vendor. In such a case, you can share your contract document for the vendor's review via email and give permission to view or edit it.
Send for acceptance: This option is similar to a clickwrap signature where you just want your recipient to accept or reject a document.
Time is of the essence. With Revv, you can now take the cumbersome processes and compliance issues out of contracts, simultaneously boosting the productivity of your workforce. What are you waiting for? Let us take the hard work out of drafting contracts! Try Revv's contract templates.