Contracts are no enigma to understand – two or more parties agreeing to common terms to do certain things that are enforced by law.
Contracts have been in existence for decades and have always been an essential underpinning to operate a business efficiently.
However, in today's time, businesses are working around the clock striving for mushrooming growth. Relying on the old and manual ways of managing contracts can no longer suffice the current business needs.
Why? Because –
94% of people say that human error impacts the contract process to some degree – adding risk, rework, delays, and costs. (
Source
)
Business success depends on its stakeholders – employees, partners, customers, etc. Contracts bind them together to function in tandem as per the contract terms. It plays a prime role in generating revenue, strengthening business relationships, and, most importantly, ensuring business continuity.
With so much at stake, a small error in management of contracts can significantly impact businesses on a larger scale. After all, every avalanche begins with a snowflake. ❄️
The average Fortune 1000 company has between 20,000 and 40,000 active contracts. (
Source
)
More volume of contracts = Complicated contract management 📄
Don't fret! A superhero is born to protect businesses from the downfall of poor contract processes and bless businesses with a spiral of productivity and growth.
Ladies and gentlemen! Presenting contract management software (a.k.a contract lifecycle management (CLM) software).
If you are looking for specific information, you can click on the below links and jump to the section of your choice, or, read on.
How do contract management systems work?
Also known as CLM software, a contract management software redefines business relationships. It combines the strengths of digital technology and machine learning to effectively manage the entire lifecycle of contracts end-to-end.
It helps legal and business teams to act fast, intervene timely, and make the right decisions.
It streamlines the contract management process, makes it error-free, increases compliance, mitigates risks, and liberates legal and business teams from administrative tasks.
Contract management systems also provide flexibility to expand features and integrate third-party tools like CRM, ERP, accounting software, etc., to accommodate the needs of business functions – for which it scores the brownie points.
"What gets measured, gets managed" — Peter Drucker
It also tracks and measures the contract KPIs and delivers the efficacy of contract management. It helps the contract managers to monitor the progress and accomplish objectives against contracts.
Overall, it acts as a guardian angel for businesses and is embraced by organizations with open arms.
The global contract lifecycle management software market is anticipated to grow at a CAGR of around 10.2% during the forecast period 2020 to 2027 and to reach around US$ 3.0 Bn by 2027.
(Source)
Now, let us take a deep dive and understand the stages of an entire contract lifecycle.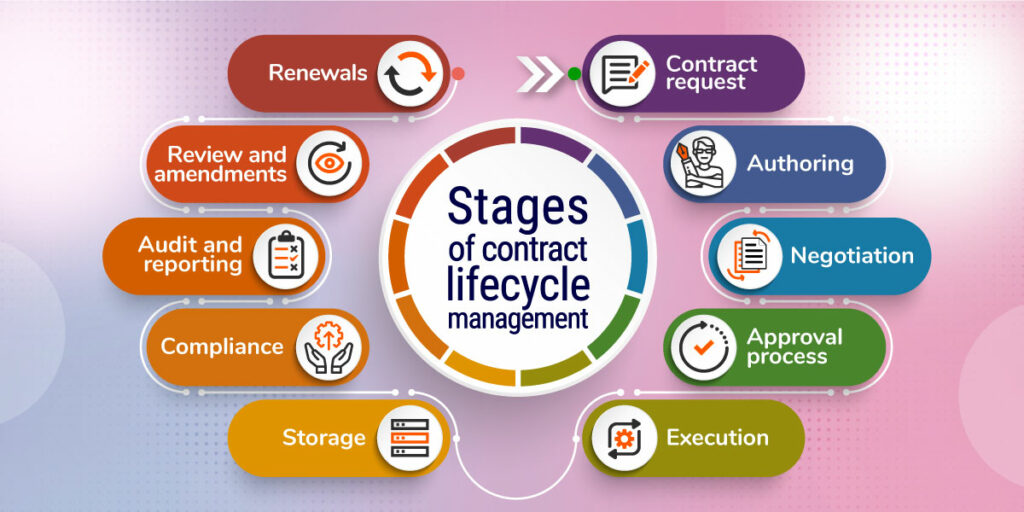 1. Contract request
This stage sets the wheels in motion. A contract request is fed in the system where both parties (the seller and the buyer) clearly express their expectations.
This is the foundation of contract creation. Make sure there is no gap and all the crucial information – pinning down partner's requirements, establishing goals, understanding the terms, and identifying key documents and supporting information – has been known.
2. Authoring
Once the tone is set in the previous stage, it is now time for contract creation. In this stage, the contractual terms and clauses are written for new contracts or edited for routine contracts.
This is also the stage to create templates and a clause library. This enables business teams to quickly find a perfect fit from the contract templates based on the contract type.
3. Negotiation
Here the parties negotiate the terms laid out in the authoring stage and redline the document. This stage brings clarity where both parties come to a common understanding and set the right expectation.
Quick bite: Redlines are adopted from proofreading hard-copy documents and marking the changes with red pencils. The same concept is used by contract management software to highlight the changes that can be viewed by both parties.
Contract management software also facilitates versioning or version control. It automatically creates a new version of a document whenever there are edits. It helps the team to track down the latest document and work on it.
4. Contract approvals
Once the contract is revised based on the new agreements and negotiated terms, it is sent for internal or external approvals.
5. Contract execution
The deal gets sealed in this step, and the contract comes into effect after both parties sign it.
6. Contract storage
Businesses also need to store contracts somewhere and maintain a contract repository for easy search, track, and retrieval.
A smart contract management software provides e-filing cabinets to store and organize contracts. It indexes the documents with the respective metadata for document retrieval.
It also comes with Optical Character Recognition (OCR) capabilities to convert PDFs and images into rich text documents.
Quick bite: Metadata is the description of stored contract data.
7. Compliance
Compliance implies that the parties comply with all the terms explained in the contract, along with the rules and guidelines set externally by the government, industry associations, and other ruling bodies.
8. Audit and reporting
A contract management system provides an audit trail and records all contract-related information – who touched the records and when, who made the changes, etc. This information helps to identify the bottlenecks and compliance issues and take action if a contract is litigated.
Most importantly – it always keeps businesses audit-ready.
Quick bite: The audit trail is a log of all the changes in chronological order that have been made to a database or file.
9. Review and amendments
In this stage, reports are reviewed to check on a contract's progress and identify if it demands amendments. It helps to proactively work on the changes and make informed decisions well before the contract renewal date.
10. Contract renewals
This is the last stage of the contract lifecycle which decides the fate of the contract – whether to terminate it, renew it, or create a new contract. A contract management software solution notifies the users well in advance through automated alerts for deadlines and renewal dates.
Why do you need contract management software?
Contracts have always been an innate part of organizations.
But, with increasing business complexities, demanding customers, and businesses being neck-deep busy to accomplish goals, old ways of managing contracts manually become a big bottleneck to an organization's success.
The below points make a strong case why businesses should ditch manual contract management and go the contract management software way.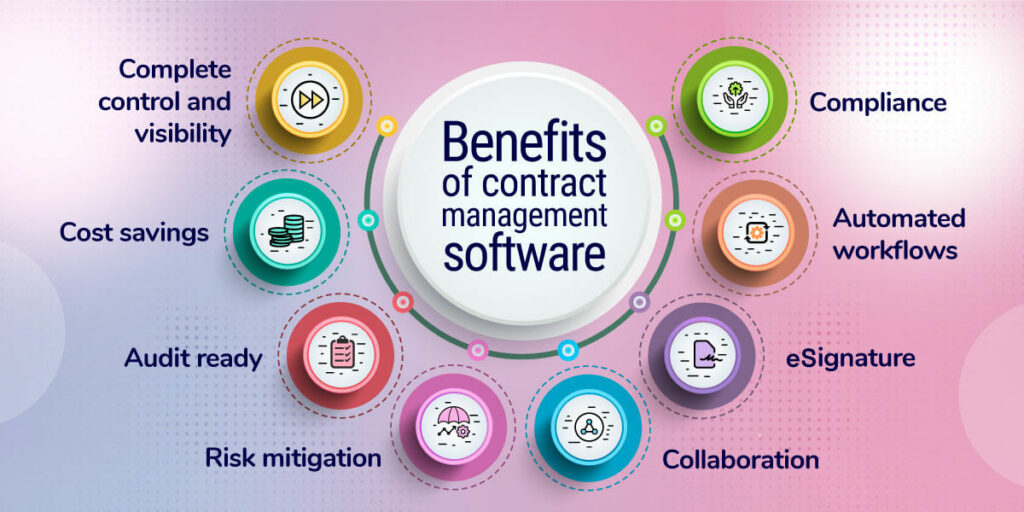 Complete control and visibility
Manual ways are often unorganized where the files or multiple copies/versions of files are randomly stored in physical cabinets or in personal drives of contract managers. This clutter of files becomes unmanageable to track and becomes worse if the contract manager exits the organization leaving the team in chaos.
A contract management platform provides a centralized contract repository which enables teams to –
Access up-to-date contract templates, clauses, and contract data
Work on the latest copy of contract through version control feature
Searching for relevant information in a fraction of seconds
Cost savings
Incomplete visibility of contracts can result in unintended contract terminations and renewals.
A contract management platform streamlines business processes and empowers organizations to create, amend, or renew contracts within the timelines and make informed decisions.
Eliminating inaccuracy and non-compliance can mean 33-41% of cost savings. (
Source
)
Audit ready – always
Audit trails take off the painful and strenuous task of manually investigating and finding the loopholes, and streamline the audit process. With audit log functionality, the entire contract history can be accessed in a few clicks. It brings efficiency and accuracy throughout the business.
Risk mitigation
A contract management software leaves no room for ambiguity. It equips businesses to run a contract management process smoothly. It brings uniformity and enables them at each stage through analytics, artificial intelligence (AI), templates, notifications, etc. This significantly reduces the risk factors and prevents businesses from landing in trouble.
Compliance
With multiple teams working in silos, it becomes almost impossible to bring everything together to common standards. Organizations often overlook this part and do it offhand.
Non-compliance costs 2.71 times more than the cost of meeting compliance requirements. (
Source
)
A contract management solution increases compliance management by standardizing processes and methods and aids in immediately pinning down on any kind of transgression.
Approval workflow automation
Contract reviews and approvals are crucial steps in contract management. But, manually tracing an approval workflow is challenging and not scalable, especially when an organization deals with a copious volume of contracts.
No clear visibility in the approval process can lead to delays and eventually losing out a golden opportunity.
A contract management software offers customized contract workflow automation to speed up the entire business process. It also gives clarity in the tracking of approval process – who has reviewed it, where it is stuck, and by whom – and helps to take relevant measures.
Electronic signatures
Waiting for the parties to be physically present and wasting time over wet signatures is a practice of the past. The manual signing of documents provides no security and safety since paper documents can be easily accessed and forged. Costs associated with paper-based processes also add to the woes.
Many contract management systems offer an in-built electronic signature feature to overcome the above problems. Some even provide flexibility to integrate a third-party e-signature software.
Contract collaboration
Contract management solutions facilitate internal teams and external parties to collaborate in real-time from anywhere. It saves them from the back-and-forth of never-ending and confusing email threads.
Who needs a contract management solution?
The features and user-friendly functionality of contract management software make it a perfect partner for most business function teams in an organization.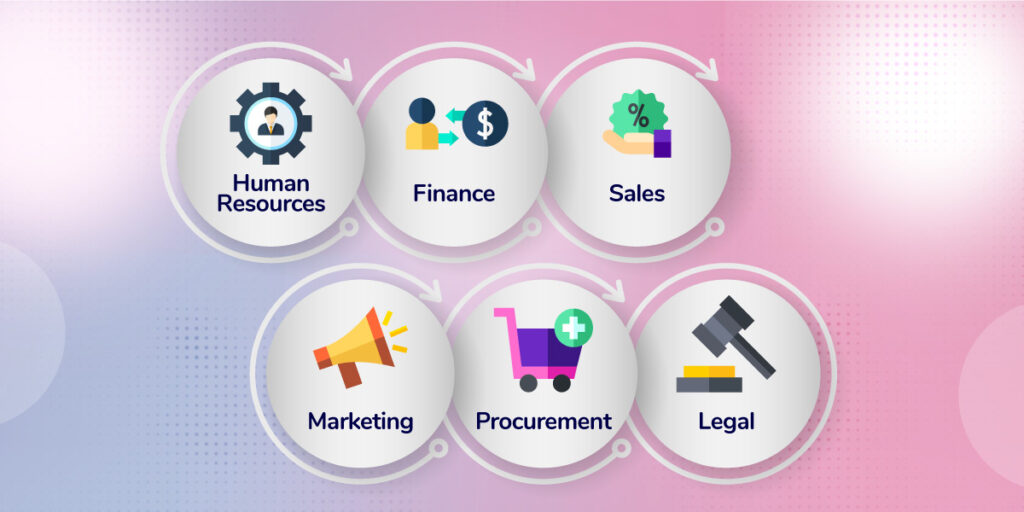 Businesses get into different types of contracts (unilateral and bilateral) on a daily basis for different reasons. The features and user-friendly functionality of contract management software make it a perfect partner for most business function teams in an organization.
Human Resources (HR)
A contract management solution helps HR departments to streamline all their contract-related jobs –
Creating HR documents like employment contracts, non-disclosure agreements, etc. and obtaining electronic signatures
Managing documents with third-party recruitment agencies
Extending the employment agreement for contractors, etc.
Timely reminders to prepare in advance
Integration with Human Resource Information Systems (HRIS) to improve the efficiency of HR operations
Finance
Contract management software empowers finance teams in many ways. It helps to –
Keep track of contracts
Create triggers for approvals to ensure that all crucial documents are sent for review before signing
Track renewals
Identify cost-saving and revenue opportunities
Keep a tab on vendor payment
Sales
Sales teams are always on the run to bag new customers or projects. Contracts are legal documents that are integral to a sales process. It is how the sales teams clinch the deal. Any obstacle in the contract process can impede them from achieving their sales target.
65% of people say that their contract process has caused delays in closing deals. (
Source
)
A contract management software enables them to reduce the contract generation cycle, collaborate with customers in real-time to address any issues, and accelerate the legal processes of signing and closing the deals.
The software's integration with other CRM tools like Salesforce, HubSpot, etc., allows them to manage the entire sales process end-to-end.
Marketing
Marketing teams often work with media, PR agencies, gifting vendors, and event marketing companies. Some organizations even outsource their designing work to creative agencies.
In such cases, it becomes extremely important to write down contracts with agreed terms and conditions, monitor the vendor service, and renew, revise, or terminate the contracts accordingly. The marketing team achieves all this with the right contract management platform.
Procurement
Procurement teams play a key role in supply chain management. Their prime job is onboarding suppliers, hand-picking the best goods and services, and timely procuring them. This can only happen once the vendors are selected, negotiations are done, and the contracts are signed.
Manual processing of contracts can result in longer lead times that can disturb inventory management and business operations.
Also, procurement teams deal with multiple vendors at any given time. Manually monitoring each contract, seeking approvals, tracking the renewal dates become a laborious task and also leave room for mistakes.
Procurement teams get highly benefited from contract management software. It provides clear visibility over contracts and suppliers, reduces lead times, increases transparency, and boosts productivity.
Legal
Legal teams or legal departments can never escape contracts as they play an instrumental role in managing risks and ensuring conformity. From negotiations and drafting to approvals, legal teams are involved in each stage.
Contract management software helps the legal teams to accelerate their contract creation process with ready-to-use contract templates and a clause library. It provides real-time insights to monitor the progress of contracts and intervene at the right time.
To sum up, contract management systems are beneficial to all businesses – small, medium, or big. It gives them speed, automation, and seamless processes – all that is a must to succeed in today's fast-paced digital world.
What are the top contract management solutions?
Today, many contract management vendors are also available as SaaS platforms to match the business and pricing demands of all types of organizations.
It allows businesses to thrive on the capabilities of a contract management tool while bringing down their IT-related operational and maintenance costs.
Here's our list of top contract management tools –
Revv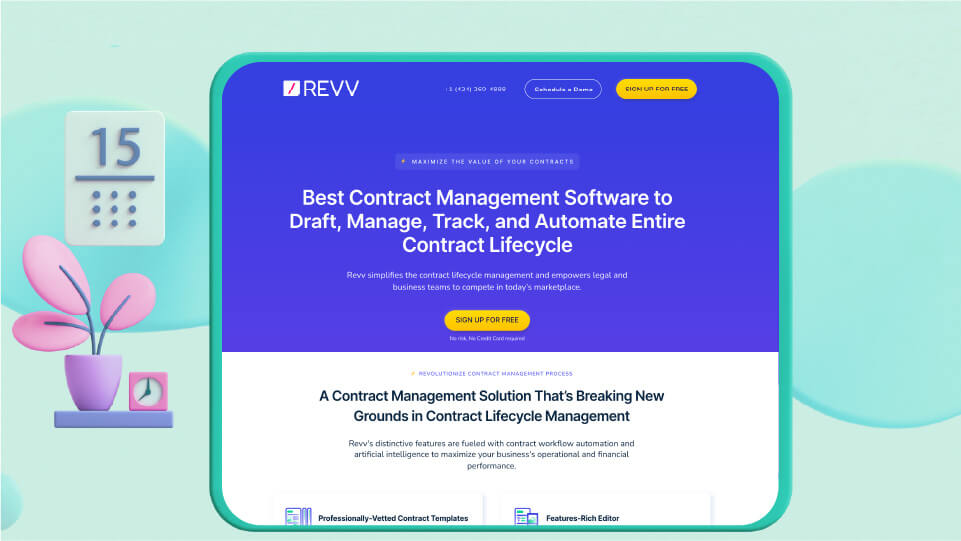 Packed with advanced features, Revv is one of the best contract management tools in the market. It is a contract automation platform that streamlines a contract's lifecycle end-to-end.
It offers –
These key features and easy-to-use interface make Revv one unified workspace to manage contracts.
Revv offers both monthly and annual billing plans. The annual plans can lead to savings of up to 20%. Here are its four pricing plans based on annual billing –
Forever free plan – $0
Basic – $15/user/month
Premium – $39/user/month
Business – $79/user/month
Enterprise – Custom plan designed to meet the enterprise level needs
Find here details about Revv's pricing plans.
Sign up here for a free trial!
Agiloft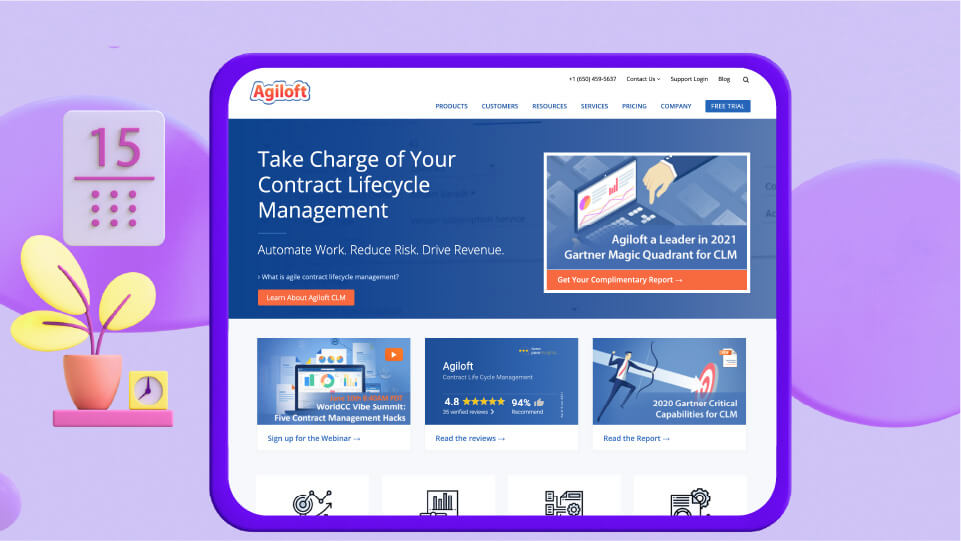 Agiloft is a contract and commercial lifecycle management (CCLM) software that assists organizations in optimizing value-creating activities through contracts. Agiloft is available for both cloud service and in-house deployment.
It offers –
Contract repository
Template and clause libraries
Automated approval workflows integrated with email and text alerts
Electronic signatures with Adobe Sign and DocuSign integration
Customized reports and automated alerts
Integration to ERP and CRM systems
Custom dashboards to track KPIs
Agiloft provides multiple pricing options – free, professional, professional extended, enterprise, enterprise extended. There is no fixed price on paid plans. Each package can be customized based on requirements and budget.
All plans are dependent on the number of users and charge $65 per user per month.
Concord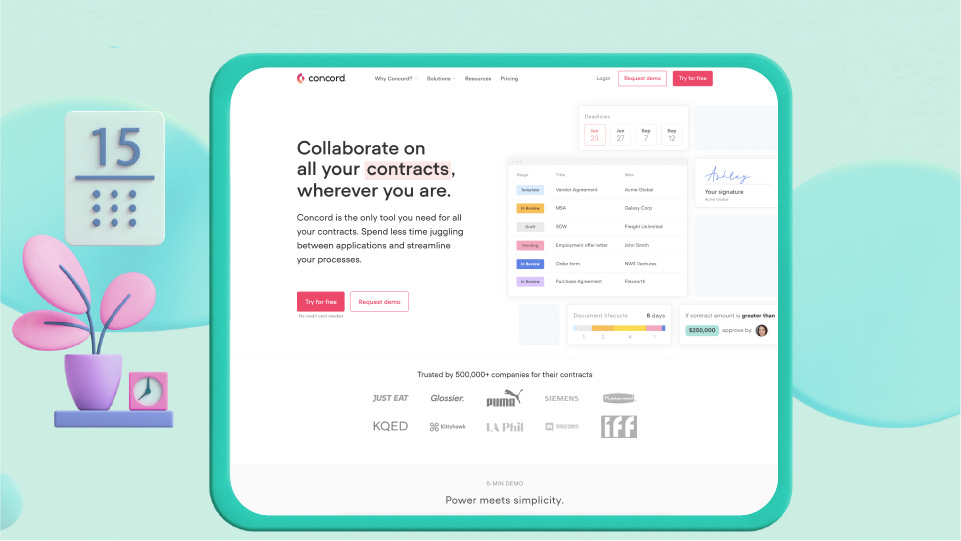 Concord provides a lot of flexibility, and you can set it up within minutes.
It offers –
Template building and clause library
Real-time editing & redlining
Automated versioning
Private/public chat & commenting
Approval workflow automation
Electronic signatures
Audit trail
Contract storage system
Automated alerts
Integration with Salesforce, Google Drive, SSO, DocuSign, Dropbox, and box
The pricing of each package is based on the number of users. Here are Concord's pricing plans –
Free
Standard – $339 per month for five users and afterward $17 per additional user
Pro – $419 per month for five users and afterward $34 per additional user
Enterprise – Get a custom quote
PandaDoc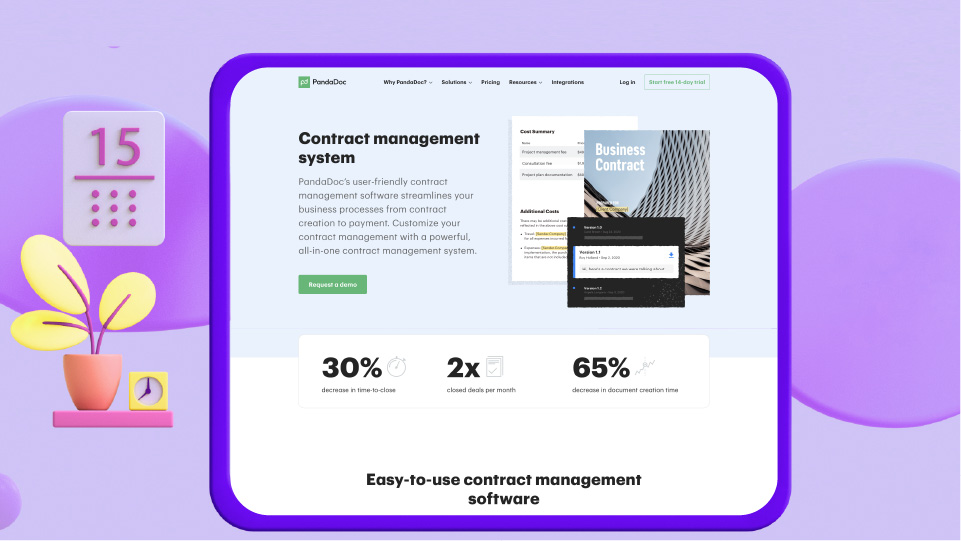 PandaDoc is both a contract and document management platform with a multitude of features to process end-to-end management of contracts.
It offers –
Contract templates
Rich editor
Pre-approved clause library
CRM integration
Electronic signatures
Automated approval workflows
Redlining
Centralized storage
Contract collaboration tools like in-line commenting and document chats
Payment processing
Real-time notifications
When it comes to pricing, PandaDoc offers both monthly and annual plans. The annual plans can lead up to a saving of 24%. The following plans are based on monthly billing –
Free
Essentials: $25 per month per user
Business: $59 per month per user
Enterprise: For businesses that require more capabilities, PandaDoc offers a customized solution and package.
PandaDoc provides 24/7 email and chat support on all paid plans.
ContractWorks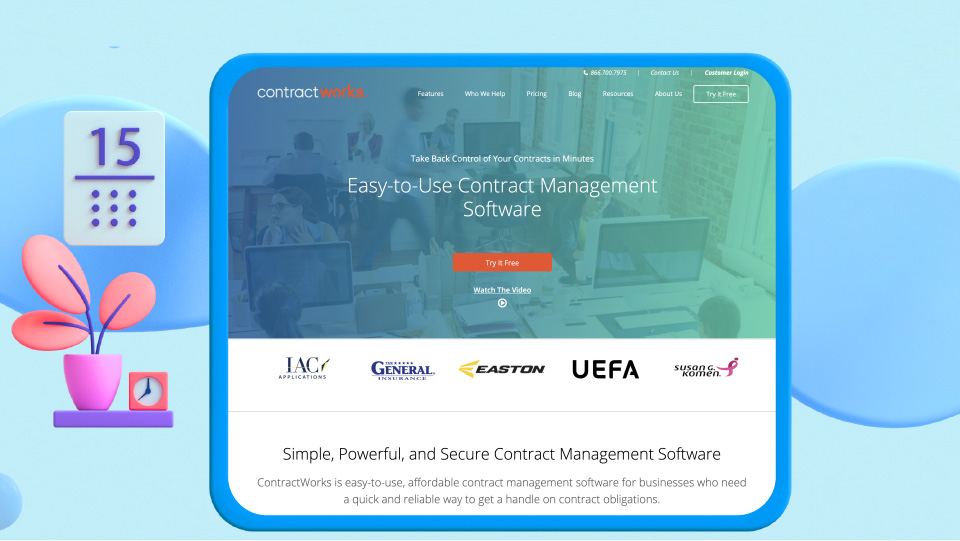 ContractWorks is a user-friendly and customizable contract management software that is also easy to set up.
It offers –
Document templates
Customizable form fields
Secure contract repository
Smart document tagging
OCR and advanced search capabilities
Audit trail
Electronic signature
Unlimited alerts and notifications
Customized reporting
Permission-based user roles
Salesforce integration
ContractWorks provides three pricing plans. All plans offer unlimited users, but with a cap on the number of documents for each plan.
Standard: $600 per month for 2,500 documents
Professional: $800 per month for 10,000 documents
Enterprise: $1,000 per month for unlimited documents
Outlaw
Outlaw's contract management platform is packed with a good set of features and AI-driven analytics.
It offers –
Pre-vetted dynamic templates
Redlining and version control
Built-in dynamic clause library
Automated contract workflow
Analysis and reporting
Contract status tracking
Third-party integrations (CRM, ERP, etc.)
Dynamic fields
Real-time updates and notifications
AI-powered OCR
Personalized saved searches and dynamic foldering
Electronic signatures
Outlaw comes with two pricing plans and offers both monthly and annual billing. The annual billing can save up to 20%.
The plan divides users into two types – core users and collaborators. Core users own the account with complete control of templates, reports, and teams. The collaborators are active users and signers who can draft, collaborate, and manage contracts but cannot edit templates.
The payment plan starts with a core user. Later, the collaborator seats can be added to the plan once there are more than five core users. The following pricing is based on the monthly billing –
Core users – $125 per user per month
Collaborators – $60 per user per month
Outlaw provides onboarding and customer support services for plans having more than five core users.
Please note that all the above-mentioned information is taken from company websites, comparison websites such as GetApp, G2, Capterra, and others. Since companies keep adding features, some of the information may be out of date. Let us know at support@revv.so if there's any information here that needs change, we'll verify and update as quickly as possible.
Key takeaways
Contracts are the building blocks of businesses. But poor management of contracts can leave organizations clueless and cause serious ramifications impacting business growth.
A CLM software brings a systematic and standardized approach to manage contracts through automation, artificial intelligence, and advanced functionalities.
"It's no longer the big beating the small, but the fast beating the slow." — Eric Pearson, CIO, International Hotel Group (IHG)
Don't let unorganized contract processes slow down your business operations.
Find and implement the right contract management software based on your business needs, and,
Get, Set, Go!
Need assistance in managing and automating contracts?
Reach out to us at sales@revv.so
Frequently asked questions
What is the best contract management system?
Revv is the perfect contract management solution that optimizes each stage of the entire contract lifecycle. Its contract automation tools empower contract managers to create new contracts within minutes, enhance contract visibility, track contract changes, integrate with other applications, automate workflows, collaborate, reduce compliance risk, and far more.

It provides flexible pricing options that work well for all kinds of businesses. It is user-friendly and easy to set up. 

Revv's sign-up is free (no credit card required).
What is a CLM platform?
A CLM or a contract lifecycle management platform streamlines and automates all the stages of a contract lifecycle –  contract request, contract authoring, negotiations, approvals, execution, storage, compliance, audit and reporting, reviews, and contract renewals.

It simplifies the workflows throughout the contract lifecycle, enhances contract performance, and increases business productivity.

Sign up for free and try out yourself!