Managing contracts is pivotal for all businesses. Contracts determine the relationship between business owners and other stakeholders, defines the scope of work, lists the rights and obligations of all the parties, sets the timeline for various projects, and other major functions of any business.
But, how will you ensure that the contract you signed is a binding agreement in the eyes of law?
Laws are framed to keep life fair and orderly, the same concept applies to business. Business documents, like contracts, require laws to resolve issues and function well.
Before plunging into the various elements of a legal contract, let us understand the meaning, purpose, and importance of a contract.
What is a contract?
A contract is a commitment that forms the basis of any formal relationship. It is a document that lists the terms to which the parties agreed upon, roles, and responsibilities of all the parties involved in the contract.
It is formed when all the involved parties come to a meeting of the minds to form a legally binding agreement.
Purpose of drafting a contract
Now that you know the meaning of a contract, the next step is to understand why a contract is formed.
Be it a startup, a small business, or a huge enterprise, all institutions need to have multiple valid contracts for smooth functioning.
Here are some common reasons for drafting different types of contracts-
To establish a formal relationship between different parties
To prevent misunderstandings during the course of the binding agreement
It acts as a proof of agreed terms in cases of breach of contract
To safeguard the intellectual property rights of all the parties that are part of the contract
Why is it important to have a written contract?
Oral contracts might be valid and successful if the parties abide by what they said under all circumstances. But what if they don't? Will oral contracts be an ideal choice in such a scenario?
Obviously not!
Oral contracts can be voidable in cases of misrepresentation, undue influence, etc. You will be endlessly chasing the truth without a written record of the contract that you became a part of.
It is always better to have contracts in writing and registered according to the existing state law. The Statute of frauds also states that certain contracts need to be in writing to be an enforceable contract. Any law firm that assists its clients with legal advice would prefer having a written contract to prove a case if the deal goes south.
You can escape the repercussions of a faulty contract by drafting a memorandum of contract before the final contract is drafted and signed.
6 essential elements that make a legal contract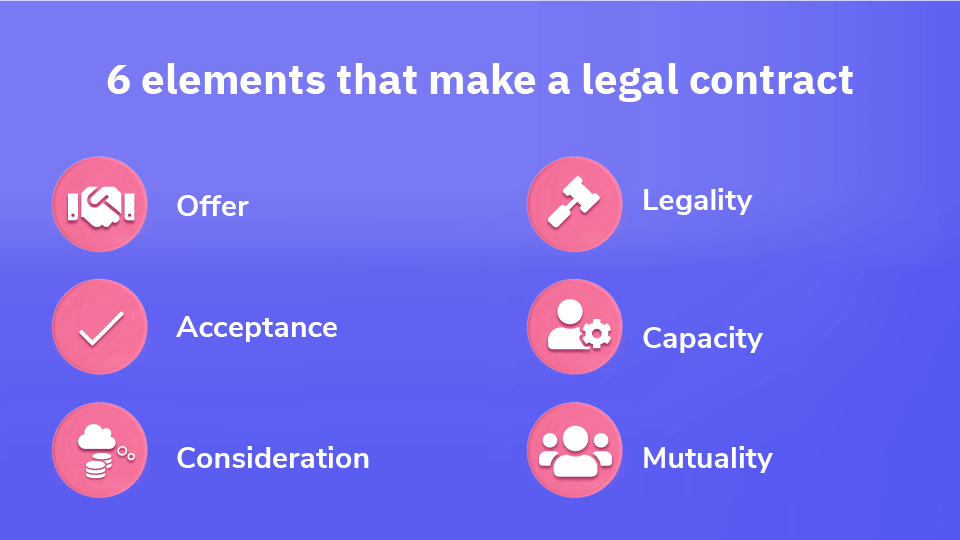 Contracts are tools that guide everyday business transactions. It is an agreement between two or more parties defining the exchanges of valuable promises. For a contract to be legally binding, it must fulfill some criteria.
Here are the crucial elements of a contract –
Offer: Any contract comes into existence when one party needs or wants something and the other party is capable of offering it. An offer marks the beginning of a contract, it is the statement presented by the offeror to the offeree. Any offer is promised in exchange for valuable consideration (money or other desirable outcomes). A valid offer should clearly specify the roles, responsibilities, and terms of the contract. An offer can be rejected directly or by making a counteroffer which automatically negates the initial offer.
Acceptance: This is the promisee's response to the offer presented by the promisor (or offeror). Only when the offeree accepts the offer, the contract becomes legally binding. Acceptance implies that the offeree has agreed to all the terms and conditions mentioned in the contract.
Consideration: This element ensures that the parties exchange something of value in the legal contract. Consideration is important in a contract to differentiate it from a gift or a one-sided statement.
Legality: It is crucial for contracts to abide by the state laws.It should have the required legal terms and clauses to ensure its enforceability in a court of law. Any legal action won't be applicable without a valid contract drafted according to contract laws, in case there is a breach or misunderstanding.
Capacity: This refers to the competence of all the involved parties in the eye of law to enter into a contract. A minor, someone under influence of drugs, people lacking mental capacity, etc. are not eligible to sign legal contracts.
Mutuality: Also known as mutual assent, this element ensures that all the parties involved in a contract have a common understanding of the terms of the contract before they sign it.
Benefits of forming a legally binding contract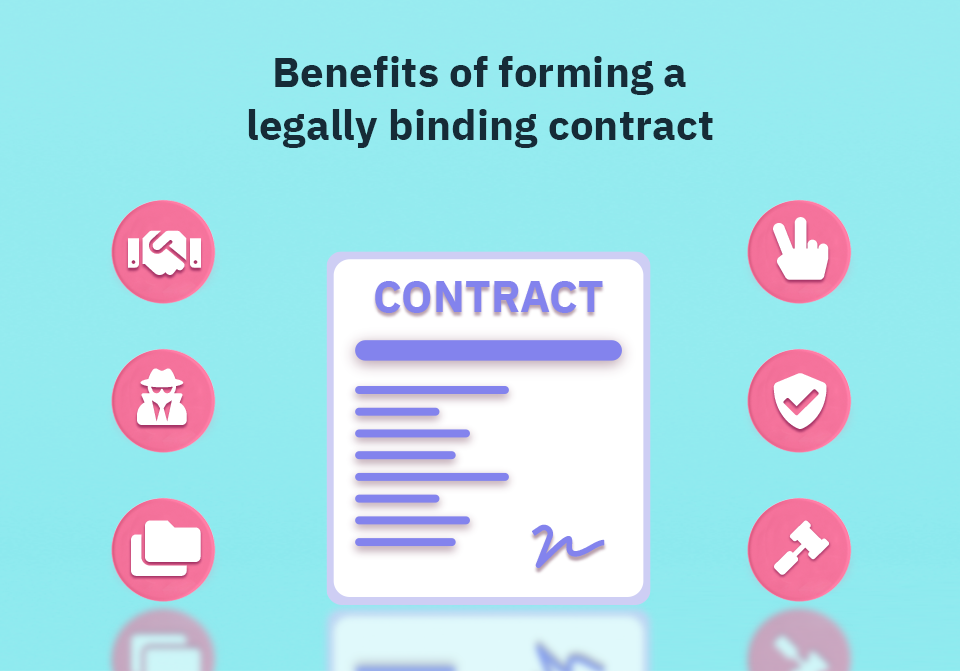 A well-drafted, detailed, and unambiguous contract is extensively beneficial to all types of entities entering into legal contracts. Forming written agreements should be considered a standard business practice. Be it a customer, contractor, supplier, partner, or investor, you must mindfully draft contracts before you venture ahead.
Here are some notable advantages of a legally binding contract you must know –
It brings clarity in business relationships
It safeguards confidential and sensitive information the confidentiality of sensitive information
It facilitates an official written record for further reviews
It provides security and peace of mind to all the contracting parties
It reduces chances of legal disputes and disagreements
What are the roadblocks in the way?
Running a business efficiently is a daunting task. You need to handle multiple things simultaneously. Imagine handling the legal repercussions of a faulty contract amidst all the hassle. It sounds scary, right?
Having a flawless contract is crucial to have smooth business operations. But, drafting the perfect contract is not that easy. Here are some issues that come in the way –
It demands a lengthy drafting process
You require external legal help to include the right legal terms and clauses
The absence of a collaborative space makes the review process quite messy with multiple email threads floating in your inbox
Manual signatures make the process of contract completion hefty
Churn out optimum legal contracts with Revv
Businesses require different types of contracts to carry out multiple functions. Creating these contracts from scratch is a cumbersome process. Therefore, there is an alarming need to leverage readymade contract templates to save time, resources, and to increase productivity.
Drafting a legal contract is easy when you join forces with Revv. You can access a wide range of contract templates to streamline the process of contract creation. The templates are drafted and proofread by a dedicated legal team to ensure top-notch quality. You can use the document editor to drag and drop elements of your choice to the contract template. This will help you maintain your brand identity.
Advantages of using Revv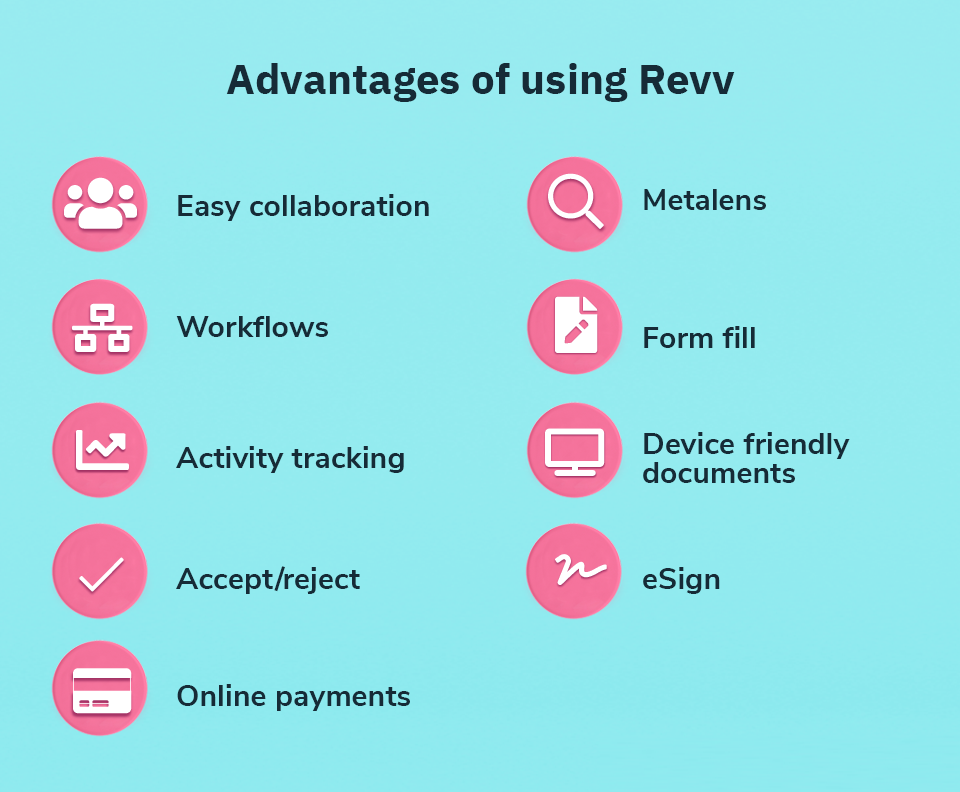 Revv is not just limited to templates but has a set of other features that benefit all the involved parties in a legal contract –
Easy collaboration – You can collaborate with multiple users within the document with the help of notes and comments. You can tag individual users with the @mention feature.
Workflows – You can create workflows for your contract and even automate the internal approval process for the same.
Activity tracking – With Revv, you won't be clueless about the progress of your contract. You can track the user's real-time activity on the document (who opened, signed, etc.).
Metalens – Revv's metalens feature helps to easily navigate through the document, identify and classify components relevant to specific job roles such as sales, finance, legal, etc., and recognize the real intent behind clauses that give an upper hand during negotiations with other parties. Know more about contractual clauses that give you an upper hand in uncertain times.
Device friendly documents – All the users can access the contract from any device and even sign it from anywhere making the process effortless.
Electronic signatures (eSign) – Revv offers the convenience of eSign. Just add the eSign blocks with the signers' details and leave behind the worries of fetching physical signatures.
Online payments (if needed) – Users can also enjoy the benefits of instant online payments using Stripe integration within the contract.
Get your contracts rolling
Running a business demands managing different types of contracts at once. With so much on your plate, it's going to be tricky to keep everything in order. The slightest mistake while drafting a contract can land you in ugly legal repercussions.
Don't hesitate from adapting to technologies like Revv. The advanced features of these document management software make the process of contract creation and other documentation much more effortless and error-free, making you rise to the occasion.