How many times do you go through the terms and conditions mentioned in a legally binding contract? A lot of times, right?
Why does this happen?
This happens because you fear the legal repercussions of a faulty contract. You want to ensure you are agreeing to the right terms. This is where a memorandum of contract is needed.
A memorandum of contract defines the cooperative relationship between two or more parties wishing to work together or collaborate. It gives them the chance to review the terms and conditions before signing the final contract.
In simple terms, it is more formal than a verbal agreement but less formal than a contract.
What is the definition of a memorandum of contracts?
A memorandum of contract is a formal document that precedes the final contract between two or more parties.
Its primary objective is to outline the terms and conditions of the binding agreement before it is drawn.
Other commonly used terms for memorandum of contracts
A memorandum of contract is also known as a 'memorandum of agreement' or an MOA, and a 'memorandum of understanding' or an MOU. The usage of terms changes as per the context. These terms are used interchangeably, but they convey the same meaning.
How is a memorandum of contract different from a contract?
A formal contract is a legal document that states the terms of an agreement between two or more parties. The agreement involves the exchange of value (money, goods, services, real estate, etc.). Whereas a memorandum of contract is a less formal document that precedes the main contract and aims to inform all the parties with the required information before they sign the contract.
See how these documents differ from each other in terms of various factors-
| | | |
| --- | --- | --- |
| Factor | Contract | Memorandum of contract or MOA or MOU |
| Enforceability | A contract is enforceable in a court of law. It is signed when all the parties wish to create a legally enforceable agreement. | A memorandum of contract may or may not be enforceable. It can be presented in court during a breach of contract but under certain conditions. |
| Legality | A contract is always a legally binding document. All the obligations in a contract are mutually agreed upon. Any involved party can file a lawsuit if certain obligations of the contract are not met by the other party. Read here to know more about creating legal contracts. | A memorandum of contract is not intended to be a legally binding agreement. It is mostly a non-binding agreement. But, it is always suggested that you seek legal advice in such cases. |
| Intention | The intent of the party in a contract is clearly established. The language proves that the parties knowingly entered into a legally binding agreement. | A memorandum of contract, MOU, or MOA may or may not be a legally binding agreement. It must be drafted carefully with the right choice of words to clearly express everyone's desires. Failure to do so can lead to unwanted consequences and legal disputes. |
Therefore, you must draft a contract and a memorandum of contract with utmost attention and clarity to convey the terms of the agreement. Read the blog to know more about managing contracts.
Why would you need a memorandum of contract?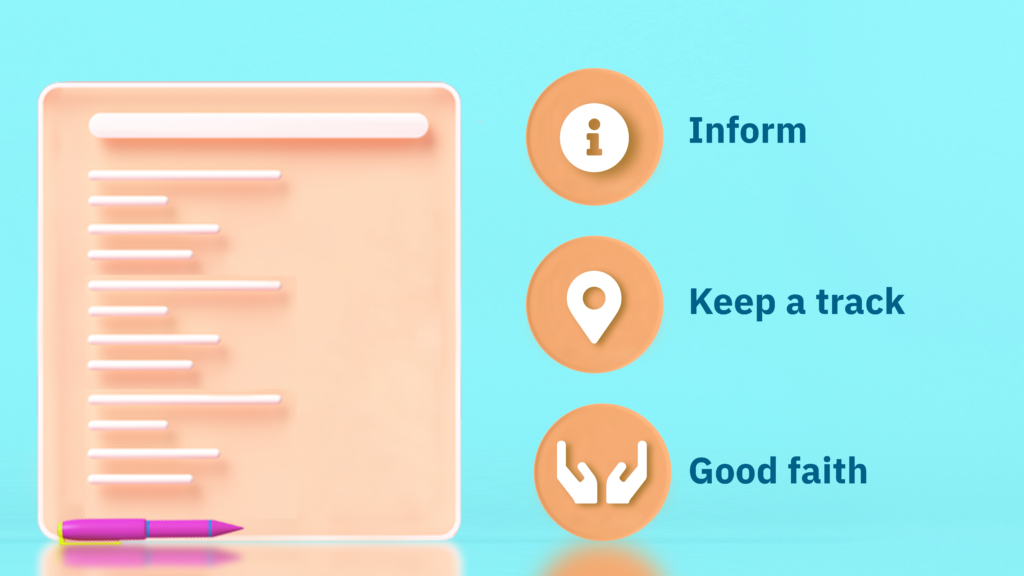 Everything in this world is done with a purpose. Likewise, a memorandum of contract, too, has the following purposes:
The most basic purpose of this document is to inform the parties about the terms of the agreement. Such a document is not legally binding and can come with a disclaimer mentioning – 'for informational purposes only.'
All the parties involved in any agreement need to know and remember the terms they have agreed on. A memorandum of contracts helps such parties to keep track of all such crucial information before preparing the final contract.
It is used to indicate good faith between parties in the form of written documents. This is because it sets clear mutual expectations and establishes clarity.
Advantages of a memorandum of contract
Here are a few benefits of having a memorandum of contracts before jumping to the final legal agreement-
Drafting a memorandum of contract is quick as it contains brief information.
Circulating a memorandum is an easy way to communicate important information with internal and external team members before drafting the binding contract.
It is less legally binding than a contract and is not an enforceable agreement when drafted mindfully.
It helps all the involved parties to maintain a written record. They can use this at the time of preparing the final contract as a reference, for legal reasons, or simply for better overall management.
Useful tips to draft the perfect memorandum
Memorandum in most cases is used as a tool to communicate an important message. It clearly states the required information without any exaggeration.
Clear writing denotes clear thinking. The following tested tips will help you bring clarity and productivity to your memorandum of contracts.
Use a specific subject line to attract attention quickly
Include clear and concise paragraphs as a memorandum needs to be short
Be formal. Avoid using slang and casual language in the content
Use bullet points to emphasize
Format the document smartly with bold headings, correct spacing, and, uniform font size to give the memorandum a professional look
Do not forget to proofread the document before sending it to anybody
Want to draft sales contracts that are easier to close? Here are some actionable tips on closing sales contracts effectively.
Benefits of using Revv to draft your memorandum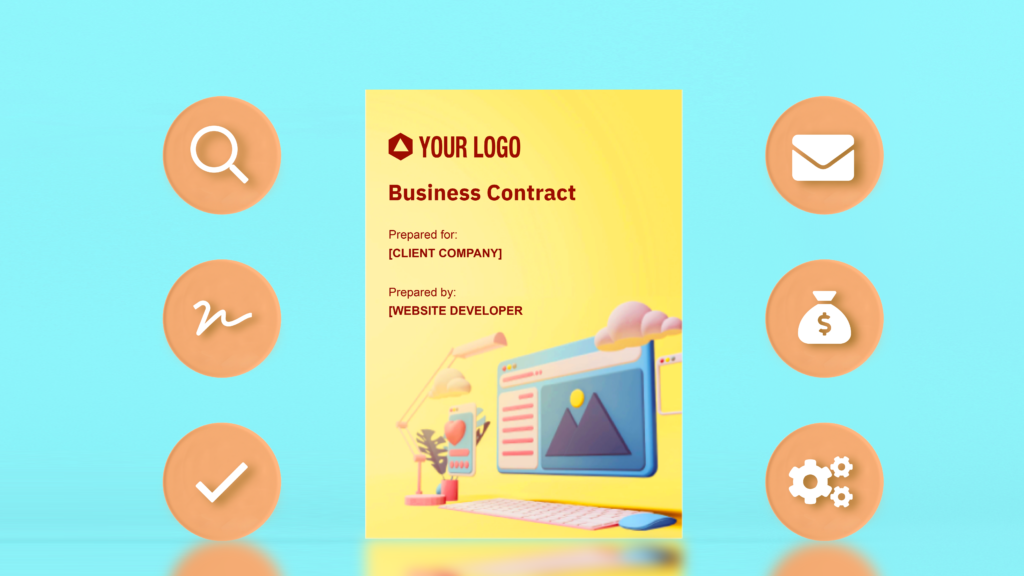 Revv is an efficient document builder designed to help businesses with crucial trustworthy documents. Here are some benefits of creating your documents in Revv-
Vast template library: Revv offers a wide variety of ready-to-use vetted document templates. These templates give a professional look and feel to all your important business documents.
Rich document editor: The editor lets you edit the best contract templates as per your preference and requirements. You just need to drag and drop elements of your choice in your selected templates. For instance, with the editor, you can easily add or edit texts, insert images, add quote tables, and more.
Unlimited integrations with business systems: When all of your business systems seamlessly connect everyone in your organization to everything, you'll be able to create great customer experiences and contract processes. The contract management system in Revv offers unlimited integration possibilities with thousands of business apps like Box, Salesforce, Zoho, Google Drive, Zapier, Slack, and many more. Revv's integration capabilities are further powered by Zapier, Retool, and Native API solutions.
Precise data configuration: With Revv's Data Studio feature, users can map data fields precisely between any external app and Revv platform through a simple point-and-click or drag-and-drop feature.
Workflows: You can create and automate entire workflows for your documents like contracts, MOA, MOU, partnership agreements, etc with our Pipelines feature.
Faster approval and review of contracts: Be it any kind of contract, it requires detailed scrutiny before sending for eSign. When a sender requires approval from management or review from other departments inside the company, opt for Revv's Check and send for internal approval feature. Set precise triggers and automate your document approval workflows with this option. And if you want your contracts to be vetted by someone outside the company, then the user can choose the Send by email option provided in the Revv platform. The sender can also set permission to view or edit the document.
Seamless collaboration: You can easily collaborate with internal and external team members with the Notes feature. With Revv's real-time collaboration feature you can receive valuable feedback and additional inputs from your team on your memorandum documents. You can tag the concerned person with @mentions and add a public or private comment for which you are seeking the assistance of your teammate. If you want some additional images or other documents from your teammate, you can ask them to attach them here.
Soft sign: A memorandum to a contract doesn't necessarily require eSignatures. It just needs formal approval from the involved parties before finalizing the contract. With Revv's Send for acceptance feature, you can send such documents to get approval from your recipients.
Customization of signatures: You can send documents for eSign by filling in the signer details within seconds. Recipients can personalize their eSignatures with Revv's flexible eSigning options. They can draw, upload, choose from pre-formatted text styles, and even connect crypto-wallets like MetaMask to complete the signing process.
Activity tracking: Revv lets you enjoy the perks of real-time activity tracking of the users of your document (who opened it, signed it, etc.).
2FA Recipient authentication: To ensure that the right recipient is signing your documents, Revv employs a two-factor authentication method. The recipient will receive an email notification when he/she is asked to sign a document from Revv. Added to that, a sender can also choose the OTP authentication method. Through this feature, the signer/recipient can sign the contract only when they enter the OTP number received on their mobile phone.
Email alerts: Email notifications are sent to both sender and recipients intimating them about the actions they need to take on a document that they receive from Revv.
Instant online payments: You can leverage the benefits of instant online payments through Stripe integration within Revv.
Organized storage: You can store different files in different folders. This helps to locate files easily for reference.
In essence
It is always better to receive consent from all the contracting parties regarding the terms and conditions of any business relationship. This will eliminate the ugly legal disputes from troubling your peaceful days and nights.
Safeguard your professional and personal spaces by clearly outlining the details of any agreement before the final legally binding enforceable contract is drawn.