If you have had to complete any online forms recently, there is a better than fair chance that you have used an electronic signature, perhaps without even really knowing it. There are multiple standards for electronic signatures, and the term has different meanings in different contexts. To explain what that means, let's explain the different types of electronic signatures (plus learn what digital signatures are since they're also relevant here).
While most electronic signature services nearly serve the same purpose, the added advantages of security, speed, convenience, and cost-efficiency varies from solution to solution. The hardware and software requirements for each might vary as well. Today we will learn all about the different types of eSignatures, how they impact your organization and how a solution like Revv can augment your business productivity. Let's get started.
Different types of electronic signatures
1. Simple electronic signature
When thinking of electronic signatures, most people immediately think of one of those boxes where you sign your name with a stylus or your finger. It requires a literal signature on an electronic device.
The standard eSignature can look like this, or it can eliminate the actual signing step by requiring you to type out your full name as a substitute for signing. It is even possible to click I agree or I accept in lieu of typing out your name, although this isn't really a full signature for legal purposes (it's actually known as a clickwrap signature, but more on that later). Once you have 'signed' these forms, the form will show a generic handwriting style font with a note that it was electronically signed.
Typically, this is for business documents that you would need a certain degree of security to access, either via secure log-on or perhaps a secure link in an email or text (where the access to the link acts as your log-in). Of all the versions of eSignature, this is the most often used, because it doesn't require extreme extra steps for security. With that being said, it still provides a high degree of safety and is fully trusted to protect your data in all but the highest security environments. If you're looking for something more secure, though, read on.
2. Digital signature
A digital signature is a more secure form of electronic signature than a simple eSignature. It utilizes an algorithm to verify that the signature was accurate, to begin with, and that it has not been tampered with during transit from person to person.
Digital signatures are not really hackable because they are algorithmically controlled, so they are ideal for environments where someone might try to access private data, such as account information or government documents. It is often utilized for government systems and banking where the identity verification of the person needs to be above par, and it could cause great harm if the signatures were tampered with.
3. Advanced electronic signature
Advanced electronic signature (AES) is a sub-type of digital signature that adds a higher degree of complexity. It is not necessarily more secure than other forms of a digital signature as far as tamper resistance of the file itself. AES is more about ensuring the person who initiates the transaction is who they say they are. To quote and paraphrase the European Union's eIDAS guidelines:
It is uniquely linked to the signer;
It is capable of identifying the signer;
It is created using electronic signature creation data that the signer can, with a high level of confidence, use under his sole control; and
It is linked to the data signed therewith in such a way that any subsequent change in the data is detectable.
In simple language, AES has to be connected directly to the person signing, and they should be the only person with access to it, so the data should be safe after signing. Not all of these elements are unique to AES, but they are all required at this level of security.
4. Qualified electronic signature
Qualified Electronic Signature (QES) utilizes the security features of AES but also adds a specialized personal verification device.
This device ensures that the signer is the only person who can use their access and confirms that they are the person who is signing. This is the only one to be considered as secure as a handwritten signature across all EU states, where wet-signature standards are still the norm. If eSigning is the equivalent of a wet signature, and a digital signature is the equivalent of a fingerprint, then QES would be comparable to a DNA sample being attached to the document.
Common threads
While understanding the different levels of eSignatures may be relevant depending on your industry, the simple fact is that all types of eSignatures are secure enough for the vast majority of transactions.
In order to refute an eSigned contract in a court of law, someone would have to make a very compelling case that someone else signed on their behalf. Since all electronically signed transactions are trackable, it is relatively easy to demonstrate the chain of custody on eSigned documents. The timestamp and email thread verification of eSignature documents also provide additional security for the verification of signatures.
Unless you are in one of the very limited industries that require one of the digital signature formats, simple eSignatures will be more than adequate. All digital key security processes are very industry-specific and completely unnecessary for most eSigning needs. This makes finding an eSigning solution relatively simple.
An electronic signature will be clearly eSigned on finalized documents unless you have set the document up to have a sign-on-screen option. US courts have ruled that eSigned documents are as legally binding as a wet signature. Electronically signed documents generally are not printed unless needed for a court filing. At the time it becomes needed for legal action, these digitally stored files are intact and current.
If legal action becomes necessary a digitally stored eSigned document is considered a more original document than a photocopied hand-signed document. The traceability of electronically signed documents also guarantees an accurate accounting of time and date stamping. You can utilize eSignatures for employment contracts, non-disclosure agreements, partnership agreements, and sales contracts among others. These eSigned documents can be accessed at any time by all parties to the agreement, as long as you are using a cloud-based eSignature software.
Electronic signing solutions with Revv
Electronic signature systems are plentiful nowadays. While having a safe, secure, and trustworthy electronic signature is essential, it's also critical to choose a solution that is both economical and user-friendly. Moreover, the solution you choose shouldn't disrupt your business processes, but rather act as a segue from one to another. If you want an eSignature solution to quickly sign contracts, agreements, estimates, invoices, or other essential documents legally, with the pain of all the document-related processes handled, Revv is a great option.
Let's take a look at advanced electronic signature solutions offered by Revv.
1. Different electronic signature possibilities
With Revv you can add as many signers as you want in a document. Revv eSignatures are safe and follows all global and local regulations.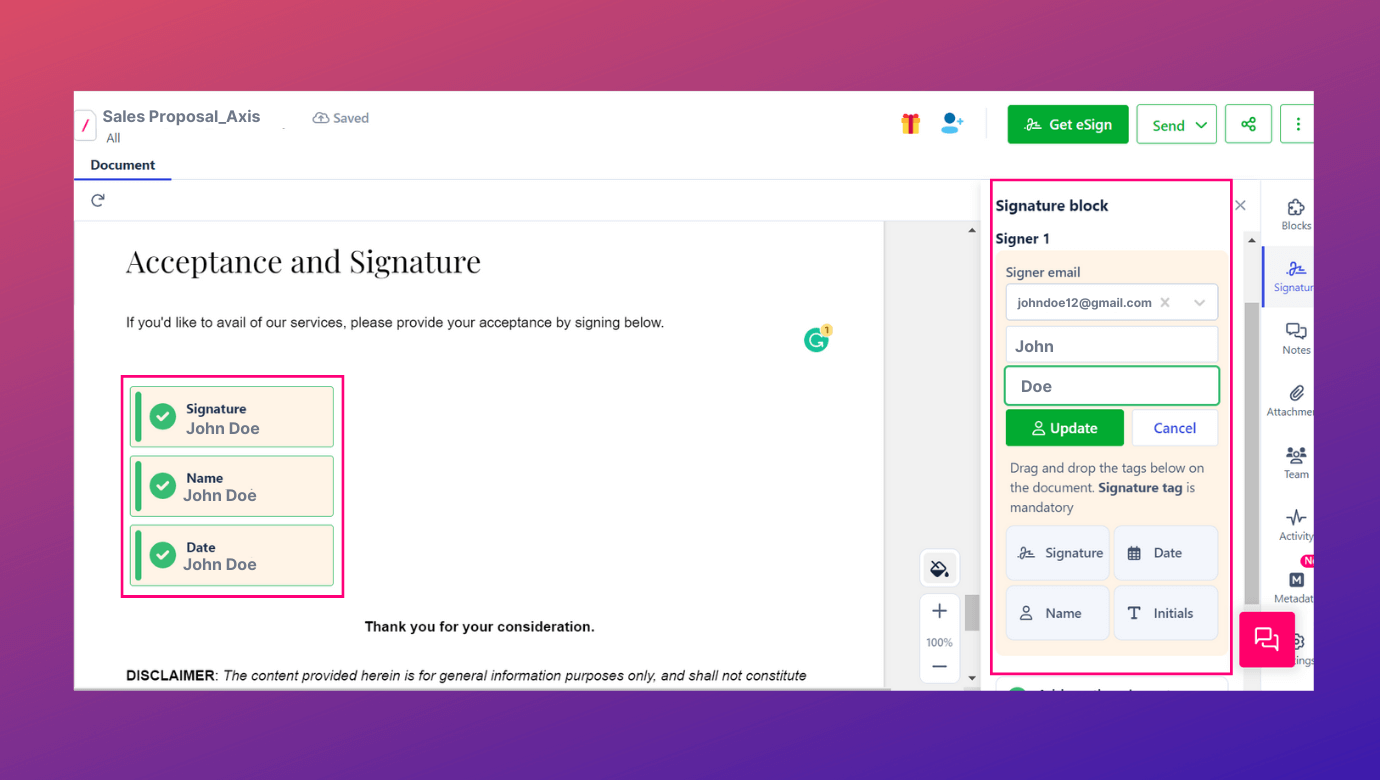 Be it any kind of document you create, Revv gives the recipients the flexibility to choose from different types of eSignature options.
Text signatures– Signers can choose their signatures from pre-formatted styles. They can even customize their name for this type of signature. For instance, if the recipient's name is John Doe, in the Text sign option, the signer can personalize the name as JohnD, JD, JDoe, or in whichever way they want to sign off.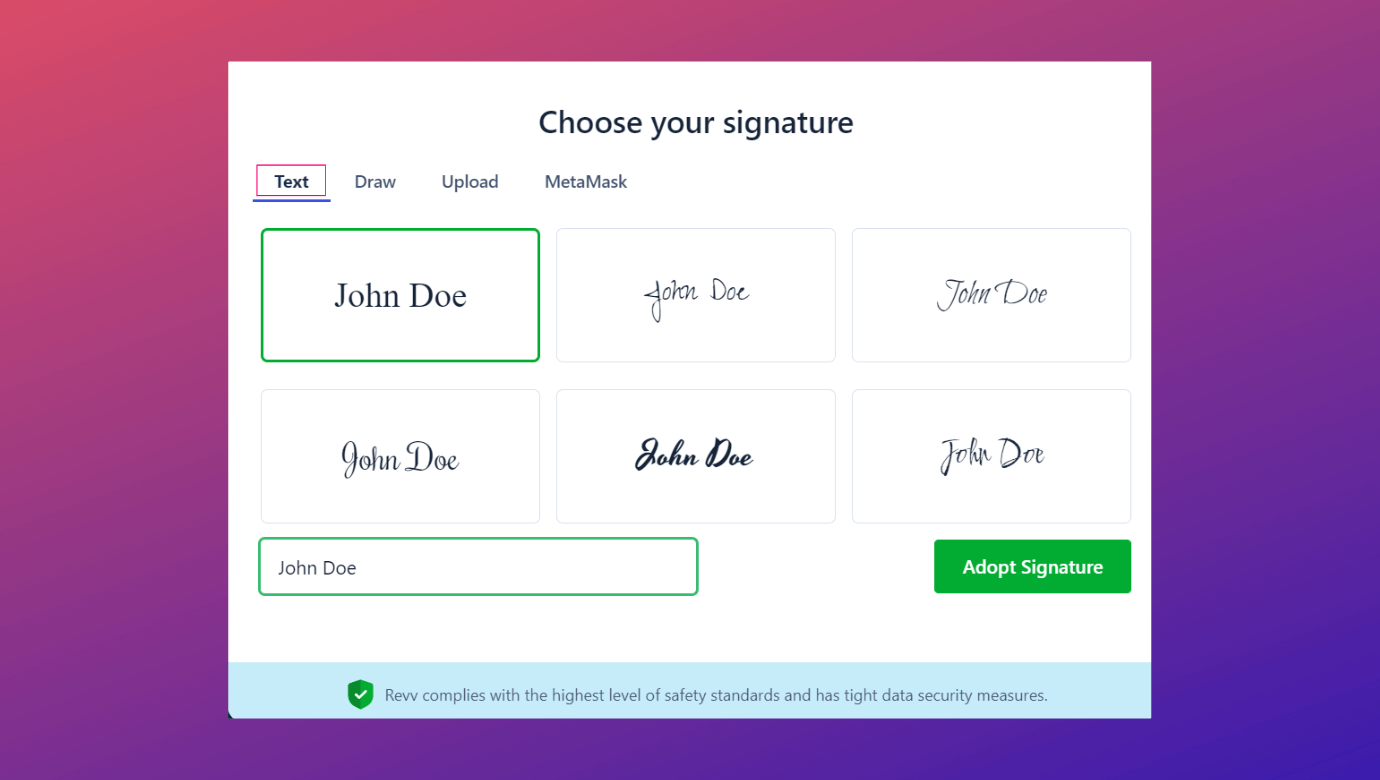 Draw signatures – Recipients can draw their signatures using a mouse or digital pen.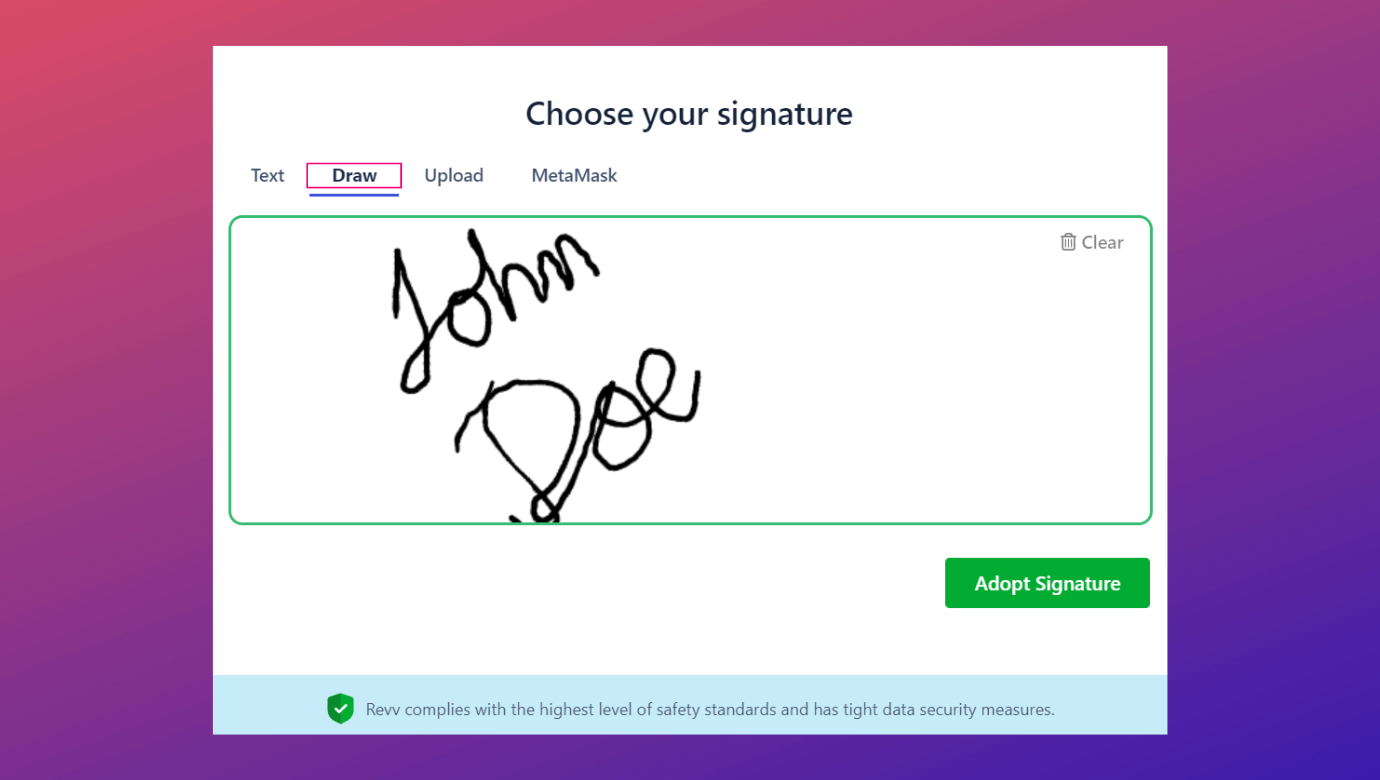 Upload signatures: Signers can even upload the image of their signature by simply scanning their wet-ink signatures.
Sign off using crypto wallet MetaMask: With Revv, recipients can even eSign their documents using their MetaMask wallet.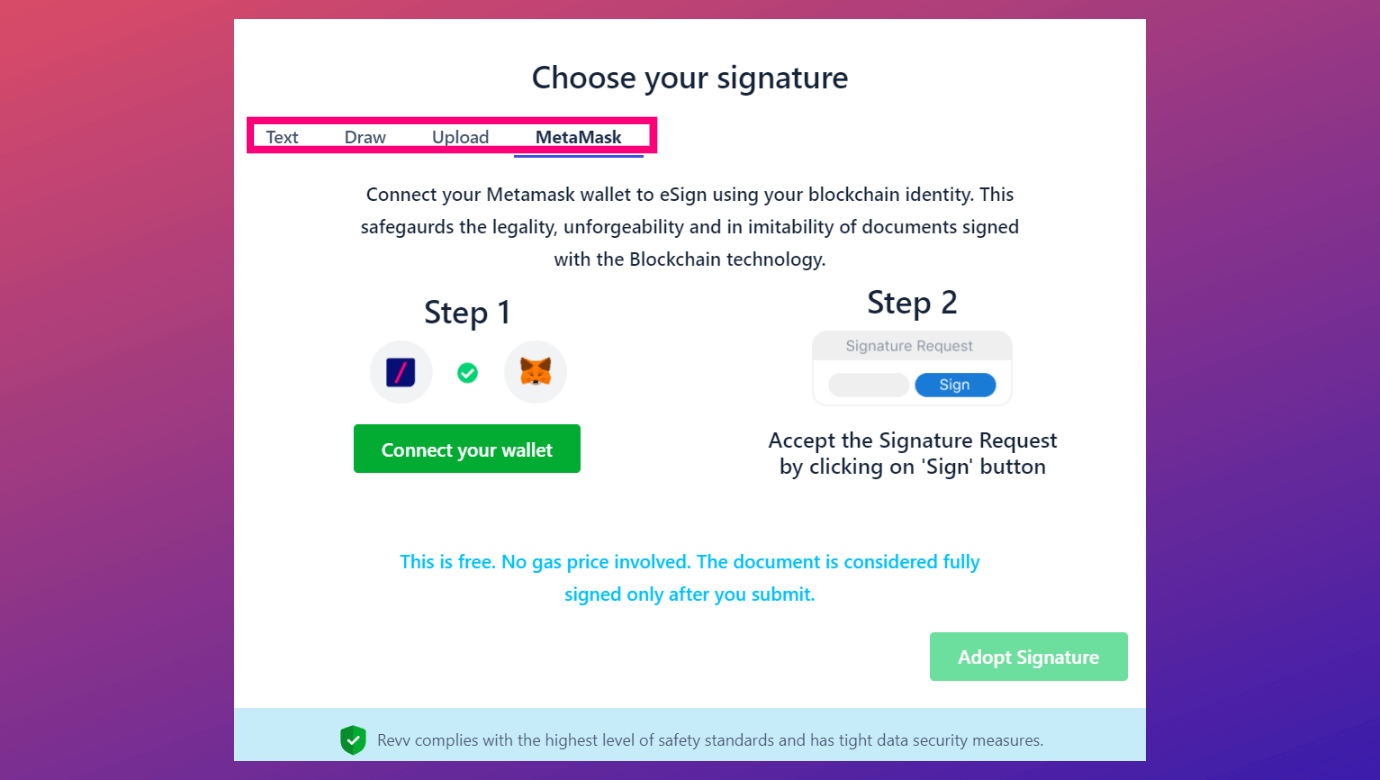 Soft sign – Revv provides a Send for acceptance feature for documents that merely need an acceptance from the recipients. You can reduce the use of eSignatures with this feature. It could be used for your consent forms, acceptance letters, and other documents.
2. Flexible review and approval systems
If the sender wants his or her document to be examined by someone outside the organization, Revv provides the Send by email option. The sender can set permission to view or edit the document.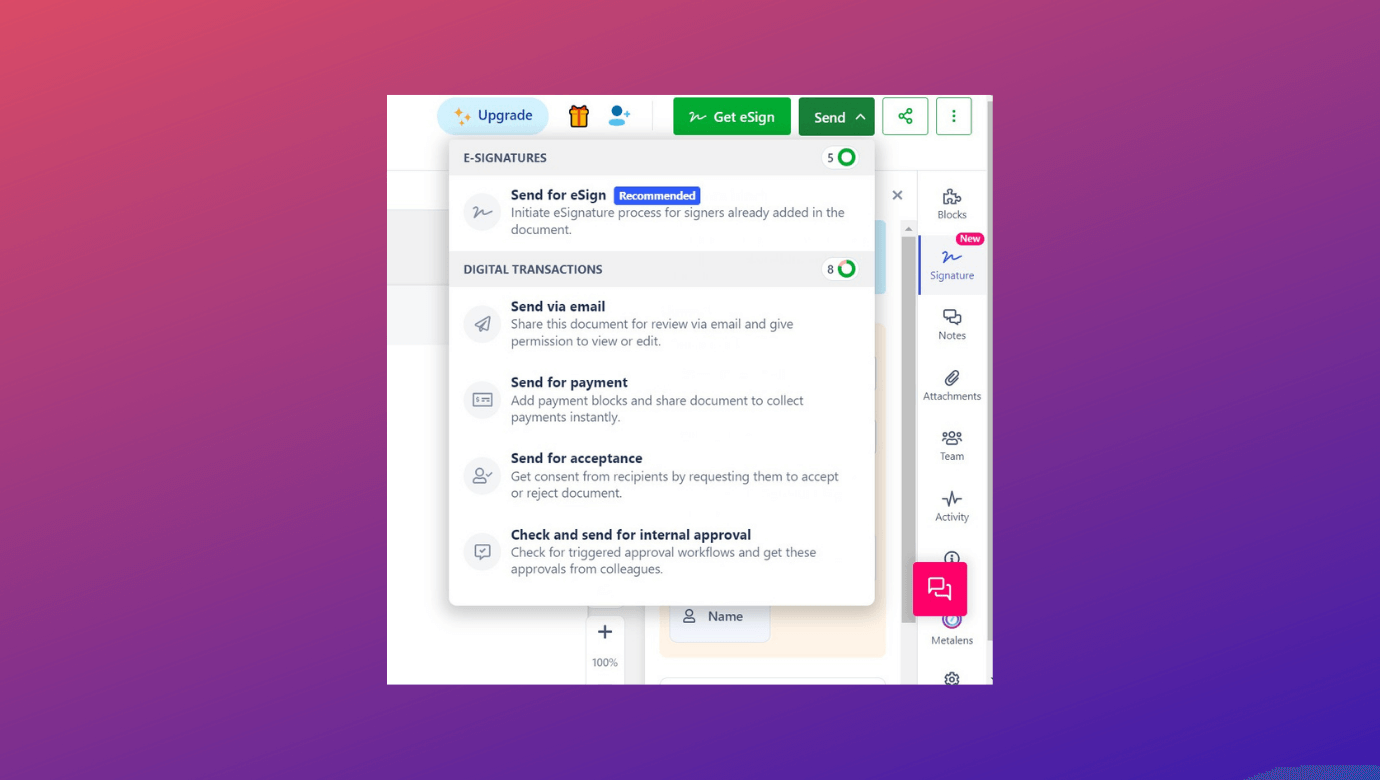 You can even collaborate with those higher-ups in the chain if you need approvals before sending documents for eSignatures to recipients. Automate these kinds of approval procedures with Revv's Check and send for internal approval feature. Set precise triggers and automate your document approval workflows with this option.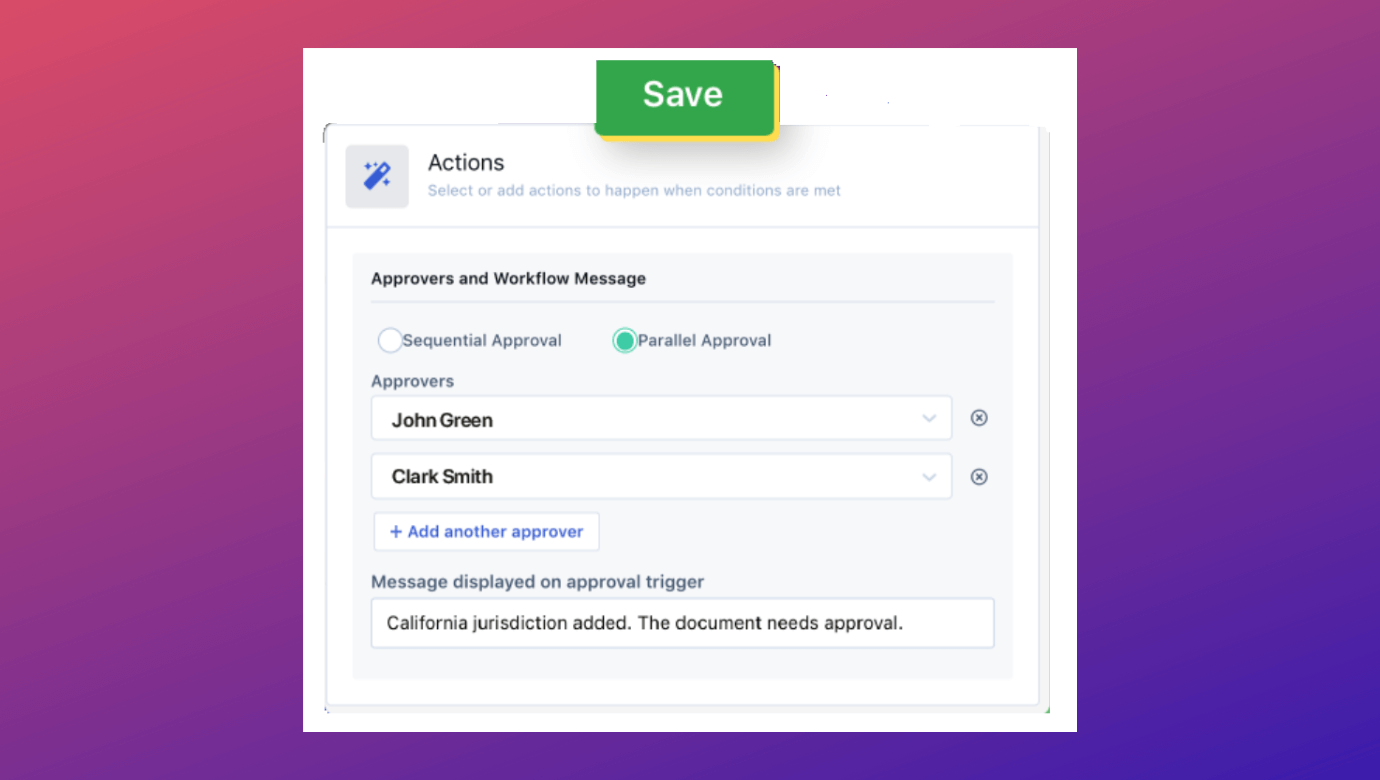 3. Collaborate with teams
Revv provides you the flexibility to collaborate with your internal teams with the notes feature. If you want feedback or want additional input from a single person or from multiple people, all you have to do is tag them using @ mentions. The tagged person will also be notified via email. Team members and those in the signature list who have access to the document or are tagged in it can attach files and, include private and public notes.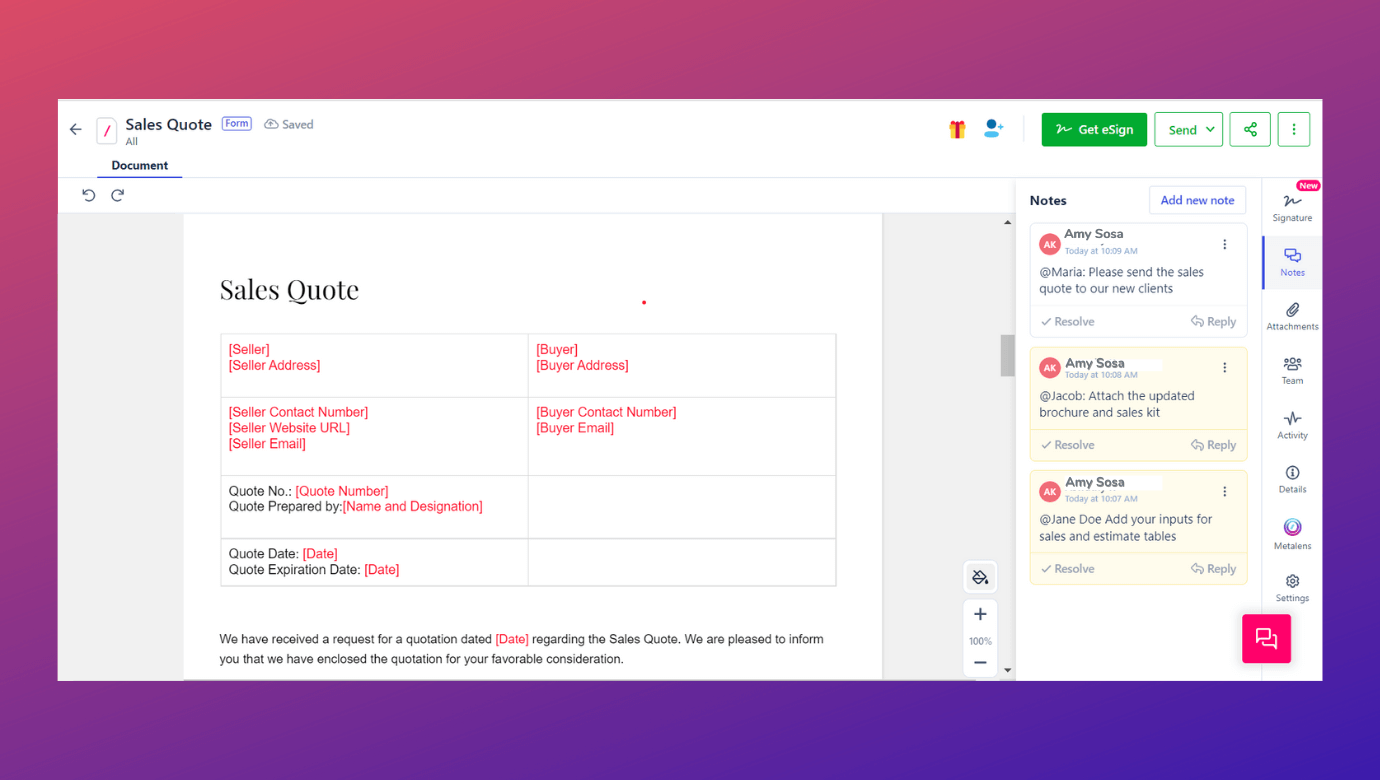 4. Fully compliant and secure electronic signatures
Revv's electronic signatures are not only safe but are secure and legally binding as well. Revv adheres to both international and local laws such as the ESIGN Act, UETA, and eIDAS Regulation. Electronically signed documents with Revv are legally enforceable in more than 60 countries.
Let's see how Revv complies with the ESIGN Act:
a. Intent to sign
For each document sent for eSignature, Revv first asks the recipient's intent to sign it. The first thing a signer will see while opening the eSign document is the I agree clause. They can proceed to eSign only when they express the intent to sign by clicking the checkbox. Revv also gives the option to decline or refuse to eSign the document. The opt-out (decline) option is given at the top right-end side next to the notepad icon as three dots (፧).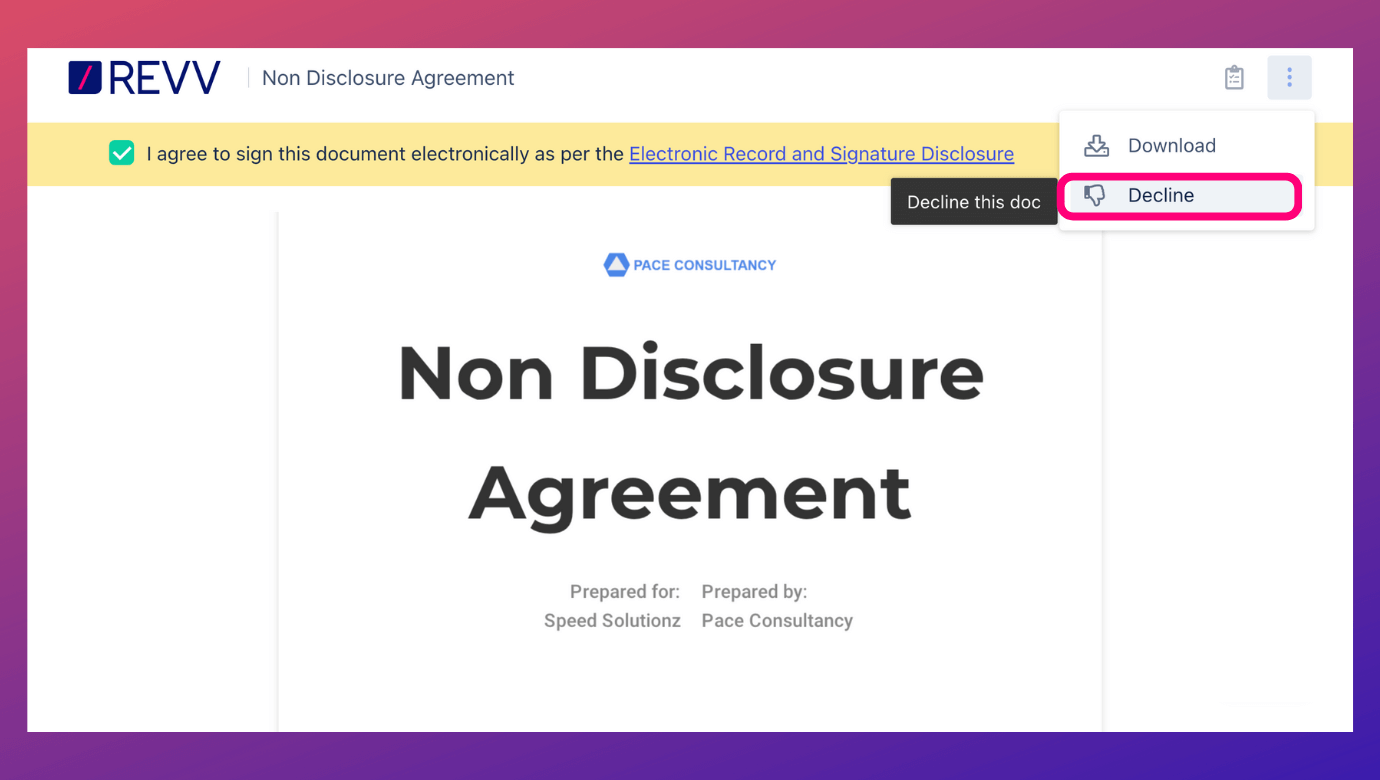 b. Consent to do business electronically
Once the intent is expressed, click the Start signing button. The recipient will be directed to the areas where the signatures are required. The Sign here arrows navigate you to all the places where an eSignature is required. After all the eSigns are done, Revv asks for the recipient's consent to close the eSigning procedure with a Finish Signing button as shown in the image.
c. Association of signature with the records
Revv adds the eSignature to the document after it has been signed, together with the date, time stamps, and IP address of the device, thereby recording the details associated with the signature. This further authenticates the validity of all eSigns in the document.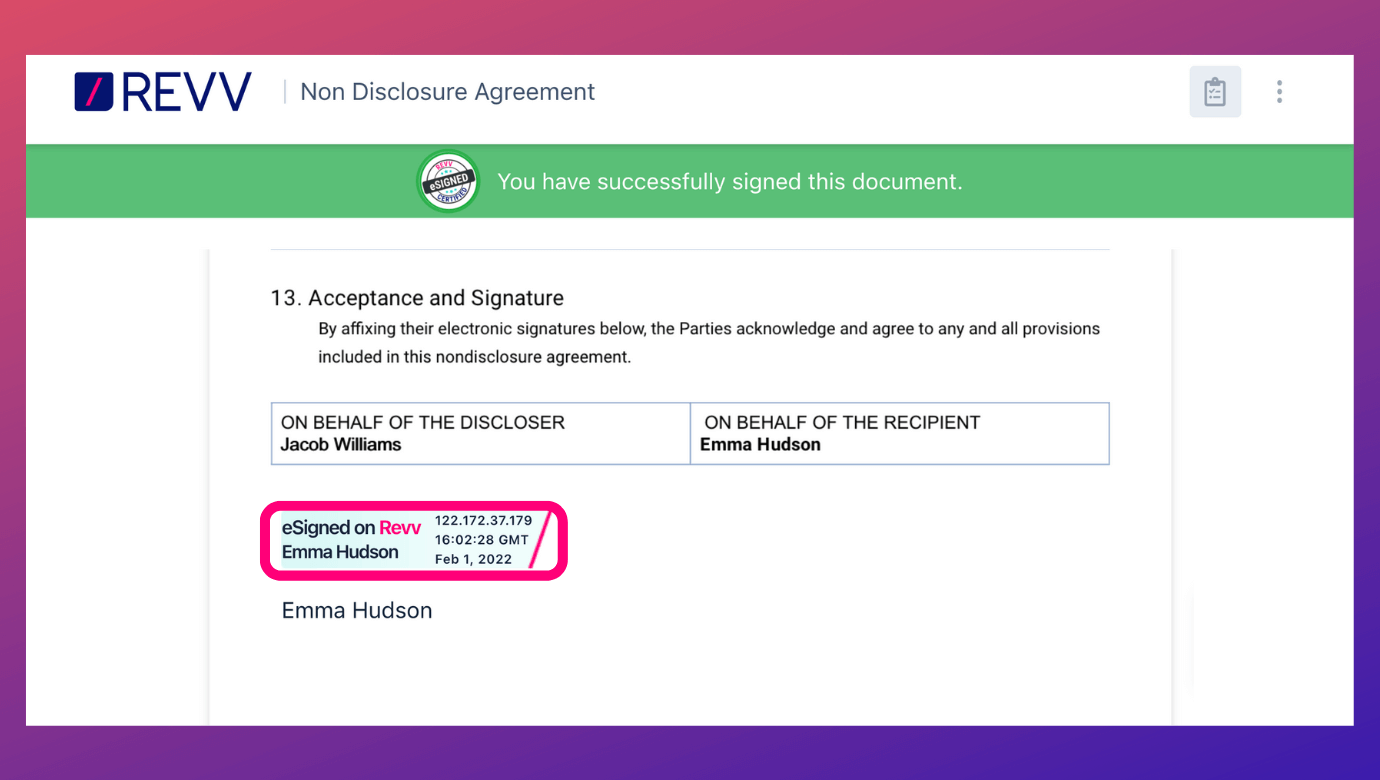 d. Maintenance and retention of records
Revv uses Amazon Web Services Server-Side Encryption (AWS SSE-S3) to enable secure and permanent cloud storage for all electronically signed documents.
After eSignature is complete, the recipients can download and store a copy of the document for their perusal. Revv also shares the link to access the signed document via email.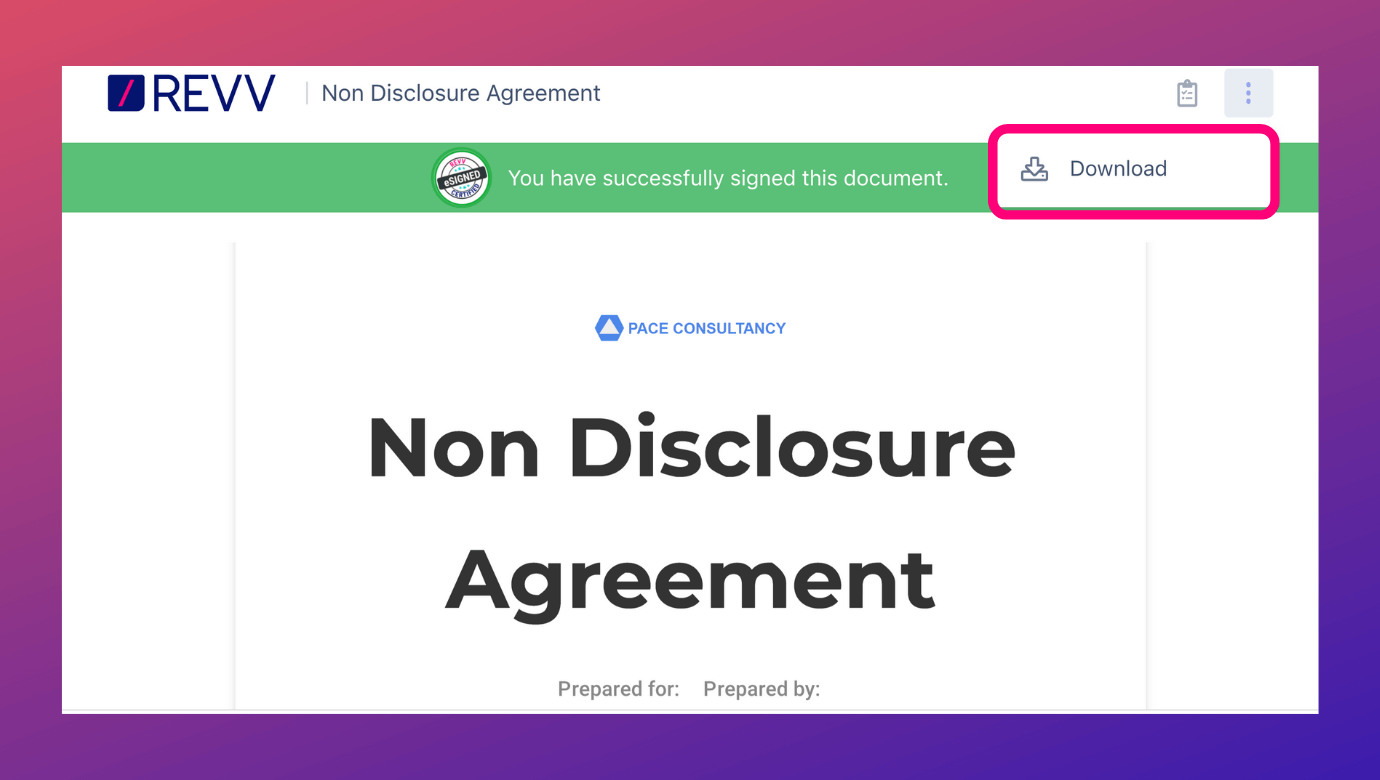 5. Tamper-proof and legally admissible audit trail
Revv captures a thorough Evidence Summary report for documents that have completed the electronic signature process. It includes details such as the recipient's unique ID, the document's name, the date and time it was viewed, generated, and eSigned, and the IP addresses from which the document was accessed.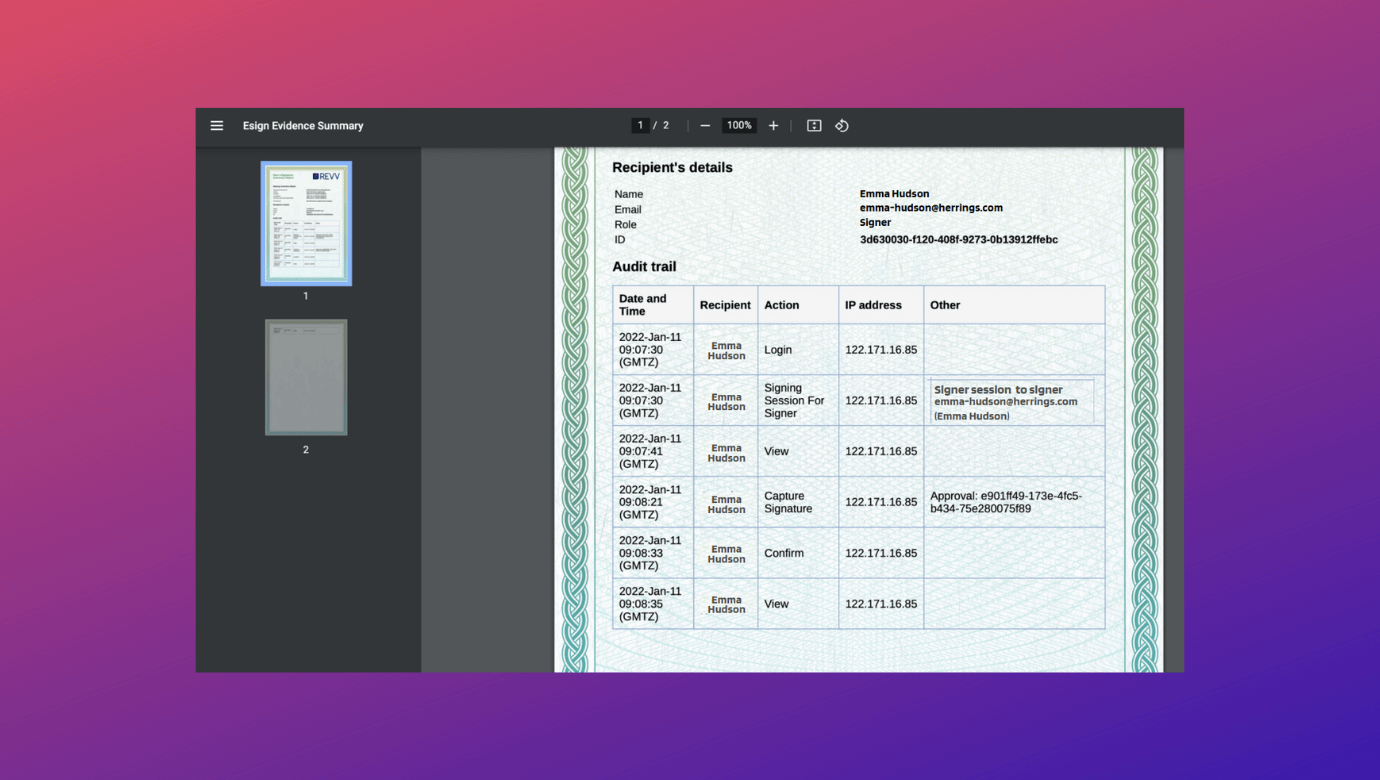 6. Keep documents safe with recipient authentications
Revv protects your contracts and prevents any unauthorized access through:
Email authentication: All documents are mandatorily sent to the recipient's email address for electronic signing in Revv.
SMS-OTP authentication: It is advised to add an extra layer of protection for your confidential documents. And with Revv, all you need to do is select the 'Authenticate with OTP via SMS' option and enter the phone number of the recipient when sending a document for eSign. An OTP is generated and sent to the recipient's mobile when they click the eSign link to validate their identity. To access the file and start signing, the recipient has to enter the OTP code.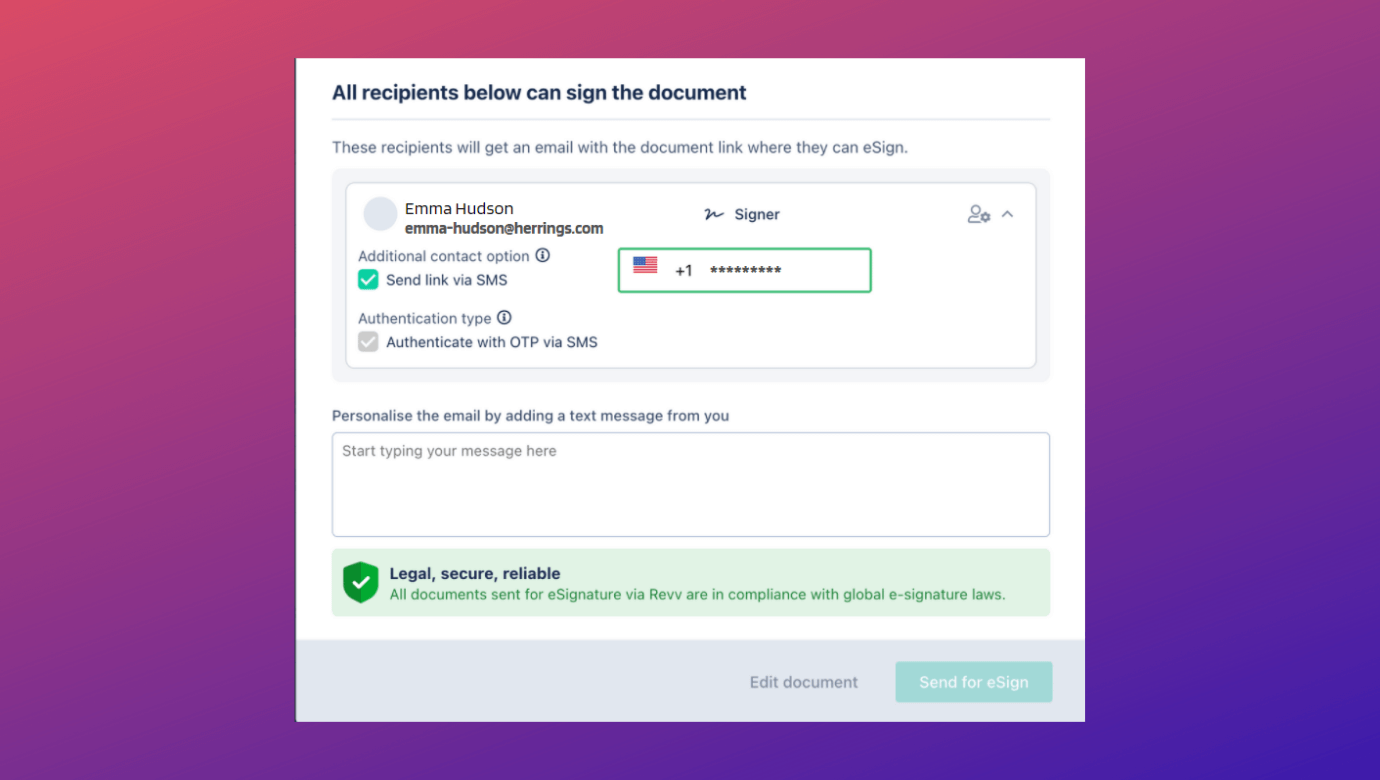 Video authentication: Video authentication option could be used for clickwrap signatures (the Send for acceptance feature). Recipients can accept or reject the document by submitting a short video.
7. Real-time notification and tracking
Whether you are sending for electronic signature or internal approval or acceptance, all actions will be instantly notified to both senders as well as recipients via autogenerated emails.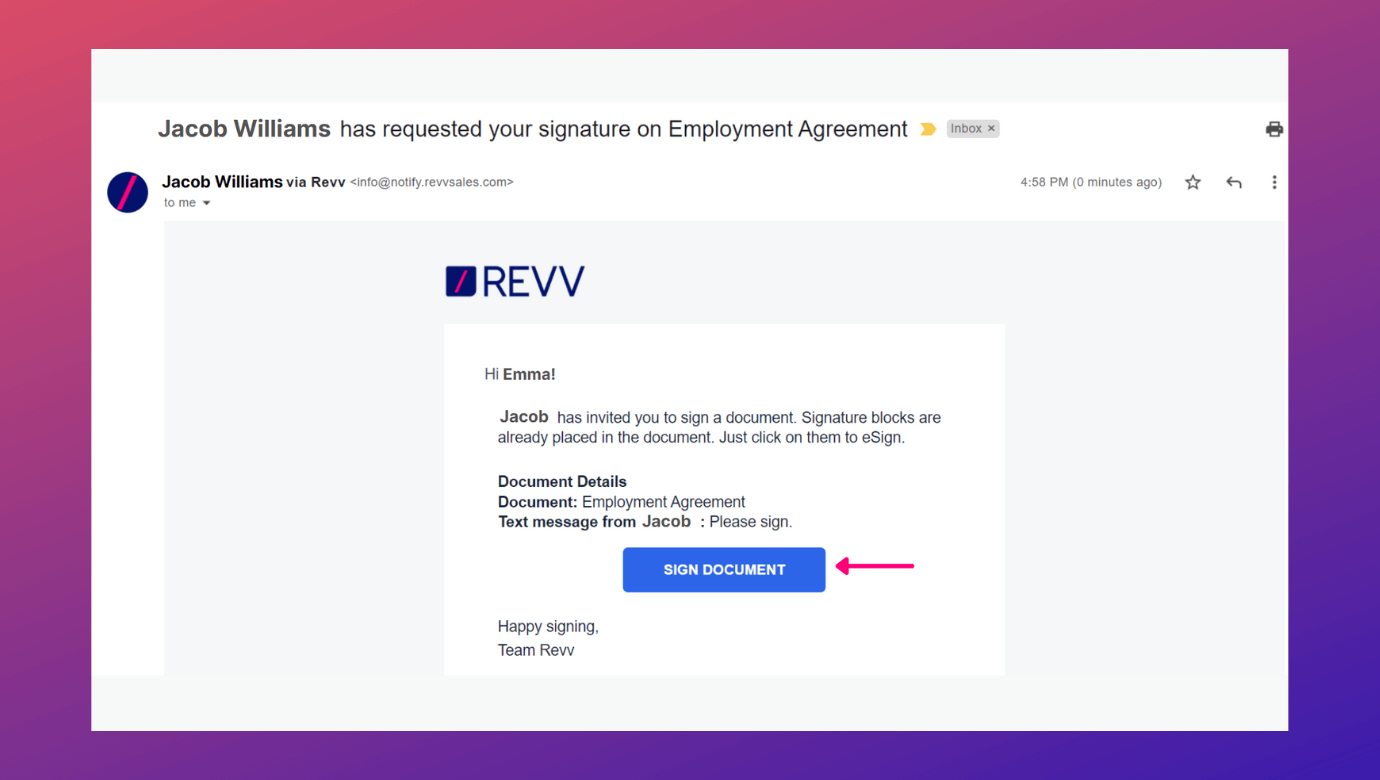 A sender can also track any activity that has happened in the document from the Activity tab. It records all actions associated with the document, right from creation to completion of electronic signatures. For instance, if a recipient has viewed a document and hasn't completed the eSign for a couple of days, the sender can easily analyze this blocker from the 'Activity' tab and reach out to the person and clarify recipient queries immediately.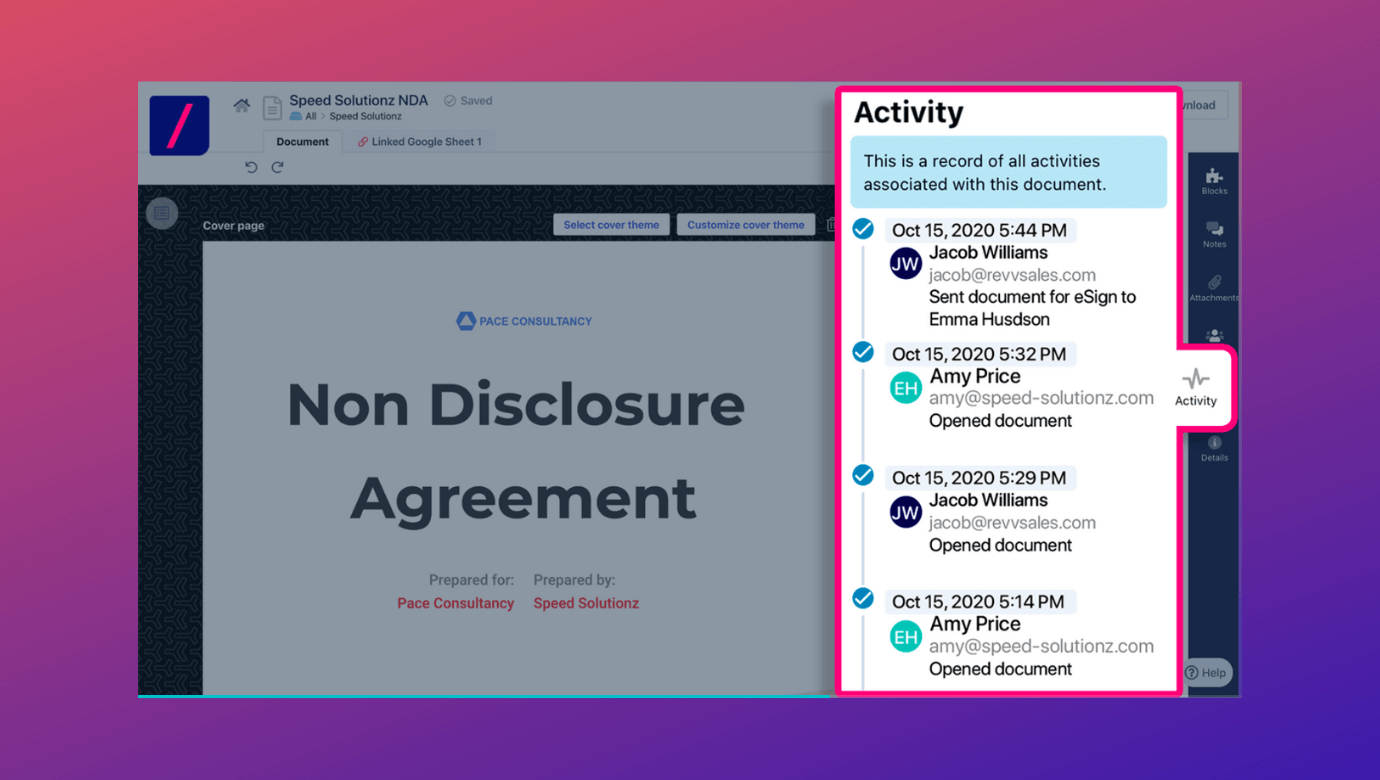 Revv integrates well into our existing tools
I love the combination of e-signature, custom document authoring tools, and pipeline management in one. It's a one-stop-shop for our document management and integrates well into our existing tools and processes.

Co-founder and CEO
‍Placenote
Revv: the complete document automation tool
Revv is not just a compliant and legally binding eSignature platform but a wholesome panacea for all your document workflow challenges. Human errors are common in document operations. But companies can avoid them completely by adopting Revv. The eSignature and document automation features in Revv are designed to save your company time and free up productivity. It enables you to manage the intricacies of processes and improve the operational effectiveness of your company.
Let's explore how Revv provides hassle-free automation benefits for its users.
1. Seamless app integrations
To make your company's processes run smoothly, automating your document workflows and other procedures isn't enough. Workflow automation can only be effective if it is linked to the right business systems and processes. With Revv, you can seamlessly integrate your existing CRMs, HRMS, and other enterprise software without a hitch. Revv's integration capabilities are further powered by Zapier, Retool, and Native API solutions.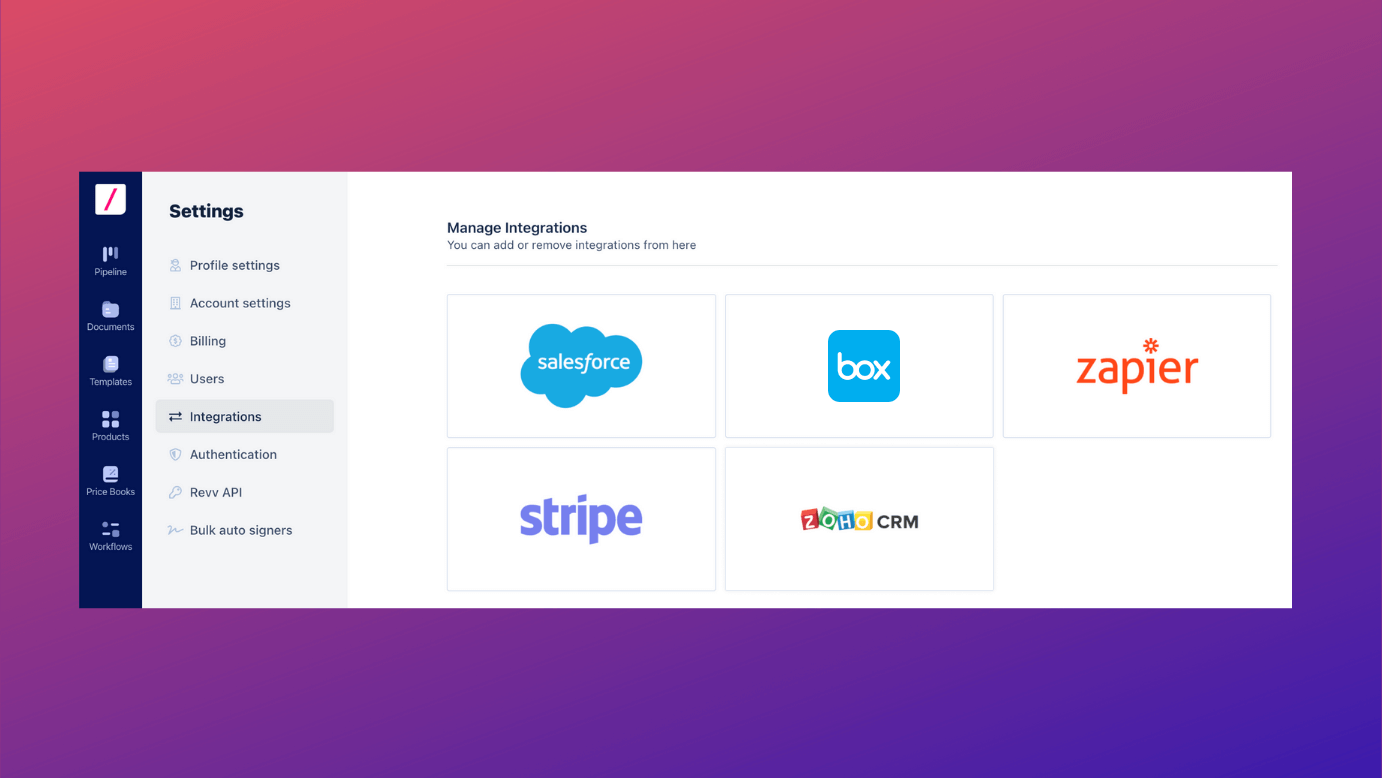 Expand integration potential with Revv + Box

The efficient integration capabilities of Revv make it possible for businesses to continue their processes post eSignature of documents. When Revv is integrated with Box, you can automate workflows even when you are away from your business systems.

Revv's Pipeline feature makes it easy to automate operations between Revv and Box. Workflows of any complexity may now be created, managed, and executed with ease. Trigger new Box workflows based on your business needs using document metadata and metadata obtained from Revv's form fields.

When it comes to deciding what data to save in Box, you have the last say. Document files, Evidence Summaries, Document Attachments, Document form fields, and quote line items are some of the data types you can send to Box.


2. Map complex data with Data Studio
Revv's Data Studio feature makes data mapping simple and faster. Not weeks, days, or hours, this feature empowers you to sync data in a few minutes.
With Data Studio, Revv enables you to quickly map data fields between Revv and the business platforms integrated with it. You can flawlessly capture data without the help of scripts, codes, or APIs.
2.1 Data capture with custom web-forms
Even after integrating your business platforms with Revv, there might be instances where certain documents require some key details from the recipient. You can still navigate the challenges of manual data mapping and simultaneously enjoy the benefits of Revv's automated document workflows with the help of form fields or fillable placeholders in your document.
All you need to do is make your document a form-based template. Insert form fields wherever needed using the form-field feature. You can use form fields to effectively gather data from your recipients that only they can provide.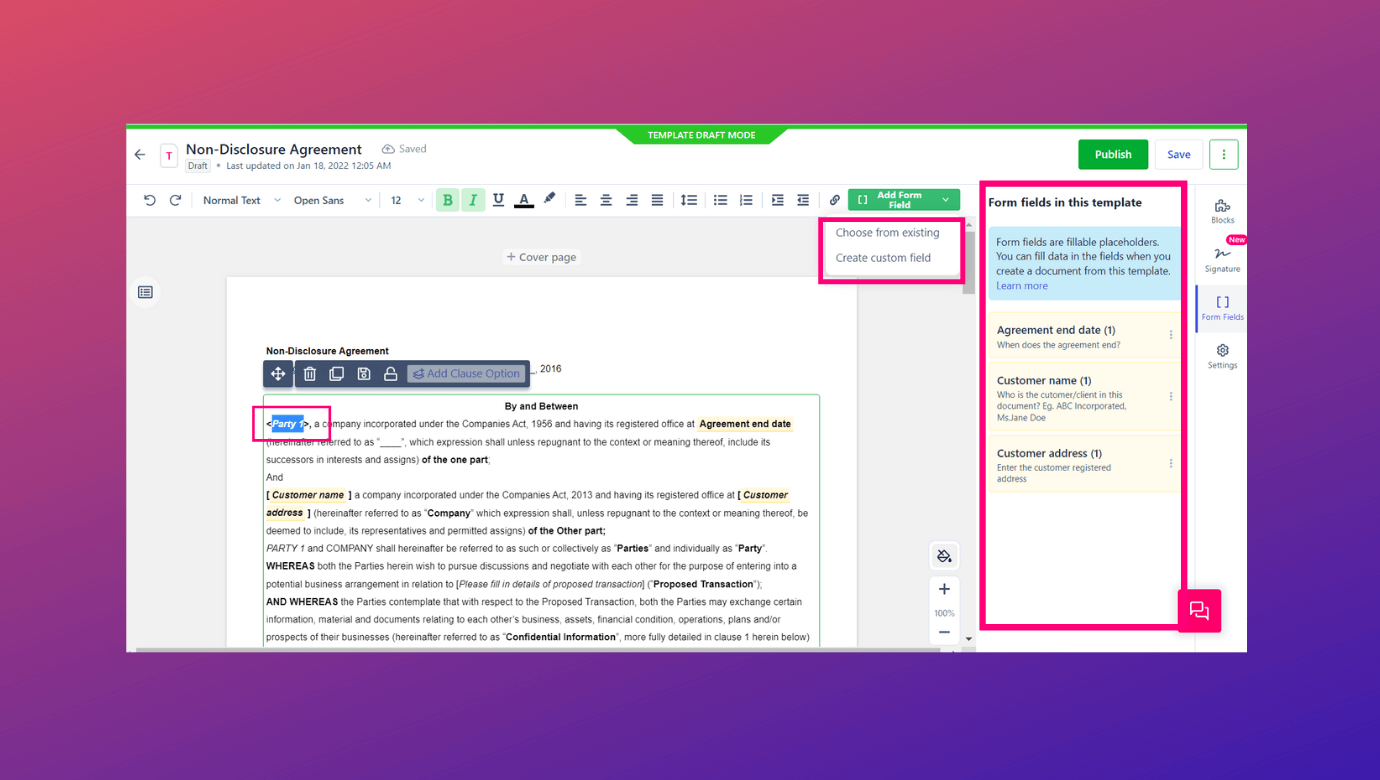 3. Automate workflows with Pipelines
Revv helps to automate every step of the document creation process, from start to finish. But this is not limited to documents. The Pipeline function greatly enhances Revv's automation capabilities. Using various features of Revv Pipeline, you can simply automate end-to-end business workflows for your company and remove unnecessary processes.
Some benefits of using the Pipeline feature include:
Multiple pipelines can be created
Documents can be categorized under different pipelines as per business function with the help of Pipeline Routing.
Documents can further be grouped under different lanes as per the status or action taken on the documents.
These lanes could further be streamlined by automating the workflow for each lane by assigning different lane jobs to them. This feature lets you add jobs that get executed automatically when a document reaches that particular lane.
Along with automating documents and their actions, users can set automated reminders as well, curtailing the time spent on manual follow-ups.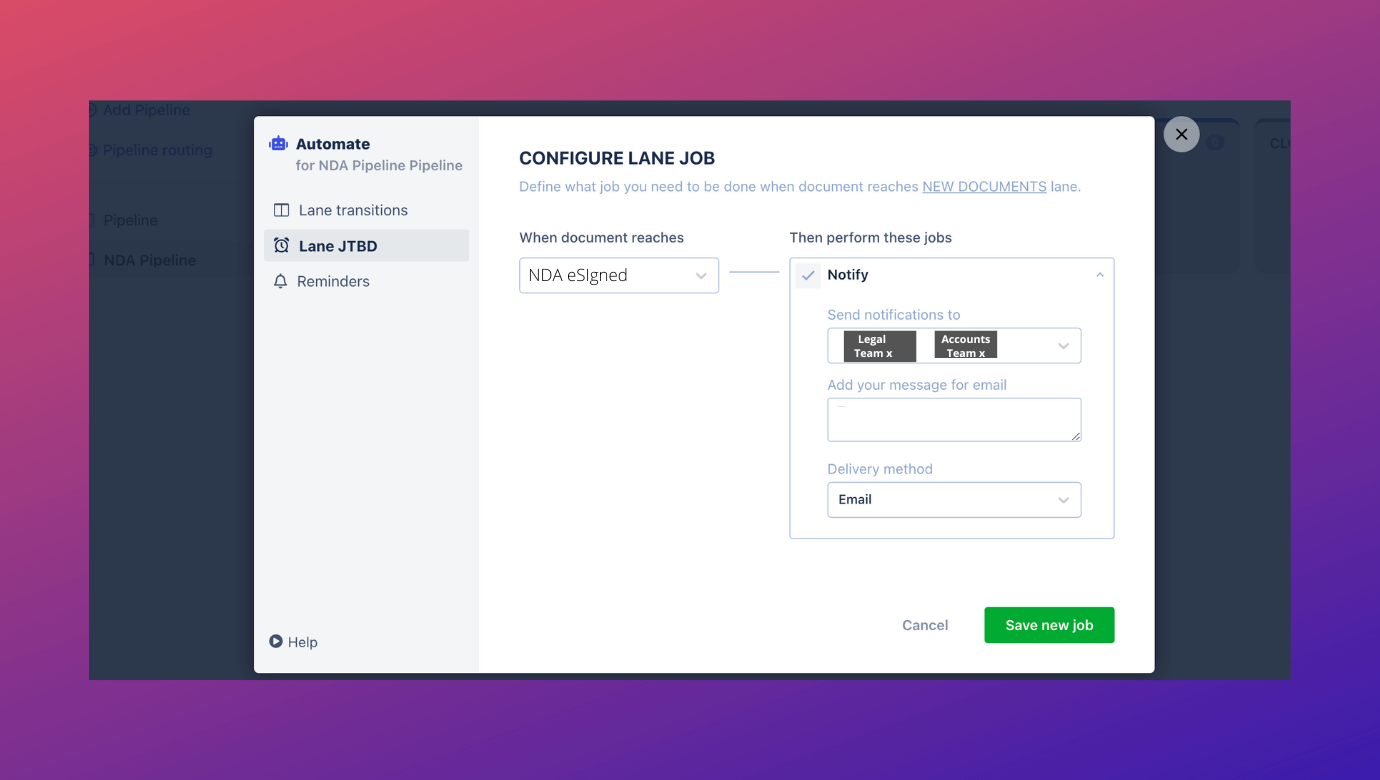 Takeaways
Electronically signing documents with Revv is completely safe, secure, and legally binding. But Revv goes a step further and channels your business productivity and digital transformation in the right direction. It provides complete business document automation to increase productivity and efficiency in the processes.
Revv saves time, and money, and boosts the productivity of employees by automating the endless document requirements of your company.
Whether it's in terms of pricing or features accessible in free and paid plans, Revv is far ahead of the competition. With Revv, you can close deals faster, get contracts signed sooner, and speed up your business processes seamlessly. If you are ready to switch to electronic signing, Revv is the solution for you.
Frequently asked questions
How do I identify an electronic signature?
An electronic signature, or e-signature, is a legal way to get consent or approval on electronic documents or forms. You can identify an electronic signature if it has the following attributes to it:
Has a detailed audit trail or Evidence Summary documenting each stage of the signing process.
Legally valid and compliant with various eSignature laws and regulations
Has various encryption and security features to keep the documents safe
Ask for signer authentication to sign off documents
What is an electronic signature example?
Electronic signatures are the preferred signature method for a wide range of applications, so there's a good possibility you use them on a regular basis. Here are a few examples where eSignatures are used:
Contracts
Application forms
New employee onboarding forms
Non-disclosure agreements
Vendor onboarding documents
Commercial agreements
Sales quotes
Consent forms and many more
How does a digitally signed document look like?
A digital signature is one that encrypts a customer's signature with a code that others cannot duplicate. A digital signature is similar to a digitized fingerprint contained in a document file. It goes beyond an eSignature by verifying a document's legitimacy. It's similar to how a notary service verifies the authenticity of a wet signature.
What is acceptable as an electronic signature?
Acceptable electronic signatures are the ones where the signer's information including date, time, and IP addresses are provided along with the eSignatures. The eSignature should also record activity as well as collect extensive Evidence Summary for all eSigned documents.