Are your contract templates constantly changing and getting lost? Are you running into inconsistent format, language, and terms while managing business contracts? Or, are email threads slowing down your entire contracting process?
If these issues are troubling you, it's high time you think of incorporating a contract management system into your business. Companies of all sizes have to deal with contracts and agreements down the road to function well. But manual dealing is no longer a suitable solution.
Are you already looking for the right solution? Have you come across ContractWorks a lot of times? That's alright as the ContractWorks team has put in great efforts and has come up with a decent contract management solution. But, if you are seeking more optimal solutions, you are reading the right piece of information.
This blog uncovers the ten best ContractWorks alternative that any organization looking for a contract management solution must know.
Let us get the hang of the basics of contract management software before plunging into the options available.
What is CLM software?
A contract lifecycle management software, abbreviated as CLM software, is a tool that gives you full control over all your contracts and helps to manage it better. This software solution enhances your business process by streamlining and automating key stages of a contract lifecycle.
These contract management platforms take care of contract processes ranging from the initial stage of contract request to the final stage of contract renewals. These tools are flexible enough to allow third-party integrations with CRM, ERP, Salesforce, and other required software.
To know more about the features, functioning, and benefits of a CLM in detail, read the blog- Contract Management Software – An Ultimate Guide.
7 reasons why your business needs a CLM software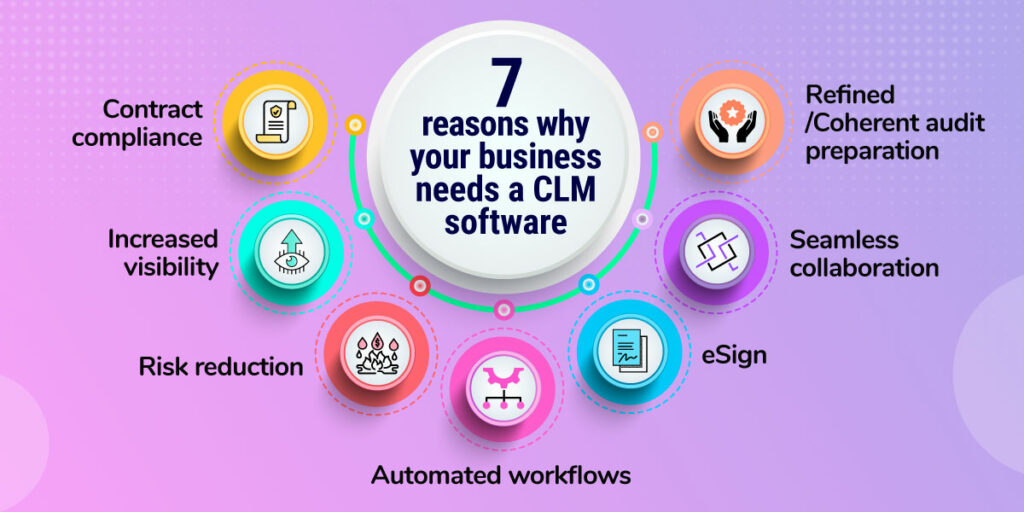 CLM software uses technologies like optical character recognition (OCR), Systems, Applications & Products in Data Processing (SAP), etc., to produce intelligent contracts.
Multiple features and cutting edge functionality of a CLM software make it suitable for contracting processes for all business functions (HR, sales, procurement, marketing, etc.) in an organization.
Contract compliance – A contract is handled by multiple people in any organization. Amidst all the paper mess, it becomes difficult to coordinate and manage documents with multiple teams. A CLM software provides contract accountability by tracking all the changes and enabling version control.
Increased visibility – A central contract repository makes it easy for all authorized staff members to access the latest version of all contracts. Unlike manual ways of handling multiple versions of contracts, a CLM makes the process more organized.
Risk reduction – Features like detailed analytics, artificial intelligence, notifications for renewal dates, etc., make organizations efficient and enable smooth functioning. Unlike manual handling, CLM eliminates the risks of missing out on timely renewals or specific clause compliance, etc. from contracting processes.
Automated workflows – It is important to automate the approval workflows within contracts to cut down on human errors and to keep a constant check. Chasing the review processes manually and following up on the changes is a cumbersome process. A CLM software enables customization and automation of workflows to streamline the process.
eSign – With the current scenario of a socially distanced world, fetching manual signatures is not a feasible option. It is a lengthy process, not the safest way of signing documents, and can be easily forged. The option to eSign documents is provided in many CLM software to save you from all these troubles.
Seamless collaboration – CLM software enables teams to collaborate over the same document. This makes the process smooth by eliminating the messy back and forth exchange of multiple emails.
Refined/Coherent audit preparation – Contract management software offers a centralized portal with features like audit trails. This enables organizations to access the entire contract history in mere clicks. This helps staff to maintain accurate records for auditing purposes.
What should you consider before finalizing a CLM tool?
If you are convinced that your business needs an all-in-one contract management solution, your next step would be to look for the most dynamic option.
But, is narrowing down the choices to one, an easy task?
Definitely not. To make your selection process a bit easier, here are some factors to consider when choosing a contract tool –
Evaluate your needs – The most important factor before finalizing a contract management platform for your business is to understand and analyze your objectives and requirements. Every software has its own unique selling point and award-winning features. You need to look for the one that suits you the best.
The User interface of the tool – A tool will benefit your company only when it has an easy to understand user interface and is user friendly for all your employees.
Integration capabilities – Ensure the new contract management system has the capacity to integrate with other corporate systems (CRM, ERP, etc.) already deployed in your company, or tools that the company might use in the future.
Budget – Allocating proper budgets for every task is a major chunk of planning, especially while doing business. Assess your resources and invest accordingly.
Support/training facilities – You must be well aware of all the training requirements required to implement the tool successfully. Research the type of support required and how much of it is made available by the company.
Pros and cons of using ContractWorks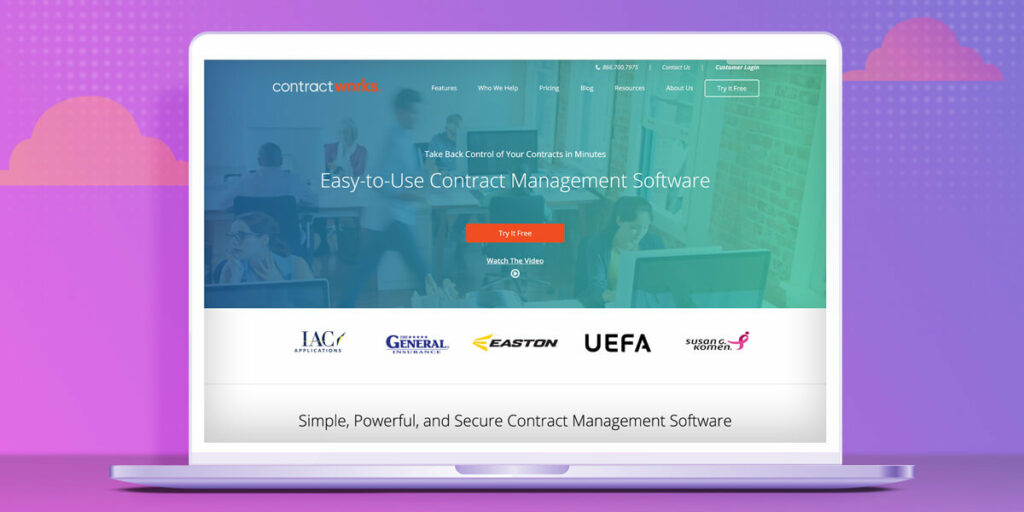 Pros –
Document templates
Customizable form fields
Audit trail
Permission-based user roles
Salesforce integration
E-signatures
Central contract repository
Smart document tagging
Advanced OCR text search
Cons –
No drag and drop user interface for drafting contracts
No clause library
No collaborative workspace for teams
Document review, redlining, and comparison cannot be done
No configure approval management rules
Revision management not available
ContractWorks is a great tool with some really supportive features for managing contracts. But is it the absolute best among all? Definitely not.
Are there more potential choices to consider? Well, of course.
It is always better to explore other ContractWorks alternative available in the market rather than sticking to one. It lets you evaluate the pros and cons of each alternative.
Top 10 ContractWorks alternatives
Revv
Revv is among the best contract management solutions and a great ContractWorks alternative available in the market. With the objective of supporting businesses going paperless, it has introduced many praiseworthy features that make contract management quite effortless. The most distinctive feature of Revv is that it is built with simplicity for its customers.
It offers –
An extensive template library of more than 1000 legally vetted and ready-to-use templates. Utilizing readymade contract templates makes the process of contract creation much faster and easier. Read this blog to know more about the tips and tricks of writing the perfect contract.
It also facilitates form-based templates. This means that it turns a template into simple form fields where the user just needs to pick an already available option or enter the desired input. This feature enables even fast contract creation.
Revv offers an editor that has multiple functionalities. It allows you to drag and drop text blocks, images, quote tables, page breaks, simple tables, eSign blocks, etc.
This platform equips you with an extremely seamless collaborative space. Users can review the contract by adding notes, tag specific people using @mention feature within the same document.
Revv offers no code integrations with various apps using Zapier. You can integrate your CRM, ERP, and other necessary digital applications with Revv to avoid any unwanted hindrance in your business functioning.
Revv's metalens feature helps to easily navigate through the contract, identify and classify components relevant to specific job roles, and recognize the real intent behind clauses that give an upper hand during negotiations with other parties.
The Activity tab present in Revv enables the users to have an audit trail of the activity of all the visitors and users of the contract. It provides the exact date and time of the activity (who opened, signed, etc.).
The built-in eSign feature of Revv is a fast, secure, and legally accepted way of signing contracts and other business documents.
You can also include a payment button in the contract itself using Stripe integration that Revv offers.
Revv offers both monthly and annual billing options. The annual plans save up to 20% compared to the monthly plans. Here are Revv's monthly pricing based on annual billing –
Forever free plan – $0
Basic – $15/user/month
Premium – $39/user/month
Business – $79/user/month
Enterprise – Custom plan designed to meet the enterprise level needs
Agiloft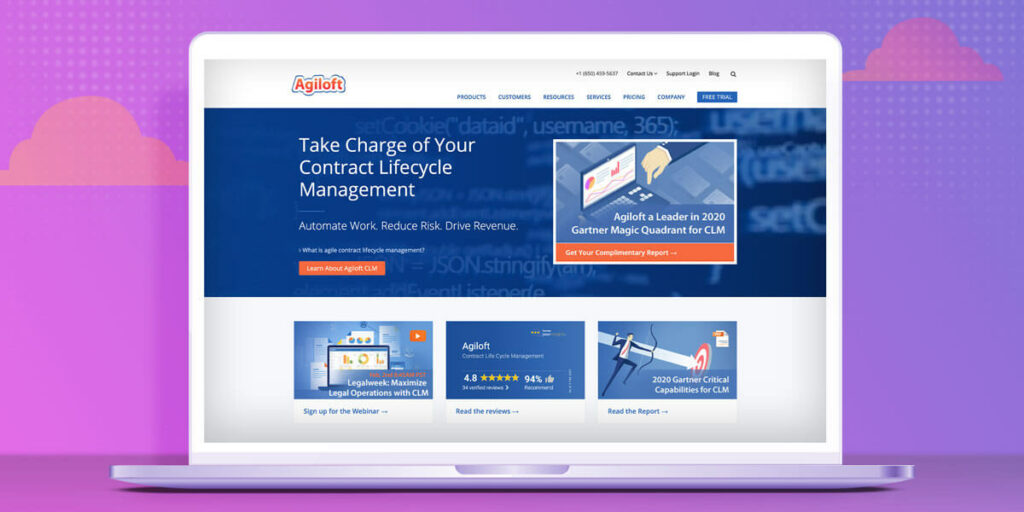 Agiloft is a contract and commercial lifecycle management (CCLM) software. It enables organizations to become more agile through well-managed contracts. Agiloft is available for both cloud service and in-house deployment.
It offers –
Contract repository
Template and clause libraries
Automated approval workflows integrated with email and text alerts
E-signature with Adobe Sign and DocuSign integration
Customized reports and automated alerts
Integration to ERP and CRM systems
Custom dashboards to track KPIs
Agiloft provides multiple pricing options – free, professional, professional extended, enterprise, enterprise extended. There is no fixed price on paid plans. Each package can be customized based on requirements and budget.
All plans are dependent on the number of users and charge $65 per user per month.
Concord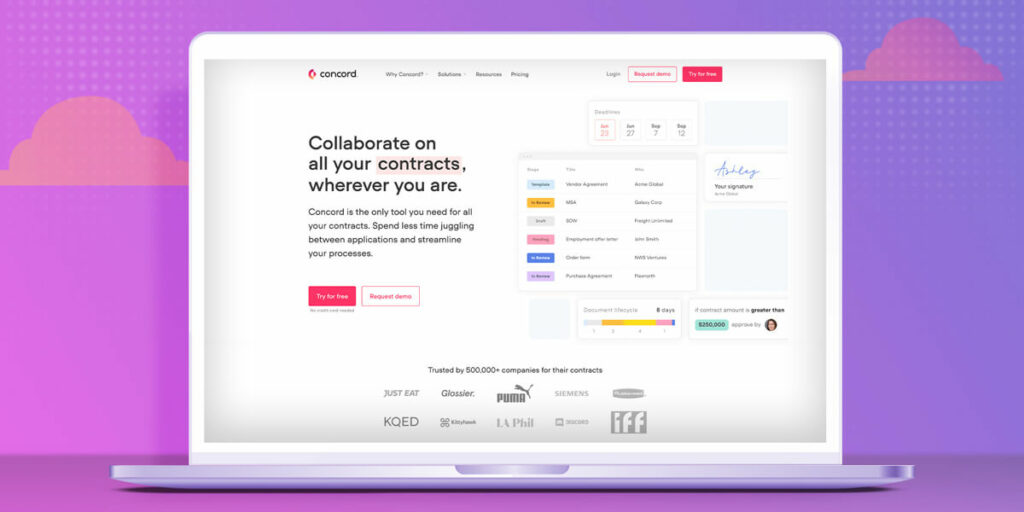 Concord is quite a flexible contract management software that can be set up easily. The all-in-one tool with editor, eSign, and other notable features is a smart choice.
It offers –
Template building and clause library
Real-time editing & redlining
Automated versioning
Private/public chat & commenting
Automated approval workflows
E-signatures
Full audit trail
Storage system
Automated alerts
Integration with Salesforce, Google Drive, SSO, DocuSign, Dropbox, and box
Each package's pricing is based on the number of users. Here are Concord's pricing plans –
Free
Standard – $339 per month for five users and afterward $17 per additional user
Pro – $419 per month for five users and afterward $34 per additional user
Enterprise – Get a custom quote
Conga contracts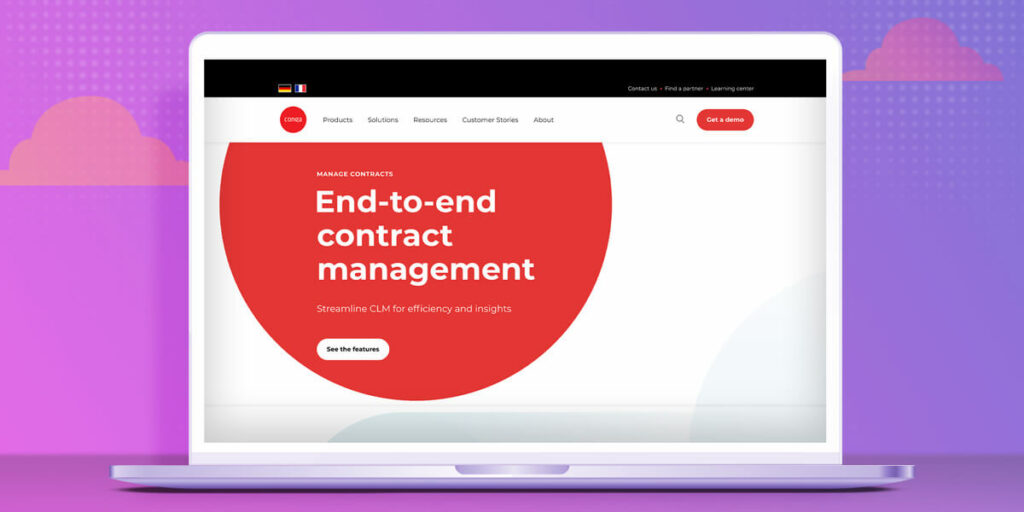 A contract management system that offers a potential ROI, comes with features to create, share, store, and analyze all types of business contracts.
It offers –
Pre-built contract templates
Clause library
Drag and drop interface for editing templates
Compliance and completion tracking
E-signatures
Efficient document management
Version control available
Full text search
Workflow management
Supports data import
Supports ERP integration and integration with many software like DocuSign, Salesforce, Evernote, etc.
Granular security controls
The pricing plans for Conga Contracts are customized and a free trial is available.
Gatekeeper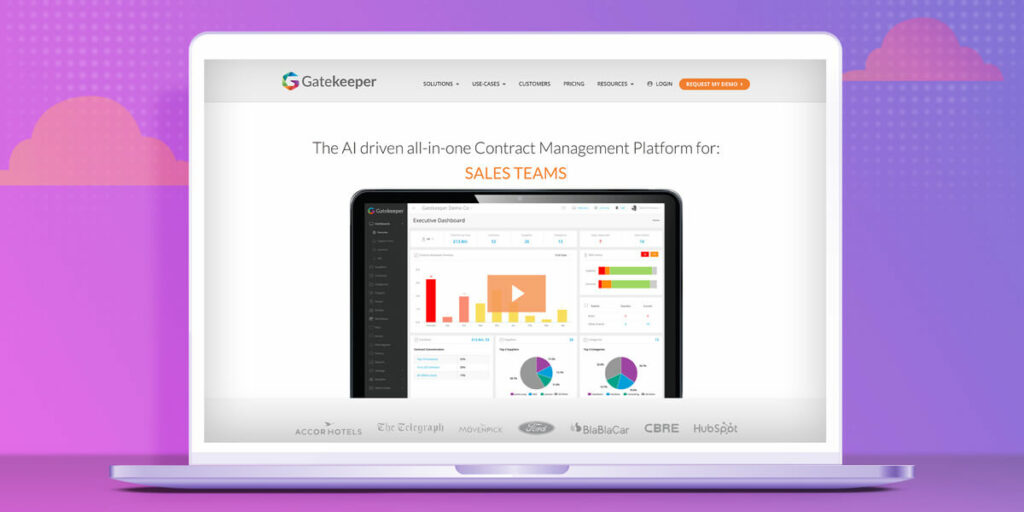 Gatekeeper is a cloud-based supplier and contract management software solution. This ContractWorks alternative is designed to help businesses streamline their contracting process.
It offers –
Customizable templates
Offers a self-service portal
Provides a transaction history
Full audit trails
Captures electronic signatures
Compliance and sourcing management
Performance metrics
Fast, intuitive filtering and searching
Workflows for teams
Email reminders on key renewal dates
Here are Gatekeeper's pricing plans –
Starter: $695 per month
Pro: $1,650 per month
Enterprise: $2,950 per month
All the plans include unlimited users and the plans scale according to the number of suppliers and contracts.
SpringCM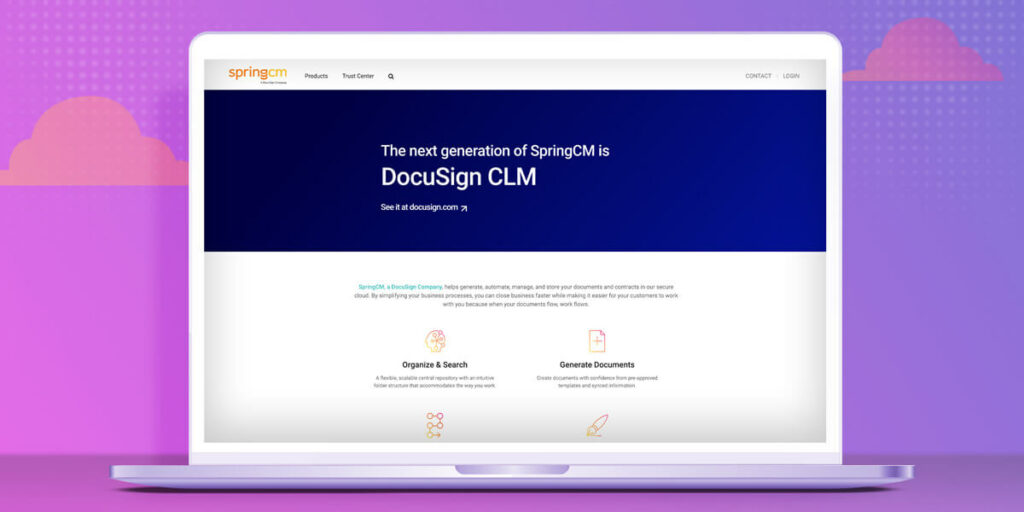 SpringCM is a contract management solution that makes business easier for you as well as your clients. This ContractWorks alternative facilitates the smooth functioning of all contract processes at all key stages by offering a plethora of features.
It offers –
Pre-built templates for contracts
Version control
E-signature
Provides workflow management
Automatic reminders for due dates, renewals, and more
Integration with Office 365 apps such as Microsoft Word
Integration with Salesforce
REST API access and support for developers
Detailed analytics for finding document approval bottlenecks
The software has a subscription pricing model. Here are SpringCM's pricing plans –
Professional: $39 per user/per month
Enterprise: $79 per user/per month
All SpringCM contracts are billed annually.
Icertis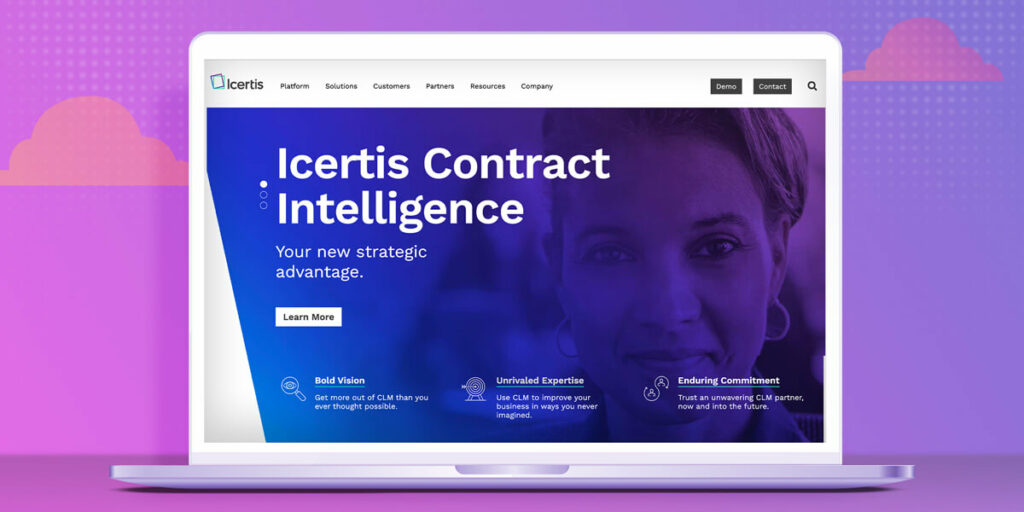 Icertis is a software with features that simplify complex contract management processes. Icertis enables organizations to handle contracts in a smart manner and achieve their business goals.
It offers –
Pre-built contract templates
Completion and compliance tracking
Electronic signature
Full text search
Workflow management
Version control is available
The pricing plan of Icertis is not made available on any of its sites. You need to inquire here to obtain the same.
Pandadoc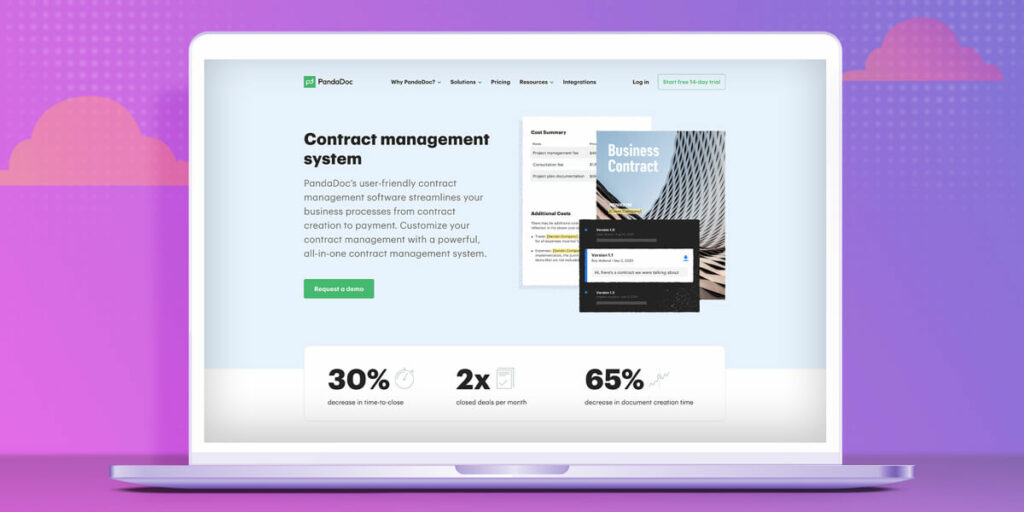 Pandadoc is a complete SaaS solution to automate your entire contract management process. It is user friendly for both internal and external teams to handle all types of contracts and is a great ContractWorks alternative.
It offers –
Contract templates
Rich editor
Pre-approved clause library
CRM integration
E-signature
Automated approval workflows
Redlining
Centralized storage
Collaboration with in-line commenting and document chats
Payment processing
Real-time notifications
PandaDoc offers both monthly and annual plans. The annual plans can lead up to a saving of 24%. Here are Pandadoc's pricing plans based on monthly billing –
Free
Essentials: $25 per month per user
Business: $59 per month per user
Enterprise: For businesses that require more capabilities, PandaDoc offers a customized solution and package.
Pandadoc provides 24/7 email and chat support on all paid plans.
Contractsafe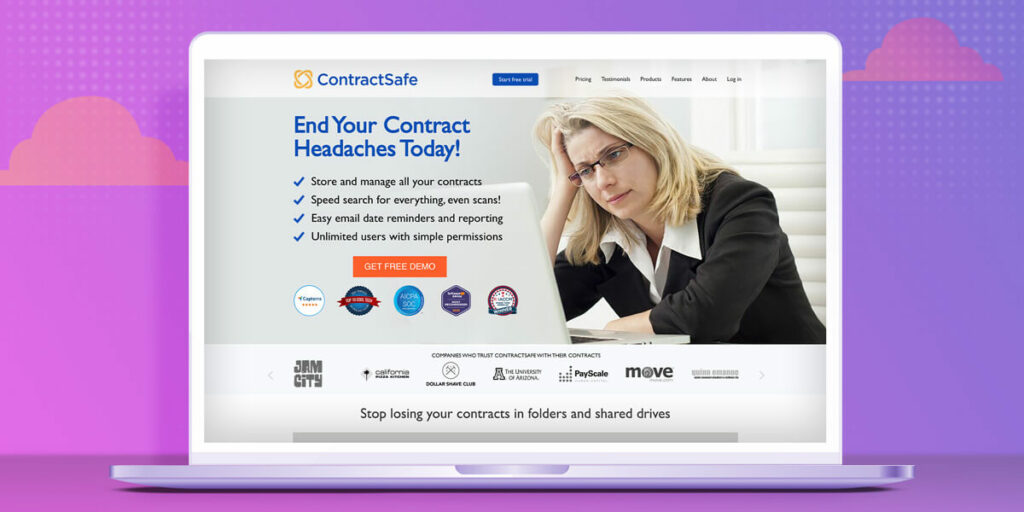 It is a cloud-based contract management platform that comes with a range of beneficial features for managing contracts.
It offers –
Centralized document storage
Search functionality
Document filtering
Key date reminders
Custom document types
User roles & permissions management
Amendment tracking
API access
User-defined fields
Automatic OCR
Contact upload by email
User access controls
Search inside scanned documents
Unlimited users
Version control
Document management
ContractSafe has a subscription-based pricing plan. A free trial of this ContractWorks alternative is made available and the paid plan starts from $99.00/month.
Read this blog to know the top Contractsafe alternatives present in the market that help businesses create and manage contracts in an organized manner.
Contraxaware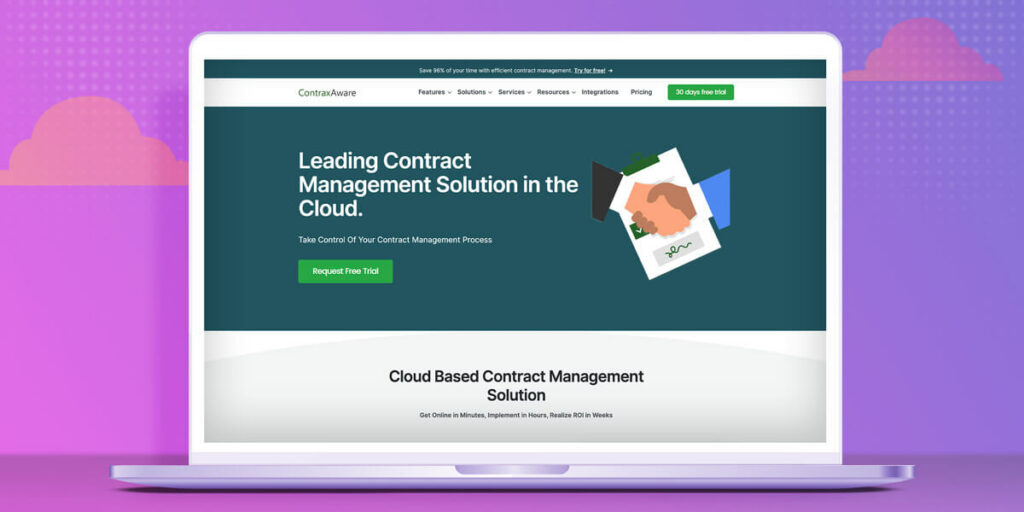 It is a cloud-based contract management solution that is suitable for businesses of varying scales. This ContractWorks alternative helps organizations create accurate contracts, edit, manage, and automate them with ease.
It offers –
Pre-built contract templates
Electronic signature
Workflow creation
Authoring of contracts
Capabilities to search
Contract data reporting and analysis
Automatic alerts and reminders
This software comes with a free trial. The segregation of the paid versions are given below –
Essential – $500 per month
Professional – $995 per month
Enterprise – $2995 per month
Please note that all the above-mentioned information is taken from company websites, comparison websites such as GetApp, G2, Capterra, and others. Since companies keep adding features, some of the information may be out of date. Let us know at support@revv.so if there's any information here that needs change, we'll verify and update as quickly as possible.
Heading towards the best choice!
Contract management is a crucial part of running any organization in an orderly manner. Traditional means of handling contracts consume a significant amount of time and resources of the company.
The utilitarian features and benefits of all the above-listed ContractWorks alternative will help you take a leap towards a more systematic method of contract management.
But, not everything is best for everyone. Evaluate your needs precisely and choose the one that resonates the most with you.