Contract managers strive every day to meet their responsibilities which include — building new contracts, reviewing them, getting them approved, keeping them audit-ready, ensuring compliance, and renewing contracts before expiry. Manually doing this entire process is exhausting, confusing, and results in flawed contracts. That's a pickle, right?
For example, consider that a contract is up for renewal and you forget about it as you are busy working on other deals. Result? The contract expires and you have the added task of creating a new contract from scratch. Ugh!
If you want to be number one in today's fast-paced business game, it is vital to switch to a contract management system.
Why? It automates your entire contract management process from contract requests to renewals and lets you focus only on winning deals, back-to-back.
Challenges faced in a contract manager job
A contract manager is always neck-deep in a pool of contracts where each contract is crucial for business growth. One small error in a contract can lead to big consequences.
If a contract's lifecycle is not automated, it increases business complexities, risks, unwanted delays by stakeholders, and leads to revenue loss.
Here are the drawbacks faced by contract managers when they rely on a manual contract management system to create a valid contract.
Poor storage
As your company grows, so does the number and complexity of contracts. One contract can have multiple copies due to negotiation and redlining. Not storing the contracts in a mannered way is the root of all problems as unorganized contracts lead to chaos.
Storing hundreds of contracts randomly in folders and filing cabinets is unmanageable. It gets even worse when a contract manager bids goodbye to the company without a proper handover.
Lack of standardization
Every contract has N number of clauses, terms and conditions, agreements, etc. When the contracts are non-standardized, it becomes the legal team's responsibility to review each contract in-depth to make sure that it does not expose the company to any risk and litigation.
Slow turnaround time
Manually drafting, negotiating, approving, or executing a contract can result in a slow contract turnaround time. Maybe you could not find the right template or the changes sent from your supplier are lost in a plethora of emails.
These delays hamper the contract's process completion and can draw a negative image of your organization.
Higher risks
Poorly managed and non-compliant contracts can land all the involved parties of a contract in trouble. This might generate friction between the promisor and the promisee and create a dent in the alliance. Contract managers constantly struggle to get a 360-degree view of who they are dealing with, what the terms of the deal are, and where the risks may exist.
The best way to overcome the above challenges and boost your processes is by switching to a contract management system. Like they say – Work smarter, not harder. 😉
Five ways to ace contract management
If you are a contract manager, then a contract management system (also known as CLM software) is your BFF. It understands your pain points and eliminates them by automating your work. Here are some of the main benefits of adopting a contract management software:
Complete control and visibility of the contract
Standardize your contracts with the help of templates
Minimize risks by collaborating with your teammates within the contract
Fast contract turnaround time with approvals and eSignatures
Legally binding and compliant contracts
Maintain a single source of truth for all your contracts with an integrated and updated system of records
A contract management software that contract managers need is….*drumroll* — Revv! It makes their life simple and easy-going. Revv offers all the above benefits and other brownie points that enhance productivity and improve customer relationships.
Ready to drive your business value with Revv? We have jotted down five proven ways that can be a holy grail for contract managers. Read along!
One: Standardize contracts
👉 Use templates to reduce manual work
Is your legal team tired of checking each contract line by line to ensure it doesn't expose the company to risks? It's time to give them a break!
Revv provides 1000+ legally vetted templates that are pre-designed and ready to use. This takes the burden away from the legal team and also gives contract managers a kickstart to complete contract authoring in a jiffy. Readily available contract templates reduce manual errors and ensure the timely creation of contracts.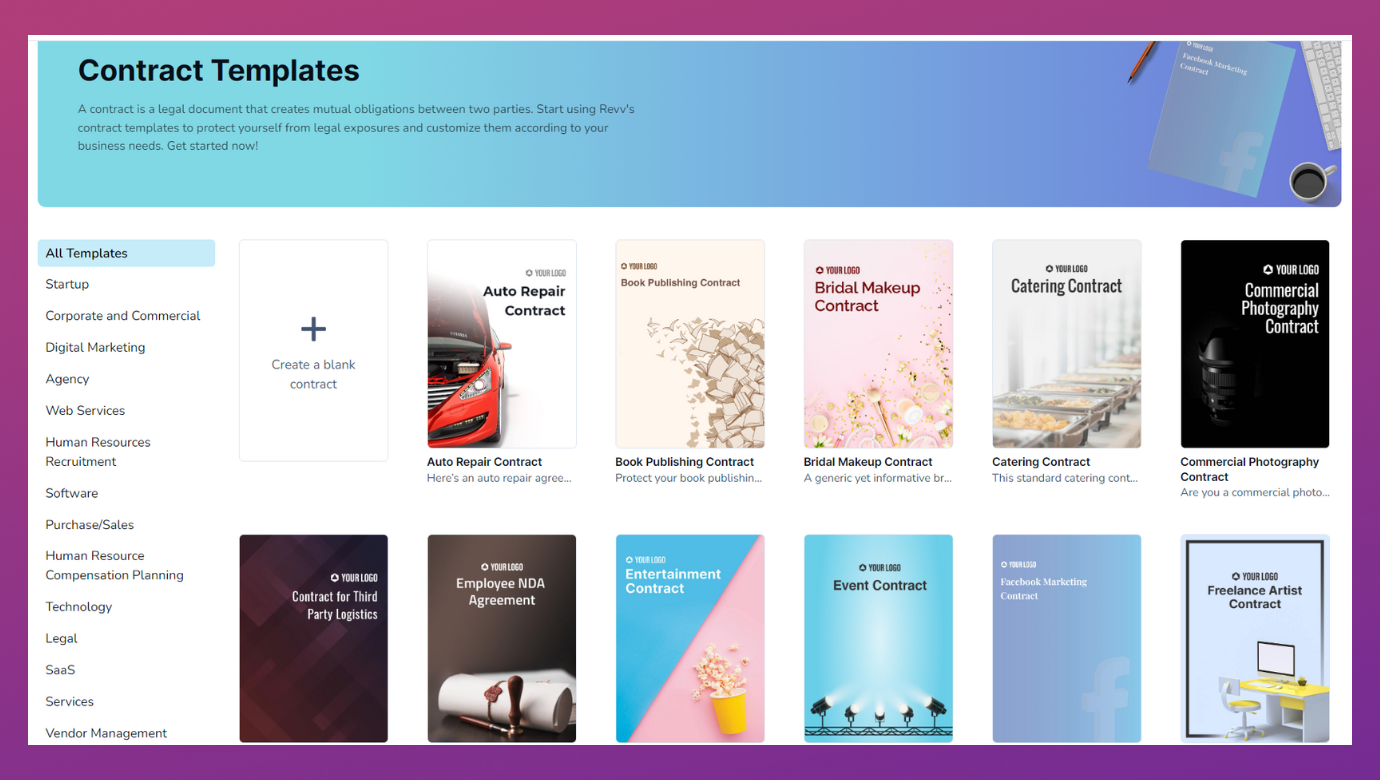 👉 Personalize contracts with a rich document editor
Revv's efficient document builder is user-friendly and allows contract managers to personalize the contract terms based on the client. It has various elements like tables, images, text, and eSign blocks that can be added with a simple drag and drop action. You can also link Google Sheets and import data right within the contract.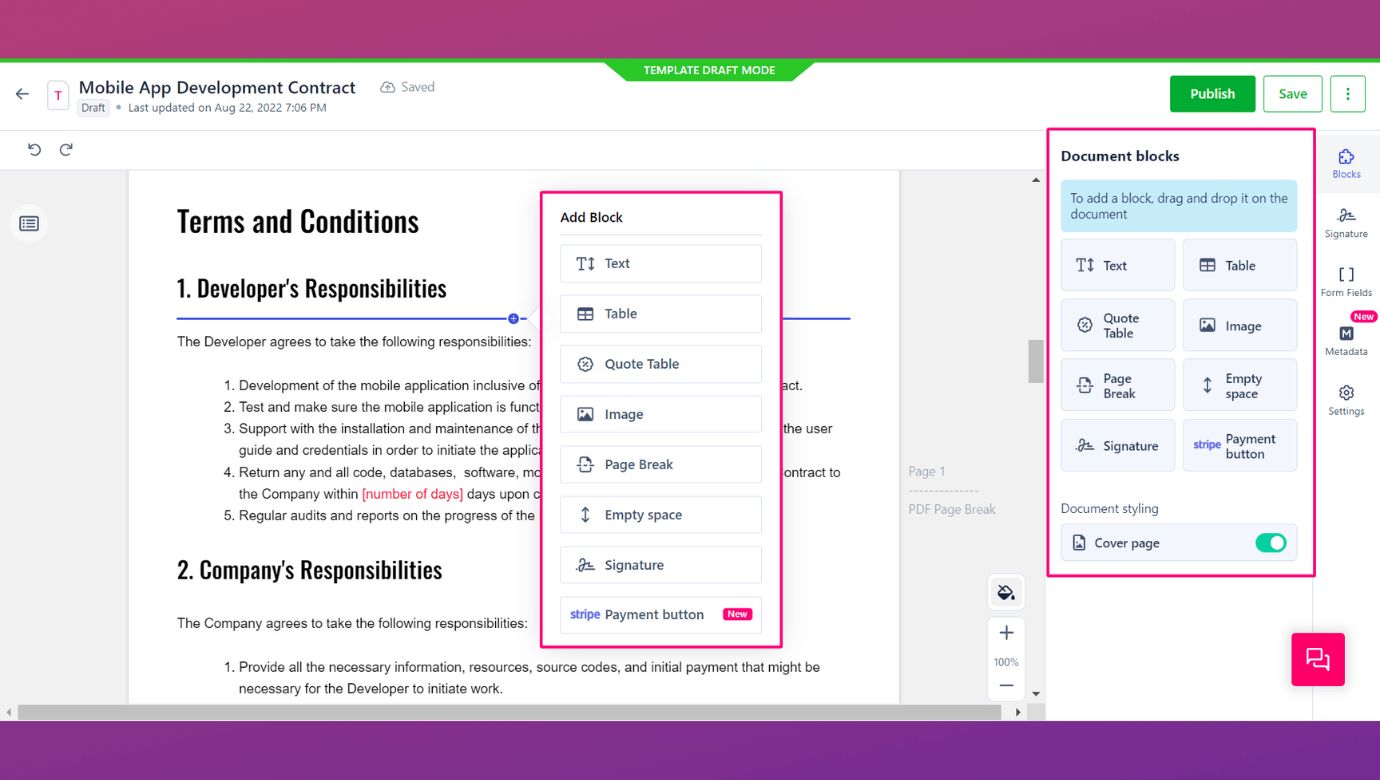 👉 Create custom web forms using form fields
Most contracts are lengthy and often contain repetitive information at multiple instances like customer name, customer address, customer title, etc. Repeatedly filling this data in a contract at every occurrence is time-consuming and prone to typing errors. Finding a way out? Try Form Fields in Revv!
Form Fields are fillable placeholders for such repetitive fields that transform your contract into a form-based document. This feature enables you to generate contracts faster and boost your productivity.
Whenever you create a contract from a form-based template, you have to fill each unique form field once and every other occurrence of the field in the contract gets automatically filled. If you want to gather some information on the contract from your clients, you can do that too by assigning the respective fields to them.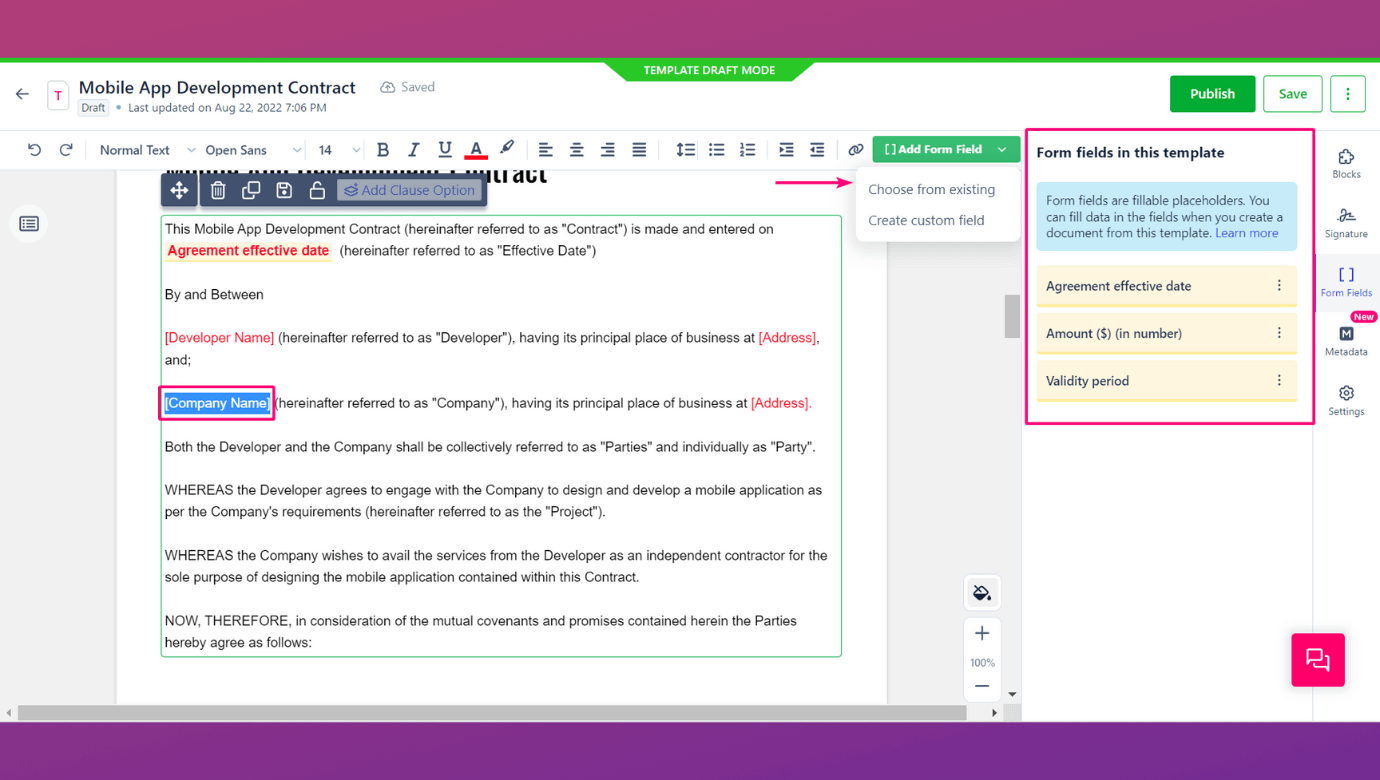 Two: Mitigate possible risks
👉 Collaborate with your teammates from within the contract
Contracts are sensitive documents and they need to be double-checked before finalizing. Revv allows you to collaborate with your teammates and speed up the contract process. You can tag them from within the contract, add notes, and attachments. This enables everyone to work together and come up with an error-free contract.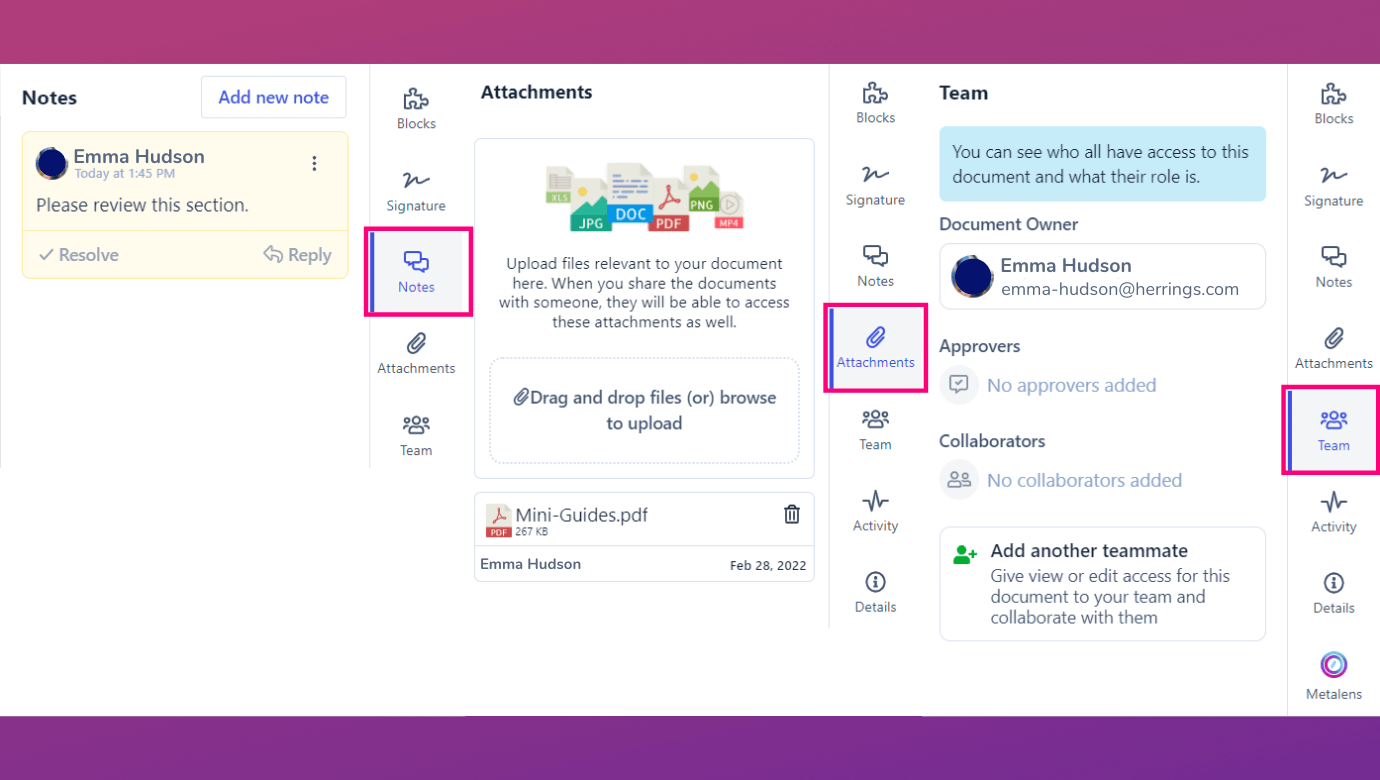 👉 Ensure error-free contracts with approvals and reviews
If you feel collaboration is not enough to guarantee an error-free contract, then choose approvals. Approval workflows in Revv enable you to send the contract to the decision-makers of your company for a quick go-ahead.
Most contracts are filled with clauses, terms and conditions, and other confidential information that might need internal approvals from your teammates. In such cases, you can select a specific clause in the template, and attach a workflow to the clause field by defining the conditions and actions.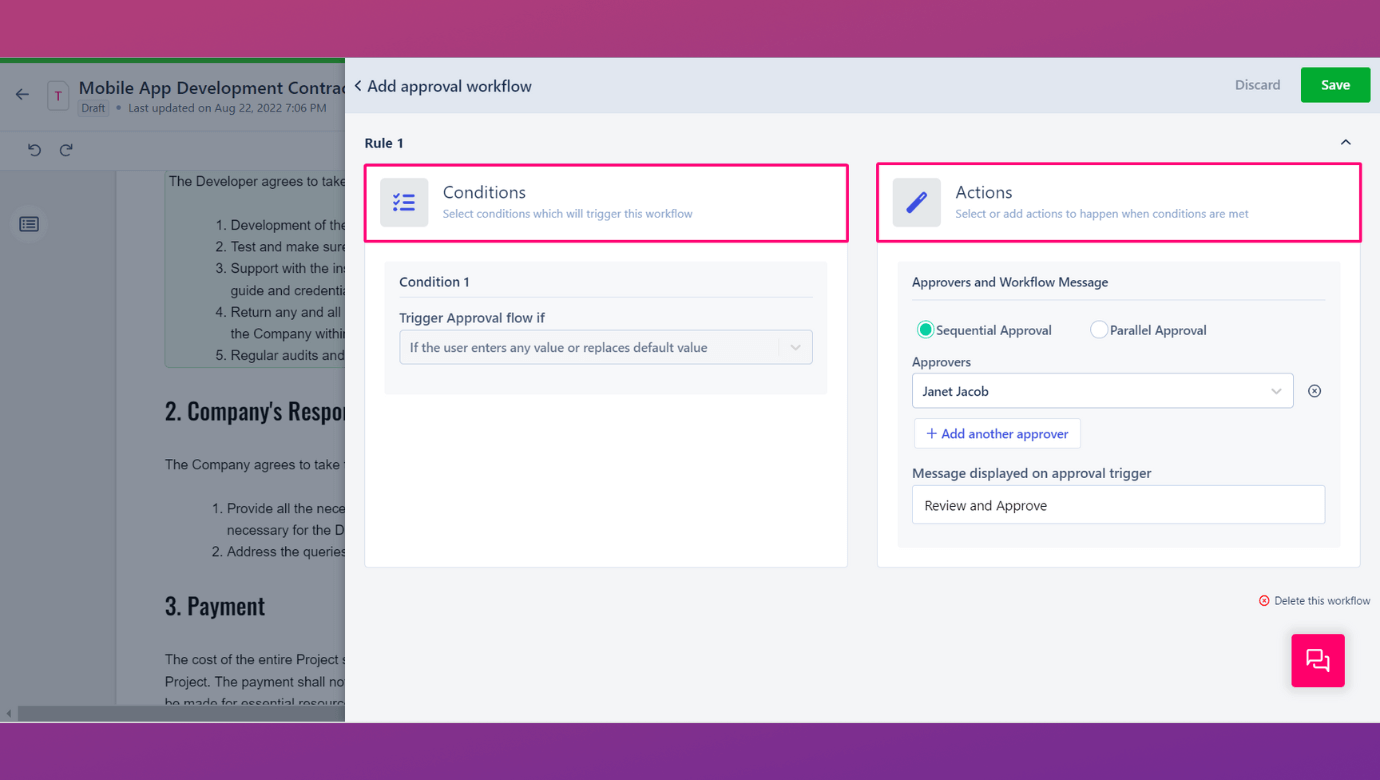 Once you add an approval workflow to a template, you can send any document created from that template for approval by selecting the Check and send for internal approval option.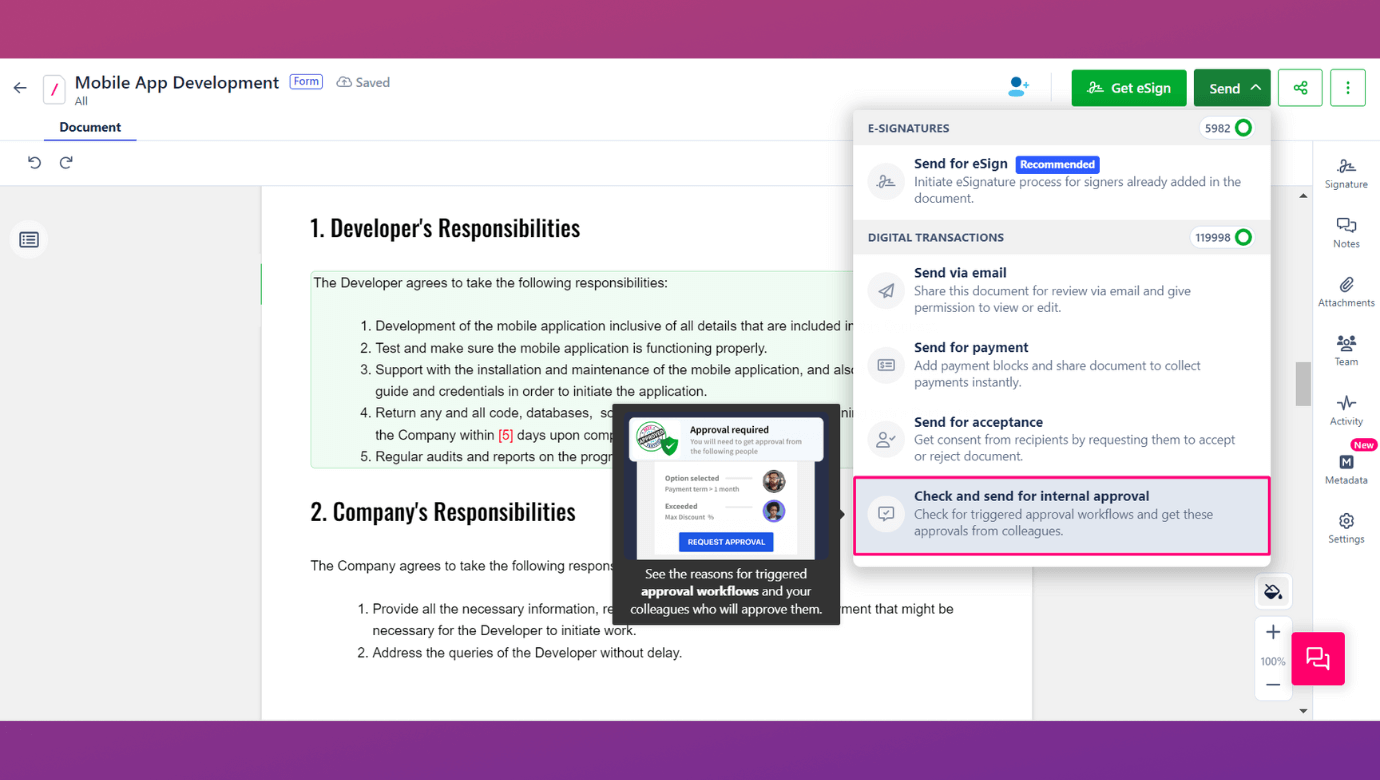 Another best way to get your contract proofread by your customers or colleagues is via email. You can send a contract for review through email from Revv by choosing the Send via Email option. With this, you can give a view or edit permission to the recipient, and eliminate possible risks, then and there.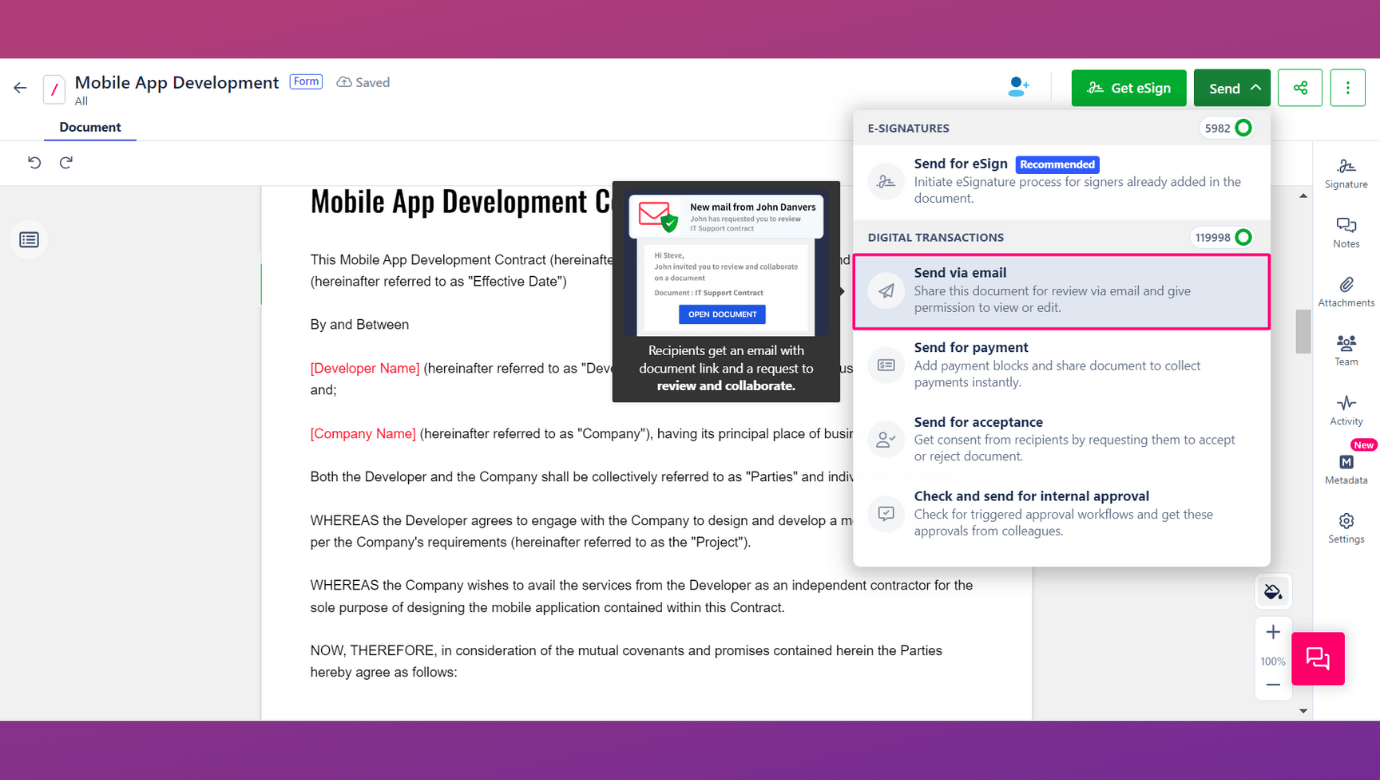 Three: Enhance contract turnaround time
👉 Boost contract workflows with electronic signatures
A good contract comes into existence only when it is signed by both parties. But sometimes this stage consumes a lot of time due to various factors like the remote work environment, lack of infrastructure access, etc., and delays the process. Opt for eSignatures to eliminate such bottlenecks and expedite contract turnaround time.
Revv provides a completely secure eSign advantage as it complies with the local and global eSignature laws including ESIGN Act, UETA, and eIDAS Regulation. Revv's inbuilt eSign feature allows you to send a contract for eSign within the system and not rely on any external apps. It provides an added layer of security with SMS-OTP authentication to verify the signer's identity.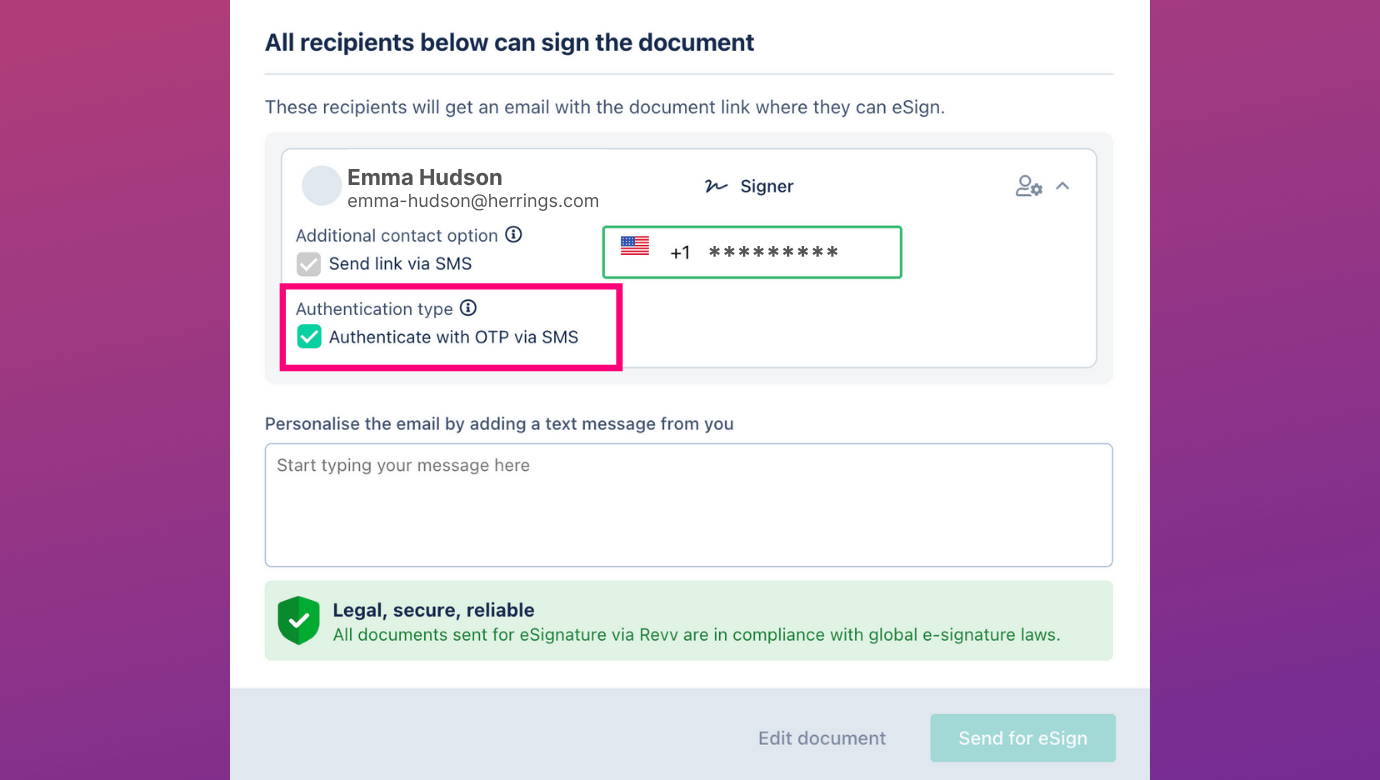 In Revv, you can drag and drop the signer blocks in your contract, assign specific signers to it, and get the contract signed successfully. Revv offers four distinct ways to place your signature on the contract. You can either type your signature, draw it with a mouse or stylus, upload a scanned copy of the signature, or use a crypto wallet — all in just a click.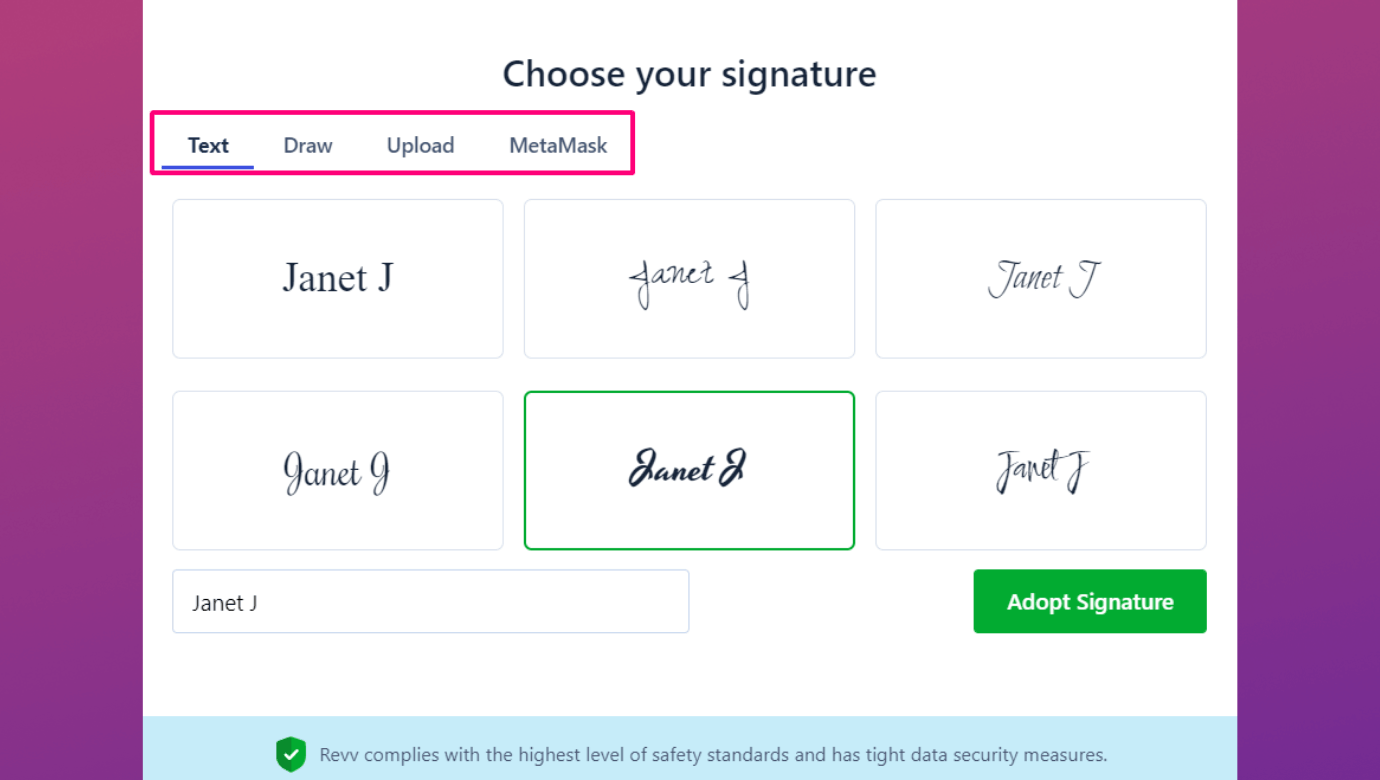 👉 Take timely actions using notifications
Little things make larger impacts. That's Notifications for you!
You can use Notifications in Revv to follow up on your contract agreements and boost the contract turnaround time.
How? Whenever you send a contract for approval, acceptance, or eSignatures, Revv automatically sends an instant notification to both sender and recipient via auto-generated emails.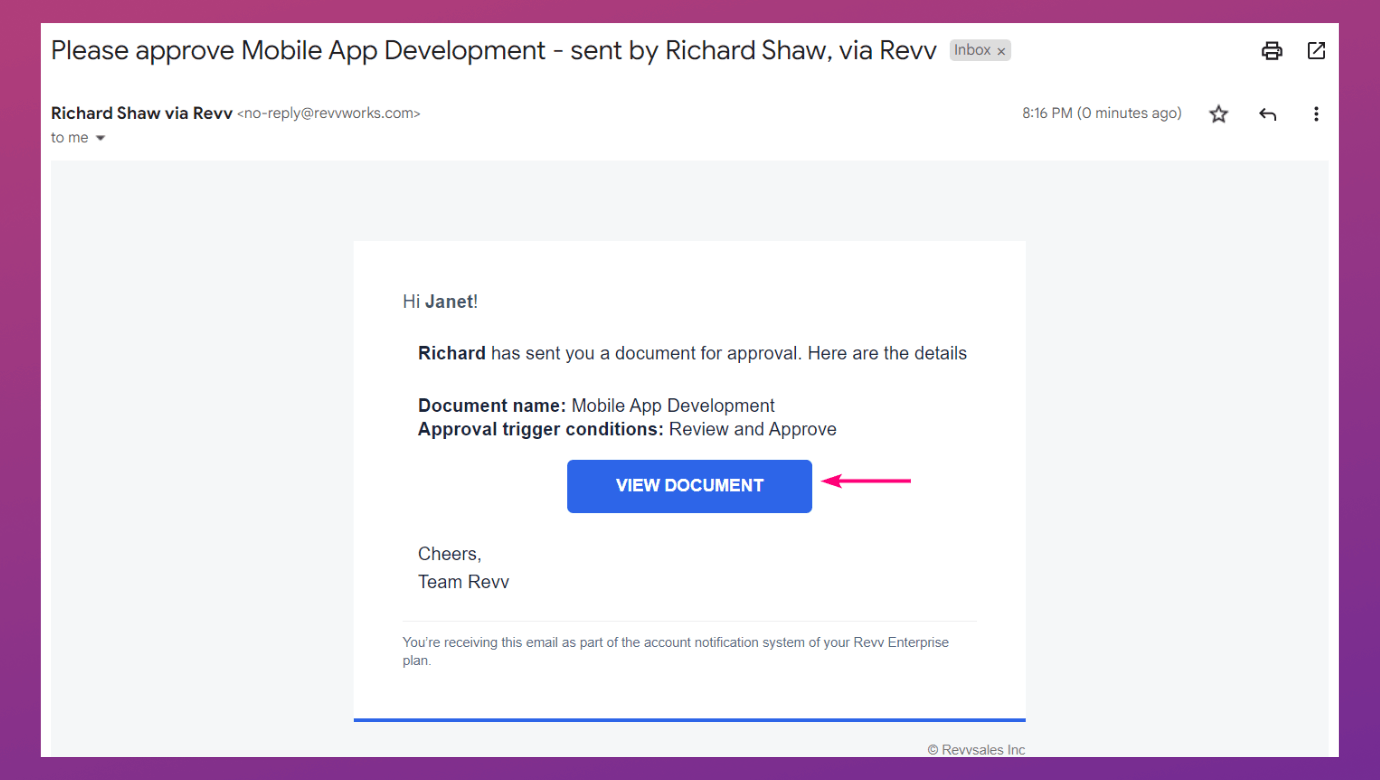 👉 Monitor the recipient's activity on the contract in real-time
A contract normally goes through a lot of stages and suffers unnecessary delays. The best way to identify these hurdles is by using the Activity feature in Revv. This feature allows you to track user activity even after a contract is sent to a customer. It shows information like — who opened the document, who viewed the document, who signed the document, along with timestamps.
For example, you sent a contract for eSign three days ago and there is no response from your customer. With the help of the Activity tracker, you can identify the delay cause, reach out to the customer, resolve issues, and accelerate contract closures.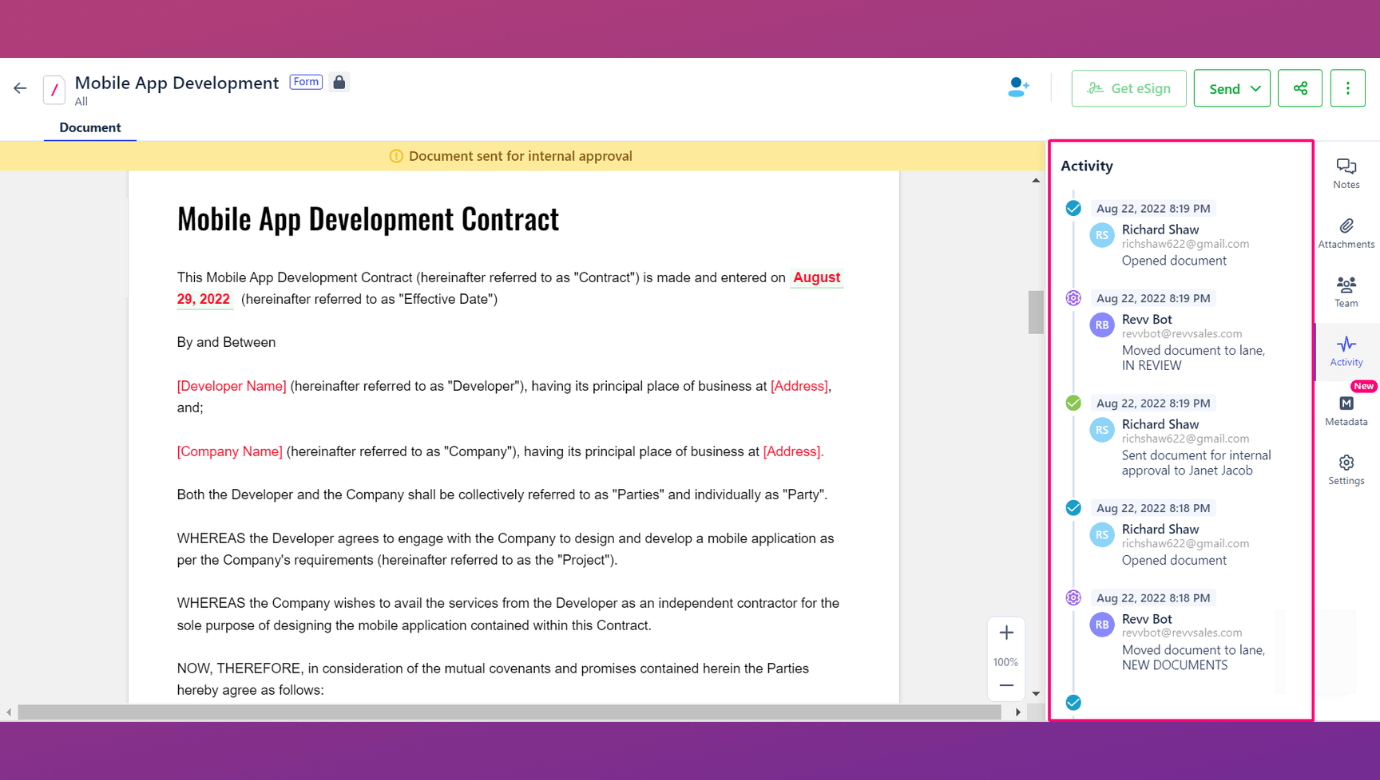 Four: Secure contracts compliance
👉 Be audit-ready always with evidence summary
Ensuring all contracts' compliance is of utmost importance in the contract management process to avoid legal complications and major fines.
After the eSign process is finished, Revv also generates an Evidence Summary for all the contracts. It is an audit trail, a digital certificate that records all actions taken during the signing process, which includes – the signer's information, date and time stamp of each action taken by the signer, their IP address, and other details that act as legal proof. It can be downloaded as soon as the signing is completed by all the signers.
This proof of document is legally admissible and can help you take the right action if a contract is litigated. It also keeps your contract audit-ready.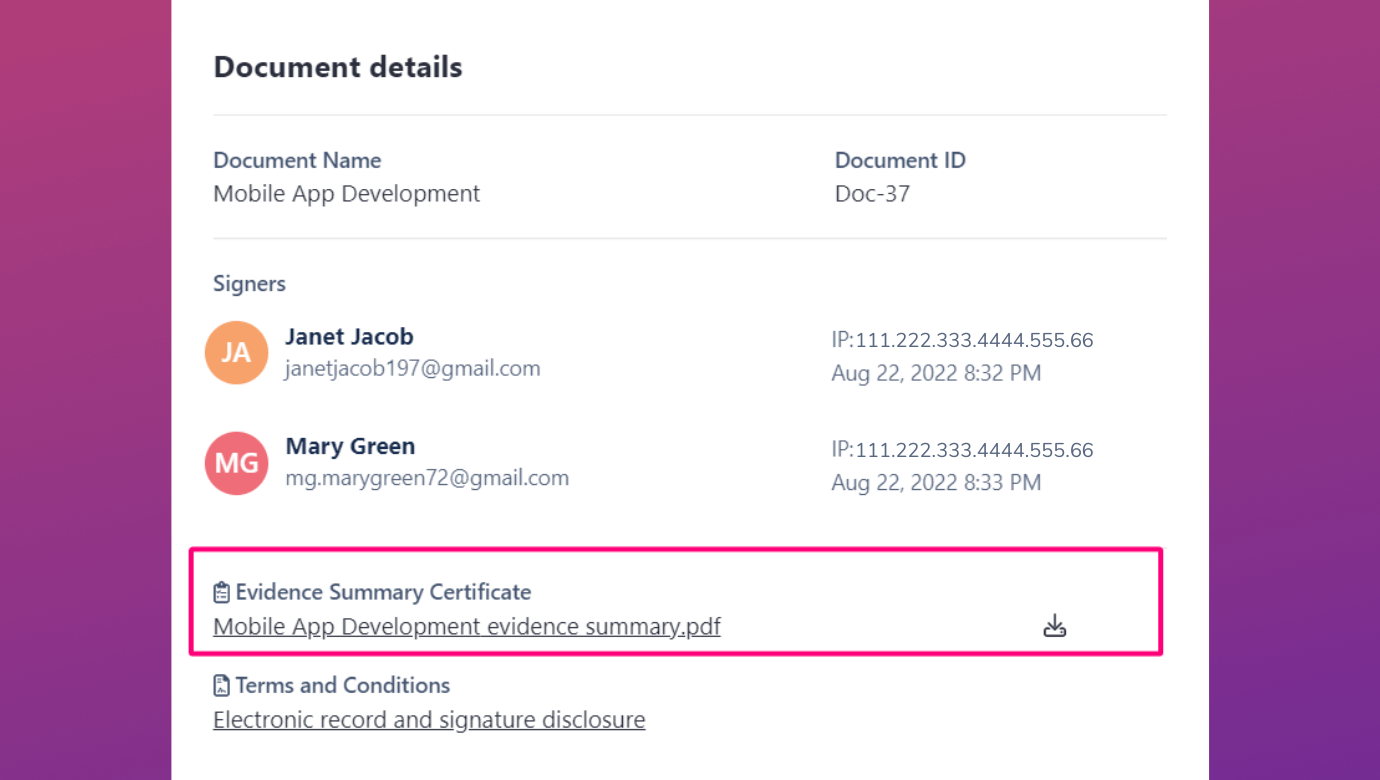 👉 Learn in-depth about your contract with metalens
Sometimes, a deep-dive analysis of a contract brings out hidden clauses and other elements that might put the company in jeopardy.
Revv's Metalens is an AI-powered feature that reviews the entire contract and highlights the data in the document such as names, dates, amounts, and many more. It also scans a contract based on type such as Product, Finance, Legal, etc. It further categorizes the highlighted information and displays insights into each review type.
Metalens' insights help contract managers to access metadata and check other crucial sections of the contract to decrease the possibility of risks.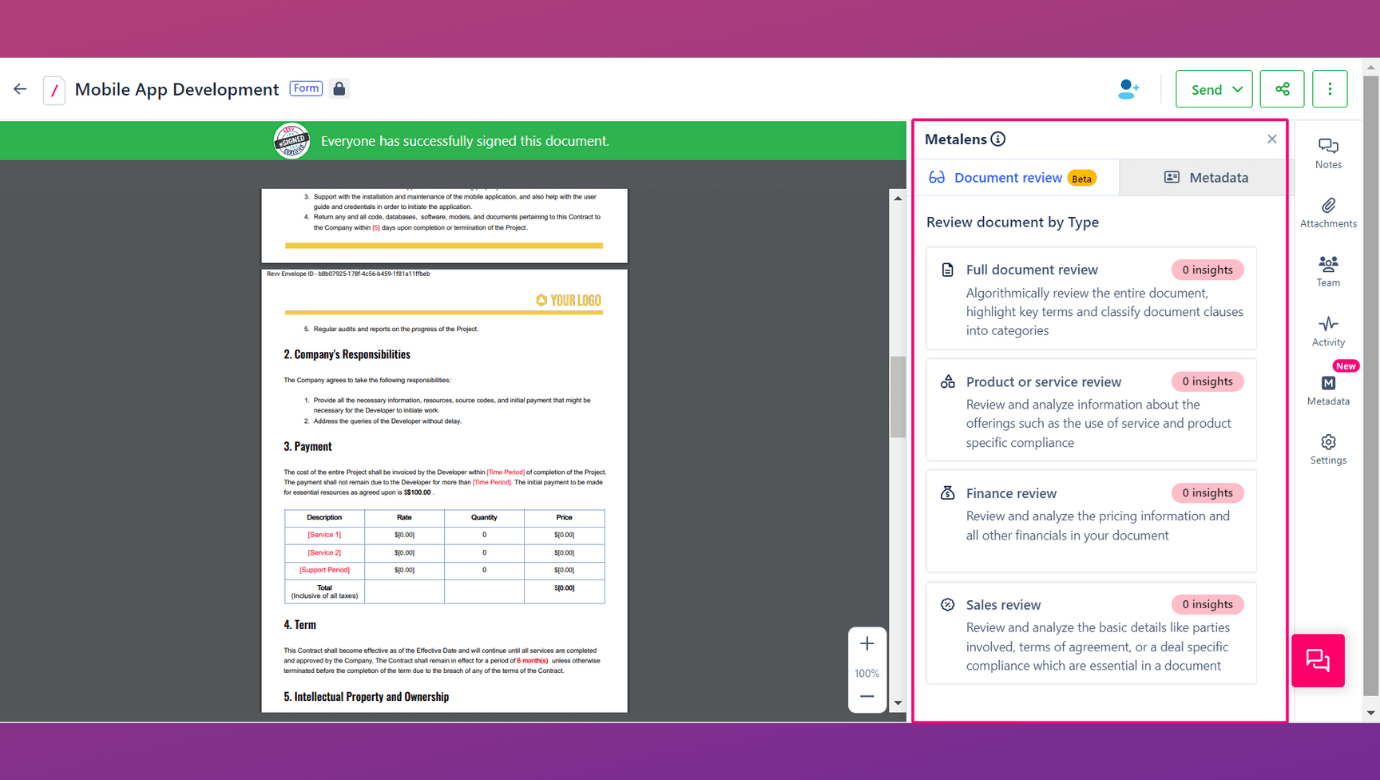 Five: Steady contracts workflows
👉 Increase business efficiency with unlimited integrations
The key to a stable contract workflow is getting everybody and everything on the same page. Have you ever been in a situation where you use additional external apps to complete your contract workflow? For example, you use one app to import customer data, another app to store all your contracts, a different app to process payments, and many others for different needs.
Solution: A fully-fledged contract management system – Revv
Revv's strong integration capabilities allow you to seamlessly connect with external applications such as Salesforce, Box, Stripe, Google Sheets, etc.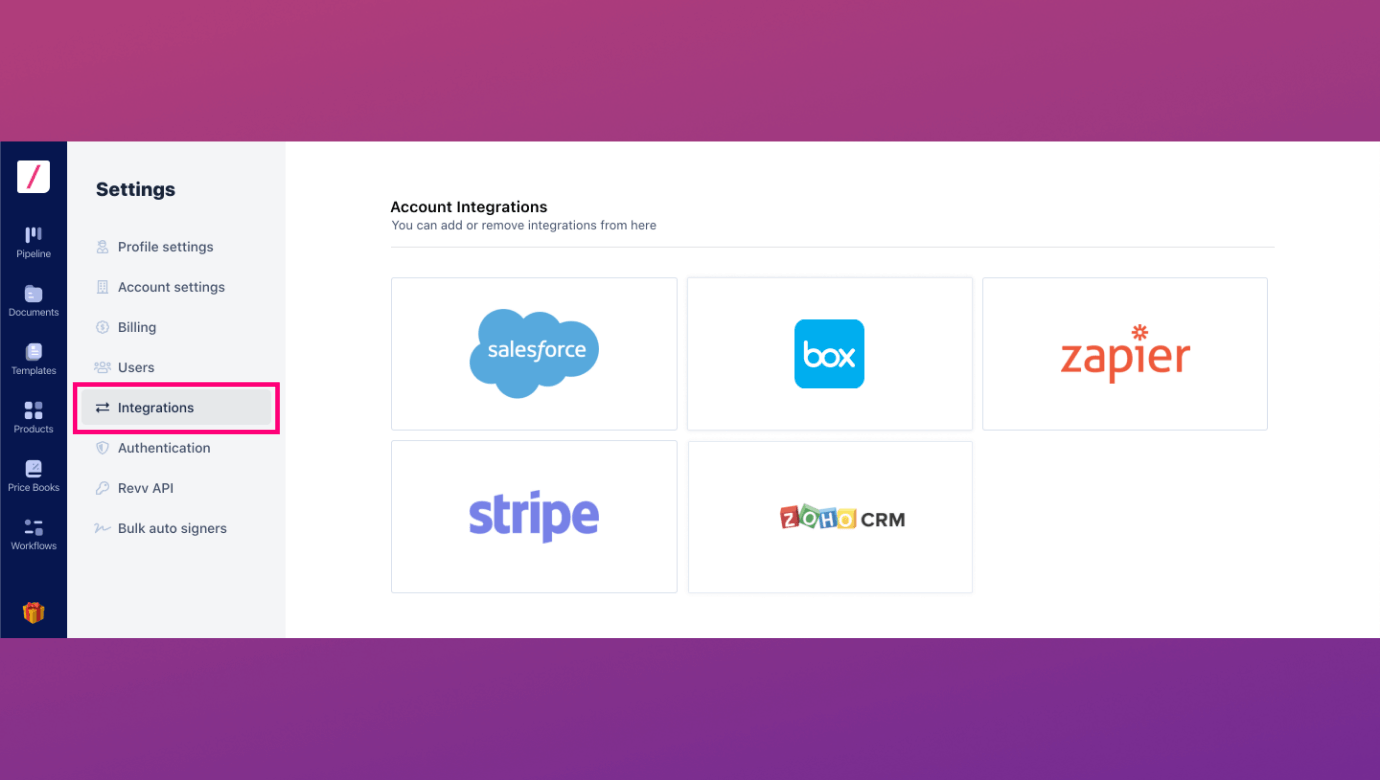 When you have everything under one roof, it enhances customer satisfaction and reduces repetitive tasks as there is no back-and-forth between apps. Now you can easily import customer data to your contract, send it for eSign with payment options, and store it safely on a cloud storage system — everything from Revv. Revv's integration capabilities are further powered by Zapier, Retool, and Native API solutions.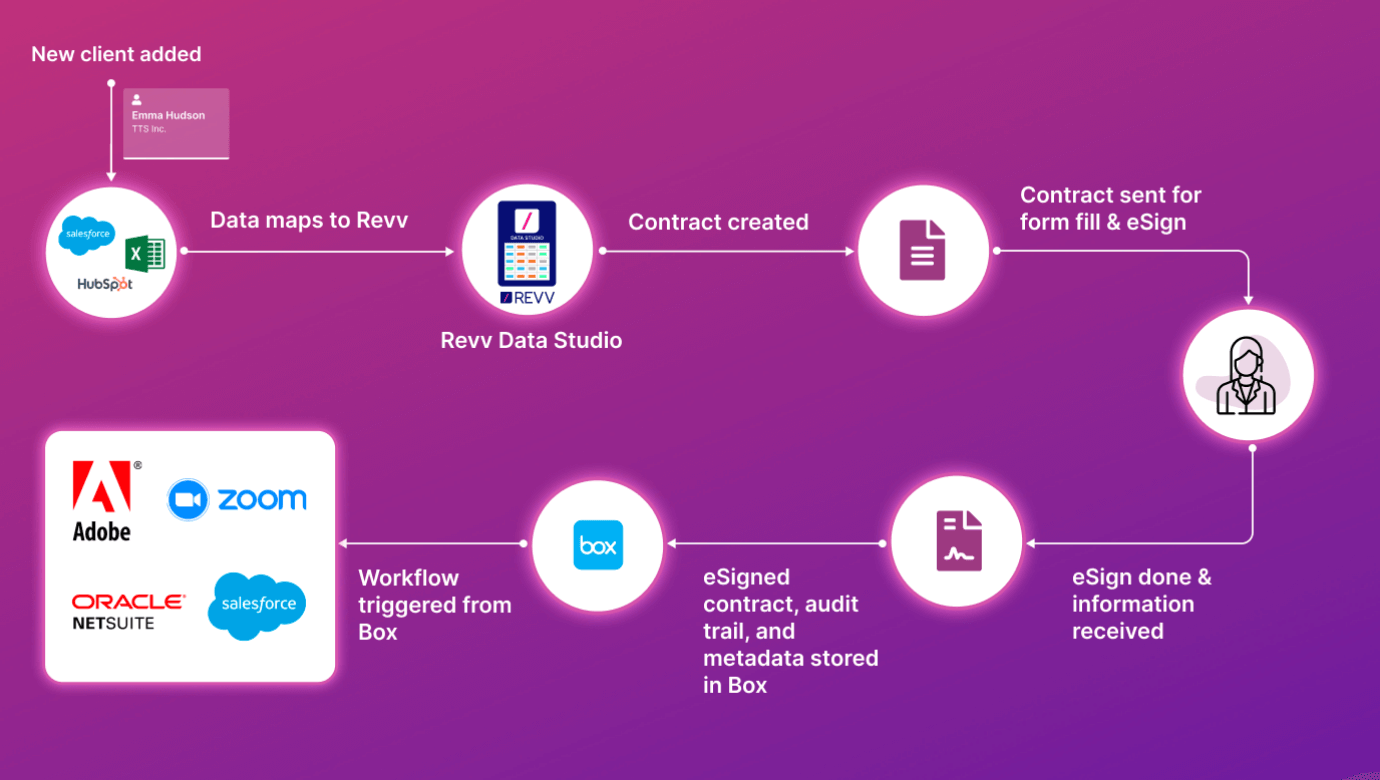 👉 Map data seamlessly with data studio
Let us establish the importance of data with a simple example.
A company usually works with several vendors to serve its customers. They create different contracts for both parties depending on the requirements. Whenever there is a slight change in the contract terms, the company obtains the vendors' and the customers' consent. To achieve this smoothly, contract managers are expected to send updated contracts to each vendor and customer for eSignatures. Now, the contract manager has to get accurate data from other apps and generate the contracts individually.
While doing all this, there are chances that a few contracts might have flawed information due to poor data copying, leading to severe repercussions for the contract manager.
Why should one go through this trouble when you have Revv's efficient data mapping tool called Data Studio. It seamlessly pulls in data from external sources like CRMs, HRMSs, ERPs, etc., to Revv with a simple point-and-click action. Data Studio does not depend on scripts, coding, developers, or API and reduces the data mapping time from hours to minutes.
The Data Studio allows you to:
Integrate with multiple data sources like Salesforce, HubSpot, Excel Sheets, etc.
Map all the data from other platforms to respective form fields in Revv templates
Create precise contracts irrespective of the size and complexity of the data
Increase productivity and efficiency of the workforce
Once you map all the fields and bring in data to Revv, you can select multiple rows containing different values and create contracts in bulk. On the same platform, you can directly send the contracts for eSignatures and move an inch closer to the finishing line – everything in a few clicks.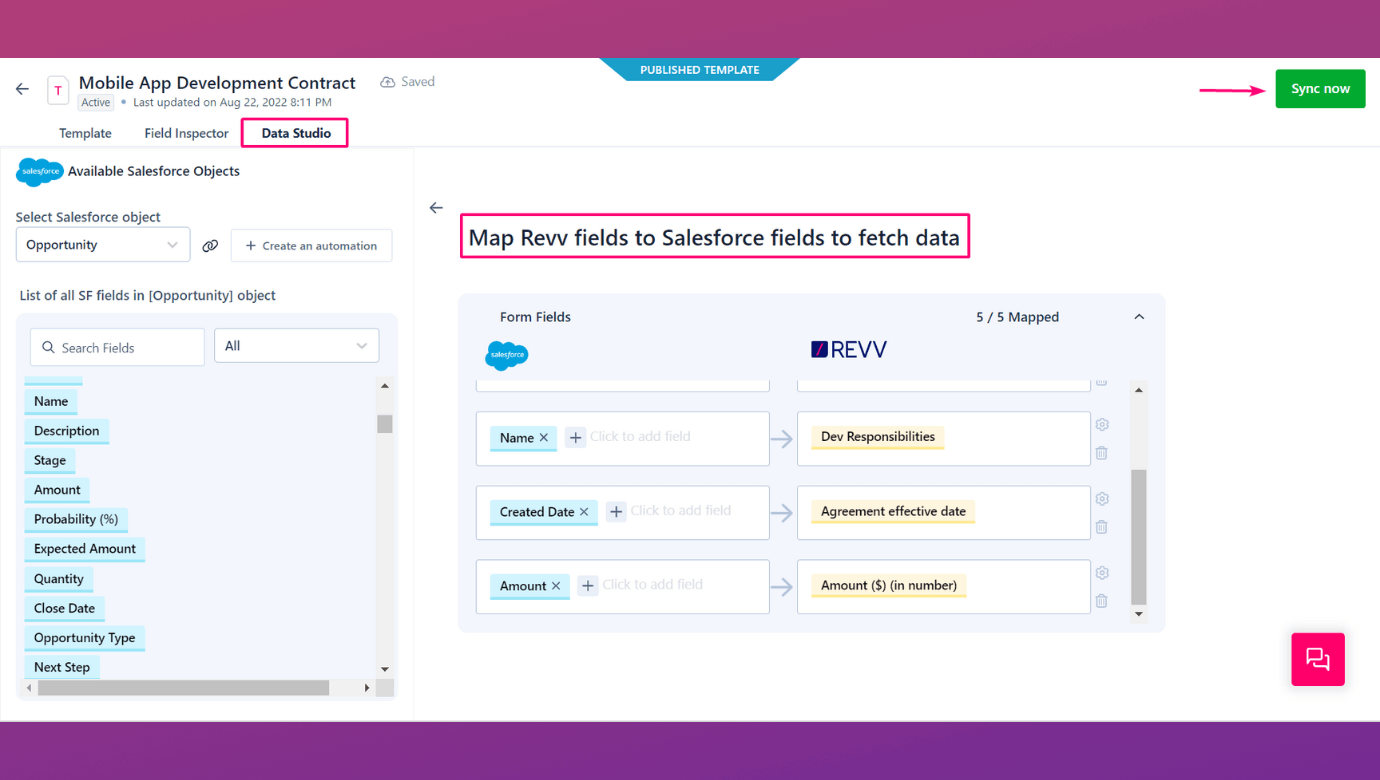 👉 Automate contract workflows with pipelines
If you aim to build a continuous contract workflow, automate it! Use Revv's Pipelines feature to simplify contract management and achieve end-to-end contract automation.
Businesses normally deal with different kinds of contracts like employment, legal, partnership, etc. You can easily automate the flow of these contracts with the help of Pipelines. For starters, you can create multiple pipelines based on your business process like Sales documents, HR documents, Legal documents, etc.
Each pipeline consists of customizable lanes that represent the steps in a process like Drafted, Approved, and Sent for eSign.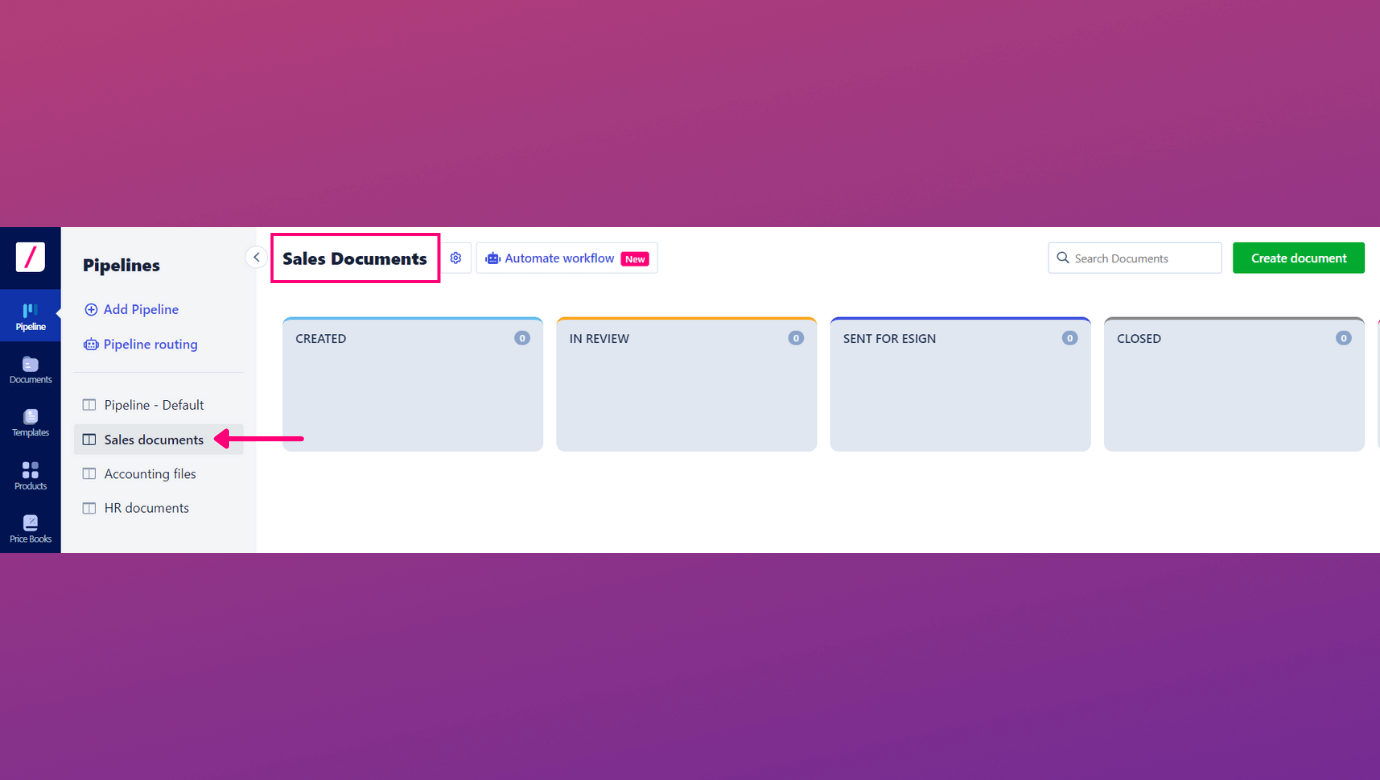 Once you add different pipelines, you can route individual contracts to those pipelines using the Pipeline Routing feature. It channelizes all your documents to respective pipelines based on triggers and actions.
Trigger: Document creation from a specific template
Action: Sending the document to the defined pipeline
For instance, you can set a routing rule to send all the documents created from the Contracts template to the Sales documents pipeline.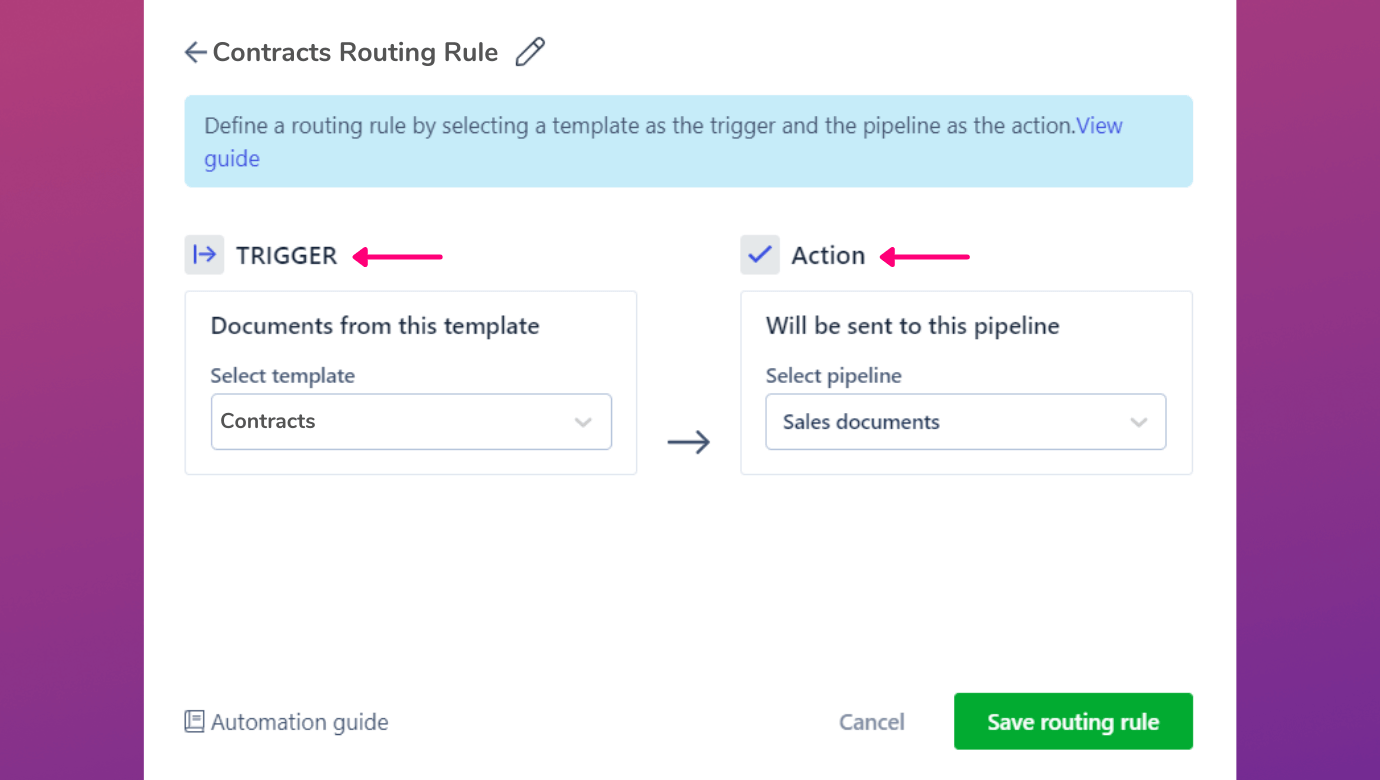 Once a document is sent to a pipeline, its lane-to-lane movement within the pipeline is configured in lane transitions. Lane transitions are dependent on lane events which are the entry conditions of a document in a lane. Only when you assign a lane event to a lane, the shift will happen in the pipeline. For example, when a contract is internally approved, it will be moved to the Approved lane.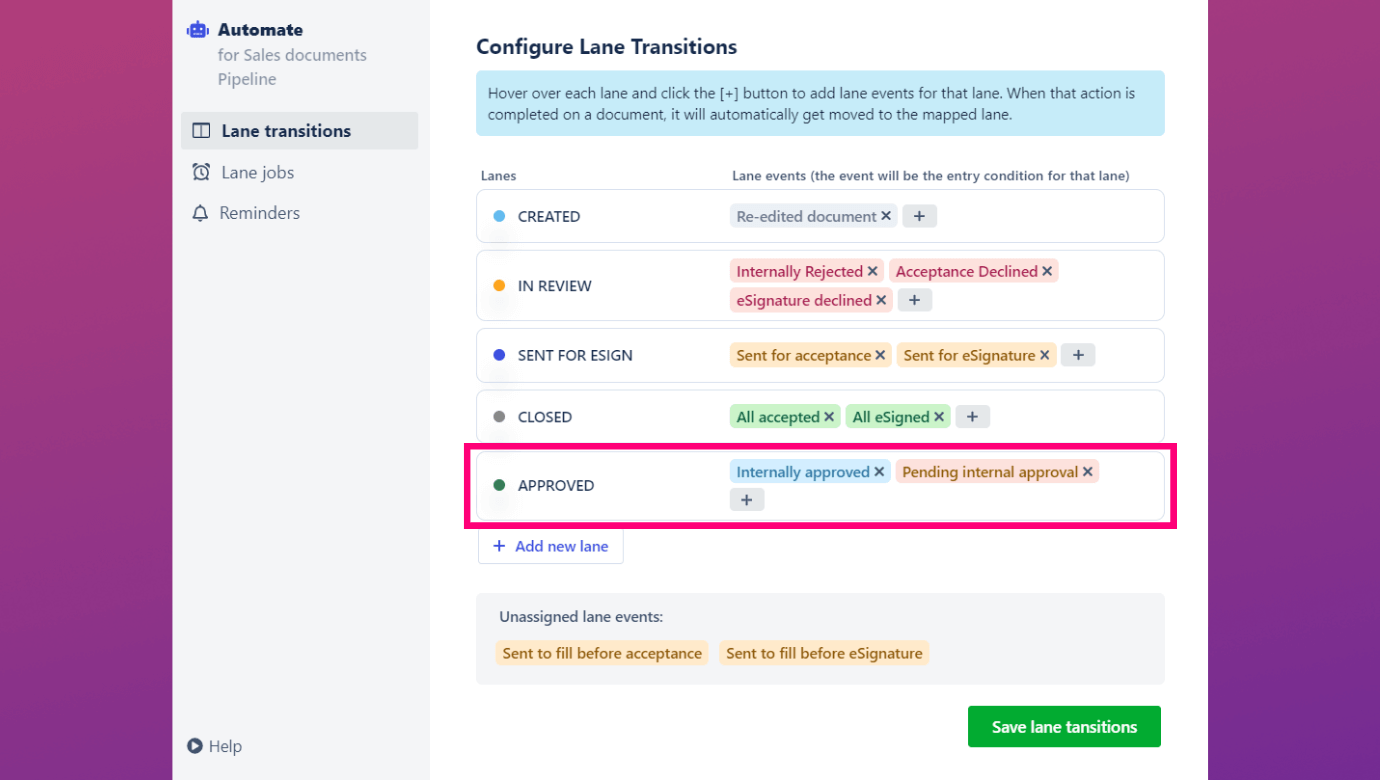 With Pipelines, you can add jobs that will take place only when a document enters that particular lane. For example, you can notify your Contract Manager when a contract is in the Approved lane.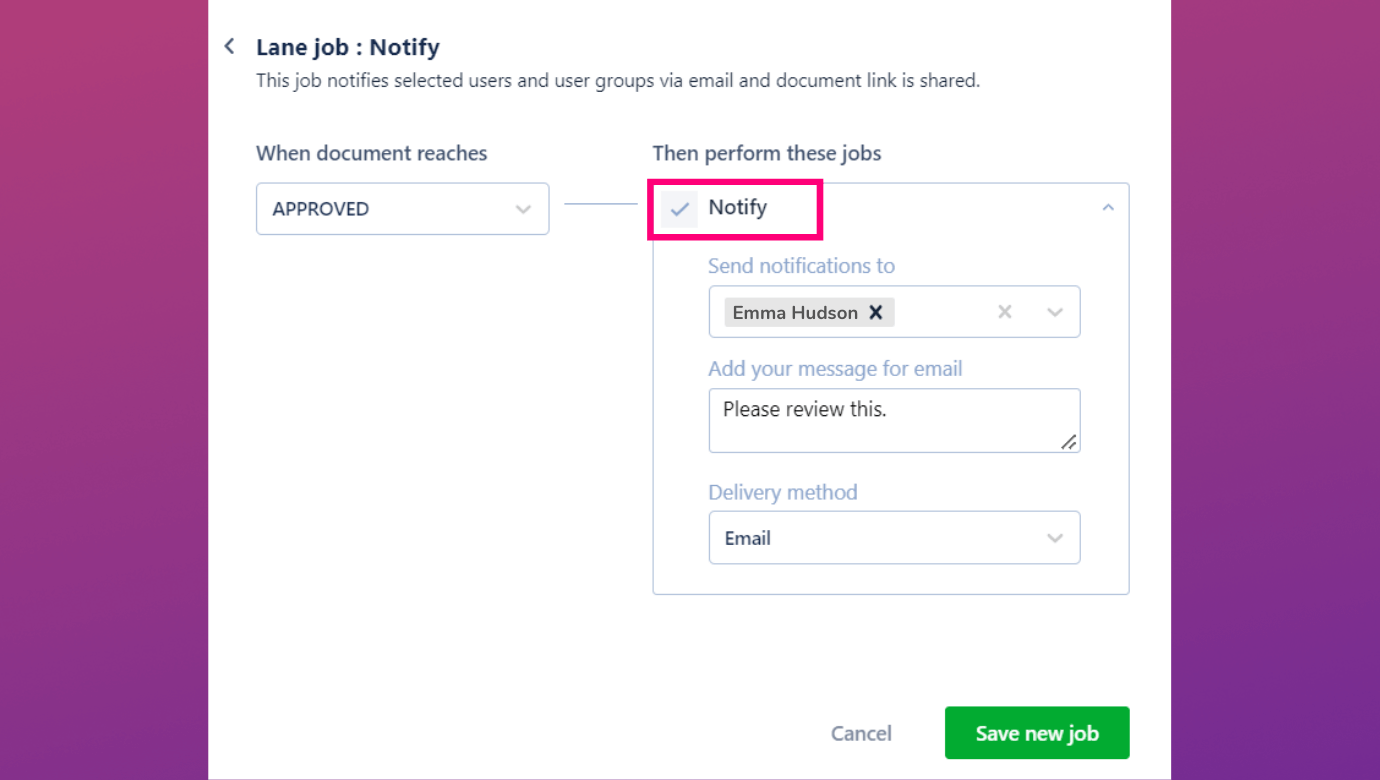 Last but not least, you can set reminders that inform a document's recipient to complete a pending action. It will be applied to all the documents that enter a particular pipeline.
Utilize Revv+Box integration to achieve uninterrupted contract workflows

The efficient integration capabilities of Revv make it possible for businesses to continue their processes post eSignature of contracts. When Revv is integrated with Box, workflows can be automated for your business systems before and even after the completion of eSignatures.

Revv's Pipeline feature makes it easy to automate operations between Revv and Box. Workflows of any complexity may now be created, managed, and executed with ease. Trigger new Box workflows based on your business needs using document metadata and metadata obtained from Revv's form fields.

When it comes to deciding what information to save in Box, you have the last say. Document file, Evidence Summary, Document Attachments, Document form fields, and quote line items are some of the data types you can send to Box.


The contract manager can use Box to store contracts and enhance the workflows
You might be wondering that Revv must be charging a bomb as they offer so many CLM automation features. Err, no!
Revv customizes its pricing plans based on the customer's needs. Revv experts will create the best price plan for your business based on the number of user licenses, document volume, eSignatures, and automation features. Get your pricing plan now!
Revv | A reliable contract management software for contract managers
Every business's purpose is to get two nods, one handshake followed by a contract. A contract is a legally binding document that contains terms and conditions accepted by both parties. Contracts play a pivotal role in the growth of a business. So don't let messy and stone-age contract management processes slow your operations down.
Pick Revv as your contract management solution and aim for the win. It's time to optimize your business value in a systematic and standardized approach along with automation and other advanced capabilities.
Godspeed!