If you hadn't gone digital in your business dealings prior to 2020, you're probably operating at least 80% digitally now. What manifested over the last couple of years has created a new normal – one featuring a hybrid workforce and more mobile devices and remote accesses. Businesses had to learn the hard way how to operate virtually, and technology has risen to the occasion.
Digital business technology has been here all along, but many businesses hadn't begun utilizing everything that was available until this year when they essentially had to. One element of business that many companies have recently begun adopting into daily practice is the use of digital contracts for new business ventures.
If you've been sitting on contracts and agreements that need to be drafted, waiting for the time when you can sit down face-to-face with your client for collaboration and signature, you should know you've got options. Using digital contracts, like the ones you can create with Revv, can help you get back to business and get contracts drafted, reviewed, approved, and signed, all without ever printing a single piece of paper or meeting with anyone in person. 
If you're a bit skeptical, we understand. Even though the use of electronic documents and signatures has been legal and valid since the early 2000s, the transition to purely virtual business has taken time. The aftermath of a global pandemic escalated the transition and left some feeling as though they're struggling to catch up.
You don't have to feel lost in the world of virtual technology. Revv can help you understand digital contracts and can help you through the entire digital contract process, from start to finish. Let's talk about what a digital contract actually is, what makes them legal, and how Revv can help you along the way. 
What is a contract?
A contract is an agreement between two parties for mutual benefit and performance that is enforceable by law. Most of the time, you'll find a contract in a form that has an outline that:
Defines the parties of the contract
Provides the parties' contact information
Defines terms of the contract
Provides for terms of performance and obligation
Contains signatures
A digital contract is simply an electronic form of a contractual agreement. While a digital contract can be printed on paper and signed with ink, the use of electronic signatures means that never has to happen.
Digital contracts are beneficial because they're:
Easy to use. Instead of using word processing software, you can use digital contract software, like the kind offered by Revv, to easily create professional contracts easily and rapidly.
Fast. You can save time by using digital contracts by sending the contract both in-house and out-of-house in a digital manner. Instead of coordinating schedules and attempting to meet in person, you can easily send drafts electronically for review and signature.
Cost-effective. You'll save money by using a digital system of contract drafting and signing. For instance, Revv's pricing plans have generous allowances for users accessing the platform, so you'll never have to worry about buying additional licensing for your software if your company grows.
This is all great, but are digital contracts legal? Good question; let's explore.
Are digital contracts legal?
The Information Technology Act of 2000 made the use of digital contracts legal, valid, and enforceable by law. You can use digital contracts in confidence, knowing that if a portion of the contractual obligation is not met, specific performance can be sought.
For a digital contract to be valid, it must not only contain the basic requirements that make a non-digital contract legal but it must also be electronically signed in a manner consistent with governing law as provided by the E-Sign Act. Electronic signatures are valid if they:
Have proper consent. The party signing digitally must consent to signing digitally and be made aware of what their consent covers, what documents are included in their consent, and how they can withdraw their consent.
Make the signer aware of the hardware and software requirements necessary for signing electronically. The signer must verify they are able to sign electronically and get access to the hardware and software necessary to do so.
Are kept for the length of time required by law. For an electronic signature to be valid, the party requesting the signature must agree to keep the electronically signed document for the period of time required by law.
In terms of having a legally binding digital contract, those are the basics. So what must the contract have to make it valid (whether or not it is digital)?
What are the six basic requirements for a contract?
For any contract, digital or paper, to be valid, six requirements must be met. While we will discuss them here briefly, you can find a more detailed explanation of these requirements, including how Revv helps ensure you meet them each time you create a new contract, in this article.
Offer. Every contract will have an offer. This is essentially the basis of the contract that explains what Party A wants, and how Party B will fulfill that need. This will include the basic terms of the contract that each party will accept. 
Acceptance. This is the portion of a contract that determines whether both parties have agreed to the terms of the offer. There is normally a time frame within which the offer must be accepted. 
Consideration. This is the "payment" portion of the contract. Party A desires something from Party B, so Party B will provide that good or service for certain consideration from Party A, which is usually a monetary amount. 
Legality. This ensures a contract is legally binding. This is subject to local jurisdiction, where a contractual obligation will be met.
Capacity. Both parties signing a contract must have adequate capacity to do so and cannot be in a position that renders them unable to sign a contract without understanding or under duress.
Mutuality. This term means that both parties understand what they are agreeing to, and both parties are in agreement that no misrepresentations have been made by either party. In other words, both parties completely understand the terms of the agreement. This may also be referred to as mutual consent.
As long as a contract contains these six elements, it is a legally enforceable agreement. All contracts have some clauses that cannot be skipped. Read this blog to remove your fear of understanding contractual clauses. However, when working with digital contracts, there are some practices you'll want to avoid completely.
Digital contract don'ts
It goes without saying that there are always rules to abide by for everyone's protection. As such, there are some considerations you should make when working with digital contracts.
Don't "click sign" too quickly. When you're working with a digital contract, it can be easy to simply click through the electronic signature boxes. This is a bad mistake, as items in the contract could have changed since the last time you viewed it. It is always a good idea to verify any changes and to read before you sign.
Don't assume that verbal or e-mail requests for contractual verbiage changes actually made it into the digital contract before you signed. A great way to avoid this is to limit direct changes and use comments and notes (that are preserved) to direct changes for the author.
Don't allow anyone else to sign for you without proper consent. It can be tempting to let a trusted friend or family member electronically sign something in your place if you aren't able to get to a computer right away. Not only is this illegal if they don't have consent, but they could also end up signing something you haven't actually agreed to, which could turn out really horribly in the end.
It's easy to avoid these pitfalls when you use an intelligent business partner, like Revv, to help you navigate the creation and execution of your digital contracts.
How Revv can help you create digital contracts?
Revv is your all-in-one document automation solution that allows you to create professional, legal contracts from start to finish. We make it easy and affordable to move forward in virtual business and e-commerce by supplying you with customizable document templates. 
Our feature-rich document editor will help to enhance your documents and templates with further modifications. Using a simple drag-and-drop feature, you can add or edit texts and images, insert quote tables, connect Google Sheets, integrate payment systems, and more.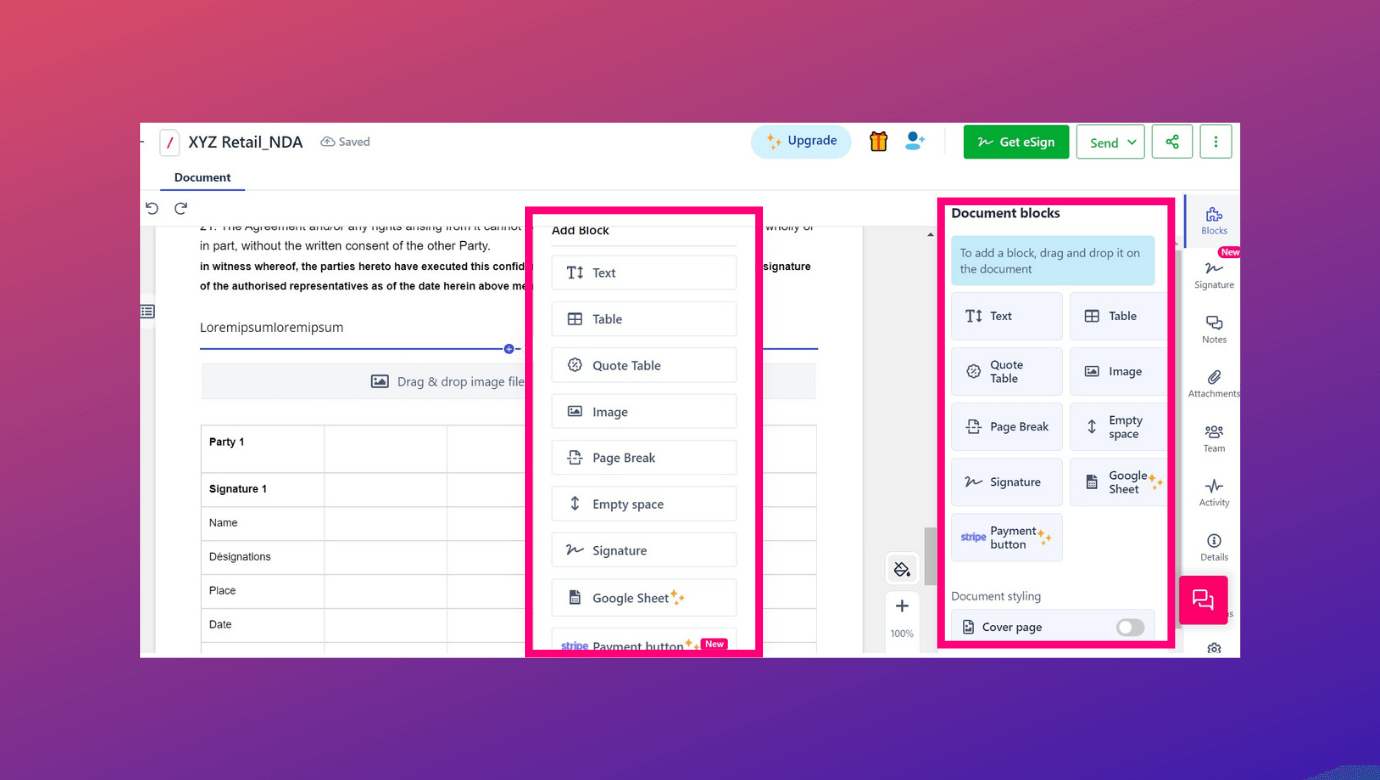 You can get your contracts electronically reviewed, approved, and even signed in rapid time using our approval workflow options like:
Check and send for internal approval: You can use this option to request that contracts be reviewed or authorized internally by senior management or peers before sending them for eSign. With the help of this option, you can automate the workflows for document approval. 
Send by email: You can select this option if you want an outsider or a third party's opinion or review specific clauses contained in your contract. All you have to do is send your contract document to the concerned person via email and give them permission to view or edit it. 
Send for acceptance: Revv provides this option for documents that merely need acceptance from the recipients. You can reduce the use of eSignatures with this feature.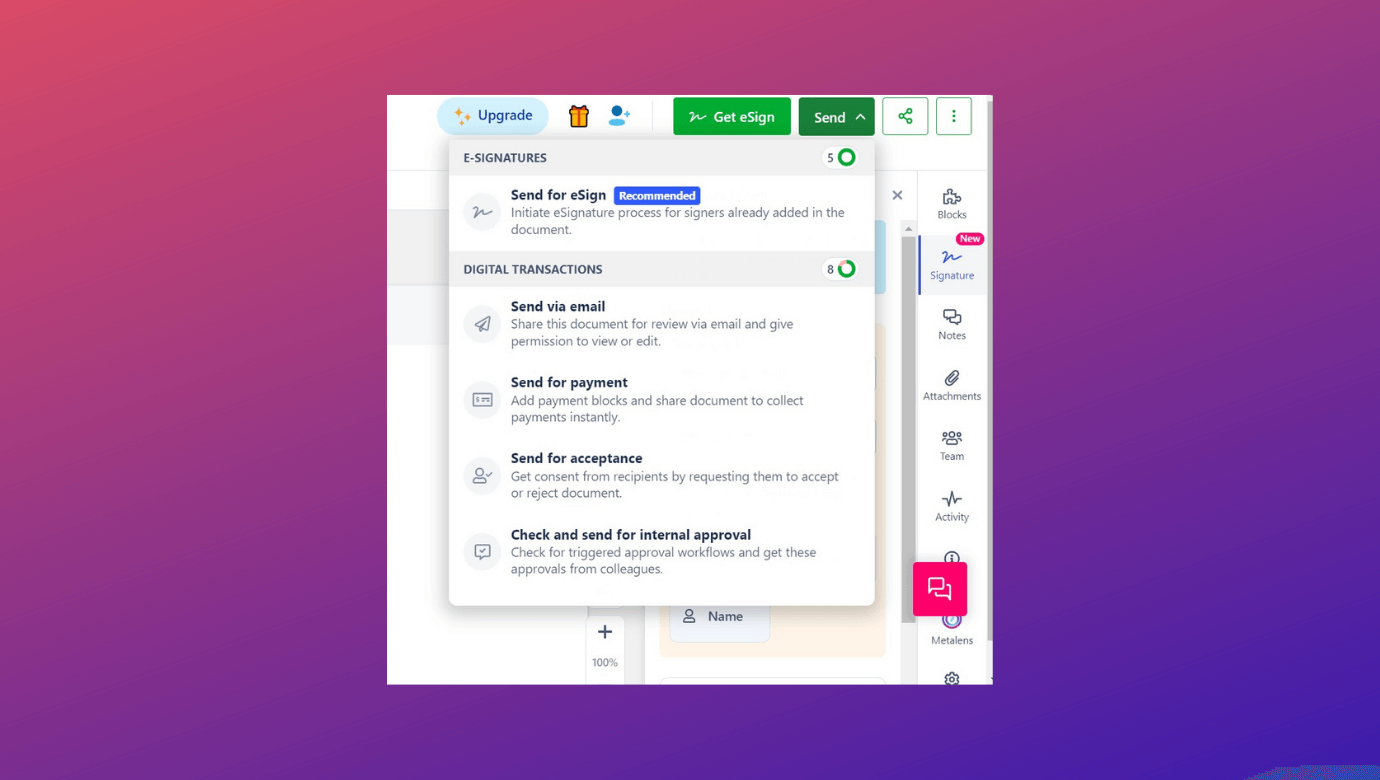 Though the above-mentioned features could be used when you have a complete contract in your hand. What if, while drafting a contract document, you get doubtful about certain clauses included in your contract and want to check it with your legal team member? You also want an updated cover image from your designer, to be added to your contract before sending them for eSign. These and more could be achieved with Revv.
How?
With our Notes feature. Now, you can collaborate with your teams seamlessly at any point of your contract drafting journey. You can tag team members spread across different departments and/or geographies, with @mentions. The tagged person will receive an email notification for the same. They can comment, share ideas, and attach additional information in the form of images, documents, and other attachments in the same place using this feature.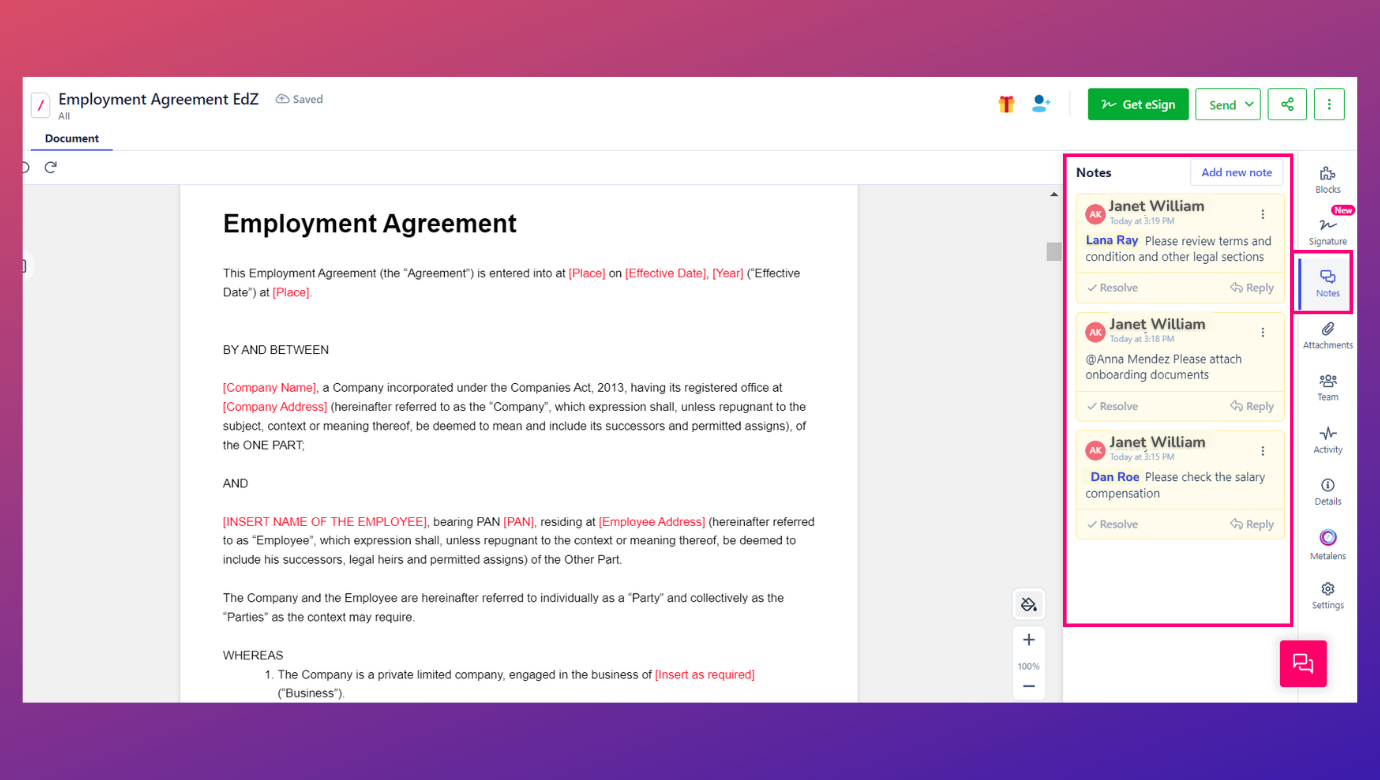 Your digital contract won't turn legally binding by itself. You need a safe and compliant eSignature solution for it. And, Revv provides the right eSignature solution to make all your contracts fool-proof. Our eSignatures are fully safe, bank-grade, and adhere to all local and global laws such as eIDAS Regulation, and UETA, and E-Sign Act. 
Revv also provides an extensive audit trail called an Evidence Summary certificate for all eSigned contracts. It contains information pertaining to the document such as the signer's information, the date and time stamp of each action taken by the signer, IP addresses of the devices from which the document is accessed, and other details that act as legal proof.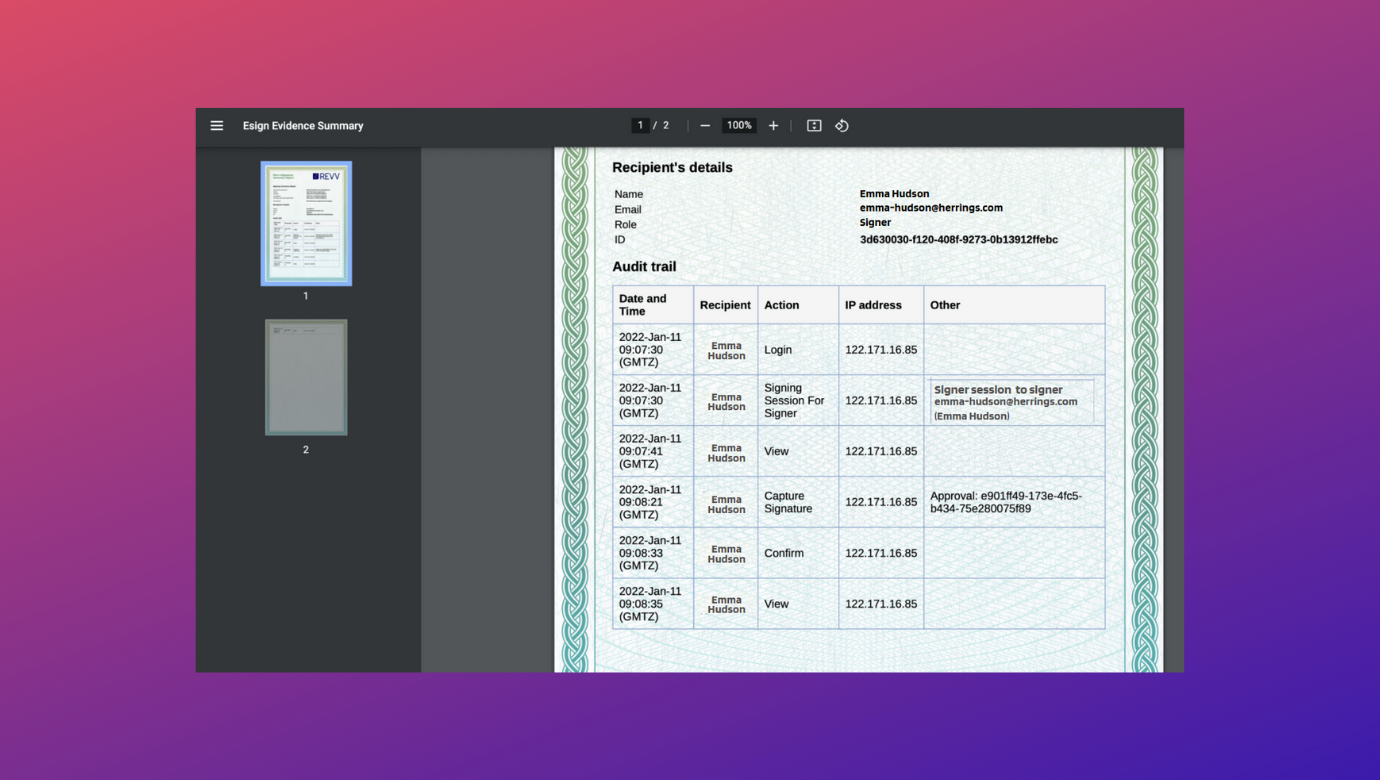 Recipients can even personalize their signatures on the contract with Revv's flexible eSigning options. They can draw signatures, scan and upload signatures, choose from pre-formatted text styles, and even connect their crypto-wallet MetaMask to complete the signing process. 
In short,
Revv is a cost-effective option with generous pricing plans. It requires little or no training and helps your team create digital contracts quickly and efficiently. Using digital contracts is easy and effective when you work with Revv.
Try yourself! Sign up for free.
Sources: