2020 saw us practice social distancing. From having to wear masks to starting working from home, the coronavirus pandemic changed everything. But in spite of the lockdown affecting all of our businesses, companies started to look for ways (tools) that would help them overcome the limitations of working from home. Soon, people started looking for video conferencing tools, quoting software, task management software, marketing automation tools, workflow automation tools, etc. that would help them run their businesses.
Swing into action with the right quoting tool
"According to Hubspot, more than 28% of salespeople said that closing a deal is one of the most difficult stages in any sales process.
While tools like affordable quoting software will ease the process (or make it faster), it is important to choose the right one for your business.
The right tool should be affordable, easy-to-use, and integrate seamlessly with your existing CRM. It should also be scalable to meet the requirements of your sales team size, the number of quotes produced per day, geographical locations, and even consider your deal values.
Here are some other benefits of a sales quoting tool:
Give sales reps a jumpstart with customized, pre-approved templates for both sales quotes and sales proposals across industries (which can be further customized with approval workflows)
Help create professional looking quotes with an easy-to-use drag and drop editor
Be collaborative (across teams and across geographies) as quotes often require inputs at multiple points
Provide seamless integration with e-signature for quotes that require approvals from customers
Include a built-in product/price catalog for efficient discount management
Include workflow approvals that trigger in-app and email notifications for quick turnover
With so many best quoting software available online, like Revv, Quotewerks, Proposable, Dealhub, etc., here are some of their prominent features that you should consider. This will help you streamline your sales processes and take an informed decision.
Revv – the best sales quoting software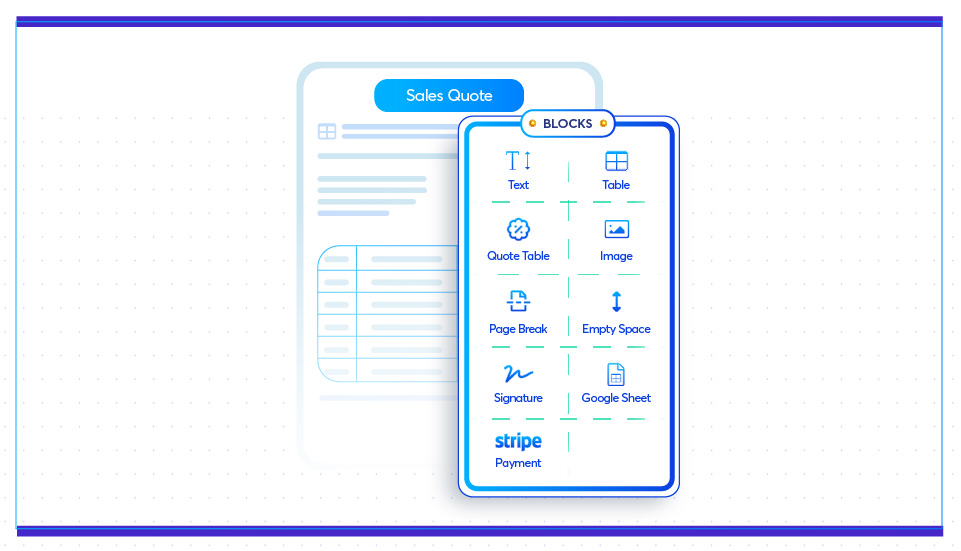 Revv is an all-in-one cloud-based quoting software that also manages all kinds of business documents (proposals, quotes, contracts, agreements, and even purchase orders). It is trusted by 1000+ businesses globally for creating, collaborating, reviewing, and signing sales quotes– all from one centralized app. Employing this solution frees up your sales reps to pursue other important tasks, like selling.
Running your business, one document at a time, is our business!
Here are some of the other benefits of using Revv, the best quoting software:
Built-in product catalog and price book with flexible product configuration options
Templatizing pricing options for various products and services
Ability to quickly share quotes with customers via shareable links or via email address
Configure approval workflows for price, discount, and terms
A centralized cloud based repository to access all your documents including quotes and sales proposals
Insight-driven analytics and reporting dashboards to improve closing time (or sales process)
Integration with Stripe for easy credit card payments directly from the document
Automation of sales processes with the help of native APIs and Zapier integrations. For instance, with Revv, you can create and send documents in bulk
Easy tracking of documents and basic audit trail to keep a track of who has opened the document
Adding signature blocks on PDFs for a seamless customer experience
24/7 customer service on chat, email, and phone for faster implementation and bug resolution
Things about Revv that you'll simply love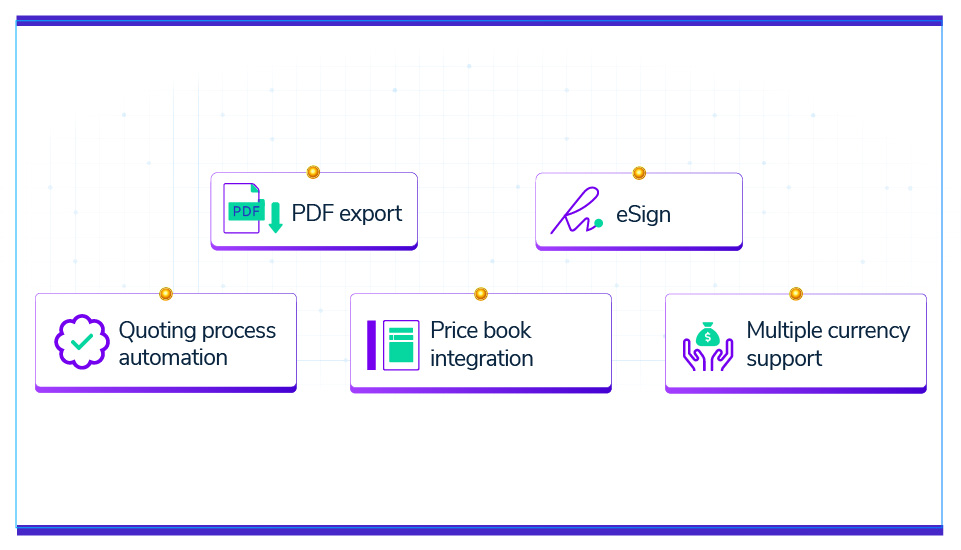 Revv is designed in a spreadsheet-like UX of a CPQ but minus all the implementation and management issues that come with enterprise-level CPQ software.
Easily integrate the software solution with your CRM with the help of Zapier or send across your sales proposal PDF with eSignature blocks from the 500+ templates available on the website.
Share any of the sales documents directly from the app, and close deals faster.
Furthermore, Revv's unique pricing plans are based on the usage of the documents and features like eSignatures rather than the number of documents being sent or created. This makes it perfect for solopreneurs and Fortune 500 companies too. Its advance plans include benefits such as the intelligent document analyzer called the Metalens and sales automation with the help of Zapier.
Scoro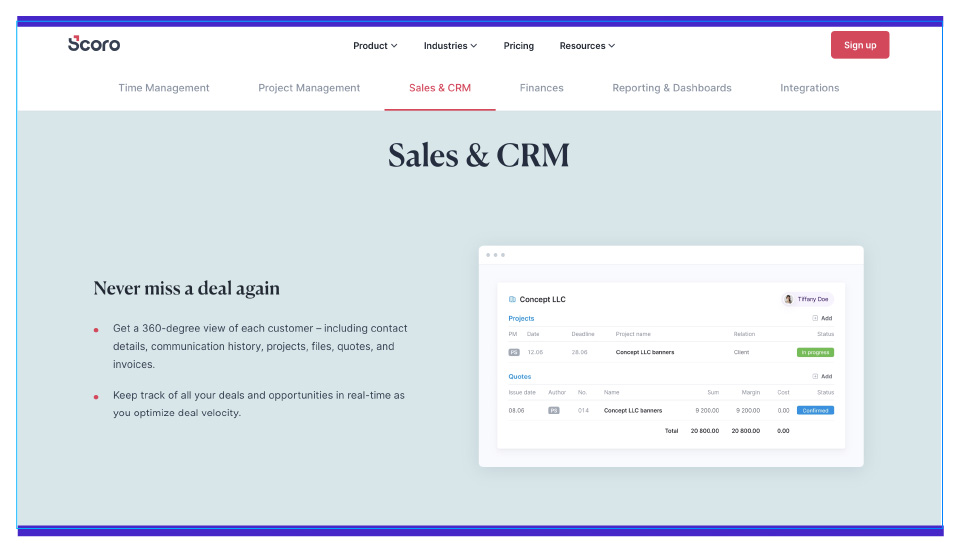 Scoro is a quoting software that enables you to send business documents, manage contacts, and handle billing- all from a single place. It is for businesses in advertising, consulting, information technology, and other sectors. The platform comes with task management, quote management, a to-do list, customizable quote templates, performance reports, vendor management, and custom fields and tags. It allows integrations with Xero and MailChimp and comes with a smooth onboarding process.
The cost of using the software solution starts at $26 per user/per month. They also have a bigger plan aligned to enterprise-level companies.
Qwilr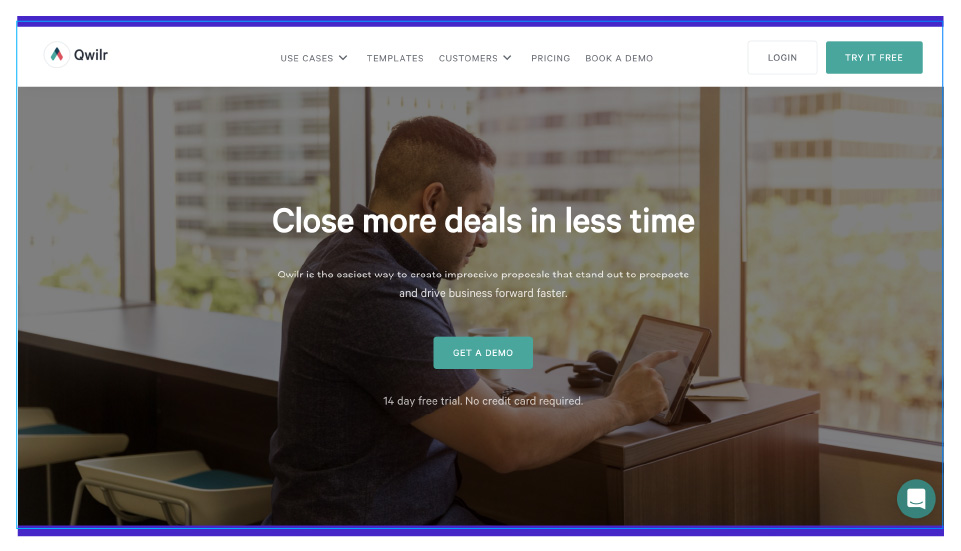 Qwilr helps you to reimagine your entire quoting process.
Including interactive elements in the product, with Qwilr, you can make the quote look personal and professional at the same time. One of the most mobile-friendly software solutions available out there, the platform comes with a premium stock image library, a customizable template library, easy integration with tools such as Hubspot, and eSignature capabilities.
With Qwilr you can create professional looking quotes in minutes and their insights allow your sales team to identify and automate processes wherever necessary. They do have a 14 day trial period in their business plan.
Proposify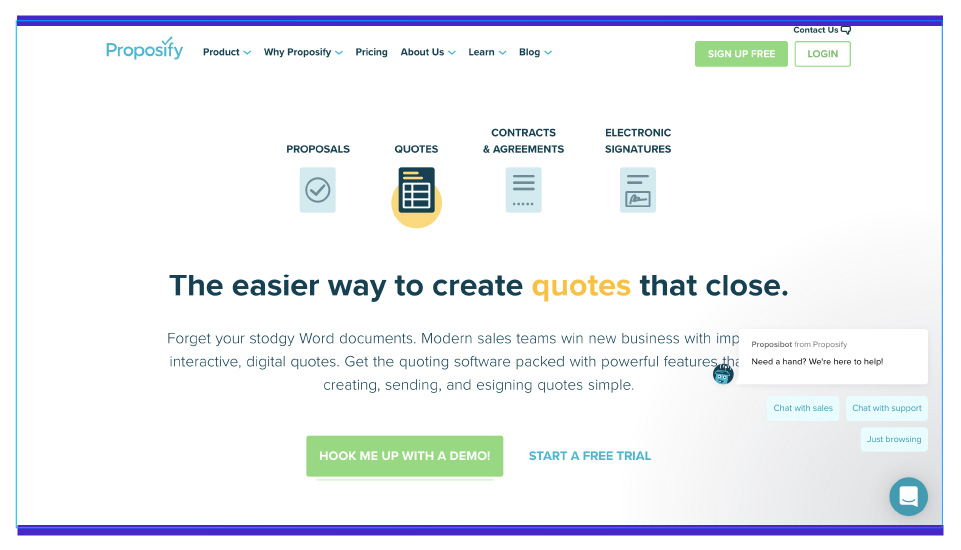 This quoting software company helps sales reps to generate quotes that close deals faster.
It has a drag and drop editor, version control, customizable templates, eSignatures, and easy CRM integration. With easy-to-use customizable templates, Proposify is a quoting software that really lets you move away from documents and spreadsheets, making it look less like the cumbersome CPQ and more like a solution aligned to the needs of the customer.
It also has a super easy editor to use along with an integrated eSignature that speeds up the quoting process. The interesting part of this company is the name of their plans that are named after popular Starbucks coffee.
PandaDoc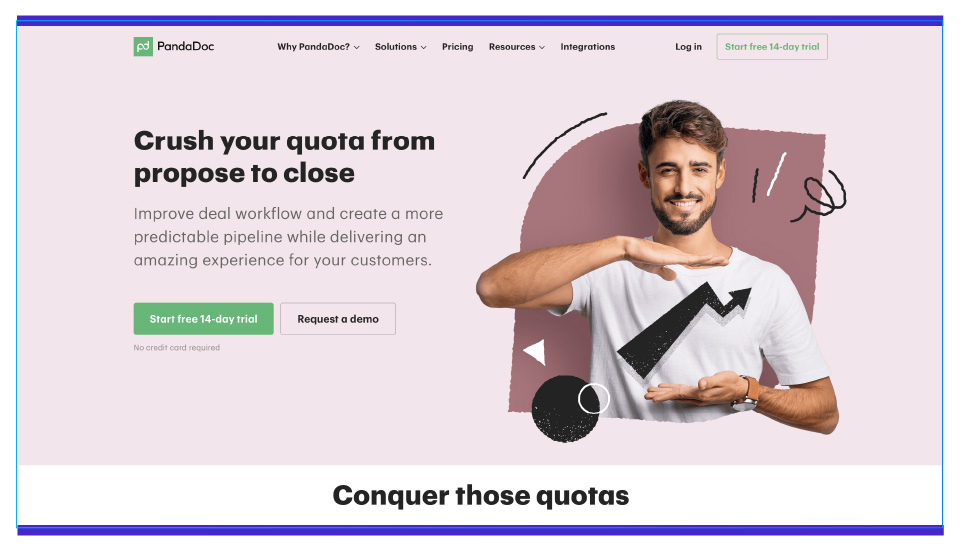 If you are a small business and looking for an easy-to-use CPQ, then PandaDoc is an excellent sales quoting software that also provides approval workflows.
Not only does PandaDoc provide sales insights but it also easily integrates with eSign and CRMs. Delivering a fantastic buying experience to the users, this tool comes with a dashboard that allows users to track analytics and refine their sales process accordingly.
PandaDoc has a free version that comes with free e-sign, and their higher plans include integration with Salesforce CRM and Zapier. But if you are looking for a Product Configurator like the one available at Quotewerks, Pandadoc does not include that feature.
DocSend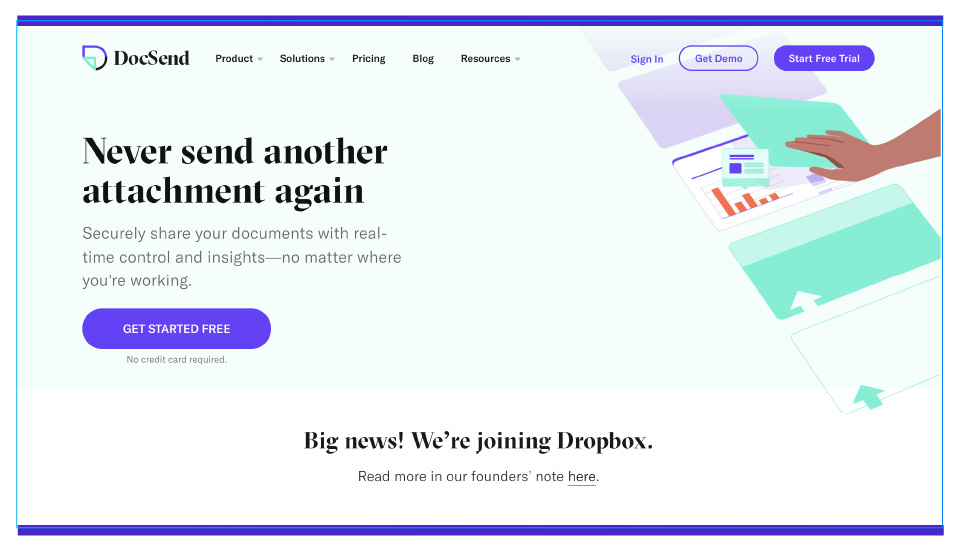 Recently acquired by Dropbox and included as a part of their services, DocSend enables document sharing by giving users the flexibility to access and manage documents across business operations.
Equipped with a rich content library that allows user alignment around all sales artifacts, the software comes with account-based engagement analytics, custom subdomain, collaboration tools, custom branded document viewer, advanced document tracking, and more.
Besides being mobile-friendly, DocSend provides in-depth document tracking info to its users. The users can see who has opened the document, when and how many times they have viewed the document, what kind of device they are on, and even where they are. Besides this, automated notifications make the user aware as soon as a prospect engages with the document.
Nusii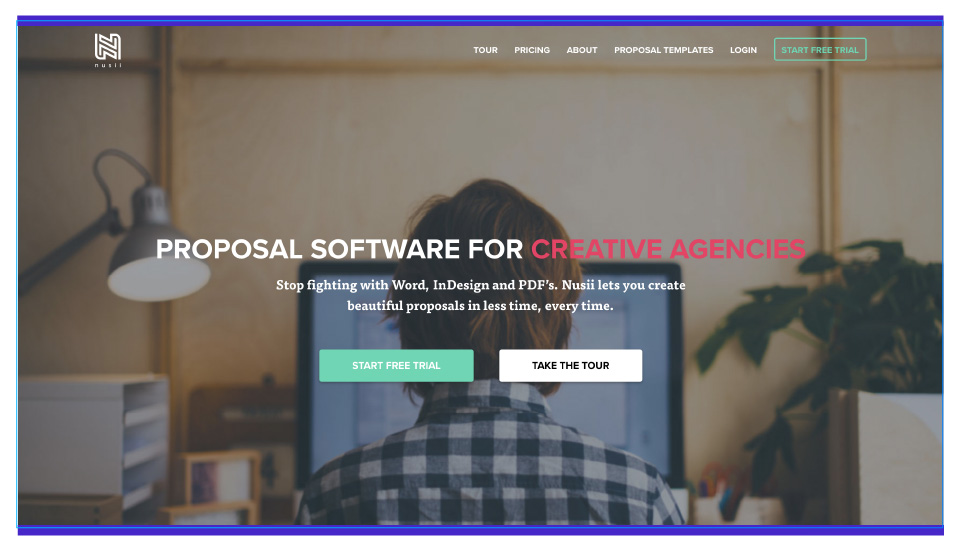 Nusii is all about delivering proposals to customers minus the struggle of using complex tools and the confusion of scattered teams.
From template creation to a rich media library, Nusii comes with document engagement tracking, invoices generation, custom branding, user and role management, eSignature integration, in app and email notifications for approvals, etc.
Besides having a centralized system to view and track all proposals, Nusii ensures that sending proposals has never been easier. The saved templates and copy last proposal feature makes this quoting software easy to use.
Besides having a centralized system to view and track all proposals, Nusii ensures that sending proposals has never been easier. The saved templates and copy last proposal feature makes this quoting software easy to use.
Dealhub.io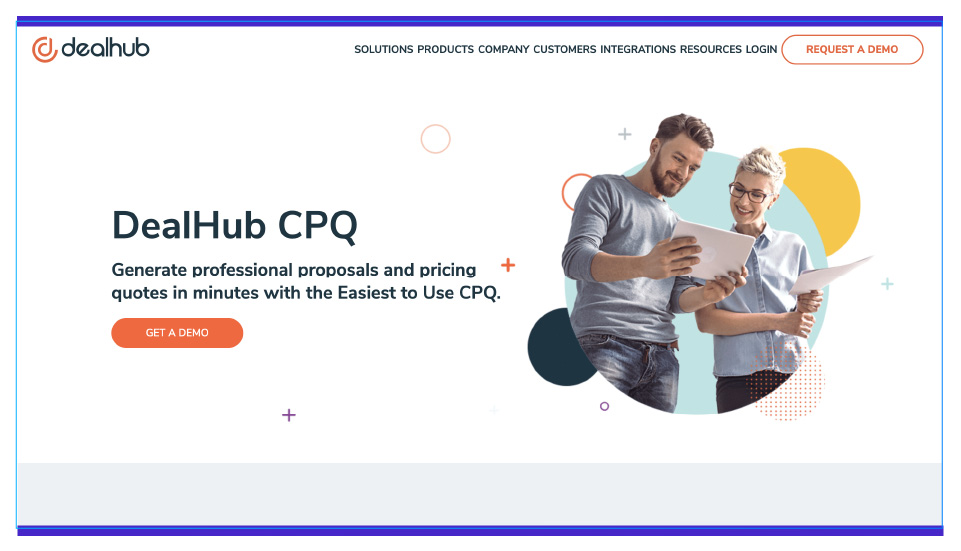 If you are looking to create and share any kind of sales content faster, then Dealhub is an easy quotation management software.
Its advanced pricing and discount facility helps teams make relevant quotes with built-in sales calculators, and content generation tools. It comes with an image editor, product sizing and configuration, renewal management, real-time app notifications that can be sent to clients, and customized approval triggers, along with proposal management.
Dealhub helps you reduce your administrative tasks, be it purchase orders or proposals. It also helps to reduce your time taken to close deals significantly, making their engagement tracking insights a must-have when you need a quoting tool.
Quotientapp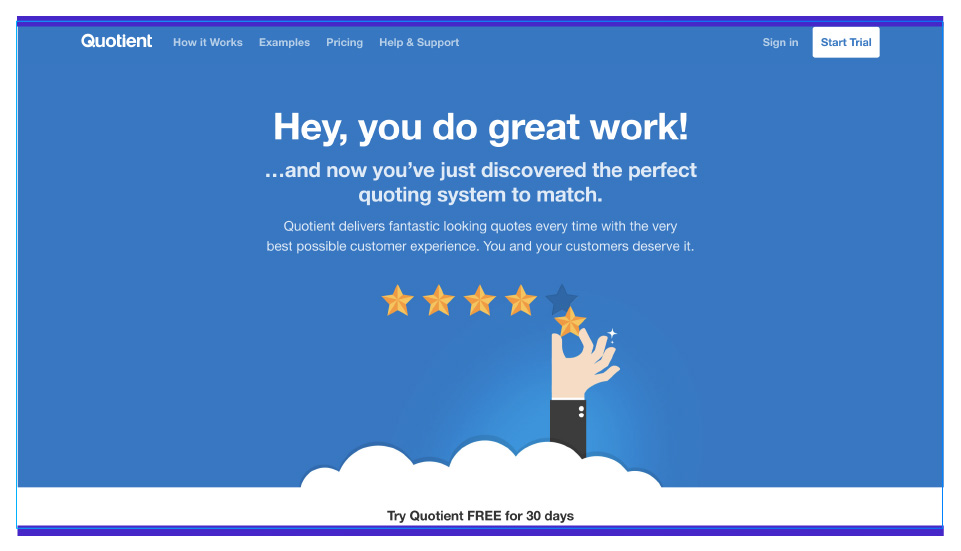 With Quotientapp, sales reps can create quotes in a few simple steps.
This application comes with auto-completion, image, and file attachments making it perfect for small and medium-sized businesses. It gives audit trails to track quotes – when they are viewed or opened, along with a dashboard overview for sales rep, quote templates, e signatures, multi-currency support, etc. With the ability to create templates on the fly and amazing customer support, Quotientapp is a great piece of quoting software.
Quotientapp helps you move away from spreadsheets and is also super easy to set-up.
Proposable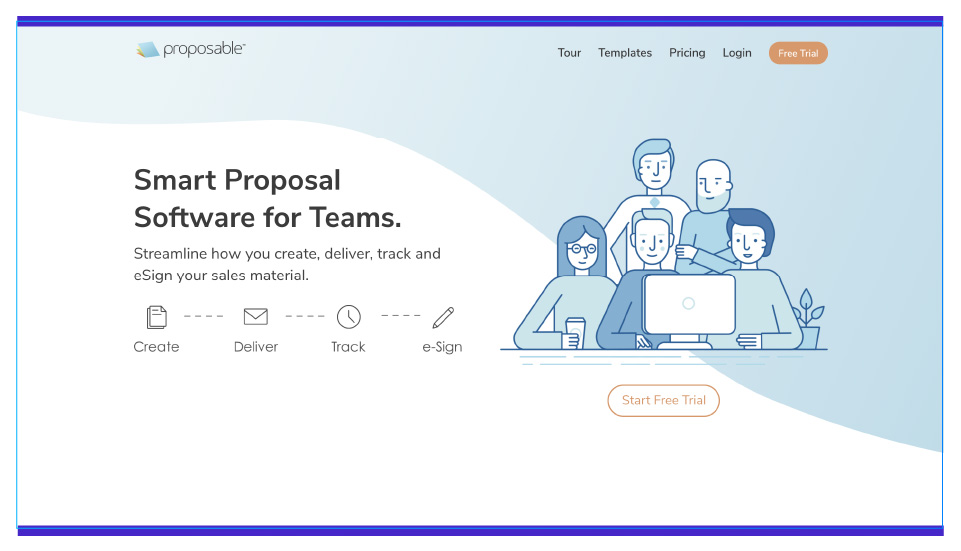 Proposable allows you to create and deliver custom sales proposals in minutes, saving time in your deal closure cycle. The application enables the creation of relevant and consistent sales quotes that can be sent to your prospects.
The benefit of using Proposable is that it comes with unique proposal URLs, password protection for the sales documents, readymade customizable templates, integrations with CRM and eSignatures, and notifications on open times and comments.
A favorite across sales teams, the software has a solo plan and a team plan. Each of these plans also comes with a free trial.
Quoter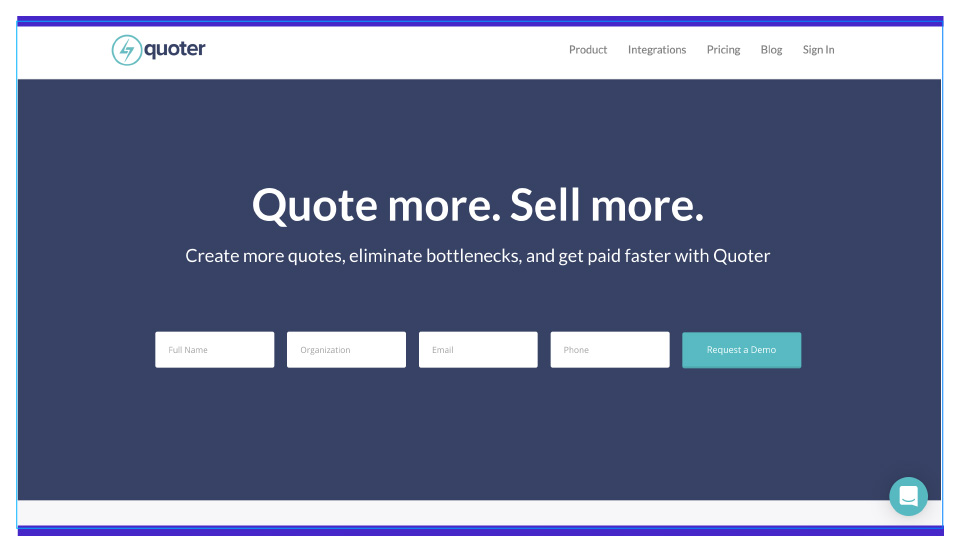 The platform, Quoter, aims to get more people to quote especially in the technology service industry. It comes with state-of-the-art automated approval workflows that set up guardrails and lets sales reps sell faster.
It has quote and email tracking, easy integration with CRMs, payment gateways and accounting tools, smart and reusable templates, eSignatures, and more.
In short, the application eliminates all the extra time needed to put quotes together. Furthermore, the custom templates can be put together for specific product line quotes speeding up the overall sales cycle process.
Their Basic plan starts at $99/month for an unlimited number of users. They also have a Standard ($199), Pro ($299), and an Enterprise plan. For the Enterprise plan, you will have to get in touch with them. There is also a $495 onboarding fee on all subscriptions.
QuoteWerks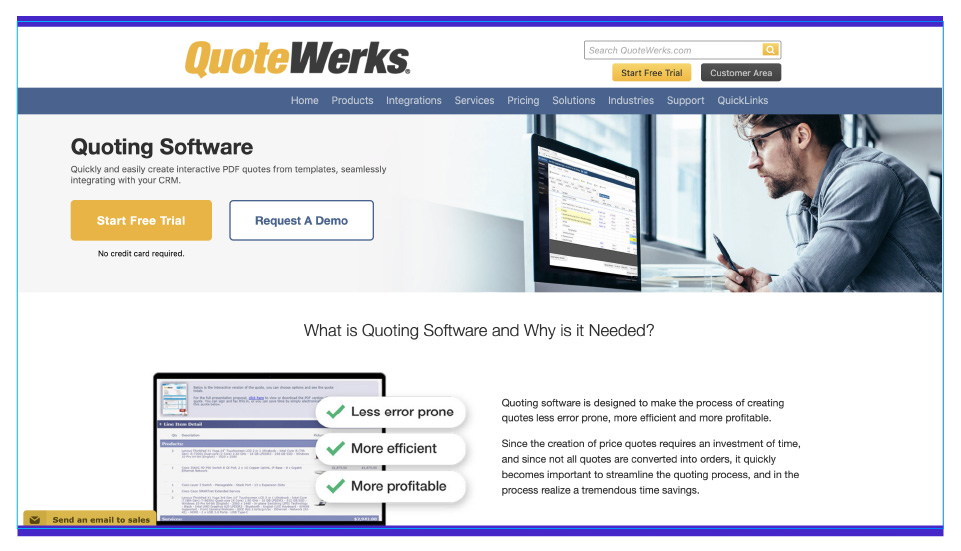 QuoteWerks is a configure price quote (CPQ) software that allows you to create, edit, view, and manage quotes and proposals online – both on desktop and mobile.
You can lock and unlock documents with QuoteWerks. It also comes with features like document creation and editing, line item addition, document locking, contact database maintenance, pipeline management, and even activity tracking on the documents.
The robust search functionality available at QuoteWerks makes quote visibility across teams and clients. It also comes with online sync, making QuoteWerks one of the favorite solutions among the clients and sales reps alike. QuoteWerks also eliminates duplicate data entry making it a must-have when it comes to tools required for sales.
QuoteWerks has a standard edition priced at $15/month/user, a professional edition priced at $20/month/user, and a corporate edition at $29/month/user.
Since QuoteWerks is an extensive CPQ software, it is not accessible across devices especially mobiles making it a little difficult software solution to use. The software solution, however, makes up by providing eCommerce Management to organizations.
Quotationer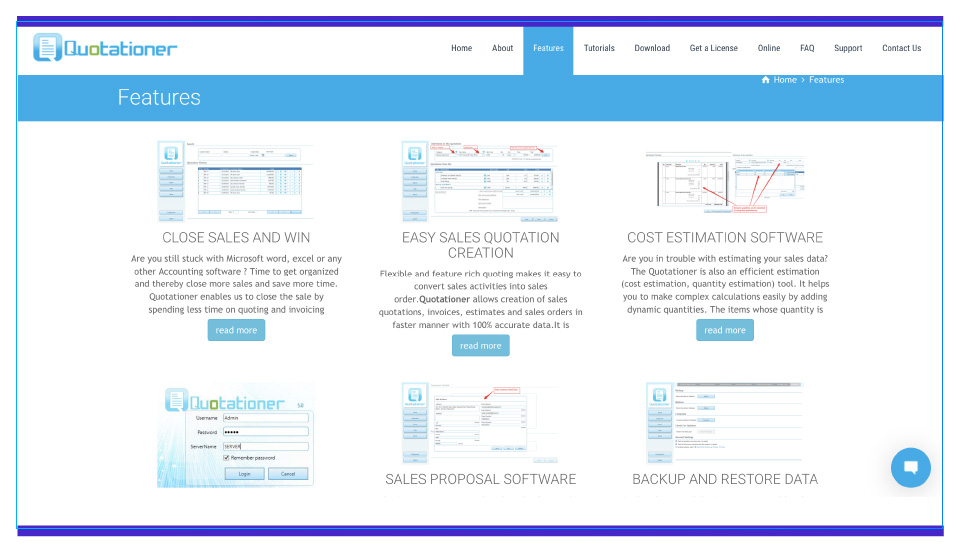 Working as an estimation quoting software or a CPQ, Quotationer enables instant quoting by providing features like customized templates, adding taxes, and integration with existing CRMs. It also supports multiple file formats and is tax compatible.
Quotationer allows you to add products with images in the price books, add a custom signature, apply simple formulas for calculating quantities or prices, including a purchase price, MRP, and margin options. It also gives you branding options so that you can personalize your quotes and proposals.
While typical customers range from SMEs, agencies, startups, and enterprises, Quotationer comes with offline support, which users simply love.
Furthermore, the tool features also allow you to add comments to the products making it really easy, especially for distributed sales teams. Their website includes a customized pricing form that depends on the number of licenses you would require. There is no trial version of the app.
Loopio
With Loopio, your RFP process is much more streamlined, continuous, and consistent. Loopio helps to respond to RFPs, RFIs, and Security Questionnaires more efficiently. Its intelligent and intuitive workflows help businesses save time and collaborate seamlessly.
With Loopio, you can build proposals and export proposals to Excel, Word, and HTML formats. Its features also include organizing pre-approved responses with tags and categories and setting up an intelligent knowledge library to archive proposals.
Besides this, with Loopio, you can manage tasks and business documents easily.
One of its most lovable features is the seamless way to store responses to proposals, invoices, and work orders. This makes the software extremely useful when it comes to onboard new employees and who needs to check what previous invoices have been sent across to clients.
Loopio's pricing plan offers a free trial (no credit card information needed). To buy, they do have a demo form on their website.
GleanQuote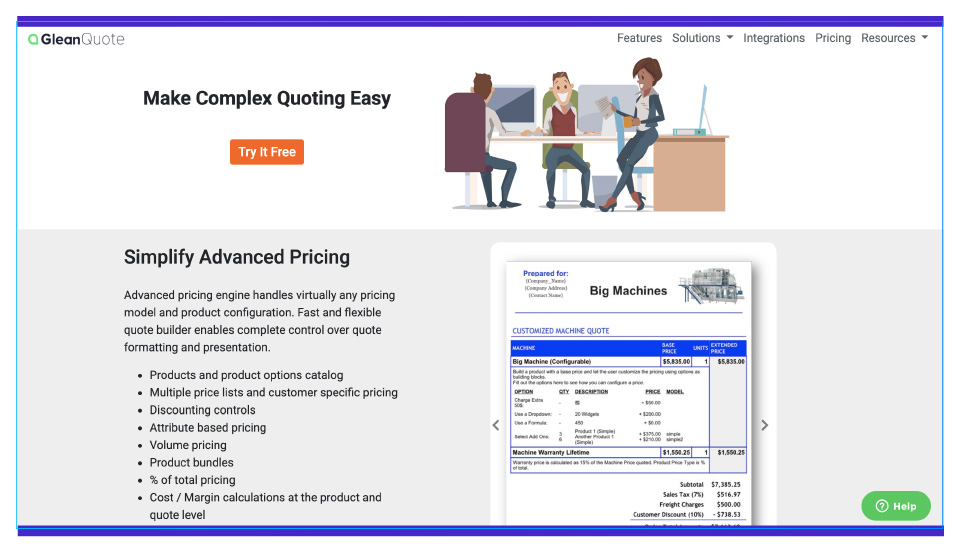 A cloud-based sales quote and proposal automation platform for SMBs, GleanQuote helps to prepare, share, track and electronically sign online contracts.
Its features include automated quoting, catalog management, collaboration, electronic signatures, pricing management, content library, templates, and product management.
Not only is GleanQuote easy to use and fast, it is also like a lightweight CPQ that comes with a bit of CRM features where sales teams can create templates using Adobe InDesign.
But unlike QuoteWerks, GleanQuote does not offer Knowledge Base Management.
The pricing plans of GleanQuote include a price range that starts from $49 per month. Price is per user per month with a 5 user minimum and billed annually.
VARStreet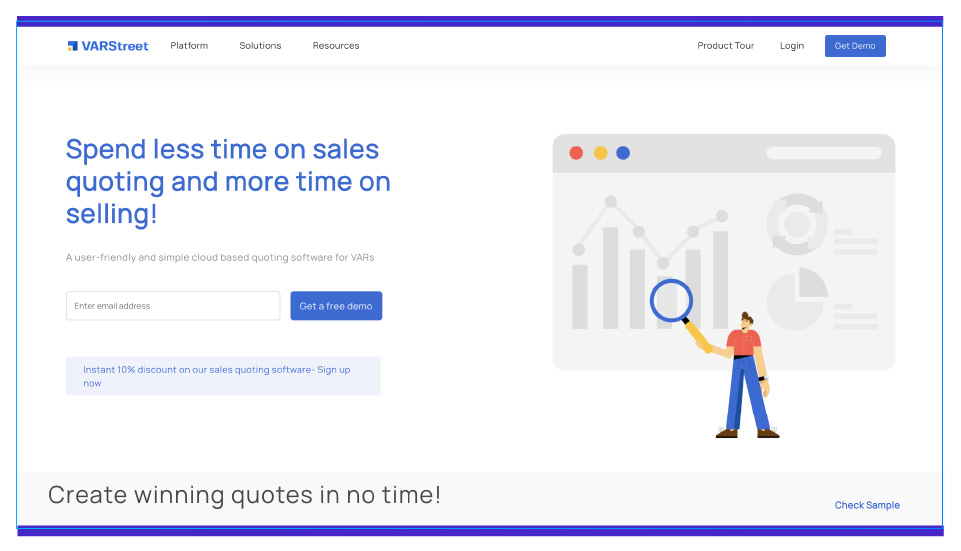 If you are looking for a B2B quoting software solution for your quote creation process, VARStreet, Inc. helps reps to create quote and PDF proposals and send them across to the client.
Equipped with a product configurator, quote and proposal templates, workflow approval, the software also helps to identify cross-sell and up-sell opportunities of accounts. Varstreet helps automate the business processes with ease. Specific to e-commerce software, you can directly schedule a demo to understand the services offered.
RFPIO
If you are looking for a better way to respond to your RFQs, RFPs, and RFIs, this tool can surely help. RFPIO is a cloud-based AI-enabled recommendation engine. The AI is used to search the database and find an appropriate response for your quotes and proposals.
RFPIO has a content library of various templates, provides a collaborative workspace for document review and tracking, enables workflow management, document storage, an audit trail, and many other features.
You can create a content library over time with all or important responses that can be used again or can be leveraged for reference to help you prepare better. This increases the chances of closing and improves your response time.
Their pricing plan is available upon request. You can get in touch with their support team.
Time to take the 'easy' way
An easy quote creation software is helpful in any selling conversation.
A quotation software automates the selling process, gives you a repository that facilitates retrieving documents, maintains updated price books, and even gives version control. Lastly, the online delivery process of high-quality proposals also makes sure that sales assets are focussed on 'selling' only.
Please note that all the above-mentioned information is gleaned from company websites, comparison websites such as GetApp, G2, Capterra, and others. Since companies keep adding features, some of the information may be out of date.
Let us know at editor@revvsales.com if there's any information here that needs change, we'll verify and update as quickly as possible.