Investing in the right tool is the key to ensuring success in critical business tasks. Be it quote creation, review, or signature, having a tool that can manage most of these tasks will add value to the organization's tech stack. But narrowing down to a business quoting software that suits your individual, team, or organization needs can be challenging.
Users today are spoiled for choices as the market offers several quoting and selling software. How does one decide the right fit for them? Which tool will help in preparing quotes for clients in an efficient and effective manner?
We have put forth some points that can help ease the process of making such decisions.
How do you decide on the right quoting software for your organization?
Here are a few things to keep in mind –
Know about your process – Ensure that you have clarity over your business processes. Identify the areas that need improvement. Make your buying decision depending on what issues will the tool solve for your business. Opting for a tool that offers multiple features but does not resolve the issues is just a waste of time, effort, and money.
Simplicity is the key – You purchase a business quoting software with an intent to make your process simpler. Ensure that the tools you select for preparing quotes for your clients are easy to use. It should be convenient for the individuals and teams in your organization to switch to the new business quotation software with minimal or no training.
One for many – Look for a tool that serves many purposes. Just preparing a quote is not the ultimate task. There are many activities that precede and succeed in the quote creation process. The tool should let you integrate with other systems of record like your CRM. Ensure that this one software will suffice your needs and you don't have to look for another tool to complement its smooth functioning. Look for a tool that hits two or three targets with one shot.
Affordable – Just because a tool is expensive does not mean it's worth the price. Be aware of any additional costs that may crop up in the future that is not happening now. Do not fall into the vicious trap.
Business quoting software – Spoiled for choices
1. Revv
Revv is an all-in-one business quoting software that provides speed and consistency to your sales quotation process. The software goes beyond quotes to also address multiple document requirements like proposals, agreements for any entrepreneur, builder, or creator. It is trusted by 3000+ businesses to create, collaborate, sign, and store, all in one centralized app.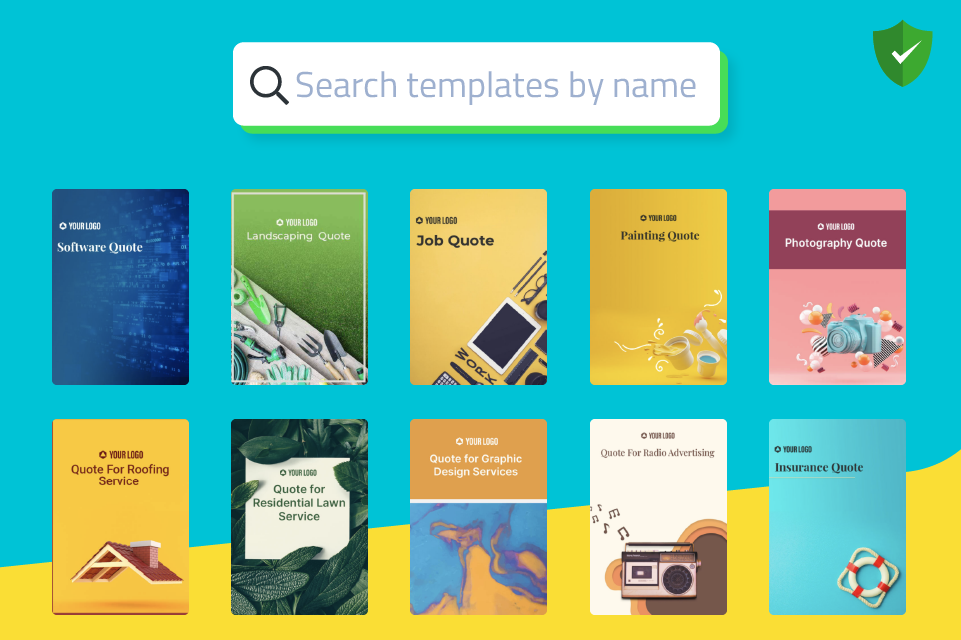 Features
'Share' securely for collaboration and document review
Activity tracker to monitor user activity within the document
Ease of e-signature
Manage and file quotations in folders
Integrations with other apps via Native APIs and Zapier
Machine learning-driven document navigation
24/7 customer support
The 'wow' factor
Revv offers a complete package for all types of business documents. Preparing quotes for your clients becomes a very easy process with Revv. You can leverage the vetted and ready-to-use sales quotes templates for free. This will give you and your team a head start. Revv also has a very user-friendly document editor with rich customization options.
Then comes the document sharing and sign-off features that Revv offers. It comes in three-fold. You can either send the document for
Electronic-signature – This feature will let you obtain signed documents from the other party with just one click
Send for acceptance – This feature enables to obtain recipient(s) consent on the document(s)
Send for approval – This option facilitates sharing of documents for internal reviews and approvals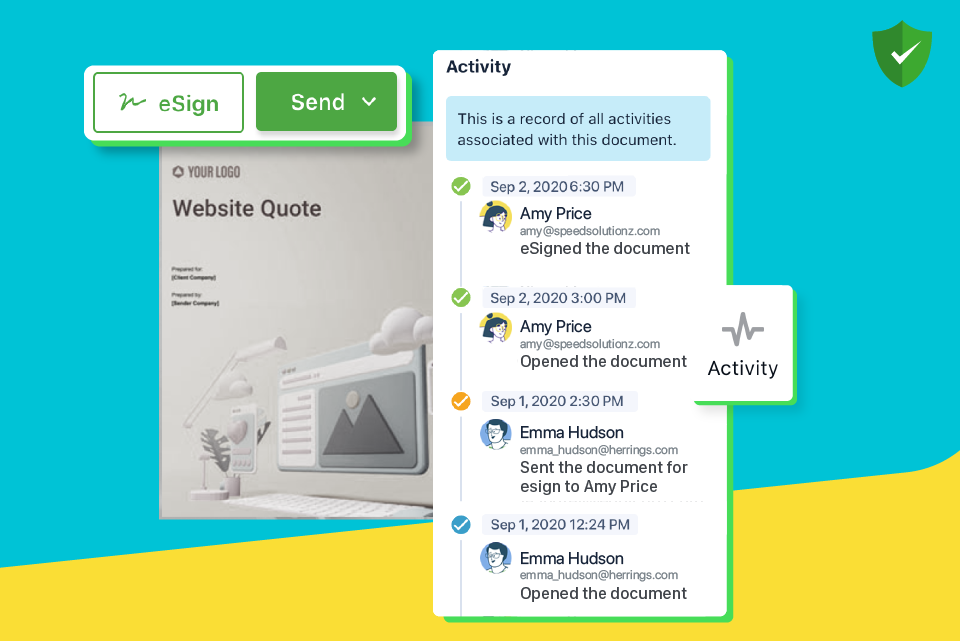 Pricing
Revv offers a free forever plan called the basic plan. Users can upgrade to a higher plan called the pro and pro plus plan to unlock more features. The pro plan is available at $15/month and pro plus for $49/month (annual subscription).
2. QuoteWerks
QuoteWerks is a quote and proposal software solution designed to streamline your sales process. You can create, deliver, and track quotes and ultimately close deals successfully.
Features
Document creation and editing
Third-party integrations
Centralized quote storage
Document audit trail
Activity Dashboard
Approval workflow
Document activity tracking
Pipeline management
The 'wow' factor
The ease of use and its ability to integrate with other tools like CRM or accounting integrations makes the first step of the sales process easier to close.
Pricing
Quotewerks has a standard edition priced at $15/month/user, a professional edition priced at $20/month/user, and a corporate edition at $29/month/user.
3. Quotient App
You can create great-looking quotes with Quotient App in a few simple steps. The tool gives a competitive edge when it comes to preparing quotes for your clients.
Features
Analytics to track activities within your quote
Search functionality
Dashboard overview
Works on any device – Desktop, phone, tabs/Ipads.
Quote templates
Multi-currency support
Subscriptions – for repeating costs
Media support
The 'wow' factor
The software presents users with beautifully laid out templates to work on. It is simple to use and intuitive – lets you move away from the paper trail and adapt to digital simplicity.
Pricing
Quotient's pricing plan is structured for both individuals and teams. The former plan is fixed at $25/month and the latter costs $45/month.
4. Pandadoc
Pandadoc empowers teams to improve deal workflow, gather insights from your sales process, and gain speed while delivering an amazing buying experience.
Features
Workflow management
Customizable templates to create documents
Integrations with Google Apps, Dropbox, Box, and more
Legally binding electronic signatures
Auto-reminders for upsell/cross-sell
Real-time commenting and collaboration
The 'wow' factor
Pandadoc is a huge time saver when it comes to creating quotes, proposals, etc. You can create your own content library and input the content you often use to customize your documents as per the requirement. This brings speed to your quote creation process.
Pricing
You can enjoy a 14-day free trial. They offer an individual ($19) and a team plan ($49) plan. They also have an enterprise plan that includes specific integration beyond Salesforce and Zapier.
5. Qwilr
Reimagine your sales quotation process with Qwilr. It is a document design and automation tool with features that let you create perfect quotes together with intelligent tracking, automation, and integrations.
Features
Real-time document analytics
Mobile-friendly documents
CRM and E-signature integration
Rich media
Collaborative creation
Powerful search functionality to look for sales quotes
The 'wow' factor
Create professional-looking quotes by leveraging the building blocks and reusing it from the library. This ensures an easier sales quotation process resulting in faster churn out.
Pricing
Qwilr offers a 14-day free trial which can be upgraded to a business plan ($66/month) for 3 users and an enterprise plan ($450/month) for 10 users.
6. Gleanquote
It is a cloud-based sales quotation and proposal automation platform designed to cater to small and medium business needs. With Gleanquote, you can automate your sales process for preparing, sharing, and tracking quotes for your clients. You can also get the quotes electronically signed.
Feature
Automated quoting
Product catalog management
Tracking capabilities to receive real-time email notifications
Collaboration
Pricing management
Electronic signature
The 'wow' factor
Gleanquote's advance pricing, quoting engine, and drag and drop interface allows users to create separate HTML pages for proposals, enabling the user to e-sign quotes from any device.
Pricing
The base price is $49/month. The pricing structure is per user basis with a 5 user minimum and billed annually.
7. Quoter
This modern online business quoting software lets you create lightning-fast quotes. Quoter is an easy to use platform with automation workflow and an unlimited user pricing plan.
Features
Quote and email tracking
E-signature and payments
Automation workflows
Seamless integration with PSAs, CRMs, and Accounting Tools
Real-Time Product Data
The 'wow' factor
The tool has a very smooth initial setup process which makes your transition easy and quick. The socket integration is the biggest highlight of this software.
Pricing
Quoter offers four different pricing plans for its user. The basic plan starts at $99/month. They also have a standard plan for $199 and the pro plan for $299. The enterprise plan can be negotiated by getting in touch with their sales team.
8. Proposable
Streamline your sales process – create, deliver, track, and e-sign your sales documents efficiently and effectively with Proposable. You can create reliable and consistent sales quotes and send them to your prospects.
Features
Sales content library
Real-time notifications
Built-in e-signature
Drag and drop builder
Approval workflow
The 'wow' factor
Proposable is easy to use and lets users can create quotes and proposals with the help of easily customizable templates. The customization can be done as per the deal's requirements and the company's brand guidelines.
Pricing
Proposable has 3 pricing plans – solo – $19, team plan – $39, and the enterprise plan – $500+. You can discuss and negotiate the enterprise plan with the sales team before opting for it.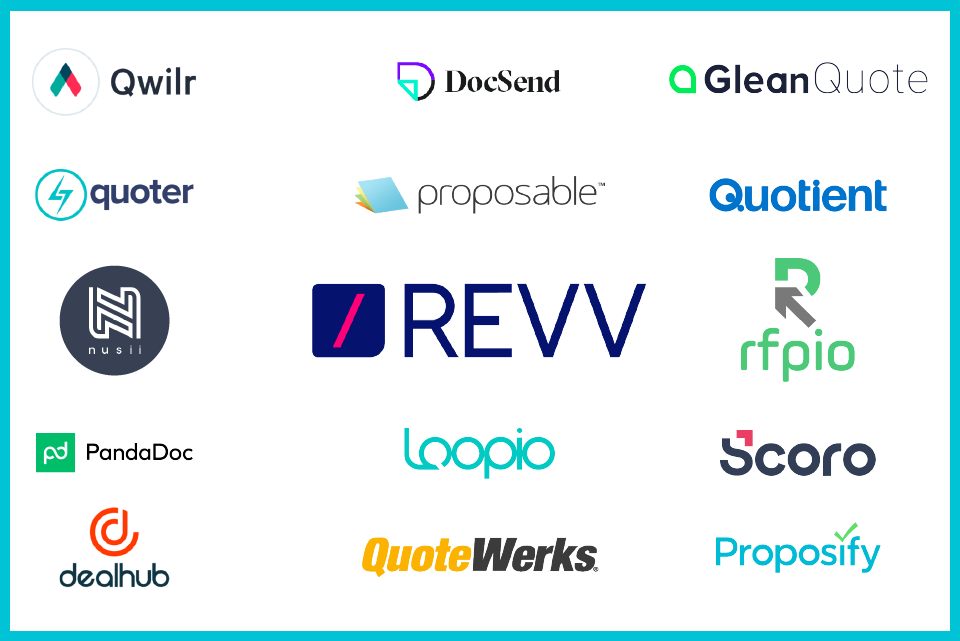 9. Dealhub.io
Dealhub is the deal acceleration platform for your sales and operations team. High-powered document generation backed by easily customizable templates lets users create sales content such as quotes, proposals, contracts, and more at a faster pace.
Features
Customized approval triggers
Template management
Real-time notifications
Automatic data sync with your CRM
Real-time tracking
The 'wow' factor
A tool like Dealhub helps put your sales process in order – configuration, approval processes, quote generation. The streamlined process helps close deals faster and let the user save time to focus on other priority tasks as well.
Pricing
Dealhub has 3 pricing plans mentioned but the exact price has not been specified. You can get in touch with their sales team for more information on this.
10. Scoro
Scoro offers a complete package to its users. From the first hello to prospect to the final invoice being generated for the deal – users can transform the way they manage your sales process with this business quotation software.
Features
Advanced Reporting & Analytics
Collaborative platform
Quote Management
To-Do List
Highly configurable integrations
Customizable templates
Custom fields and tags
The 'wow' factor
The tool is filled with extensive features that make it easier for the users to adapt rather than fit into a system developed for someone with rigid boundaries and limitations.
Pricing
They start off with an essential plan of $26 (for smaller teams), a work hub and sales hub plan for $37, and the ultimate plan (that meets the enterprise-level requirements) for which you will have to get in touch with Scoro's team.
11. Docsend
Securely share your documents among users with real-time controls and insight, no matter where you are working. Docsend offers a centralized content library that helps you drive your business forward.
Features
Real-time file engagement notification
Collaboration tools
Tiered administrative roles
Integrations with Gmail, outlook, dropbox, salesforce
Custom subdomain
Account-based engagement analytics
Custom branded document viewer
The 'wow' factor
It offers a mobile-friendly view with the flexibility to access and manage documents anytime, anywhere from your mobile or tablet device. The user's activity within the document can also be tracked like who opened the document, how many times was the document viewed, what time was the time viewed, and from where. You can also collect and securely store all the critical sales documents in one place which saves a lot of time looking for any document when needed.
Pricing
The software offers 4 different pricing plans starting from personal $10, standard $45, advance $150, and enterprise plan (you should get in touch with the Docsend team to negotiate a price for this plan).
12. Nusii
Nusii lets you create sales documents like proposals and quotes using built-in templates. These can be easily shared with clients via emails. This business quoting software functions with an aim to ensure users create simple quotes and proposals within minutes.
Features
Electronic signature
Proposal delivery
Templates creation
Automatic reminders
Unlimited users
Online Digital e-Signing
Integrations
The 'wow' factor
The built-in templates bring in the comfort factor to your document creation process. They also offer a user-friendly dashboard with quick insights that are not overwhelming to the eye.
Pricing
Nusii offers a 14-day free trial to help you understand the tool better. You can later upgrade to the freelancer plan – $29, the professional plan – $49, or the business plan – $129 as per your requirement.
13. Proposify
Proposify lets you create powerful quotes that close. The tool is power-packed with multiple features that let you create, send, and e-sign quotes in a smooth and frictionless manner.
Features
Team collaboration
Version control
Customizable templates
Drag and drop content sections in documents
Content library
Digital signature
CRM integration
Notifications and metrics
The 'wow' factor
It is a complete package. They have a very user-friendly interface which makes it easier to create documents like quotes, proposals, NDAs from scratch. Integration with harvest helps to create invoices and saves a bunch of time. This tool lets you move away from documents and spreadsheets.
Pricing
Proposify's pricing plan comes with a hint of Starbucks magic – tall plan $19 for individuals, grande plan $49 for sales teams, and a venti plan for enterprise (price to be discussed with their team). They also offer a 14-day free trial to go through the tool first and be the judge yourself.
14. RFPIO
If you are looking for a better way to respond to your RFQs, RFPs, and RFIs, this tool can surely help. RFPIO is a cloud-based AI-enabled recommendation engine. The AI is used to search the database and find an appropriate response for your quotes and proposals.
Features
Collaborative workspace
Content library
Document review and tracking
Templates
Intake form
Document storage
Audit trail
Workflow management
Multiple user accounts
The 'wow' factor
You can create a content library over time with all or important responses that can be used again or can be leveraged for reference to help you prepare better. This increases the chances of closing and improves your response time.
Pricing
Their pricing plan is available upon request. You can get in touch with their support team.
15. Loopio
Loopio is an RFP automation software that helps you respond to RFPs, RFIs, and security questionnaires faster and better. Users can collaborate seamlessly with their teams and produce compelling responses.
Features
Library content to build proposal
Intelligent automation
Organize approved responses with tags, categories
Track RFP response using status bars and dashboards
Task management
Document management
The 'wow' factor
Loopio is a tool with several features but it is still intuitive and simple to use. It makes content management, sharing, and collaboration seamless which helps users beat their deadlines.
Pricing
Loopio brings four different pricing plans based on user requirements. For the exact price, you need to get in touch with their team.
The power of choice
It is important to know your options before you make the buying decision. The market has multiple business quoting software for you to choose from. Finding the one software that fits your individual, team, or business needs is a tedious task. It involves a lot of time, research, and effort to finalize your decision, so better make this worthwhile by picking the perfect match. The right quoting software will not only help your business close deals but also improve your overall sales processes and business functions.
Please note that all the above-mentioned information is taken from company websites, comparison websites such as GetApp, G2, Capterra, and others. Since companies keep adding features, some of the information may be out of date. Let us know at support@revv.so if there's any information here that needs change, we'll verify and update as quickly as possible.
Read here to know about how to create a professional business quotes that helps you win deals.