All businesses worldwide aim towards managing existing sales and efficiently grabbing new ones to accelerate growth with increased profit and success. A smooth sales process is vital for growth. But, manually looking after multiple functions gets exhaustive for salespeople and reduces the overall productivity of any business. Business quotation software and other such tools are in demand to eliminate the problems caused by manual processes.
The customer journey in any organization is elaborate; there are numerous points where opportunities might get lost due to sloppy processes. This is why organizations wish to invest in an automation tool that saves time, prevents leads from dropping, and streamlines the complete sales process.
How will you select the right business quotation software to empower your salespeople?
You will most probably visit some review sites to get an idea. There, you will find two major categories named quoting software and CPQ.
Not able to differentiate between the two? Take it easy!
You are likely to find almost the same bunch of names listed in both quoting software and CPQ sections in reputable review sites. This jumbling up can extend your confusion, further, leading to a more difficult decision-making process.
The central idea behind these tools is just the same; to improve the sales process. A CPQ and a business quotation software both serve the same purpose at different levels of complexity.
Is a CPQ better than a business quotation software/quoting software?
This question lacks a definitive yes/no answer. The valid answer here is the tool that matches your organization's requirements is better than the rest.
In brief, a quoting software/business quotation software is much less robust than a CPQ. A CPQ, in fact is often offered at a relatively high cost, comes with a lot more functionality and flexibility to improve your sales process. But it is also a software which is designed for the enterprises of the world.
What is a CPQ (Configure-Price-Quote software), and who needs it?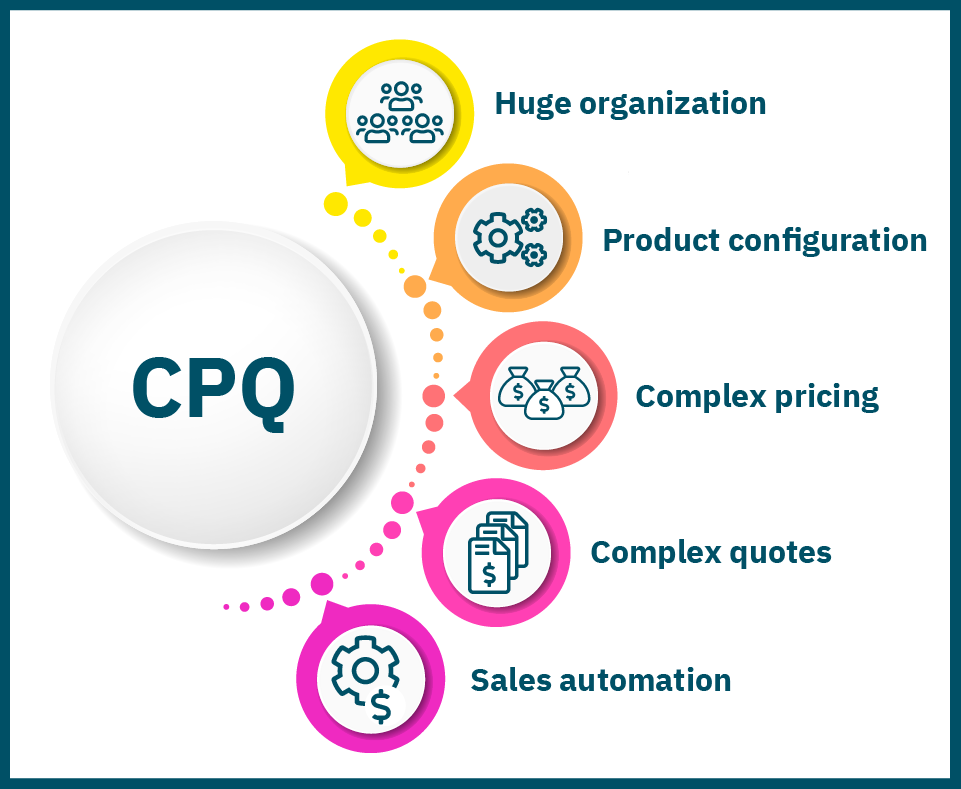 Configure, price and quote (CPQ) software helps organizations produce complex and highly configured accurate quotes. Huge organizations use this advanced technology to automate complex product pricing and other business rules in real-time.
Configure, price, and quote (CPQ) application suites provide an integrated set of software applications supporting the configuration, pricing, invoicing, and quote generation activities that accompany solution and negotiated selling. They are also deployed to support self-service sales environments, including business-to-consumer (B2C) and B2B sales environments. CPQ systems typically include pricing engines, proposal generators, quoting systems, rules or constraint engines, and are complemented by approval and authorization workflows.
High-growth, agile, and product heavy companies, for example, manufacturing and infrastructure companies, should consider using CPQs. For SaaS companies that have a varied product mix but a limited number of SKUs, using CPQs can become a costly affair.
A basic quoting tool often fails to adapt to the advanced dynamics of a full-fledged company, but a CPQ helps these organizations and their sales reps eliminate all such bottlenecks.
According to the Aberdeen Report, CPQ users had a 49% annual improvement when it came to meeting yearly quotas.
You need a CPQ if…
You are a massive enterprise with multiple SKUs in your organization
You have an elaborate product/service catalog to offer
Your business model is majorly B2B
You have a variety of pricing plans, discount schedules, customer plans, etc.
You require broad and descriptive analytics
You need multi-level approval workflows
You want a tool that allows customers to define custom pricing
What is a business quotation software/quoting software, and who needs it?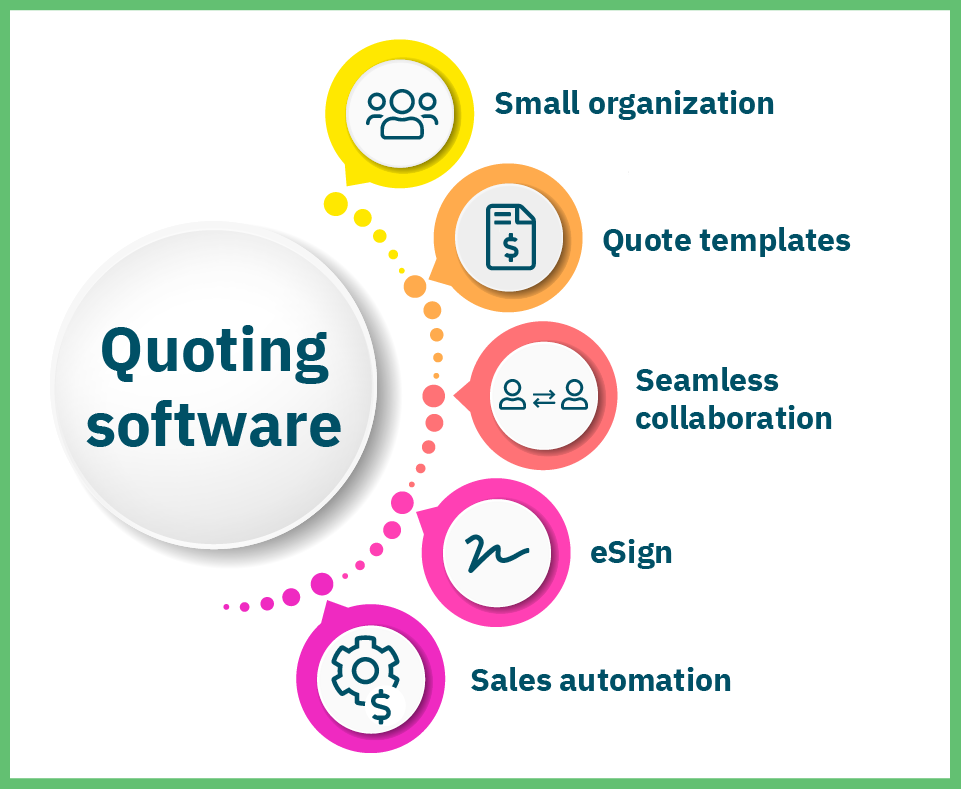 Quoting software is a tool that helps organizations, especially small businesses and startups spend more time towards cracking profitable deals instead of spending multiple hours on mundane tasks like data entry and price calculations. It enables the sales teams and distributors (if applicable) to speed up the sales quoting process and clinch more deals in less time. This software facilitates better project management.
Some of these softwares are introducing online payment options using stripe. Stripe is a suite of payment apis, this mode of payment accepts credit card payments and some other cards too.
Here are some notable features of a standard quote making software for your understanding:
It provides a rich template library of sales quotes, sales proposals, and other sales or business documents
It comes with various easy-to-edit options to customize the sales quotes or sales proposal as per the prospect's needs and your organization's guidelines
It offers seamless collaboration with internal and external team members as well as clients. This eliminates the constant back and forth of emails for review
It facilitates the integration of different business applications like Google Docs, Google Sheets, CRM, etc.
It automates the entire sales process. This saves time, cost and ensures more significant ROI (Return on investment)
It also provides the option to eSign quotes, which is an easier way to get client's approval
You need a quoting software if…
You are a small or medium-sized business
You have a limited number of products/services to offer
You do not have complicated pricing plans
You require a simple approval workflow
You require basic analytics in your quote making tool
You do not require the customer's control over the quote making software
You don't want to constantly battle your brain to understand the complicated settings and configurations of your sales tool
Read this blog and ask yourself the right questions before choosing a quoting software – 10 Evaluation Questions to Ask When Choosing a Quoting Software!
Comparison chart
| | | |
| --- | --- | --- |
| Features | Quoting Software | CPQ |
| Pricing Management | Mostly supports simple price books. | Has multiple SKUs, can manage the pricing of various product families together. It also gives the option of custom pricing. |
| Discounts | Does not provide much flexibility. Although calculating taxes is not a problem. | Discount management becomes easy with a lot of options (partner discount, volume discount, etc.) to customize according to the company's offerings. |
| Set-up | Not very difficult | Setting up a CPQ is a difficult task. It requires trained professionals to integrate the tool within the organization successfully. It takes comparatively more time consuming. |
| Company size | Best for sales professionals of small organizations who need to create customized and professional quotes and get faster sign off from their clients. | Best for huge organizations with a bigger workforce. Examples can be manufacturing and infrastructure units. Huge ecommerce firms also fall in this category |
| Collaboration | Easy in small organizations | Perfect for companies who want to create custom deals and offer custom pricing. |
| Workflows | Mostly provides simple approval workflows | Provides multi-level approval workflows |
| Deal limitations | May or may not be unlimited | Unlimited |
| Access to information regarding older deals | Relatively limited access | Version control available |
| Automated deal renewals | Mostly this facility is not available. | It supports this feature very well. |
| Design customization | Comes with a rich drag and drop editor and other design attributes | May or may not have a lot of design variations. |
| Unique features | Various customizable templates and faster sign-offs using esignature. | It has a product configurator and offers incredibly intricate catalog management. |
Factors to consider before choosing a quote making software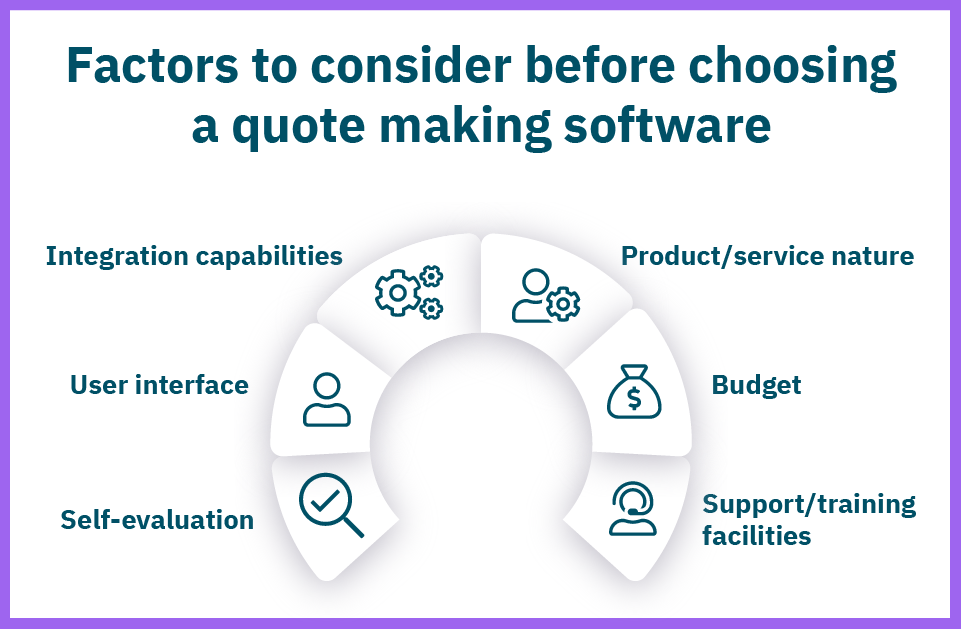 Are you considering purchasing a tool to enhance your sales processes? Are you convinced about the multiple benefits of an automation tool? If yes, you will be bombarded with dozens of potential available choices in the market.
The big question is how to choose the most impactful option?
While there is no magical weapon for making the right choice, there are a few key factors to consider that will help you go for the right tool for your organization.
Here are some factors to consider when choosing a quoting tool for your company. Minutely examine your needs and requirements before you invest your hard-earned money into something permanent.
Evaluate your needs: The most crucial factor while choosing a sales automation software for your organization is understanding your goals, objectives, and status. Do you want to create quotes that have an aesthetic value? Do you want to leverage eSign? Do you wish to introduce complex pricing for your products/services? Or, is your goal decreasing the sales cycle by aligning marketing and sales activities? Every such software (CPQ or business quotation software) has something unique to offer, and you need to look for the one that resonates with your demands.
Consider the user interface and user experience: Any tool will be beneficial for your organization when it is accessible and easily understood by all the employees. You must consider how human-computer interaction will be. Will it be able to accommodate your workforce? Will it be easy to use for your sales team members? Will it require a lot of time and focus? You can also contact organizations that have already used the software for authentic reviews.
Look into integration capabilities: The new sales software should be able to seamlessly integrate with other corporate or legacy systems like the CRM or ERP deployed in your company. Your front office operations should gel well with the back office operations using the new addition. Avoid inviting unwanted troubles with new software.
Assess your product/service structure: Determine the composition and structure of your offering minutely. Ask and discuss questions with your sales team. Do you want to optimize for attributes like discount schedules, premium offers, limited time offers, multiple product categories? Or do you want to optimize for simplicity in the entire catalog to search commodities and create quotes easily? The answers will help you realize what service (quoting software, proposal software, CPQ, etc.) you actually require to ensure smooth sales functioning.
Affordability: Setting a proper budget lets you visualize things in advance and plan well for the future. Managing money effectively is a mandate to run any business smoothly. Consider your current resources and invest accordingly. Look for the renewal costs and other added costs (if any) beforehand to avoid paying unwanted expenses later.
Do not miss support and training facilities: Every tool comes with its own set of prerequisites. You must be aware of the training requirements to implement the tool effectively within your organization. Study the type of support needed and how much of it is made available by the company. This will save you from installation troubles and hindrance in work.
Towards the right choice
The market is constantly evolving as outdated sales processes and systems are being replaced with refined, interactive, and up to date quote making software. CPQ and quoting software are the major sales automation tools you will come across. These are used to clean up the quotation and proposal process.
It is important to know the purpose and target audience of such tools and selecting the one that amplifies the efforts of your sales force and leaves no room for confusion. Choosing the right tool for the job makes a difference.
It's time to drift apart from excel spreadsheets, shared drives, and untrackable docs to a simplified way of building and sharing quotes by switching to the best quoting software.