Are you a growing SaaS company, especially one that is selling to mid-market or enterprise customers? Then there's a good chance that a significant portion of your revenue is coming from custom, creative deals. These are deals where your customer needs are not met by your online standard plans and they need more. The 'more' could be either:
The product-service mix being offered
The pricing under consideration
The contract engagement terms
Conversations we've had indicate that creative deals easily represent anywhere between 30-70% revenue for SaaS companies, big and small alike.
I'm not saying that this is bad or undesirable in any form. On the contrary, creativity is often the need of the hour for it allows an aspiring, high-growth SaaS company to stand out from their competition. However, what it can lead to, is a lot of the work being done manually and information spread across emails, documents, and spreadsheets. Historically, the first tool that gets recommended for such a situation is a CPQ (Configure Price Quote) solution.
CPQ is a great tool but seldom do SaaS companies have that level of product complexity to warrant the use of a CPQ. For SaaS, the total combinations including standalone products, bundles, and some pricing options rarely go beyond a few hundred.
Yes, for any sales rep even remembering a few hundred options is difficult and they need some mechanism that allows them to quickly select the right product mix to sell. Whether this is enabled via search or guided selling is however up for debate. Nevertheless, often work still gets done in a spreadsheet and uploaded to the CPQ tool after the fact for record-keeping. CPQ is far more useful when the number of products and associated options is in the thousands or more.
Is CPQ enough?
CPQ isn't enough either. A quote is not the only or the final artifact for a deal. Usually, a deal starts with an NDA. Then there is a sales proposal that broadly outlines the product offering, followed by a quote that gives some sense of pricing and discount and then a sales contract to seal the engagement. In sectors such as Healthcare and Finance, it's a possibility that the contract outlining how security and privacy information is managed gets reviewed even before the actual product mix is discussed.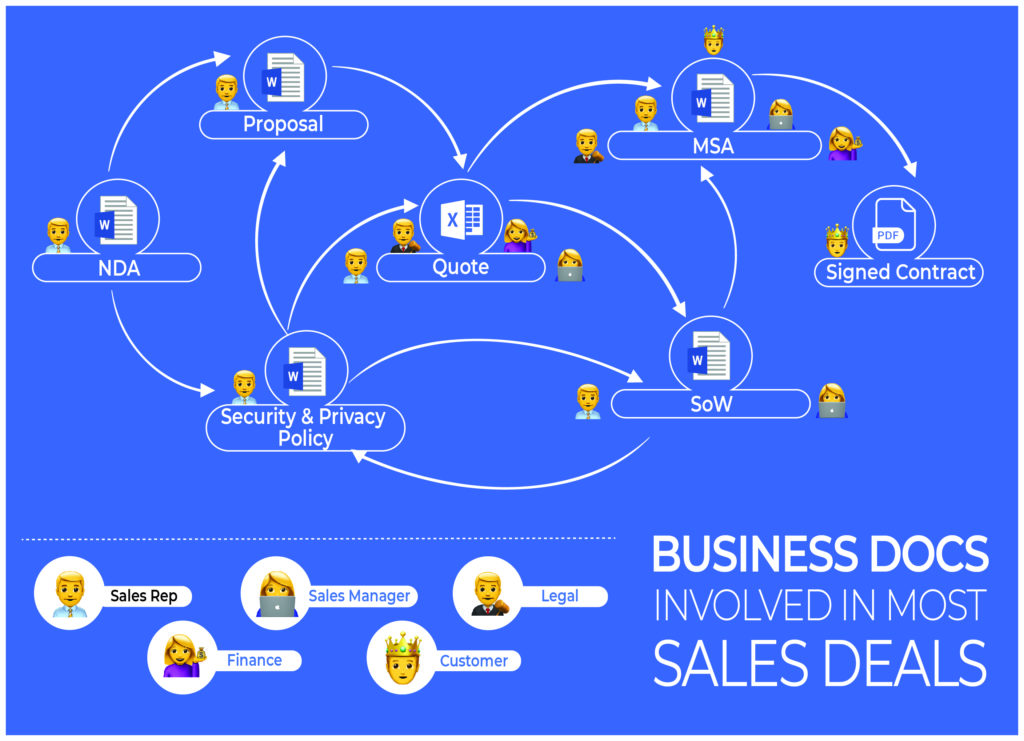 A CPQ in itself only focuses on the quote, and hence gets coupled with either a document management system or a contract lifecycle management solution to fill the gap. These tools add-in digital signature and workflow capabilities which comes at additional cost. Some manual intervention continues to be needed to ensure information flow across these systems is managed well. Then there is information that is required by downstream systems such as order management, billing, and service desk. Between the quote and contract, there is information contained within – on products that need to be delivered, the payment terms and frequency for billing, the entitlements and expected SLA when a customer service request comes in. Your CRM needs to be updated as well on the final state of the deal, and details of products sold and renewal terms which will facilitate timely renewal (the lifeline of any SaaS business). Once again a lot of this information exchange is manual, making it error-prone and often delayed.
Therefore, how is CPQ the correct choice for a SaaS company when it comes to managing their deal lifecycle? It doesn't have all the capabilities, requires a lot of effort to implement, and needs supporting software to fill in the gaps. What is needed instead is really a tool focused on all aspects of the deal right from the CRM to Cash. One that also has the capabilities of a workflow manager, collaboration and document management so that a deal is managed in a single system.