Most sales processes start as soon as a customer lands on the website. An effective sales process guides prospects through the journey and ensures that the journey is a great experience. To build a great sales process, it is important to identify the buyer's journey. Once that is done, identifying the gaps and overlays and holding it together with the right tools will improve productivity, increase the top line and prevent predictable revenue disruption.
Modern salesperson mantra:
Right person, right time, right message = WIN
Building your sales stack
When you start building your sales stack, it is easy to get lost in the bells and whistles – the 'nice to have' features. It is important, instead, to focus on tools and features that will strengthen and improve your sales processes. For example, if you are selling a high volume, freemium product, investing in a tool that automates manual tasks like lead qualification is enough. On the other hand, if it is a multitouch sales cycle, like the one in mid-market SaaS companies, you'll need a robust suite of integrated tools which address the three critical areas of sales – prospecting, enablement and optimizing.
Assess your short and long term goals to prioritize which of your sales stack resources need upgrading, replacing and/or are new. Apart from their specific role, consider the following as you make the selection for tools to add to your stack.
The perfect sales stack is a collection of tools, services, and platforms geared towards automating your sales process, streamlining lead generation and preserving your team's most valuable resource: Time.
Five stages of an effective sales process
Figuring out a sales process can be daunting. Your target market segment will have a marked impact not just on your sales process, but your product and go-to-market strategy as well. This is why to move forward with optimal clarity and flexibility, we recommend most companies map their sales stack to these five stages that are aligned to a buyer's journey through a sales funnel.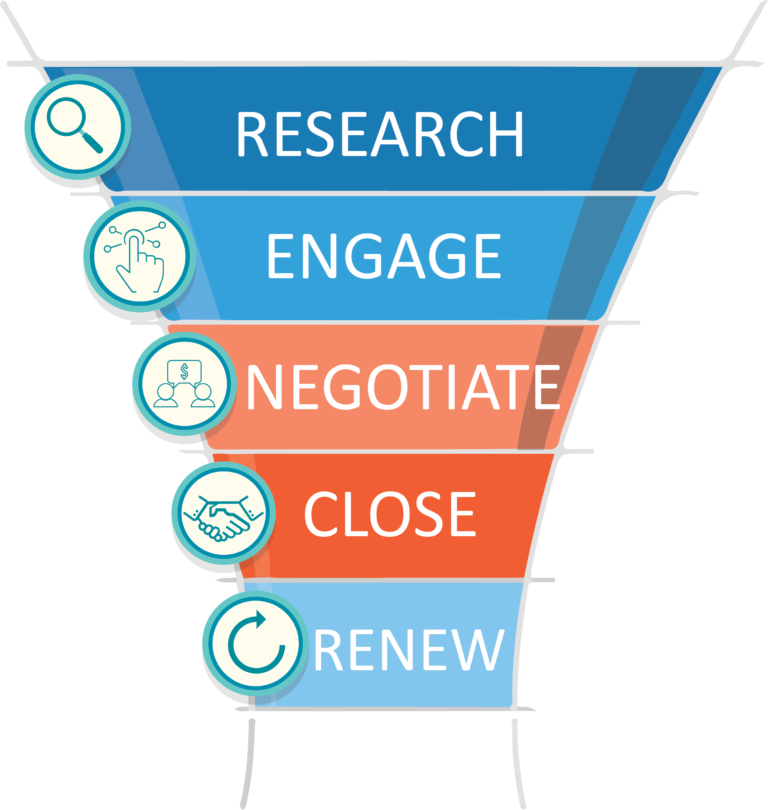 Research
For your lead generation and downstream activities to work well, know your target audience intimately. The more you know about them – the easier it is to offer them 'true value'. Clearly define your Ideal Customer Profile (ICP) and Buyer Personas to help your marketing teams come up with high-quality leads. These leads should then be enriched with data, insights, and inputs giving your sales team a deep-dive into the customer's business, their potential pain points, stakeholders and that one champion within the organization who will help both with the sale and adoption of your product and services.
| | |
| --- | --- |
| Prospecting tools | Conferencing and scheduling tools |
| Finds the right contact details of prospects like email address, phone number through market research. | Integrates easily across calendars. |
| Provides detailed insight into prospect's competitors, estimated revenue, employee count, funding history, any acquisitions, and news. Get a sense of where the pains are. | Have fool-proof scheduling capabilities to book meetings and avoid double booking. |
| Unlocks the buyer's personality traits and builds a map of what roles the various stakeholders play. Who will be the user, who the influencer and who are the economic buyers? | Ability to send group texts, images, and audio files during meetings and whiteboard setups help reduce turnaround time. Call recording options for easy review and training. |
Lead engagement or nurturing
A sales process consists of a series of activities. Many of these are repetitive and mundane – that doesn't make them any less important – just that these are time-consuming. Without the right tool, it is highly probable that some leads might just slip through the cracks. Additionally, the sales team needs to be equipped with appropriate collateral to engage stakeholders during their journey. Whether it's the correct email, pitch-deck, case study or other information, content plays a very important role to win over a customer. New-age CRMs are building a lot of these capabilities within, but there are various targeted tools also available that help simplify your outreach methods.
Here are the 3 major components of lead engagement:
| | | |
| --- | --- | --- |
| Communication and Pitching tools | Objection handling tools | Product demo tools |
| Figures out the right message and the right time to reach prospects. | Gives real-time updates on objections especially with multiple points of contacts | Tracks individual analytics – about how each prospect interacts with the demo. |
| Streamlines customer interactions and tracks reactions to marketing collaterals. Measures time to click through rate and provides insight and improvement tactics on conversion rate. | Automates responses in the CRM. | Provides a knowledge-base or a chatbot for frequently asked questions. |
| Allows editing and deploys marketing collaterals. Integrates easily with outbound and inbound marketing initiatives. | Uses objection handling analytics to better plan campaigns. | Tracks sharing to help the sales rep discover and engage the different stakeholders in the buying group. |
| Helps identify cross/up-sell opportunities. Enables accurate budgeting for resources. | Helps prioritize deals better by setting up follow-up sales cadence in the pipeline. This takes into account the customer's deal value, the time to convert the leads into a customer | |
Creation, Negotiation and Building Relationship
By this stage, you know that the prospect is interested and the pain point is apparent. It's now time to win them over with your product, pricing and engagement terms. You're in the last lap and need to structure the deal with inputs from your solutions, professional services, finance, and legal teams. More often than not, a lot of this communication happens using spreadsheets, documents, and email which is not conducive especially when there are multiple negotiations and considerations that needs to be taken into account. CPQs are often recommended as it can help companies focus on such high-touch deals or complex deals. However, CPQs also come with their own set of limitations. It fails to function in SaaS companies where every unique opportunity needs a customized solution. Instead, a tool that focusses on all aspects of the creative deals – from the CRM to cash – and has capabilities of a workflow manager, collaboration and document management is required.
| | |
| --- | --- |
| Document management tools | Negotiation tools |
| Has a centralized data storage using tags and labels for easy access. | Customizes creative deals for every unique opportunity. |
| Improves collaboration across teams with an easy view and edit. | Encourages collaborative work on proposals. |
| Expedites file retrieval. | Provides competitive analysis and insights. |
| Improves data security and regulatory compliance. | |
Closing the deal
When it comes to sealing the deal, you require a sound process flow that gives accurate information at all times. Activities at this stage need to ensure that all parties understand their responsibilities and obligations clearly. Additionally, downstream systems need information encoded in contracts. There are various post-sale activities, for both the customer and your organization, that are dependent on this information. These include compliance, revenue recognition, billing and invoicing, onboarding and customer support amongst others.
| | |
| --- | --- |
| Contract creation tools | E-signature tools |
| Is intuitive and is able to drive standardization across all contracts reducing risks as much as possible. | Secure and quick turnaround on contracts and other important documents |
| Comes with built-in workflows wherever changes are needed so that appropriate authority has approved such changes. | Integrates easily other business tools using an API. |
| Ensure separation of changes made for a specific opportunity, for an account or globally for all contracts. | Easy to use UI and can authenticate, audit, encrypt, and provide other necessary security features. |
Customer success
Did you know that at a 5% monthly churn rate, you are losing about 46% of your customers every year? This is not only a huge loss in terms of revenue but also is wasted investment on dollars spent on customer acquisition. For any healthy SaaS business, 60-80% of their revenue needs to come from existing customers. Depending on your product, size of the organization and customers – you may need to switch into models that serve the best interest of your customers and organization. Your customer success tool should:
Conversion tools
Onboarding tools
Advocacy tools
Tracks data around user action, usually 1-2 key actions that are strong predictors of churn if not performed regularly.

Speeds up adoption.
Executes targeted and data-driven outreach campaigns for advocacy based on hundreds of data-points.
Tracks metrics such as recurring renewal, annual contract value, renewal rate, premature cancellations, and expired subscriptions.
Enables personalized communication for an engaged customer.
Integrates easily (preferably native application) to provide
UI consistency, real-time data, workflows and more.
Identifies upsell opportunities by understanding which features are being used more/less.
Offers multilingual support, easy to integrate with the product with real-time customer activity reporting.
Integrates easily (preferably native application) to provide
UI consistency, real-time data, workflows and more.
Leverages insights to increase and improve customer lifetime value.
Improve feature adoption.
Automates the customer review process especially those who are inactive or have been dormant for a long time.
List of customer success tools
Don't overstack your sales stack
The right sales stack accelerates the sales pipeline by anticipating what will trigger renewals, standardize tools to ensure best practices across the sales and automate processes to send alerts and recommendations. While the market is chock full of tools that come with different functionalities and capabilities, it is the quality of integration that they provide and information they generate which determines the tool's value. Depending on your stage of business and needs, you will underinvest in some tools and overinvest in others. There really isn't a silver bullet, but hope the aforesaid framework helps you with the right choices. Choose a tool stack that does not determine your process but molds to it instead.