Sales is the backbone of a successful business. Sales managers and other sales professionals work hard, deal with an ample amount of rejection, and handle piles of paperwork before they can pool in customers to contribute to the company's growth.
The company's responsibility is to adopt tools and techniques that assist their salespeople in working more effectively and reducing their workload.
CPQ is one such sales optimization tool that helps generate quotes and other sales documents quickly and accurately. It reduces the costs and increases the productivity of the company.
What does CPQ stand for?
CPQ stands for Configure, Price, Quote. It is a software that helps companies create and manage sales quotes across a huge range of variables. It assists businesses to align information present across different tools and present the perfect quotation to the customer in the best possible way.
Here is a detailed break up of the different components of a CPQ –
Configure
Mass producing a certain product without any variations, receiving orders for the same, and shipping it to the customers is an old way of operating a business. With a plethora of choices, customers today want products and services customized as per their needs and preferences. They want their input to be considered by the manufacturer so they receive the desired outcomes.
You can do this with the help of the configuration options provided by CPQ software. Provide customers with well-configured products to meet their highly customized requirements. If they feel you have limited choices, they will continue their search and go to your competitors to fulfill their needs.
Price
If your company manufactures or sells products/services in standard configurations without any variations, straightforward pricing would be sufficient.
But, if you offer a variety of configurations, you need to have accurate pricing for all the options available.
The pricing component of a CPQ helps to present accurate pricing across various channels, geographies, sectors, etc. In addition, it ensures that the process involves minimal human intervention so the sales reps/sales professionals can focus on other important tasks.
With a CPQ you can manage different discount schedules, premium customer pricing, and any other pricing-related offer you want to introduce to attract customers.
Quote
A sales quote is the face of your offer presented to the prospective customer. Therefore, you must ensure it has correct details and has a professional approach to impress the customer.
Using a CPQ will make you confident to approach new customers as it creates professional-looking quotes that are free from errors.
It comes with quote templates and other capabilities to showcase your products/services in the best possible way. This saves time and effort and helps you reach the prospects in time.
What is a CPQ software? Who should use it?
CPQ lets you create complex quotes, collaborate with your colleagues, automate approval workflows, and close deals faster. In a nutshell, CPQ software is a tool that helps you sell your products/services efficiently to your customers.
The SaaS market is huge and diverse. Not all companies have the same requirements. Depending on the size, geography, target audience, and other factors, the needs of the companies vary. Likewise, not all companies need a CPQ software to streamline their business procedures.
Here is a checklist to assess if a CPQ is the right choice for you or not. You need a CPQ if –
Your company is a massive enterprise that consists of multiple SKUs
The product/service catalog of your company is elaborate and complex
You majorly deal with B2B prospects
Your company has multiple pricing plans, varying discount schedules, customer plans, etc.
Broad and descriptive analytics helps you maintain your data in an ordered way
You need multi-level approval workflows to finalize deals
You have a unique pricing plan that is not supported by simple quoting software
What are the features and functions of a CPQ?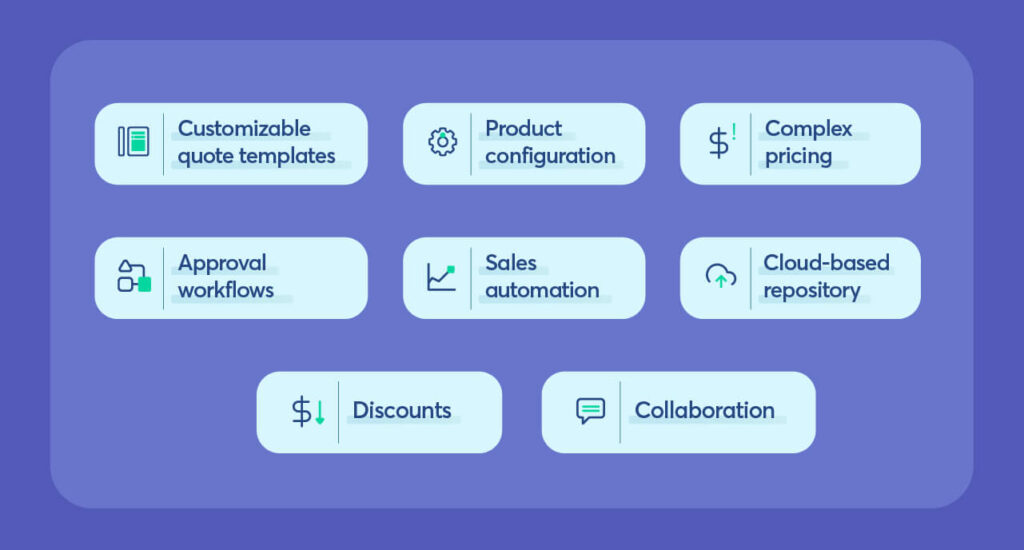 A CPQ is a quoting tool with a much more extensive feature list than quoting software. It is designed to help salespeople automate the sales process and enhance customer experience.
But, not all CPQ software has equivalent features and capabilities. You need to go through their offering to be able to narrow down your search.
Here is a standard list of features that all CPQ must have to align your sales cycle :
Customizable quote templates – CPQ consists of pre-built quote templates for a quicker quote creation process. You can customize the template as per the requirements and preferences of the customer or the deal. In addition, templates make your quote look professional and help you have a good and lasting impression.
Product configuration – With a CPQ, sales reps can present the offering in a variety of ways. Even the customers can configure the products/services themselves. This promotes customer satisfaction as they will pay for only what they need.
Presentation – The progress of a deal depends a lot on how the information is presented in your quote. A CPQ helps in preparing visually appealing quotes by providing visual product configuration. Many CPQ solutions come with 2D and 3D product configurations, which means you can showcase images and drawings of your product/service to the customers for clarity and their satisfaction.
Complex pricing – Companies with multiple SKUs often have dynamic pricing models and not just flat pricing. They have a variety of pricing like bundle pricing, volume pricing, value-based pricing, and other custom methods. A CPQ helps sales reps to create a variety of price books on the basis of different currency, local economic factors, geographies, cadence (weekly, monthly, fortnightly), etc.
Discount management – When companies have a lot of customers, they get categorized into different discount groups based on multiple factors like buying frequency, deal size, etc. A CPQ helps companies manage discounts automatically. Structuring volume discounts for customers is another complicated job, but with a CPQ, you can apply and feed logics that get automatically invoked during transactions.
Workflows – With a CPQ you can set approval workflows so the deals move ahead in the right direction with the approval of all the concerned members of the company. Approval workflows eliminate risks of error and ensure the right deal is being offered to the customer. For example – a sales rep can set an approval workflow for his/her manager to check all the quotes where more than 20 percent discount is applied. This will ensure that bigger discounts are given to the right deals.
Collaboration – Custom deals have a lot of individual details that differ from the standard package or pricing of the company. This can cause a lot of confusion and chaotic circumstances among the sales team before finalizing a deal. But a CPQ provides a smooth collaborative space for complete control and visibility over what's being offered. It helps the sales team to be on the same page, literally.
Sales automation – It is often mentioned that more than half of the time of sales reps is spent on tasks like entering data into CRM, writing emails, attending internal discussions over the quotes, and in other non-sales-related jobs. A CPQ eliminates these manual tasks and automates the quoting process which saves time, cost, and resources.
Cloud-based repository – Storing all the important documents in a safe repository is always a good business practice. You can refer to them whenever required without wasting time and effort. A CPQ comes with such a repository so you rest assured that your quotes are secured forever.
A list of CPQ software to streamline your quoting process
Revv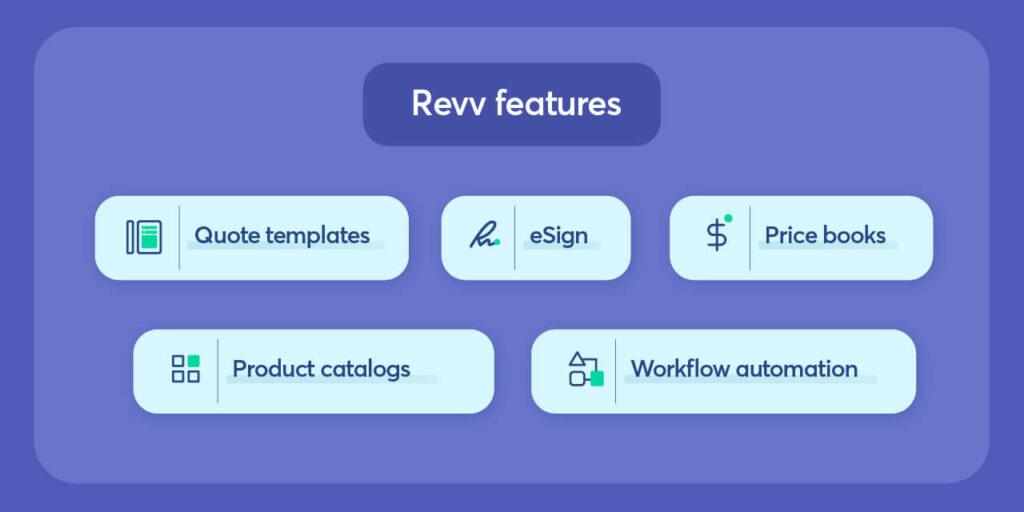 Revv comes with exceptional quoting capabilities that help businesses reduce the turnaround time and attract more customers. Along with the best quoting features, Revv comes with other features like workflow automation and electronic signatures to further enhance the quoting process. It is among the best quoting solutions to create, automate, send, and eSign quotes.
Features
Pre-built customizable templates
Price books
Product catalogs that contain columns like product type, code, description, family, category, configuration, etc.
App integrations
Workflow automation
Electronic signature
Cloud-based repository
Pricing
Free
Basic – $15/user/month
Premium – $39/user/month
Business – $79/user/month
Know more about Revv's pricing.
Salesforce CPQ
This CPQ is designed to suit various types of businesses ranging from small, midsize, and enterprise-level organizations. It is suitable for those who have planned their sales goals and want to have well-aligned customer support. This tool is suitable for configuring complex deals, streamlining approvals, creating quotes, etc.
Features
Quote generation
Guided selling
Pricing engine
Contract amendments
Automated renewals
Dynamic terms and conditions
Advanced approvals
Flexible invoicing
Automated payments
Pricing, quoting, and subscription analytics
Pricing
CPQ – $75/user/month
CPQ Plus – $150/user/month
CPQ & Billing Growth – Pricing varies on your needs
CPQ & Billing Plus – Pricing varies on your needs
Conga
It is a powerful CPQ solution with artificial intelligence and machine learning capabilities. Conga CPQ increases the sales effectiveness of companies by helping their sales reps create better quotes for their customers. It can handle a variety of pricing models and an extensive list of online selling strategies.
Features
Quote creation and customization
Collaboration across teams
Audit trails
Upsell or cross-sell recommendations
Complete pricing management
Business app integrations
Automated approvals
Pricing
Conga has a subscription-based pricing model. You need to contact their sales team for exact details.
PandaDoc
Easily pull information from other platforms like CRM and create accurate quotes with PandaDoc CPQ. The platform lets you generate quotes with no errors and close deals at a better speed. PandaDoc has interactive pricing tables that let customers select their preferred plan from the multiple options available. They can even change the quantity and chat with the service provider directly while going through the quote. This makes the experience more convenient and customer-centric.
Features
Readymade templates
Integration with business applications
Electronic signature
Interactive pricing tables
Approval workflows
CPQ analytics with real-time data
Pricing
Free
Essentials – $19/month/user
Business – $49/month/user
Enterprise – Depends on user needs
CloudSense
Sell more, better, and quicker with CloudSense CPQ. It comes with features that help you eliminate errors from orders, minimize the sales cycles, and have a convenient selling experience. This CPQ gives you complete control of your business and helps you scale the most complex business models. Drive growth across various channels using CloudSense CPQ.
Features
Quote generation and customization
Product catalogs
Visual configuration
Pricing flexibility
Discounting
App integration
Approval workflow
Renewals
Pricing
You need to request a quote for the pricing.
A good CPQ software lets growth and comfort coexist
It is a misconception that growth doesn't happen without grinding and struggling. With the right tool, you can do wonders with minimum human intervention. A CPQ tool has tremendous capabilities to help you supercharge your sales efforts and reap more benefits.
Switch to a CPQ tool and promise the rights products and approved pricing plans to customers quickly. Bring consistency, accuracy, and speed to your quoting mechanism and wow your customers.
FAQ
Why is CPQ used?
Configure Price Quote (CPQ) is used to shorten the sales cycle and make it more effective. It is a powerful tool with multiple useful features that reduce the administrative tasks of the sales reps and helps them focus on closing deals. As a result, CPQ boosts sales and benefits the overall revenue.
Is CPQ part of CRM?
No, CPQ is not a part of CRM. CRM (Customer Relationship Management) and CPQ (Configure Price Quote) are two separate platforms that help businesses function effectively. A CRM helps companies manage the records of their customers while a CPQ helps improve sales by managing products & services and generating accurate quotes at a faster pace.