In the current agile world, the ease and comfort of business operations is a significant matrix of growth. Therefore technology like cloud computing is being widely accepted as it saves time, cost, and promotes efficiency.
The art to improvise and adapt to the best-suited practices is crucial for businesses to grow and prosper. Being attached to old ways of functioning and apprehensive about making a change is normal, but the required change is vital to succeeding in the long run.
Every company offers either products, services, or a combination of both and they need to present their offering to their customers in the form of sales quotations. A manual process to create quotes has limitations, which is why organizations are gaining trust in cloud-based software. Adapting to a cloud quoting software to generate quotes helps them create accurate quotes quickly and be on the fast track. In addition to creating flawless sales quotes, such software provides a range of other features that skyrocket the overall sales process of the company.
What is cloud quoting software?
It is a tool that comes packed with features to help you create, manage, send, and track quotes from anywhere in the world. With a cloud quoting software the sales team can collaborate over the quoting process and create an error-free workflow for themselves.
The main advantage of such software is that a company can operate with its team members sitting across boundaries. It allows you to have a shared database across multiple teams. All one needs is a computer system and an internet connection to be able to access the software.
Functions of a cloud quoting software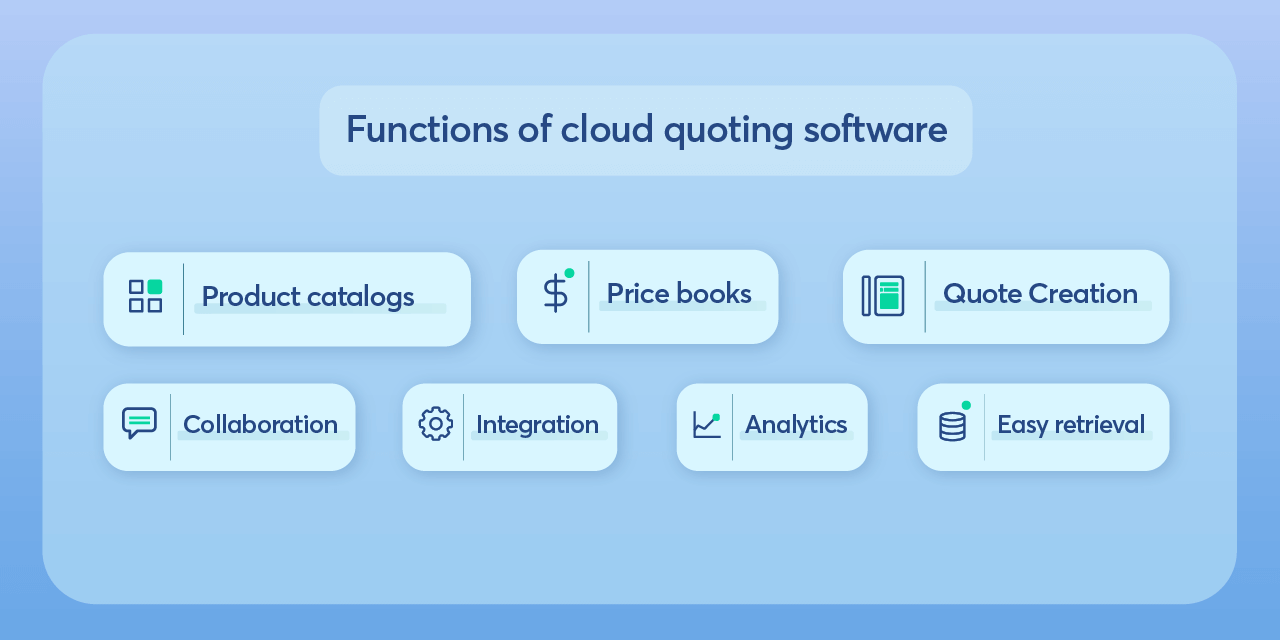 Product catalog
Quoting software's primary task is to help organizations present their offerings (products/services/a mix of both) to the prospective customer in the best possible manner. One of its functions is to provide users with the option to create and edit multiple product catalogs. This will help salespeople to easily configure products for the customers and present the right products at the right time.
Price books
A price book is a list of products with their associated prices. Having pre-built price books for multiple currency support, different geographies, etc. helps in faster quote creation. A quoting tool helps to maintain multiple custom price books as per your need and offers.
Quote creation
Salespeople waste a huge amount of time in manual quote creation. A manual process is prone to errors and omissions. To help get away with these issues, a quoting tool comes with quote templates and an easy-to-use document editor to help users create flawless quotes within minutes.
Collaboration
Sales teams need to work together to create error-free quotes for the prospects. Sales reps need the approval of managers, price updates need to be discussed, etc. These steps often take time and the quote is delayed. Quoting software offers collaboration features to discuss the edits and changes in one place.
Integration
Pulling data from different business applications like CRM, Google Sheets, emails, etc., is a messy process. A quoting tool comes with integration capabilities to help users stitch together multiple business applications for a smooth quote creation process.
Analytics
The objective of analytics is to help you track the progress of your sales quote or sales proposal you send out to prospective customers. A quoting engine comes with features such as quote tracking to help you identify the bottlenecks in clinching a deal. You get to know details like who viewed, opened, accepted, rejected your quote so you can follow up on the same.
Easy retrieval
Cloud-based quoting software has the basic feature of storing all the quotes created, sent, and received securely. It lets all the users of the software have easy access to the saved documents at any given point in time. Using a cloud storage saves you the time and effort you put in locating physical files.
Benefits of a cloud-based quoting software
Employees in a company are a lot of times busy figuring out technical stuff they do not specialize in, which causes delays. Quoting software helps you focus your energy on your actual job while taking care of all the technical details.
Enables seamless collaboration across teams which helps to eliminate errors from the quotes and other important business documents.
It brings efficiency to your quoting process. You can send quotes and proposals to the customers in just a few taps and create a better workflow for your business processes.
You get a backup of information for security purposes.
A cloud-based tool integrates easily with other cloud-based software to ease your workload.
Revolutionize your quote to cash process with Revv
Manual sales processes are open invitations to errors, delays, and mismanagement. To avoid such discomfort in the entire sales process, you must consider switching to a cloud-based quoting software. It will eliminate all types of hold-ups during the entire process to help you achieve optimal sales processes.
Sales Quotes creation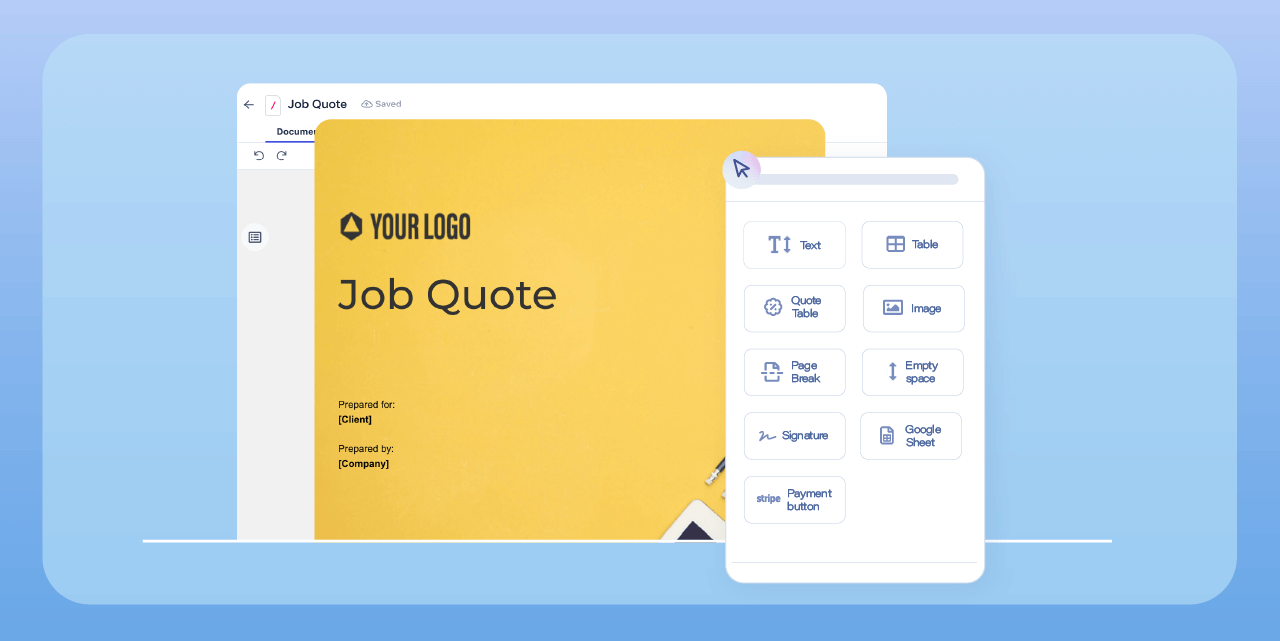 Problem in the process
Creating quotes or sales proposals without any online quoting software is a tedious manual process. Sales reps often waste time and effort in creating quotes that turn out to be prone to errors and omissions. Moreover, such quotes do not have a standard format and sometimes get lost if not saved securely.
The Revv effect
Revv comes with a rich template library (quote, proposal, agreement, contract, etc.) to enable faster quote creation. It also has a drag and drop document editor to create or edit a quote and other sales documents as per your requirements.
Gathering data
Problem in the process
A quote consists of multiple information like your company information, the customers' details, the offering, and pricing information. All this information is often stored in various places like CRM, Google Sheets, Excel Sheets, or in an old email sent by a colleague. Collecting information from various sources increases the chances of feeding wrong data in the quote.
The Revv effect
To eliminate the possibility of such errors Revv comes with the feature of business app integration. You can sync apps together and transfer information from one app to another without switching tabs or copy-pasting. The best part is that you don't require any technical knowledge like coding skills to integrate apps. A sales rep can easily accomplish this using tools like Zapier and Retool.
Internal review
Problem in the process
A sales quote is a crucial document as it represents your organization before the prospective customer. Therefore sending out a perfect quote is crucial. Internal reviews are essential to cross-check the accuracy of details mentioned in the quote. But, the review process involves multiple emails back and forth. Comments and suggestions get lost and missed and eventually quotes with incorrect information get sent to the customer.
The Revv effect
With Revv collaborating with internal and external team members becomes a breezy affair. Users can add comments, attachments, and tag each other in the same doc. All the users can be in the same document and can collaborate in real-time. This eliminates confusion, delay, and overwhelming email threads.
Sending out quotes
Problem in the process
Sending the final quote through email is considered to be the best way of sending out quotes in the absence of a sales quote software. But emails are not very easy to manage as you need to switch platforms to be in loop. You might miss an important email or an email can get lost or permanently deleted by mistake.
The Revv effect
Revv liberates you from the tedious download-email-attach-send process. You can send the quote for signature just by clicking on the send button present at the top right corner in Revv's screen.
Identifying bottlenecks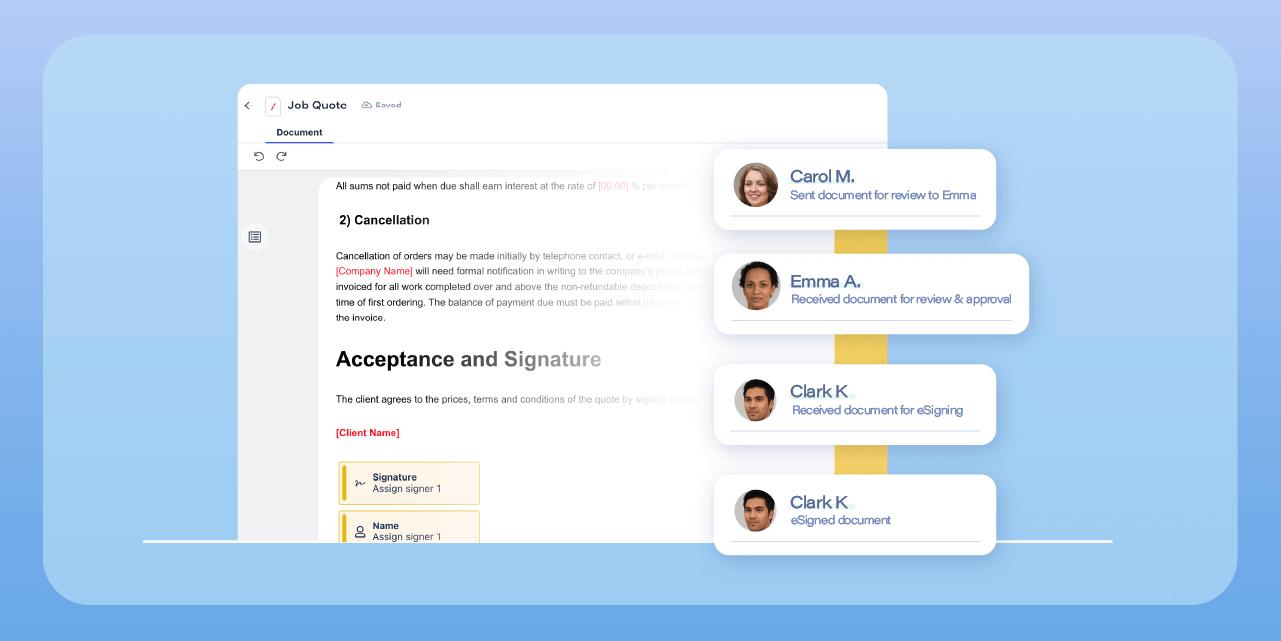 Problem in the process
Once the quote is sent to the prospective customer, you lose track of it. It leaves you wondering about what's happening with the quote. You have no idea if the prospect received it or not, viewed it or not, etc. As a result, you stay in the dark regarding your next steps in the process.
The Revv effect
With Revv, things are crystal clear as it comes with the feature of activity tracking. Using this feature you get information about who has viewed the quote, how many times it has been viewed, who has accepted, rejected, or signed the quote with timestamps of the activities. Using this information you can follow up with the prospect at the right time to make them move ahead in the process.
Workflow automation – the cherry on top
With a full-fledged package of the above-mentioned features, Revv comes coupled with the benefits of workflow automation. Automating the entire workflow frees up sales reps from mundane tasks and helps them align more important jobs.
Grow faster with cloud quoting software
What is better than being able to work from anywhere at any time? Absolutely nothing. Cloud-based software does exactly the same. You can collaborate with your team sitting back at home without worrying about security issues as such tools come with authorized access and high-security standards.
Switch to a cloud-based quoting engine and accelerate your sales operations to maximize productivity and growth at minimum costs.