Fierce competition, smothering deadlines, complicated product lines, and rising demand for customized products – sales teams face many challenges to win customers.
With such roadblocks, providing accurate quotes to prospective clients within the timelines seems a distant goal.
Do you know?
50% of the leads will choose the first vendor that responds to them. – HubSpot
And, that is why your existing quoting process needs a CPQ lift.
A CPQ system lets you –
Cut through the noise by differentiating yourself through exclusive product offers and pricing packages
Position your offerings as 'the solution' through a winning sales quote
Reach out to your prospective clients before the competitors
Keep your prospect's interest intact
Close deals faster
Create a great buying experience
This blog gives you an 'insider view' of what happens in a CPQ software and how it gives you the power to gain more customers in less time.
Read on.
What is a CPQ system and why is it important?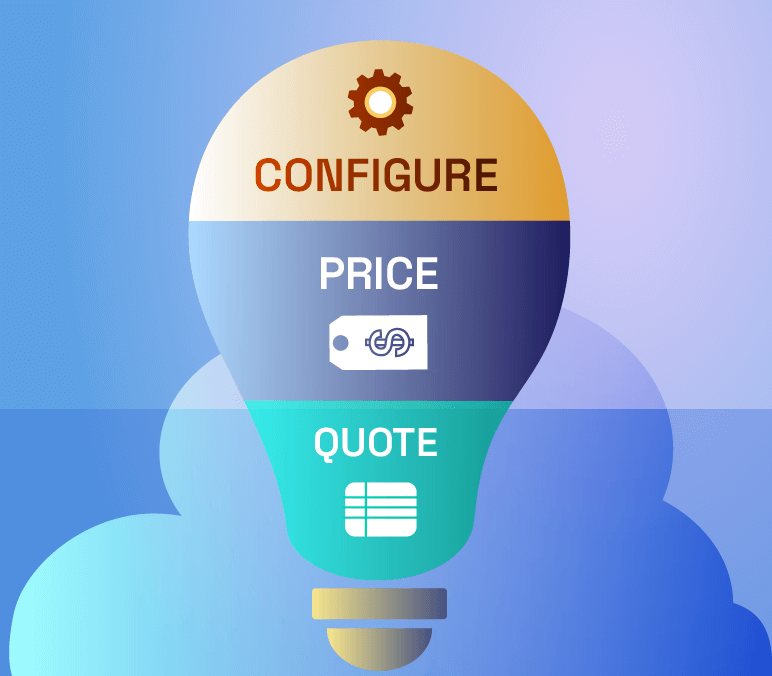 A CPQ, or Configure, Price, Quote software enables organizations and sales teams to speedily deliver accurate sales quotes for a customized range of factors. Here's how –
Configure – Customers today are more demanding than ever. They demand personalization to meet their specific needs.
Do you know?
One in five customers is interested to pay a 20% premium for personalized products or services. – Deloitte
The process of configuration is finding and clubbing the right products and creating custom packages to meet customer's requirements.
Whether it is your business's complicated line of products or tangled customization, when you configure it right, your chances of winning the customer are bright!
Price – The changing customer demands and deeper customization debunks the concept of "Universal Pricing" and needs more number crunching.
Hanging on various variables like geographies, sectors, volume pricing, tier pricing, bundle pricing, special discounts, and many more – arriving at a price can take hours to days. Moreover, any quoting error in these scenarios can mean a monetary loss to the company, unsatisfied customers, and elevated stress.
A CPQ software straightens out the conundrum of pricing. It lets you create multiple price lists, support complex discount structures, and provide accurate and consistent prices right when you need them. Furthermore, it allows sales professionals to configure approvals for specific conditions.
"The moment you make a mistake in pricing, you're eating into your reputation or your profits."

Katie Paine, founder and CEO of KDPaine & Partners
Quote – Finally, this is where you bring the drumroll to make some noise about your offer to prospective clients. A CPQ software helps you generate professional sales quotes with the right products, pricing, terms and conditions, and other key information. It brings in the capabilities of quoting templates and easy editing to create and send a sales quote within minutes and keep the customer's interest intact.
Let's take an example –
To explain in simpler terms, let's say, Mr. S, is a salesman in an email marketing service company. A potential client, Mr. C, is looking for an email marketing service, and he reaches out to Mr. S to discuss the brass tacks.
Mr. C – We need something more than your Basic Plan but less than the Advance Plan. Would you be able to make some customization in the basic plan and adjust the pricing accordingly?
Mr. S – Sure, We offer customization.
Mr. C – Cool! Please increase the monthly email limit from 40K to 100K. Also, add custom template editor to this. Do you provide dynamic templates and Send Time Optimization?
Mr. S – Yes, we do. But, we provide that in our Enterprise Plan.
Mr. C – Ok! Would you be able to add these features to this customized plan?
Mr. S (smiling) – I need to check on that with my manager.
Mr. C – Great! Can you let me know this now and also the total price?
Now, this is where things can go sideways.
In a traditional quoting method scenario, the salesman will first check with his manager on the customization options, perform calculations in the Excel Sheets, and then send or show the quote to the manager for approval to discuss any further changes. And what if the manager isn't available immediately?
Will the customer be waiting all this while?
No way! The customer will go to the other email service provider, and the opportunity is lost.
This is why businesses need CPQ software – to factor in all the requirements and create precise quotes in real-time.
Do you know?
Non-CPQ users take 73% more time to produce a typical quote or proposal. Source
A CPQ software knows –
Whether the customization is possible or not and to what extent
Price for each type of specialized need irrespective of how complicated it is
Discounts applicable
If the quote needs approvals and if yes, it initiates the approval process
The steps of quote creation and generates them at lightning-fast speed
When do you need a CPQ system?
Here are the important reasons why your sales teams should stop jumping through hoops and invest in a CPQ software.
You have numerous products having distinctive configurable models
Your offerings have dynamic pricing models based on geographies, industries, and other customer segments
You give complicated volume and tiered pricing
Your sales staff banks on tons of unmanageable and individually owned spreadsheets to create pricing
The sales team faces problems in bundling the right set of products
The slow quote creation process is impacting revenue and your business is losing potential clients
The approval process is slugging, adds to the confusion, and increases the lead response rate
The sales process is hitting roadblocks due to immense manual errors and arbitrary discounting
Lack of transparency into the sales process is restraining the sales teams to make the right decisions
The sales team is not able to identify cross-selling and upselling opportunities
Your existing quoting software is not compatible with other legacy systems like customer relationship management software (CRM) systems, enterprise resource planning software (ERP) systems, and other tools. This leads to inconsistent data, poor insights, and chaos.
Revv – CPQ Software on steroids
Revv is an intuitive and all-inclusive CPQ software that quickly configures products and pricing, generates accurate quotes, and executes them with eSignatures. It streamlines and optimizes the sales process, increases revenue opportunities, and increases the sales velocity.
Do you know?
Companies that use CPQ can experience a 105% larger average deal size – Superoffice
Here are the key features that make Revv stands out from other CPQ software vendors –
Built-in eSignature feature – With Revv, businesses save themselves from the trouble of third-party eSignature tool integrations. Its built-in eSignature capability gives sales teams a seamless selling experience from start to finish and helps them to obtain secure and compliant eSignatures.
Customizable templates and document composition tool – Revv's library of professionally designed and legally vetted 1000+ templates gives you a head start to nail the perfect quotation. Furthermore, customize the chosen template in the document composer and make it more personalized to your offering – in your business's brand style.
Zero maintenance – Unlike most of the other CPQ software in the market, you don't need any developer to make changes in the CPQ settings. It is a DIY platform which is easy to maintain and edit.
Pre-calculated fields – Revv's Price Book comes with pre-calculated fields. It helps sales reps to commence the quoting process right away instead of wasting time in setting up the price table and doing financial calculations.
Editing control – Revv's intuitive CPQ solution makes only those fields editable that require customization. It locks the rest of the fields and makes them uneditable to keep the price book accurate.
Multi-currency support – Quoting your potential customers in their country's currency is easy-peasy in Revv. This feature comes in handy if you deal globally.
Multiple discounting options – The solution offers discounting options at a product level, group level, quote level, volume level, and other customer-specific discounts.
Accurate orders – Erroneously configured products/services can have serious ramifications and lead to incorrect orders or wrong fulfillment. Revv's carefully designed CPQ software pulls the plug on this by giving users the capability to spell out the business rules.
Stress-free pricing approvals – Revv offers you to set up an organized feedback mechanism to accelerate the approval process and close deals faster.
Guided Selling – Revv acts as a guided gateway to refine customer's needs and map them to the right product from the extensive range of products. It also enables solution selling, cross-selling, and upselling.
Auditability – Get a detailed digital log of the entire signing process to protect the legality and integrity of your electronic signatures – documents presented, signer details, actions taken by the signer, IP address, authentication method, and the date and time stamp of each activity.
Insights through analytics – Revv's machine learning capabilities help businesses extract insights, locate bottlenecks, take the right decisions, and make sales processes more efficient.
Monitor actions taken on sales quotes – Revv's 'Activity' tracker helps you to keep a tab on each activity taking place inside the quoting process.
Revv Demo – How does the CPQ system work?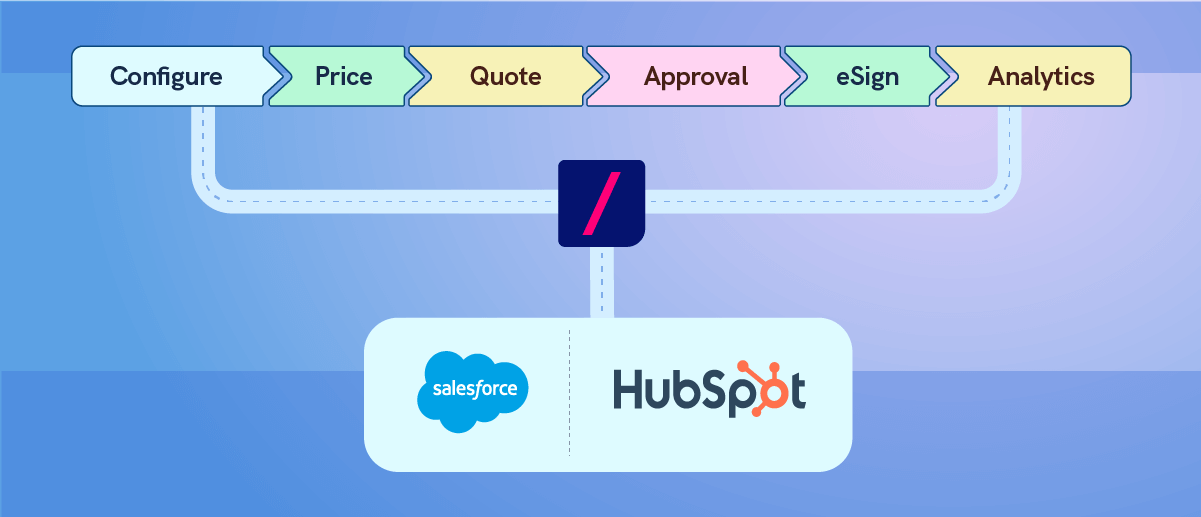 Revv's CPQ solution provides out-of-the-box features that amplify the selling capabilities of salespeople. It lifts the sales team from slackening quote processes and equips them to focus on bagging more deals.
Let's take a deep dive and understand how Revv's CPQ software functions.
1. Configure
---

Like a breeze…
Revv enables sales teams to live by the words "at your service." It simplifies mapping all the possible setups for your expansive product catalog.
Key features –
Quickly create the offering as per the customer's request
Increase average deal size
Manage company's product lifecycle
Enhance buyer experience
Keeping easy maintenance and user-friendliness in mind, Revv has designed the product catalog in a spreadsheet-like format which makes configuring, updating, and managing complex products and services an easy task.
How to configure products and create a Product Catalog in Revv?
Step 1 – Sign in to Revv and go to the 'Products' tab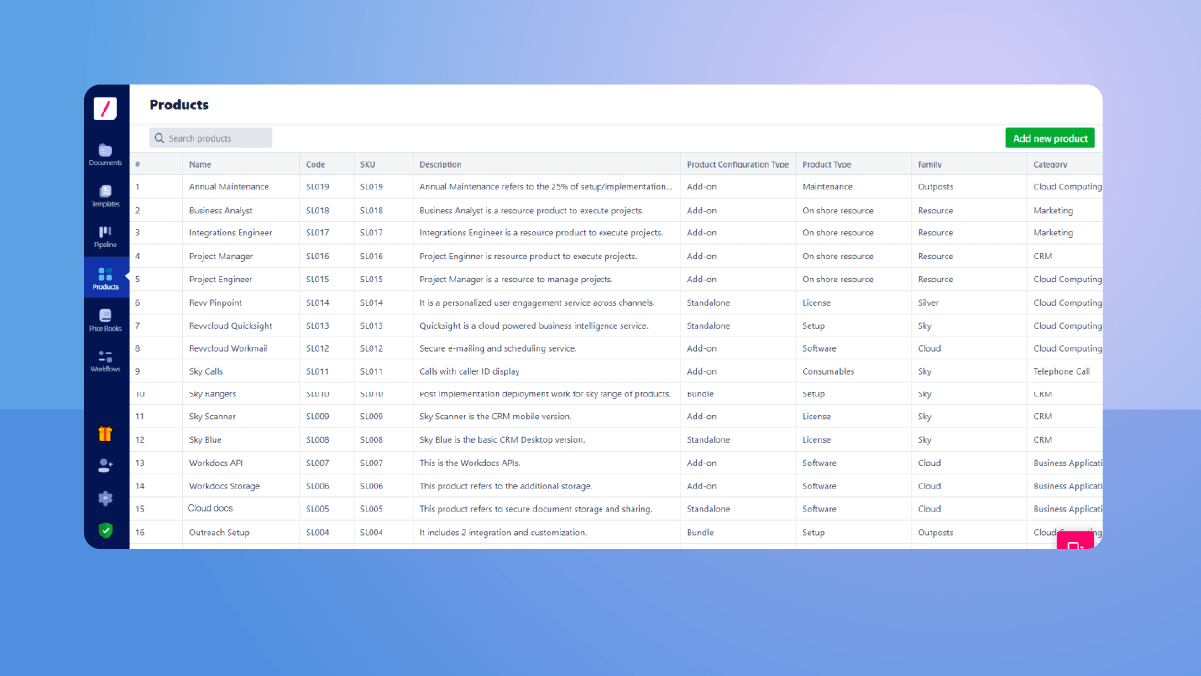 Step 2 – Click on the 'Add new product' button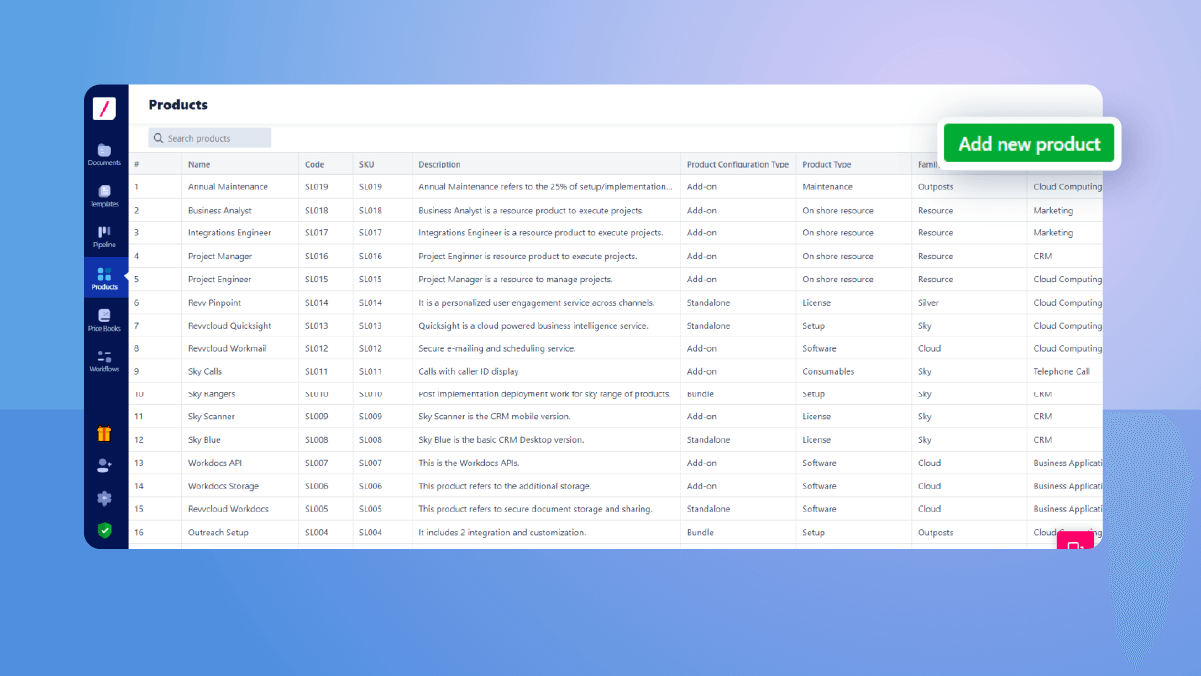 Step 3 – Configure the product
A pop-up window opens up after you click on the 'Add new product' button. Fill in the fields and configure the product.
a) Add Product name – Fill in the name of the product.
b) Check the 'Action' box to keep the product active
c) Add code – A code is a unique identifier for each product that remains the same throughout the product's shelf life.
d) Add SKU – A Stock Keeping Unit or SKU is a unique product identifier that helps to manage inventory and monitor product supplies.
e) Check the 'SKU same as code' box if both are the same or if you don't have two different codes.
f) Select the right configuration from the 'Product Configuration' drop-down – Revv provides four options to ease out setting up your products and services –
Standalone – A standalone product can be a service or a physical product whose sale doesn't hang on any other product and it can be sold independently. For example – software licenses like windows operating system, physical products like mobile phones, services like software installation, etc.
Add-On – This product type is a supplementary item to the main product or service. Select this option only if it qualifies as an additional product and not as a bundled product. Products like software upgrades, extended warranties on appliances, extra users or licenses, etc., come under this type.
Bundle – Configure the products as 'Bundle Type' if –
Your customer prefers a packaged deal of individually owned products,
You want to increase your average order value by encouraging customers to buy more
A classic example of this in a B2C world is McDonald's Happy Meals, whereas in a B2B world this option can be used to bundle services like setup, maintenance, and implementation that have manpower as the selling component.
Service – Choose this option when the service you are configuring is not dependent on manpower. For example, a software maintenance service that relies on the number of licenses purchased.
g) Select the 'Product Type' from the drop-down – Revv provides an extensive list of options to classify each product and fit it into the right place. The below list is created to give sales teams a head start but it can be customized as per business needs. Here are the options –
– Consumables
– Hardware
– Implementation
– Installation
– License
– Maintenance
– Mobile App
– Offshore resource
– Onshore resource
– Post implementations
– Product
– Promotions
– Resource
– Service
– Setup
– Software
– Support
– Training
h) Select 'Family' of product – Products that share common attributes fall under the same product family. Revv lets you create your own product families based on your business needs.
i) Select 'Category' of product – Your product can fall into one or multiple categories. The 'Category' feature lets you check all of them. Like 'Family,' you can define your own product categories. In simpler terms, think of categories as different tags to a product.
What is the difference between 'Family' and 'Category?'
A product or product line item can belong to only one family but multiple categories. Let's take the example of a men's shirt. A men's shirt belongs to the family type 'Men's Clothing,' however, it can belong to various categories like cotton, party clothing, slim fit, etc.
j) Add a short description of product
k) Click on the 'Add' button
And the Product is configured. 👍
Follow the same steps to add more products to the catalog.
2. Price
---

Like a pro…
Revv's 'Price Books' feature allows you to create multiple price tables and optimize the price based on the subtleties of the customers' needs. It gives you an organized list of products and services along with their real-time pricing information.
You can create multiple price books for every possible scenario like geography, currency, product lines, buyer groups, etc. This makes it easier to deal with customer-specific pricing and assures sales professionals that they are using the right price list.
Key features –
Create custom pricing and handle complex business rules
Add discounts to products and services
Multiple currencies
Role based access control – control who can use which rate card (coming soon)
How to create a price book in Revv?
Four steps, that's all it takes to create a price book in Revv, irrespective of the complexity and dynamics of your product's pricing.
Step 1 – Basic Setup
Sign in to Revv and select the 'Price Books' tab.
Click on '+' to create a new price book.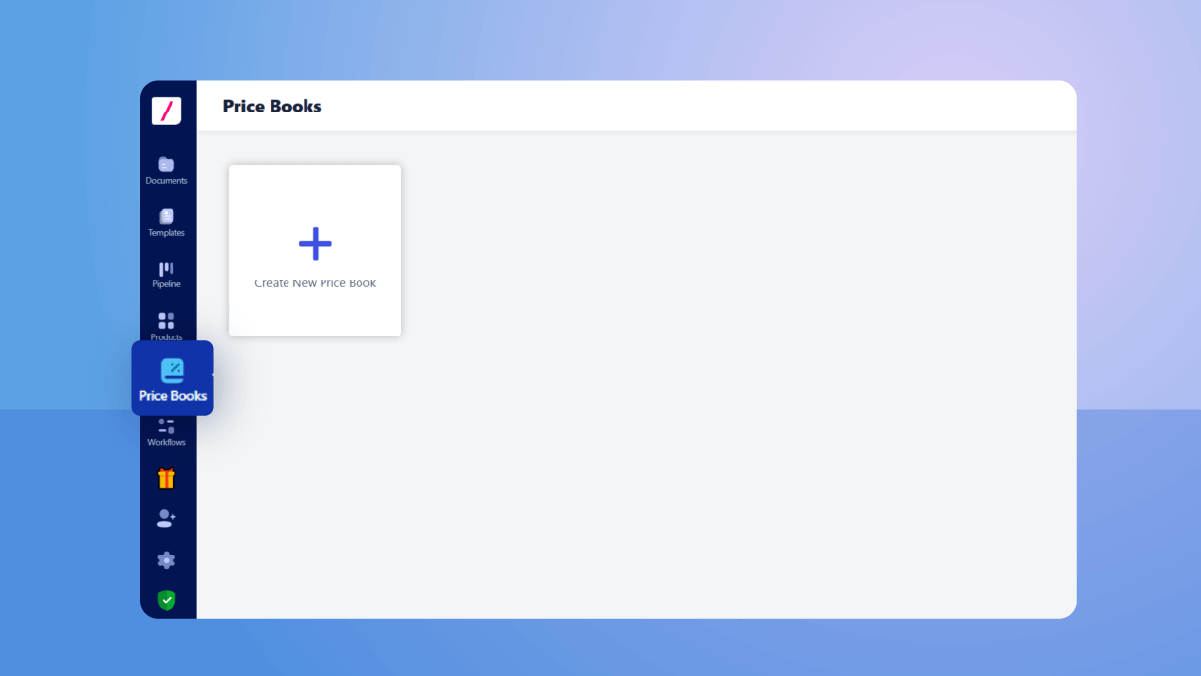 You will see a pop-up to enter the basic details – price book name, description, and currency for the price book. Fill in the information.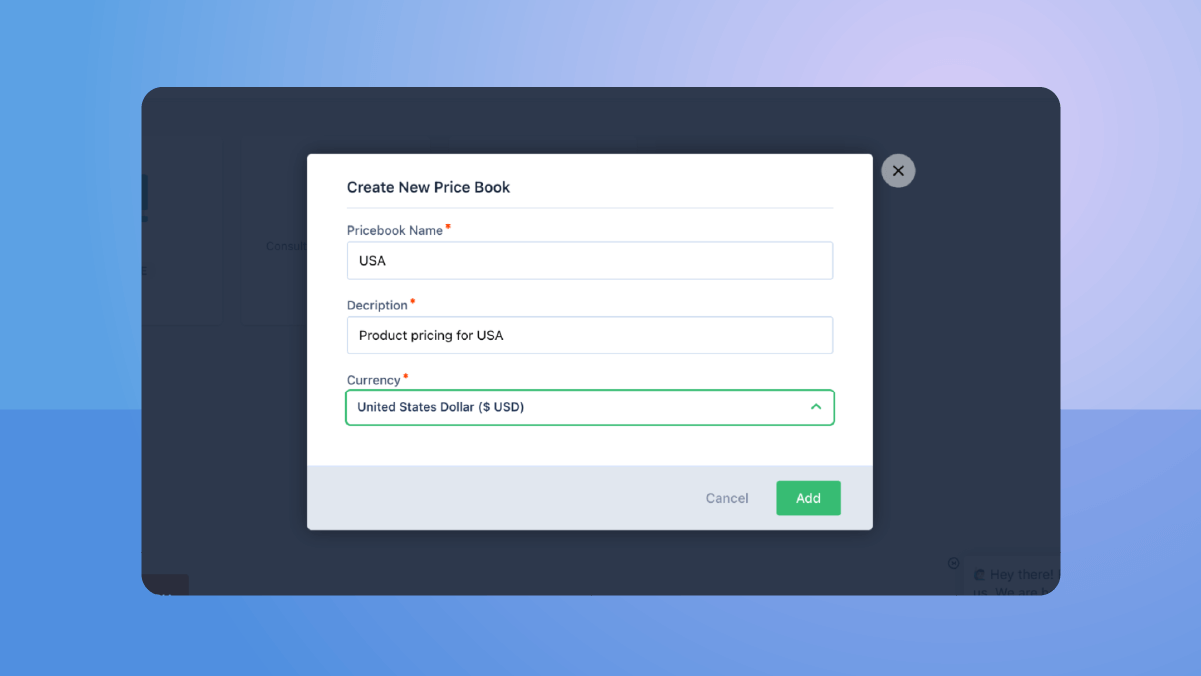 Now, start creating a detailed price list. Click on the 'Add product to Price Book' button.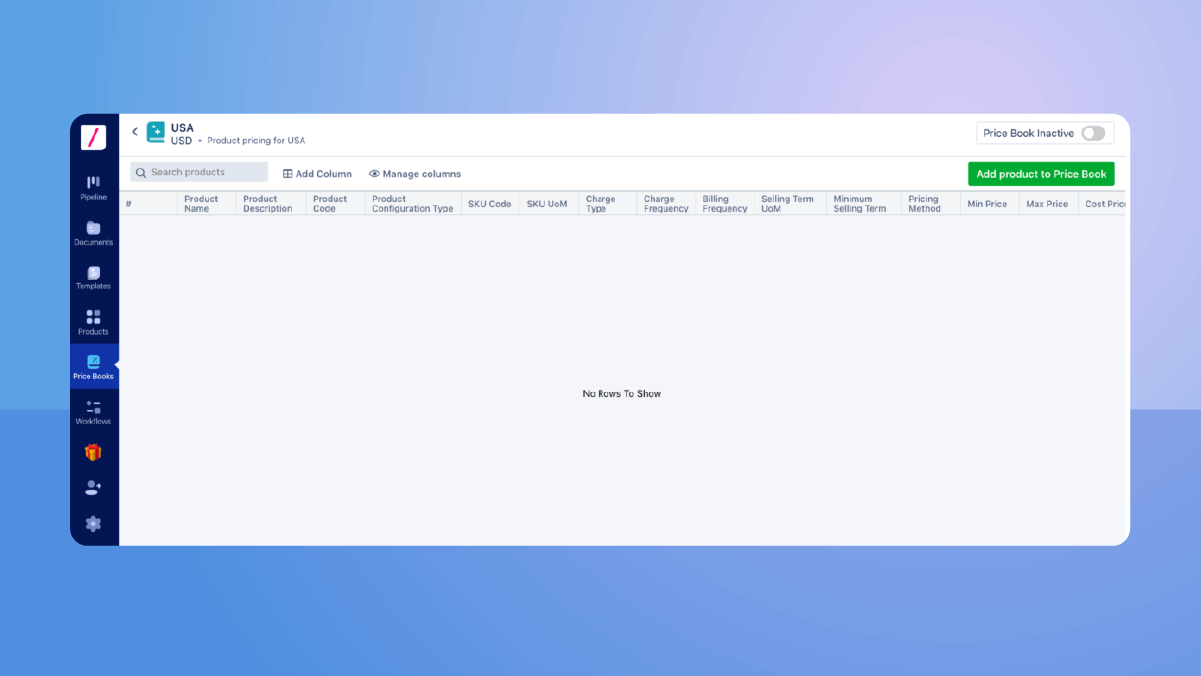 Step 2: Product selection and formation
Once you hit the 'Add products to Price Book' button, you will see a pop-up wizard with fields to declare the nitty-gritty of your product or service.
a) Choose a product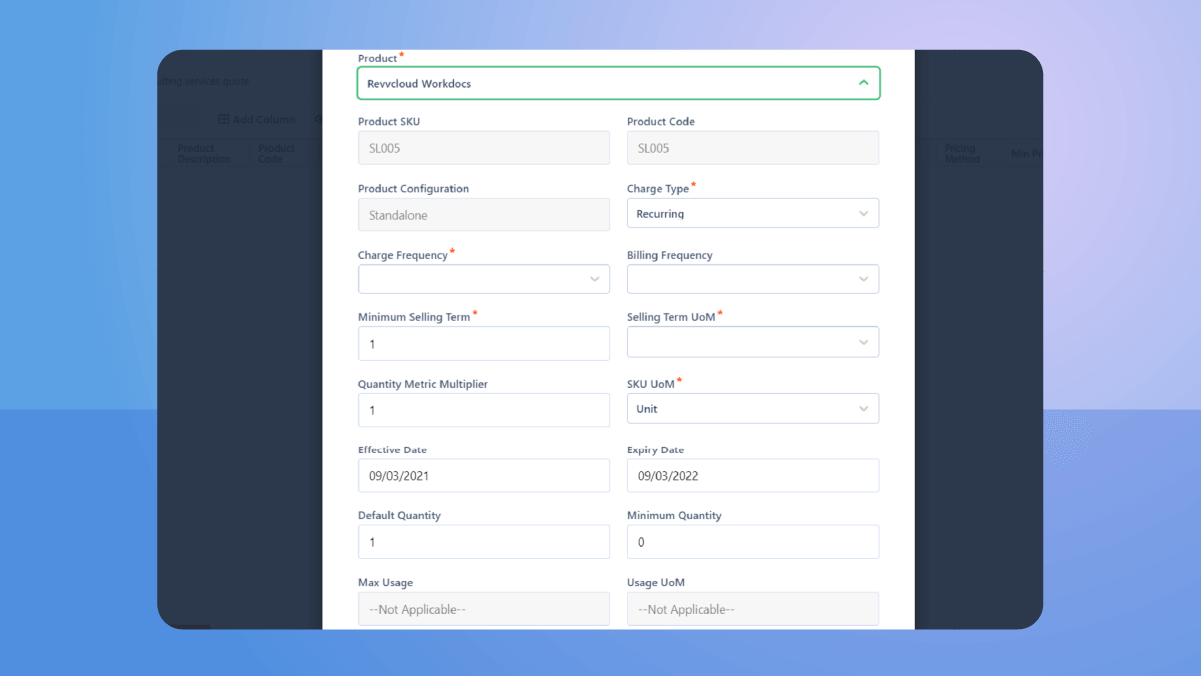 Product – The elementary step to define the price configuration for a product is by first selecting the product. The drop-down from the 'Product' field lists all the products declared in the product catalog. Select a product for which you want to set up the price.
Once selected, the system will automatically fetch the data for the below three fields from the product catalog.
Product SKU – It is the SKU code defined in the product catalog for the chosen product.
Product Code – It is the product code defined in the product catalog for the chosen product.
Product Configuration – Remember the four types of product configurations defined in the product catalog (standalone, add-on, bundle, service), the 'Product Configuration' field picks one of these as defined in the product catalog for the selected product.
b) Setup charge and billing of the product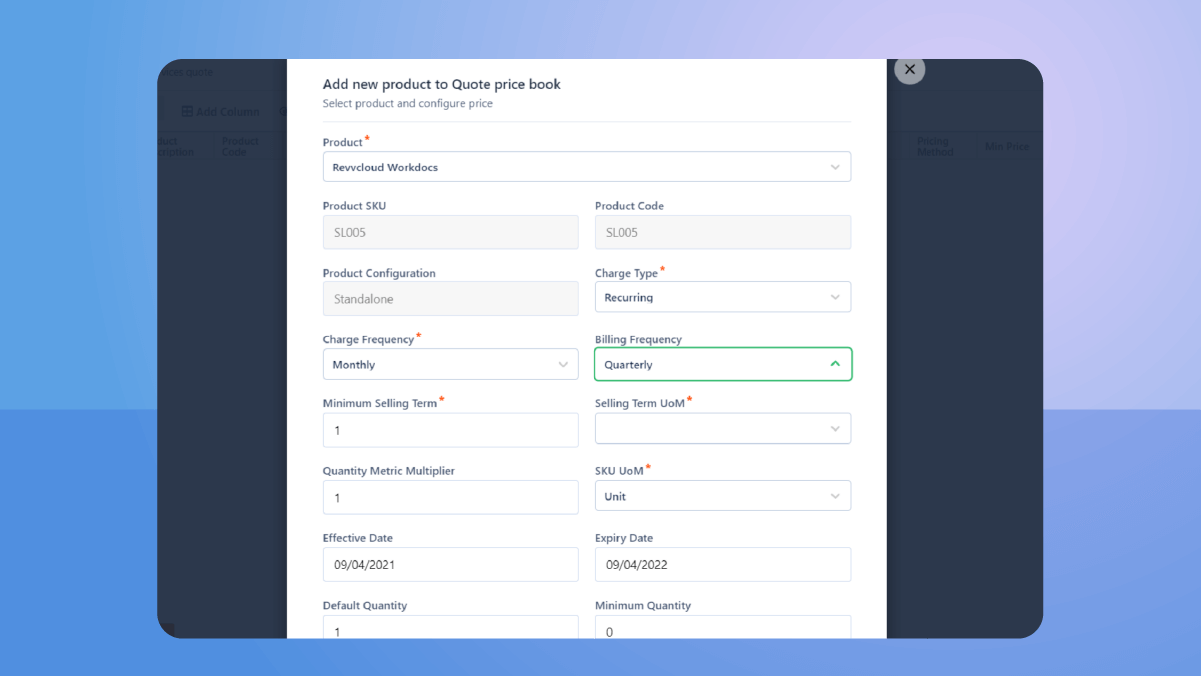 Charge type – This field defines the manner in which you will charge money to your clients for the products or services. This field controls the other fields inside the pop-up. You can choose one of the following five Charge Types.
Evergreen charge type is for the products that don't expire and for which the clients are charged only once. These kinds of products bought or services rendered are valid forever. For instance, a software that comes with a lifetime subscription falls into this charge type.
One-time charge type fits for those offerings where you pay only once to avail them but these products or services are valid only for a timeframe. For example, a software's setup and implementation services that are paid only once but these services are rendered over a defined period of time.
Recurring charge type is applied to the products that are charged on a periodic basis. For example, SaaS products are subscription products where you pay to use them for a defined time (monthly, quarterly, yearly, etc.) and subscribe again to use them for the next term.
Recurring usage charge type is used when a product or service is charged on a periodic basis but the charge amount for each period relies on its consumption. For example, let's say a SaaS product with a monthly subscription can have three packages – monthly subscription for up to 3 users, monthly subscription for up to 10 users, and monthly subscription for up to 50 users.
One-time usage charge type is applicable for products or services that are billed based on consumption but are valid only for one time.
Charge frequency – It defines how often or in what interval the product and service should be charged to the customer. This field is only applicable if you select the 'Charge Type' as Recurring or Recurring Usage. For example, if a SaaS product has to be subscribed for $30 per month, then the charge frequency is 'month.'
Billing Frequency – It defines the billing cycle – when the seller generates the invoice and the client schedules the payment.
The billing frequency may vary in length and could be monthly, quarterly, half-yearly, yearly, etc., based on the products, services, or customers. For example, in the above image, the charge frequency for the product 'Revvcloud Workdocs' is 'monthly' but billing frequency is 'quarterly.' This means that the product will be charged every month but the invoice will be generated every quarter.
c) Define selling term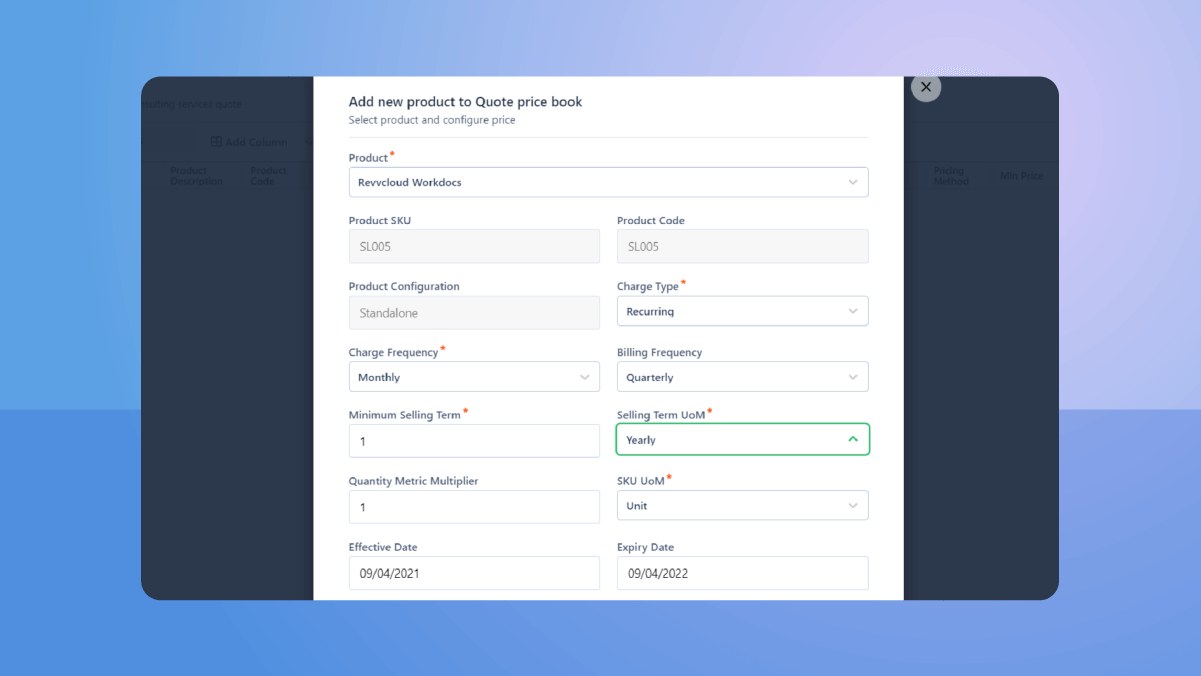 Minimum Selling Term – Minimum Selling term is the period for which you want to sell the product.
Selling Term UoM (Unit of Measurement) – This is the unit of selling term.
There are times when businesses fix a minimum period for which their products or services have to be bought. The above two selling term fields help them to clearly define that period. For example, let's say a water purifier's annual maintenance services can only be availed if the customer is ready to buy them for a minimum of 3 years. Here '3' is the minimum selling term, and 'years' is its UoM.
Like, as in the above image, if the product 'Revvcloud Workdocs' can only be sold for a minimum of 1 year. Therefore, '1' becomes the minimum selling term, and 'Yearly' becomes the UoM.
d) Specify the SKU UoM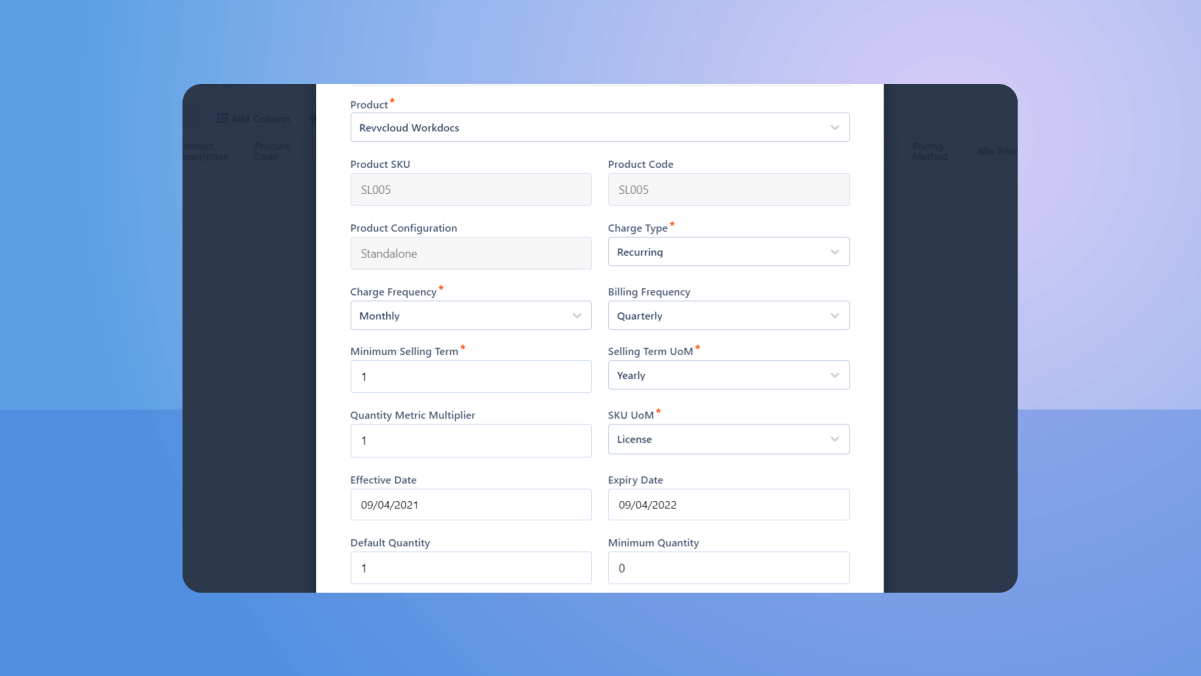 SKU UoM is the unit in which you measure the SKU or product itself. For example, one software's SKU UoM can be 'license' whereas, for other software, it could be 'person.'
e) Mark the right dates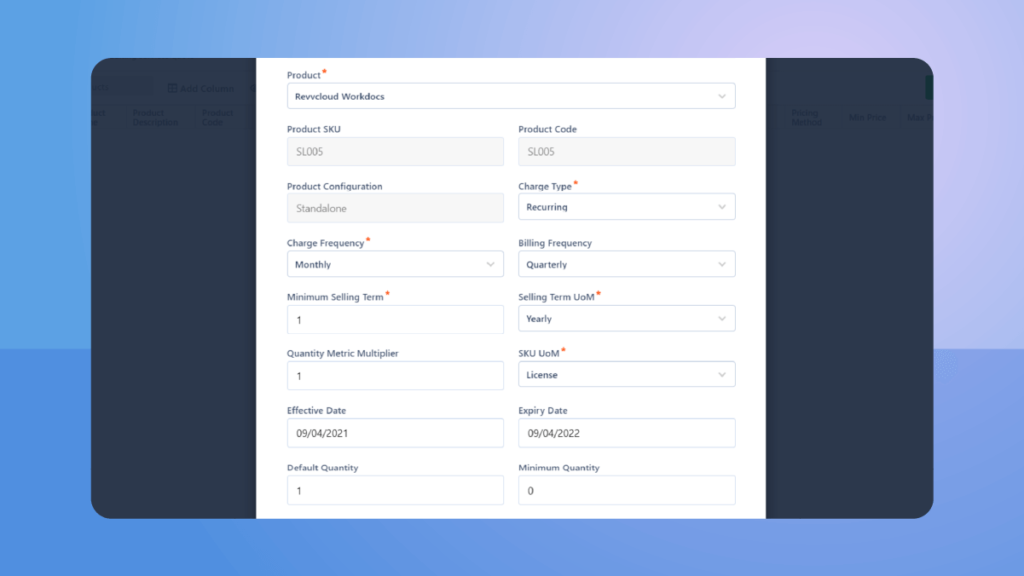 Effective Date – It is the date from which the product is available for sale.
Expiry Date – It means the last date till the product is valid within the Price Book.
🎁Bonus
Revv allows you to add a product to the Price Book but put a later Effective & Expiry Date and time it with your new product release or product promotion.
f) Define the quantities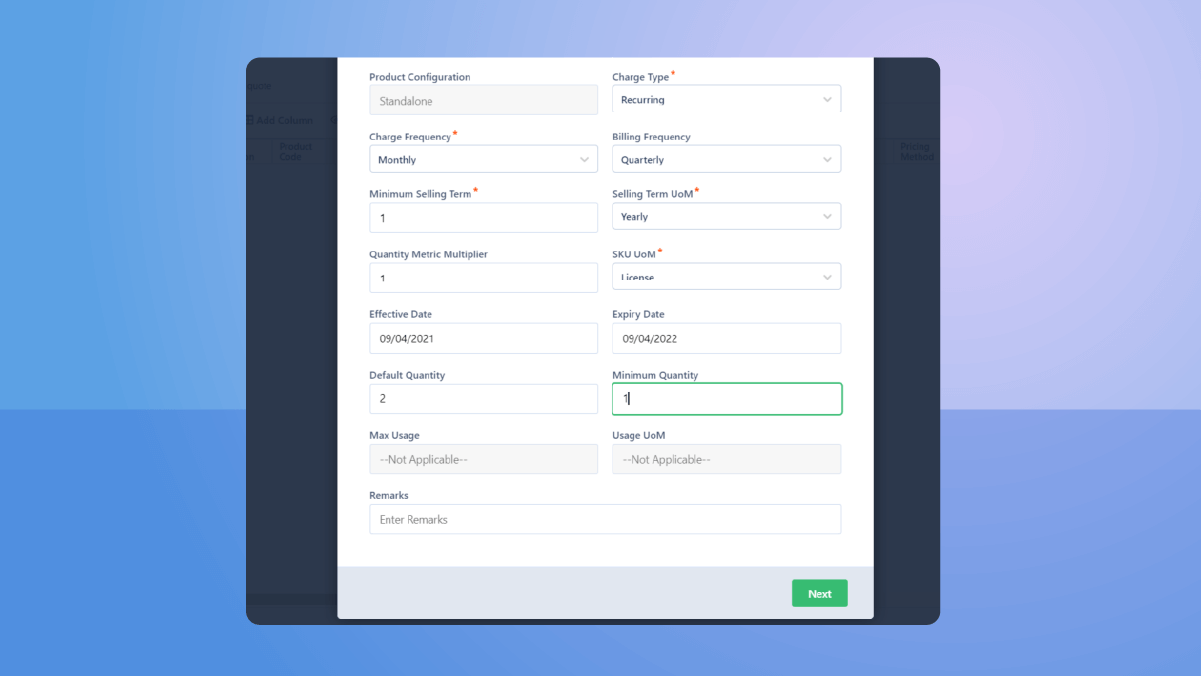 Default Quantity – Depending on the product demand and usage, the sales head can put a default number on the quantity of the product that has to be sold in each deal. This is the default quantity.
Sales Heads can use this option to guide their sales reps in bagging the best deal. The default quantity can be changed in case the demand for the product changes.
Minimum Quantity – Depending on the business case, there might be times when the default quantity doesn't seem achievable, still, to keep your business profitable the sales reps should sell a minimum number in each deal, this field lets you define that number.
Note –The default quantity should always be equal to or greater than the minimum quantity.
With this, Step 2 comes to an end. Add remarks, if there are any, and click on the 'Next' button.
Step 3 – Price configuration
The next pop-up wizard gives all possible price setup options to help sales teams configure the right price based on their business scenario.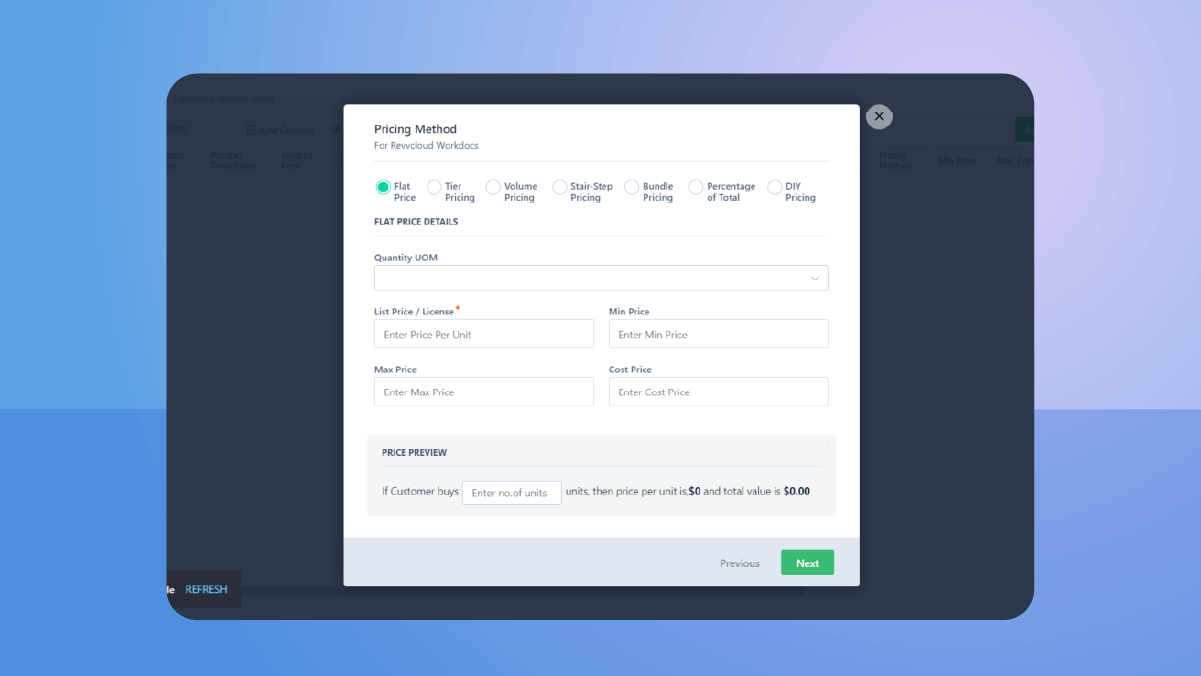 Choose a pricing method for your product and fill in the details.
Flat Pricing – Use this pricing for a business model where the charging rate stays the same irrespective of the quantity. For example, a file hosting service offering unlimited storage at a fixed price that is available to all customers.
Tier Pricing – It lets you create multiple tiers and pick a specific price for a number of units per tier. Once you have exhausted the number of purchases for one tier, you move to the next tier and get billed accordingly.
For example, assume you sell licenses of your product using tier pricing method –
Unit 1: $100
Units 2-4: $70 per unit
Units 5-9: $60 per unit
If a customer wants to buy 6 units then based on tiered pricing the total price would be ($100 + (3 x $70) + (2 x $60)) = $430
Tier pricing strategy appeals to a wider customer base and serves as an excellent method to encourage your customers to buy more.
Volume Pricing – In this pricing, you bring down the price of your offerings when the no. of units reaches a threshold limit and the customers pay the lowest price for all the quantities.
Let us consider the same example from the tier pricing.
If the range remains the same, in volume pricing, the price of 6 units would be 6 x $60 = $360.
Volume pricing works well in cases when the sellers have excess stock or they want to sell the products quickly.
Stair-Step Pricing – Think of this pricing as stair steps where each step defines a price for a range of units.
But, here the customer pays a fixed price for any number of units that falls in the range of that stair step. Even if the customer falls on the smaller side of the range, the price stays the same.
For example, let's say a SaaS organization has 3 pricing plans. Each plan defines a range of users that can use the platform.
$200 – Up to 5 users
$400 – 5-10 users
$500 – 10+ users
This means whether a customer wants to use the platform for 6 users, 8 users, or 10 users, the price he needs to pay is $400.
Bundle Pricing – This type of pricing works well to bundle many products or services together and sell them as a single unit. In Revv, the system picks this pricing automatically if the Product Configuration Type of that product is Bundle.
Percentage of Total Pricing – This method is used when the pricing of a product is calculated based on the pricing of another product.
For example, let's say, your company sells car insurance. Here, each insurance depends upon the usage of the car.
Another example would be the tax on a restaurant bill, which is the percentage of the total bill.
With Revv's CPQ software, fill the required value in the 'Enter Percentage Value' field and the calculation will be done automatically. Also, you can choose the percentage of total calculation based on Extended Base Price Total or Net Price Total.
DIY Pricing – The Do-It-Yourself pricing gives you the liberty to customize the pricing on a –
Deal to deal basis
Scope of work
As per your current business requirements
In this pricing method, when you add the product in the Quote Table, it appears as an open line item where you can directly enter the price, quantity, selling term, and discount.
Note – In Revv, a quote table is the final pricing table added in the sales quote.
Step 4 – Enable and Disable Price Book attributes as per your need
Depending upon your product dynamics and business needs, you might avoid giving full access to sales reps. Revv gives you control over the visibility and editability of some crucial Price Book attributes so that your price book stays as a single source of truth. You can check/uncheck each item as per your need.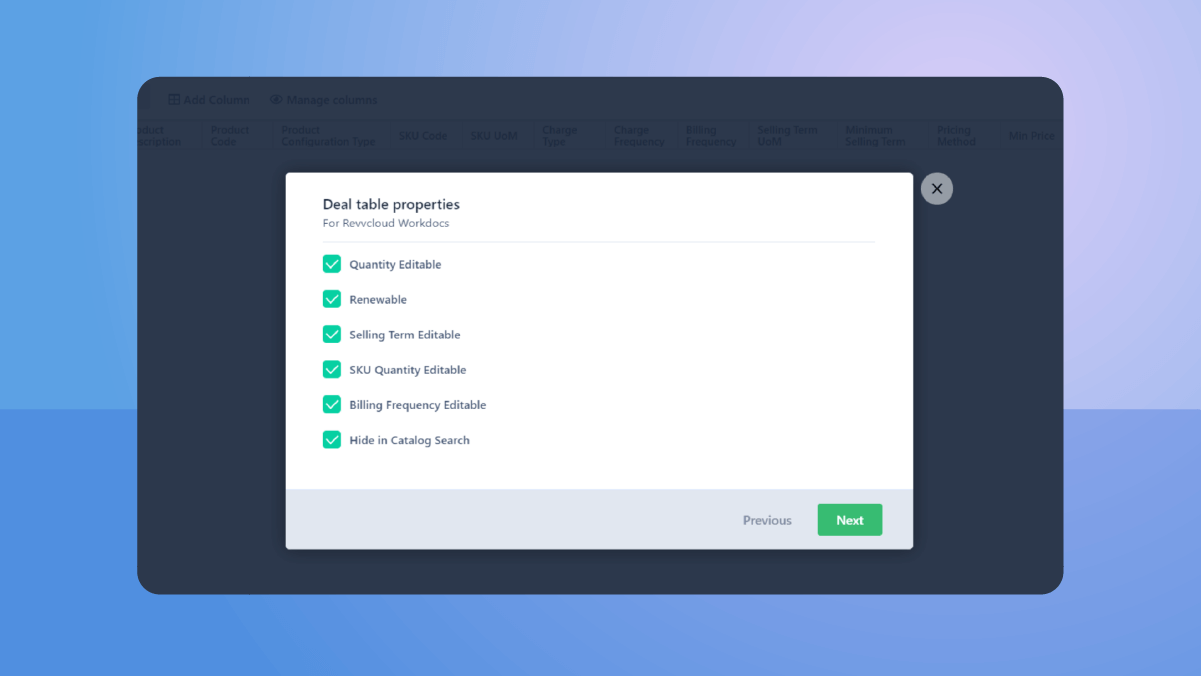 Quantity Editable: Uncheck this field if you want to prohibit other users from making any changes in the quantity in the quote table. This is applicable only for the products that fall under the Flat Price. If you have entered a value in the 'Default Quantity' field in Step 2 and unchecked this field, the Quantity remains fixed to that value in the Quote Table and cannot be changed.
Renewable: Check this field if you want the product to be auto-renewed.
Selling Term Editable: Freeze the 'Selling Term' field in Step 1 by unchecking this field. It will lock the 'Selling Term' in the Quote Table for that product.
SKU Quantity Editable: Uncheck this if you have only one price dimension besides the Charge Frequency, i.e., your product is priced like $20 per unit per month.
Billing Frequency Editable: Uncheck this and prevent users from any iteration in the 'Billing Frequency' field in the quote table.
Hide in Catalog Search: Let's say there is a product that should only be available for sales in a particular month or season. Checking this option will hide the product from the Price Book and prevent it from appearing in the Quote Table.
Lastly, click on the 'Update' button and the Price Book is all set.

3. Quote
---

Spot on…
Once the product is configured and pricing is set, it is time to create the document that makes or breaks the deal – the sales quote.
Time, speed, and accuracy matter when it comes to sales quotes, and Revv gives you all.
Key features –
A template library of 1000+ business documents
Fillable form-based quote templates to obtaining important information from customers along with eSignatures
Rich document editor to maintain brand compliance
Create a quote table inside the document
Google Sheets integration to pull data into the sales quote from Google Sheets
Machine learning to extract crucial data points and optimize the sales cycle
Restrict and control template access through 'User Management'
Clear the air by collaborating with customers and internal teams in real-time within the document
Download quotes in PDF format
Lastly, lifetime storage of quotes and all business documents with common searchable location and easy retrievals.
How to create a quote in Revv?
Step 1 – Select a quote template
Go to the 'Document' tab and click on the 'Create Document' button.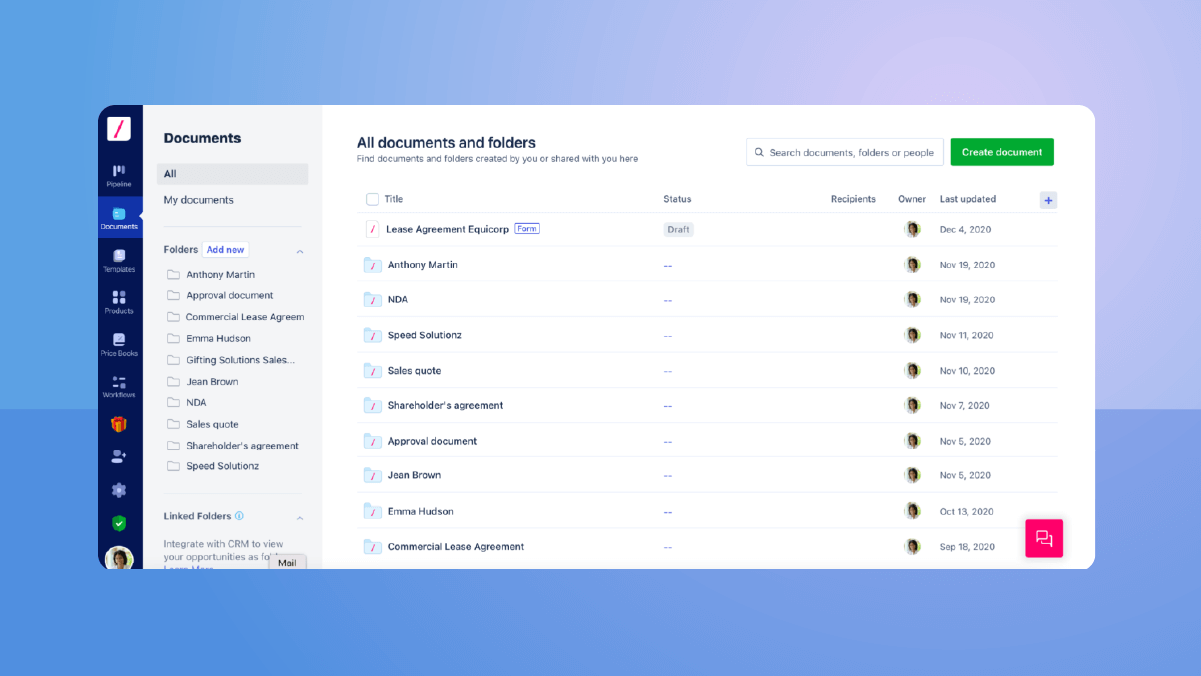 Choose action 'Request eSignatures.'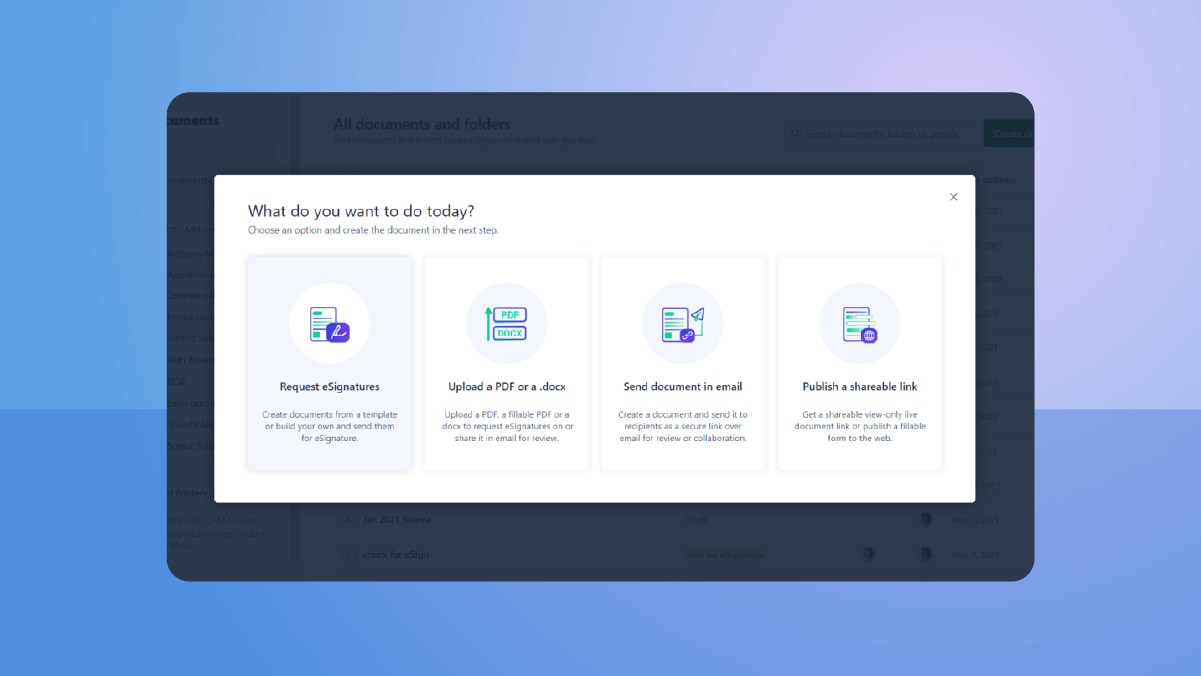 Choose a quote template.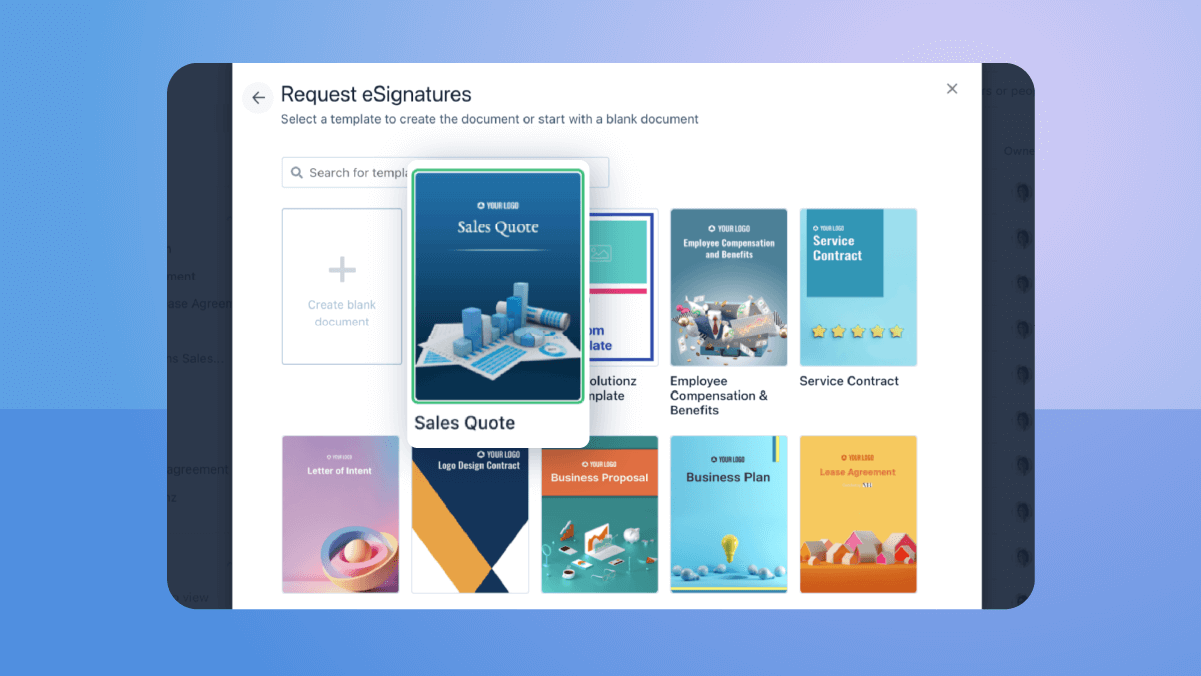 Step 2 – Edit the template
Customize the quote template using editor blocks.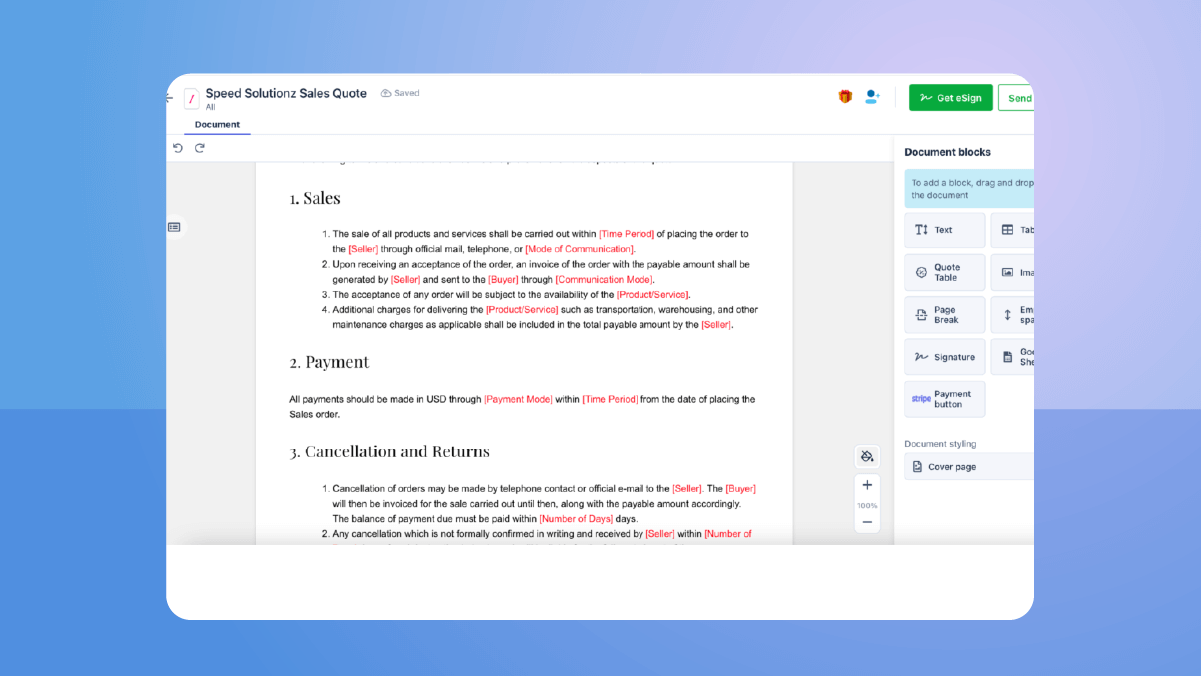 Step 3 – Create quote table
Drag and drop the 'Quote Table' block into the quote.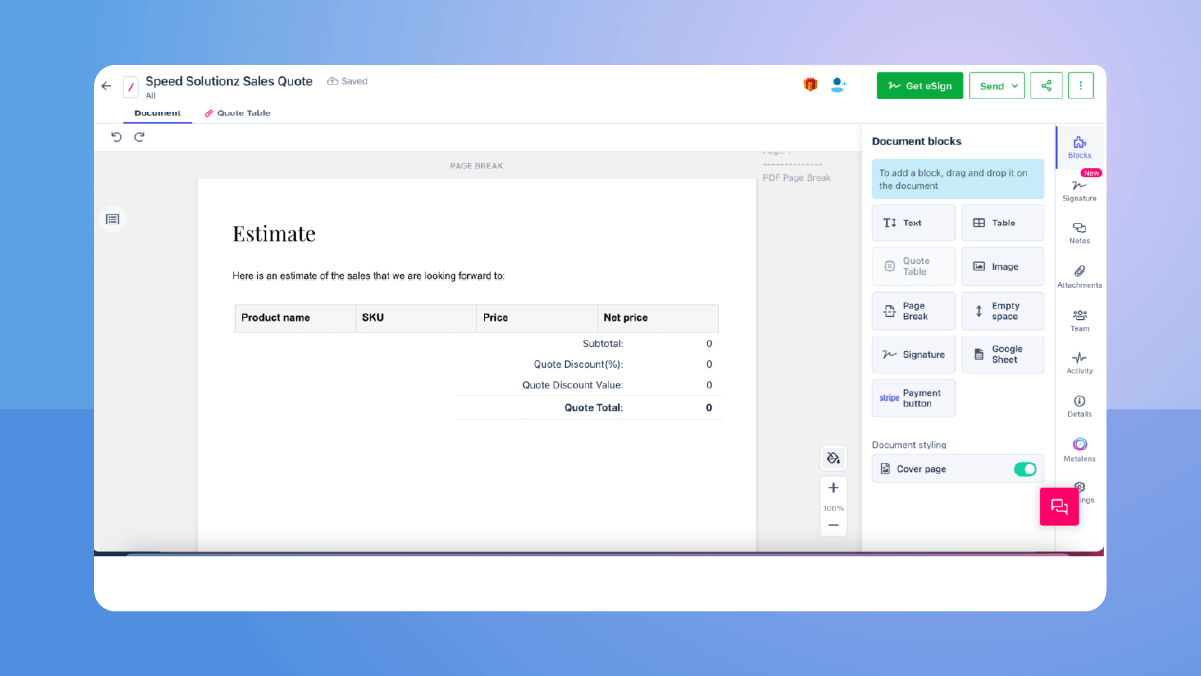 Click on the 'Quote Table' tab.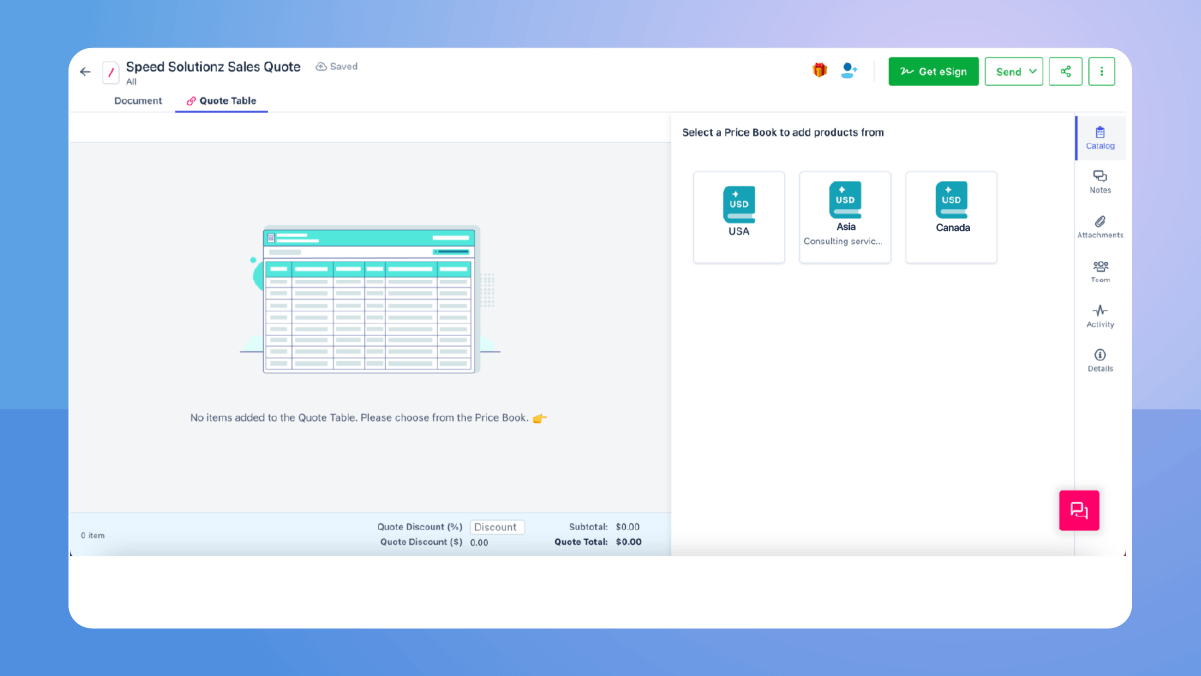 Select a Price Book. Here, the USA Price Book created earlier is selected.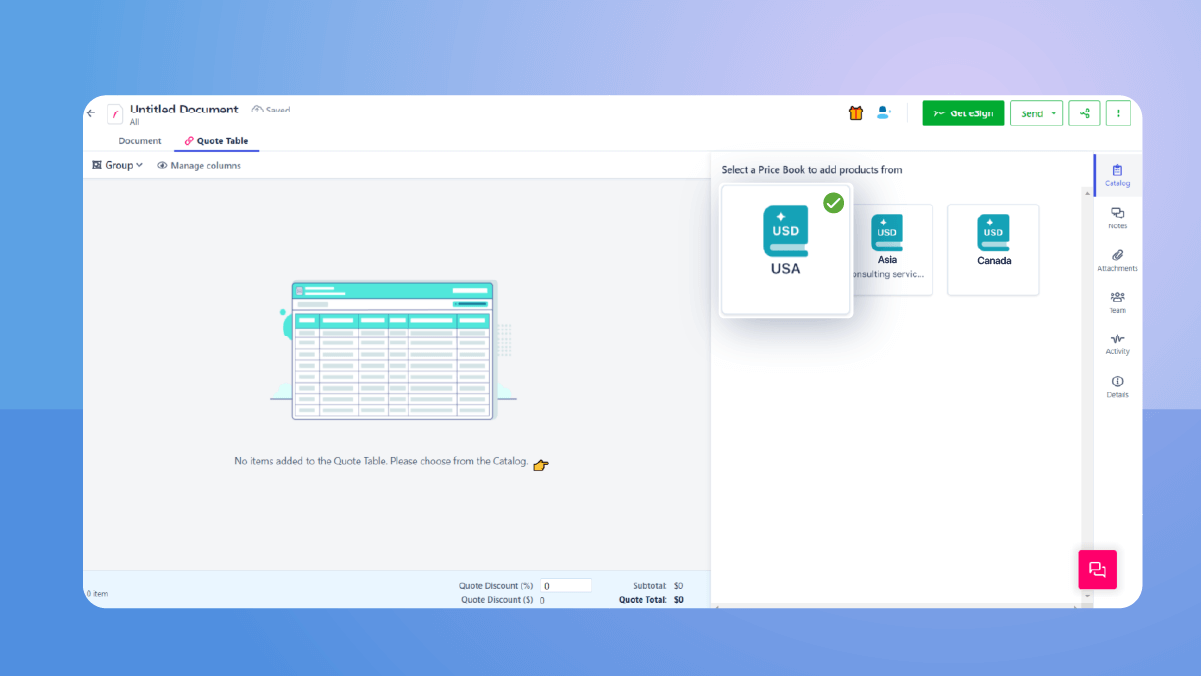 Check ( ✓) the products you want to add to the quote table and click on the 'Add to quote table' button.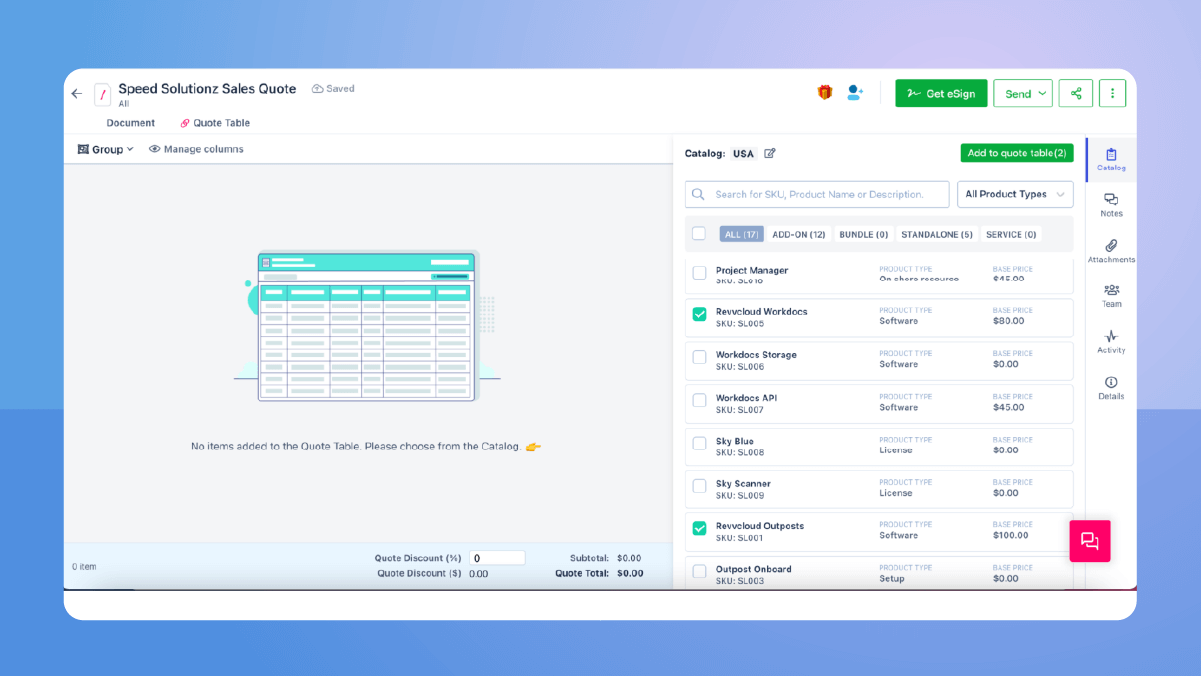 This is an important step. The green fields in the quote table are editable fields.
Based on the pricing rules, some fields are locked while the other fields like Selling Term, SKU Quantity, Discount Percentage, etc., are editable. You can give a discount at a product level or can also provide 'Group discount' or 'Quote (overall) discount.' These editable fields are marked in green for easy identification. This feature makes it convenient for the sales team to make changes in the quote table.

As you can see from this quote (below), a 35% of overall discount is provided at quote level.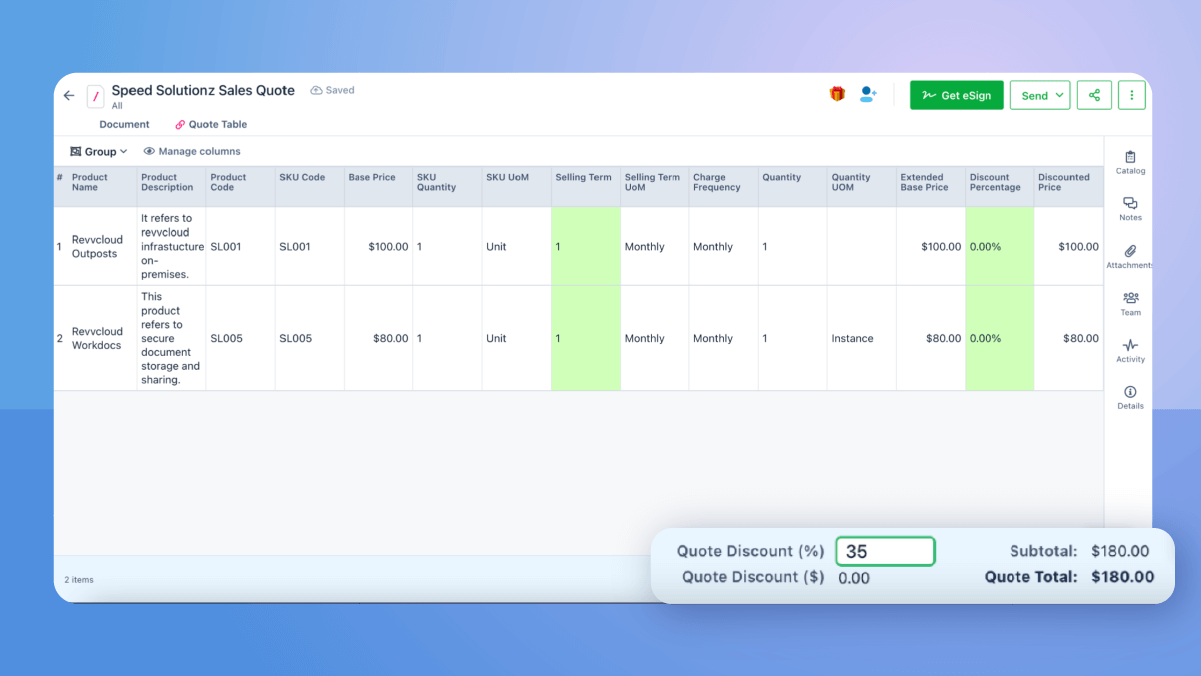 Once the changes to the editable fields are done, go back to the 'Document' tab and the changes will be updated in the quote table.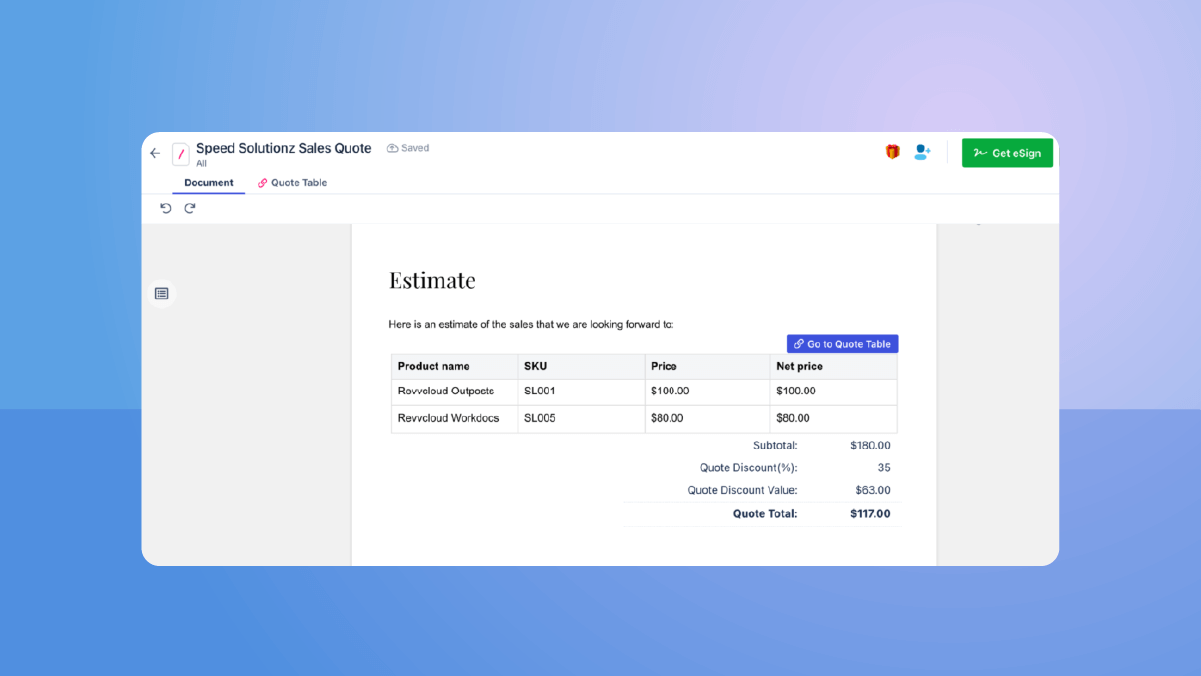 Make any further edits required in the quote.
Step 4 – Add Signature blocks and recipients' details
Drag the signature blocks into the quote. Add customer information – name and email id. Also, select a signature type.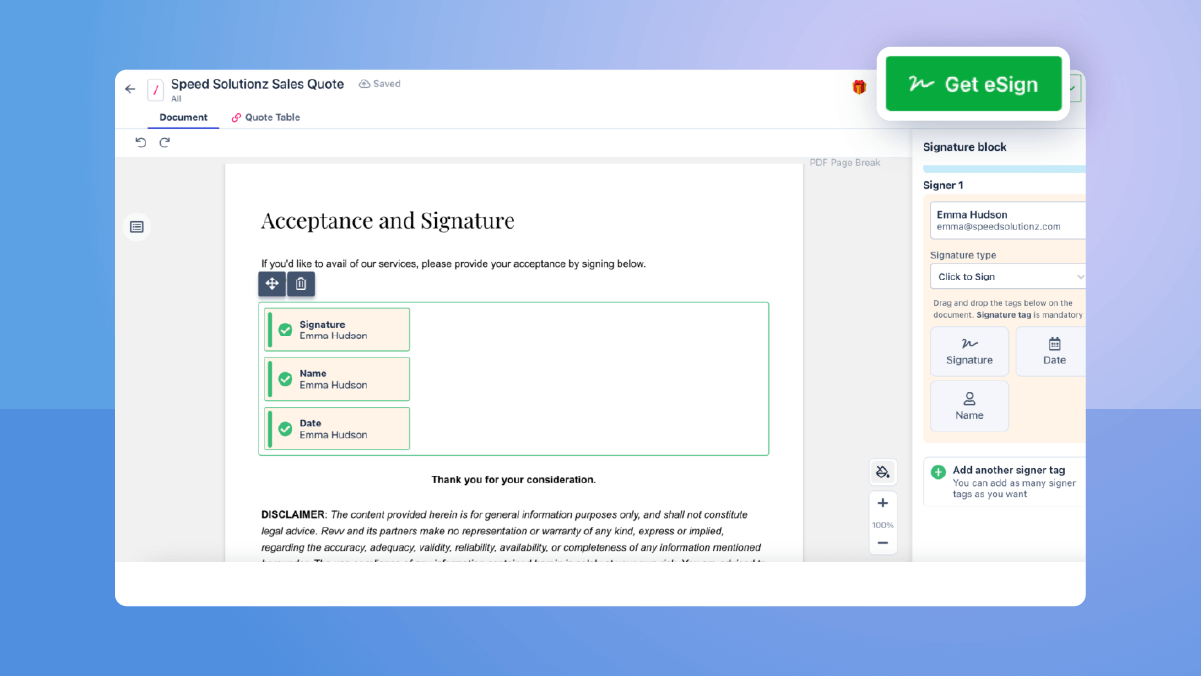 Your quote is all set now!
4. Approval
---

Ensure nothing slips through the cracks…
Revv's 'Workflows' feature empowers sales teams to –
Make their quote approval process intuitive and faster
Send out approved quotes to potential clients within the timeline
Maintain sales momentum
Key features –
Define the conditions when quotes require approval. For example, when the quantity or discount exceeds a threshold, when there is a custom product configuration, etc.
Select the list of approvers when a condition is triggered
Specify the order in which approvals need to be done. Revv allows two types of approval navigation –
Sequential approval, where a quote moves to the next approver only when it is approved by the previous approver.
Parallel approval, where a quote is sent to the designated approved altogether
Forwarding feature to enable recipients to send quotations to other people for reviews
Send quotes for approvals to a group of approvers by creating user groups
Quotes not associated with workflows get automatically approved. This brings clarity and saves sales reps from unnecessarily sending quotes for approvals and accelerates the quotation process.
How to set up the approval process in Revv?
Step 1 – Go to the 'Workflows' tab and click on the 'Create workflow' button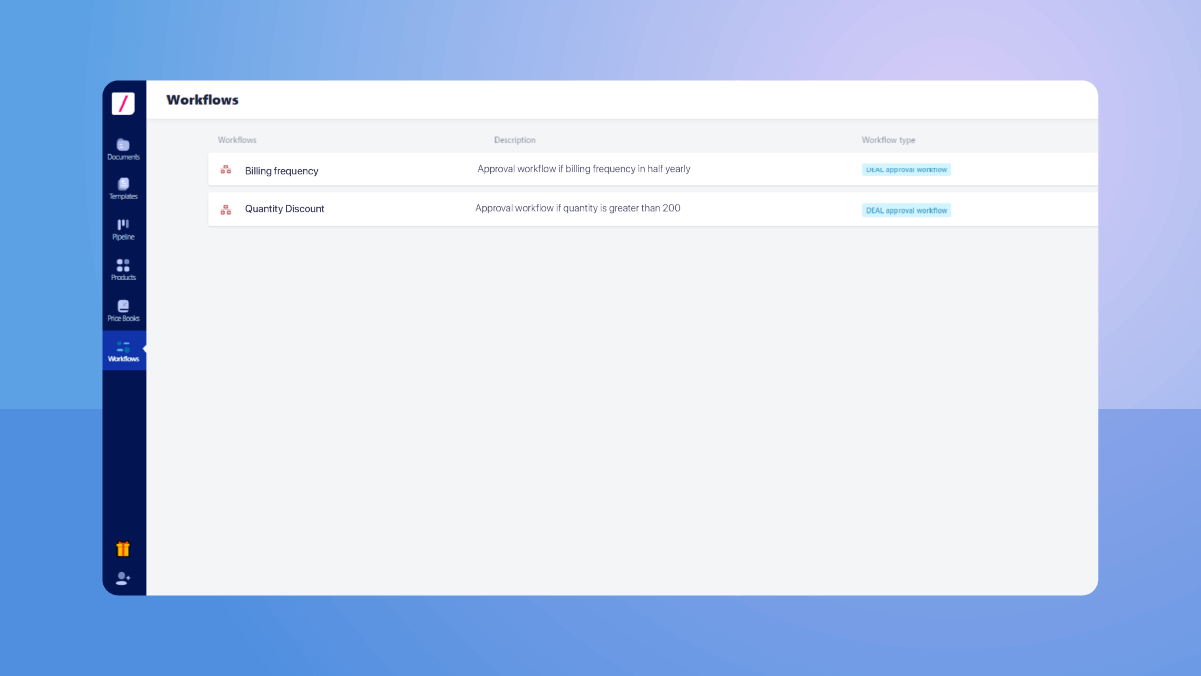 Enter workflow name and description
Step 2 – Set the conditions for Price Book
Select an applicable Price Book, the 'Deal table view attribute,' operator, and value.
For example, let's say, Mr. Eric, Sales Head of a services company wants to create an approval process for the 'overall discount percentage' attribute in the USA Price Book. He wants that whenever his team gives customers more than a 30% discount on the entire quote, an approval process should get triggered. So, here –
Price Book is USA Price Book
Deal table view attribute is 'Overall Discount Percentage'
Operator is 'Greater than'
Value is 30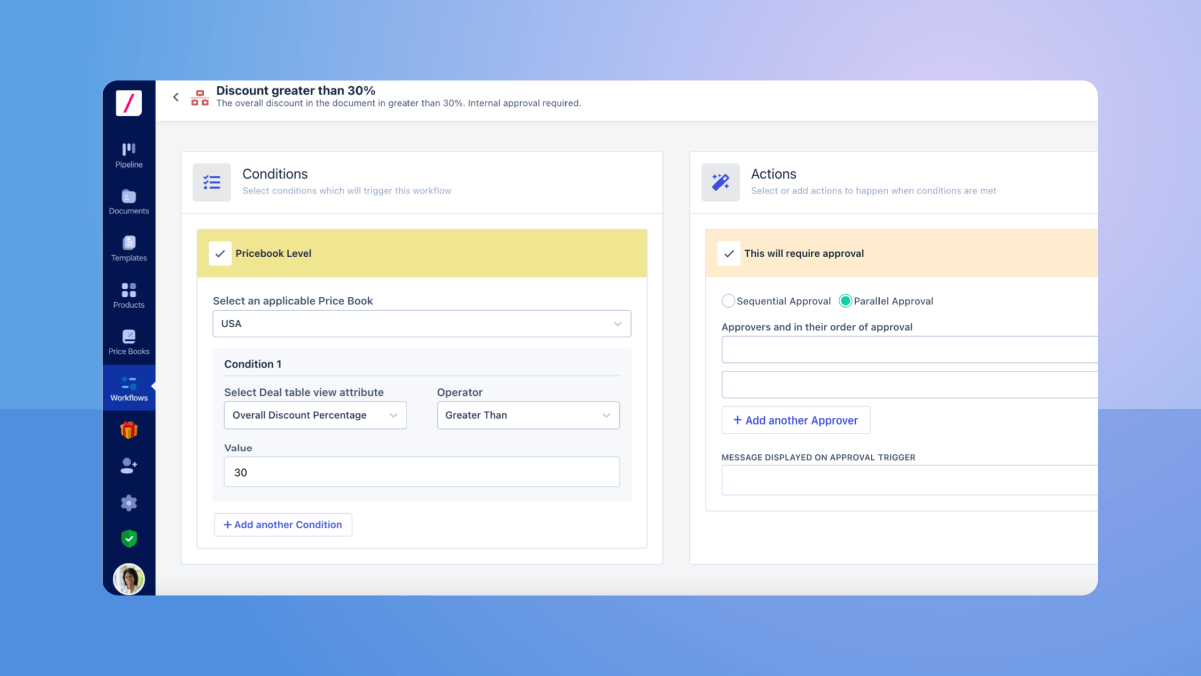 Step 3 – Create the 'Actions' that need to be taken when a condition is triggered
Dictate what happens when a condition is met –
Choose from sequential and parallel approval
Add the list of approvers
Enter a message to be sent to the approvers along with the approval request
Click on 'Save' and the approval workflow is created.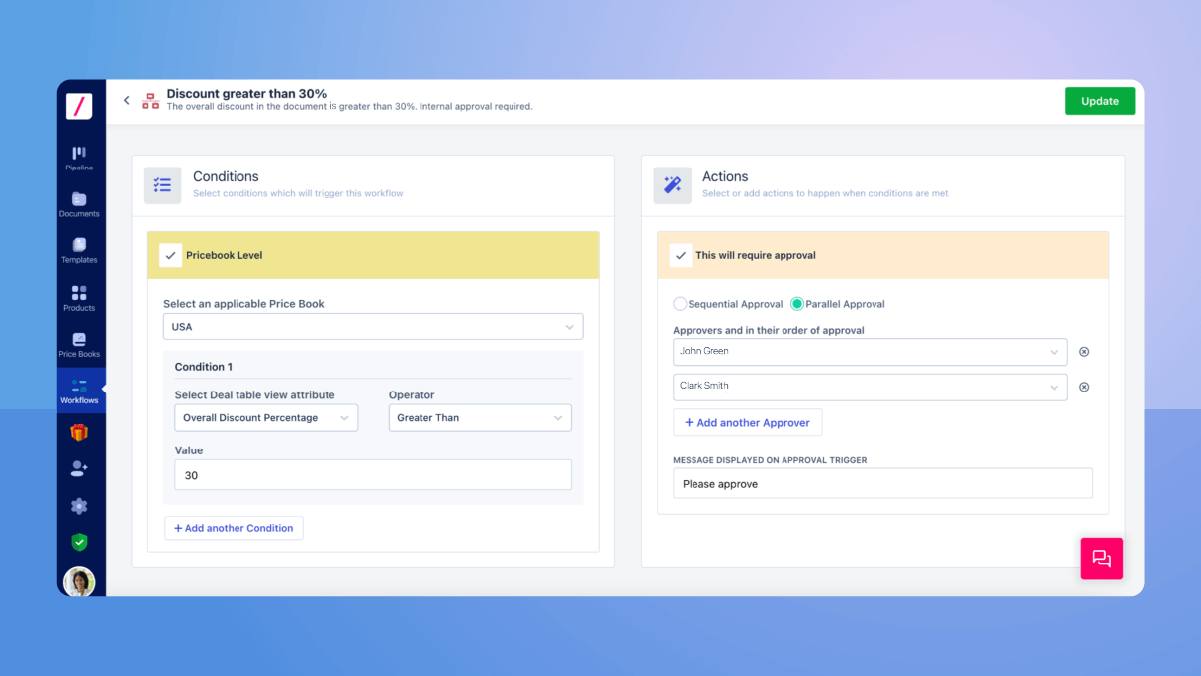 Step 4 – Enable document forwarding
This is an optional but crucial feature provided by Revv. It gives the recipients an option to further share the quote with their team members for reviews or approvals, it enables them to do so. Here are the steps to enable it –
Go to the 'Settings' tab, and turn on the 'Document forwarding' toggle key.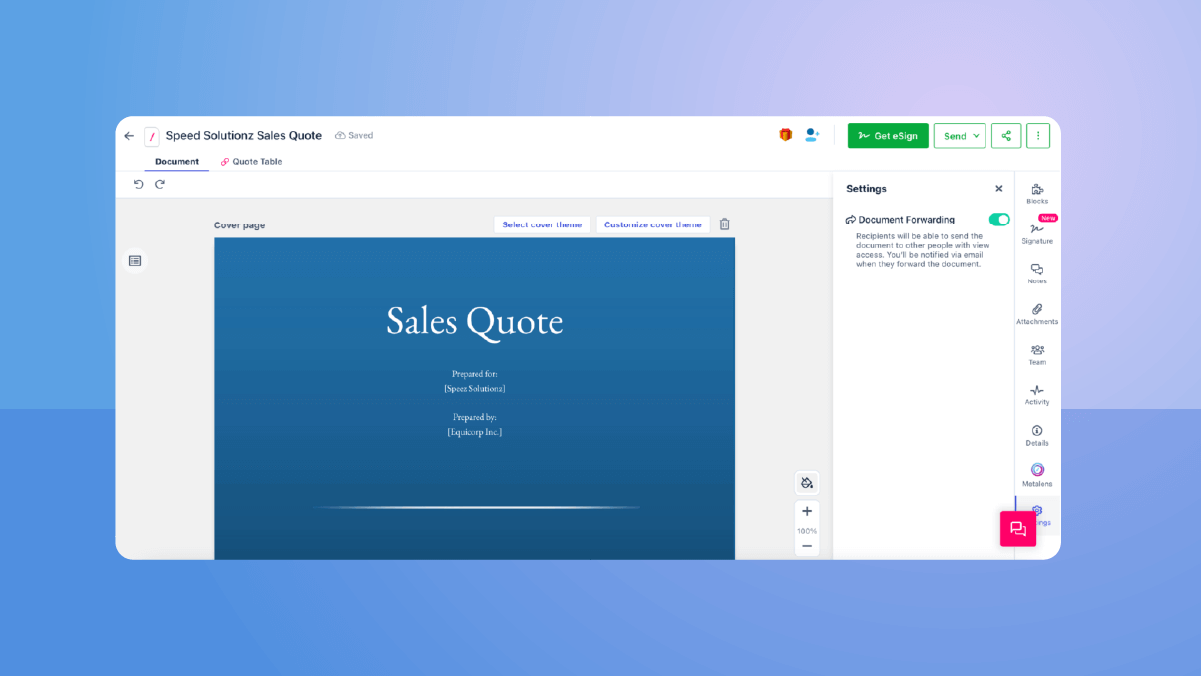 How does an approval process work in Revv?
Now that we are all set with quote and approval workflows, let's take a deeper look at how this approval process functions.
To initiate the approval process, click on the 'Send' button and select 'Check and send for internal approval' from the drop down.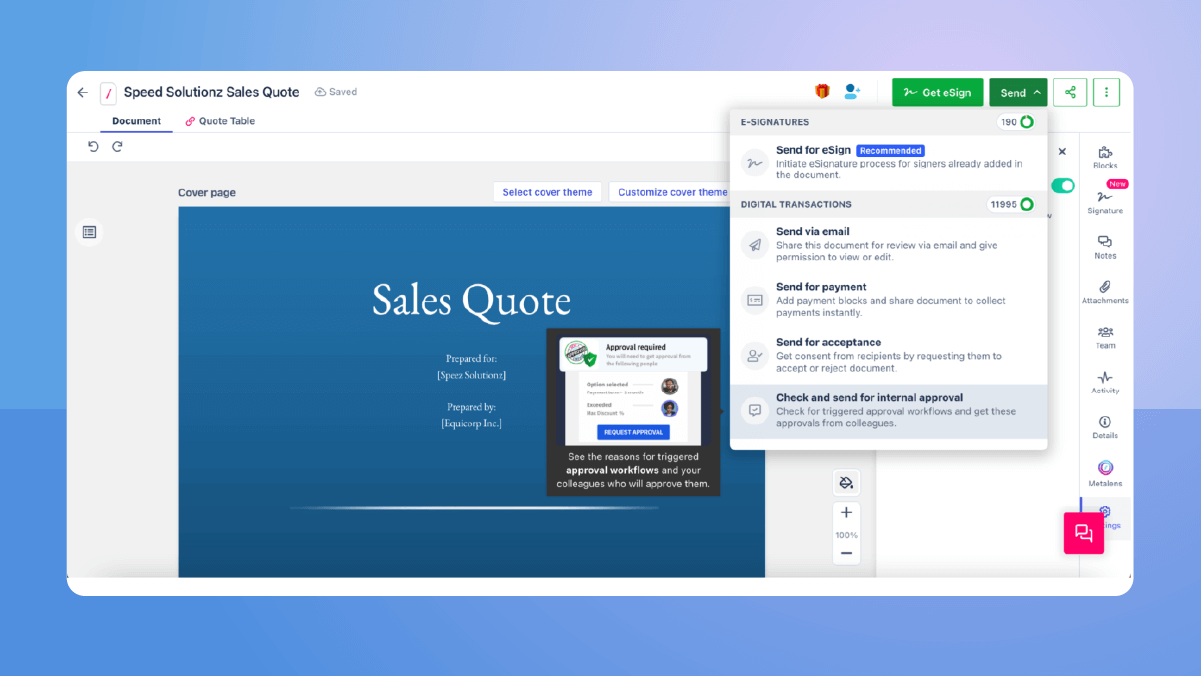 Since a 35% discount was provided in this quote, it triggered the associated approval workflow. A message pops-up with a list of designated approvers and a comment box. Add a comment citing the reason for approval and send it for internal review.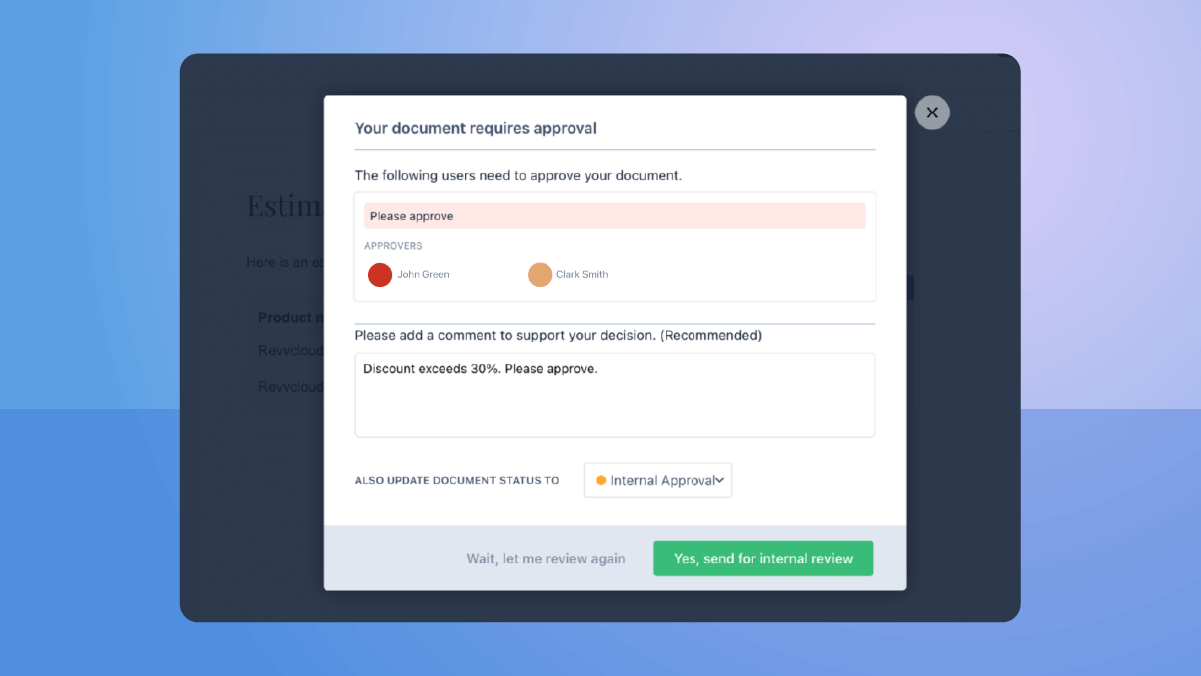 The approvers get immediately notified through email notification. Click on 'View document.'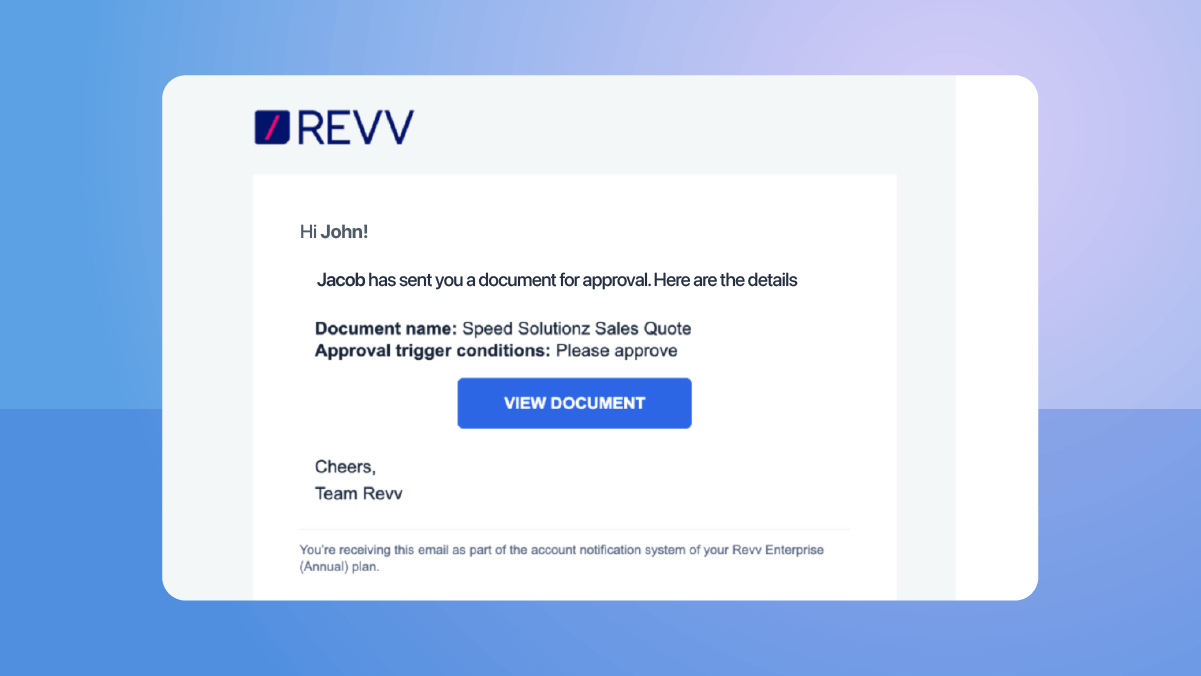 It will take the approver to Revv's sign-up page. Enter credentials – login id and password.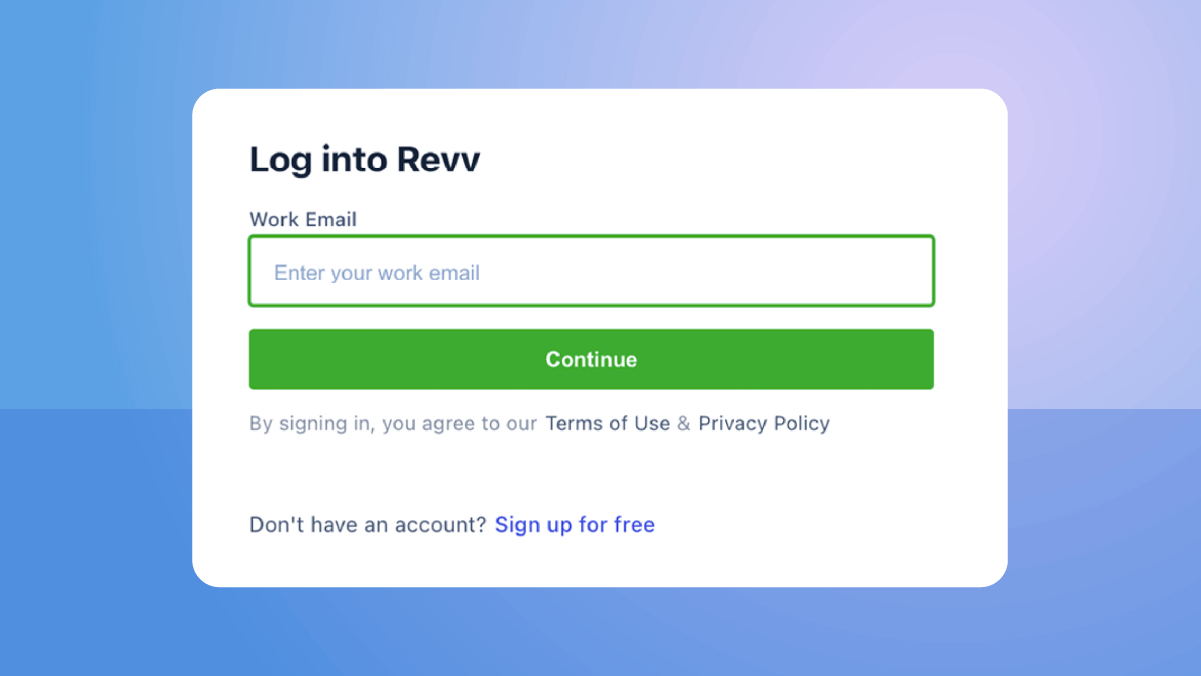 Approve/Reject it.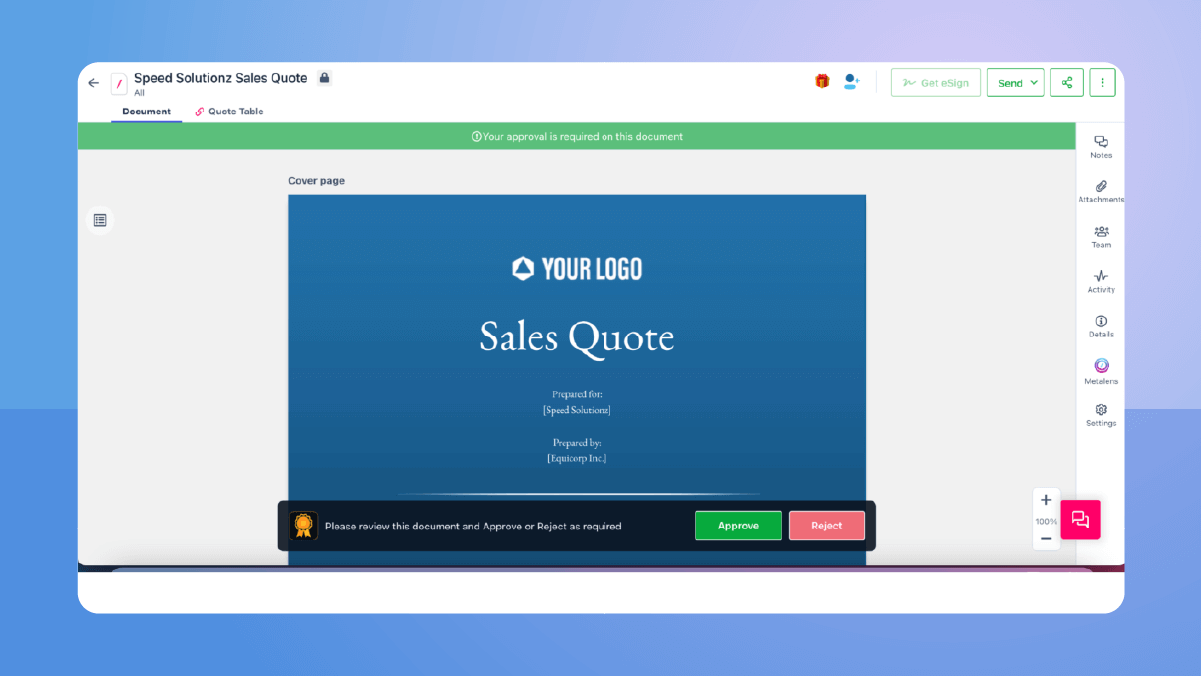 You can see the changed status at top after the sales quote is approved by all the approvers.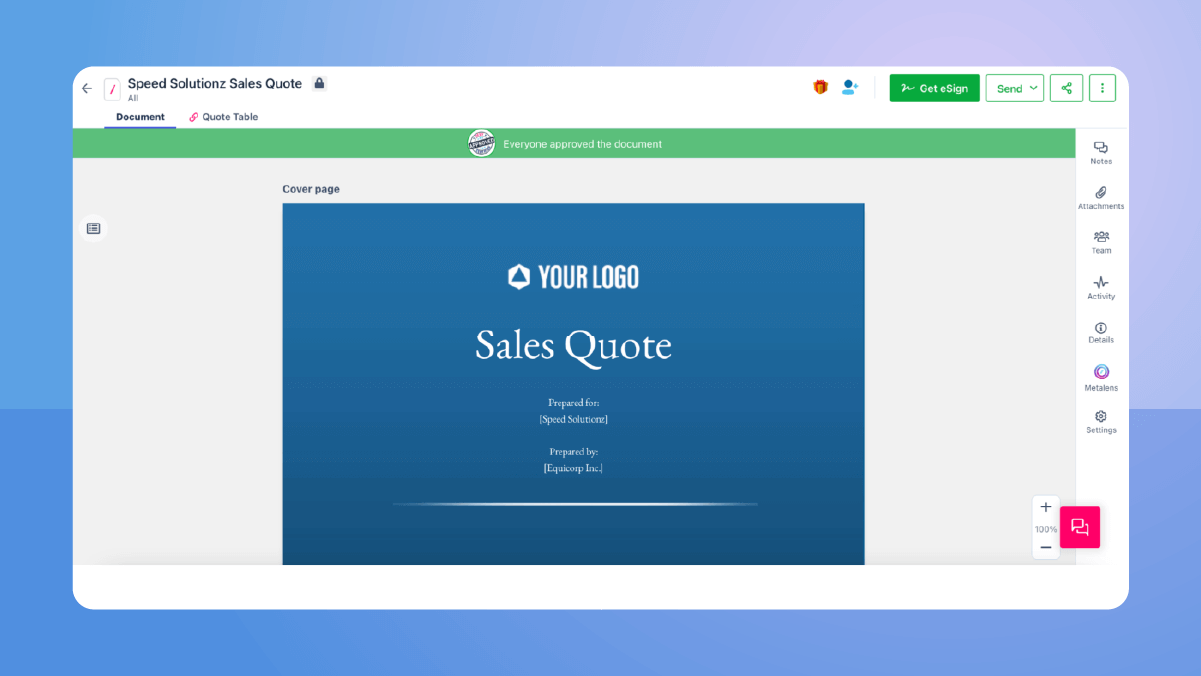 Now the sales quote is ready to be sent to customers for electronic signatures.
5. eSign
---

Scale-up your business…
Revv's in-built eSignature feature facilitates sending quotations for eSignatures within the system instead of relying on an external app.
Key features –
Compliance with local and global eSignature laws like ESIGN Act, UETA, and eIDAS Regulation
Email and SMS authentication for an added layer of security
Flexibility to choose the signature type – click-to-sign, draw a signature, or click-to-initial
Generate and send bulk documents within minutes
eSign documents from any device
Evidence summary certificate with audit trails for proof of authenticity
How to send sales quotes for electronic signatures in Revv?
To initiate the eSign process, click on the 'Get eSign' button.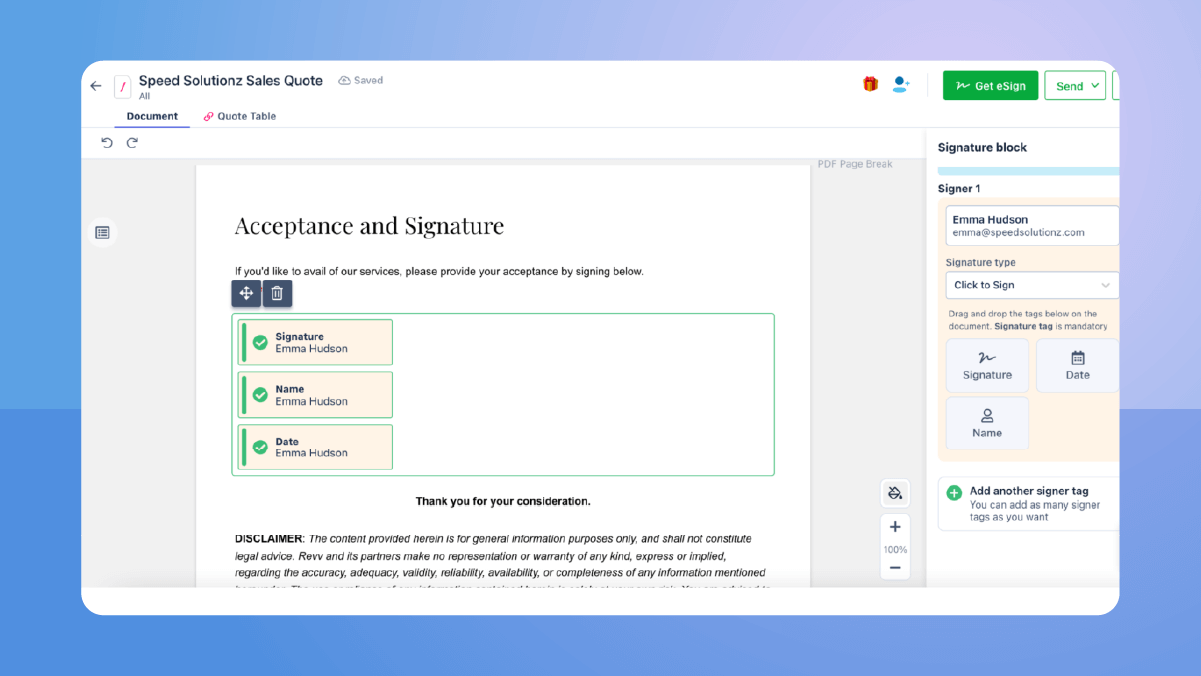 In the next step, a pop-up window will appear. You can also send the document link to customers via SMS to help them initiate the eSign process via SMS. Additionally, if your business prefers a customer's identity authentication, select the 'Authenticate with OTP via SMS' checkbox.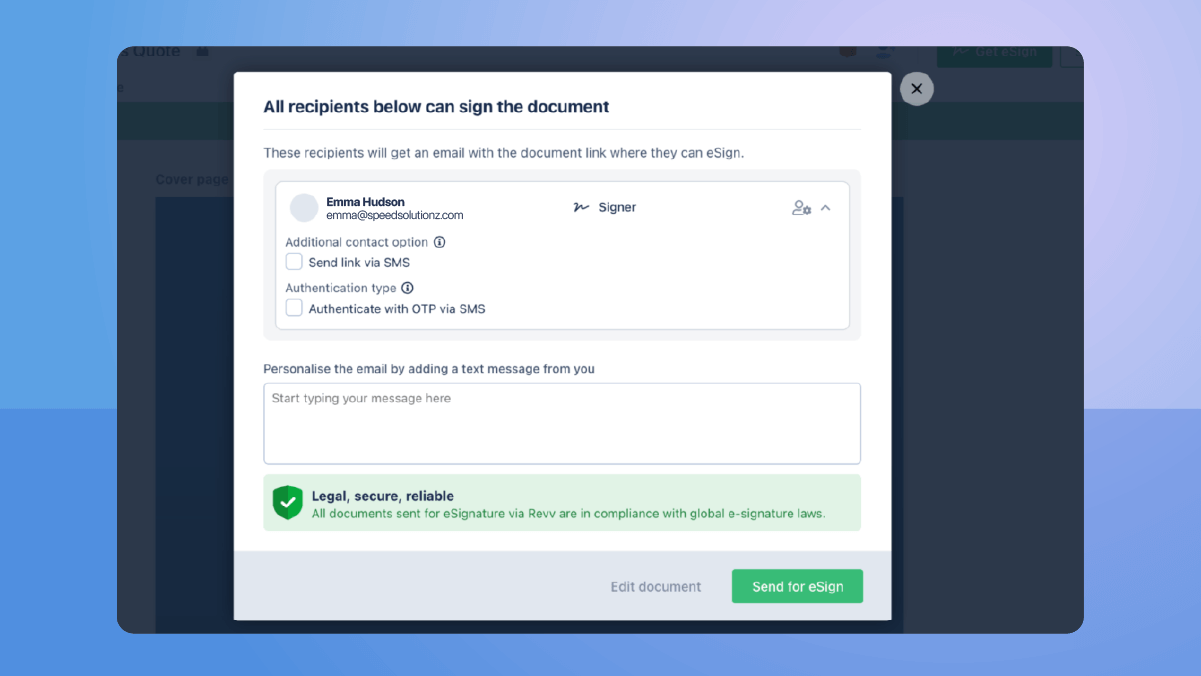 Enter the signer's phone number and personalized message.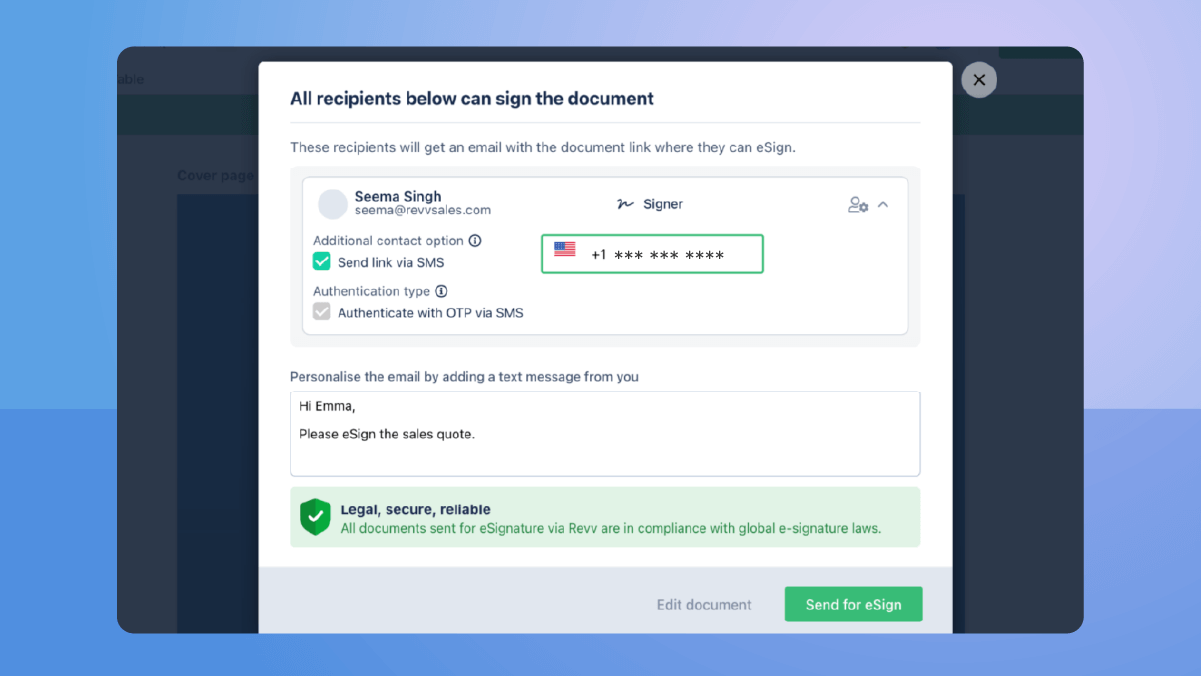 Click on the 'Send for eSign' button. The quote is sent for electronic signature.
How do customers eSign a sales quote sent via Revv?
Step 1 – Click on the link sent in email
One a document is sent by a sender, the customer receives an email (like below) to sign the document.
To proceed, click on the 'Sign document' button.
Step 2 – Click on the signature button to eSign the quote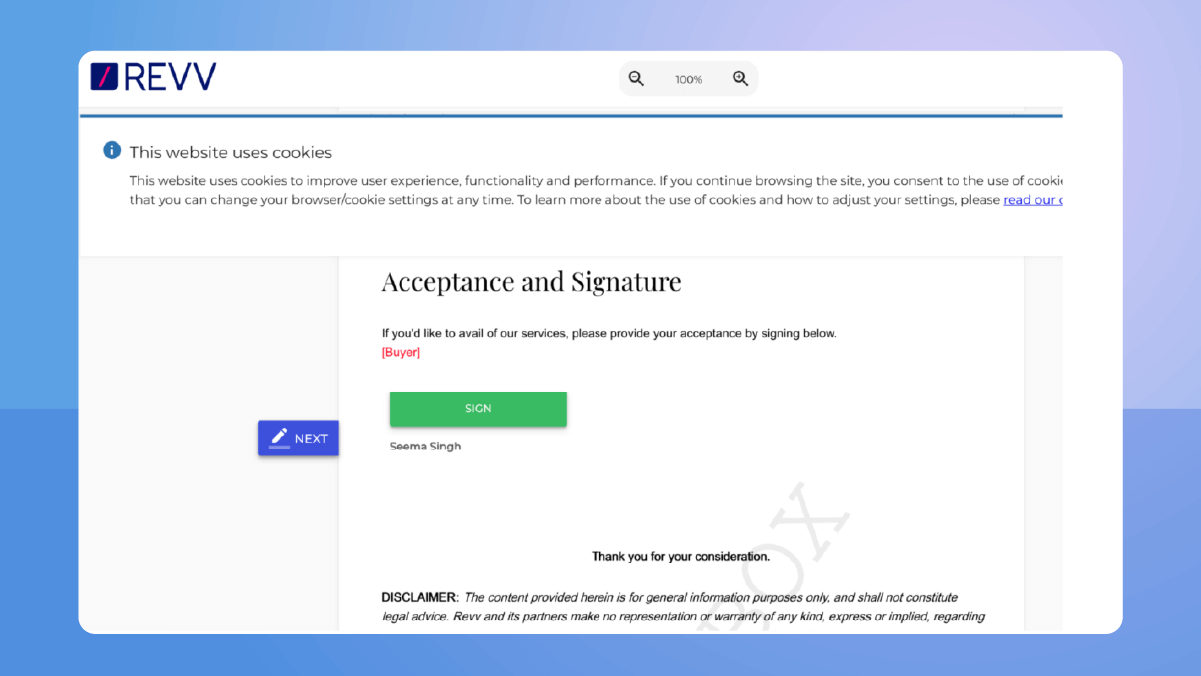 And the business relationship is now official. 🎉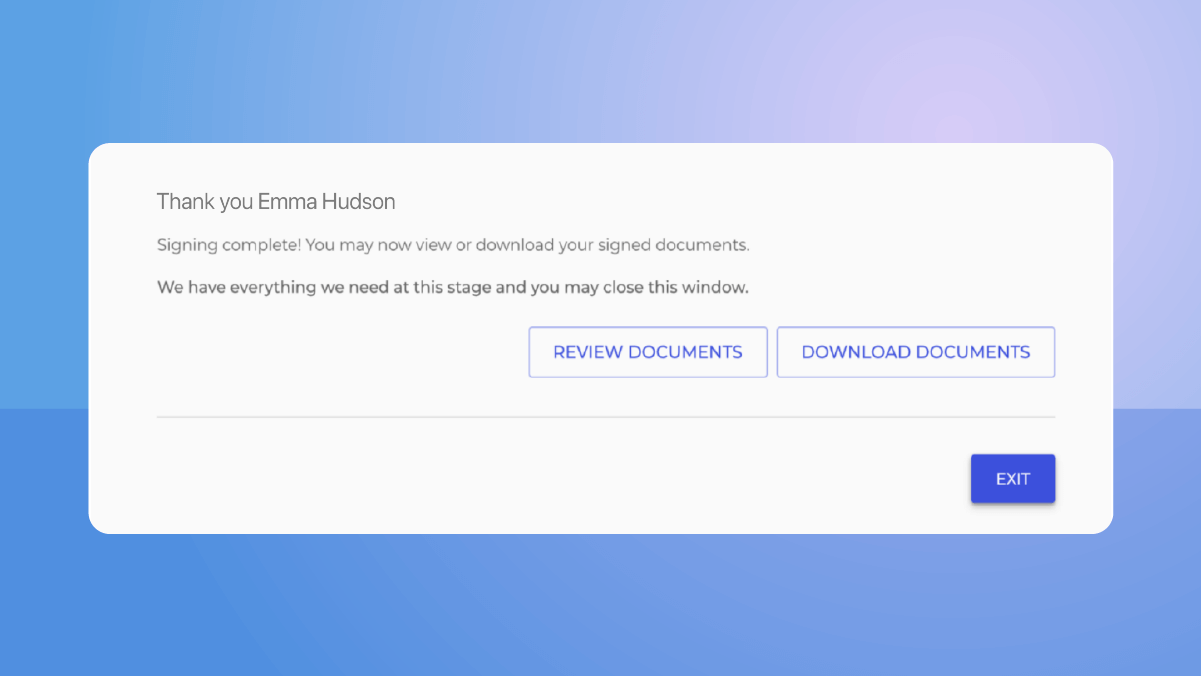 6. Analytics
---

See-through the entire process…
Revv's CPQ solution provides robust reporting features that bring transparency in the entire sales process.
Key features –
Track the status of your document in real-time
Learn what is causing delay
Make the right decisions to accelerate the deal
How to track and analyze reports in Revv?
Open the sales quote and go to the 'Activity' tab. The 'Activity' dashboard gives you information on all the actions taken on the document.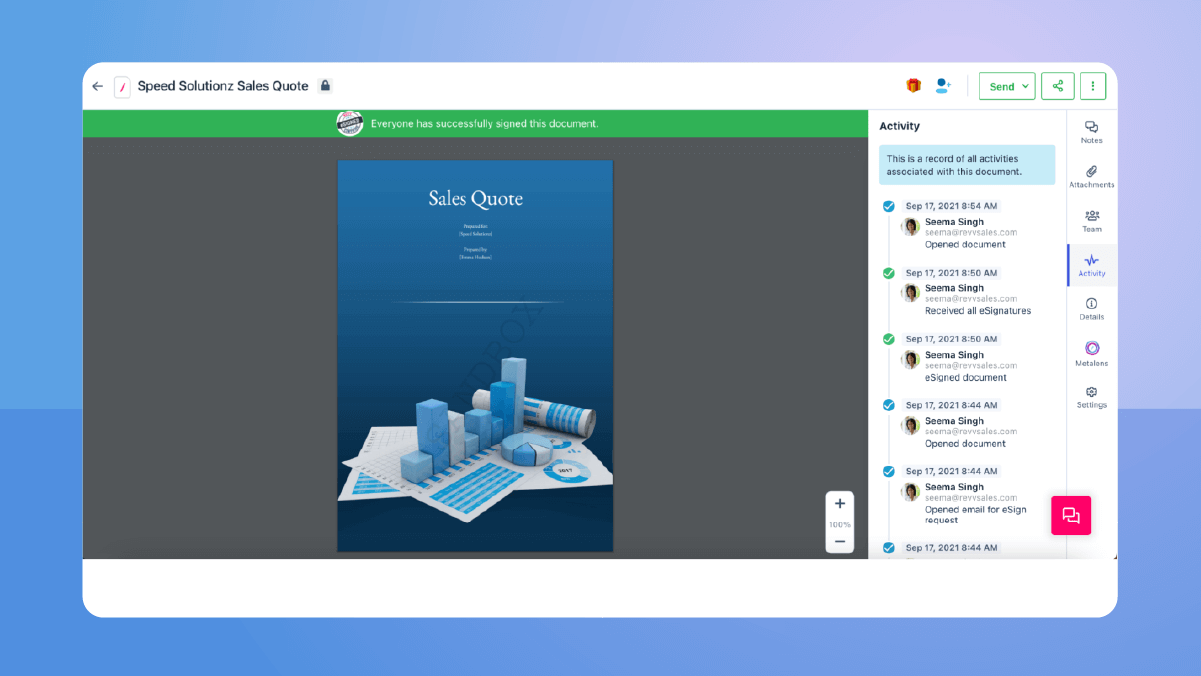 Revv CPQ + Salesforce = Turbocharged sales quotation process
Revv is seamlessly integrated with the Salesforce platform and this integration enables sales teams to launch quote workflows from any object in Salesforce like – accounts, opportunities, etc.
Here's why Revv and Salesforce are a match made in heaven –
Launch and close the quotation process without leaving your CRM
Reduce customer response time
No more fear of losing data, thanks to the centralized repository
Freedom from data entry errors
Automatic mapping of Salesforce data to sales documents
Maintain a single source truth
Improve team's efficiency
Less time consumption
Enhance customer interaction
How does Revv and Salesforce integration work?
Create endless possibilities and sales workflows using Salesforce flow builder and Revv Public APIs. It lets you –
Automate complex sales processes without any code or programmer's help, using a single point and click method
Define how the system will collect data, how the process will run, and how it will end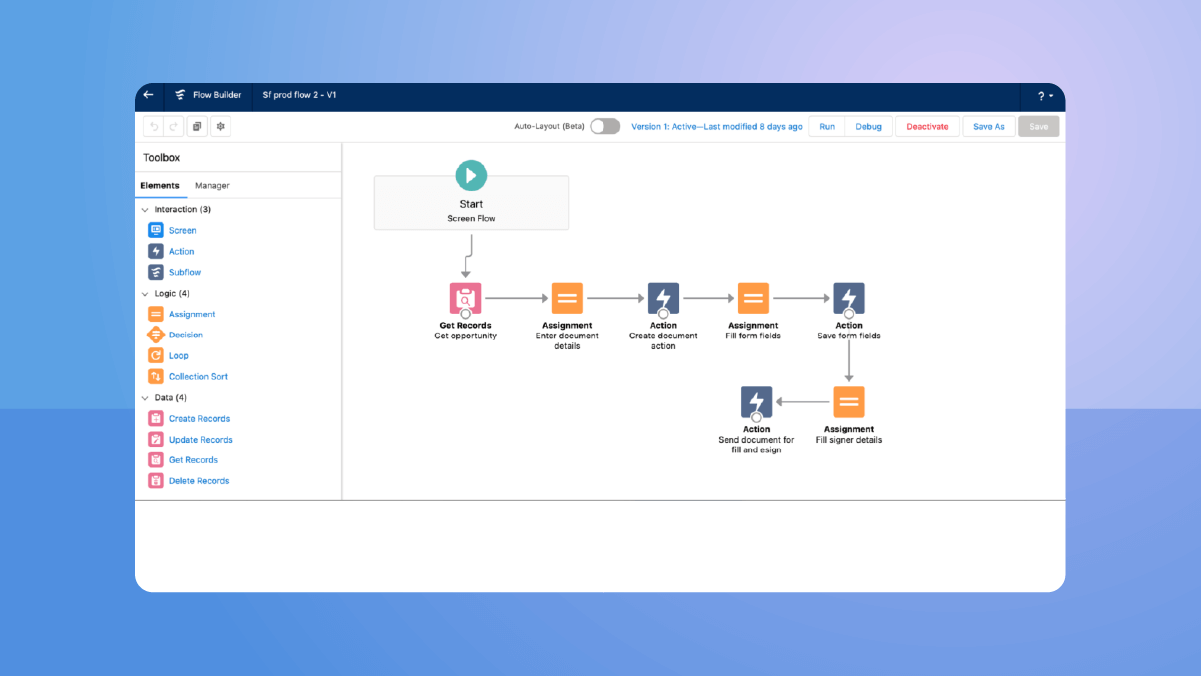 Here's a use case created using Salesforce flow builder and Revv Public APIs – eSign sales quotes via Revv for the data generated in Salesforce.
Step 1- The quote process triggers in Salesforce
To launch a quote process from salesforce, select the opportunity or any other object in Salesforce to start the quotation process.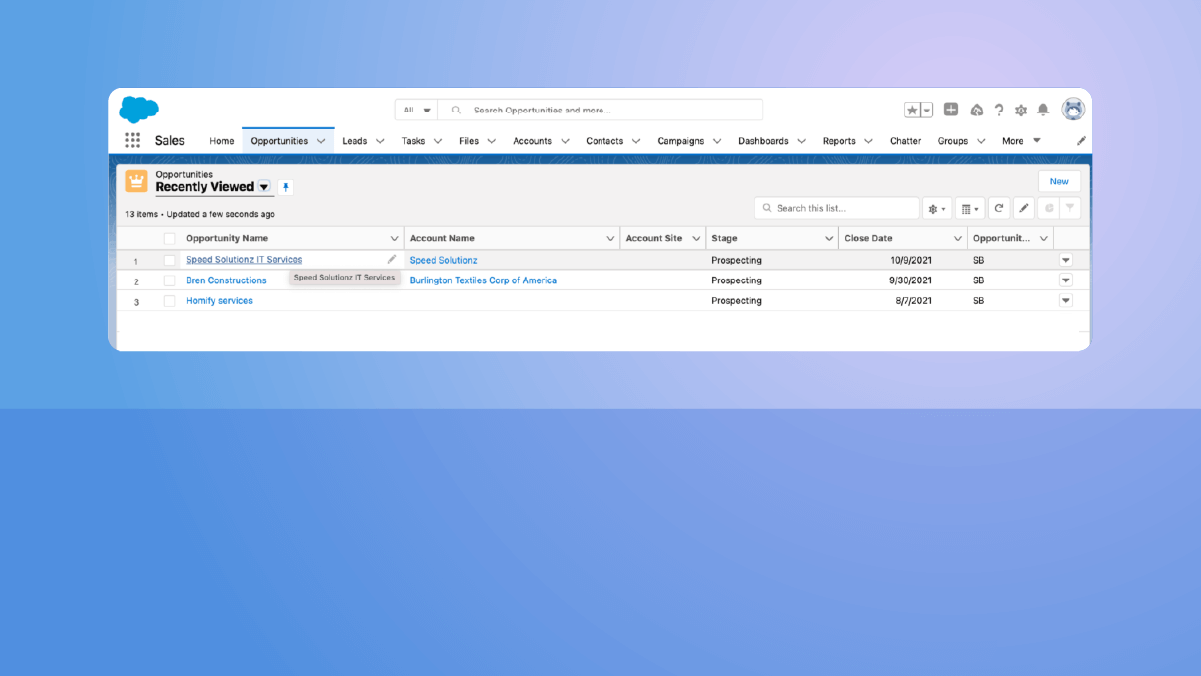 Next, click on the 'create and send document' button and trigger the workflow.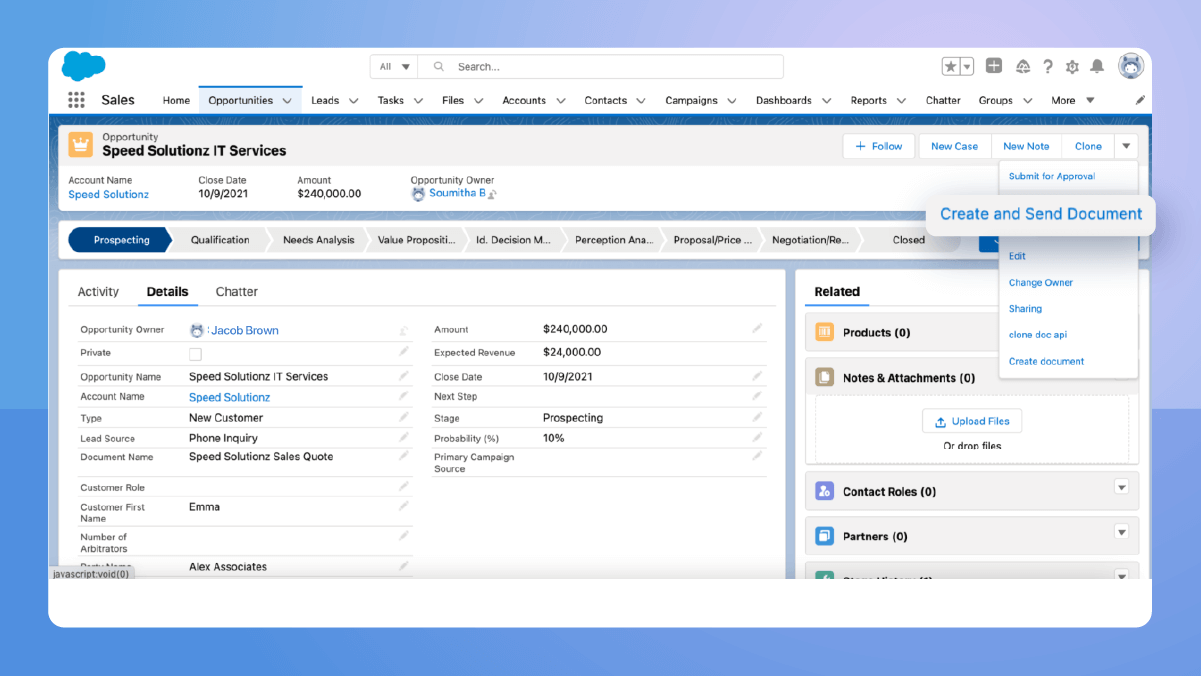 Step 2- The quote process progresses through Revv
When a quoting workflow is launched, Revv automatically populates the quote template with object's data like name, address, role, document name, amount, etc.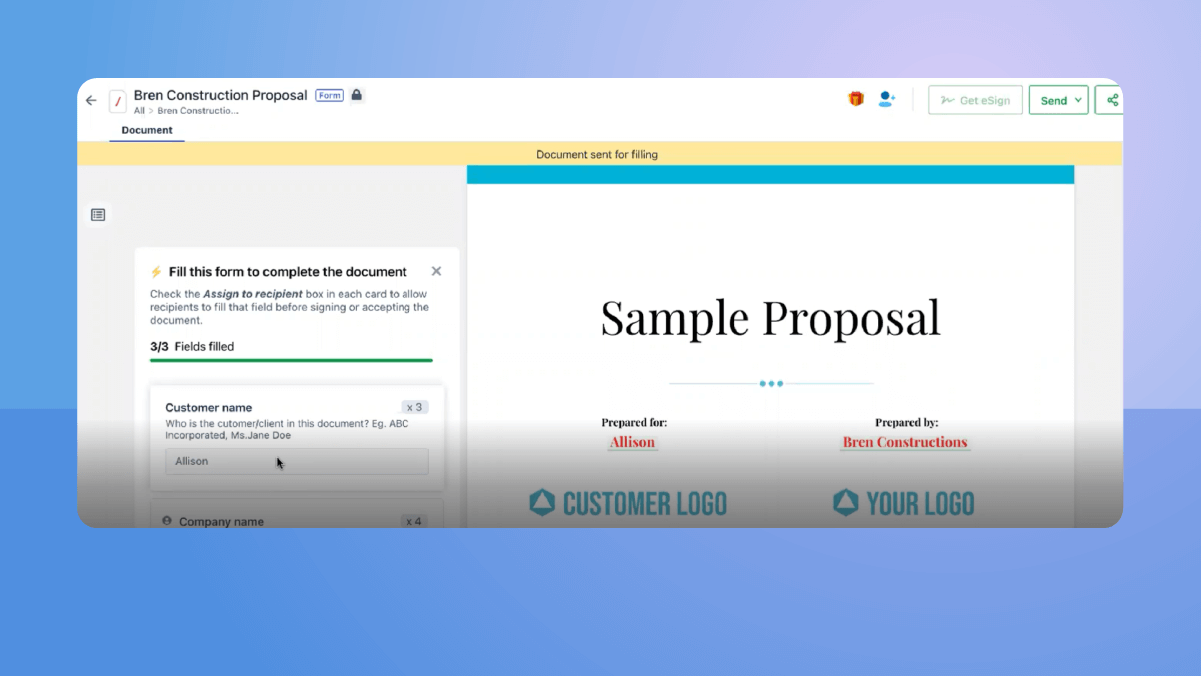 And the document goes for electronic signatures.
Step 3 -Finally, the quote process completes in Salesforce
Once the quote is eSigned by the customer, the signed pdf quote appears in the 'Notes and Attachments' section.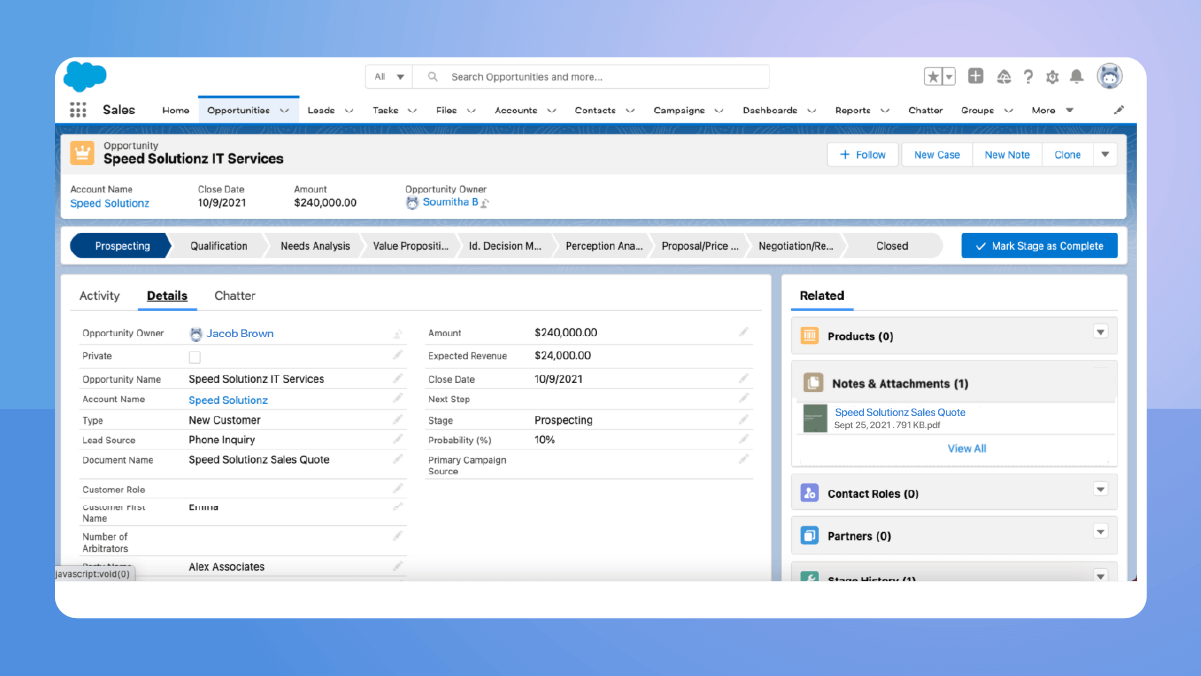 🎁Bonus
You can also couple Salesforce with Revv using Zapier integration and define workflows using 'Triggers' (when this happens) and 'Actions' (do this).
Revv – The sure bet to all your CPQ needs
Revv empowers sales teams to face the market pressure head-on and caters to the ever-changing requirements of today's customers while protecting the margins.
Execute complex quotes, product configurations, and dynamic pricing, and keep them centralized, automatic, and available in real-time. Revv gives you all that you need to optimize your selling process.
Revv's CPQ solution has a very simple user interface and needs no engineered complexity.
Victory awaits him, who has everything in order

Roald Amundsen
Give your sales team the best CPQ tool to expedite the sales process, increase the success rate, thrive in a competitive environment, and deliver exceptional customer experiences.
Harness the power of Revv CPQ.
Sign up with Revv and try out yourself.
If you have more questions and need further assistance, schedule a demo with us.