Every business operates with an intention to create offerings that meet the needs of its target audience. When a customer agrees to avail your offerings (be it products or services) and requests a quote, they are interested in doing business with you.
This is when you, as a seller or service provider, need to jump the gun and turn this opportunity into a successful deal. Time is crucial in these scenarios.
So how do you hit the bull's eye within a specific time frame? – The answer lies inside a CPQ tool.
A CPQ tool like Revv simplifies the quoting process for sales teams across industries by automating manual and repetitive tasks. A CPQ tool comprises three prominent components – Configure, Price, Quote! You can list all the products and services you sell or wish to sell to your clients, along with the pricing details. Then, create error-free quotes and share them with the customer on time to beat the competition.
Let's now dive deep into the functionalities of standard CPQ software. Also, understand how you can leverage Revv to streamline your sales cycle and enhance the quote creation experience.
👉 Customized offerings with CPQ software
Customer is king – as clichè as it may sound, but it's the principle businesses live by. With the ever-increasing competition, you need to stand out and become a user's first choice.
Nowadays, you have to customize your offerings as per client requirements. Manual configuration, customization, and maintenance of all products and services are not feasible. It is prone to error, omissions, and delays.
Opting for the best CPQ software opens up the possibility to do away with redundant manual tasks. You can add, update, and manage all your products and services under the same platform. Maintain a master list, a product catalog, where all your offerings are listed. You can further configure it with different pricing rules and methods that can be quoted to the customers.
What can you do with Revv?
Revv is an all-in-one price quote CPQ software that offers multiple CPQ driven features to users. It aims to streamline the quoting process and create efficient sales quote documents.
Here's how Revv helps you in customizing your offerings.
Working with the product catalog
Revv's product catalog lists all the products and services added to date. You can access the catalog by clicking on Products in the left navbar.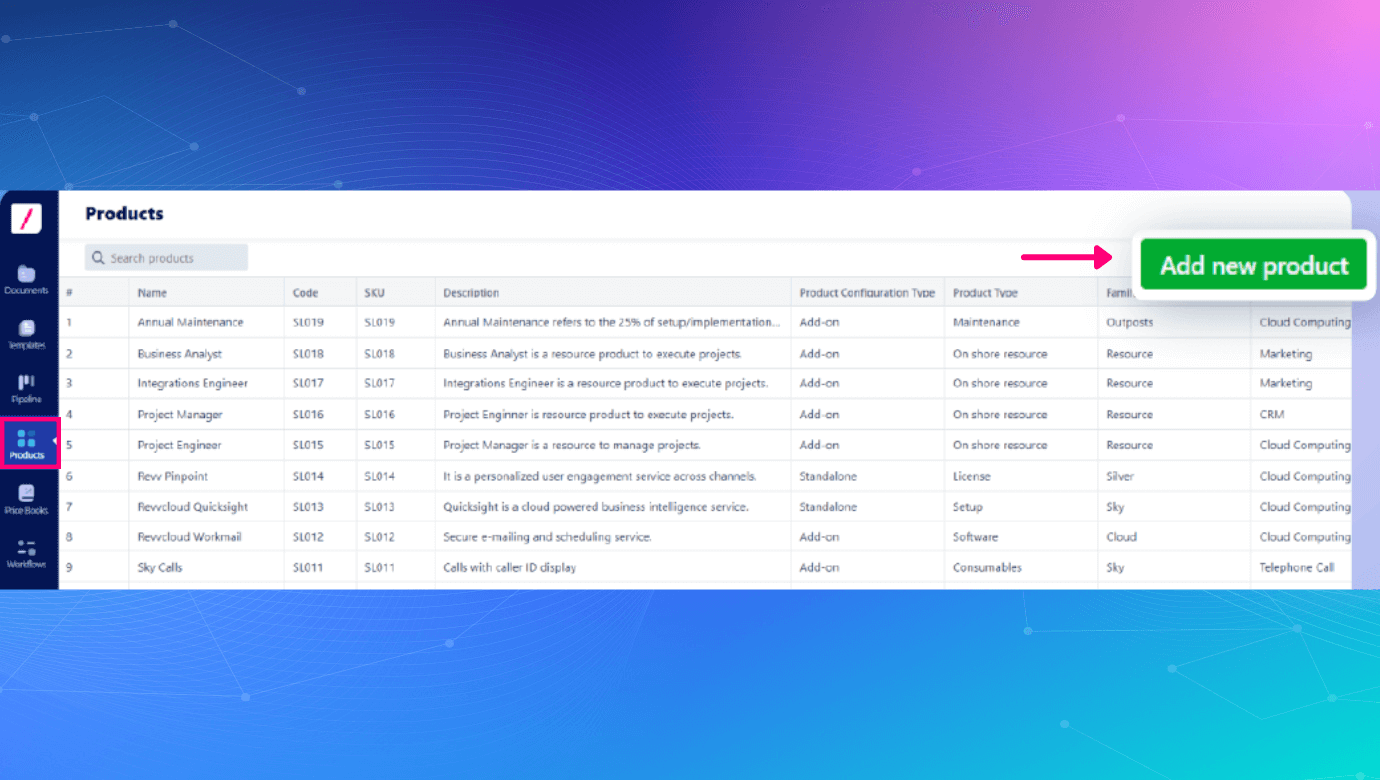 Products in Revv are configured by entering the following information:
Product Name: Name of the product or service being offered.
Active: Only if this is checked, the product is available for adding to the price book.
Code: This is a unique product code that the company assigns. It remains the same throughout the product's shelf life.
SKU: Stock Keeping Unit (SKU) is a unique code assigned to each product, service, or package for internal operations and stock-keeping purposes.
Product Configuration: This defines the configuration type of the product. Whether the product or service is standalone, add-on, bundle, etc.
Product type: Users can classify their product based on a predefined list shared by Revv. Select whether the product is a license, software, setup, etc.
Family: Family is mainly clubbing products and services with the same characteristics under one group depending on customer requirements.
Category: Here you have to determine the category of the product. One product can fall under multiple categories.
Description: It mentions details about the product which gives a better understanding to the customer.
Once these configuration fields are updated, click Add to add the product to the catalog. Repeat this process for adding other products as well.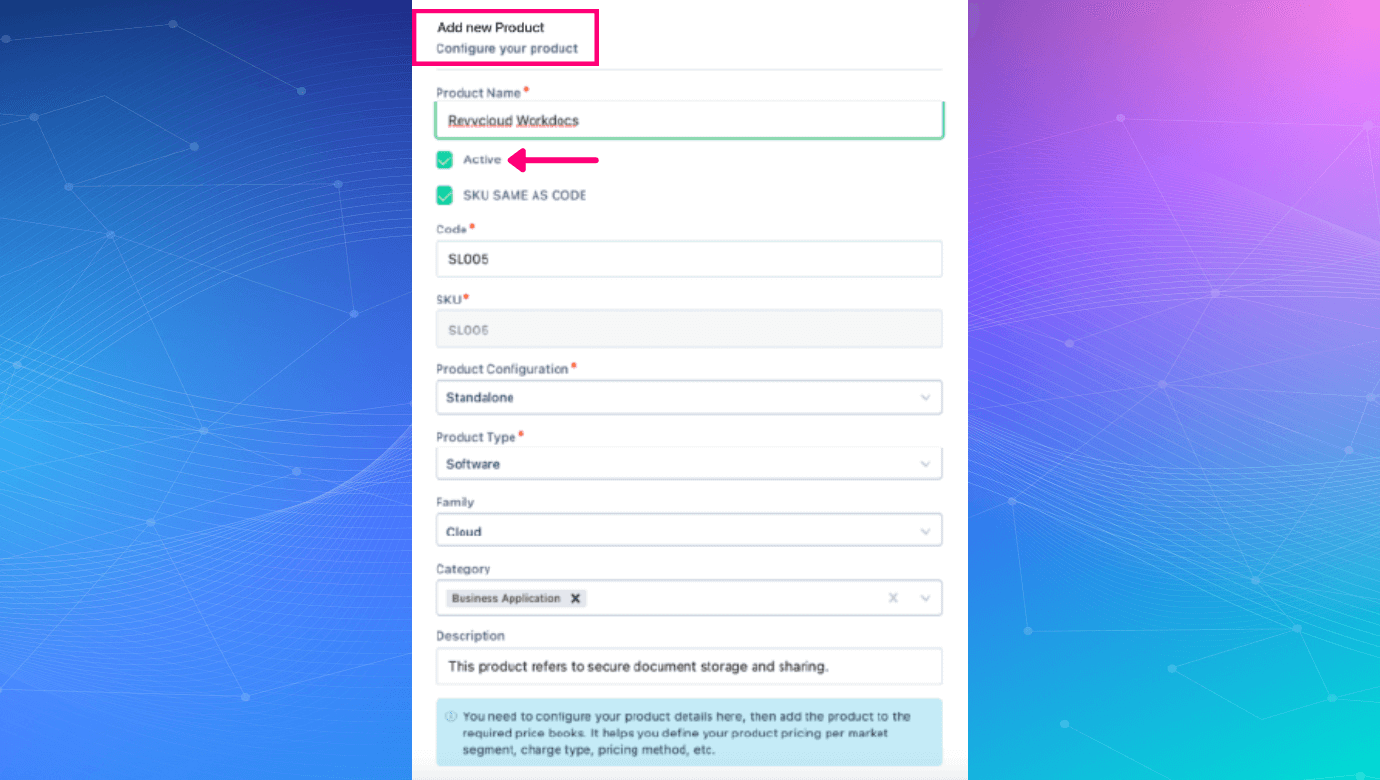 Revv's product catalog has a spreadsheet-like layout where you can edit product details, manage columns that need to be shown or hidden, and add as many products as you want. It is stored securely inside Revv and can be quoted to customers after the pricing details are attached.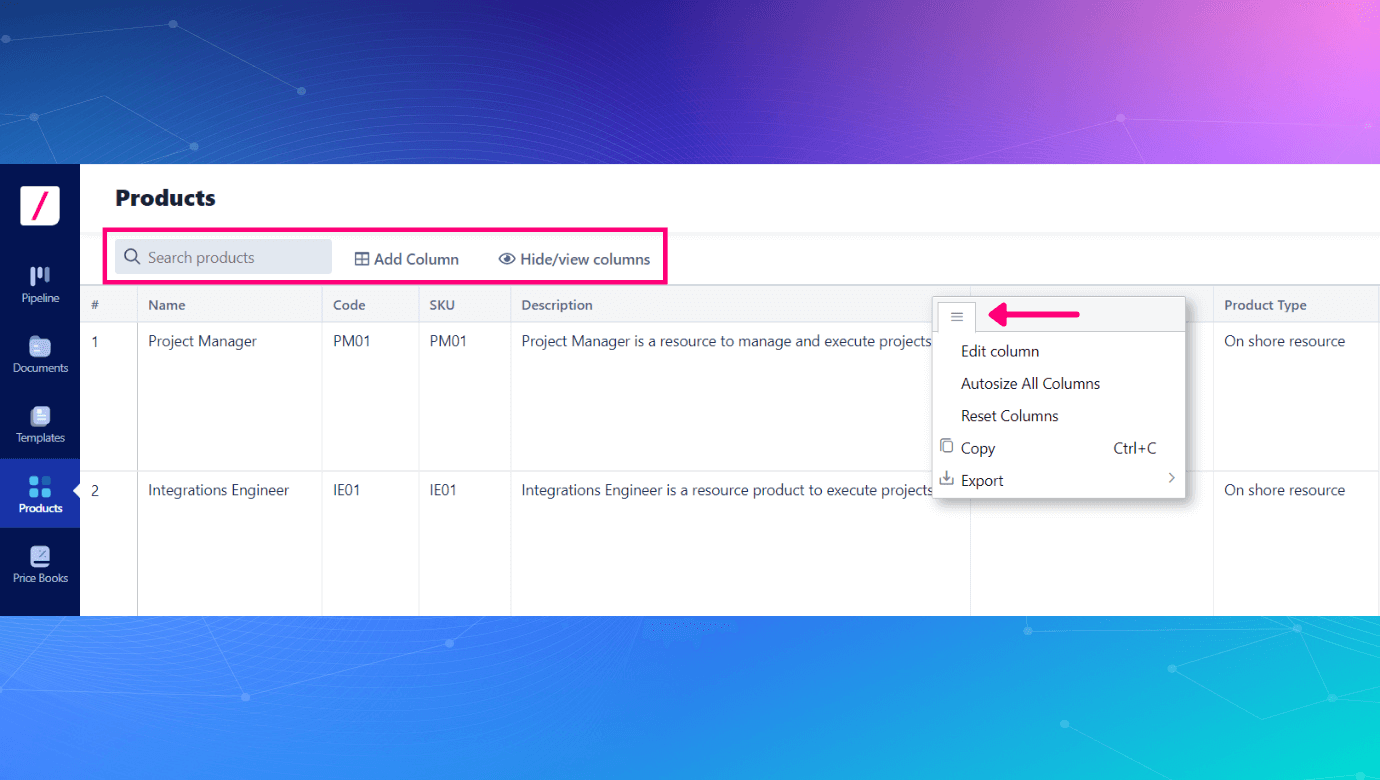 Creating multiple price books
Once the product is configured and listed inside Revv, it is followed by adding pricing information. The pricing details should be added to a product for it to be quoted to customers.
Revv lets its users create multiple price books based on currency, geography, buyer group, product lines, etc. You can access price books in Revv by clicking Price books in the left navbar. You can add a new price book in a blink by entering Pricebook Name, Description, and Currency information.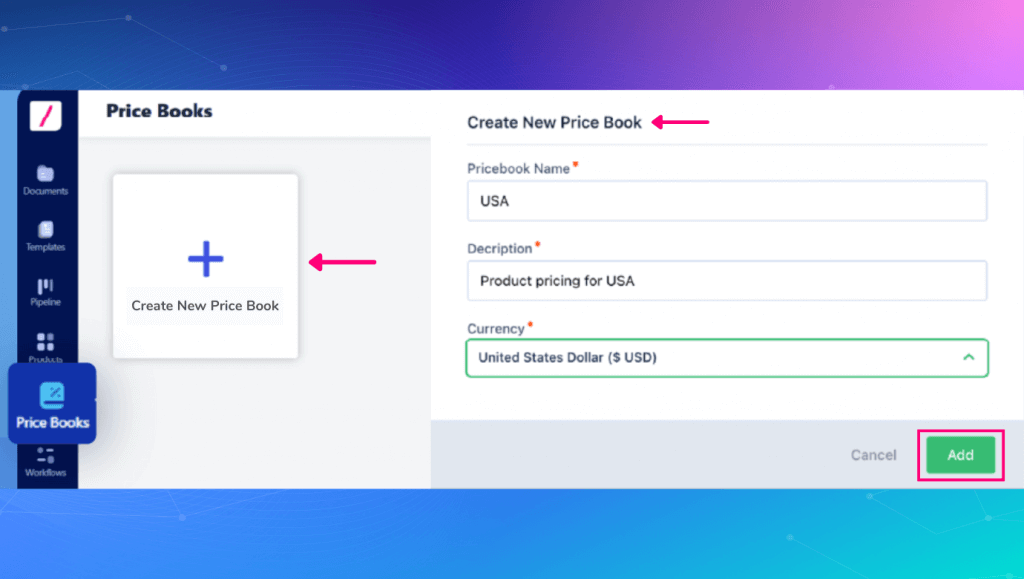 Each price book will contain multiple products with configured pricing details that can directly be added to your sales quotes. Make sure the price book is active for it to be visible while creating quote tables.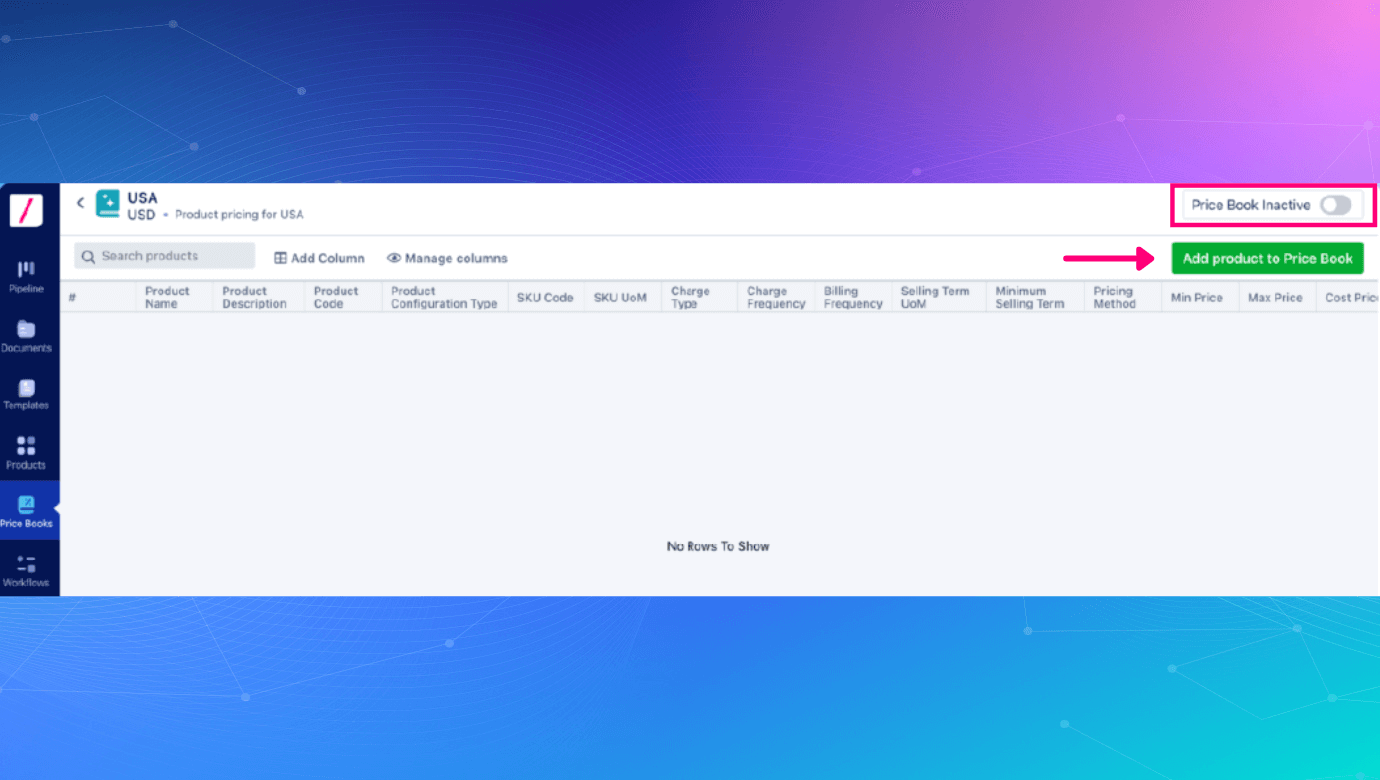 While adding a product to a price book, you have to enter the following attributes that enable customization of your offerings:
Charge type: This defines how you will charge the money from your customers. Revv provides five different charge types – evergreen, one-time, recurring, recurring usage, one-time usage.
Billing frequency: It refers to the frequency at which the customer will be charged for the product or service.
Minimum Selling term: The minimum term or duration for which you want to sell the product or service.
Selling term UoM: It is the unit of measurement for the selling term.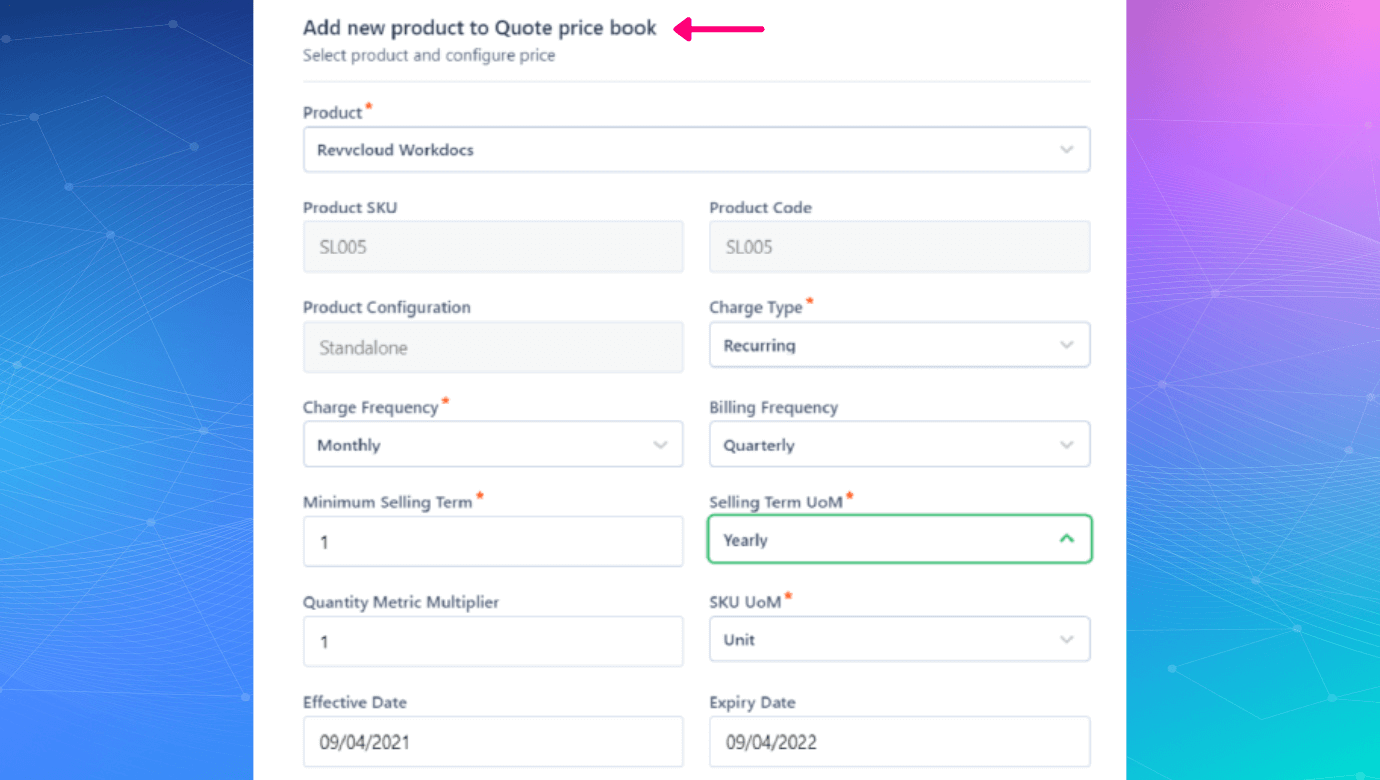 Revv offers its users multiple pricing options for all its products and services. The pricing options include – flat price, tier pricing, volume pricing, stair-step pricing, bundle pricing, percentage of total, and DIY pricing.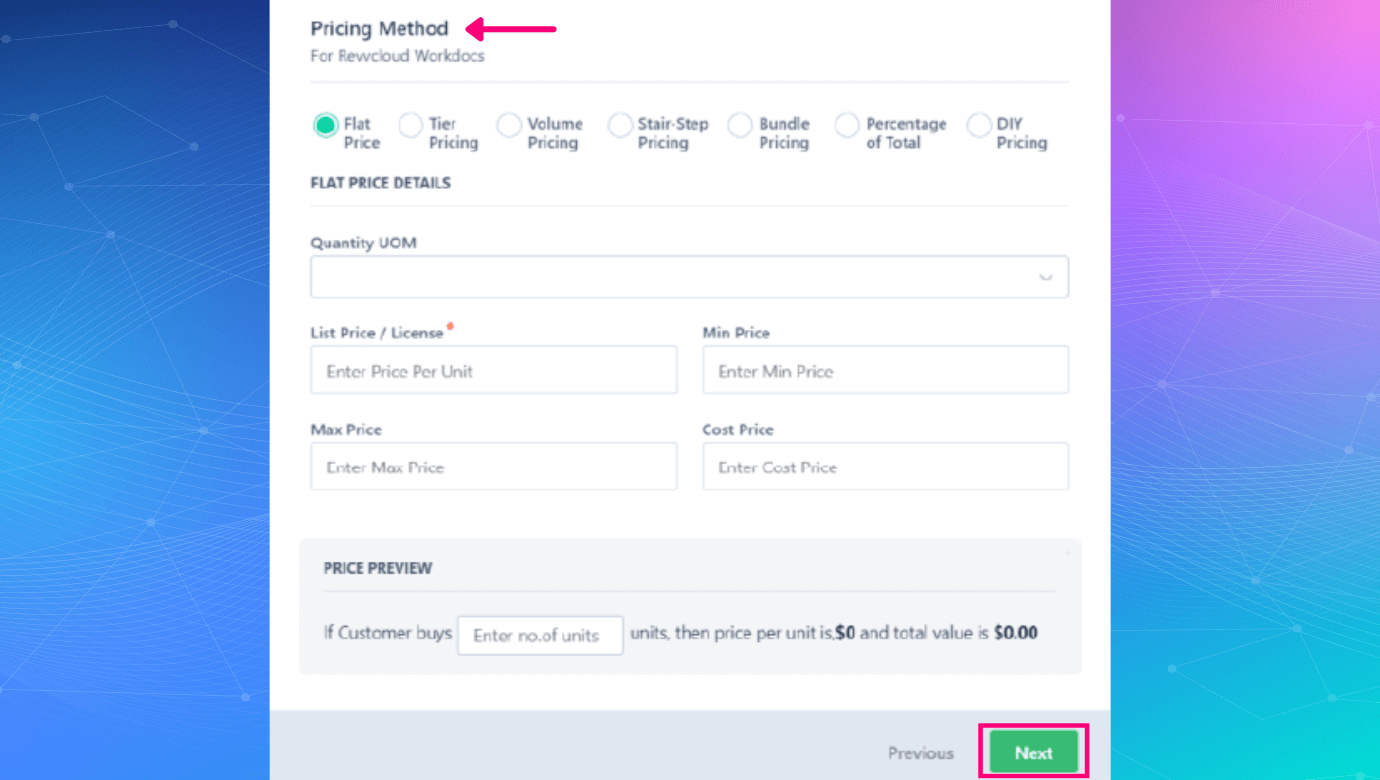 As price books are the point of contact for the entire sales team, Revv allows you to manage the visibility and editability of key price book properties. Each item can be checked or unchecked as needed.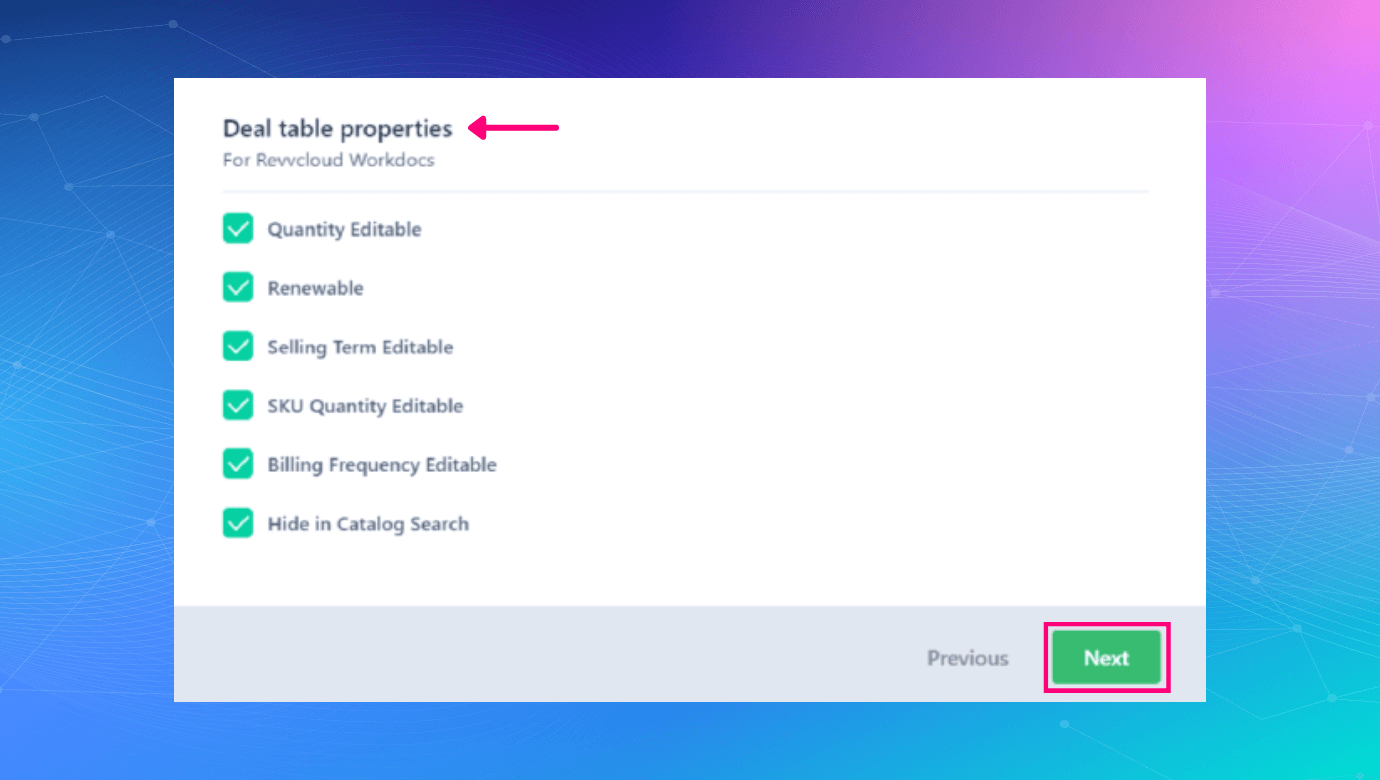 You can link price books to specific sales quotes and directly add configured offerings in your document via quote tables.
👉 Create quotes at lightning speed with an ideal CPQ software
What follows configuration and pricing is quote creation. A sales quote consists of offerings with their pricing details and basic terms and conditions that govern the overall agreement. Some of the contextual terms and conditions are mentioned to comply with legal requirements.
Sales reps might not be experts when it comes to drafting a sales quote from scratch. An ideal CPQ software will provide features that supplement the quote creation process.
What can you do with Revv?
Along with the ease of product configuration and management, Revv supports accurate quote creation. Here are some features that bring efficiency and speed to the drafting process.
Template library that gives you a headstart
Revv provides a library of 1000+ legally vetted templates that are pre-designed and ready to use. This gives sales teams a kickstart and takes away the pain of starting the quote creation process from the ground up.
Ready-made quote templates ensure the timely creation of accurate quotes that are less prone to manual errors. Also, using a standard template across the company brings consistency, uniformity, and makes a good first impression on the customer.
Rich document editor to construct your quotes
Revv's document builder is user-friendly and allows you to easily edit and customize your sales quotes as per your brand guidelines and deal requirements. It contains various elements that you can drag and drop like images, text, tables, eSignature blocks, and link Google Sheets to your quote.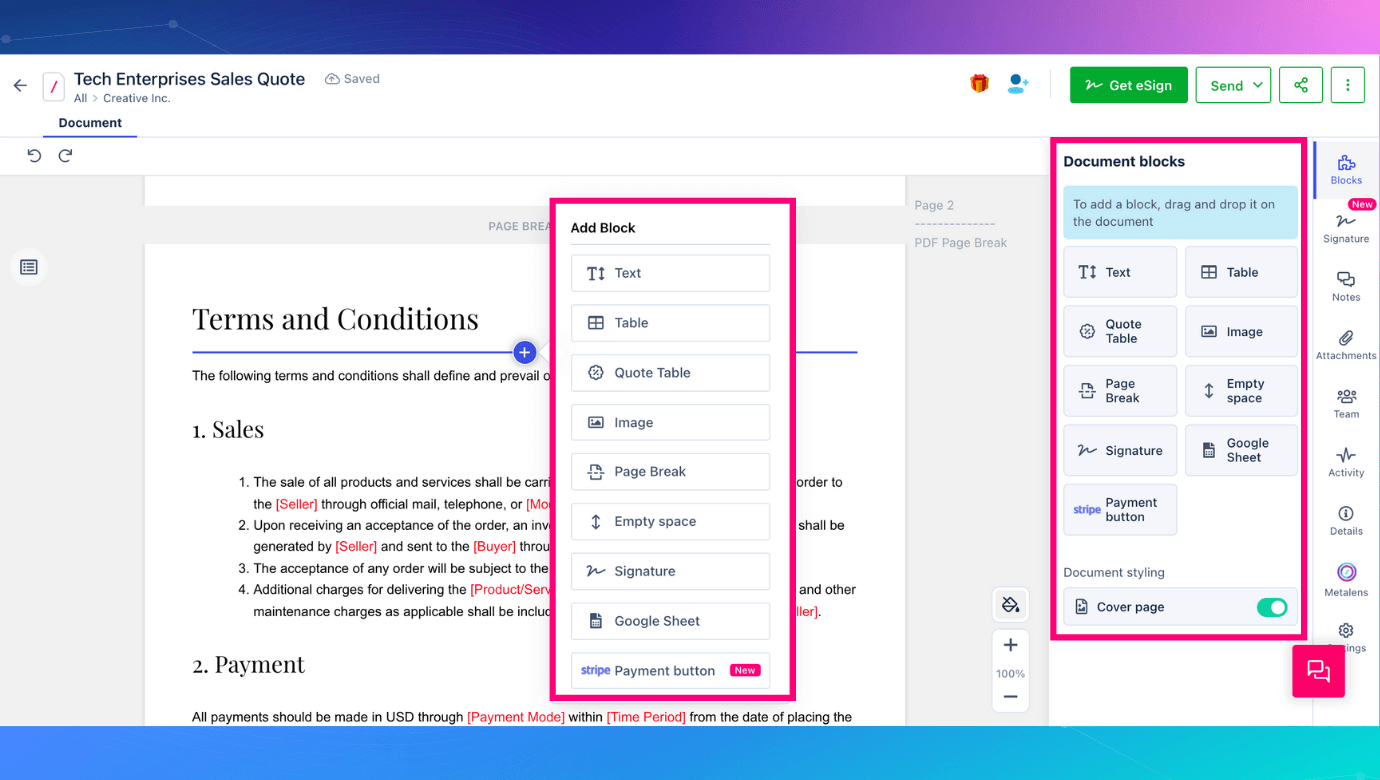 Add quote tables inside the document
Quote tables enable you to add your offerings inside a quote. Earlier, you had created a price book that consists of all the products and services with their pricing details. With Revv, you can effortlessly drag and drop the quote table inside your document, link the quote table with the price book, and add the products directly to the document.
Let's see how that process goes:
Drag and drop the Quote Table block to your document.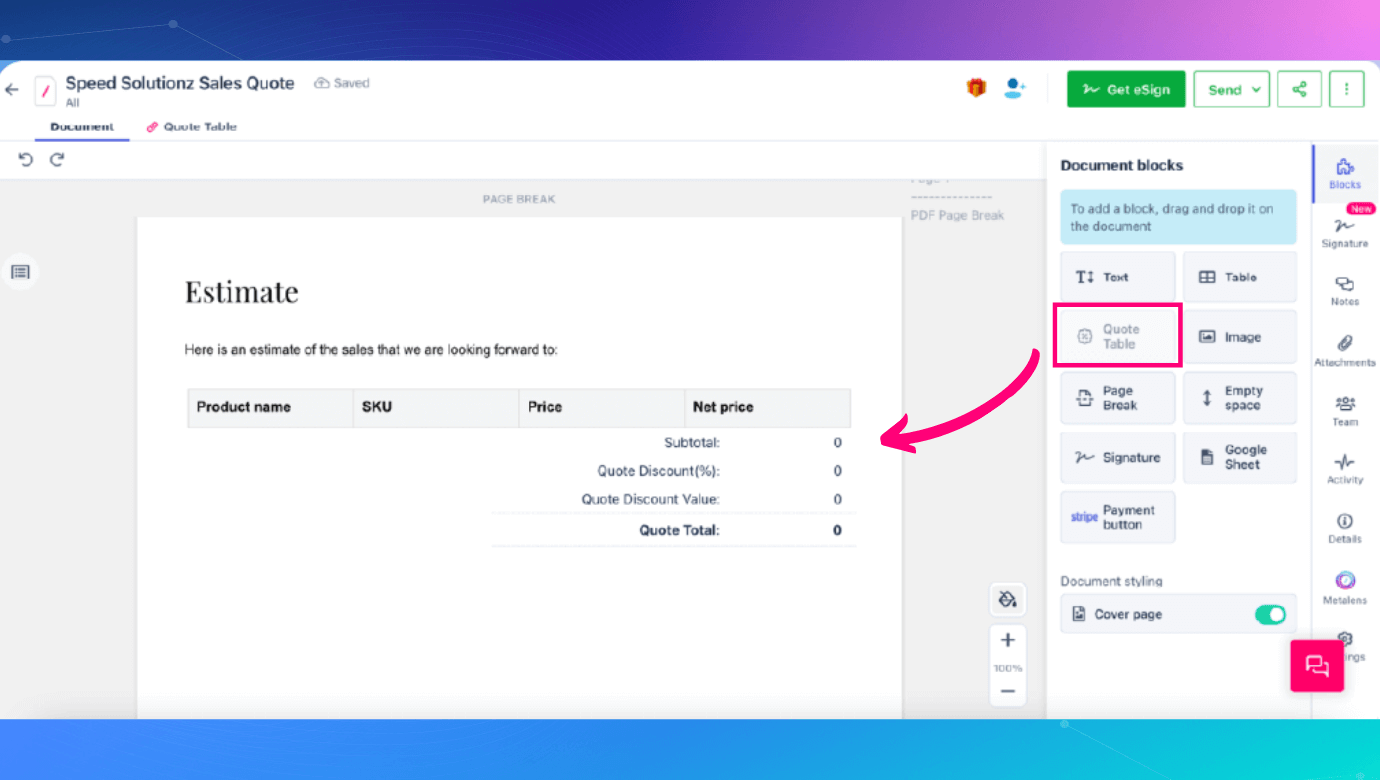 Move to the Quote Table tab and select the price book for the sales quote you are drafting.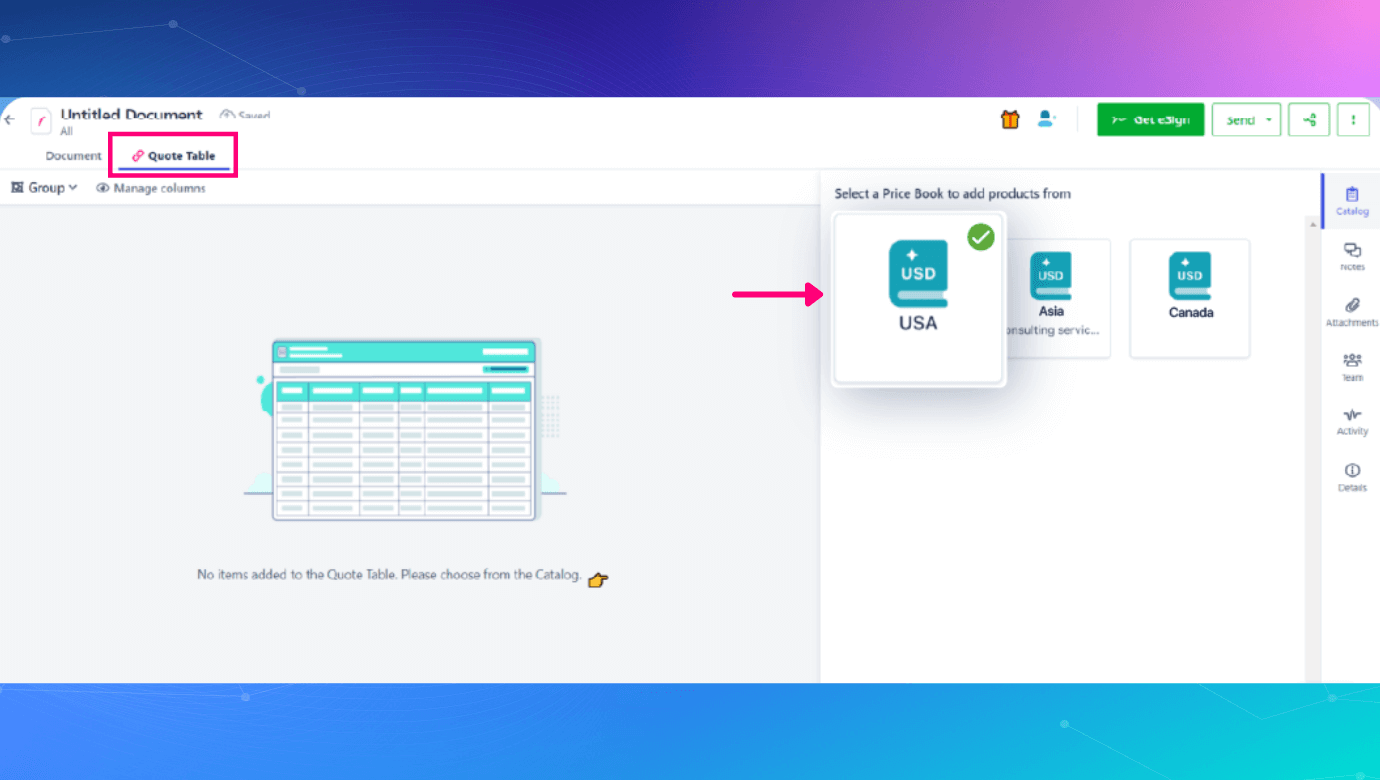 Select all the quoted products and services from the list and click Add to Quote Table.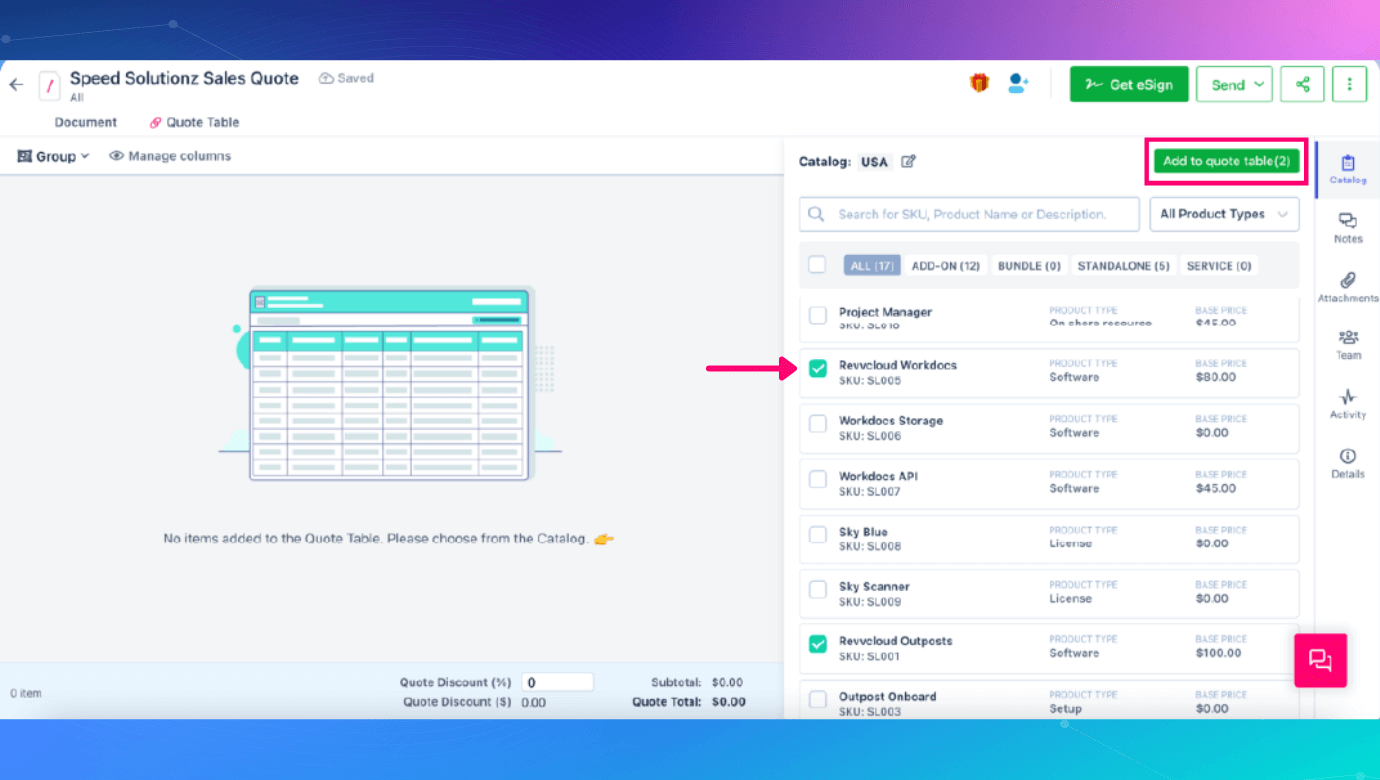 All the added offerings will appear in your sales quote directly. You can edit details about the products in the quote table.
The quote table is the final pricing table in a sales quote. Once the quote document is ready, you can get it approved by your co-workers and later send it to prospective customers for eSignatures.
Seamless collaboration within the document
Add comments, notes, and tag specific users to get their inputs – all inside your sales quote. Revv's editor comes with all these collaboration features to simplify quote creation and amplify deal closure.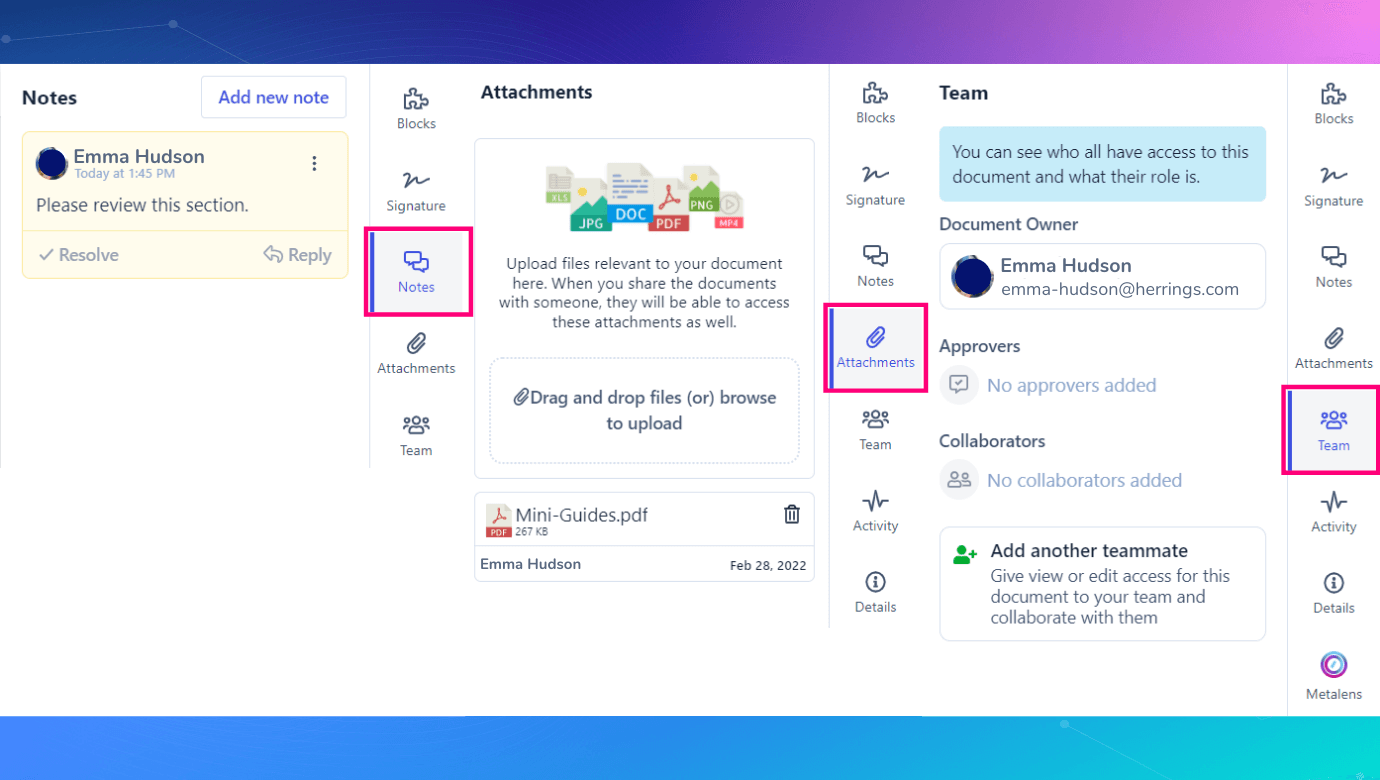 👉 Automate the configure price quote process with Revv
Doing repetitive manual tasks is boring and monotonous. It kills the productive hours that salespeople should be spending focusing on revenue generation. It increases the chances of errors and omissions, especially in situations where the information is stored in multiple places and requires manual copy-pasting. Also, the quoting process involves multiple teams collaborating over a single document.
CPQ solutions provide a common platform for discussion in real-time. It allows you to collaborate with your teammates within the document while breaking other confusing communication barriers like emails. A few ideal CPQ tools also let you track user activity with timestamps to ensure accountability.
What can you do with Revv?
The below-listed Revv features let you automate your quoting process with much ease. So let's dive into the details to understand them better.
Integration with external business apps
Data scatter is one of the biggest challenges faced by businesses today. If you look at the quote creation process, in most situations, the leads' or prospects' information is stored in a CRM platform like Salesforce. The product pricing details are maintained manually in a Google Sheet. And there is a separate document management software where the quote is created and stored.
Revv bridges these gaps by bringing integration into play. You can close deals faster and boost your CPQ process by connecting your configure-price-quote workflow with other data sources. Revv enables you to seamlessly integrate with external apps such as:
CRMs like Salesforce, ZohoCRM, HubSpot, etc.
Storage systems like Box, Dropbox, Google Drive, etc.
Billing and payment apps like Chargebee and Stripe
Accounting software like QuickBooks
Excel Sheets and Google Sheets to import information
Chat platforms like Slack, Google Chat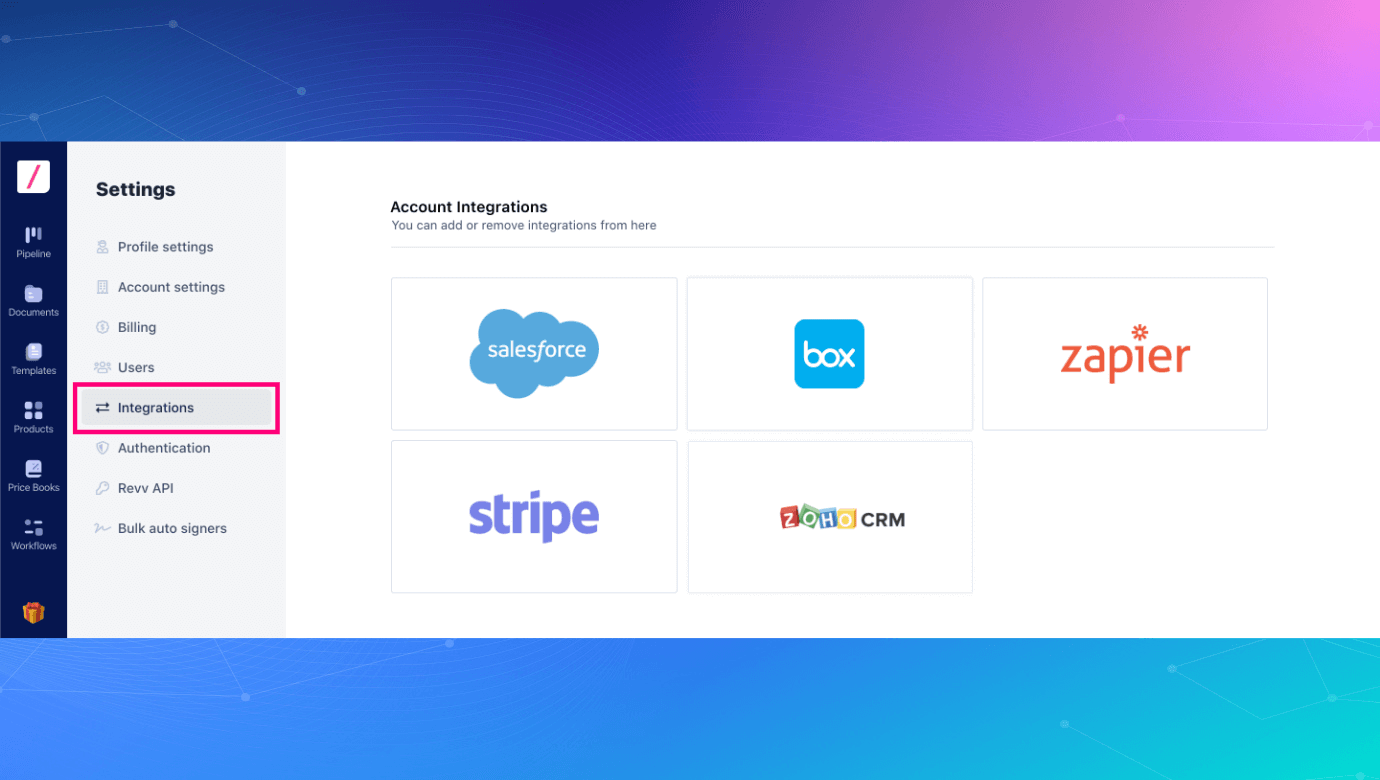 Revv's integration capabilities are further powered by its own native API solutions to connect the CPQ software with other systems of record. Such integrations ensure seamless transfer of data with a faster and improved sales process.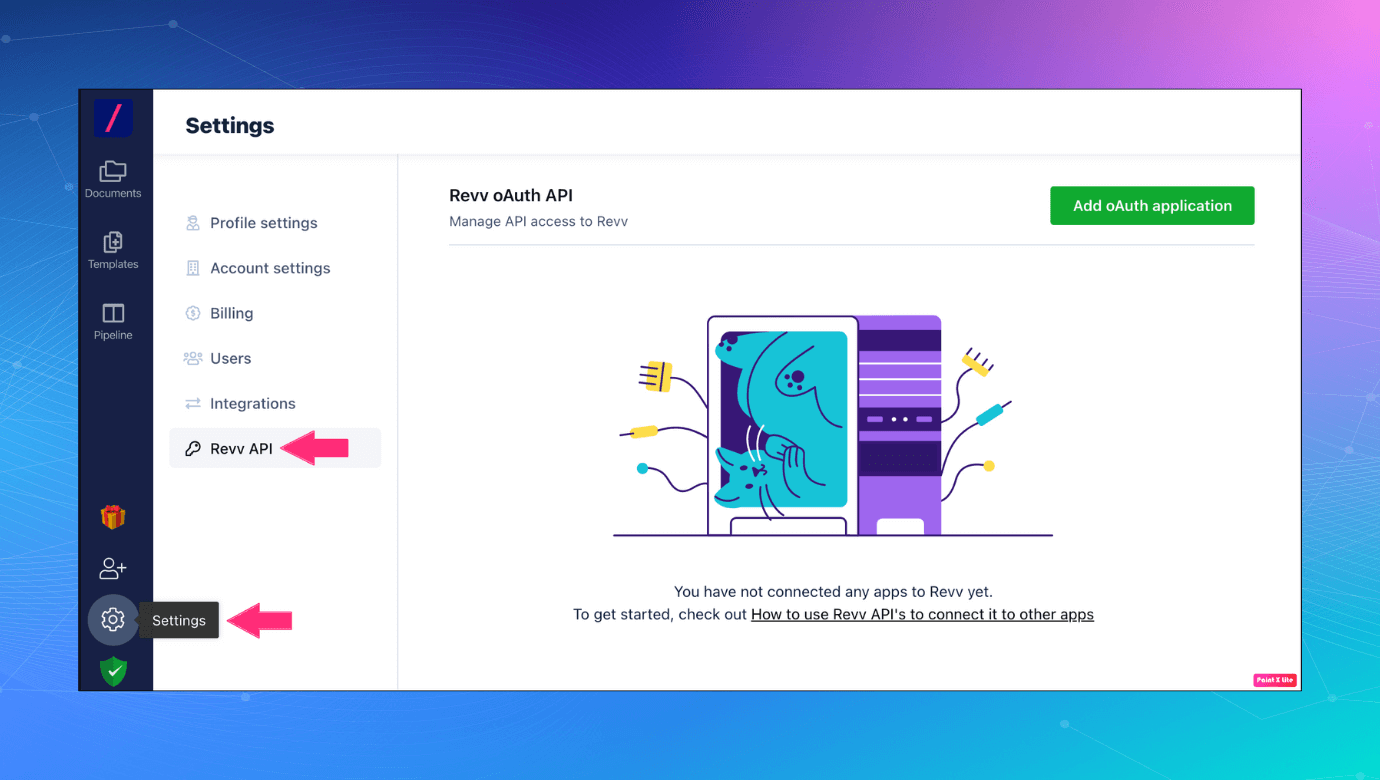 The next step of integration that Revv ventured into is no-code/low code integration methods. Working with APIs requires coding skills which is not the forte of the sales team. Revv also facilitates app syncing via integration platforms like Zapier and Retool. Users with no coding skills can easily create zaps and triggers, stitch multiple apps together, and automate their business process.
Flawless data mapping with Data Studio
Every business' backbone is data that is precise and up-to-date. But transferring information from one app to another can be erroneous, tedious, and slow. This will lead to false estimations, no customer callbacks, faulty business processes, and eventually damage your brand image in the market.
Hence placing your bet on an efficient data-mapping tool like Revv is wise. Revv's Data Studio feature helps you to smoothly connect to external apps like CRMs, ERP, etc., and pull in data from them to Revv documents. A cherry on the cake aspect of Data Studio is that it does not rely on scripts, coding, developers, or APIs, and reduces the data mapping time from hours to minutes.
Data Studio enables you to:
Integrate with multiple business platforms like Salesforce, HubSpot, Excel Sheets, etc.
Map all data from the external app to form fields in Revv with a simple point-and-click action
Generate multiple quotes at once regardless of the size or complexity of the data
Send quotes for eSignature and close deals faster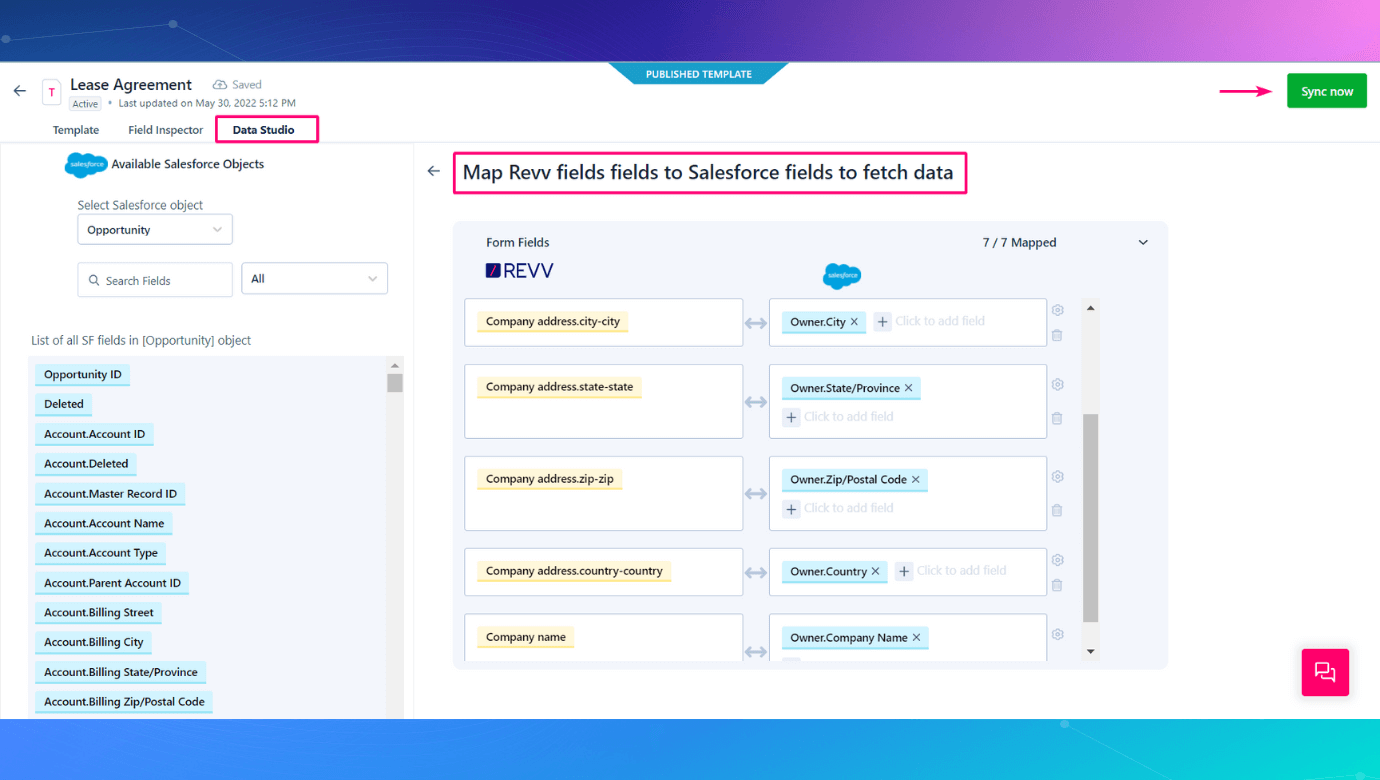 Capture information using Form Fields
All quotes have redundant fields like date, address, phone number, name, etc in them. Entering information in these fields every time you create a quote is a waste of time. But with Revv's Form Fields, you can create fillable placeholders for such repetitive fields and transform your documents to webforms. This automation feature helps you to create quotes quickly and close deals faster.
In Revv, you need to add form fields to a template and convert it to a form-based template. Next, whenever you create a quote from a form template and fill the unique form field once, you will notice that other appearances of the same form field in the quote will be automatically filled. You can also assign form fields to recipients and gather details from them.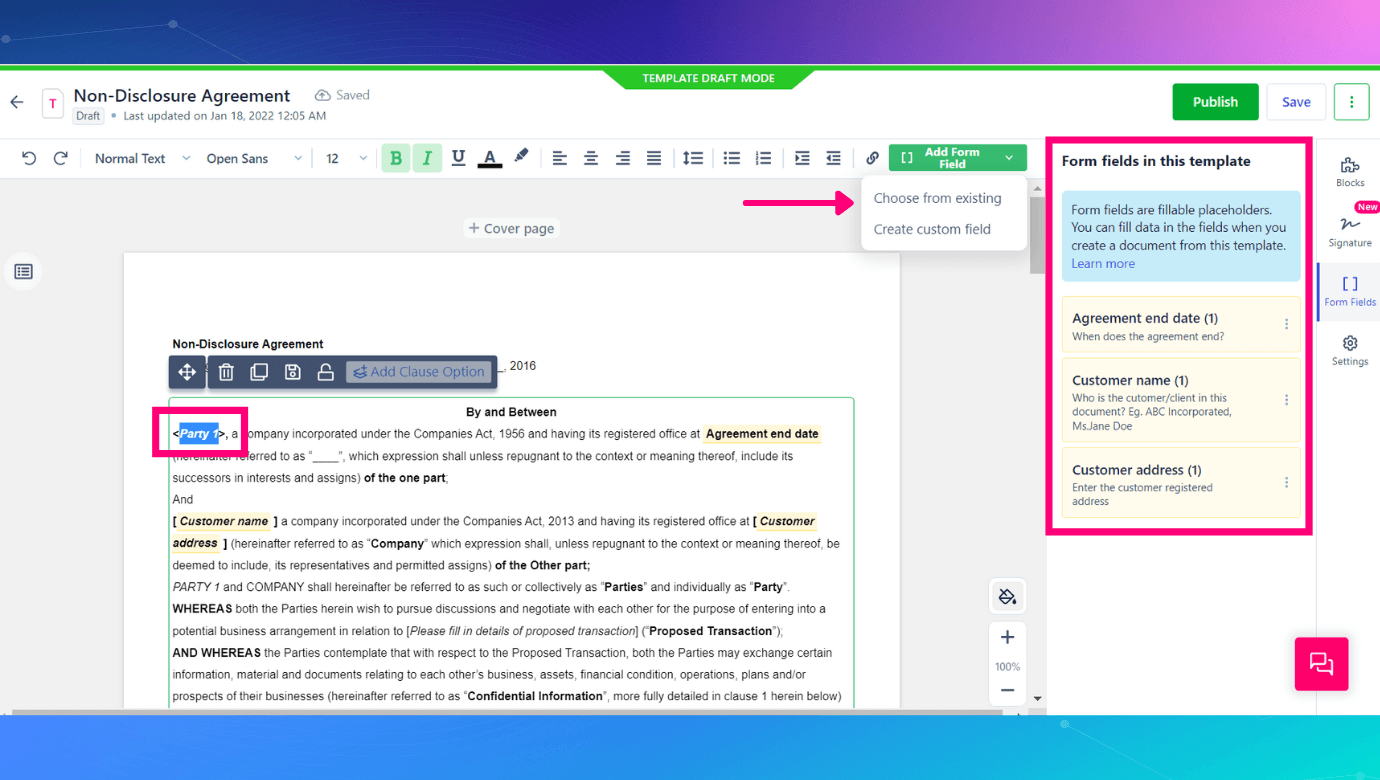 Fine-tune your quote process using Pipelines
Every business has innumerable processes, and each process has its own steps. For example, a quote goes through multiple steps like draft, review, approve, close, etc.
Manually handling all these steps can lead to disarray, and the chances of skipping a crucial step are high. To avoid this chaos, try automation with Revv's Pipelines feature!
The Pipelines feature allows you to automate your complete quoting process and eliminate repetitive tasks. It provides immense possibilities to configure associated jobs and reminders whenever a quote reaches a new milestone.
Excited? Let's learn more about operating Pipelines in Revv.
Pipelines in Revv follow the Kanban method. Therefore, you can create multiple pipelines based on your business processes. Each pipeline contains customizable lanes that define the steps in a process. For example, you can have a pipeline called Sales documents that will host all your quotes, invoices, etc. with Created, Approved, Sent for eSign as lanes.
One glance at your pipeline and you will get a grip of all the company's documents and their statuses.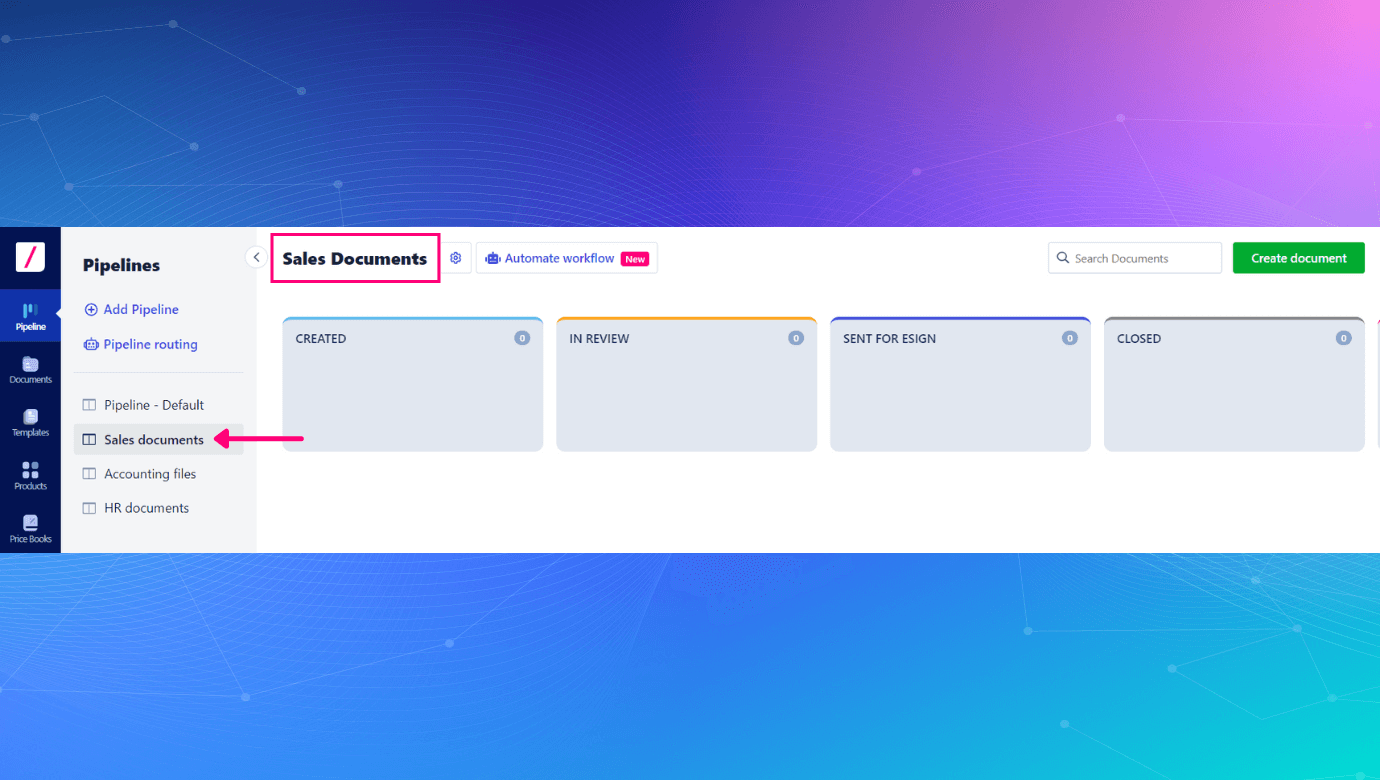 Naturally, you might want to segregate your documents according to your process. Our Pipeline Routing feature channelizes all your documents to respective pipelines based on triggers and actions.
For instance, you can set a routing rule to send all the documents created from the Sales Quote template to the Sales documents pipeline. Similarly, you can create another rule to send documents created from a Sales Invoice template to the same pipeline. Now you can view all your quotes and invoices under one pipeline, i.e., the Sales documents pipeline.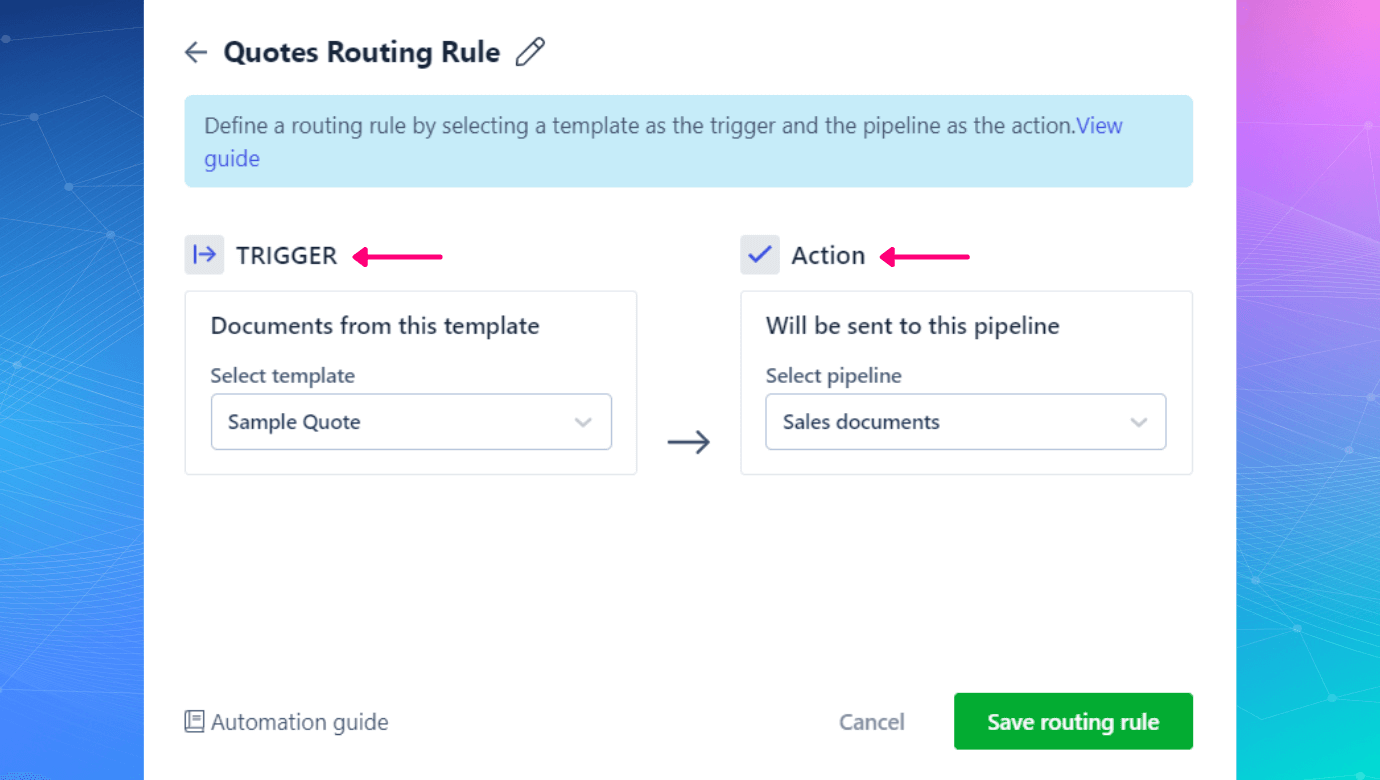 Once a document is sent to a pipeline, its movement within the pipeline is configured in lane transitions. Lane transitions work based on lane events which are the entry conditions of a document in a lane. Only when you assign a lane event to a lane, the transition will take place in the pipeline.
For example, when a quote is internally approved, it will be moved to the Approved lane.
You can add tasks or jobs to lanes that will be done when a document enters that particular lane.
For example, you can notify your Sales Manager when a quote is in the Approved lane.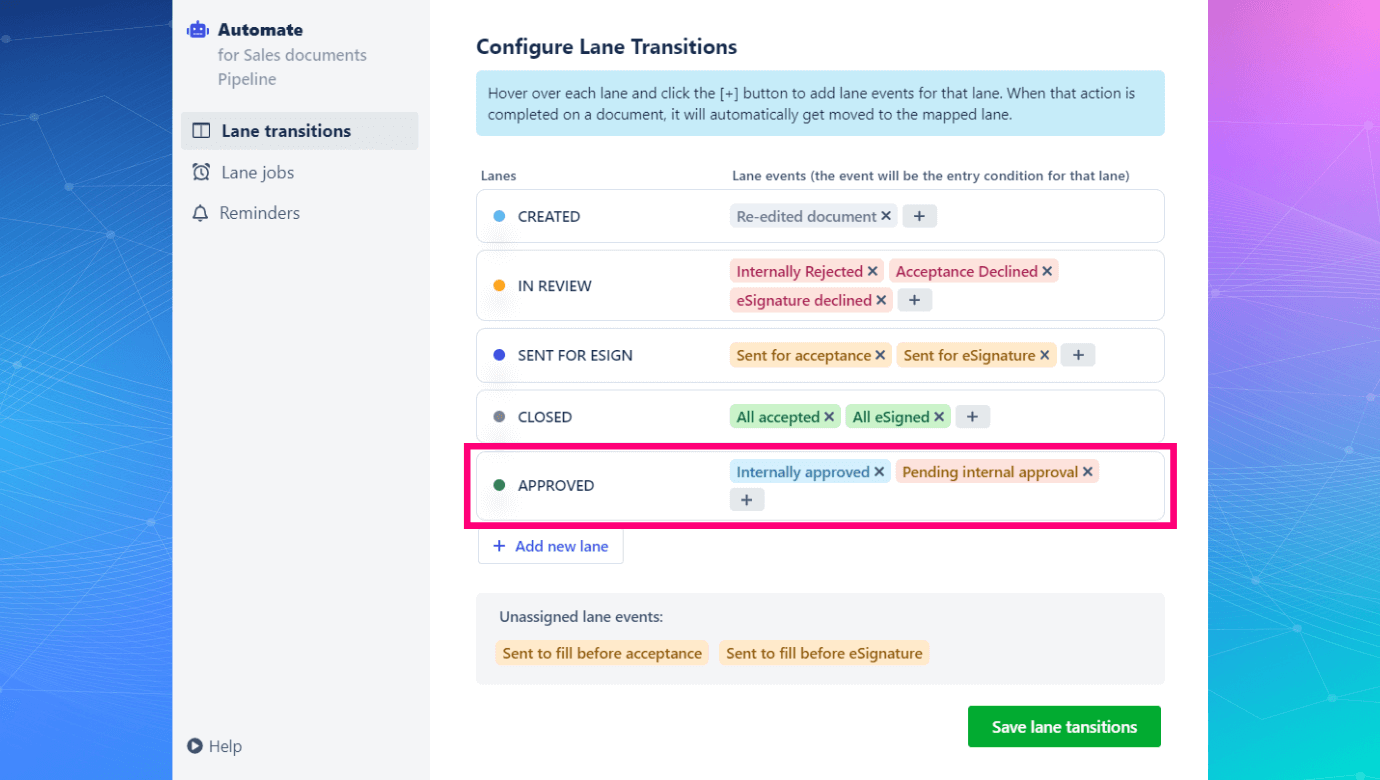 Last but not least, you can set reminders that inform a document's recipient to complete a pending action. It will be applied to all the documents that enter a particular pipeline.
Quick reviews using Approval Workflows
You can bind approval workflows to a quote or only to the products or services in the quote. Every time you send a quote for internal approval, Revv checks for any configured approval workflows and acts accordingly.
Revv's approval workflows contain two parts — Conditions and Actions.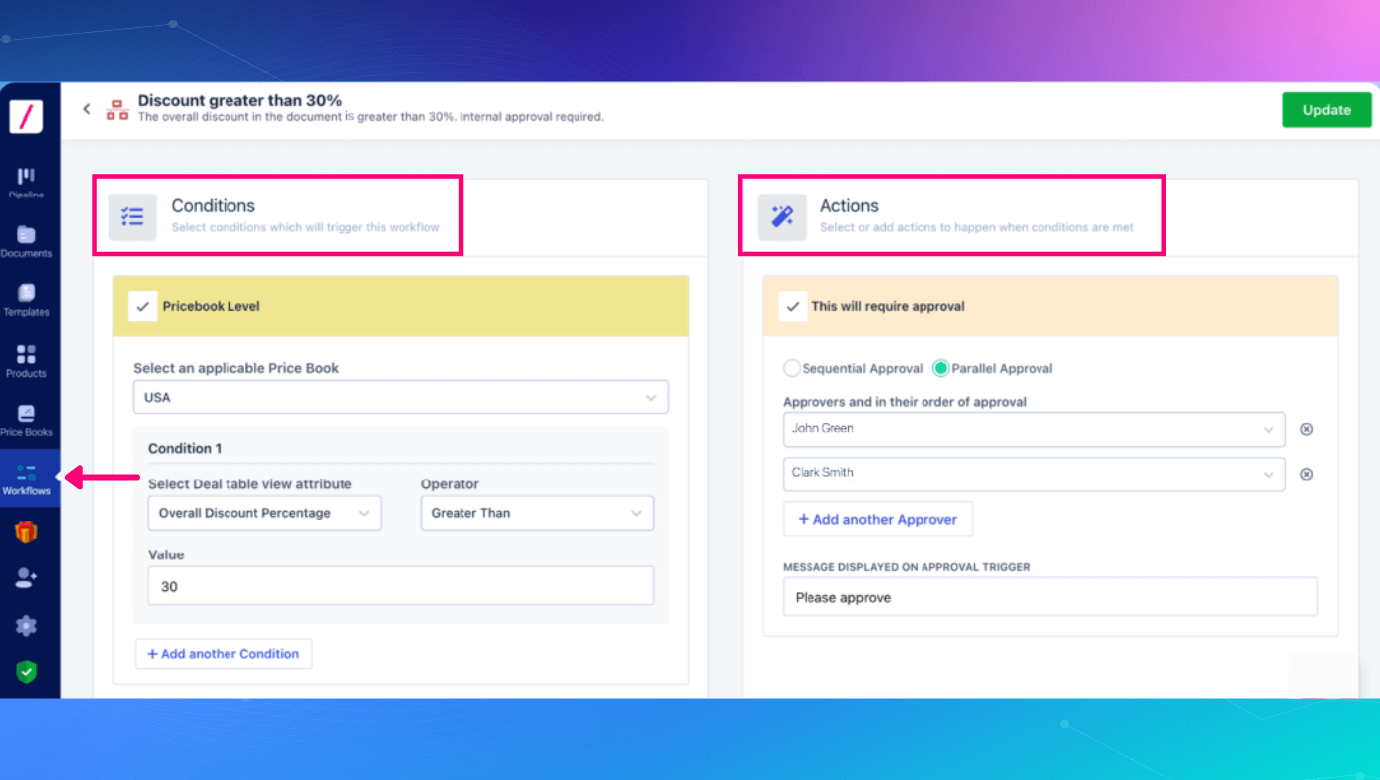 If you occasionally wish to send quotes for a review then select the Send via email option in Revv. With this, you can directly send the quote to the recipient and permit them to view or edit the quote.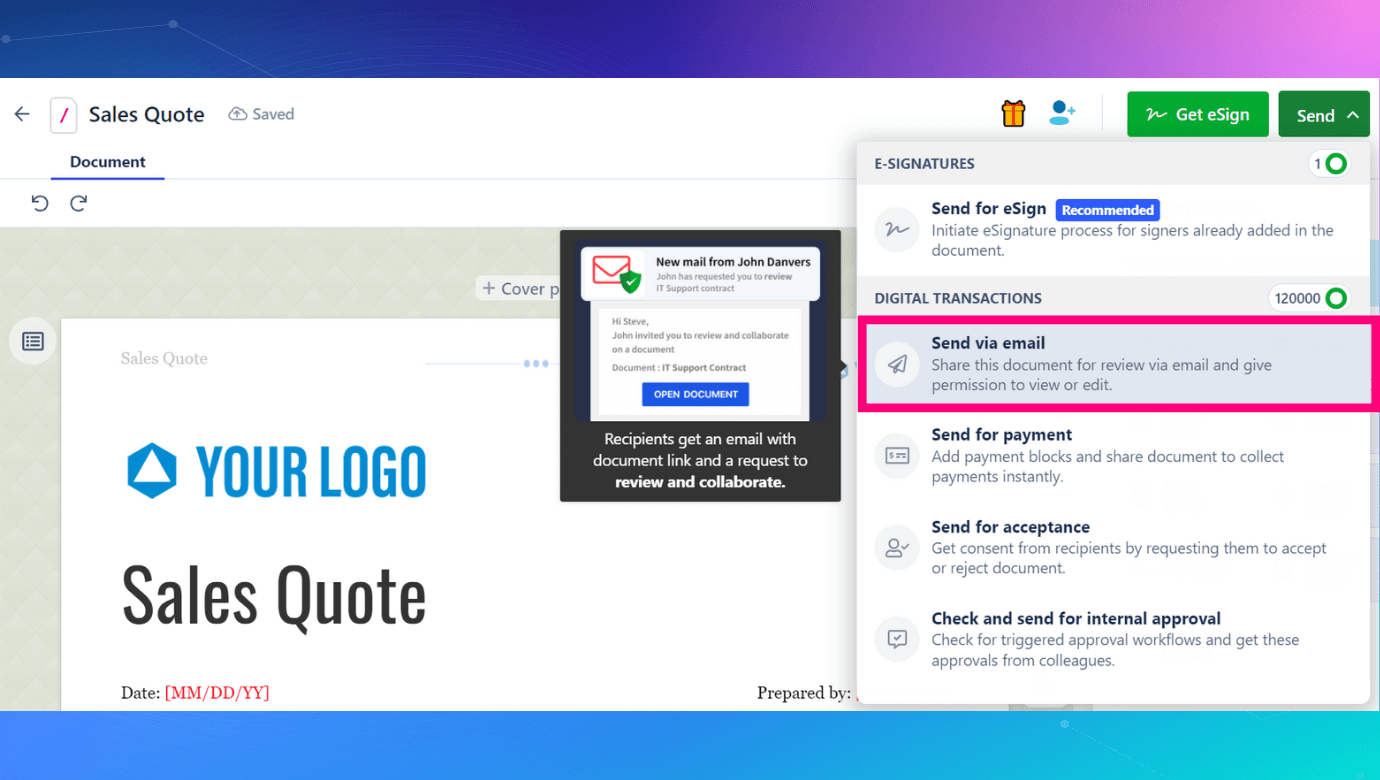 Close deals in a click with eSignatures
The end objective of implementing a CPQ solution is to convert prospects into customers and improve the lead conversion rate.
With Revv's in-built eSign feature, you can send a quote or any document for eSignature within the system and not rely on external apps for the same. Revv complies with local and global eSignature laws including ESIGN Act, UETA, and eIDAS Regulation. It also provides an extra layer of security via SMS-OTP and video authentication so that you are aware of the signer's identity.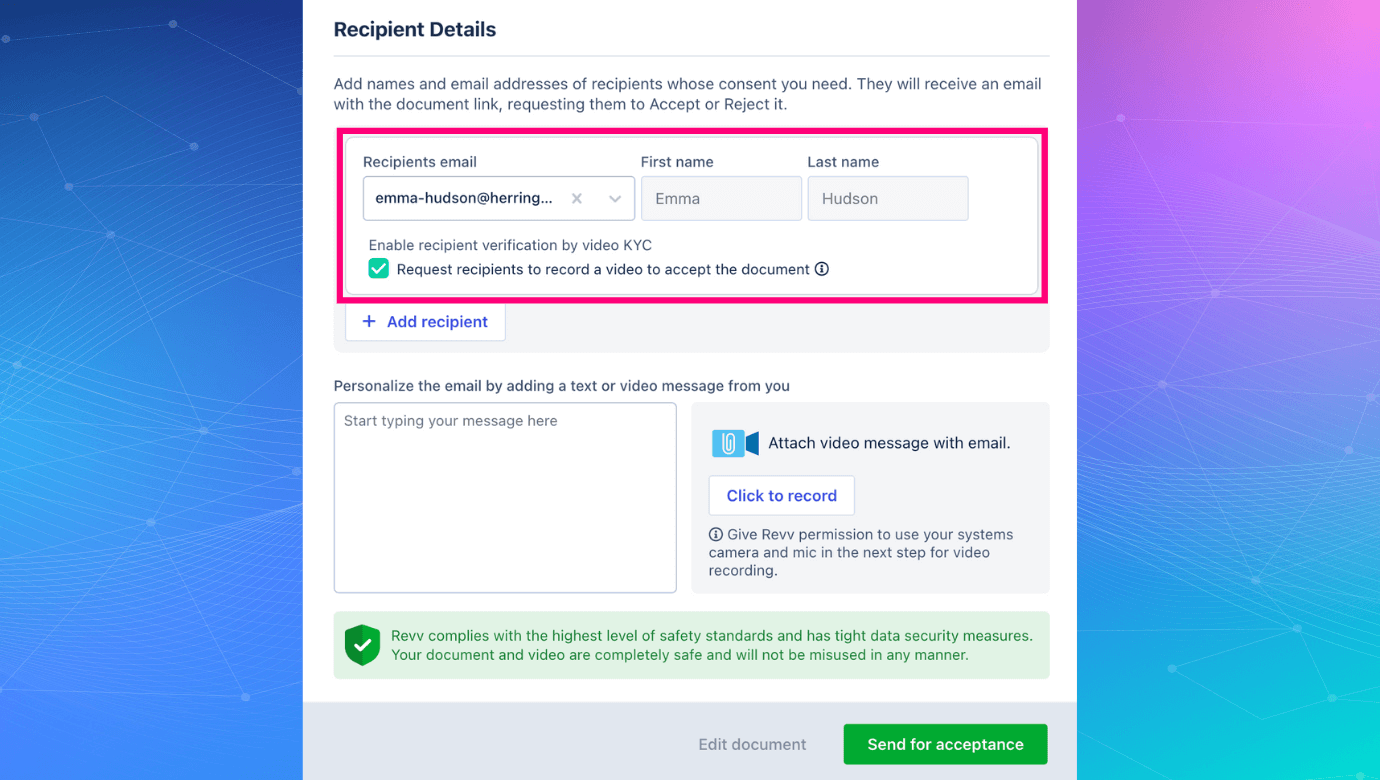 In Revv, you can drag and drop the signer blocks in the document and assign specific signers in the quote, ensure that customers agree to the offerings, and sign the deal successfully. The good thing is that your customer can choose how they wish to place the signature. They can either type the signature, draw it with a mouse or stylus, upload a scanned copy of the signature, or use a crypto wallet — all in just a click.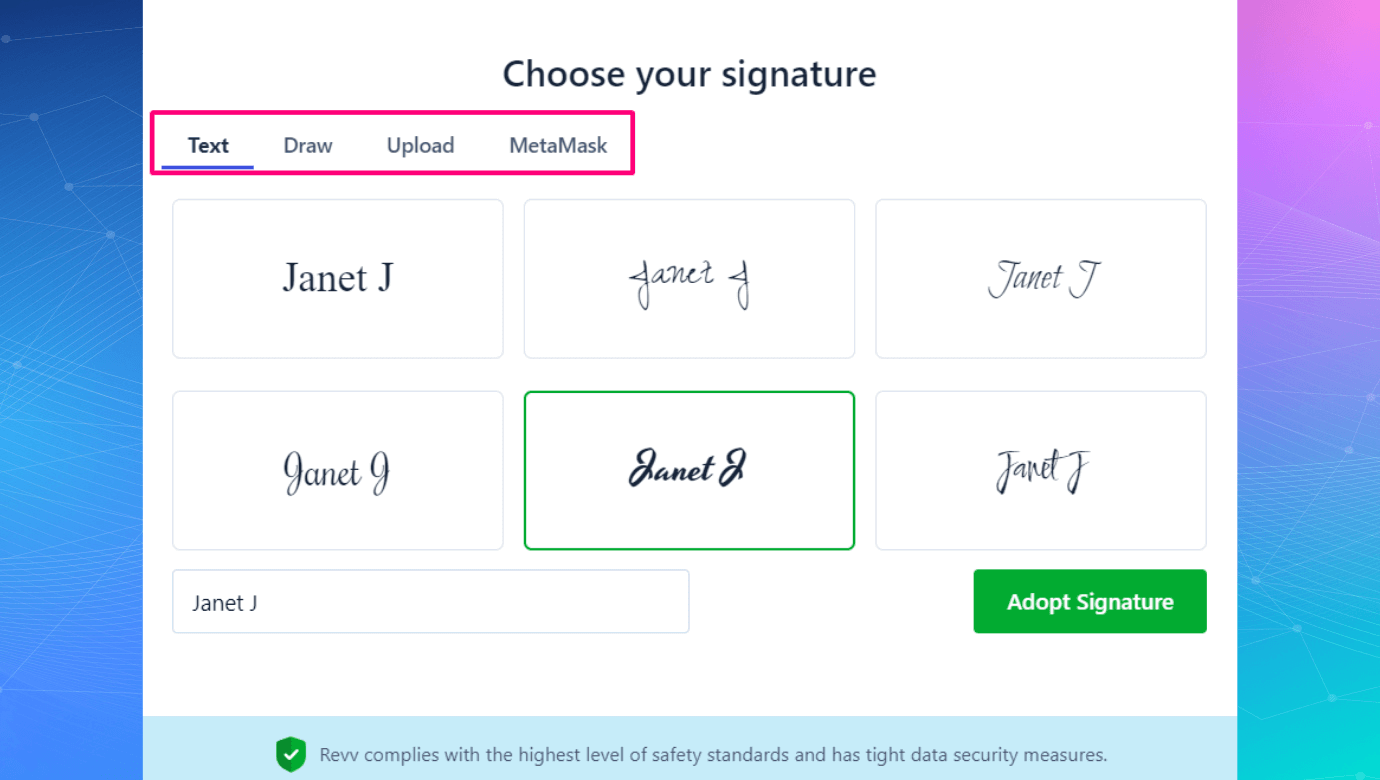 After the eSign process is finished, Revv also generates an Evidence Summary for all the documents. It is an audit trail, a digital certificate that records all actions taken during the signing process, which includes – the signer's information, date and time stamp of each action taken by the signer, their IP address, and other details that act as legal proof. It can be downloaded as soon as the signing is complete by all the signers.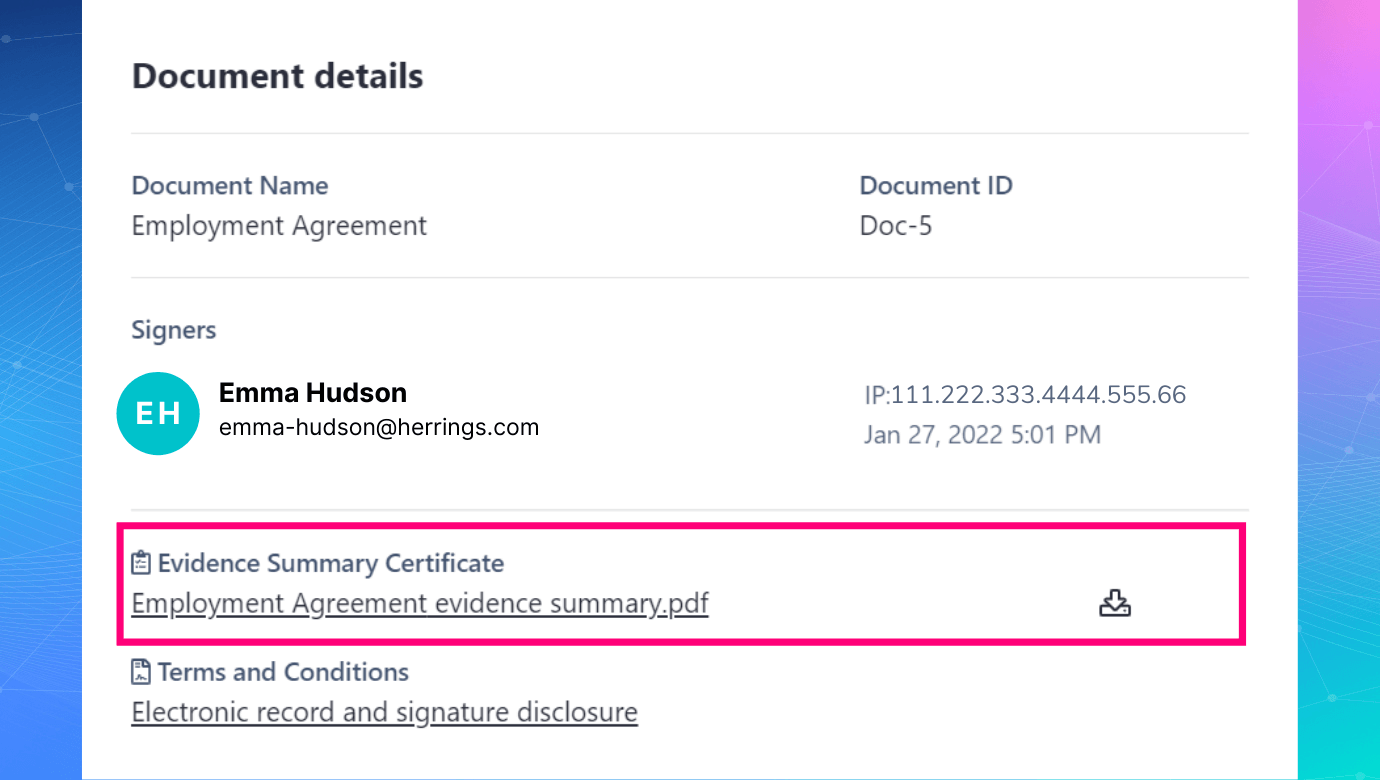 What if you don't need an eSign but just the consent of your client on a document?
For such scenarios, you can use Revv's soft sign – the Send for acceptance feature as an alternative to eSignatures.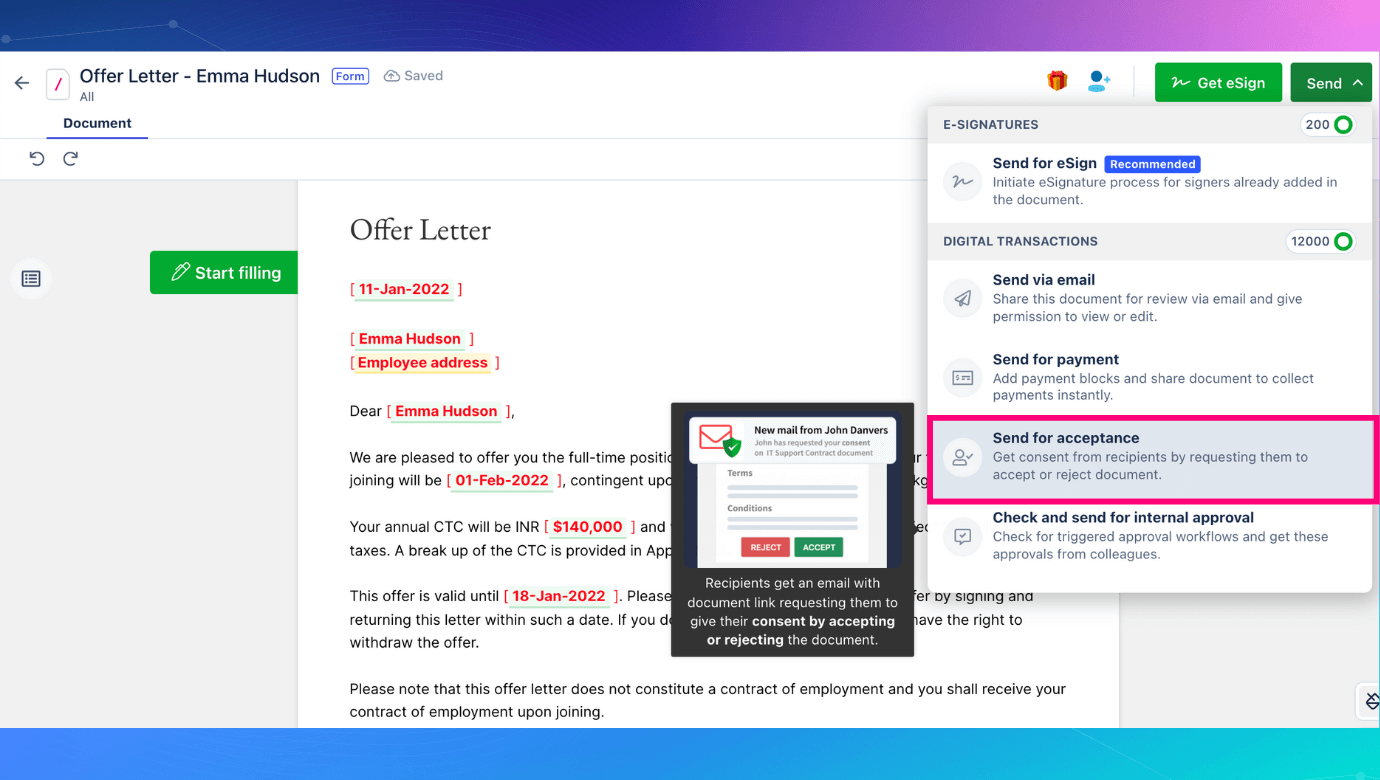 Monitor the quote status using an Activity tracker
The Activity feature in Revv helps you to track user activity within the document even after the document is sent to the customer. It shows information like – who opened the document, who viewed the document, who signed the document, along with timestamps.
This helps the sales teams identify the process's bottlenecks, like who viewed the documents but didn't sign. They can later reach out to the customer and resolve any queries or issues holding them back. This aligns the steps, speeds up the deal closure process, which is possible if you have a CPQ tool like Revv.
Revv | The ultimate Configure-Price-Quote (CPQ) tool you need
Time plays a very crucial role in the sales process today. As mentioned earlier, the increasing competition and the demand for highly customized offerings have left businesses finding new ways to bring speed and agility in their quote to cash process.
Revv, the ultimate quoting and CPQ tool offers a range of features to improve, automate, and amplify your sales process. It focuses on enhancing the customer experience because a happy customer is bound to return.
You can also check out the list of most prominent sales quoting and CPQ software in 2021 before making an investment decision.
Frequently asked questions
What is a CPQ tool?
A CPQ tool like Revv simplifies the quoting process by enabling users to configure product and service offerings, pricing rules, discounts, etc. It facilitates error-free quote generation with real-time pricing details.
What does CPQ stand for?
CPQ stands for Configure-Price-Quote. A CPQ tool like Revv is an all-in-one sales tool that helps you configure products and services, add appropriate pricing to them, and generate quotes for customers.
What are CPQ products?
Revv is an excellent CPQ product that eases the configure price and quote process for sales teams. It enables you to configure products catalogs, define pricing for them, and create quotes with ease.
How does a CPQ work?
A configure price quote (CPQ) tool like Revv must offer the following facilities:
Add products and services
Define pricing details for the offerings
Create error-free quotes