Quoting software gives you the power to deliver custom quotes within a matter of minutes.
With Revv, you have the best quoting software that will amplify your sales efforts through features like custom templates, analytics, actionable insights, automated workflows, document management, payment integration, 24X7 customer service in the form of email support, and much more!
When a prospective buyer expresses interest in your offerings, responding with an impeccable sales quote will help to create a positive impression. A sales quote will lead you to initiate the talk with the prospect. So, how do you go about it?
First, let's look at the traditional way that many companies follow even today.
To start with, you'll have to manually prepare the pricing list of all the products/services to be included in the quote. There will be negotiations from the client over emails or calls that must be saved for reference.
Most organizations follow this fragmented approach that only leads to untrackable changes. Having to depend on spreadsheets to store your product and pricing information makes things confusing in the long run, especially during renewals. It increases manual dependency and leads to the possibility of errors and discrepancies in your quotes.
A quoting software, on the other hand, will not only help you create an ideal quote in minutes but will also help you keep track of its progress – a tough task in itself. For this simple reason, investing in a quoting tool should be on top of your to-do list.
Comparison chart – An overview of the features of manual sales quoting and quoting software
Creating sales quotes and sales proposals are inevitable parts of a sales process. The sales team can't escape from creating quotes and proposals to bring in more customers and close more deals. But they can eliminate the arduous methods of creating quotes by switching to the right quote-making software.
The manual quote creation process involves mundane jobs like data entry, creating different pricing tables, sending multiple emails to clients and teammates to collaborate, etc.
All of this slows down sales operations, limits the sales team's potential, and results in a poor customer experience.
This is why investing in the right platforms is crucial for sales enablement.
| | | |
| --- | --- | --- |
| Stages of quoting process | Traditional quote creation process | Quote creation process using quoting software |
| Drafting | Sales quotes and sales proposals are created from scratch | You can leverage readymade quote/proposal templates |
| Collaboration | This process requires multiple emails, texts, or calls to review or ask for suggestions | An interface to collaborate with the sales team and customers simultaneously |
| Approvals | Call, text, email, or meet people from the team in person for approval | Set workflow automation to get the quote approved |
| Sharing | Old and messy method of attaching pdf proposals and quotes in an email | You can share the file in the form of a link |
| Tracking | No information or update on the quote/proposal shared | You can track the progress of the sales quote/sales proposal |
| Storing | Quotes/proposals are stored in office cabinets or their pdf versions are saved in different folders | Comes with cloud storage to store huge volumes of files securely |
The market is flooded with many technology service providers offering quoting software. Some examples are PandaDoc, QuoteWerks, iQuoteXpress (IQX), etc. The question here is which one fits your needs.
What features do quoting software need to have to be worthy of your money? Let's check it out.
Well-structured & resourceful sales quotes/sales proposals templates
To ensure consistency among your sales documents, it's important to have a set template corresponding to a specific opportunity. For this, it's necessary to go for a quotation tool that provides a rich set of quotes and proposal templates. The sales tool should have the provision to add and remove the components from the draft, enabling you to customize your template fully. An ideal tool will streamline your sales process by letting you populate a pre-compiled template with the help of a well-defined form.
Revv offers a library of more than 1000+ legally vetted and ready-to-use document templates (quotes, proposals, contracts, purchase orders, etc.). You can simply choose one and edit it according to your needs using Revv's rich drag-and-drop editor.
Revv's form-based templates give you the liberty to fill form fields that automatically get populated in the document.
Sales, proposal, and other document templates by Revv speed up the sales process to help sales teams standardize all documents, and promote uniform brand identity.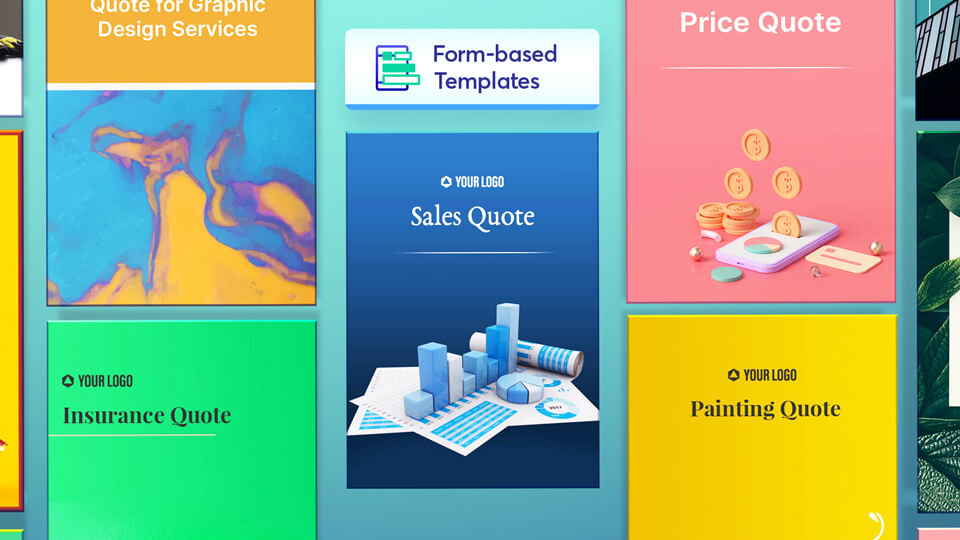 Simplified tracking with multiple viewpoints
One of the major concerns for business owners and, more specifically, the sales department is that they have no idea of the sales quote/sales proposal's progress once it is shared with the prospective client.
Once you share the quote with prospects, the tool should be able to provide you with a real-time, or at least, near-real-time view of your quote's status. Moreover, it should let you organize all your quotes in separate folders. It will be much easier to track the quotes and address bottlenecks on priority.
Revv provides users with a detailed log of all the activities happening on the document. The 'Activity' tab in the software shows the list of all the user activities (who opened, who sent, who signed, and who accepted or rejected the document).
Centralized repository for all types of documents
When it comes to approved quotations, the sales teams must save them carefully for future reference.
This is why you need cloud-based quoting software to provide you with a simplified, yet robust feature to store and retrieve your quotes, templates, clauses, etc. in one place. Look for a tool that also lets you organize them based on different requisites like dates or types, making it easier for you to retrieve them when needed.
Revv is a cloud-based software that offers a minimum of 5GB to a maximum of 100GB storage for your quotes, proposals, and other crucial business documents. Revv helps users to create folders and sub-folders to categorize and organize quotes/proposals based on products, accounts, projects, opportunities, etc.
You can also manage your cloud-based repository in an organized manner with the role-based document access feature.
Provisions for storing & accessing multiple pricing-books
A product catalog with a corresponding price list transforms a generic document into a quote. So, quotation software needs to provide you with the option to update, store, and manage your comprehensive product catalog and pricing books with ease. Moreover, quoting software should also let you export the information from a third-party tool like a CRM if you'd like to.
With Revv, providing pricing in the quotes and proposals becomes seamless. You need to add a 'Quote table' to the quote. Once the quote table is placed in the document, select a price book to insert the products in the quote. A product catalog window appears once you select the price book; it lets you add relevant products/services to the final quote.
Simplified & intuitive user interface for a better sales process
What would you do if a quoting software has all the features you want, but is quite difficult when it comes to accessibility and navigation? You will get frustrated, right?
Go for a tool that is easy to use for all the employees in the organization. In order to make an informed decision, it is important to take a trial and look for training opportunities before you invest in the tool.
The quoting software from Revv is one such solution that has an ideal mix of ingenuity, simplicity, and functionalism. It provides an easy-to-use interface letting your employees easily navigate its features. You can automate the entire sales process without any prior technical knowledge using no-code workflow automation.
Provision for internal & external communication
Imagine having a real-time interaction with the prospect in the form of messages that appear in a panel right beside the quote. So, when a customer wants to discuss the quotation with you, they do not need a separate messaging tool like an email or chat to communicate.
Amazing as it may sound, a quoting software also allows –
Peer-to-peer interaction among individuals who are responsible for the creation and approval of the quote
Capturing and storing all the communication about the history of that quotation – from draft to signature, all in one place under the comment section.
Sales teams can communicate with internal as well as external members using Revv. Your customers and teammates can collaborate over a single document; they can add notes, comments, and tag relevant people using the @mention feature. This feature enhances the customer experience as they do not have to go through multiple emails to review, edit or give feedback on the quote.
Smooth cross-department collaboration enhances business operations and improves the overall sales cycle.
E-signature in sales quote/sales proposal for remote authentication
You no longer have to travel miles to get the signature of your clients who have accepted your sales quotes, saving you enough time and effort. Even though the quotation as a document is not legally binding, a signature from an authorized signatory would always give it a sense of authenticity, which can be done much more quickly through the integrated e-signature feature provided by this tool.
Revv's e-signatures are secure and easy-to-use; they are legally valid in more than 60 countries that have enacted electronic signature laws. Here are some more benefits of using Revv to eSign quotes/business proposals –
Different ways to eSign – Users/customers have the liberty to choose the way they want to sign their quotes. They can give their full name, draw their signature, upload their signature or even connect with their crypto-wallet to sign off their quote documents.
Fill and sign – Using this feature, you can ask the signer to give more details along with the signatures. With the 'Fill and Sign' feature, you can give signers access to fill the forms within the document itself.
Upload documents for eSign – It's not mandatory to create documents inside Revv to leverage the eSign feature. Users can upload documents (file formats should be PDF or DOCX) made outside Revv to fetch e-signatures. All they have to do is upload and add an e-signature block to the document.
Evidence summary – Once the customer signs the document, Revv provides you with an evidence summary consisting of signing ceremony details, signers' details, and an audit trail. You can download this summary as a pdf for reference.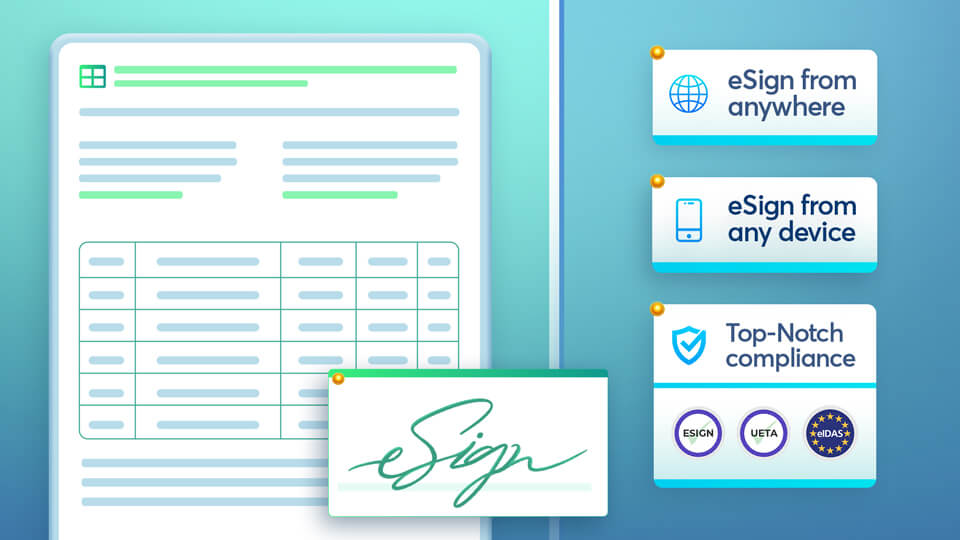 Data-driven process map
In addition to providing a real-time view of document status, quoting software also has the requisite features to manage the associated risks like losing a sales quote or not being able to keep a track of the negotiations. This can be really vital when you have to understand and minimize the bottlenecks, letting you constantly improve the usage and efficiency of the resources.
Workflows & approval management
Every quote has to go through multiple approvals and revisions before it finally gets accepted and signed. However, to ensure the approval process follows a set of predefined rules to keep the document in line with the business needs, it's important to chart out the workflows.
Being one of the best quoting software, Revv, a software solution offers exactly that and much more. It gives you the option to use dynamic fields to create customized workflows. The fool-proof workflows and user-level authorizations make it much easier to manage the process, never letting things spin out of control.
It lets users leverage its no-code automation workflows. These workflows increase the sales team's productivity by helping them achieve sales quote automation, proposal automation, and automation of other documents (agreements, contracts, purchase orders, etc.).
Revv's pricing plans – Satisfaction guaranteed!
Revv offers customized pricing plans for suiting your different business requirements.
Know more about Revv's pricing plan.
Want to choose the most suitable quoting software for your business? Ask yourself these 10 evaluation questions and make the right choice.
Get the best quoting software and get rolling
Being a cloud-based insight-driven tool, the best quoting software, Revv, covers all essential aspects that help in achieving higher efficiency, bringing stronger control, and making better decisions. So, if you've decided to move away from shared drives, spreadsheets, and untrackable docs to a seamless, intuitive, and simplified way to build, share and approve your quotes – Revv should ideally be your first choice.
Sign up with Revv now for a free trial.