Investing in the right software is crucial to creating the perfect tech stack for your business. Sales quoting software or sales quotation system is an important tool in the sales tech stack that drives critical activities in your sales processes.
Quotes or sales quotes or price quotes are critical sales documents. These documents convey the cost of goods and services to potential customers before they make the final purchase. Being a negotiable document, a sales quote goes back and forth between the concerned parties until reaching a final agreement. So, it is essential to invest in cloud-based quoting software that streamlines the process and simplifies the way you create quote documents.
There are several factors to be considered when you choose the quoting software. You will need to consider whether the quoting and proposal software is adding value to your sales team and can scale with your business solution.
It is enticing to opt for a tool with a long feature list but it is important to ask the right questions before making the final decision.
Producing timely, accurate, and complete quotes can result in a 60% increased chance of winning a deal successfully – Forbes
Quoting software – Does it speed up your sales process?
If a customer asks for a price quote, it means that they have a high intent of doing business with you. This is the stage where new business is won and lost, so it's important to get it right. The quicker the sales quoting process unfolds, the higher are the chances of converting a prospect to a committed customer. So, how will quoting software help you with your sales operations?
Create a quote within minutes
Sending sales quotes is a very time-bound activity. If you respond promptly to Requests For Quotes or RFQs, it increases the chances of closing more successful deals.
A good sales quoting software will have a template library that offers quoting and proposal templates and other business document templates for you to use. Users should be able to easily customize these templates with the quote and proposal software to make the overall sales cycle much more shorter and efficient.
Integrations with business applications – sales automation
Many times, the information to be updated in a quote document template is extracted from other business applications like CRM, Google Sheets, or any internal tool where the data is stored and maintained.
Manual transfer of such critical information is risky and can be impacted by unintentional human error. Many sales quoting tools allow seamless no-code integrations that connect multiple systems of record and ensure a smooth flow of information.
Working with product catalog
The product catalog lists all the products and services offered by your company. It streamlines the product configuration process.
A sales quotation system with the capabilities of a product catalog enables sales teams to manage the product list with much ease and facilitates faster approvals to meet the RFQ (request for quote) timelines.
The sales team can match their product listing with the list shared by the buyer in their purchase orders when finalizing the deal.
Create multiple price books in your sales quotes
Create multiple price books depending on the currency, geography, buyer group, etc.
Price books simplify the task of listing products and services. All the listed products are configured with their respective pricing type and pricing method with attached automated approval workflows on product discount, quantity, etc.
Some tools even offer efficient search functionality and product grouping options to ensure more effective management.
Set approval workflows
Sales quotes include information about pricing, discounts, taxes, etc. These are important information that needs to be reviewed and approved by managers.
An ideal quoting software lets you set approval workflows to ensure proper checks at every level before the quote is sent to the customer for e-signature.
Track the document's progress to identify bottlenecks
Sales reps should keep a track of their quotation document during the document creation process and also after the quote is sent to the prospect or customer for review or eSignature.
This helps in prioritizing tasks to ensure that the quote seamlessly moves through the process overcoming bottlenecks like approvals or reviews and enables quick quote generation and faster deal closure.
Practice the ease of e-signatures
It's never been easy to get a signature, especially with remote working taking over the way businesses function today. A sales quotation system with seamless e-signature capabilities allows users to sign a document from anywhere and from any device with just a click on the screen or a tap on the mobile.
The purpose is not to hasten the sales cycle but provide users with ease of signing documents from the comfort of their homes. Many users today are still anxious about switching to electronic signatures due to a lack of clarity over their authentication and security.
Signing quotes and proposals electronically add value to the sales process by increasing the selling velocity with a better customer experience and a higher level of customer satisfaction.
Scalability  – From SMEs to large-scale enterprise
It is very important to check whether the tool is scalable especially if you are on the extreme end of the measurement scale.
A small-scale business would prefer to opt for a tool that can even accommodate just one user in comparison to a big enterprise that will have a minimum requirement of say 500 users to start with.
This makes a huge difference when finalizing the tool for your organization. So here are a few things to consider before you make the purchase –
No. of quotes generated
Large-scale enterprises are looking for quoting software that can support their requirements of generating multiple quotes and proposals at a point in time due to the extensive business size and huge customer base.
But, this might not be the most sought-after feature for SMEs.
Repository for quotes
Opting for software with a document repository is critical for both large-scale businesses and SMEs
It helps to keep all the quotes and proposals organized in one place and averts the possibility of losing out on important documents that can be required in the future.
However, larger companies may want to sync the final quotes with their current system of records, such as their CRM tools. Many quoting tools come with integration capabilities to automate the end-to-end sales quoting process.
User Management
Businesses with a lot of quoting tool users seek out ways to effectively manage them without compromising on the sales process.
Role-based user management limits the access of users depending on their roles like sales reps might have access to only certain templates and limited or no access to edit documents and price tables. Or only managers can approve requests for changes in quantities or discounts, etc.
It is a critical feature for SMEs to adapt too, if they hope to achieve long-term growth and sell like big players in the industry.
Seamless integrations
Easy integrations with other software like CRM or ERP make life much simpler. Innovative tools can pull data directly from CRM or ERP platforms to sync it with your quotation software and ensure no loss of data.
It reduces the chances of error while transferring or duplicating contractual content. Almost all enterprises look for software with capabilities of simple integrations.
Smooth onboarding
The time it takes to onboard and gets started with the tool is very critical. You have to ensure that the software is compatible enough with the resources and team that will be using it.
Large-scale enterprises have to be extra careful because the tool will be accessed by several teams, and if it is not user-friendly, it will severely impact the work and overall team morale.
In most companies sales teams are busy setting effective sales processes in place. So, all they need is a tool that allows them to spend more time with their clients and less on paperwork.
Quote creation simplified with Revv
Revv is a modern quoting software that lets you create, send, manage, automate, and eSign quotes, all in a single platform. Its several features aim to optimize the sales process and close deals without any hiccups.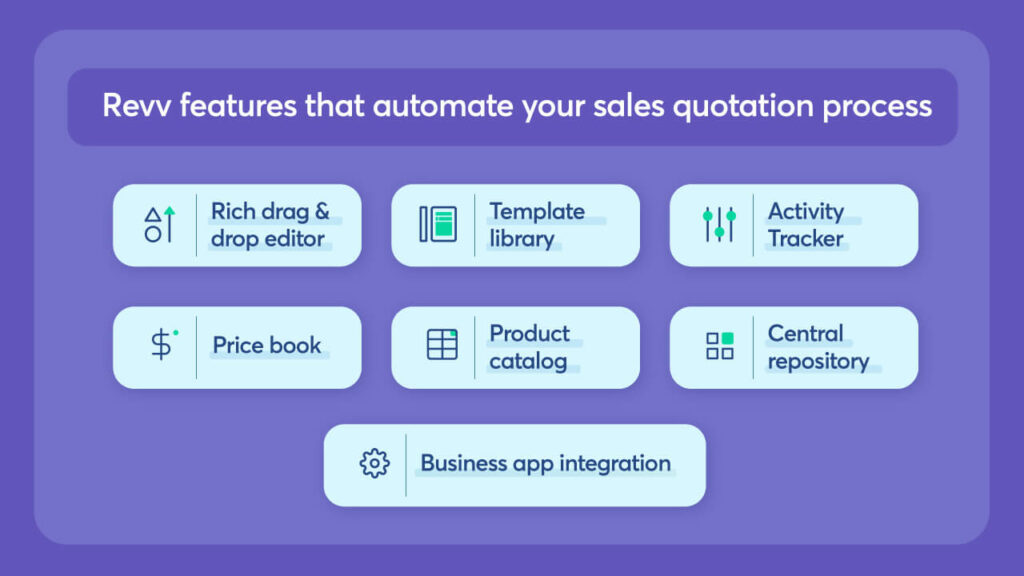 Rich drag-and-drop editor
Easily create a quote with Revv's intuitive editor. You can use a template or upload your own quote to customize it with Revv's editor. Its several design features let you edit text blocks, add images, and make the quote attractive to hold the prospect's attention.
Easily accessible template library
Revv offers a library of legally vetted quote templates and 1000+ other business templates that can be easily customized as per your brand guidelines and client requirements.
Activity tracking & analytics to keep the quote engine running
You can track the status of your quote with Revv's activity tracker, once the document is sent to the client or prospect for review and signature. It shows information like – who opened the quote, who viewed it, who signed, accepted, or rejected the offer.
The sales team can prioritize their task accordingly and reach out to prospects as per their action within the quote.
Central repository to organize quotes in file formats
Storing and managing quotes and other contracts in Revv is very easy. You can create folders and sub-folders to store all your quotes which are easily retrievable for any future reference.
eSigning documents with one click
Revv empowers its users with bank-grade eSignature capabilities. The user can eSign documents from anywhere and on any device be it their mobile phones, tablets, or laptops. With Revv you can personalize your eSignatures as you wish. You can choose from pre-formatted text styles, draw them, scan and upload or connect your crypto-wallet like MetaMask.
Also, to instill confidence about the authenticity and validity of eSignature among its users, Revv offers an evidence summary certificate that captures all the required details of an eSign transaction – basic signer details, signing ceremony ID, audit trail with timestamps, etc.
Business app integration capabilities
A common struggle of teams across businesses is to deal with data scatter. Different types of data are stored in various tools. With Revv's low code/no-code integration, users can stitch together different tools with Zapier or native API integration to ensure a smooth flow of information without any risk of loss or damage. You can easily integrate with your current CRM tool and automate the sales quotation process for your business.
Native API Integration – Revv also provides a public API that enables any application supporting HTTPS requests to create and send quotations and other documents. Revv's API follows OAuth 2.0 which requires a three-step process to get an access token as part of the authentication header.
Zapier Integration – With Zapier integration, you can connect Revv with other third-party apps using simple triggers and actions to automate the task. For example – You can connect the Revv app with Slack and use triggers and actions to directly send a document for eSigning to the assigned signer in a specific slack channel.
The basic requirement is for you to have an account on Zapier and another third-party app that you want to connect with Revv.
Built-in product catalogs and price books
You can create multiple price books depending on geography, currency, buyer groups, etc. Select a price book when drafting a quote to add configured products directly into your document.

Creating and managing your price book in Revv
You can create your own price book in Revv with a simple three-step process –
Click on the price book icon on the left pane
When the price book page opens, click on the "+ create new price book button"
Update required details – price book name, small description for the price book, and select the currency you want. Click add.
And voila! You have successfully created your price book.
Revv also lets you add, store, and manage all the products and services that your company sells. All the listed items are easily configurable and stored in a spreadsheet-like layout. You can manage the product's lifecycle with Revv's product catalog.
Adding and updating products in the product catalog
Open the products page
Click on the "Add new product" button
Update all the fields in the pop-up box like product name, description, SKU, code, product type, and product configuration. Click "add."
The product is successfully added to the list. The added information about the product can be updated at a later stage as per the deal requirements. To do so, you have to select the product cell, left-click, and select edit row. Details of the particular row will become editable for you to change the information as needed.
Learn more about Revv price books and product catalogs.
These unique features make Revv an ideal quoting tool. Revv also offers a fair pricing plan that is designed to meet the needs of SMBs as well as large-scale enterprises.
How does Revv automate your sales quoting process?
Now that you know Revv's capability as a quoting software, you can leverage specific features and automate the way you create, manage and store your sales quote documents.
The video below explains how you can streamline your sales quoting process by integrating your CRM (Zoho CRM in this particular example) with Revv using Zapier.
Watch: Streamline Sales Quote Automation with Revv, Zoho CRM, and Zapier
Still thinking about which sales quotation system to opt for?
Quoting and proposal software come with power-packed features. You should choose the one that fits your needs.
The market is full of several quote and proposal software that leave customers spoiled for choices. You just have to pick the one that lets you create well-defined quotes, easily convert approved quotes to sales orders, and in turn, generate invoices – making a complete quote management system.
A quote may be the first formal document that is shared with a new customer. If you get it right, the first impression will count. Good quoting software will do that for you and grow the chances of customers signing on the dotted line.
Revv is a new-generation quoting solution that lets you create and manage quotes quickly and accurately. You can try it out for yourself. Sign up now or schedule a demo.
FAQs
What is the meaning of a sales quotation?
Ans – A sales quotation is a negotiable document drafted by the sales rep and shared with the prospect or client. It contains information about the products or services being offered along with their pricing details.
What is a quotation management system?
Ans – Quotation management system enables users to create, manage, review, and store all quoting and proposal documents in a single platform. A good quotation management system automates the entire quoting process and lets you focus on your primary tasks like dealing with client queries instead of being buried in paperwork. Some well-known quotation management systems are – Revv, Varstreet, and Quotewerks.
How do you automate sales quote?
Ans – Often, the content included in a sales quote is stored in different tools. This data needs to be manually replicated when creating a quotation from scratch. Businesses have a lot of prospects and lead data stored in CRM tools like Hubspot, Scoro, etc, which can be easily integrated with your quotation tools to autofill standard content like company name, contact information, email address, etc in your quotes. Automating your sales quotation process can help you win business deals.