Business continuity is more crucial than ever in today's era of digital transformation. To get the market edge, enterprises are redefining norms by conducting business electronically. Without being in physical presence, many businesses have moved on to remote authorizations when it comes to signing business deals and legal agreements. What keeps them on top of this technological game is something smart and effortless – electronic signatures. It helps maintain the seamless movement of multiple documents across departments like sales, marketing, HR, finance, legal, and procurement.
But, how do businesses ensure the proper authorization of important documents like sales contracts, purchase orders, vendor agreements, IP agreements, change orders, etc.? These might seem like simple word documents, but they carry enormous weight for the business. One misstep or delay in processing could cost the business dearly. Like any other contingency, this one too has a smart resolution – incorporating electronic signature in documents.
It is easier said than done. Choosing the right electronic signature tool that is easy to use, secure, and affordable for your business can be a daunting task.
This blog will enlighten you on how to electronically sign various types of Microsoft Word files – in a much easier, faster, and error-free way, with the right tool.
Electronic signatures for word documents to the rescue
Electronic signatures or e-Signatures are legally recognized signatures that can be used to sign or digitally authenticate electronic documents. They perform the same function as a wet, ink-based signature, albeit more efficiently. They're significantly more convenient than traditional signatures since they allow recipients to review and sign documents from anywhere in the world using a computer or smartphone. Once all parties have signed, the sender need not wait for mails or physical copies.
Benefits of using electronic signature in Word
Before guiding you through the process of electronically signing word documents, let's quickly look at some of the benefits of electronic signature in word.
Saves money and time
Rather than arranging a business meeting for in-person document signings or back-and-forth email/postal deliveries, you can share an electronic link to sign off various business documents. It not only saves time but reduces operational costs too.
Improves productivity
As you start saving time with e-signatures, you can accelerate business processes, fasten decision implementation, and free up your resources to work on other important tasks.
More secure and risk-free
An electronic signature system keeps your Microsoft Word doc secure from any kind of tampering/forging since any alteration made in the signed document will be detected. Additionally, there is no more worry about theft, physical damage, or misplacing of your documents.
Easier and eco-friendly
Enabling e-signature for document formats means no more printouts, scans, and photocopies. They can be accessed from anywhere, anytime from your desktop, laptop, or mobile device.
Revv offers a quick and user-friendly eSignature platform for MS Word
Document requirements vary from business to business. It might be anything from a sales contract to a legal agreement to HR paperwork. Predominantly such documents are available in Word or PDF. Revv makes document workflow automation much faster as it accepts eSignatures in both Word and PDF formats.
With Revv you can create a legally binding electronic signature faster, easier, and at the right price. Let's take a peek.
A step-by-step guide to sign word document
To begin with let's start by signing in to the platform. Go to Revv's website where you can sign in for free to the platform.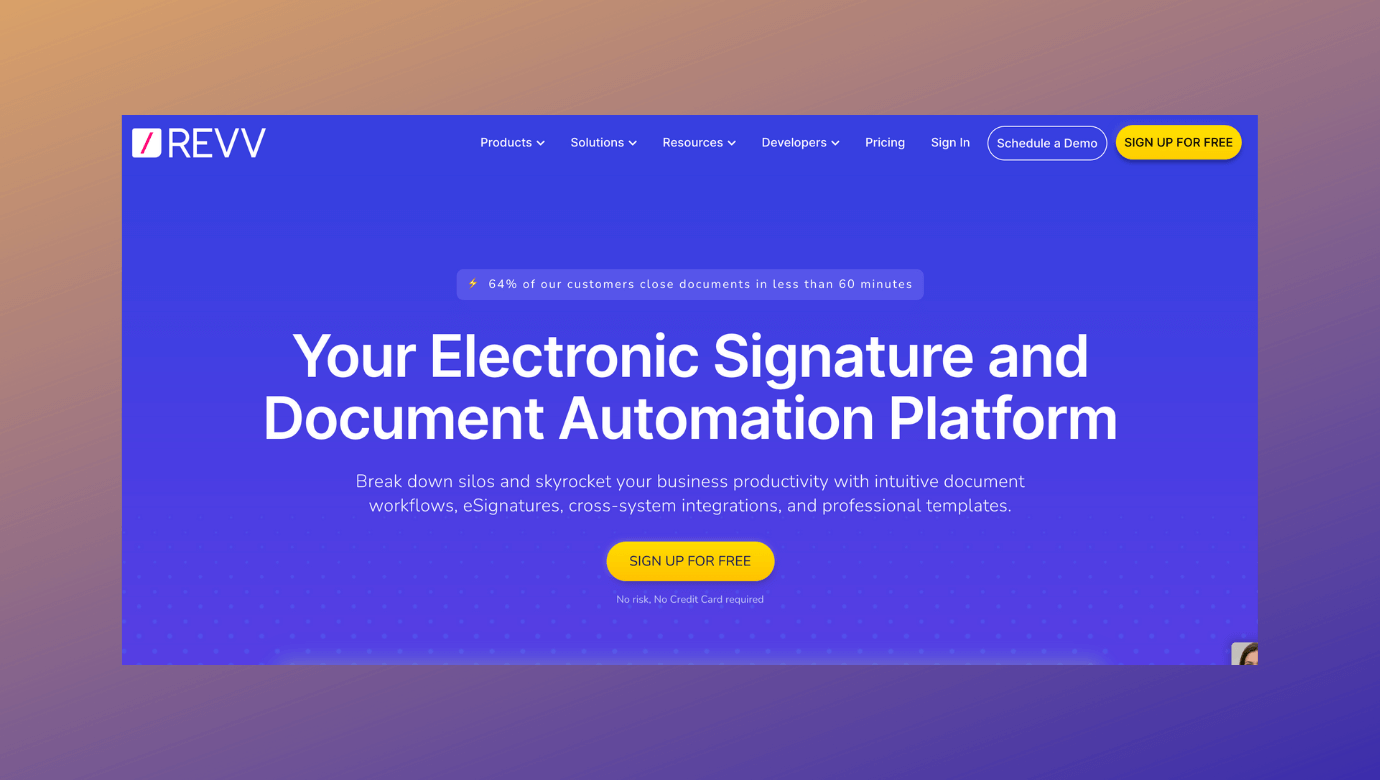 Getting started with your Word document
Step 1: Creation
To get started, go to the dashboard and click on 'Create Document' as shown in the picture.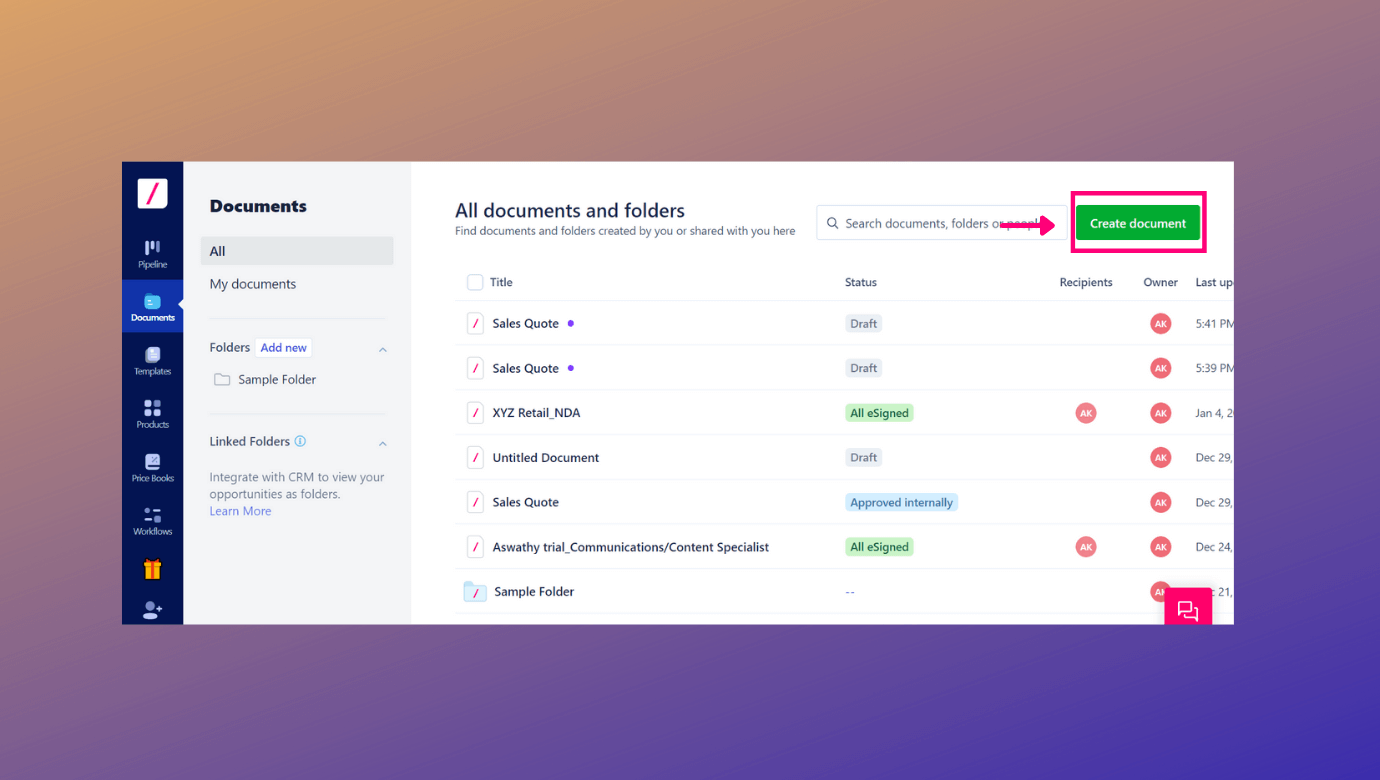 Step 2: Upload, drag and drop, and customize
There are multiple ways to choose files. Users can take an existing Word file and upload it using the 'Upload a PDF or a .docx' option to start the e-signing journey with Revv. Users can take an existing Word file and upload it using the 'Upload a PDF or a .docx' option to start the e-signing journey with Revv.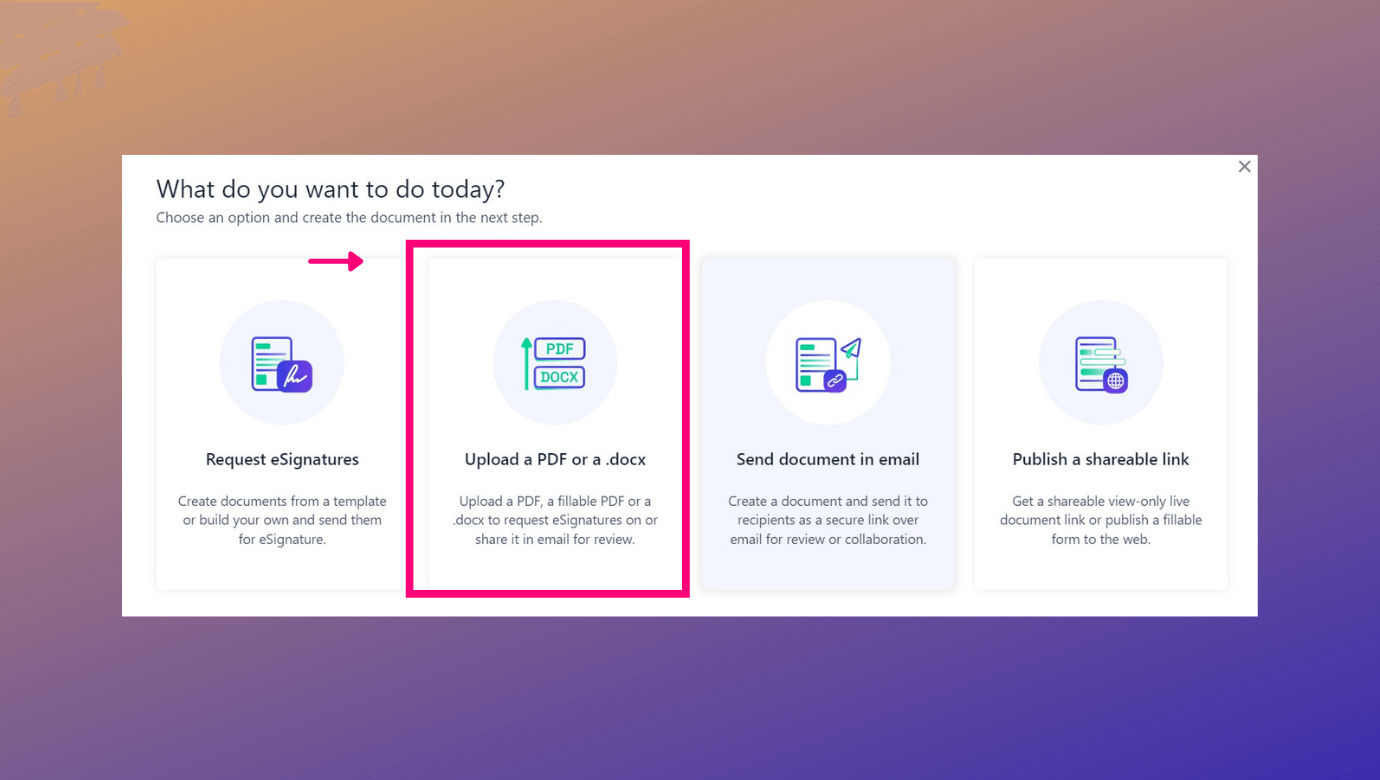 Simply drag and drop or upload the required word file from your system. Once done, you will see that the content of the file will be divided into various blocks. For example, each paragraph, table, and various images in your doc will be automatically identified as separate blocks by our AI.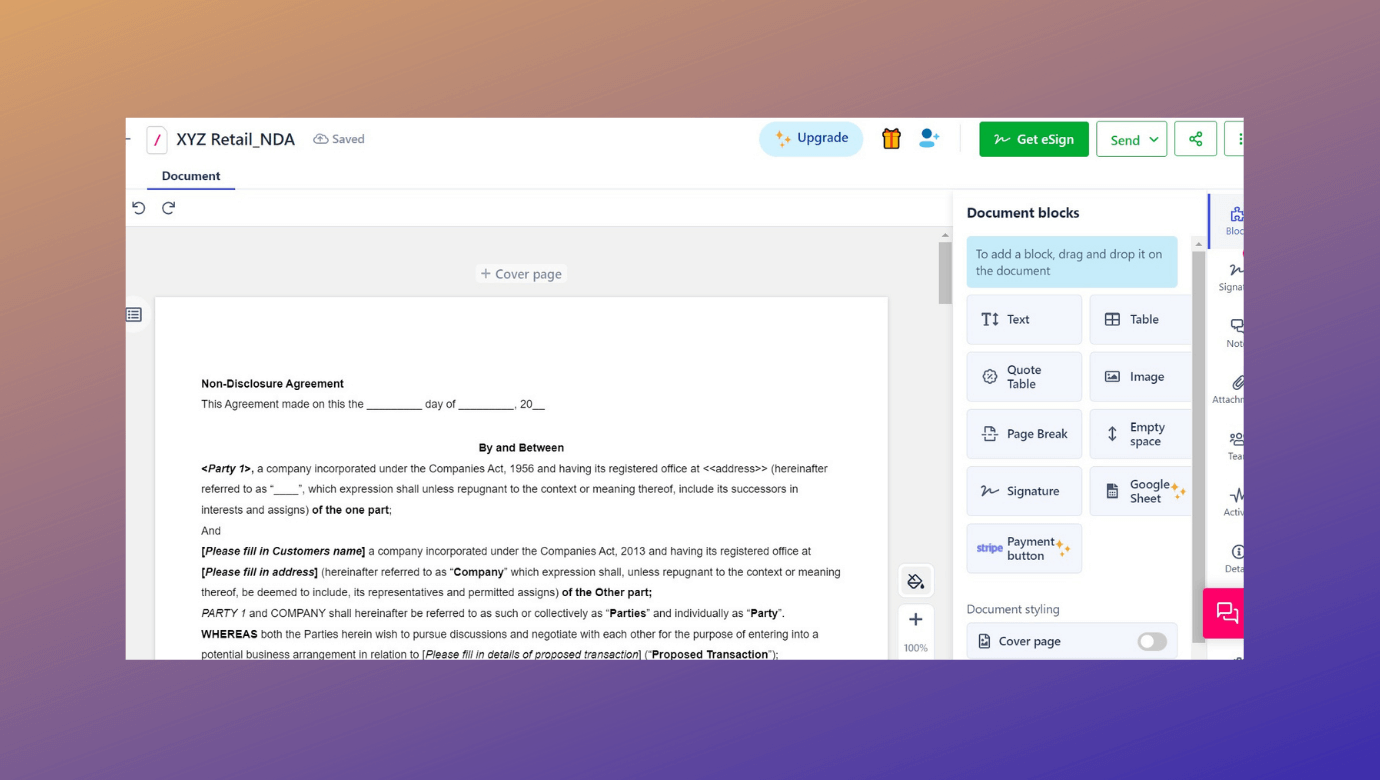 Alternatively, users can also create their own documents from scratch using Revv's rich document editor. But why take so much trouble, when you can choose from Revv's 1000+ professional and legally vetted templates? It could again be customized as per your requirements and sent for eSignature. How cool is that?
Step 3: Edit from Revv's rich document composer
In case you feel something is missing in your file, Revv allows you to make any changes to your document file using document blocks. Revv's document editor gives you many capabilities that further enrich your document. Users can edit or add text, insert images, or any type of table including quote tables in the document. It even allows you to make page breaks or provide empty spaces wherever you need. All these features could also be directly accessed while clicking the '+' sign in the document.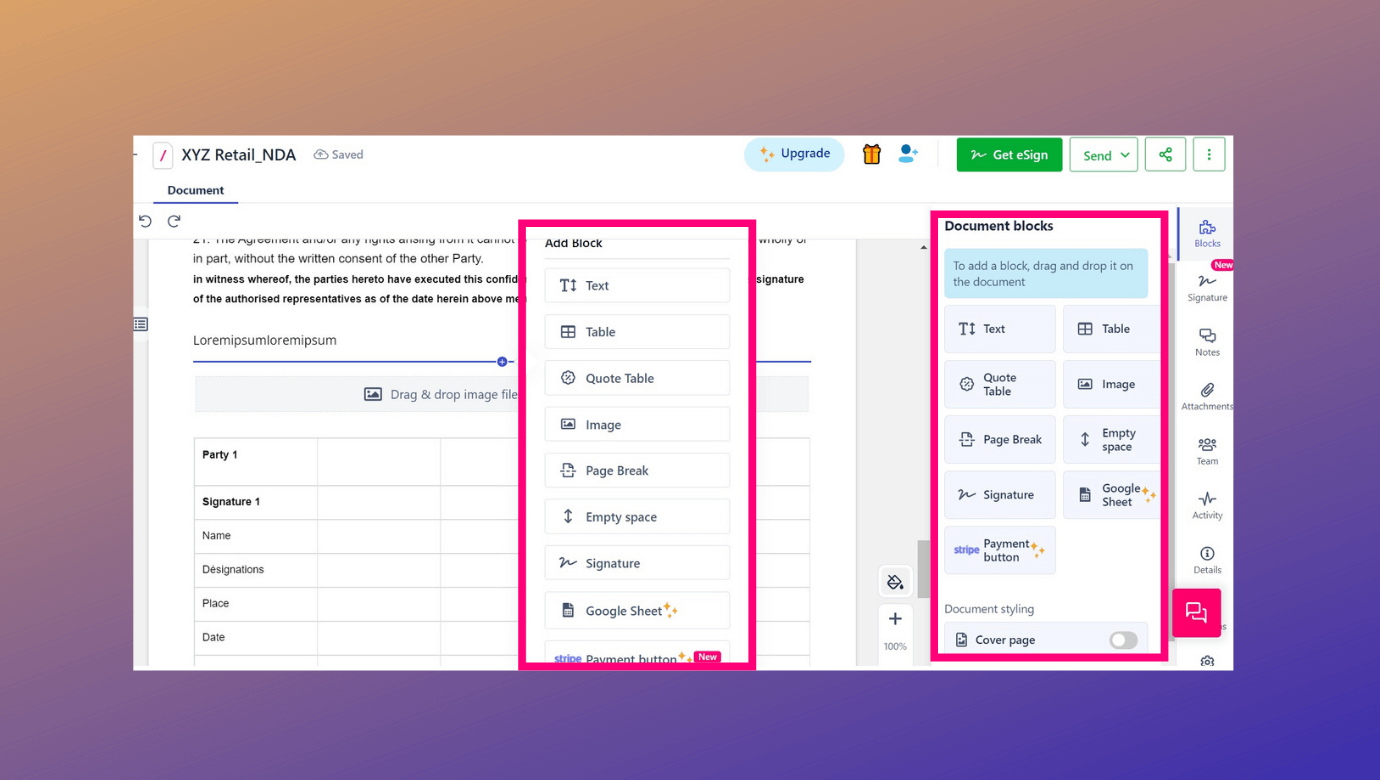 Step 4: Adding the e-signature block
Once the content of your word doc is finalized, the next and most important step is to add the e-signature block (which is to be signed by your desired signee). To sign a word file, you can simply select the signature block from the toolbar options on the right side. You can add as many signatures as needed and on each page of a document if you may.
Assigning recipient details – Before dragging and dropping the signature line in the file, let's fill in some mandatory fields, shall we? You need to prefill recipient details such as 'first name', 'last name', 'email id' etc. It is really important to designate who is authorized to eSign your document. Otherwise, it can be argued in court that a random person scribbled in the signature line.
Adding signature tags – Add signature lines such as 'Date' and 'Name' along with the signature tag. It can be positioned wherever you want in the file.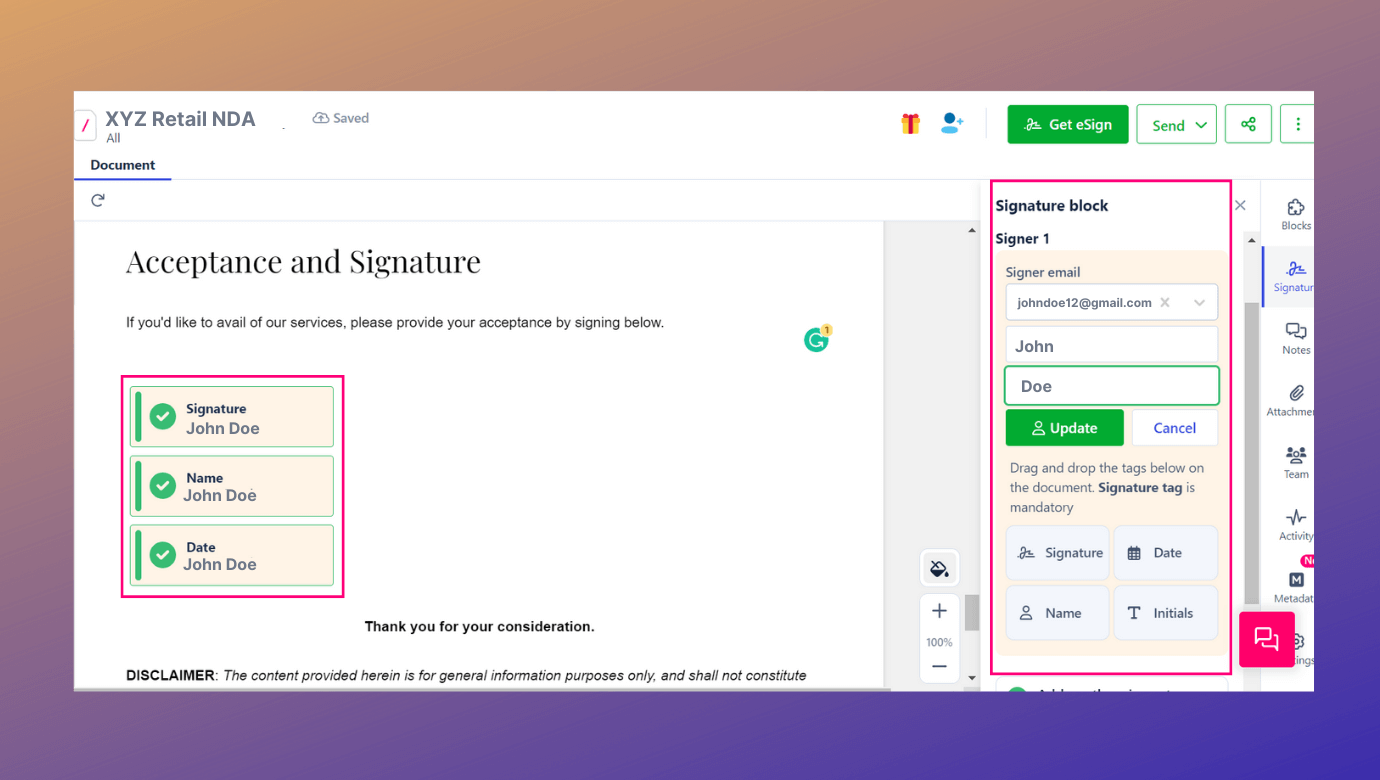 Step 5: Sending the document for eSignature
After adding the recipients and necessary signature types and details to your file, it is time to send your file for eSignature. Click on 'eSign' and send it for eSigning. Users can have the Revv advantage where they can also type their message to the recipients, send the document link as SMS, or even initiate authentication using OTP sent as SMS.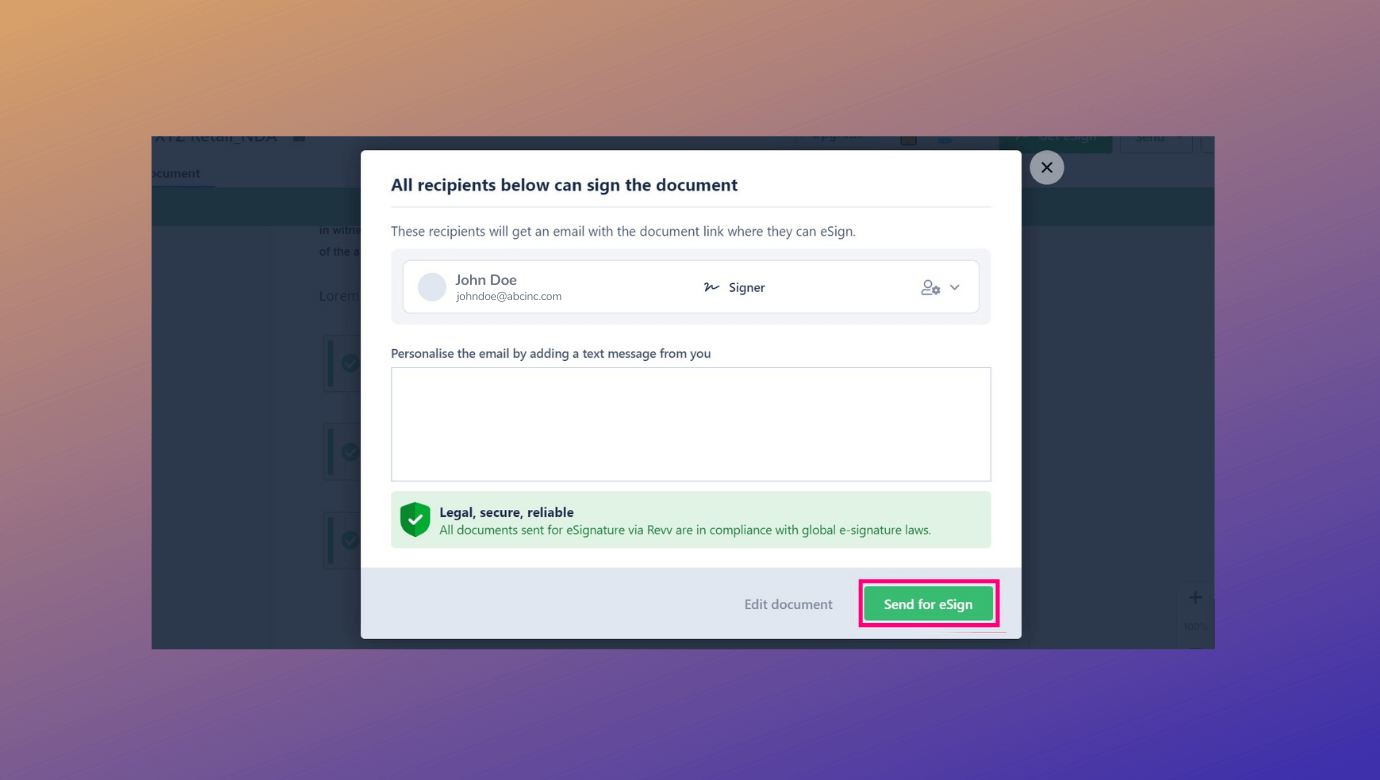 Want to receive some key information from recipients along with eSignatures?

Revv lets you achieve this by placing form fields, the fillable placeholders, in your document.

All you need to do is turn your document into a form-based template.

1. Upload or drag and drop your template using the 'Create template' feature
2. Add form fields wherever necessary in the document
3. Edit and add other details using the document editor
4. Add signature blocks
5. Publish as a form-based template
6. Create a document from the template, assign the form fields to recipients, and send the doc for eSignatures

Instant notification
When you send your document for eSigning, you will be getting the confirmation as shown below.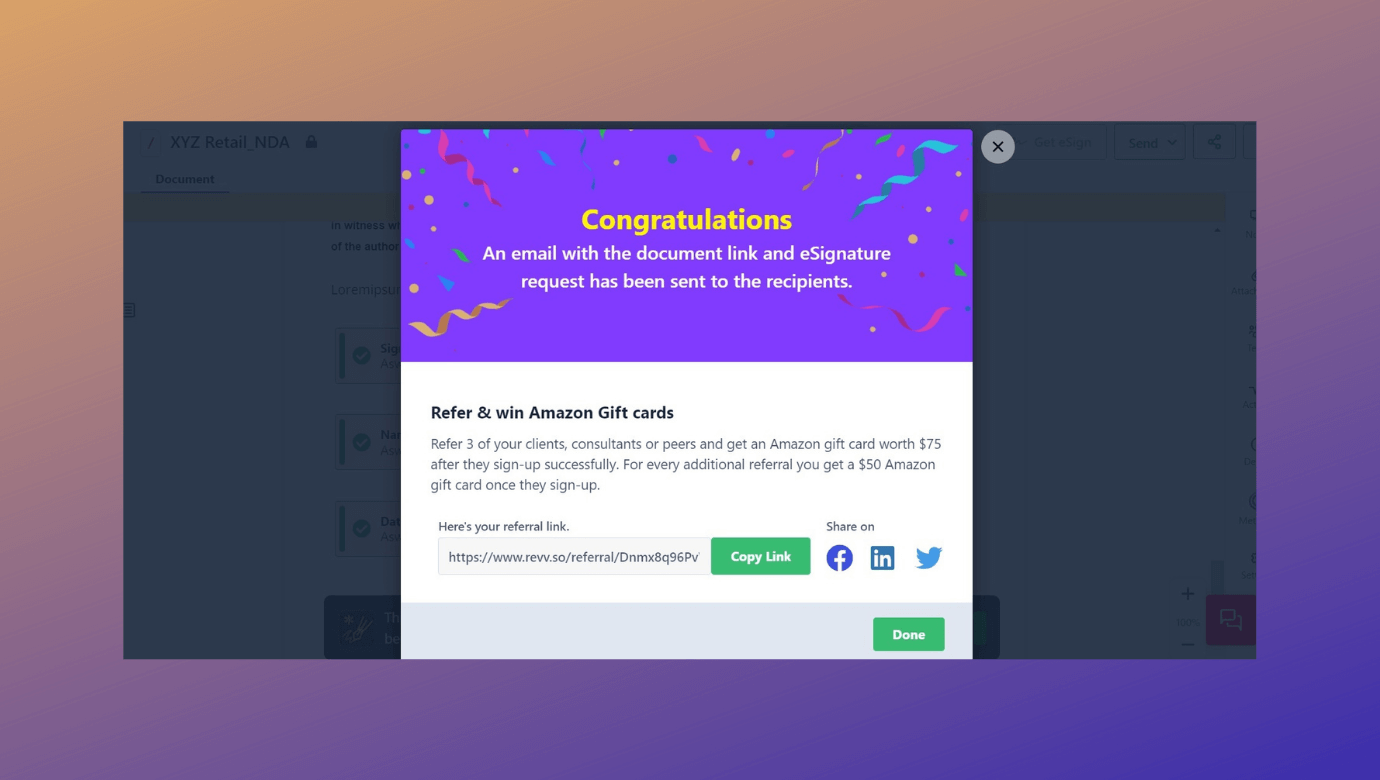 Meanwhile, recipients will also get an instant email notification requesting their eSignature. Revv's easy-to-use tool helps the recipients to eSign the file from any device with a couple of clicks.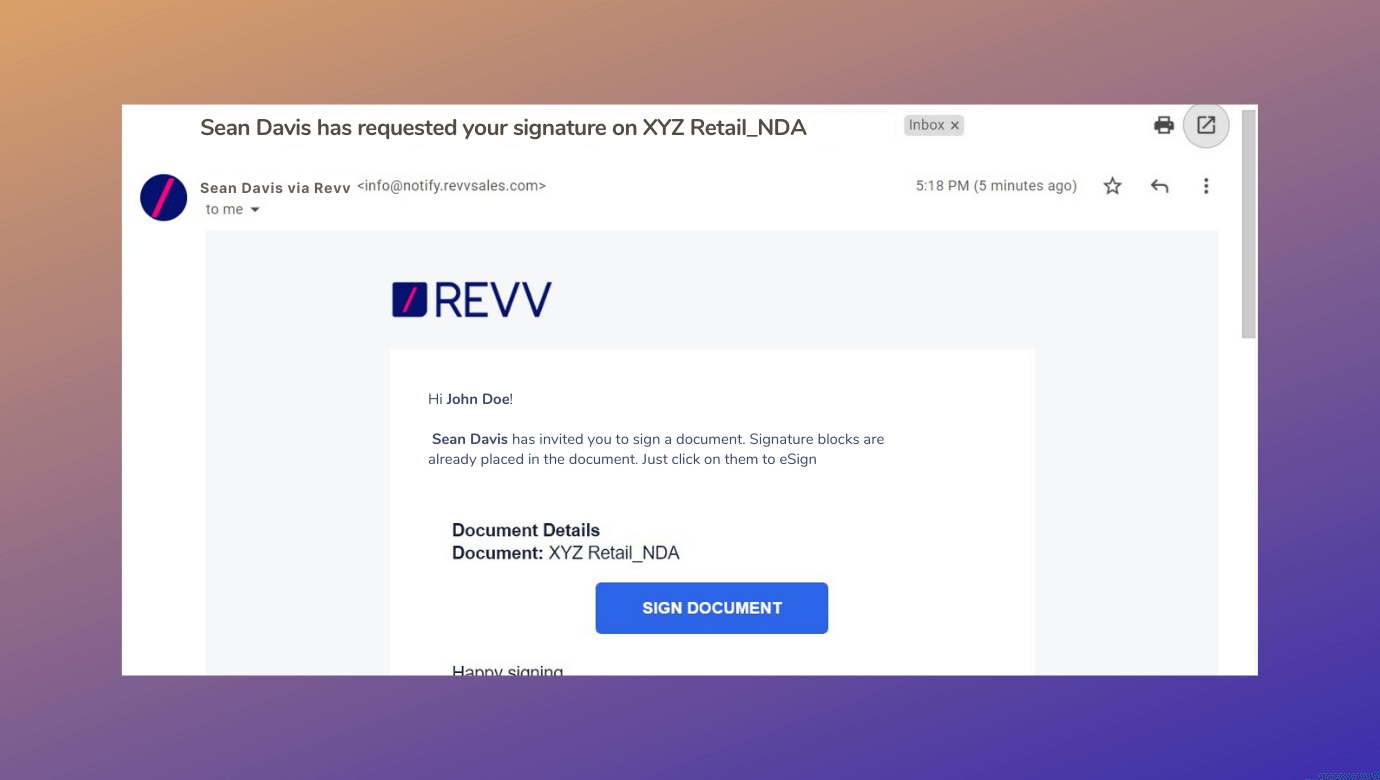 Signers can customize their eSignatures with Revv
Revv offers the flexibility for the signers to choose from different signature types. They can:
Draw signatures: Recipients can draw their signatures using a mouse or digital pen.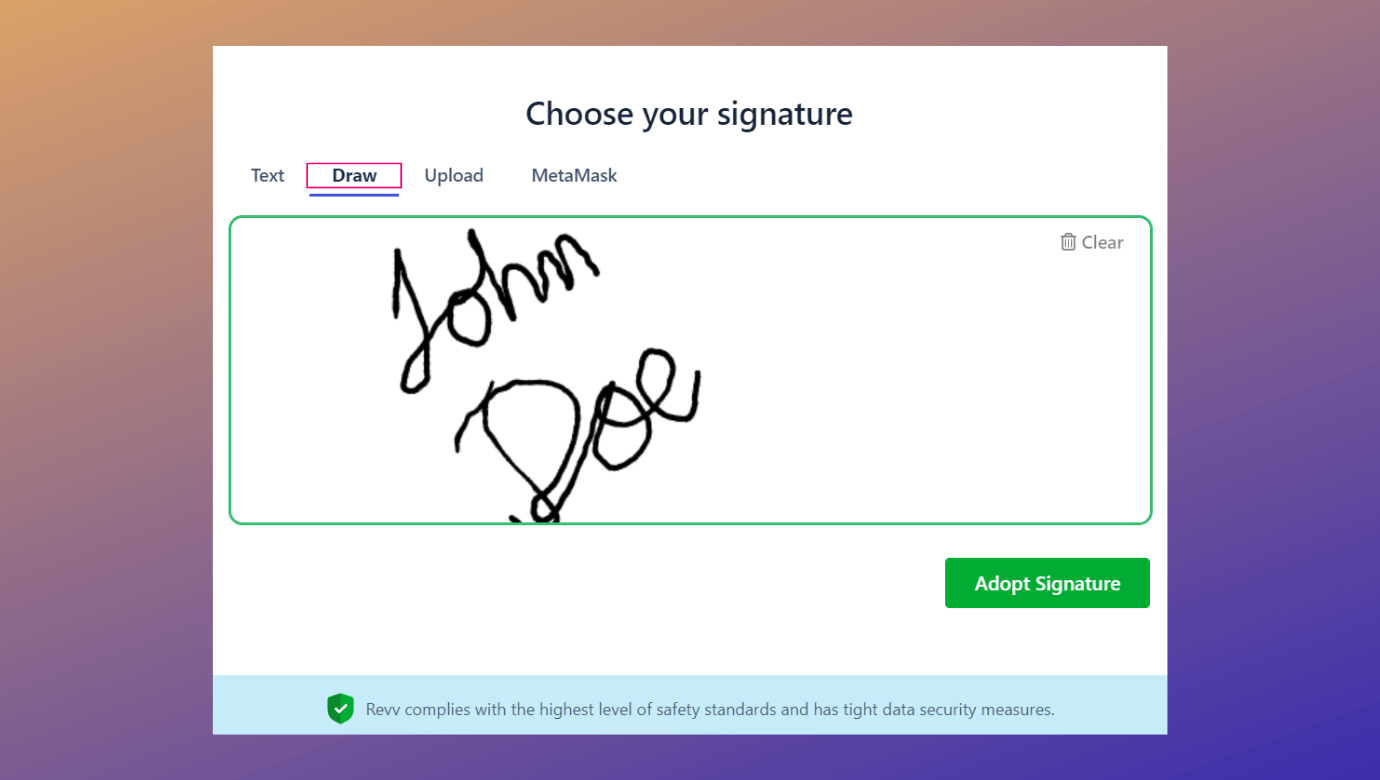 Text signatures: Signers can choose their signatures from pre-formatted styles. They can even customize their name for this type of signature. For instance, if the recipient's name is John Doe, in the Text sign option, the signer can personalize the name as JohnD, JD, JDoe, or in whichever way they want to sign off.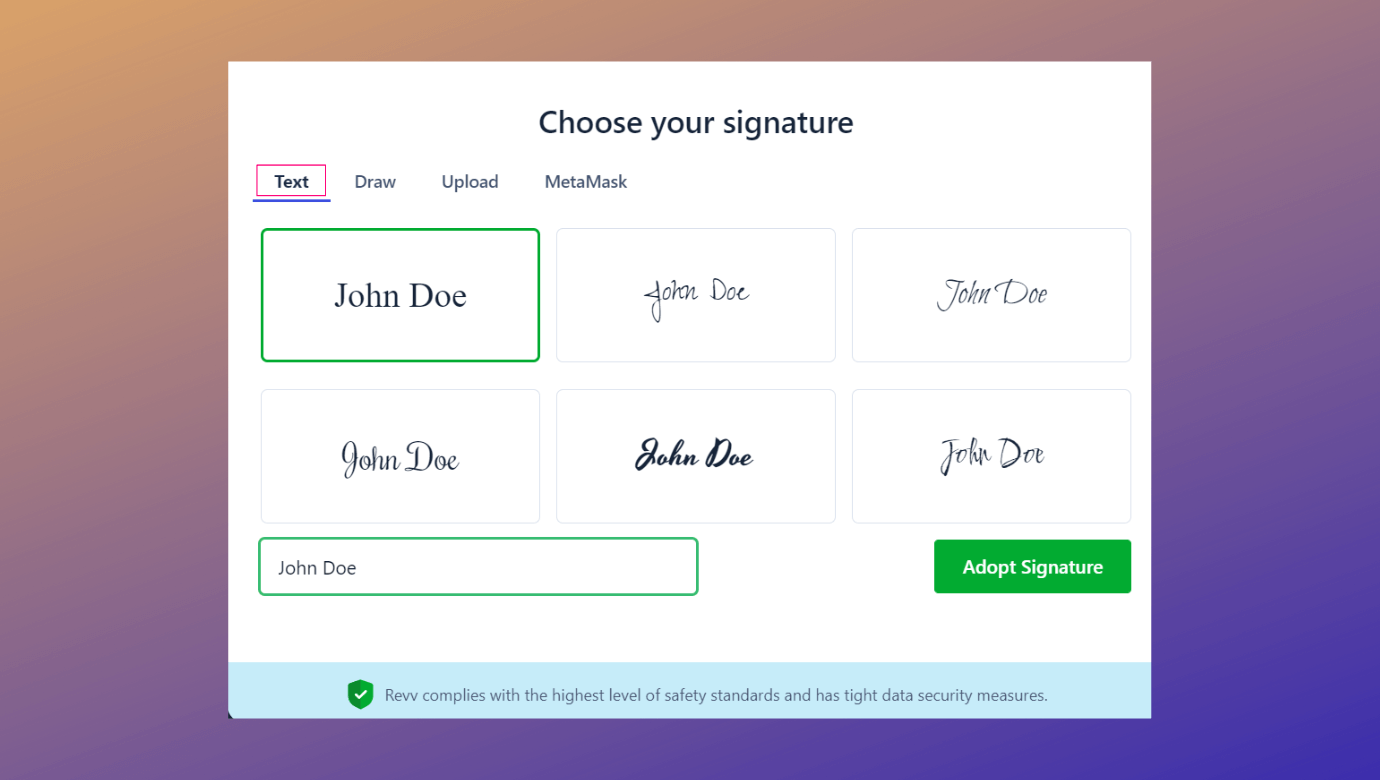 Upload signatures: Signers can even upload the image of their signature by simply scanning their wet-ink signatures.
Sign off using crypto wallet MetaMask: With Revv, recipients can even eSign their documents using their MetaMask wallet.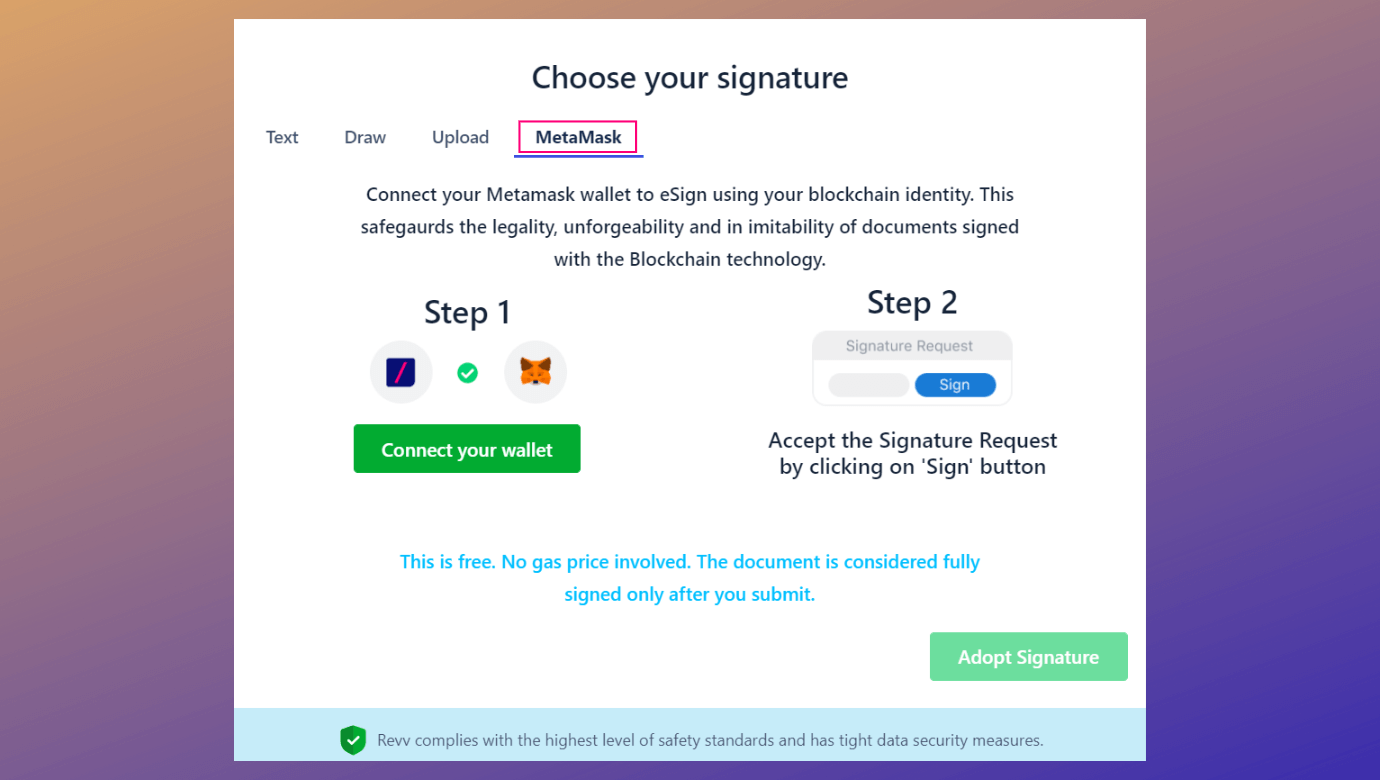 Once the recipient signs the document, both sender and receiver will further be notified that the eSignature process is complete.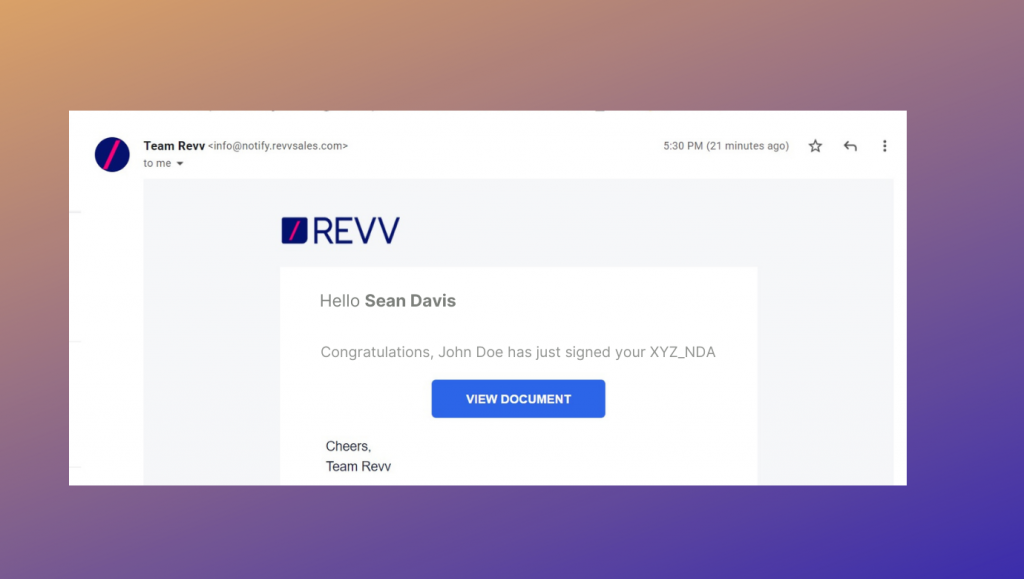 Recipients can download the file after document signing is done.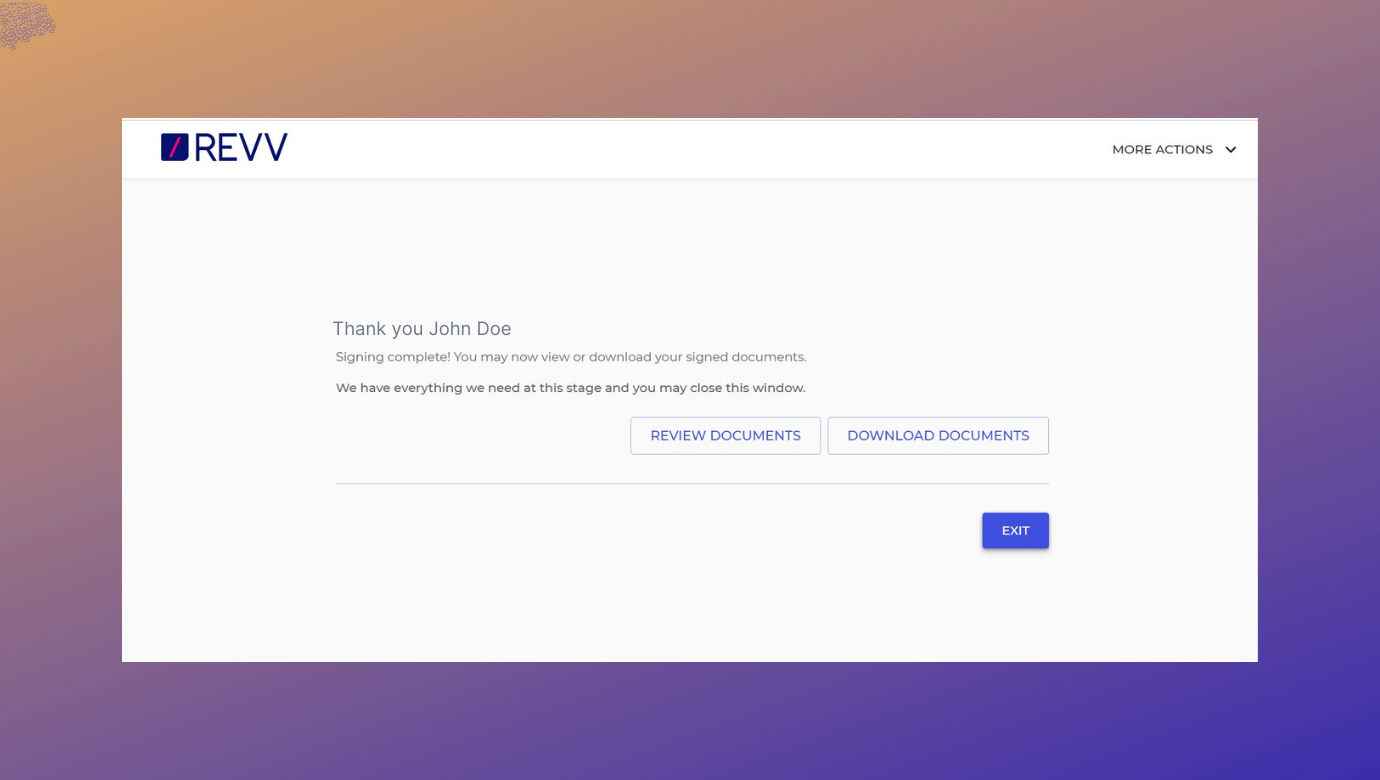 Hooray! The document is successfully eSigned
As you have apparently seen, Revv's electronic signing of Word documents is quite simple, user-friendly, and fast. The preview of the final document as shown in the image can be accessed at any point in time.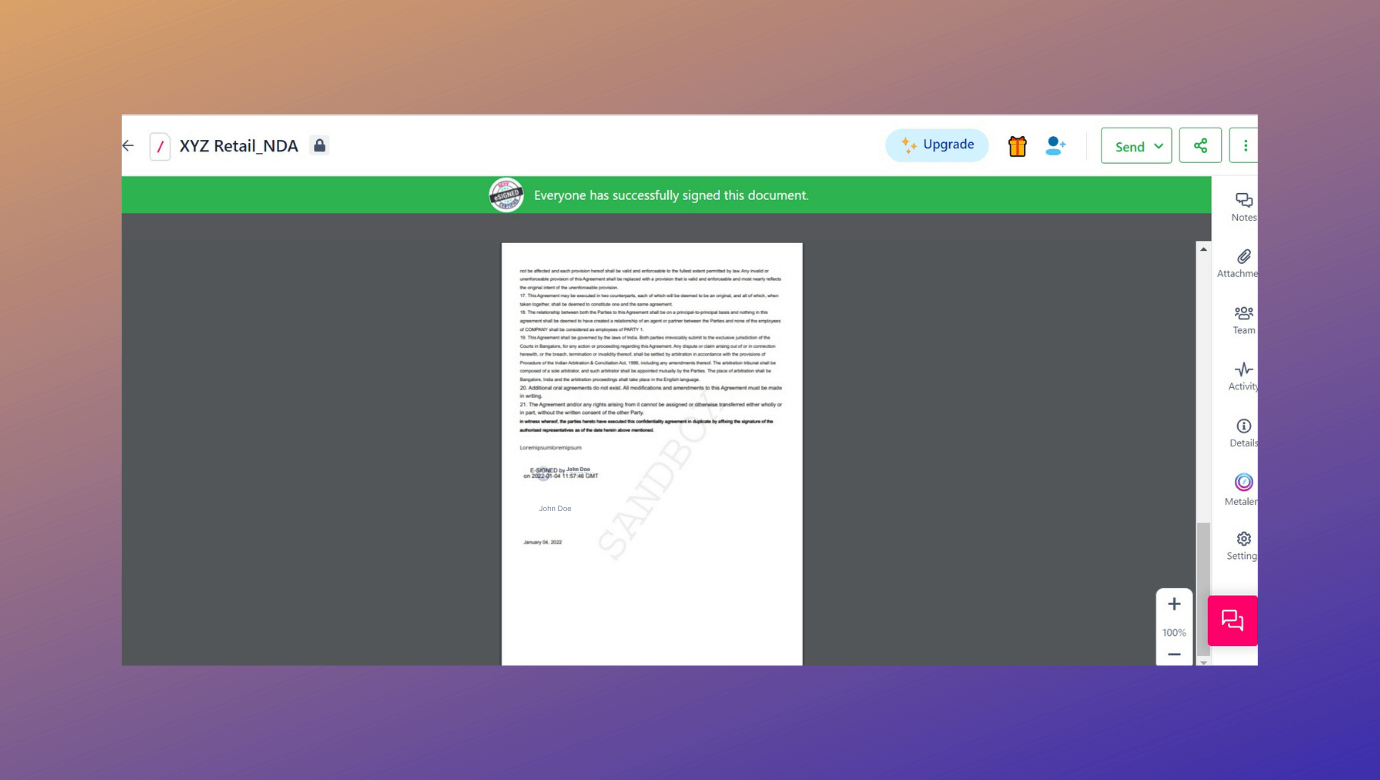 Tracking activity on Word documents
Revv's 'Activity' tab provides real-time recipient activity monitoring and helps to make informed decisions.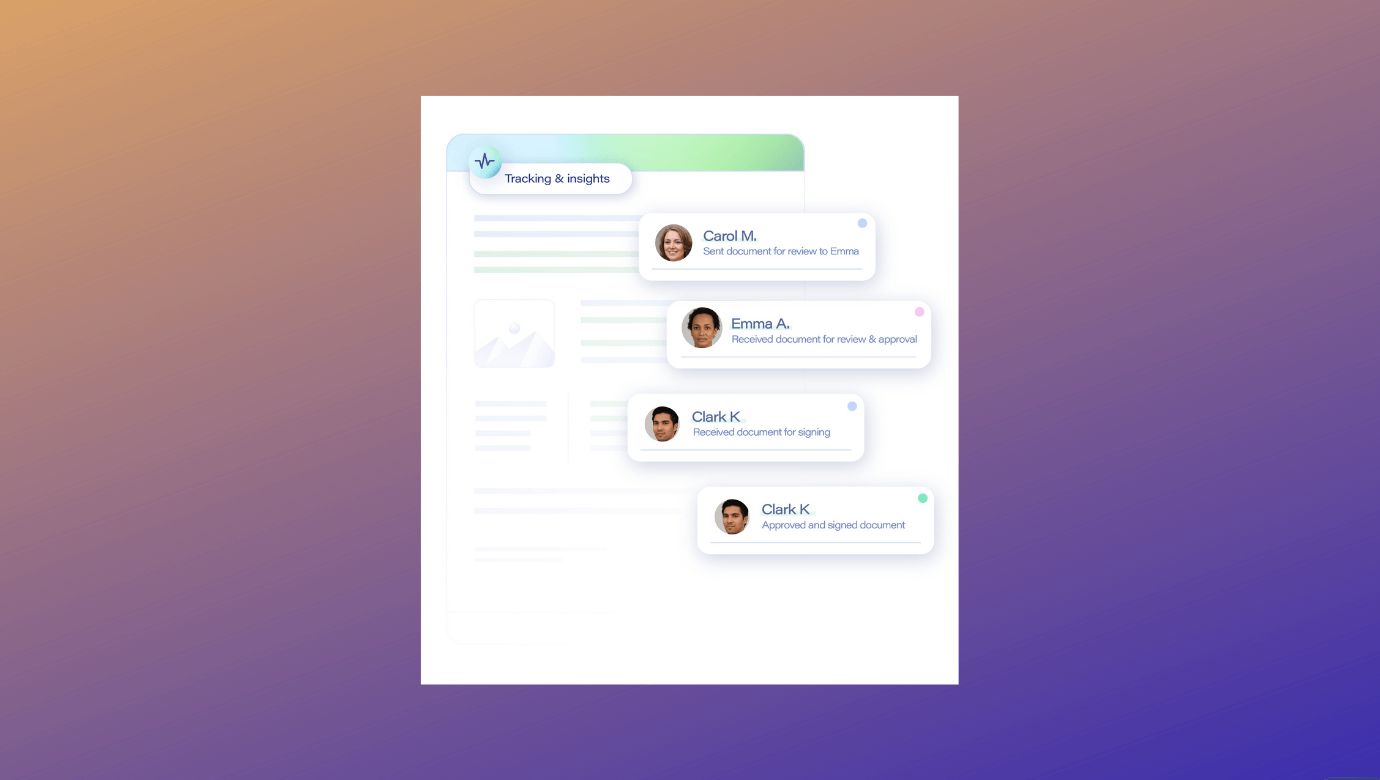 Along with email notifications, Revv's 'Pipelines' dashboard also provides the precise status of your document journey as well. You can segregate your documents under different 'Lanes' and keep track of documents – all in one place. The user-friendly platform shows the document journey in the Kanban-style dashboard. It keeps a tab of the status of each document and what stage of processing they are in, like whether they are 'in review', 'all eSigned', 'sent', or 'closed'.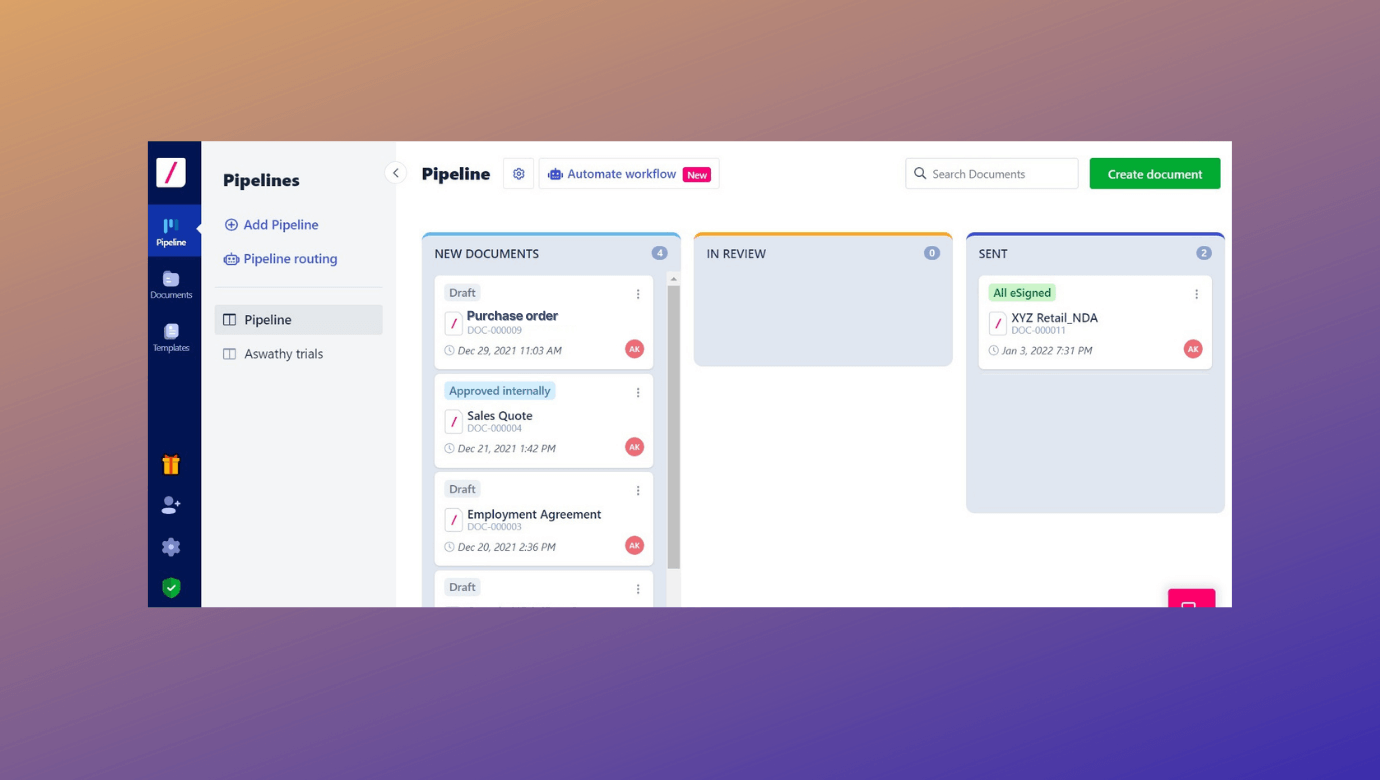 Experience the Revv advantage
With the hybrid work model becoming more of a routine, businesses need to ensure continuity. At Revv, we are focused on giving you the most user-friendly solutions at the right price. When it comes to electronically signing files, the Revv platform ensures that you get a seamless experience. With Revv, you can create or simply upload your Word or PDF file formats from your system, add and edit eSignatures in the easiest of ways, and do so securely in an easy-to-use platform.
When you sign a document using Revv, you get exclusive advantages like:
OTP-based authentication
While sending word documents for electronic signature, users can choose to add one more layer of protection to mitigate risk by choosing OTP authentication.
Convenience at your fingertips
Users can even send their documents for electronic signature as SMS. The recipient can access the files on the go.
Legally binding and compliant
Worried about the legality of electronic signatures? Revv adheres to industry standards as well as local and global eSignature requirements such as the E-SIGN Act, UETA, eIDAS, among others. Electronically signed documents with Revv are valid and enforceable in a court of law in more than 60 countries.
Evidence summary report of signed documents
For every eSigned document, Revv captures an extensive evidence summary which can be downloaded once the eSigning is complete. It contains information pertaining to the document such as the sender's unique ID, name of document, date and time it was created and completed, etc. It also captures the recipient's details (name, role, email, unique ID, etc.) as well as a detailed audit trail that records all the actions done on the file including IP addresses that have accessed the document.
Promotes collaboration
In order to manage your paperwork effectively, you must operate as a team and notes allow you to build a shared workspace for your documents. Use it to add comments and ideas. Moreover, you can add attachments to the document and tag your colleagues for feedback (using @mentions). When you use the – '@' symbol with someone's name in a comment on a document, the individual receives an e-mail for the same. Team members who have access to the document or are tagged in the document would be able to add both private and public notes.
Easy to send multiple documents
Looking to send your documents to multiple recipients at once? Revv makes it easier with the 'Create documents in bulk' option. Once you have created, uploaded, and published your template document that needs to be sent; download the CSV file (it is basically your Excel sheet) for that document from Revv. Fill in the needed details of the recipients in the file and upload the same. When you opt to send for eSign, Revv will automatically pick the details and will send the document to all the people whom you have added in the CSV file.
Seamless integration
Carry out a variety of tasks without having to leave your organization's CRM. Seamlessly connect your Revv account with other apps like Slack, Hubspot CRM, Salesforce, Google Drive via Zapier, Revv APIs, or Retool integration capabilities.
Freedom to choose
Not every Microsoft Word document needs eSigning. Take for instance the sales quotes documents that need to be sent to your stakeholders for negotiation purposes. With Revv, you have the liberty to send such documents either for the recipient's acceptance or rejection using the 'Send for Acceptance' feature.
You can even send the document to teammates and external parties for review. Click Send and select Send to someone. An email will be sent with a unique document link to the recipient.
Or else use Get magic link option, to get an online link for the word document that can be shared with anyone, anywhere. Revv makes it easy for you with brief descriptions of what each menu option would do. When you send your word document to its recipient, Revv will keep you in the loop as the word document is received, opened, signed, and returned. This way, you will know when the deal is done. You can also download and keep a copy for yourself.
Easy to configure data
Run your document workflows without a hitch with Revv's 'Data Studio' feature. The data configuration that took hours earlier, could now be finished faster. You can easily integrate and map your data from your business applications like Salesforce and HubSpot CRMs a lot faster and more precisely with this feature.
These are a few of the highlights that you will get to experience with Revv. To explore more and make your document automation process a lot simpler, start your Revv journey today!