Are you looking for a ContractSafe alternative?
You have landed at the right place!
Contract management software undoubtedly has become a crucial building block to an organization's success. But, in the universe of contract management software, how to find the right planet where your business can survive and thrive?
We have made it pretty easy for you.
Read this blog and find the best ContractSafe alternative for contract management.
Why look for a ContractSafe alternative?
ContractSafe is a great contract management solution available today. It is pretty user-friendly and easy to set up. Its functionalities empower users in end-to-end contract lifecycle management (CLM) right from contract creation to renewals.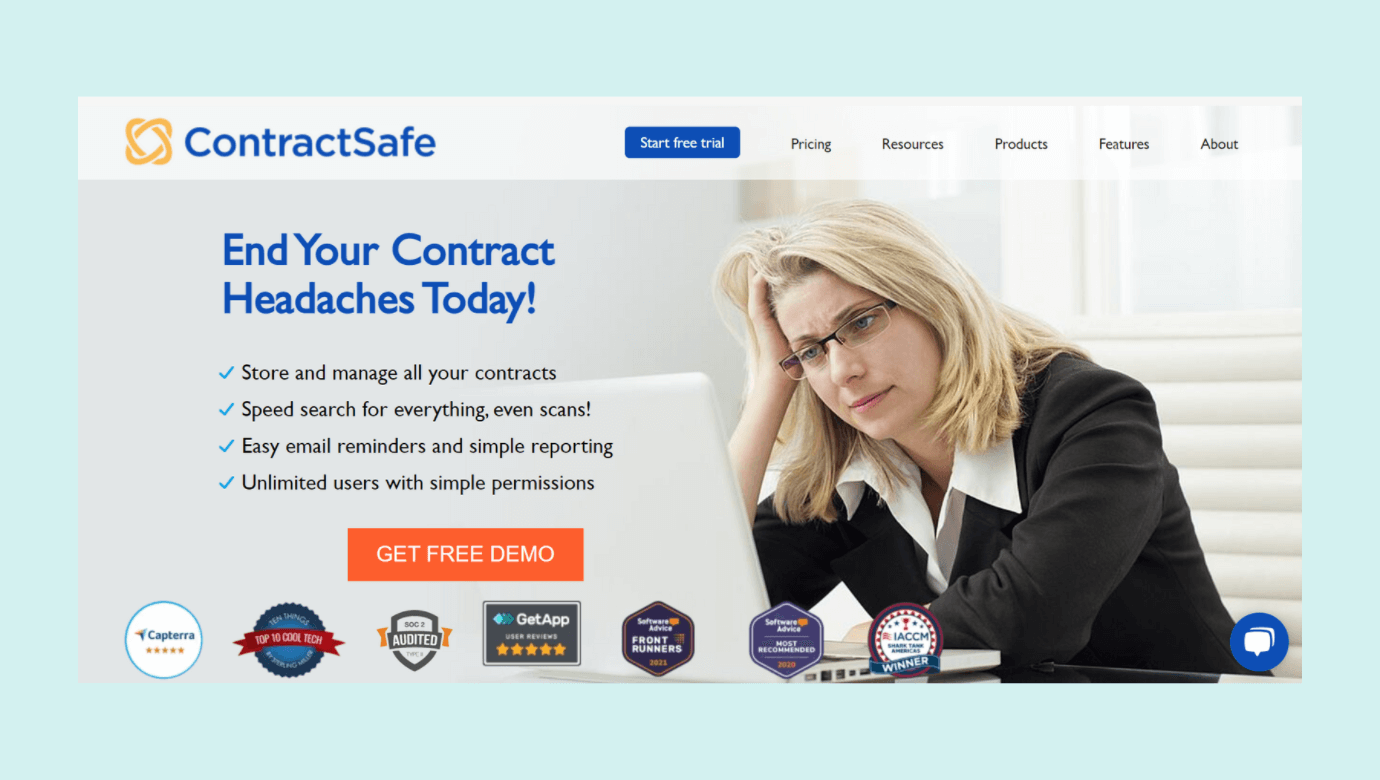 It provides awesome features like:
Intuitive and effective searching capabilities, including Optical Character Recognition (OCR)
Secure contract repository
Alerts and reminders
Collaboration
Full control over sharing and roles
Integrations with DocuSign, Okta/SAML 2.0, Salesforce, Active Directory, and other business applications
Support and training facilities
Unlimited users
and many more.
Looking for a cloud-based contract management solution?

Try Revv
! No risk and no credit card required
Pricing
ContractSafe has a subscription-based pricing plan. A free trial is also available.
Basic: $299 per month unlimited users
Standard: $499 per month
Professional: $699 per month
Enterprise: $899 per month
When it comes to contract management, ContractSafe is not the only choice. Depending on varying business needs, there are certain features that other alternative CLMs provide better.
We are here to help you find optimal contract management software based on your business requirements. Each tool provides unique features that make it distinctive.
Put your thinking cap on, go through the below list of software solutions, and find the best ContractSafe alternative that works best for your business.
What are the top 13 ContractSafe alternatives for efficient CLM?
To help you get crème de la crème, we have thoroughly reviewed a multitude of contract lifecycle management platforms and narrowed it down to the best 13 ContractSafe alternatives based on the functionality and key features.
Here we go!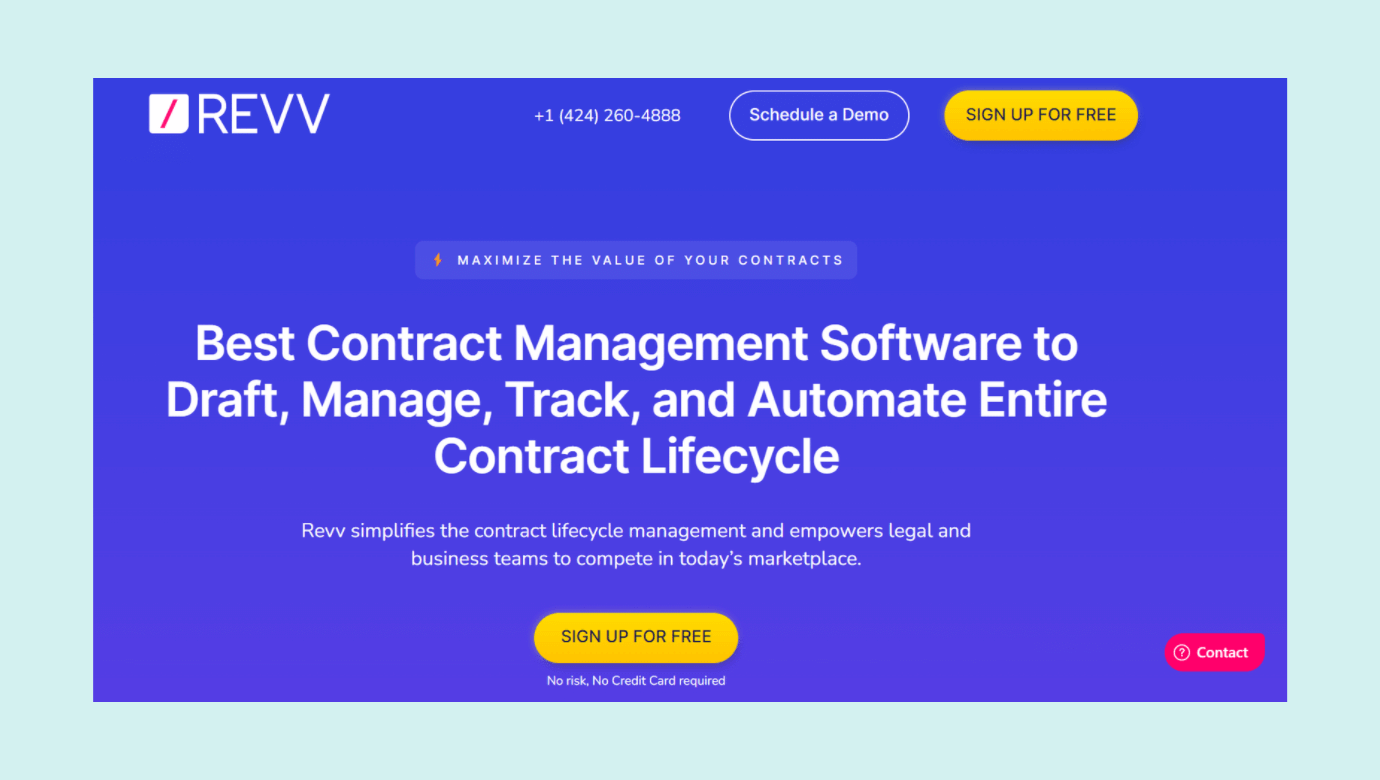 About
Revv is a great ContractSafe alternative. It is one of the best contract and document automation systems. It offers an all-in-one solution with advanced features and generous pricing plans that work well for all kinds of businesses. The user interface is attractive and intuitive, which makes it easy to understand and users can work on it without any training.
Features
1.1 Exhaustive template library: You can create contracts from Revv's 1000+ legally vetted and ready-to-use templates and other document templates. This speeds up the contract creation process and provides a defined structure and credibility for your contracts.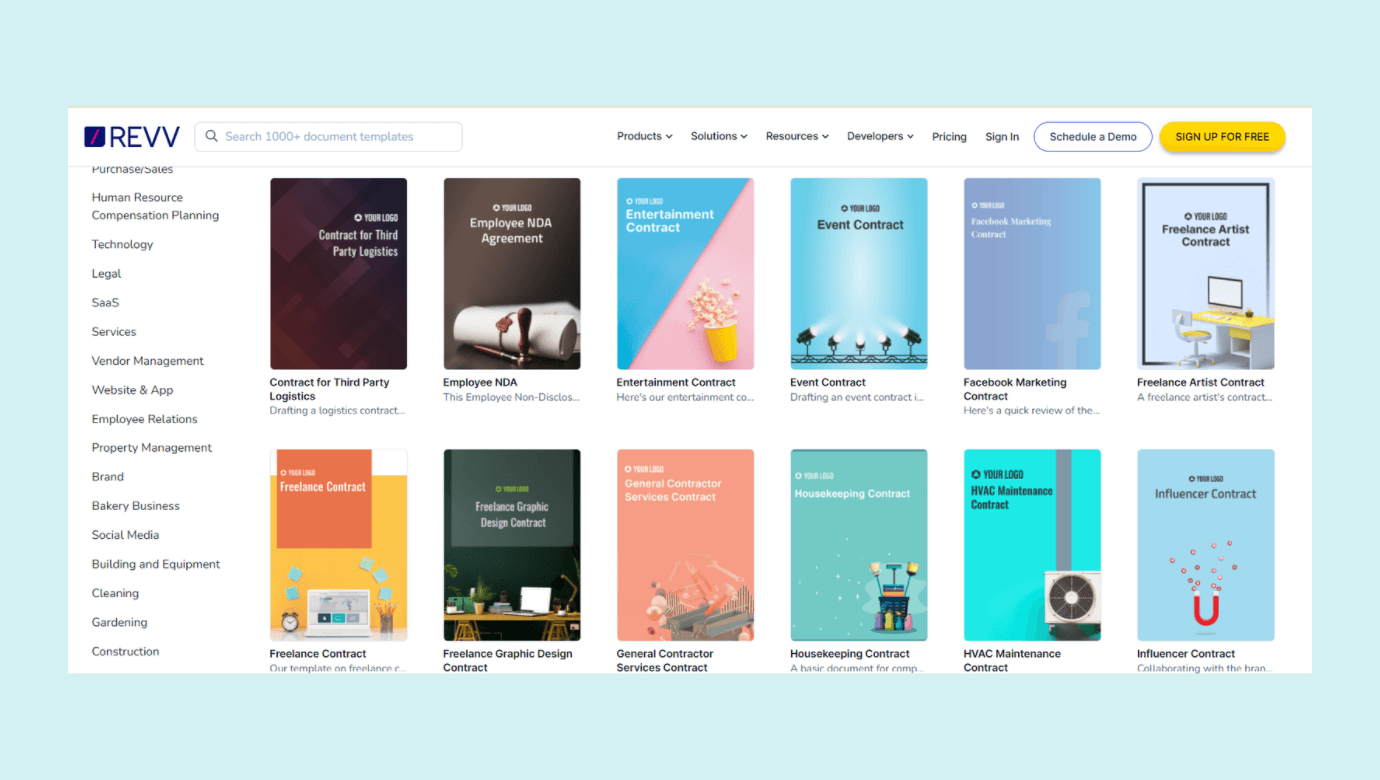 1.2 Rich document editor: The document editor in Revv comes with massive customization capabilities. Users can edit and custom-design their contracts using the rich editor. The document editor has multiple functionalities. It allows you to drag and drop text blocks, images, quote tables, page breaks, simple tables, eSign blocks, etc. Organizations can also design the contracts as per their brand guidelines – add a logo, choose the right font, color, etc. – to give a consistent look across all contracts.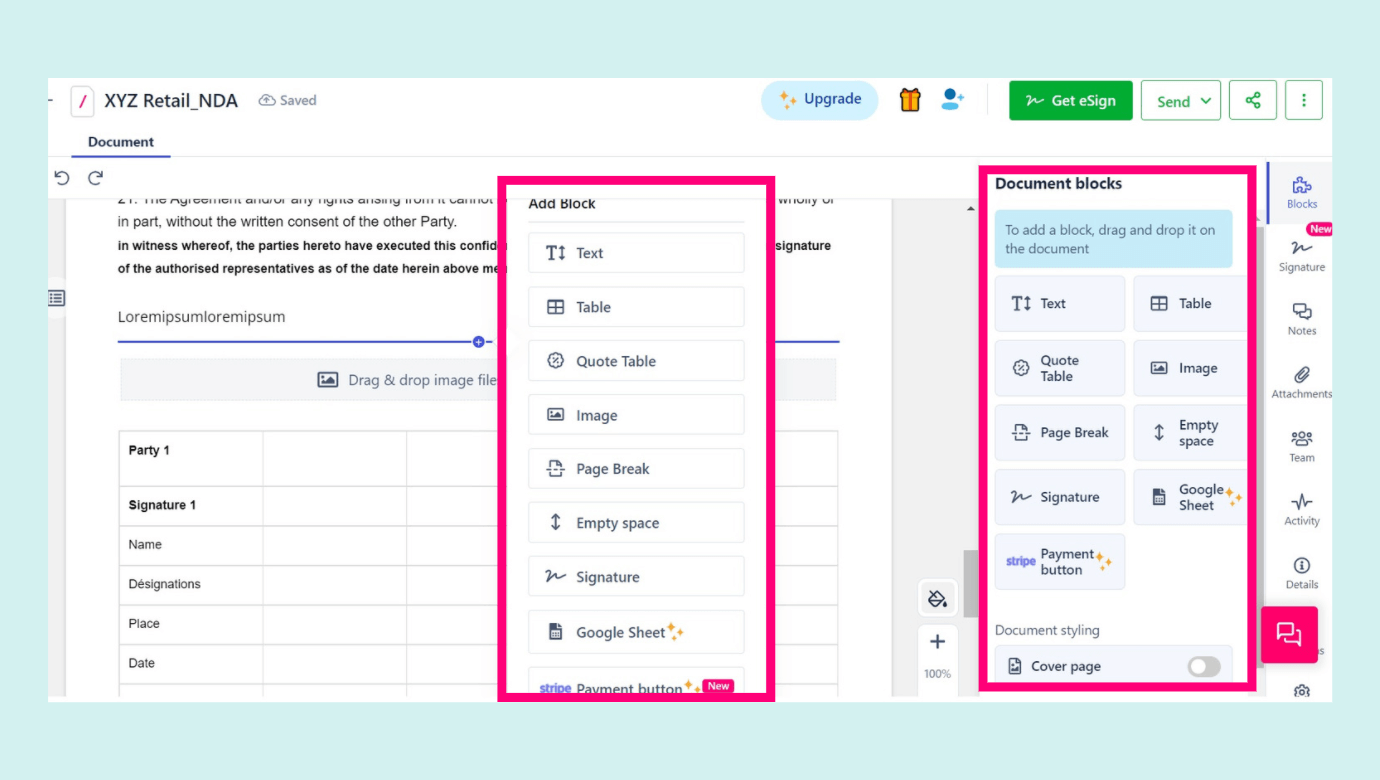 1.3 Collaborate: Revv frees up users from painful and confusing email exchanges. It facilitates users to come together, review, make necessary edits, add comments via notes, add files using attachments, and tag other users using the @mention feature – all within the contract.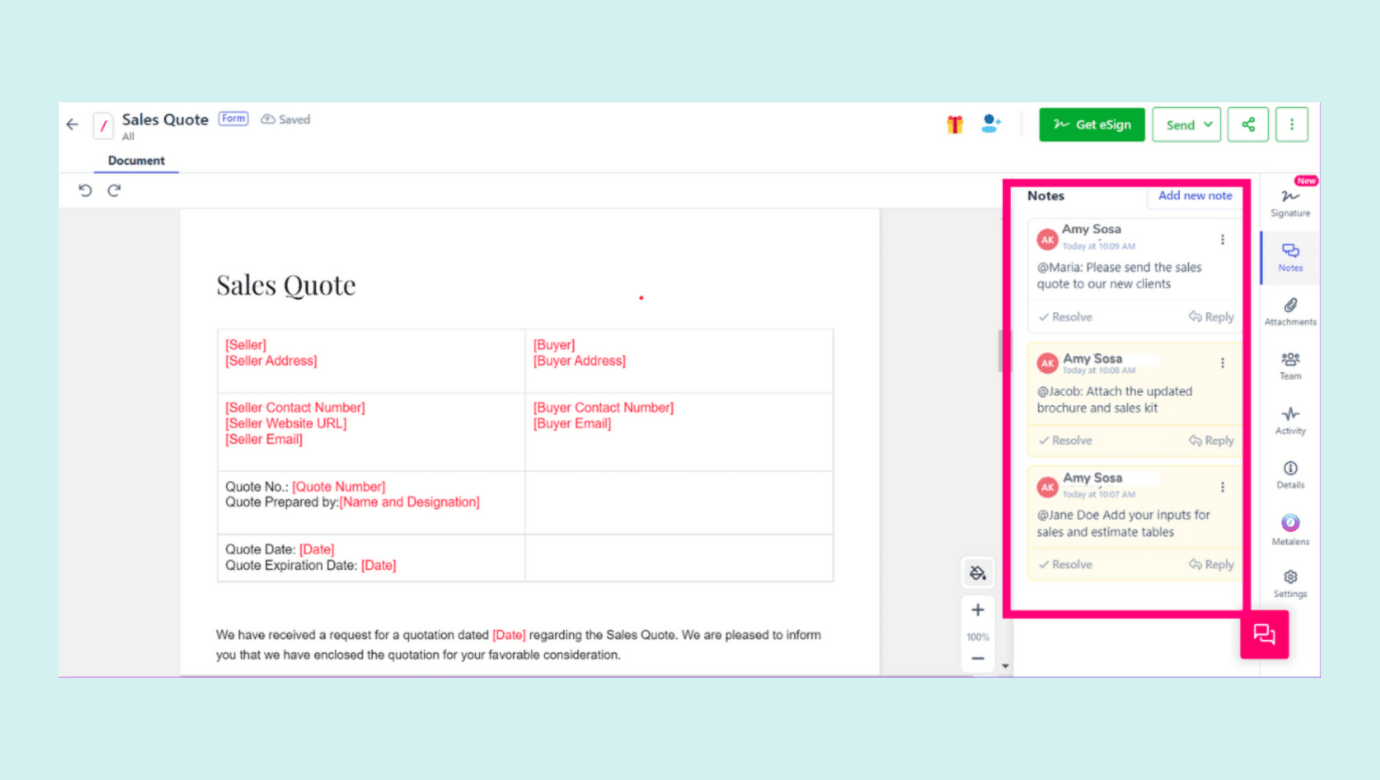 1.4 Legally binding and compliant contracts: Revv provides bank-grade electronic signatures for your contracts. They are fully compliant with relevant US laws, such as the Global and National Commerce Act (E-SIGN Act) and the Uniform Electronic Transactions Act (UETA). For countries coming under the European Union, Revv complies with Electronic Identification, Authentication, and Trust Services (eIDAS) as well.
Under ESIGN Act, it is mandatory that all your electronic signature workflows should include the following elements:
Intent to sign
Consent to conduct business electronically
Association of signature with the records
Maintenance and retention of records
Revv adheres to all these four clauses with their eSignature solution.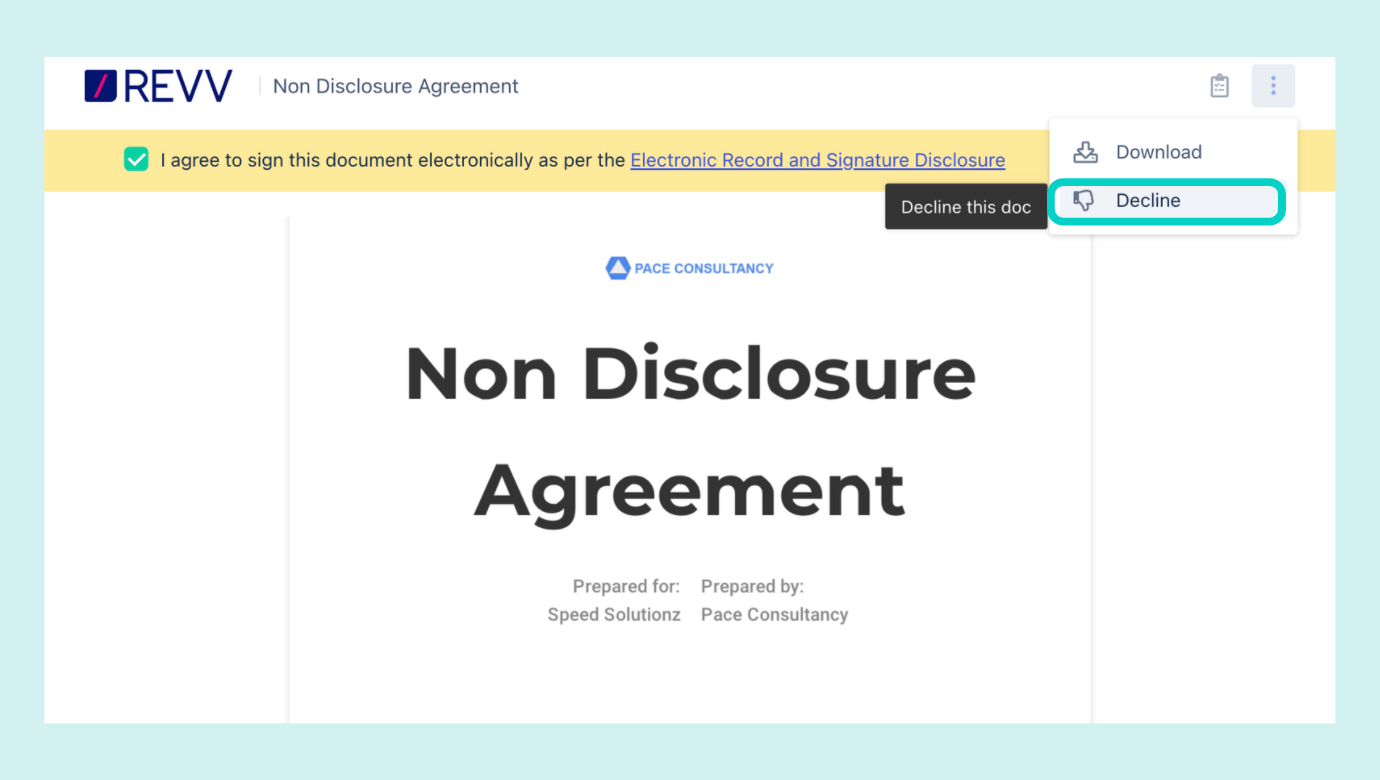 Revv captures an exhaustive audit trail for every signed contract. Revv's Evidence Summary report records any action taken on the file. It includes details such as the recipient's unique ID, the document's name, the date and time it was viewed, generated, and eSigned, and the IP addresses from which the contract was accessed.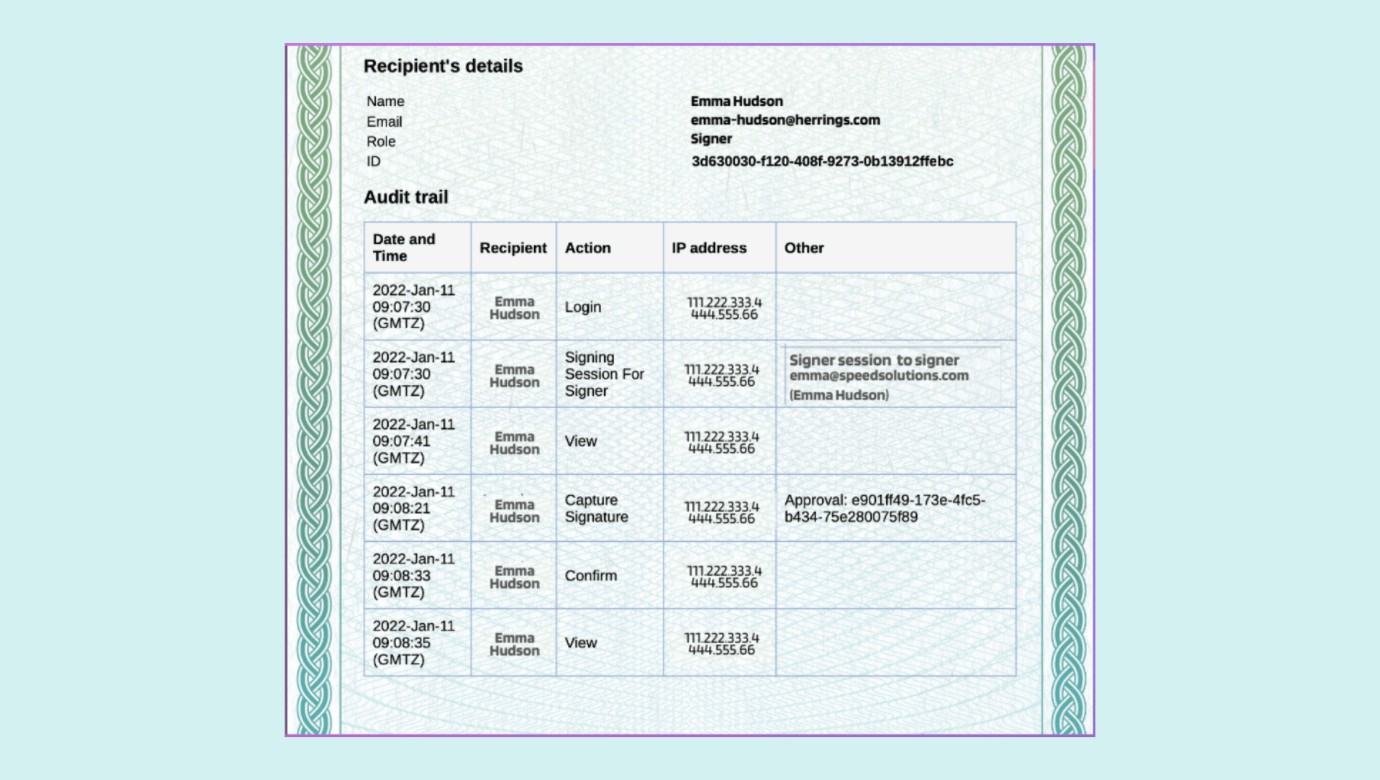 1.5 Automated approval workflows: Streamline the contract approval process by configuring the conditions and the actions. When a condition is triggered, Revv automatically routes the contract to the right approvers.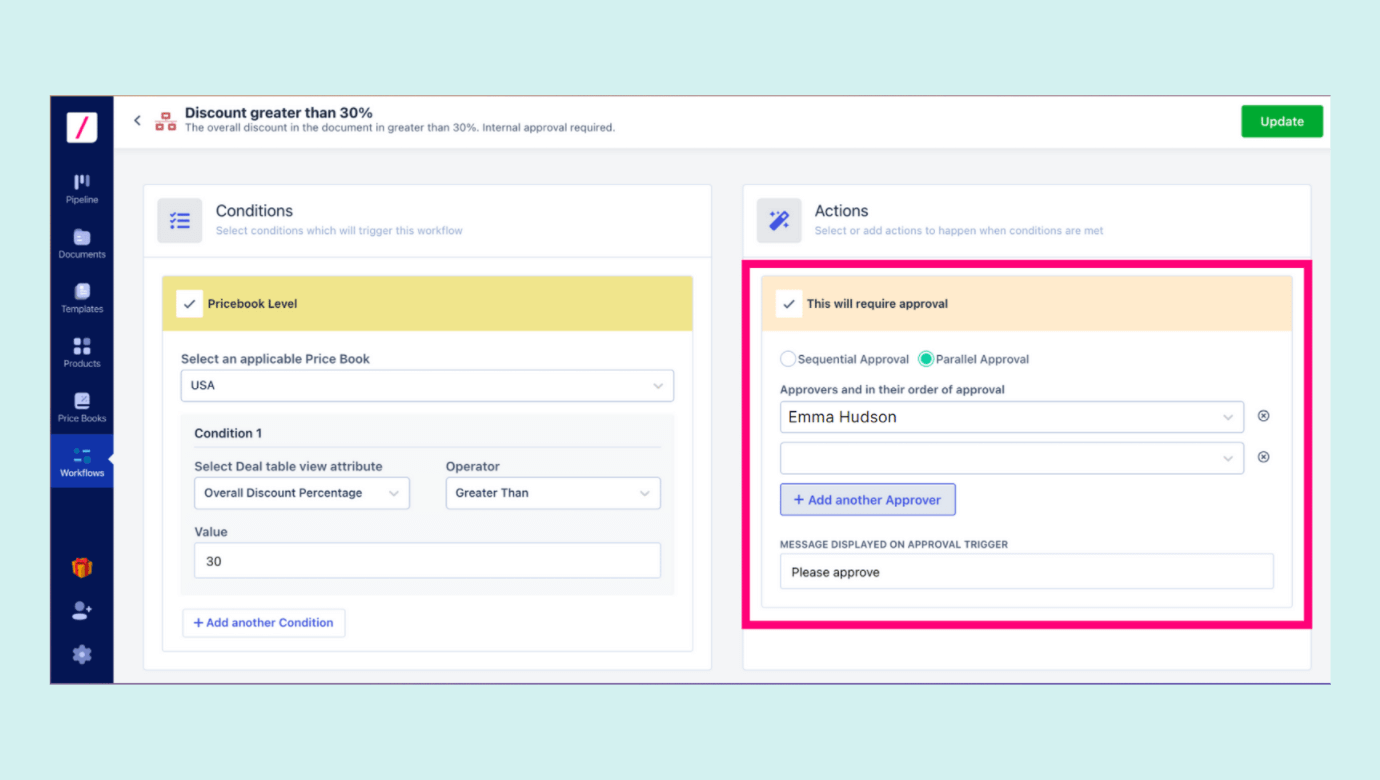 1.5.a. Workflow automation using Pipelines feature
With Revv's Pipelines feature, you can automate end-to-end contract workflows for your business.
How does the Pipeline feature work?
You can create different pipelines and categorize your contracts as per the type it represents. For instance, you can create pipelines such as partnership agreements, sales contracts, employment contracts, and so on. The sales contract pipeline will have all the sales-related contracts you deal with.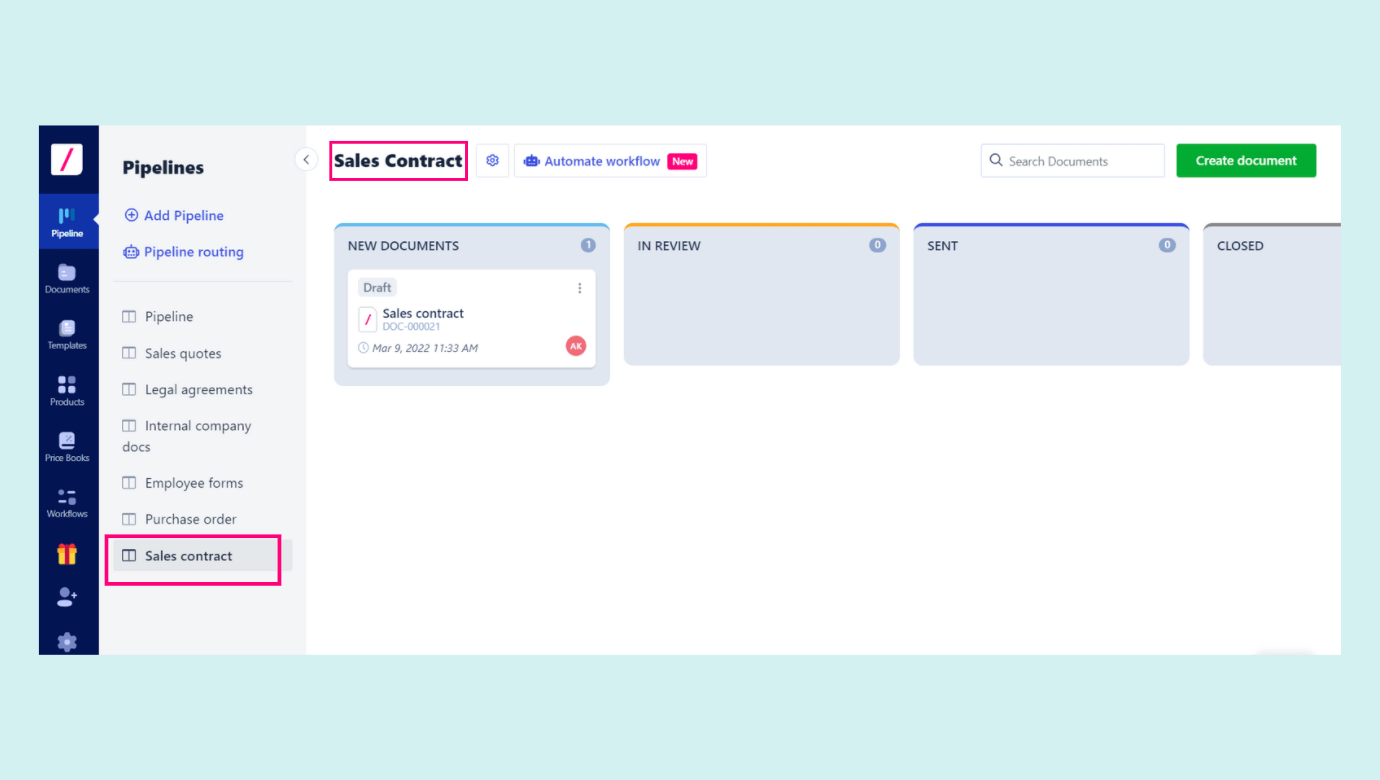 By using the Pipeline Routing feature, you can set a routing rule to send all the contracts created from the sales contract template to the sales contracts pipeline.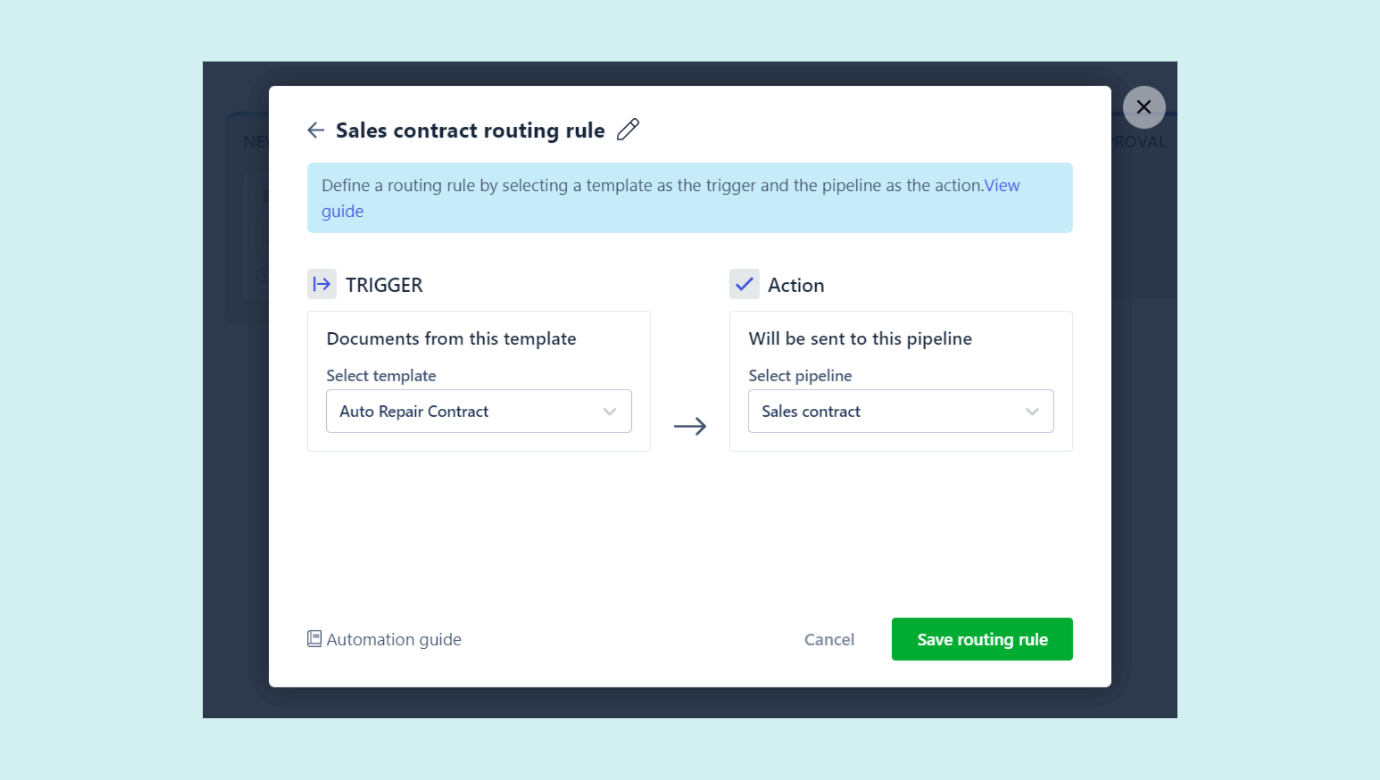 Each pipeline consists of different lanes that represent a contract's status. You can customize each lane based on your contract process. For example, the lanes can go by the names new contract, internal review, send for approval, approved, eSigned, closed, declined, etc.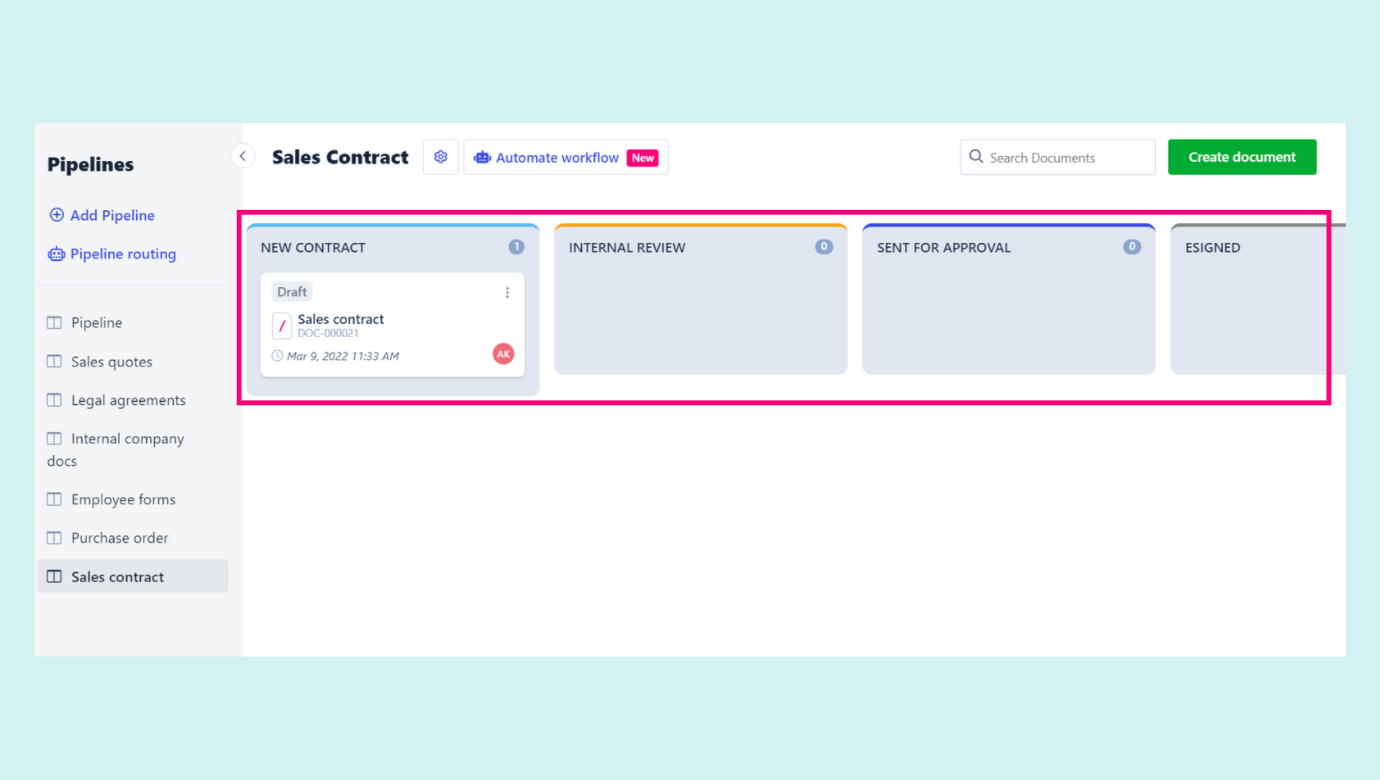 After you define the lanes, you can configure the contract actions, called events, for each lane. An event is a condition under which a contract enters a lane. For example, when a sales contract is internally authorized, it is transferred to the Approved lane.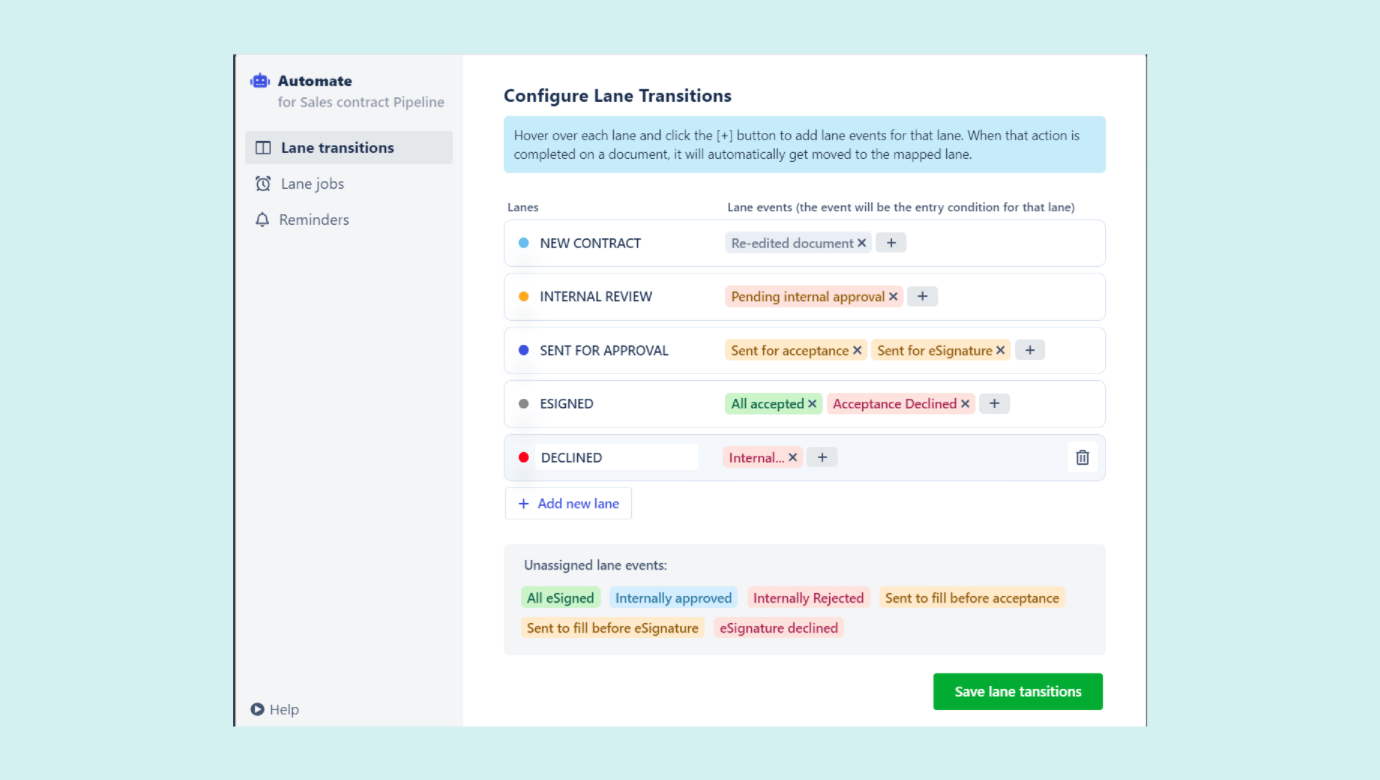 You can also add jobs to each lane that defines what must be done when a contract enters that lane. For example, you can notify your Sales Manager and Legal Head when a document reaches the Approved lane.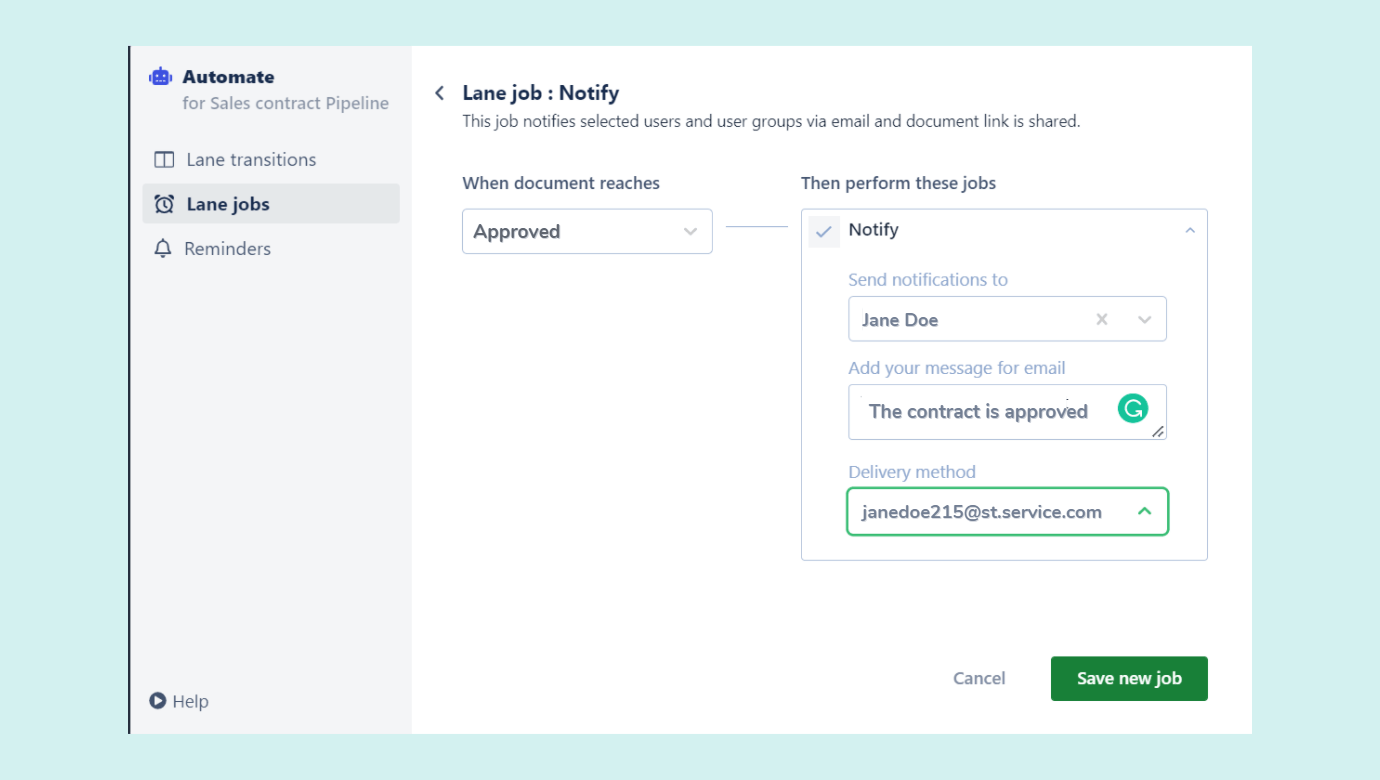 Along with automating contracts and their actions, you can set up the automated reminders and their frequency, curtailing the time spent on manual follow-ups.
Take control of your contract workflows &
start your contract automation journey with Revv
Sign up for a
free trial today
, No Credit Card Required
1.6 Integration with other software: Revv's contract management system offers integration with business systems like Box, Salesforce, Zoho, Google Drive, Zapier, Slack, and many more. Revv's integration capabilities are further powered by Zapier, Retool, and Native API solutions.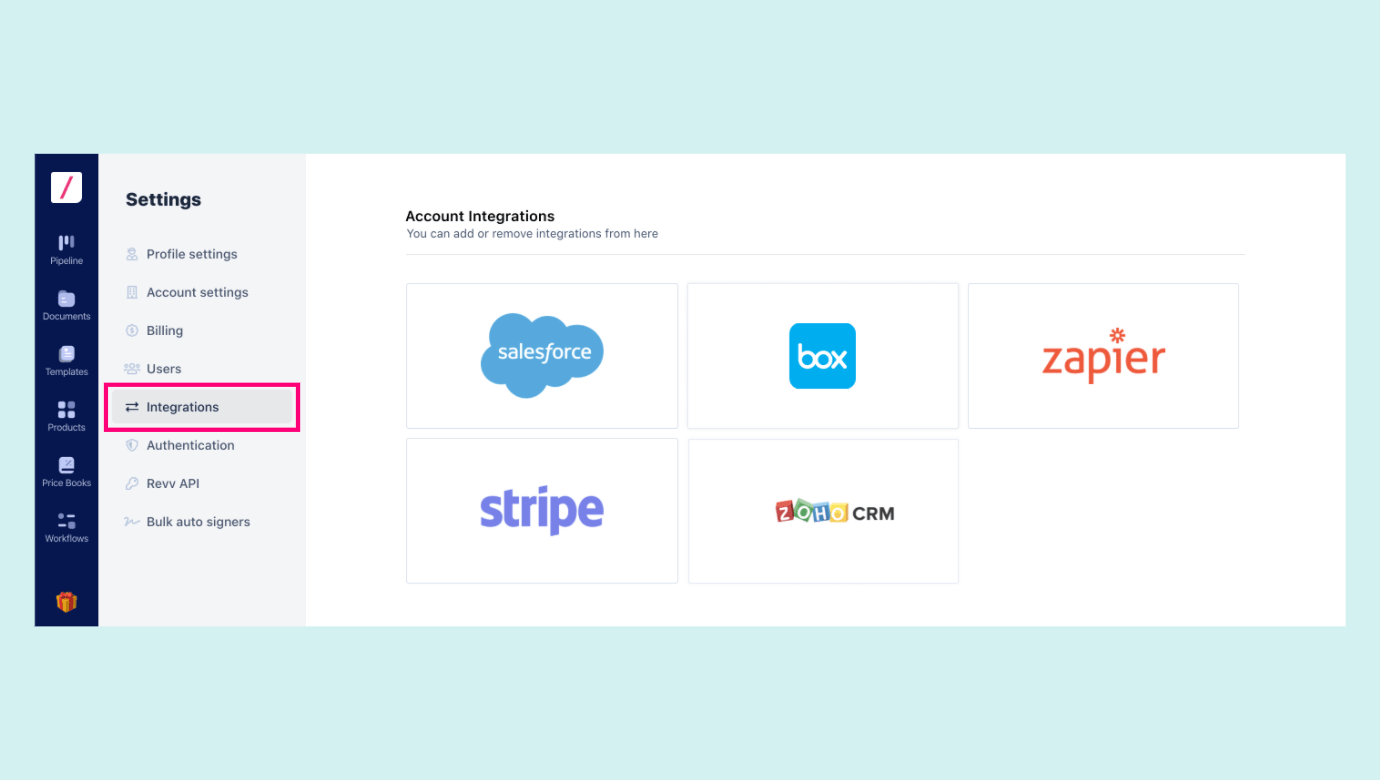 1.7 Data mapping with Data Studio: Depending on the size and complexity of the document, the data mapping process can take days, weeks, or even months. With Revv's Data Studio feature, data mapping is a breeze. Users can map data with multiple data sources to the Revv platform through point-and-click or by drag-and-drop. It doesn't require separate codes or scripts as well.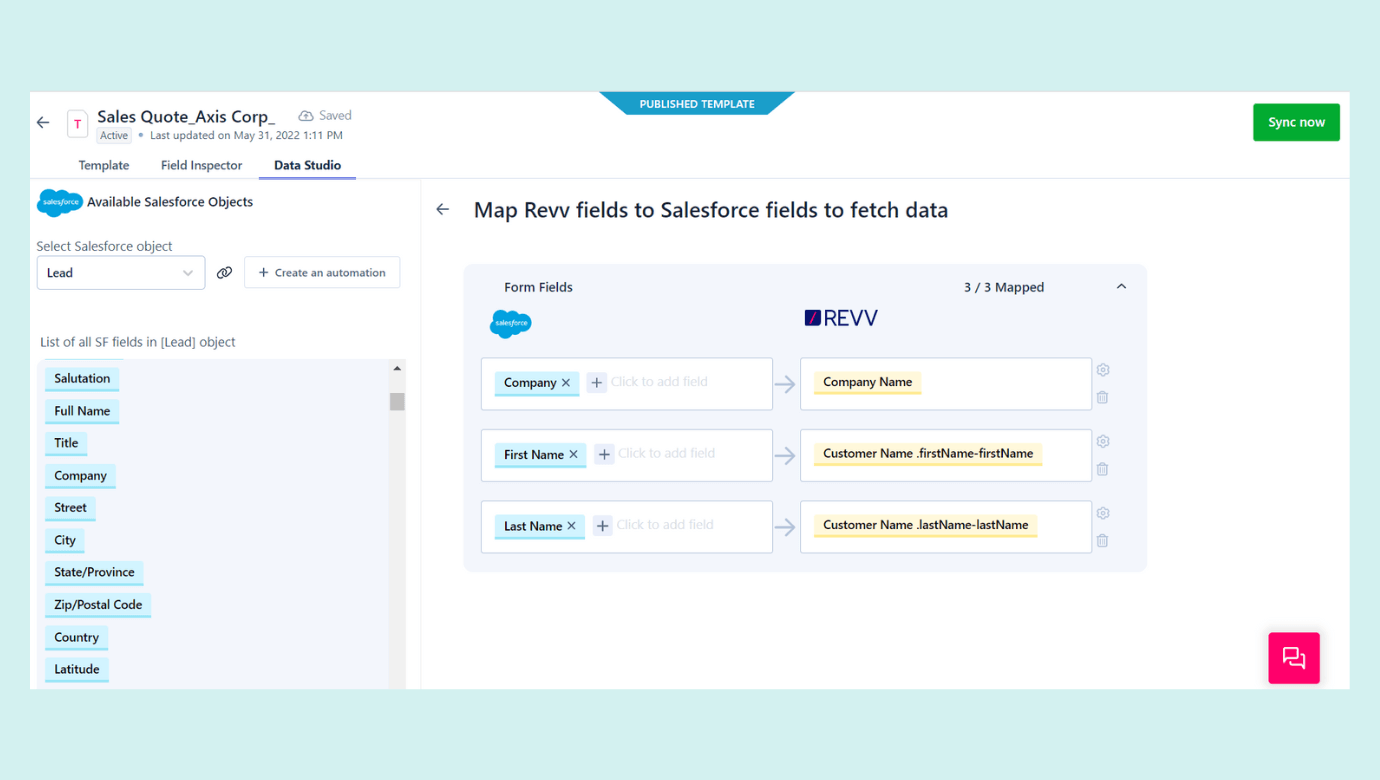 Data capture with custom web-forms

There might be instances where certain contracts require some key details from the recipient. You can still navigate the challenges of manual data mapping for such requirements and simultaneously enjoy the benefits of Revv's automated document workflows with the help of form fields or fillable placeholders.

All you need to do is turn your contract into a form-based template. Insert form fields wherever needed using the form field feature. You can use form fields to effectively gather data from your recipients that only they can provide.



1.8 Different eSign options to sign off contracts: Revv provides bank-grade electronic signatures that are completely secure and compliant with global and local laws. You can add any number of signers to a document.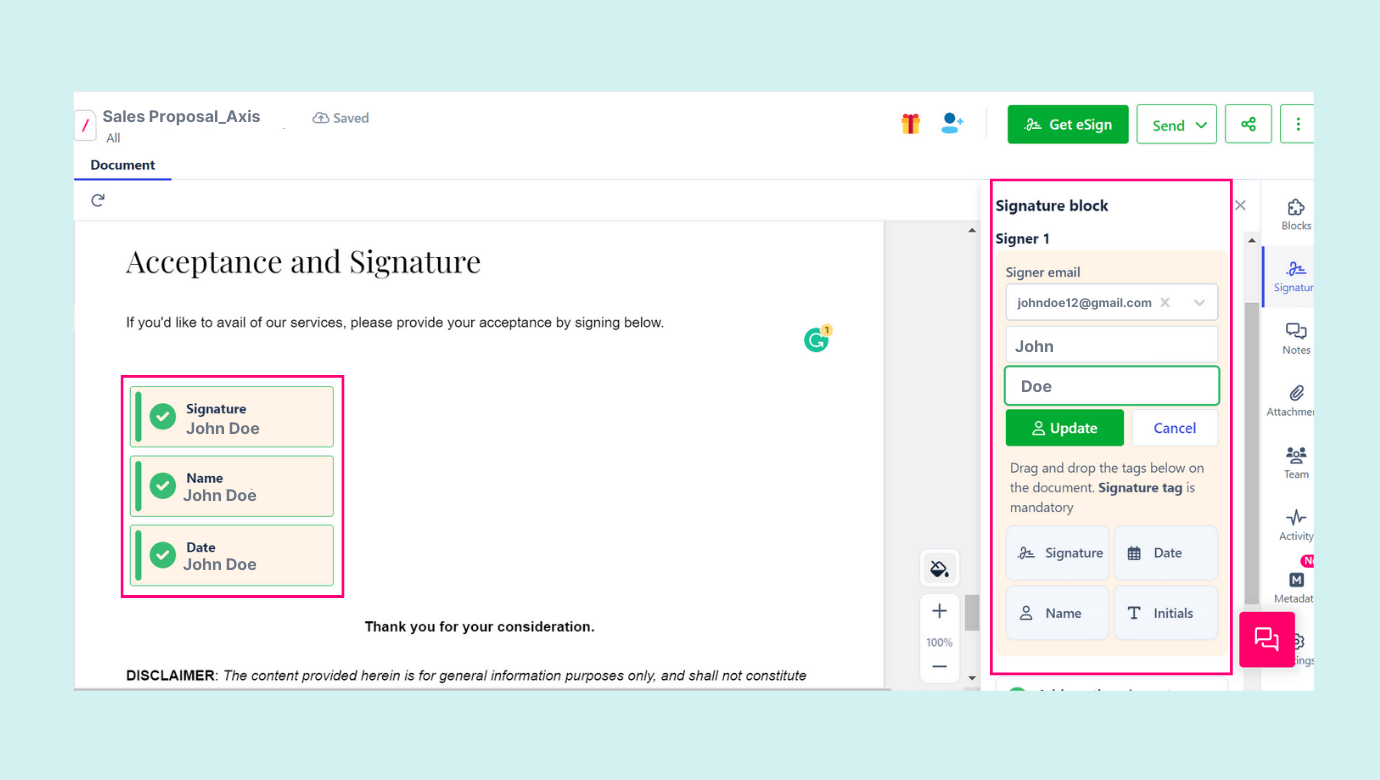 When you send documents for eSign, the recipient instantly receives an auto-generated email notification asking them to take necessary action.
Recipients or signers can now have the flexibility to sign off documents faster with Revv's flexible eSigning options.
They can 'Draw signatures,' 'scan and upload signatures,' choose from 'pre-formatted text styles,' and even connect their crypto-wallet MetaMask to complete the signing process.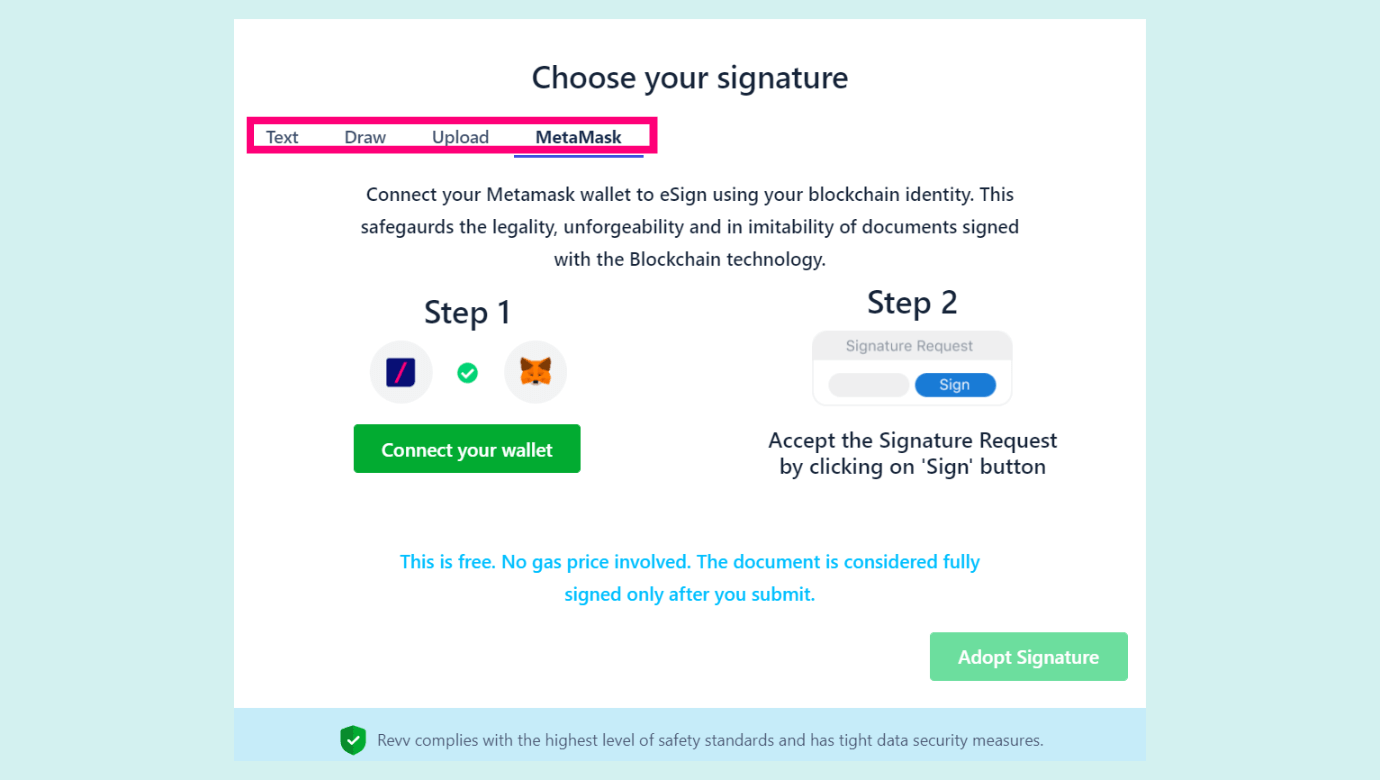 1.9 Approval and reviews: When your contracts need approval from management or review from other departments inside the company, opt for Revv's Check and send for internal approval feature. Set precise triggers and automate your document approval workflows with this option.
If contracts need to be reviewed by someone outside the company, then the user can choose the Send by email option provided in the Revv platform. The sender can also set permission to view or edit the document.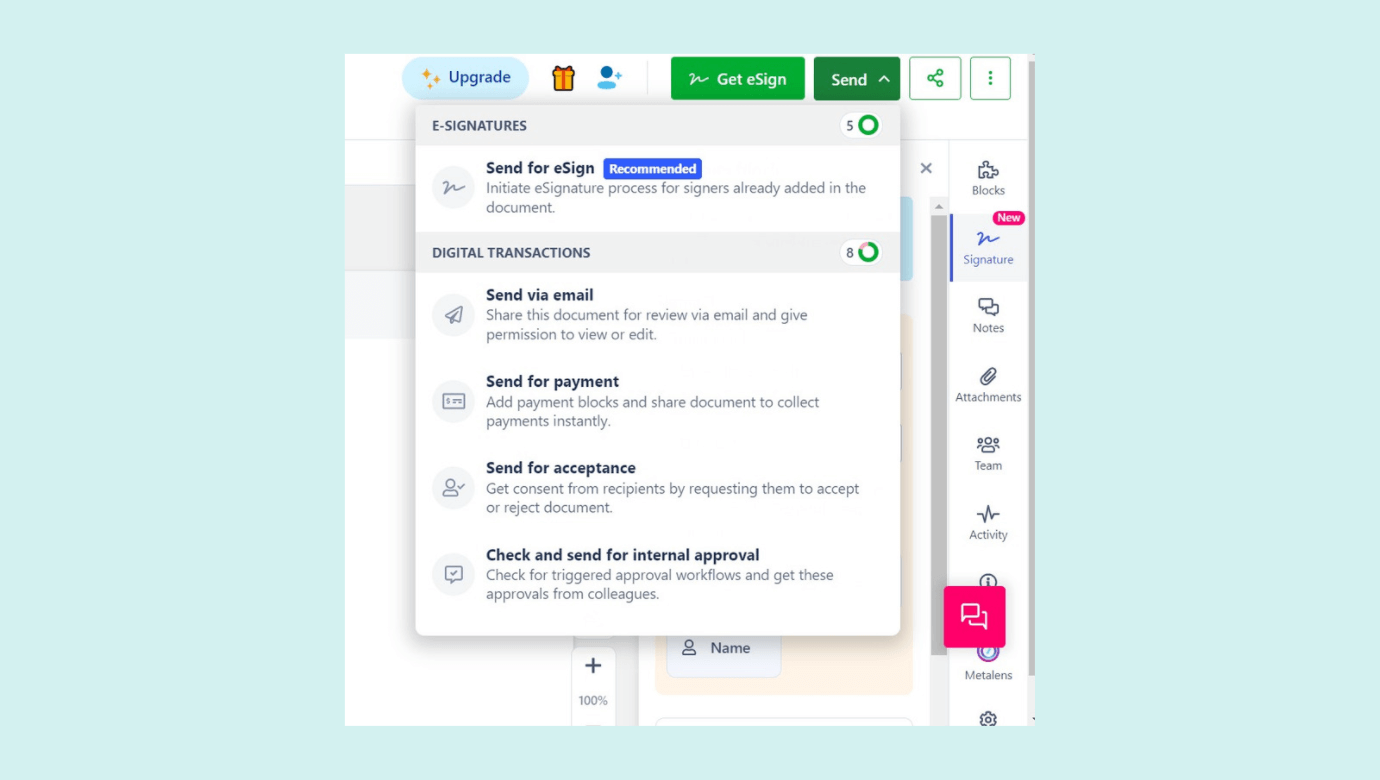 1.10 Notification and real-time tracking: Whether you are sending contracts for electronic signature or internal approval or acceptance, all actions will be instantly notified to both senders as well as recipients via autogenerated emails.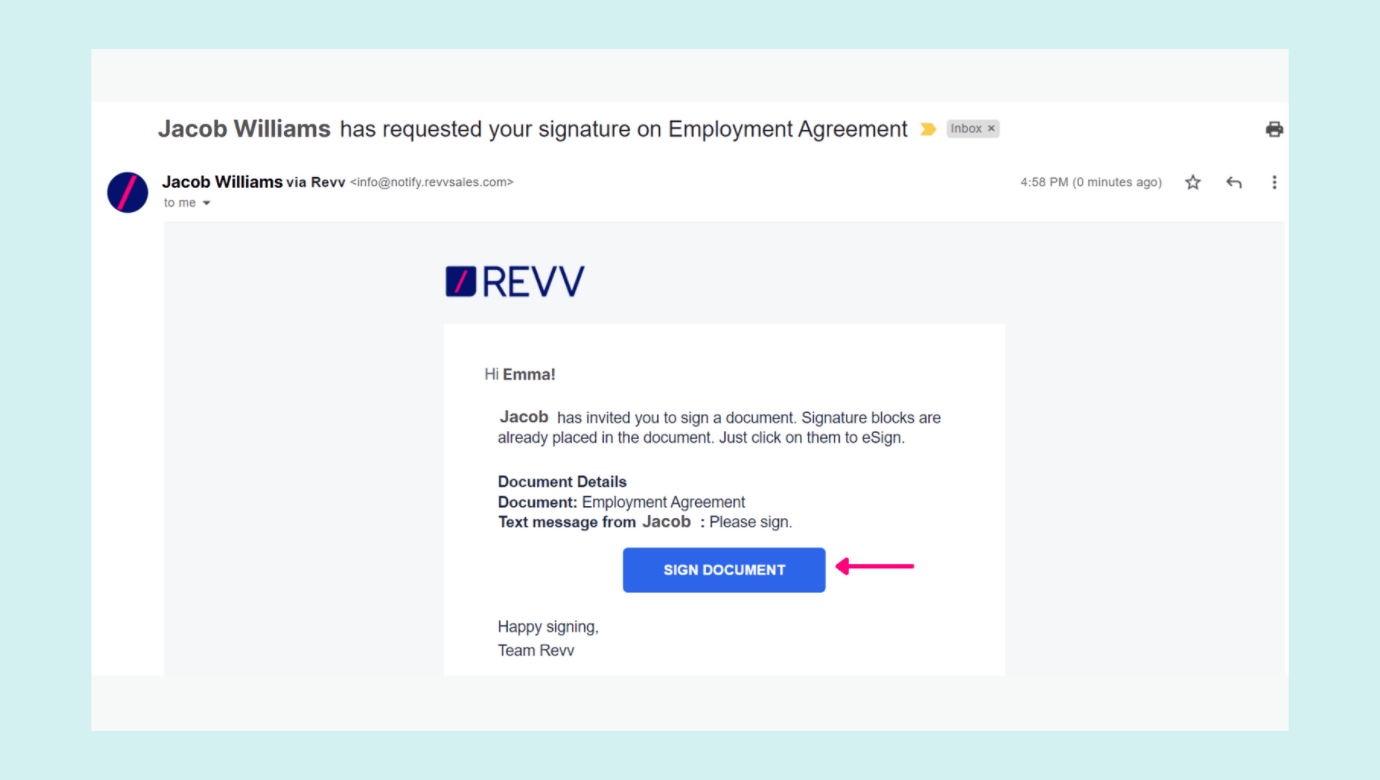 A sender can also track any activity that has happened in the contract from the Activity tab. It records all actions associated with it, right from the creation of contracts to the completion of electronic signatures. For instance, if a recipient has viewed a document and hasn't completed the eSign for a couple of days, the sender can easily analyze this blocker from the Activity tab and reach out to the person and clarify recipient queries immediately.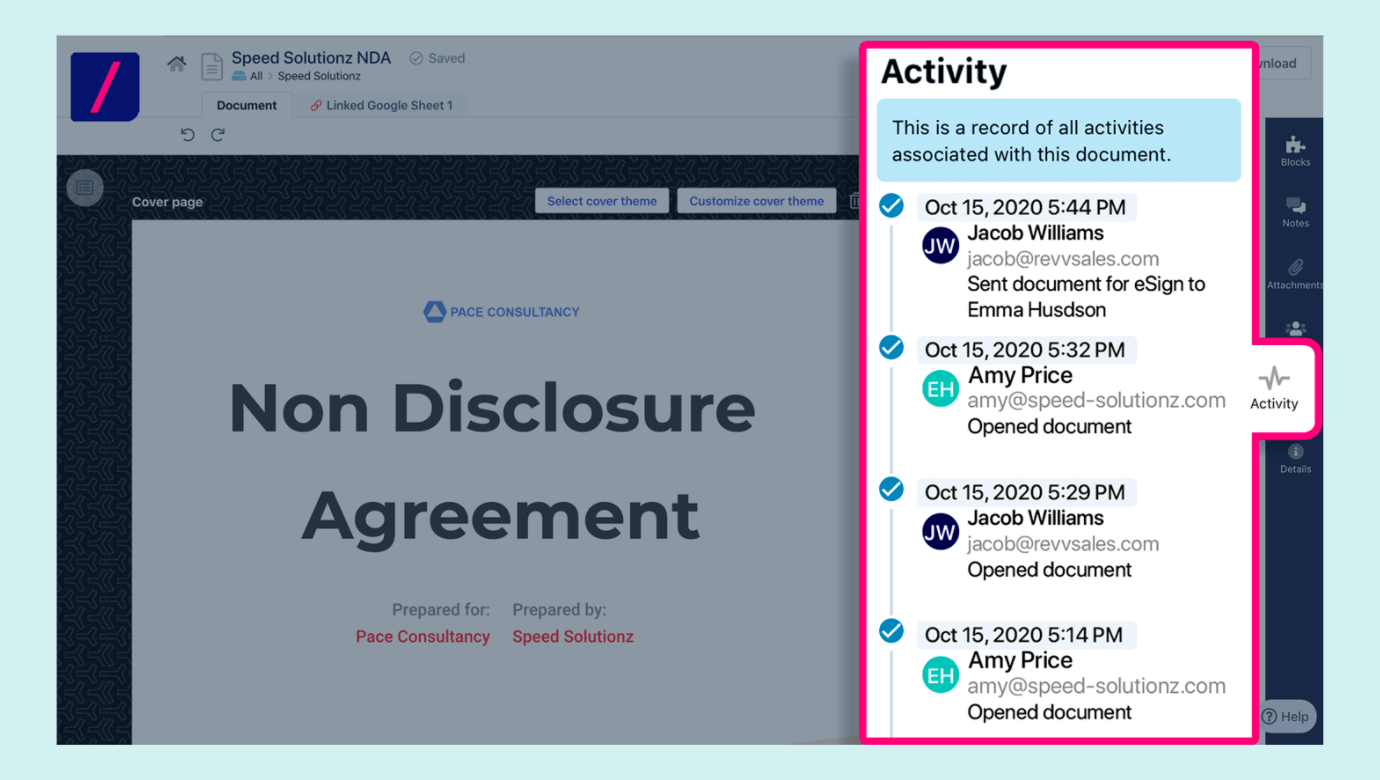 1.11 Recipient authentications: Revv protects your contracts and prevents any unauthorized access by recipient authentications. You can ensure the identity of your recipients by:
Email authentication: All contracts sent for eSignature are mandatorily sent to the recipient's email address.
SMS-OTP authentication: Opt for this option to add an extra layer of protection for your confidential contracts. Add the recipient's phone number while sending contracts for eSign. An OTP is generated and sent to the recipient's mobile when they click the eSign link to validate their identity. To access the file and start signing, the recipient has to enter the OTP code.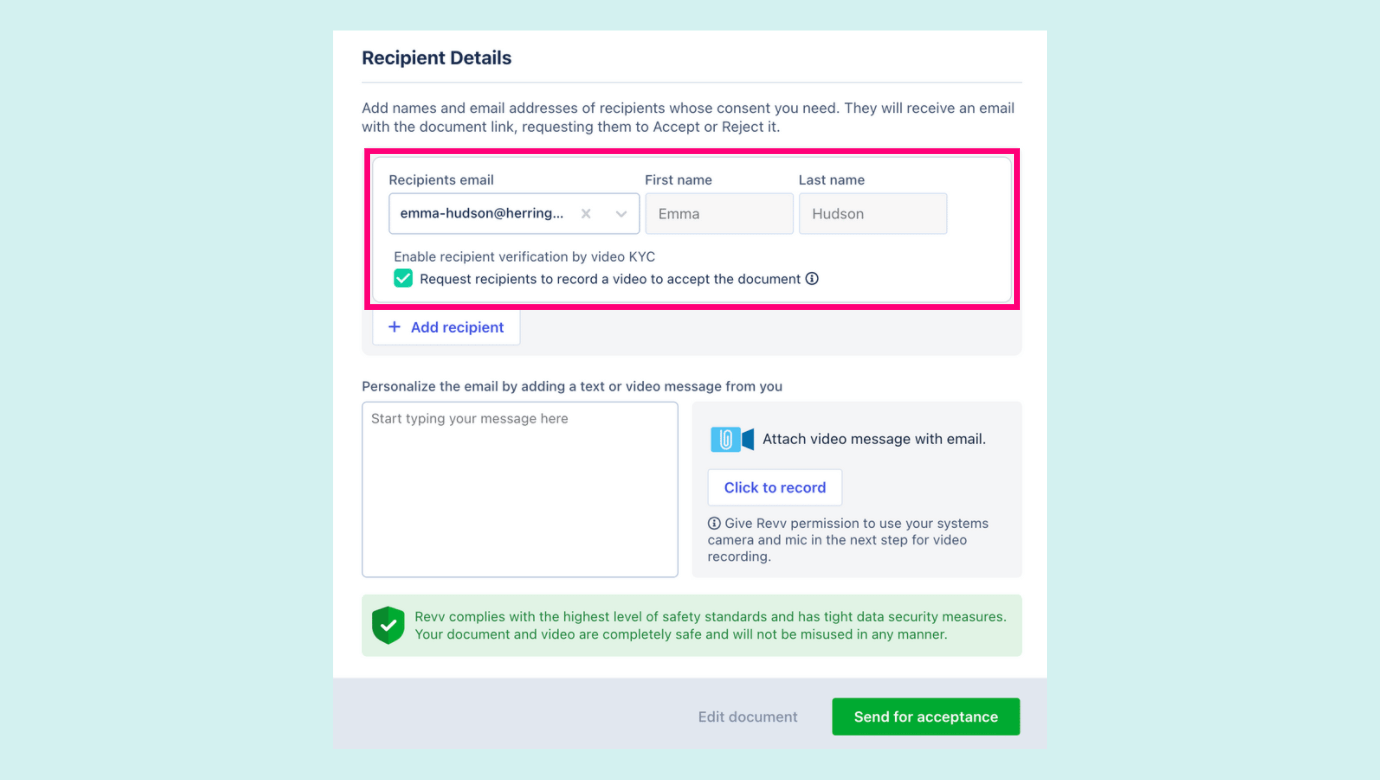 1.12 Machine learning – Revv's metalens feature comprehends and analyzes contracts quickly and highlights important data such as parties, dates, clauses, and more. It extracts data and intent from business documents to scale up business processes.
1.13 Payment integration – The users can collect payment online by simply integrating the Stripe platform within the contracts.
Know more about Revv + Box integration

The efficient integration capabilities of Revv make it possible for businesses to continue their processes post eSignature of contracts. When Revv is integrated with Box, workflows can be automated for your business systems before and even after the completion of eSignatures.

Revv's Pipelines feature makes it easy to automate operations between Revv and Box. Workflows of any complexity may now be created, managed, and executed with ease. Trigger new Box workflows based on your business needs using document metadata and metadata obtained from Revv's form fields.

When it comes to deciding what data to save in Box, you have the last say. Document files, Evidence Summaries, Document Attachments, Document form fields, and quote line items are some of the data types you can send to Box.

And we are not done yet! Here are some more features offered by Revv:
Smart document repository with support for attachments
Centralized contract repository
Clause management
Access contracts from anywhere, anytime, and from any device
These features make Revv a one-stop solution for managing contracts smartly. For more clarity, here is a chart comparing Revv's and ContractSafe's features.
Pricing
Revv offers extremely cost-effective and flexible pricing options so that no business needs to ponder over its budget.
Revv provides both monthly and annual billing plans. The monthly pricing plans are as follows
Forever free plan: $0
Basic: $15 per user per month
Premium: $39 per user per month
Business: $79 per user per month
Enterprise: Custom plan designed to meet the enterprise-level needs
Know more about Revv's pricing plans here.
Sign up here for a free trial.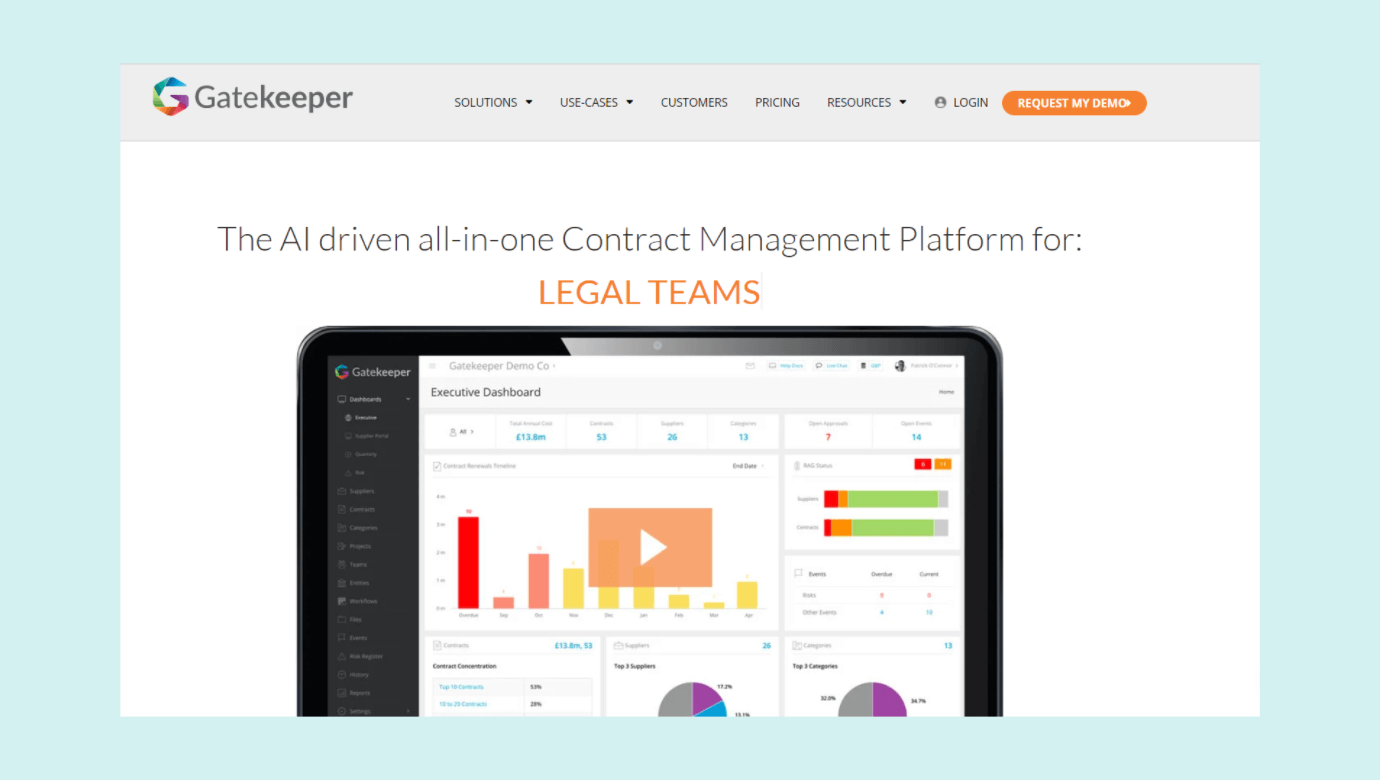 About
Gatekeeper, another ContractSafe alternative, is an AI-driven platform with a core focus on contract lifecycle management and vendor lifecycle management. Its offerings fit well for all business functions – IT, sales, finance, operations, procurement, legal, and vendor management teams.
Features
Its advanced set of features like AI extract, Kanban workflow engine, eSign, eNegotiate, and integration capabilities make it apt to manage even the most complex contract management tasks.
It also provides expandability with additional modules like employee portal, vendor portal, market IQ, risk module, etc., that are needed to scale up the business.
Here are the other key features:
Comprehensive contract repository
Automated reminders
Workflow & compliance automation
Microsoft Word-compatible redlining
Integrated eSignature
OCR search and analysis
Multi-currency support
Contract templates & clause library
Integration capabilities
Pricing
Essential: $875 per month
Pro: $2,095 per month
Enterprise: $3,725 per month
All the plans include unlimited users and the plans scale according to the number of suppliers and contracts.
Find details about Gatekeeper's pricing plans here.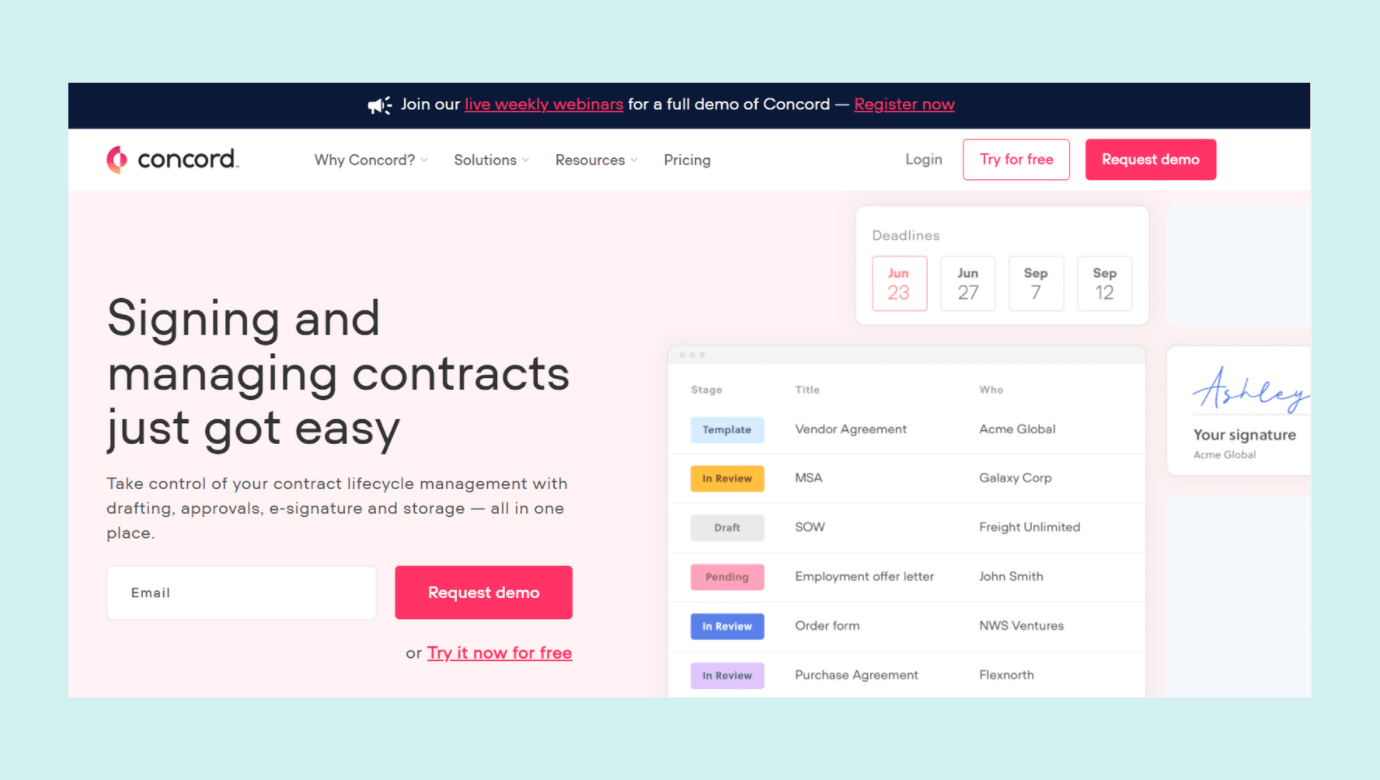 About
With an inbox-like user interface, Concord is easy to set up and work on. Its robust and simple-to-understand features make contract management a breeze.
Features
Template building and clause library
Real-time editing & redlining
Contract approval workflows
Automated versioning
Private/public chat & commenting
OCR search
Electronic signature
Full audit trail
Storage system
Automated alerts
Integration with other business apps
Pricing
Each package's pricing is based on the number of users. Here are Concord's pricing plans:
Free
Standard: $17 per month per user
Pro: $49 per user per month
Enterprise: Get a custom quote
Concord also provides full onboarding support for all plans except the free plan.
Know more about Concord's pricing plans here.
Looking for a cloud-based contract lifecycle management software?
Try Revv!
Schedule a demo
with our experts today!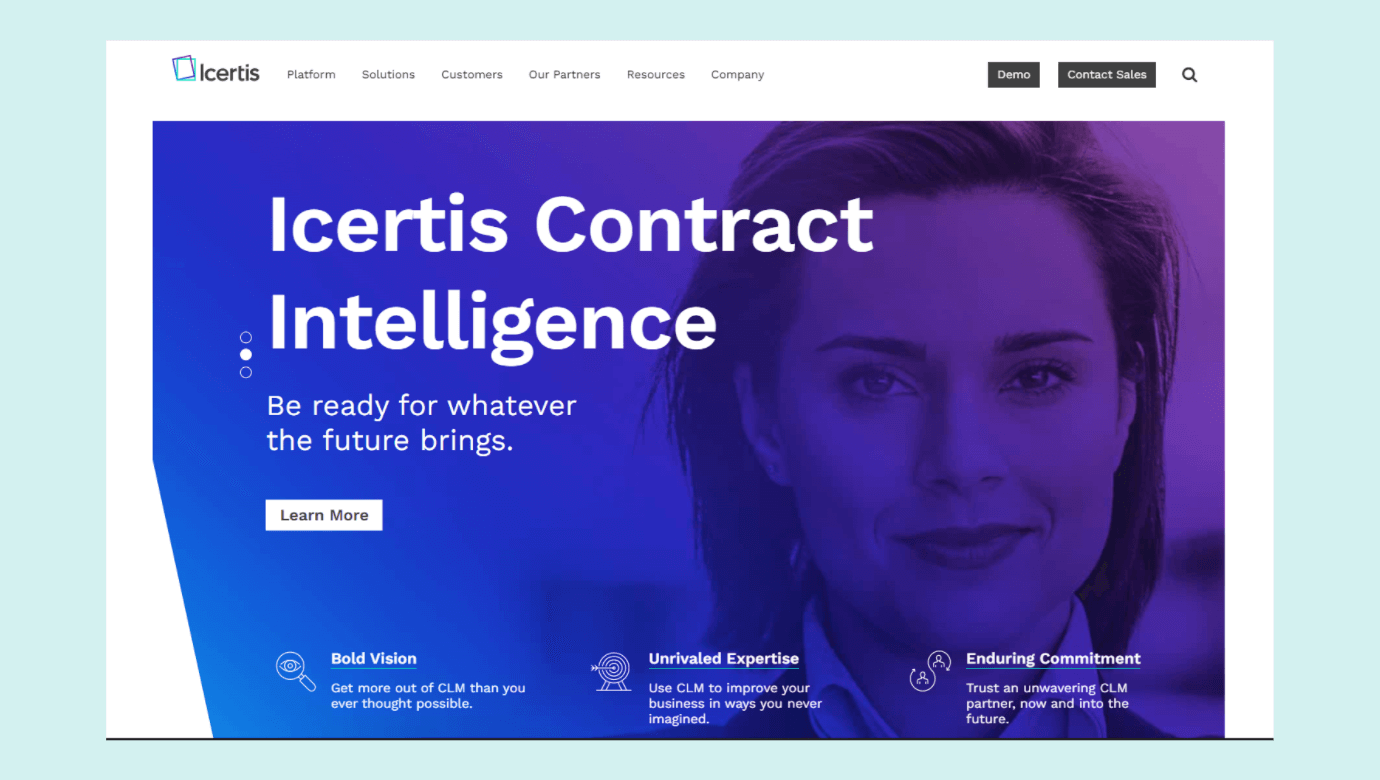 About
The Icertis Contract Intelligence (ICI) platform possesses the capabilities and intelligence to manage the complete contract lifecycle right from contract requests to renewals. It is a smart ContractSafe alternative. The AI-powered platform connects the dots and digs out invaluable insights from contracts turning them into strategic business resources.
Features
Intelligent contract setup through flexible configuration, intuitive and personalized experience, integration-friendly cloud architecture, and enterprise-grade security to manage highly sensitive confidential contracts
Powerful collaboration tools to support contract negotiation and execution
Flexible, rule-based contract generation and self-service contracting
Risk and compliance management tools
Dynamic approval workflows
Contract templates
Notifications and reminders
Robust searchability and visibility to contract data
Advanced contract analytics and reporting
Pricing
The pricing information is not available on their website. Please contact their team to obtain the same.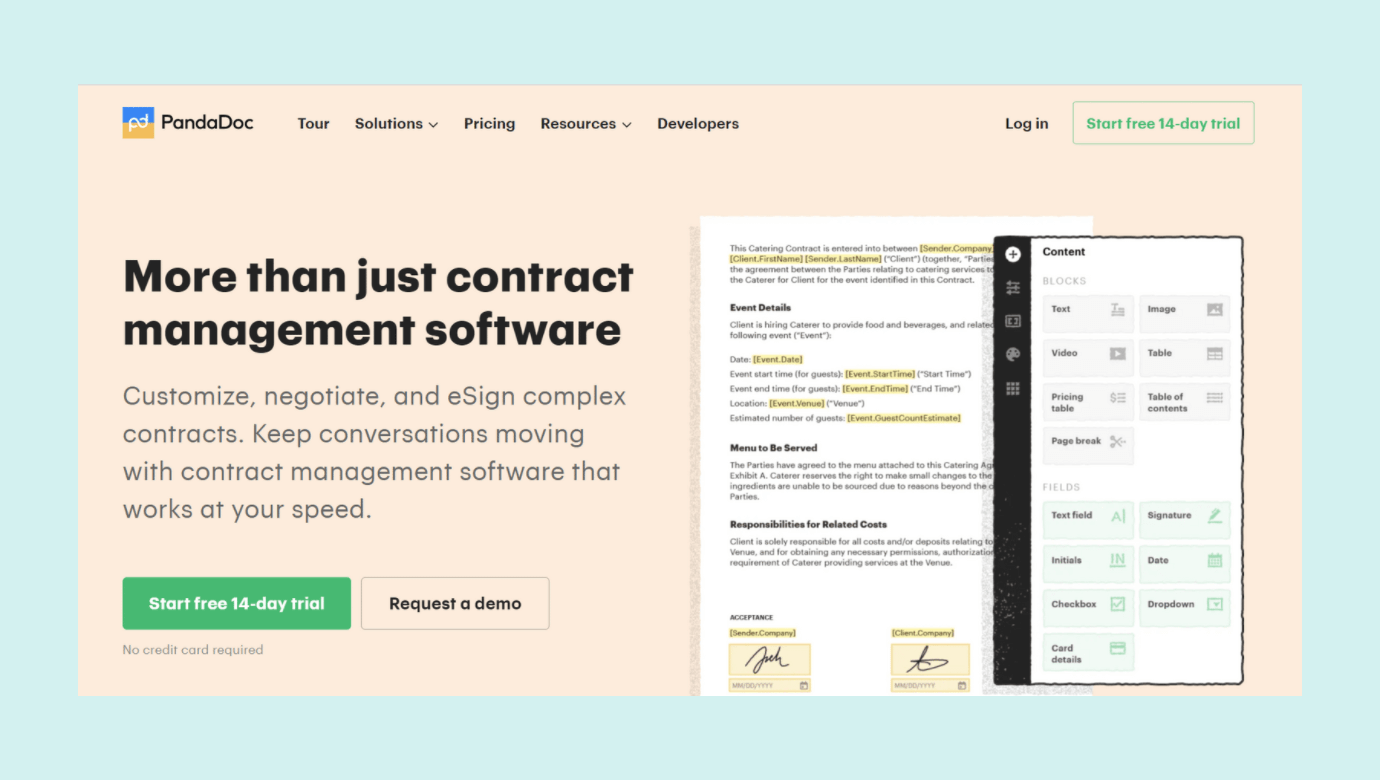 About
PandaDoc is a SaaS company that provides a cost-effective and flexible contract management solution. It is an intuitive software to exceptionally manage the entire contract lifecycle.
Features
An enterprise library of pre-approved templates and clauses
Rich editor
Contract authoring
Salesforce and other CRM integrations
eSignatures
Automated approval workflows
Redlining
Contract Repository
Collaboration with in-line commenting and document chats
Document tracking
Payment processing
Alerts and notifications
API to integrate other applications
Pricing
PandaDoc offers both monthly and annual plans. The annual plans can lead up to a saving of 24%. Here are Pandadoc's pricing plans based on monthly billing:
Free
Essentials: $19 per month per user
Business: $49 per month per user
Enterprise: For businesses that require more capabilities, PandaDoc offers a customized solution and package.
Pandadoc provides 24/7 email and chat support on all paid plans.
Know more about PandaDoc's pricing plans here.
Automate business workflows and create a seamless experience with Revv
Sign up for free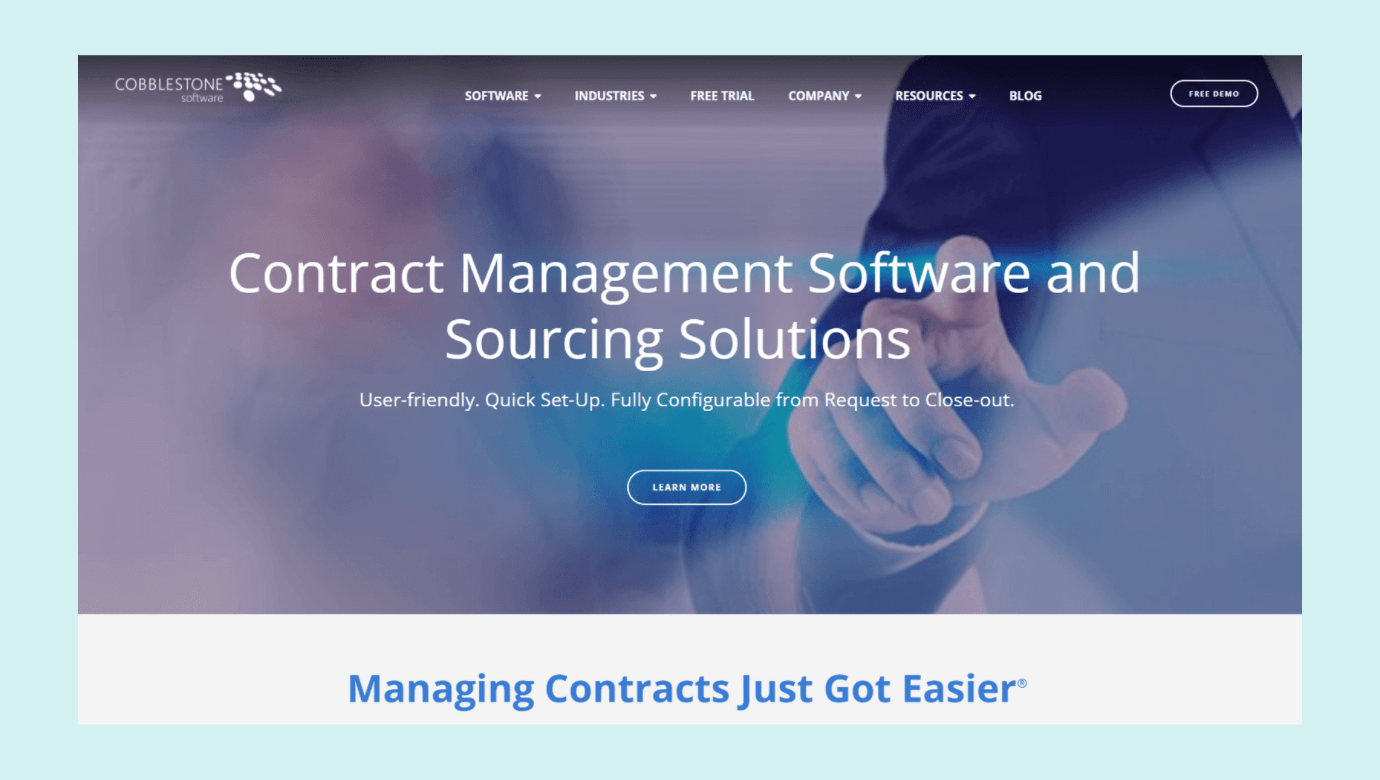 About
Contract Insight by CobbleStone provides contract, vendor, and e-procurement management software.
Contract Insight is available in three editions – Enterprise, Express, and Workgroup – to match the different business needs. It further provides web-based access, SaaS, and on-premise deployment facilities. Find here the features comparison for all three editions.
Features
Contract drafting and unlimited user-defined fields
Check-In tracking & version control
Dynamic contract templates & clauses
Search & full-text indexing
Data integration and API plug-ins with enterprise software
Document management with version tracking
Artificial intelligence and machine learning
eSignatures
Email, task, and calendar alerts
Custom report design and generation
Workflow management
Pricing
The price details for Contract Insight are not available on the website. You can fill out a form and request pricing.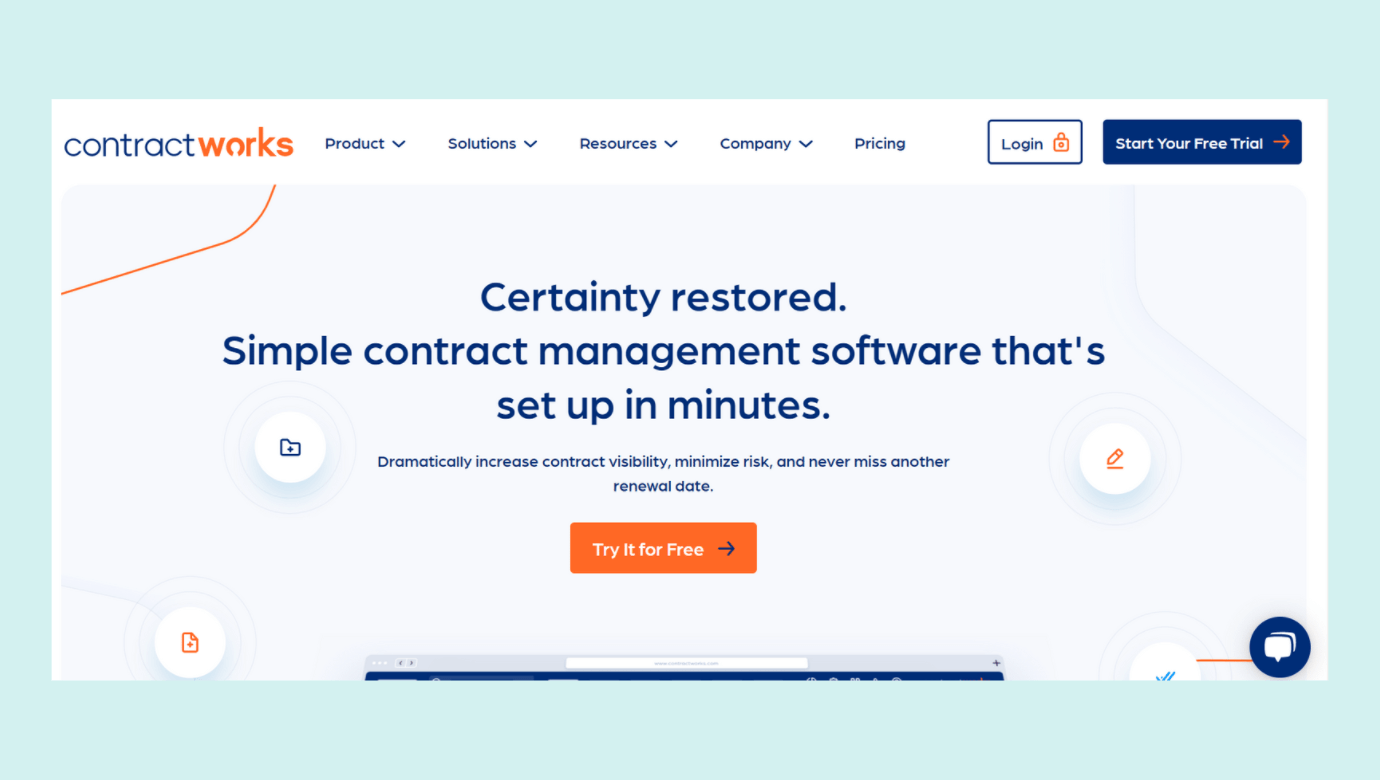 About
Enabled with artificial intelligence, user-friendly interface, customization, and automation capabilities, ContractWorks fits well for small-to-medium and large organizations. It is easy to set up and implement.
Features
Document templates
Customizable form fields
Secure contract repository
Smart document tagging
OCR and advanced search capabilities
Audit trail
Electronic signature
Unlimited alerts and notifications
Customized reporting
Permission-based user roles
Salesforce integration
Pricing
ContractWorks provides three pricing plans. All plans are billed annually and offer unlimited users, but there is a cap on the number of documents for each plan.
Standard: $600 per month (billed annually)
Professional: $800 per month (billed annually)
Enterprise: $1000 per month (billed annually)
To know more about ContractWorks pricing plans, visit here.
Looking to draft, manage, track, and automate the entire contract lifecycle?
Try Revv today!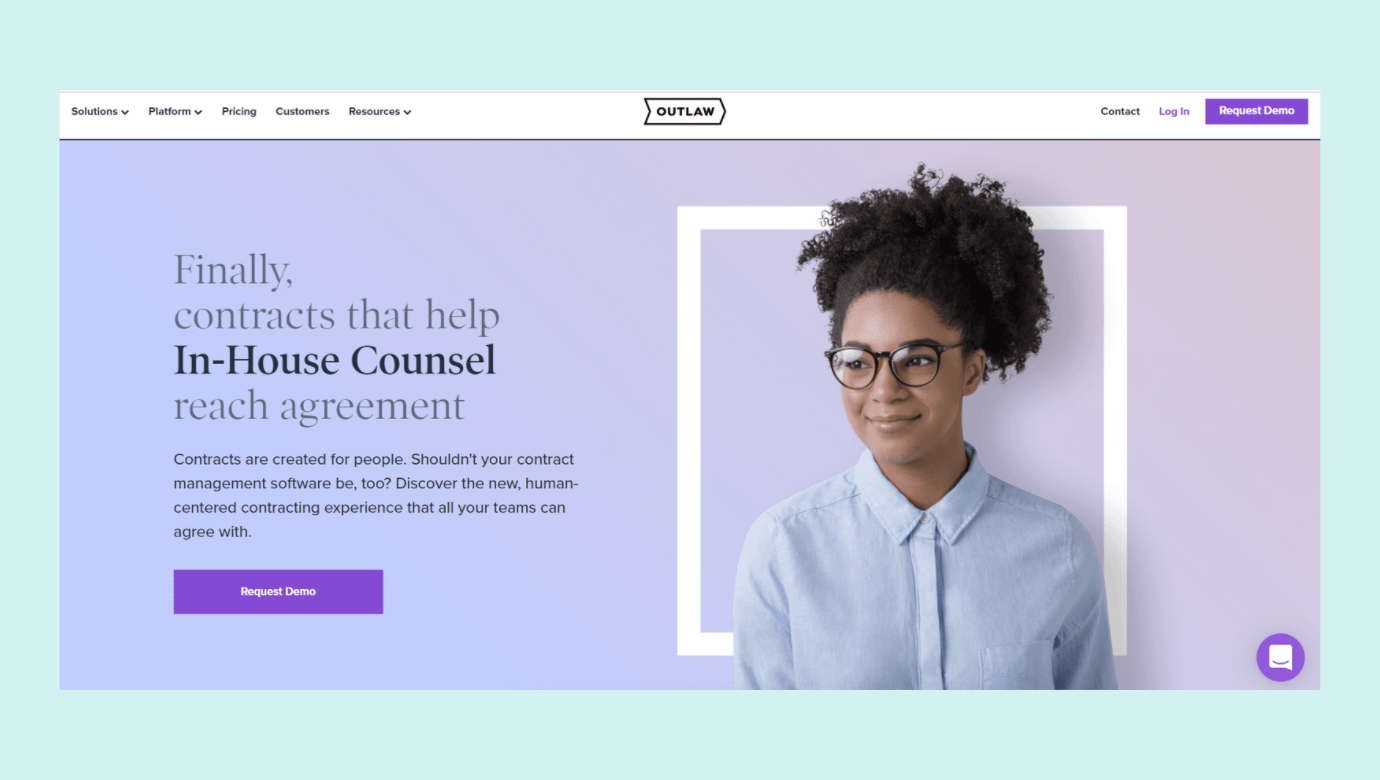 About
Outlaw's contract management system is an excellent ContractSafe alternative. It is a feature-rich platform powered by AI-driven analytics available in flexible and affordable subscription options. It combines contract generation, document automation, in-app collaboration & negotiations, and a smart repository into a single user experience.
Features
Pre-vetted dynamic templates
Redlining and version control
Built-in dynamic clause library
Automated workflows
Analysis and reporting
Tracking
API access for seamless integration
Dynamic fields
Real-time updates and notifications
AI-powered OCR
Personalized saved searches and dynamic foldering
eSignatures
Pricing
Outlaw offers flexible pricing options based entirely on the solutions your business requires. To know the pricing, you need to contact their team.
To know more about Outlaw's pricing plans, go here.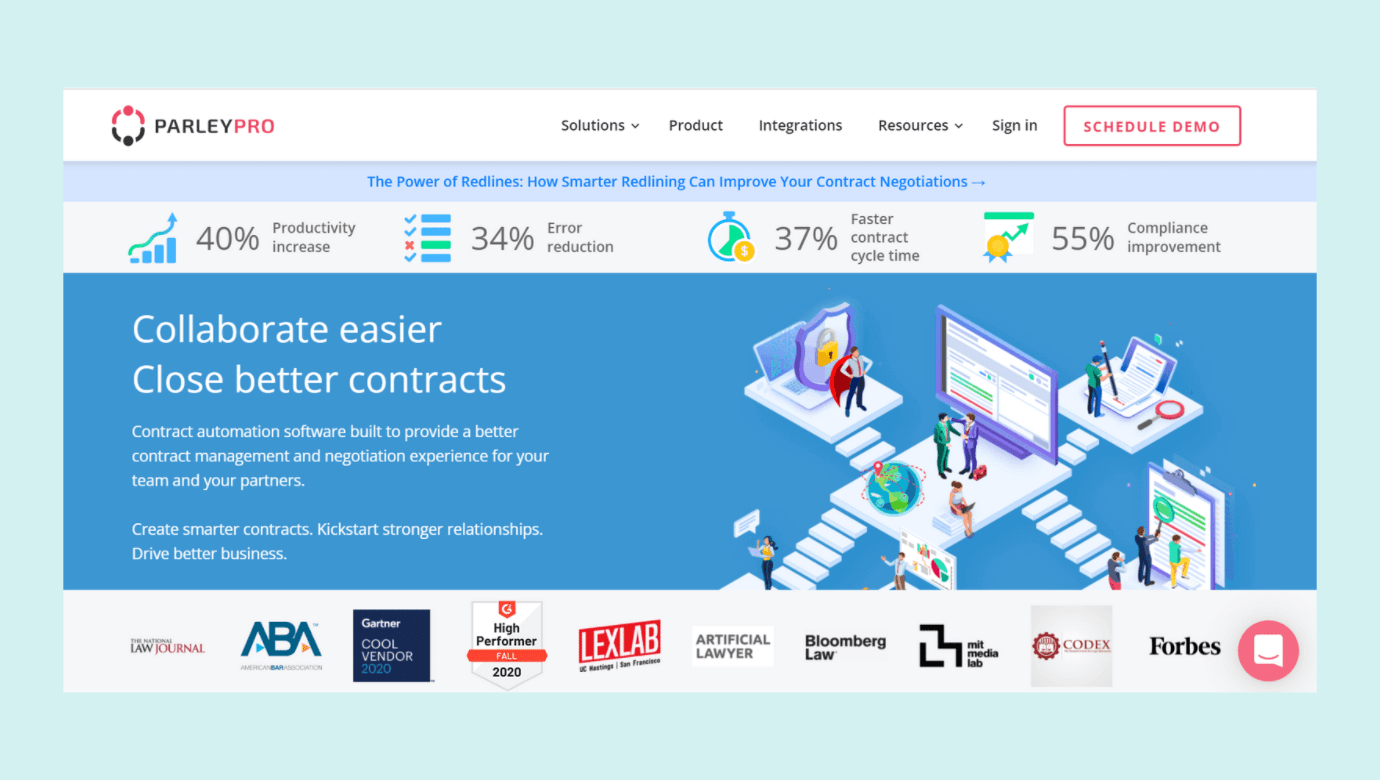 About
Parley Pro is a collaborative cloud-based contract lifecycle management platform. It automates and streamlines the complete contracting process and also enables a better negotiation experience.
Features
Contract templates
Contract attachments
Real-time collaboration
Smart integrations
Reporting, insights, analytics, and dashboards
eSignatures
Approval workflows
Notifications
Searchable contracts
Smarter and faster negotiations with full control of comments and change visibility
Pricing
The pricing plans for Parley Pro are not mentioned on the website.
Looking for a cloud-based contract management solution?
Try Revv
! No risk and no credit card required
About
Lextree from Berkman Solutions is a SaaS-based contract management solution packed with automation features that are secure and easy to use.
Features
Central contract repository
Automatic alerts
Custom workflows
Built-in reports
Collaboration
Customization
Track and monitor compliance obligations
Lextree also offers entity management software that brings all legal documents, data, and entities in a single place.
Pricing
There are three pricing plans from Lextree:
Professional: $100/month offering single user, unlimited contract, 10 GB storage, and more
Business: $500/month offering unlimited users, unlimited contracts, 100 GB storage, and more
Enterprise: Contact their team
You can find Lextree's pricing plans here.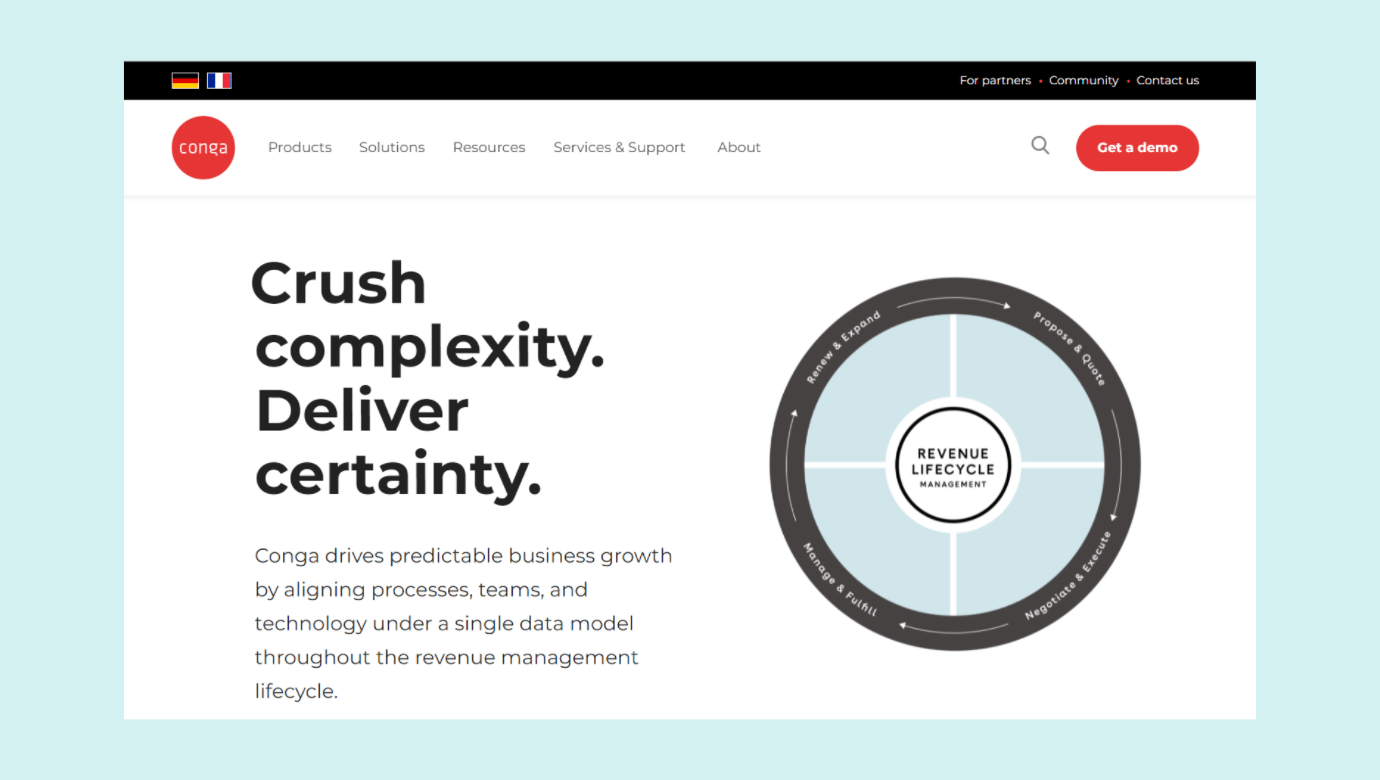 About
Conga CLM empowers users at every stage of the contract lifecycle, streamlines the processes, and reduces cycle times. Conga's merger with Apttus in 2020 has further strengthened the portfolio and brought more visibility and power to contract management.
Features
Central repository
Contract templates
Clause library
Integration into other systems – CPQ, ERP, etc.
Negotiation tools
eSignatures
AI assistance
Dynamic add-ons to edit contracts in MS Word
Review and redlining
Collaboration
Analytics, reporting, and search capabilities
Integration with other software like Salesforce, SAR Ariba, Kira, Coupa, etc.
Pricing
Conga's pricing details are not available on the website but can be obtained upon request. Contact them for the same.
Looking to draft, manage, track, and automate the entire contract lifecycle?
Revv is your best pick!
Schedule a demo today
!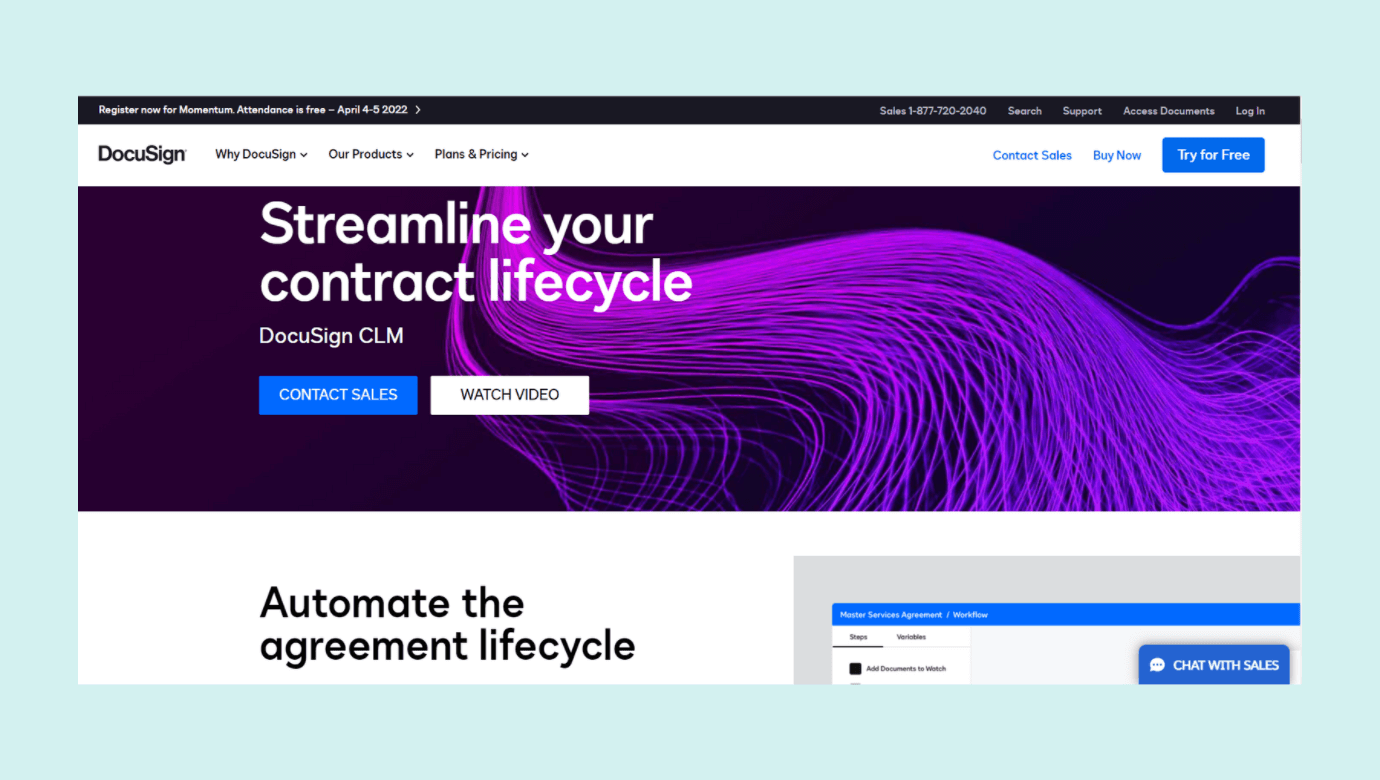 About
DocuSign CLM has varied features to speed up the contract lifecycle. With DocuSign, you can automate manual tasks, align complex workflows, and eliminate errors and risks.
Features
Configurable workflow
Searchability
Centralized repository
Template and clause library
Document tracking
Collaboration
API integrations
eSignature facility (sold separately)
Pricing
The pricing plans of DocuSign CLM are not provided. Please contact their team to find the right plan based on your business needs.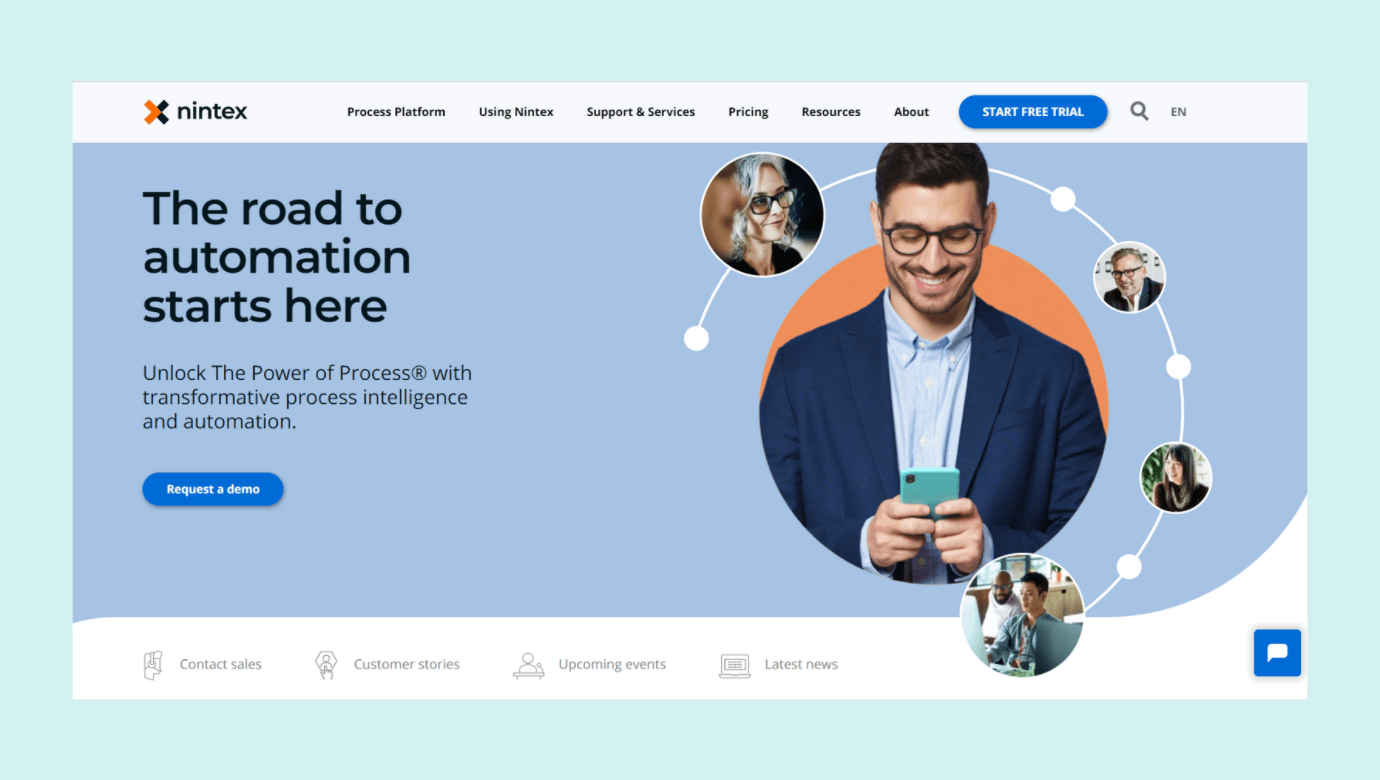 About
Nintex is a process management and automation software. It is easy to use and automates business processes and workflows quickly.
Improve your company's CLM processes and sign off contracts faster.
Try Revv
– The best contract management software
Features
Document generation
Customized branding
Data unification
Workflow management
Permissions for sharing
Real-time process monitoring
Audit trail
Automated routing
Pricing
The software offers different services. You can choose a plan based on your contract management function.
Nintex Workflow: package starts from $910 per month
Nintex AssureSign: package starts from $2 per envelope
Disclaimer:
Please note that all the information in this ContractSafe alternative blog is taken from company websites, comparison websites such as GetApp, G2, Capterra, and others. Since companies keep adding features, some of the information may be out of date. Let us know at support@revv.so if there's any information that needs to change. We'll verify and update as quickly as possible.
Make the right choice: Find the right contract management software
A myriad of contract management tools is available if you are looking for a ContractSafe alternative. Some tools might offer basic features, while others might have award-winning functionalities.
Many organizations prefer more flexible and scalable solutions to meet the increasing complexities of their business as it grows. Hence, they pin on SharePoint-based contract management solutions with tailored features as per their business dynamics and industry demands.
What's important is that the platform should suffice all your business demands while fitting in your pocket at the same time.
We highly recommend you to try out Revv's feature-rich, flexible, and intelligent contract management system to manage contacts smoothly with extremely cost-effective plans.
Power your contract management process with Revv!