If you need to run your business successfully, you need business documents that are well-researched and well-drafted.
Are you aware of the most important documents your business needs? Do you know how to create and manage these documents in an orderly way?
This blog lists some of the essential business documents you require for operational efficiency. It also highlights the functioning and advantages of a document management system to help you sail through all your documents.
Why are business documents relevant?
Every business has its own way of functioning, but no organization can operate without business documents in place.
Here are the reasons why you must invest time and energy in creating perfect documents for your business:
It improves business functioning – Clear communication is important for a business to establish transparency and trust among employees, investors, and customers. Business documents act as a means of communication by clearly listing down the terms, conditions, and expectations of all the parties involved. It helps avoid misunderstandings and increases productivity.
It provides reference – Businesses do not run on verbal agreements, transactions without proof, and promises made over phone calls. You need to have proper written documents to validate things in a formal environment. Unlike oral conversations, you can refer to business documents in case of confusion to extract pertinent details when needed.
It prevents legal consequences – Is an oral agreement or a handshake enough for a legally enforceable business deal? Well, ask someone who has borne the consequences of opting for the same. It is always recommended to have written business agreements for them to be legally valid. A written document can be held up in court and is capable of settling disputes.
What are the top 20 business documents?
Here are the legal documents for a business that enables better information management in any organization: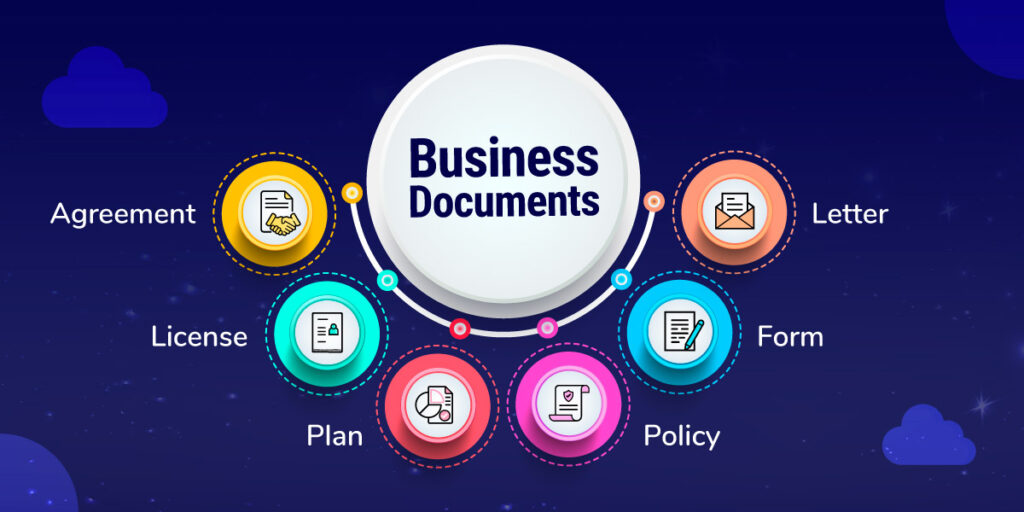 How to create optimum business documents?
Business documents have a wide range of uses and applications. It can range from the quotes to be sent to a prospect, an employment agreement for a new joinee, or financial documents like income statements, balance sheets, etc.
Each of these documents contains extensive information and requires expertise in different areas. You cannot simply hire an individual to look after all your business documents as it's not feasible. Moreover, a manual document management system can result in great discomfort as it has a lot of constraints.
Read this blog on a collection of manual document management issues that can spook you.
Wondering about a decent solution?
An electronic document management system is the right choice to manage all types of business documents efficiently.
Here is a brief answer to the question that might have begun hovering around your mind – 'What is a document management system?'
A document management system or a DMS is a digital platform that helps businesses create a paperless office environment. It usually comes with various pre-designed customizable document templates to promote brand consistency. Sharing, storing, and organizing digital data becomes easy with a document management system. It also facilitates integrations with other business apps, offers native APIs, lets eSign documents, etc., giving the speed that is required to successfully operate a business.
What is the purpose of a document management system?
There are many document management systems competing to rule the market. They provide document management solutions through various features. Want to know what makes companies invest in such a tool?
Here are the key reasons that drive companies to opt for a document management system:
A document management system enables faster document creation
It ensures the correct flow of information within the system
Document management systems can store thousands of documents as it is cloud-based. It solves storage issues and makes information management easier
Real-time tracking and reviewing a document becomes easy with a document management system
A good document management system comes with various business app integrations to fasten business processes
Document automation is another major purpose of implementing a document management system
What are the three benefits of a document management system?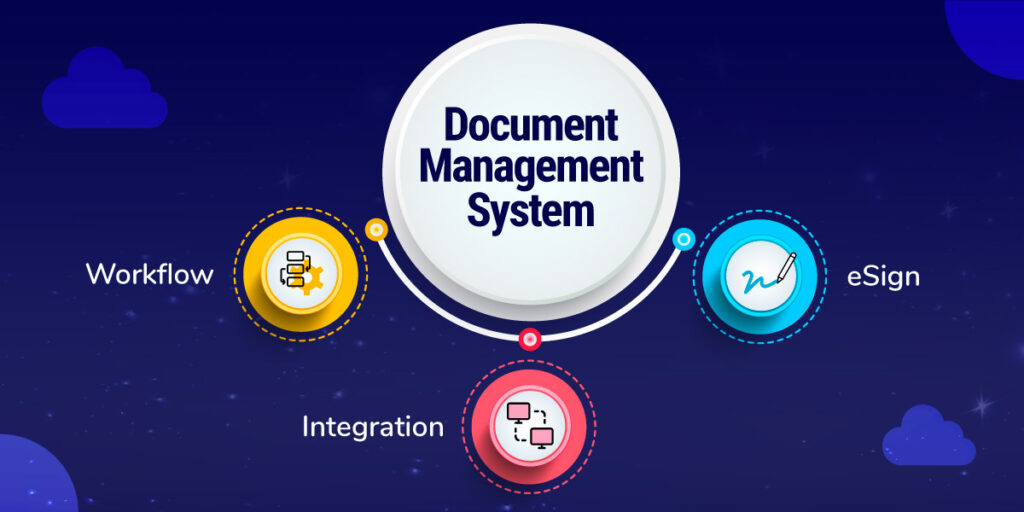 A document management system's features list can go on and on, but here are three of its key features that make business processes more productive. These features of any document management solution enable instant document creation, seamless collaboration, and faster sign-offs.
Integration – Switching between multiple business apps and software makes way for confusion, inconsistency, and errors in business documents. All this happens due to a lack of integration between the apps. An integrated document management system fosters rapid processing of huge volumes of information, reduces risks, and cuts down on management costs, enabling ordered business operations.
Workflow – Document management system workflow reduces the inefficiencies of a business process. With clearly defined workflow processes and workflow tools, the steps of a process get defined and better output is achieved.
eSignature – In an age where virtual working spaces have taken the front seat, face-to-face meetings are not required to sign legal contractual documents. An electronic signature for legal documents is valid and enforceable. Document management systems come with the feature of eSign to give businesses the speed they need to win. Read the blog to know how to eSign a document.
A document management system has many other features like user role management, information management, access control, version control, APIs, easy-to-use editor, template library, cloud storage, etc. These utilitarian features enable business document automation, making lives easier for professionals.
The market is flooded with different varieties of document management software, you need to look for the one that resonates with your needs. Here is a list of top document management systems to reduce your paper trails.
6 reasons to adopt a document management system today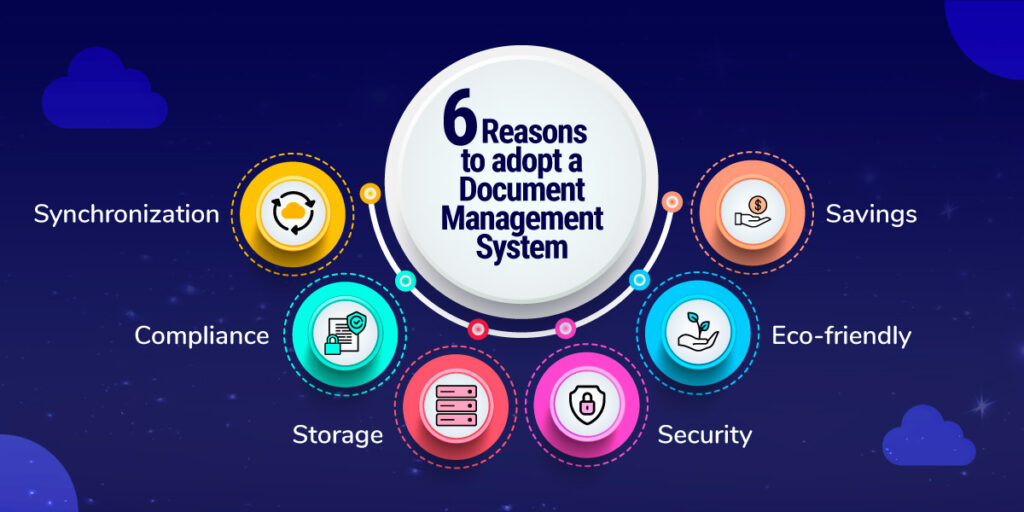 Synchronization – Document management systems enable wider and easier access to all documents. This increases transparency among the employees and lets companies work in a more coordinated manner.
Compliance – A document management system brings better visibility and control of the documents. This helps professionals to yield better results.
Storage capabilities – Manual paper-based handling and storage of documents are costly and inefficient. Document management systems provide cloud storage to store huge volumes of data securely.
Security – All businesses involve sensitive documents like contracts, employment agreements, etc. Constant manual data exchange can harm the confidentiality of data. Document management systems ensure the safety of data as it is shared with relevant members of the organization.
Eco-friendly alternative – Generating tons of paper waste hampers the environment. Going paperless is a great way for organizations to preserve and value nature.
More savings – Document management systems help organizations escape the costs of printing, couriers, legal advisors, etc. This saves resources that can be utilized in other wings of the company.
Try out Revv – the best bet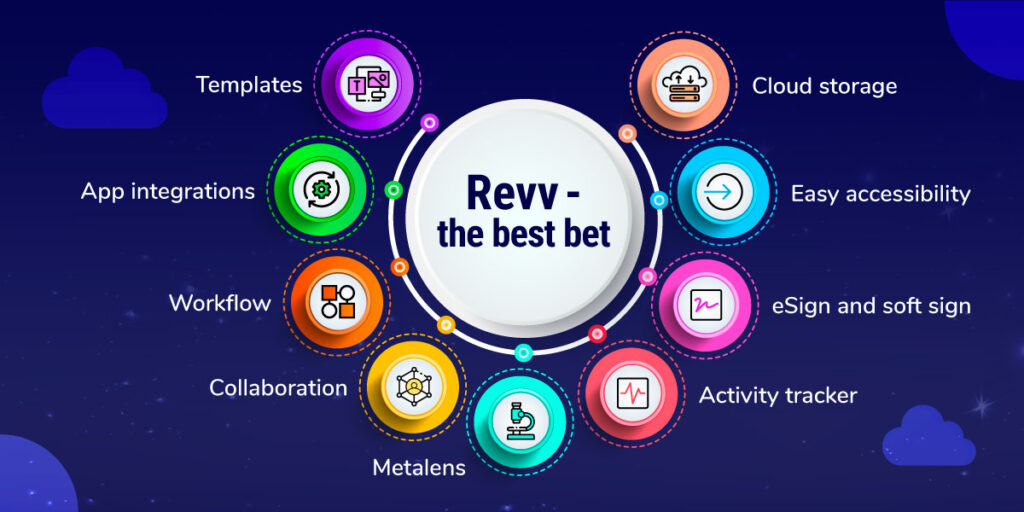 Revv is a complete document management system with an easy-to-use interface. All its features are focused on making it the perfect solution for managing all types of electronic documents.
With an easily accessible internet connection and a compatible software system around, switching to document management systems like Revv has become effortless.
Here are some features of Revv that open doors for better document management –
Templates – Revv offers a library of 1000+ legally vetted and ready-to-use templates. It gives an edge to the document creation process. Users can also opt for Revv's form-based templates wherein they just need to fill in the form fields to create a document within seconds.
Document editor – Users can use Revv templates as is or personalize it suiting their business needs with the help of a feature-rich document editor. With a simple drag and drop option, enhancements to your documents can be made such as, texts and images can be added, edits can be made anywhere in the document, Google Sheets and quote tables could be imported, and payment systems can be integrated. 
Collaboration – You can converse with your team on the document itself. Revv lets you add notes, comments, attachments, and even tag people with @mentions to convey a message (For eg, you can ask for feedback, iteration, additional input that needs to be added to your document, etc.). The tagged person will receive an email notification for the same.
App integrations – This document management software offers integration with apps like Zoho CRM, Google Drive, Slack, Zapier, etc., making information transfer much easier and more effective.
Data transfer – Revv's Data Studio feature allows users to map simple to complex data to their documents seamlessly.
Workflow – With the Pipelines feature, you can automate the entire document journey in Revv. Create desired document workflows and set precise triggers and let your documents run on autopilot.
Metalens – Metalens differentiates Revv from other document management solutions. It analyzes documents quickly and highlights important information (called metadata) for quick review or reference. Know more about Metalens feature in detail.
Activity tracker – This feature of Revv enables you to monitor the real-time activity of all the users of a document. You can access a detailed log of who opened, signed, accepted, or rejected the document using this document management tool.
eSignature – Revv eSignatures are fully compliant and secure. It follows all the major eSign laws like the UETA, E-SIGN Act, and eIDAS Regulations. Revv gives full freedom for the signers to eSign the document in the way they want to. The signer can choose from pre-formatted text styles, draw their signature, upload them or even use Crypto-wallet like MetaMask to sign documents.
Soft sign or clickwrap signature: You can even simply send your document to receive consent or approval from recipients using the  Send for acceptance feature.
Audit trail: Our legally enforceable audit trail will shield you from any legal problems. Every eSigned document in Revv generates an Evidence Summary certificate. It records all the action that has happened on the document till it has been eSigned.
Easy accessibility – In a world where a mobile device and internet connection are ubiquitous, documents need to be mobile-friendly. Revv enables users to view and even sign documents using their mobile devices. You can directly share the Magic link or Snap link of a document.
User management – Revv gives full freedom to the template owner to choose the users of their template. With Revv, you can manage who can use, view, or access a particular template. Such user restriction decreases the risk of exposing crucial data or information.
Cloud storage – Revv's cloud-based central repository can save huge volumes of data.
Revv offers competitive pricing that suits the budget of various organizations.
Document workflow automation is easy with Revv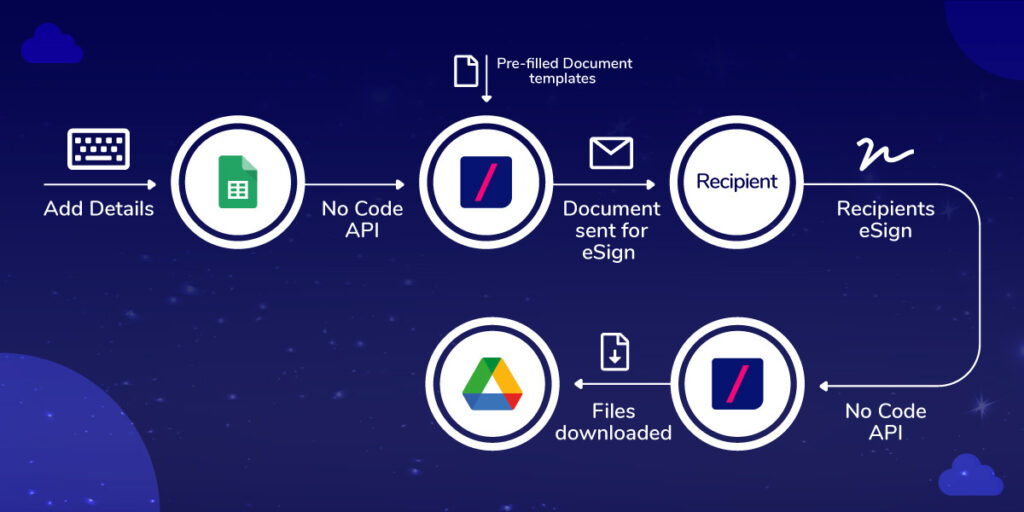 The process of digitizing and simplifying the entire document lifecycle is called document workflow automation. But, the process is usually time-consuming, expensive, and complicated.
Do you face similar problems trying to automate your processes?
Leave all your worries behind with Revv by your side. Here is how Revv helps you automate your business documents:
It makes drafting loads of documents easy
Lets you pre-fill template documents using Google Sheets
Sends multiple documents for eSign
Ensures unlimited and reliable storage
Allows you to analyze documents
Easily connects with CRM and other software
Whether you are a big corporation, an SMB, or even a freelancer, having the right documents at the right place can be a huge advantage, especially during disputes. These documents are designed to safeguard your business even before you get a foothold in the market.
While registered legal professionals can help you draft documents and ensure they are compliant with your legislature, Revv, a simple cloud-based document management system, provides a single platform for both parties to collaborate and work together.
It also comes with pre-designed templates to help you get started. Users can even edit documents using the drag-and-drop interface. Sign up with Revv to experience a frictionless document management process.
Frequently Asked Questions
What is the meaning of "business document"?
Business processes require documents like quotes, proposals, letters, agreements, contracts, etc., which are called business documents. Each business document is sensitive as it governs the functioning of the organization in the future. You can leverage document management software for complete document control. Such software helps improve overall business efficiency.
What internal documents does a business need?
Be it large organizations or smaller startups, all types of businesses need internal business documents for frictionless functioning. Employment agreements, business plans, offer letters, and sales orders are some of the internal documents that a business must have in place. This is because right document management is a preferred business practice as it brings professionalism to an organization.
Organizations should leverage web-based documents and document management software for better records management.
What is the best document management system?
The best document management system is one that is easy to use and offers document control. A software that allows users to integrate with other apps, store documents, access document templates, and e-signature, and have mobile access to the document is the best.