The International Standard Organization defines a document as a "recorded information or object which can be treated as a unit."

Source: ISO
A document management system is, therefore, a tool that enables the creation, organization, and control of the flow of business documents within teams.
What is a document management system?
A document management system is a process that can create, manage, store, and track documents such as Word processing files, PDFs, and other file types digitally. A well-integrated document management system enables speedy drafting, optimized storage and retrieval, easy document accessibility, lowers the overall cost of document management, and automates manual document approval processes. The right document-based solution will also provide improved security and make document sharing simple.
Discover the power of documents with the right tool
We believe that the required document management systems can help fix 'document dysfunction.' But while each individual and business uses different types of documents, it is important that the tool is distinctive to its users.
Document management systems for creative individuals
An electronic document management system provides hassle-free collaboration, ease of electronic signatures, and helps author documents (especially contracts) via templates with precision.
Some cloud-based document management systems offer seamless no-code integration with other business applications (like CRMs, payment app integration, G-sheet, etc.) which promotes document automation and makes it easier to work with electronic documents. Getting a document management system is the best bet for creative individuals as it takes away the pain of manually dealing with documents and lets them focus on what they know best.
Document management systems for SMBs
Easy to use interface helps to set up automation workflows when it comes to working with documents. A simple document management system will understand the structure and strategy behind the business documents and help in accelerating performance, and enable accountability with document tracking and user management.
Document management systems for enterprises
Enterprises consist of large multiple teams that aim to unlock billions of dollars in terms of efficiency, especially when it comes to overall document creation and management process. A document management software that analyzes every small action (when it was created, opened, sent for approval, or who worked on it), offers the option of document retrieval and version control with improved compliance, and connects with other existing business systems for improved efficiency.
It is important to understand your business processes well before you finalize a document management system for your business. Look for management solutions that just don't add to your cost but also have features that add value to your overall business process.
Some of the key features of document management systems can be leveraged by all types of users- individual, SMB, or enterprise – like, the ability to store documents, provide well-defined workflow processes, document tracking, user management, electronic signature, security features, etc.
What are the three benefits of using a document management system?
With the advent of technology, users are spoiled for choices when it comes to choosing the right tool amongst the many document management systems available in the market. Here are some of the must-have benefits to look for when choosing the appropriate document management solution for your business –
Ease of use – Cloud-based document management systems bring ease to the document creation and management process. The users can leverage ready-to-use business document templates (Sales, HR, Procurement, etc.) and create required documents in no time. All the documents ever created are securely stored in a single repository. The cloud-based solution allows you to track activities within your electronic documents, such as who opened the document, when it was opened, who signed it, etc.
Enhanced efficiency – Working with electronic documents enables companies to streamline their document process. It automates repetitive activities and allows users to focus on their primary tasks. A faster and efficient process boosts staff morale and results in better client satisfaction. It also allows businesses to become more scalable to cater to the needs of different clients.
Improves compliance – Compliance requirements like HIPAA, Sarbanes Oxley, etc., for certain business documents can be pervasive. Document management systems enable businesses to adhere to strict regulatory compliance with improved visibility. This makes the document more compliant and less prone to error. Such measures are difficult to implement with paper documents which are more susceptible to human errors.
Document management systems feature list
Documents can exist within any team, from HR to finance, sales, and even operations and customer success. Most of these are stored in separate public and private networks, shared drives, filing cabinets, and even email.
And this is where the challenges lie –
Multiple repositories and information mean silos and information gaps
Organizations further face the risk of lost or damaged files, errors, and even redundancies
There is no quick and time-saving way to find useful content across an organization
This also has legal implications, especially if there is regulatory compliance that the organization needs to adhere to when sending out business documents
To combat all of these above-mentioned issues, a document management platform can be helpful. It acts as a cumulative platform for all forms of disparate documents and offers control, accessibility, and efficiency when it comes to managing documents. Furthermore, it offers advantages in terms of template creation, version control, information retrieval, security, and governance. It lowers the overall cost of governance.
While there are hundreds of document management software (DMS) available, here are some of the common attributes that they all have –
Centralized document repository/storage – The right document software will come with centralized storage that will help manage and retain documents. This single source of truth acts as convenient access for all employees and individuals. The centralized repository also incorporates version control. This gives the ability to check revisions and changes and also the potential for reverting if it has errors.
Document templates – Automate your processes of drafting business documents with the help of various contract templates that are easily downloadable and ready-to-use.
Retrieval and search – This allows users to find relevant document artifacts and information based on document identifiers like account names, metadata, and content.
Seamless workflow automation – Workflow enables administrators to dictate the flow of the documents through the organization.
Collaboration – If the document has multiple users to view and modify – collaborative features like share, review, and even notes (or messages) help to monitor and maintain compliance within the system itself.
Document tracking – A real-time activity tracker that records the activities within the document with timestamps even after the document is sent to the customer for review or signature. It presents information on who opened the document, when was it opened, how many times was the document opened, who approved or eSigned the document, etc.
eSign – Take quicker decisions with document share and eSign integration. Since eSign is compliant with relevant regulatory bodies, it makes the entire process safer.
Document components lockdown – Collaboration can often lead to changing of important document sections. This makes the locking feature a boon, especially when you don't want anyone changing your terms and condition in an MSA or NDA.
Regulatory compliance – Ensure state and federal regulatory compliance for your documents. Document management tools help to meet compliance requirements and also offer role-based permissions making adherence to such laws plausible.
Integrations – A great document management tool will seamlessly integrate with CRMs, e-signature tools, Microsoft Office Suite, etc., to enable smooth flow of content across teams.
Advanced preview – The document management should have a feature that enables you to preview the document in the centralized repository.
Email/Slack integration – Send customized alerts and messages to collaborators on time.
Autofill information – Auto-populate form fields with data from CRMs and other places.
Discount calculation – A quote table with pre-calculated formulas for easy pricing and other online purchases.
User permissions – Provides an ability to organize documents for each department and set permission to who has access to what.
Document export – Should facilitate easy conversion of documents into Docx and PDF for sharing.
Now you know that the right document management system maximizes efficiency across your organization, featured below is a list of document management systems that help you manage paperwork.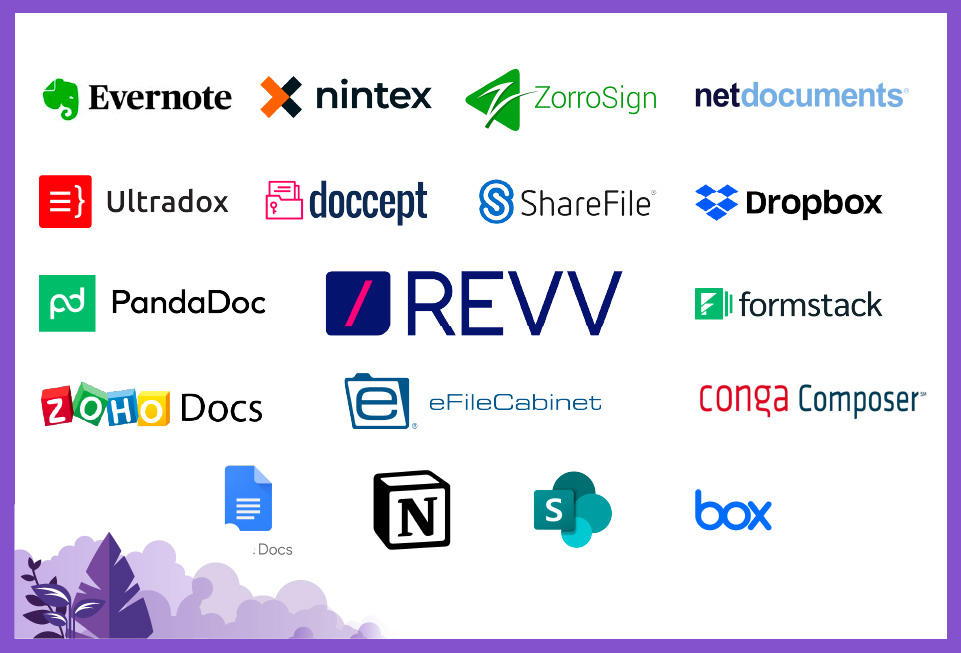 Revv – Your intelligent business partner to manage paperwork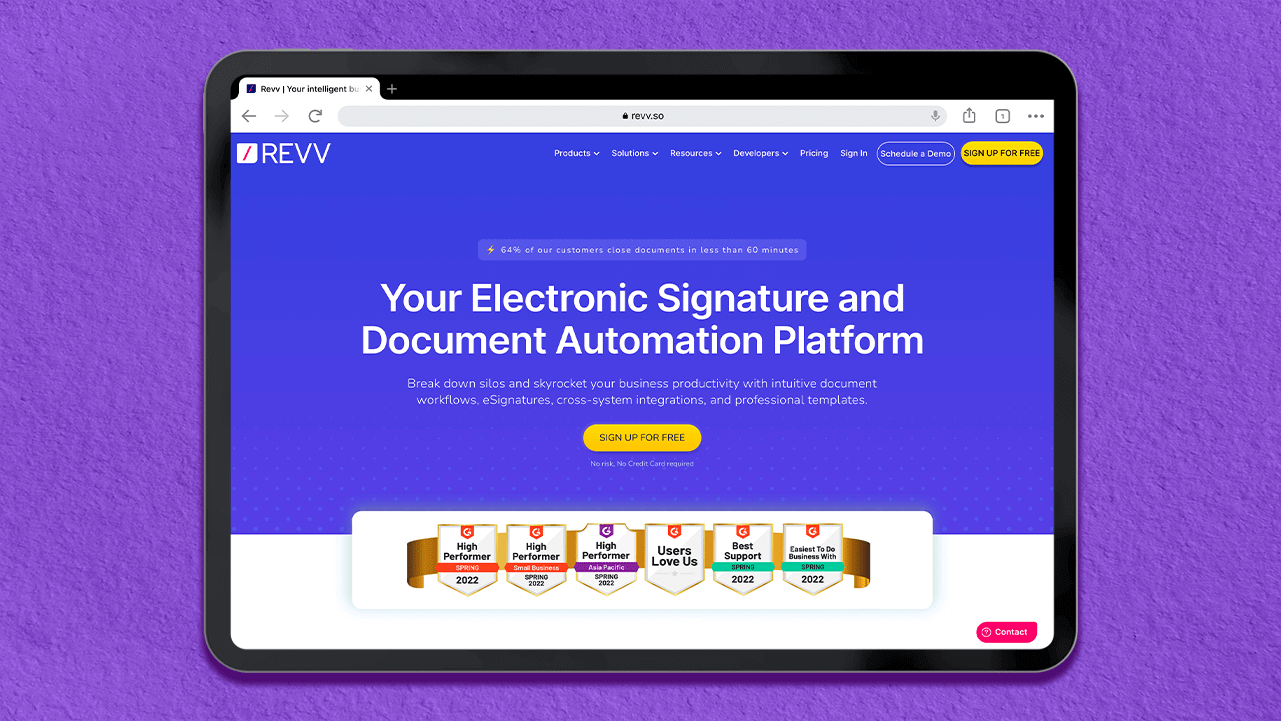 The best document management system will enable you to collaborate seamlessly across each document created, reviewed, and signed from one central place. Revv helps individuals and teams to run their businesses seamlessly. Its ready-to-use legally vetted templates, seamless one-click eSignature, ease of API integrations and responsive customer support make Revv stand out from its competitors. It is made for every individual who is looking for a tool that integrates with their existing system of records and makes the overall process of document management effortless.
Features
Centralized document storage
Compliant and flexible electronic signature
Legally binding audit trails for eSigned documents
Drag-and-drop document editor with rich formatting
Form-based editor
User management/ Access control
Version control
Document templates and templates management
Autofill information
Search filters
Automated workflow and approvals
Seamless data import through Data Studio
Workflow and approvals
Collaborative notes and mentions
Document tracking
Lock components in the document
24/7 support on email/phone
Integration with business apps like Zapier, Salesforce, Gsheets, etc.
Out-of-the-box features that you'll love
Revv makes you relook into the entire document management system, as it is made with the end-users in mind. It helps you reduce paper trail and manages all your documents to ensure quality, compliance, and consistency. The intuitive user interface and other out-of-the-box functionalities like Metalens enable Revv's users to be self-reliant to run their businesses.
Metalens makes it easier to understand complex business contracts – it extracts, navigates, classifies, and recognizes different components from structured or semi-structured data and provides information that opens discussion points and enables overall decision-making.
The other feature that makes Revv a leader in the document management category is the ability to integrate with different business applications by using low or no code at all.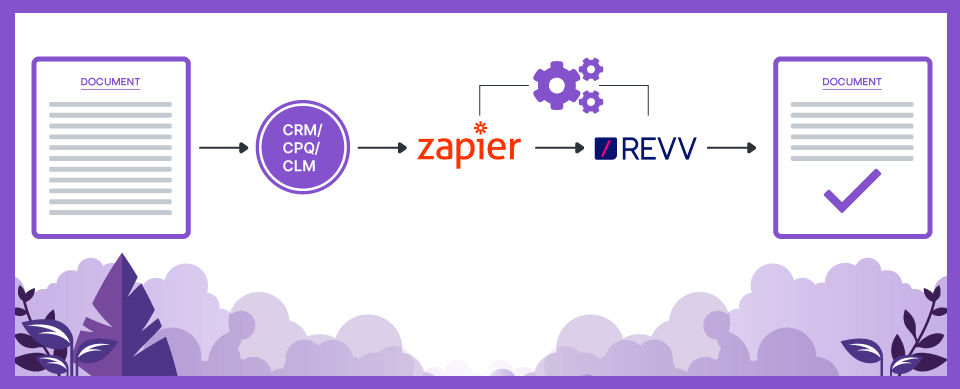 Pricing
Revv offers customizable pricing plans suiting your business. Talk to our experts and know more about our pricing plan.
Formstack documents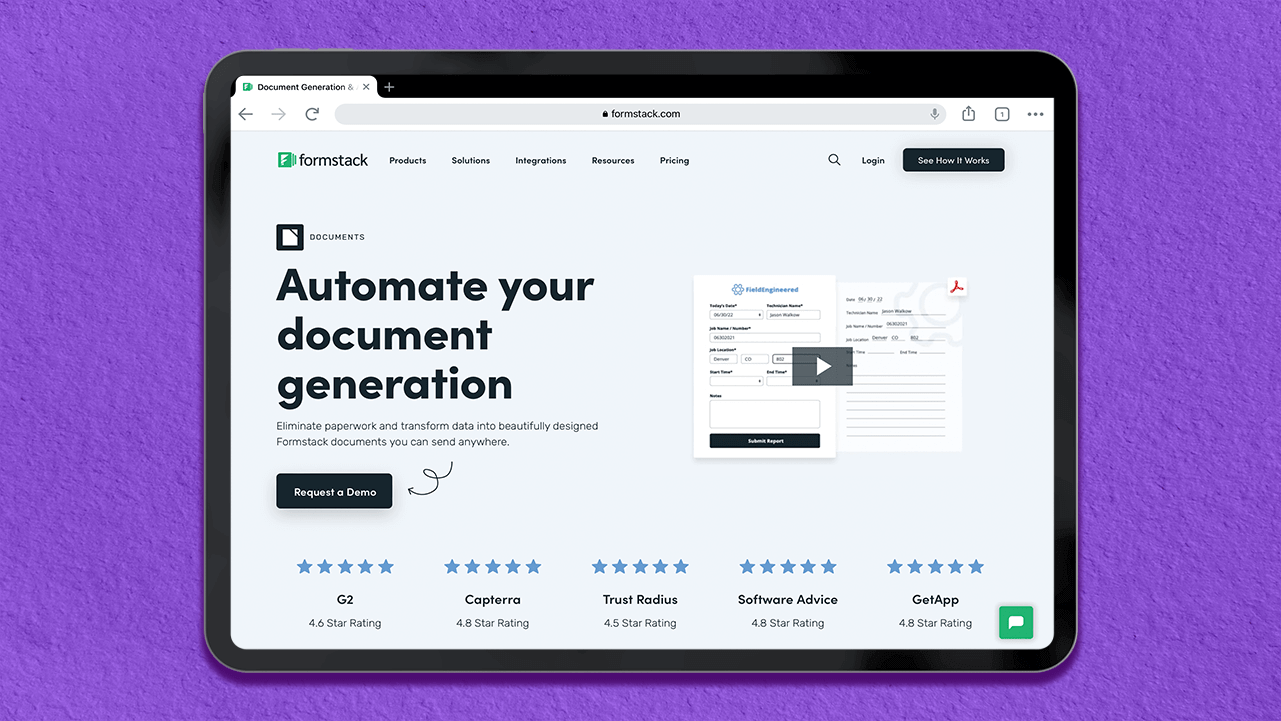 With 100s of in-built templates, Formstack Documents allows you to create and share beautiful documents across locations. You can also upload PDFs, Word docs, Excel sheets, and PowerPoint presentations.
Features
Auto-generated forms
Document storage
Workflow management
Full-text search
Drag and drop editor
Version control
Out-of-the-box features that you'll love
From providing a secure interface to easy integration with apps such as Salesforce, MailChimp, and Paypal, Formstack Documents also comes with advanced data routing. This allows you to pass information to multiple documents at once and uses logic to control where and when docs are sent.
Pricing
They offer different pricing plans for forms, documents, and eSignatures. For eSignatures, their pricing plan starts from $18/month. Each plan of theirs comes with a set of free templates and merges. For their Enterprise plan, you need to contact them.
Dropbox Business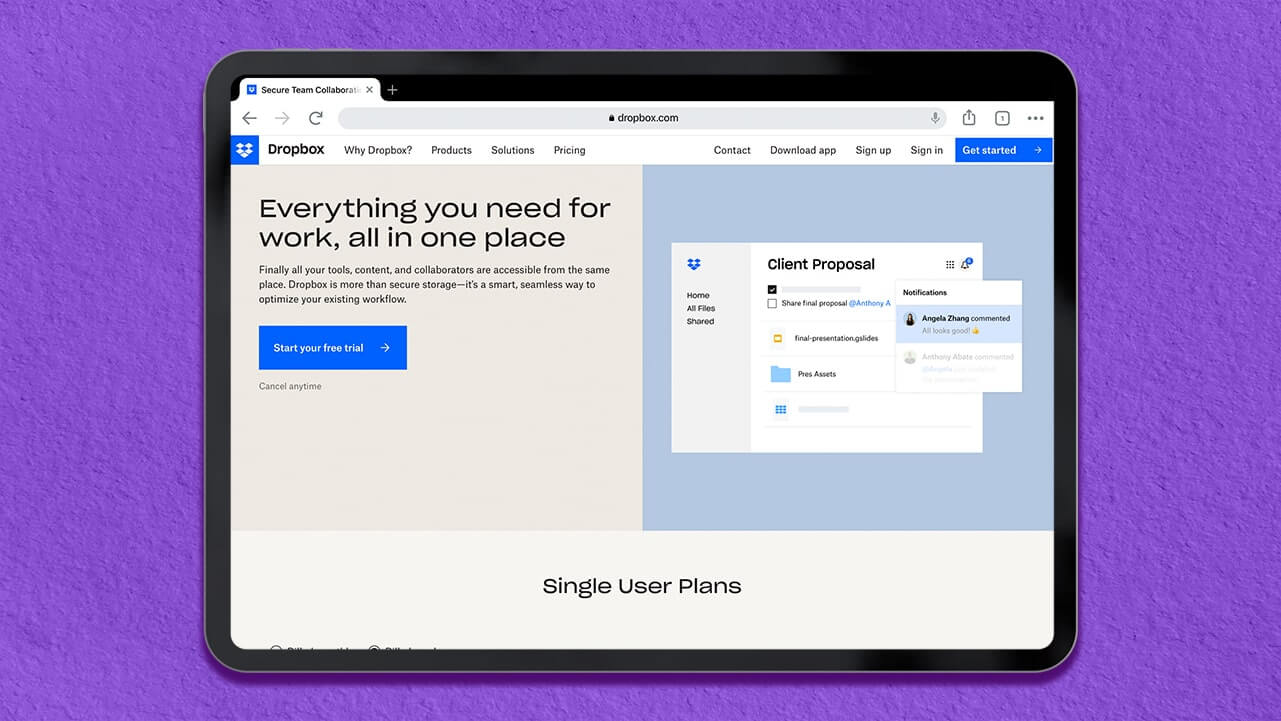 With a Smart Sync feature, Dropbox Business allows you to maintain a cohesive workspace across the organization. Access and collaborate all your documents in one place and optimize your existing workflow with this document management system.
Features
Real-time editing
Version control
Data synchronization
File sharing
Electronic signature
File conversion type
Offline access
Compliance tracking
Collaboration tools
Out-of-the-box features that you'll love
Easy to use and set up, Dropbox document management enables small items to sync securely between multiple devices saving time. The Dropbox Spaces feature allows you to bring all your files together so that your Microsoft Office Suite can exist beside your Trello boards, making it easier to collaborate.
Pricing
Dropbox's business comes with four different types of pricing plans. The Professional is charged at $16.58/month, Standard is priced at $15/user/month, Advanced for $24/user/month, and an Enterprise plan. All of these plans are billed annually.
Pandadoc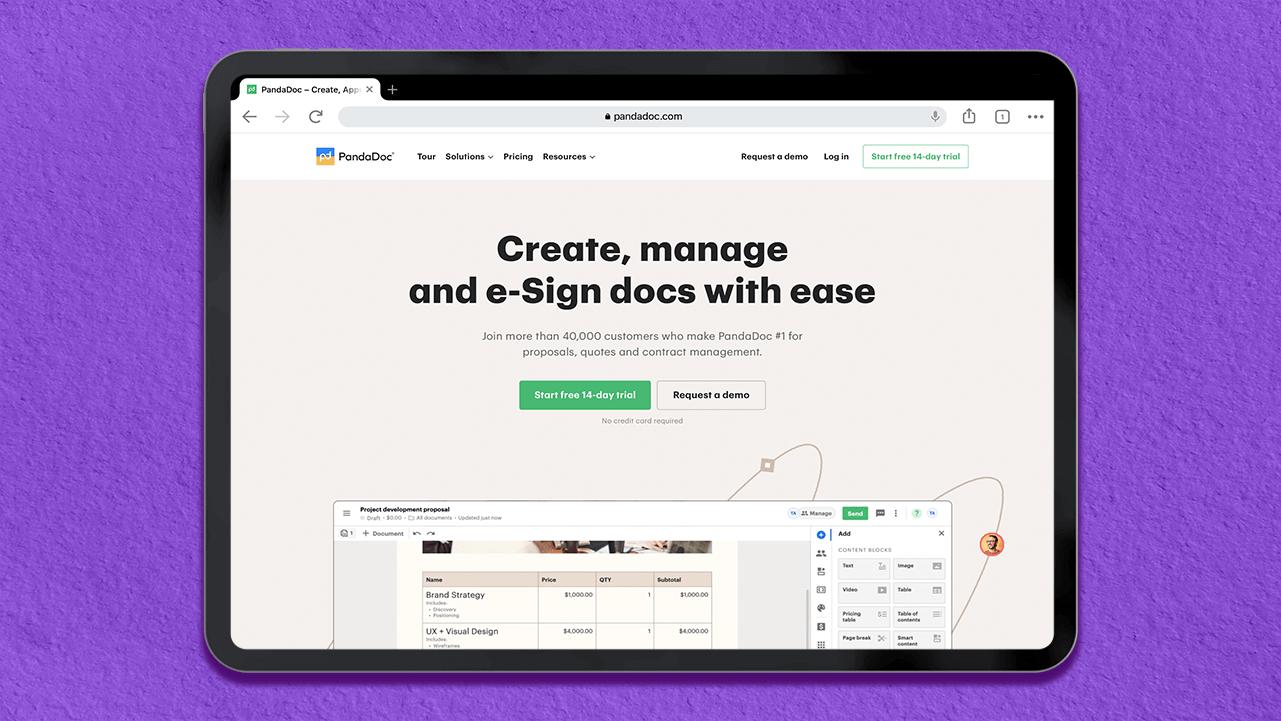 Pandadoc, with its powerful document management features, empowers sales teams to streamline the process of creating, approving, and e-signing proposals, quote, and contracts.
Features
Document templates
Document tracking and analytics
Workflow management
Document signing
Summary reports
Role-based permissions
Out-of-the-box features that you'll love
A user-friendly e-signature feature is a game-changer for its users. No more mailing papers back and forth. Their clean interface makes the product easy to use.
Pricing
Pandadoc offers a wide range of pricing plans. Starting from a free plan that includes e-sign, they have an essential plan ($19) and a business plan ($49). For a large-scale team, they offer an enterprise plan. Get in touch with their sales team to know more!
eFile cabinet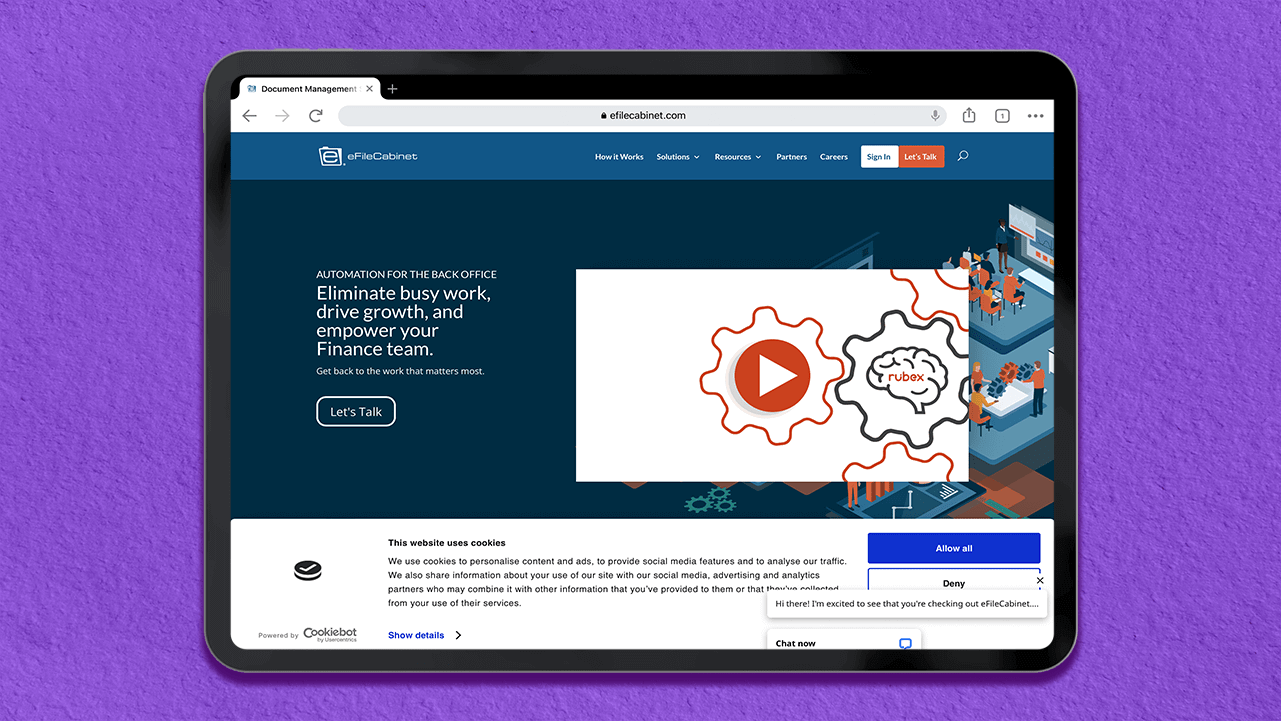 If you are looking to re-invent your document management processes and bring in more efficiency, you should opt for eFile cabinets. They offer both cloud and on-premise services with critical features like workflow automation, secure file-sharing, and eSignature requests, all on one platform.
Features
Drag and drop file storage
Role-based security
E-signature integration
Secure file sharing
Audit trail
Out-of-the-box features that you'll love
The admin is updated with real-time alerts and notifications, whenever a document is uploaded or downloaded. It also has an add-on available for desktops to enable easy scanning of documents.
Pricing
To know the pricing plans of the eFile cabinet, you have to talk to their experts.
Conga composer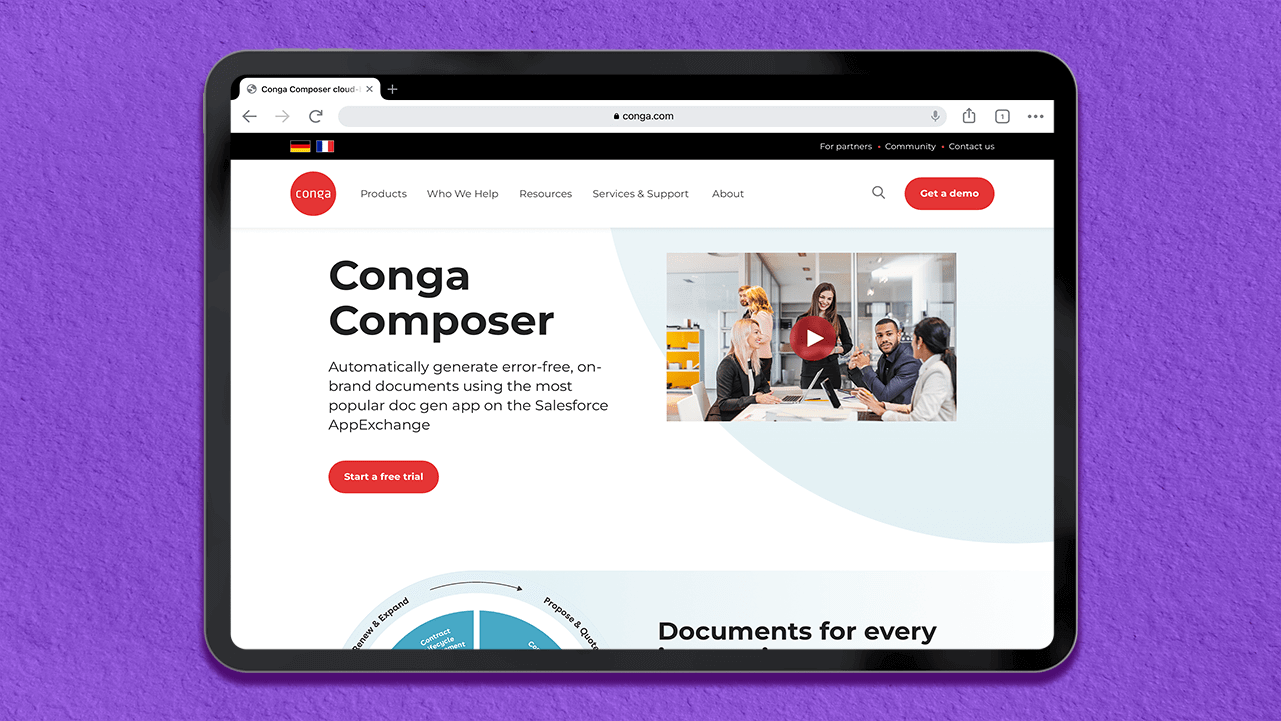 Conga Composer is a zero-effort document management system primarily that is built for sales professionals. Conga allows seamless collaboration while working on a contract and offers a robust cloud platform to create, share, review, edit, and sign contracts on any device.
Features
Template creation and flexibility
Assembly and approval workflows
Engagement tracking
E-Signature integration
Reporting and Dashboards
User, role, and access management
Out-of-the-box features that you'll love
It offers seamless integration with your CRM platform and ensures the accurate and quick generation of contracts. What customers revere most about Conga is its responsive, knowledgeable, professional, and personal customer service.
Pricing
They have a unique custom pricing plan that is designed uniquely for each customer, depending on the need and scale of your business. You can contact their team to know more.
Zoho docs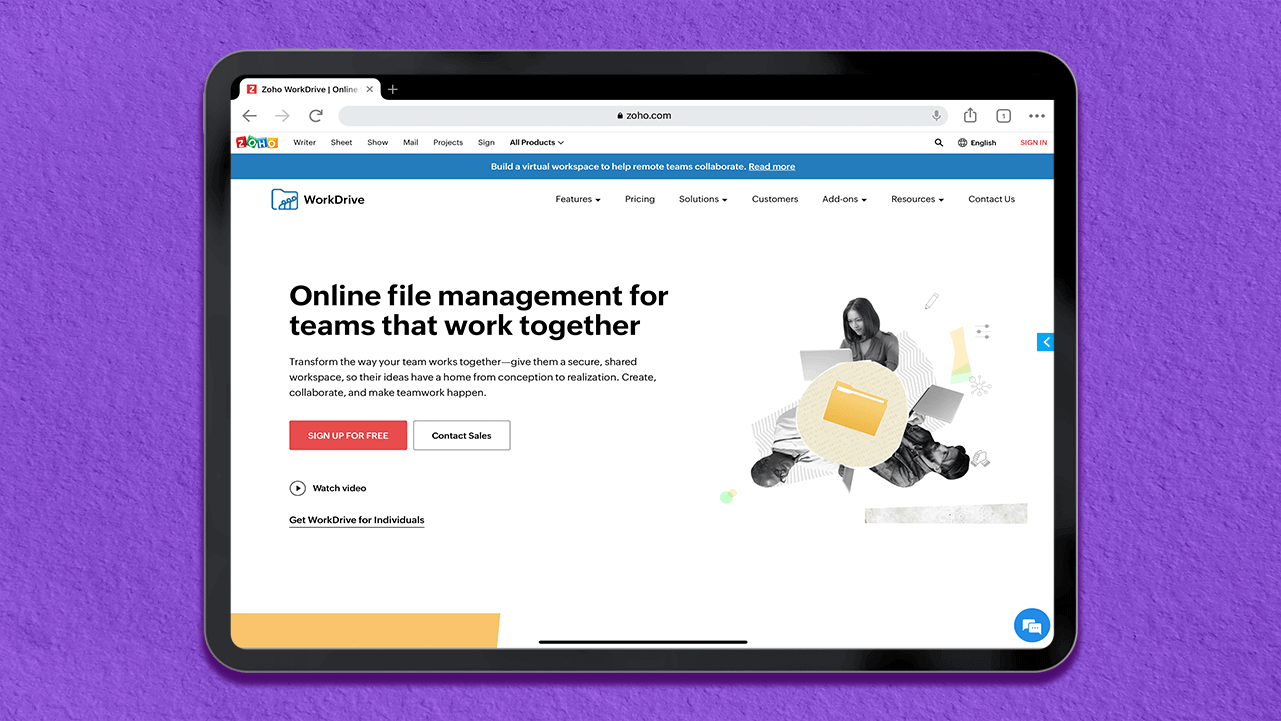 Zoho docs, as a document management system, offers a secure and collaborative workspace for your teams. It ensures a seamless process of creating, storing, sharing, and collaborating on documents of any format available.
Features
Online file storage
Real-time editing
Document version control
Integration with Google apps
Audit logs
User and role management
Out-of-the-box features that you'll love
The collaboration feature offered by Zoho docs makes the document management process a lot easier. It also supports any file type and offers storage for a large number of files. It can be accessed from any kind of device like tablets, phones, etc.
Pricing
They offer a free plan having some basic features. If you want to get a customized pricing plan, contact their team.
Citrix Sharefile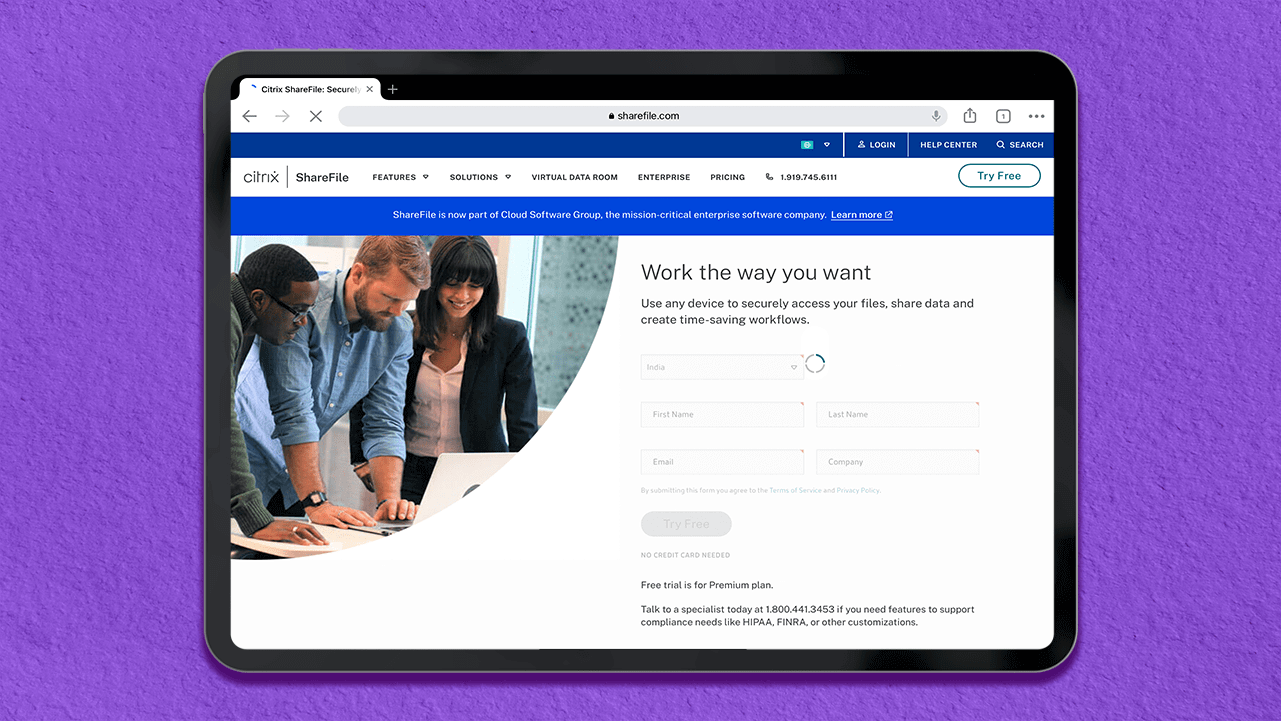 With Citrix Sharefile document management system you can expedite your document management process with automated workflows and approvals. The tool allows you to co-edit, and eSign seamlessly across devices. The real-time tracking helps you analyze where the document stands.
Features
Document indexing
Document archiving
Electronic signature
Compliance tracking
Version control
Real-time synchronization
Drag and drop editor
Workflow management
Search filter
Out-of-the-box features that you'll love
Easily navigate through Sharefile's user-friendly interface. What makes it stand apart is that it enables integration with the standard Outlook email platform that allows users to merge files by using a third-party FTP, where sensitive documents need to be shared.
Pricing
While their plans include storage, you can always increase storage space and the total number of licenses with each plan. Their plans include Standard ($50/month), Advanced ($80/month), Premium ($122/month), and a Virtual Data Room ($338/month). Each plan includes a free trial period.
Doccept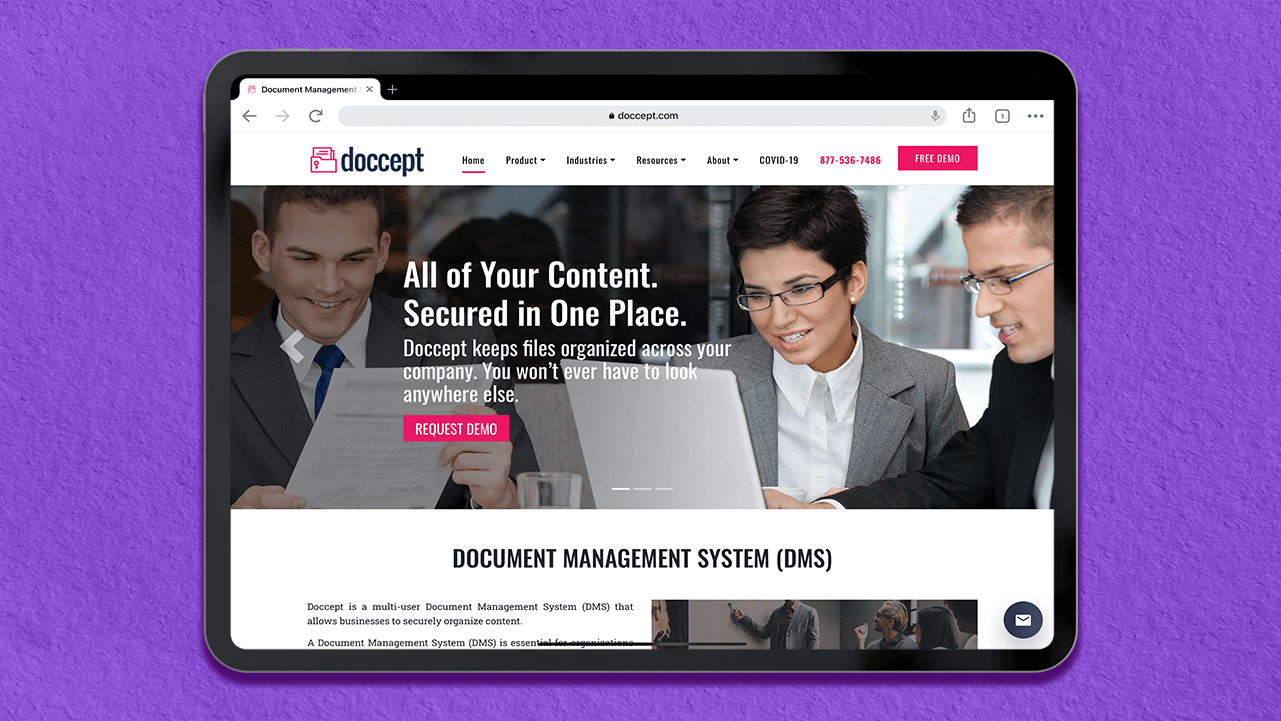 Doccept is a document management system that offers some advanced features like email integration, version control, auto-folder formatting, security and regulatory compliance, custom metadata and mobile compatibility, and more. It also includes a wide range of search capabilities.
Features
Document archiving
Electronic signature
File type conversion
Compliance tracking
Offline access
Version control
Out-of-the-box features that you'll love
The tool is highly configurable and easy to install. There is a requirement for some training, but it definitely helps in reducing the overall operational costs.
Pricing
Their pricing is not mentioned on their website, but you can definitely schedule a free demo from their website.
Evernote Business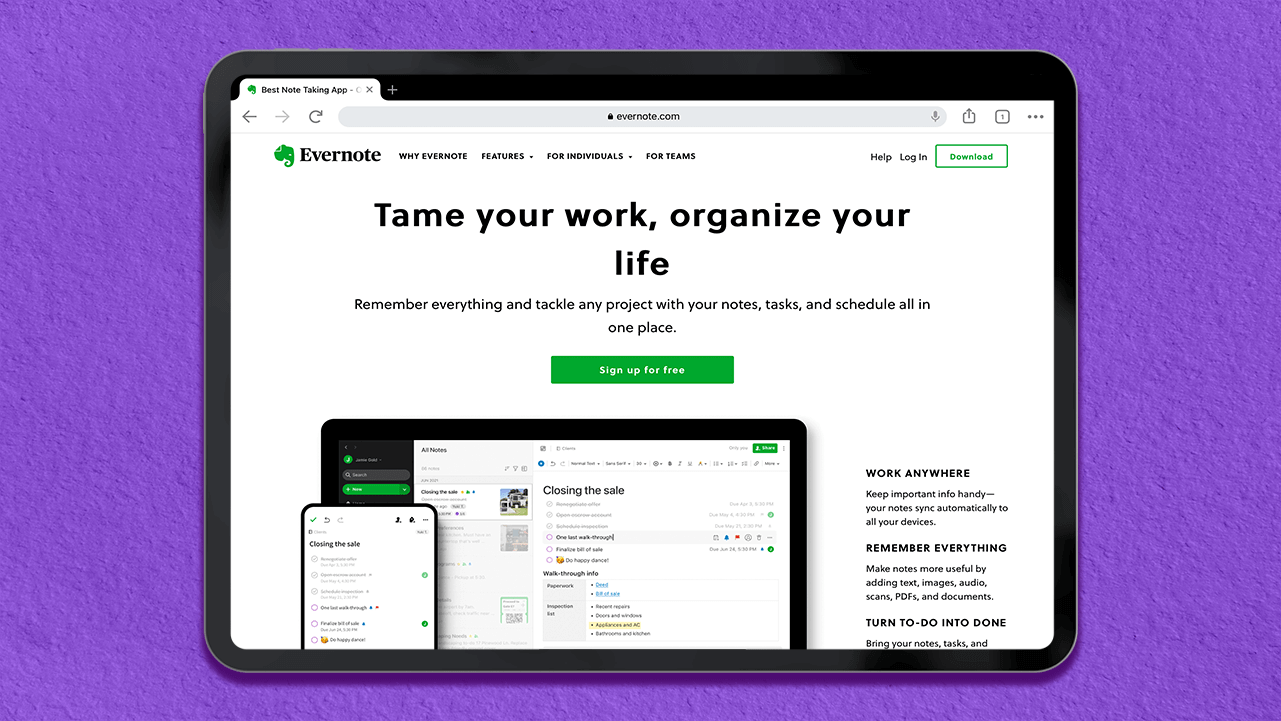 With Evernote Business, create documents, collaborate, and store all your information across devices, even if offline. Powerful search capabilities help to cut through the noise and get to your relevant documents faster. With this tool, you can onboard teammates and also hold onto information once they have left.
Features
Share notes to collaborate with teammates
Rich text editor
Snap photos
Quick sketch options
Data Synchronization
Document storage
Image library
Version control
To-do list
User management
Out-of-the-box features that you'll love
A fairly complete tool for taking and sharing notes, Evernote helps you to stay organized, especially when it comes to document management. It also helps you track the status of your project easily from both the mobile and desktop versions. It also comes with AI-suggested content support, which means that it can recommend notes based on what you've written.
Pricing
Evernote's pricing plan offers a personal plan that can cost up to $2.54/month and a professional plan that costs up to $3.76/month billed annually.
Box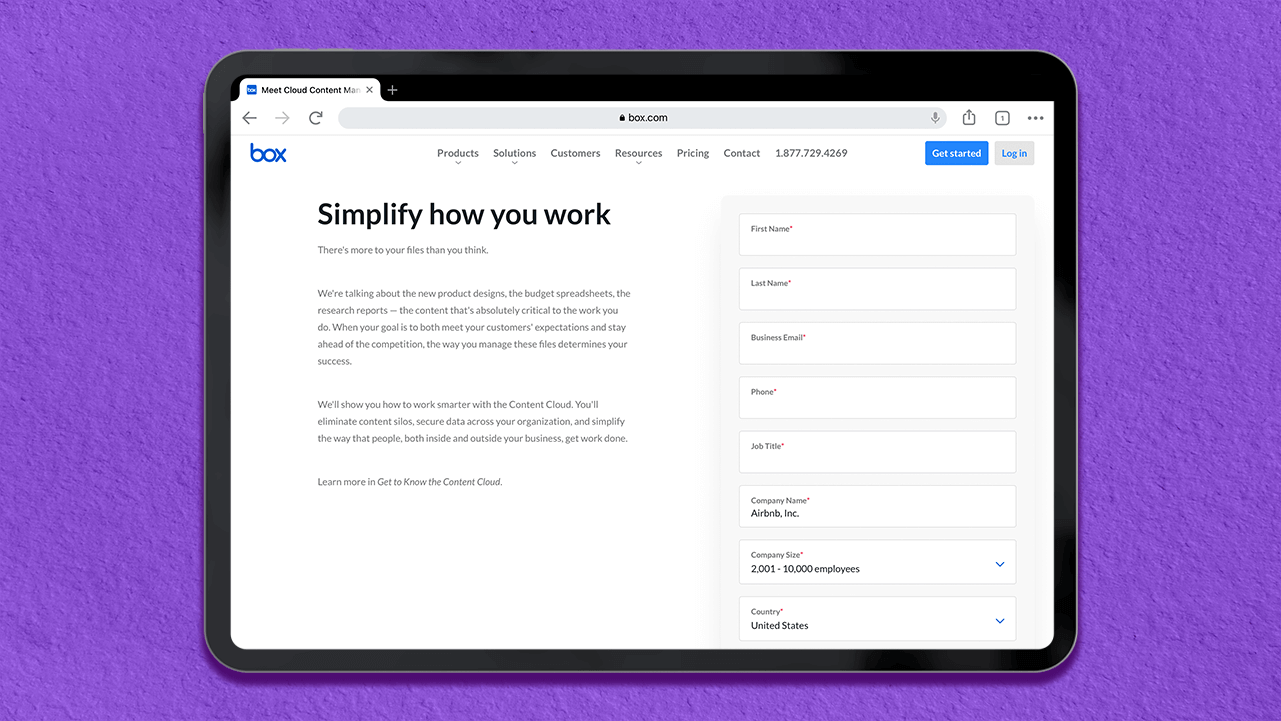 With Box, you can easily manage the entire lifecycle of your business documents. Manage documents, project plans, presentations, and videos and share the latest pitch with your end-users online or offline. A powerful admin console makes tracking documents easier.
Features
File type conversion
Electronic signature
Document retention
Compliance tracking
Offline access
Version control
Document indexing
Out-of-the-box features that you'll love
Box enables one major thing – i.e., making documents accessible from anywhere. This increases efficiency and enables collaborators to work on the go and address customer needs anytime and from anywhere. The interface and accessibility of Box also make it a favorite among its users.
Pricing
For Box, its pricing starts at $5/user/month for the Starter Plan. They also have a Business plan and an Enterprise plan that offers content management for your entire organization.
ZorroSign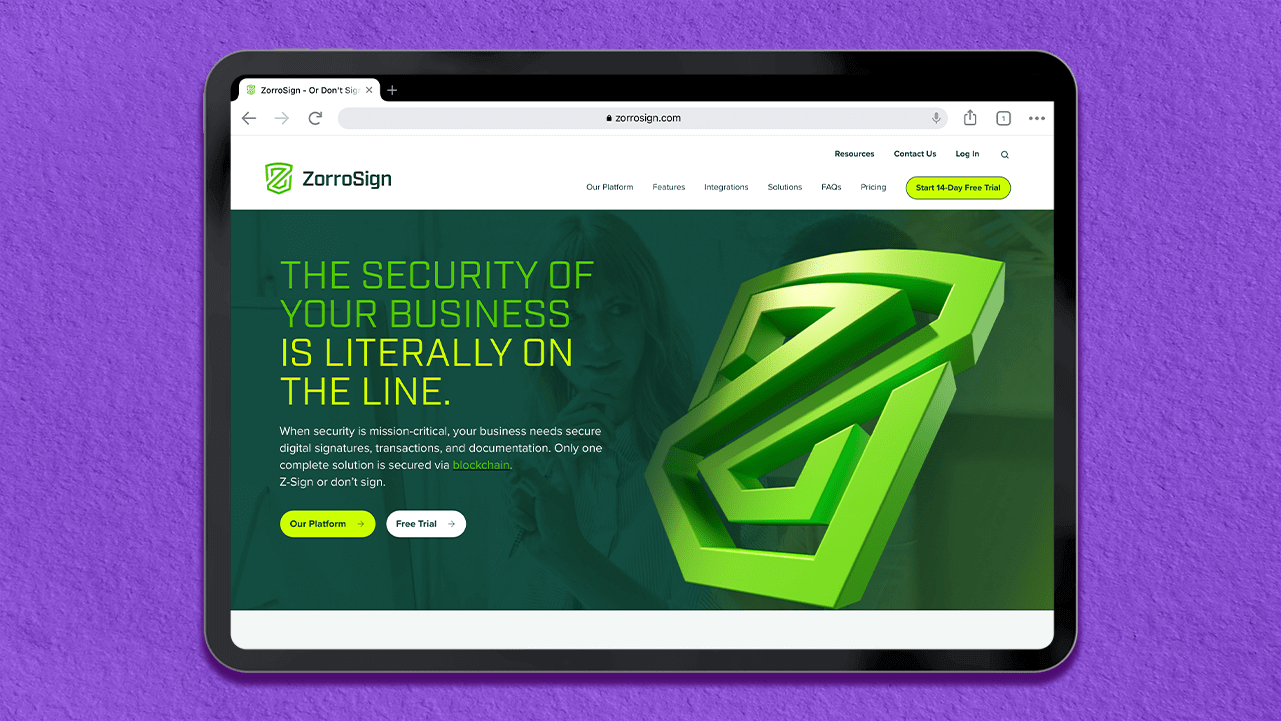 Enabling organizations to manage documents in one place, Zorrosign's single and intuitive user interface allows you to manage, track, and e-sign documents all from one single place.
Features
Document storage
Document tracking
Electronic signature
Folder/sub-folder creation
Search and filter options
Document encryption support
Out-of-the-box features that you'll love
This document management system encrypts documents automatically. You can also organize documents in folders and sub-folders, making the search easier.
Pricing
The Individual plan is free and offers a single-user license. The Professional plan is billed at $10 for a single-user license. The Business plan is priced at $25/month, and since their Enterprise plans come with customized features, you will need to contact them for a custom quote.
Microsoft Sharepoint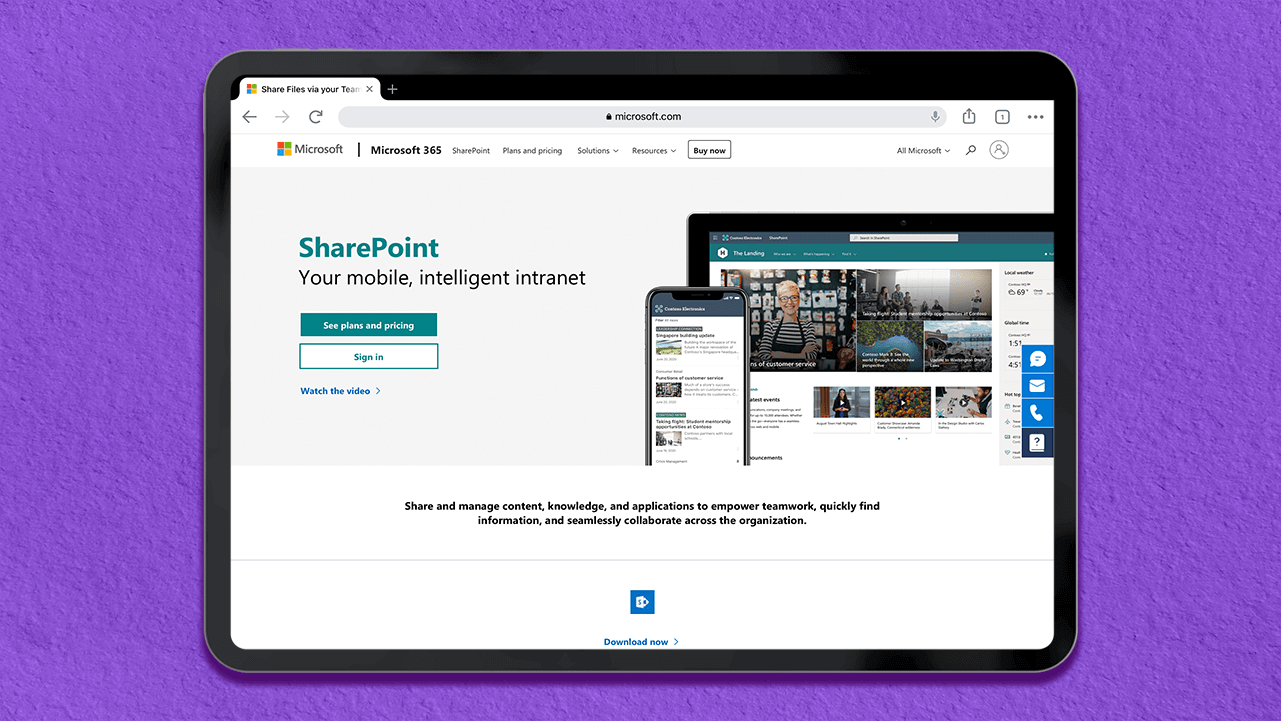 Sharepoint was designed to give a secure platform to store, organize, and share information. Besides being scalable, as Sharepoint users are also MS Office Users, it is also highly customizable.
Features
Search filters
Easy-to-use interface
Mobile app
Email client integration
Co-edit documents
Role-based security
Out-of-the-box features that you'll love
Sharepoint plays a dominant role in some of the world's largest businesses, which means many use it extensively for its document-sharing experience. Compatibility with Microsoft Office makes it one of the most preferred tools to be used in document management.
Pricing
Microsoft Sharepoint is included with Microsoft 365. For small businesses, it is priced at $5.00 per user/month, and for enterprises is about $10.00 per user/month.
UltraDox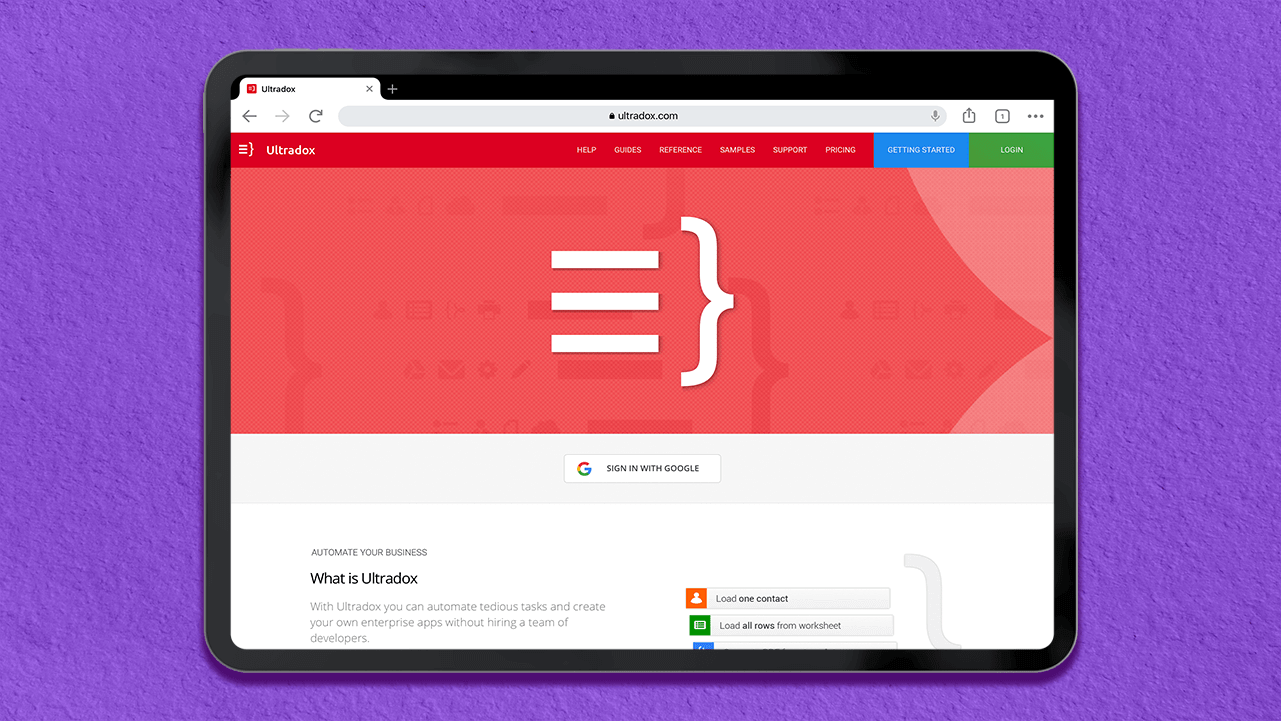 If you are looking for a tool to generate beautiful and personalized pdf documents from templates, then Ultradox is the tool for you. This enables you to turn Google Docs into a simple yet powerful template engine.
Features
Template management
Reporting/Analytics
Collaboration
Version control
Archiving and retention
Contract Management
Out-of-the-box features that you'll love
With Ultradox, you can automate much of your work. The application saves time and has a user-friendly interface which makes it easy to work with. This leads to an improvement in your document management process. It allows you the freedom to access and work on your documents from anywhere.
Pricing
The pricing information is not released by the vendor. You can apply for a free demo and get more details directly from their team.
NetDocuments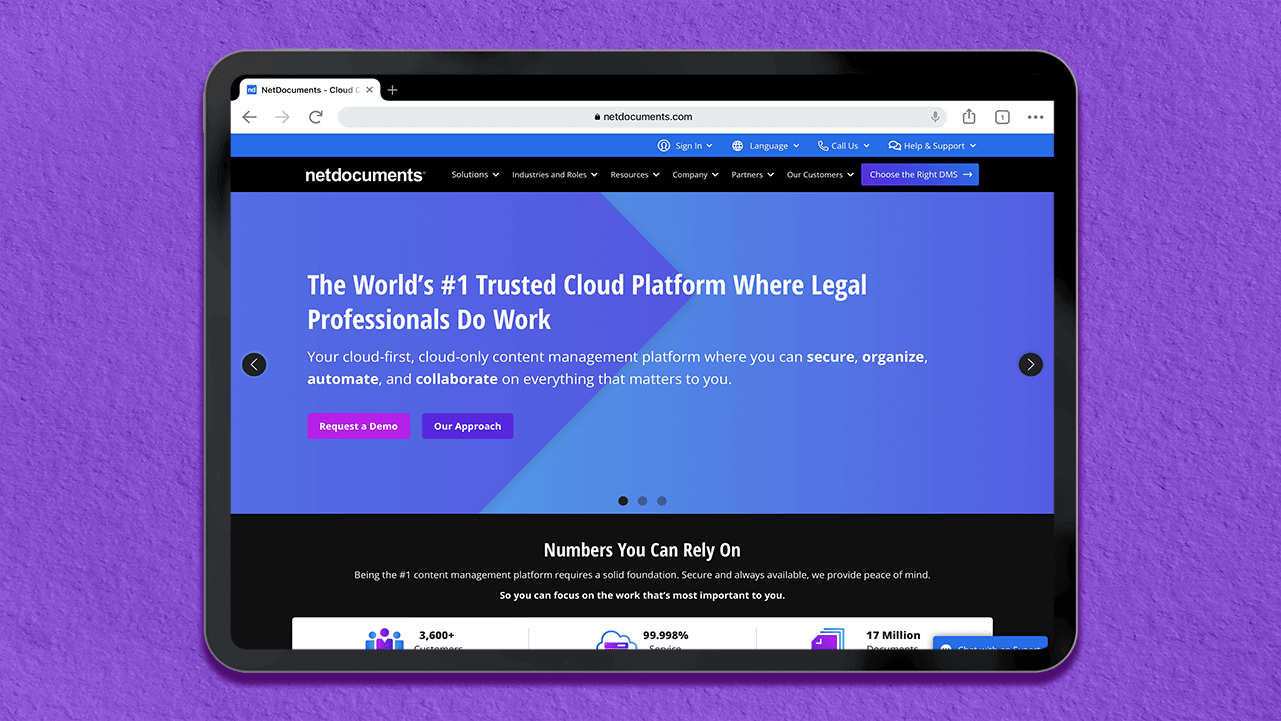 NetDocuments offer secure cloud-based document management and collaboration software solution. It offers easy options to search, review, and organize documents from one single interface.
Features
Collaboration tools
Versioning
Process Automation
Document management
Electronic Signature
Compliance tracking
Out-of-the-box features that you'll love
The collaboration feature is a big boon. You can easily share individual documents or even entire folders securely with your clients. The tool also allows you to manage your documents by creating folders and segregating them by clients, document name, and type of document.
Pricing
Pricing information for NetDocuments is not disclosed by the vendor. You can sign up for a demo and directly get more information.
Notion.so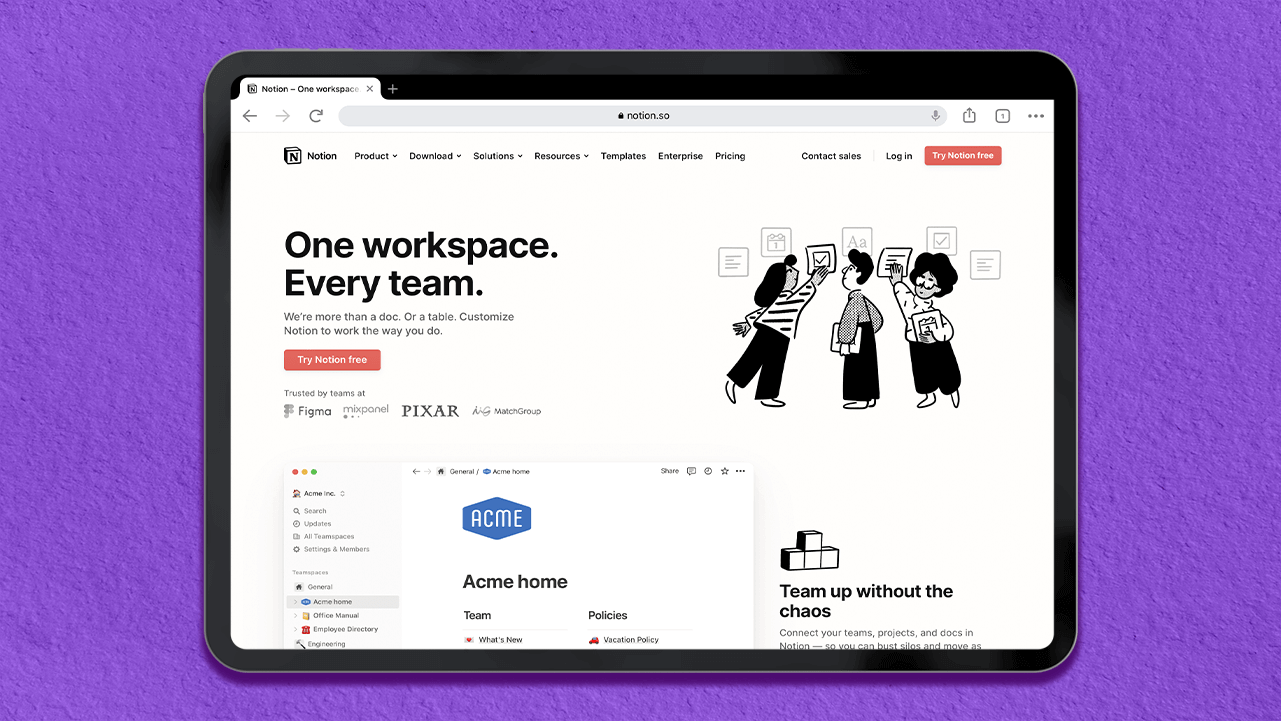 Notion.so is an all-in-one workspace that facilitates a smooth document management process and effective collaboration. The tool allows businesses to create roadmaps and monitor tasks based on completion status, priority, or assigned team members.
Features
Workflow configuration
Collaboration tools
Document retention
Version control
Customizable dashboards
Out-of-the-box features that you'll love
This tool breakdown feature makes it easy to navigate between pages. The biggest attraction for the users is affordability. The cloud-based tool provides value for money.
Pricing
Notion's pricing is divided into four different plans. The Personal plan is free, followed by a Personal pro ($4), a Team plan ($8), and finally the Enterprise plan. You will have to connect with their team to finalize the cost of the enterprise plan.
Nintex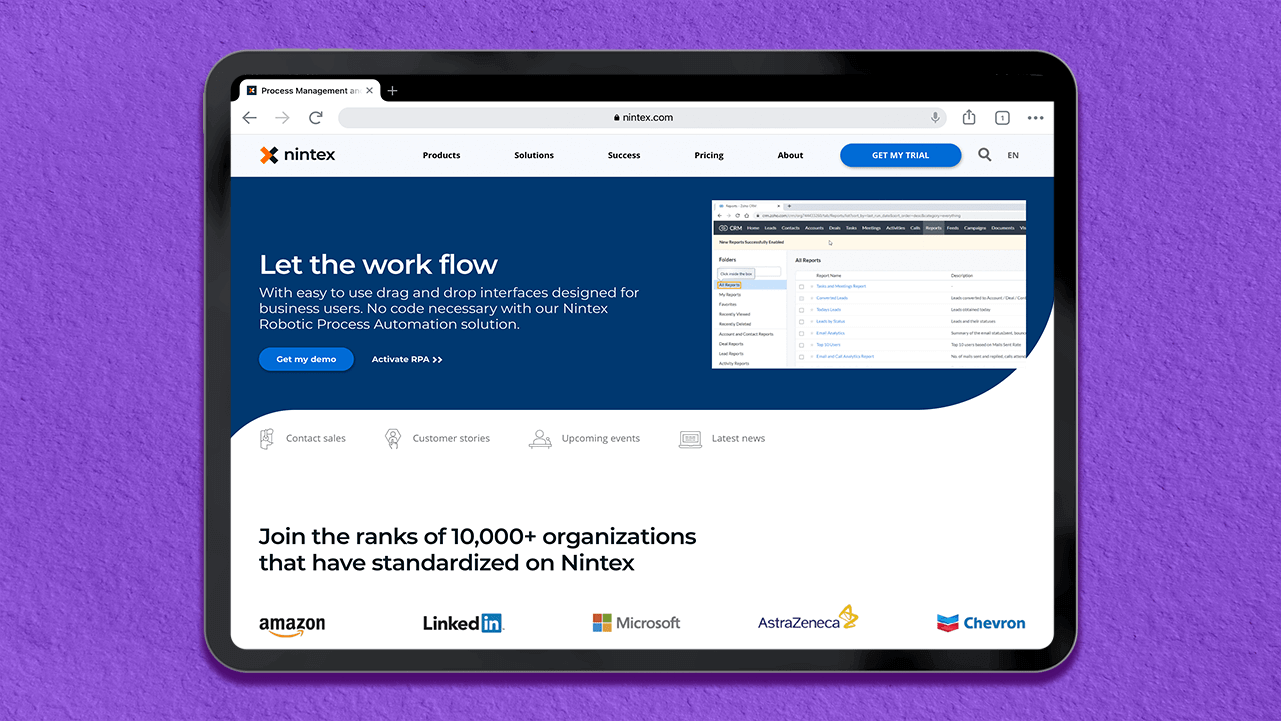 Nintex simplifies document creation. It transforms documents into automated business processes to accelerate sales and business results. It is a solution that replaces and streamlines paper-based methods.
Features
Template creation and flexibility
CRM integration
Reporting and dashboards
E-Signature Integration
User, Role, and Access Management
API / Integrations
Out-of-the-box features that you'll love
The one thing users love about Nintex is that it auto-populates contract information and is well-integrated with Salesforce. It makes it easier to follow up with your customers and clients, unlike the manual ways of the document management system.
Pricing
Nintex offers pro, premium, and custom plans for its users. The pro plan is priced at $25,000 for a year, and the premium is $50,000 per year.
Google docs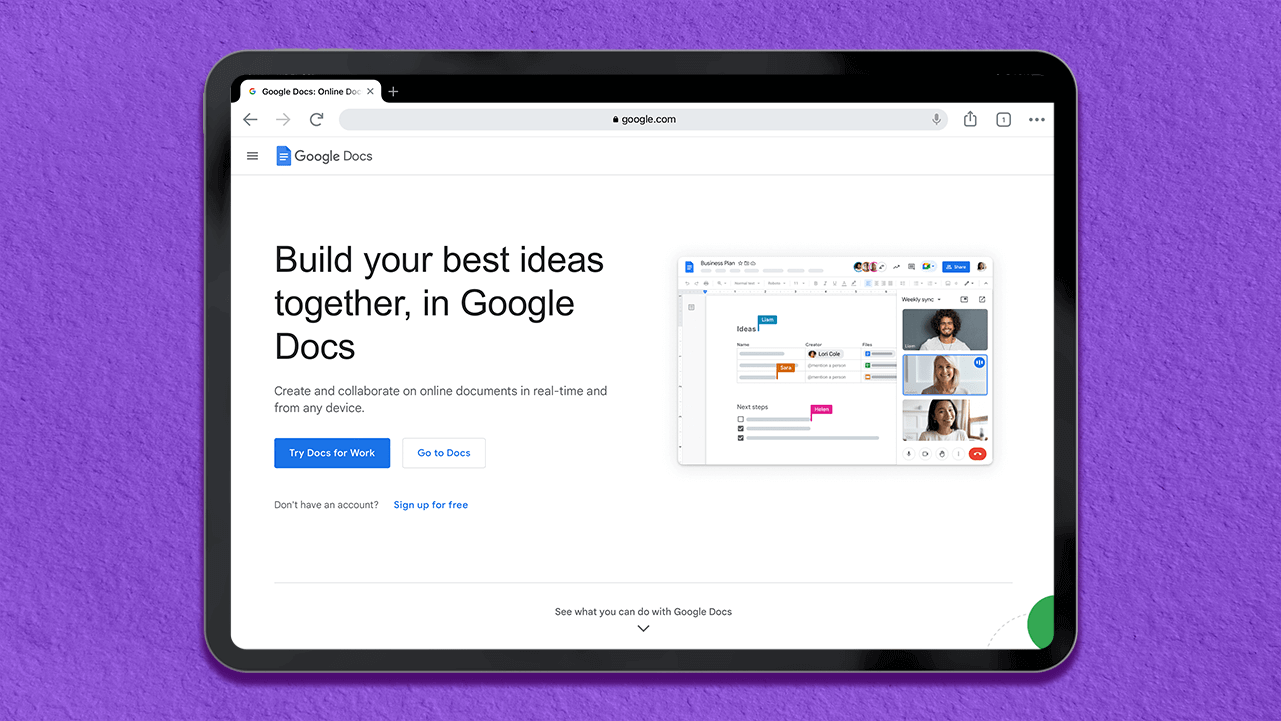 Google docs are an online word processor where you can create, update, and collaborate on your documents. The application also allows you to add notes and share document links for easy access to others in your team.
Features
Collaboration
Document creation
File sharing
Notes management
Team chat
Out-of-the-box features that you'll love
Google docs host your documents on the cloud, which makes it easily accessible at any time. What users value most is the seamless document exchange and the ability to track changes made in the document.
Pricing
Google docs is available for free in Google Workspace for personal use, for a storage limit of 15GB. However for more storage, you can opt for a Business Standard plan at $12 per user per month.
The power of document automation
When it comes to documents, be it drafting, managing, or storing, businesses are juggling between multiple systems of record to keep track of all documents and files. Best document management systems like Revv bring in automation for your businesses by streamlining the overall process and automating repetitive tasks.
Automation transforms physical paper documents into intelligent digital files that are tracked easily, can be stored securely in the cloud, and in specific cases have user-friendly mobile access. If you are still not convinced, here are some benefits that businesses enjoy when they pivot from manual ways of doing business and automate their internal processes –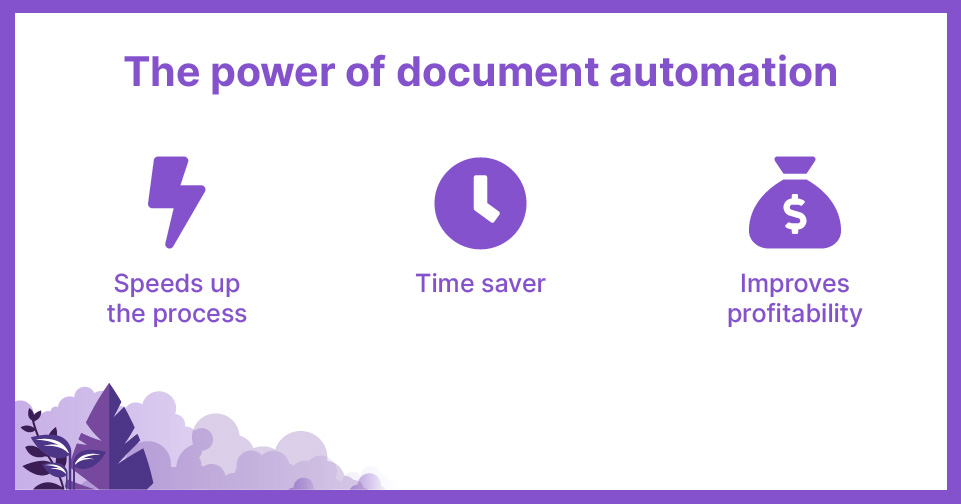 Speeds up the process – Speed is what a prospect or client demands and accepts. The faster you respond to a prospect or a client with the required document, the higher the chances of closing a deal. Document automation allows you to seamlessly integrate with other business applications and set up automated workflows which enables speedy document creation, review, and signature.
Time saver – When you automate your business processes, you save time focusing on other priority tasks like customer satisfaction. Automation allows users to do away with repetitive manual activities and produce complex business documents on time.
Improves profitability– When businesses have a correct document management system in place, it has a positive impact on Return on Investment (ROI), which can be very difficult to achieve with a paper-based system. An automated document management system will reduce the cost of having paper documents, physical storage space, etc.
To understand document automation better, you can read how you can automate document workflow with Revv and Zapier.
People also ask –
What is intelligent process automation?
The technology of automating the process of creating, managing, reviewing, and storing structured, semi-structured, and unstructured documents is called intelligent process automation. Revv offers intelligent process automation as a feature called Metalens in their product which reads, extracts, and analyzes your data to help you understand better and make quick and informative decisions.
Document management – A stitch in time
Choosing the one right tool for your organization from the many document management systems available in the market is a critical task.
Document management software that perfectly fits the needs of your organization can be a blessing. The tool will offer an effective and efficient way to create, manage, and collaborate on your documents. You can store and retrieve all your documents from a single platform and keep track of multiple activities going in and around your documents.

The right tool will be a perfect fit that will change the way your business operates. Similarly, you can look for other tools that your organization might require like quoting software.
People also ask
What are the best contract management systems?
Finding the best document management system depends a lot on your organization's requirements. But some common features that must be sought out when finalizing a document management system are – a user-friendly editor, legally vetted & ready-to-use templates, security features to ensure that your sensitive documents are safe, device-friendly documents, one-click eSign, etc. Revv is one such document management tool that comes with power-packed features that can be an ideal choice for your organization
What is the purpose of a document management system?
The purpose of a document management system is to enable the smooth management of your business documents. No matter what business you do, documents are always an integral part. They contain confidential details that build relationships. These documents need to be created with precision and stored securely for future reference. A good document management system is capable of doing that for you while you focus on other primary tasks at hand
Please note that all the above-mentioned information is gleaned from company websites, and comparison websites such as GetApp, G2, Capterra, and others. Since companies keep adding features, some of the information may be out of date. Let us know at sales@revv.so if there's any information here that needs to change, we'll verify and update as quickly as possible.