You've probably started receiving e-signatures from a plethora of different avenues. It is extremely exciting to do the signing process online, but one big question remains: is it optimized for your business?
The simplicity of the process has made it far easier for businesses to get documents signed, but what are the best practices for eSignature workflows?
As Peter Drucker fittingly puts it, "efficiency is doing the things right, effectiveness is doing the right things."
In this article, we will break down everything you need to know about e-signatures and how to make your eSignature workflows both effective and efficient.
What is an electronic signature and how does it work?
An electronic signature or e-signature allows you to sign documents online rather than in person. This is a legal and legitimate alternative to the handwritten signature on hard-copy contracts and is also quick and easy.
Electronic documents are generated for the client or customer to sign. First, the sender designates signature areas, and then the documents are sent to the signer electronically. The signer opens the documents, reviews them, fills in any required information, and signs them without ever picking up a pen or touching a piece of paper. After signing and accepting, the completed documents are sent back to the owner for review and finalization.
Benefits of using electronic signatures
The electronic signature technology is innovative and has long-term benefits.
Electronic signatures are easy to use and can improve the experience for your customers and your team.
Electronic signatures are cost-effective as they allow you to save money on paper, ink, printers, and postage involved with a handwritten signature.
Electronic signatures come with robust security and built-in compliance with local laws to enhance protection & governance
With businesses empowered to function and respond in real-time, electronic signatures accelerate the entire signing process.
With a scattered workforce and customers around the world, electronic signatures work as the best solution to run a business globally.
What are eSignature Workflows?
eSignature workflows bring consistency to the overall document process. It automatically routes the document, triggers tasks, and tracks their progress.
But, how does a business build an optimal user experience across all channels, while ensuring compliant document workflows?
And when considering all the opportunities to go digital across all channels, what is required to build e-signatures as a shared service across the organization, given the many diverse signing processes in each line of business and channel?
Fortunately, there are defined best practices for eSignature workflows so that businesses can be confident that they are processing signatures appropriately and efficiently.
Best practices for building your electronic signature workflow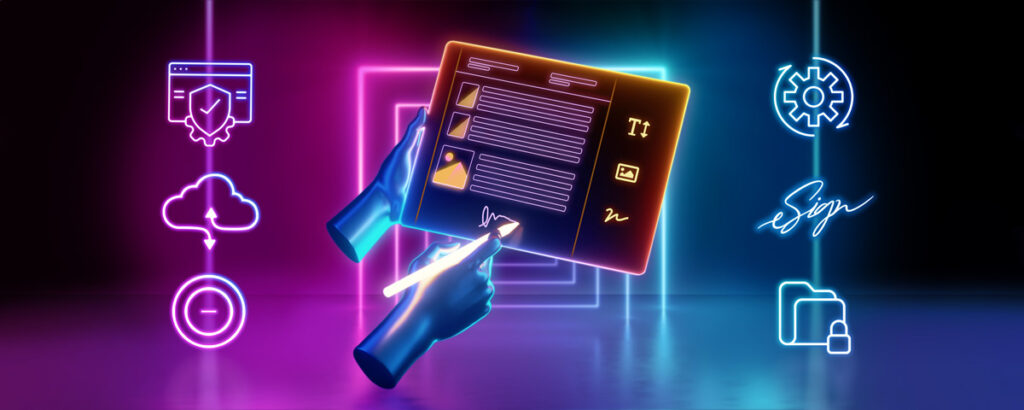 By fully understanding the different types of e-signatures, you can break down the best practices that each presents for your business.
Here are the best practices to follow when building your electronic signature workflow so that you can achieve the best results:
Determine the events that will trigger the eSignature workflow
What is the jumping-off point of your e-signature workflow? Automating e-signature workflows is valuable to business departments across the enterprise. But, each department has different goals to fulfill from the e-signature workflows, such as:
HR: Remote hiring, quick employee onboarding, and smooth employee exit process
Legal: Gain visibility & control over contracts, centralize contract management, and increase compliance
Procurement: Speed up the purchase order process
Sales: Reduce turnaround time in closing sales and accelerate the deal closure process
Finance: Timely invoice dispatch
The beginning point to kick off an eSignature workflow varies for each department, for example,
| | | |
| --- | --- | --- |
| HR | Legal | Sales |
| Rolling out the employment agreement when a new employee gets added to HRMS | Sending NDA to the customer after the customer signs the business deal | Kick off a sales quote when a new opportunity is added to the CRM (Customer Relationship Management Software) |
Identifying these points is crucial. It helps you to:
List down all the business apps required to be integrated into the electronic signature software
Find the right electronic signature software with capabilities to provide seamless integration with your business tools
Accessibility
One of the important things you need to think about when building your electronic signature workflow is access. Once you have prepared the document to be signed, how will the signers access it?
Depending on the specific platform you're using, you may have several different options. One standard option is to send it via email. Another option involves having the signers log in to the platform website or mobile app to access whatever needs to be signed.
Whichever option you choose, make sure that it's convenient for your signers and encourages them to accept the document as soon as possible.
Authentication
Authentication plays a crucial role when building your electronic signature workflow. How will your signers verify their identity when accessing the electronic documents to be signed? For example, you could use email or SMS authentication. You could also require that they use credentials issued to them by your company. At the end of the day, you need to weigh each option's risks and benefits and choose the one that provides the most security.
Viewing the Document
How will you present the electronic documents to the recipients? It's often best to present the documents through a website on a web browser. That way, the signer doesn't need to download any additional software to access the documents. When you use Revv, signers can also access documents via a computer, smartphone or tablet, so if they need to sign on the go, they can.
Data capture
The next thing you need to think about when building your electronic signature workflow is data capture as it relates to assigning form fields to recipients. This requires adding data fields in the document for signers to input their information. Electronic signature platforms like Revv capture signing data at the time of signing rather than after the document has been signed for the most accurate information.
Uploading documentation
It may be necessary for your clients to upload additional documents as part of the signing process in some business transactions. These documents should be included with the electronic signatures to keep everything well organized.
Electronic signing
This is undoubtedly an important component of the process. It's essential to get this step right, and there are different ways to go about it. For example, there's a click to sign where you simply click on the signature box, and it generates a signature stamp for you. There's also a digitized handwritten signature option to draw your signature on your computer with your mouse and insert it into the signature box. Finally, there's a clickwrap electronic signature option that's essentially similar to clicking "I agree" when accepting cookies on a website.
Delivery
How will you receive the signed documents? Ideally, this will also be done electronically for efficiency purposes. Whether that means the signer emails them back to you or you're automatically notified of completion by the electronic signature platform, make sure that you get your signed documents back before you move forward.
What happens after the documents are signed?
The closure of one process is the beginning of other. What happens after the e-signatures are done?
Do you want to write back the update to your CRM or perhaps update the CRM with the form fields info shared by the signers?
Do you want to store the document to an external storage system like Box, Dropbox, etc., and let the next set of workflows trigger from these systems?
Do you want to initiate the associated documents for e-signatures?
Listing down the post-process will enable you to put together and set all the processes by integrating them with your eSignature workflows.
According to a recent study by Forrester, 50% of all businesses struggled with slow document workflows amid the pandemic
Use Revv: The best solution to build your electronic signature workflow
If you're looking for a system to help you handle all of this, look no further than Revv. Building an electronic signature workflow may seem like a lot of work at first, but Revv is here to make the process quick and easy for you.
Revv is a powerful document workflow engine built with simplicity in mind. It comes with advanced document automation features coupled with electronic signature technology which magnifies the efficiency and productivity of more than 10,000 customers.
Revv Fact💡
64% of our customers close documents in less than 60 minutes.
1. Business apps integration to run your workflows end-to-end
With Revv, you get the comfort of running your document workflows within your favorite business apps. Revv seamlessly integrates with your existing tools and business processes, offering greater flexibility and control to your current workflow without any hiccups.
You may want to:
Trigger sales contracts from CRM
Run offer letters from HRMS
Generate invoices post-contract signature
Send the signed document back to CRM
Store the signed digital documents to other cloud storage systems like Box
Update the system of records with signed documents and revised information
Or activate the next workflows from your apps based on the document status and information shared by Revv
These are a few of many use cases that can be solved in a jiffy with integration.
Leverage Revv's in-built integration to couple your business application in a couple of mouse clicks.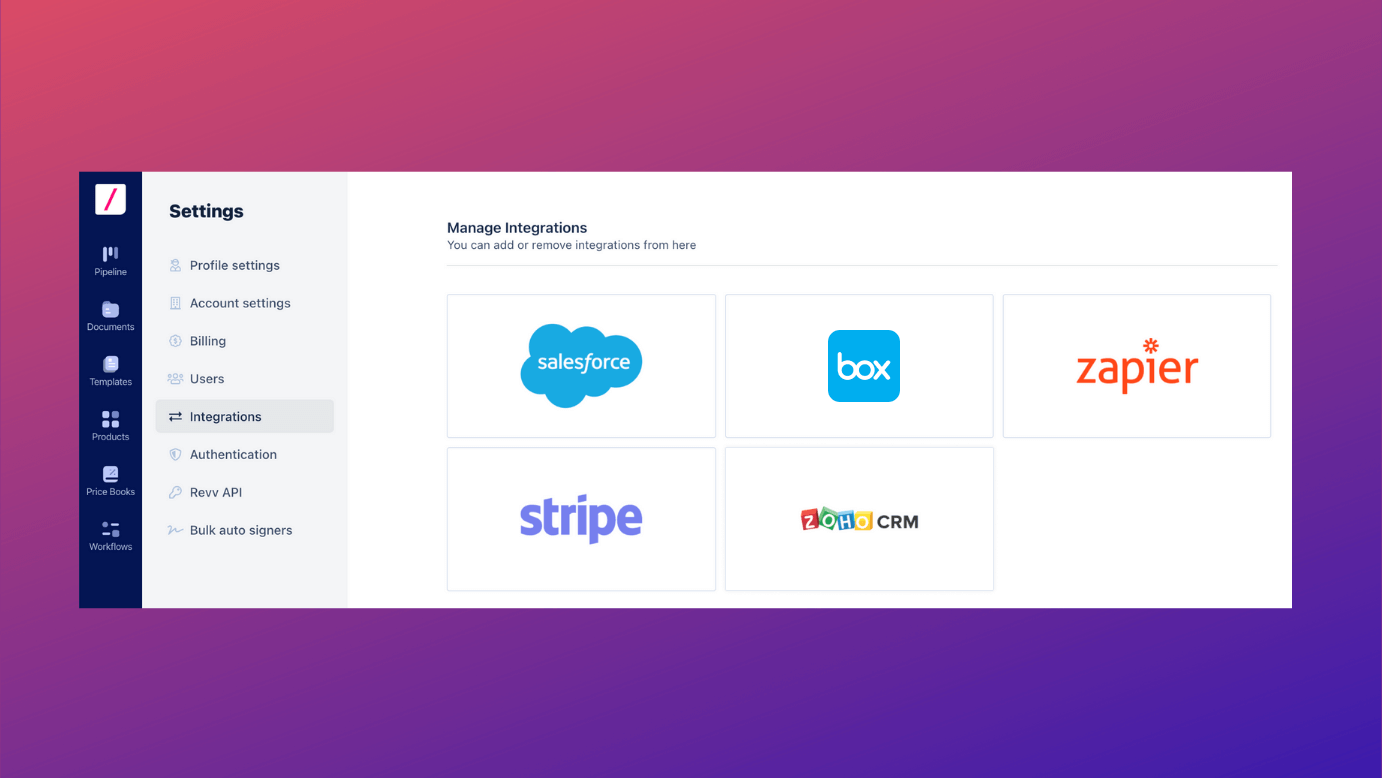 Alternatively, you can unite your app with Revv via Native APIs.
What's more? Connect Revv to 4000+ apps using Zapier.
How does Revv's integration boost automation? | Revv + Box example
Revv & Box together make a high-velocity workflow solution. When you unite Revv's power of document automation & eSignature with Box's cloud storage and workflows – your business processes run seamlessly & ensure business continuity.
Now, with the right content & data, create and manage workflows irrespective of the complexity and size of the teams.
Here's one of the examples of what an automated workflow can look like with Revv+Box: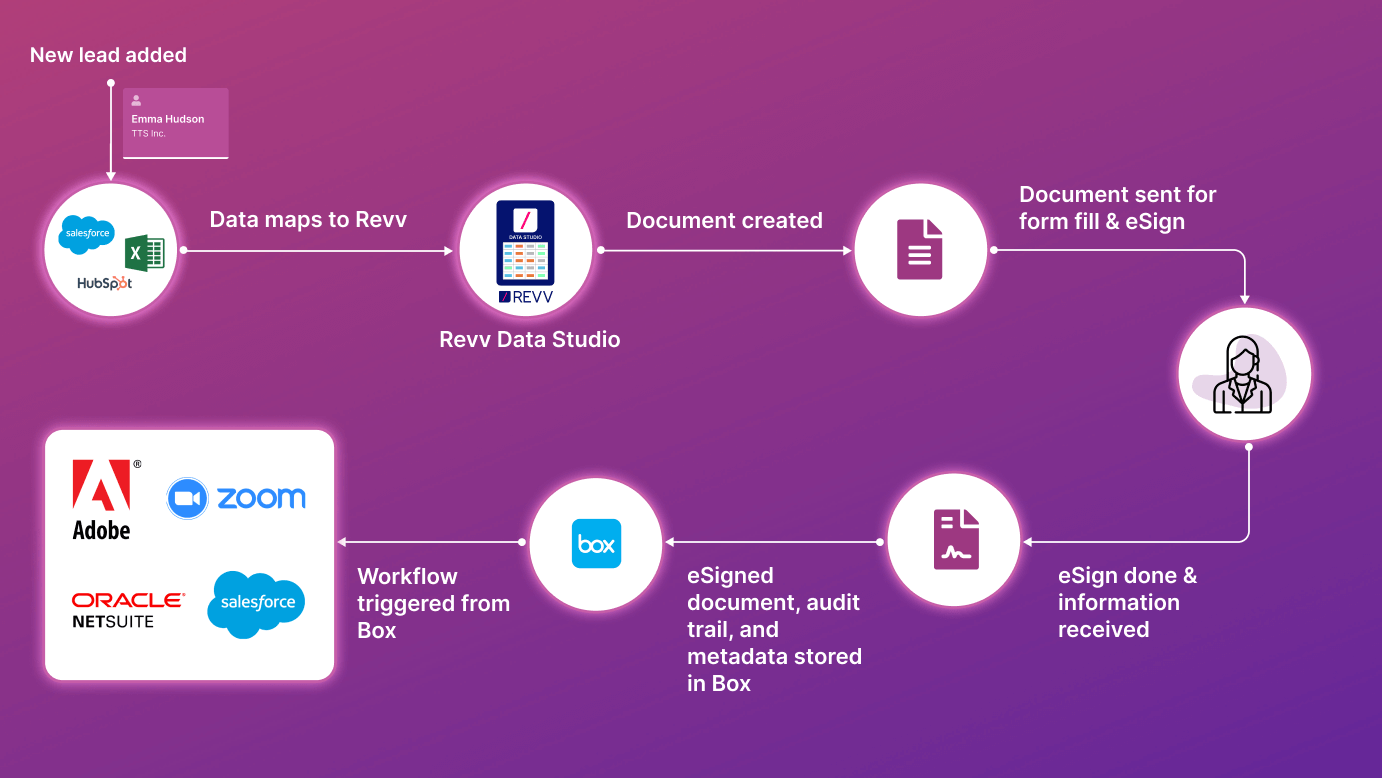 From sales & marketing to legal & procurement, business functions across industries can benefit from Revv + Box integration, and automate their standard and repetitive tasks like:
Customer onboarding
Employee onboarding
Contract renewals
Policy renewals
Vendor management
Contract management
Invoice management
How does Revv + Box integration work?
1. Trigger workflows between Revv & Box for actions taken on a document.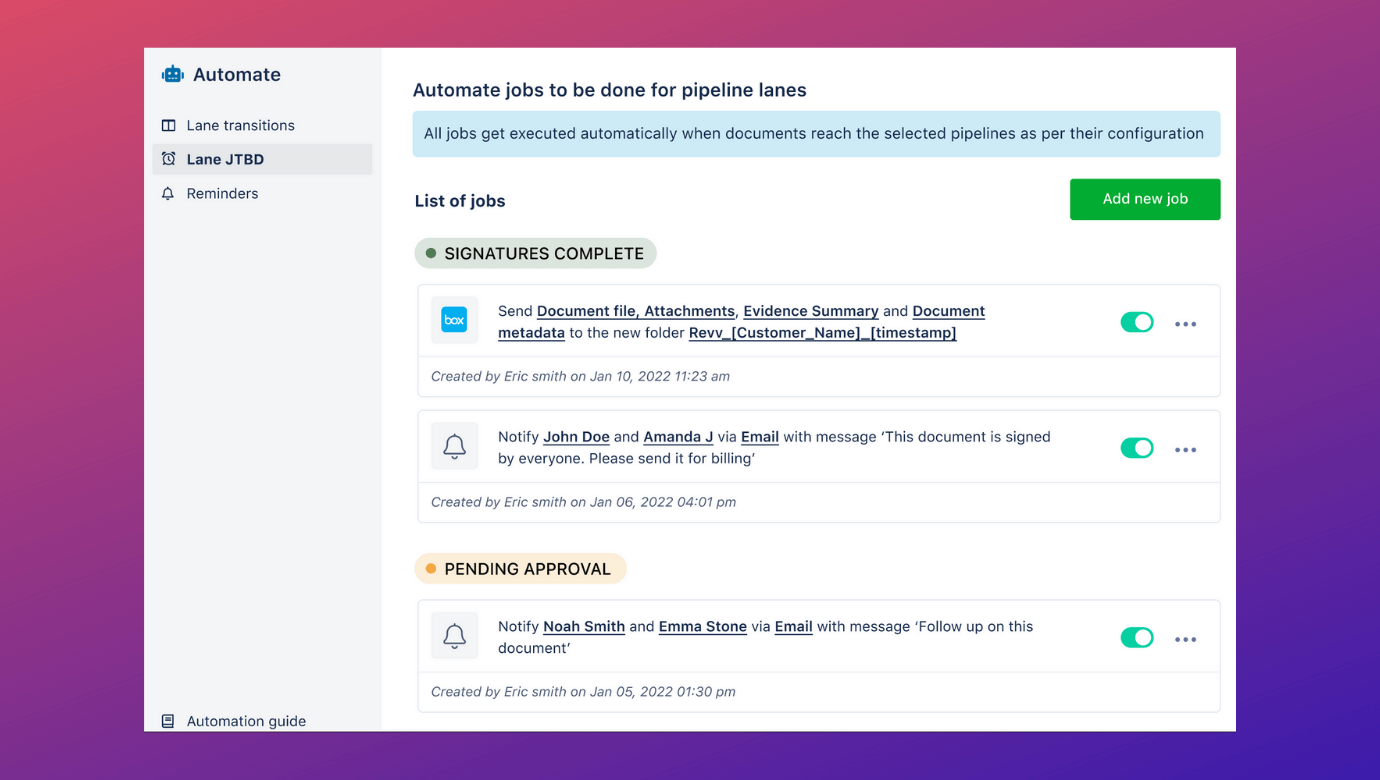 2. Store custom data associated with documents in Box. Automatically route Revv documents and associated document information to the Box folders in the chosen format. Export the document's audit history in Box in the form of the 'Evidence Summary' certificate.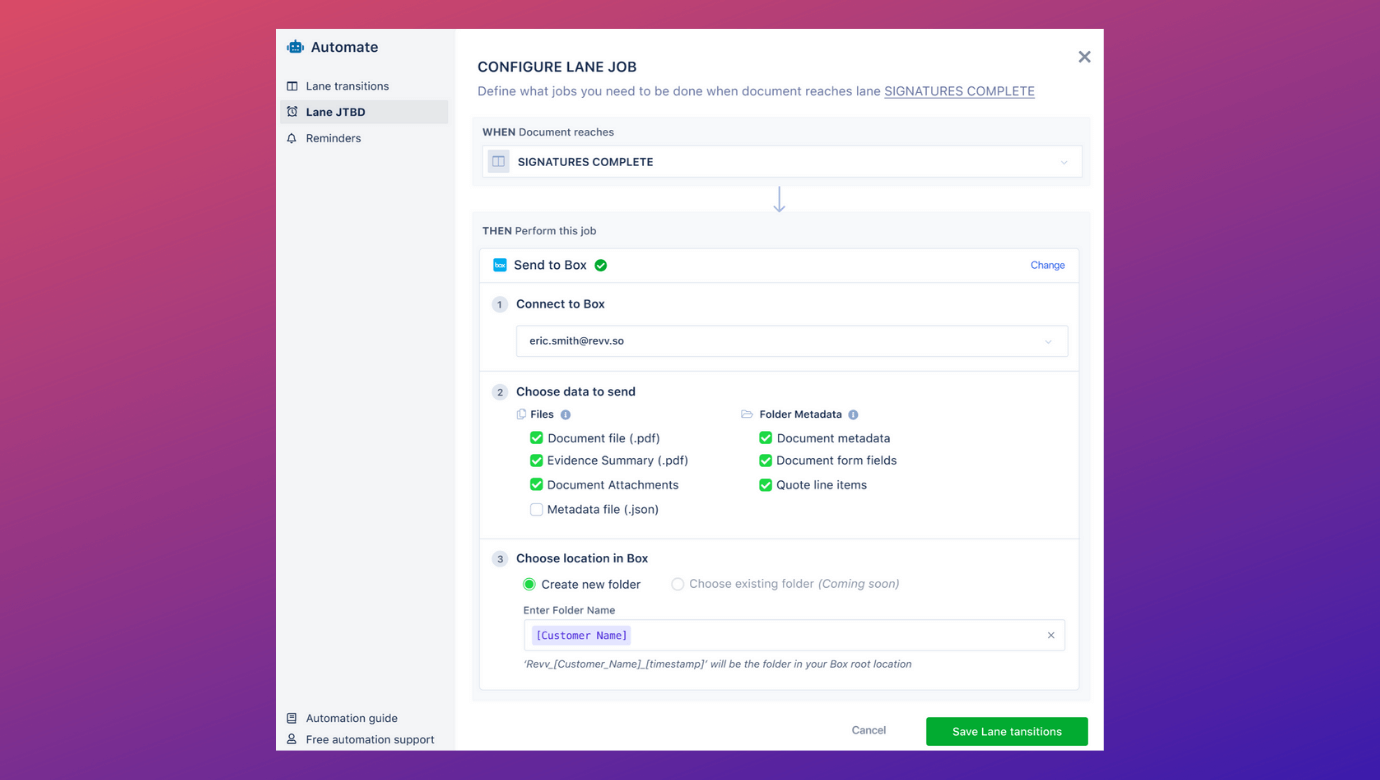 3. Take workflow actions in Box based on the Document Metadata generated in Revv. Trigger workflows from Box ranging from a document upload, document metadata, document form fields, or a change in metadata attribute, quote line items, or form fields.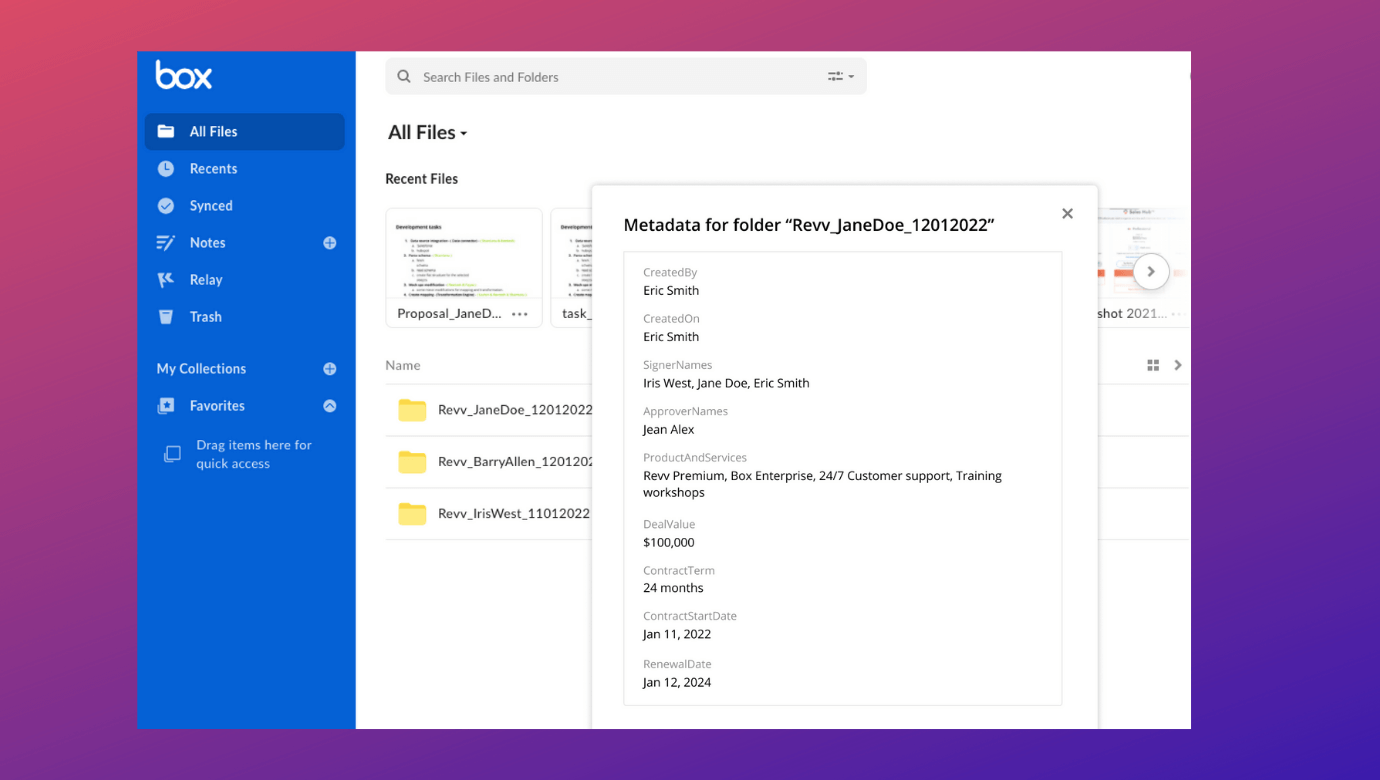 2. Precise data mapping to Revv, ensuring nothing slips through the cracks
The oxygen to all business processes is data; data that is correct & precise.
Even if your document workflows are intuitive and self-driven, flawed data means dysfunctional processes, huge correction costs, erroneous insights, wrong business decisions, which could hurt your business immensely.

When running but not random data, the right and This is the most grueling task of all and the most important link to the document workflows.
Solution?
Map the data fields between your apps accurately. Most of the time, this task elongates to weeks as it requires the involvement of technical teams, running codes or scripts, or configuration via APIs. These data fields mapping tasks aggravates further based upon the complexity and size of data and documents.
But, worry no more! Revv has the best solution for it, literally the best.
Revv's Data Studio feature makes the data mapping process as easy as pie. Here's how:
Easy point-to-click way to map data fields
Merge data fields from your business apps (like address line 1, address line 2, pin, country) to more meaningful fields (like one field – Address) in Revv
Reduce the data mapping task to minutes
Create precise documents irrespective of the size and complexity of data
Get freedom from Excel Sheets to Doc generation
No more backbreaking tasks of data mapping via scripts, coding, APIs, and integration platforms
Scale up as your business data grows and run your document workflows seamlessly
One-time process
3. Customizable templates and rich editor to generate documents on the go
Revv gives you an enormous library of 1000+ ready-to-use templates to gain back hours of productive time. From quotes, agreements, contracts, proposals, to statements of work, letters, and many others – Revv ensures you find the template you are looking for.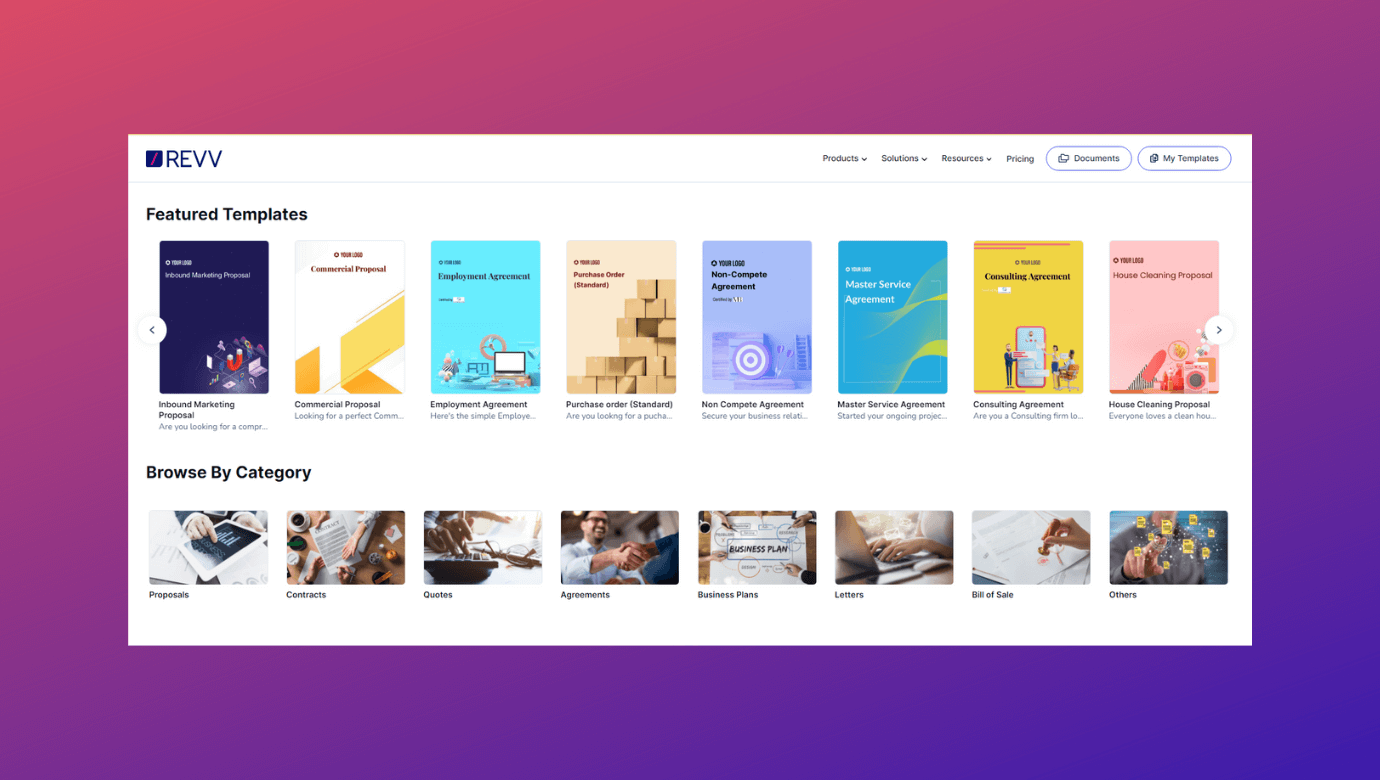 If you want to customize an existing template or want to create a template from the ground up, Revv's feature-rich editor makes it an easy job. You can import images, add page breaks, text, table, and even import data by syncing your Google Sheets with Revv.
You can also turn an electronic document into a template that can be repurposed later.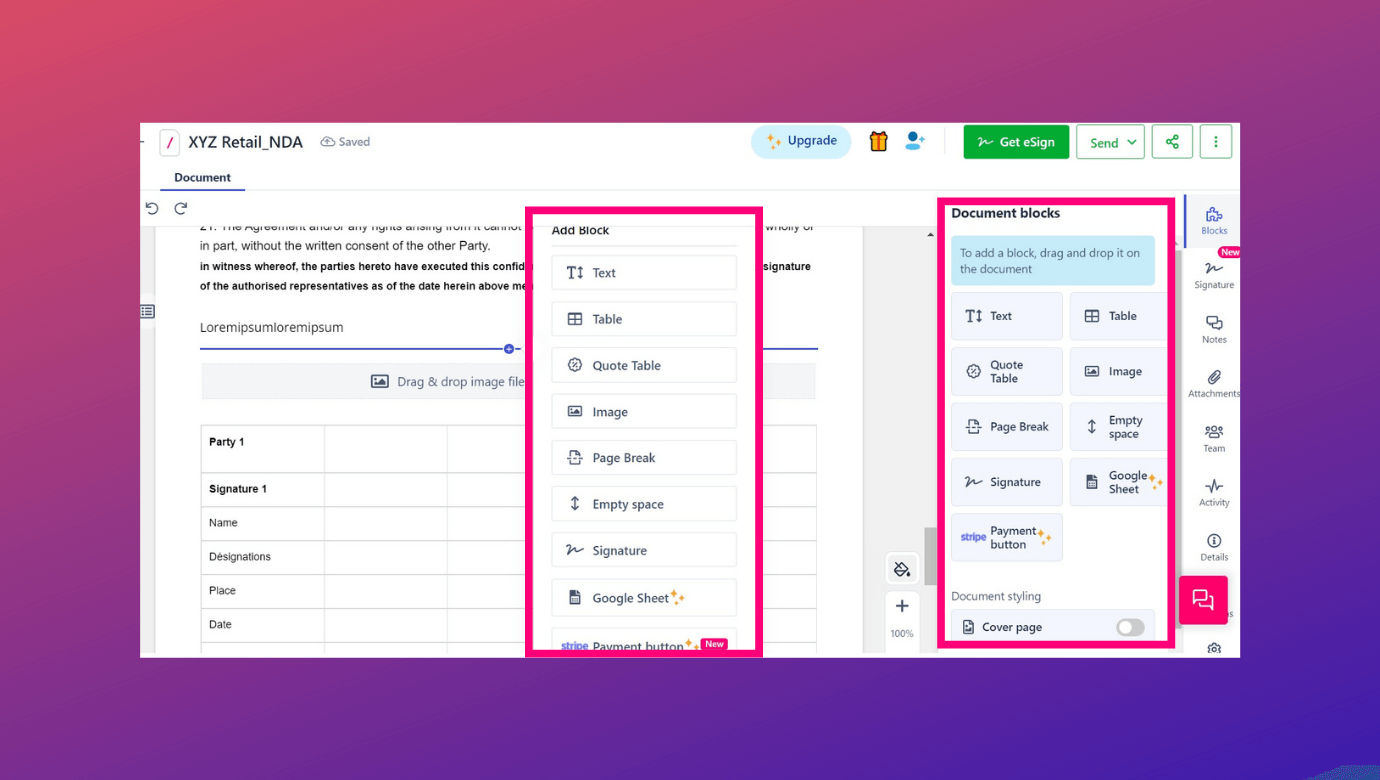 4. Automate repetitive data filling with form fields
Let's say you have a 50-pages long document where every page has your customer mentioned at least once. Copy-pasting the name of your customers so many times isn't only time wastage but also a tedious task. The weariness in executing this task increases multifold when many fields require repetitive filling.
Revv puts a stop to this with its form fields feature. Revv lets you turn these repetitive fields into form fields at a template level. While creating the electronic document from this template, you need to fill the form field only once and it will be replicated throughout the document.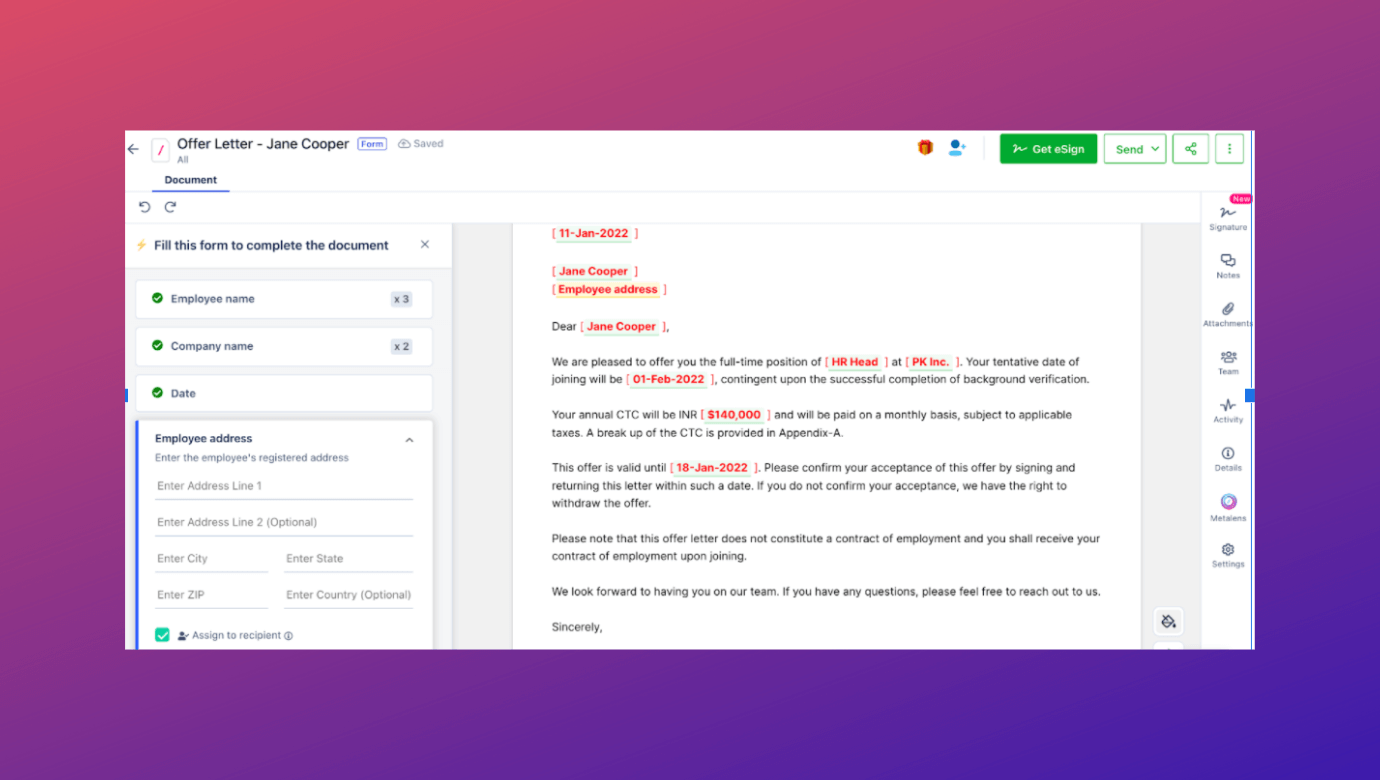 If you are pulling the data in the form fields from your business apps, once you map Revv's form fields with your app's data fields via the Data Studio feature, Revv will populate the electronic documents with the desired data.
Do more with form fields: Gather information from recipients before they eSign
If you want to receive some information from your signers along with e-signatures, assign those form fields to the respective recipient. It will prompt the signer to fill in the information before signing the dotted line.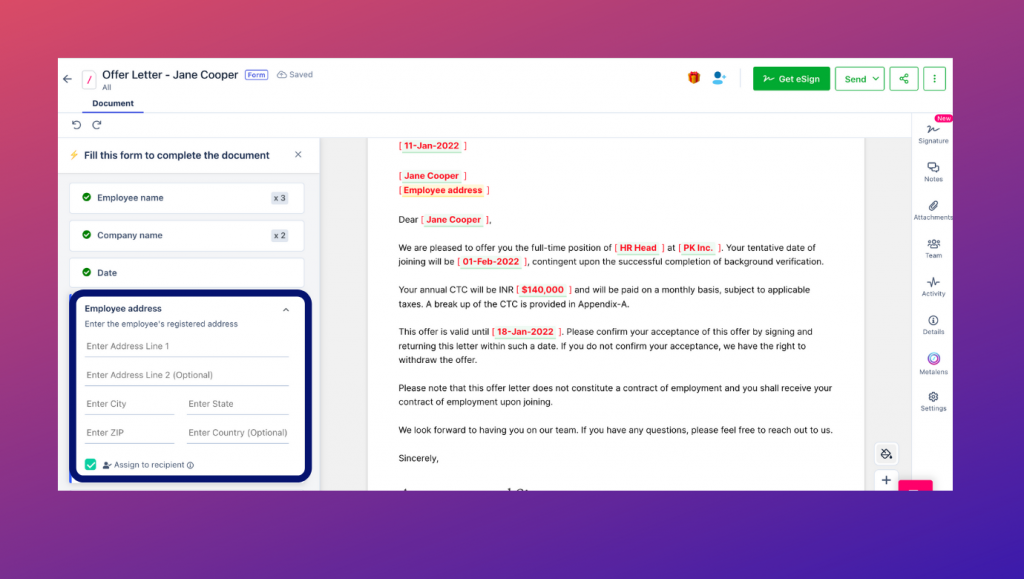 5. Put internal approval workflows on autopilot
"I missed the mail. You should have reminded me."
"Why was the wrong line item sent to the customer without the consultation?"
"The discount sent in the quote is too high making the whole deal less profitable."
Usually, teams are left with these questions or statements when they lose a deal or contract because:
It didn't reach the customer due to a delay in internal approvals
The team wasn't aware that the electronic document has to go for the manager's review and approval before sending it to the customer
Regulate this entire chaos like a pro with Revv's approval workflows. You can configure these approval workflows at form field level, clause level, and quote level.
What's more?
You can also decide the order of these approvals:
Sequential: whether the doc should move to another approver once it is approved by the previous one
Parallel: whether the doc should go to all the approvers at once for approval
It's a value-for-money software when it comes to getting approval faster & secure. All the things are predefined & anyone can use them without having deep technical knowledge.

User Review, G2
The workflow is very simple to create, select a condition and define the actions.
Once a condition is triggered, the electronic document gets automatically routed to the respective approvers for review, and they get notified to take action.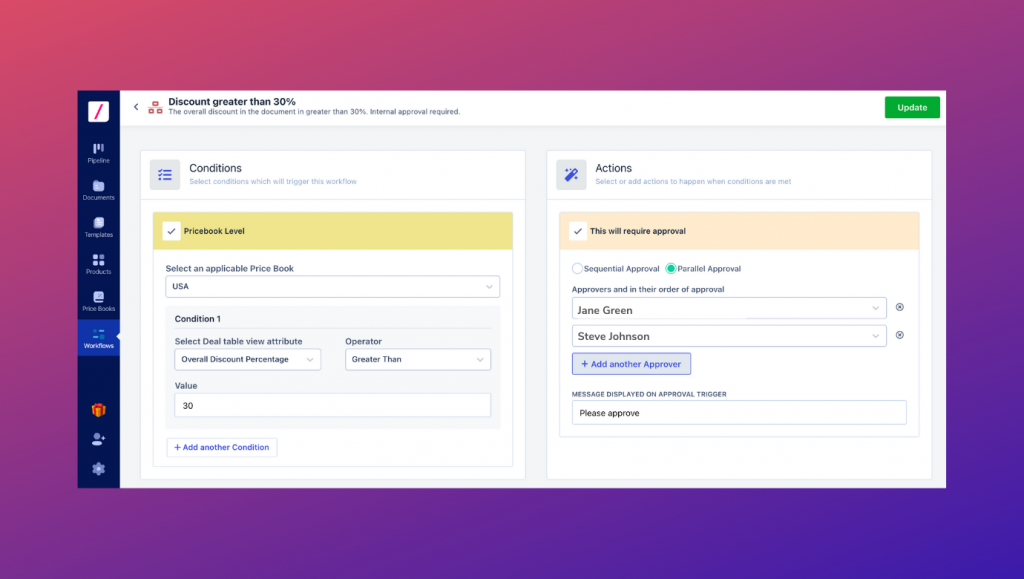 Revv also provides you a flexible option to send the document to other key decision-makers for their review using the 'Send for email' feature and give them permission to view or edit.
6. Complete eSigning ceremony with pioneering electronic signature features
Bank-grade electronic signature: Revv offers bank-grade electronic signature services that are user-friendly for both the sender and the signer. Revv safeguards each transaction by securing it with multiple layers of encryption and AWS global cloud certification – CSA, SOC 1, SOC 2, and ISO 27001.
​​Soft signature: Not all documents demand e-signatures, some can be closed by receiving the recipient's consent in the form of 'accept or reject.' Revv's 'Send for acceptance' is a flexible alternative to electronic signatures. This is essentially the equivalent of clicking "I agree" when you accept cookies or install an app and agree to the terms of service. There is also legal precedence for soft signatures being legally binding in the U.S. and Europe. Revv offers video authentication for soft signatures.
Compliance with eSignature laws: Revv gives you the ease to do business anywhere. Revv complies with local and global eSignature regulations like Electronic Signatures in Global and National Commerce Act (ESIGN Act), Uniform Electronic Transactions Act (UETA), the eIDAS regulation, and industry standards, making the electronic signatures valid around the world. Here are the steps Revv takes to make e-signatures valid.
a) By obtaining the consent of the recipient to do business electronically. Revv asks the signer to tick on a checkbox to capture this. Revv also provides the signer an option to opt-out by clicking on the 'Decline' option.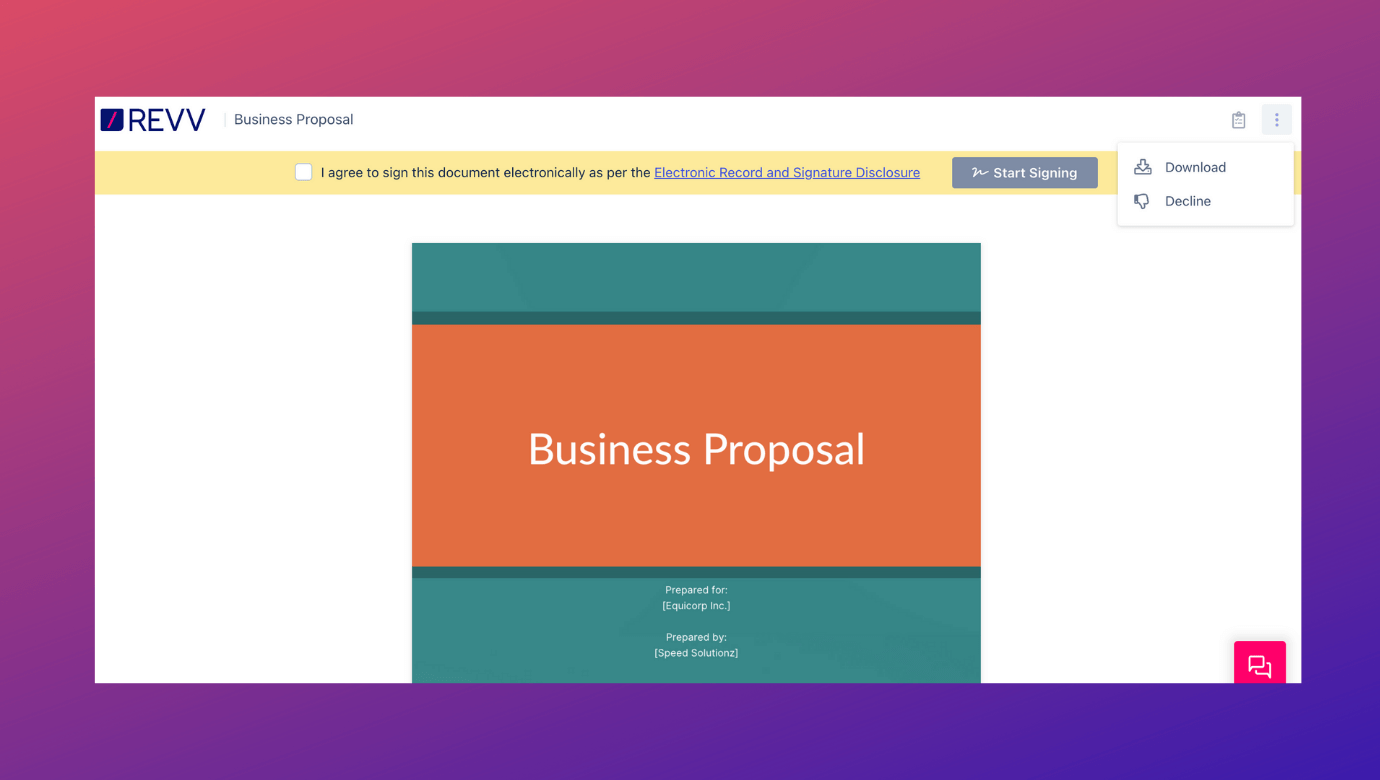 b) When using Revv's esigning services, both the senders and signers can download the entire audit trail in the form of an 'evidence summary certificate.'
Revv's evidence summary provides a detailed audit trail with signers,' IP addresses, and a log of all the actions action taken during the signing process with data and time stamps. The evidence summary safeguards your contract from fraud, forgery, admissibility risk, and ensures compliance and validity.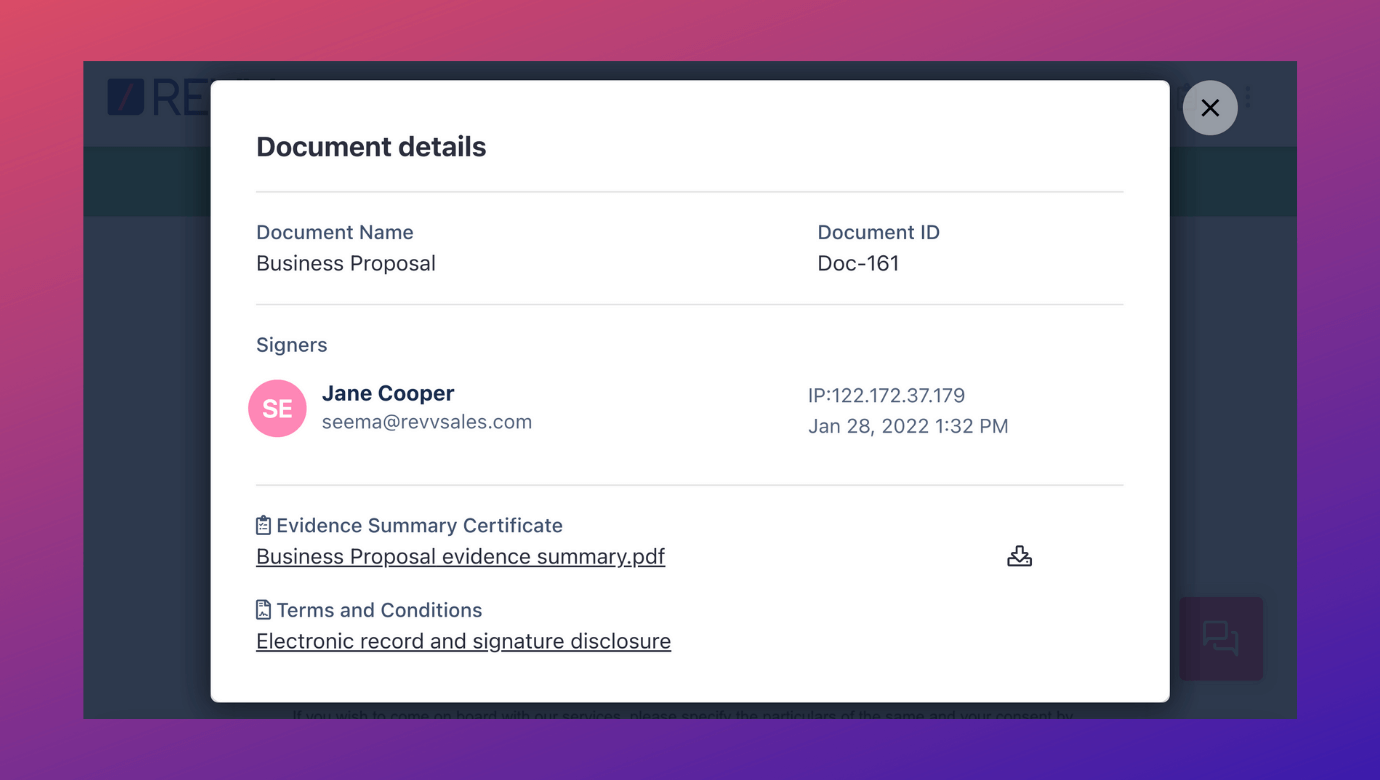 Revv also creates a unique eSignature URL for every Signer that authenticates the signer.
Verification of signer's identity via two-factor authentication (2FA): Revv offers robust security measures like SMS and email authentication to provide twice the security. That way, not just anyone can sign documents in your place. The 2FA method verifies the recipients' identity. With this feature, the designated signer receives an email containing a unique URL linking to access the document. Once clicked, the signer receives a code via SMS on their device to unlock the document.
Revv also includes video capabilities in the 'send for acceptance' feature where you can send and request video consent during the signing process.
Mega signing, send the same document to multiple signers in one single workflow: If your business demands to send a document to hundreds of signers in one go, where each document has customized information of a particular signer, you can achieve so by using 'Create documents in bulk option. This feature helps you to customize each document with standard details like name and address, and send as many documents as you want to e-sign.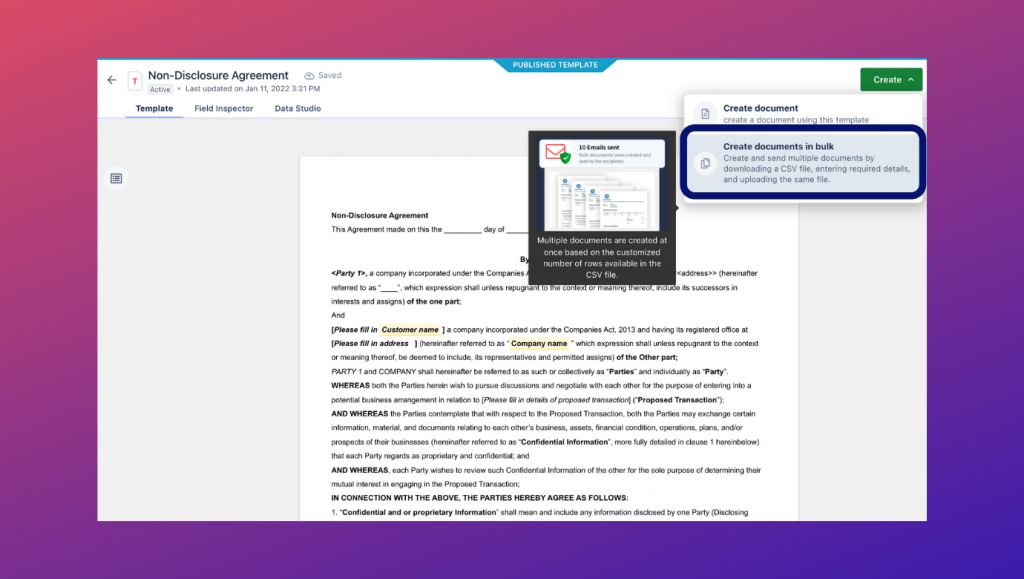 Convenience for the recipients to sign documents from anywhere: Revv provides step-by-step navigation to guide signers through the process and ensures they complete all required sections before submitting.
Documents sent via Revv can be e-signed anywhere in the world from any device. Recipients or signers can also customize their eSignatures with Revv. They can 'Draw signatures,' 'scan and upload signatures,' choose from 'pre-formatted text styles,' and even connect their crypto-wallet MetaMask to complete the signing process.
Wait! There is more!

Once signed, all the documents are neatly stored and organized in a cloud-based repository in Revv, where all digital documents are easily searchable and managed.

You can also extract the metadata using the 'Metalens' feature. This metadata proves beneficial to identify the next workflows or make the right business decisions.

Aside from this, Revv empowers employees, customers, and all users to collaborate on Revv documents anywhere around the world in real-time. They can tag other people, add notes, and also upload supporting documents.
7. Track the progress of eSignature document
Revv's 'Activity' tab enables the users to track each action taken on the document – whether the document is viewed, which all signers have e-signed it, where is it pending, and how many times is it viewed. This helps the senders to identify where the document is stuck and intervene at the right time to process it further.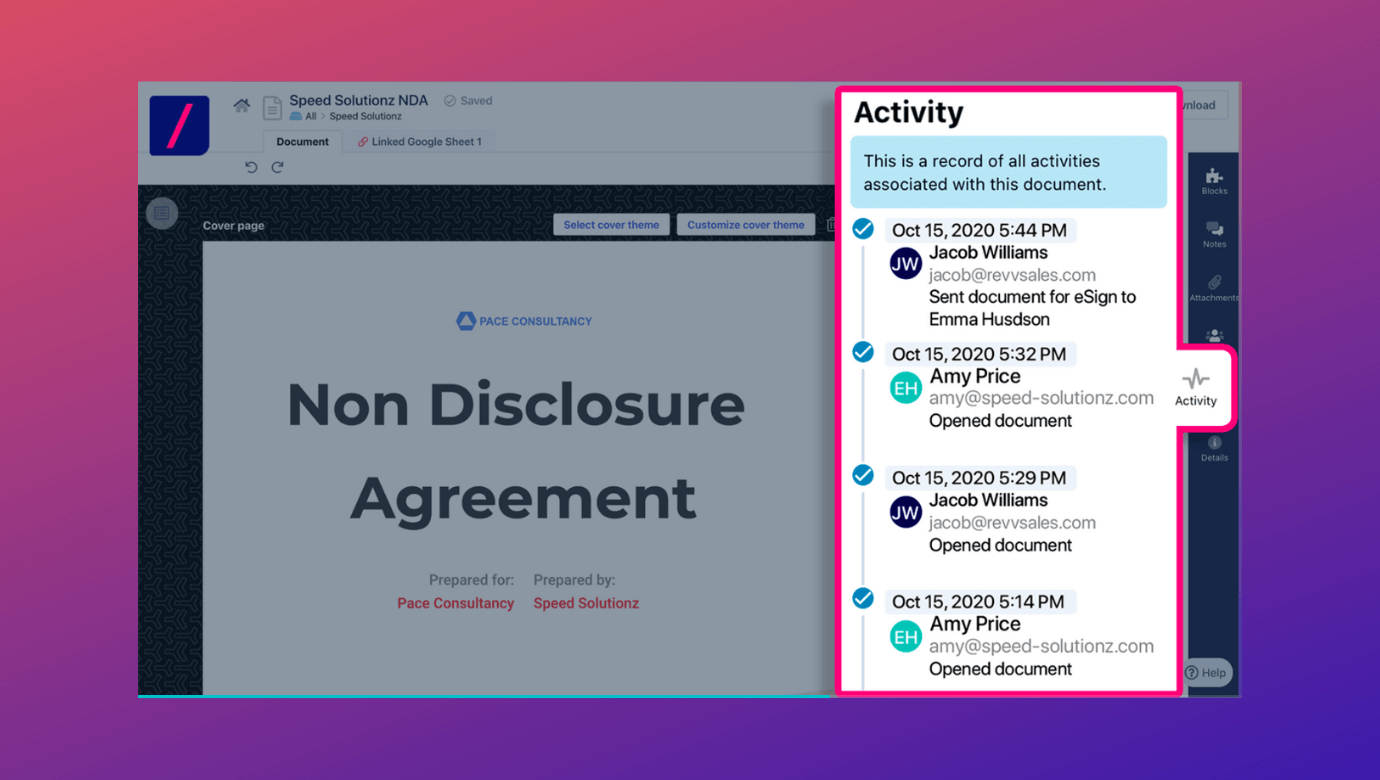 Revv also notifies the senders via email once the signing is complete along with the link to view the signed document.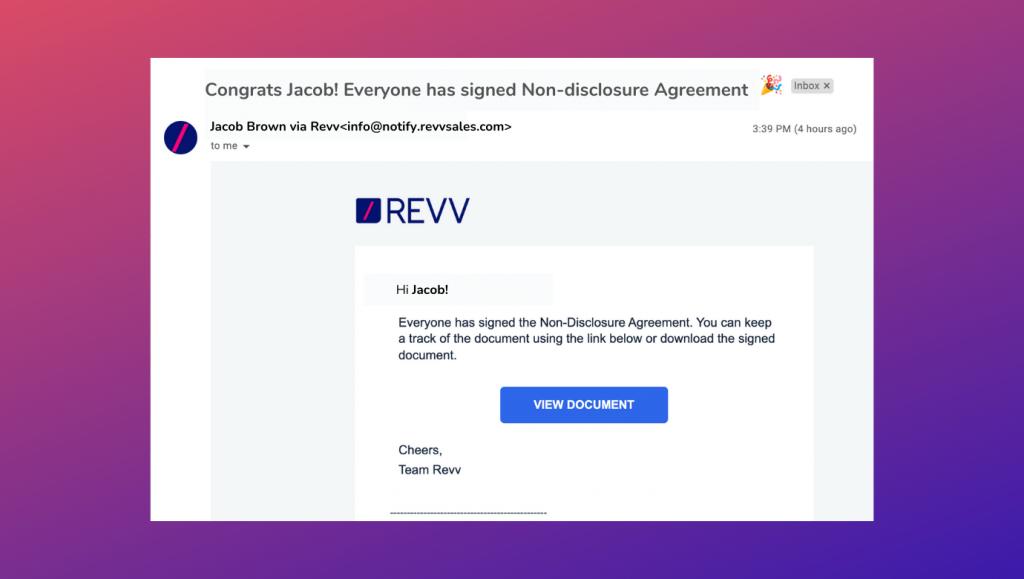 🎁 Bonus
With Revv's 'Pipeline' feature, you can also set up reminders and their frequency to notify the recipients to take action on documents.
8. Decide what happens next after your document completes a milestone
Varying on the business needs, you might want to take some intermediary steps between your document processes. For example,
Your manager might have asked you to keep him in the loop when onboarding a new vendor.
The payroll team wants you to share the employment agreement for documentation purposes
The finance team wants to receive a copy of the signed sales contract to proceed with the payments
The legal team requires a copy of NDAs and contracts for compliance purposes
And many more…..
Revv's 'Pipeline' feature facilitates you to create workflows for each stage of your document process and complete all the tasks. It is based on the Kanban method of managing the workflows.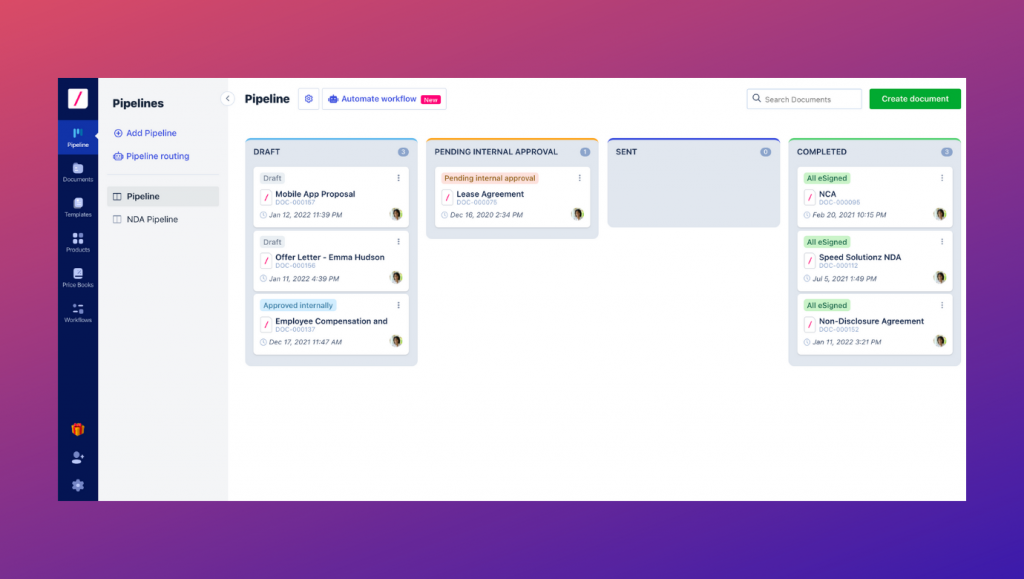 How?
Step 1: Create a pipeline and select the template for which you want to create these pipeline workflows.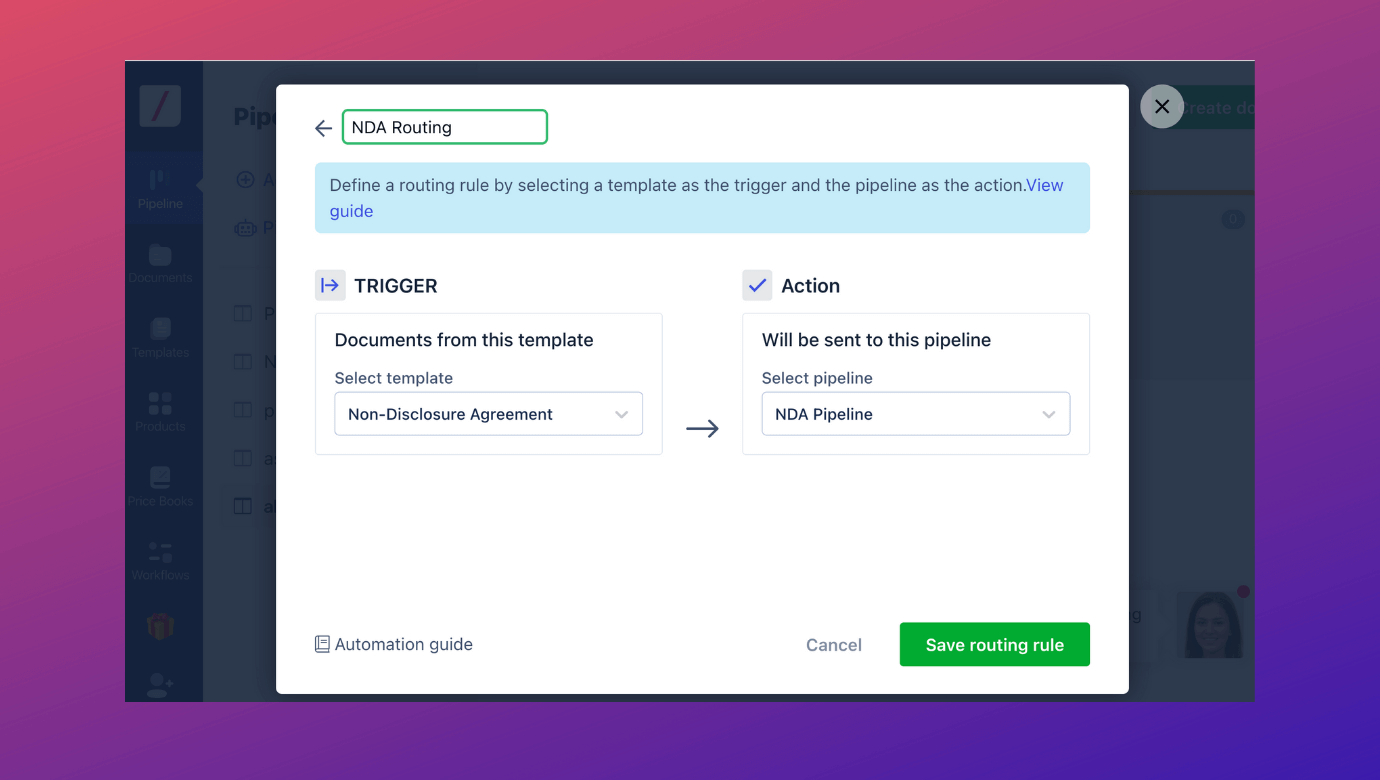 Step 2: Go to that 'Pipeline,' click on the tab 'Automate Workflow,' and split your document process into lanes. These document processes are 'events.' Add the events against the right 'lane.' You can also customize the 'lanes' as per your business needs.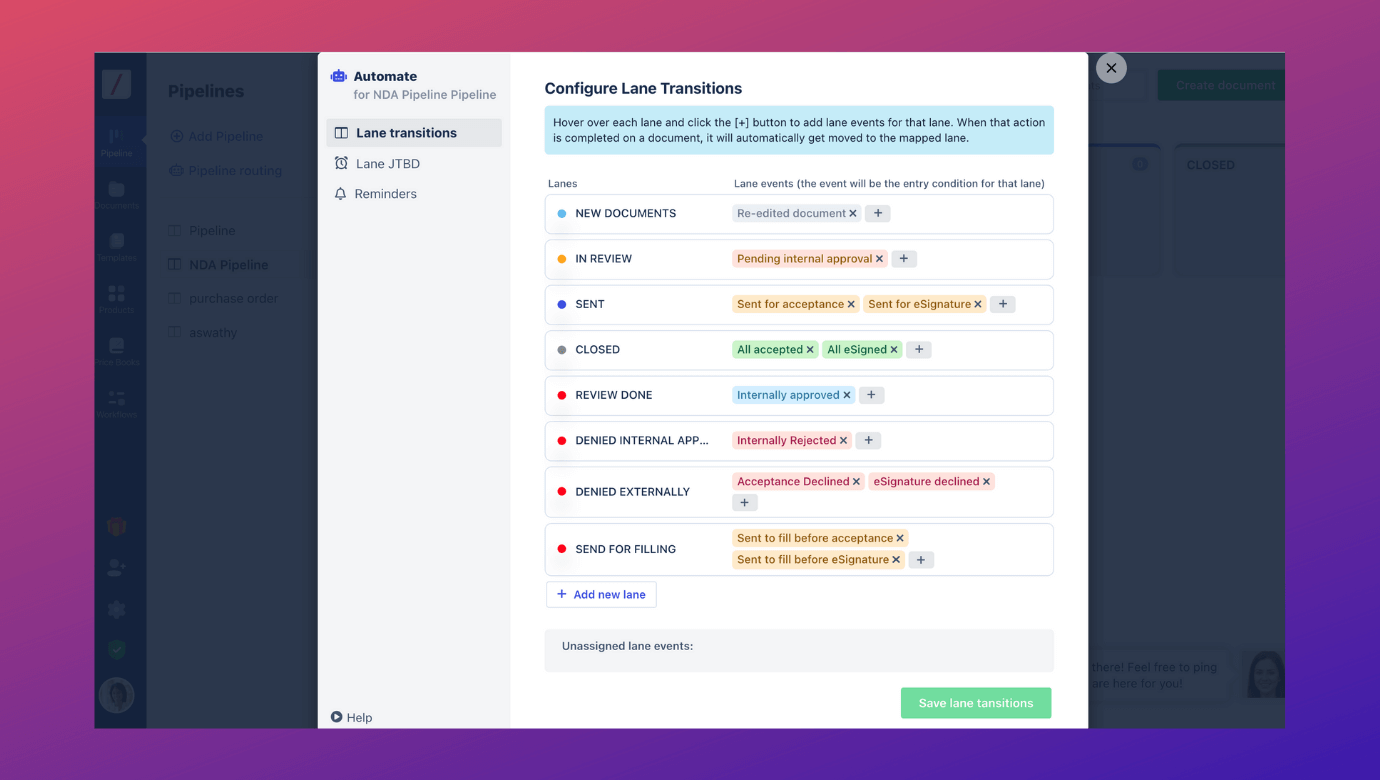 I love the combination of e-signature, custom document authoring tools, and pipeline management in one. It's a one-stop shop for our document management and integrates well into our existing tools and processes.

User Review, G2
Step 3: Now go to the 'JTBD' tab and define the jobs that need to be done for each lane, for example:
When the document reaches the 'Employee NDA eSigned' lane, then perform the job 'NOTIFY' to update the Managers, Payroll, and Admin team
When the document reaches the 'Employee NDA eSigned' lane, then perform the job 'NOTIFY & SHARE' to update and deliver the signed document to Managers
You can configure as many jobs as you like. Revv gives you many job options to choose from.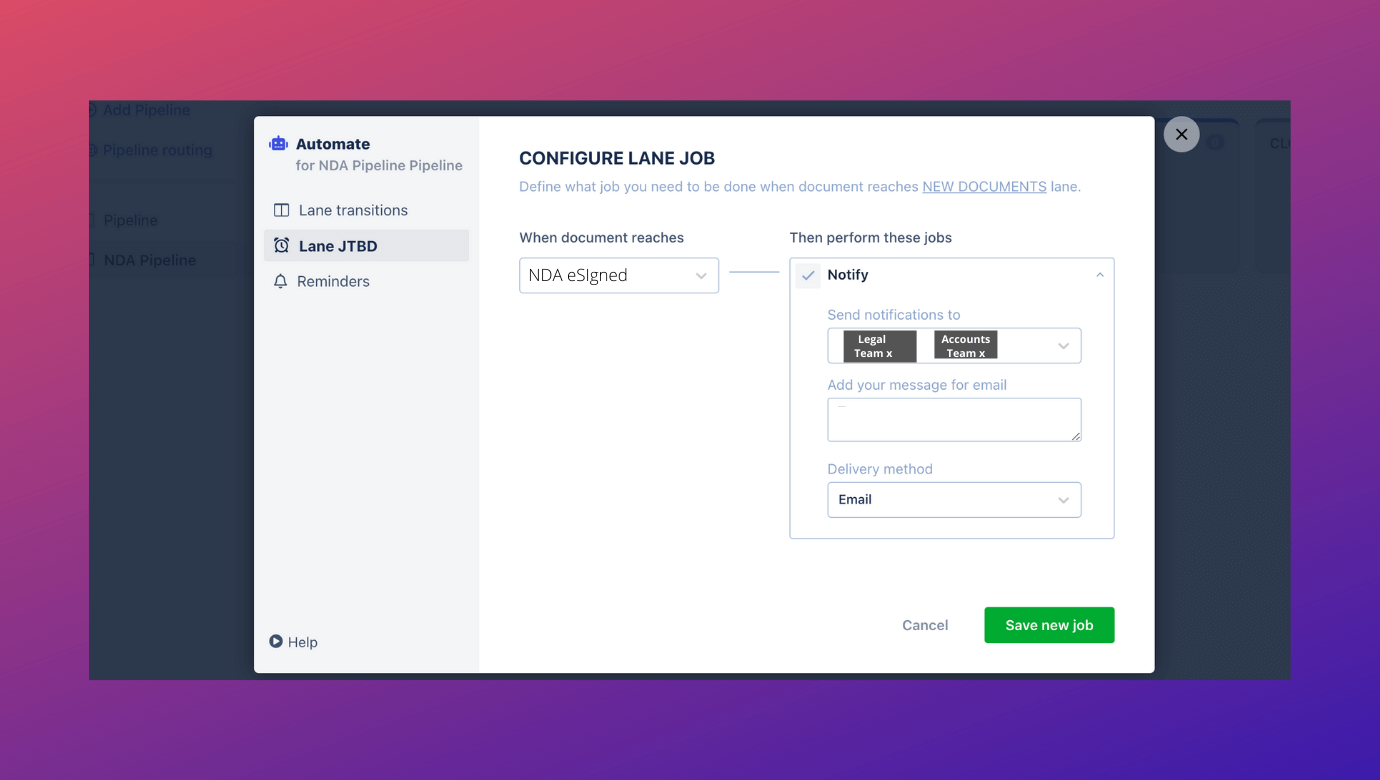 The best news is that even with all these features, you're able to sign up for Revv at no cost. You don't even have to input credit card information for future billing! The free plan includes the basics that are ideal for smaller businesses. There are also advanced and premium plans available for an extra cost that come with more features and are ideal for medium or large companies.
Summing it up
Building your electronic signature workflow is easy when you follow the best practices outlined above. Using a credible platform like Revv will also help make the entire process simple from start to finish.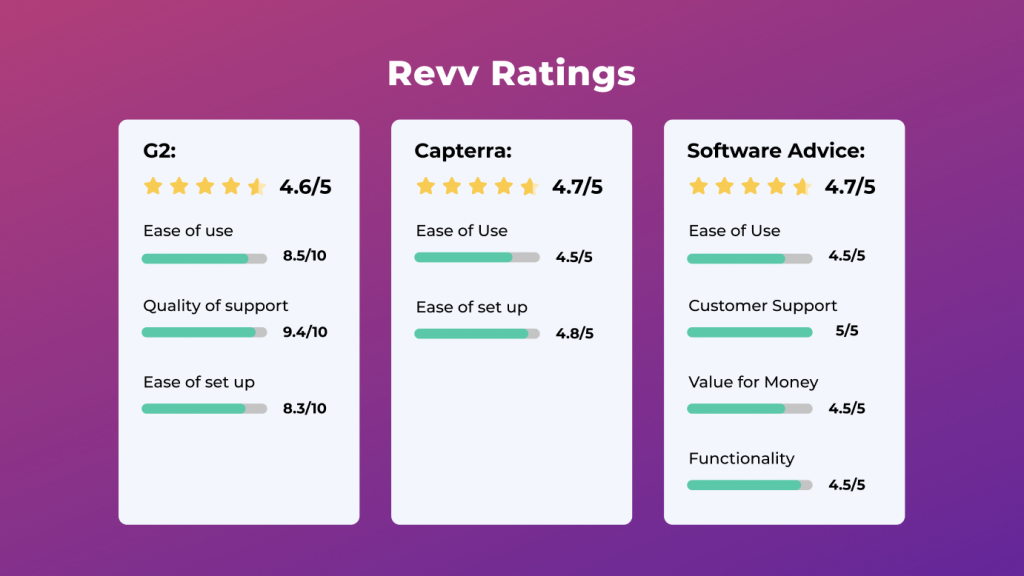 At the end of the day, when it comes to electronic signature workflows, you're going to get out of it what you put in. If you invest time and resources into setting up a solid process that flows well and doesn't glitch, you're going to end up with better results than if you were just to throw some documents together and randomly send them out to clients. Working with Revv will help you save time and resources to end up with a flawless electronic signature workflow that allows your business to run smoothly.
Sources:
Top Ten Ways to Improve a Customer's Experience | Houston Chronicle
6 Reasons Why Going Paperless Benefits Your Business | Forbes
Electronic Signatures and the Law: What You Need to Know | Business.com